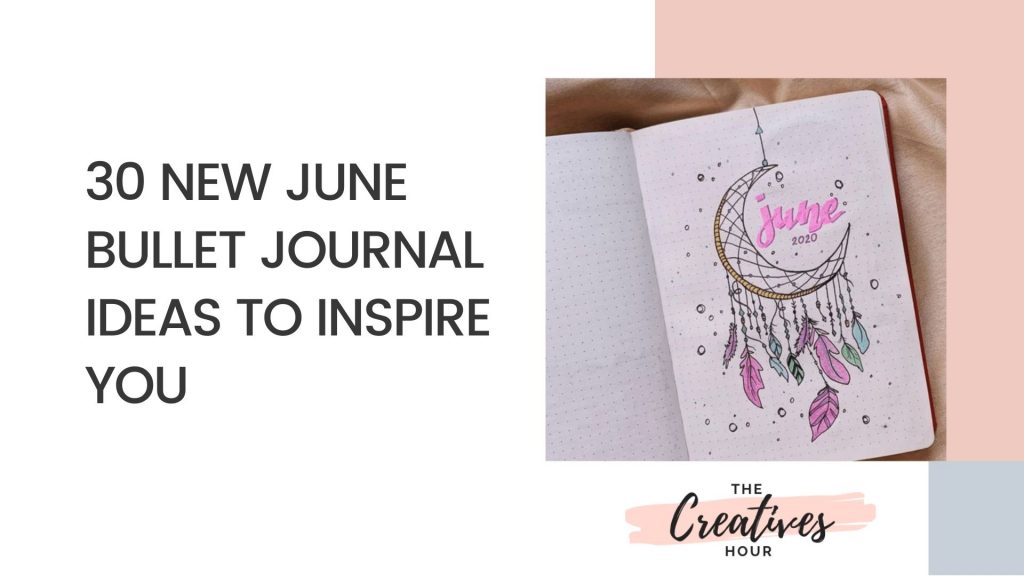 June in India is hot and sultry with the sudden and surprising burst of rain that brings some relief. It is also the time for summer vacations and lots of fun. It is the time to sit back and relax, and you can certainly take inspiration from your holiday mood to create your June bullet journal.
If you are looking for interesting June bullet journal ideas, then you are in the right place. Bullet journaling artists community is creative and vibrant, always curating fresh ideas and themes for all the bullet journal lovers! 
Here are some interesting ideas and fun inspirations for your June bullet journal pages that you can explore this summer-monsoon! 
You can also check out other inspiring June bullet journal related ideas here –
1. How to Create A Bullet Journal Lemon Theme?
2. How To Plan Watermelon Bullet Journal Theme?
3. 15+ June Bullet Journal Headers To Decorate your BuJo
Table of Contents
June Bullet Journal Cover Page Ideas

The cover page of your bullet journal is at its simplest meaning, a free space for your imagination to run wild. This is the page where you set the theme for your journal and add artwork, to give the bullet journal a more interesting outlook. This space can be used to explore your imagination and get creative. 
Here are some interesting and fresh cover page ideas for your June bullet journal.
Also check – 20+ Fresh and Exciting June Monthly Cover Ideas
1. Cactus Doodle June Bullet Journal Cover Page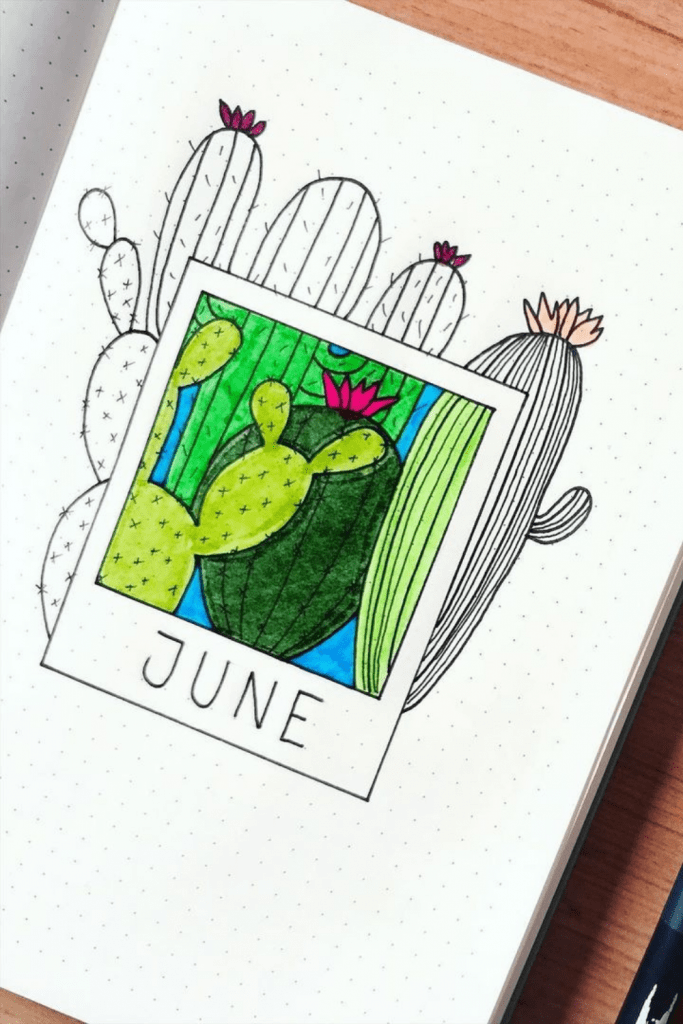 How bright and colorful is this June bullet journal cover page by paws.and.paper! The green shades have kept the theme lively, while the cactus itself is a symbol for the summer month of June. I like how she has created a polaroid pattern, this gives the cover page a vacation vibe too. The simple cactus doodle is easy to recreate and the doodle version of the same that has been used as a background only enhances the bright green and the pretty pink flower.
2. Sunflowers and Sunshine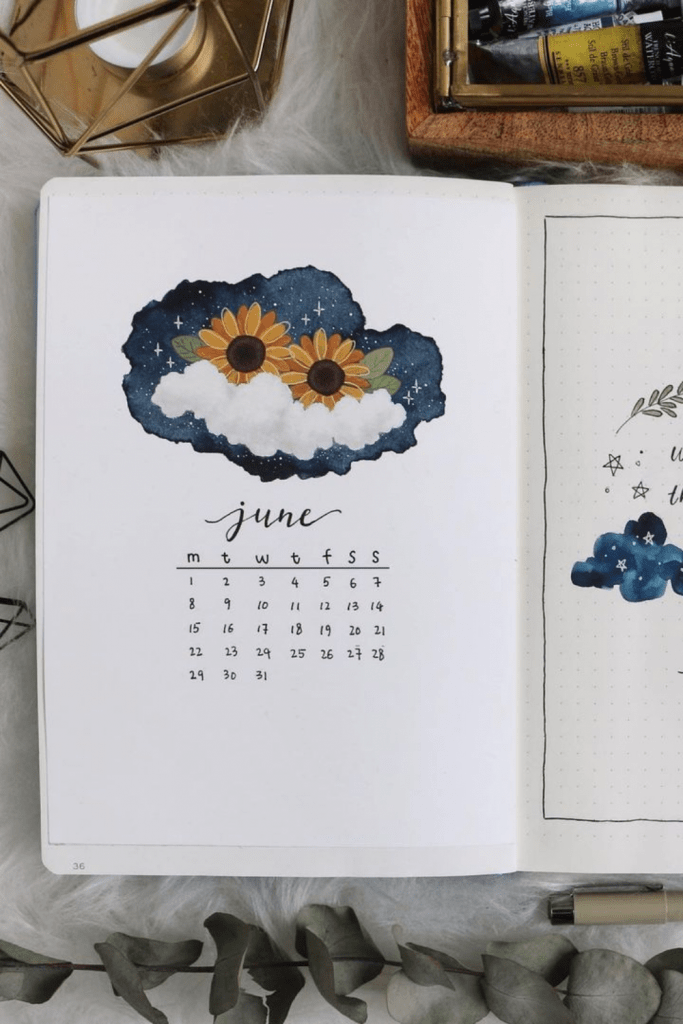 Summers are in full bloom just like these beautiful yellow sunflowers created by lolastarryart. I love this June bullet journal cover page idea.With the sunflowers, sun, and clouds it has captured the essence of summer month with the relief of rain. But what caught my attention was the quote used. The little quote is full of hope just like a silver lining. She has also included a monthly calendar that gives an overview of the month and gives an idea about how the month is going to look like, at a glance.
3. Summer is this Way

Ourlittlehoneybuns has indeed created a refreshing theme. It is a very tropical-jungle-rainforest-like theme. The bright colors used to bring the whole theme together stay true to the theme of this June bullet journal cover page. And the birds add to the color game. I like how she has used the wooden boards to write "Summer this way" it adds a jungle adventure vibe to the page.
Related Post – 25+ Amazing Flower Doodles For Your Bujo Pages
4. June in Vases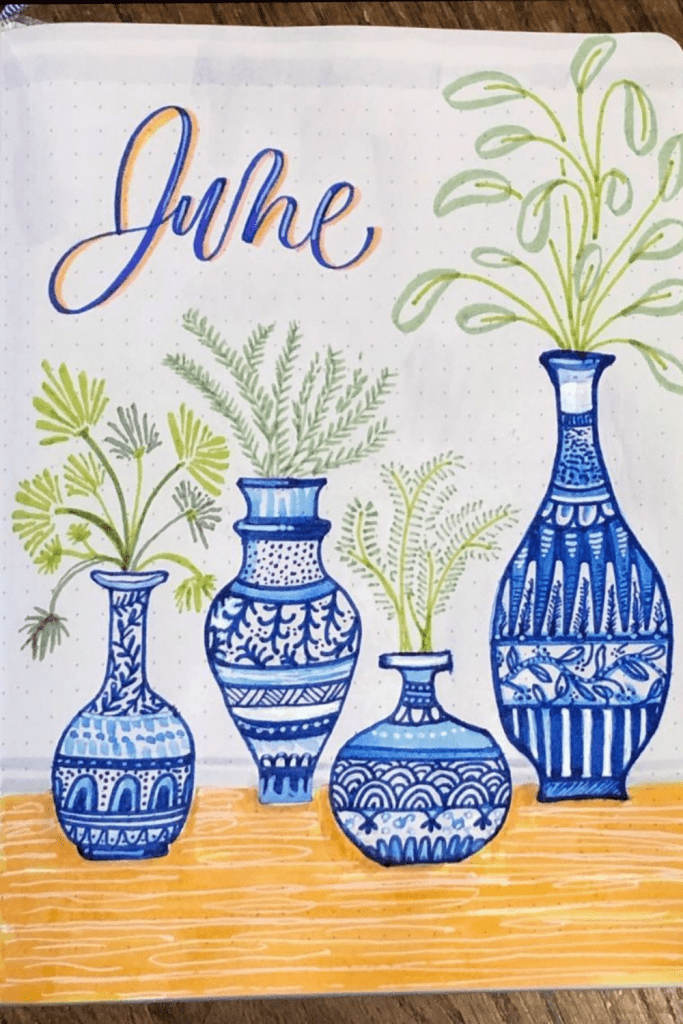 This June bullet journal cover page is unique in its own way. Emilys_letter has used simple colors to complete this cover page. She has used a blue dual brush pen to draw the vases and some confident brush strokes to draw the green ferns.
5. Hello June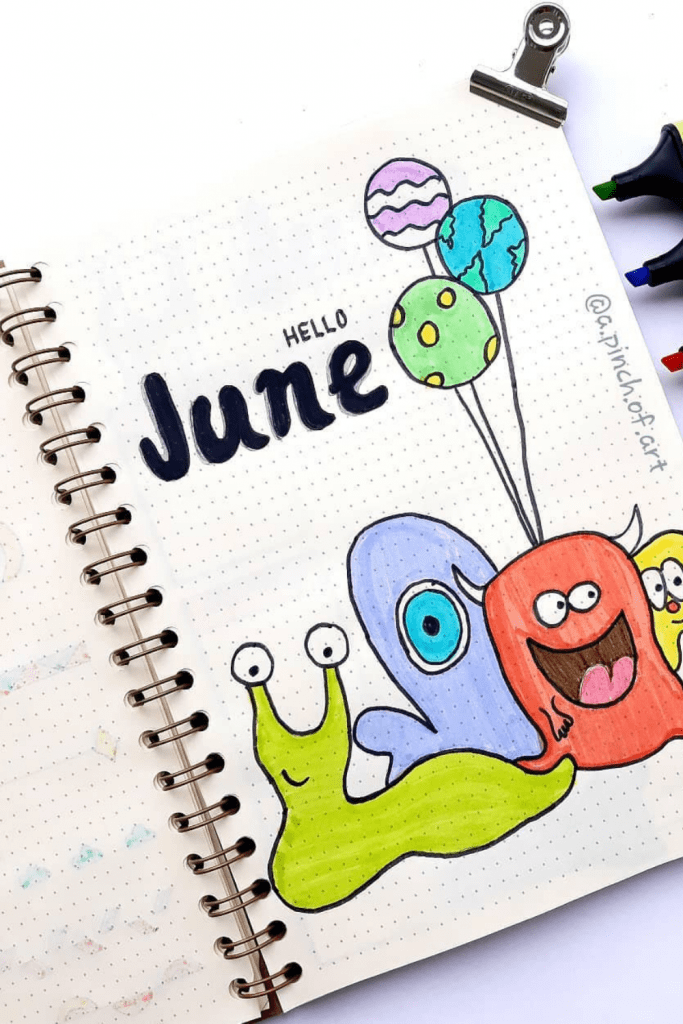 This cute monsters inspired June bullet journal cover page is just too adorable to ignore. The happy monsters as drawn by a.pinch.of.art will certainly bring happiness and health in your month of June. I love the pastel colors that she has used, especially the balloons that feel up space with more brightness.
6. Peaches
7. Peaches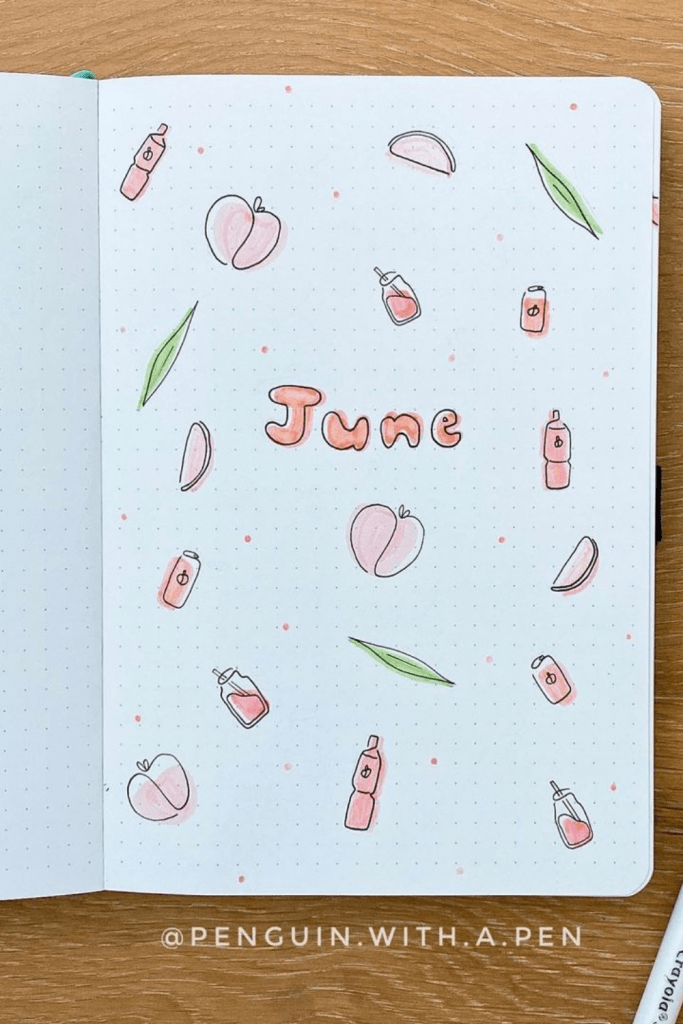 What comes to your mind when you see this cover page by penguin.with.a.pen? I can hear Justin Bieber in my head singing Peaches! I like how she has kept things minimal. With cute little doodles, she has created a theme of peaches and peach drinks. This one here is easy to recreate and certainly fun to have as a cover page of this summer month.
Check out interesting doodle ideas here- 45+ Bullet Journal Doodles For Your Inspiration.
8. Dreamcatcher

Dreamcatchers are so Boho that they always have a special place in my heart. So when I came across this dreamcatcher-themed bullet journal cover page by anissa_bujo I had to include it in the list. This doodle is simple, and the colors used are so soft that it has a dreamy theme going strong.
9. Fruit Cart Theme

Honor.journal has used color pencils to draw this beautiful fruit cart as the June bullet journal cover page. The colors are not that vibrant but the detailed fruit cart is too hard to resist. It looks like a page of a fable book, doesn't it?
10. Bubble Tea

We all have our own pet peeves, don't we all? But summers mean some peach ice teas and some refreshing bubble tea to get you going. Bujowith_lisa
Has chosen the same for this June bullet journal cover page. The doodle is easy and interesting, and you can quite effortlessly recreate this beauty here.
11. 30 days Wild

Shivs_naturediary has created a cheerful June bullet journal cover page. The theme is quite wild and lively. The colors used are a perfect amalgamation of a tropical theme. But my personal favorite has to be the quote used. Including a good quote on the cover page keeps one motivated and encouraged. 
You can check out similar quote ideas here on- 64+ Bullet Journal Quote Ideas for an Inspiring Bujo.
12. Hope June Bullet Journal Cover Page

If you are looking for something simple and yet elegant, this can be the one for you. Lilou.bujo has used only one single color to create this mesmerizing cover page. I like how she has used the space to write an inspiring quote and filled in the extra space with beautiful yellow flowers.
13. Ukulele on June Bullet Journal Cover Page

Anassphere has created this bullet journal cover page with an interesting theme. Ukulele has a very breezy and relaxing vibe. And that is exactly what we all want to do during the summer days. The various shades of brown have given this cover page an earthy vibe too.
14. DuckTales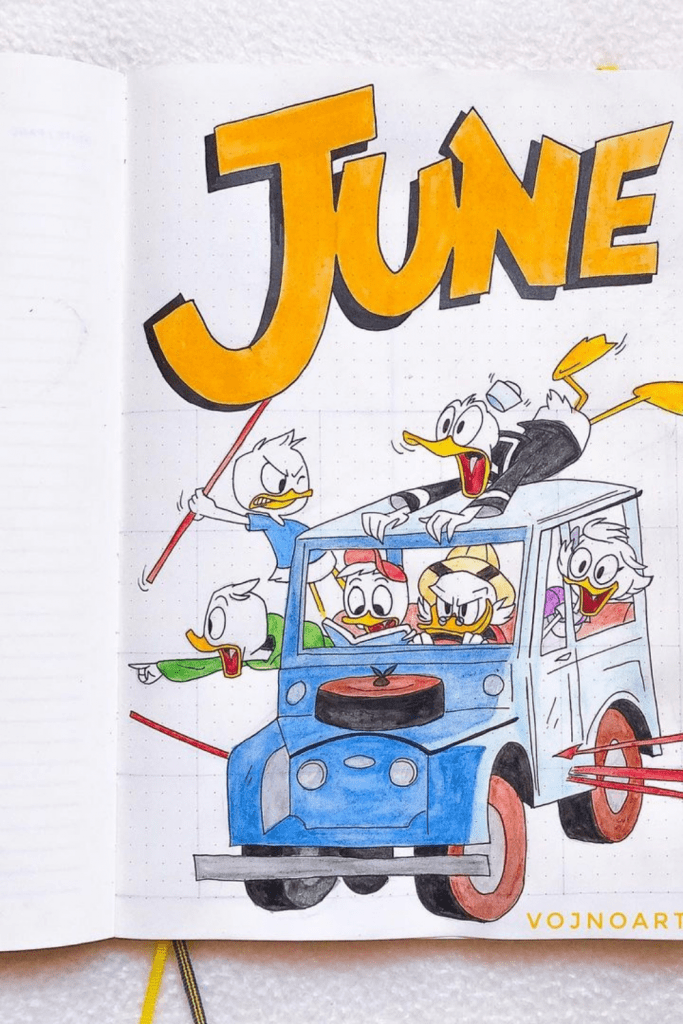 Donald Duck has been an important part of our childhood and even today remains to be an iconic character. Vojnoart has used the same theme for the cover page. The scene itself tells a tale of a duck family. I like how fun looking it is. All the characters look so lively and on the run!
15. Feel your Feelings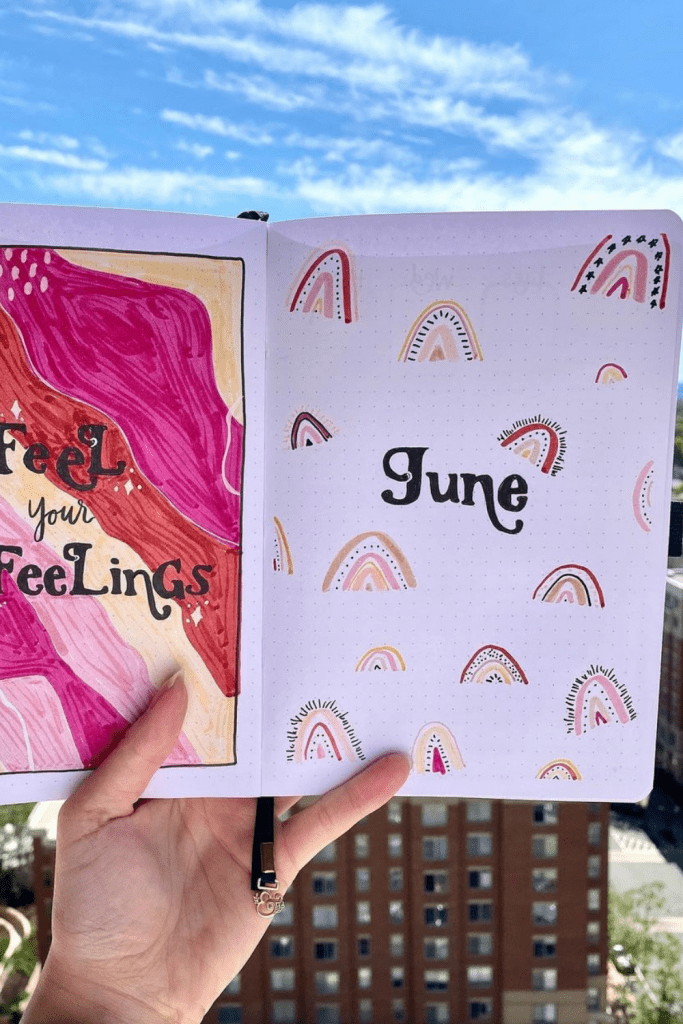 With all that has been recently going on with the world, it is now more than ever, more important to maintain good mental health. Jenaxjournals has taken neutral rainbows as the theme for conveying this crucial message. I love how the left side of the page is colorful while the right side has been left minimal. This creates a perfect balance between the two.
16. June Dreamcatcher

This moon-shaped dream catcher is so hippie. Bulletjournalynn has used a perfect theme, as summer vacations are the sleeping time, what else can be a better theme than a dream catcher? It is colorful, vibrant, and full of hues that will cheer you up every day.
Weekly June Bullet Journal Cover Page Ideas

Weekly spreads are my favorite kind of bullet journal. They are perfect for the detailed account of every week of the month. Weekly spreads also come with enough space for you to add some extra side notes to manage your week and time more effectively. Here are some interesting weekly spread ideas for your June bullet journal.
Also check – 15+ June Weekly Spread Ideas To Make Planning Super Fun
1. Beaches and Waves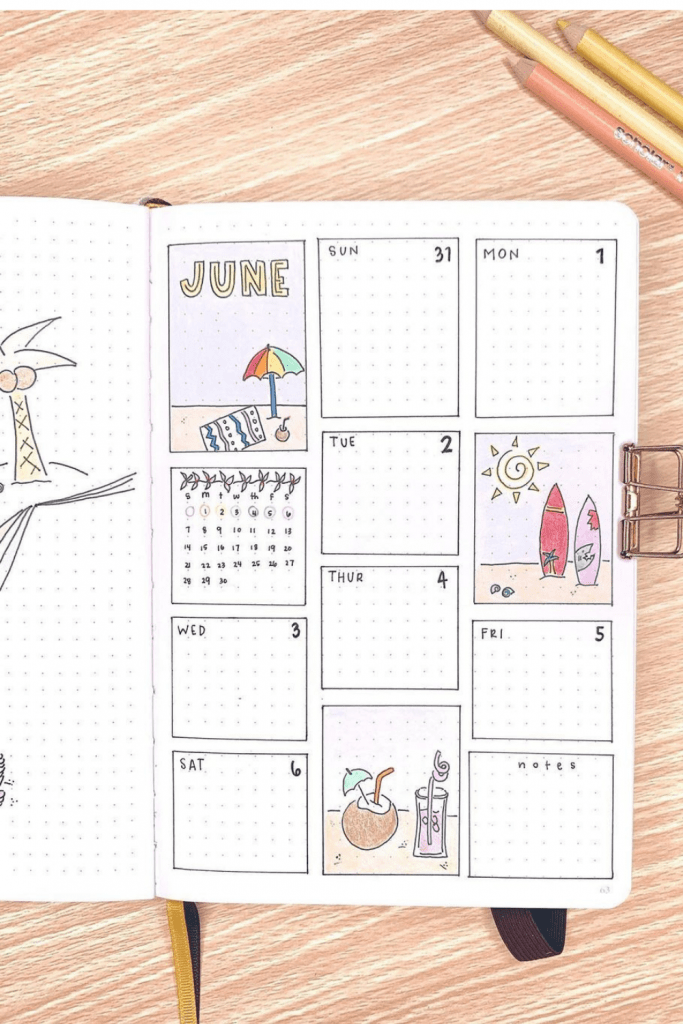 Summer is the time to relax, bask in the sun, and enjoy some surfing time. And you will find all of that in this weekly spread by willbujofor.treats. The entire look screams the summer vibes. The cute little doodles of surfing boats, sun, and beaches and waves have created a holiday essence.
Related Post – 22 Ocean Bullet Journal Ideas for a Sea-tacular BuJo
2. Icecream Time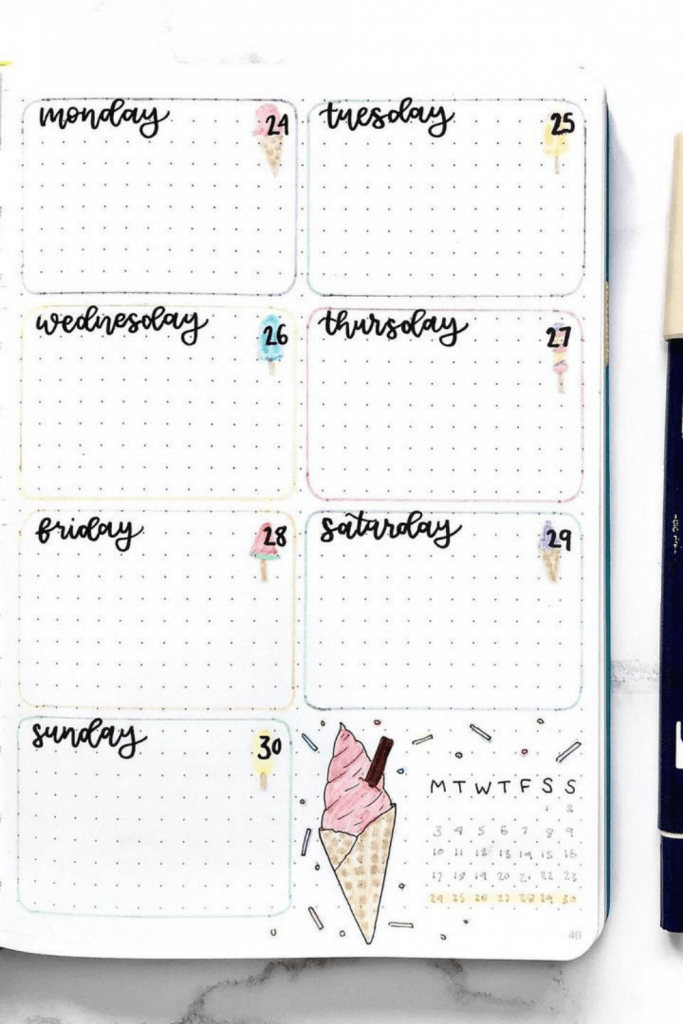 What else is better than a cone of cold ice cream in the scorching month of June? B.bulletjournal has kept the entire layout simple and easy. But that small detailed touch of the strawberry ice cream adds the exact amount of color that this layout requires. I like the addition of the calendar at the right bottom corner, this helps to have an overview of the month on every page.
3. Seashells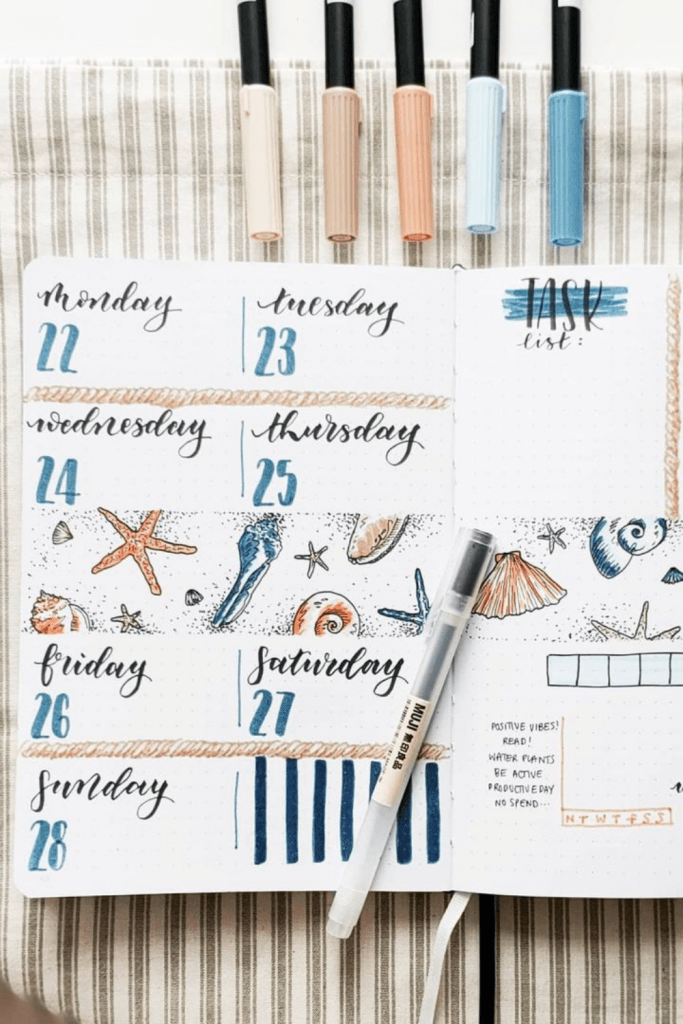 I love this one. This one has to be my favorite pick from the list. The seashells have created a strong summer vibe. Temporary_illustrations has used cool-toned color which exaggerates the summer theme. She has also added extra space for the tasks in hand and a small graphical representation area to keep a track of water intake. 
4. Starry Sky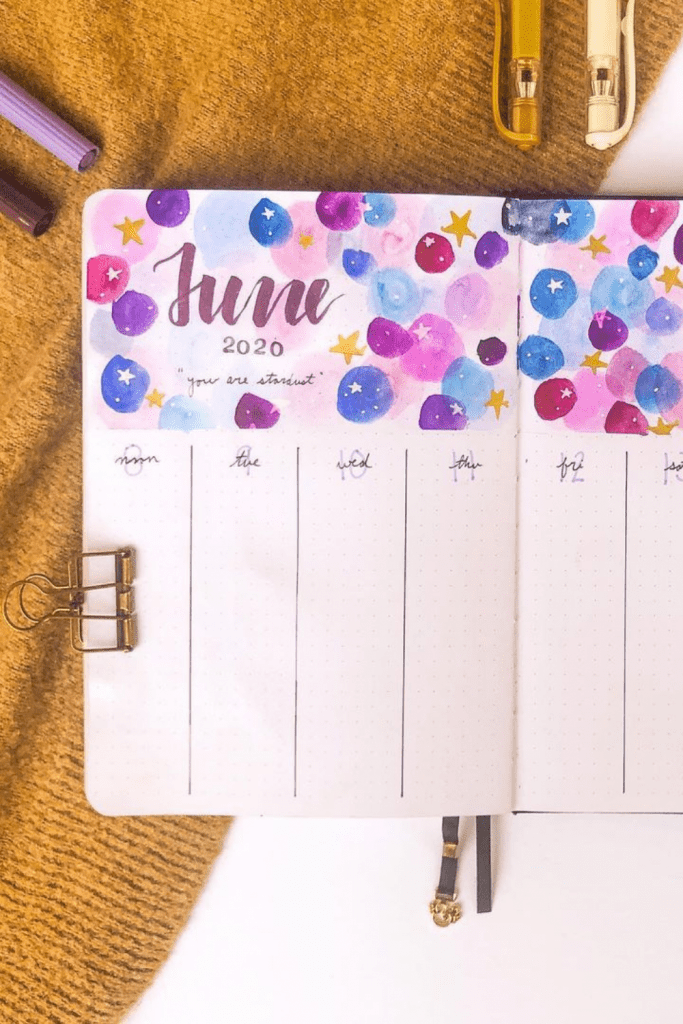 This weekly spread by bythebullet_ reminds me of Arabian nights. There is a full-on dreamy vibe going on here. The blue and purple based colors used in this heaven;y, and the touch of the golden stars adds to the overall beauty of the spread.
Monthly June Bullet Journal Ideas

Monthly layouts are a gem. They have a clear view of the entire month on a single layout. This makes the task much simpler and the month much sorted. You get to have a clear picture of what is your month going to look like and what all are in store for you throughout the month.
Also check – 30+ Refreshing and Fun Summer Bullet Journal Ideas
1. Pink Flowers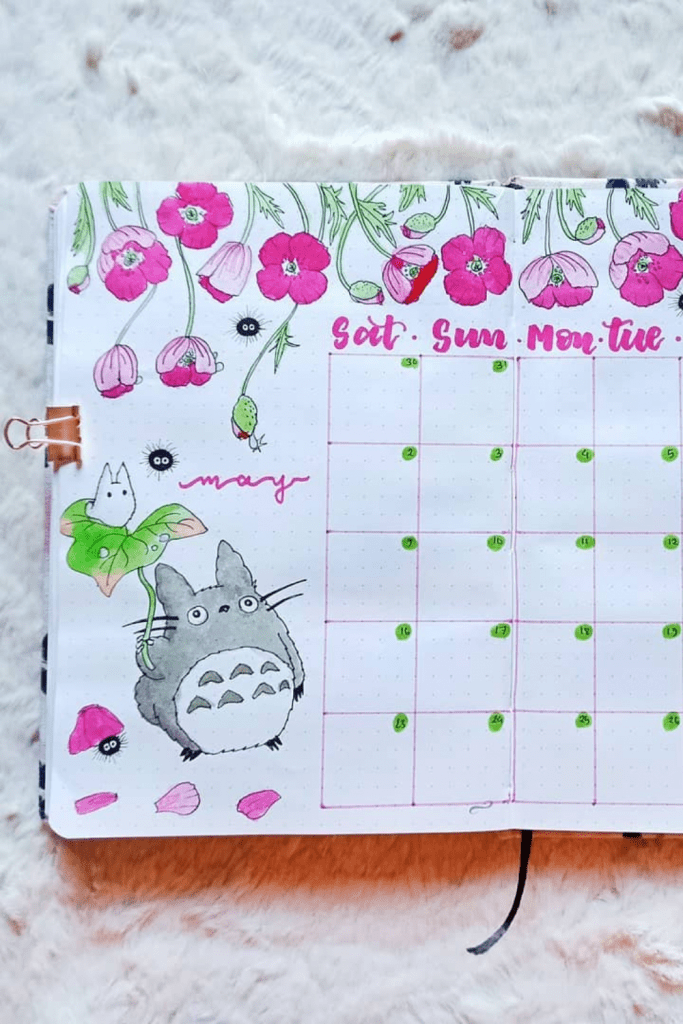 Bullet_n_books has created a nice magenta-themed monthly June bullet journal layout. The cute doodle on the left is so adorable especially the white frog on the leaf umbrella. 
2. Things to Think About in June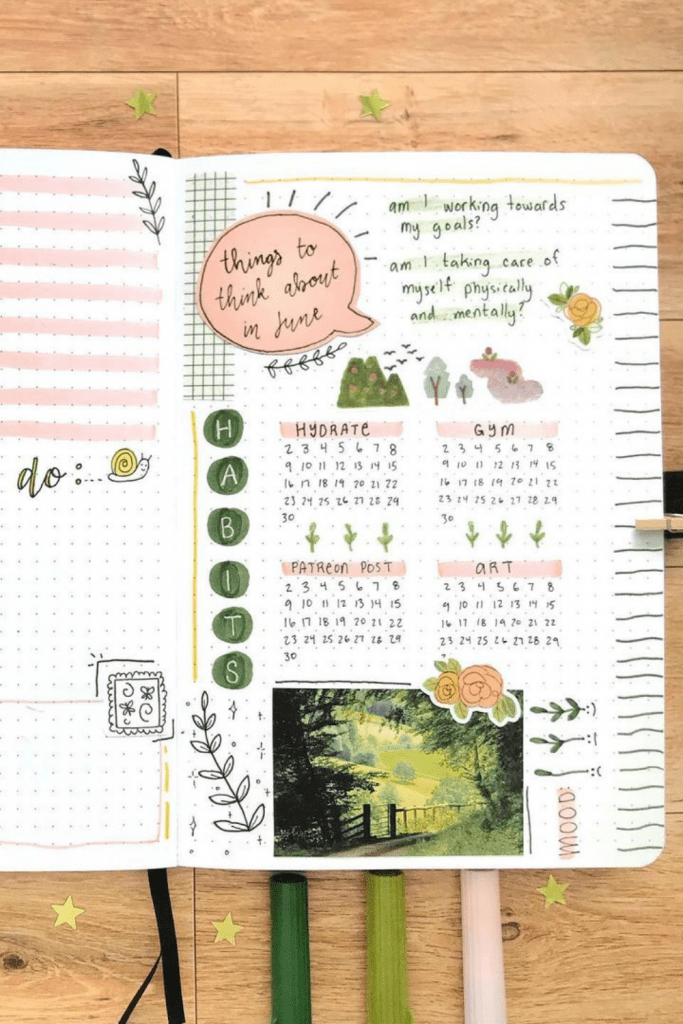 I love this monthly layout, it is inspiring, it is sorted, and not cluttered. Nicole.josephine has created a layout that has it all. It has a section dedicated to habits, a separate section for things to do, and inspiring questions that will keep you productive.
3, Windmills and Bicycles
How pretty is this layout! The blue theme in this June bullet journal monthly layout is going strong. Gaeliz_diy has used cute doodles of cycles, clouds, stars, and windmills, to create this beautiful monthly layout. And there is also a section for noting down all the to-dos.
4. Watermelon Sugar

I love this fruit-elicious theme presented by ashgreyjournals. It is fruity and summery. The vibe is so strong, it reminds me of the taste when you have a bite of watermelon to quench your thirst. Moreover, the doodle is so cool and funky. There is also extra space for your to-dos and your goals. And a bujo page can always use some extra space.
5. Butterfly Page June Bullet Journal Monthly Layout

What caught my attention was not the magnificent butterfly, it was rather the short quote on the side. Melanierhodestart has done a great job with this butterfly-theme layout. The quote used is inspiring in every way, exactly what a bullet journal is supposed to do.
6. Ocean Life

The fact that b.bulletjournal has managed to fit in so many sections in one monthly layout is indeed commendable. The aquatic animals are just marvelous. She has created a whole aquatic ecosystem so effortless with these cute little doodles. The colors used are aqua-themed. She has also sorted out space as a habit tracker, goals, and a to-do list.
7. Sunflowers and summers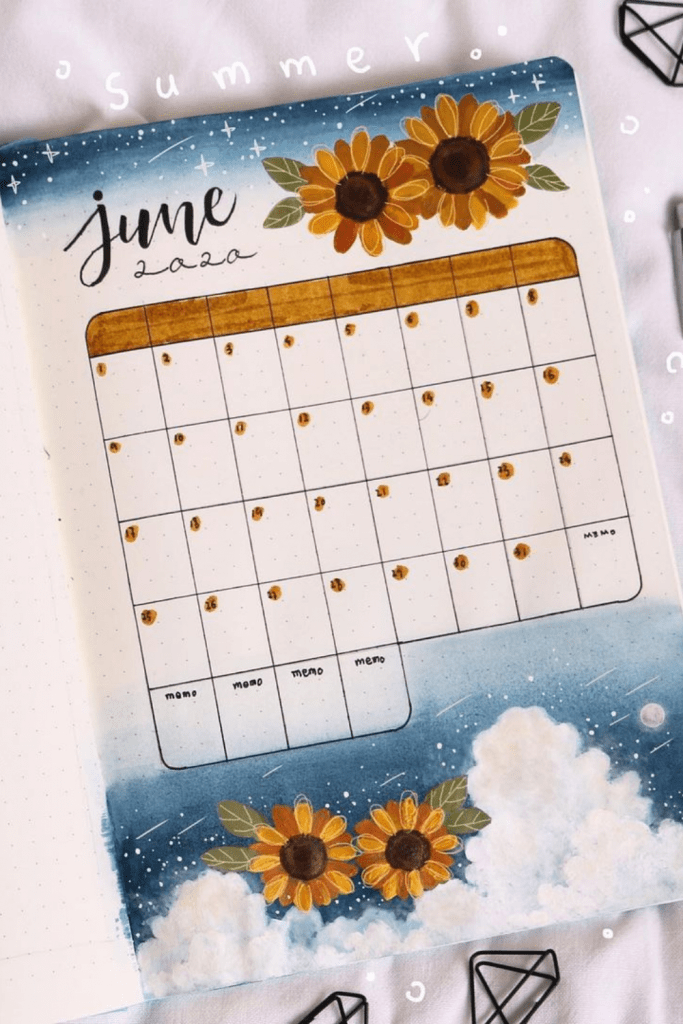 This is a cool summer version that will remind you of all sunscreens, bucket hats, sunglasses, and so on. Lolastarryart has drawn these pairs of sunflowers that are making the layout look vibrant. The addition of clouds to the layout has given the whole spread a cool tone. She has created a dreamy starry night sky in this June bullet journal monthly layout.
Related Post – 28 Bright Sunflower Bullet Journal Ideas
Trackers Ideas for June Bullet Journal

Trackers are an excellent idea to add to your bullet journal. They can always be improvised to suit your personal needs. For instance, you can always have a health tracker, or a mood tracker, or even a sleep tracker, all to maintain a good and healthy lifestyle. Without hectic schedules and never-ending work, it is important to keep a track of daily habits. And trackers can do that for you.
Here are some interesting weight loss tracker ideas that you can explore- 18 Weight Loss Tracker Bullet Journal Ideas You'll Love.
Also check – 
1. 19+ Innovative June Mood Trackers To Map Your Mood
2. 18+ All-New June Habit Tracker Ideas For 2021
1. June Sleep Log

Sleep trackers are nothing less than a blessing for an insomniac. So here we are with this colorful sleep tracker that you can vibe with this summer. B.bulletjournal has created this layout for the June bullet journal quite effortlessly. You can easily recreate the same with some cute summer doodles and some colorful washi tapes.
2. Calendars and Trackers

Claudiajosephhh has managed the space for this June bullet journal layout so efficiently. She has not only included the monthly calendar but has also fit in a habit as well as a mood tracker. I love how she has used sun doodles to track the mood and moon for the habit tracker. The clear sky theme is just perfect to denote a summer sky.
3. Build a Habit

This tracker idea is so unique and eye-pleasing. Bythebullet_ has used mesmerizing shades of blue and violet to create this masterpiece. I like how staying true to the starry night theme she has used stars to track her mood.
4. Habit and Mood Tracker June Bullet Journal

This habit and mood tracker are going to be fun to maintain. Bujowith_lisa has used a bubble tea theme to track the habits and the mood. The use of washi tapes has given the layout an extra dimension.
5. June Bullet Journal Tracker Ideas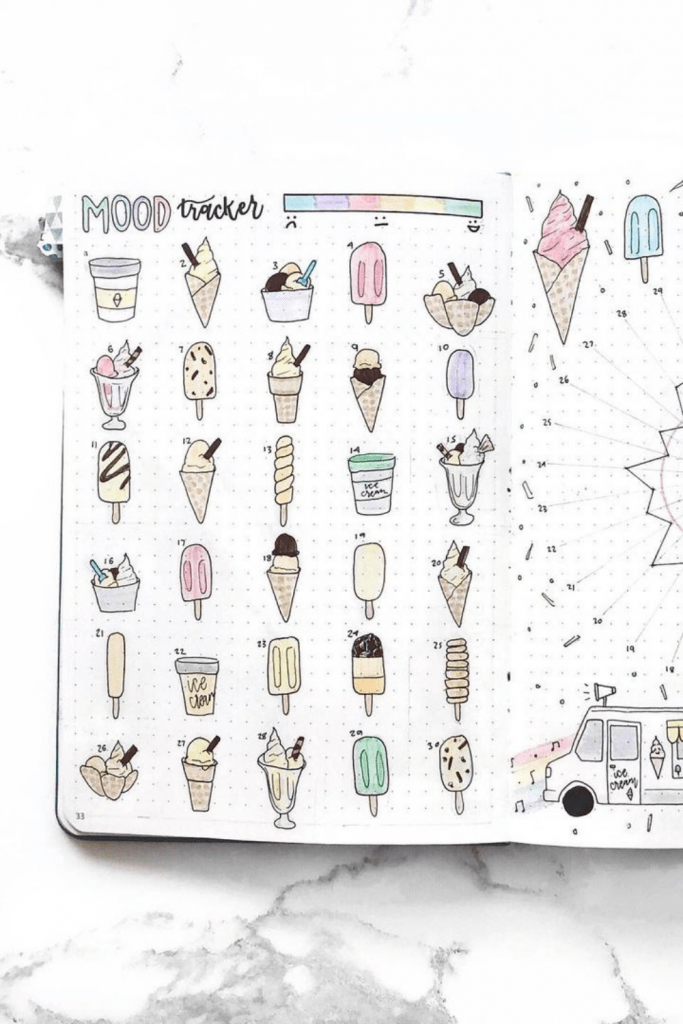 How fun will it be to color these ice creams to track your mood! As we all know ice creams and moods are directly proportional and b.bulletjournal has utilized exactly that. The little ice cream truck doodle has left a rainbow trail behind it, which only gives hope of happiness this summer.