Feature Image Source: bulletpointes
With the bright and sunny Summer months coming in, it's time to enjoy the visits to the beach, chilled ice-creams, and sundaes, and most importantly, dressing up your bullet journal in the colors of summer! 
If you haven't started yet, now is the time to prepare your bujo for the hot months using these fantastic ideas. We have curated a list of some unique and fun summer bullet journal ideas that are sure to inspire your creative side. The list includes everything starting from cover ideas to monthly and weekly spreads and colorful habit and mood trackers. So, pick your favorite theme and snag some fun ideas from this list! 
Here are some bullet journal font ideas and bullet journal doodle ideas to help create your summer bullet journal.
Table of Contents
Summer Bullet Journal Covers
You can use your summer bujo cover to either mark the beginning of the season or use it for the beginning of a month. Let your creativity run wild while designing this page. You can try doodling your favorite beach items, summer cocktails, fruits, or go for a tropical vibe. Use all the bright colors in your stationery collection! Check out these gorgeous summer cover ideas to get started.
1. Colorful Summer Vibes Bujo Cover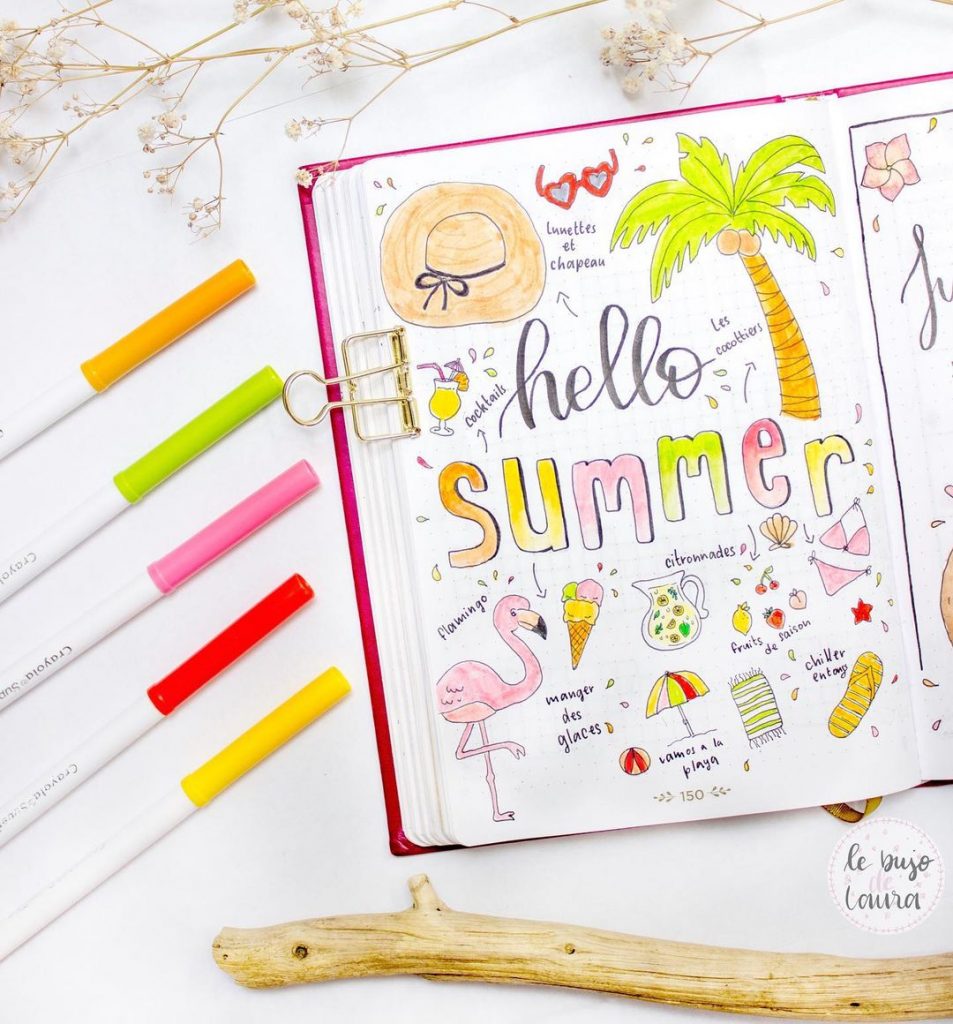 Source: lebujodelaura
The best way of designing your bujo cover page is by filling it up with tons of related doodles. This hello summer cover page by lebujodelaura is the easiest, most colorful, and fun way of starting your bullet journal.  Use a combination of quirky fonts to write the heading and fill up the remaining space with tiny doodles. You can draw beach-related images or tiny fruit and floral icons, or any other doodles of your choice! 
2. Blue-tiful Hello Summer Bullet Journal Cover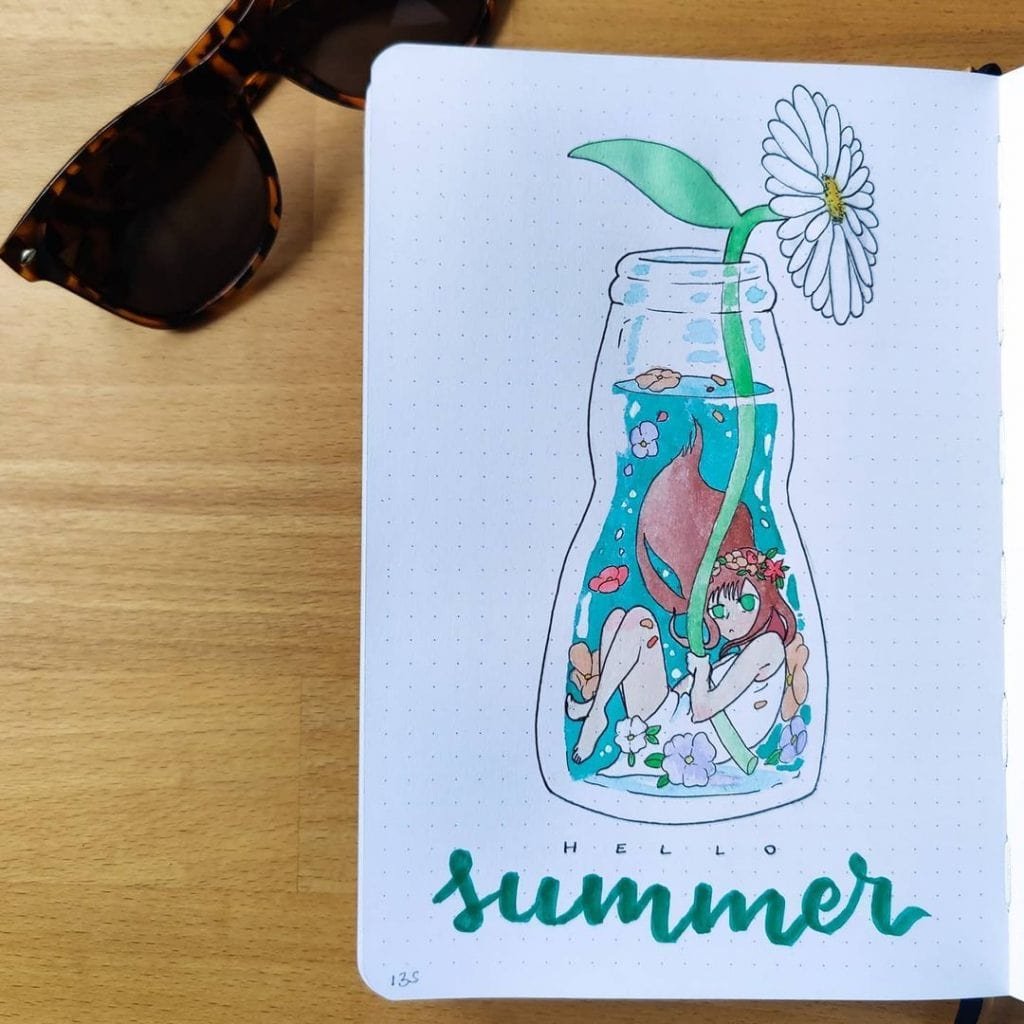 Source: sapphires_and_moonlight
I love how stunning this bottle vase illustration by sapphires_and_moonlight looks as a summer bullet journal cover. It is a minimal and artistic way of designing a cover page. The girl in the bottle with the large sunflower gives the page a very ocean-like vibe. Finally, hello summer is written using a combination of stylish and straightforward fonts making the cover even prettier. 
3. Lemon Yellow June Cove Page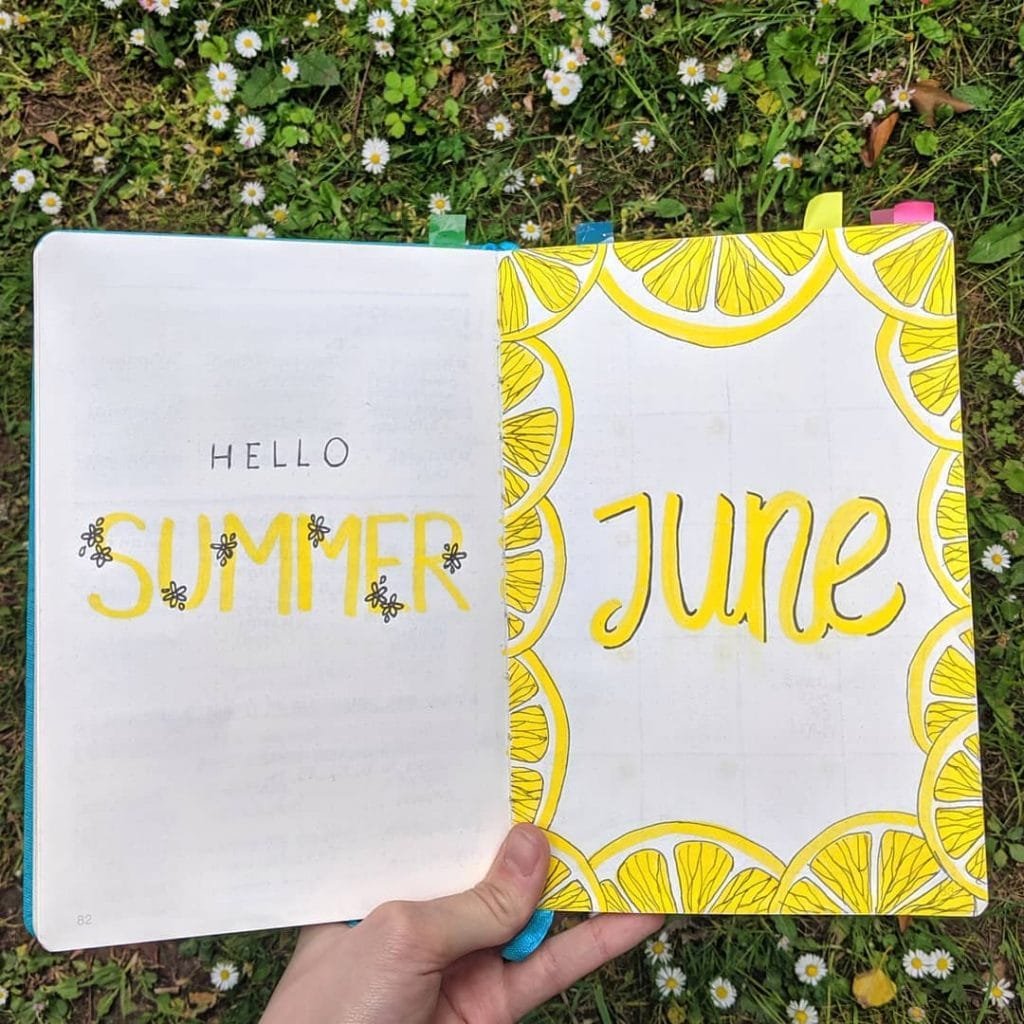 Source: legallydisorganised
Give your monthly cover a summer twist by recreating this fresh idea by legallydisorganised. It has a double-page layout with one side as the month cover and the other saying "Hello Summer." The theme of the page is lemon yellow with a hint of floral touch in the font. It is a simple yet super bright way of designing your bujo cover.
4. Floral Summertime Bujo Cover Page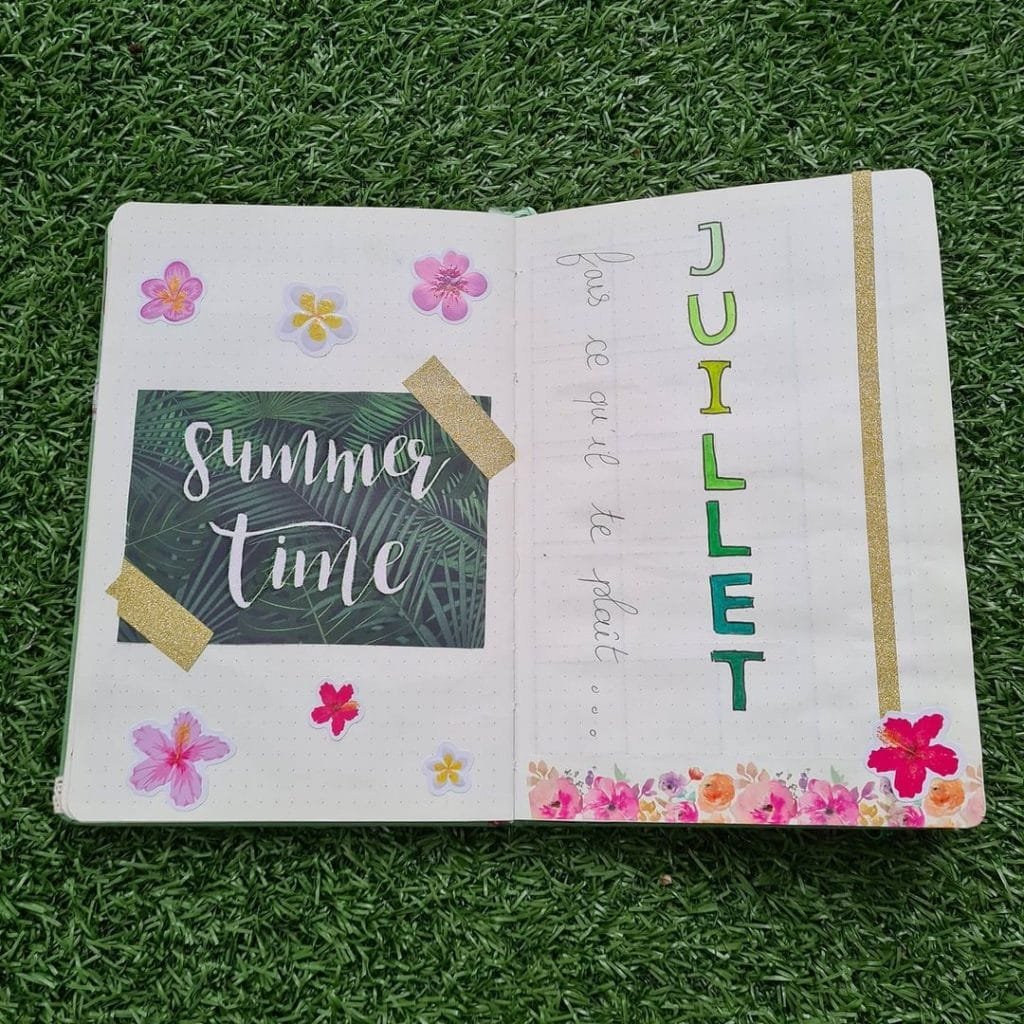 Source: bujo.al
All you need for recreating this lovely summer bullet journal idea by bujo.al is some cutout images. These include some flowers and a tropical banner saying "summertime." Stick the banner in the middle of the page using tiny pieces of washi tape. Cover the empty spaces with flowers, and voila! This idea is perfect for you even if you are not good at art. 
5. Summer Scribbles Journal Cover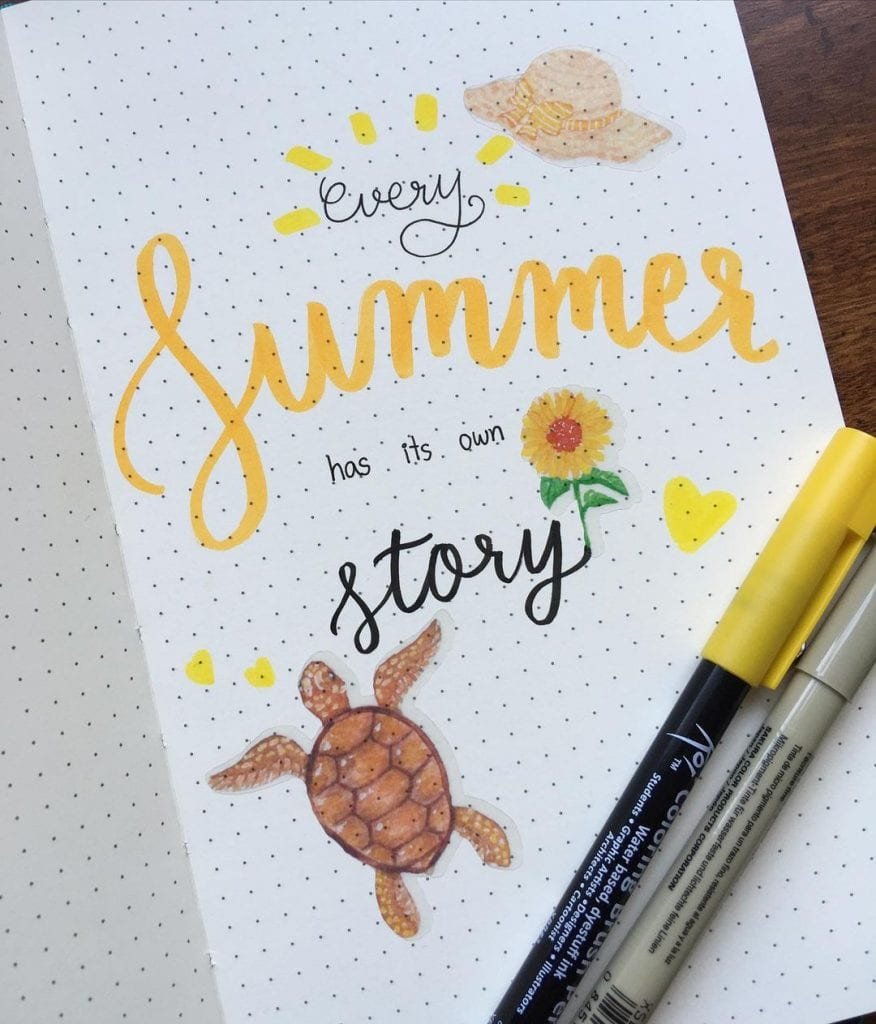 Source: happiamia
Grab some colorful markers and some summer inspiration to make this fantastic bullet journal cover by happiamia. Use a mix of yellow and black markers to write your favorite summer quote. Finally, draw a few related doodles like beach hats, sunflowers, hearts, etc., in the empty spaces to finish this simple and straightforward cover page. 
6. Vibrant Confetti Summer Bullet Journal Cover
Source: bujoweasley
Pop some colorful confetti to welcome the bright season of summer using this idea by bujoweasley. Start by writing "summer" diagonally across the page. Use a combination of different markers to give the font a 3D shadow effect. Finish off by drawing confetti of different shapes and colors across the page. That's it! Your vibrant and popping cover is ready!
7. Bee-utiful Lemon Branch Summer Cover
Source: bulletpointes
Lemon and honey instantly remind you of the summer freshness. So, mix these two for designing this summer bullet journal cover by bulletpointes. Draw two branches falling from the top corners of the page. Fill one up with fresh leaves and ripe lemons, and add a tiny honeycomb to the other. Use bold and italic font to write the heading, "Summer." Finally, add a tiny jar of honey at the bottom to complete the aesthetic of the page.
8. Chilling Cat Summer Beach Cover Page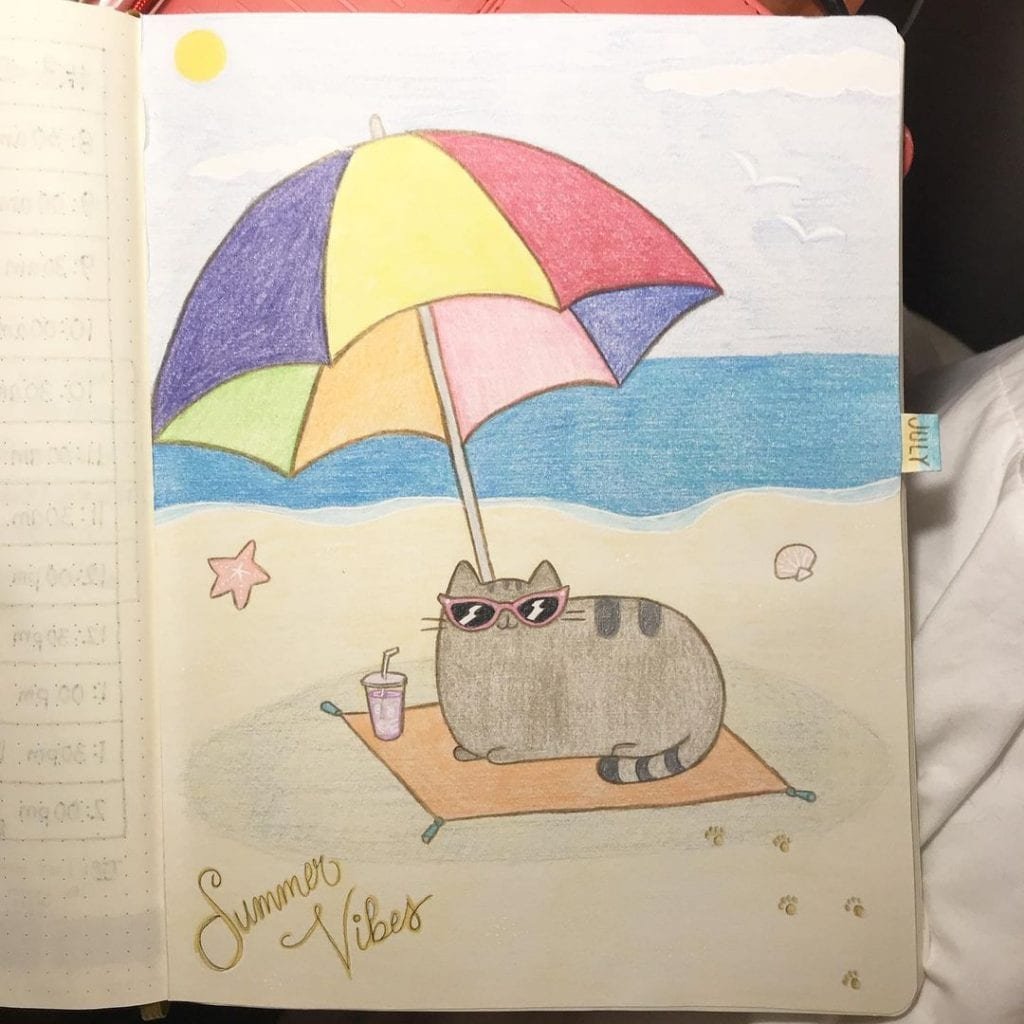 Source: alicianartva
Beaches are the ideal spots for relaxing during summer. So, this adorable cover page idea by alicianartva is perfect for giving you those chill vibes whenever you open the journal. All you have to do is draw a basic scenery of a cat relaxing by the beach. Add as many bright colors to the drawing along with a tiny heading at the bottom. You can customize the idea and make it as detailed or as simple as you want.
9. Floral and Fruity Summer Illustration Cover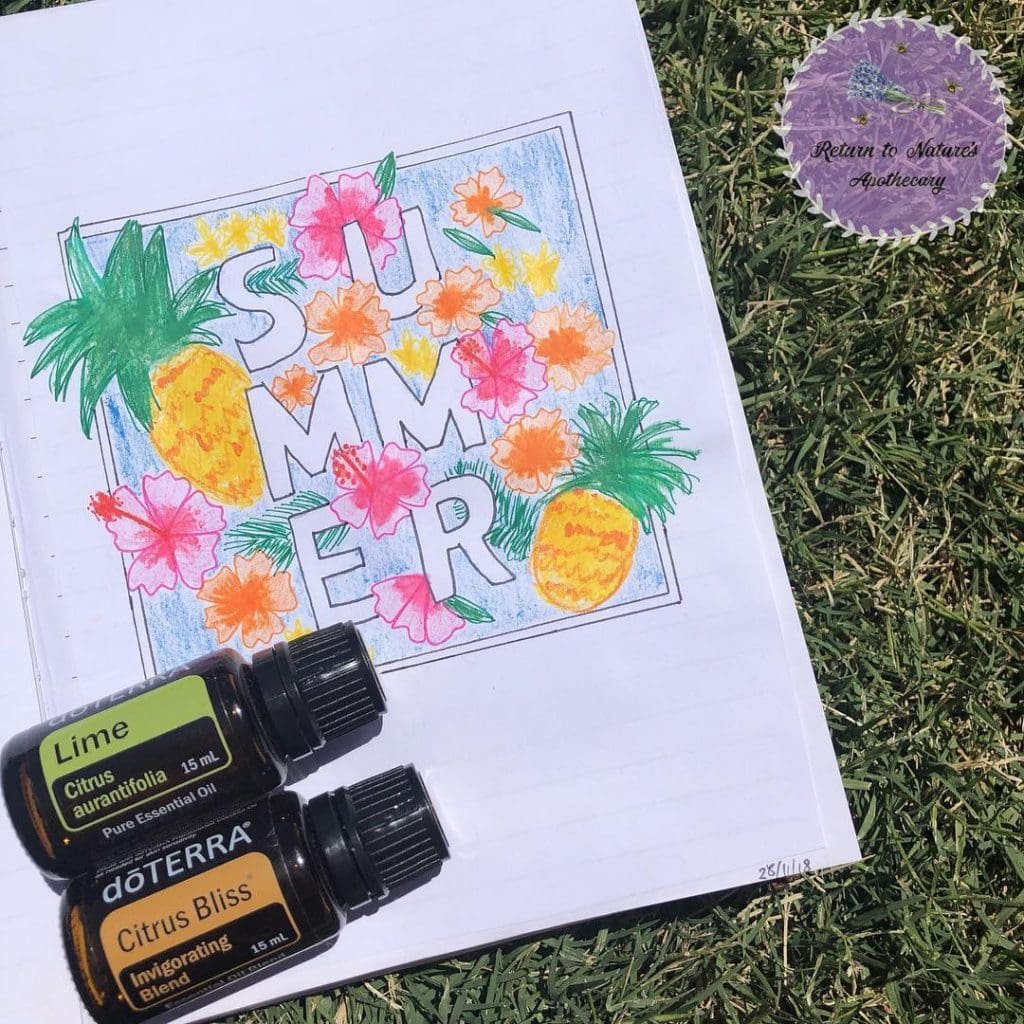 Source: returntonaturesapothecary
I love how this cover idea by returntonaturesapothecary has a beautiful balance of chaos and neatness. The stunning and bright illustration is perfect for your summer bullet journal. It is full of pineapples and tiny, vibrant flowers. A square border around the illustration gives it an elegant and put-together look.
10. Beachy Goggles Summer Bullet Journal Cover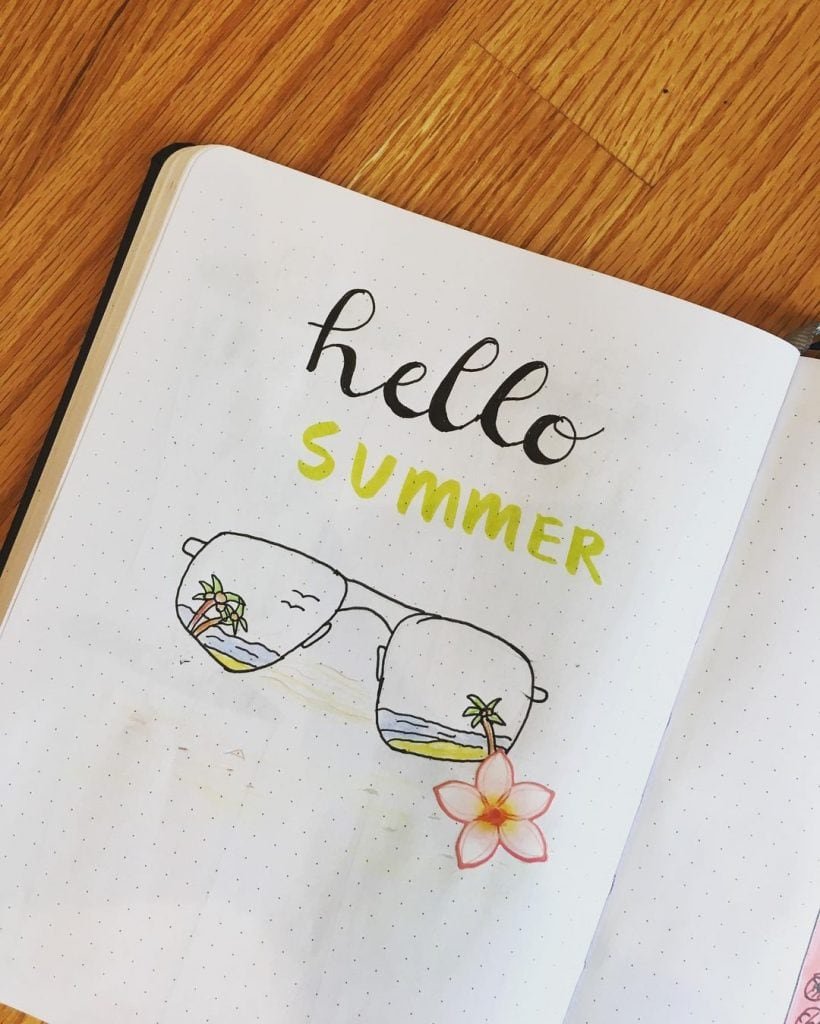 Source: bullet_journal74
These beachy goggles in your bujo cover are ready to give you a stunning glimpse of the upcoming summer season. This cover idea by bullet_journal74 is an easy, quick, and minimal way to design the first page of your journal. All you have to do is create an illustration of goggles that reflect a beach view. Add a title to the page using a colorful and stylish font, and voila! 
11. Places to Travel Summer Vacay Cover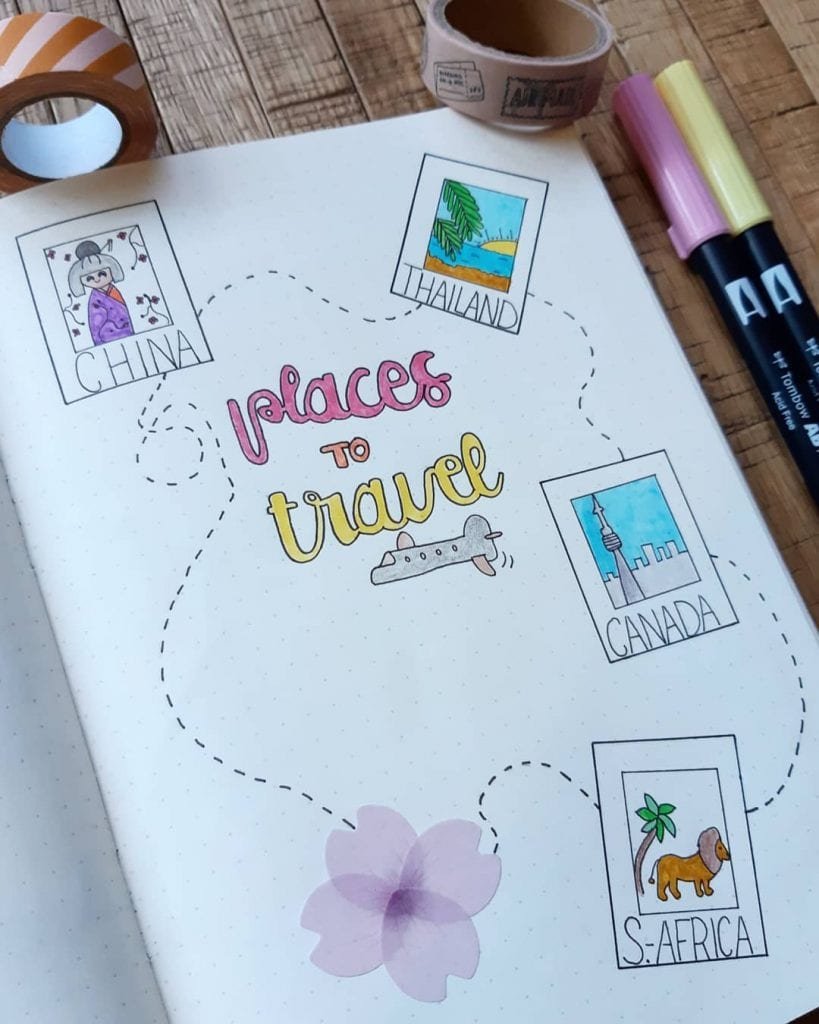 Source: bujowithchris
Summertime officially turns your vacation mode on! So, if you want to design your bujo for the traveling theme, this cover idea by bujowithchris is perfect for you. Start by adding a travel-themed title in the middle of the page. Next, use the remaining area to draw polaroids of different locations. Connect them using a dotted line, and your artistic bujo cover is ready for summer!
Summer Bujo Monthly Layout
Next in line is your bujo monthly layout that you can easily customize for summer. You can simply add cute stickers or tiny hand-drawn doodles to transform your boring layouts into something fun and attractive. Here are some awesome ideas that you can use to design your monthly spread.
12. Doodle Stickers Summer Monthly Layout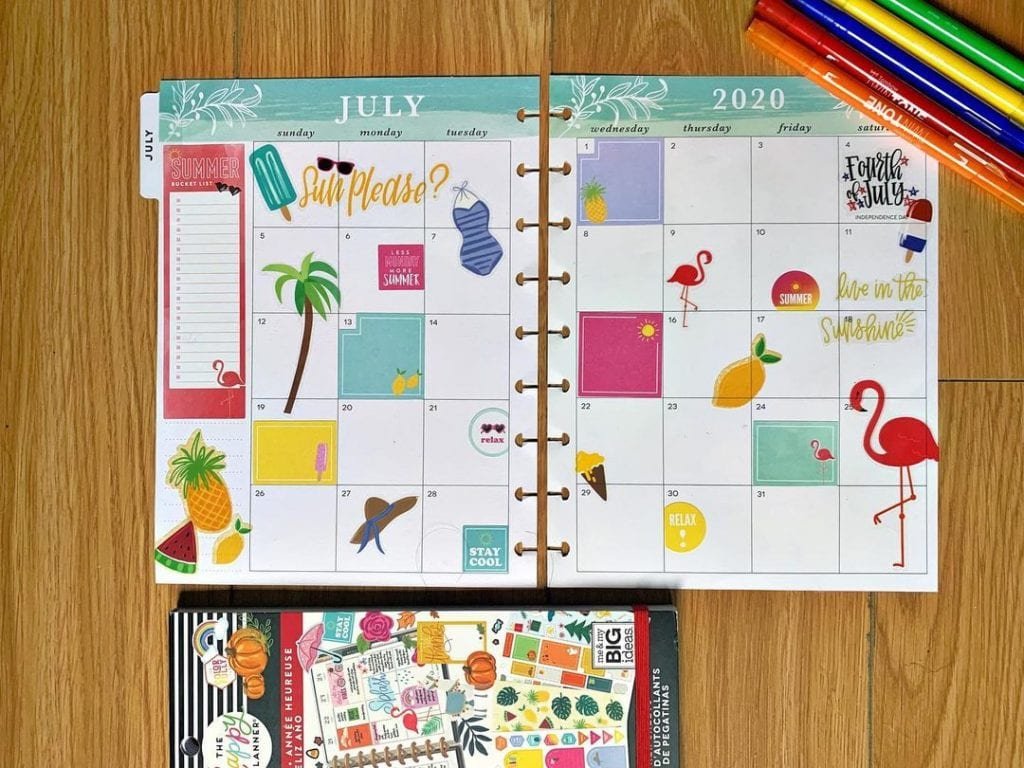 Source: moniplanning
Select your favorite summer stickers to add a fancy and quirky touch to your bujo monthly layout. This summer bullet journal idea by moniplanning is simple, quick, and super colorful. All you have to do is abstractly scatter these stickers across a basic monthly spread. You can choose a bunch of random stickers or select the ones that match the theme of your journal!
13. Rosy & Elegant Summer Monthly Spread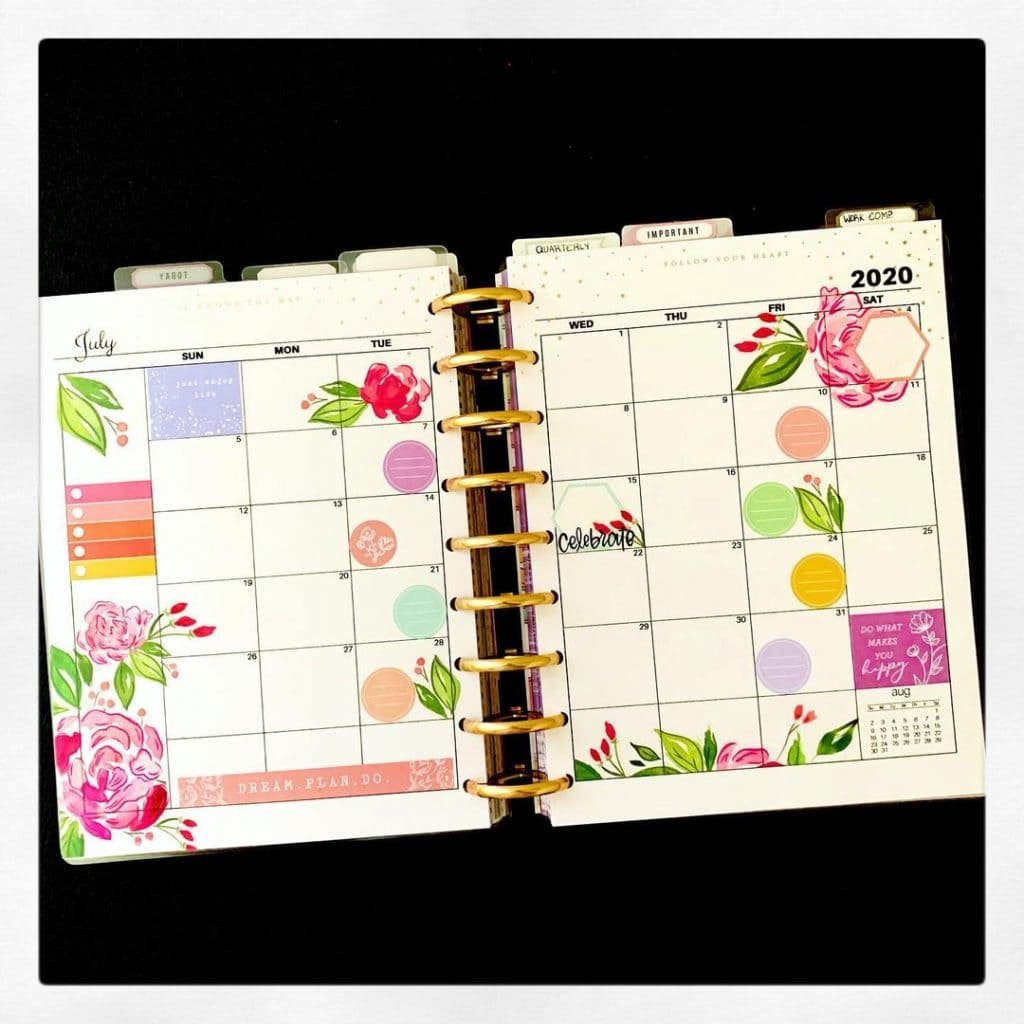 Source: aliloves2plan
Here is another creative doodled idea by aliloves2plan that is minimal but bright enough for your summer bullet journal. All you have to do is draw tiny roses in random boxes of the calendar. Use the margins and borders to add tiny illustrations as well. You can also add stickers to certain cells of the calendar for a colorful background. It is a very simple and customizable idea that can be modified to suit your chosen theme.
14. Sea-tacular Summer Bullet Journal Monthly Log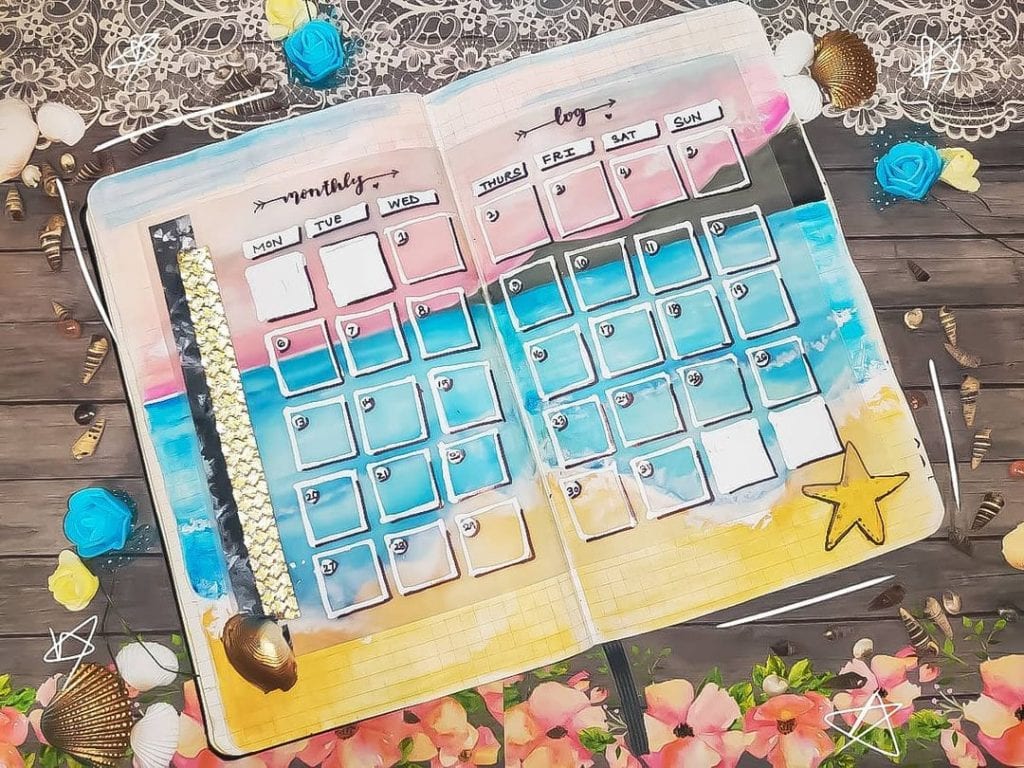 Source: imcraftesy
Yes! This monthly spread by imcraftesy is completely hand-drawn, and you can recreate it too! Start by painting a beautiful beach side scenery in the background. Use your creativity, imagination, and a selection of some bright colors for the same. Next, you can either hand-draw a calendar over the top or paste a transparent printed template over it.  Add some washi tape pieces to one margin, and your stunning monthly log is ready!
15. Bright Red & Blue Ice-Cream Monthly Log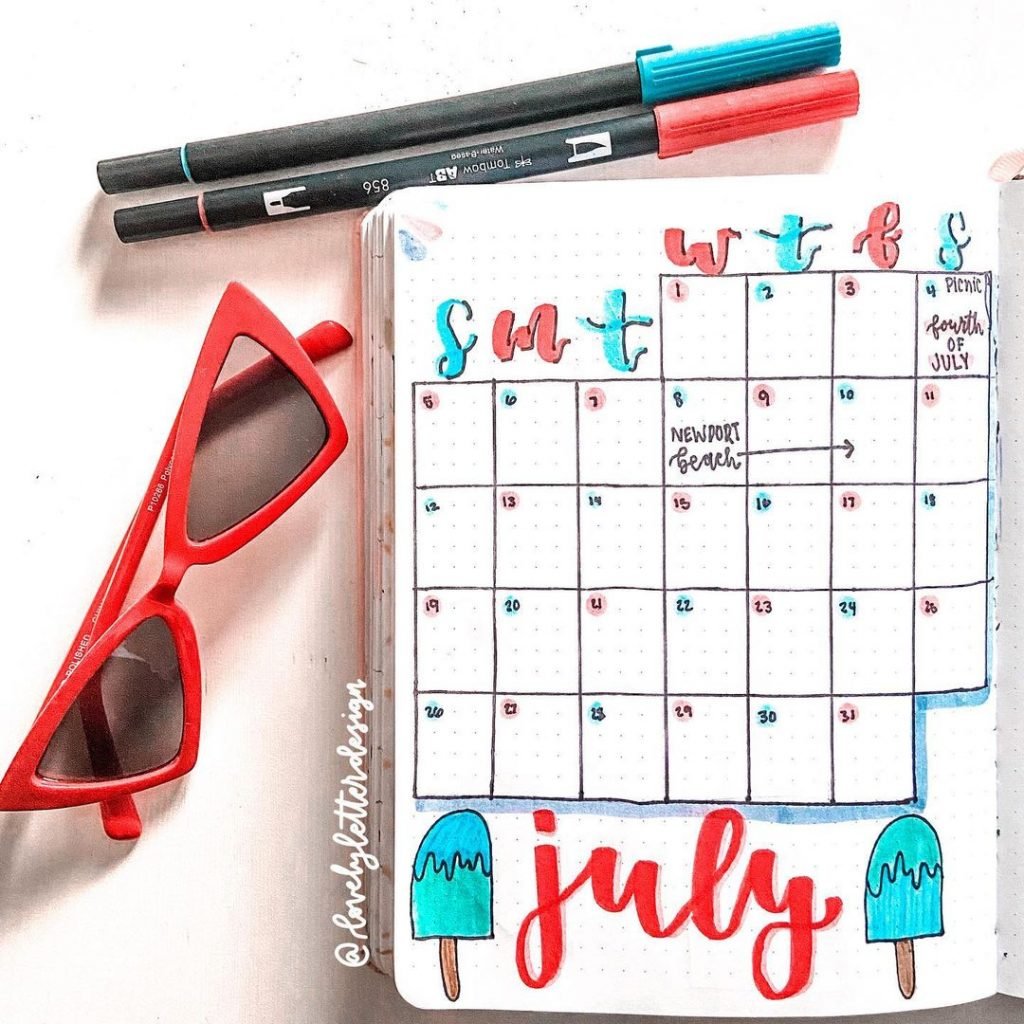 Source: lovelyletterdesign
Choose your favorite color combination to recreate this lovely summer bullet journal monthly spread by lovelyletterdesign. Mix and match the chosen colors and incorporate them in the layout in any way you like. The design has a basic monthly calendar with two icecreams drawn at the bottom. The headings are written using bold and quirky font style, which adds a vibrance to the spread.
16. "Cool" & Creative Summer Monthly Log
Source: magicalflyingpigs
Ice creams are a great way of adding a cool and colorful touch to your summer bullet journal pages. This monthly layout by magicalflyingpigs has a straightforward layout. Start by drawing the monthly calendar in the middle and use the top and left margins to draw tiny, colorful ice creams. This layout is minimal and easy to make and will remind you of the season's joys.
Summer Bullet Journal Weekly Spread
If you are stuck while designing your weekly or daily spreads, this list is the right stop for you. Choose one of the following designs, customize them to suit the theme of your bujo, and begin logging your summer tasks!
17. Beachy Scrapbook Themed Weekly Spread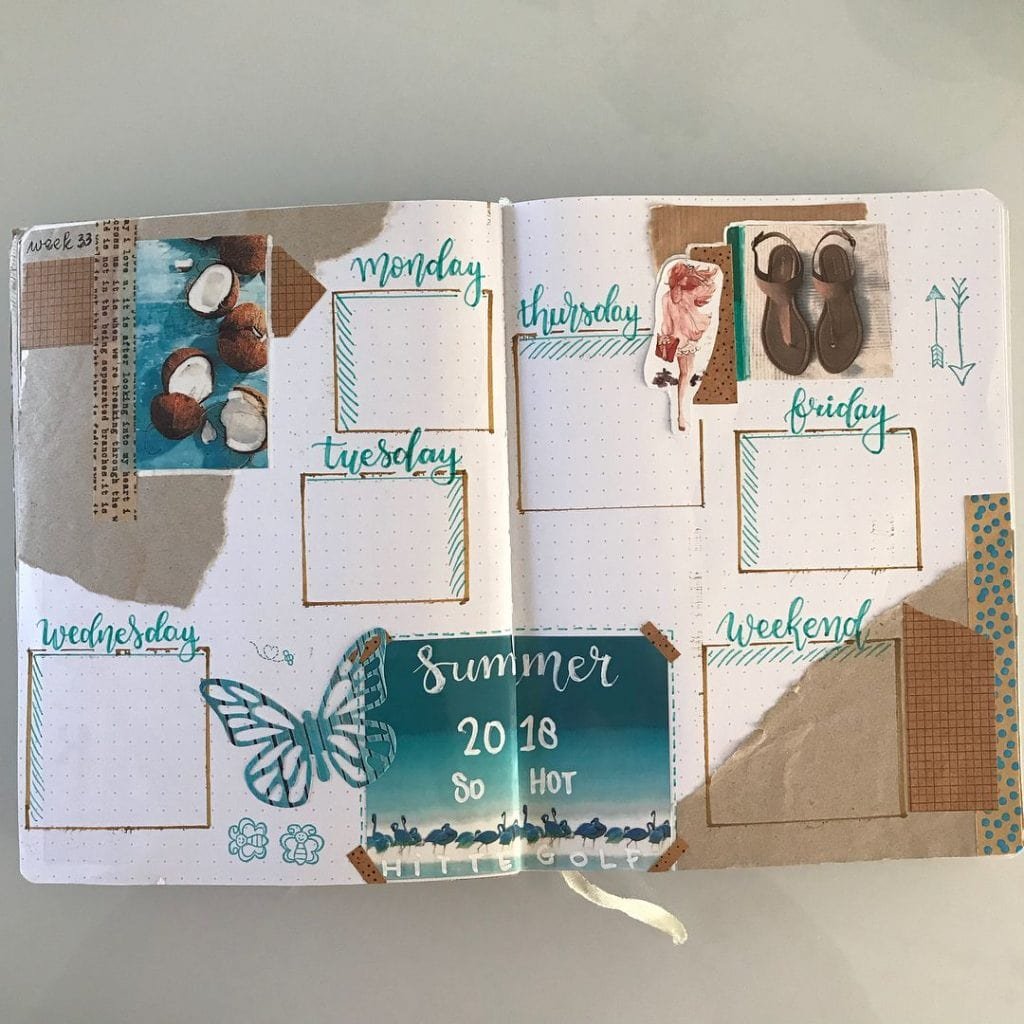 Source: i.love.2create
This weekly layout by i.love.2create is inspired by an oceanic beach theme and has a scrapbook style. Tiny paper scraps are used in the corners to create a rustic effect. The addition of thematic images adds to the aesthetic. Finally, tiny squares act as spaces for writing weekly logs. A summer quote banner at the bottom completes the layout perfectly.
18. Hello Sunshine Summer Weekly Layout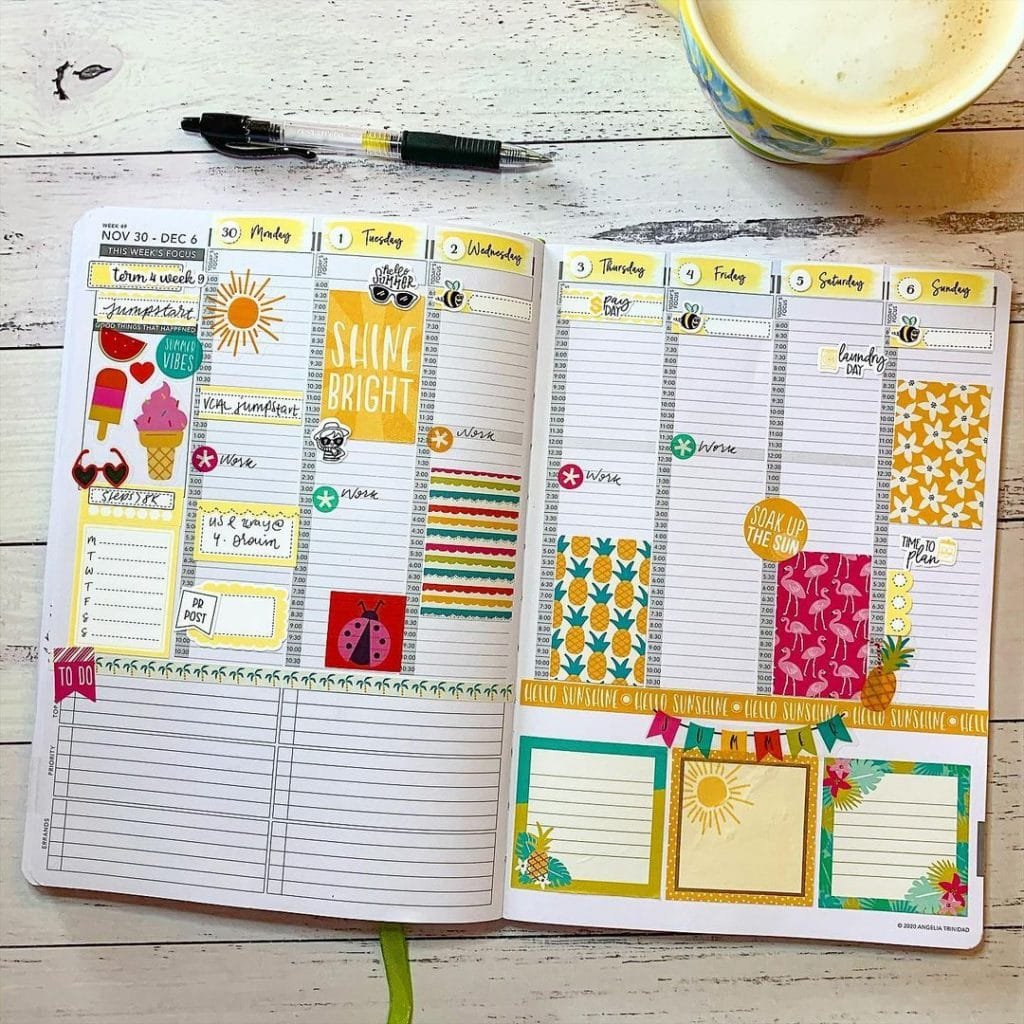 Source: amysplanner
Here is a vibrant and bright weekly layout by amysplanner that is full of colors. A basic weekly layout is turned into an explosion of colors by adding tiny pieces of scrapbook paper. You can add tiny pieces of patterned paper abstractly for added color. This is an easy and straightforward way to enhance a basic layout and make it summer-appropriate. 
19. Incredibly Icy Summer Bullet Journal Weekly Log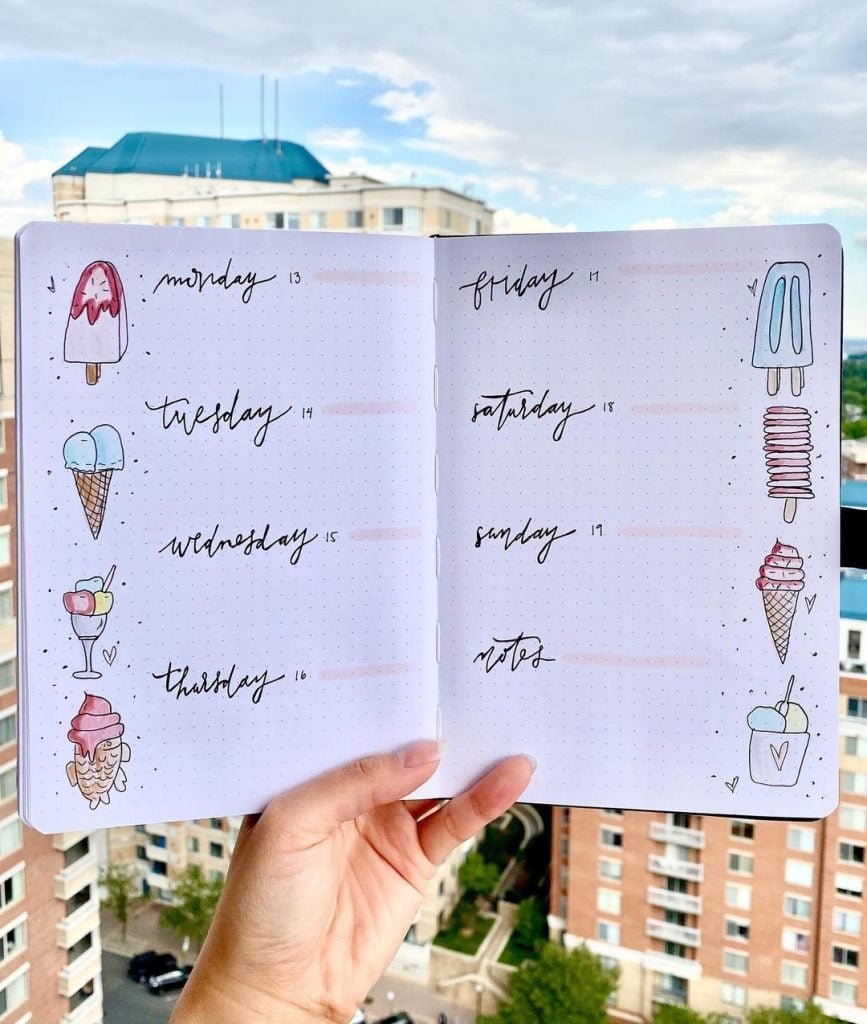 Source: jennaxjournals
This summer bullet journal weekly layout by jennaxjournals uses an ice-cream theme. Start by drawing one ice-cream type for each day of the week. Make uniform sections for each day and assign the last section for notes. Pastel color scheme suits best for this adorable design.
20. Sunny Travels Weekly Layout Idea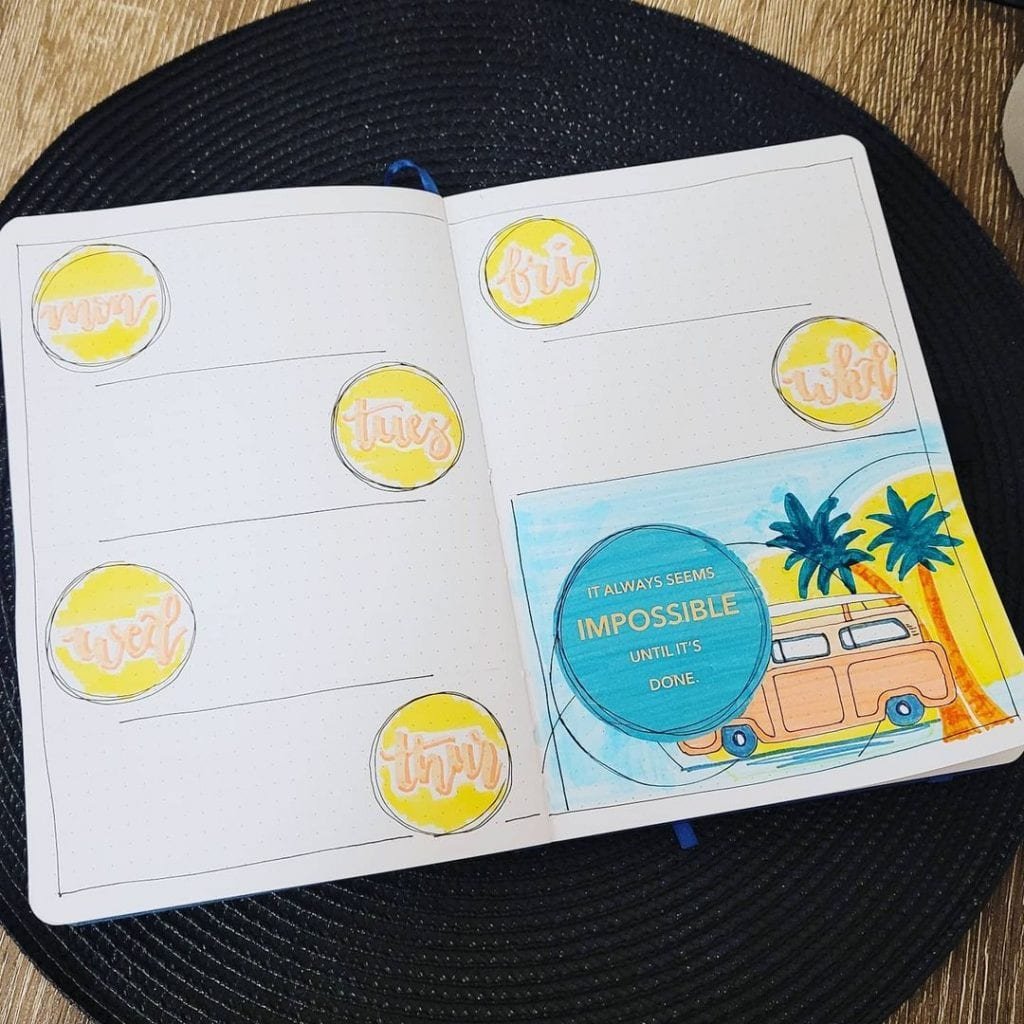 Source: littlegeorgecreates
Summer months are all about bright sunny days. So here is a summer travel-themed weekly layout by littlegeorgecreates. Create headings for each day by using a quirky font and a sun-shaped background. After creating uniform sections for each day, use the remaining space for drawing a travel illustration with a related quote, and voila!
21. Pretty Popsicles Summer Weekly Spread
Source: lovelyletterdesign
Here are some refreshing popsicles that are ready to store your logs. Use a color combination of two favorite colors. Draw popsicles and alternate between the two colors. Dedicate one ice cream for each day of the week. That's it, your simple, quick, and adorable weekly layout by lovelyletterdesign is ready!
22. One in a Melon Bujo Weekly Spread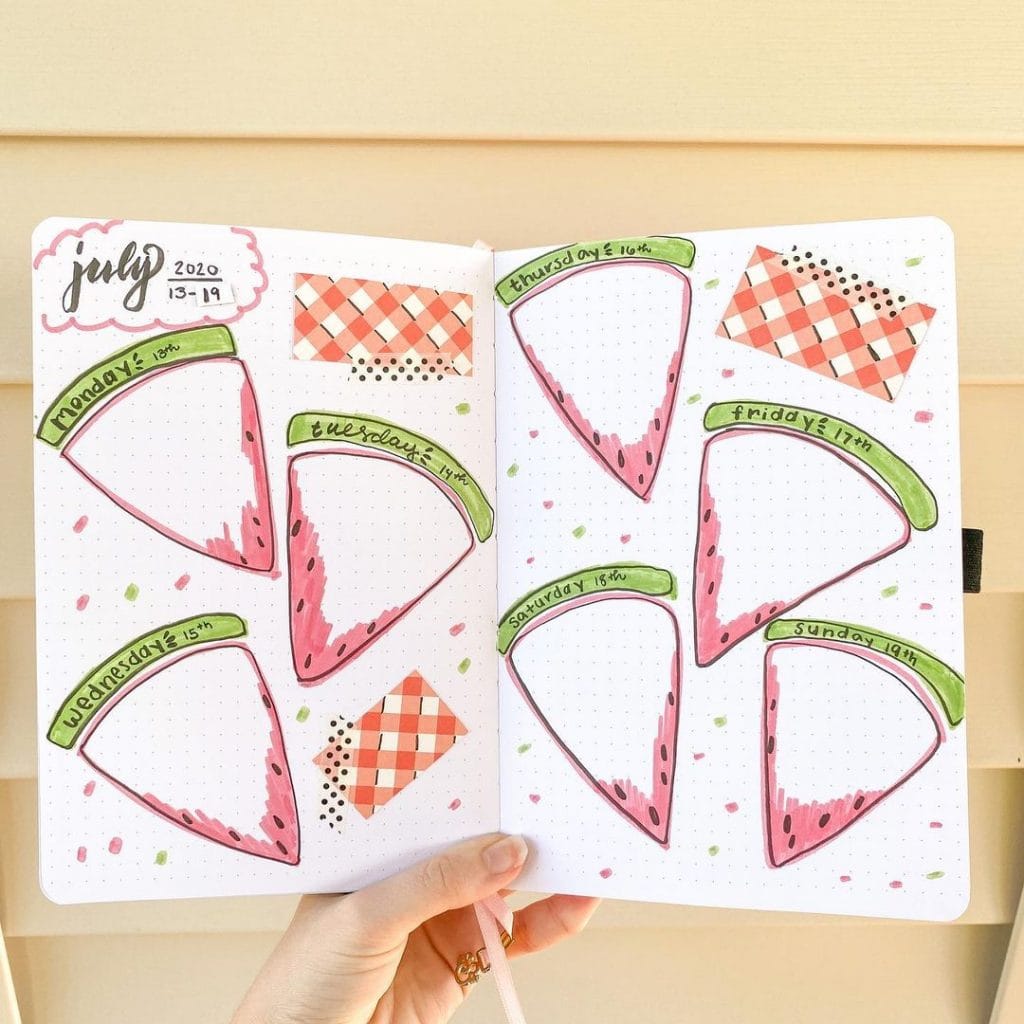 Source: artby_kate21
Watermelon is a favorite summer fruit, and adding it to your summer bullet journal is a must! Draw colorful watermelon slices for each day of the week and add tiny pieces of washi tape to fill up the remaining space. This is an adorable idea by artby_kate21 that is a must-try for the fruity season.
Summer Habit and Mood Trackers
Trackers are an essential section of your bullet journal, but why make them boring? These bujo tracker ideas are creative, unique, and super easy to recreate! They are both functional and gorgeous and scream summertime!
23. Pleasant Pastels Bujo Mood Tracker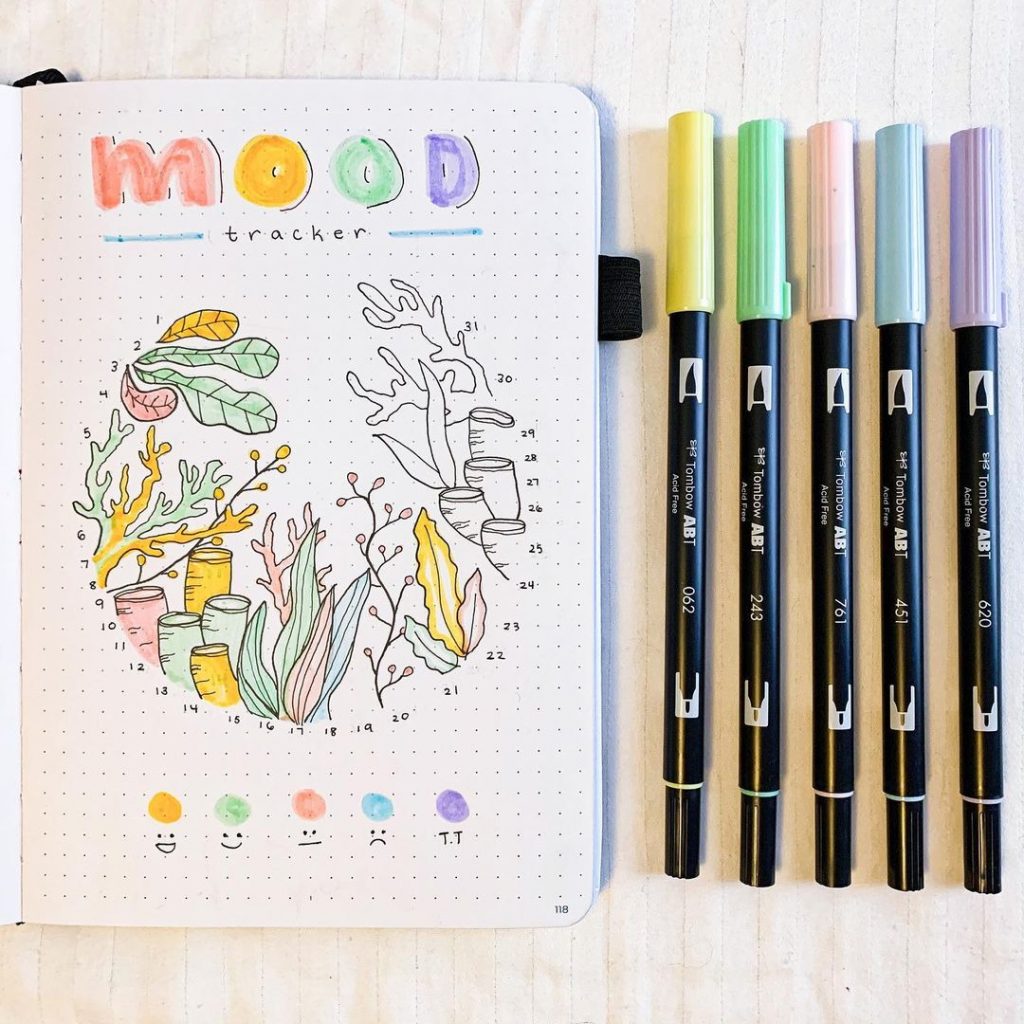 Source: bujowithcindy
This summer bullet journal tracker mood tracker by bujowithcindy is an attractive and pleasant way of designing your bujo page. It uses beautiful pastel tones with a lovely seaweed illustration. Different leaves represent different days of the month. Add a key using complementary colors and track your moods for the summer months.
24. Starry Flowers Habit and Work Tracker
Source: bujo.badger
Colorful flowers are perfect for a summer-themed bullet journal. So, add them to your bujo habit and work tracker like in this idea by bujo.badger. The layout is basic, with tiny calendars allotted to each habit. Draw tiny yellow stars to fill up the empty space and add flowy flowers at the bottom corner. Choose the color scheme of your choice and get tracking! 
25. Chilling in the Pool Mood Tracker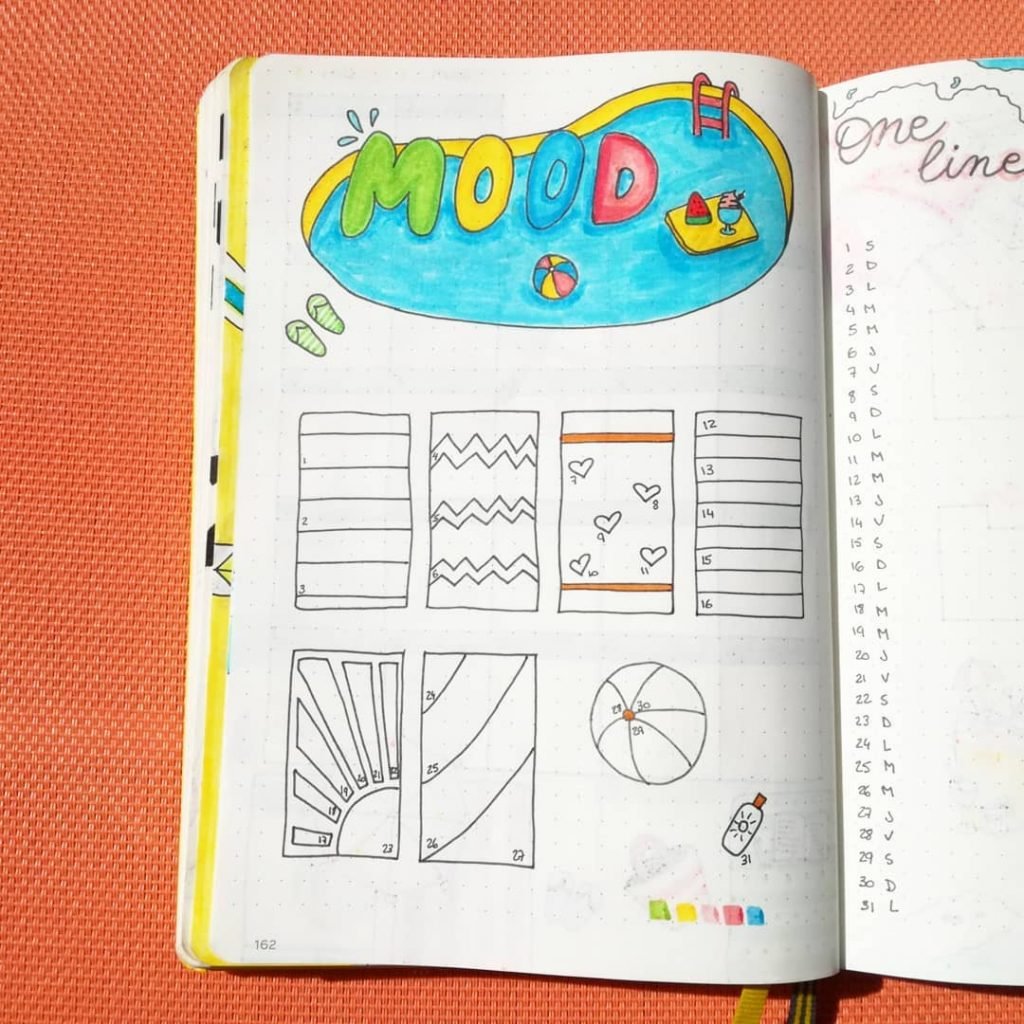 Source: noneniebujoscrap
If you love swimming during the summers, add that inspiration to your bujo tracker using this idea by noneniebujoscrap. Draw tiny rectangles with patterns for each day of the month to track your moods. Add a key at the bottom by assigning one color to each mood, and voila!
26. Colorful Chaos Summer Bullet Journal Trackers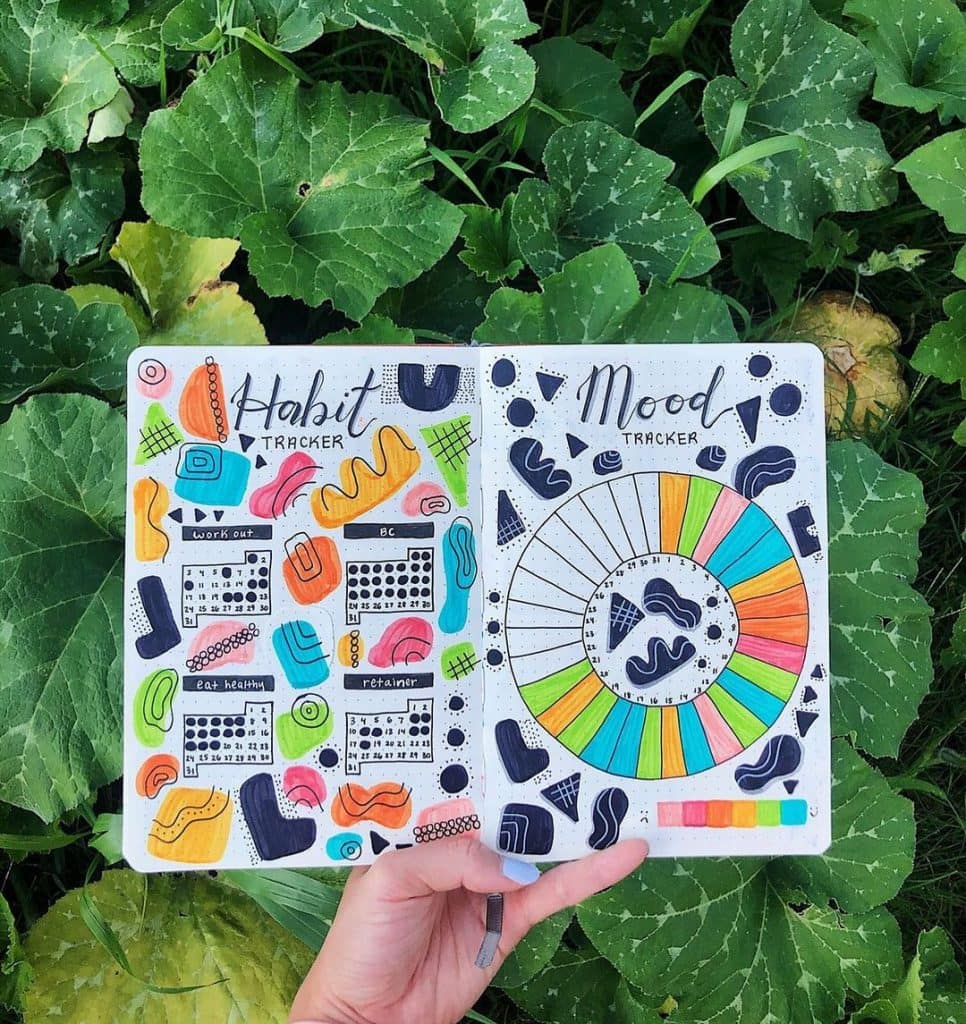 Source: bujowith_lisa
I love how vibrant and colorful these summer bullet journal trackers by bujowith_lisa are. The layouts for both habit and mood trackers are very basic and straightforward. All the color and summer chaos is added through the colorful abstract patterns drawn across the pages. This is your chance to use up all the colors you have in your stationery collection! 
27. Hanging Sea-Shells Bujo Mood Tracker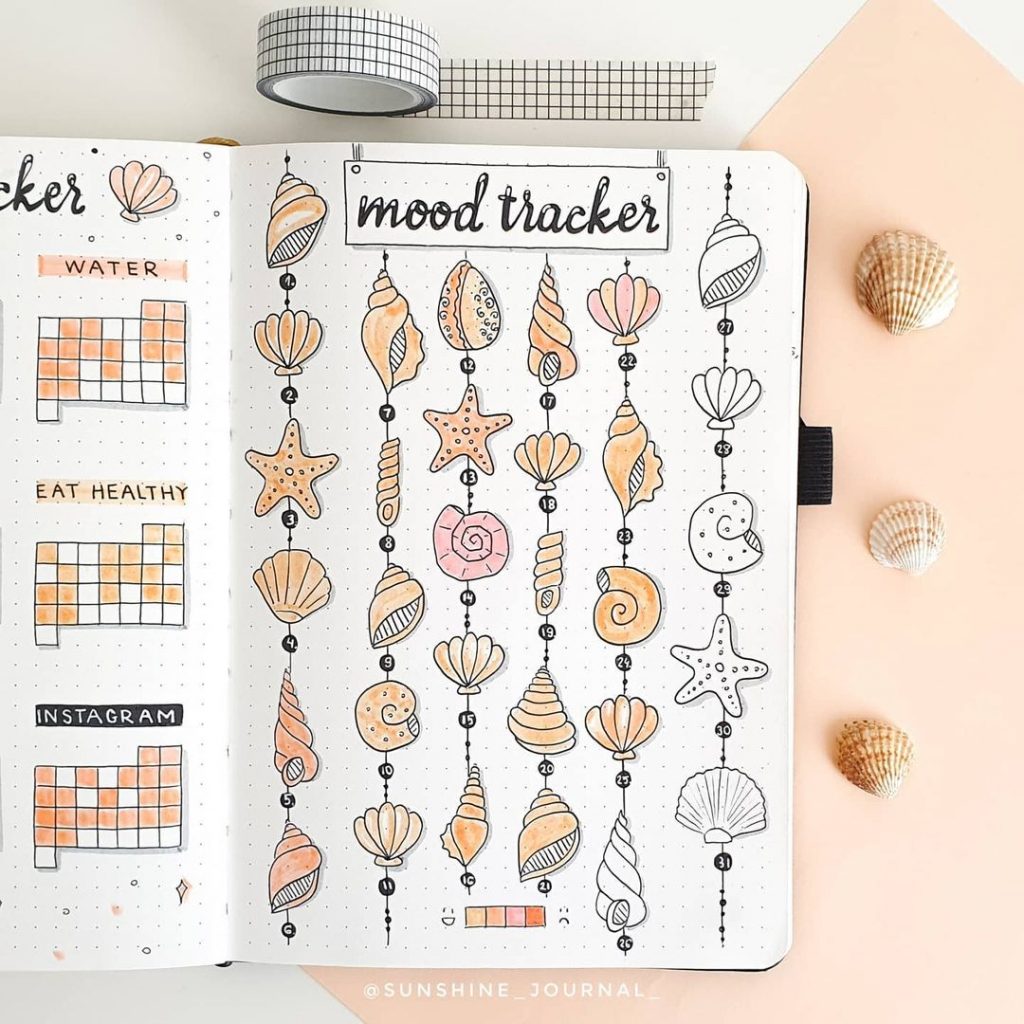 Source: sunshine_journal_
These hanging seashells are the easiest and most exciting way of designing your mood tracker for summers. The beachy vibe from the colors and shapes in this idea by sunshine_journal_ is super appropriate for the season. Each seashell has several stripes that allow you to track your mood throughout the day. You can choose to color a seashell in more than one color to track your most popular moods during each day.
28. Moody Butterflies Summer Bujo Tracker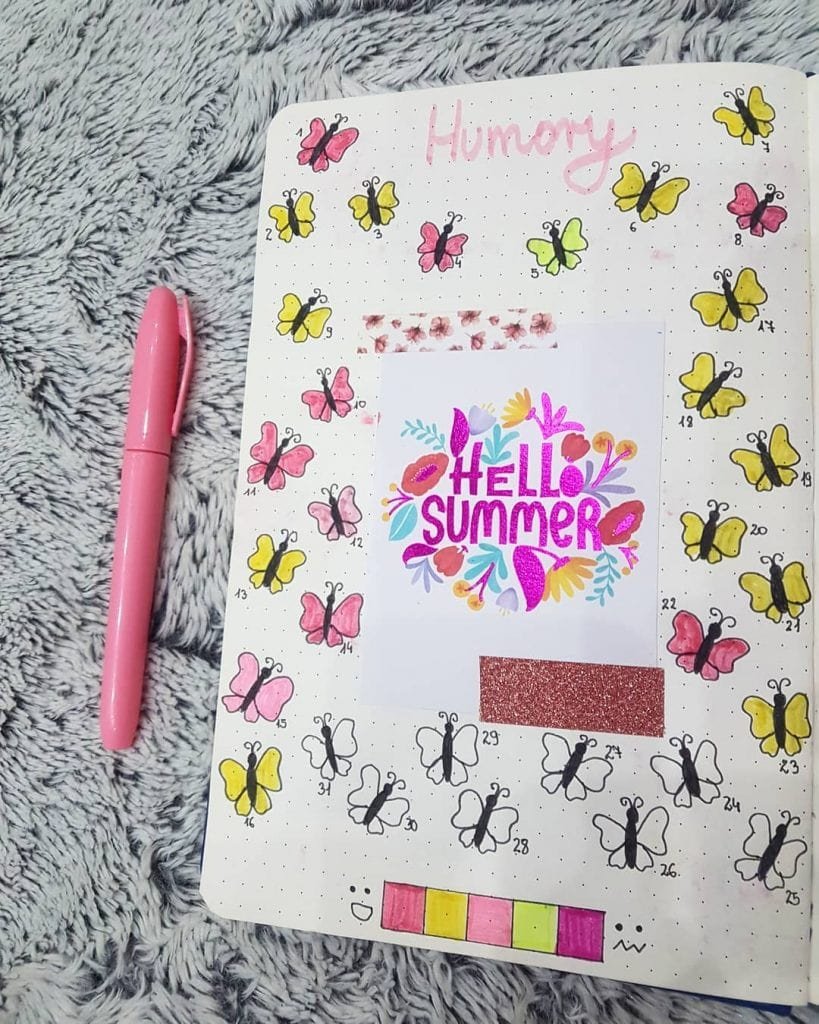 Source: bulletjournalnikoli
Color these tiny butterflies in your moody colors every day using this tracker idea by bulletjournalnikoli. Write the title in the middle and draw multiple butterflies across the page, one for each day. Add a key at the bottom allotting your favorite colors to each mood, and voila!
29. Carnival Ferris Wheel Bujo Habit Tracker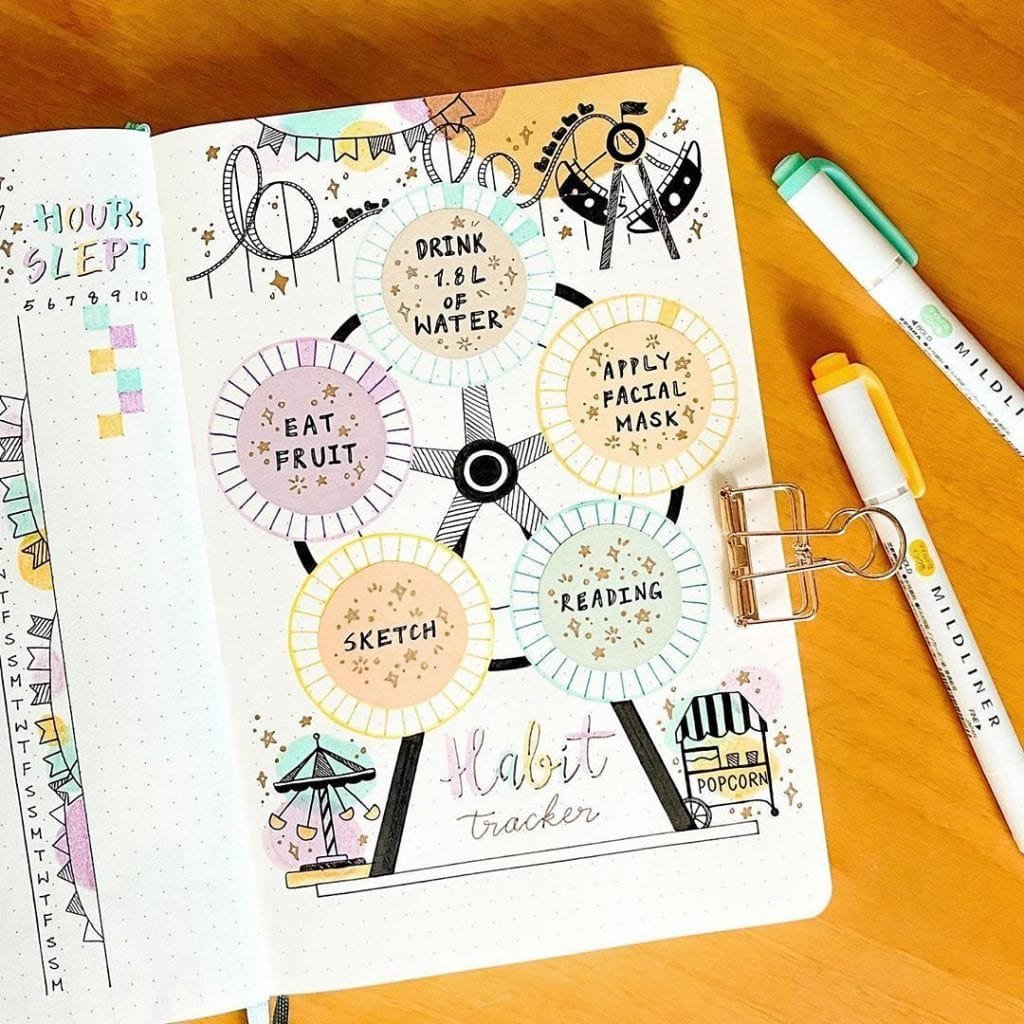 Source: stationery.bear
I love how artistic and fun this summer bullet journal idea by stationery.bear is. It draws inspiration from the fun rides at a carnival. This design is indeed a super fun way of tracking your monthly habits. A Ferris wheel is used as the background with each seat for each habit. Many colors and fonts are used to make the page as happening as a summer fair.
30. Moody Polaroids String Summer Bujo Tracker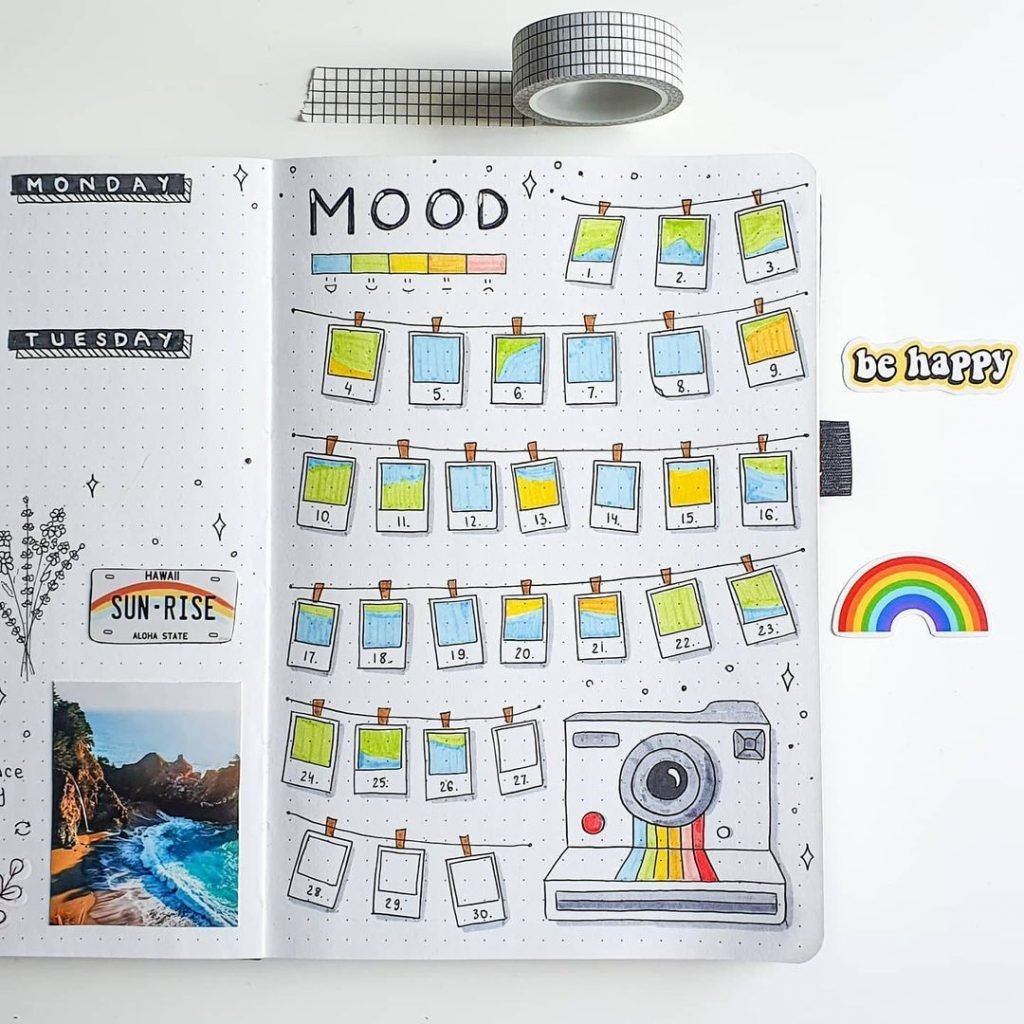 Source: sunshine_journal_
Here is a mood tracker idea by sunshine_journal_ for the photograph and travel lovers! Create a string of polaroids with one for each day of the month. Assign a key with colors for each mood and draw a tiny camera at the bottom corner. I love how beautiful and creative this idea looks. It also allows you to track multiple moods in your day.   
We hope these ideas inspired you to start creating a summer bullet journal and filling it up with sunshine. You can add the seasonal vibe to your cover pages, monthly and weekly layouts, trackers, and just with everything else. Simply adding some summer doodles, headings, colors, quotes, or images, changes the whole vibe of the bujo. So, do try these out! 
If you loved these ideas, you can use the Pin image below to save this article on your Pinterest board. Also, follow us on Instagram to stay updated!