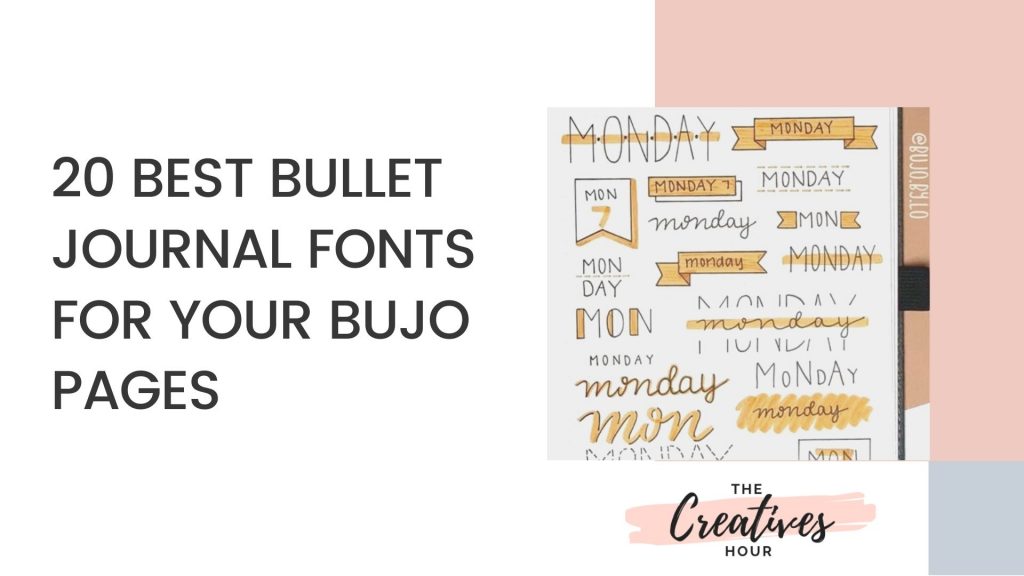 Using different fonts and styles in your bullet journal is a great way to enhance your journal without putting in much effort. If you are someone who isn't artistic enough or simply lacks the patience to doodle and decorate your journal, then changing up the fonts and using different colors and strokes is a really good way to up your bullet journaling game. You will be surprised at how much a simple change in font can elevate your bullet journal and make it not only visually pleasing but also more organized and productive. 
If you're just get started with bullet journaling, check out our blog – How To Bullet Journal – Complete Guide To Bullet Journaling
Table of Contents
What Can You Do With Bullet Journal Fonts?

Well, now that you are convinced about the need to use different bullet journal fonts,  here are some examples of how you can use them in your bullet journal:
1. Write Beautiful Headers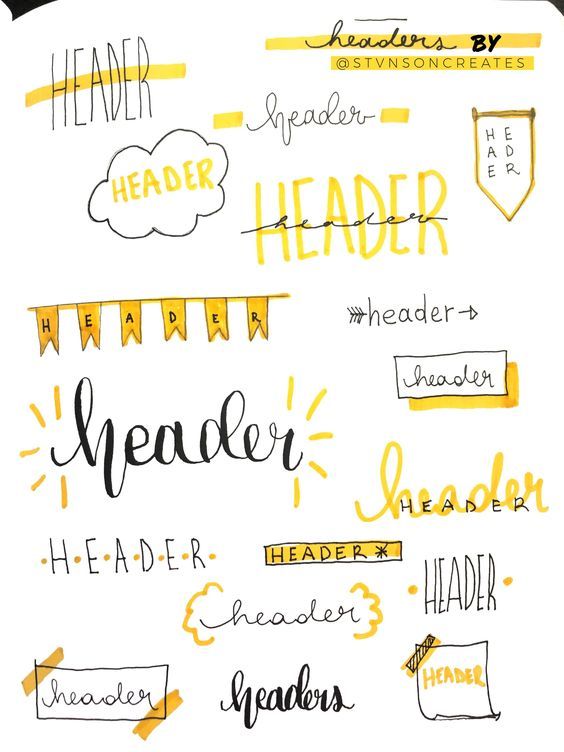 You can use different fonts to create beautiful headers for your bullet journal. This will not only beautify the pages of your journal but will also make your journal way more functional.
2. Write Different Days Of The Week In A Unique Style
You can make the days of your week look attractive by using different fonts for every day. Doing so will make journaling fun and make you look forward to journaling each day.
3. Write Every Month In A Unique Style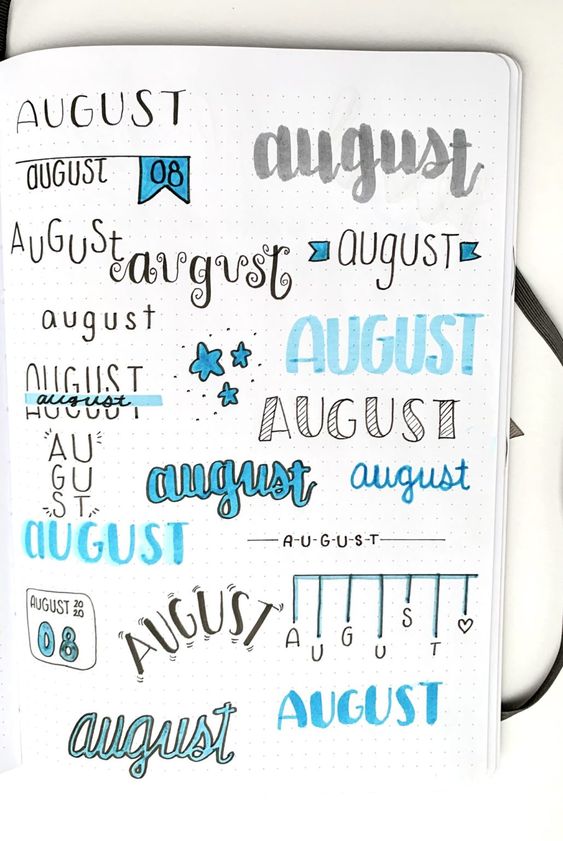 Each month is different and so should be the fonts that you use in your bullet journal. Use different fonts to write each month in a unique style. 
Related post – 34 August Bullet Journal Ideas For Your Bujo Pages
If you like adding doodles to your bullet journal titles and headers, you can check out our e-book that teaches you how to create some of the most interesting doodles.
Learn To Create
Doodles Of Everything
You Can Imagine
The step-by-step guide covers doodles of all seasons, events, food, flowers and animals.
Grab It For $10

Bullet Journal Font Ideas

Here are some bullet journal font ideas that you can use in your journal.
1. Faux Calligraphy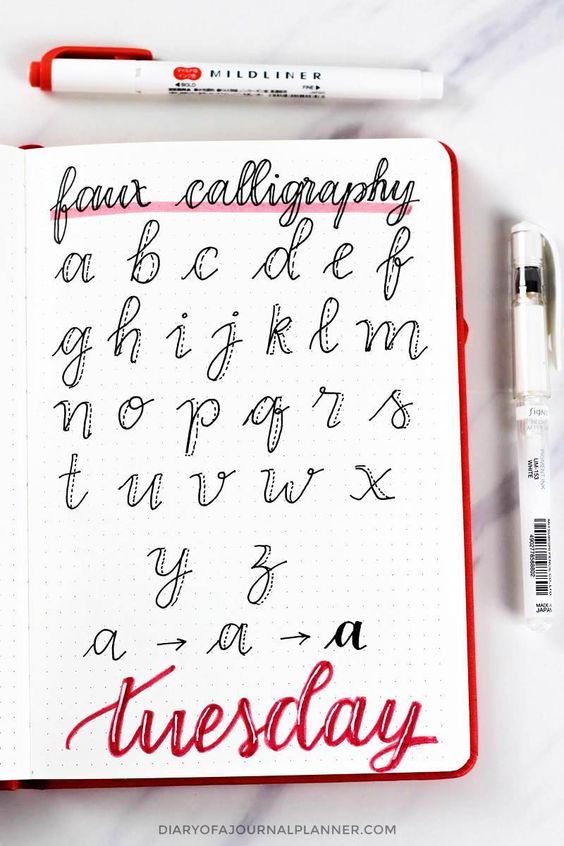 Faux calligraphy uses simple fineliners to fake the effect of calligraphy which is why it is also known as fake calligraphy. It is very simple to recreate and not as difficult as traditional calligraphy. First, write your word or phrase in simple cursive letters. Then, trace over the word or phrase. Draw lines parallel to each of the downstrokes. Then, all you got to do is fill in the gap between the lines. Easy right?
Refer to our blog post on How To Get Started With Hand Lettering.
2. Flag Banner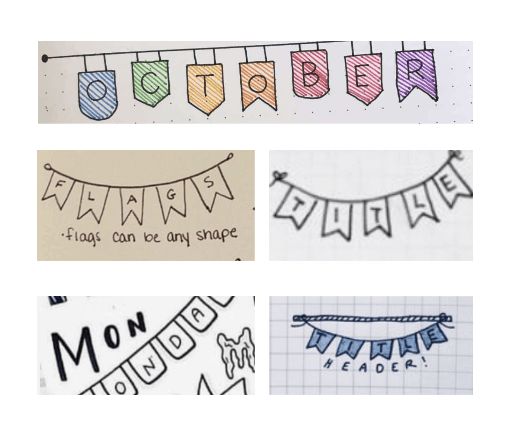 The flag banner font is fun and easy to recreate. It is a super cute way to add an element of fun and creativity to your bullet journal. All you have to do is draw a line across the page and draw small triangles all across the line. Fill it up with letters of any font. 
3. Simple Serif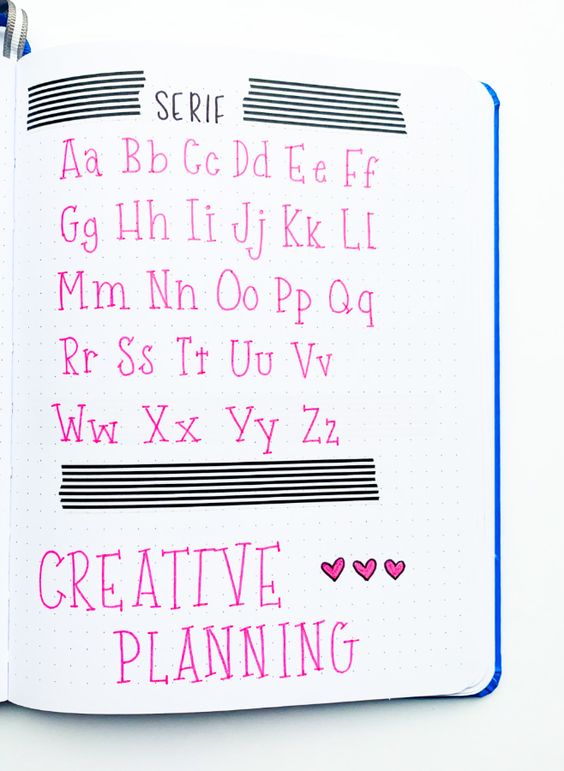 The Serif font is very simple and easy to recreate. Simply write your words as straight and blocky as you can. Then add small dashes at the top and bottom of the letters to complete the look. These dashes are called serif, hence the name.
4. Thin and Tall Font For Your Bullet Journal

This is probably the easiest font that you can create from the list. So if you aren't that artistic, then this one is perfect for you. All you have to do is draw your letters as thin and skinny as you can. That's it!
5. 3D Lettering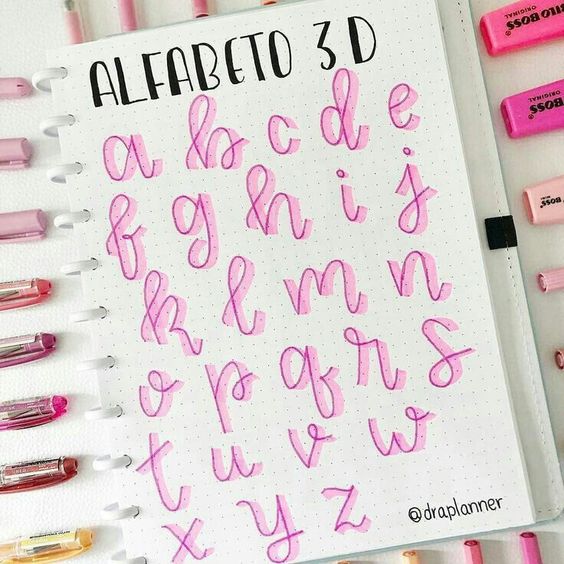 3D lettering is a little advanced so it is recommended to try out faux calligraphy and brush lettering before trying this one out. To recreate this, draw out a word using the hand-lettering technique. Then, using a pen of a darker shade, trace out the outline along one side of the stroke to give it a 3-dimensional look. 
6. All Caps Background With Cursive Forefront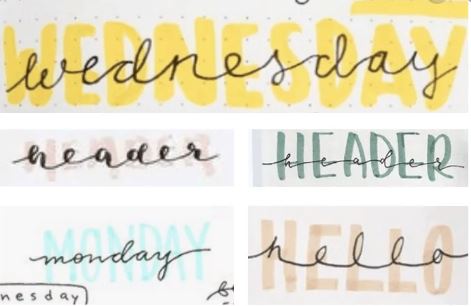 This middle break font is by far my favorite from this compilation. It's easy to make and leaves a huge impact. All you have to do is take a pencil and write your background word in neatly spaced out caps. Then, use an eraser to erase the middle part and then write your forefront words in cursive. Use colors of your choice to outline the words.
7. 3D Block Font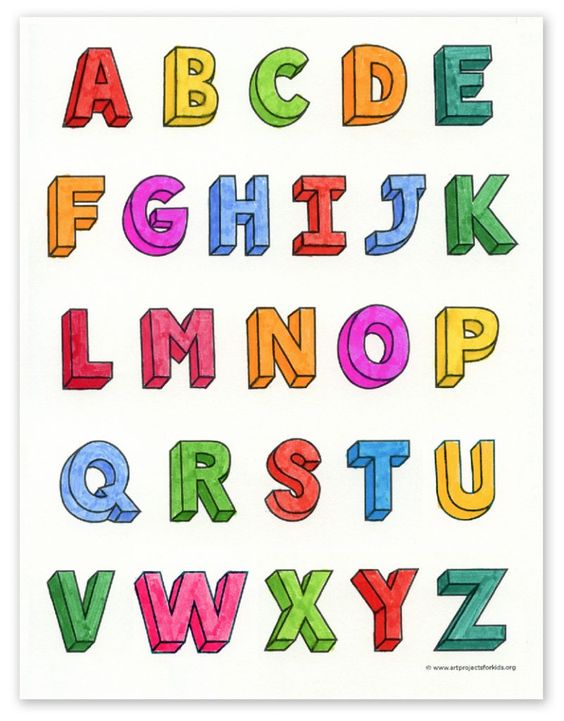 These 3D letters are sure to create a bold impression in your bullet journal. It takes time to create, but definitely worth the effort. First, simply sketch out your block letters. Then at the top and bottom corner of each letter, draw a short slanted line. Then, just connect the lines. You can leave it like this or fill in colors to add to its beauty. 
8. Simple Print Font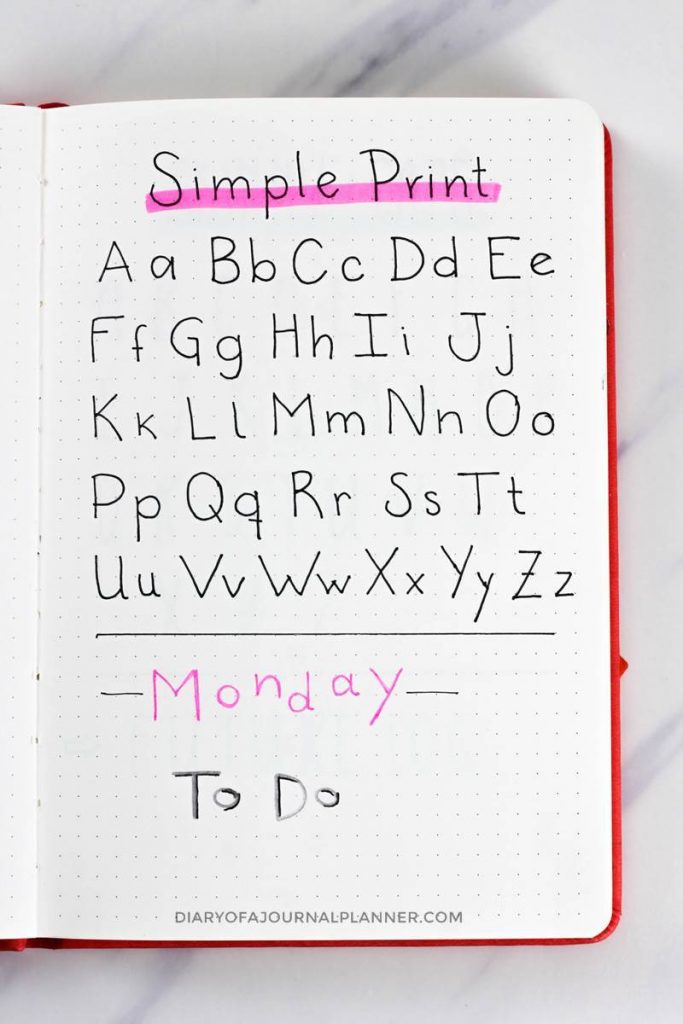 These simple print letters are very easy to write and highly efficient. It is simple, cool, and functional. If you feel like they are too simple, you can add colors to elevate it a bit.
9. Blending Brush Lettering / Ombre Effect

Brush lettering is widely popular yet one of the trickiest forms of hand lettering. It's a bit challenging for beginners so if you are new to the world of lettering, try out the other styles first. You can use brush pens or watercolors and paintbrushes to make this. You can blend different colors or use different shades of the same color to create this cool font.
Related Post – 3 Best Brush pens for Beginners in 2020.
10. Bounce Lettering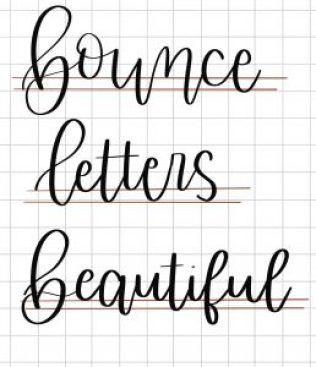 Bounce lettering is a fun way to add some life to your bullet journal. These letters look bouncy and cheerful. Before you get started with bounce lettering, you should be well acquainted with the basics of faux calligraphy and hand lettering. There are some rules to be followed while using bounce lettering or else it can turn out to be quite messy. Refer to Amy Latta creations' article on Basic Bounce Lettering.
11. Cursive Letters

Cursive letters are very simple and effortless, yet look very pretty. I'm sure most of us were taught to write in cursive letters by our English teachers back in primary school. If not, you can use a four-lined notebook to practice your letters. Remember, practice makes perfect, the more you practice, the neater your handwriting will get.
12. Cursive Divider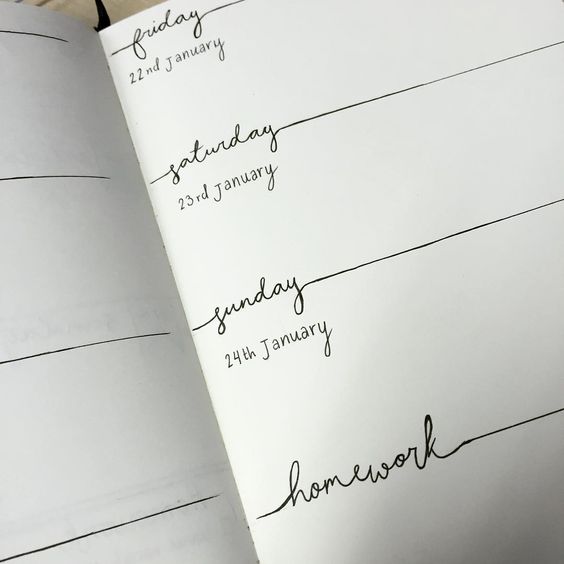 The cursive divider font is just a variation of the simple cursive font. All you have to do is write in cursive letters and extend the ends of the word or phrase. These also double up as page dividers. As you can see in the above image, the days of the week are written in cursive dividers which also segregate the page into different sections.
13. Bubble Font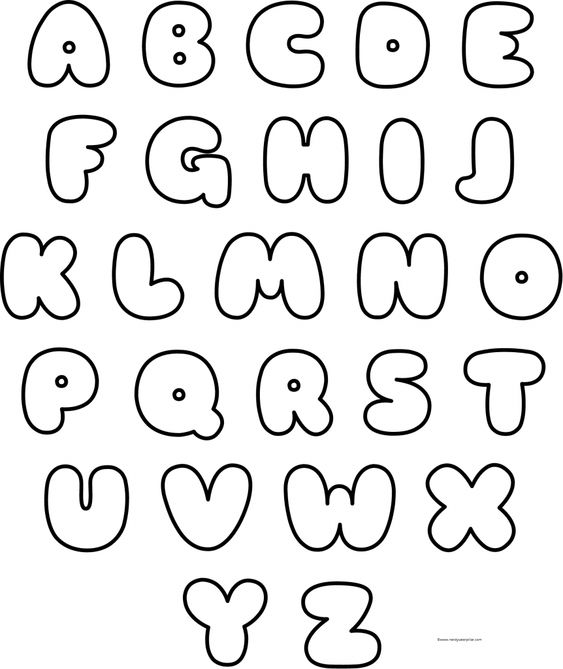 Bubble font makes your letters look puffy and bloated just like bubbles, hence the name. These are very easy to create and do not require much tools or expertise. To make bubble letters, simply draw your letters with a pencil like you normally would. Then, outline the letter, but make sure to draw the outline more curvy and smooth rather than straight lines. You can fill it up with different colors to make it look even more attractive. 
14. Half Block Font
If block letters seem too bold to you, then you can start off with half block letters. These half-block letters are pretty easy to create and are sure to make a statement. All you have to do is write the word in capital letters like you normally would and then accentuate only one-half of the letters.  
15. Block Font
Block letters are perfect for headings and titles that you want to stand out from the remaining text. It makes a very bold statement and is also easy to create. You can always fill it in with color pens and highlighters to make it look prettier.
16. Modern Font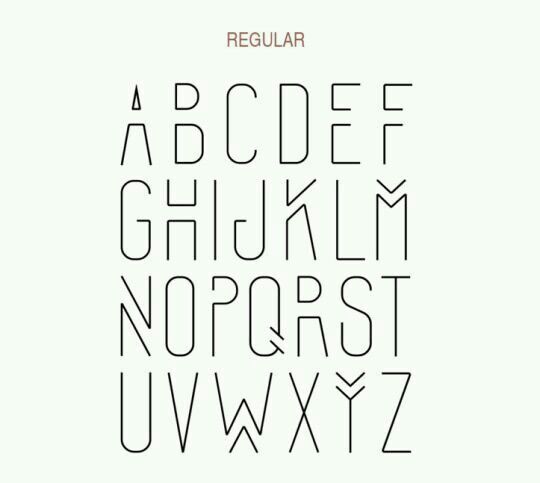 This modern font is very minimalist and adds a cool edge to your journal. It's perfect for banners and other headings as well. You can easily recreate this font using long, thin lines. 
17. Banner Font
Banner fonts can prove to be a fun little addition to your bullet journal. We have already seen the flag banner font on the list above. You can try out different variations of the banner. The words can be written in any font within the banner. Don't hesitate to add a pop of color to the banner and use shading to give it a nice 3D look.
18. Add Floral Details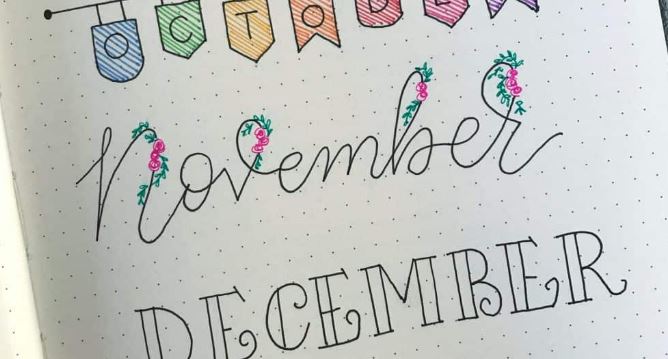 You can always add cute little details to your letters to take it to the next level. Adding floral details like this to your letters will make it look aesthetically pleasing. Use different colored pens to make it more fun and exciting. You can also replace the floral details with leaves or tiny hearts or anything else of that sort.
19. Arrow Font
I came across this really cool looking font on Pinterest and decided to add it to the compilation. This arrow font is very easy to recreate and looks very elegant too. All you have to do id sketch out long capital letters and add cute little arrows in the direction you like.
20. Circles Font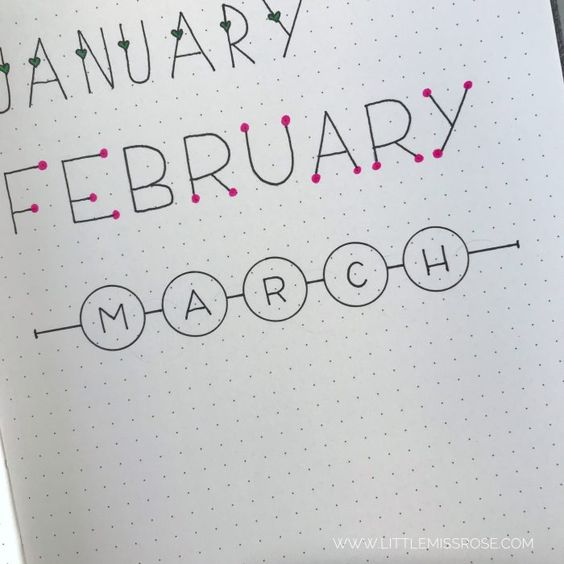 This circle font is great for a minimalist journal. Use a stencil to draw neat, evenly spaced out circles. Then join these circles using a pen making sure not to draw through the circles. Then simply fill in the circle with minimalist capital letters. That's it! Simple right? If you want to add more flair to it, you can also color the circles.
Frequently Asked Questions:
1. What are the different supplies needed to create bullet journal fonts?
The supplies used depends on the type of bullet journal font that you create. If you are a beginner and do not want to spend much on expensive tools, then a simple pen, sketch pens, or fineliners will do the trick. If you want to up your game, then getting a calligraphy pen would be a good idea. For brush lettering, you will require brush pens or watercolors and paint brushes. Additionally, you will need highlighters and color pens to decorate your page. 
2. How can I learn hand lettering for bullet journaling?

If you are new to hand lettering, it would probably be a good idea to practice before getting started. If you hate making mistakes in your journal, then try using a few pages to practice before writing on the actual page. 
It is a good idea to print the difficult fonts first and trace them over as a form of warm-up. 
Use a pencil first and once you are satisfied with the formation of the letters, only then use a pen to trace them. 
Make sure to use a dot journal to guide you through the process. 
Use good quality pens as they make a huge difference on how the final outcome turns out. 
Watch youtube tutorials on hand lettering and practice them as often as you can.
For more information, refer to our blog post on How To Get Started With Hand Lettering.
So there you go! That was the list of top 20 fonts that you can use in your bullet journal to make it more functional and pretty. Do try them out and let us know your feedback in the comments section below. 
If you loved these ideas, you can use the Pin image below to your to save this article on your Bullet Journaling Pinterest board, for future reference.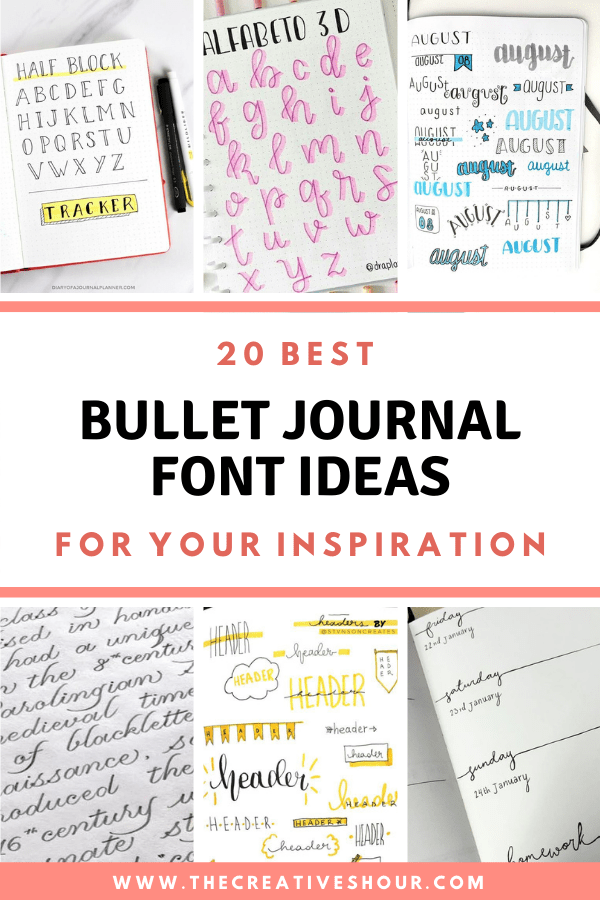 References
Use of Reflective Journaling to Understand Decision Making Regarding Two Evidence-Based Psychotherapies for PTSD: Practice Implications
https://www.ncbi.nlm.nih.gov/pmc/articles/PMC6426332/
2. Online Positive Affect Journaling in the Improvement of Mental Distress and Well-Being in General Medical Patients With Elevated Anxiety Symptoms: A Preliminary Randomized Controlled Trial
https://www.ncbi.nlm.nih.gov/pmc/articles/PMC6305886/
3. Reflective Journaling as a Flipped Classroom Technique to Increase Reading and Participation With Social Work Students
https://www.ncbi.nlm.nih.gov/pmc/articles/PMC5034758/