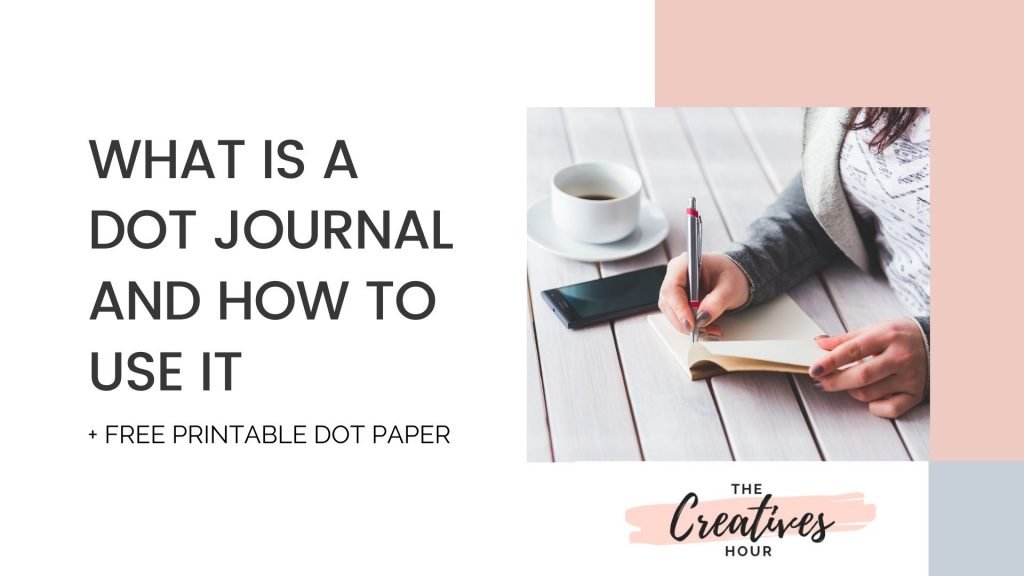 If you journal every day, you might already be familiar with different standard notebook options. There are plain pages, line pages, and grid pages. But did you know, there is another journal option – Dot grid?
Since dot grid journals are new in the market, let us discuss what actually is a dot journal. 
Imagine a grid paper without the lines and just the dots at the grid intersections. That's how a dot paper looks like. Therefore, the dot grid journal is an alternative to traditional lines and boxes. 
These journals became famous as the dots aren't invasive yet provide you with subtle guidance in keeping your writing and drawings straight.
A dot journal is basically a planner + to-do list + dairy all in one spot. You can organise it the way that works for you, and there is no right or wrong way to do it. If you are anything like me and want a little guidance on how to get started with it, just keep reading.
Why Choose Dot Grid Journals Over Other Journals?
Have you ever been in a dilemma of which journal you should pick? Because with plain paper, your writing will be all over the place. Lined paper will make you look like a scholar (I am now having flashbacks of perfect penmanship and those endless essays in school and college). Grid paper is correctly aligned, but don't you think it is a bit busy for drawing and decorating the page? I feel like grid paper is a bit distracting from my work.
So, what should you choose? That's where our knight in shining armor, Dot Grid Paper, comes into action. Download Free Printable Dot Paper here.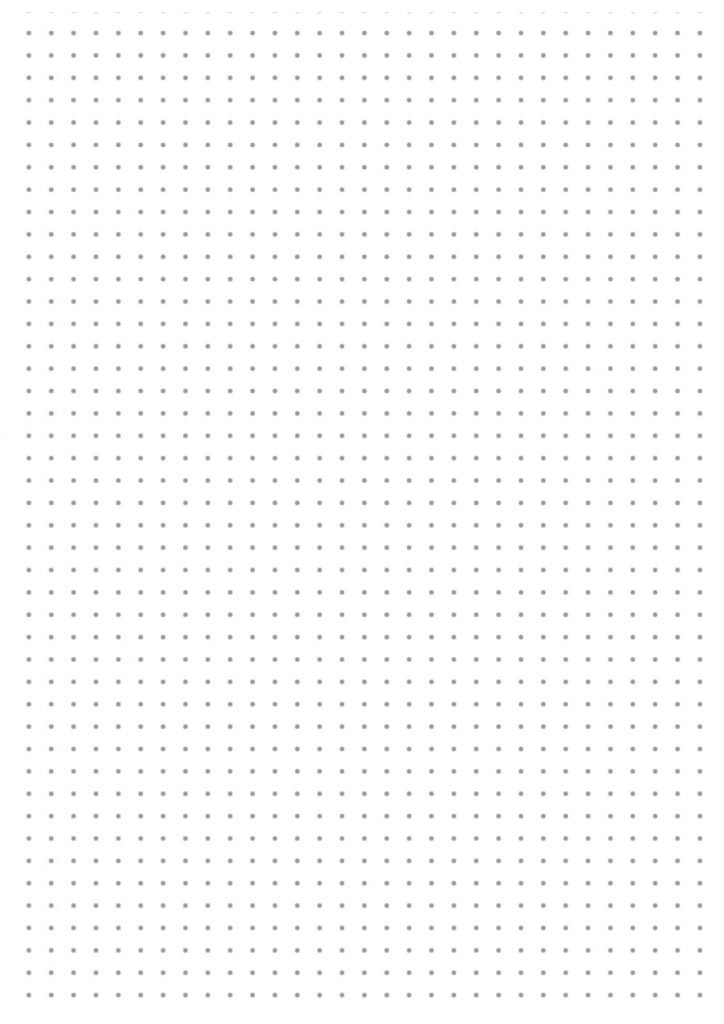 Dot grid paper has just the right amount of print that helps you in keeping things aligned and, at the same time, is not distracting from your creativity and writing. Also, the best part is, if you want to show off your skills in social media, it is effortless to fade the dots, so it looks like you have the perfect penmanship without any help. 
Dot journals are also available in A5 ( 5″ X 8.3″) size. A5 size in the perfect size as they are large enough to work in and yet small enough to take it anywhere. 
Dot Journal Ideas To Get You Started
Grab a jot gridded journal and a buckle up with some pens, of course as the following note-taking tips might just rock your journal world. Here are the six simple dot journal ideas to get started with your journey.
Indexing
An index page is where you will record topics and their corresponding page numbers so that it will be easy for you to flip to them late on. If you dot grid journal is pre-numbered, it is good, but if it is not, it is perfect because it is where you can be creative and number the pages yourself. 
For example, in my journal, I have written my 2020 goals on page 4, my habit tracker on page 6, and my mood tracker on page 8. So I will just make a note of them in my index. Easy peasy, right?
Creating A Key
I personally feel like creating a key is the heart of dot-journaling. A key is basically a set of symbols or colors or short cuts you create yourself to make your note-taking more comfortable and efficient. 
Here is an example set of commonly used symbols by journalists to indicate the status of your task.
● indicates "to do."
x indicates "done."
> indicates "migrated."
> indicates "scheduled."
/ indicates "canceled."
– indicates "note."
You can also take this a step further with color to categorize. But don't over-complicate it. For me, I classify my tasks using colors. I use red to indicate "work," pink to indicate "personal," yellow to indicate "fitness," black to indicate "event/ social," etc. 
Read – Bullet Journal Key Ideas For Beginners
Deciding On The Layout
After the index and key page, the next important thing to do is deciding on the perfect layout for your dot journal. Picking up the layout depends on various factors – 
How big is my handwriting?
You need to consider the size of your letters before drawing columns. Because, rather than squeezing in your handwriting to fit in the columns, it is better to change the column size according to your writing.
How far do you want to plan?
When deciding on the layout, I recommend you think about how you plan your days because some people choose a-day a page to include the half-hour appointment time-slots. While others need monthly wall calendars, and some hardly even use a dairy. 
Daily-monthly mix layout is perfect for the high-paced lives, and daily logging like restaurant managers, journalists who need to book appointments and deadlines.
The weekly-monthly mixed layout is suitable for thinking of a week in advance and having a lot of things to jot down and keep track of like freelancers or students.
An only-monthly layout is good for the people with routine – who don't have much to plan or who don't have time for journaling.
The journaling layout needs a lot of experimenting. If one doesn't work out, don't worry! You can always change it whenever you want.
Deciding On What Fonts To Use
Although the original journaling system is intended to be minimalistic and clean style, many bullet journalists use their journals as a tool to spark creativity. So, make your journal a mix of planner and a creative outlet. You can also improve your handwriting and calligraphy skills. Search the web and pick some fonts and try it yourself!
Deciding On What Pens To Use
You can't go wrong with a quality pen and a good notebook. So pick pens that are reliable, good quality, and make your writing in the journal a joy instead of a task. Since there are many options available in the market, I don't want you to spend a lot of money and time experimenting with each other. So, I have listed the pens that are a safe bet.
Theme
One of the best things I love about other people's journals is their monthly themes. I think these themes make people more fun, engaging, and easier to understand. Whether you want the theme to be minimalistic or decorative, there are many bullet journal ideas to take inspiration from.
Jot Journal Ideas
Jotting Down Tasks and To-Don'ts list
Some times, don't you think your to-do things will hold us back rather than the things we are not doing? If your to-do list makes you overwhelmed, try making a to-don't list. It simplifies your life. I feel like a to-don't list is a way to remind myself of the things I have to stand for. This is really helpful in working towards my goals.
Tracking Weekly Habits
Did you know the fastest way to reach your goals is to track your habits that will help you get there? A weekly habit tracker will help you in reminding us to act. It acts as a visual cue. All you have to do is merely jotting your typical day down the side and the days of the week across the top. Then check each day you have done the task. You can also divide into the morning, evening, or whatever makes tracking more fun. 
Learn more about habit trackers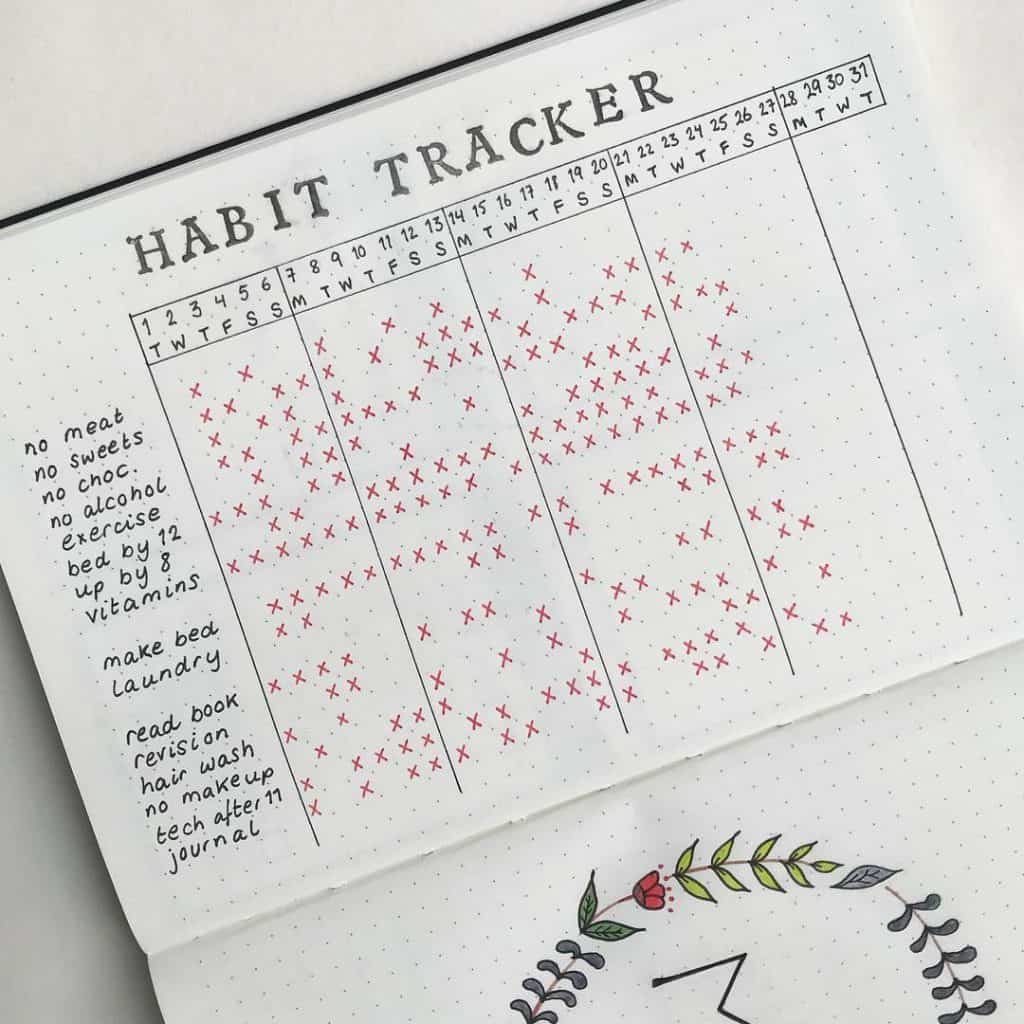 Log Monthly Utility Bills
Keeping track of utility bills is the best way to monitor your spending. Giving a page in your journal to jot your utility bills will help you in having a clear idea of how much you are spending and how much more you have to pay in the future. 
Track What You Eat
Are you the one who would like to maintain a healthy lifestyle by having healthy meals but fail to do so? Don't worry; our meals tracker will act as a visual reminder and help you stay on task.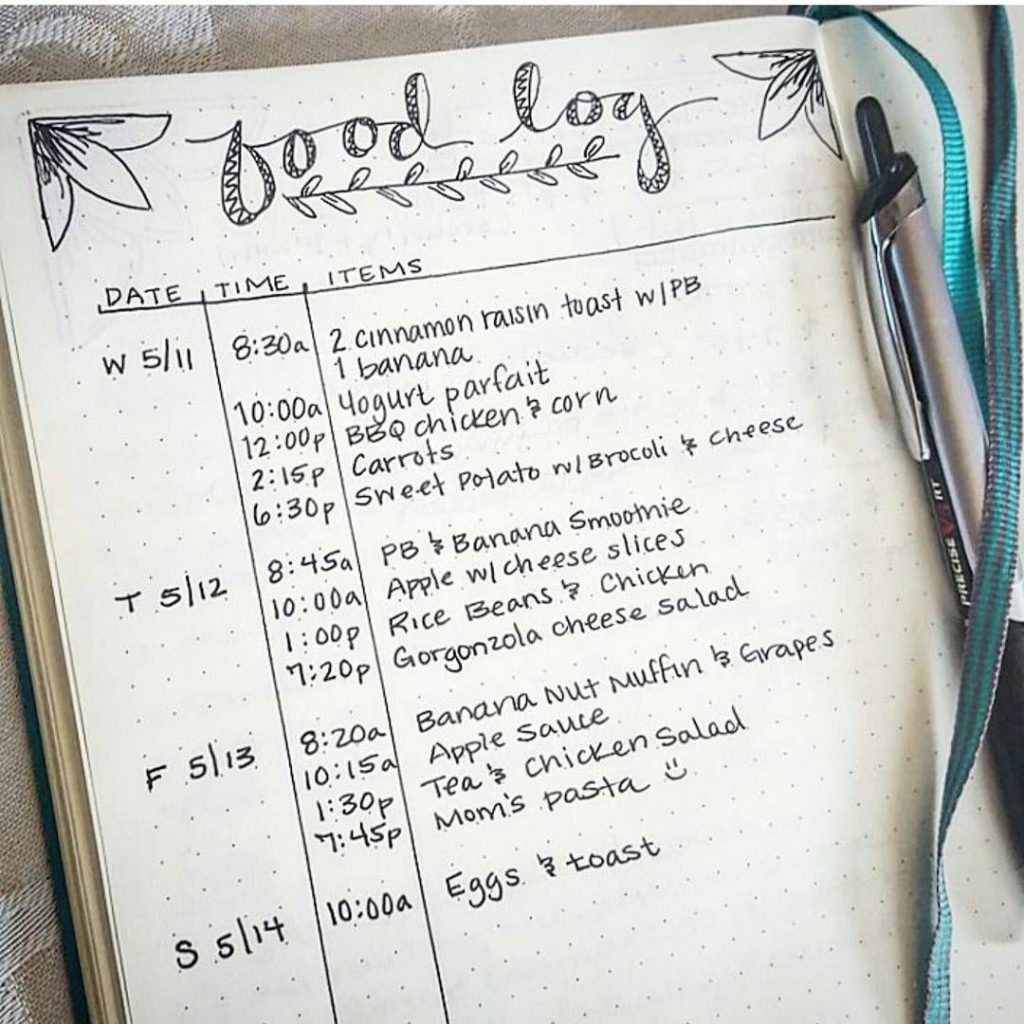 Savings Tracker
When you have two to three savings accounts, it is hard to keep track of your money. You will easily spend the money that is designated for something else. Here is the best way to keep track of your savings.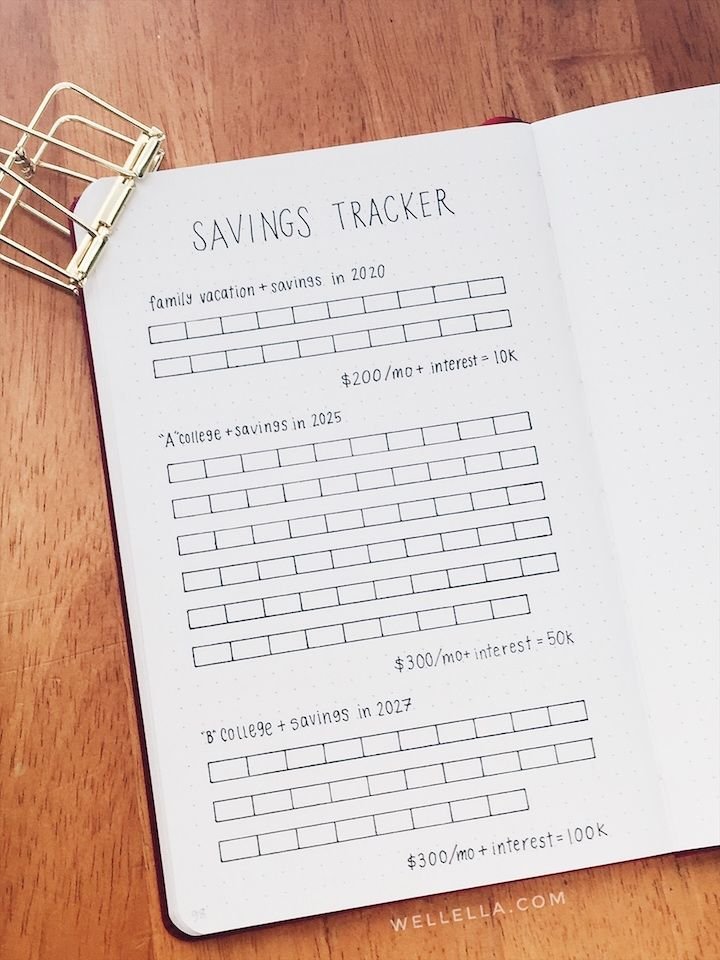 Write Down Your Top Goals
Goal tracker is one of the fun ways to keep you ambitious all the time. These goal pages don't have to be monthly, even yearly or lifetime goal pages are a great way to keep you on track. You have to pick a theme of your choice are start working on it.
Never Forget Your Friend's Birthday Or Your Parents Anniversary
This page doesn't need much time for the layout, but it is one of the pages we look back on throughout the year. Now, you might argue, why this page when we have the Facebook app and birthday reminders to remind you of special occasions. But, this act of writing can make you remember the dates and who wouldn't have a phone and social media detox now and then?
Making A Clean Routine
Who wouldn't want a clean house? Breaking up to stages will make your household chores seem more manageable. Firstly, get out of the idea of cleaning your entire home in a day. Then, figure out which tasks need to be when and chart them out. Do keep the plan realistic to make most of your layout.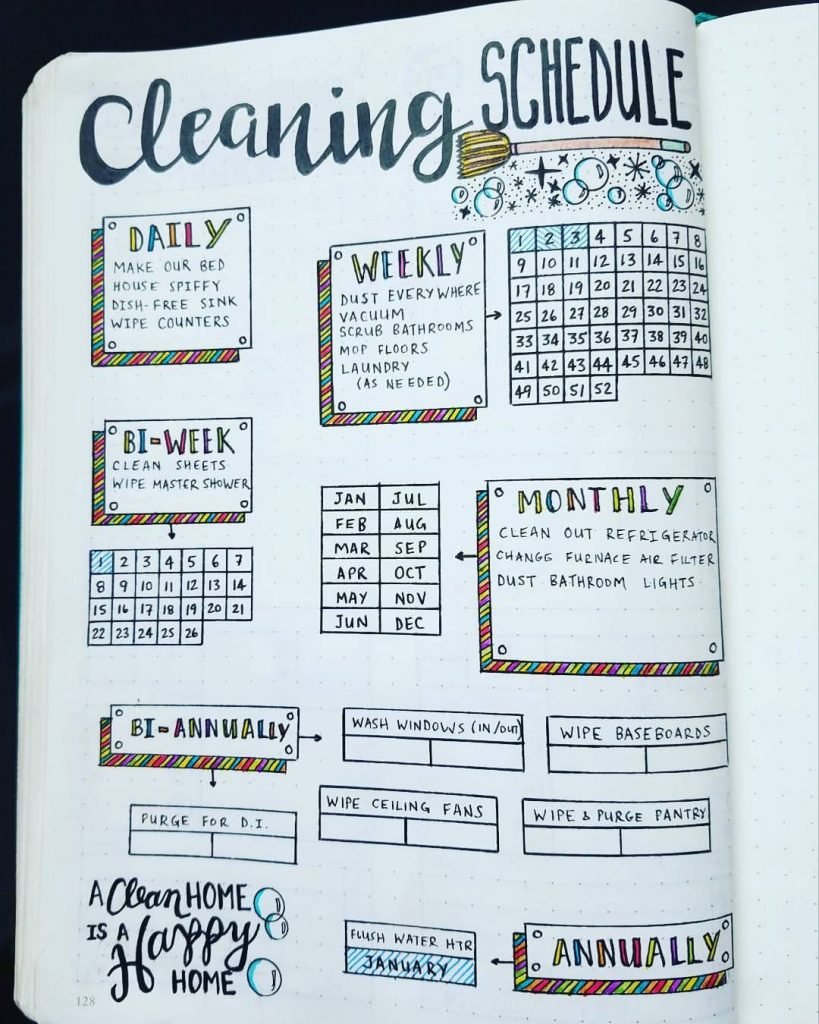 Gratitude Time
If keeping a structured gratitude journal isn't your thing, we can always add it to your dot journal using a simple format. You can simply jot the one or more items you are grateful every day. You can also write the one thing you are praying for that day or one prayer that was answered that day. Doing this every day will help you feel more positive emotions, relish good experiences, improve your health, build strong relationships, and deal with adversity. (1).
Random Reminders
You can also create a spread where you can include all of your random reminders like review goals, revisit budget, etc.… This spread gently reminds you to revisit the things that are important to you. 
Are you ready to get going with the dotted journal? You can spice up your journals using sparkling stickers, washi tape, and fancy pens.
Printable Dot Paper For Bullet Journal
Want to be creative and make your own DIY dot gridded journal? You are more than welcome here. Below is a printable dot grid paper which is free to download. I have created it to practice my dot journal spreads at it works wonders.
The dots on this paper are perfect – light and not too large. You can pin several pages of this printable together to make it into a mini journal. You can also print it out on loose-leaf paper for a ring-bound planner.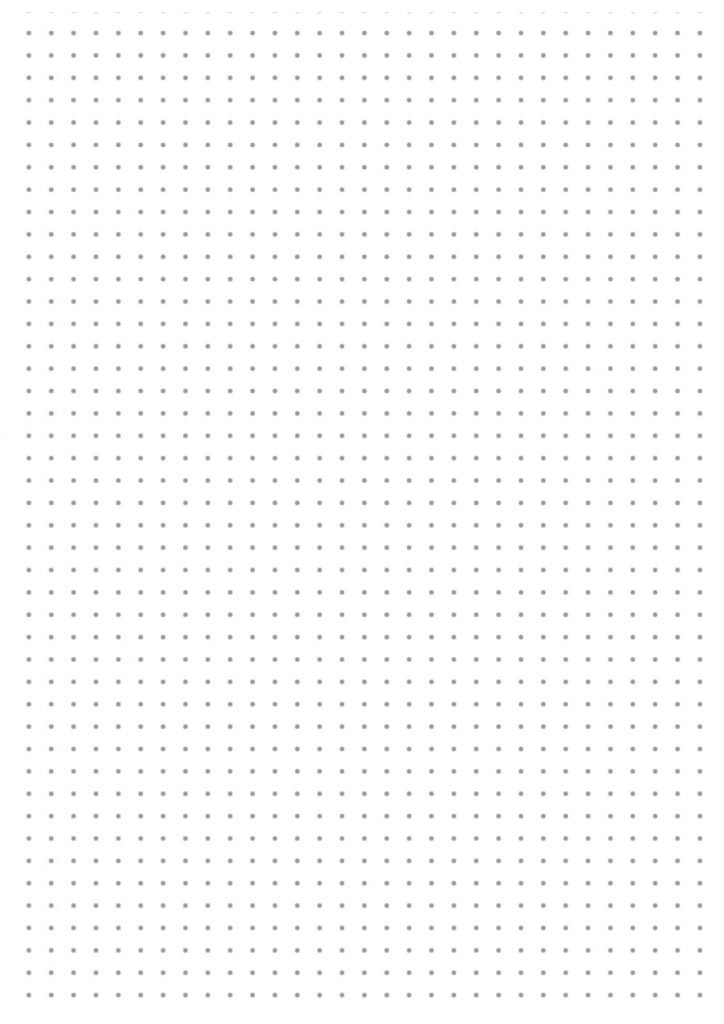 Best Dot Journals
There are many dot grid journals available in the market, but only a few became popular. Why? Because of their quality and smoothness of the paper, the intensity of the dots, and the overall layout of the notebook. 
The following are my favourite dot grid journals.
Leuchtturn1917 has risen to be the cream of the crop. It has glossy pages and a more full size than an A5 notebook. It has lightly colored dots, which helps you in keeping things straight and, at the same time, doesn't impede your writing.
Rhodia Dot Grip Notebook has an excellent quality of the paper, but the dots are a bit darker when compared to the other journals. So if having darker dots isn't your concern, then you can happily choose the Rhodia Dot Grip Notebook. 
Dotted Notebooks are perfect if you are looking for a more affordable dot notebook. These notebooks have thicker paper, lay-flat design. Dotted notebooks have excellent reviews on Amazon.
Moji Double-ring Dot Notebook is a clean and straightforward 70-page dot gridded notebook with an elastic closure and spiral binding. This notebook is a bit price conscious when compared to other dot notebooks, but you don't have to let that dissuade you from purchasing. Muji notebooks are well known for their quality and smoothness of the paper.
Minimalism Art Classic Notebook, made in San Francisco, is a classic A5 dotted notebook. The best part is it has a back pocket and a wide elastic band to keep it firmly closed. The book is available in various bright, fun colors for you to choose from. People love how thick the paper is and how affordable the books are when compared to other journals.
Dotted Grid Journal is another excellent book for journal lovers. It has thick archival paper and is affordable too. Dotted Grid Journal also receives top reviews on all online shopping websites.
FAQ's about Dot Journal
What is a dot journal paper used for?
Dot grid paper, notebooks, and journals are trendy among people who love to do hand lettering, calligraphy, drawing, and, above all, bullet journaling. 
You don't have to be a great artist to love doodling. Doodling is a fun way to relax and let your mind flow. Dot grid paper is best for doodling.
Does journaling help with anxiety?
Journaling is highly recommended as a stress management tool. One of the best ways journaling can relieve stress is by working through your anxiety feelings. The feeling of anxiety, when left unchecked, is what leads you to stress and rumination. The levels of anxiety can be minimized through a little-focused examination. Bullet journaling, if used in the right way, can act as a powerful tool to examine and shift your thoughts from anxious and ruminative to empowered and action-oriented. (2)
How many pages should a dot journal have?
The number of pages your dot journal should have is utterly dependent on how much you use. If you use it regularly, then you may have a look for a notebook with more pages (185 – 250). However, if you use just ten pages a month, then you will be fine using a journal with 100 – 180 pages.
Is there a bullet journal app?
You can use any note-taking application as a digital bullet journal. But if you start with an app that has the right ingredients for keeping a bullet journal, then it is a lot less work for you. My best bullet journal recommendations are:
Trello
Noteplan
Taskade
Dynalist
All these applications make rapid logging painless and have ready-made icons for tasks, events, etc. These apps also give you a quick way to search through your journal entries.
How do I keep my journal private?
The following are some tips to keep your journal private
You can start with a blank page or a spread that shows your desire not to be read.
Use abbreviations or code words where you need to. For example, if you are writing a negative thought or some private matters, you can use code words to portray the people involved.
If you are using a digital journal, try protecting it by keeping a password for the file. 
If you want to get creative in protecting your journal, go "undercover." My first journal was a three subject notebook with the word "History" written across the front. 
The best way to protect your journal from other's eyes is by hiding them. So always keep it tucked away in your bag. Keeping your journal out of visual reach prevents roaming eyes most of the time.
Is keeping a journal good for depression?
In simpler words, journaling is nothing but jotting down your thoughts and feelings to understand them more clearly. Therefore, keeping a journal is an excellent idea if you struggle with stress, depression, and anxiety. It helps you in gaining control over your emotions and improving your overall mental health.
I personally was resistant to try dot journaling at first, but I have come to find that it is famous for a reason. Dot journaling will help you in staying on top of your goals. It sets good habits while letting you indulge in the nostalgia of filling the notebook. Some people put a lot of thought and effort into the design of each module. They use dot journaling as a kind of creative output. You can see the results easily on social media, and they look so cute and pretty!
References:
Gratitude and well being – https://www.ncbi.nlm.nih.gov/pmc/articles/PMC3010965/
Treatment of anxiety disorders – https://www.ncbi.nlm.nih.gov/pmc/articles/PMC5573566/