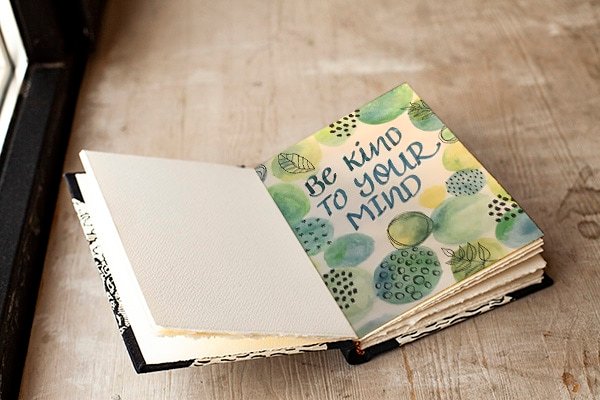 Hello there!
I am super excited to share with you the first page of my daily art journal. Before I start, I want to emphasize that I am a beginner at water coloring and hand lettering. The entire idea behind sharing the pages of my art journal and the process behind every page is to simply share my journey. 
This isn't meant to be a tutorial. The entire point is to help you get over your fears and doubts, to inspire you to pick up your creative tools and to create something for yourself while enjoying the process. 
About Today's Art Journal
Today's art journal is inspired by the hues of green. I am currently in love with the patterns created by the combination of loose watercolors shapes and pen doodles. I used my simple calligraphy pen to write the quote 'Be Kind To Your Mind'.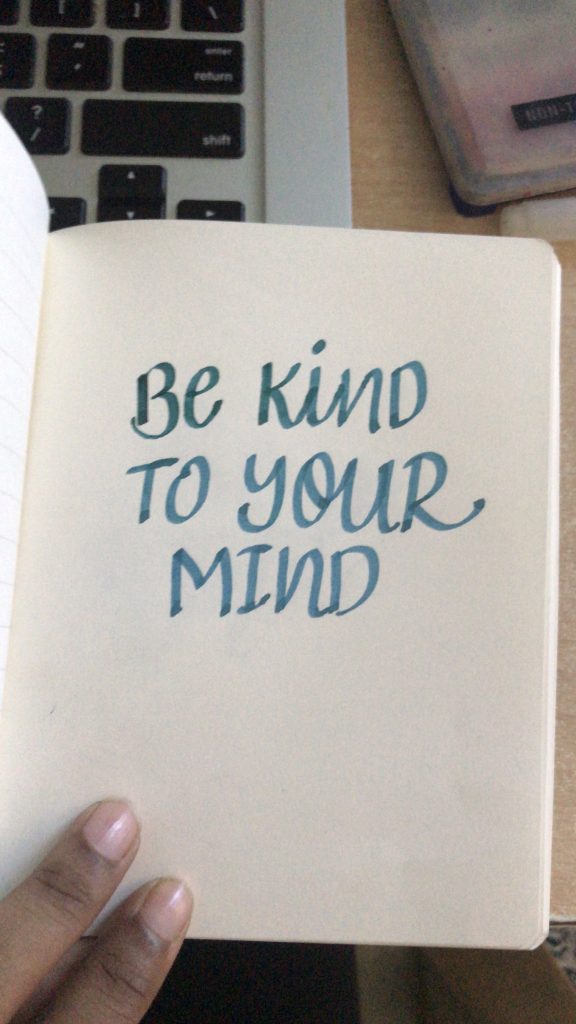 Note – The colors appear a tad bit dull as I've converted all PNG images to JPG to reduce their size. The final image is the one with the original colors.
I use a simple 18 color watercolor set. But if you're just getting started and thinking to order a watercolor set, I'd say don't be afraid of buying a larger set. For instance, this 36 color watercolor set by Artist Loft is not only affordable but also has some very unique and amazing colors. I am planning to order a bigger palette for myself as soon as the lockdown gets over. But till then, I am making the most of what I have. 🙂
Getting Started
So, I had it in my mind to draw some circles around the lettering in hues of green and yellow. But after making two of them I decided to add cobalt blue to the palette for this journal.
I had a lot of fun playing with these colors. In some circles, I used only one color, in some I used a combination of two and in others, I used a combination of all three.
In the image below, you can see me mixing colors. Oh, and did I mention that I used a water brush instead of the usual bristle brush. In a water brush, you can fill in the water and squeeze it out while trying to pick the color from the watercolor cake or while trying to mix two colors in your artwork. I find water brushes so much fun and convenient to use.
Here's how the circles looked after I was done making several of them. As you can see, I tried to make each circle slightly different from the other as I was having a lot of fun while doing this.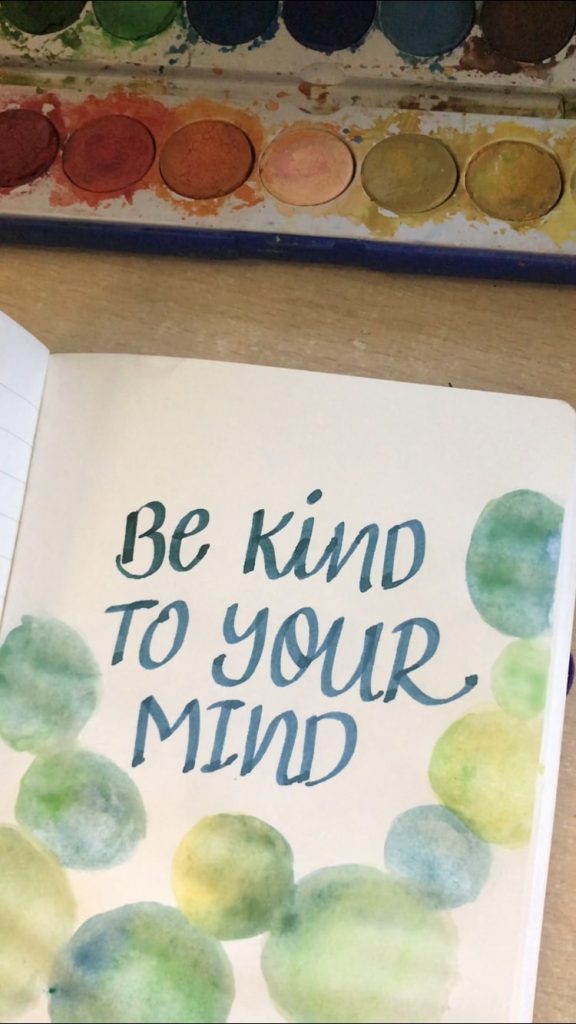 I love the vibrant yellow so I tried to ensure that there were a few circles in the yellow hue.
Once I was done making all the circles, my art journal page looked like this. I loved it.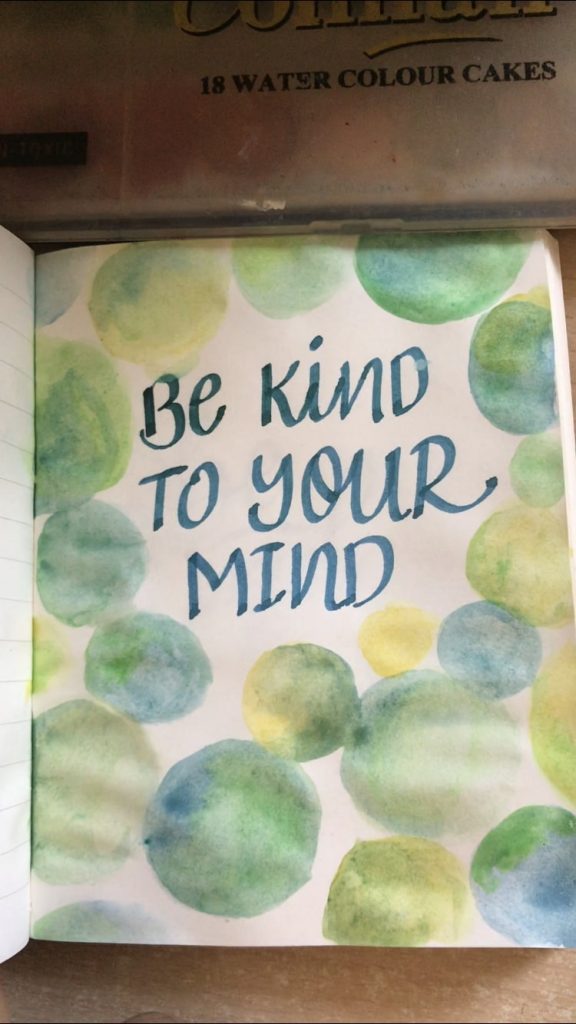 Time to Doodle
Next, I started drawing shapes and doodling in and around the circles.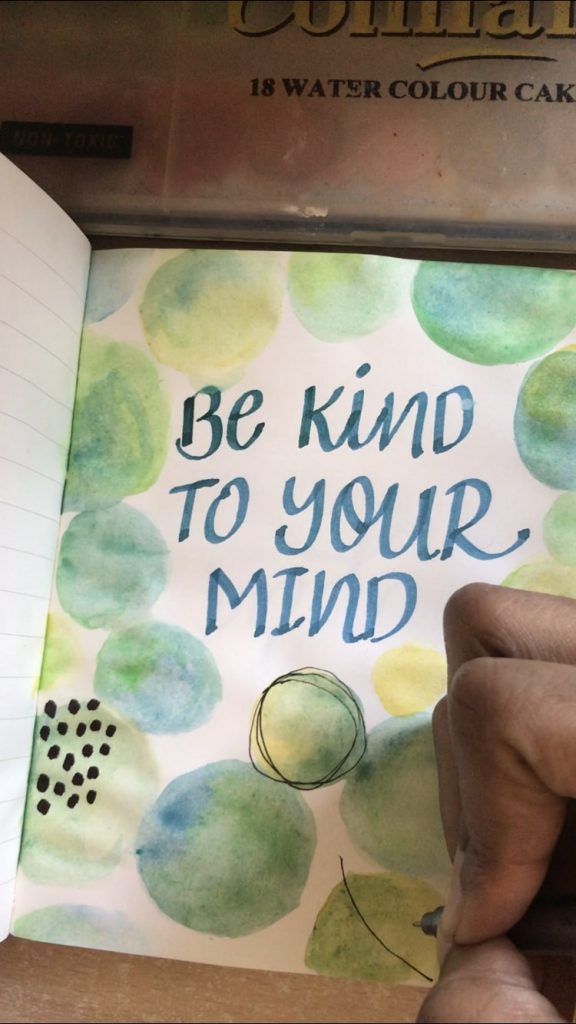 I use the thick marker to make these dashes. 
I use a thinner micron pen to make other doodles and dots. 
And then voila! I was done with this artwork!
What I loved about creating this design?
I loved the colors I chose the most. They give me a very positive feeling. I also like that the lettering is clean and simple. I also genuinely connect to the quote that I had written.
Did I mess up?
Yes, if you look closely, you'll see a small tear at the top. The paper was still wet from the watercolor and when I used the thinner pen, it teared it up a little bit. Better be cautious next time. 😛
How can you make this design your own?
If you liked this design, there are so many ways you can make it your own. You can choose a different color palette, you can choose to draw triangles instead of the circles, and you can choose a different quote. If you don't have watercolors, then you can draw circles with sketch pens and fill each of them with different patterns.
How did I feel after filling in today's page in my daily art journal?
I feel happy that my first entry turned out decent. I even made a time-lapse and put it on Tik-Tok just for fun. I really enjoy watching time-lapses though they compress half an hour into 15 seconds and make it all look too simple. Haha 🙂
See you tomorrow with my next entry!
Love,
Shreya