Mother's Day is around the corner and we are sure that you don't want to miss this chance to make your Mother feel special. So, here we are with the few best easy to make cards which you can give to your mother and tell her that she is the most important part of your life.
We have got you a list of all the mom-worthy ideas to get your search started. Not to forget, all the mothers day cards listed below are super affordable and you can easily get all of the supplies from the market. So, let's make your mother, grandmother, mother-in-law or any other motherly figure in your life feel special by creating the simple DIY cards.
1. Photo Collage Mother's Day Card
There is something really special about printed photographs, it makes everyone feel happy. Isn't recalling memories through photographs the best joy one can experience? This Mother's Day, why not spend some time to find out all the old and new photos of your mother and create a photo collage card? It is super easy to create and doesn't take lot of time. Just make sure to get the photos printed in a small size so that you can easily position them to create a heart shape. You can use hand lettering styles to write the message at the top and bottom part of the collage. 
Things you'll need:
Printed Photographs
Black Sheet
White or Silver Pen
White paper to create letter M cut-outs
Pro Tip: If you take black chart paper or sheet, the photos will automatically pop up and the card will look more amazing.
2. Pop-up Flower Mother's Day Card
You might remember these fascinating pop-up cards from our childhood. Did you ever think of creating them by yourself? Pop-up cards are great for any occasion, so why not give it a try this Mother's Day. They're surprisingly simple to create if you learn the art of creating the pop-up art. All you have to do is fold a piece of the card paper, print or draw your pop up art which is a flower in this case and secure them using a glue stick.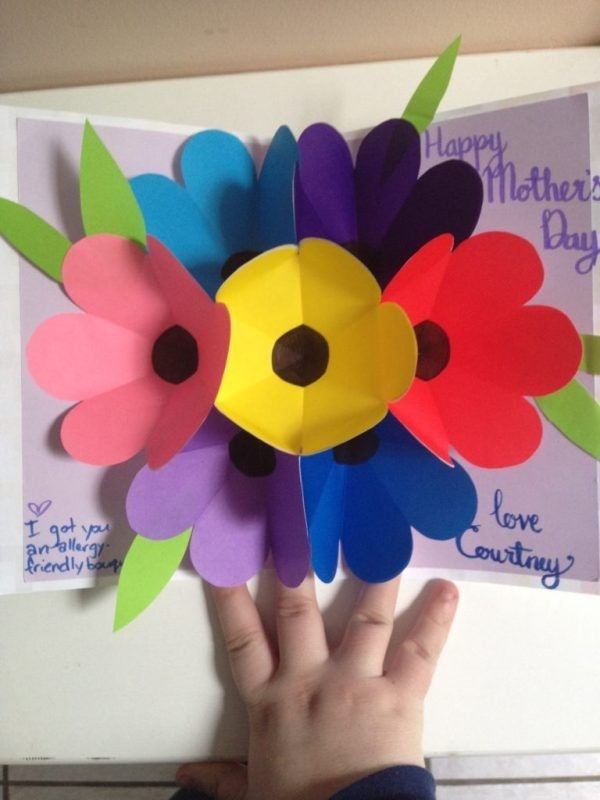 Material you'll need to create a Pop-up card:
Colorful Sheets
Scissors
Fevicol
Black Pens/Markers
Pro Tip: Put the finishing touches on your pop up mothers day card with glitter, stamps and a fun message. If you don't have colourful papers, don't worry, you can simply fill in colours in the flowers for the same effect.
3. Floral Wreath Card For Your Mom
Wreaths catch our attention all the time, especially around the Holidays, so how about creating one with your own creative flower wreath Mother's Day cards. Cut some paper in circles for the wreath, make a bow with a sting, and secure it on the wreath. All you have to do then, is print or draw flowers and leaves and cut them to be placed on the wreath using your creativity with a small message in the centre and you are done.
Things you'll need:
Colorful Sheets
Scissors
Glue Gun
Ribbons
Pro Tip– Take a lighter colour paper for your base, to make it look more attractive and you can even use 3-D liner crafts to give it a super edgy and crafty look. Layer up the leaves and flowers one on top of another for a super realistic look.
4. Reasons I Love You Card
This card is the simplest of all the mother's day cards in this blog. All you have to do is cut a triangle shape from the cardboard sheet to make the cone of the ice- cream and a cloud like structure on the pink sheet. After that take out all the colorful sheets (you can even use post-its for this) and start writing words which describe your mother. Cut out those words nicely and stick them with glue. Not to forget to write the 'MOM' on the cherry of your ice-cream. Isn't this the cutest among all the mother's day cards?
It means the world to us when someone has good things to say about us. Making someone feel special and loved is the best feeling in the world. So, why not put a smile on your mother's face by telling good things to her on this Mother's Day. Here are two simplest ways where you can write words or lines for your mother. Make sure to write genuine reasons you love about your mom and she will be over the moon to read this one.
Few Reasons and words you can write are:
You wouldn't be here without her.
Her smile makes everything OK.
She accepts all your little quirks
She's your best friend.

Things you'll need:
Colorful Sheets
A small piece of cardboard
Scissors
Glue
Colorful pens specially black
5. Picture Perfect Mother's Day Card
Reliving a memory brings smiles to everyone around us. It's the best way to express gratitude at the same time. It's less time consuming and will be one of the best gifts you could give to someone. Just take a printed photo and stick it on the card. Decorate the border of the picture/card with flowers or sequins using various colours and lots of love.
Things you'll need:
1 Printed Photo
Black sheets
3-D Liners and Gel pens (These gel pens are the ones whose color is visible on a black sheet.)
Pro Tip:  If you are short of time, you can pull out a page from your coloring book, preferably one with flowers. Use a lot of vibrant colours to fill it up in your unique colouring style and use it as a base for your photograph.
6. Using Buttons To Create Mother's Day Cards
Just as they look "Cute like a button", so is this card idea – Cute. All you need is some buttons that you probably have lying around the house and a pen. Use different colored buttons and secure them on the card. Using a pen make petals around the buttons to give them a look of a flower. And yes! It's done! Simple, right?
The other design for a 'Button Card' is this super simple DIY. All you have to do is make flowers using different colors of buttons and place them in the middle of the white sheet. To make it look more eye pleasing- you can use some fancy wash tapes on the top and bottom part of the card. Minimalist and cute!
Things you'll need:
Different colors of Buttons
White Sheet
Decorative and fancy tapes
Scissors
Fevicol
Coloured Pens
Small pieces of colorful sheet
7. I Heart You Mother's Day Card
"Your heart knows things that your mind can't" How true is that quote for all us? Pour your heart into something and share the love. This card is as simple as it looks but as loving as it can get. Cut different coloured paper into the shapes of a heart and place them like a bouquet on the card. Using a pen draw the stem and stick a ribbon on it. There you are with a bouquet and hearts full of love.
Things you'll need: 
White Sheets
Colorful Sheets
Markers
Ribbons 
Scissors
Glue Gun
Pro Tip: You can create different designs or boundaries using a black pen in the coloured heart cut out shapes to make it look more attractive. 
8. Clothesline Thread Mother's Day Card

Clothesline Cards are a new way forward with a sense of uniqueness and simplicity at the same time.
Just take a string of any colour and some stationery clips. Cut out the letters of the word MOM, hang them on the string and paste the string on the card.
This easy and simple card will speak volumes.
Things you'll need: 
Colorful Wool Strings
Decorative tapes
Fancy Clips
Colorful Sheets
Scissors and glue
9. Printable Mother's Day Card
When you are stuck with the daily chores but have to do that something special for your Mother. Well technology today has given ease to all of us, print out this free printable mother's day card and place a picture of you and your mom in the image placeholder. There is nothing as good as a good hand- written note so you can pour out all your feelings inside this card and make your mother feel out of the world.  
Pro Tip:  If you don't have a picture to stick in this card, you can cut a small pink heart or a flower and stick the cutout in the image placeholder to complete the card. In case you don't have a colour printer, you can choose the grayscale option.
Download the free Printable Mother's Day Card
10. Pull out Card For Your Mother

Pull out cards are easy yet impactful DIY cards with a short and sweet message. All you have to do is cut two papers in the shape of your hands and one in the shape of a scale. Make small folds to the paper strip and, using the ends, stick it on the hand-cut paper. Write a cute message for your mother and see that wide smile. Click here to see a tutorial video for this card.
Things you'll need: 
Colorful Sheets
Black Pens or Markers with thin tips.
Scissors and Glue Gun
11.Thank You Mom Card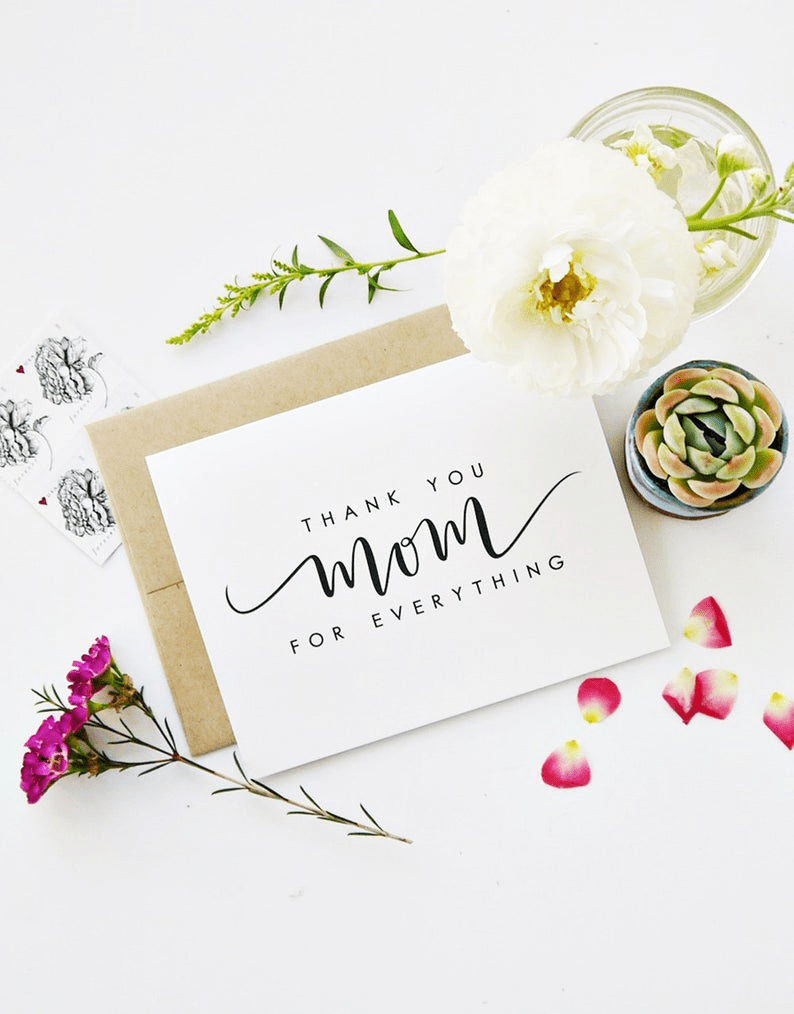 Being told you're appreciated is one of the simplest and most uplifting things you can hear, and this Thank you card can do this for you. Take out a simple white sheet and fold it in a horizontal way. Get yourself all the colorful pens and write some genuine thank you messages to your mother.  That's how simple this one is. To write 'mom' in that beautiful font shown in the picture, you need not know hand lettering or use any special hand lettering brush pen. You can trace it or copy it with pencil and then fill it in using a black pen.
Things you'll need: 
White Sheet
Colorful Pens
Scissors 
 Pro Tip – To write 'mom' in that beautiful font shown in the picture, you need not know hand lettering or use any special hand lettering brush pen. You can trace it or copy it with pencil and then fill it in using a black pen.
12. Paper Cut-Out Mother's Day Card
Paper Cards are another great idea for your words of appreciation for the most important women in your life- your Mother.
There are 2 ways to create this particular card:
Everybody has their one favourite colors, so does your mom. So, why not use those colors to make this card. Take out the sheet of her favourite colors and start creating some designs for example- flowers, leaves etc. Cut it down nicely and place them on a white paper. The card will look super creative and colorful. 
And the second way is a little difficult, but all you have to do is cut out the whole design from the white sheet without spoiling the card design in a proper way and place a bright sheet behind it. This process will require a little of your efforts, but believe us- it's going to be worth spending time on it.

 
Things you'll need: 
White Sheets
Colorful Sheets
A good pair of scissors/cutter
Glue Stick

Pro Tip – To cut out those symmetrical patterns, just fold the paper into half and draw pattern of only one. When you cut out both the folded papers together, you'll get the other symmetrical half.
13. Watercolor Card For Your Mom

This one is surely the quickest DIY card you can make for your Mother. The only supplies you'll need for this one is- Brushes , watercolors and a white sheet.
Steps:
Use the watercolors to draw some floral prints. Make sure to choose bright and spring colors to make it look more amazing. 
Once the paint dries up, write 'Love you Mom' using a Brush pen or a normal pen. .
And you're done literally. Honestly, this is a super quick and easy card that you can create under 15 minutes.
Things you'll need: 
Watercolors
Pens and Brushes
White sheet
14. Flower Pot Craft For Mother's Day

This one is such a fun and cute DIY card to gift your mother, this year. All you need is some colorful sheets, alphabet stickers, glue and scissors. Check out this blog for all the detailed steps you will take to create this one. The blog even shows how to give that 3D effect to the paper flower cuttings.
Things you'll need: 
Colorful sheets
Alphabet Stickers
Glue and scissors
15. Fingerprint/Handprint Card For Mother's Day

This card category doesn't only look simple but gives you a fair chance to discover your creative side. For instance- you can experiment by making various things through your thumb like fish, flowers, trees and a lot more. And to give it a perfect boundary you can use decorative tapes and write some really heart touching message for your Mother.
Another amazing example of a Fingerprint card is this cute card where you can create honey bees using finger prints and add a flower in the centre.
One more example of a handprint card is this card where hand prints are used to create the flowers in a pot. Use your hand, paint it with the desired color you want and leave your handprint on a white sheet. Once the color on the sheet gets dry, cut out the hand shape and stick it with a heavy cardboard strip. The only thing left now is arranging everything on the final card and you are done. Cute and Simple.
Things you will require to make this one:
Poster Colours
White Sheet
We know Quarantine is making all of us go crazy but the best part for all of us is surely the family time we are spending together. So, this Mother's day, gather all of your family together and ask them to create these cute and simple cards to make their Mother, Grandmother happy. 
Since, she is going to keep the card you make for her forever, make sure to give your card a special touch by adding a handwritten note on it. We hope you got the best and creative ideas through this blog to make your mother feel happy and valuable.
Written by Stuti Gupta
Edited by Shreya Dalela