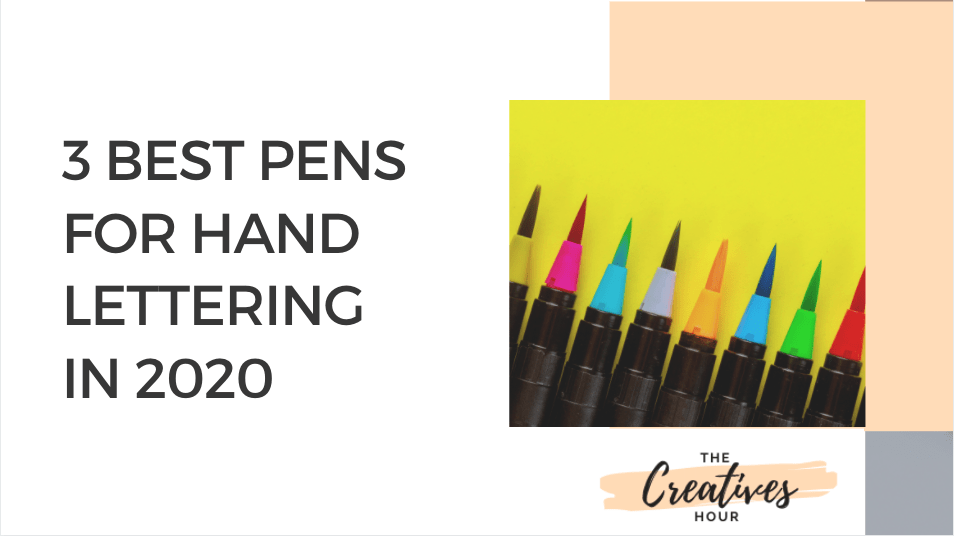 Simple words and quotes seem to come alive when written beautifully. If you ask me what brush lettering is about, here's what I'd say – it is an art that lets the ideas in your mind pour out in the form of ink onto the paper. I absolutely love how brush pen strokes transform your artistic thoughts into an elegant lettering piece. 
So, in this blog, I'll be talking about some of the best brush pens that you can use for lettering. You don't always need a special brush pen for lettering. If you're familiar with faux calligraphy, you can use the technique to create very aesthetic calligraphy with any pen of your choice.
But if you're keen on learning the art of brush lettering, then you'll need special pens known as 'Brush Pens.' They are a mix of a brush and a pen, which gives you an added grip as a benefit to make subtle and beautiful lettering. But hold on! It's a tad bit hard to decide on one brush pen from the abundance of choices out there.
Different aspects, such as ink flow, nib elasticity, color, size, and ability to blend all contribute to determining the right brush pen for you. 
To save you from the dilemma of finding 'the one,' I compiled a list of 3 brush pens that you could use to letter.
The collection of brush pens that Arteza offers is dazzling and vibrant (emphasis on vibrant, no kidding!). Unlike regular brush pens, these have a real brush tip, which translates to actual bristles that make up your lovely paintbrush! Let me go about different attributes of it.
Size and Body
The Real Brush pens have a rich black barrel with the name of the color and number printed in white for clear identification. You will see that they have a transparent cap that protects them from drying out while also showing the color from outside. A support is attached to the cap to prevent the brush pen from rolling away(otherwise, it would have been challenging for me to take that picture!)
Brush Tip
If you look closely, the nib of the brush pen is made up of teeny-tiny nylon fibers that give it the appeal of a real brush pen. It's soft and thin tip lets you create bold as well as fine strokes by adjusting the pressure on the paper. These nibs give you an impression of ultimate ease and effortlessness. They are also very, very elastic, which means that the brush will always return to its original form when you release pressure.
Color 
These pens come in a wide array of colors ranging from peach, chamomile to ice blue, and smoke gray(96 in total!). I personally love(!) the Sapphire Blue. The pigments are rich and saturated. And they allow you to make illustrative blendings, shadings, and gradients without any mess. Now since they are watercolor pens, you can dilute the main color and play with hues as you wish. Let me tell you something, get your Arteza Brush Pen, draw two different colored lines, dab some water, and blend them. You shall see the magic!
Cons
However, a little drawback to these brush pens comes as the fact that if its usage is not right, the tips tend to fray. My Sapphire Blue is frayed. Sigh! So, I suggest you use them delicately!
Back when I first started practicing brush lettering, these were the pens that laid the foundation. And I should like to say that Camlin Brush Pens are very beginner-friendly.
They combine quality with economy and produce results better than any other pens in the same range. 
Size and Body 
When you take this pen in your hand, you will notice that it is cylindrical in shape. The color is easily identifiable because of its barrel. They are medium-sized(you can carry them in your pencil case!) and are a little heavier than usual.
Brush Tip
Unlike nylon bristles, Camlin Brush Pens have a felt nib. Here the absence of bristles is covered by a pointed tip of fibers pressed together. The brush pen helps you draw broad and expressive strokes, which are thicker than usual. They are handy in large scale lettering, i.e., lettering on a wide surface such as a big canvas. Need the right brush pen to aid your endless school assignments and projects? This is the one. Its tip is also flexible, giving it the bounce-back-into-shape ability.
Color 
The 24 pens set has various different colors. Although not named, it has over 5 shades of blue, 2 shades of grey, and lots of warm colors along with pitch black and even peach color. The ink appears as a darker shade of color at the beginning of your stroke but turns into a lighter hue towards the end. This transition, when seen on a soft pressed paper, looks beautiful and adds a totally different effect to your lettering. The ink dries quickly, so you don't have to worry about your lettering getting smudged.
Cons
Although you can draw thick and broad strokes, the fine ones are a little tricky to perform. This results in wider upstrokes than you wish for. Hence a little practice is required to attain some control over these brush pens.
And sigh! No support on the cap. I had to undergo great difficulty in stopping the pens from rolling out as I took the picture.
The next pens in the list aren't termed as brush pens. But they work just the same! Maped Duo Color Peps are an alternative to the Crayola markers. Given their price, they are economically an excellent choice for small scale brush lettering works. Especially when you bullet journal or write your assignments, Maped Markers should be your go-to. Now let's look through its characteristics. 
Size and Body
The marker pens have a unique body that offers an excellent grip for detailed, precise, and also thick strokes. It is comfortable to hold, and also the caps don't loosen. That means you can carry on lettering with ease. The best part is that they are two-sided! You have a different color on either side of the pen that saves loads of space and comes handy. 
Color 
There are 10 pens in this set, and since they are double-sized, you have a total of 20 colors! Saves a lot of space in your art toolkit?! doesn't it!? 
All of the shades are almost saturated, and they are very true to the color of the cap. The ink also allows the blending of two colors to a certain extent. The lighter colors such as grey and peach help you add shades on your letters to beautify them. 
Brush Tip
Our faux brush pens here have a felt nib that produces brush pen like results with efficiency. It has a medium conical tip that allows you to draw lines that don't differ in width. If you slant the pen a little, it also serves as a highlighter! Use these pens to make fine lines and also broad strokes with only bending of the nib. This adds even more convenience to your artistic endeavors.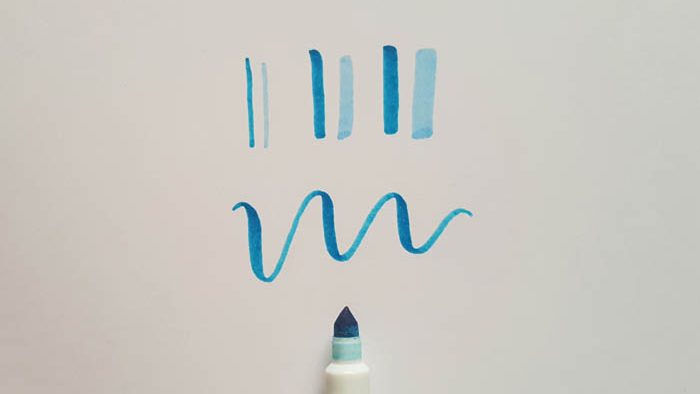 Cons
Using it frequently results in drying out of the color on the nib. This means your strokes can be inconsistent. Another drawback is the color range that is limited to only 20 shades. Nevertheless, these pens act as a building block if you are a newbie and want to improve your brush lettering skills.
Final Words…
Hopefully, this post has untangled the tiring (but lovely) mess of choosing pens. Keep these reviews in mind when you're out to get 'the one' for you. All the brush pens have their own pros that outweigh the cons. If you want to try out brush lettering for the first time, get your hands-on Camlin Brush Pens. Fancy giving your artwork a dash of watercolor effect? Arteza real brush pens are your go-to. And when you wish brush-like results combined with a felt marker nib, Maped it is! Choose the pen that appeals to you.
Hear out for this pro tip! Once you've bought your brush pens, made an elegant piece with them and are keeping the set away until next time, remember to store them safely. I feel every art supply we buy is an investment and it's only fair if we take care of it in the right manner. Here we part!
Happy lettering! 🙂