If you are passionate about hand lettering and are keen to develop this skill, then you definitely need good resources to help you grow your skill in an efficient manner.
Now, what can be these resources? Resources include books, practice sheets, online courses, and the like. However, I personally believe that when you start learning any new skill, books are one of the best resources to gather an abundance of information. Books let you learn at your own pace. They help you deepen your interest in the subject and form a solid foundation for your learning. Some even let you practice your skills through drills and exercises.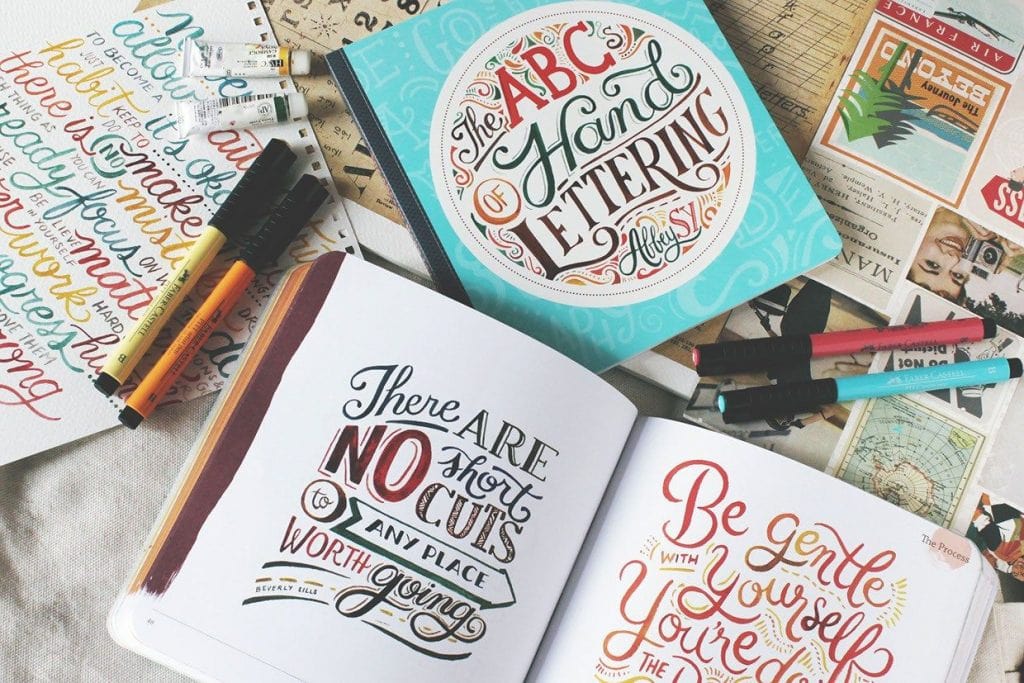 How do you choose the best hand lettering book as a beginner? The answer lies in picking up a book that balances the practical aspects of lettering along with the theory. In short, a book that concentrates more on practicing the art form i.e. Hand-lettering.
Even in this time of abundance of online resources and freely downloadable practice sheets, I highly recommended investing in a book for a few reasons –
A good hand-lettering book will give you a good amount of information and practice drills in one complete package. You don't have to look for external resources. Just completing a book thoroughly will upgrade your skill.
Purchasing a book, helps you commit to the learning process. Unlike online resources, you can place the book on your desk to ensure that you keep coming back to it.
Finally, completing a book gives you a feeling of accomplishment that feels better than passively reading articles online.
We've made a list of top 10 books that you can use for reference. Let's binge on these skill-enhancing books.
The most important of learning hand lettering is doing practice drills. And this book ensures that you do plenty of them. For just $6, you get a huge bundle of practice sheets that cover all kinds of strokes, alphabets, numbers, words, and even short quotes! A smart thing to do will be to create multiple copies through your scanner and printer before you start practicing lettering on these sheets.
The only con is that the paper quality isn't the best. However, once you've practiced on these sheets, you can use a Rhodia pad for further drills. Also, do not use your best or most expensive pens on this sheet as they could end up frayed. As a beginner, you can improve your skills by practicing with a simple Tombow Fudenosuke Brush Pen.
If paper quality is a big concern for you, then you can invest in this book. This book is premium in every sense. With a hardcover, oversized gold binding and gold corner protectors, it not only looks beautiful on your work desk but also has everything that you need to get started with lettering. If you're big on aesthetics, then this is the book for you!
Also, if you feel too scared to spoil the practice sheets in your first attempt, then you can simply make several copies. Then, once you've mastered the basics, you can fill in the practice sheets with your beautiful lettering.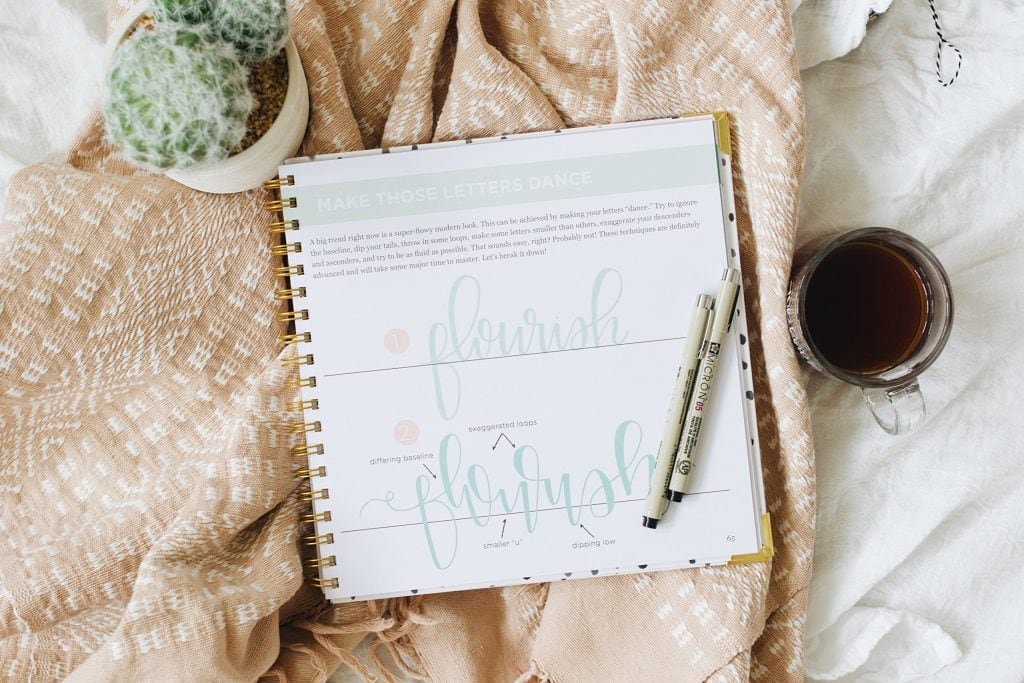 Along with the basics of lettering, you also get tips on how to mix and match fonts and learn to add flair with flourishes. However, do note that the book is mostly filled with practice sheets. If you are hoping to learn about more theoretical aspects of lettering, then you might get disappointed by this book.
If you're familiar with the basics of hand lettering and have completed the practice drills, then the next thing that you'll need is some inspiration for different layouts and designs that you can create. This book by Abby Sy is fill for such inspiring and gorgeous designs!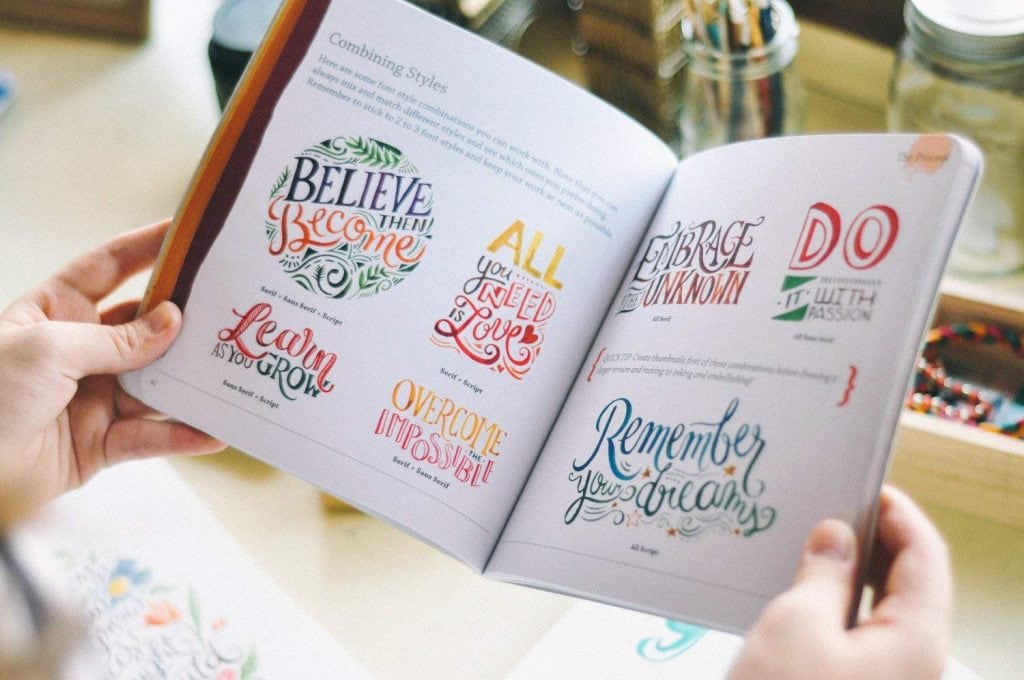 There are several complete alphabets in different styles (including Serif, Sans serif, gorgeous Script, and some very stunning Decorative styles) followed by many examples of completed projects. And the best part is that it's so colorful and vibrant. You can trace these designs or recreate them in your own way. However, do note that there are no instructions in the book to recreate those styles. You'll have to use your own creativity to do that.
This is the book that paints a wonderful picture of what you can create with your lettering skills.
This book lets you learn five major hand-lettering styles, then transform your writing into an art. Megan Wells has beautifully demonstrated how to embellish your letters, mix different styles for emphasis and flare, add decorative effects like shading, and combine text and illustration.
I would say this book is a nice balance of workbook and instructions. The book progresses in an apple-pie-order to teach you lettering starting from lettering basics, drawing words, adding color and detail, and projects. The projects section lets you learn how to brighten everyday items, create striking art, and add a meaningful touch to gifts through hand-lettering.are much fun if you've followed the book closely.
The book comes in hardbound covering, which is vibrant and artistic. It has been beautifully written by Jessica as she shares her previous assignments of sketching with the readers. As a beginner, it'll be fascinating to learn what goes behind the scenes and understand all the steps involved in the production of a sketch.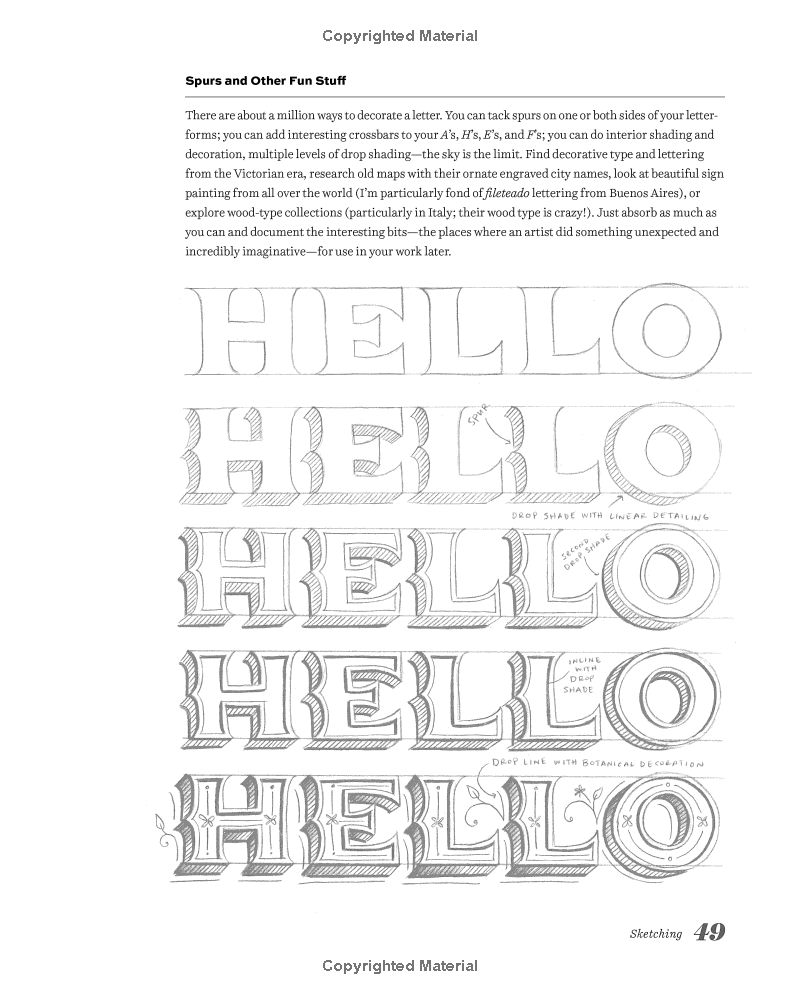 Jessica Hishce has been recognized twice by Forbes in its annual 30 Under 30 list in the art and design category. She has had Wes Anderson, NPR, and Starbucks as her major clients. With more than 250 images of her penciled sketches, this highly visual book is an essential—and entirely enjoyable—resource for those who practice or simply appreciate the art of hand lettering.
The pages of her sample work are mentioned in the book including the typography for movie credits, the package design and gift card design for a company like McDonald's.
This is another great book for inspiration that not shows the complete process that goes behind creating a lettering piece. If you want to learn  how to transform your initial lettering concepts and sketches into a well-shaped, exquisite piece of digital lettering that can be sold and published, then this is the book for you.
Every page is dynamically filled with photos, diagrams and numerous examples of lettering. In this 160-page hardbound book, the author breaks down almost every aspect of lettering to unveil the real essence of lettering.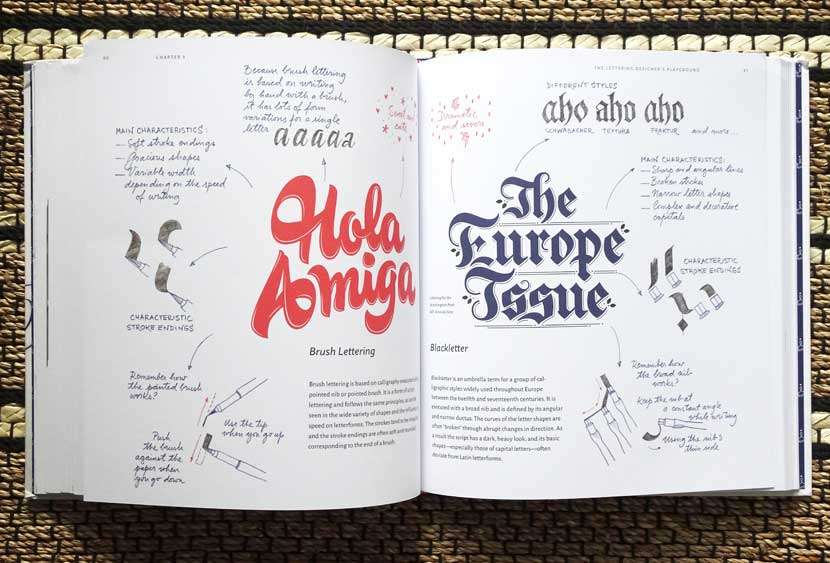 The technical and theoretical aspects of lettering are also beautifully covered in this book. The book is not meant for beginners alone, but it also entertains the designer and artists working in this specific field.
Final Words…
Hand lettering is a creative art form that remains unexplored in a larger sense. If you want to explore it, take up your arms (brush, pen, pencil) and start drawing because the more you will implement, the more you will learn! The books mentioned above would help you a great deal in structuring your learning. I personally recommend buying one book for inspiration and one for practice drills.
Keep learning and keep exploring!