A new month and it is time for all the weekly journal lovers to delve into some June weekly spread ideas. It can get hard for one to look around and surf the internet to get a little inspiration and that is exactly why we are here. We are here with a list of inspiring ideas for your June weekly spread.
You will find here interesting ideas; ideas that are unique, easy, and innovative. These ideas are super cute and will certainly give you inspiration for your June weekly spread.
Here are the ideas that caught my attention and I wanted to share them with you.
You can also check out our other weekly spread ideas here on- 40 Bullet Journal Weekly Spread Ideas To Inspire You.
1. Lemon Love June Weekly Spread
If yellow is your color then this one should suit you. Planwithleanh has found a perfect theme for the summer month. This yellow lime-based June weekly spread will certainly brighten up your mood and your day. And what I cannot overlook in this layout is the mason jar of notes, it only reminds me of having my summer detox drink. Here are some ideas to create a lemon-themed bullet journal- How to Create A Bullet Journal Theme?
2. Fruit-elicious Printable June Weekly Spread
This printable June weekly spread is the best. It is a blessing in disguise for lazy bums like me! All you have to do is take a printout of this creative weekly spread by planningwithkay. I love how she has included the quote at the top. I always feel that these little quotes should find a space in your journals, small motivations like these can boost your determination a little more
Also, read – 35 Free To-Do List Printable Templates To Get You Organised
3. Paint It Pastel June Weekly Spread
This weekly spread by themreblog is quite a different one! It has wide paint brushes to represent different date and days of the week. The page also has a funny quote – 'Hello summer, and ray of f***ing sunshine. Interesting, isn't it?
4. Watercolor June weekly Spread
This watercolor weekly spread is so artistic. Ambersnotebooks has kept it simple yet she has not forgotten to add a piece of art on the left to give it an aesthetic touch. The layout is simple and you can recreate this beauty with a few confident strokes of your brush.
5. Outside the Comfort Zone
Don't get too comfortable in your comfort zone, after all staying in the same place will get you nowhere. So why not this June try out different things and challenge yourself a little more every week? Hayleys._bujo has got this June weekly spread here for you. She has used the layout in a non-quintessential manner. With tiny little doodles scattered here and there, this weekly spread is just adorable.
6. Peachy June Weekly Spread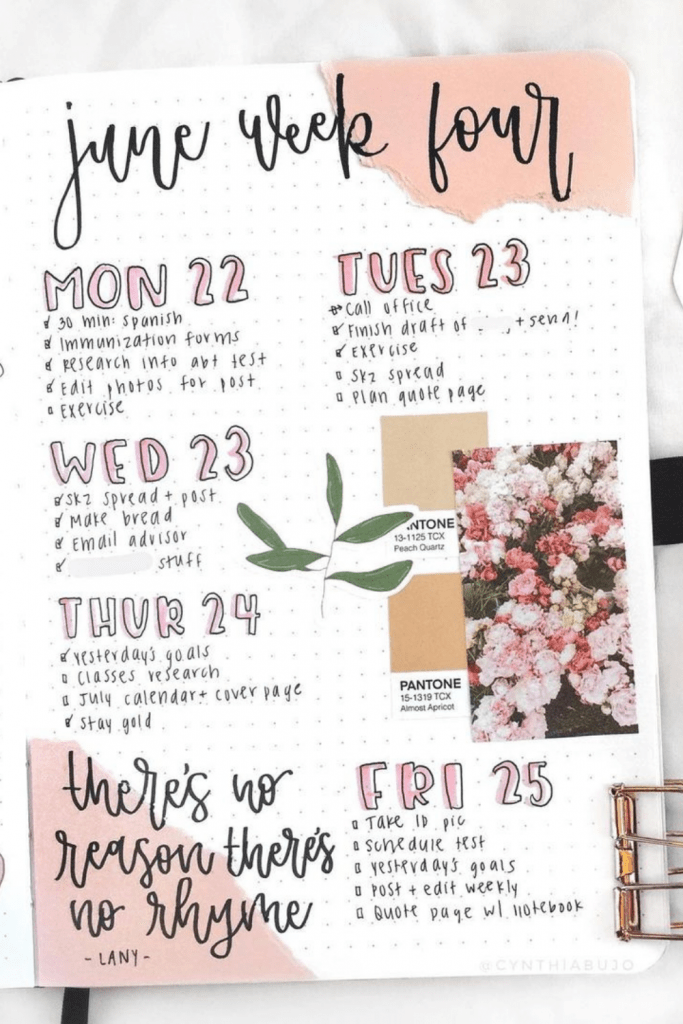 Look at this beautiful peach-colored June weekly spread! Cynthiabujo has used the theme very smartly. She has used flower images and ripped-out papers to create a unique look for this layout. The Pantone theme is perfect for the warm summer. The addition of the quote at the corner is a win-win. It will keep you motivated and inspired for the coming week as well.
7. June in Space
How often have you caught yourself looking at the night sky? I often tend to do that, especially in the summer months. And June is no different for me, so when I came across this June weekly spread by bujobykathy I couldn't stop myself from including this in the list. You will certainly enjoy filling this spread with the planetary theme.
8. Lemonade Please!
Lemonade is a quite common theme when it comes to summer journal layouts. But this June weekly spread by planwithleanh is unique in its own way. I love how the layout has turned out. It is refreshing just like a glass of lemonade. And the bright yellow color is a perfect representation of the bright summer day.
9. Black and White June Weekly Spread
When you look for June weekly spreads most often you will come across bright and colorful layouts. But here we have a completely different June weekly spread by giadrawsflowers. This is a magnificent piece of artwork. If you are a fan of minimalism then this one is perfect for you. The doodle in this one is easy and artistic. She has also included the monthly calendar on the top, which makes it easy to keep a track of the bigger goals for the month. You can find other minimalist ideas for your BuJo pages here on- Minimalist Bullet Journal Ideas For Your Bujo Pages.
10. Flower June Weekly Spread
This flower spread is absolutely exotic. The colors chosen by bullet_journallingg are so bright and warm-toned that they will certainly cheer you up. She has given this June weekly spread a tropical theme. And I how it is simple and elegant. Weekly spreads often have a tendency to get cluttered but this June weekly spread is clean and sorted.
11. Stay Positive June Weekly Spread
We are living in a time when staying mentally positive has become more crucial than anything else. Months of battling and staying indoors can get the best of us. In such a situation it is better to keep oneself focused on the daily goals. You can do that with the help of this June weekly spread by ellabujo18. She has chosen a summery theme for her weekly layout. The bright orange and pastel green are in perfect union bringing out the best of this June weekly spread.
12. All About June Weekly Spread
I don't think toastyjournals have missed out on anything. She has indeed included everything in this June weekly spread that reminds one of June. June is the month of vacation and everything that is fun. She has used beautiful colored versions of these doodles to bring out the essence of summer. This June weekly spread is certainly one of a kind and has a fun vibe to it.
13. Watermelon in the Row
Can you even imagine a summer without good, delicious, and sweet watermelon? Neither can I. Hence, it is quite obvious, almost mandatory, to include a watermelon June weekly spread in this list. Ashgreyjournals has tactfully drawn this June weekly journal. Apart from the cute watermelon doodle, I love how she has included a notes section; one can always use some extra space for notes. The monthly calendar at the top is just brilliant. It will give you an overview of the month along with your current weekly plans.
14. Retro June Weekly Spread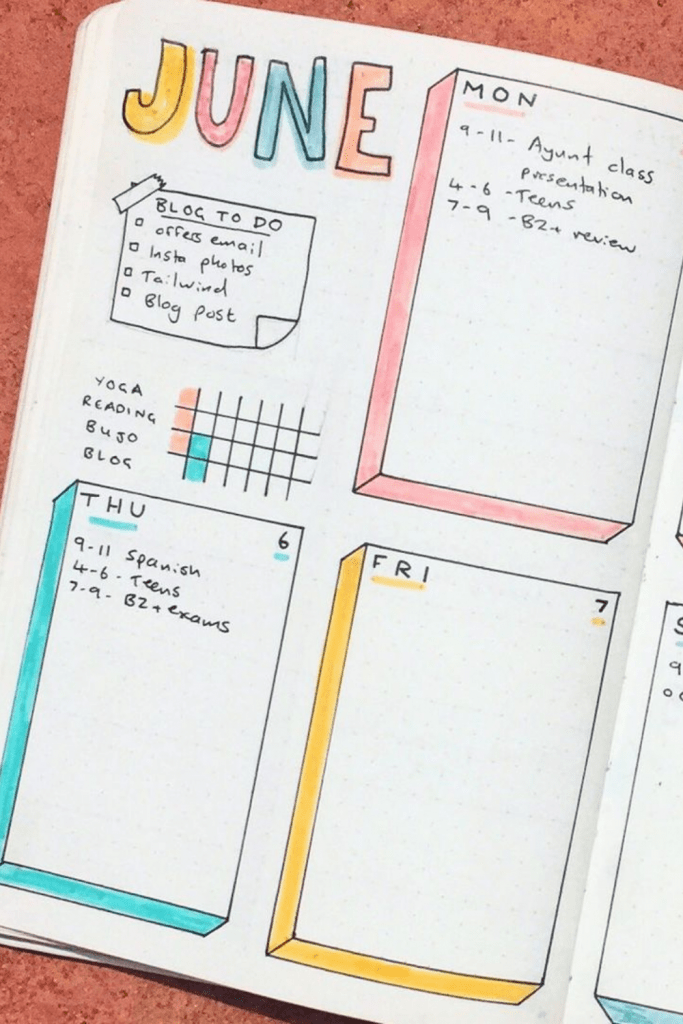 If you are into the retro vibe, then this one is the best one for you. Stationerymagpie has kept the idea as simple as possible. The retro look is not something complicated but one can easily mess it up. The color scheme in this June weekly spread is the biggest flex. She has kept the whole look so natural and raw, that she has drawn the boxes and filled the colors freehand. And this indeed has worked perfectly to match the whole retro vibe.
And with that, we have come to the end of our list of June weekly spread. This list has all sorts of ideas; from the interesting ones to the extravagant ones. You can easily choose your pick and get all set with your own personal June weekly spread. Do let us know your favorite one in the comment section below! Happy June people!
Also, if you like this article you can save it to your Pinterest board for future reference by clicking on the image below.