May has already come to an end. I am sure you are all set for a new theme for the month of June. If you are already looking for inspiration for your June mood trackers, then here is an assorted list of unique ideas for you. These ideas will tempt you to switch your theme without any dilemmas whatsoever! 
Mood trackers are quite common and it is often hard to find something new. But I am sure you will find your favorite June mood tracker in this list itself. So let's delve into our own list of June mood tracker ideas to seek our personalized theme for this summer month. Here are some mood trackers to set the mood for our June mood tracker list- 25 Best Mood Tracker Bullet Journal Ideas.
1. Geometric June Mood Tracker
Toastyjournals has set your mood right with this geometric June mood tracker. This colorful mood tracker has a strong summer which it owes to the colors chosen. Every day you will certainly enjoy filling in these tiny triangles according to your mood of the day. Tracking the mood swings has never been this fun before!
2. Sunflower in June
Summers and sunflowers are like best friends, you can't imagine them apart. So it is not a surprise to see that a sunflower-themed June mood tracker has made it to the list. Gemini.journl has drawn this systematic compass structure to keep a track of the daily mood. She has also included a cute sunflower doodle at the center to bring the whole summer vibe together. You can check out our sunflower-theme bullet journal ideas here on- 28 Bright Sunflower Bullet journal Ideas.
3. Hello Little Stars
"Twinkle twinkle little stars", is exactly what played in my head the moment I came across this June mood tracer by bujoforstars. Emotive people need a mood tracker in their lives and I think the more fun and colorful it is the better. I like how she has given the layout a very beach-like look. The tiny stars scattered here and there are tiny but too cute to ignore. So go ahead and track your rollercoaster emotions with this cute snail doodle.
4. June Mood Tracker Time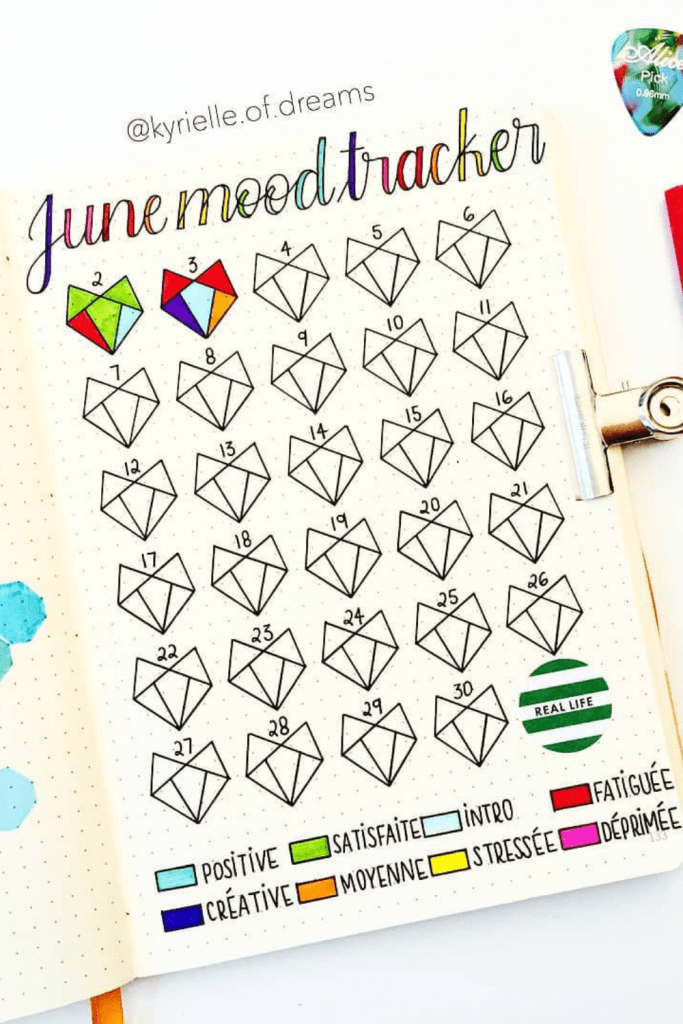 I love this June mood tracker by lettreinparis. It is so practical and effective. Mood trackers exist to track your mood, and mood is probably the most unconstant thing ever! You will love this mood tracker if you are an emotive person. As you can fill in 5 different moods for one single day! How amazing is that! So go on and get your colorful pens to track your mood with precision.
5. Bubble Tea and Moods
If complicated doodle art is keeping you from journaling then let me introduce you to this little cutie here by savannahscribbles. This simple June mood tracker is perfect for the summer month. After all what else represents summer more than a glass of cold and refreshing bubble tea? Add some washi tapes to give it a little more character and you are all set to track your daily moods.
6. Orange on my Mind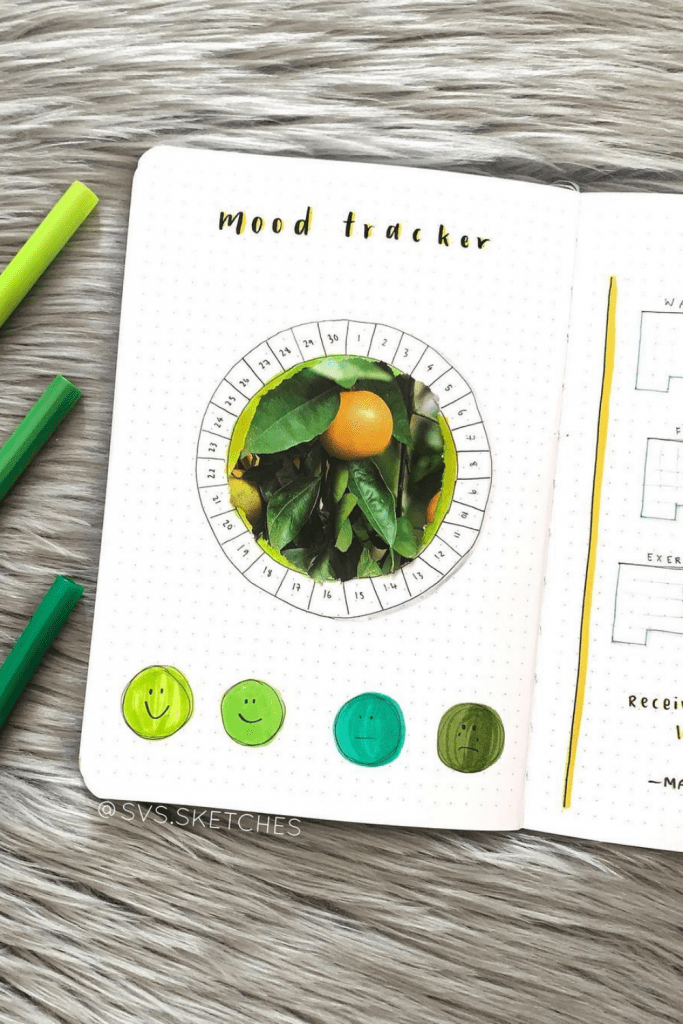 This June mood tracker is unique in its own way. Svs.sketches have kept things really simple. And for someone who is not that great at doodling, this layout is nothing less than a blessing. You can just make a mood compass and use a summer fruit picture cut out in the center. And Voila! You have your own mood tracker.
7. What Will June Bring?
Every month brings its own joys and hopes. And this month is no different. So you can recreate this June mood tracker by butterspreads. This layout is an absolute love for a bibliophile. But what I like most about this layout is the cute little blue and purple paper windmill.
8. Balloons for my Moods
Who doesn't like balloons? And summer means colorful balloons that cheer the summer sky. _helsart has incorporated the same in this June mood tracker. You can color one balloon every day according to your mood, see how your month was, and keep a check on your mental health.
9. Strawberries
If you ask me to choose the best thing about summers, I would say the fruits. I love to devour cool or even frozen juicy strawberries. It is needless to say that this June mood tracker here certainly has my attention. Journal__cloud has come up with a beautiful layout that will remind you of summer and everything that you love. Go ahead and fill this mood compass with colors.
10. Polaroids
Do you love polaroids? I love them. They are my favorite thing during vacations. This layout for your June mood tracker by doing.it.for.the.aesthetics is as aesthetically pleasing as the polaroid pictures. There is something about instant cameras and tiny little polaroids. They are vintage and classic. 
11. Rainbow Compass
Valeriesbujo has used a rainbow compass as a June mood tracker. She has kept the layout so clean and sorted. What i like about this tracker is the flower doodle that she has added. It not only adds an edge but also adds a summer vibe to the layout.
12. Watermelon Crush
Watermelons are a common theme for summer bujo pages. So, if you are looking for a mood tracker for a watermelon-themed bullet journal then this one by themreblog is perfect. It is super cute, and easy to recreate.
13. June Mood Tracker Ft. Goals
If you are looking for something crafty and something elaborate this one is for you. Art.by.abb has come up with an amazing cocktail-themed June mood tracker idea. Quench your mind and emotions with this colorful cocktail mood tracker this summer! Here are some tracker ideas for you to track your goals- 23 Bullet Journal Goals Page Ideas for Inspiration.
14. Cherry Blossom Love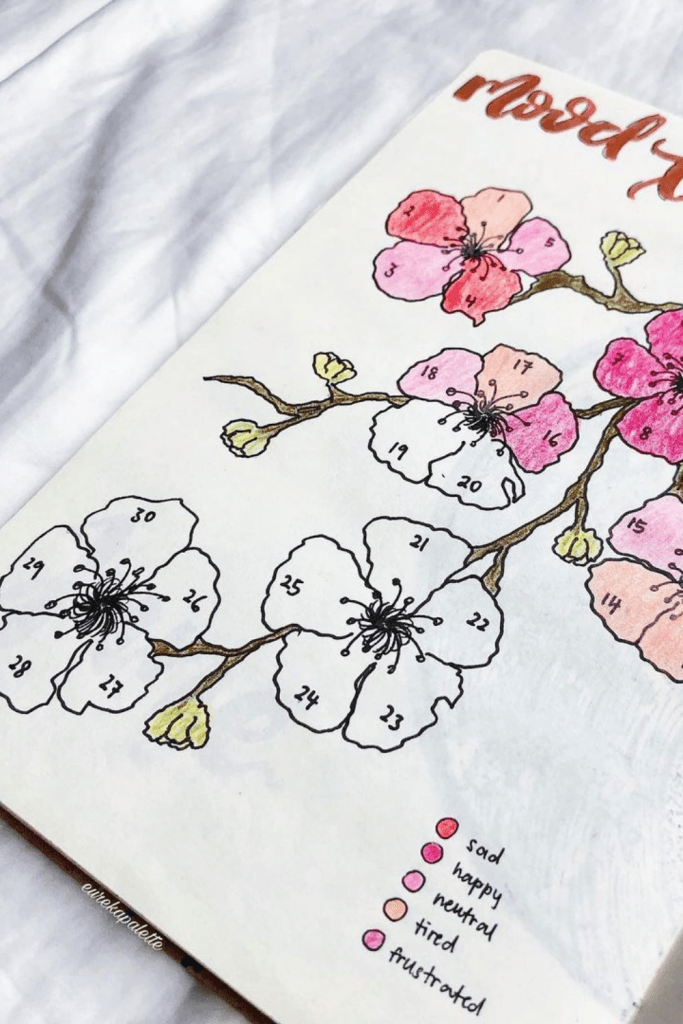 One thing that comes to my mind besides Naruto when I hear Japan is cherry blossom. And why not they are so beautiful. And eurekkapallete has left no petals unturned to create this magnificent layout for your June mood tracker.
15. Love Bugs
Study.peas has come up with a unique June mood tracker idea. It reminds me of the song love bugs. Isn't the layout so adorable? They will certainly remind you of the summer camp days. With this mood, tracker let the buzzing thoughts in your mind rest.
16. Up
Needless to say that bullets_n_books has been inspired by the movie Up. Look how animatic this layout looks. If you are into drawing this is the time you bring out those skills. Recreate this dreamy house and track your mood and mental status this June.
17. Cat Moods
Are you a cat owner? Doesn't matter. Whether you are or not you can certainly not ignore this little kitty here! Lj_bullet_journal has created this fun anime scene. You can see the little kitty having fun with a bunch of yarns. And all you have to do is color each yarn according to your current mood.
18. Butterflies and Emotions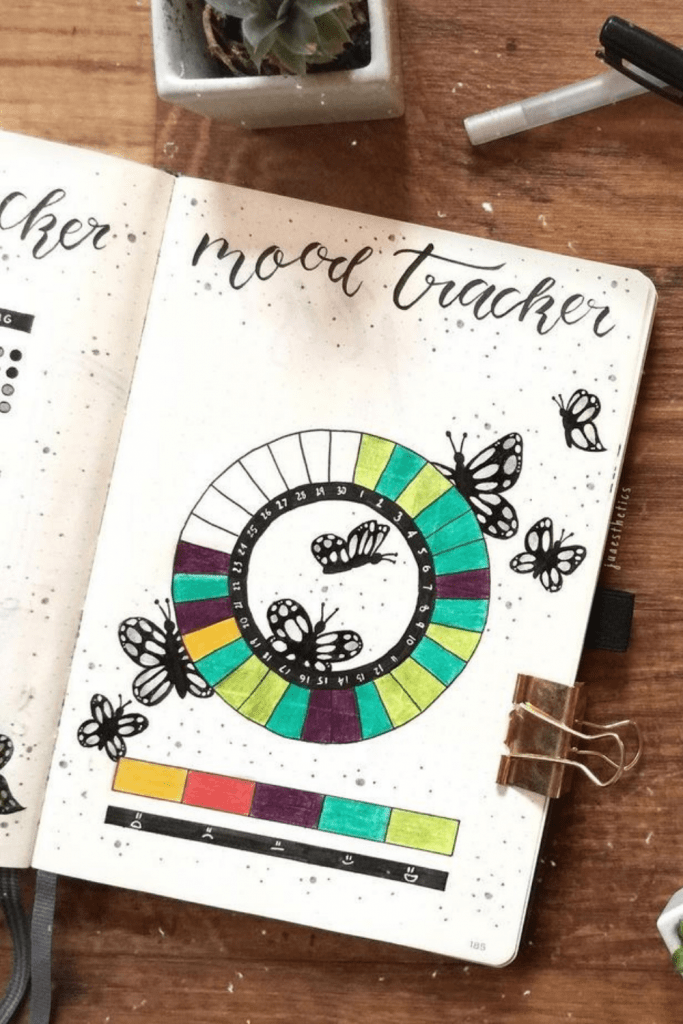 I often think that emotions and moods are like butterflies. They never rest and they are never constant. Juaesthetics has created a layout that is minimal and aesthetically pleasing. She has used butterflies as a theme and keeping the summer in mind, it is a perfect theme for your June mood tracker. I love how she has used a mood compass this makes the overview sorted and clean.
19. Rainbow Moods
How about this June you get some rainbow down to your June mood tracker? Allow b.bulletjournal to do that for you. She has created this surreal June mood tracker layout that is so colorful and bright that it will certainly cheer you up. You can also add in some washi tapes just like her to give this otherwise monochromatic rainbow look a much-need break.
There you go, people! We have reached the bottom of the June mood tracker idea jar! Now it is your turn to get on with your journal and recreate one of these beauties. Keeping good mental health is of course important but it is crucial given the current lockdown situation. Keep your mind healthy and your health immunized. Do let us know your favorite June mood tracker idea in the comment below. Happy June people!
You can also check out some more mood tracker ideas here on- 24 Best Bullet Journal Mood Tracker For Inspiration.
Also, if you like this article you can save it to your Pinterest board for future reference by just clicking on the image below.