The habit tracker page of your bullet journal is one of the most useful pages as it lets you track your habits at ease. Now, if you're someone who like being creative with every page of your bujo,  you will love these amazing June habit tracker ideas. 
You need not wait till January to kick start with new habits. Summertime is just as good as any other time! Feeling ready? Let us now inspire you with a curated list of June habit tracker ideas!
This June, build some new habits and maintain with these interesting June habit trackers.
You can also check –
1. June Habit Tracker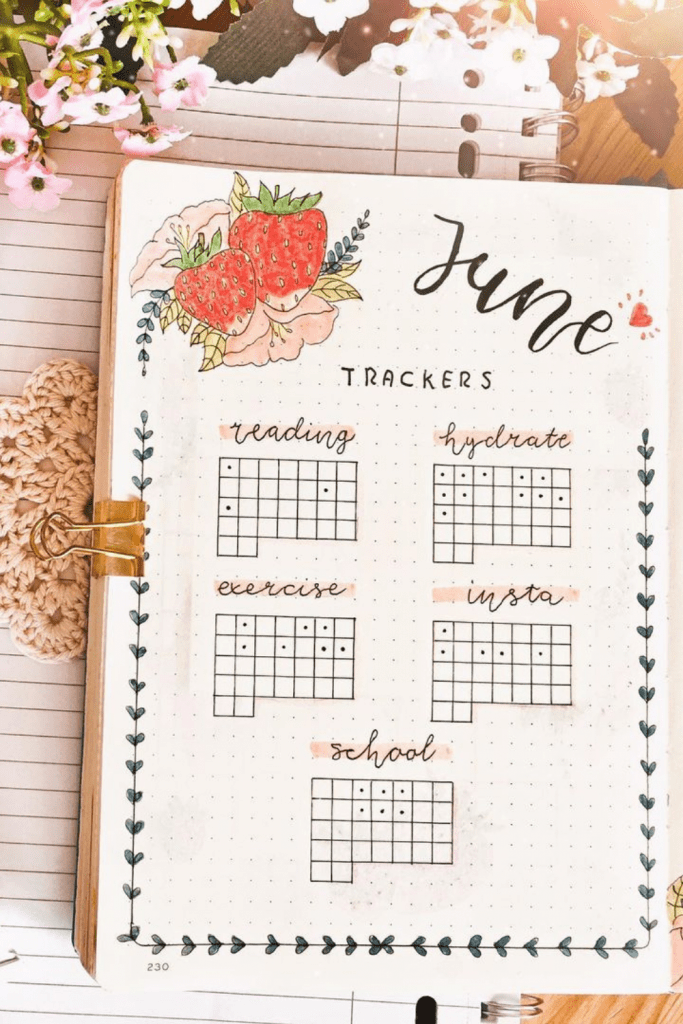 What is that one thing that you need to grow in? We are all evolving and growing every day, we all can also use a little help to make this process but easier. So here is a lovely June habit tracker for you to track some good habits this summer! I like how she has used a beautiful colorful strawberry doodle to give it a summery look!
2. Lemons or Limes June Habit Tracker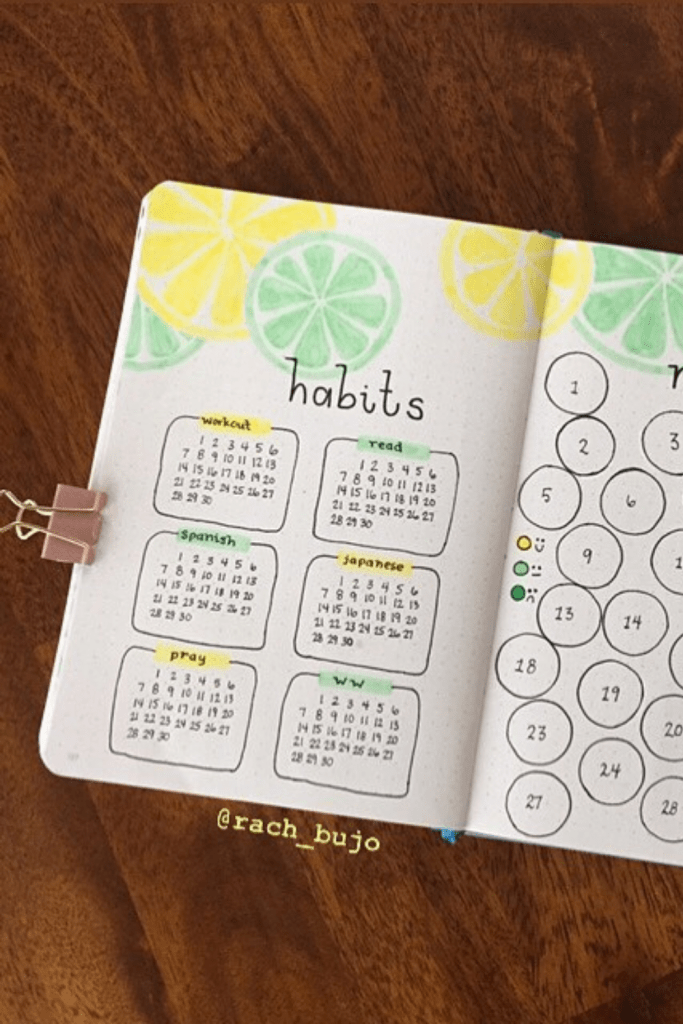 Whether it is habit trackers or mood trackers, we all want them to look trendy. And we all can agree that this June habit tracker is the perfect kind of trend that you would like to vibe within the summer season. With the soft yet bright tones of yellow and green, it will make tracking your everyday habits super fun.
3. Colorful June Habit Tracker
This colorful June habit tracker by nomnombujo is kind of messy but it is full of fun doodles. What gives this layout a unique touch is the colors she has chosen. They have got the summer vibe going strong. With this habit tracker, you can decide which habits you want to work on this summer.
4. Sunflower Tales
Sunflowers tell the stories of summer. They are so bright and beautiful that it makes the whole vibe so lively. And that is exactly what this June habit tracker by jayastudies looks like. The essence is so cheerful. I like how she has kept the sunflowers achromatic while giving the petals and the leaves a very pastel look. This has further brightened up the whole page.
Also check – 28 Bright Sunflower Bullet Journal Ideas.
5. June Habit Tracker in the Rainbow Trend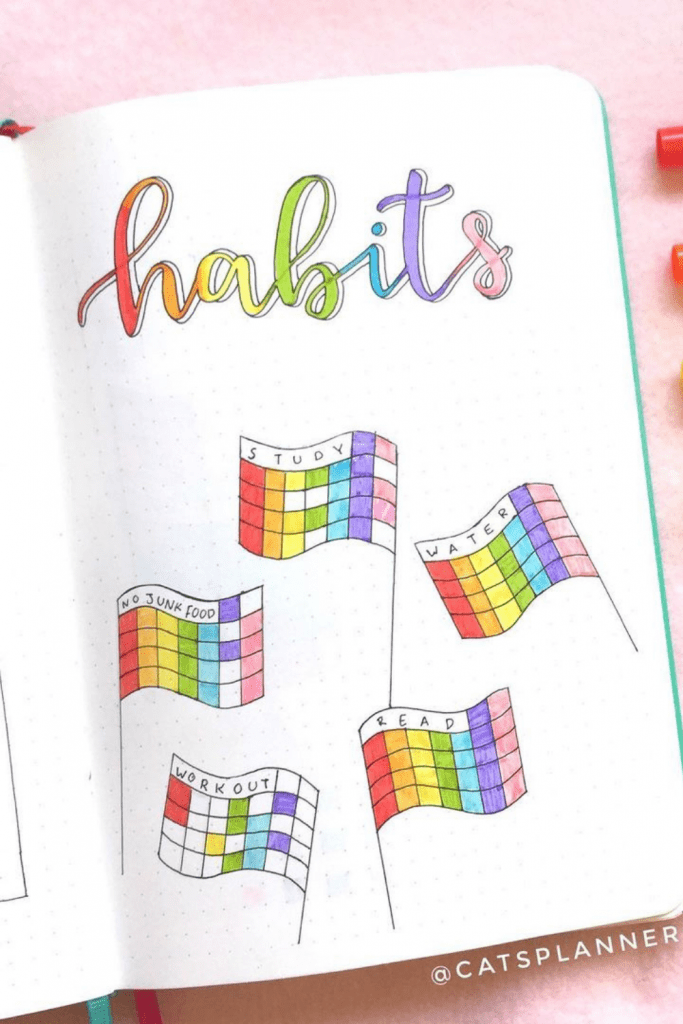 This one is a color paradise created by catsplanner. She has well-balanced the whole layout. While keeping the overall appearance simple and sleek, she has used 7 colors to track the daily habits. And why not? We all have our bad days and good days, and certainly, a colorful June habit tracker like this one can leave us elated on a bad day.
6. Watercolors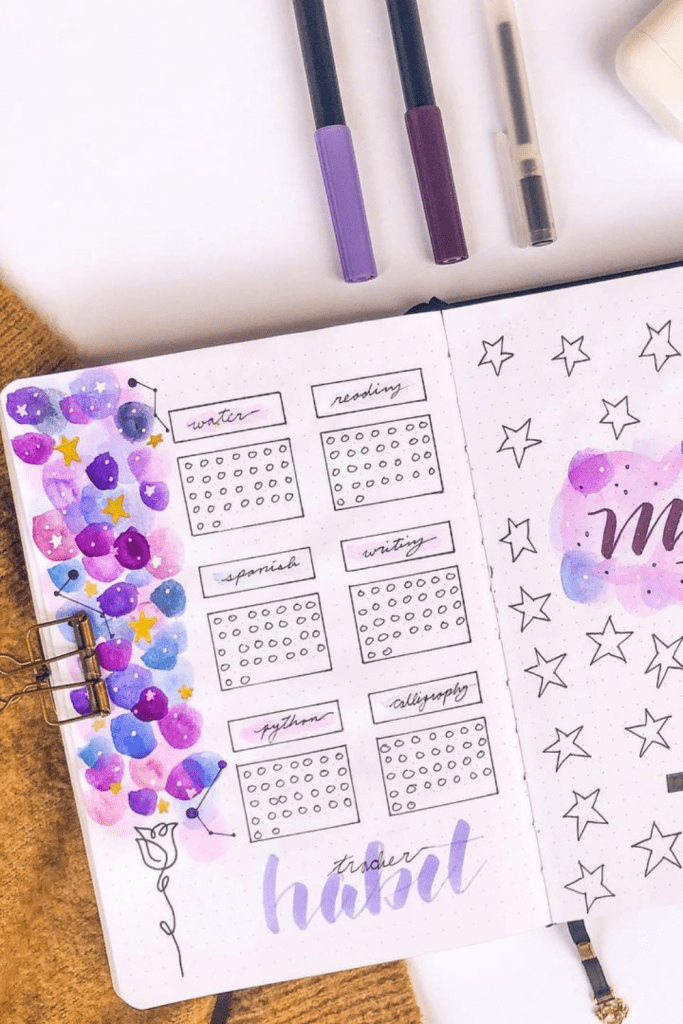 Remember those long sultry summer vacations when painting with watercolors used to be too much fun? Well, this layout here by bythebullet_ reminds me of exactly that. I love this June habit tracker spread, it is everything that I would like my mood tracker to look like. The colors used are so cool-toned that it puts my restless mind at peace at a glance. It is certainly going to be fun to maintain a mood tracker that looks like this one here.
7. Watermelon June Habit Tracker
This is perhaps one of the most efficient mood trackers out there. Jordanhowardjournals has included all the trackers on one single page, yet the layout looks so well decluttered and efficient. She has included even annual goals in this layout which is an effective way to keep your broader goals in mind. And it is needless to say that the whole watermelon theme is just perfect for the June mood tracker.
8. Neutral Rainbows
June habit tracker ideas should be all about the summer things, and a neutral rainbow is one way to do it. Jennaxjournals has drawn these beautiful neutral rainbows for her June mood tracker. She has also skillfully added a habit tracker to track her everyday habits. I like how she has chosen warm-toned colors for her layout.
9. Washi Tapes Mood Tracker
This one here is probably my favorite pick from the list. The layout is simple and well sorted to maintain a decluttered list of habits and track of mood. For a June habit tracker, b.bulletjournal has chosen perfect colors which has summer vibes but the extra edge is brought in by the tropical washi tapes that she has used.
10. Dinosaurs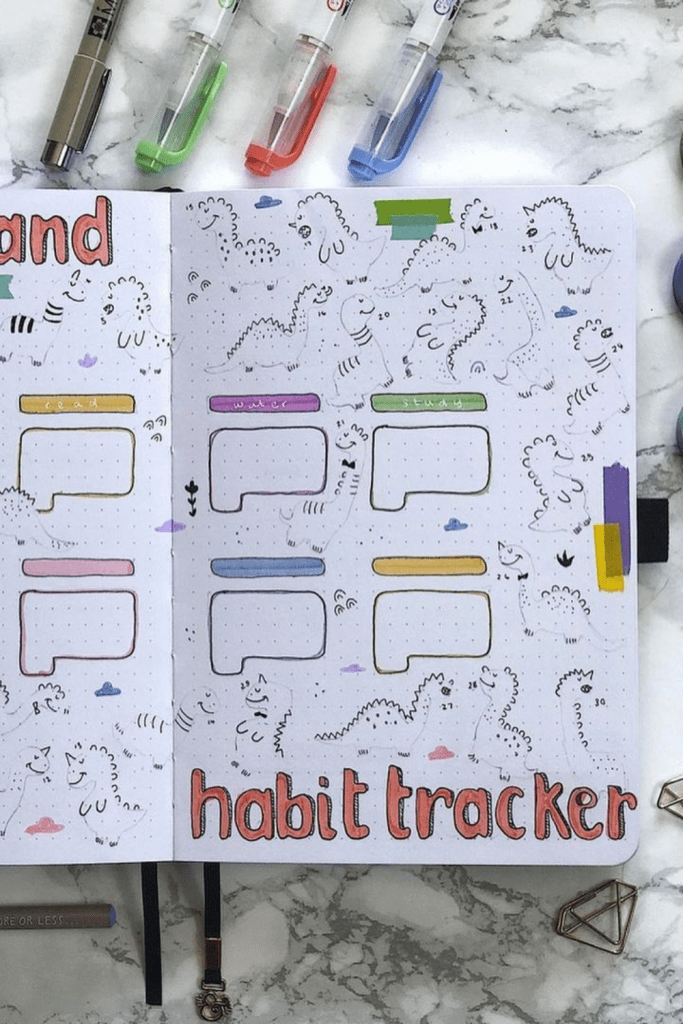 Plan_with_leah has found a way to keep her June habit tracker fun and interactive. She has chosen dinosaurs as her theme, and let me tell you these dinosaurs look extremely adorable. And it will certainly be a fun part of your day to color a dinosaur in the shade of your mood.
11. Fruit-elicious June Habit Tracker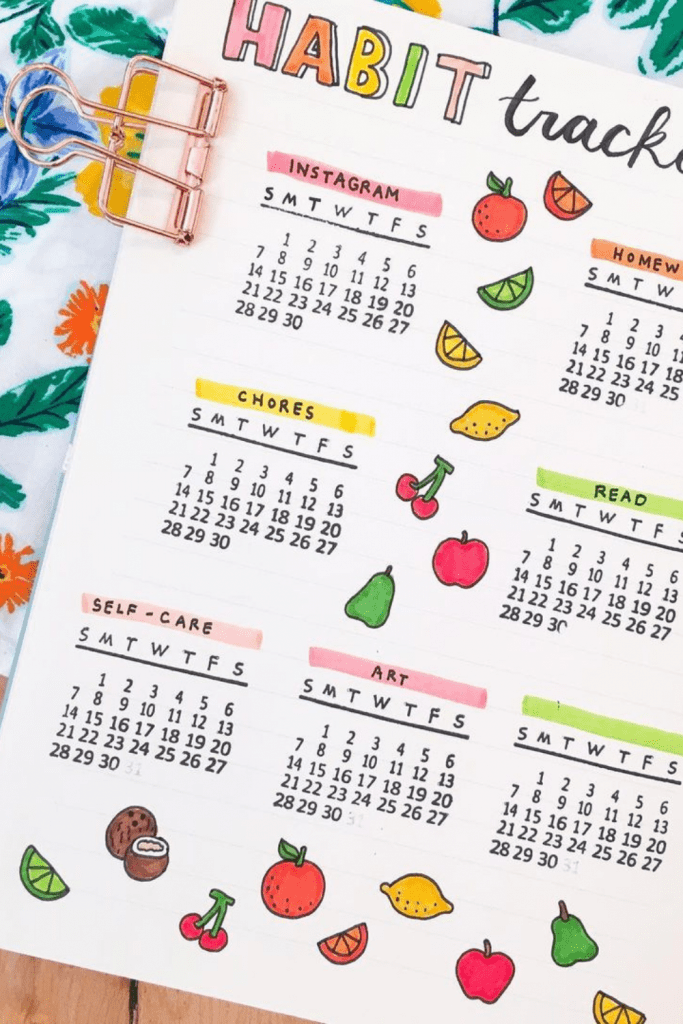 This fruit-elicious habit tracker by alice_bujo_art is so simple that I am tempted to make one for myself. She has kept things easy and less time-consuming. So if you are someone who wants a colorful yet simple habit tracker might be the one for you.
12. Habits in a Jar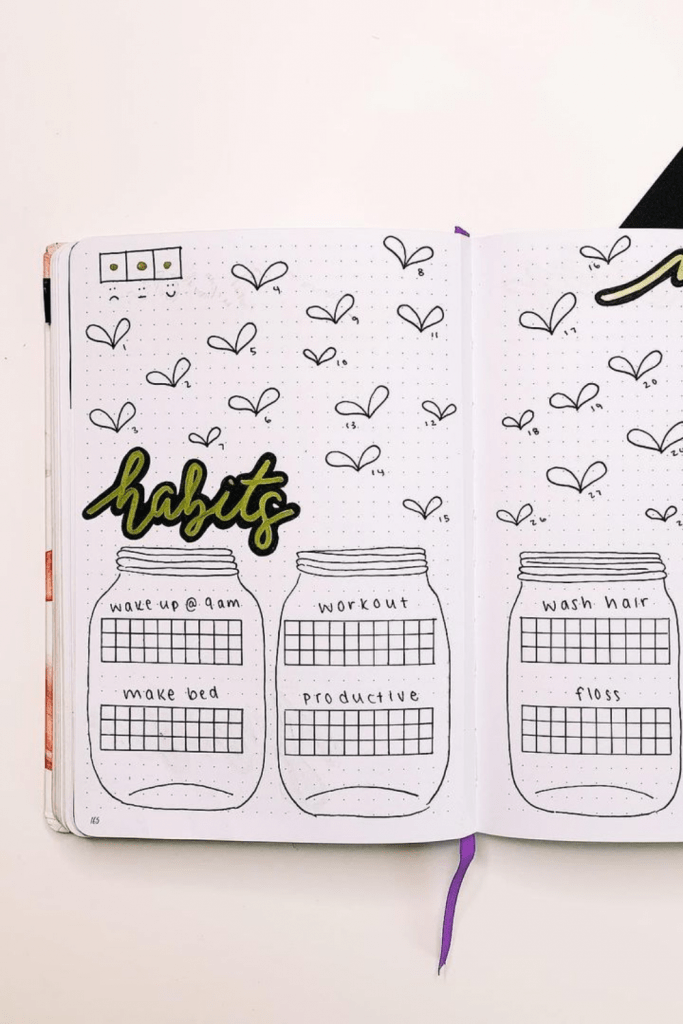 This layout is quite interesting. While creativemindscoffeegrind has used the upper half of the page for a mood tracker she has used the lower half for her daily habits. And I like how clean she has kept the whole outlook of this layout. It is simple and elegant.
13. Lavender Love
Lavenders are so beautiful in the summers. The sweet smell certainly is something that makes the summer months a little more bearable. Fengsworls has used one dominant color, purple in this layout with a little touch of green leaves here and there. 
14. Summer cocktails
What is a good summer without some good cocktails and coolers! This June tracker by burberry is just so refreshing just like the theme. I can't stop myself from imagining a proper afternoon on the beach with a cooler or even a nice cocktail in my hand.
15. Habit and Weather Trackers
Occupationalbujotherapy has given this layout an interesting appearance. She has used the layout as a bar menu, and one cannot overlook the fancy cocktail glasses. And she has certainly used the word 'seasonals' as a reference to the seasonal drinks served at the bar. How clever is that!
16. Summer blues
June mood trackers like this one by hayleys.bujo are dreamy. Like, look at the tiny little milk carton doodle at the bottom, how adorable! But I love the cool blue tone of this layout. It is set in absolute contrast to the bright sunny outdoor scenes.
17. Abstract Habit tracker
This habit tracker by calm_doodles has used the Glastonbury festival. She has used different colors and different patterns. The layout is so abstract and she has used gouache paints. Even though it is a complicated piece of art it is certainly worth it to give it a try.
18. Lemonade
This beautiful bright yellow June habit tracker Planwithleanh is so bright and summery. The lime color in here without a fail will remind you of the cool glass of lemonade that we all crave in the summer heat. The layout is simple and practical. 
There you go! We have come to the end of the curated list of June habit trackers. The list has all sorts of layouts from the easy ones to the complicated ones, from the extravagant ones to the minimalist ones. Pick whichever you like the most and let us know in the comment section below which one got your attention! Happy journaling people!
Also, if you like this article then you can save it to the Pinterest board for future reference by just clicking on the image below.