It is said that it takes only 21 days to build or get rid of a habit. And if you too want to build a habit, then a habit tracker is a great tool to help you achieve that. 
A habit tracker is a very simple and efficient way to track if you are following that habit or not. The most basic way to track a particular habit is by using a calendar and striking off each day you stick with your routine. And at the end of the period, you will have your habit streak. 
But this too has its own limitations. By using a regular calendar, you will be able to track only one habit at a time and you may not be able to customize the visuals to make it more motivating and aesthetically pleasing. 
Why Use A Bullet Journal Habit Tracker?
One of the very effective ways of tracking your habits is by creating a habit tracker bullet journal. This way not only can you track multiple habits at a time but also modify them to suit your taste. 
Now you must be wondering what is the need to track my habits? Well, habit tracking is powerful and highly effective because of three main reasons:
Tracking your habits creates a visual cue that will remind you to take action.
It is encouraging to see the progress that you are making. By tracking your progress, you will not want to break the streak.
It feels fulfilling to log your success at the moment.
This article consists of a list of 25 habit trackers that you may use or take inspiration from to make one for yourself.
To know more about habit tracking, check out our blog post- What is a Habit Tracker?
Monthly Habit Trackers
A good way to form habits is to pick only 6 to 8 habits that you would like to form in the coming month. These habits can be as simple as – drinking 2L water, following a night skincare routine, or reading an x number of pages daily.
Following is the compilation of some of the best ideas for monthly habit trackers.
You can personalize these habit trackers by adding doodles or creative fonts. If you are new to doodling, you can refer to my new e-book on step-by-step doodling.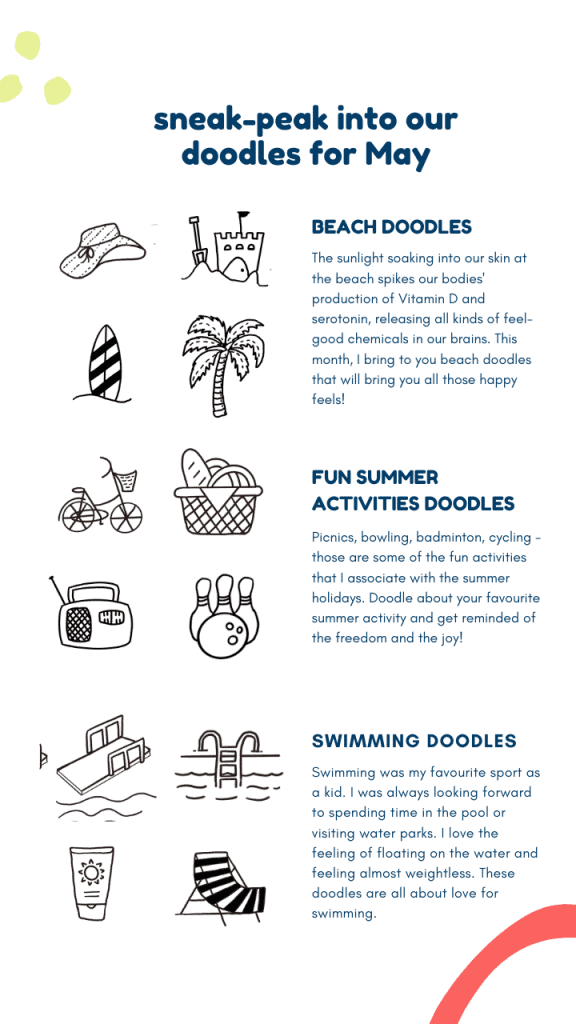 Learning how to doodle is super fun and easy
Once you know how to create these simple doodles, they open up limitless ways to get creative. You can use doodles in your art journal, in your monthly bullet journal theme, in hand-made greeting cards, and even pair them up with your favourite quotes and put them up as wall-decor in your room!
Subscribe for just $5 for new doodles each Month
1. Sunflower Themed Habit Tracker
This adorable sunflower habit tracker by nikolakosterman.com is a compilation of 8 mini monthly habit trackers. It's fully utilitarian and also decorative at the same time. The title written in fine hand lettering adds to the charm. To know more about the art of hand lettering, refer to our article on How To Get Started With Hand Lettering.
2. Simple, Clean Habit Tracker
This clean and simple habit tracker by anjahome.com is all you need to ensure that you stay true to your goals in life. It is neat and clutter-free which will ensure that you don't face any distractions when it comes to following your habits. The floral embellishment on the side adds to its beauty and the hand lettering used in the heading enhances its elegance.
To know more about hand lettering visit our blog post- How To Get Started With Hand Lettering.
3.  Go Green Habit Tracker
This Go Green habit tracker by crazylaura.com has 7 mini habit trackers to keep you on track. The green leaves gives it a very fresh feel. You can fill the page with quotes to motivate you to achieve your goals. 
Refer to our blog post- 100 Never Give Up Quotes To Keep You Going
4. When Life Gives You Lemons….
When life gives you lemons, you make a large pitcher of lemonade! This citrus themed habit tracker by inspiringsunday.com is just so very light and fresh. It has 7 mini habit trackers along with a beautiful doodle at the bottom. You can fill it up with personal habits, professional goals, health and fitness habits and more. 
To know more about what habits to track, visit our blog post- 50 Things To Track In Your Habit Tracker. 
5. Cute Notepad Themed Habit Tracker
This cute notepad themed habit tracker by thefab20s.com has 9 mini trackers. Use different coloured highlighters to make the page look attractive. Here's a tip to stick to your habits- never miss two days in a row. It might so happen that you skip a day or don't follow a particular habit on one day. Just let it go and continue the next day. Skipping two days in a row can reduce your success rate by a significant percentage.
6. Space Themed Habit Tracker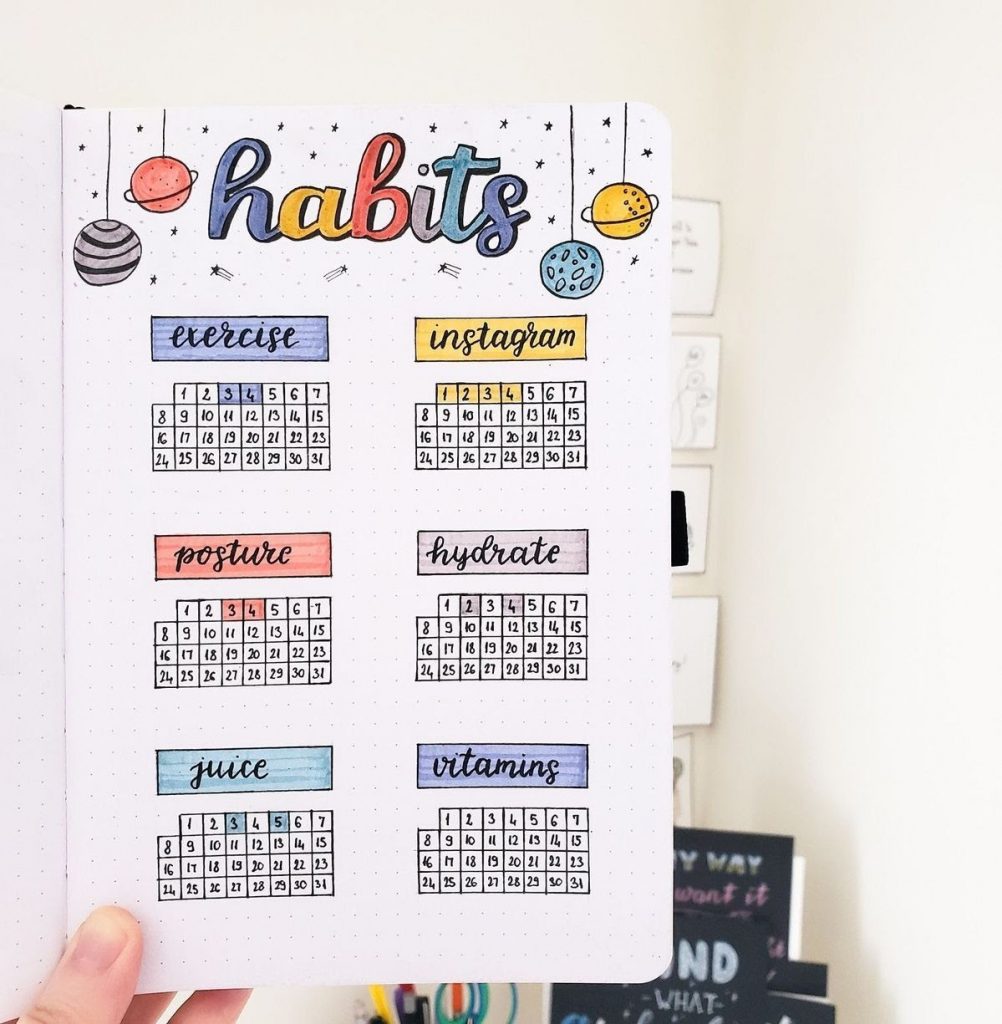 This space-themed bullet journal mood tracker by seedsuccessfulyou.com is truly out of this world! The page consists of 6 mini habit trackers for tracking different habits. It has planets and shooting stars to decorate the page and motivate you to track your habit every single day.
7. Simple Grid Habit Tracker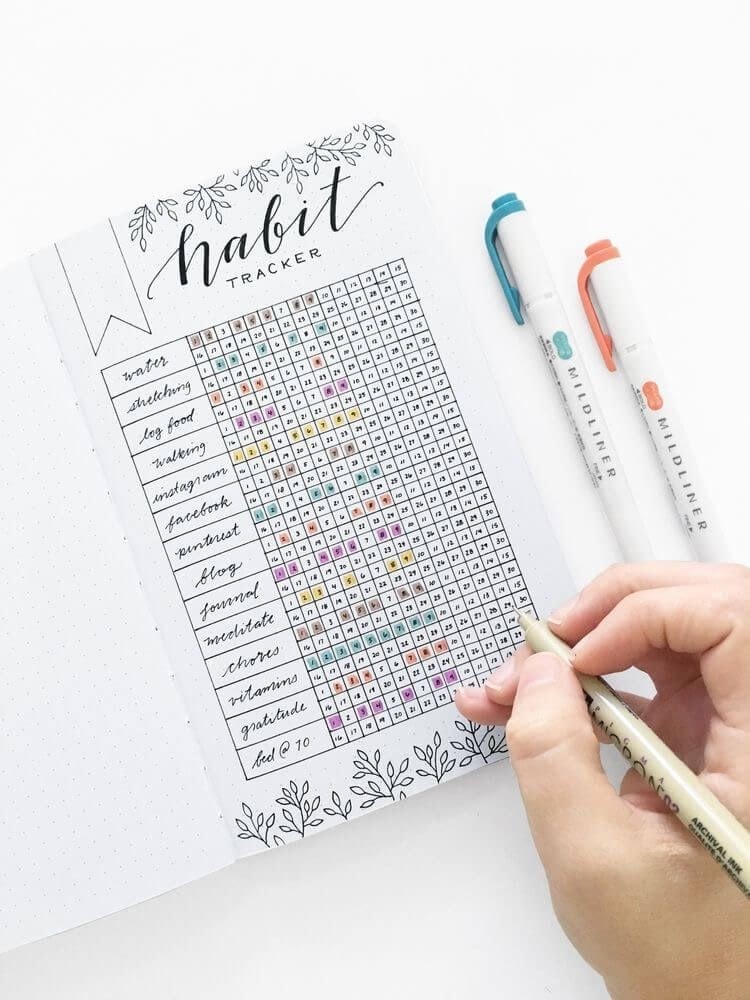 This rectangular grid bullet journal habit tracker by foreverfreebyanymeans.com is not only pretty but also very systematic and organised. This habit tracker is capable of accommodating many habits at the same time because of its simple layout. However, I would suggest that you start out small. Focusing on completing too many habits at once can get a bit too overwhelming. Start with maybe two or three habits and then feel free to increase the range.
Habit Tracker Ideas
1. Constellation Habit Tracker
This constellation themed habit tracker by evydraws.com will leave you star-struck. To make this, preferably use a dotted line bullet journal. Mark the days that you followed the habit with a star. Take charge of your life one day at a time!
2. Cute Floral Habit Tracker
I instantly fall in love with anything floral, and the same happened with this cute, floral habit tracker by crazylaura.com.  Mark an X against each day that you successfully follow a habit. You can decorate it by doodling and using stickers to match the theme. Check out our article on How To Get Started With Hand Lettering to make the habit tracker more visually appealing.
3. Minimalist Habit Tracker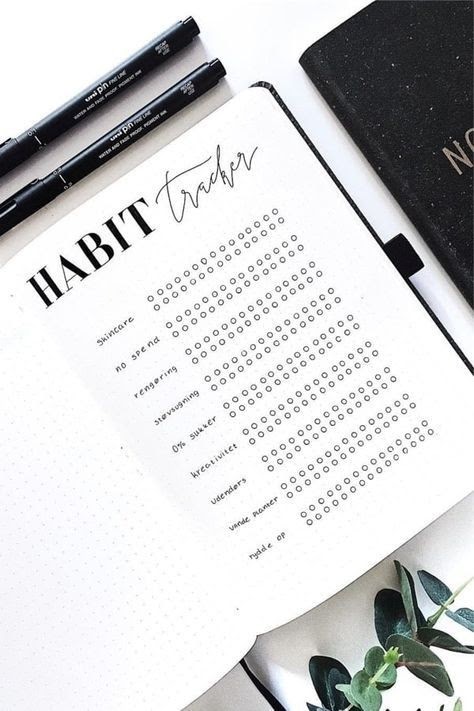 This minimalist habit tracker by crazylaura.com is perfect if you aren't artistic enough or are simply too lazy to draw and decorate your journal. It's simple, clean and efficient. Sometimes, less is more.
4. Journey Down The Memory Lane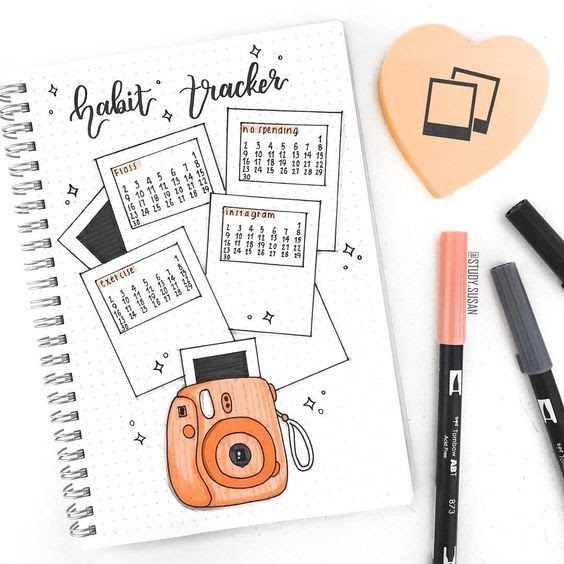 This Polaroid themed habit tracker is cute and will definitely take you down the memory lane. This bullet journal is a culmination of 4 separate mini habit trackers. Check out Study Sudan for more such amazing bullet journal ideas.
5. Harry Potter Themed Habit Tracker
This Harry Potter-themed habit tracker by anjahome.com is for all you Potter heads out there. It is accompanied by a Gringotts Record budget tracker. As it is important to keep track of your habits but it is also equally important to keep a record of your income and spendings to ensure that you are never broke.
6. Floral Habit Tracker
This floral habit tracker by habitsbuzz.com is just so adorable. It is not just a habit tracker, but it also has a water log and a sleep log because it is very important to stay hydrated and it is equally important to get a good night's sleep of minimum 7 to 8 hours per day to stay productive the next day.
7.  100 Days Habit Tracker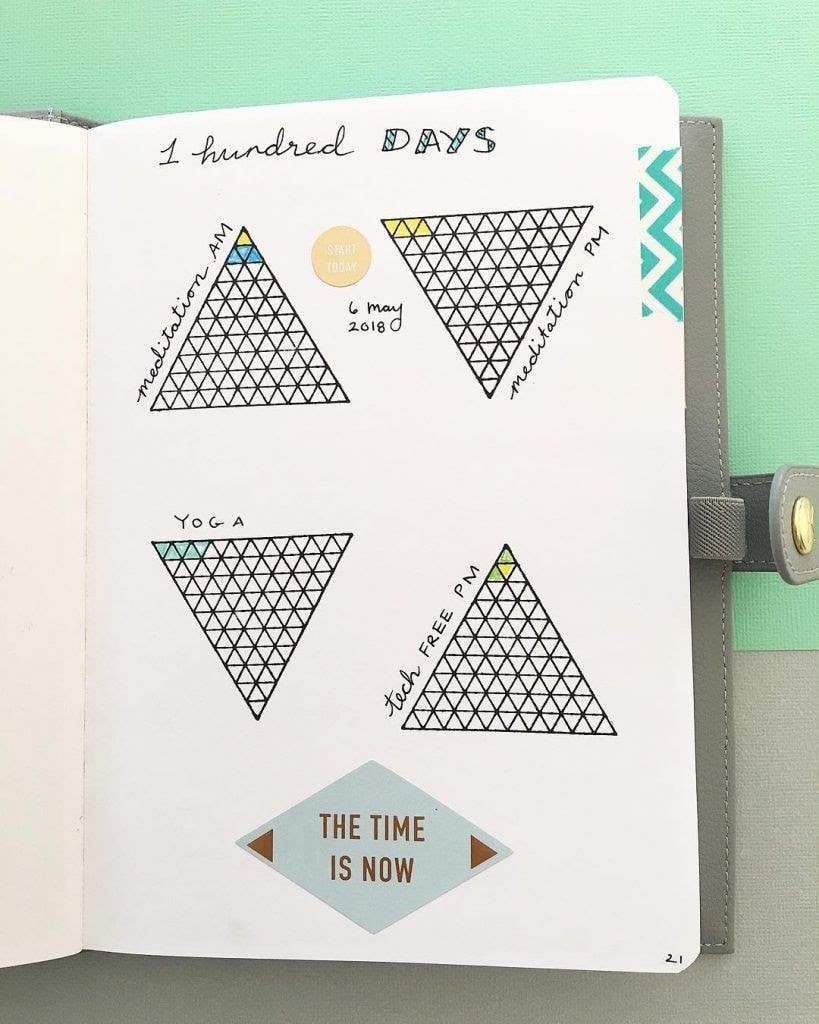 This 100 days habit tracker is a bit different from the ones that we have seen till now. The difference is that till now, all the trackers in the list were at most monthly trackers. This one however by habitsbuzz.com is a 100 days habit tracker following a triangular grid. The one shown here has only 4 trackers but you can go ahead and add more or decorate the page with stickers and doodles.
8.  House Points Habit Tracker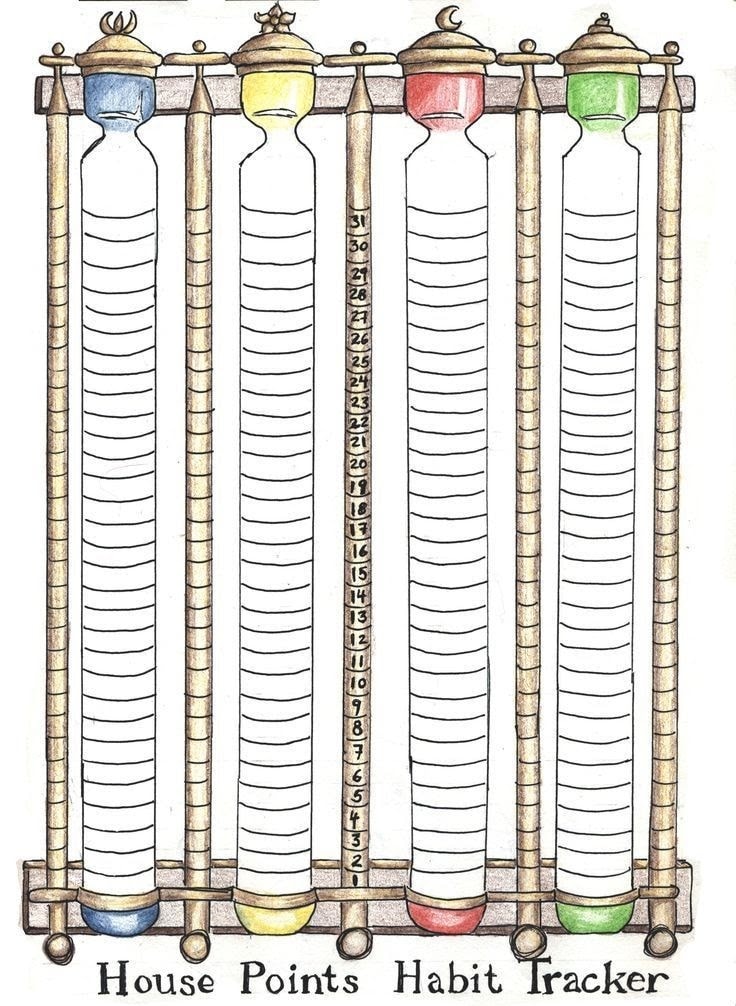 This Harry Potter House Points Habit Tracker is again for the Potter head in you. This one is by katzen.bilgeturks.com. This house points tracker will keep you motivated and ensure that you do not break the streak.
9. Semicircular Habit Tracker
This semicircular habit tracker by All About Planners is unique and I was drawn to it the moment I saw it. It has such a cool design and structure and accompanied by its functionality, it is sure to increase your productivity and help you achieve your goals in life.
Bujo Habit Trackers
1. Progress Graph Habit Tracker
This progress graph habit tracker by habitsbuzz.com is all you need in a habit tracker plus more. Along with the habit tracker on the top, it also has a mood and weather tracker as well as a graph to track your sleep and diet. This bullet journal has two sets of habit trackers, one on the top and a separate one on the bottom of the page as well. You may use a pen or pencil to darken the dots corresponding to the days that you have successfully completed a particular habit. At the end of the month, you will have a clear picture of how successful you were.
2. 3-Dimensional Habit Tracker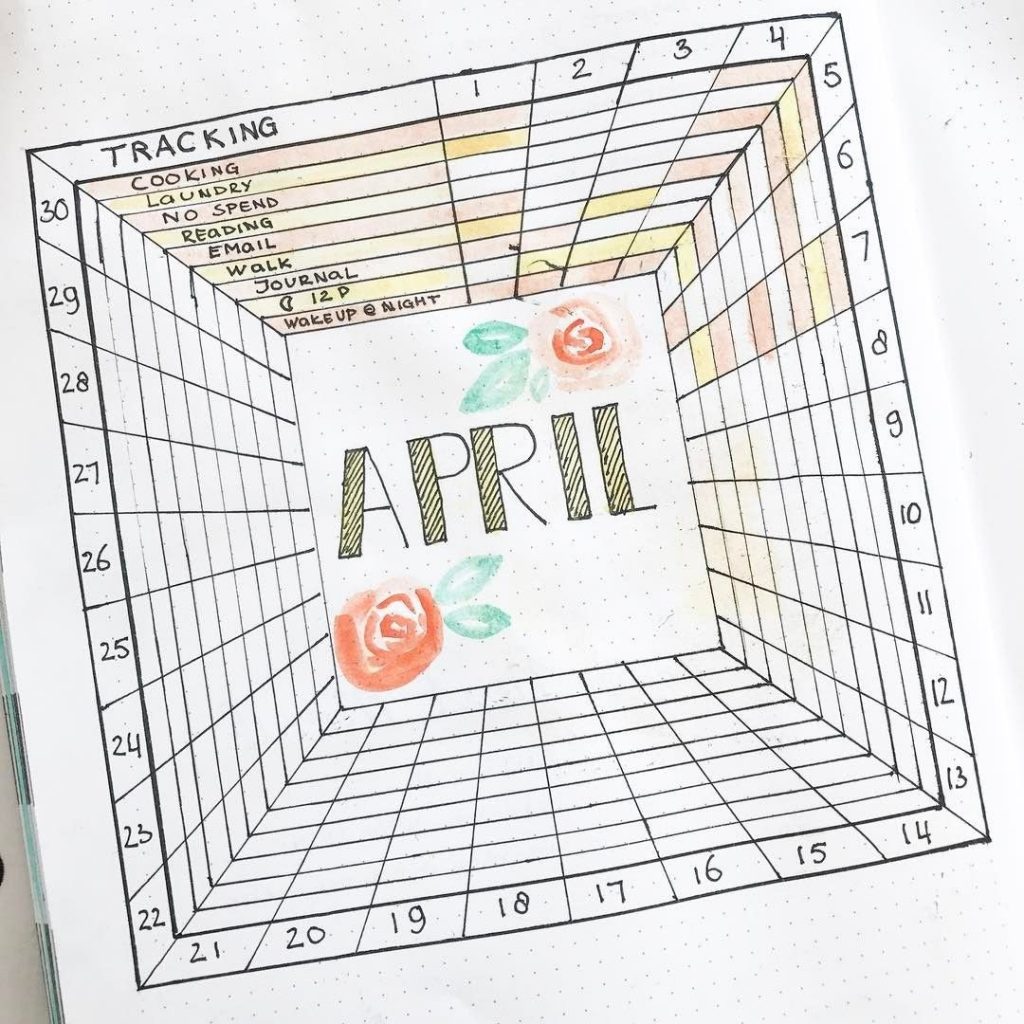 This cool 3-dimensional square habit tracker by thepetiteplanner.com might look complicated but is actually not that tough to recreate. It has numbers from 1 to 30 along the rim to indicate the days of the month. The habits are written down in the inner lines. Simply use a highlighter to mark the days that you followed the habit. Hopefully, by the end of the month, you will end up with a very colorful square.
3. Hexagonal Habit Tracker
This hexagonal habit tracker by mashaplans.com is very similar to the previous one. What makes it truly unique apart from its cool shape is the drawings outside it. You can customize it to suit your aesthetics.
4. Circular Habit Tracker
This circle tracker is one of my favourites from the list. It's again similar to the previous two habit trackers on the list but the floral circular shape and the floral detailing at the bottom adds a cuteness factor to it. Colouring those tabs on the disk is so satisfying that you will not miss even a single day. Check out hearthandmade.co.uk for more such habit trackers.
5. Bee Positive Habit Tracker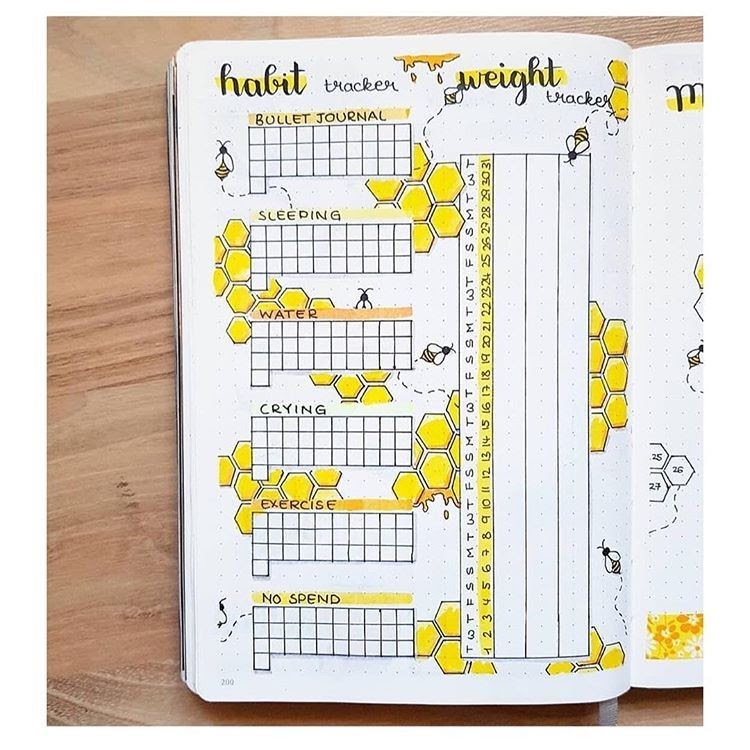 This Bee positive habit tracker by Notebook_profile is just so happy and vibrant. It has 6 mini habit trackers along with a weight tracker. If you are someone who is trying to lose weight or even gain a few pounds for that matter, then this habit tracker layout is just the right fit for you.
6. Habit-Cum-Mood Tracker
For any habit to stick, it is important that your mental and emotional health is intact. This bullet journal habit tracker is accompanied by a mood tracker as well because your emotional health is equally important.
To know more about mood tracking check out our blog post- 24 Best Bullet Journal Mood Tracker For Inspiration.
7. Scrapbook Habit Tracker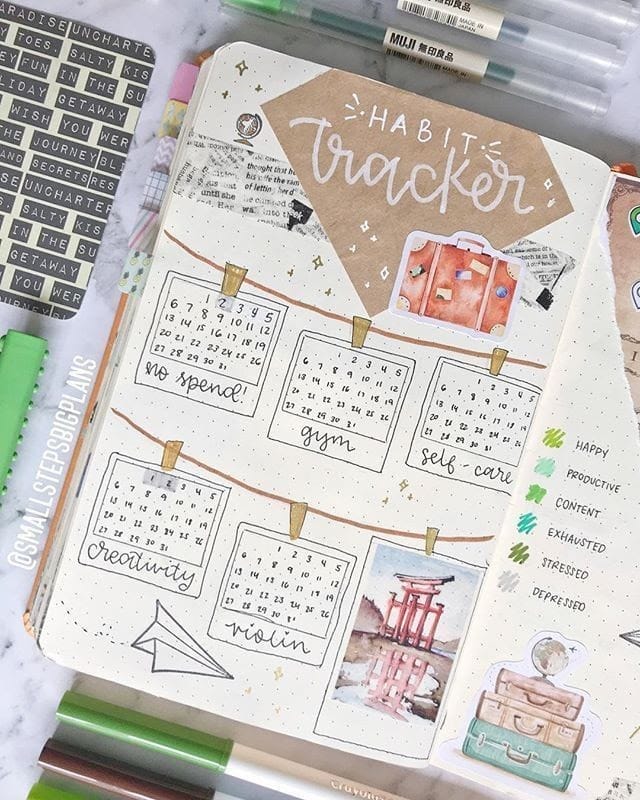 This scrapbook themed bullet journal habit tracker is by justbrightideas.com. These mini habit trackers are easier to follow than those complicated ones. I would suggest you start one habit at a time, taking up the easier habits at the very beginning. 
8.  Habit Cum Sleep Tracker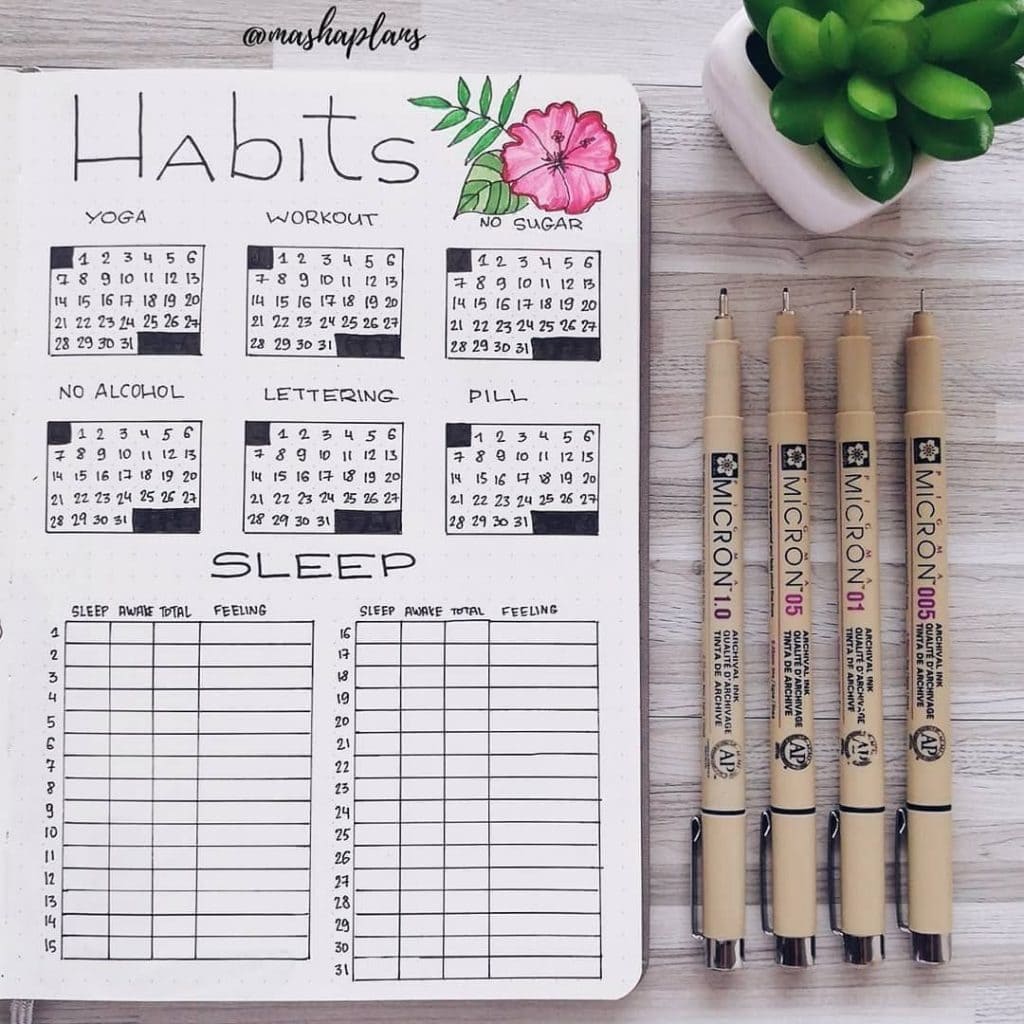 A healthy sleep cycle is essential to keep you on the right track to achieve your goals. This Habit Cum Sleep Tracker by thepetiteplanner.com will ensure just that. This bullet journal layout has 6 mini habit trackers along with a sleep log to ensure that you get the right amount of sleep to keep you up and energized all day.
9. Mountain Themed Minimalist Habit Tracker
This mountain-themed habit tracker is the last one on our list of top 25 habit trackers. This one is by familyfoodgarden.com and is minimalist and chic. It has 8 mini circular habit trackers with numbers along the rim. The brush lettering used to write the title adds to its charm.
So there you go! That was the list of top 25 habit trackers that you can use to build new habits in life and get rid of some other bad habits. Remember, it only takes 21 days and a bit of determination and will to make or break a habit. Do try these out and send us your feedback. To know more about habit tracking, check out our blog post- What is a Habit Tracker?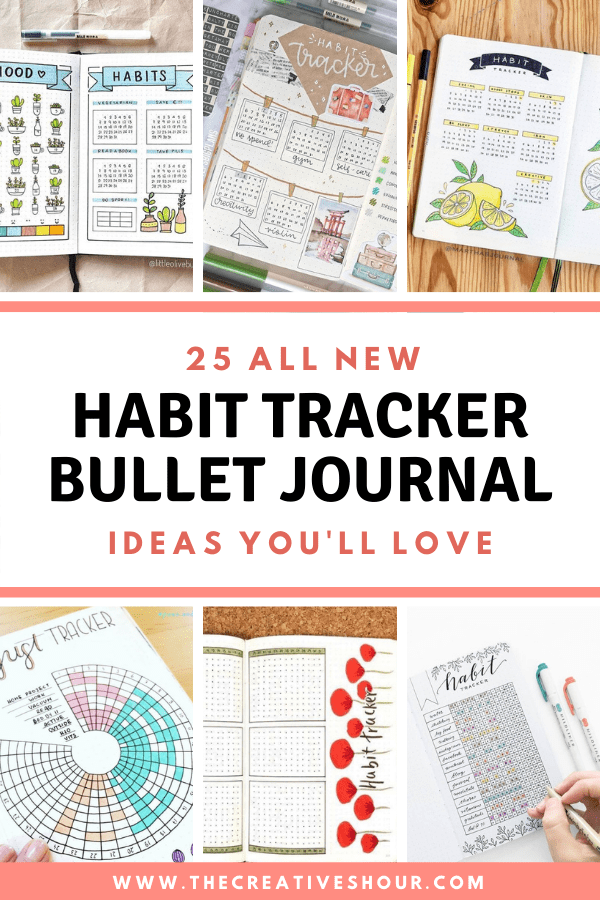 References
Making health habitual: the psychology of 'habit-formation' and general practice
https://www.ncbi.nlm.nih.gov/pmc/articles/PMC3505409/
How to Form Good Habits? A Longitudinal Field Study on the Role of Self-Control in Habit Formation
https://www.ncbi.nlm.nih.gov/pmc/articles/PMC7135855/
Shifting the Balance Between Goals and Habits: Five Failures in Experimental Habit Induction
https://www.ncbi.nlm.nih.gov/pmc/articles/PMC6033090/
Investigating habits: strategies, technologies and models
https://www.ncbi.nlm.nih.gov/pmc/?term=habit+tracking
You may also like