Featured Image Credit – lalipop.lettering
Do you love citrus fruits and the fresh energy that they bring? If yes, then you will love a lemon bullet journal theme. It can be difficult to come up with a new and interesting themes for every month. Your lemon fruit inspired theme will be one of the easiest to create all you need to do is make some lemon doodles and not worry much about the colour palette. All that you need is a whole lot of bright yellow and you're good to go!
Lemon Bullet Journal Theme Month Covers
There are just so many ways to get creative with your month cover when you go with lemon theme for your bullet journal. You can simply have a page full of bright yellow lemons. You can play with the colours and the sizes. Here's a compilation of some of my favourite lemon theme month covers.
1. Hello June Lemon Theme Month Cover
This minimal and gorgeous month cover is by thuys.bujo. You can take inspiration from it to create your own. The lettering for the month of June is in bright yellow and I love how simple and elegant it is. I also like the functional month calendar at the bottom. 
2. Vibrant Lemons Month Cover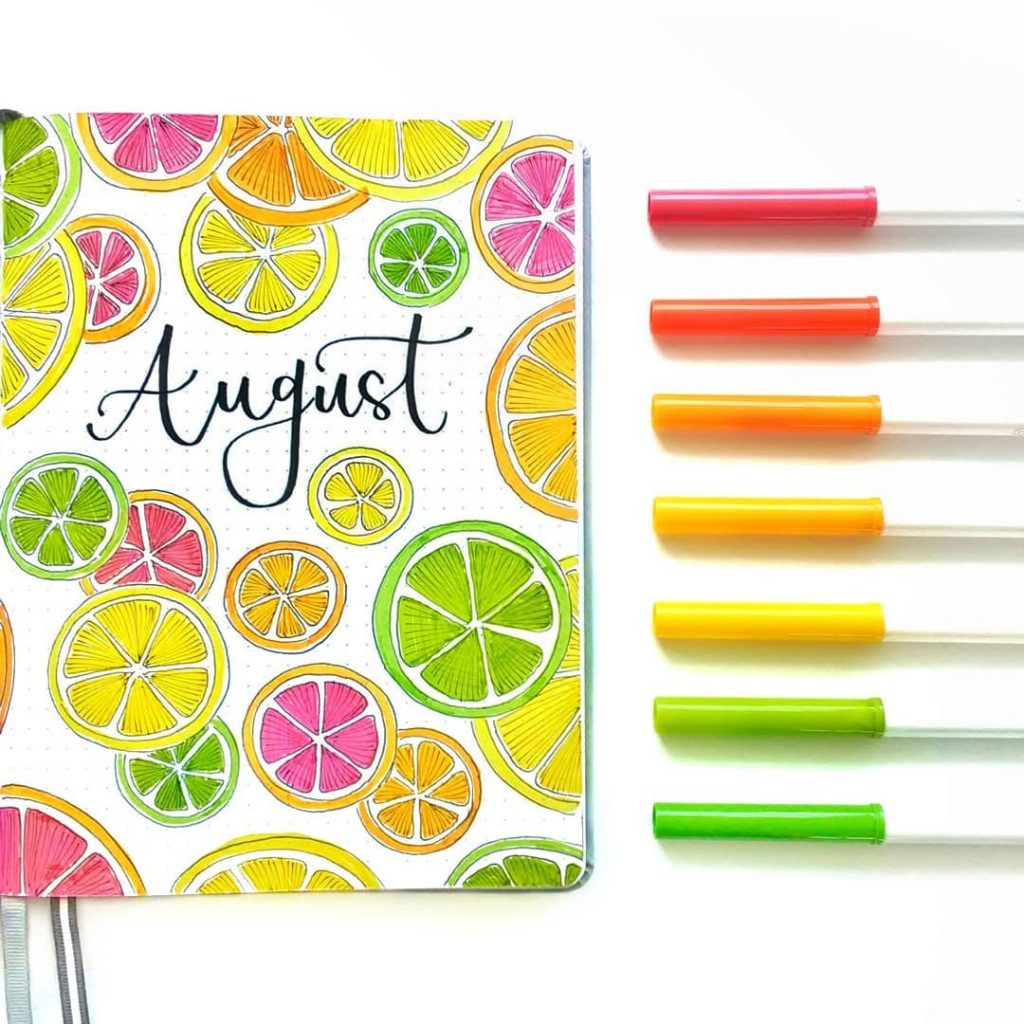 Don't want to stick to simple yellow lemon illustrations? Take inspiration from this vibrant month cover by lalipop.lettering. After all, there are so many varieties of citrus fruits that we don't even know about. Why not get a little creative and fill in those doodles with all the colours from your imagination.
3. Lime, Oranges and Lemons Month Cover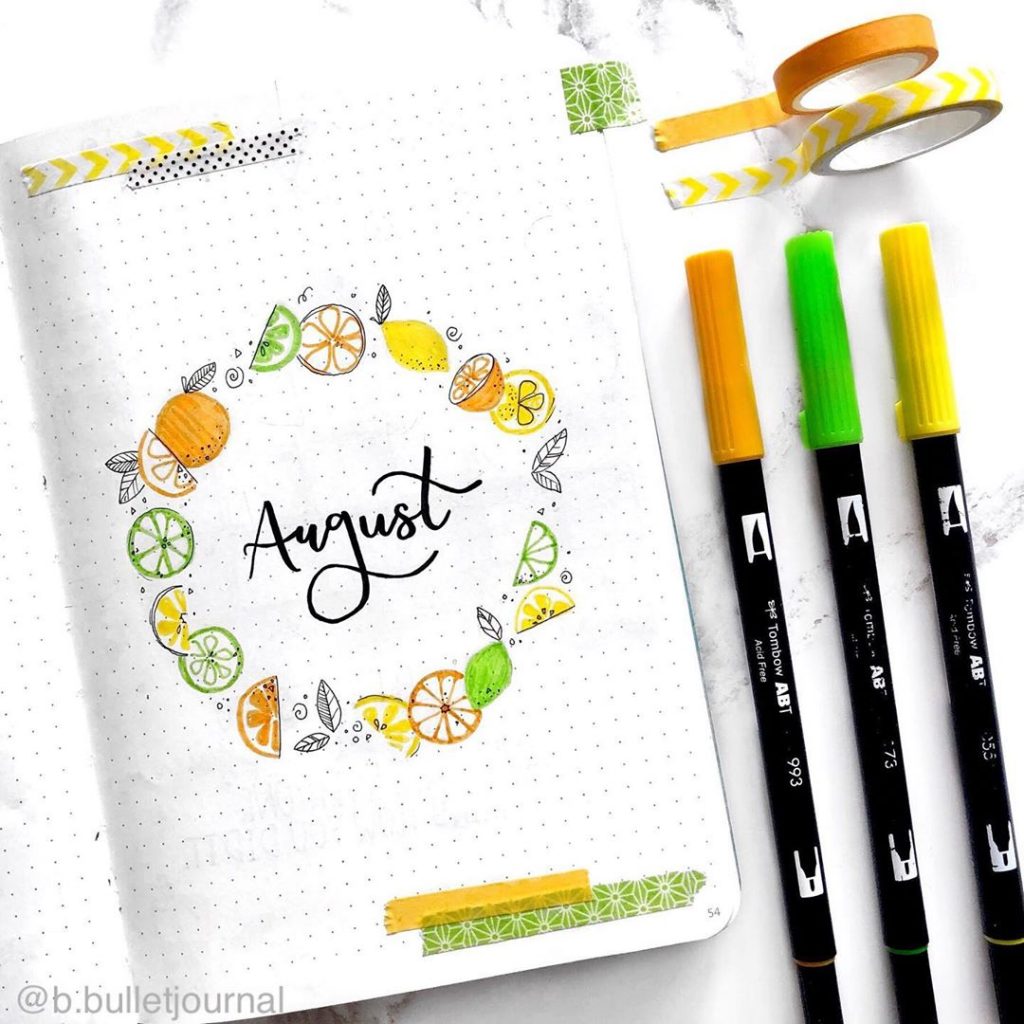 The green, orange and yellow colour palette of this month cover by b.bulletjournal makes me think of lime, oranges and lemons. I like the playful doodles and the simple lettering for the month. Recreate your own and don't forget to add some washi tapes matching the colour theme for an extra creative touch.
4. Lemon Stickers Month Cover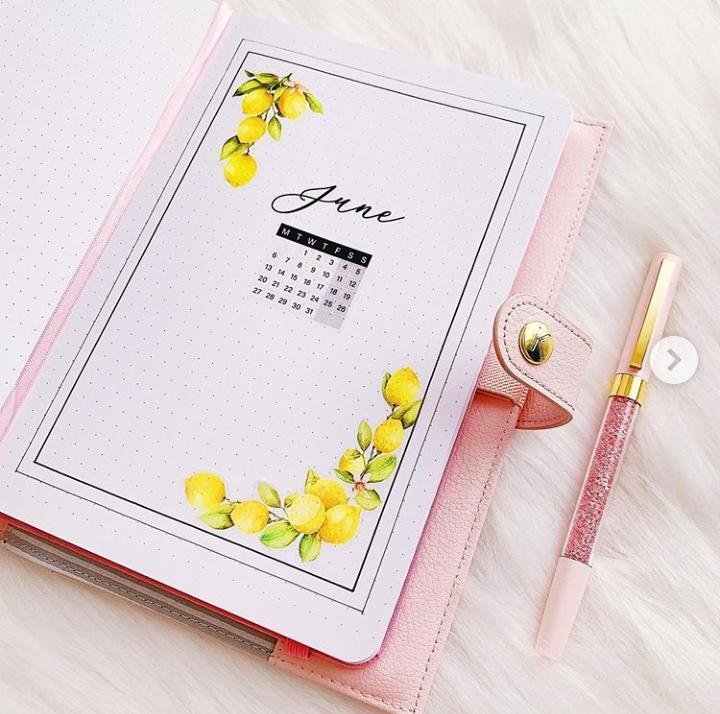 Want to try out this wonderful bullet journal lemon theme but don't have the time? Lemon theme stickers by journalwithkate is the way to go. I absolutely love how simple she has made it for any bullet journal beginner to create an aesthetic bujo. Her stickers are one of the best out there! 
5. Goodbye June Month Cover Page
Though this is an example of a goodbye page, you can take inspiration to create the month cover page as well. I love how nbs_bujo has created so many lemon doodles in bright yellow. They seem so easy and fun to draw.
Bullet Journal Lemon Theme Month Layout
Don't you just love month layouts and spreads? I find them perfect to capture the excitement that comes with planning the new month. Your monthly spread or a layout is a place where you can make a note of events, birthdays, appointments and other things that you would like to plan for the month.
6. Vibrant Lemons Theme Bullet Journal Monthly Spread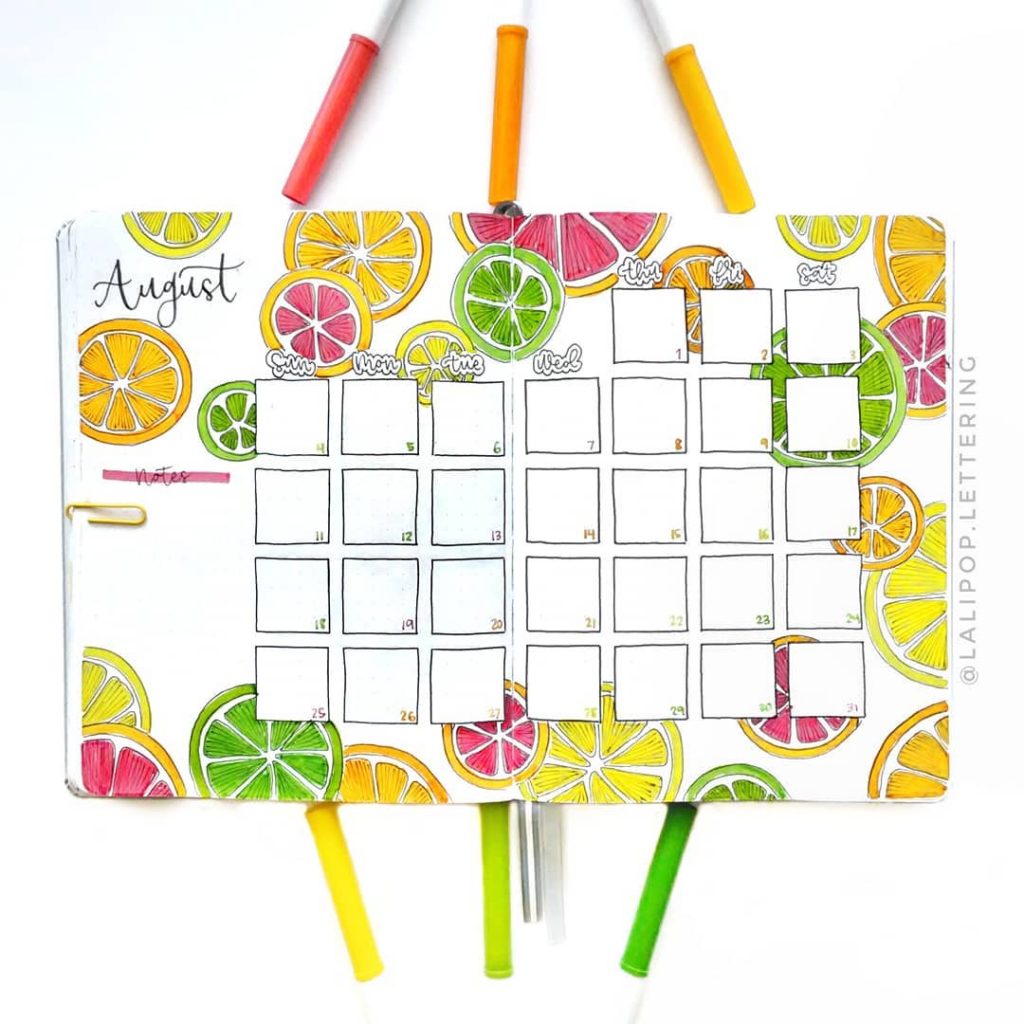 I love this colourful month spread by lalipop.lettering. The highlight is of course, all those vibrant citrus fruits. One thing that stands out in this spread are the white boxes that seem to be floating on the top, creating a pleasing visual effects for the eyes.
7. Make Orange Juice Month Layout
'when life gives you lemons, make orange juice and leave everyone wondering how you did it.' – What a wonderful quote for a lemon theme bullet journal spread. I really like this spread by b.bulletjournal and it makes me want to have a fresh glass of orange juice, haha!
8. Lemon Stickers Minimal Month Spread
If you love to create your bujo layouts with stickers, then you'll love this month layout by journalwithkate. You can head over to her account to find these stickers and create your own minimal and aesthetic month layout. 
Bullet Journal Lemon Theme Mood Trackers
Our daily moods play an important role in influencing our overall productivity and the feeling of fulfilment at the end of the day. Have you experienced that as well?
Tracking moods is a great way to take control of how you feel and manage it.
9. Mood And Habit Tracker in a Lemon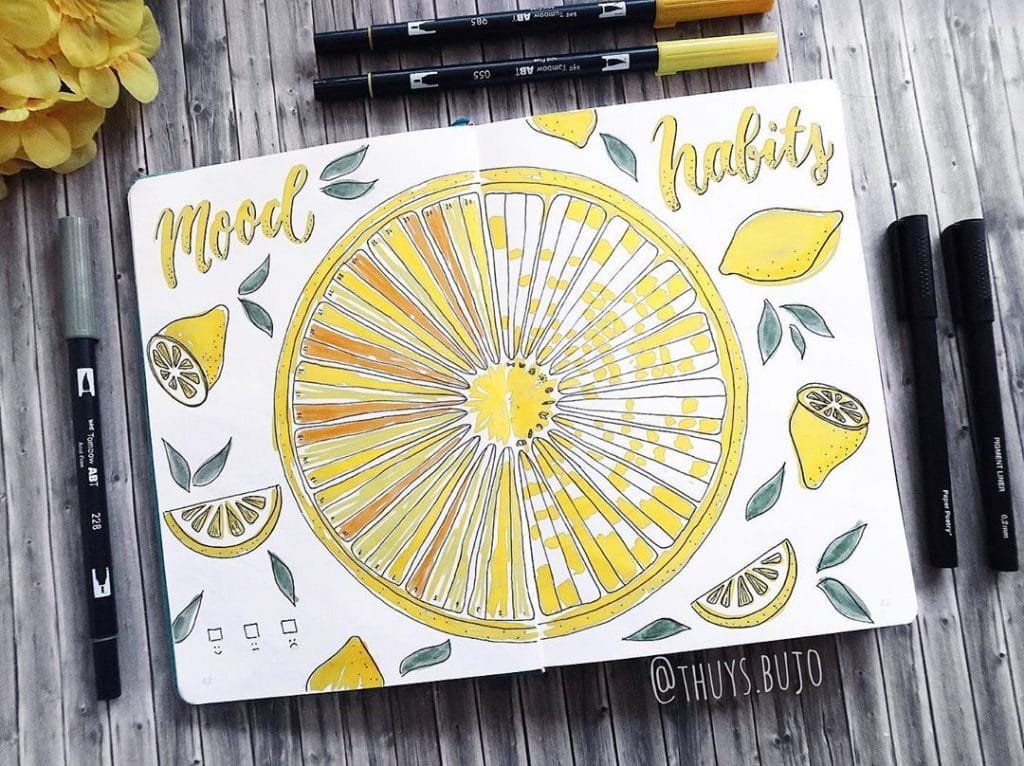 Here's a creative mood and habit tracker by thuys.bujo. I personally love the mood tracker but find the habit tracker a bit confusing. You can take inspiration from this layout to create your own. 
10. Patterned Mood Tracker in A Lemon
Most mood trackers require you to fill in the colours based on your mood. But if you want to get creative and also make your mood tracking therapeutic, then you can create a key that requires you to fill in patters based on your mood. Take inspiration from this layout by b.bulletjournal to create your own.
Bullet Journal Theme Habit Trackers
Habit trackers are perhaps the most useful pages of our bullet journal. Our quality of life is maintained by the habits we have. Here are some bullet journal lemon theme habit trackers for your inspiration. 
11. Lemon Bullet Journal Minimal Habit Tracker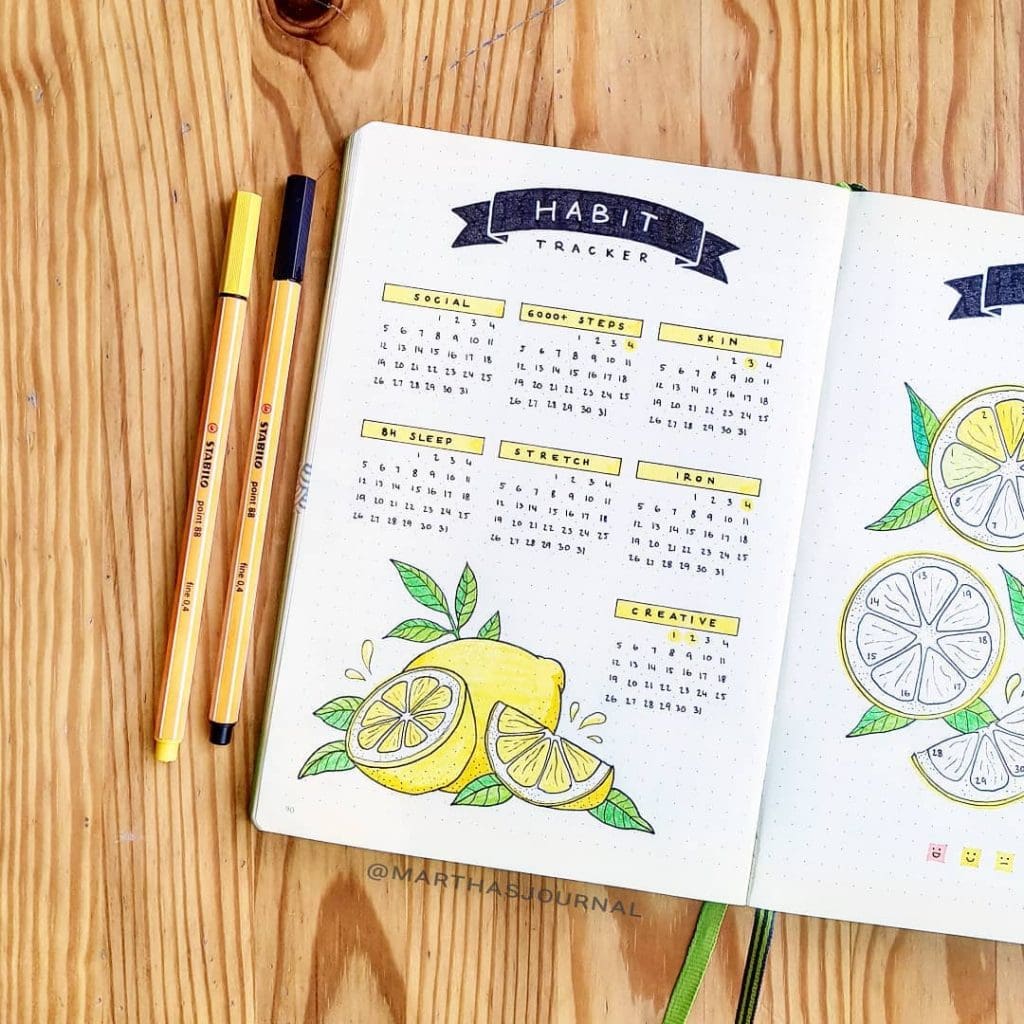 If you look at this habit tracker by marthasjournal, you will realise that the layout is very functional and minimal. The only decorative bit is the lemon illustration. I love how beautifully drawn and coloured. It's one of the best lemon doodle that I've come across.
12. Habit Tracker With To-Do List And Goals
Here's another idea for habit tracker layout and this one is also by b.bulletjournal. I like the colour theme of yellow, orange and green. However, you can recreate this kind of layout with just yellow lemon doodles as well. A monthly to-do list along with month goals, gives a great perspective to the daily activity of habit tracking.
Bullet Journal Lemon Theme Quotes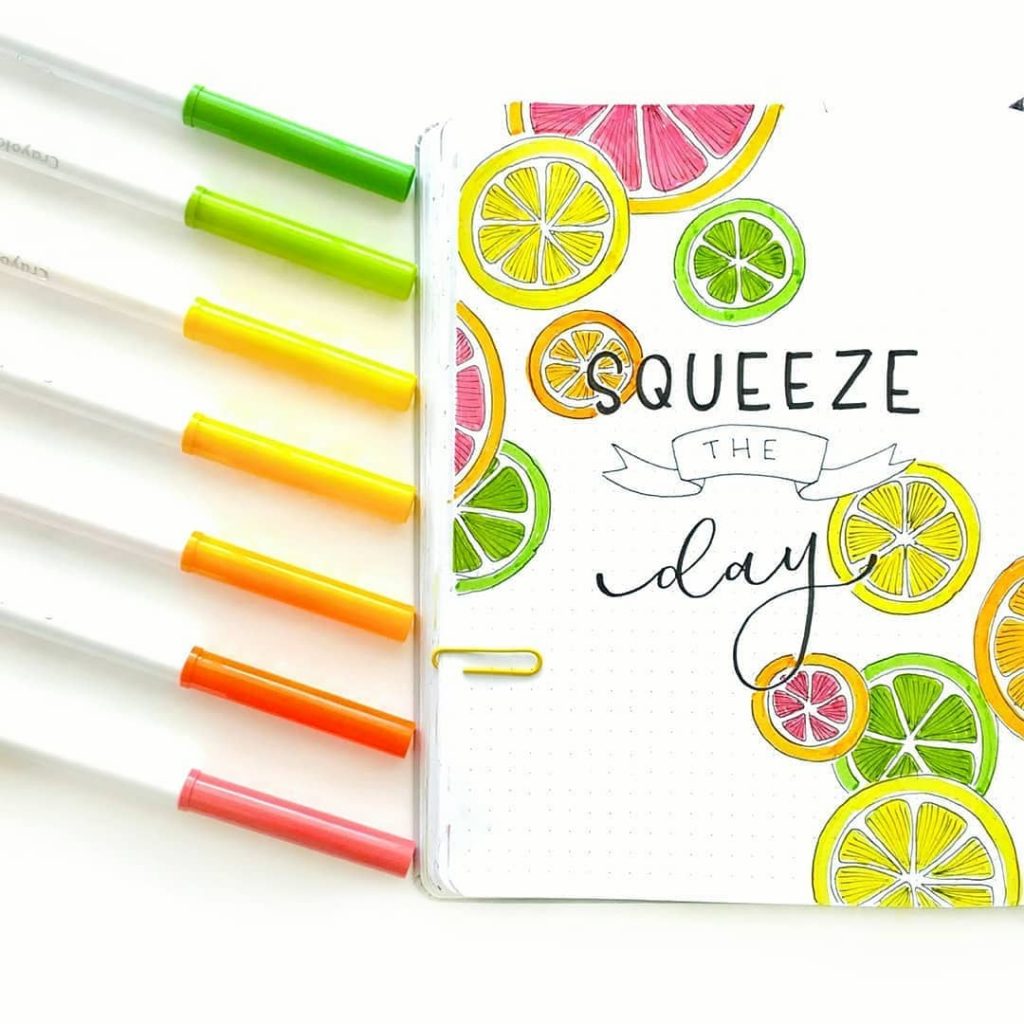 Squeeze The Day! Such a great quote for your lemon themed bullet journal. I also love the doodles and the overall layout by lalipop.lettering. You can add this quote anywhere in your month journal.
Bullet Journal Lemon Theme Playlist
Do you like to set the mood for the month by creating a special playlist? If yes, then you can take inspiration from this layout by b.bulletjournal. You'll need some amazing brush calligraphy skills to recreate this.
Bullet Journal Lemon Theme Week Layout
Your weekly spread is a great place to plan every single thing about your week. Having the whole week planned gives you head start and preps you mentally for all the things that are lined up. 
13. Plan Everything Lemon Theme Bullet Journal Weekly Spread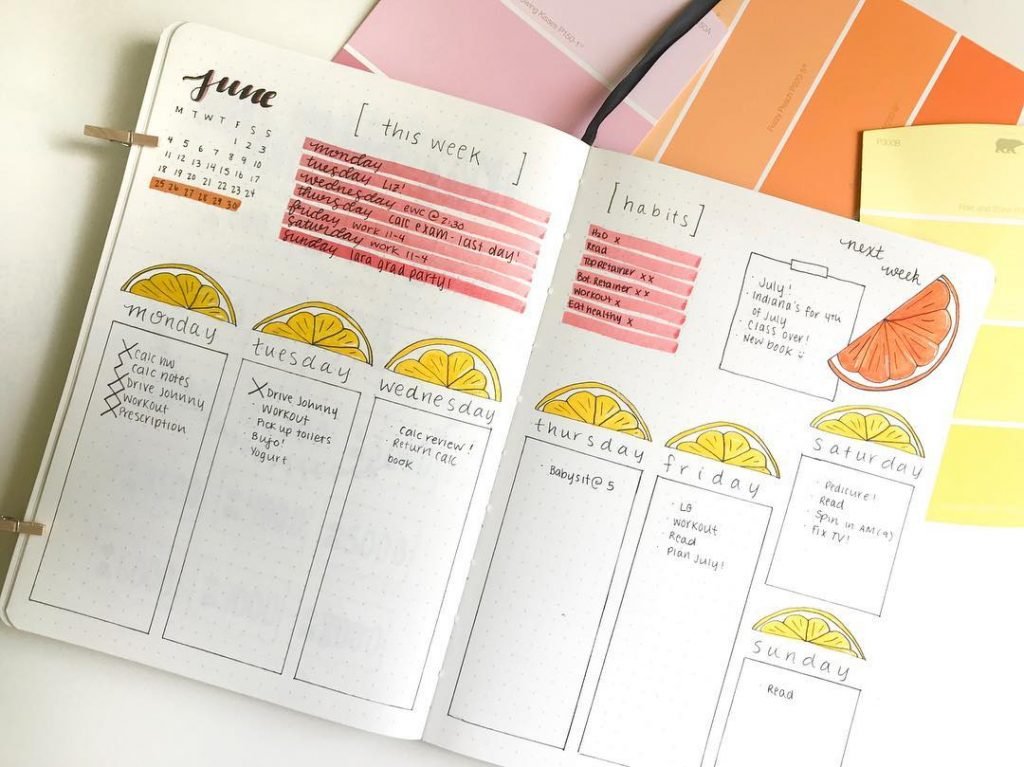 This super functional monthly spread by nbs_bujo might not be too decorative but is quite useful. Apart from planning each day, it also gives you space to create an overview of the week, plan tasks for next week and also track your habits for the week.
14. Weekly Spread Inspired By Lemons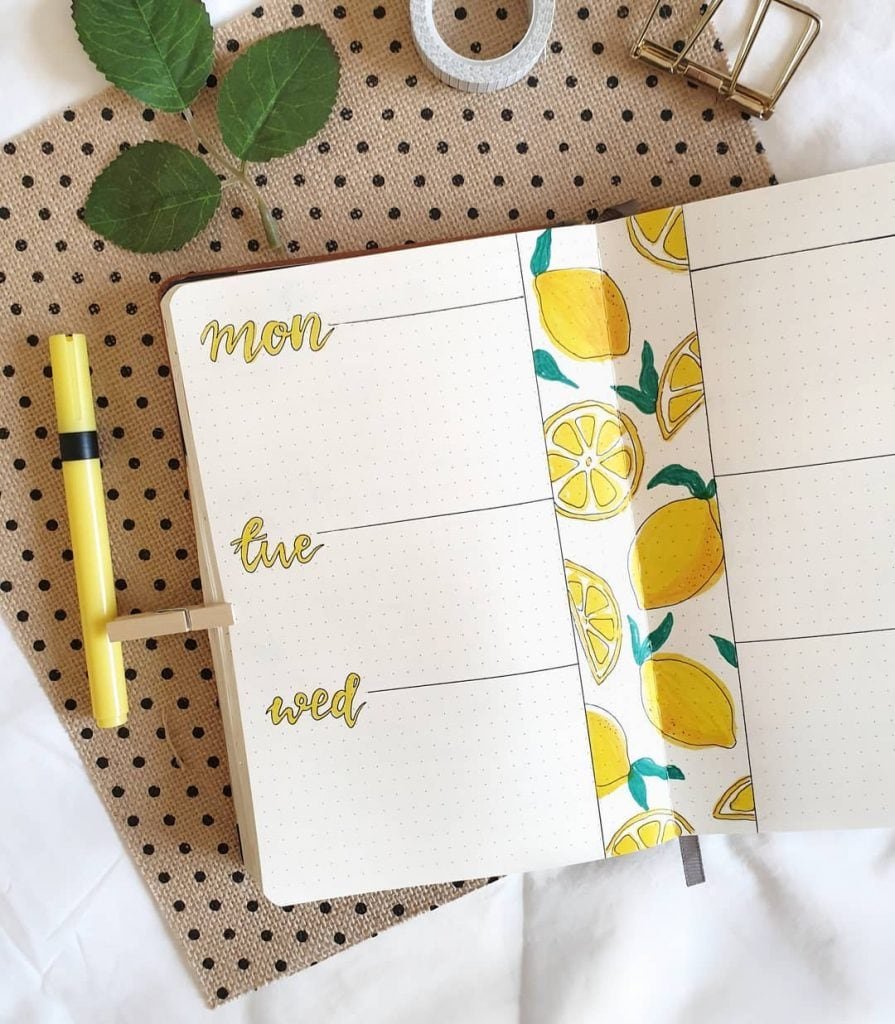 This lemony lemons weekly spread is brought to you by whimsical.doodles. Don't you just love those doodles? I feel inspired by looking at this spread. It's perfect for week planning.
If you loved these ideas, you can use the Pin image below and save this article on your 'June Bullet Journal' Pinterest board.
You can also check out our other bullet journal theme compilations for hot air balloon theme and water melon theme for more ideas.