Add a cozy, bohemian touch to any room with these Macrame wall hangings. Buy these online, or DIY some according to your style! Macrame is a versatile form of fiber art that can be customized to make plant hangers, wall hangings, purses, etc. You can make these using a diverse range of materials from jute, cotton twine, yarn, and can be as simple or detailed as you like.
Additionally, you can knot some embellishments in it like dyed threads, wooden/glass beads, etc. for a creative touch. There are endless possibilities while working with macrame wall hangings. These dress up an empty wall and can additionally act as plant holders, shelves, or curtains to your windows.
Also read –
40 Easy DIY Macrame Plant Hangers Ideas & Tutorials
50 DIY Macrame Wall Hanging Patterns with Tutorials
Here is a complete guide on how to DIY macrame wall hangings and some fantastic ideas for inspiration. Vintage revival is trending nowadays, so its time to recreate this must-have macrame decor.
What are Macrame Wall Hangings?
Macrame wall hangings are an excellent way of adding texture and dimension to any space. They are rustic and are perfect for decorating any corner/wall in your room. They are suitable wall art for bedrooms, workspaces, living, or dining areas. Macrame is a type of textile created using different knotting techniques. They are customizable in different designs, sizes as well as colors. Once you learn the basics of macrame crafting, you'll have hundreds of creatable options. So, here is a simple tutorial to try out!
How to make Macrame Wall Hangings?
DIY macrame wall hangings might appear to be very complicated to look at, but they are pretty easy to make and require only five items to make. You can create one by knotting ropes around a wooden rod, or circular rings, etc. You can also convert it into a potholder or a shelf for elegant storage space.
Tutorial Source: FTD
Here are the things you need to create one:
macrame cord/jute rope/yarn or cloth twine (3mm thick)
Scissors
A small hoop (wooden/metal)
A large ring (wooden/metal)
Tape measure
Start by cutting the rope into 16 pieces that are each 10-foot long
Create 16 lark's head knots on the smaller hoop.
Next, tie seven rows of square knots, switching between 7 and 8 knots alternatively.
Now, grab the larger hoop and tie each of the 32 cords to the ring's bottom using a double half hitch knot.
Continue tying the double square and square knots for 16 additional rows.
Next, create 16 diagonal half hitch knots beginning from the rightmost cord.
Now, repeat the same starting from the leftmost cord.
Finally, trim the ends of the rope and hang it up!
To read the detailed instructions for this tutorial, check out this post by FTD.
Also, for a video tutorial on DIY macrame wall hangings, check out this YouTube video.
Macrame Wall Hangings Ideas
1. Earthy Macrame Plants on Wall
Source: knots.and.hilo
This subtle yet elegant macrame wall hangings idea by knots.and.hilo is an excellent way of using macrame as a plant holder. Attach a shelf to the handmade macrame of any color or style of your choice. You can create one or more according to the area and the plants you have. Place your favorite plants on the wall using the shelves and hang this masterpiece. These shelves can also display showpieces, books, photo frames, etc.
2. The Cozy Macrame Plant holder
Source: peacock___dreams
Here is a beautiful macrame wall hangings idea that acts as a cozy blanket for your plant pots. This plants on wall idea by peacock___dreams is a quick and straightforward way of decorating any space with style and freshness. This macrame wall hanging is made using cotton yarn and is an intricately designed piece of art. The thick knot below the pots is very sturdy to hold the weight of the plants. Instead of plants, you can also hang vases with flowers, pen holders (if placing in the workspace), scented candles (with precaution), or anything else that you feel like displaying.
3. Boho Macrame Wall Hanging
Source: knot_it_all
Feel like adding a bohemian touch to your bedroom? This macrame wall hangings idea by knot_it_all is a perfect choice. This macrame hanging shelf is made using handmade weaving and is very sturdy and elegant looking. It works as a plant shelf, kitchen shelf, bookshelf, decor shelf, bedroom shelf, and anything else you want it to be! The floral pattern knotted with colorful beads adds a colorful touch to the piece. It is a perfect plant on the wall idea and compliments any and every space.
4. Minimalist Macrame Plants on Wall
Source: macrame.k
Want a quick macrame wall hanging that doubles as plant shelf? Try this macrame wall hangings idea by macrame.k. Instead of the classic wooden rod, use a branch of any tree to knot your rope/yarn around. Attach a wooden shelf and secure with thick knots for sturdy storage space. Place some lovely plants on the shelf and voila! An easy, breezy touch has been added to your room, that too on a budget.
5. Two In One Macrame Wall Hangings
Source: jesswentknots
This macrame wall hanging idea by jesswentknots gives you two mini potholders. It is incredibly adorable and perfect for decorating a smaller space. Create two tiny macrame pockets on a tree branch or wooden rod. Add a loop and hang it up with a pair of hanging plants. This is a last-minute DIY idea that uses only macrame rope/yarn and a wooden stick. The greens add a fresh touch to the wall along with the added beauty from the macrame design.
6. Poppy Nude Plants on Wall Macrame
Source: macramebytyta
Another plant on the wall, macrame idea is this one by macramebytyta, which uses a combination of one bright color with a nude tone. These are single potholder macrame wall hangings perfect for each of your plant pots to hang around. Create a pair of simple pocket macrame design using two different colors and voila! You have created a colorful wall hanging just by adding color to one of the pair.
7. Suspended Macrame Plants Window
Source: macrame_australia
This macrame wall hanging idea by macrame_australia is a creative way of styling your window space. All you have to do is hang some macrame potholders against your window. This would instantly add a windchime look to your room and also keep your plants fresh. Since the sunlight from the window would directly reach the plants, you can easily place real plants in your macrame decorations. Choose the color of the macrame rope to match your room's accent, and that's it!
8. Beaded Macrame Hanging Shelves
Source: linda.creadoodle
This macrame hanging shelves idea by linda.creadoodle is an easy way of creating your macrame wall hangings. It has heavy tassel detail, which gives it a fuller and expensive appeal. This idea uses one layer of knotting, and the rest of the rope is left hanging, giving it an effortless fall. Additionally, the pearl beads add a luxurious touch to the wall hanging. The neat and symmetrical appearance of this macrame design makes it suitable for practically any space. Add a shelf to the macrame and use it according to your need.
9. Lace Macrame Hanging Shelves
Source: knotteddesignsmacrame
This is a minimal macrame hanging shelves design by knotteddesignsmacrame with a lace pattern. The intricate detailing in the macrame's upper-middle, followed by the tassel design, completes the piece elegantly. You can customize it by increasing or decreasing the length of the tassels. This design offers various ways of personalization in terms of pattern, color, size, etc. Add a shelf to the macrame, and it is ready to display any item you like. If you want to buy this custom made shelf check out Etsy.com.
10. Colorful Macrame Wall Garland
Source: sevensummersold
Add a beautiful background or decoration to any room with this macrame wall hanging idea by sevensummersold. Pick up macrame rope/yarn of four or five different colors and create a few tiny tasseled macrame designs using each color. Connect these by stitching or using fabric glue. Hang this beautiful macrame wall garland in your office space, vanity, or maybe above a headboard. Switch the colors and the garland's length as you like and get ready to show off your creative side!
11. Autumn Macrame Feathers Wall Hanging
Source: marta_plecie
Complete your fall room decor using this leafy macrame wall hangings idea by marta_plecie. These macrame leaves are knotted on a curvy wooden stick using tones of mustard, petrol, and sage colors. It adds an earthy touch to your room with the combination of warm and cool tones. You can switch up the colors of the yarn/rope to suit any season of your choice. You can also increase/decrease the number of leaves in the wall hanging. They look very adorable and are perfect to complement the rest of your space. For a tutorial on how to make feather/leafy macrame, check out this video.
12. Contrasting Macrame Feathers Wall Hanging
Source: taccola.nero
This is another autumn themed leafy macrame feathers wall hanging made using cool and warm tones. However, the unique addition of wooden beads by taccola.nero makes this piece stand out. It is perfect for brightening up any space or making it warm and cozy. Mustard, teal, and deep blue compliment each other very well and make the macrame wall hanging very appealing. For a tutorial on how to make feather/leafy macrame, check out this video.
13. Lace Macrame Classic White Hanging
Source: knotflower
This bright, creamy white wall hanging by knotflower is a tiny yet unique addition to any room's decor. It is made using a 5mm cotton cord and a driftwood hanger. It has a lace design along with tiny tassels at the bottom. This is an all-white wall hanging; however, you can change the colors accordingly. But, white has a very chic appeal that adds a luxurious touch to any space. If you want to buy this macrame classic white hanging, place your order here.
14. The Ascending V White Macrame Hanging
Source: handmade_bymelly
This is another macrame classic white hanging design by handmade_bymelly, made using an oatmeal white cord and a wooden branch. The design uses ascending V patterns, going from small to large Vs. Finish off by leaving a large section of tassels at the bottom. This macrame wall hanging has a rustic boho vibe and will easily complement any space.
15. Wooden Rings Macrame Classic White Hanging
Source: linda.creadoodle
This wonderful idea by linda.creadoodle adds a unique twist to the classic white macrame hanging. It knots in tiny wooden rings and beads along to the macrame design and transforms the look into looking very eye-catching. It breaks the plain white monotony of the macrame wall hanging and makes it very adorable and classy.
16. Forest Green Macrame Wall Hanging
Sources: linda.creadoodle
Add a pop of color or blend your macrame wall hangings with the rest of the decor using this idea by linda.creadoodle. Usually, the macrame wall hangings are made using white or beige yarn/jute, which has its beauty. But if you are someone who just loves bright colors, this idea is perfect. Grab cords of your choice (you can even do multiple colors in one macrame design), and let your creative self out!
17. Bright Monochromic Macrame Hanging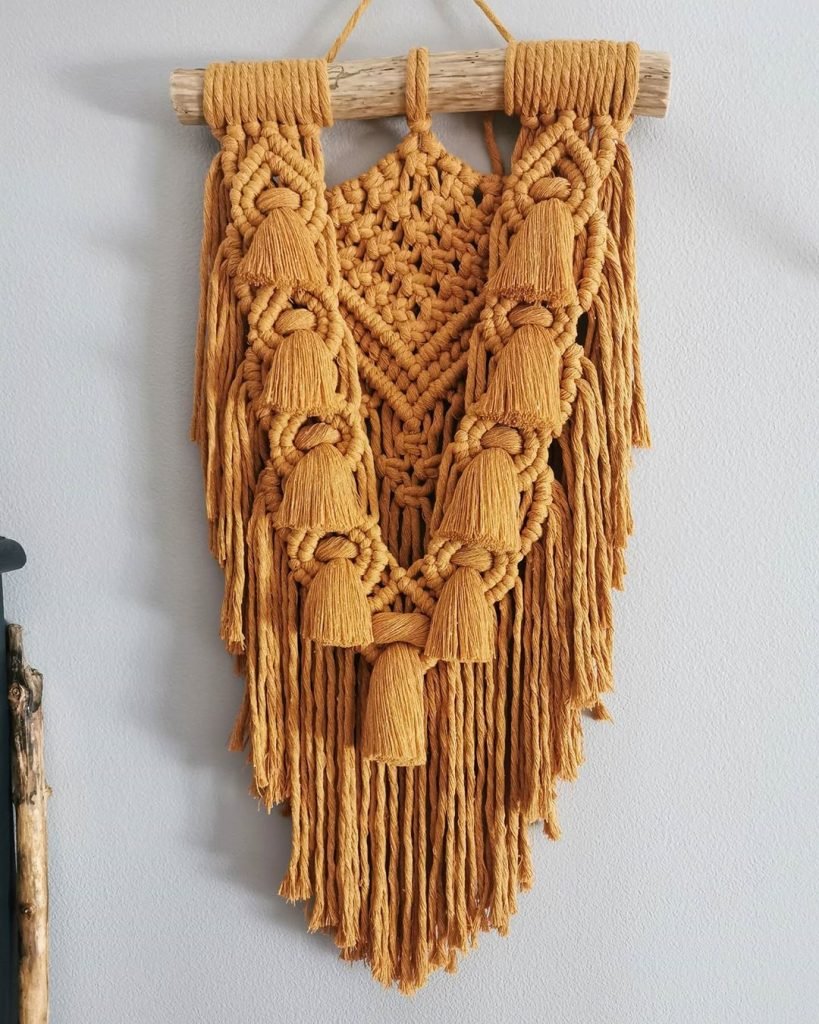 Source: knotted.mess
Monochromic designs can be bright and poppy too! The right choice of color, along with a gorgeous pattern, create the perfect macrame wall hanging. Here is a macrame example by knotted.mess, which is made using a 3mm mustard rope. The design involves a beautiful layered knotted pattern with fluffy tassels on top. Even though it is a one-color macrame, the layering effect adds an appealing dimension to the wall hanging.
Macrame Patterns to Get Inspired By
1. The Twisted Macrame Pattern
Source: knotflower
This pattern design by knotflower is a unique touch to all the knots in the macrame wall hanging. It adds a twisted rope design here and there to break the constant pattern of the macrame. The twists are easy to create and add a charming touch to your wall hanging. You can make the twists from different colored ropes and add a pop of color to the white hanging.
2. The Blush Macrame Pattern
Source: tamarthings
This macrame wall hanging pattern by tamarthings uses a play on both the color and the classic macrame pattern. The design involves small spiral designs that form a diamond shape followed by tassels at the bottom. The beautiful blush/pink color of the macrame also adds a colorful touch to any space.
3. The Knot and Tassel Macrame Pattern
Source: tamarthings
This pattern is a combination of knots and tassels. Using these to create your macrame wall hangings adds uniformity and neatness to the wall hangings. These require comparatively less time and effort and end up looking very elegant. The tassels at the bottom add length and dimension to the macrame. So get inspired, and get creating!
4. The Distressed Blue Macrame Pattern
Source: linda.creadoodle
This beautiful macrame pattern by linda.creadoodle is cool and distressed. Each V-shaped layer in this macrame wall hanging has a different pattern. The patterns are made using a combination of lose and tight knots. Some layers are inversed or twisted, while other layers use tassels. Add some beads around, and your wonderful creation is ready.
5. Geometric Macrame Pattern Idea
Source: tamarthings
This pattern idea by tamarthings is perfect for adding more warmth, texture, and depth to any space. The striking geometric pattern on the macrame tassels is extremely classy and suitable for any room. It is very catchy, elegant, rich-looking, and appropriate for a workspace, living room, dining hall, or even your bedroom.
6. Beaded Macrame Dreamcatcher Pattern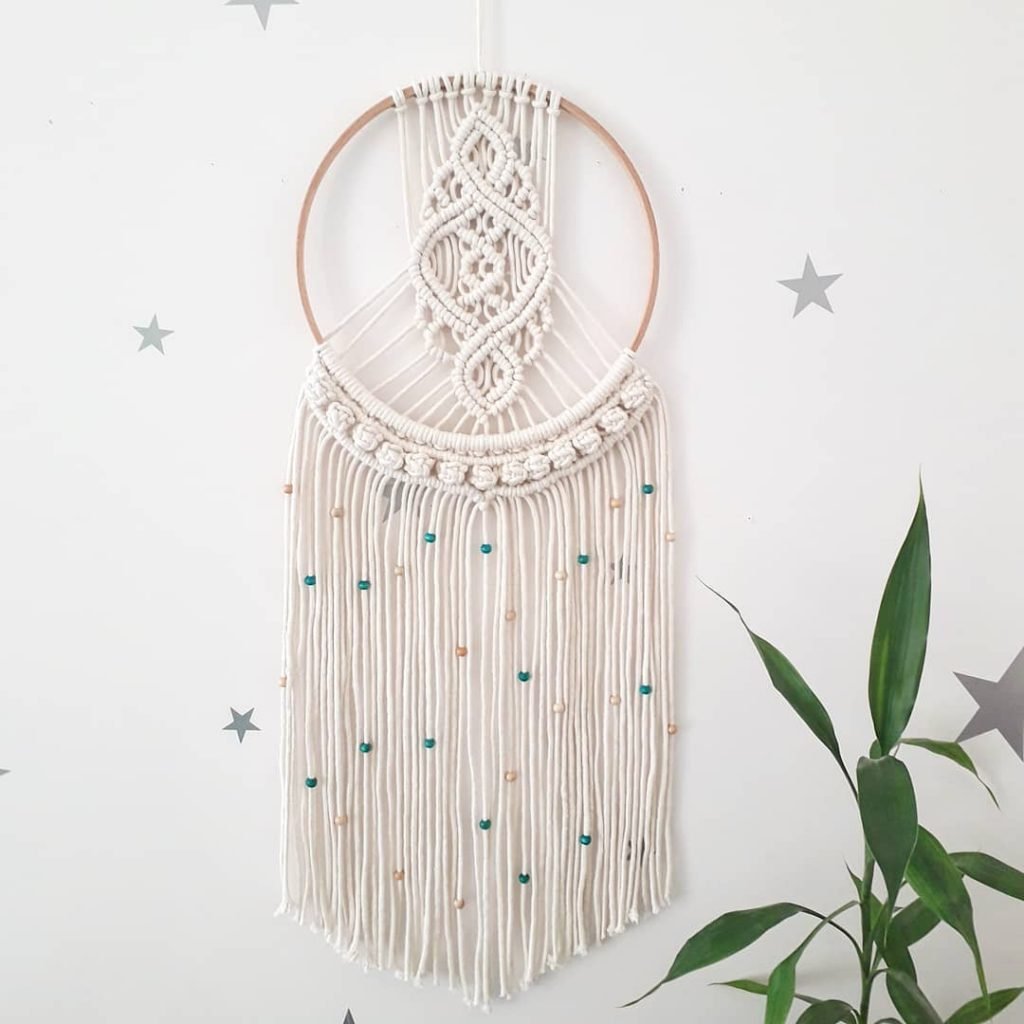 Source: pudramakrome
Here is a macrame dreamcatcher pattern by pudramakrome that uses a hollow wooden ring and some white cotton yarn. For an additional touch, tiny turquoise beads are used on the tassels at the bottom. These cute embellishments add a pretty and colorful touch to your macrame wall hanging.
7. Layered Macrame Dreamcatcher Idea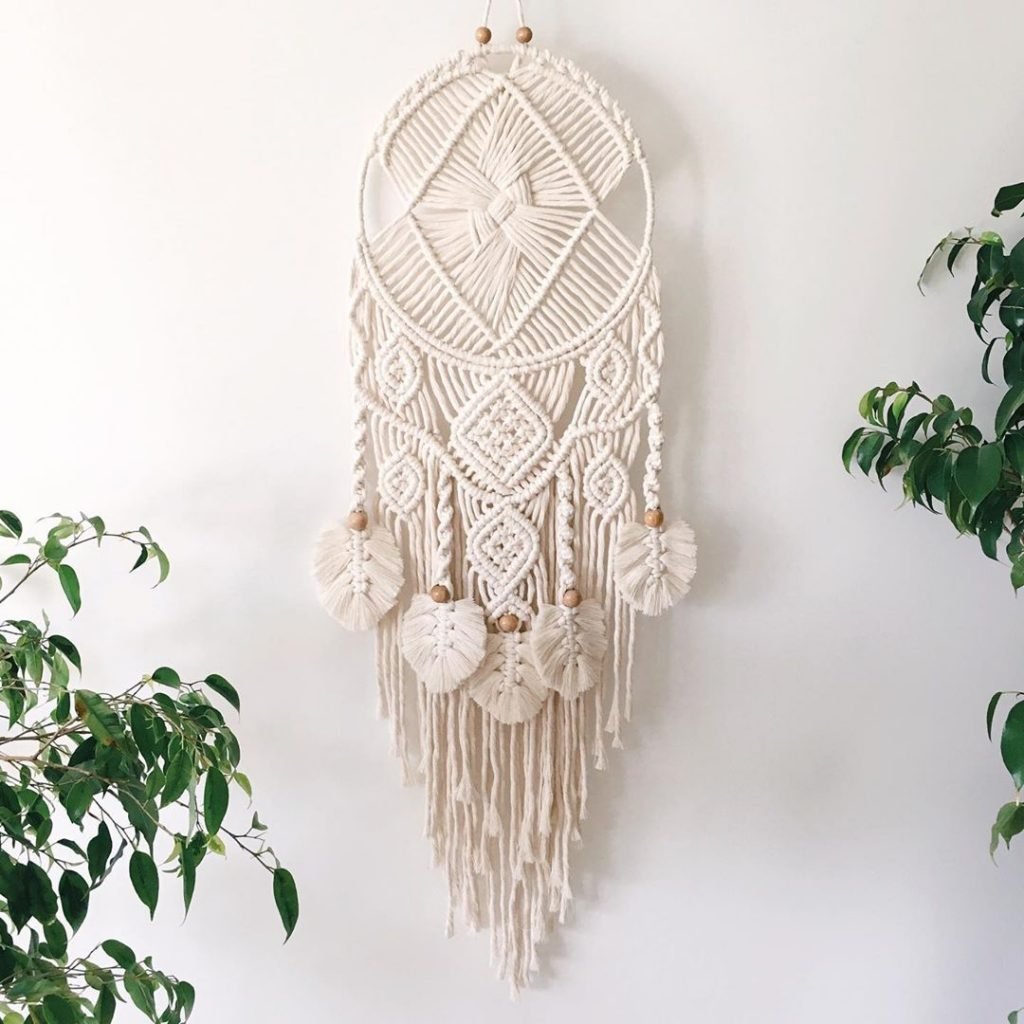 Source: yelkidesign
Here is another macrame pattern idea by yelkidesign, which uses layering to add uniqueness to the macrame. These layers have tassels and another layer of macrame feathers. It is an all-white piece but has depth due to the different layers. Wooden beads are added for an extra touch, and your dreamcatcher is ready.
8. Macrame Dreamcatcher Cluster Idea
Source: sevimseven
This dreamcatcher cluster idea by sevimseven is gorgeous and sets your design apart from everything else. This idea uses multiple different macrame dreamcatchers in various sizes. Each dreamcatcher has tassels that are loosely placed and have leaves hanging on them. It is a luxurious wall decor piece for any room. You can customize it to your liking and increase/decrease the number of dreamcatchers.
9. Twin Macrame Dreamcatcher Idea
Source: macrame.cl
The final macrame pattern idea we have for you is this twin dreamcatcher idea by macrame.cl. The pattern is that of a classic dreamcatcher with short tassels at the bottom. However, what makes this unique is placing a pair together on the wall. As shown in the idea above, adding two dreamcatchers instead of one lifts the space. You can choose two complementing or contrasting colors for the macrame wall hangings and make your designs and patterns.
We hope you were inspired by this diverse list of macrame wall hangings and would create your own. They are simple, inexpensive wall decor pieces that add an expensive element to any space. Boho is back in trend, and its time that you get creative with knotting and tying!
If you loved these ideas, you can use the Pin image below and save this article on your 'Home Decor DIY Projects and Crafts' Pinterest board.