Feature Image Source: spocreative.co
Do you also stress out while prepping for a vacation? Are you worried about leaving behind some travel essentials while packing? Do you feel disorganized? Well, no need to worry now as packing for your next trip is going to be super fun, relaxing, and hassle-free! By creating a bullet journal packing list, you can easily keep track of the things to pack in a categorized manner. The packing list is also a great way to do a final check, whether you have packed everything or not. So whether you need a simple layout of all things at one place or a more decorative spread with categories, this roundup has them all! 
If you are planning a trip and want to document your travel memories, check out our post on Unique Travel Journal Ideas for inspiration.
Also, if you are just getting started with your bullet journal, check – How To Bullet Journal?
Table of Contents
How To Create a Bullet Journal Packing List?

Before we list some fantastic packing list ideas, here are some essential tips to keep in mind while creating a bullet journal packing list. 
Create the packing list at least a week or two before you go for the trip. This gives you enough time to gather or purchase the items.  
Write down every small and obvious item you need to carry, from your toothbrush to your even your mobile phone. 
Add the packing list spread at the beginning or end of your bullet journal to make it easily accessible. 
As soon as you remember something, immediately add that item to your list.  
You can either create an overall list or categorize into multiple categories such as toiletries, clothes, electronics, makeup, snacks, etc. for a clearer view.  
List one outfit for each day and try keeping two extra pairs, including innerwear, in case of ripping, staining, tearing, etc.  
Switch up your packing list according to the destination and add/remove items based on the vacation mood (camping, cruise, beach, mountains, etc.)
Bullet Journal Packing List Ideas

Here are some minimal and creative packing list ideas that will inspire you. Add this layout to your BuJo and never forget any travel essential; next time you go for a vacation. 
1. Sea Shells Bullet Journal Packing List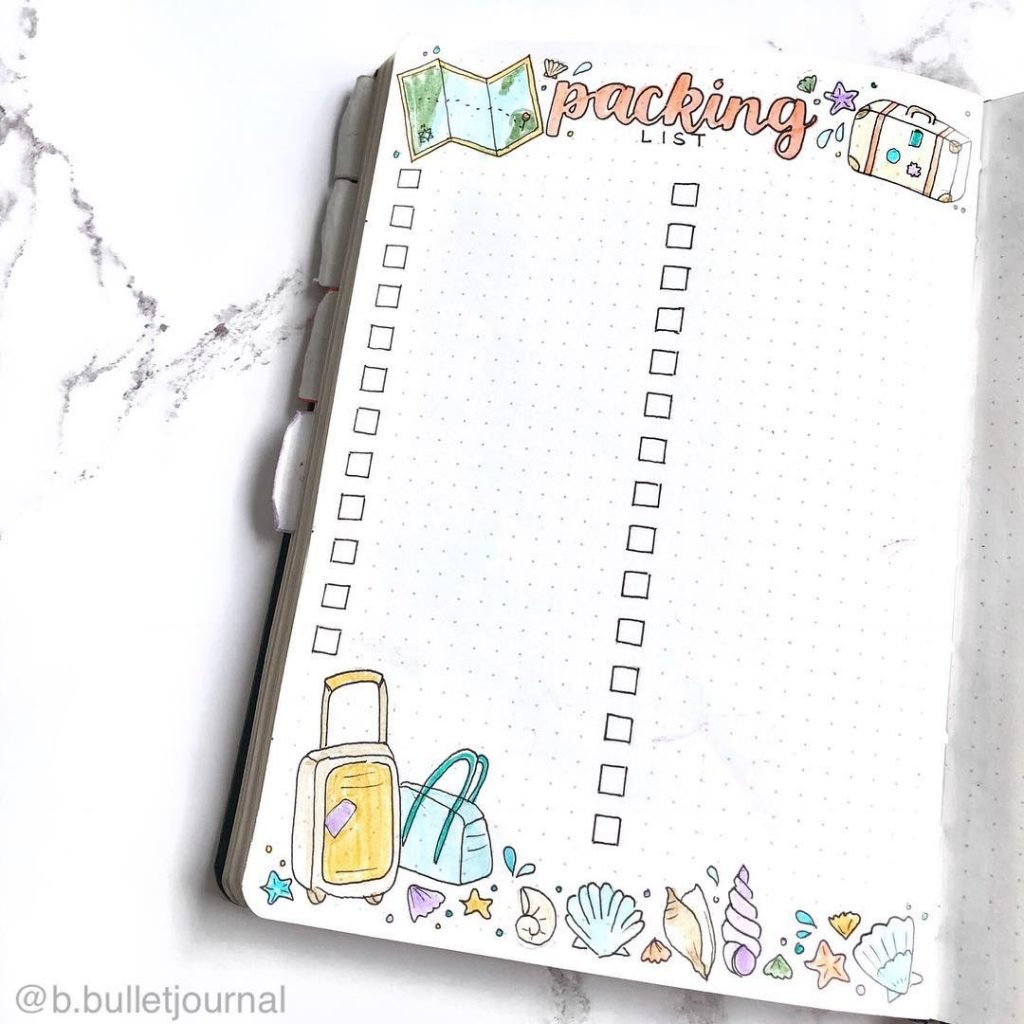 Source: b.bulletjournal
First, on our list is this bullet journal packing list by b.bulletjournal perfect for a beach vacation. The layout in uncategorized and is divided into two columns to fully-utilize the space. You can draw tiny doodles like seashells, suitcases, maps, etc. on the top and bottom borders for a touch of cuteness. This is a minimal and colorful layout and keeps all the items on your packing list together for a quick check.  
Related Post – Ocean Bullet Journal Ideas
2. Vacation Bags BuJo Packing List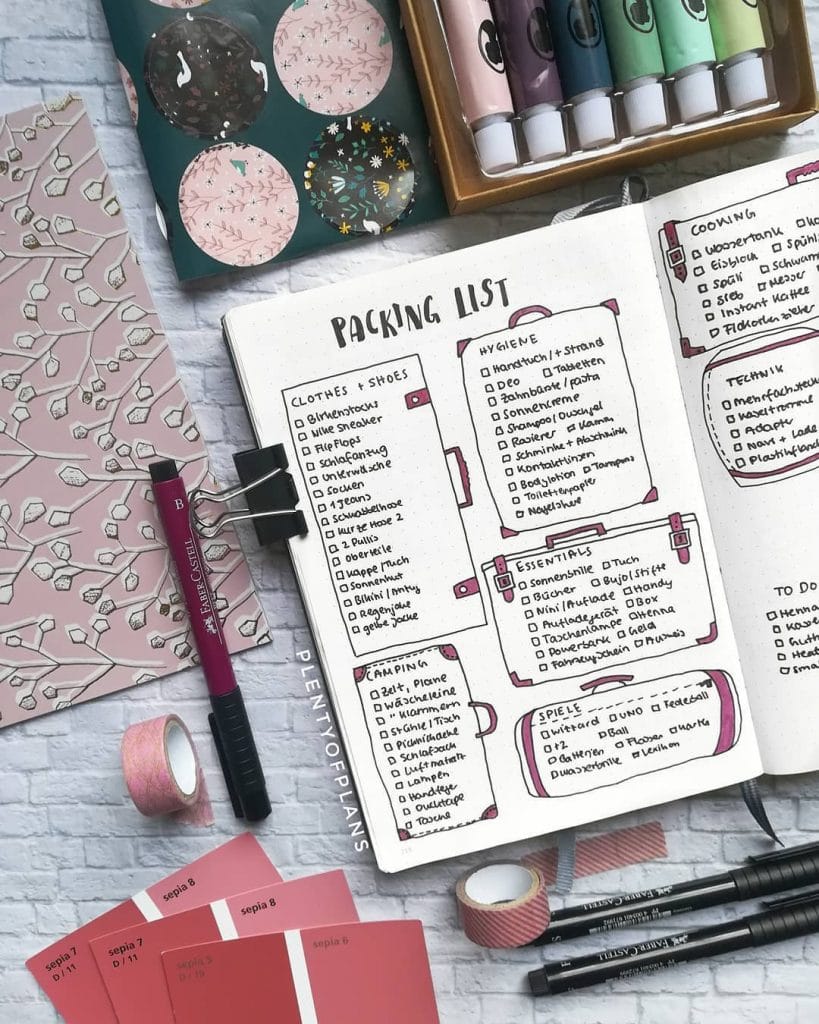 Source: plentyofplans
Give your bullet journal packing list a vacay mode with this fun idea by plentyofplans. Pack your checklist in these adorable, tiny suitcases, with each suitcase for a separate category like clothes, essentials, hygiene, etc. Add some playful colors to the handles and locks of the bags to break the black and white theme. This is a very creative and customizable way of creating an organized packing list.   
3. Two-in-One Bullet Journal Packing List
Source: bujo_squad
Here is a must-add bullet journal packing list layout by bujo_squad. The most amazing thing about this layout is that it has one detailed list for long vacations along with a column of an everyday item packing list. This is an excellent way of organizing your bag for work/college. You can list down the daily needed items and pack them while going on a vacation too. This layout is also categorized with tiny doodling all over, which makes it organized and super cute. 
4. Scattered Suitcases Packing List
Source: whattopack_
Draw on some suitcases scattered around a sheet to recreate this BuJo packing list idea by whattopack_. It is a very creative and neat way to categorize your packing list layout. Each suitcase for one category, like clothes, essentials, hygiene, etc. allows you to check each item on your list. The light paint in the background using watercolors adds a pop of color to the whole spread. 
5. Space Themed Bullet Journal Packing List
Source: pallcolour
Another great way of categorizing your packing list is this astronaut's backpacks idea by pallcolour. Design each suitcase in colors, styles, and patterns of its own to enhance the uniqueness of each category. You can add tiny stars to fill up the space around the backpacks. It is an elegant and stylish bullet journal packing list idea. 
6. Aesthetically Floral Packing List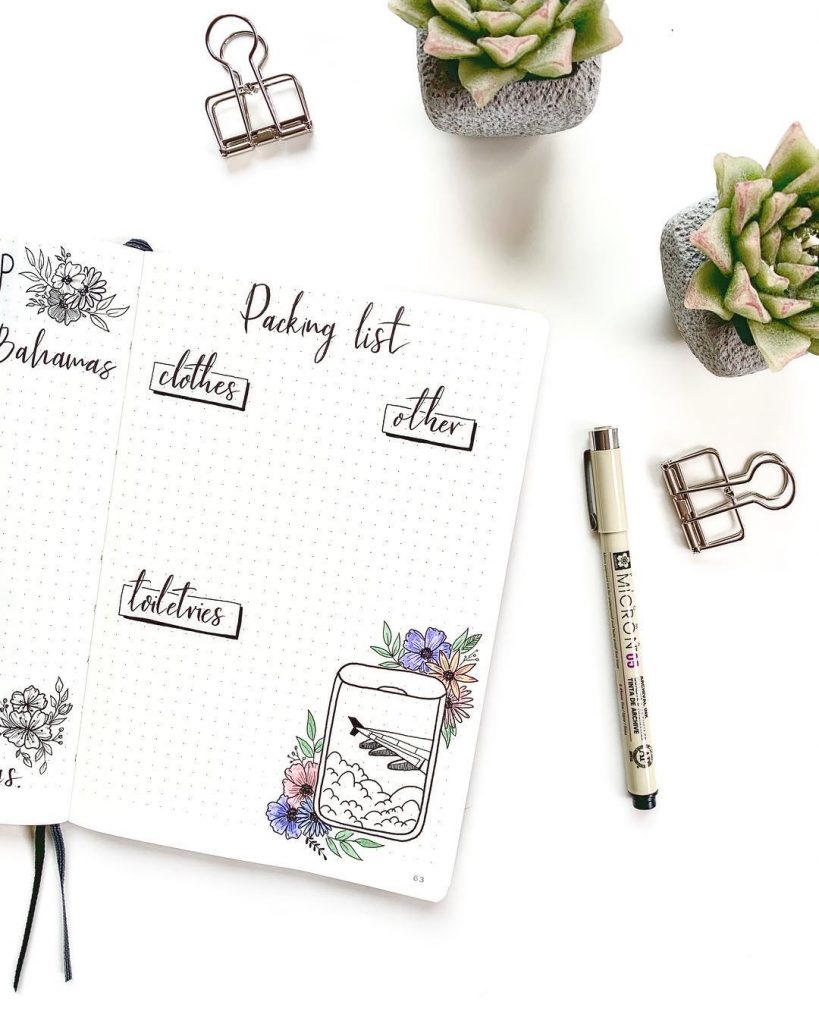 Source: livs_bullet_journal
Here is a minimal and effortless way to design your bullet journal packing list by merely adding a floral illustration on one corner of the sheet. Additionally, you can use a stylish calligraphic font for each category's headings to enhance the aesthetics. You can also customize the illustration according to match the theme of your bullet journal. This idea by livs_bullet_journal is very easy and looks equally creative.
Related Post – Bullet Journal Doodles
7. Vitamin Sea Beach Packing List
Source: morninglinedesign
This bullet journal packing list idea by morninglinedesign is a mix of quirky fonts and a pop of hot pink color. The list has three columns, one for each category along with a vacay quote at the bottom. Tiny sprinkling water droplets are drawn next to each heading, which looks very adorable. You can add as many colors as you want and customize the font styles to your comfort.  
8. Colorful Doodles BuJo Packing List
Source: spocreative.co
Here is a jampacked packing list idea by spocreative.co to perfectly plan your next vacation in a fun way! The basic layout of the list uses suitcases of different sizes and styles for each category.  A ribbon-style banner is used for the headings, which makes this list stand out. For some finishing touches, tiny vacation doodles like mocktails, polaroid cameras, sunglasses, etc. are drawn all over. 
9. Color-Coded Packing Check-List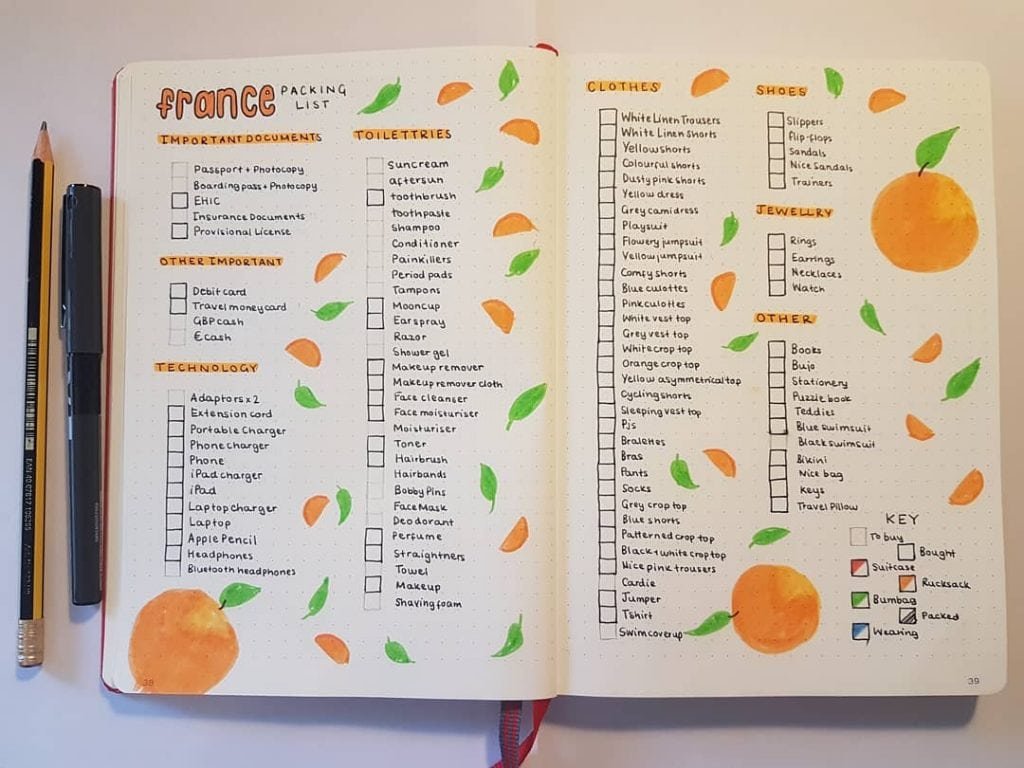 Source: bujopops
Have you categorized your packing list? Why not categorize your checkboxes as well? Recreate this amazing idea by bujopops that allows you to keep track of the items you have already bought or will buy, items packed in the suitcases and items in the backpacks, etc. It allows you to keep a check on the status of the items in your packing list. This is a must incorporate idea for your bullet journal packing list. 
10. Black & Gold Bullet Journal Packing List
Source: cardigansandchamomile
Want a packing list that requires little effort but looks very elegant? Try this idea by cardigansandchamomile, which uses hints of gold and the black text to design the packing list spread. Using metallic colors instantly makes anything look fancy, even your packing list! It is a categorized list that is very convenient to use. 
11. Inside the Suitcase Packing List Layout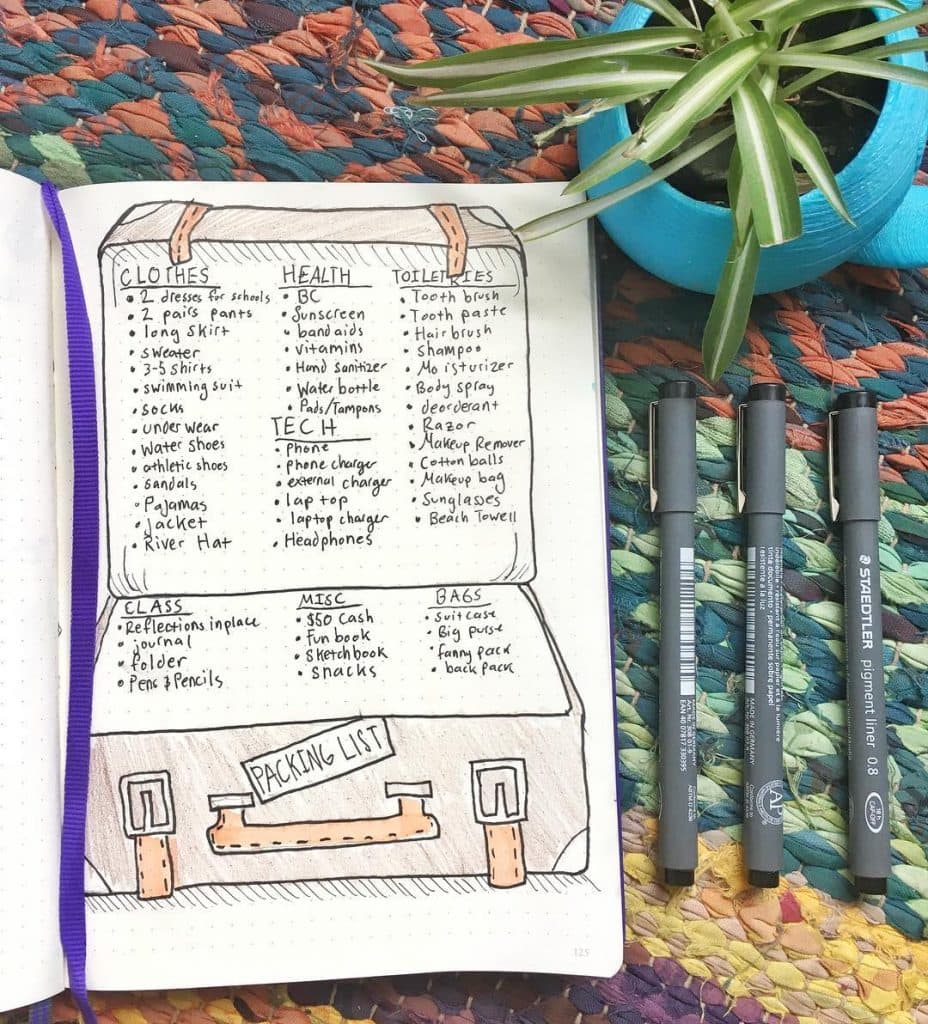 Source: lavenderlessonplans
Open your packing list suitcase to reveal all the items you need to pack for your next vacation, with this idea by lavenderlessonplans. Draw an open bag as the layout for your packing list spread and fill it up with categorized items. Add a tag to the suitcase saying "Packing List" and voila! Your super cute packing list is ready!
12. Cute and Simple Bullet Journal Packing List
Source: bujojams
This bullet journal packing list by bujojams is a sweet and simple addition to your BuJo. It is a categorized list layout with hints of multiple colors. The neatness of this layout makes it my favorite, and the simplicity allows you to customize it your way. To liven up the list, you can add doodles of clothes, bags, makeup, etc. near each category, as shown. 
13. Minimalist Bullet Journal Packing List
Are you someone who likes to pack light? Well, then you'll love this minimal packing list spread. It has all your packing items categorised in three broad categories – clothing, toiletries and essentials. Not only this makes packing super easy, it also makes for a super neat and aesthetic page in your travel bullet journal.
Related Post – Travel Bullet Journal
14. Categorised Packing List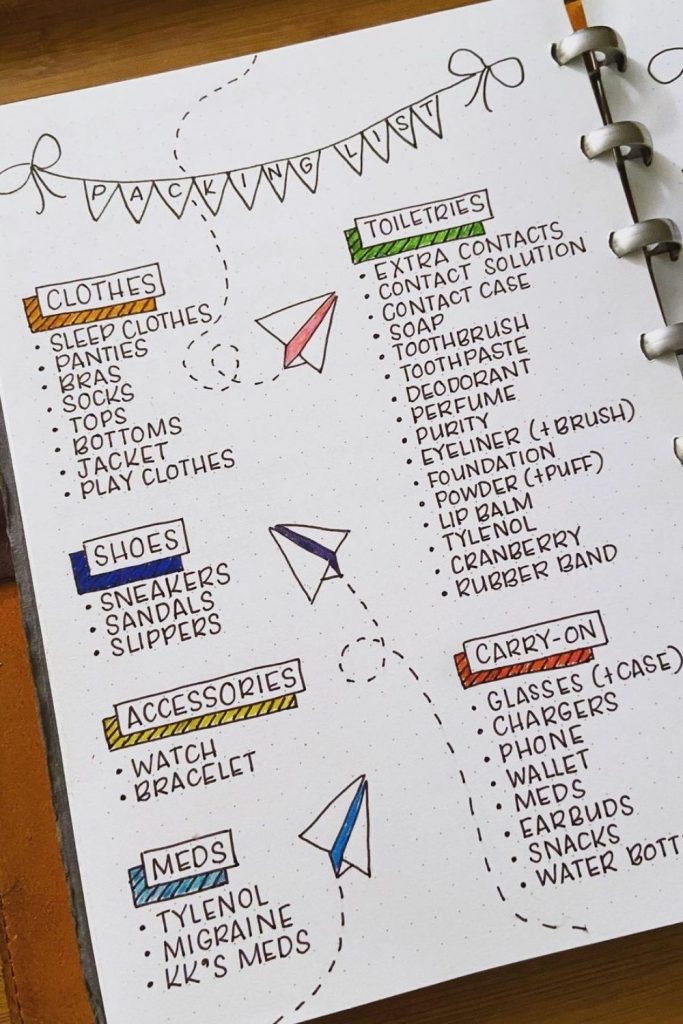 Here's a simple yet super useful packing list layout. It has quite a few categories to help you remember all the items you might need to pack. However, it's super easy to create. Love the simple airplane doodles as they instantly give you the joyful vacation feel even while packing!
15. Packed Suitcase Bullet Journal Packing List
Not a fan of those simple minimal lists? Then, this is the one you will love. How about creating a suitcase doodle for each category? This packing list bullet journal spread is creative but not too difficult to create! I also love the effect of highlighters on each suitcase. It makes it easier to create lists.
16. Sunflower Theme Packing List Bujo Page
Love to create a theme for each month and want your packing list to fit into that theme? Then, you can take inspiration from this Sunflower Theme packing list. Of course, you can recreate this spread and then get creative to customise it according your theme of the month.
Related Post – Sunflower Theme Bullet Journal
17. Ranch Packing List
Visiting a ranch during a holiday season? Then, your packing list will surely be one of a kind. And this packing list idea will help you with that. I absolutely adore the stickers that are used on this bujo page. It's giving the perfect fall holiday vibe. 
18. Ready To Go Packing List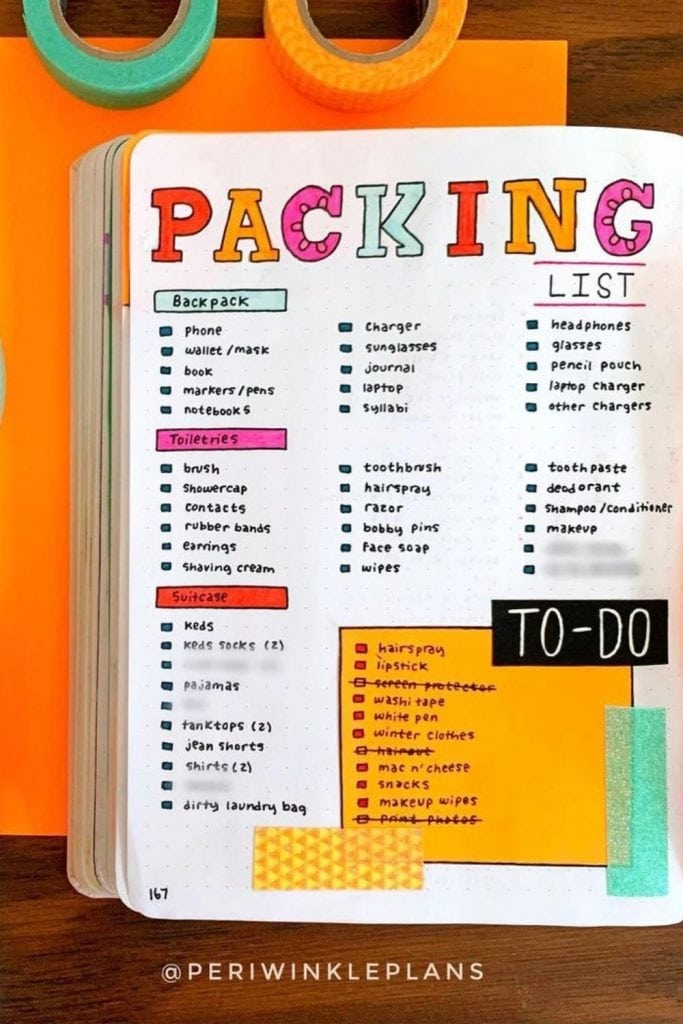 Source – periwinkleplans
Packing is a lot easier when you just know where exactly each item on your list goes. Sometimes, it helps to plan your packing list based on where you'll put each item. That's exactly what this bullet journal spread is about. It lets you list items based on whether they go in the backpack, toiletries kit or the suitcase. 
19. Dorm Packing List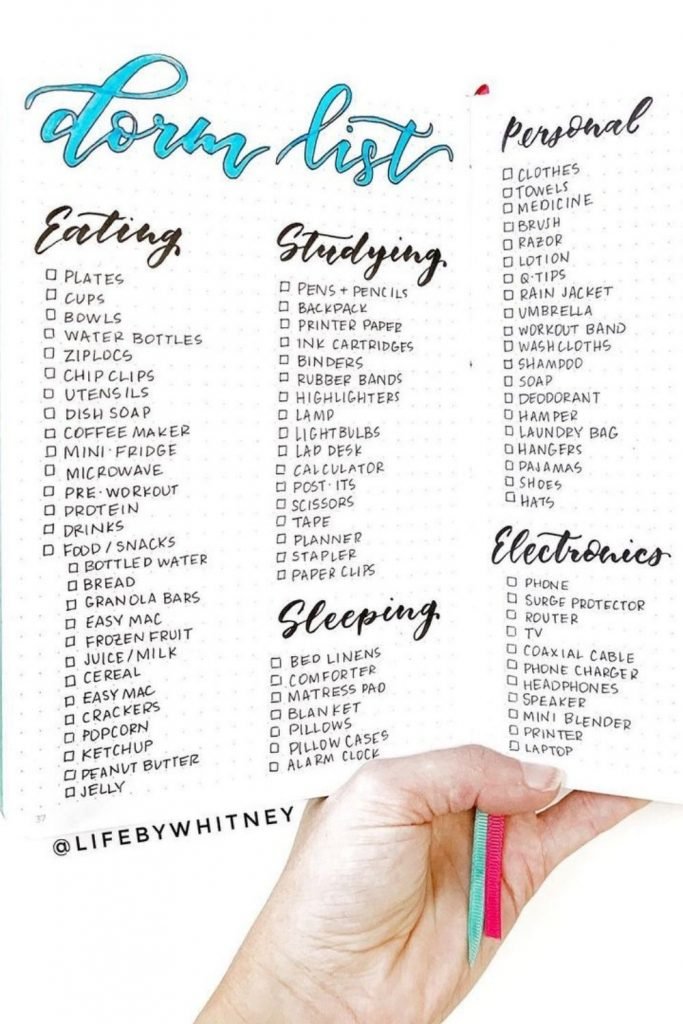 Source – lifebywhitney
Moving into a dorm? Then, your packing list is going to be a big one. And that's exactly why you need to plan well. I love this two-page packing list! It has so many ideas. Surely, you'll catch a few important items on the list. 
20. Holiday Packing List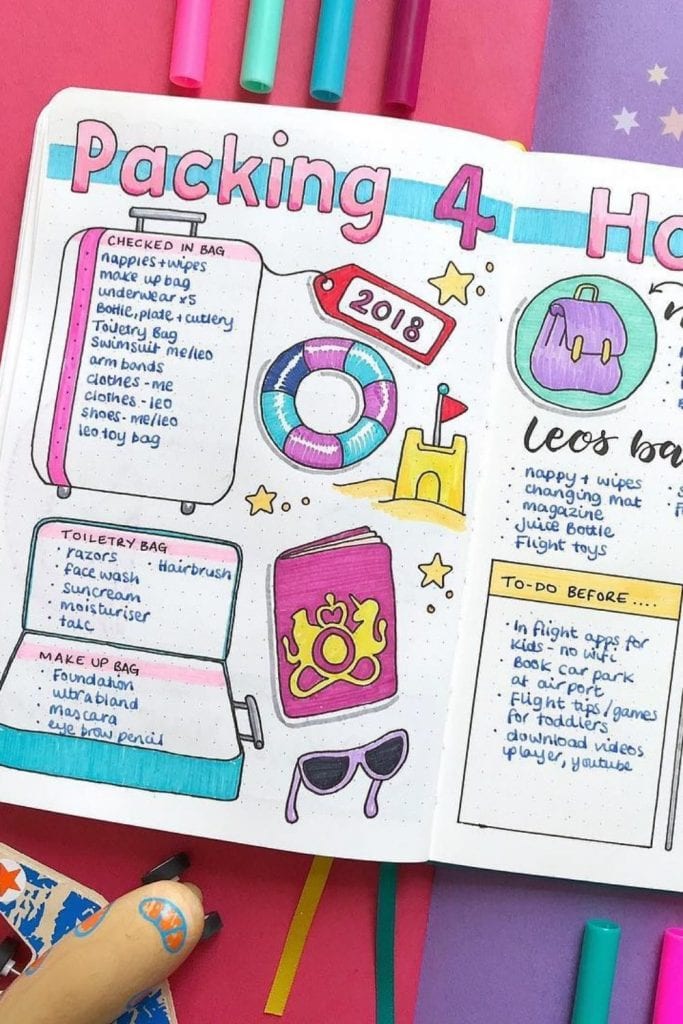 Source – doodledaydarlings
Getting ready to board your flight for the big vacation? It'll be best to plan your packing by listing the items you will be checking-in and the ones you'll be carrying separately. This packing list spread is definitely a decorative one but also super useful for planning.
21. Map & Compass Border Packing List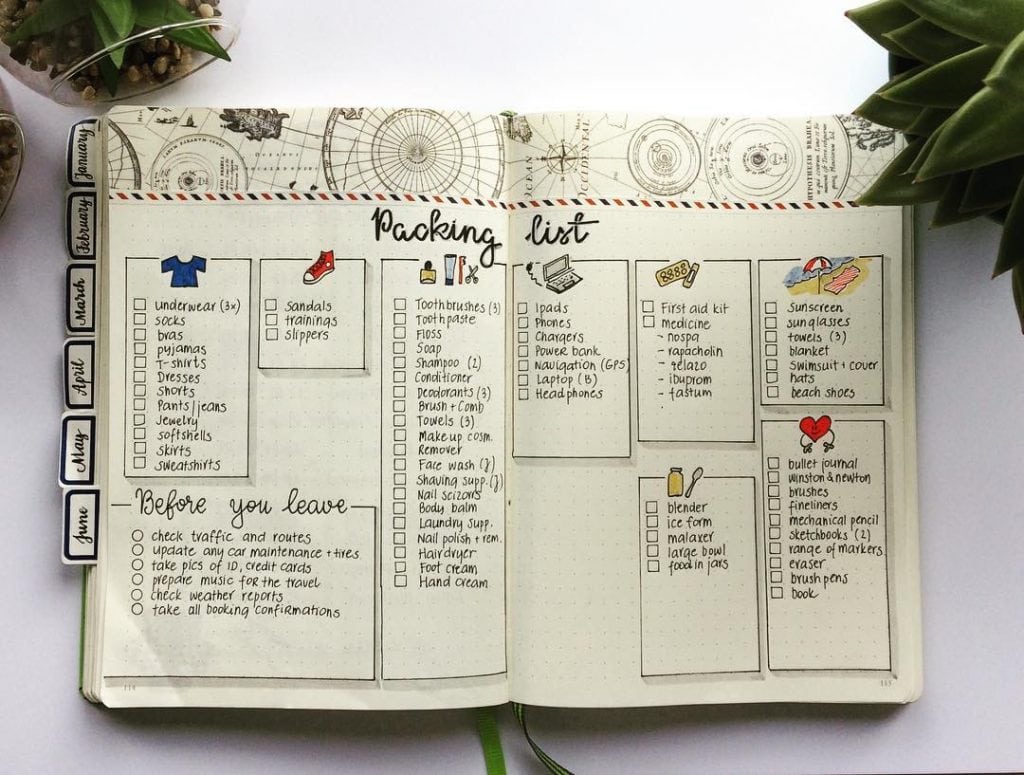 Source: paperie.pl
Our list's final idea is by paperie.pl, which uses panels for each category along with doodle headings instead of text. For instance, the clothes category has a t-shirt drawn instead of the plain, boring text. The addition of a map-compass collage border on top of the page makes this entirely travel appropriate. You can make it as colorful as you like or leave it black and white like above. 
We hope these diverse bullet journal packing lists met all your requirements and inspired you to create one for yourself. These come handy for last-minute packing as well. So just make one list and store it in your BuJo for quick access any day, anytime!  
If you loved these ideas, you can use the Pin image below to save this article on your Bullet Journal Pinterest board.