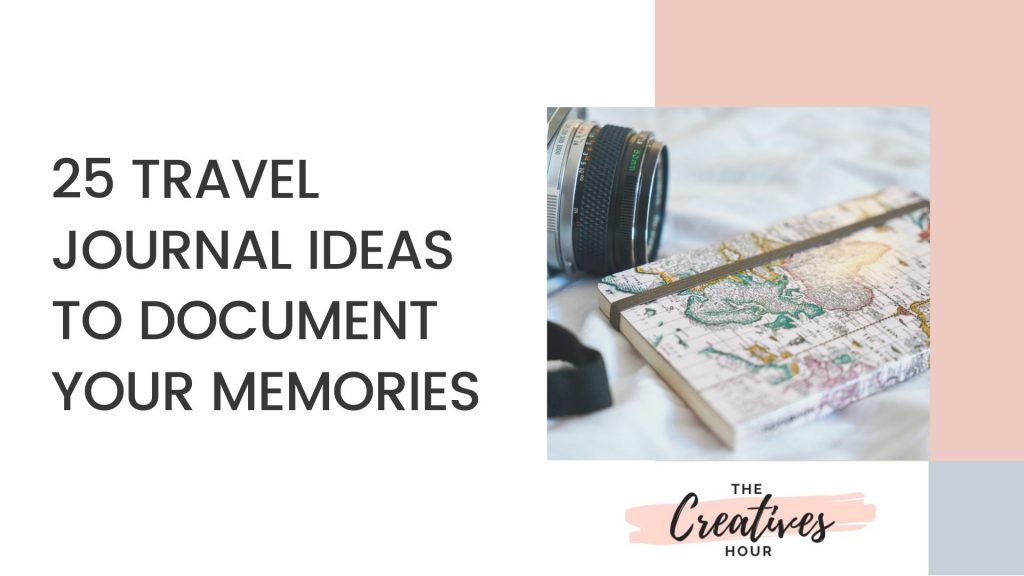 Travelling leaves you speechless and then turns you into a storyteller. It opens your heart, broadens your mind and fills you with stories to tell. So why not pen down your stories and document your memories in a travel journal? That way you can relive your memories whenever you want. 
A travel journal is a perfect place for you to write about the trips that you have taken, what you learned during those trips and the experiences that you've had. It is a collection of all your experiences and memories that you can cherish for years to come. 
What Are The Benefits Of Documenting Your Travel?
Now you may say that you have a great memory and do not have to write stuff down in order to remember them. But writing down the details will ensure that you don't forget the reasons you made the visit and will remember more of the trip.  It will also help you to learn and reflect more. By having all your new findings from the trip in one place, you will be able to look back and reflect on what you have discovered and apply it to other parts of your life.
What Can You Include In Your Travel Journal?
You don't have to visit Mt. Everest or someplace great to reflect and write in your travel journal. You may write about your weekend getaway or family vacations. I usually use my journal to plan the trip, pen down my expectations from the trip, what I imagine it to be like and of course, write during the trip as well. You may also write about what surprised you the most and what disappointed you about the travel. 
Pictures can speak volumes and convey a lot more than words. So it would be a good idea to add pictures to your journal as well. Combining pictures with your first-hand accounts of what they represent, or what happened when they were taken, will make for an even more inclusive anecdote of your travels.
If you are convinced of the need to maintain a travel journal and would like to maintain one on your next tour, then here are 25 travel journal ideas that will inspire you to create one for yourself. 
1. Minimalist Bullet Style Travel Journal
This minimalist travel bullet journal by hawk-hill.com is perfect if you are just getting started with journaling or aren't creative or artsy enough. It does not involve any complex designs or doodles and has a very organized layout. It has designated areas for you to note down the food that you tried, places visited, memories made, the high point and the biggest challenge that you encountered there. You can also rate the food by giving it stars out of five!
To make your journal look more attractive, you may check out our blog post on How To Get Started With Hand Lettering.
2. Beautifully Illustrated Traveler's Notebook
This beautifully illustrated travel journal by jacquesjournal is for the creative side in you. If you are good at painting or love illustrating then this layout will make you grin from ear to ear. This journal describes his visit to China, hence the Chinese map and the Great wall of China. You can illustrate your travel journal with features that are peculiar to that place. This one follows a daily log format which means that you write down your experiences each day. 
3. Gray-scale Travel Journal
This black and white travel scrapbook by scrapbooking.blognetv.com follows a simple and clean layout. The day's adventures are typed out, printed and then pasted carefully onto the journal. However, you may choose to pen it down instead. Fill up the journal with pictures and images from the trip because pictures speak more than words.
4. Cute, Dainty Travel Journal 
This travel journal by stylempretty.ru is as cute as a button. You can doodle the sights that you see, glue on its map and write about the experiences that you've had there. But what makes this one different from the rest is that it has a cute little envelope to store all your favorite photographs and memories. This journal also has a playlist section where you can name songs that remind you of that place.
5. Daily Layout Travel Journal
This travel notebook by wedgienet.tumblr.com follows a daily layout. You can illustrate it with features that you noticed on your travel to your destination and describe the duration of your stay. Also include things that you discovered, both about the place and about yourself. Don't forget to include your reflections for the day as well.  
6. Map Your Trip Bullet Journal
This ordered, numbered traveller's notebook by joannarahier.com follows a daily layout. It allows you to list out the events of the day in a neat and organized manner. Use stickers and doodles to give it a more fun vibe. The title and headings are written using hand lettering. To know more, refer- How To Get Started With Hand Lettering.
7. Live Life, Take Photos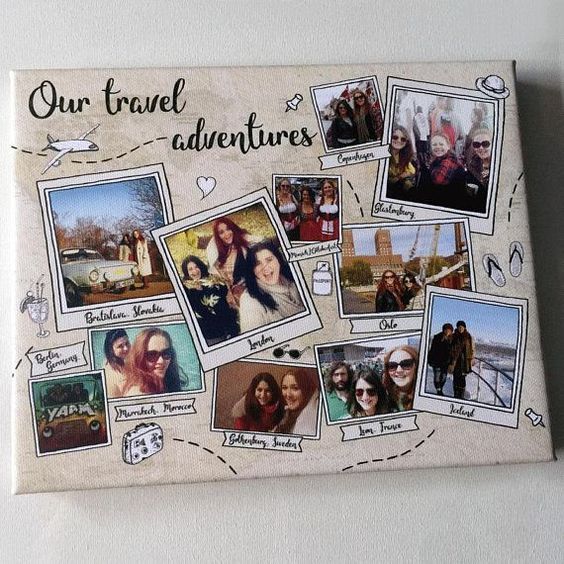 Photographs are the best way to capture memories and store them forever.  This travel photo collage by way.konu-makale.com is a simple photo album where you can store pictures of the trip to remind you of the trip forever. 
8. Travel Journal With A Memory Pocket
This cute travel journal by zbpmrwihtce.pblog.pro is all you need a travel journal to be and more. It has illustrations, memories, and penned down thoughts. What's unique about this travel journal is that it has a magic pocket where you can store your memories forever. Anything from a movie ticket to a boarding pass, photographs to dried flowers, you can store all of them in this magic pocket. 
9. Take Me To The Mountains Travel Journal
This travel bullet journal by Kelly Roy is different from the others on this list. All the other travel journals are specific to a particular holiday destination or a particular trip but the scope of this one is wider, relating to all the trips made to the mountains. It includes trips made to different mountains during different months. You can create a similar journal with all the trips made to the beach or the ocean or the country. Illustrate it to make it more attractive.
10. Postcards Travel Journal
Postcards have the most amazing pictures and are a great way to remind you of a place. This travel journal by agnestravelbay is very simple to make and is also very pleasing to look at. All you need is to collect postcards and stamps from the places that you visit and glue it onto the pages of your journal.
11. Memories Travel Journal
This Memories travel scrapbook by inspo.chic.chile is just so adorable. It has illustrations, stickers, photographs and also a secret envelope to store your souvenirs. This is simple to create but will ensure that your happy memories never fade away.
12. Illustrations Only Travel Journal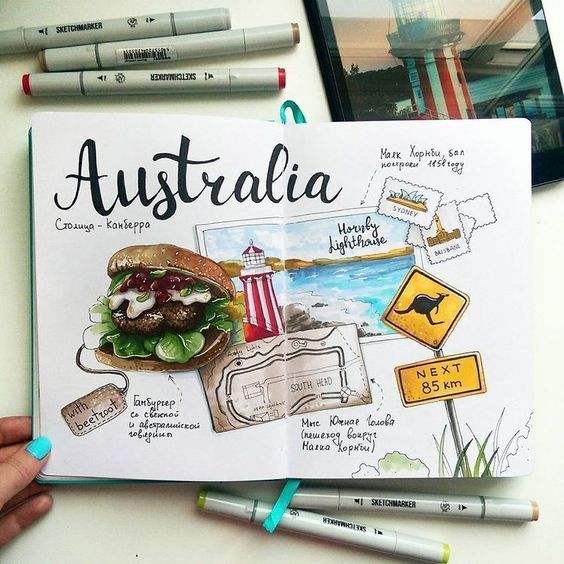 This illustrations only travel journal by writingsandwanderlust.com is perfect for you if you love to draw and illustrate. Get ready to draw your favourite memories from the trip and paint it with vibrant colours. This journal does not involve any writing or anything of that sort, so your illustrations will have to tell your story. 
The heading is written using beautiful hand lettering. To know more, refer- How To Get Started With Hand Lettering.
13. Pen Down Your Memories     
This travel diary by vocative.tumblr.com is all writing and no illustrating. So if you love to write, but aren't artistic enough, then this is the perfect fit for you. It follows a daily format so you can write down what you did throughout the day in this journal. Feel free to decorate it by adding stickers and washi tape.
14. Picturesque Travel Journal For Your Next Adventure
This picturesque travel journal by travelwithmeraki.com hits all the right spots. It's the right balance between illustrations and writing. It follows a daily format so you can write down your daily experiences and learnings along with illustrating it with the help of views that inspired you the most that day.
15. Chronicles of My Travels Illustrated Journal
According to mymodernmet.com "Nothing beats the feeling when you read an old journal and recall everything you've done." This illustrated travel journal is by an avid traveller who chronicles his travels through a journal. This travel journal has all the memories from the trip including street food and cafes. It is supported by graphics to compliment the writings.
16. When In Rome Travel Journal
This when in Rome travel journal by buzzfeed.com has the perfect layout so that you do not miss out any of the important details. It has a column for flight and hotel details, dining, sights seen, transportation used and also notes. But what's most unique about this journal is that it also has a column to write down any bits and pieces of the language learnt.
17. Cute Doodles Travel Journal
This cute travel bullet journal by thatadventurer.co.uk is full of doodles. All you have to do is take out a pen and start doodling. The pictures can be about the food you ate to the places you visited or even weird signboards that you remember. This will surely be a fun activity to do at the end of your travel.
18. Cyprus In My Heart
 This travel journal by  Anna Rastorgueva is one of a kind. It has a map with all the places visited along with some pictures and photographs. You can paste your tickets and other keepsakes as well.
19. Road Trip Travel Journal
This travel journal by amybphotography.com is perfect if you are planning to go on a road trip. You can screenshot your map to display the route taken and print it out to stick it in your journal. You can also add pictures of sites visited and memories made. 
20. Tickets and souvenirs Travel Journal
This travel journal by society19.com is a perfect place to store your boarding passes, tickets and other souvenirs. You can also make notes of the places you visited and the enriching experiences that you've had.
21. Adventure Is Out There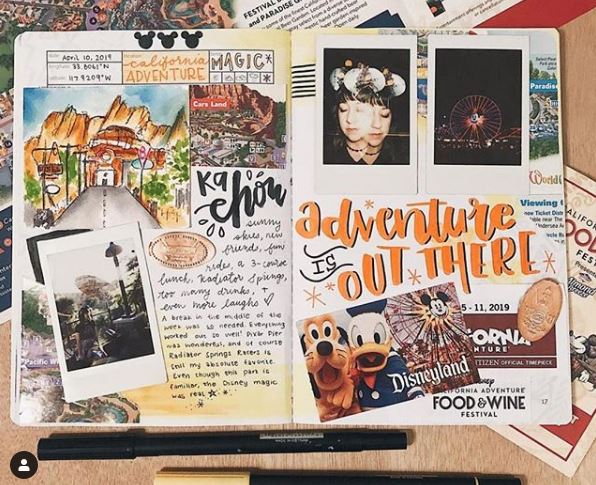 This colorful and vibrant travel bullet journal by bobodesignstudio will make you pleased as punch. It's very edgy with enough illustrations, Polaroids and personal stories. You may use stickers to further add to the vibe. 
22. Blue Hue Travel Journal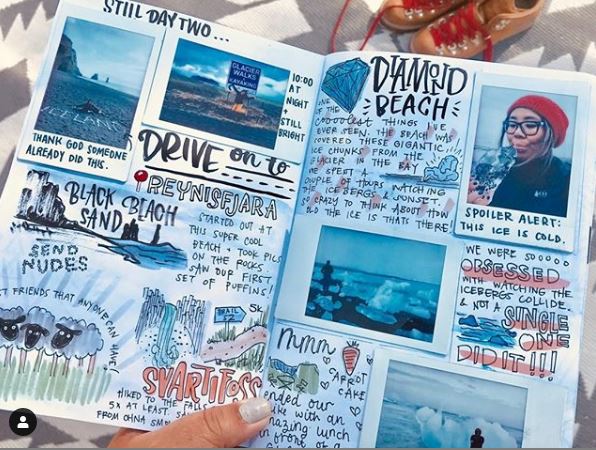 This travel journal by bobodesignstudio has a cool blue tint to it. It follows a daily layout allowing you to record your daily adventures in the journal. You may adorn the pages with your writing, photos and illustrations. Don't forget to highlight the highlights of your travel.
23. Greek Memories
This cute yet sophisticated bullet journal by iconosquare.com describes her trip to Greece in the summer of 2014. It has all the highlights of Greece including a bottle of olive oil, some yellow lemons, an olive tree and a monument. You can take inspiration from this and sketch out the highlights from your trip to faraway lands so that whenever you open the pages of this journal, you can relive those memories.
24. Frame Your Memories
This travel journal by society19.com ensures that the photographs are the main highlight of the journal with writing to support the images. It again follows a daily layout so that you can document whatever you saw and felt on that day of your trip. 
25. The Parisian Dream
This minimalist travel scrapbook by myposter.fr requires very less effort but is classy and elegant. All you need to do is paste pictures of your travel along with tokens such as your boarding pass. Remember to keep it simple as that's the vibe that we are going for. 
So there you go! That was the list of top 25 travel journal ideas that you must try to recreate on your next getaway. It need not be the exact same, you can take inspiration from these and make your own custom travel diary. Do not hesitate to mix and match and experiment with different layouts. Also, do reach out to us as we would love to see your creation and know your feedback.  
If you loved these ideas, you can use the Pin image below and save this article on your 'Journal Ideas' Pinterest board.
References
Collecting travel diaries: Current state of the art, best practices, and future research directions
https://www.sciencedirect.com/science/article/pii/S2352146518301832
2. Journal of Travel Research
https://journals.sagepub.com/home/jtr
3. Use of Reflective Journaling to Understand Decision Making Regarding Two Evidence-Based Psychotherapies for PTSD: Practice Implications
https://www.ncbi.nlm.nih.gov/pmc/articles/PMC6426332/
4. Online Positive Affect Journaling in the Improvement of Mental Distress and Well-Being in General Medical Patients With Elevated Anxiety Symptoms: A Preliminary Randomized Controlled Trial