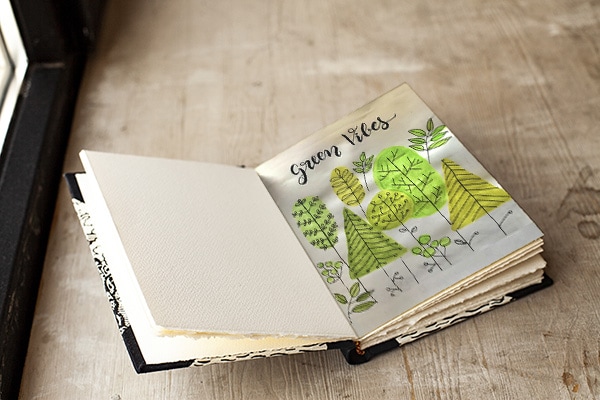 Hi there! 🙂
So, I am doing daily art journaling for two days now and I am so loving the process. I've recently started getting up early at 6 AM in the morning and my biggest motivation to do it is my morning walks in my society garden. I am in love with the morning weather and I enjoy stepping out of the house to be close to nature. I've always found greenery very calming and soothing.
Hence, the inspiration for my journal today is the greens. I've decided to draw some trees using watercolor and then write 'Green Vibes'. Let's see how it goes.
I think the biggest challenge in filling in your daily art journal is coming up with new and unique ideas everyday. It can get pretty exhausting. And especially when you've committed to showing up every day, it starts getting overwhelming. I know this because I've tried doing this before.
So, I would be lying if I say that I 'depend on my creativity or inspiration'. I don't.
Here's a screenshot of a simple spreadsheet I made today to document my ideas for the coming days. I also saved some Pinterest pins for inspiration. 
To make something a daily habit, I need a process that simplifies the task for me. The same holds true for my creative habit. I try to do some planning but I try to ensure that I leave some room for creativity and fun. 
For now, I've decided to stick to two-word quotes. But, I might get bored with it and then decide to create something different. Nevertheless, this sheet will give me some direction when I feel like I've no new ideas at all.
You can check out my day one and day two of art journaling by following the links. Now, let me walk you through Day 3 of playing with my art journal, colors, and pens! Let's begin.
About Today's Journal
Instead of writing the quote first, I started day 3 by drawing some shapes for trees using different watercolor shades of green and yellow. I also painted some leaves. Creating trees in these shapes and colors was super fun and relaxing. I actually felt the 'green vibes' haha! Can you feel it too?
Note – The colors appear a tad bit dull as I've converted all PNG images to JPG to reduce their size. The final image is the one with the original colors.
Next, it was time to draw some beautiful playful doodles on these trees. I wanted to do something unique for each tree. I started the first one with these beautiful branches and leaves doodle. I liked how it turned out.
Next, I drew some bigger, almost symmetric leaves on both sides of the tree. I am beginning to really like drawing these watercolor shapes and doodles freely instead of creating a rough sketch with a pencil. The whole freehand thing is fun.
Now, here we go. Two more trees with doodles. The triangular one was giving me Christmas tree feels so I thought the slanting leaves doodles go well with it. And the circular tree has those wavy branches doodled on it.
Some more doodling on the remaining trees, outlining the leaves outside and drawing their branches. And we have the complete piece. Next, I used a brush pen to write the quote – Green Vibes. I am always scared of writing directly with a brush pen but I guess this one turned out decent. I would have loved to take a better picture with actual leaves in the backdrop. But, I was feeling lazy so I took this one in natural light coming from my balcony. Looks decent, right?
About the tools used
I use a simple 18 color watercolor set. But if you're just getting started and thinking to order a watercolor set, I'd say don't be afraid of buying a larger set. For instance, this 36 color watercolor set by Artist Loft is not only affordable but also has some very unique and amazing colors. I am planning to order a bigger palette for myself as soon as the lockdown gets over. But till then, I am making the most of what I have.
Also, I use a water brush instead of the usual bristle brush to paint with watercolors. In a water brush, you can fill in the water and squeeze it out while trying to pick the color from the watercolor cake or while trying to mix two colors in your artwork. I find water brushes so much fun and convenient to use. 
Finally, I use a thinner micron pen to make other doodles and dots and then Tombow black brush calligraphy pen to write the quote. 
What I loved about creating this design?
Honestly, I didn't like this artwork much after making it. But when I revisited my art journal after a few hours, it gave me a good feeling. I think it must be the colors and the playful doodles. I think what I love about watercolors is that it's so hard to go wrong with them. The final work always gives a soothing feeling. In this artwork, I like the calming effect of the different shades of green. 
Did I mess up?
The lettering could have been better. I need to practice writing more fluidly with my brush pen. Right now, I tend to break the flow while writing and it shows in the final piece. Also, while using watercolors to draw and paint the trees, I picked more color than the water so the final artwork seems to be made from poster colors. That's something that I would definitely like to improve on. 
How can you make this design your own?
If you liked this design, there are, as always, some ways you can make it your own. I saw similar designs on Pinterest. That's where I got the inspiration for this artwork. In most of those designs, all the trees were in different colors and they looked really pretty. So, you can do the same. Remember to use more water to get even more beautiful trees. 
And of course, when you are using different colors, then the quote 'green vibes' doesn't make a lot of sense. So, replace it with any quote of your liking. Go with your mood. You can go with something simple like 'Plant more trees' or 'Grow through life'.
How did I feel after filling in today's page in my daily art journal?
I felt alright after making this one. As I mentioned before, I liked it better when I revisited it after a while. But you know, you don't always feel great after creating something and it doesn't matter. Funny thing, when I posted the time-lapse of this one on Tik-Tok, it got more likes and views than my other posts. So yeah, I guess we are no one to really judge what we create. The entire point is to create and just have fun. 🙂 
See you tomorrow with my next entry!
Love,
Shreya