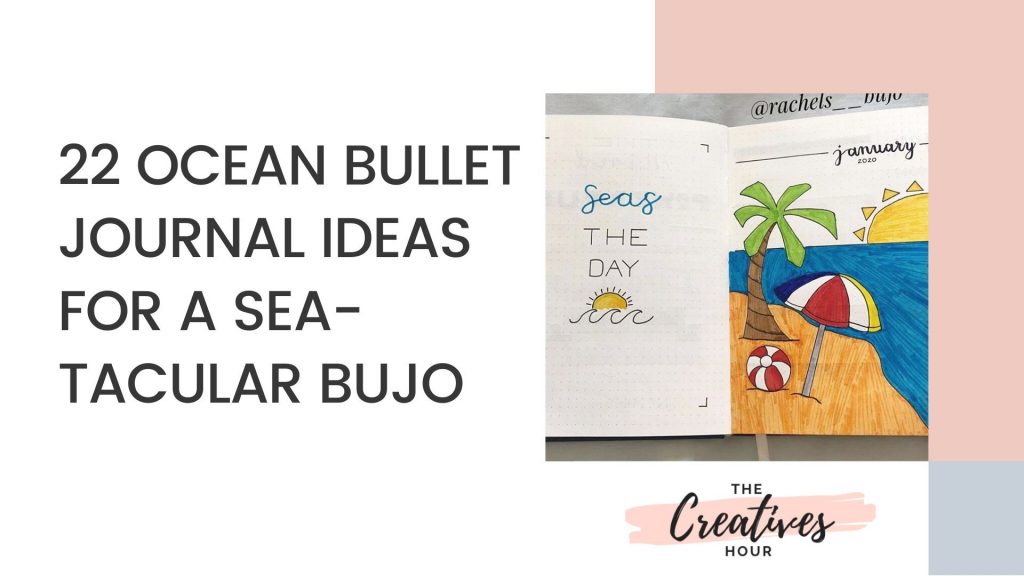 Feature Image Source: rachels__bujo 
Don't you just love the blue of the ocean, the colorful shoal of fishes, sea-birds and the golden sand? How about bringing them to life with your ocean bullet journal? It could be an exciting theme for your journal as well an engaging project for you!  There are a vast variety of approaches to the ocean theme. Here are a number of my favorite bullet journal ocean theme ideas to guide you through the array of choices!
New to bullet journaling? Check out our post on the Beginners guide to bullet journaling along with other BuJo ideas here.
Table of Contents
Ocean Bullet Journal Month Cover
Bullet journals are the best way to organize your thoughts, habits and moods! There are so many ways to get creative with your month cover . You can explore a whole range of colourful options. What are you waiting for? Go make your own now!
1. Seas The Day Ocean Bullet Journal Month Cover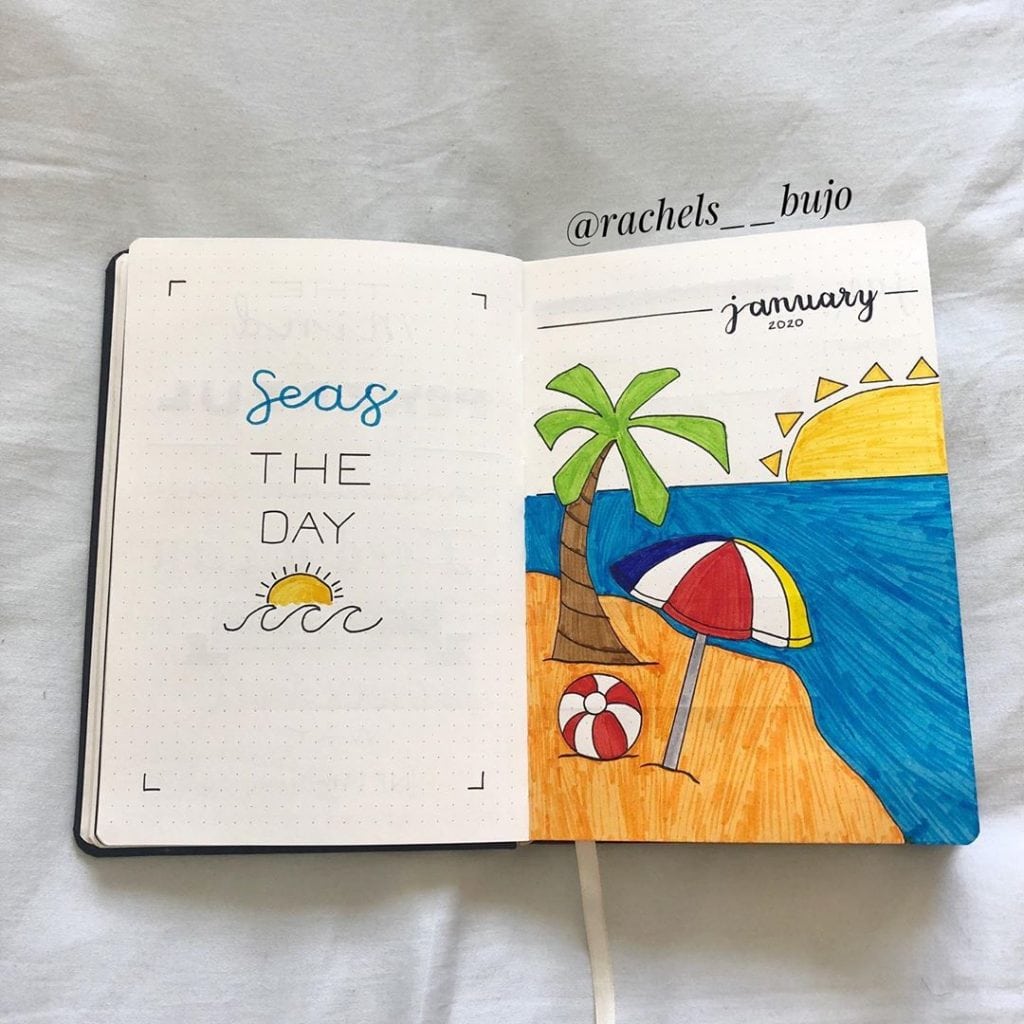 Source: rachels__bujo
This one by  rachels__bujo is an absolute love! It is so creative and gorgeous. Draw your own colourful beach and round it up with a little with "seas the day"pun-fun! Doesn't the beach look all inviting? Here's a way to begin your month.
2. Ocean Journal Calendar Month Cover Page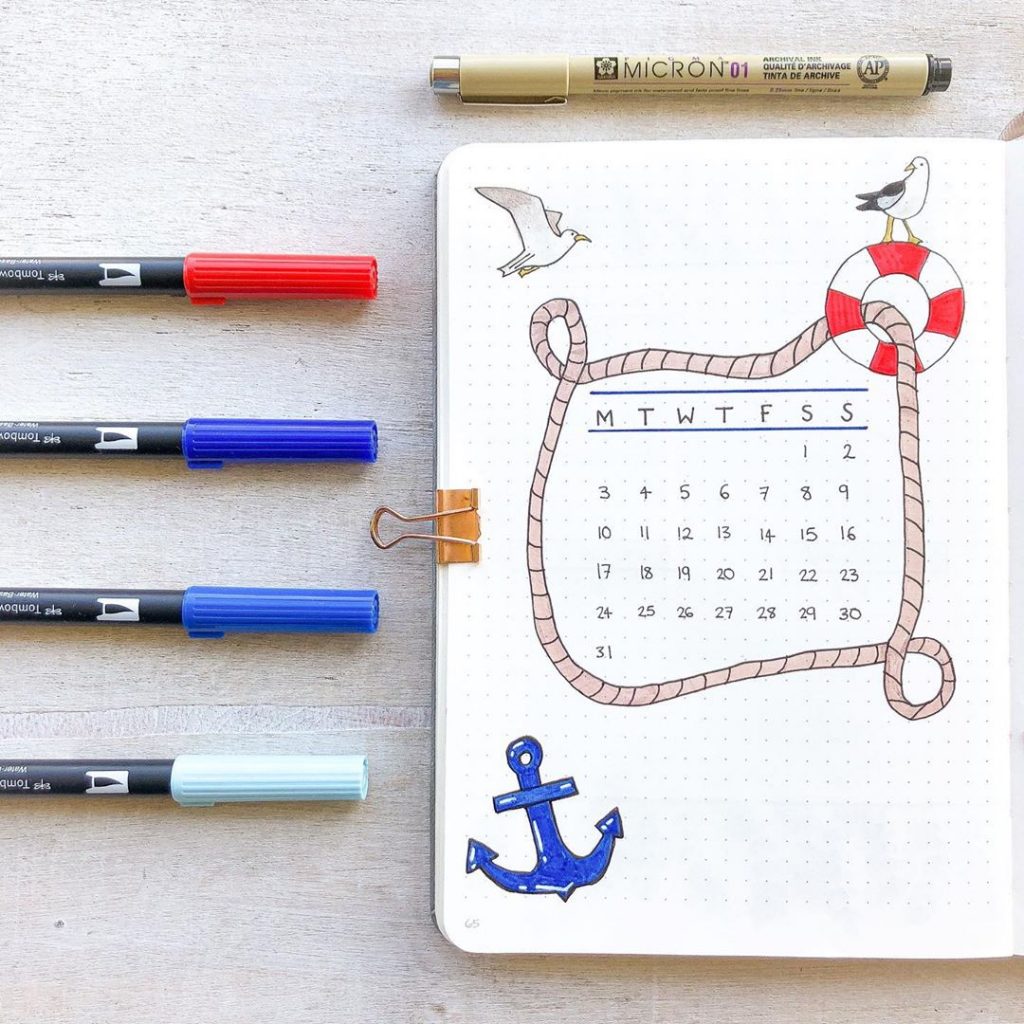 Source: olivias.bulletjournal
This is an example of minimalism is journaling. The artist olivias.bulletjournal has so beautifully expressed the theme without going overboard. You need only a few colours to carry out this theme. The calendar is an useful touch to it. You can even add other minimalistic caricatures to if you want and let the sea-gulls take you far, far away for a ride!
3. July Ocean Bullet Journal Month Cover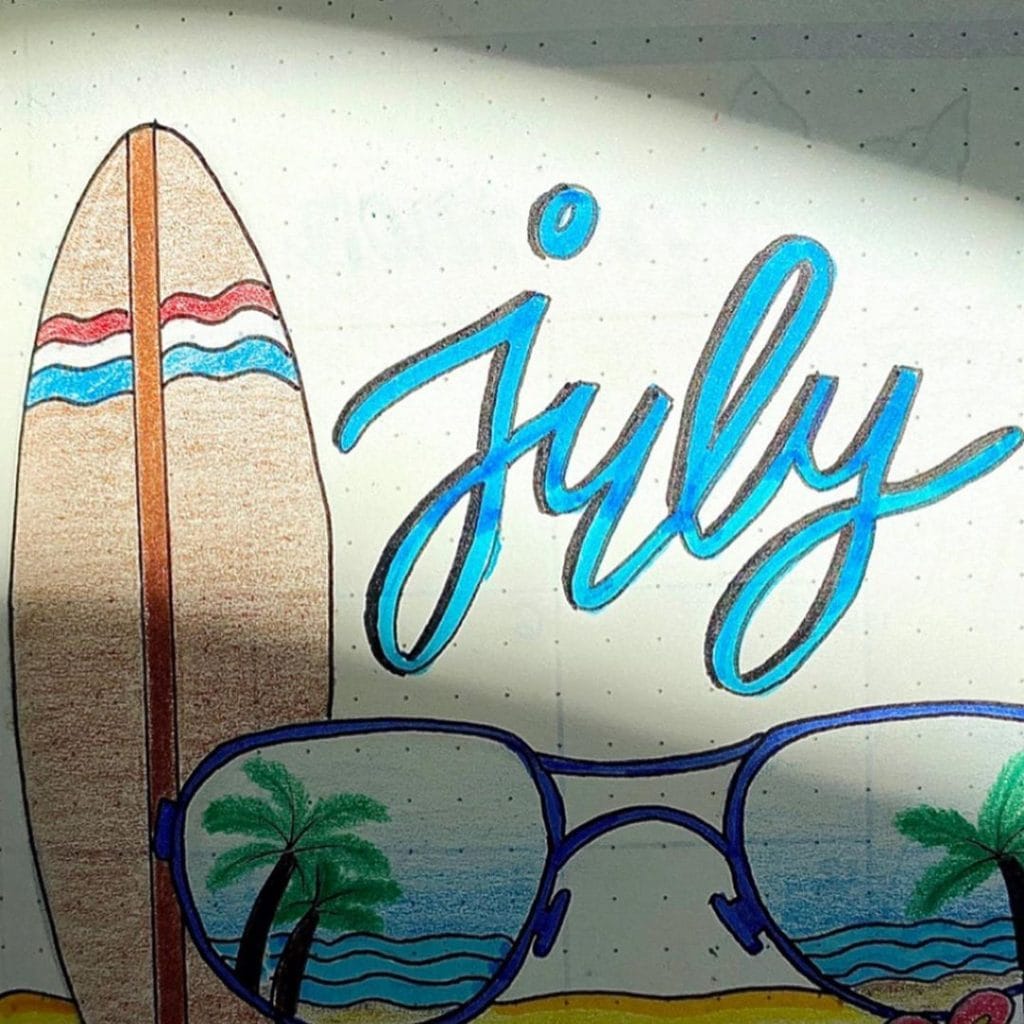 Source: kitbykirti
I absolutely love this by kitbykirti. The month of july is established  as the "hot month" of the year. The thought of the beach, coconut and palm trees and the cool sea only brings comfort. I love how the artist has brought about the summer mood as an ocean bullet journal theme. What are you waiting for? Draw your own pair of sun glasses to make your journal cool! Pun intended haha!
4. Ocean Waves May Cover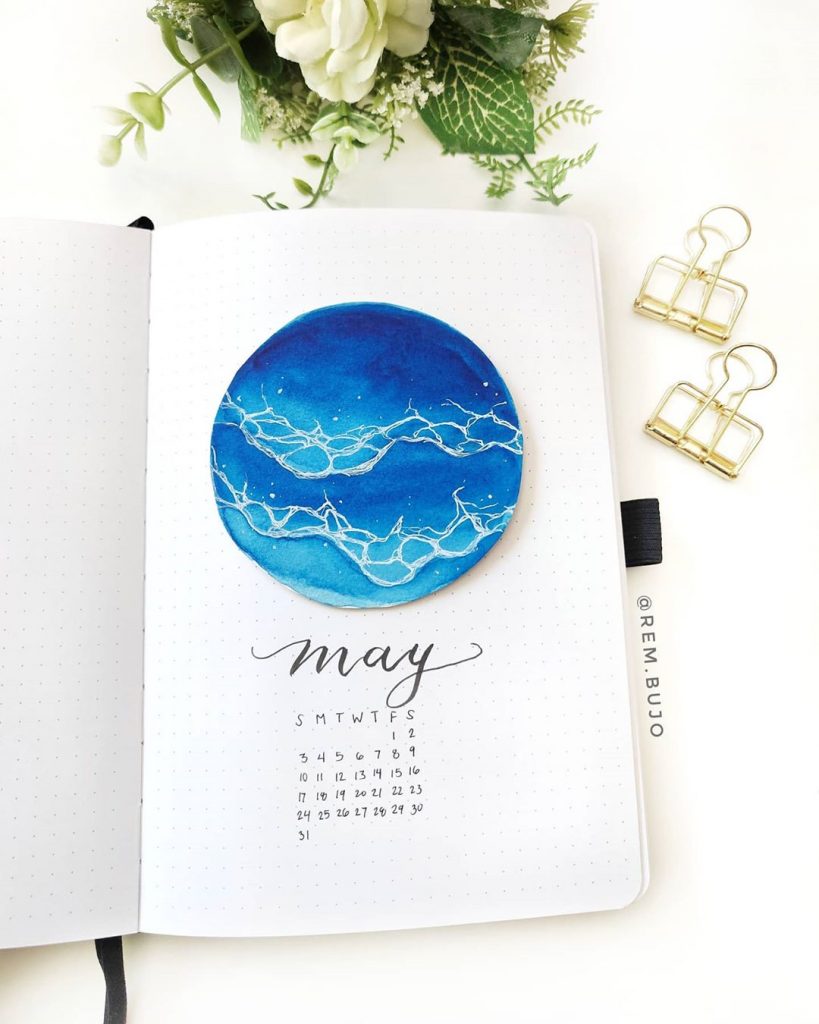 Source: rem bujo
his idea by rem bujo brings the thought of ocean  with which comes a serene sense of calmness. The ocean is deep, and dark. You can use that perspective as your ocean bullet journal theme for May! Just paint the earth as a vast ocean with waves, make your calendar and make a calligraphy out of the month name.
5. Lighthouse Doodle Month Cover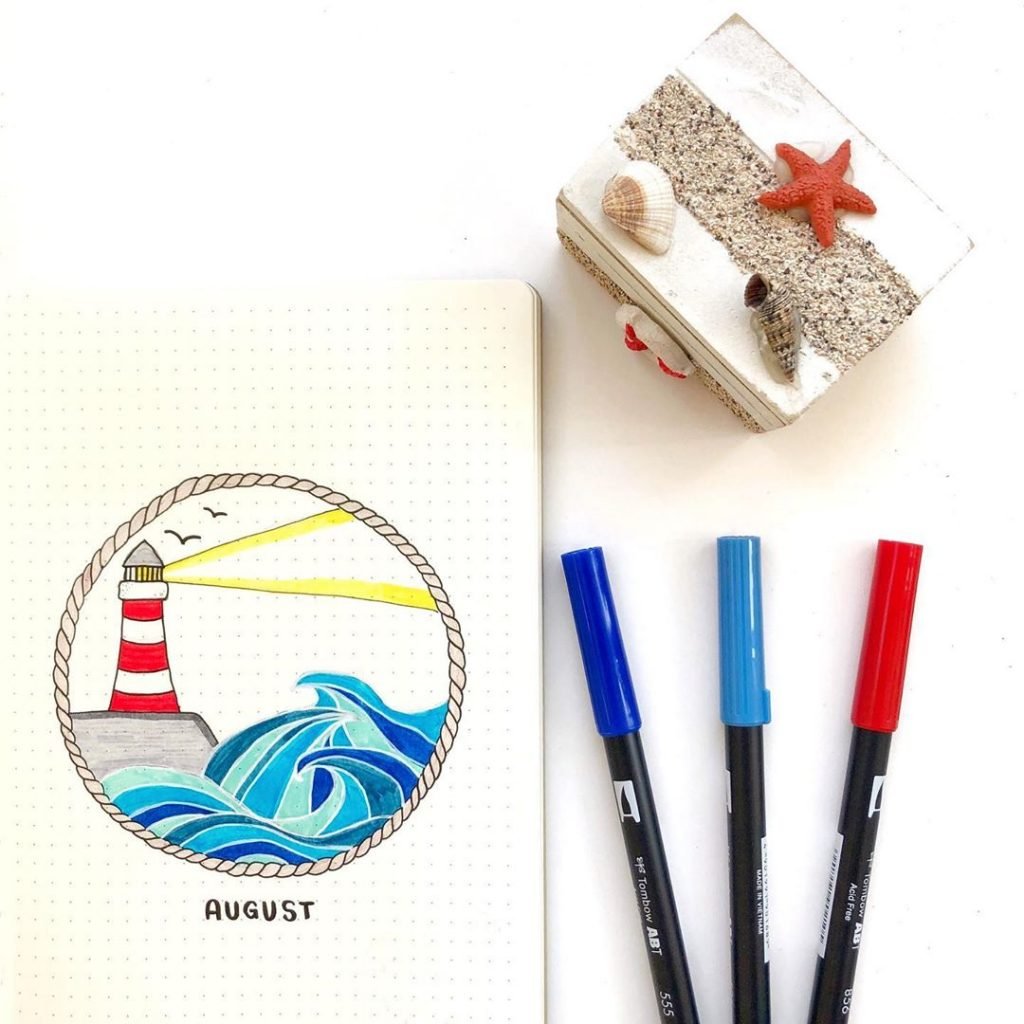 Source: rox.the.planoholic
I love how pretty this one by rox.the.planoholic. The internet these days, is all about doodles and minimalism. I love how this idea is so pretty, compact and well expressed. The use of colours is so pretty. Pick up a marker and create your own light house themed ocean bullet journal now. Use your creativity to make it attractive!
6. Jelly Fish Ocean Bullet Journal Cover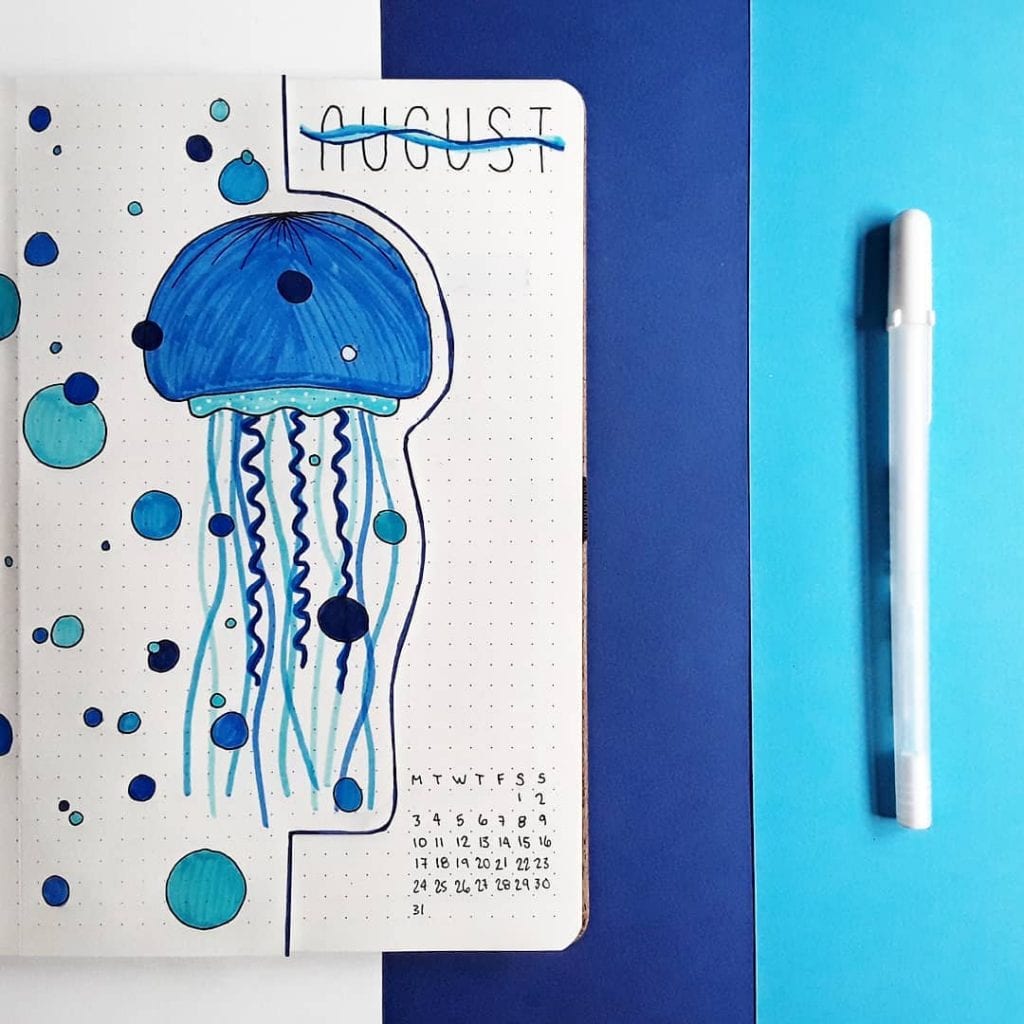 Source: hashtag_bujo
Let's look at this one by hashtag_bujo. How cool are jelly fishes? I remember finding them extremely beautiful when I was a kid. And the best part is that now you can create your own, as your ocean bullet journal theme!  Let your imagination flow! Make the initiative more innovative by adding your calendar. Decorate with a sprinkle of ocean bubbles here and there. And your August journal is ready.
Ocean BuJo Quote and Doodles For You
7. Waves and Surf BuJo Quote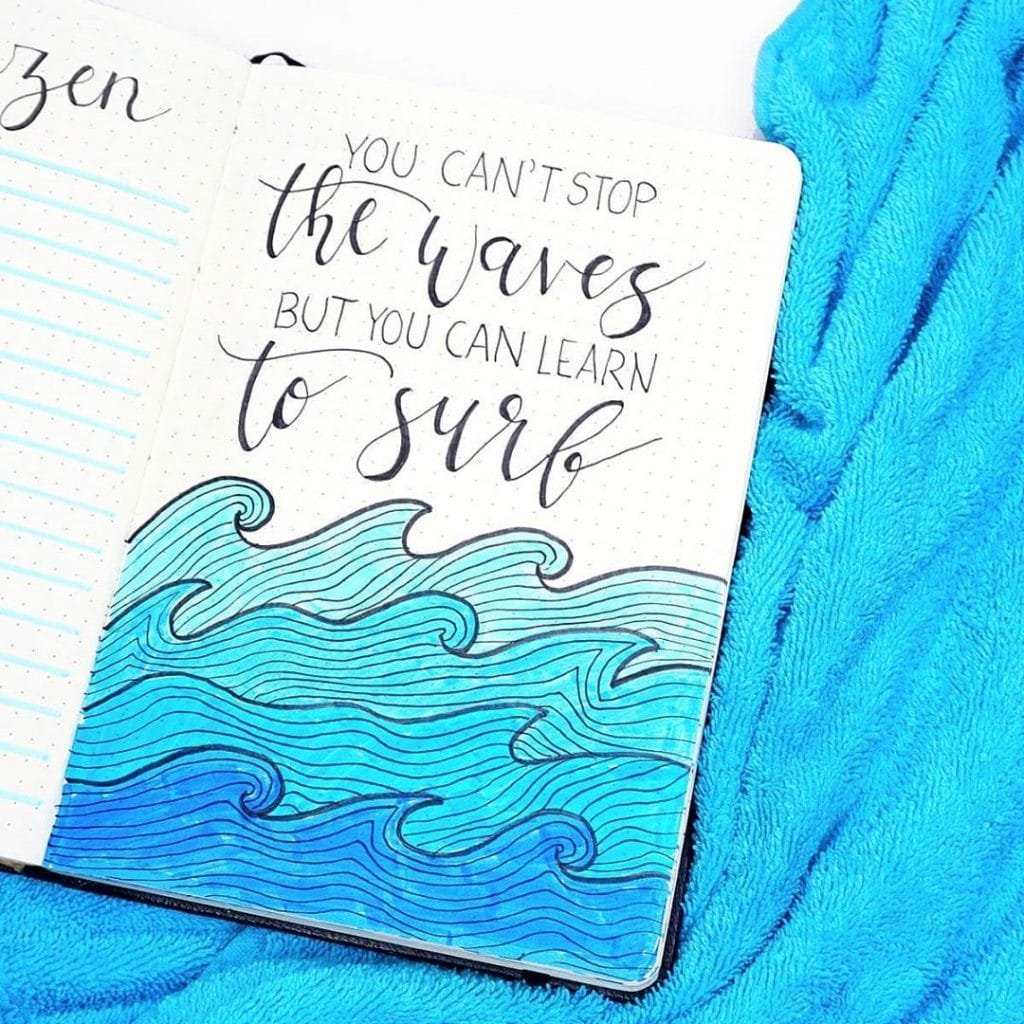 Source: alionsworld
Absolute wonder by alionsworld. "Be as endless as the ocean and as time less as the tides" This is a whole new take on the idea of ocean bullet journal theme. You can use your ocean theme to inspire yourself as well. Fill your journal with ocean quotes that motivate you to be better everyday! I have heard that drawing waves can be very therapeutic. What are you waiting for? GO doodle your worries away!
8. Ocean Quotes Stickers Month Cover​
Source: bujo_eshal
If you don't have enough time to draw your way through your journal, you can always use stickers or cutouts. They are an extremely attractive way to frame a journal by bujo_eshal. You can use word stickers to form your favourite ocean quote and also highlight it with tones that match with your sense of ocean aesthetics!
9. Sea Doodles Ocean Bullet Journal Cover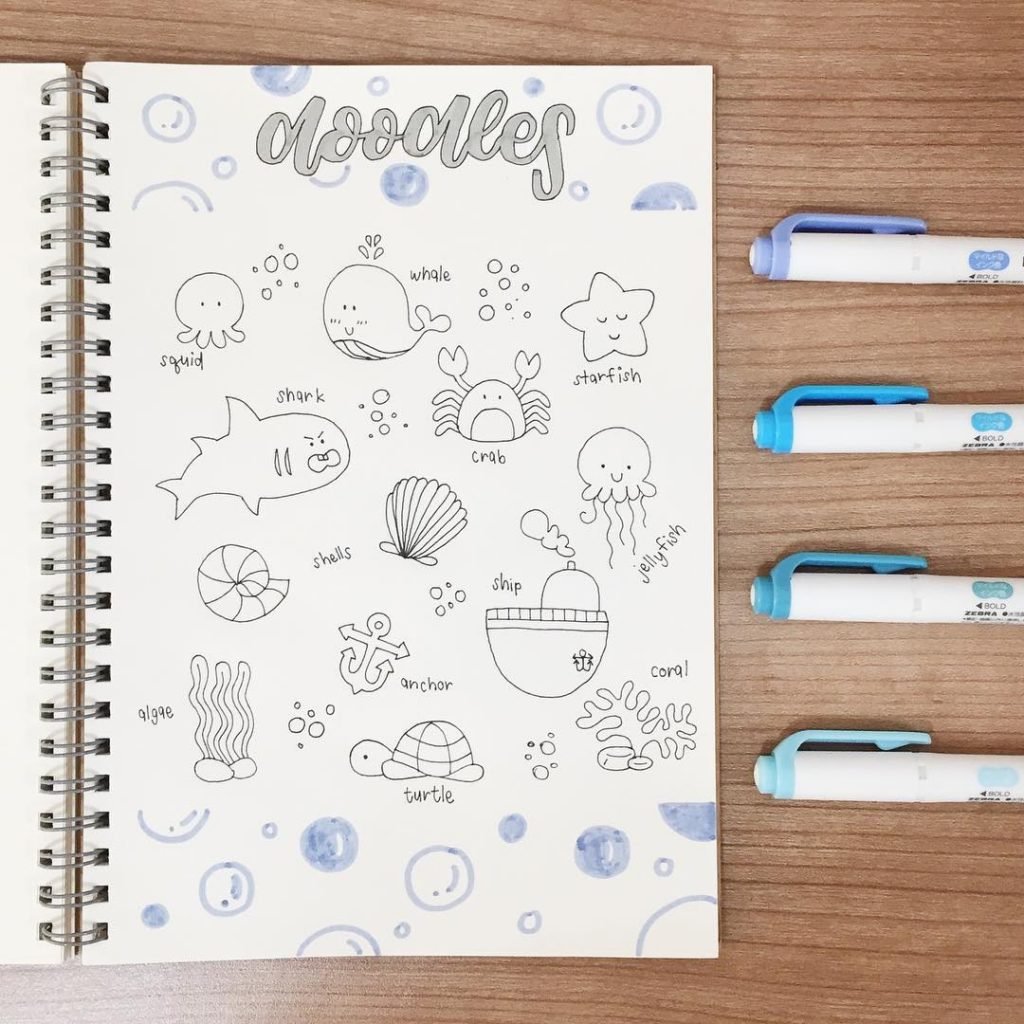 Source: parkdewsjoo
Another happy activity is surely doodling! It is cute, artistic and fun. Make doodling your aim for this month's Ocean bullet journal theme. Doodle turtles, fishes, corals, octopuses, snails, crabs , whales and star fishes to your heart's content. I promise you, you will enjoy doing it immensely. And your ocean journal will turn out to be the CUTEST just like this one by parkdewsjoo.
Ocean Bullet Journal Weekly Layout
10. Take me to the Beach Weekly Planner
Source: rachels__bujo's
Here's a neat way to make a weekly planner by rachels__bujo's. I love the colourful balls acting as bullet points. What a creative and smart idea! End your planner page with a "Take me to the beach" doodle and wrap up your week-planning soundly!!
11. Weekly Planner With Colourful Sandbank Background
Source:  bujoforstars
I am thrilled to see how bujoforstars has designed a weekly journal. The columns commands a no-nonsense attitude towards your week while the creative background brings out your colourful and fun-loving nature. This seems like a great way to plan the perfect week!
12. Pink Shells Weekly Planner
Source: bulletwithe
This unique idea by bulletwithe takes us away from the blue of the ocean for a while. It helps us explore our ocean theme with a twist, that is pink. You can always doodle your favourite conch, shells, fish in a concentric circle that surrounds the month name. Go ahead and write about all your days now. The softer colour adds something new to the ocean aesthetic, as well!
13. Swimming Tubes Weekly Planner
Source: olivias.bulletjournal
This is the most creative thing ever! Love how olivias.bulletjournal brings out the best in every idea. It is a comprehensive week planner as well as a ride in a saling boat! Haha just kidding. But it does fulfill your boat fantasies. You can draw as many types of boats and tubes as you like. Use your tubes as bullets  to support your weekly planning and use your boats to sail away with the sea birds!
Ocean Bullet Journal Monthly Layout
14. January Month Planner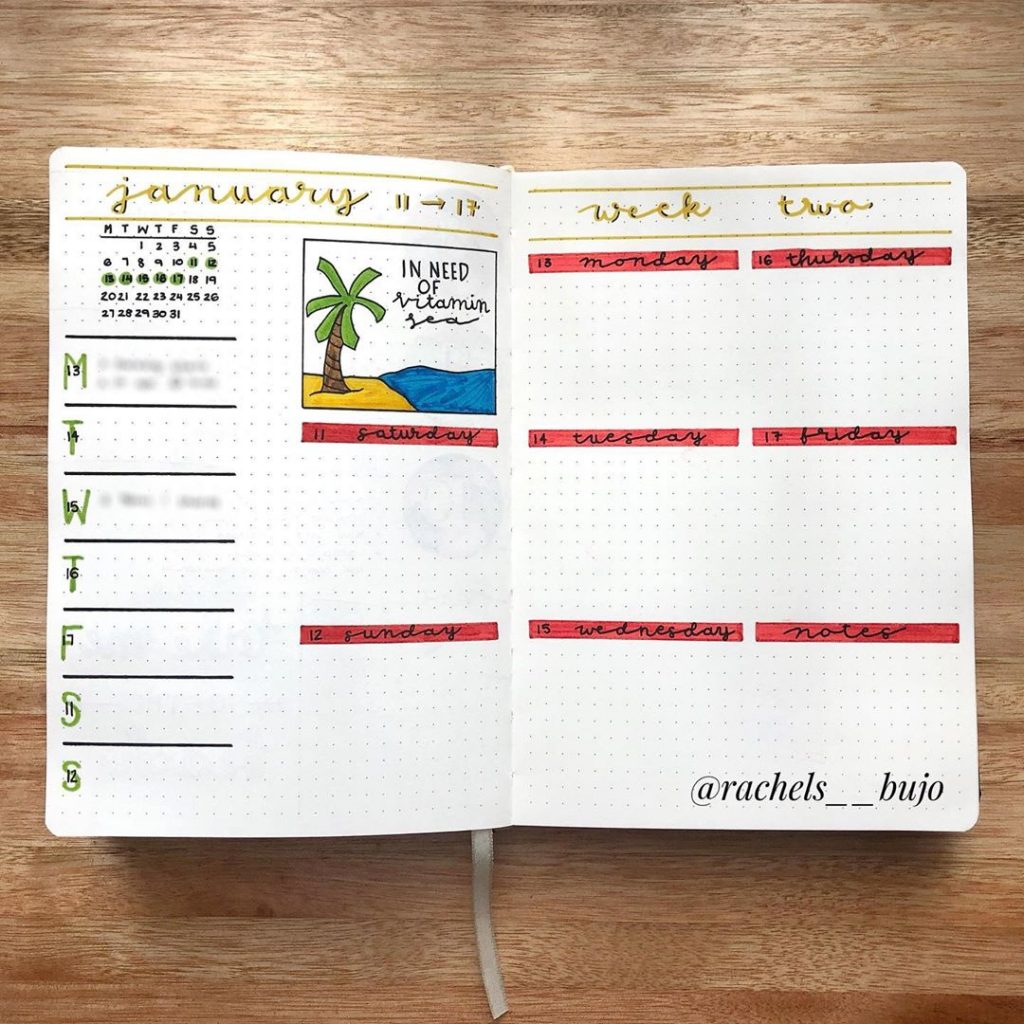 Source: rachels__bujo
This petite idea by rachels__bujo makes sure you have ample space for planning as well as creativity.  It is simply all-in-one considering the miniature ocean doodle, daily column as well as the space for notes. Highlight in red to enhance your days' doings!
15. Sticker Collection Journal Month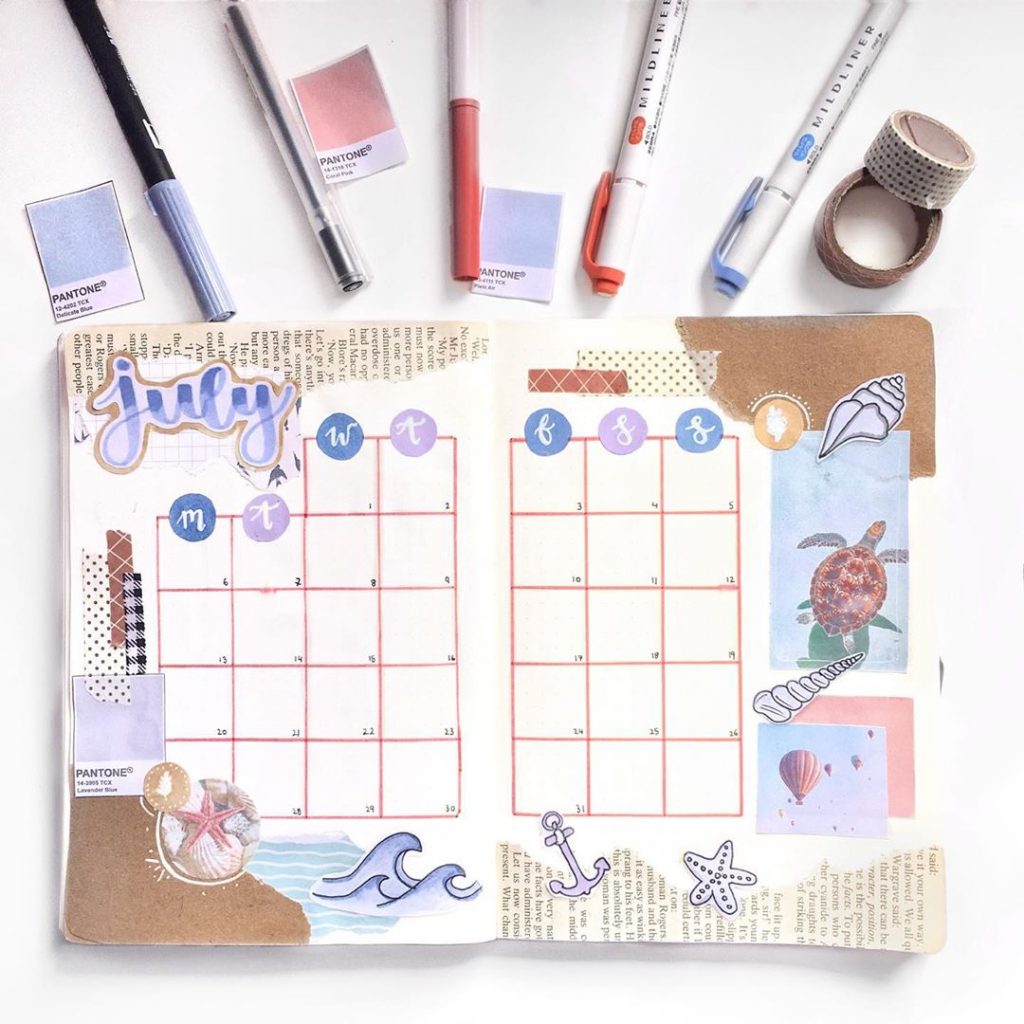 Source: bujo_eshal
This one is another really neat idea by bujo_eshal. And the use of cutouts is brilliantly arranged! The best feature are the cubes that help you organize your journal so well. It is a colourful blend of reason and imagination. You can cut cute little waves and anchors and add them to your pages as well.
Ocean Bullet Journal Planners and Trackers
16. Points, Check Boxes Planner
Source: sazeedoodles
As we have already explored the pink theme, it gets even better with sazeedoodles. This idea is comprehensive and compact to perfection. The neatly planned boxes for each day will help you adequately bullet your day around! Add the date in pink, use your colourful imagination to decorate outside the boxes(haha another pun) and you are good to go!
17. Colorful Fishes Check Box Planner
Source: sazeedoodles
Talk about colour schemes and here comes this idea bysazeedoodles! Shoals of blue and orange fishes and cute little cubes for your planning. It is the whole package. You can easily jot down your daily goals and keep a track of them. It can be a very wholesome experience for you. For the specials, this one comes with the lunar calendar and a description of the movements of the celestial bodies for your convenience!
18. Red Check Box Ocean Bullet Journal Habit Tracker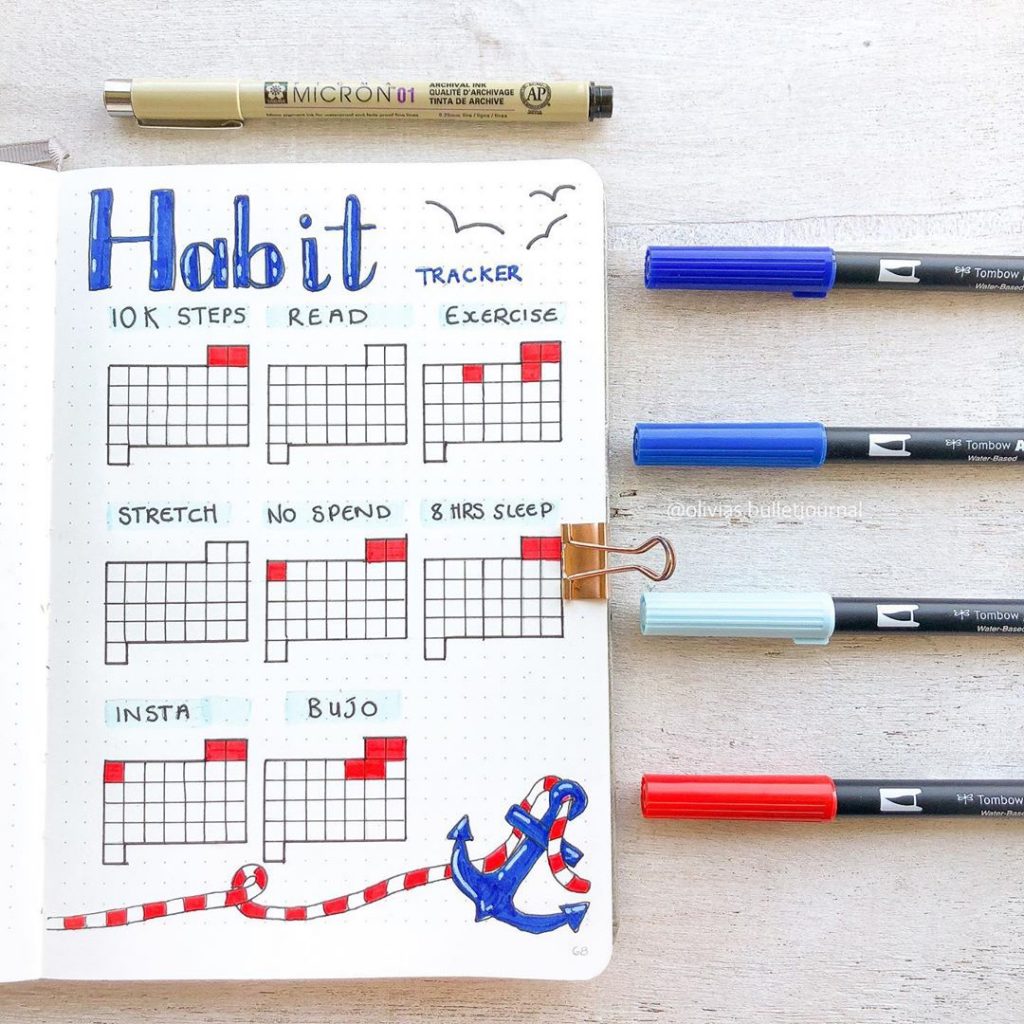 Source: olivias.bulletjournal
You can track your habits accurately with this unique take by olivias.bulletjournal. I especially love how productive this can make me! To add a bit of ocean, doodle anchors and ships on the blank areas of the page. You can draw a series of squares and darken them to keep a check on your daily well-being and productivity! I have never seen a more efficient idea!
19. Blue-Themed Mood and Habit Tracker
Source: rem.bujo
This idea by rem.bujo is one of it's kind, truly. How many times have we tried to account for our feelings and failed? I consider it really important for our mental health! And being able to express it well is very liberating. So make your wellness, mood and habit tracker like a boss! Form a graph and use your own parameters on either sides. Now write the names of the days, decorate with the ocean theme and you are done!
20. Jelly Fish Ocean Bullet Journal Mood Tracker
Source: hashtag_bujo
What can be cuter than jellyfish mood tracker by  hashtag_bujo? It is basically all my journalling dreams come true. The blue ocean theme makes a comeback with jellyfishes and bubbles! You can use your left page to track each of your habits. And your right one to track your mood. You can even draw your mood scale below your jellyfishes!
21. Colourful and Imaginative Mood and Habit Tracker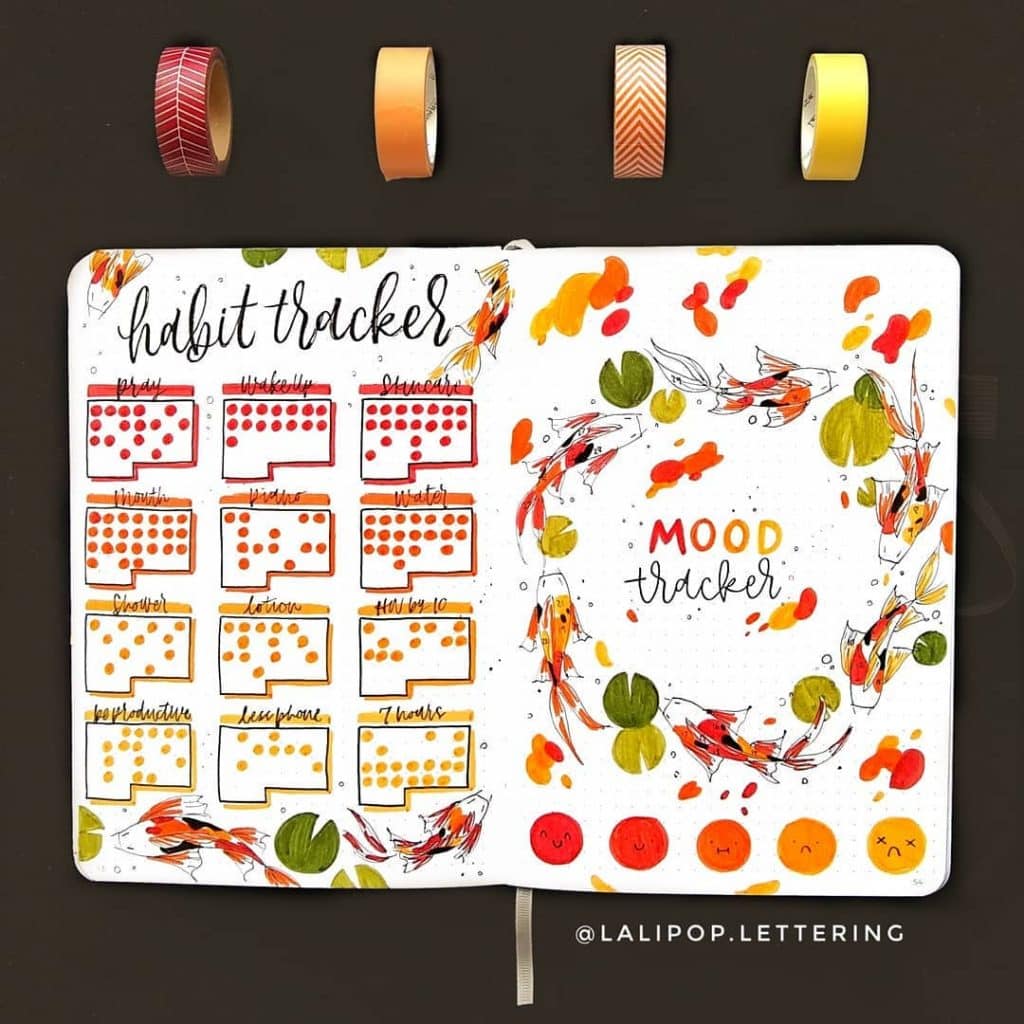 Source: lalipop.lettering
There is nothing for colourful than this lovely journal idea by lalipop.lettering. I love how the hues of red, orange, yellow, green mix to give a lovely, radiant effect. Each colour has been coded to be a separate mood tracker. You can also add calendar-like mood boards and a whole array of fish sketches to stick to the theme. Use your imagination to the fullest!
22. Sea Shells Expense Tracker
Source: lifeislikeabullet
And the last one for today, this template by lifeislikeabullet is a holistic approach to bullet journals. It gives you enough spaces to express your heart out. So plan your weeks' finance out  in detail! You shall no longer find it difficult to manage your expenses. So make an extensive list. To make it more interesting, you can add little doodles of pebbles and shells to decorate your ocean bullet journal.
If you loved these ideas, you can use the Pin image below to save this article on your Pinterest board. Also, follow us on Instagram to stay updated!