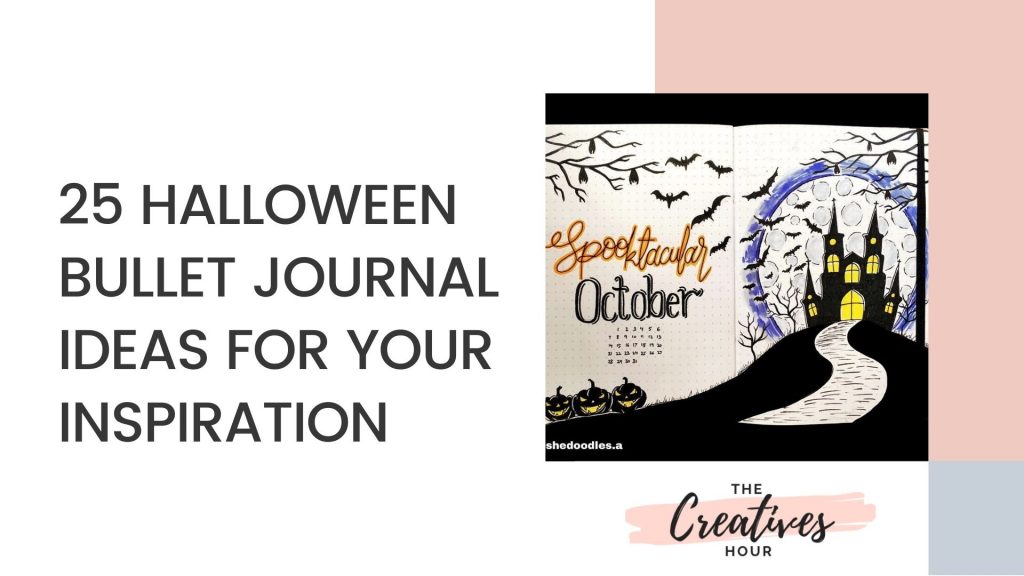 Feature Image Source: shedoodles.a
Halloween season is a favorite for many people, both in celebrations and in the BuJo community! With the winter season incoming and the spookiness building up, Halloween Bullet Journals are no exception to this creepy trend!  Replace your classic monthly BuJo layout with these ghostly ideas to dress your journal up! Pumpkins, ghosts, and goblins, witches and spiders are all ready to set up camp in your bullet journal this Halloween! So grab your crafting supplies, and let's get witchin'! 
For more BuJo inspirations and guides, check out our detailed posts here.
Table of Contents
Halloween Bullet Journal Theme Week Cover
1. Black Witch Weekly BuJo Cover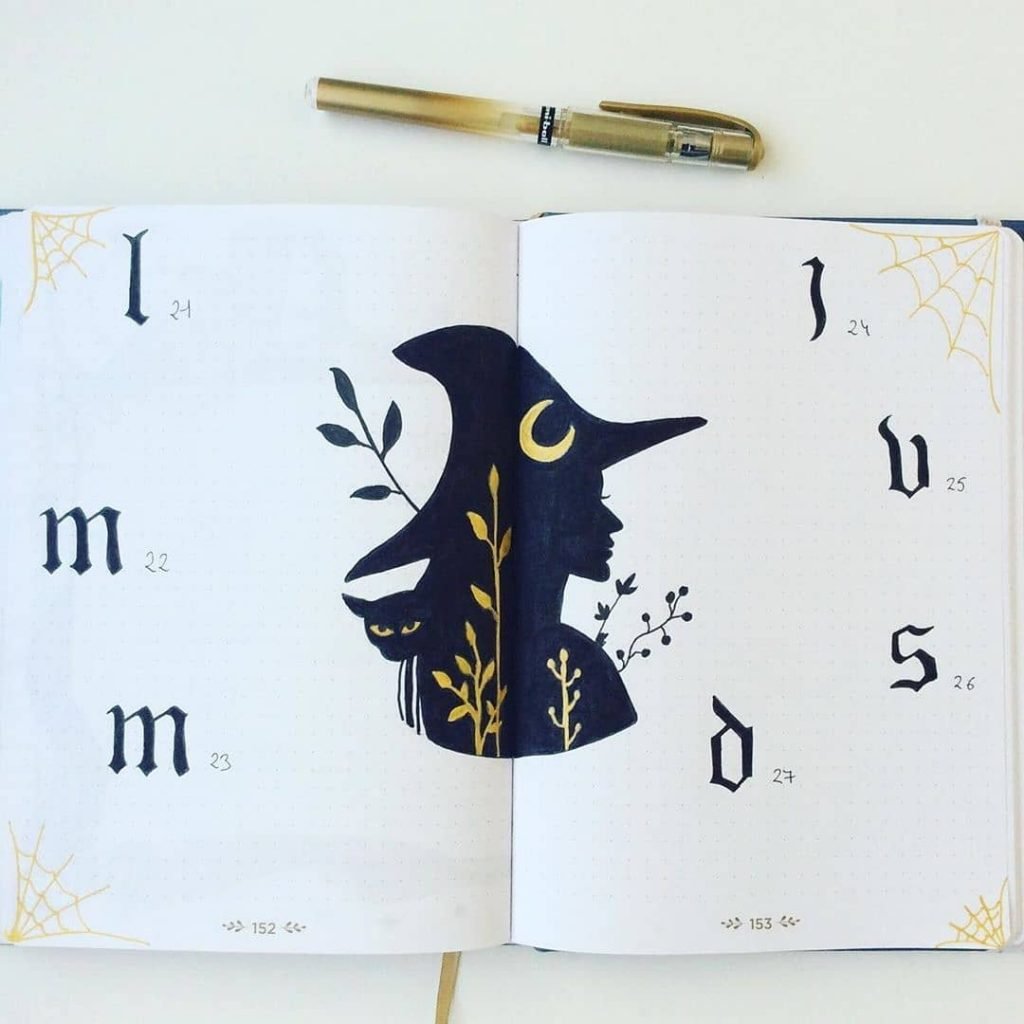 Source: bulletjournalfrancais 
Starting off with a minimal yet spooky idea by bulletjournalfrancais. This Halloween bullet journal idea is a double-page weekly cover with a witchy illustration in the middle.  Add a dash of eerieness with some spider webs on each corner of the sheets. Start your Halloween journal with this dark and wizardy cover. 
2. Potion's Lab Halloween Bullet Journal Layout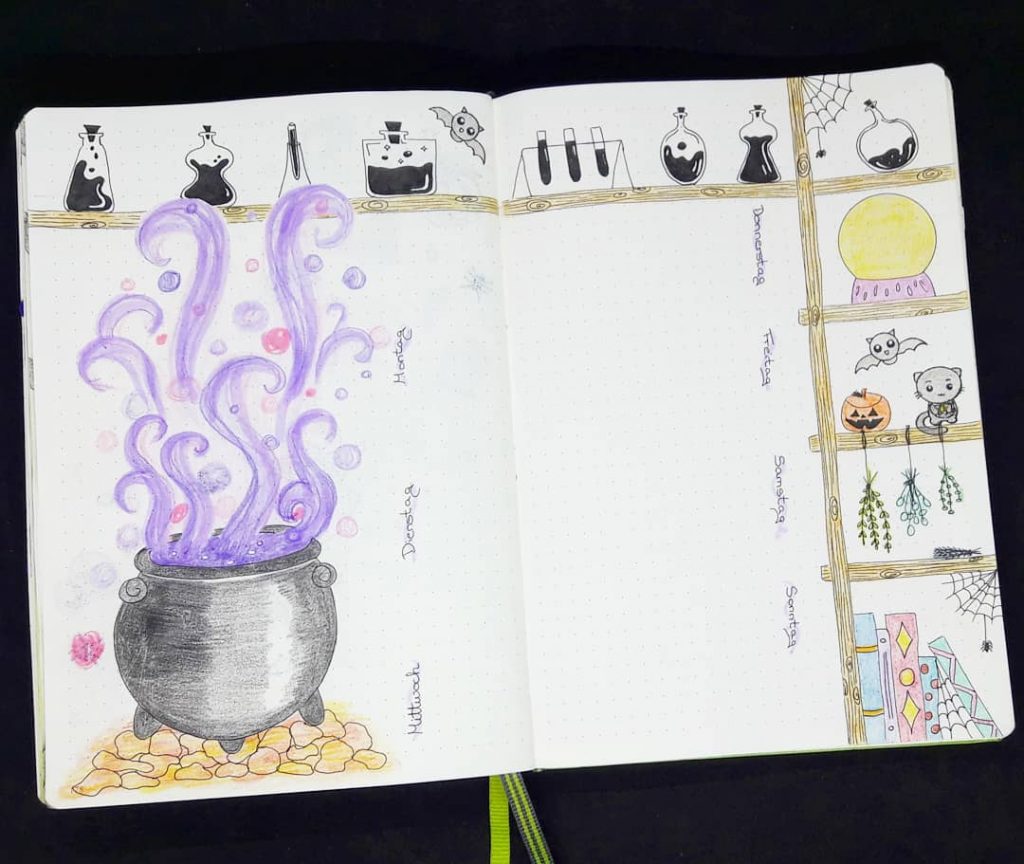 Source: bujolove778
This purple bubbling stew setup is perfect for a witchy Halloween bullet journal. Combine the cauldron with some shelves displaying potions, pumpkins, and everything Halloween. Use this double page cover idea for a mysterious touch to your BuJo spread. I love how the bright purple stew adds a pop of color to the dark and spooky theme.
3. The Pencil Pumpkin BuJo Halloween Spread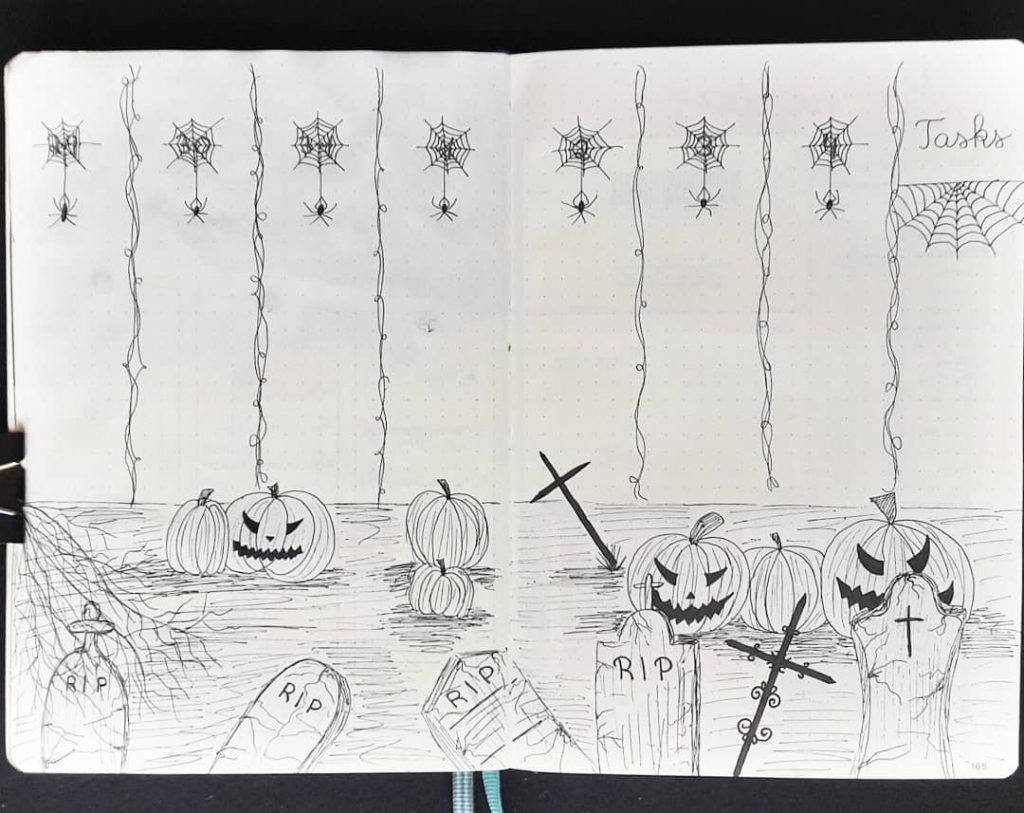 Source: bujolove778
Why collect too many supplies when just a pencil is enough? Recreate this Halloween bullet journal cover idea by bujolove778 by scribbling doodles using only a pencil. You can create a cemetery scene, as shown above, with pumpkins and gravestones. Finally, some spiderwebs additionally creep things up!
4. The Bloody Graveyard Halloween Layout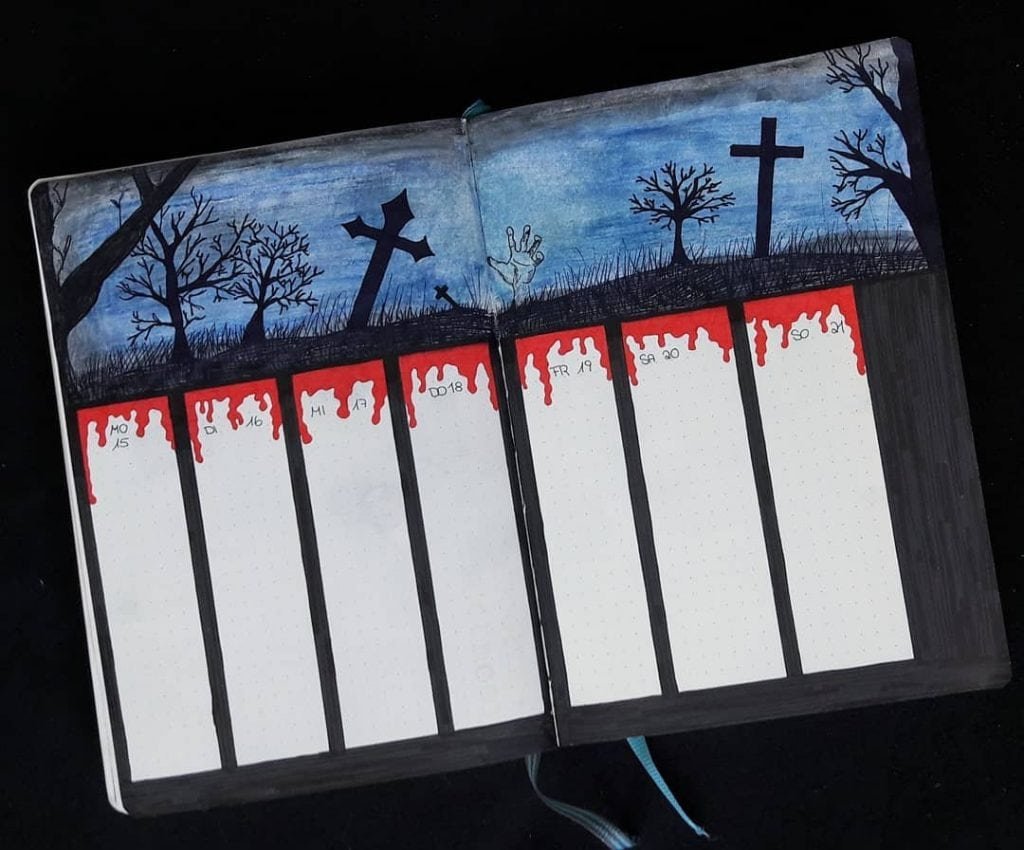 Source: bujolove778
Combine your love for painting with your love for bullet journaling with the above idea by bujolove778. Paint a blue night sky with tree and gravestone silhouettes. Add white text boxes with dripping blood on this double-page BuJo layout. This is a super scary Halloween journal idea that can be used as a monthly or weekly layout.  
5. Monster Movie Halloween Bullet Journal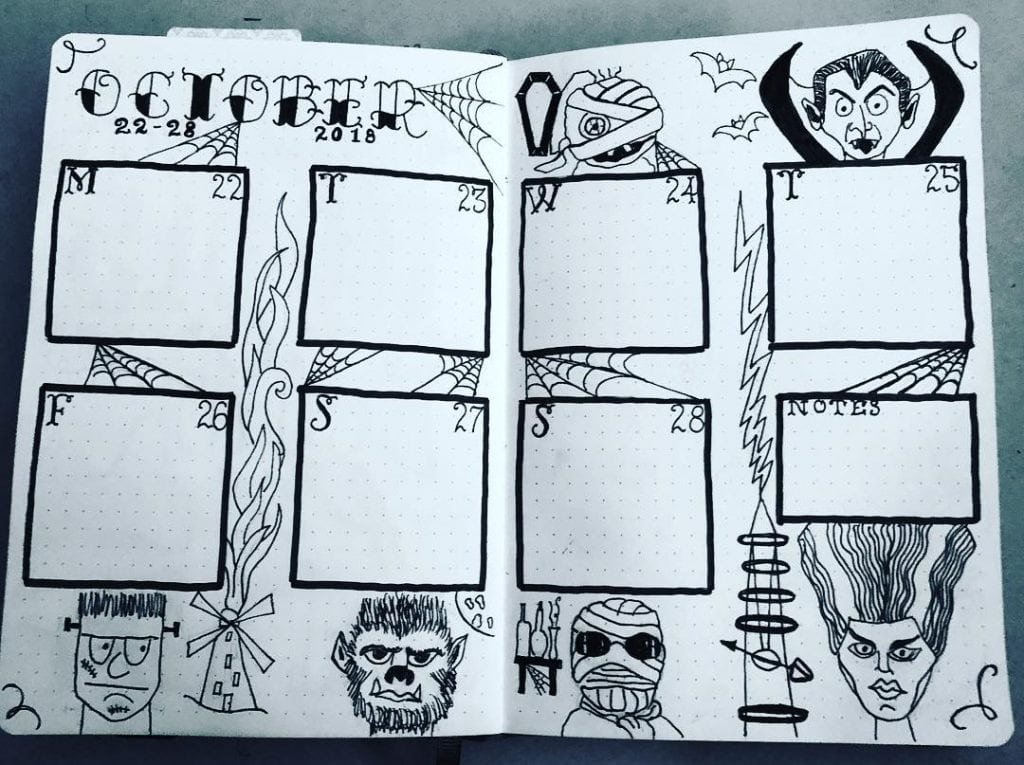 Source: adriennelovesletters
Bring all the Halloween movie monsters to your BuJo spread with this idea by xxx. Use a black marker and doodle the mummy, Frankenstein, wolfman, invisible man, etc. around the text boxes. You can add color or leave it black and white like the above Halloween bullet journal idea. So, get inspired by Universal movies and start scribbling! 
6. Creepy Cats Halloween Journal Layout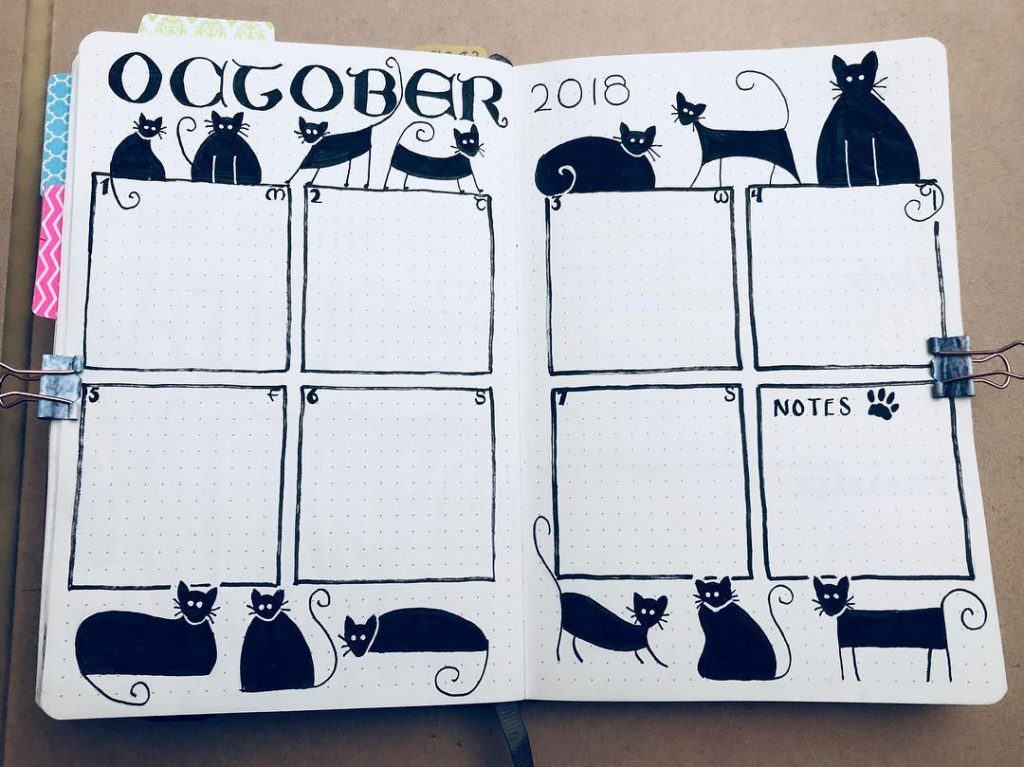 Source: adriennelovesletters
Dress your Halloween bullet journal layout with this creepy cats idea by adriennelovesletters. Create a border of tiny black cats around the text boxes. This idea's simplicity adds to the creepiness of it and hence is perfect for the Halloween season. The white staring eyes and the eerie tail designs complement the theme altogether. 
7. Halloween Is Here, BuJo Spread
Source: letteringwithtessa
Here is a sleek pumpkin and spider idea by letteringwithtessa for your Halloween bullet journal weekly spread. Tear some pumpkin scrap paper pieces and stick them on each side of the double-page layout. Add a spider web sticker at the top left corner and a Halloween text sticker on the bottom right. It is a straightforward cut and paste BuJo idea that instantly adds a spooky touch to your journal.   
Halloween Bullet Journal Doodles
8. Brush the Basics BuJo Doodles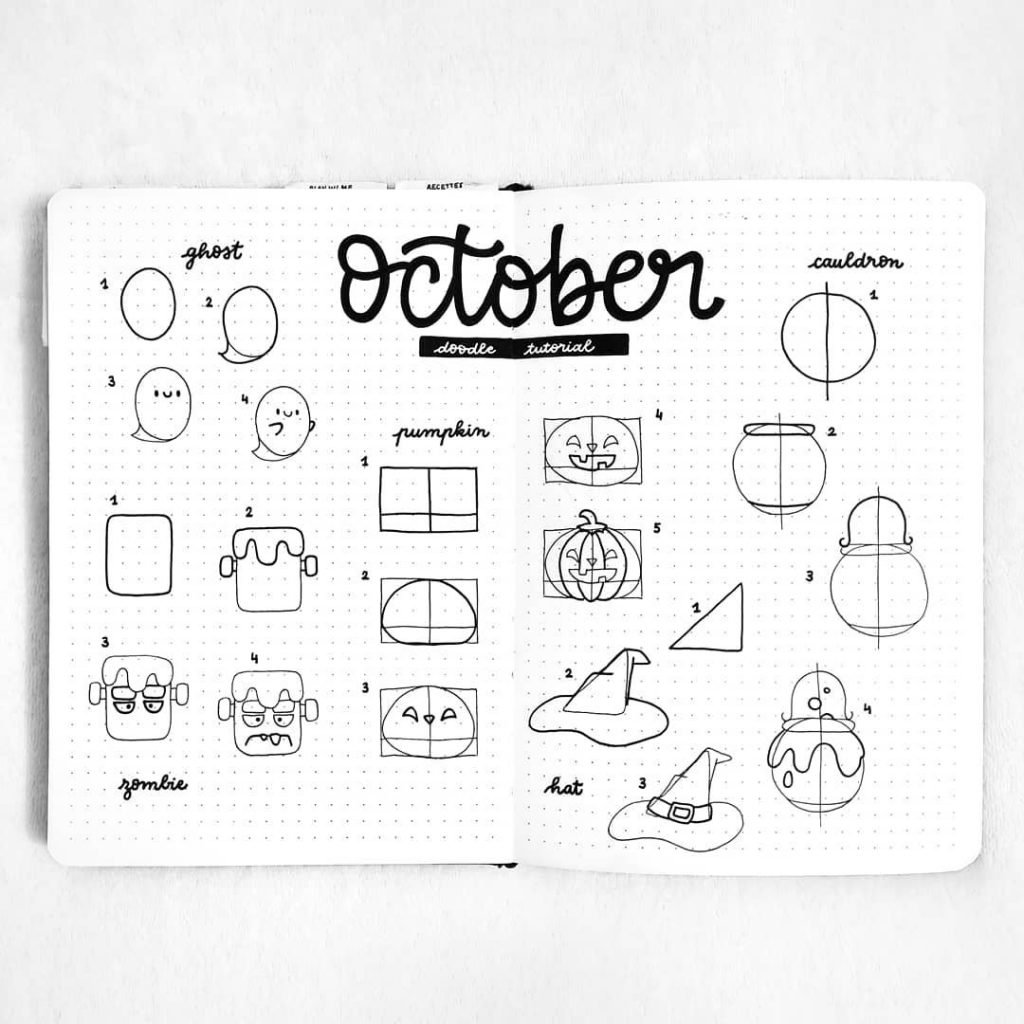 Source: studeemly
If you are a beginner, this doodling idea by studeemly is perfect for you! It is a step-by-step tutorial on creating tiny ghosts, zombies, witch's hat, pumpkins, and other doodle basics for Halloween. You can add fun colors to these doodles customize the size of these according to your liking. 
9. Multicolored Halloween Doodle Splash
Source: oliviadoodles__
Draw all Halloween doodles you can think of on your BuJo cover with this idea by oliviadoodles__. This idea perfectly includes everything Halloween you can think of. The different colors of each doodle make this page even bright and beautiful. There's witch's stew, broomsticks, pumpkins, stars, spiders, and everything adorable and spooky. 
10. Text and Shape Halloween Bullet Journal Doodles
Source: journalbykim
Fill your Halloween bullet journal with these boo-tiful texts and shapes by journalbykim. Adding tiny dialogue boxes amid the doodles makes it even more adorable. You can write "Boo", "trick or treat," "happy haunting," or anything that screams Halloween. The above idea is black and white; however, you can add a pop of color by filling in the doodles for a spooky touch!
Halloween Bullet Journal Cover
11. Halloween Ombre BuJo Cover
Source: ip_buj
I love this Halloween bullet journal cover idea by ip_buj. The creepy tree and cemetery silhouette against the beautiful purple and blue ombre sky looks beautifully spooky. The starry sky with bats flying around adds to the eerieness of the entire spread. You can change the colors of the ombre and switch the bats with ghosts. Finally, the use of a lovely font for the heading complements the theme. 
12. Flying Illustrations Halloween Bullet Journal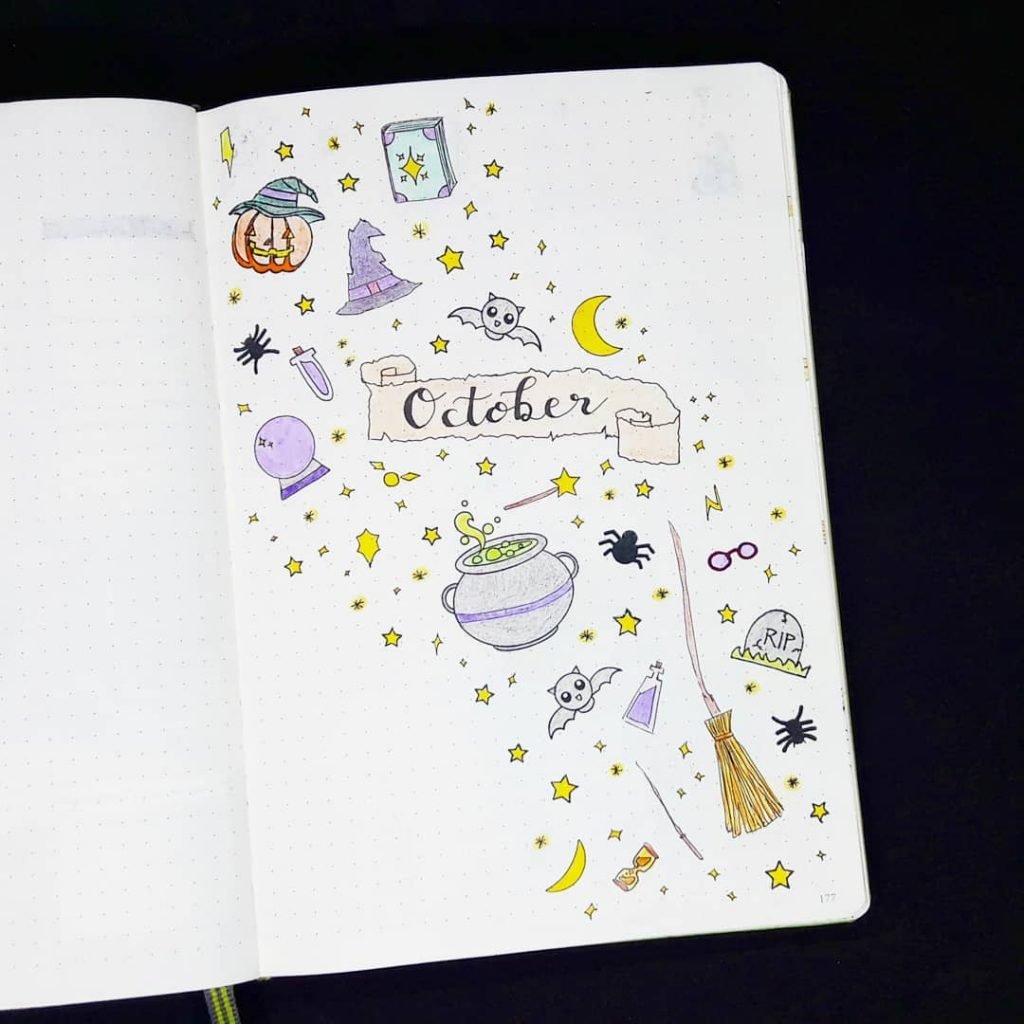 Source: bujolove778
Surround the month name with starry Halloween illustrations to recreate this idea by bujolove778. Why cover your Halloween bullet journal's entire page, when you can get a much sleeker look with this idea. It requires lesser effort and looks equally spooky. Create a slanting moon and star sky around the title, followed by hats, globes, pumpkins, and spiders flying around. 
13. Autumnal Halloween BuJo Cover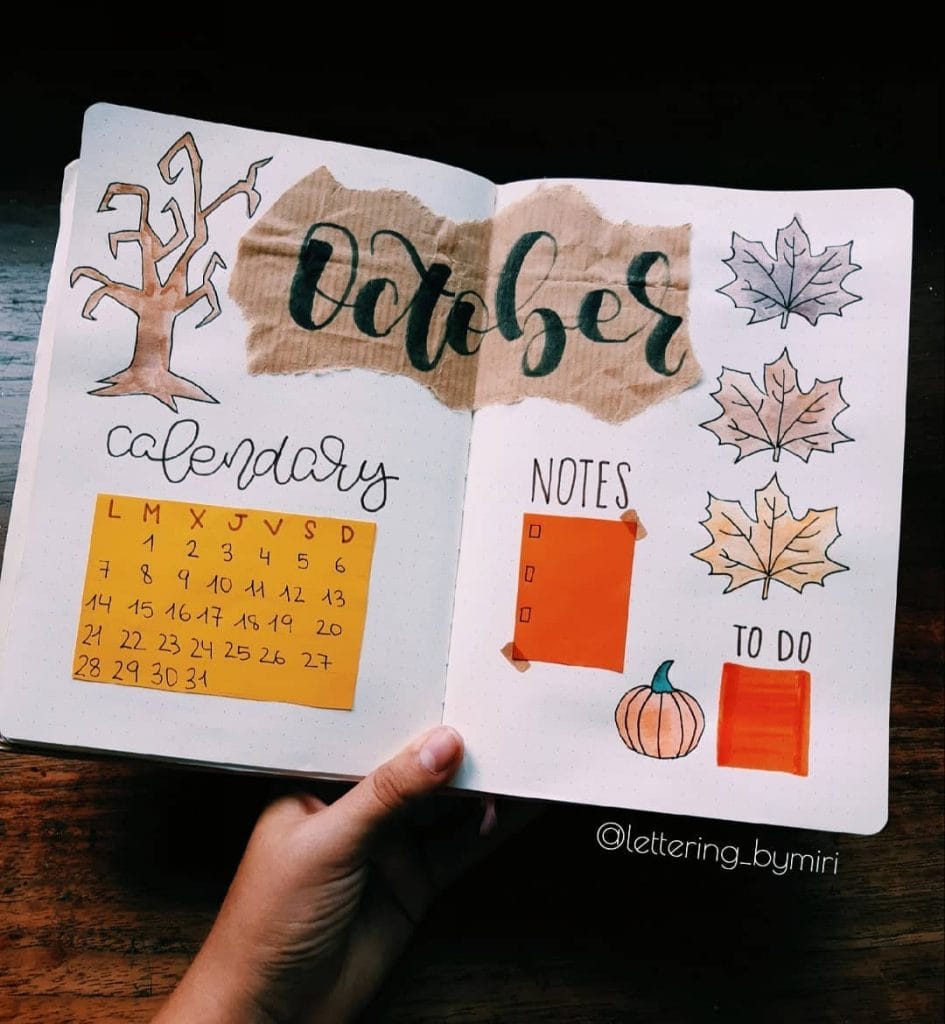 Source: lettering_bymiri
It can be Halloweeny without ghosts and goblins. Want to know how? Try this autumnal Halloween bullet journal idea by lettering_bymiri. Add large maple leaves in autumn shades to one corner. Next, add text boxes in oranges and yellows. Finally, add pumpkin and a leafless tree to the sheet and voila! Your BuJo cover is ready for spooky entries. 
14. Jolly Ghosts Halloween Journal Cover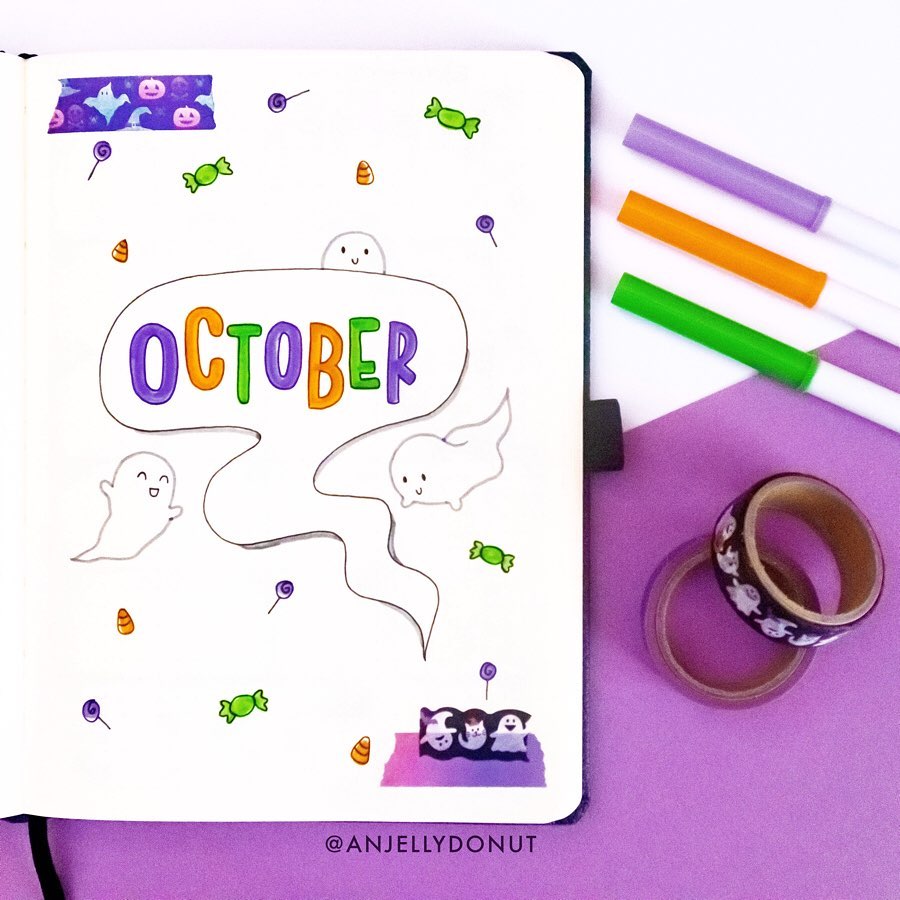 Source: anjellydonut
Want to create a Halloween bullet journal cover that is equal parts scary and colorful? Try this super adorable idea by anjellydonut. The page's dominant theme is purple, followed by a touch of orange and green to break the monotony. A text bubble says October and is surrounded by tiny ghosts. For the finishing touches, some treats are scattered across the sheet. 
15. Spooktacular Halloween Journal Cover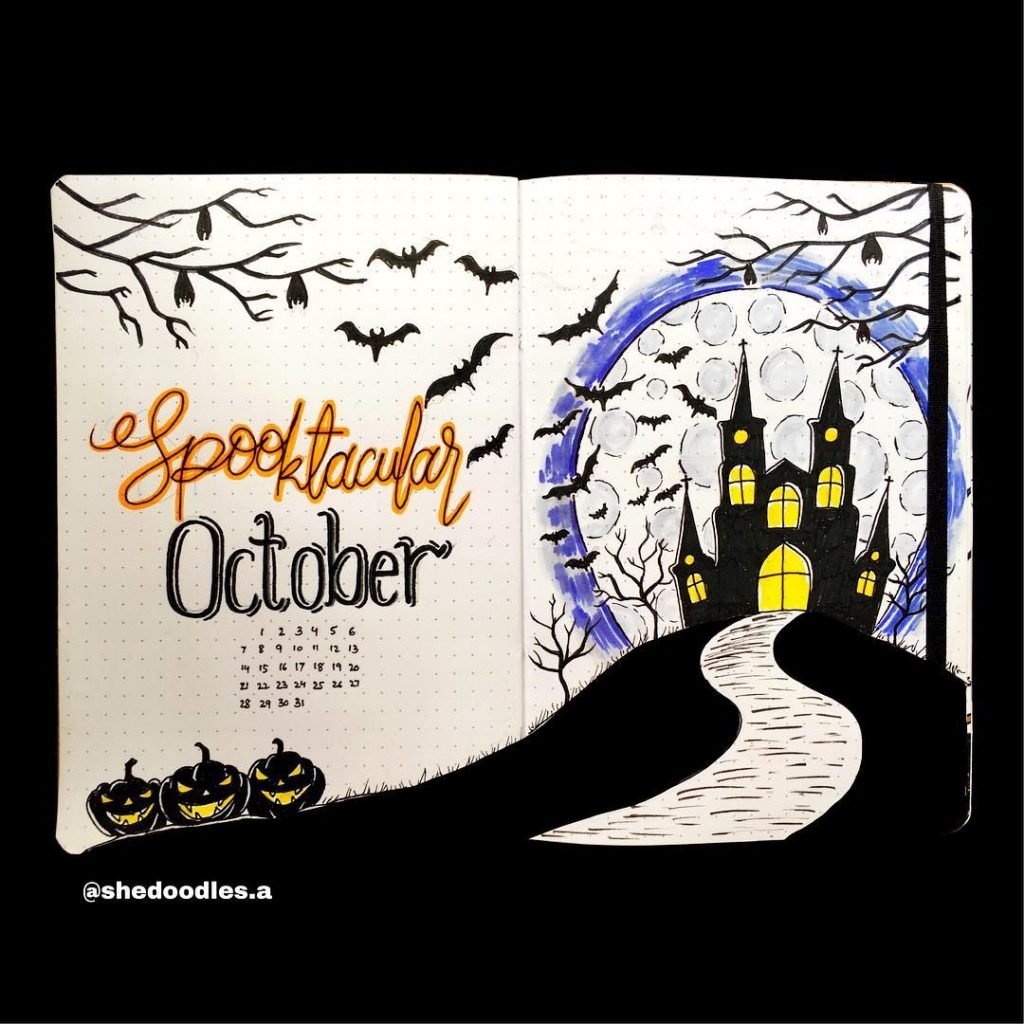 Source: shedoodles.a
What is a better welcome for Halloween than a scary scene painted in your BuJo cover? This Halloween bullet journal idea by shedoodles.a goes all out and creates a haunted house scene that looks straight out of a movie. The spooky branches with bats flying around leading to a creepy house with yellow light; can it get scarier? The entire illustration is painted in black with a touch of yellow and purple. 
16. Curly Patterns Halloween Welcome Cover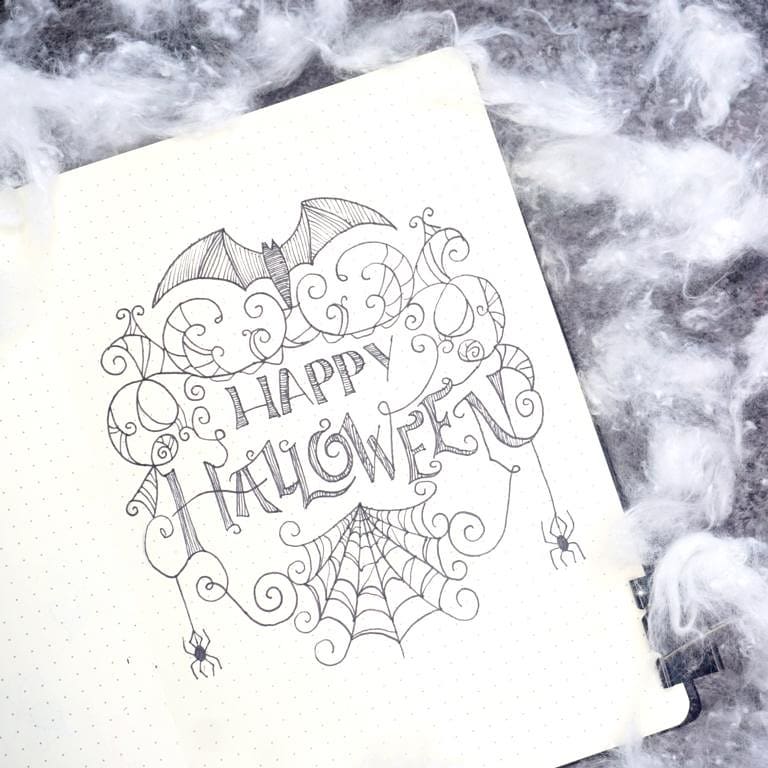 Source: alionsworld
An artistic yet straightforward way to design your Halloween bullet journal cover is the above idea by alionsworld. This illustration occupies the center of the sheet and is drawn in pencil. It is a beautiful twirly sketch with elements of Halloween highlighted through bats and spiderwebs. The patterns stem from the title in the middle that reads "Happy Halloween." You can get as creative as you like with this idea. 
17. Welcome to the Haunted House BuJo Cover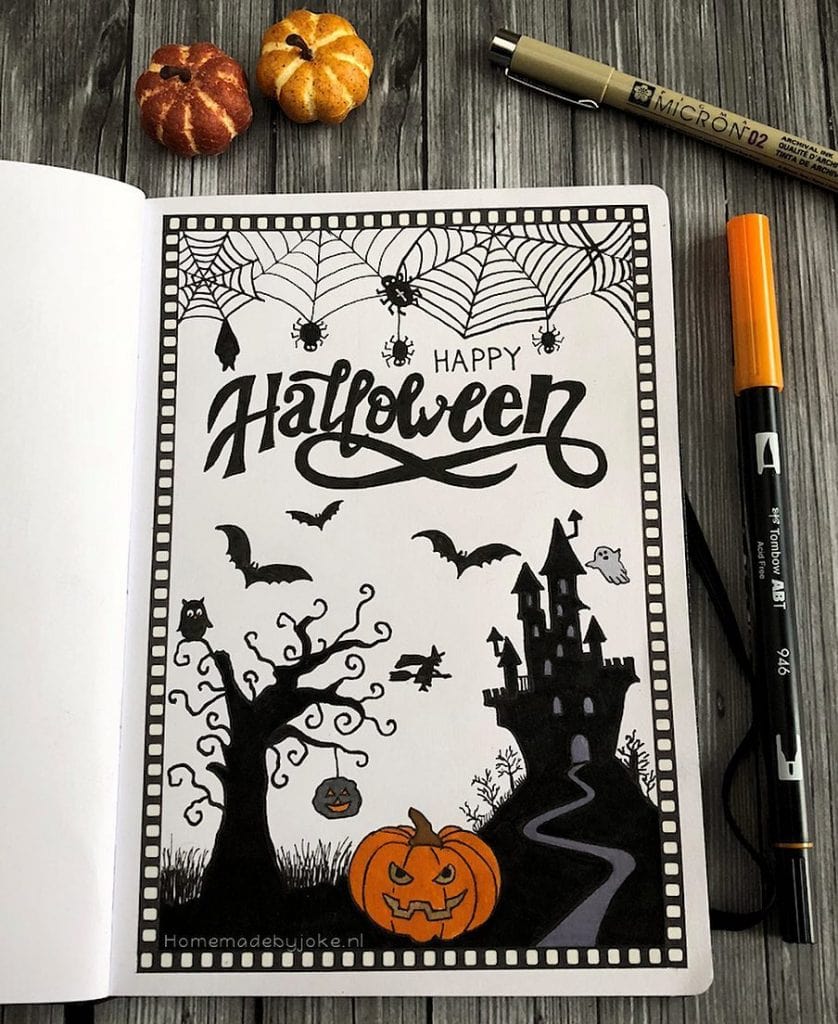 Source: joke_kieft_reijken
Here is another Halloween movie scene illustration by joke_kieft_reijken painted in black. The tiny haunted house on the hilltop with ghosts and bats flying around is enough to give you the season's chills. Draw a border around the painting for a neater look and add a bright orange pumpkin for a touch of color. This idea is a guaranteed spooky welcome for your BuJo entries. 
Halloween BuJo Expense tracker
18. Pumpkin Spice BuJo Expense Tracker
Source: shedoodles.a
I love how a quick pumpkin stack at the bottom of the page instantly puts this whole tracker together. This idea by shedoodles.a is a quick way to track your monthly expenses. A large box covering the entire sheet gives an ample amount of space for writing down your entries. It's a classic Halloween theme of orange and black and takes minimal effort to replicate. 
Halloween Bullet Journal Monthly Layout
19. The Bewitched Halloween Bullet Journal Layout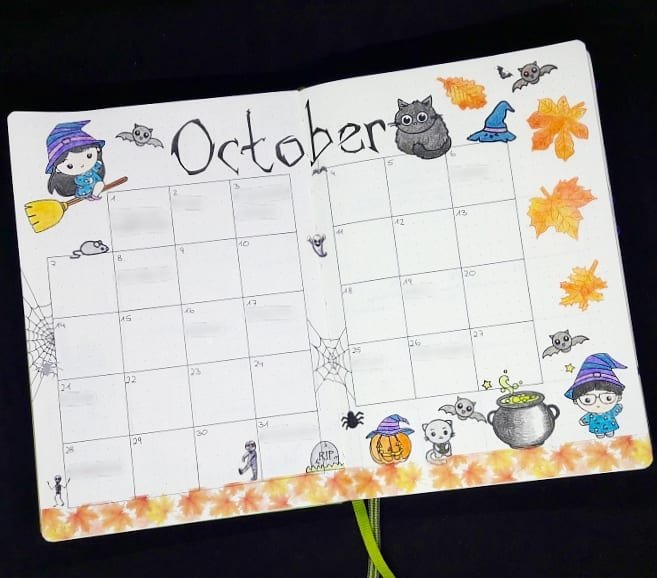 Source: bujolove778
It's an all witchy theme in this Halloween bullet journal monthly layout by bujolove778. The monthly calendar is surrounded by witches, hats, pumpkins, a cauldron, witchy pumpkins, and bats and leaves flying around. The doodles are made adorable rather than scary, which I feel is super fun for your BuJo!
Halloween Habit & Mood Tracker
20. The Newspider Halloween Habit Tracker
Source: charliesbulletjournal
Everyone has got some newspaper scraps lying around the house. So why not reuse them for your Halloween bullet journal habit tracker with this idea by charliesbulletjournal? Roughly tear a piece of newspaper on and stick it to the top of the sheet. Draw some spider webs on each corner of the sheet and create calendars for habits in the remaining area. The entire tracker will be ready using just a black marker. It is a very creative idea for a spooky revealed BuJo page. 
21. The Plump Pumpkins Mood Tracker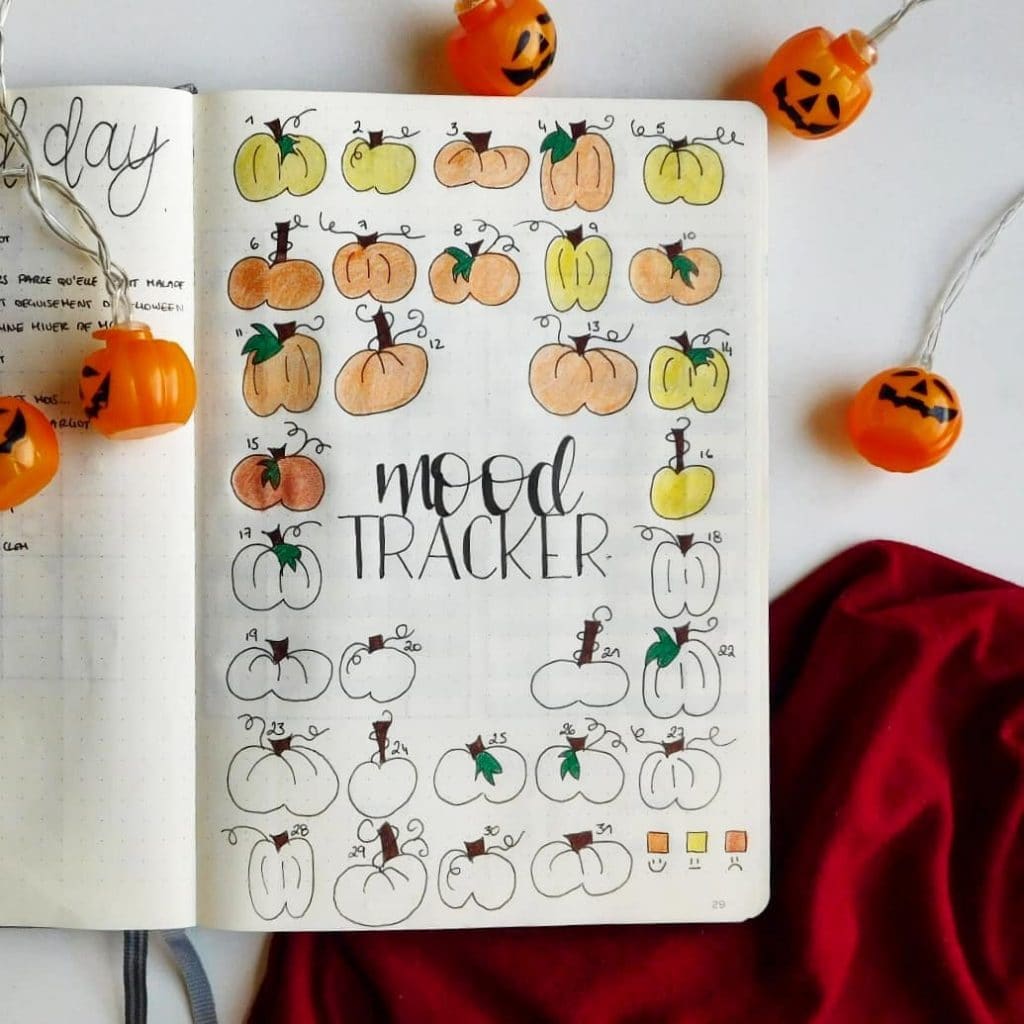 Source: azaleine_
Recreate this plump pumpkins mood tracker by azaleine_ for an adorable addition to your Halloween bullet journal. Assign shades of orange and yellow for different moods and draw thirty-one tiny, round, tall, short, thin, plump pumpkins on the entire sheet. Write the heading in the middle of the page and voila! Your mood tracker is ready for some coloring.   
22. The Hanging Spiders Halloween Habit Tracker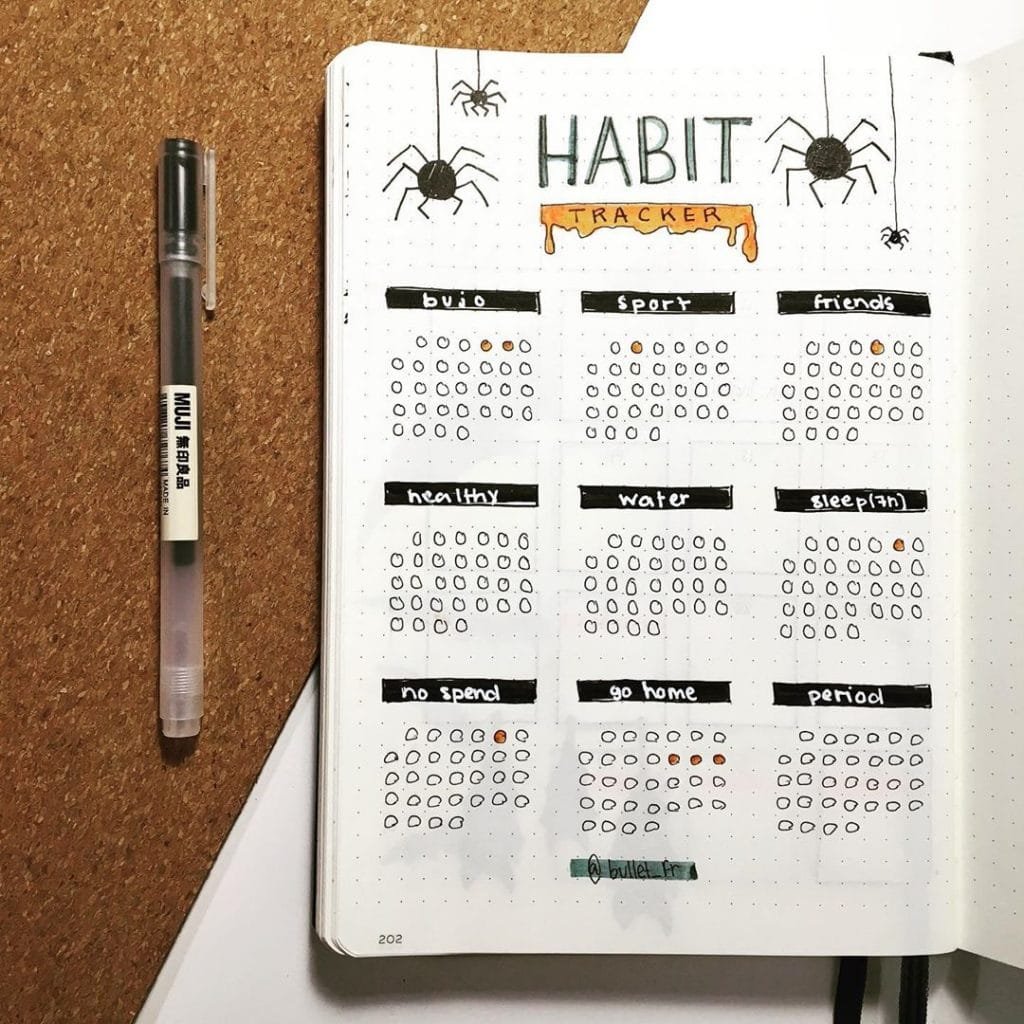 Source: bullet_fr
Some hanging spiders are enough to give you the chills of Halloween like the above idea by bullet_fr. This Halloween bullet journal idea is minimal and neat but spooky at the same time. The sleek heading, followed by tiny calendars for each habit, is perfect for your habit tracker. You can add more color to each heading or follow the above black and white theme. 
23. The Ghost Town Halloween Bullet Journal Tracker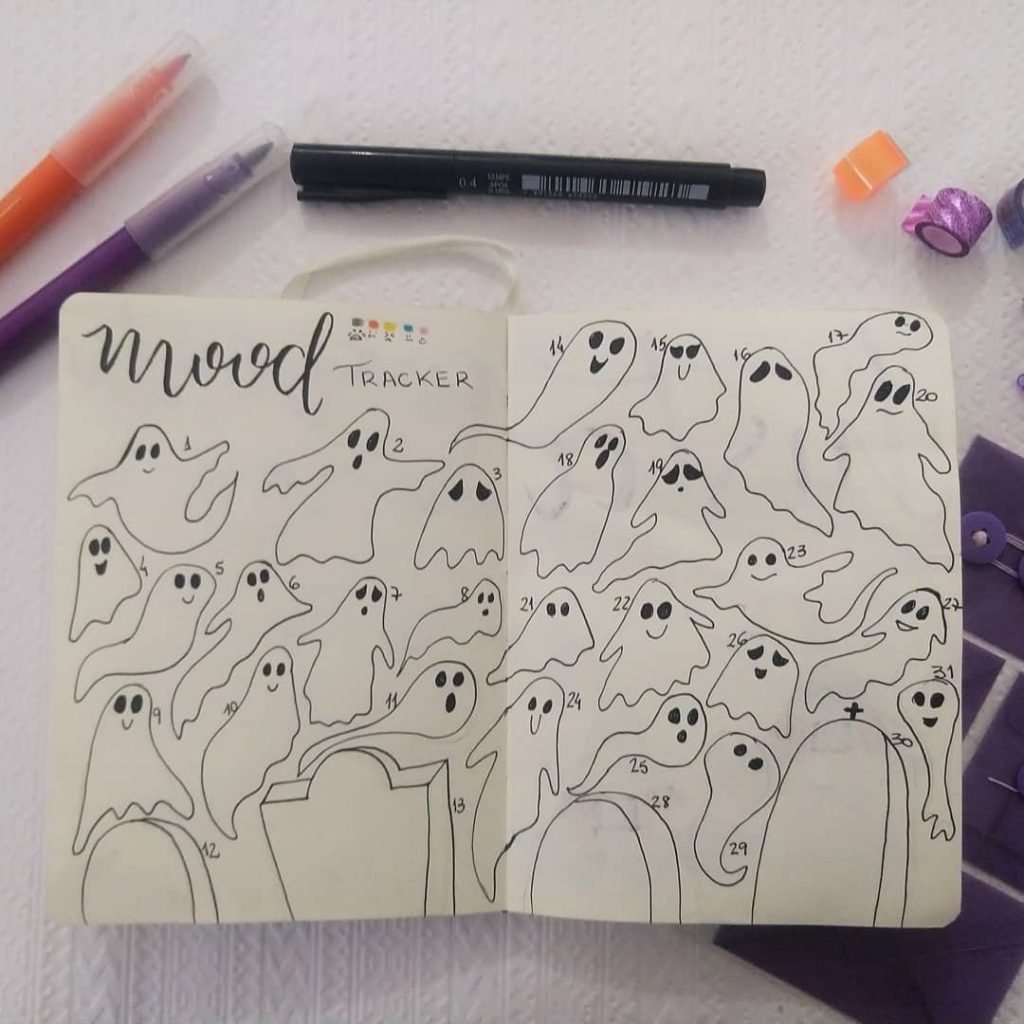 Source: loo_meraki
Get yourself some moody ghosts with this Halloween bullet journal tracker by loo_meraki. This ghost town with different colors for each mood is a perfect Halloween mood tracker. It helps you keep a check of how you felt during the month. Additionally, the ghosts are a spooky and adorable touch too! 
24. Green to Purple Halloween Mood Tracker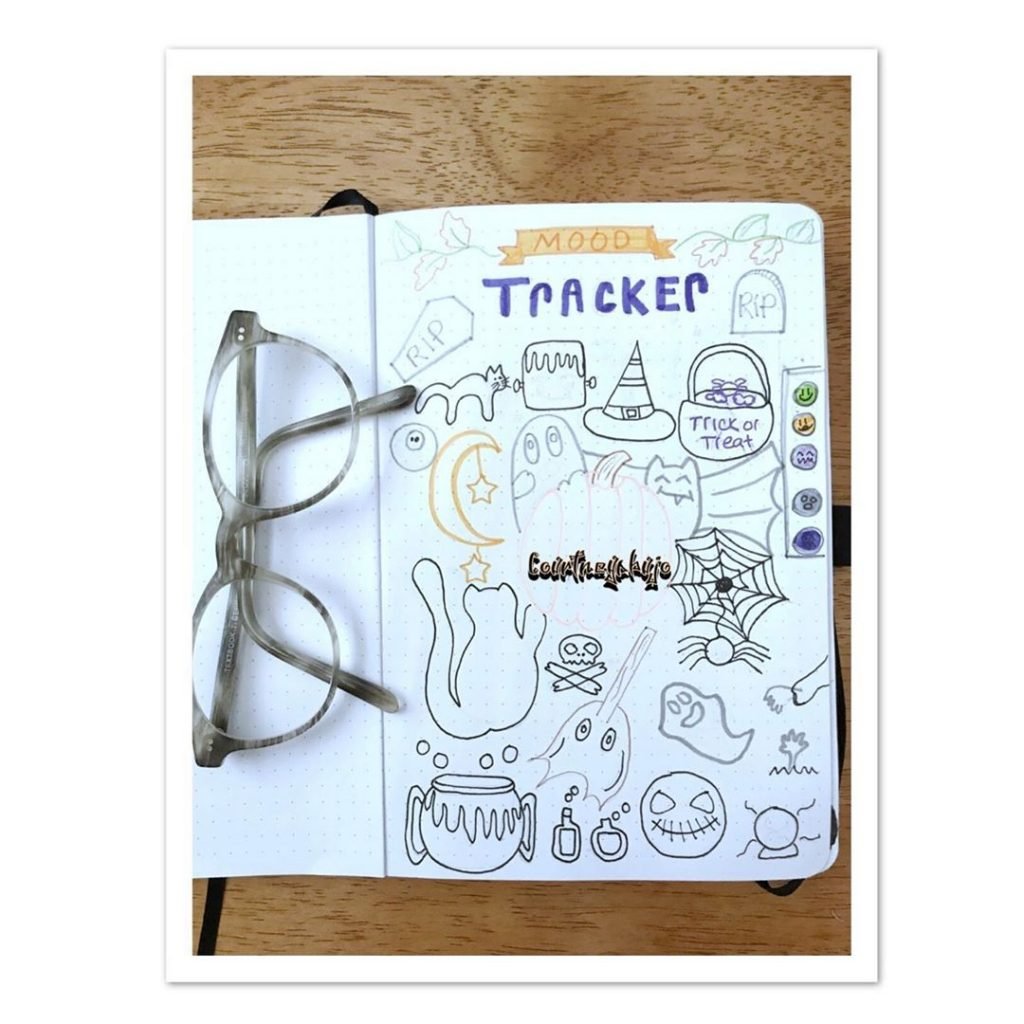 Source: courtneysbujo
You can put the above-taught doodles to use with this Halloween mood tracker by courtneysbujo. Assign the colors green, yellow, and shades of purple for each mood. Next, scatter around different Halloween doodles on the sheet for each day of the month. It is cute, fun, and oh so Halloweeny! 
25. A Gloomy Mystery Halloween BuJo Habit Tracker
Source: rachelmayplans
A fan of the dark mode? Add that to your Halloween bullet journal with this gloomy idea by rachelmayplans. The deep black background with white headings and calendars makes it eerily beautiful. The addition of the jack-o-lantern illustration along with the witch's stew makes it stand out even more. This double-page habit tracker is a must-try for your Halloween BuJo. 
We hope you were inspired to get into the Halloween trend and design your bullet journal from the first to the last page with these spooky ideas. They are a combination of minimal and over the top styles for you to choose from. So get into the festive spirit and start creating!
If you loved these ideas, you can use the Pin image below and save this article on your 'Bullet Journalling' Pinterest board.