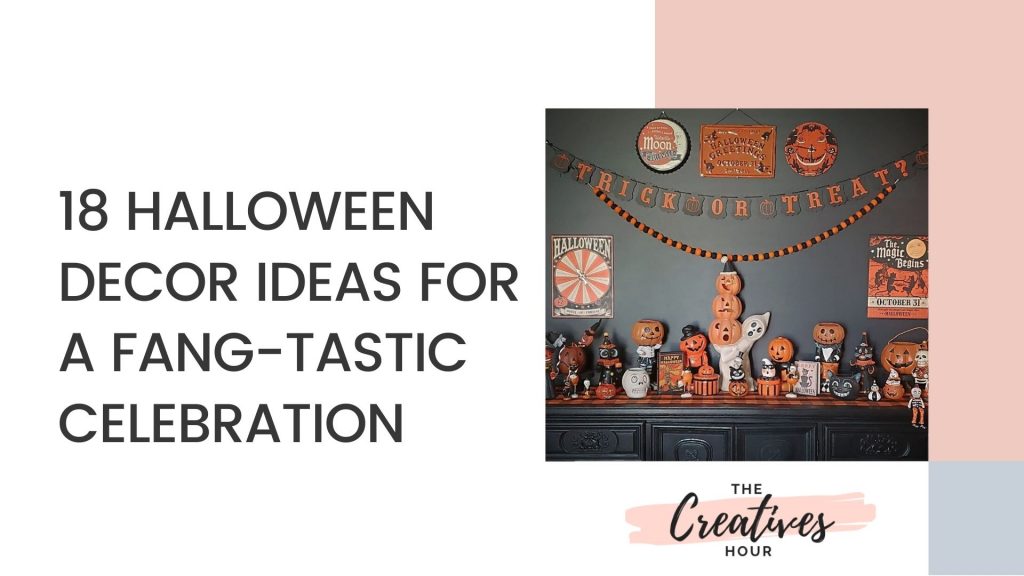 Featured Image Source: the_pumpkin__queen
Get your Halloween decor preparations started now with these spooky yet stylish ideas. After all, it takes a lot of work to dress your house up for the right amount of creepy. Whether you create a spooky corner in your home or go all the way from outdoors to indoors, this roundup has it all! Create a frightening entryway, coupled with jack-o-lanterns, or DIY flying bats, or crawling spiders to give any trick-or-treater or the party guests a little scare. Most of these can be recreated using household items, so don't worry about spending too much. Be the best-dressed house and the talk of the town after decorating with these Halloween ideas. 
Check out these Halloween pumpkin decor ideas as well for a classic touch to your celebration! 
1. Eerie Swarm of Bats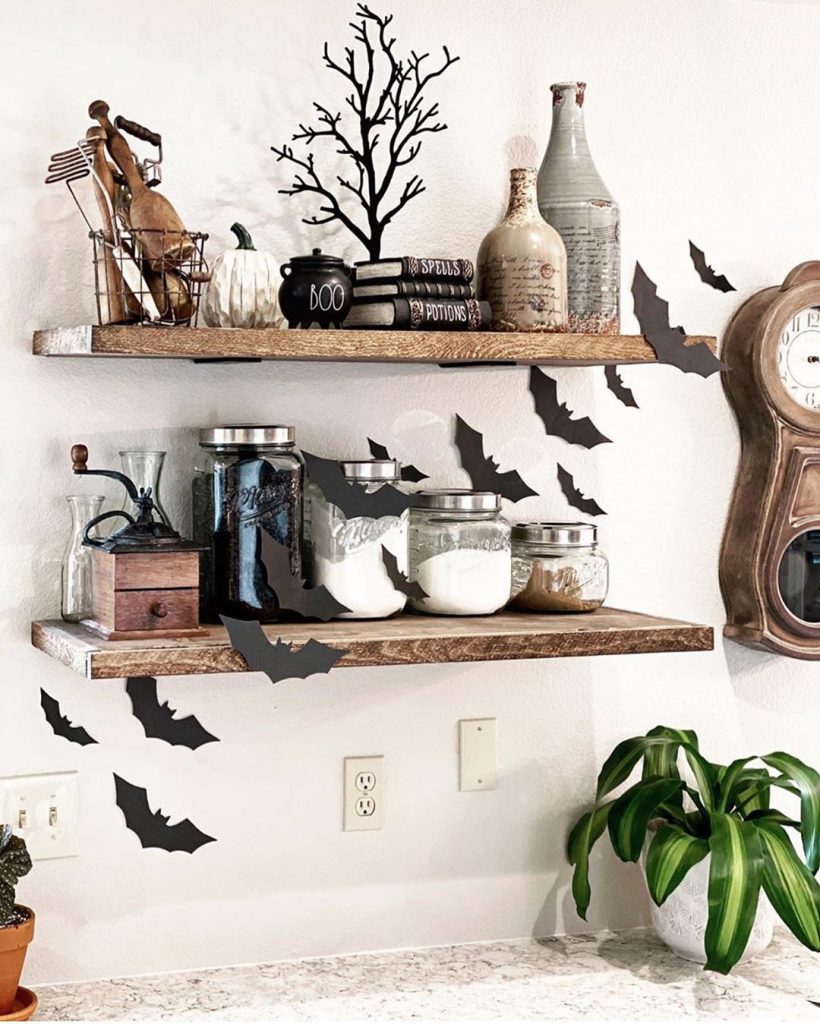 Source: targetbullseyespot
Want a quick and equally creepy way to decorate wall shelves for Halloween? Try this Halloween decor idea by targetbullseyespot. It's simple and is a last-minute decor idea. Take some black paper and cut out bats of different sizes. Next, stick these up on the wall across the shelves. Create a flying swarm effect, as shown above, and voila! Your shelves are ready. Add some other spooky decor on the shelves like pumpkins, spiders, trees, etc. to finish it off.  
2. The Bat Attack Garland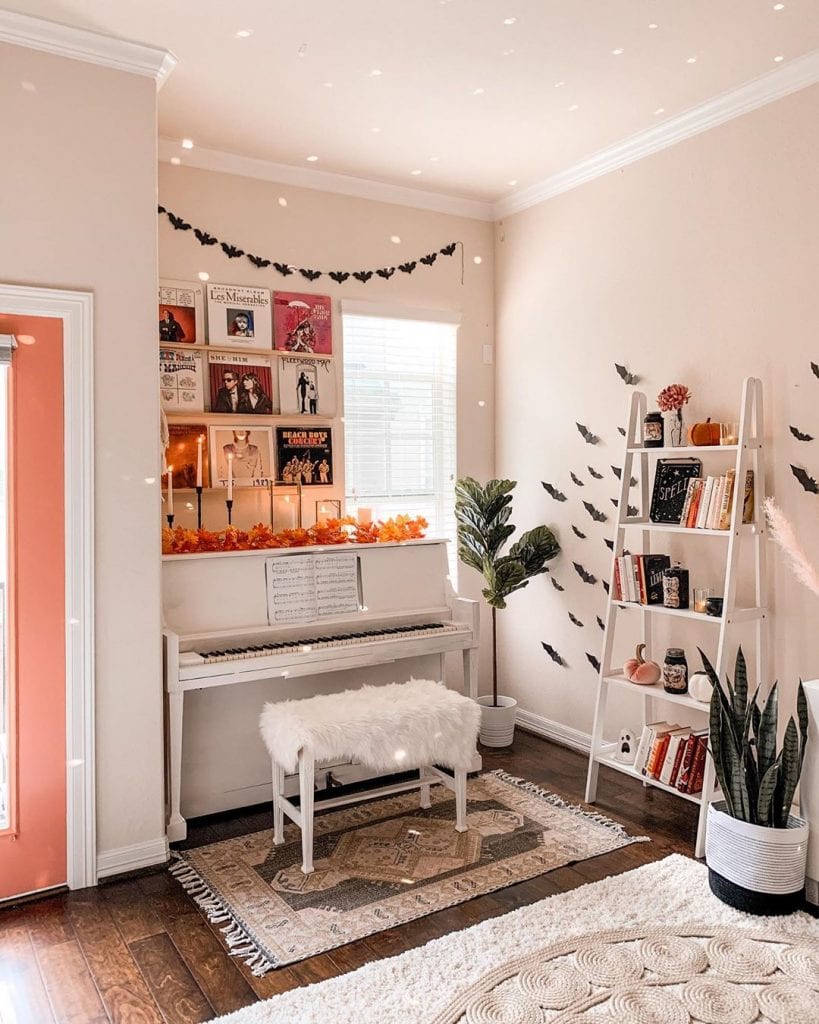 Source: astoldbymichelle
Here is another bat Halloween decor idea by astoldbymichelle. All you have to do is, cut out bats from a black sheet. You can use a stencil for a perfect cut out or hand-draw the bats. Connect these using a string/twine/ribbon. Add more or fewer bats to adjust the length of the garland. Hang this up on your headboard, work area, or any other wall of your house. You can also use different sized bats or choose one uniform size. 
3. Bat Swirl Halloween Decor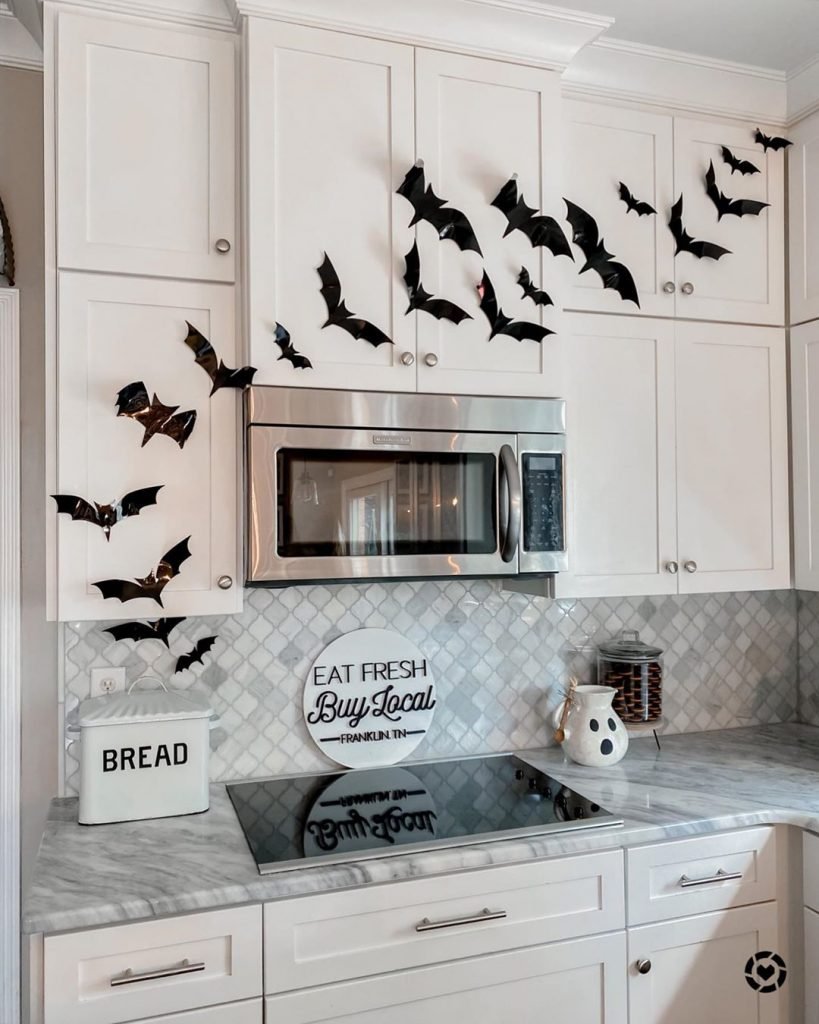 Source: athomewithjenna
Placing bat cutouts in different styles makes any space Halloween appropriate. This Halloween decor idea by athomewithjenna uses multiple sized bat cutouts. Stick them on any surface/wall. It can be on the kitchen cupboards, shelves, wardrobes, walls, or even room doors. You can choose any design to arrange the bats, spiral, circle, curvy line, or randomly. It is a quick and fun idea to dress up any space for Halloween.  
4. Witchy Bats on the Wall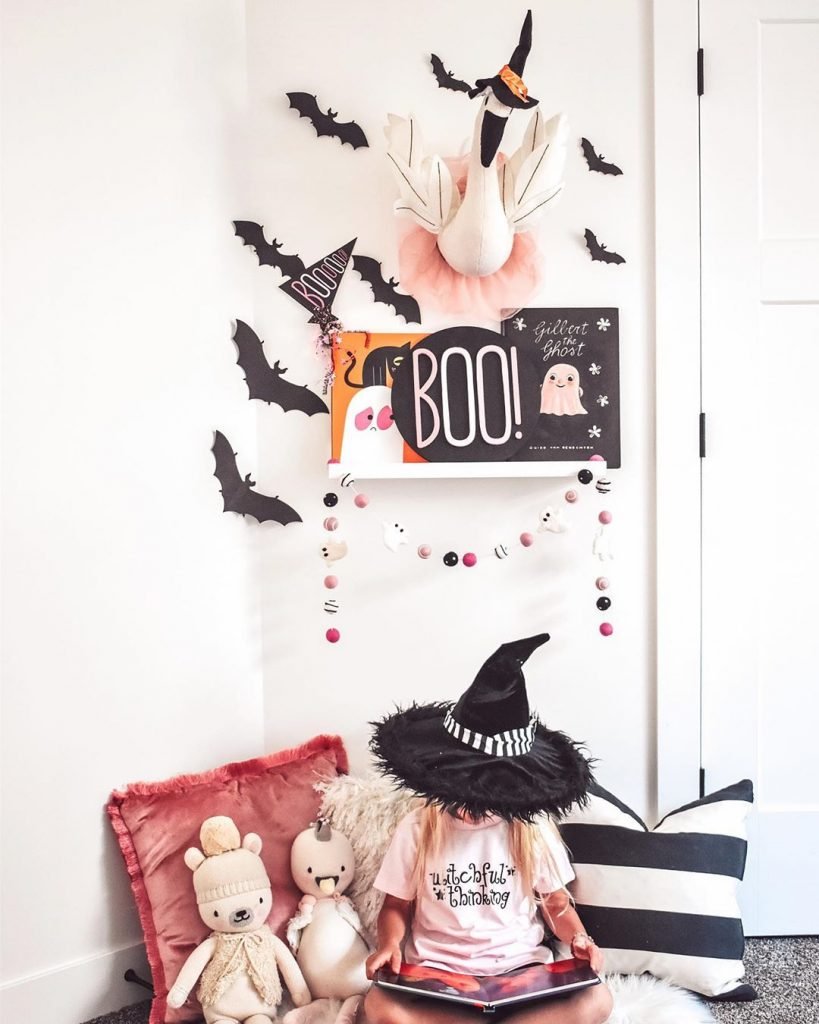 Source: demi.wallace
This witchful Halloween decor by demi.wallace is a complete idea for decorating any desired corner of your house. Start by creating some placards related to Halloween and place them up on a shelf. These placards could have ghost drawings or Halloween phrases. Next, grab some bat cutouts and stick them on the wall around the shelf. Now, create a spooky creature (ghost, goblin, crow) with a witch hat and hang it on the shelf. Finally, place some creepy cushions and a witch hat for your guests on the seating area or the floor below. And your corner is all spooky! 
5. Batty Mirror on the Wall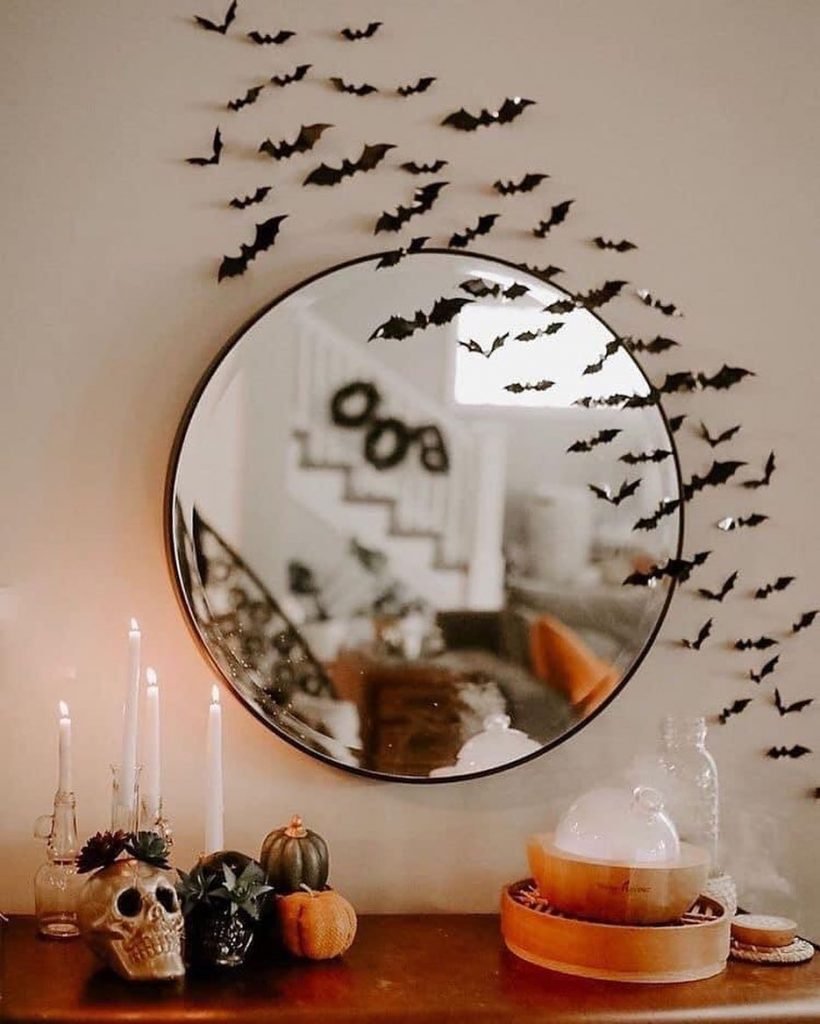 Source: spookyhorrorhalloween
Mirror mirror on the wall who's the spookiest of them all? Bats. Recreate this unique and quick Halloween decor idea by spookyhorrorhalloween. Grab some bat cutouts, black in color, and stick them across any mirror in a crowded fashion. You can place some Halloween ornaments on the shelf below the mirror to complete this decor. 
6. Pumpkin Monsters and Creepy Crawlers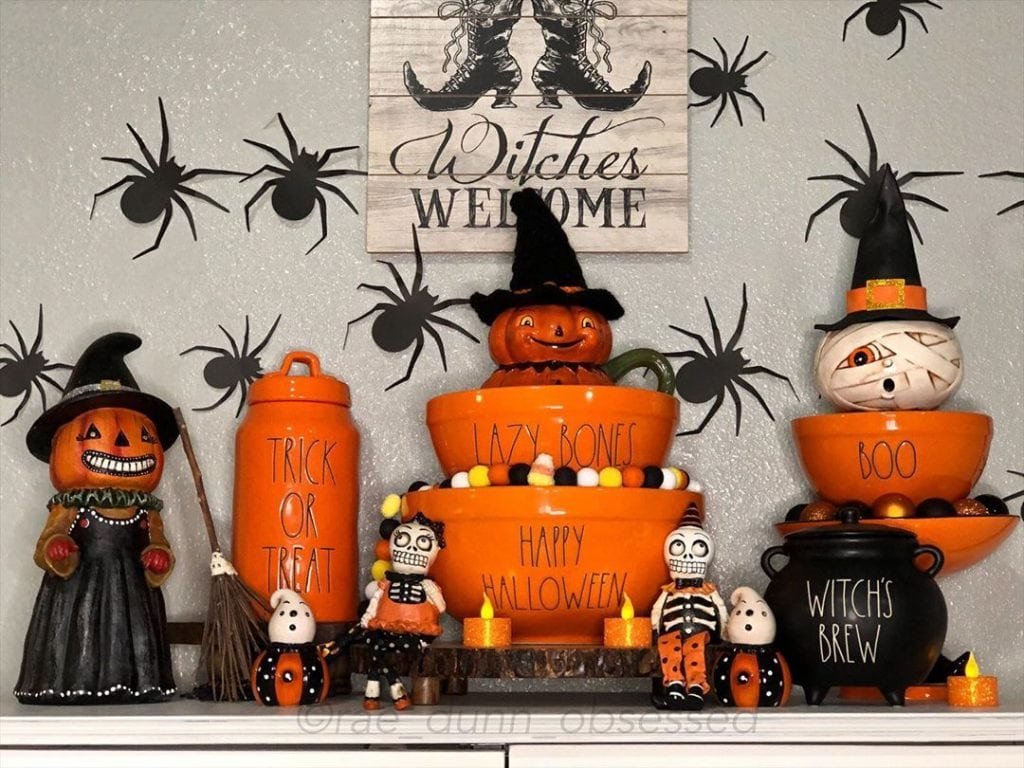 Source: rae_dunn_obsessed
What better way to decorate for Halloween than using pumpkins and spiders? Create your pumpkin monsters or get some store-bought ones. Place these on a table/shelf and other Halloween decorations like a witch hat, broom, brew pot, etc. On the wall above the table, stick some spiders cut out of black paper. Add a banner with a Halloween welcome wish, and voila!
7. The Pumpkin Family Gathering

Source: the_pumpkin__queen
Grab any real or fake, small, or large pumpkin or pumpkin decor lying around the house. You can also buy some of the cheapest options available to recreate this idea. All you have to do is place a crowd of pumpkin faces, monsters, witches, ghosts, goblins, or skeletons on any tabletop or shelf. Add some Halloween placards, posters, and banners on the wall above, and your stylish and eerie Halloween decor by the_pumpkin__queen is ready!   
8. Halloween Warning Wreath

Source: crafted_avec_amour
Warn your guests about all the spookiness they might witness when entering your house with this Halloween decor idea by crafted_avec_amour. Create a wreath with large, colorful real/fake flowers. Hang a black colored board in the middle of the wreath with a warning and a creepy image on it. You can refer to the same sign as above and write, "Enter at your own risk." Customize this idea to suit the theme of your decor. 
9. Autumn Leaves and Pumpkin Please

Source: crafted_avec_amour
This is another autumn themed Halloween decor idea for your entrance door. To recreate this idea by crafted_avec_amour create a wreath using orange, yellow, and red leaves. Add some fillers and flowers of a similar color. Finally, place a wooden plank in the center of the wreath. Write any cute Halloween message, like the one above, on the plank and your door decor is sweet and welcoming. 
10. Whimsical Hanging Hats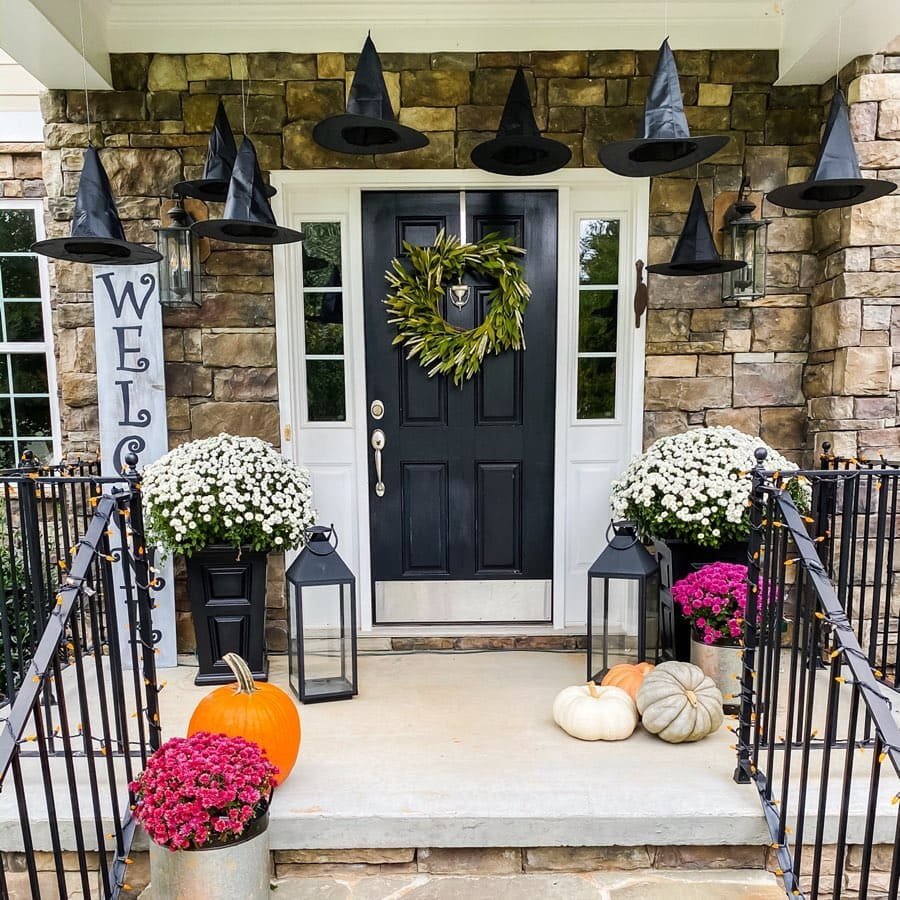 Source: simply2moms
Pave the way for the trick-or-treaters with these hanging witchy hats. This Halloween decor idea by simply2moms is a perfect last-minute entrance decor idea using minimal materials. Buy some witch hats or make your own using black paper. Hang these from the ceiling above the entrance door. Place a few pumpkins on the corners of the floor and that's it!  
11. The Boo-tiful Halloween Decor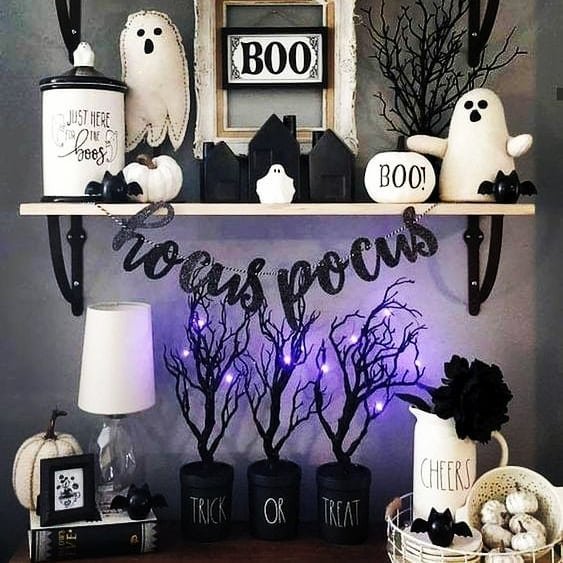 Source: alittlesliceofspooky
This ghostly Halloween decor idea by alittlesliceofspooky is a spooky shelf setup with a black and white theme. Create some Halloween "Boo" and "Hocus Pocus" banners along with some ghosts in small and large sizes. Place these on the shelves along with Halloween trees wrapped in fairy lights. Choose the color theme of your choice, black and white or orange and black, etc. Customize the banners to suit the theme and your beautiful shelves are now Halloween ready.   
12. Autumn Jack-O-Lantern Halloween Decor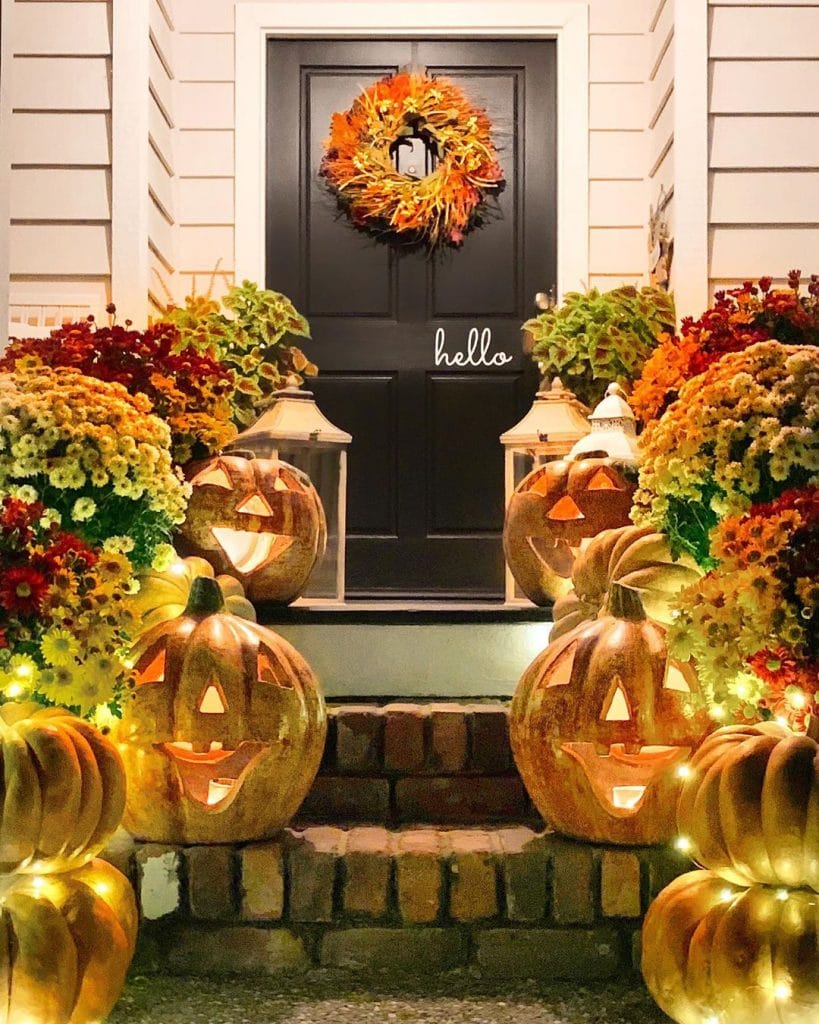 Source: homehydrangea
This autumn themed Halloween decor idea by homehydrangea is a bright yet spooky way of decorating your entryway. Get some jack-o-lanterns or just DIY them yourself. Place one pumpkin on each corner of every step and light the lanterns up. Finally, add a wreath with orange and yellow leaves on the door and the decor is ready!
13. Hocus Pocus Halloween Decor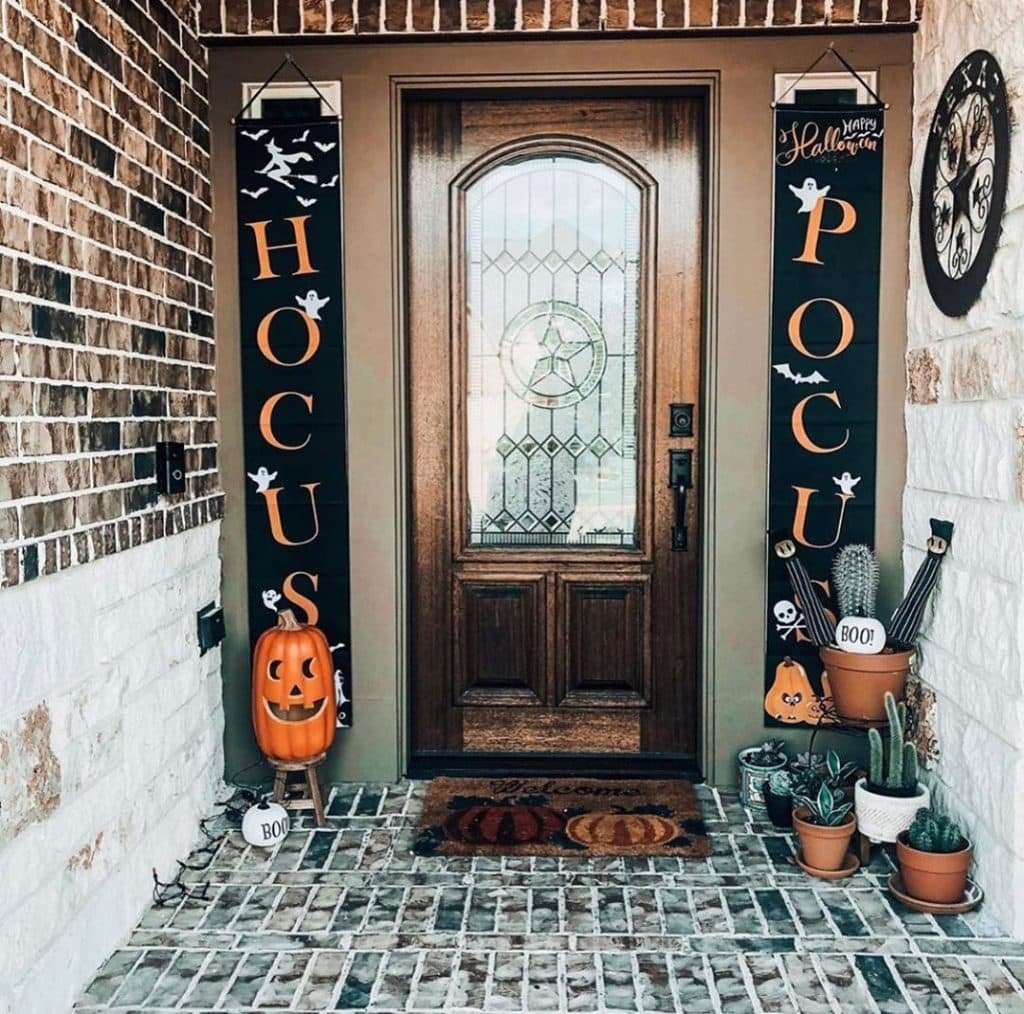 Source: texas_teal
Here is another quick and simple DIY Halloween decor for your house entrance. Create two vertical banners with the words "Hocus" and "Pocus" on each banner. Stick these up on the walls next to the entrance door. Finally, place some pumpkins on the corners of the entrance and voila! 
14. Glowy Orange Spooky Mantle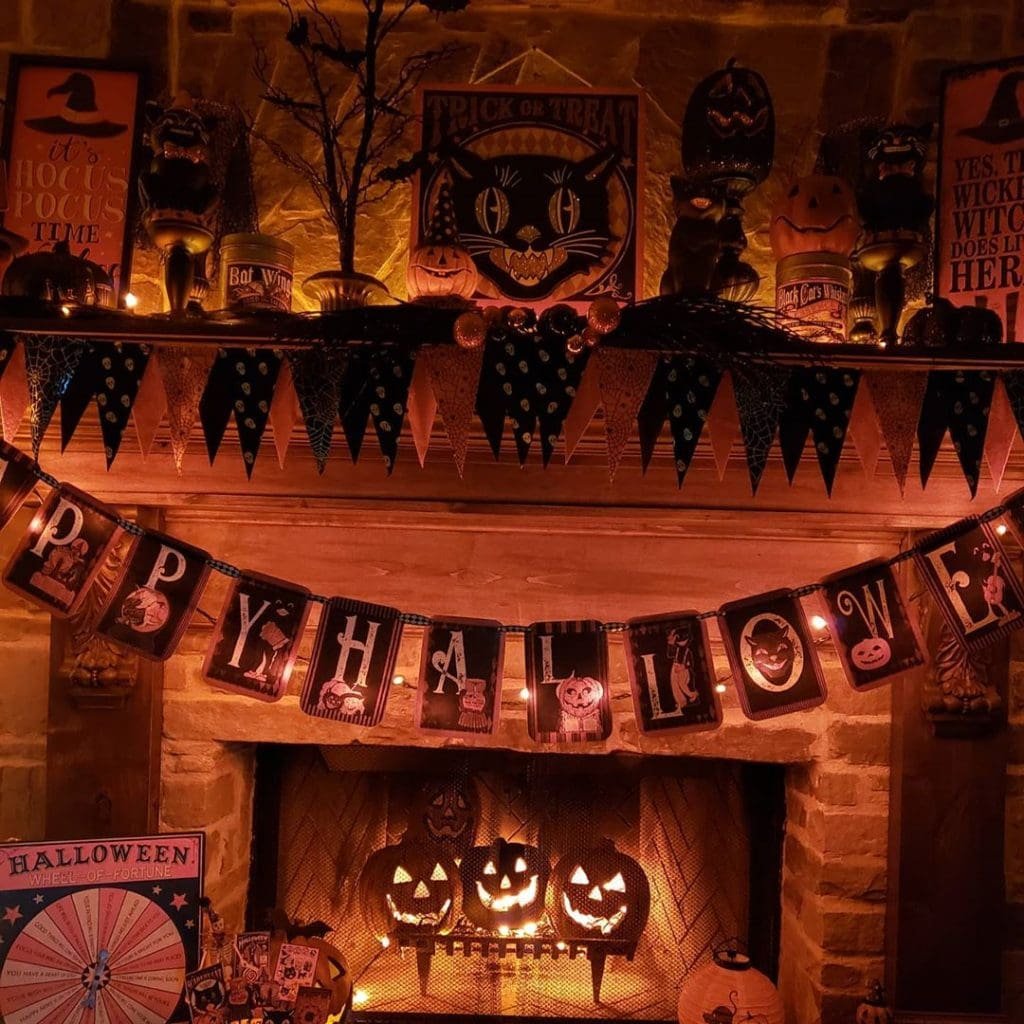 Source: hauntedmoonemporium
Here is a Halloween decor idea by hauntedmoonemporium to decorate your fireplace and mantle. Place some jack-o-lanterns in the fireplace. Now, add a few Halloween banners on the mantle. Finally, place some Halloween decorations on the mantle, either handmade or store bought. This idea is a great way to add a haunting touch to your fireplace and make it the center of all the spookiness. 
15. Black and White Halloween Decor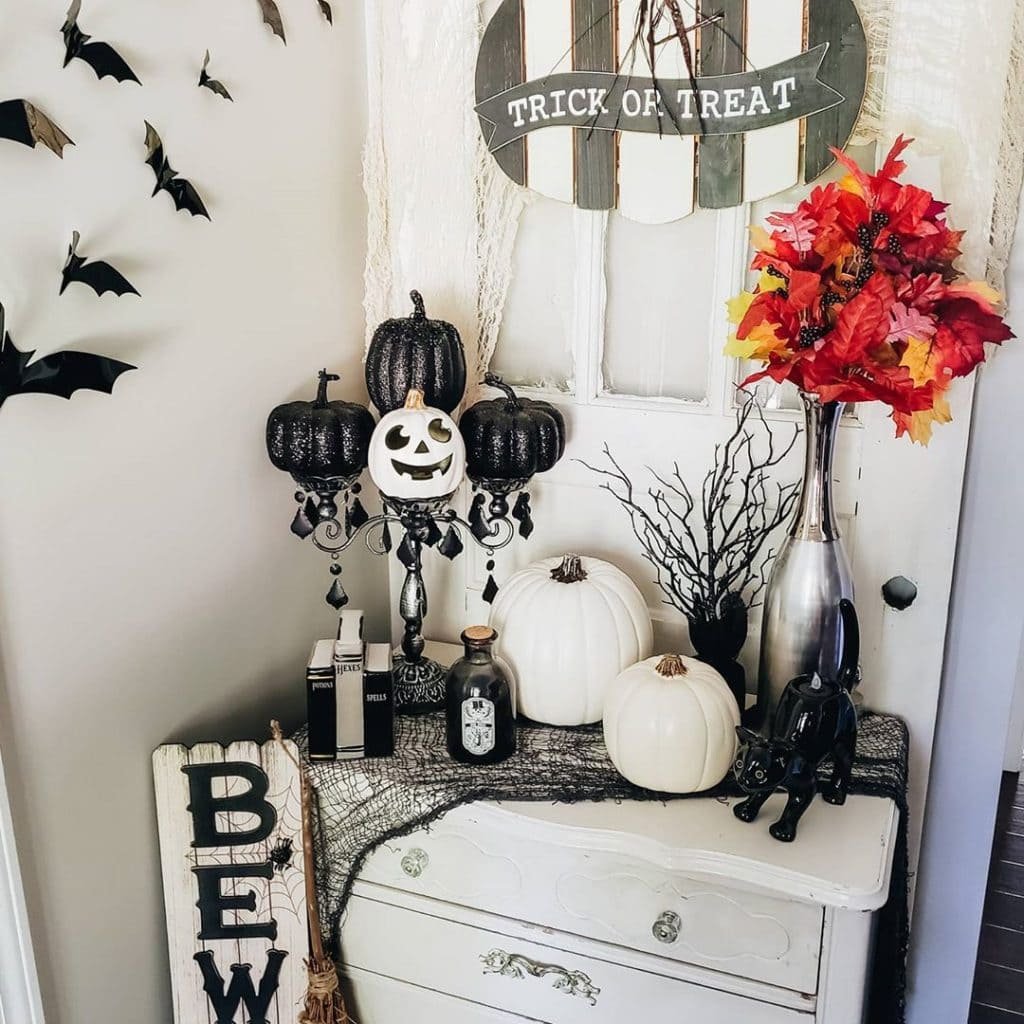 Source: alittlesouthernsass
Add a twist to the classic orange and black theme with this Halloween decor idea by alittlesouthernsass. Use black and white pumpkins to decorate any shelf/tabletop. Add a banner on the wall above along with bat cutouts. Finally, add halloween trees and other decorations to complete the corner. Refer to the above idea for further inspiration. You can buy the decorations or DIY them. 
16. Spooky Mickey Mouse Centerpiece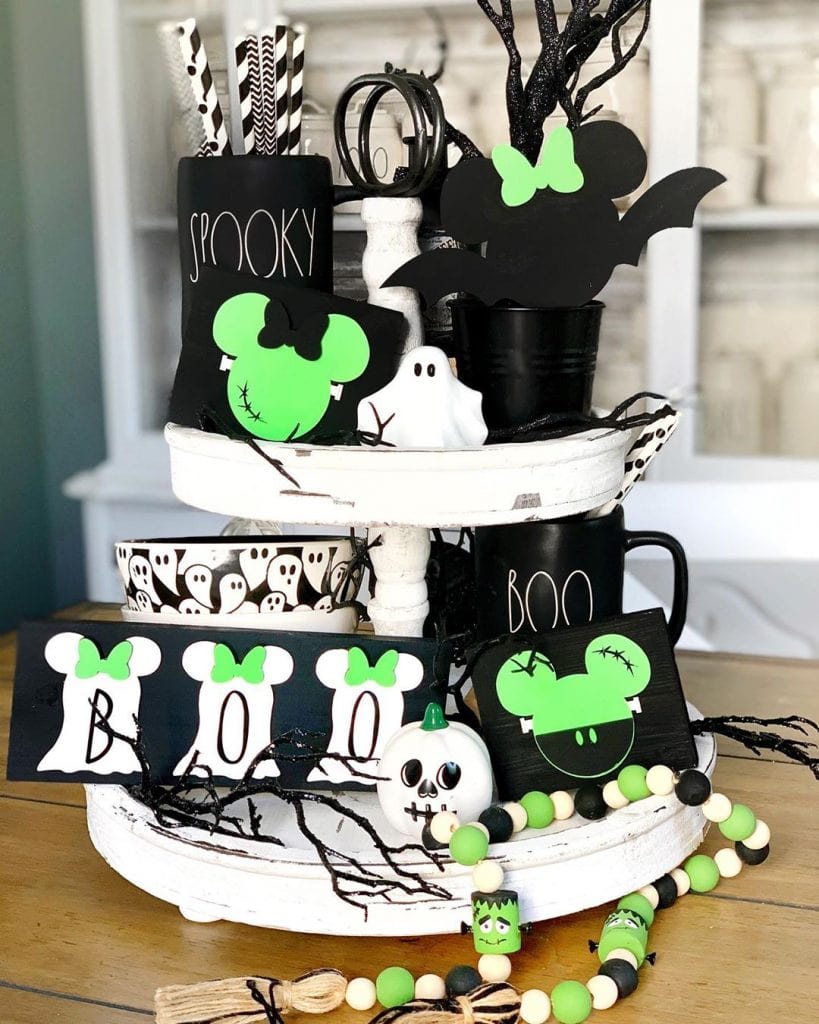 Source: baileysbranches
Neon green and black is a bright yet creepy combination for your Halloween decor this year. The above idea by baileysbranches uses Mickey and Minnie mouse as an inspiration. Create cutouts of Minnie and Mickey mouse along with some message cards to go with the theme. Place these on a mug stand with black and white mugs. Add finishing touches using tiny ghosts, pumpkins, skeletons or a beaded necklace. Place this boo-tiful setup on any table as a centerpiece. 
17. Howlloween Rae Dunn Decor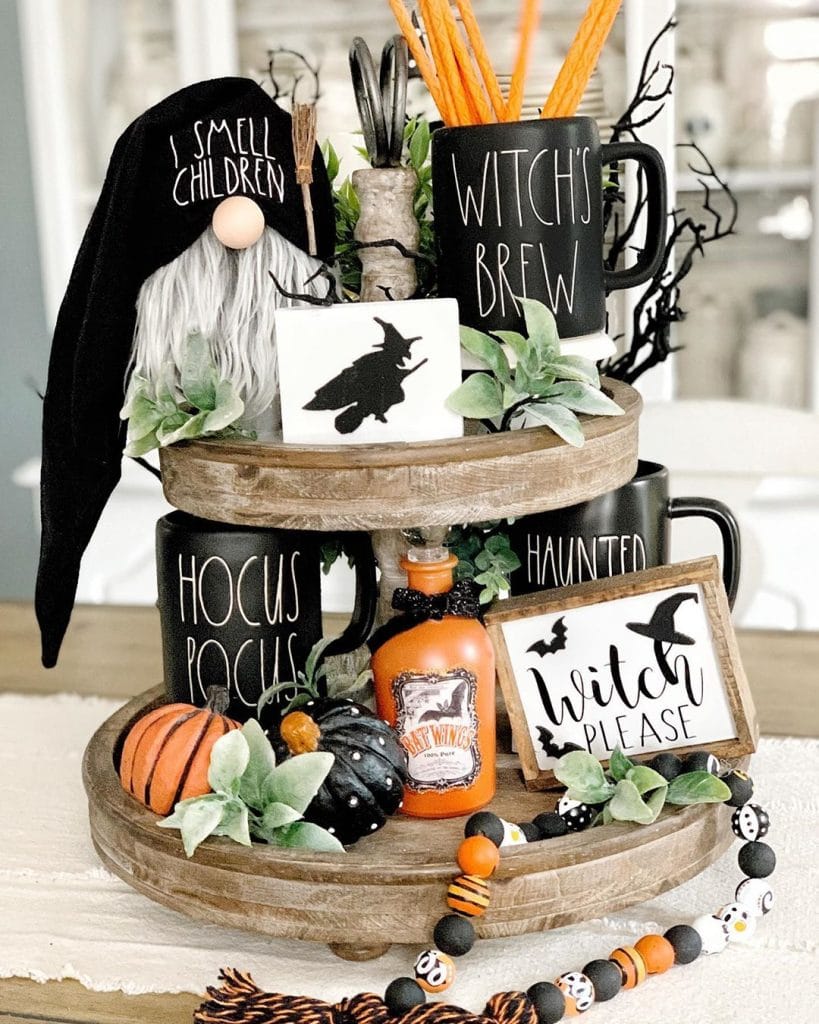 Source: baileysbranches
Place some Halloween rae dunns on a two-tiered mug stand to recreate this Halloween decor idea by baileysbranches. Opt for an orange and black theme and add a pumpkin or two in the setup. Create a wizard using black cloth and broomstick. Finish off with some message placards and that's it. A Halloween wizard decor is ready for your rae dunns. 
18. Ghostly Tiered-Tray Halloween Decor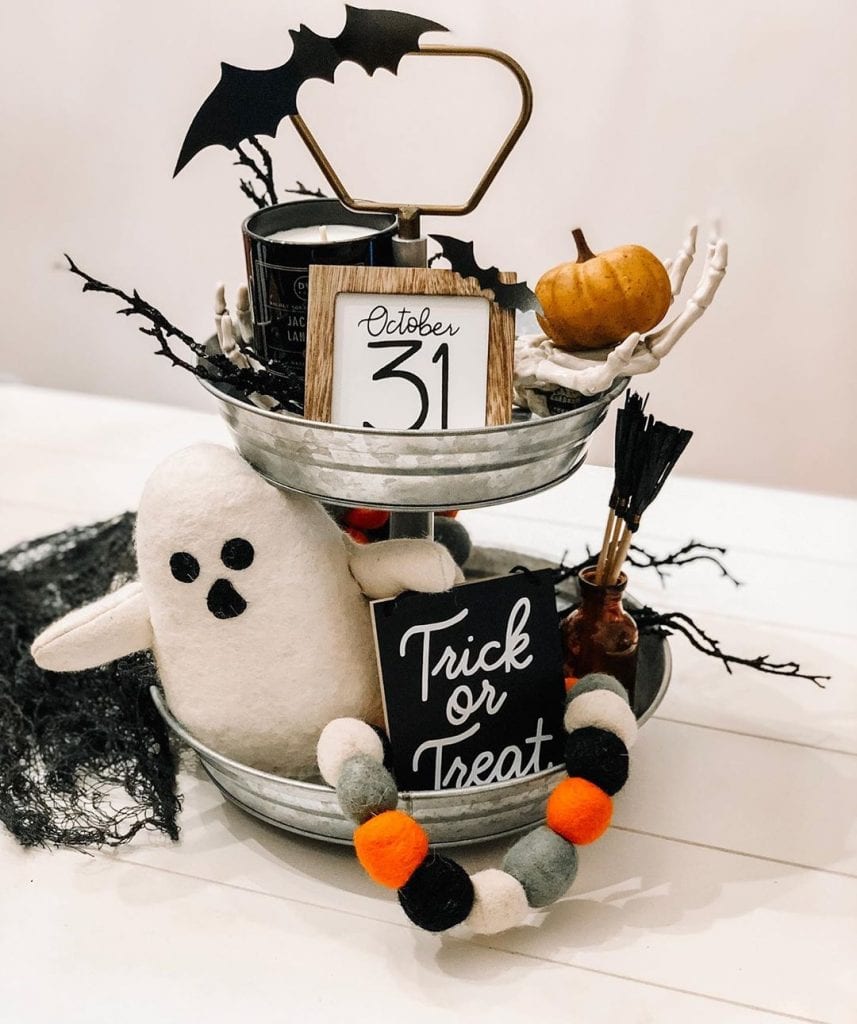 Source: thecottageonbroadway
This Halloween decor idea by thecottageonbroadway is extremely customizable and a convenient option for recreation. Grab a two tiered tray and place anything related to Halloween you can find around the house. It could be mini pumpkins, candles, bats, ghosts, beaded necklace, broomstick, dry branches, etc. You can also DIY some of these decorations. Finish it off by adding one or two tiny placards with a Halloween message for your guests.  
We hope these ideas inspire you to pick up some supplies and create whichever ideas you can for the spookiest celebration of the year. Recreating these ideas is very affordable and time saving. With a variety of different ideas for various parts of your home, you can dress up your house all the way from outside to inside. 
If you loved these ideas, you can use the Pin image below and save this article on your 'Halloween decor Ideas' Pinterest board.