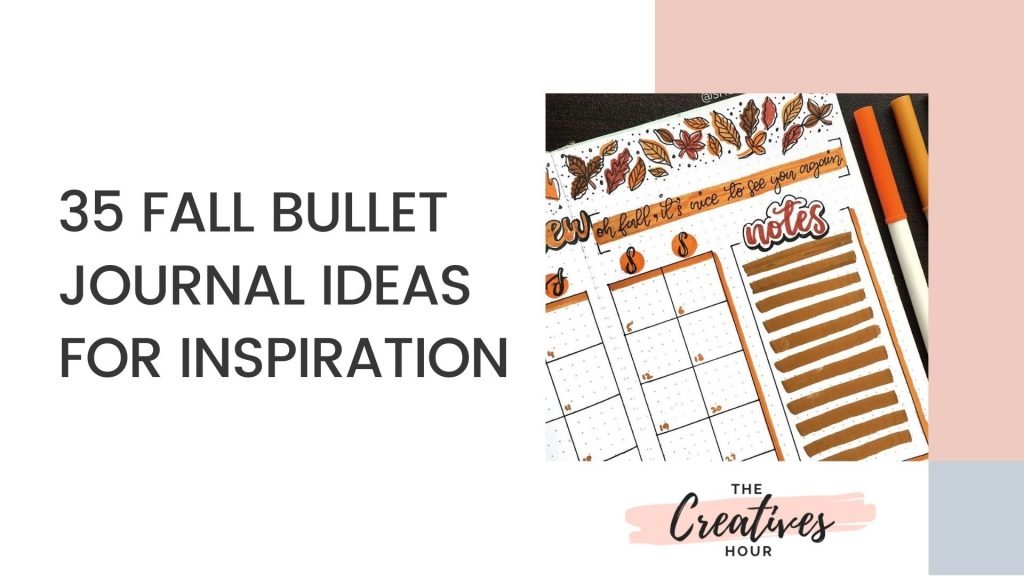 Feature Image Source: shedoodles.a
The weather is getting colder, and the Halloween season is not far away. This means that it is finally time for fall. This beautiful season is marked by falling leaves to spooky parties, from dry trees to pumpkin piles. So, why not revamp your bujo into the colors of fall using these fantastic ideas? Get ready to design everything from the cover to the monthly/weekly layouts to some fun doodles and quotes for your fall bullet journal. This post includes 35 all-round ideas for you to recreate. 
If you love bullet journaling, check out our posts on October Bullet Journal Ideas and Halloween Bullet Journal Ideas. 
Table of Contents
Fall Bullet Journal Cover
1. Colorful Autumn Wreath Journal Cover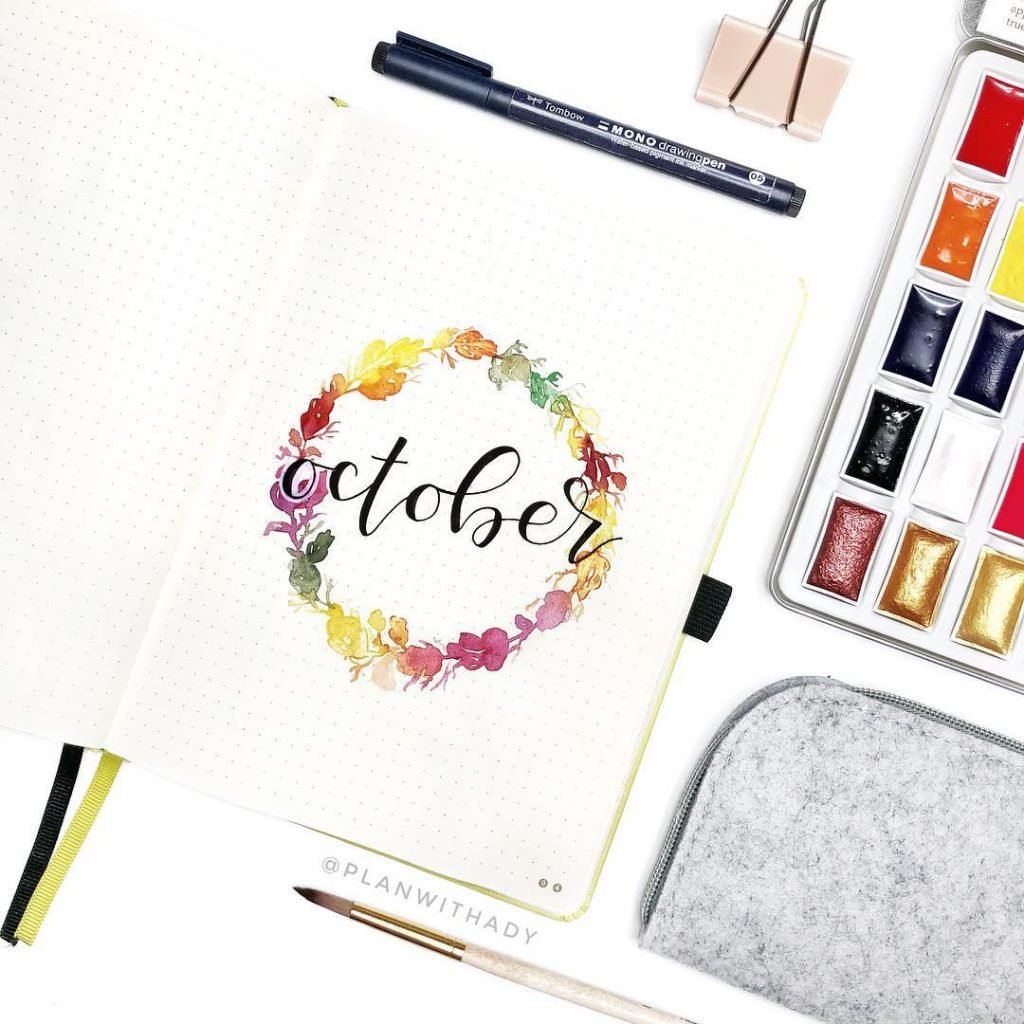 Source: planwithady
Who says fall has to only be about the dull shades of brown? It can be lively and bright as well with this fall bullet journal idea by planwithady. Create a wreath of colorful leaves using watercolors in the middle of the sheet. Finish off by writing October in a calligraphic font. This is a quick and minimal idea for your BuJo cover. It is basic yet artistic and can be customized in the colors of your choice. 
2. Watercolor Leaves Fall Bullet Journal Cover
Source: anissa_bujo
Bring those crackling leaves from your lawn to your fall bullet journal cover with this simple idea by anissa_bujo. Scatter some dry maple leaves around the sheet in shades of yellows and oranges. Add a few chestnuts and polka dots to fill the empty spaces. Finally, write October in the middle to warmly welcome this season's BuJo entries. 
3. Oaky Oktober Fall Themed BuJo Cover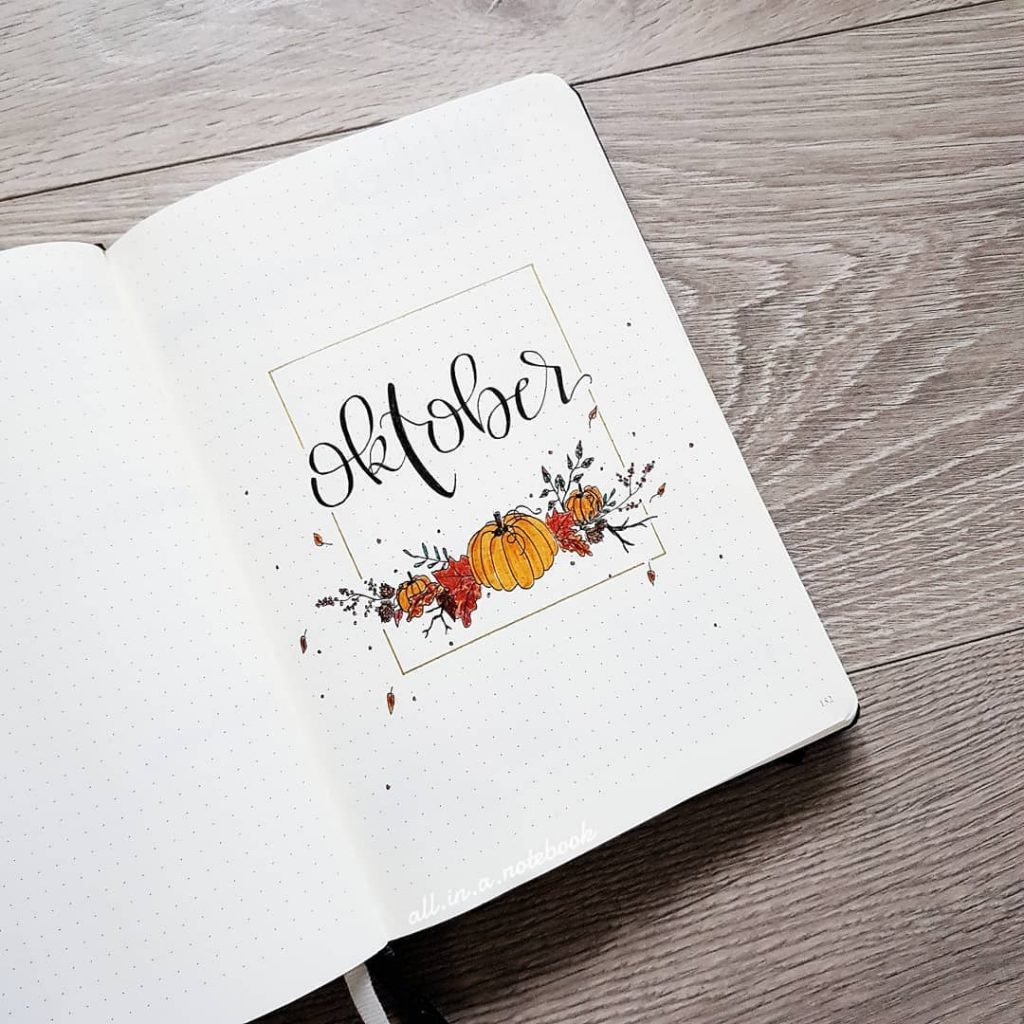 Source: all.in.a.notebook
Here is another minimal yet elegant fall bullet journal idea by all.in.a.notebook. Create a neat box in the middle of the sheet for a margin. Next, draw a tiny but detailed autumnal illustration at the bottom of the box. Add a pumpkin or two for some Halloween vibes and finish off by writing the month name on top. Use oaky tones for the illustration and complement it with a quirky font. 
4. Hello Autumn Bright Bullet Journal Cover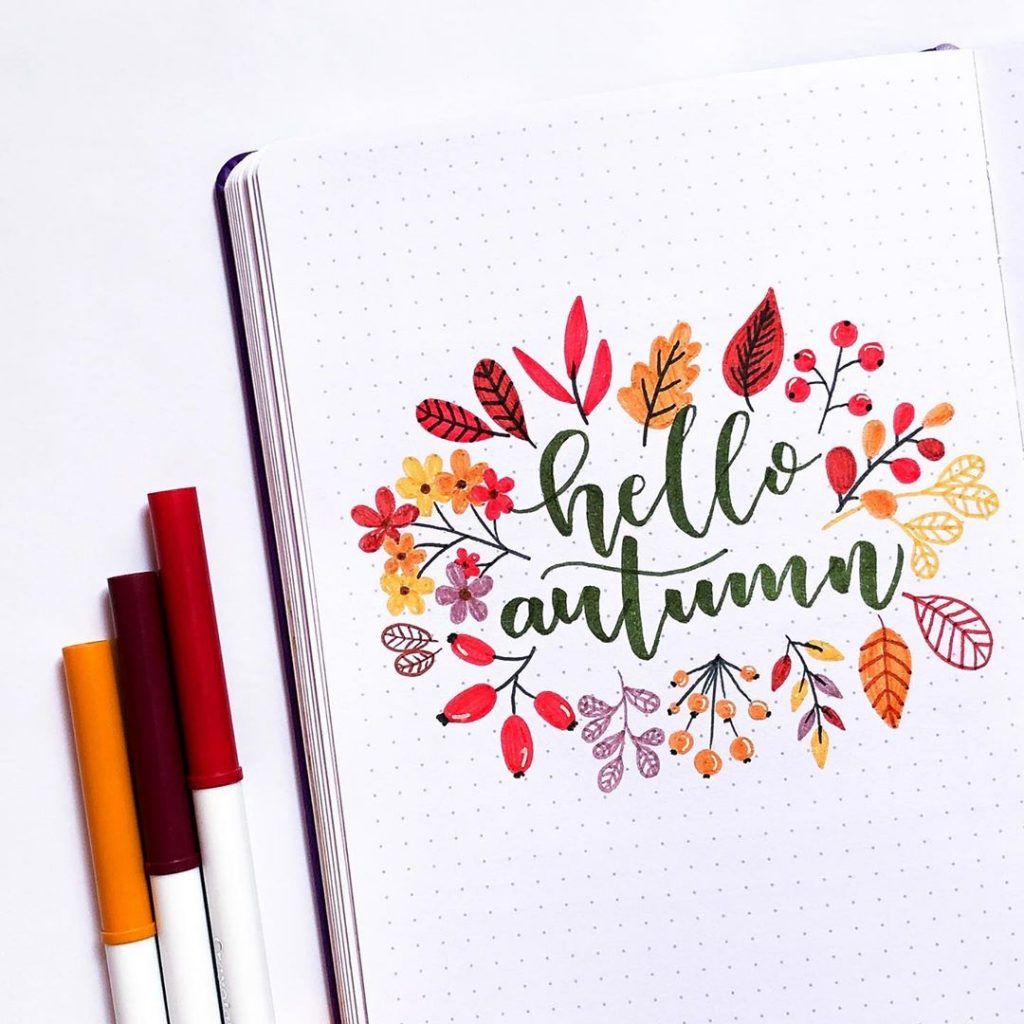 Source: vividscribbles
Use this fall bullet journal cover by vividscribbles to dress your sheet in some fun and lively colors. A leafy wreath around the phrase, "Hello Autumn" with tones of red, purple, and orange creates a unique touch to your BuJo cover. This is another minimal idea but looks equally stunning! 
5. Maple Motivation Fall Bullet Journal Cover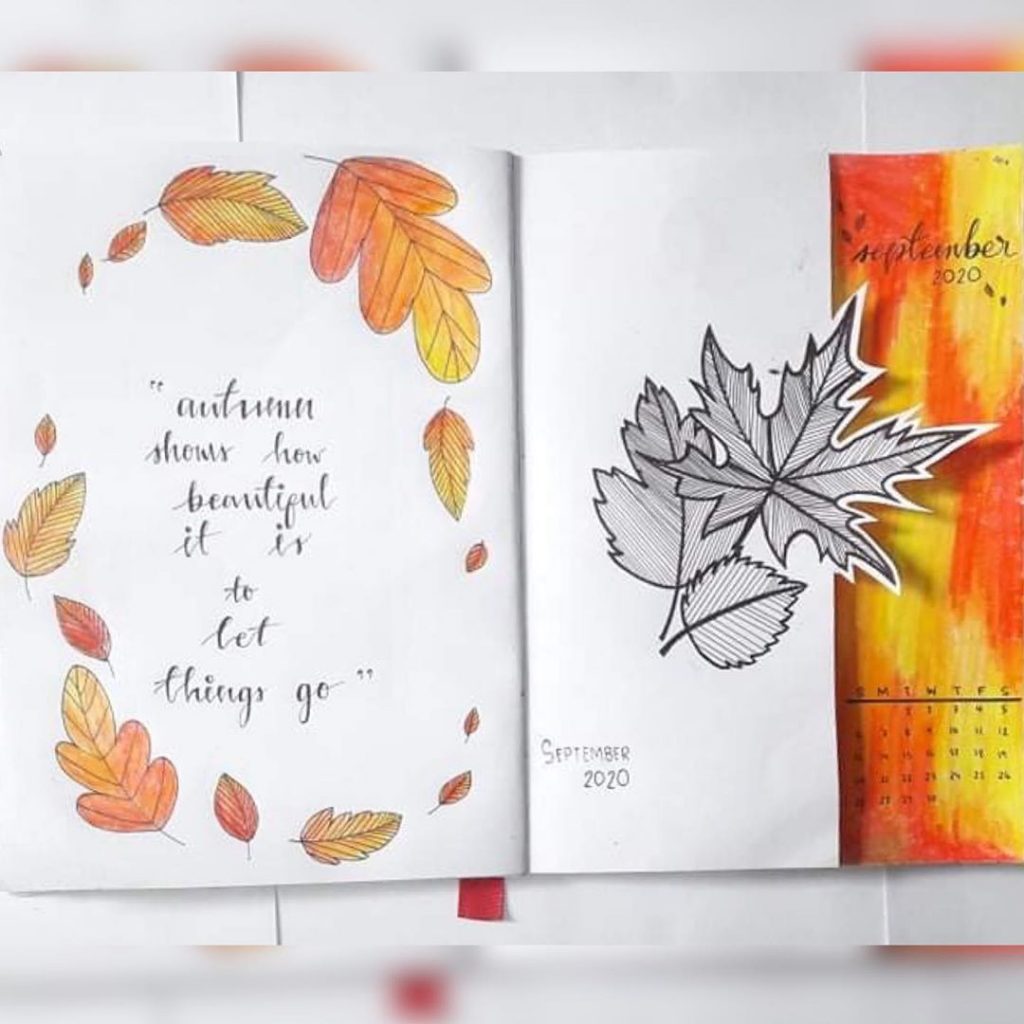 Source: theirblankcanvas
This double-page fall bullet journal idea by theirblankcanvas looks detailed but is very easy to recreate. Choose a favorite autumn quote and write it in the center of one sheet. Surround this quote with some autumnal leaves. Cut out a maple leaf outline from the second sheet allowing a peek to the next sheet. Draw on the leaf neatly and finish off by writing the month and year. 
6. Hanging Leaves Fall BuJo Cover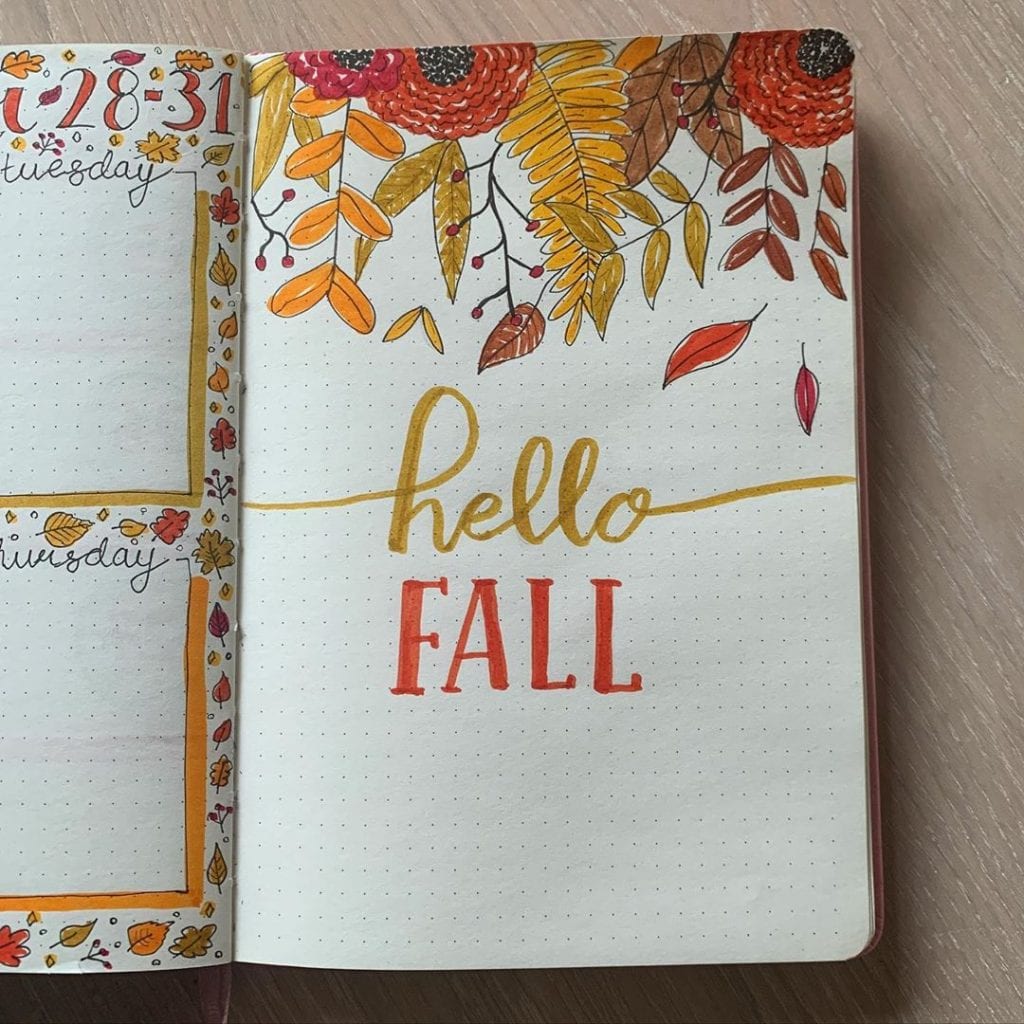 Source: kathrinerostrupdoodles
The use of bright tones of autumnal shades is what makes this fall bullet journal idea stand out! This idea by kathrinerostrupdoodles can be easily recreated with the help of minimal supplies and efforts! Hand-draw some flowers and leaves hanging from the top of the sheet. Finally, write hello fall in the across the middle of the page, and voila! Your welcome page is ready.  
7. Aesthetic Collage October BuJo Cover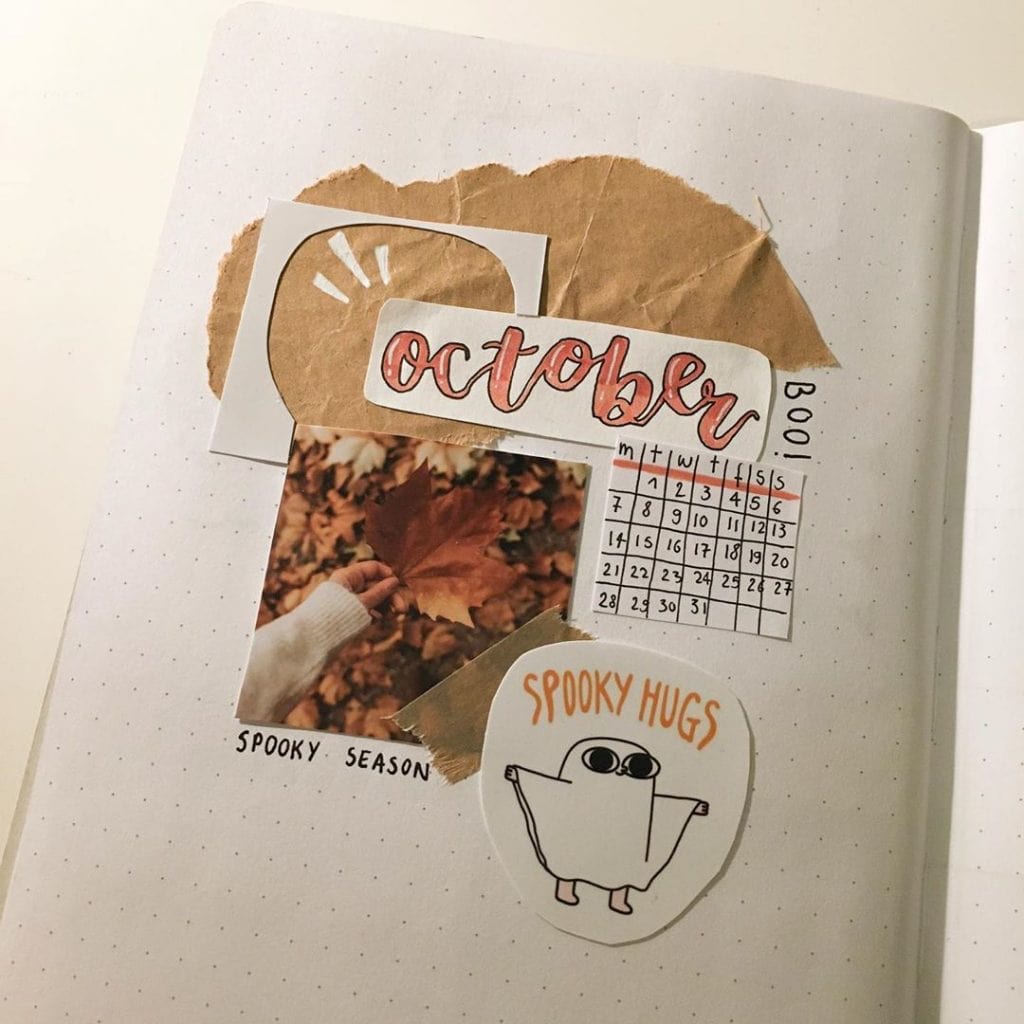 Source: penpalbujo.anne
Not a fan of drawing and painting? Try this fall bullet journal idea by penpalbujo.anne just by cutting and pasting different pieces together. Grab a piece of kraft paper, an autumn magazine photograph, a tiny calendar, a Halloween sticker, and other bits to recreate the above cover. Stick it all together and add the month name tag on top. 
8. The Gratitude Autumnal Leaves Cover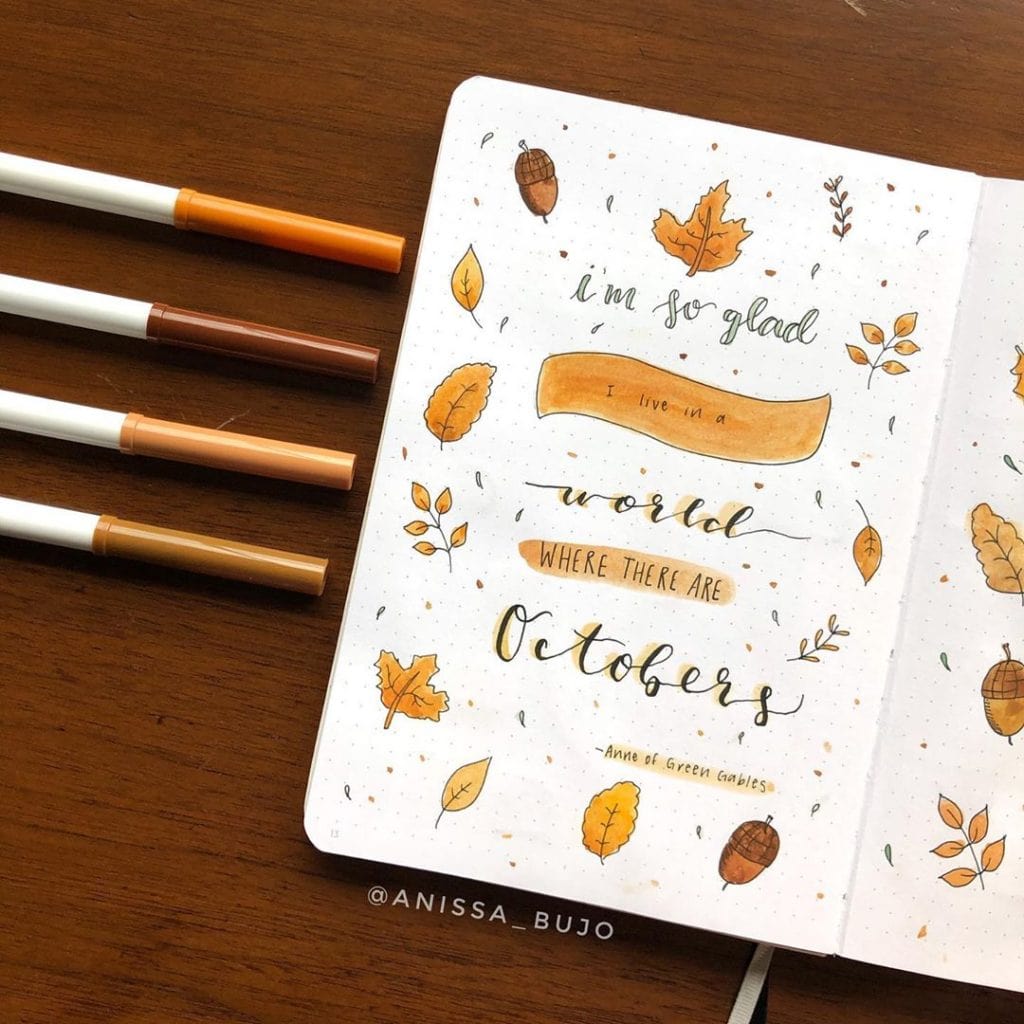 Source: anissa_bujo
Every month is a month to be thankful for, so is October! Use this fall bullet journal idea by anissa_bujo with a gratitude quote over a background of falling leaves and chestnuts. The primary theme of this idea uses caramel tones with black calligraphic fonts. For more BuJo font ideas, check out our post here.
9. Into the Autumn Woods BuJo Cover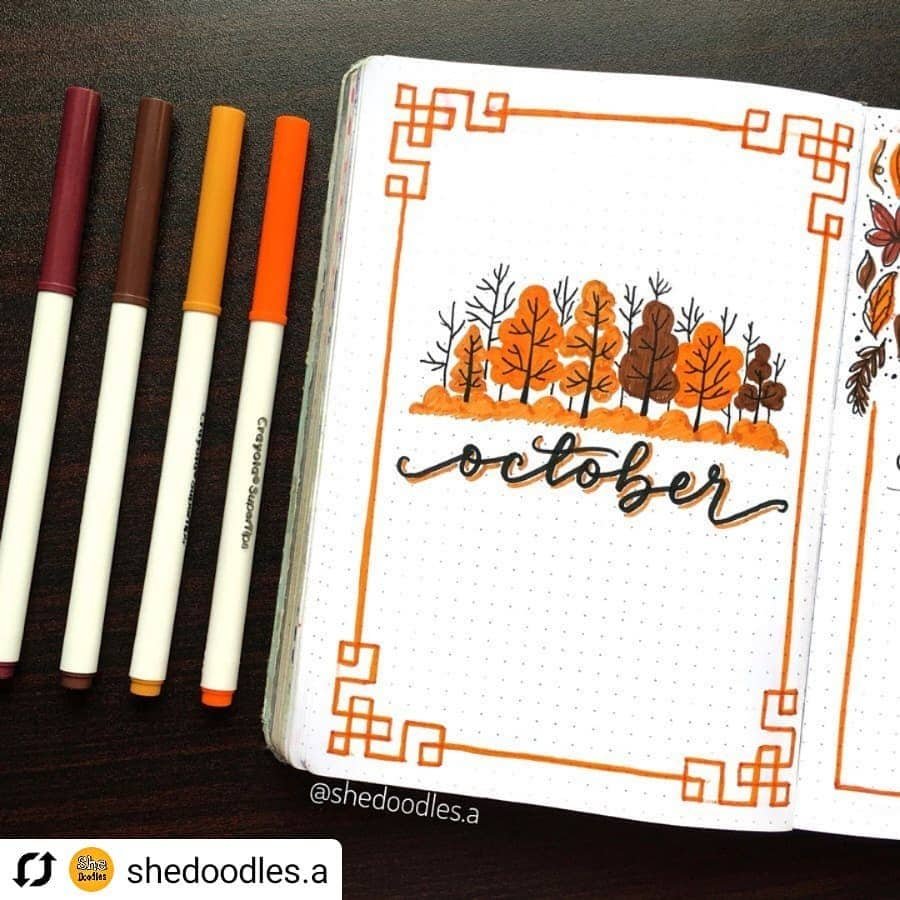 Source: about.bujo
Why stop at leaves, when you can bring the entire autumn forest in your fall bullet journal? This idea by about.bujo has warm fall vibes with tones of orange and brown. The linear style created using the woods illustration and the font looks very sleek and colorful.  The addition of a border completes this bujo cover and preps it for your fall entries. 
10. Falloween Doodled Bullet Journal Cover
Source:  play.write
Here is a super fun doodle cover idea by  play.write that is both fall and Halloween inspired! The scattered layout of doodles is what makes it quirkier. This idea is extremely customizable, and you are free to create any design you like. Add maple leaves, pumpkins, dried oranges, flowers, or doodles of your favorite books or movies. So, grab some color pens and get creating! 
11. The Fallen Pumpkin Illustration Cover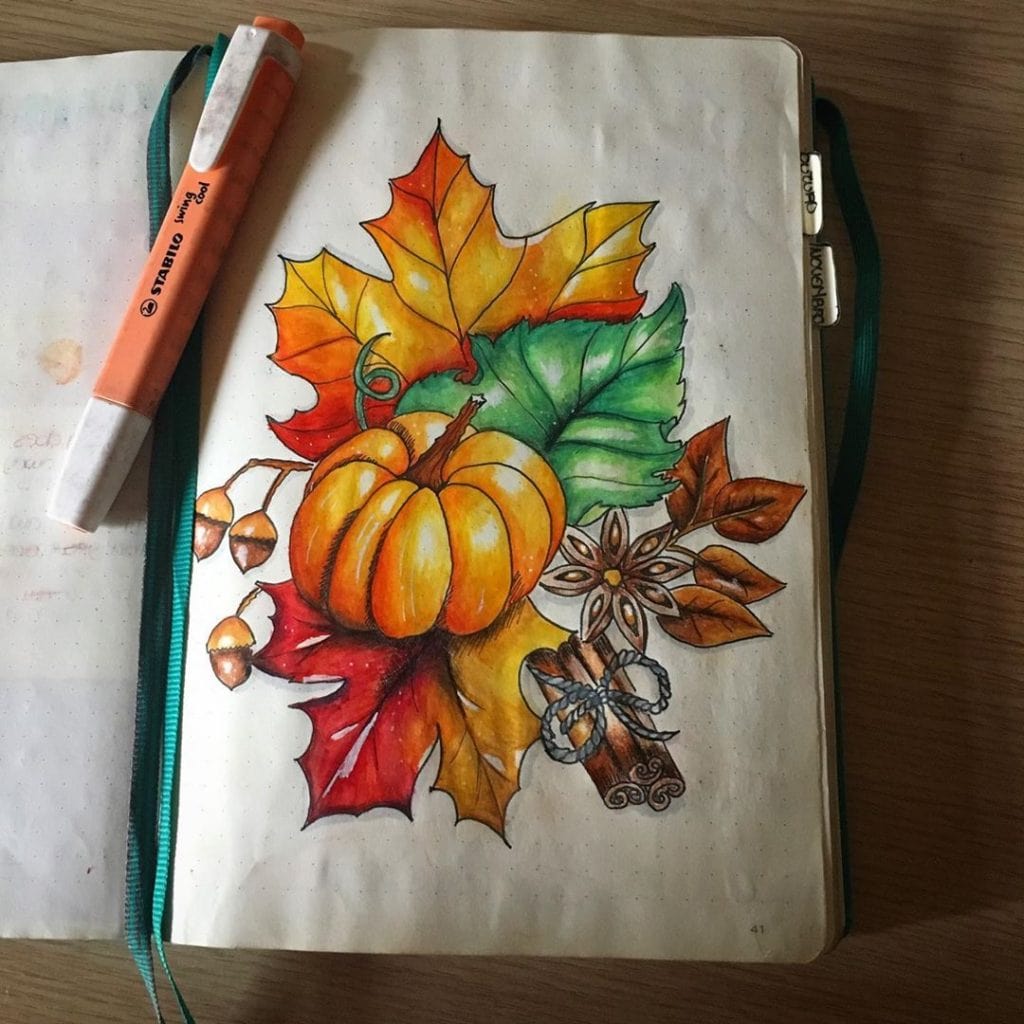 Source: bulletjournal_begginer18
Make one illustration the focus of your cover page using this fall bullet journal idea by bulletjournal_begginer18. It is a mix of fall and Halloween and uses the two classic symbols: pumpkins and maple leaves. The addition of chestnuts and cinnamon sticks makes it even more autumnal. Finally, the pop of green from the leaf breaks the monotony of the orange and yellow theme. You can additionally add the month name on top to finish this cover.
Idea for Planning Fall Themed BuJo
12. DIY Watercolor Leaves BuJo Idea
Source: lennydoesthings
Autumn is all about falling leaves, so this idea is perfect for your fall bullet journal theme. Recreate lennydoesthings's watercolor leaves using four simple steps shown above. Start by choosing the type of leaf you want to recreate. Next, color the primary shape of the leaf using a pale color. Now, add more color and dab using towel paper. Finally, add veins and lines using a darker shade. Use this for your BuJo cover, weekly/monthly layout, or your trackers. 
13. (F)All in One BuJo Spread Ideas
Source: bullseye.journaling
Here is a one-stop solution for all the tips on planning your fall bullet journal. This idea by bullseye.journaling includes multiple ideas and theme ideas from autumn colors to doodles to fall vibe ideas to BuJo spreads. It has got you covered for all you need to know while creating your own fall BuJo. 
Fall Bullet Journal Habit Trackers
14. Earthy Mushrooms Fall Bullet Journal Habit Tracker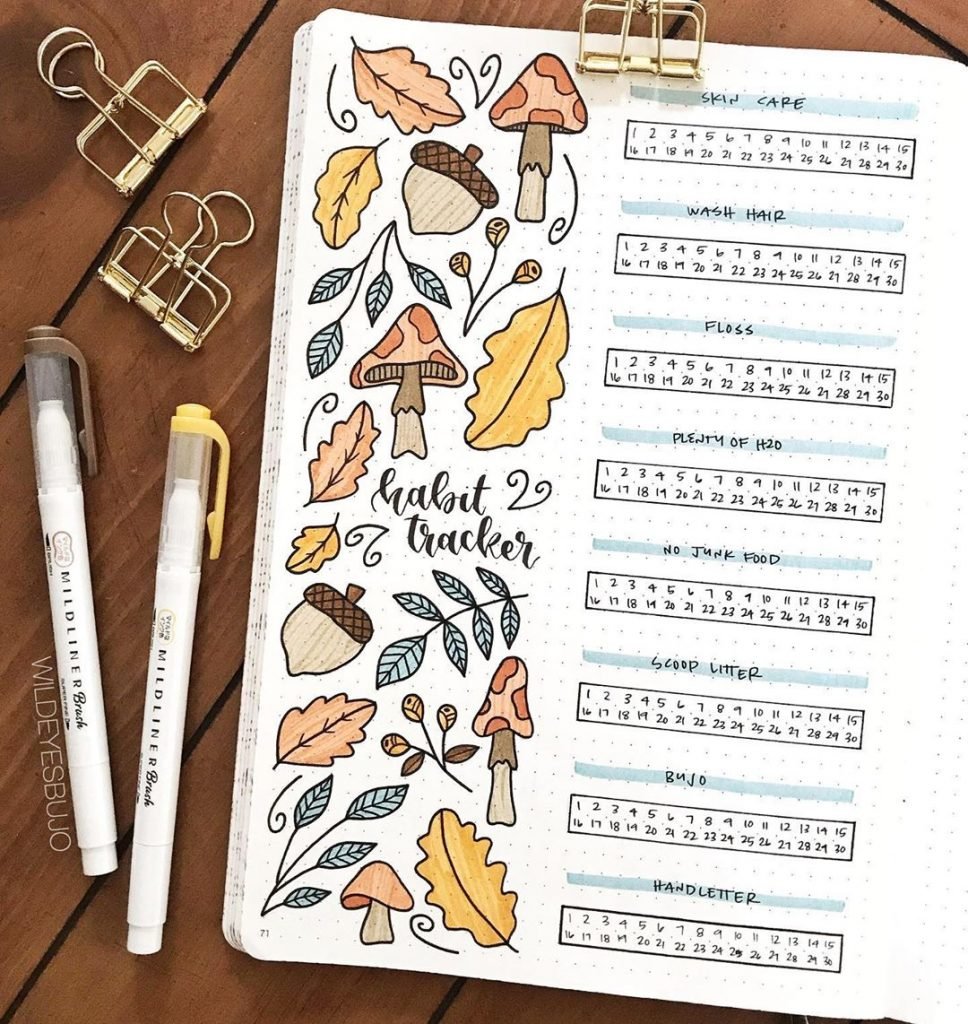 Source: wildeyesbujo
Divide your habit tracker sheet into two vertical halves to start creating this idea by wildeyesbujo. Draw some cute mushrooms and chestnuts on the left half. Use leaves as fillers for the area around the mushrooms. Cover the right half with calendars for each habit and voila! Your fall bullet journal habit tracker is ready!  
15. Maple Hues BuJo Habit Tracker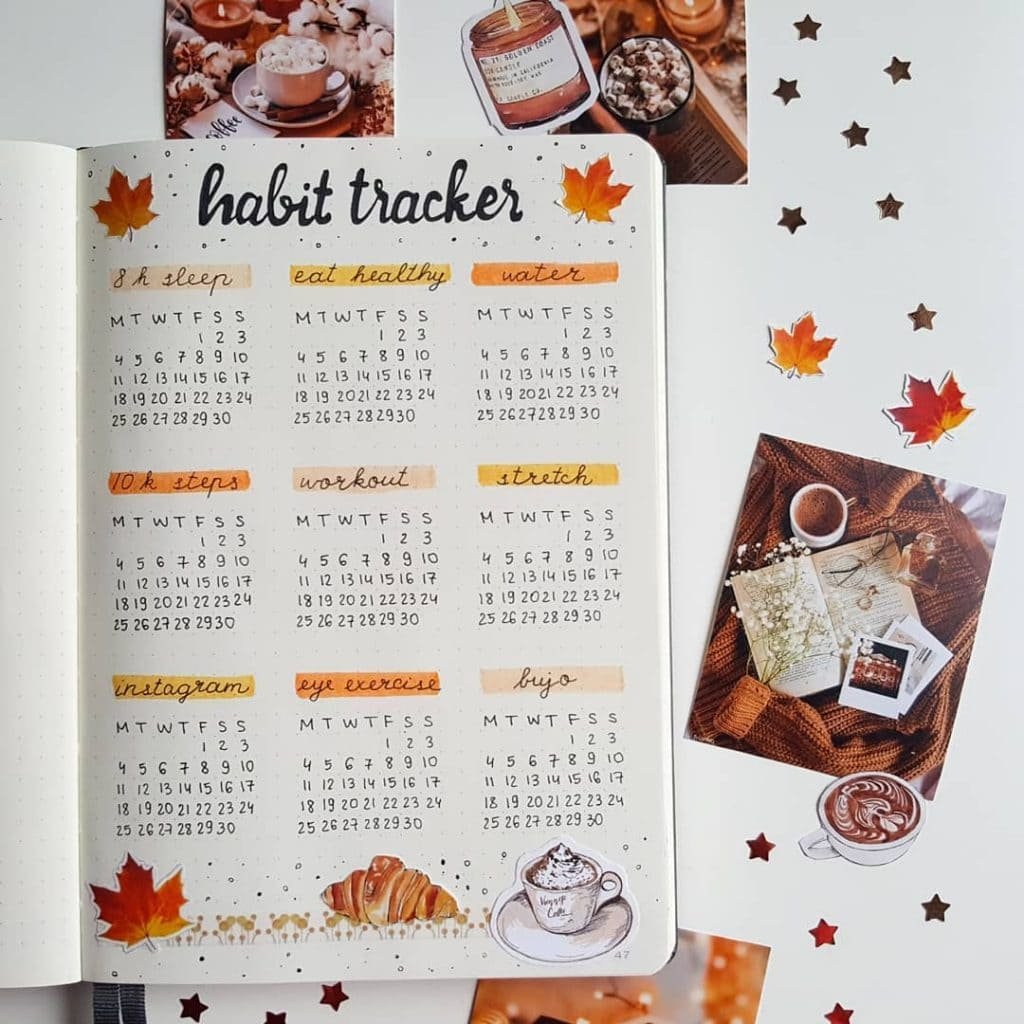 Source: sunshine_journal_
This fall bullet journal idea by sunshine_journal_ is subtle yet colorful. It uses hues of orange all over against the solid white background. Each habit heading is colored in a different tone of orange, while the calendar is left white. The addition of maple leaves on each corner gives this idea a fall vibe and makes it perfect for your BuJo.  
16. Creative Calligraphy BuJo Habit Tracker
Source: hanmade_hd
The use of fancy fonts can instantly lift any BuJo spread. Incorporate some beautiful calligraphic fonts to your fall bullet journal habit tracker with this idea by hanmade_hd. The style of writing, combined with a leafy border, completes this design elegantly. To learn similar fonts, check out our post on the Best BuJo Fonts.
Fall Bullet Journal Monthly Layout
17. Swirling Fall Leaves Monthly Layout
Source: thelifeofjudith
This swirling leaves monthly layout by thelifeofjudith is easily replicable and looks equally neat and elegant. Start by creating a calendar on a double-page monthly design. Right below the calendar, write the month's name, followed by a habit tracker layout, as shown. Now fill up the empty spaces around the calendar with autumnal leaves. Finally, draw some curly lines around the leaves for a swirling effect. 
18. The Leaves of October Monthly Layout
Source: bujo4bird
This fall bullet journal idea is not only minimal, but it looks super adorable. A full-page calendar with the month name on top and autumn leaves everywhere goes perfectly well together. The hint of caramel and tan tones in this idea by bujo4bird also adds warm autumn feel to the whole layout. 
19. Color Blast Fall Bullet Journal Monthly Spread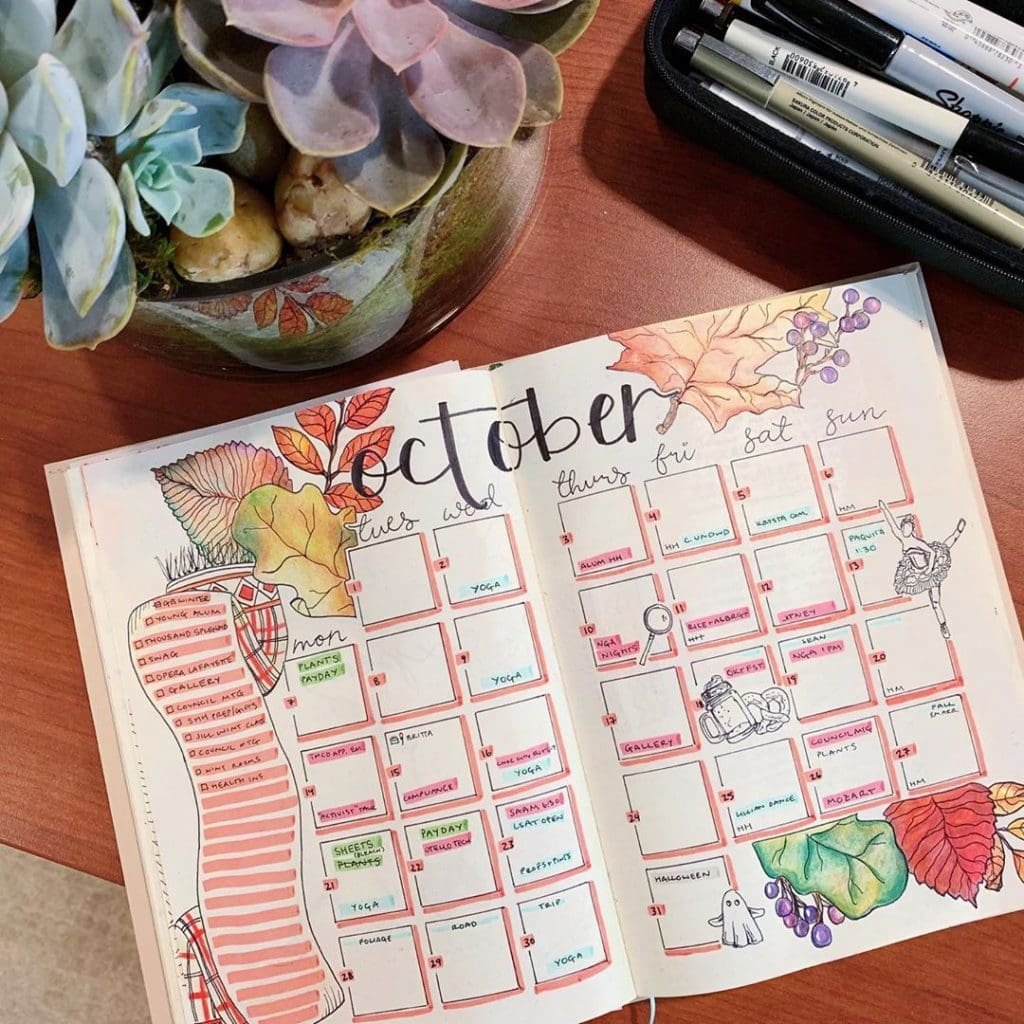 Source: robinwilljournal
Beginning with the monthly calendar spread across two pages with the heading on top. This fall bullet journal idea by robinwilljournal is perfect if you love a splash of color and brightness in your BuJo. Create a border of bright yellow, green, purple, and red leaves around the calendar to finish the color play! 
Fall Bullet Journal Weekly Layout
20. Sharpie Art Weekly Fall Journal Layout
Source: shedoodles.a
All you need are some warm-toned sharpies (or markers) to recreate this fall bullet journal idea by shedoodles.a. Create a horizontal leafy border at the top of the sheet. Add a cute fall quote below the leaves. Finally, add the monthly calendar and a text box for notes (optional) below the quote. Feel free to play around with the colors and combinations you want to use. 
21. Pumpkin Page Break Weekly Layout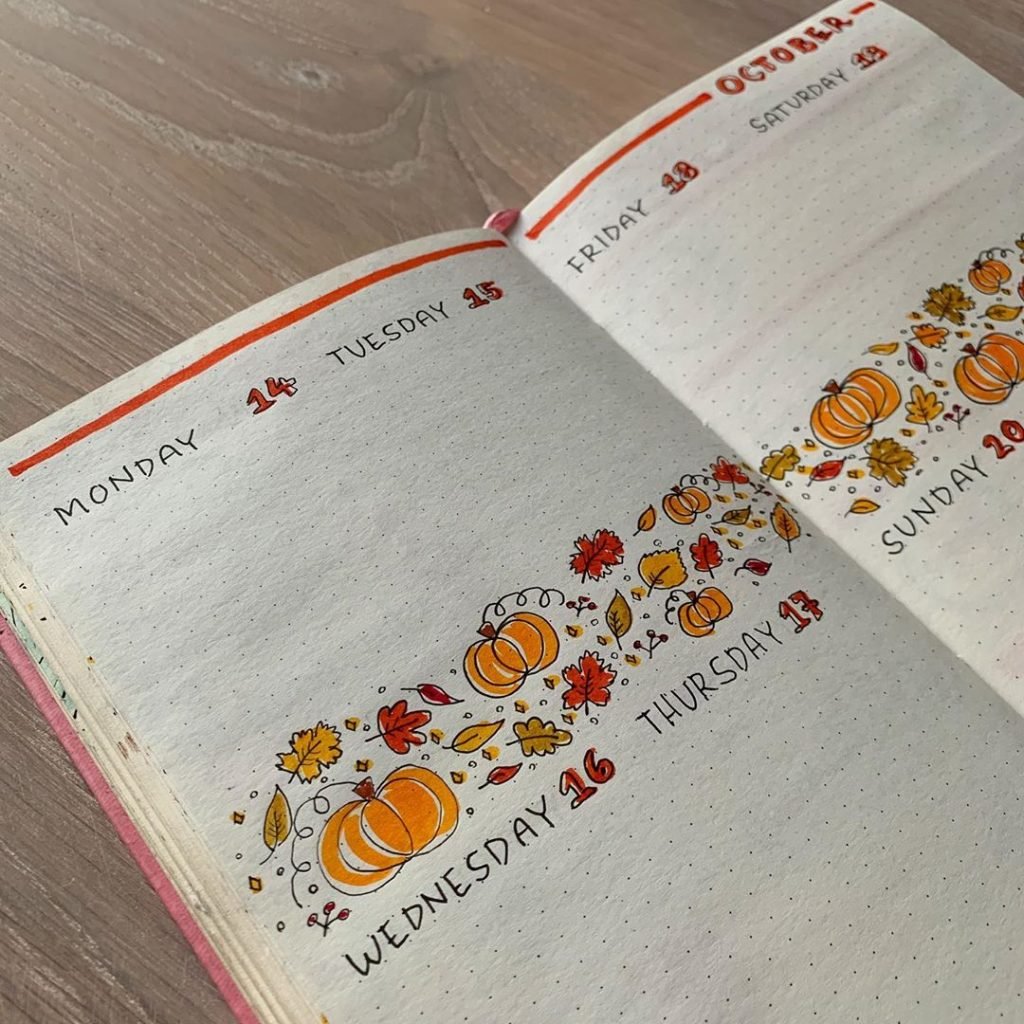 Source: kathrinerostrupdoodles
A boring weekly layout can be quickly turned into something creative using this  idea by kathrinerostrupdoodles. Adding a page break breaks not only the textual monotony but also increases the space that can be used. The above idea uses a fall-themed page break comprising of pumpkins and autumnal leaves. 
22. October Leaf Wreath Weekly Layout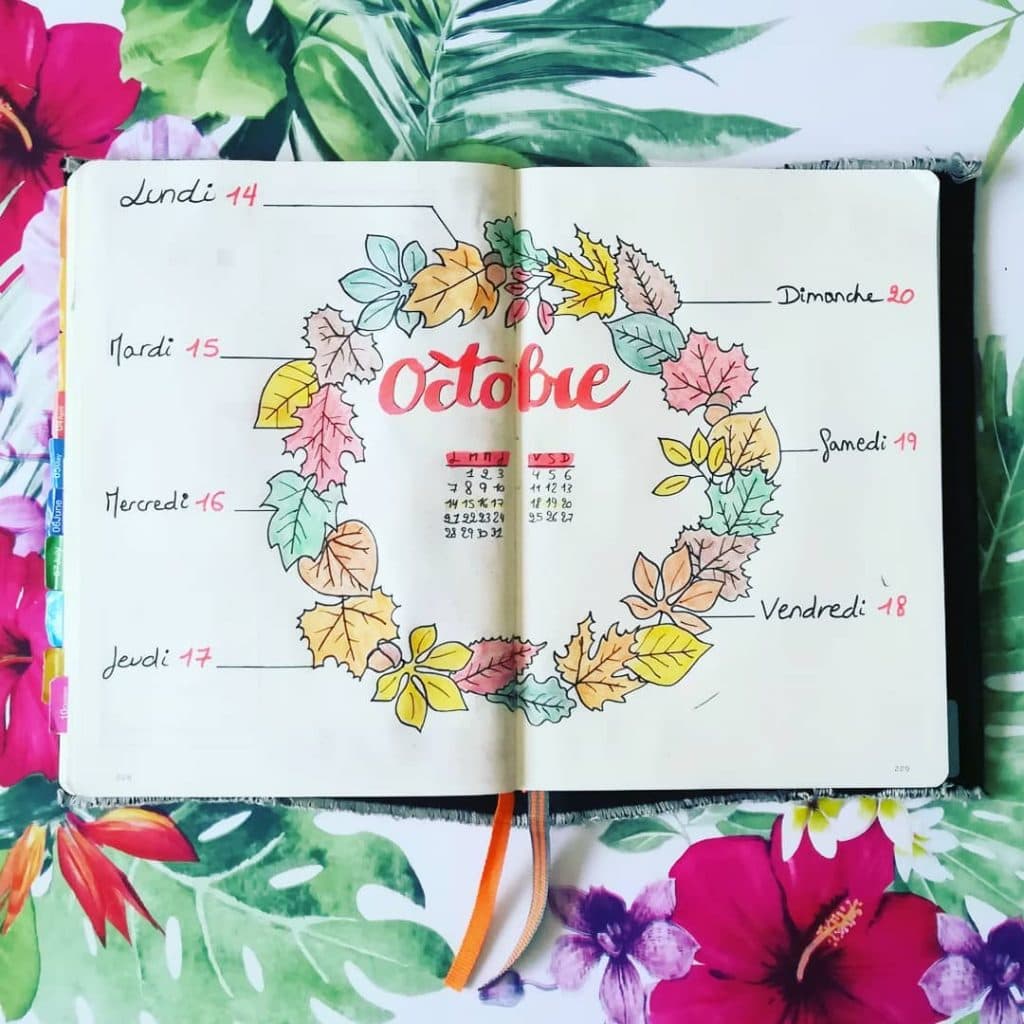 Source: littlemin_thing
Give your weekly BuJo layout an earthy touch with this idea by littlemin_thing. Draw and color a leafy wreath in the middle of a two-page weekly planner. Write the month's name in the center of the wreath and the weekdays around it. Finish by adding a tiny month calendar for better organization and voila!
23. Zig-Zag Patterned Fall Bullet Journal Layout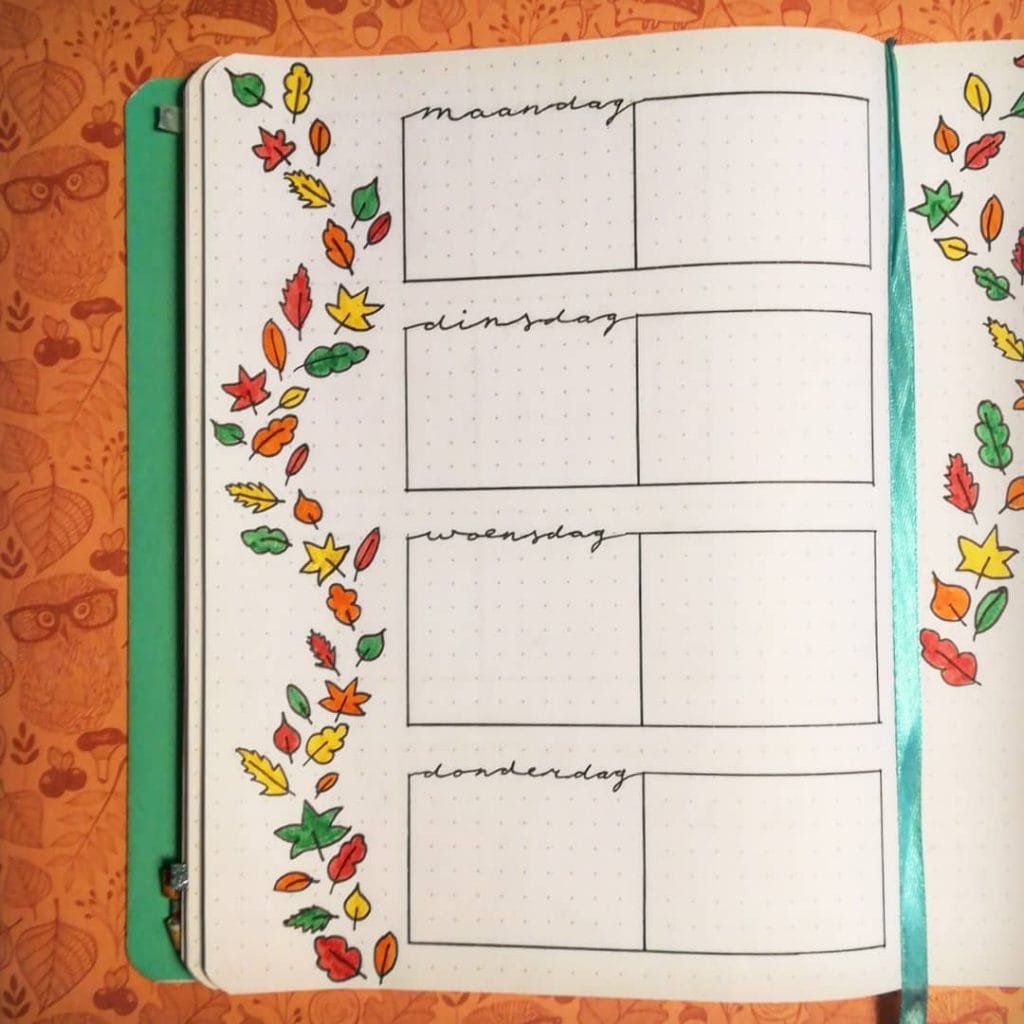 Source: thegalaxywitch
Here is another simplistic yet unique weekly layout idea by thegalaxywitch. Create a zigzag border of colorful leaves on the margin of the sheet. Next, draw black boxes for each day of the week. Use a stylish font to write the headings, and your weekly layout is ready. This idea adds a rich and classy twist to your fall bullet journal. 
24. Fall Breeze, Autumn Leaves Weekly Spread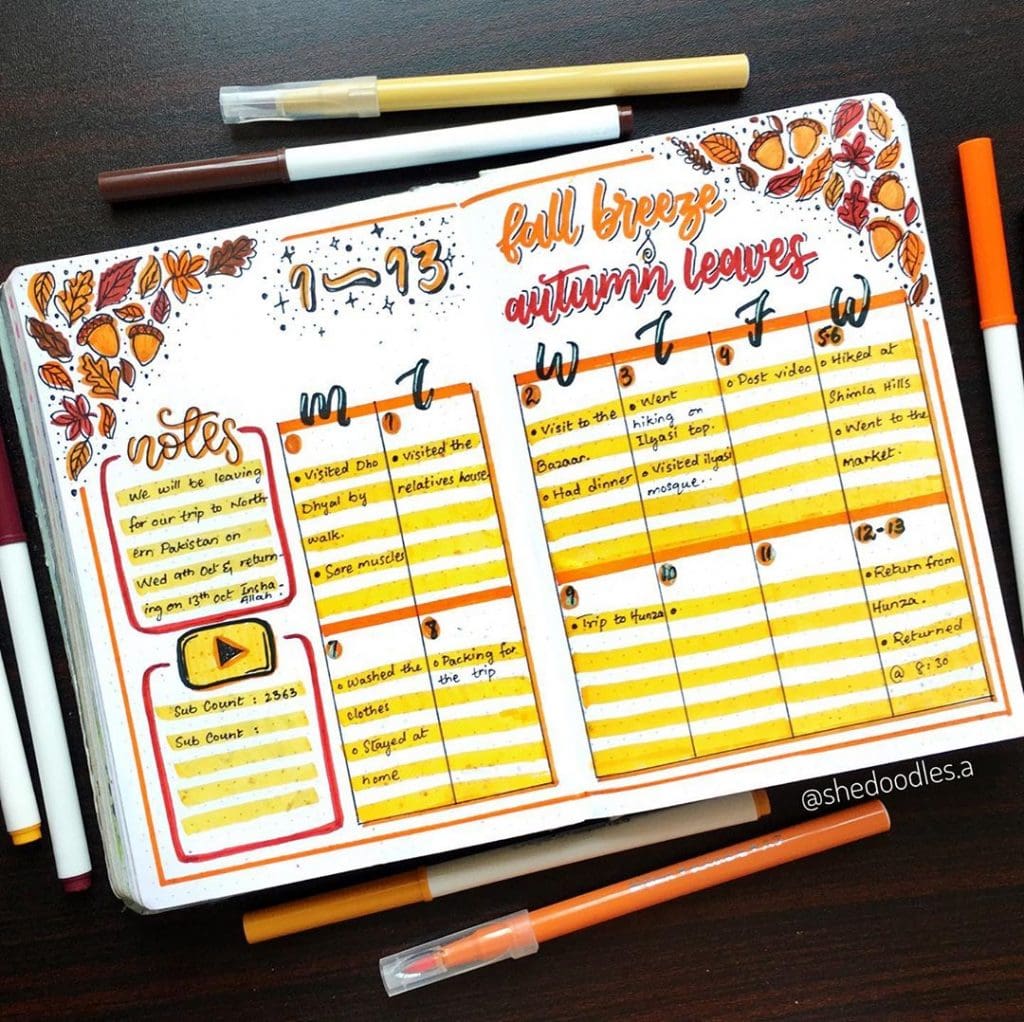 Source: shedoodles.a
Isn't this idea by shedoodles.a so bright and creative? Don't worry; It is not as tough to replicate as it looks. The use of neat and colorful text boxes with autumn doodling on each corner makes this design stand out. The quirky font adds to the beauty of this fall bullet journal layout. The earthy tones combined with bright yellow make this idea even more pleasant. 
Fall Bullet Journal Mood Tracker
25. Autumn Sprinkles BuJo Mood Tracker
Source: cahier_de_julie
You need to have this super autumny mood tracker by cahier_de_julie in your fall bullet journal! Scatter some leaves around the sheet, one for each day. Write the heading in the middle and assign some warm tones for each mood. Your mood tracker is all set up for your daily entries. 
26. Hello Gourdgeous Fall Bullet Journal Mood Tracker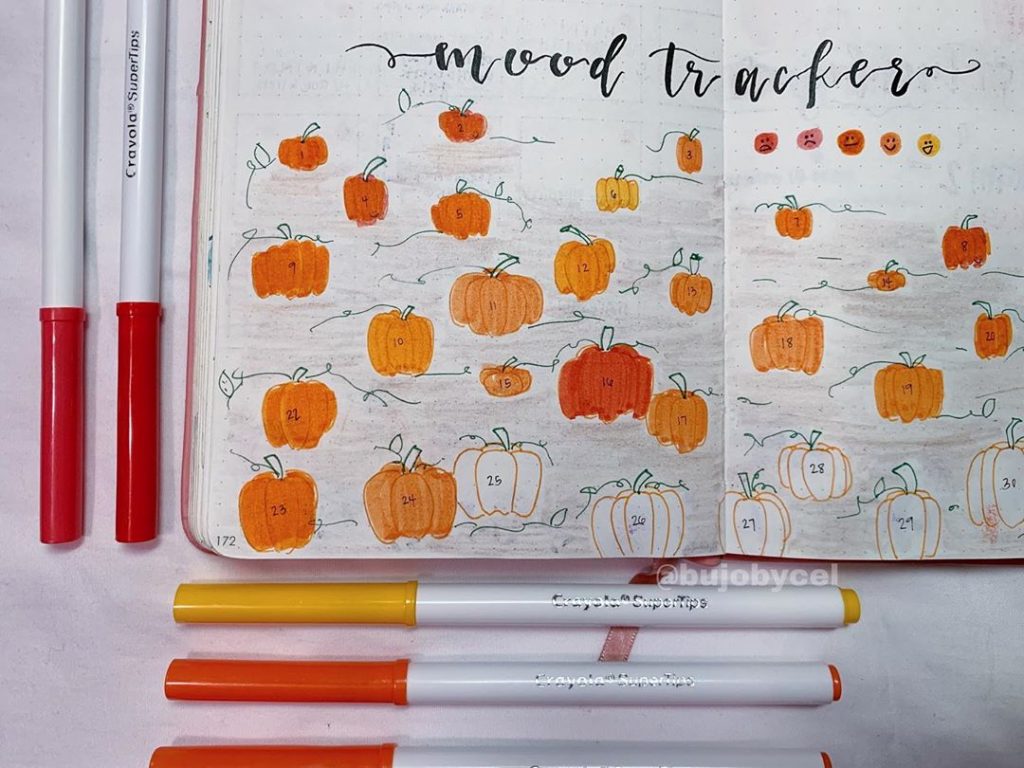 Source: bujobycel
With fall comes Halloween, and with Halloween comes pumpkins! Recreate these adorable moody pumpkins for your fall bullet journal. Place them around a two-page tracker, as shown in this idea by bujobycel. You can also pile these up in one sheet. Either assign them colors of orange tones or any other combination of your choice! 
27. Fall Breeze, Coffee Please BuJo Mood Tracker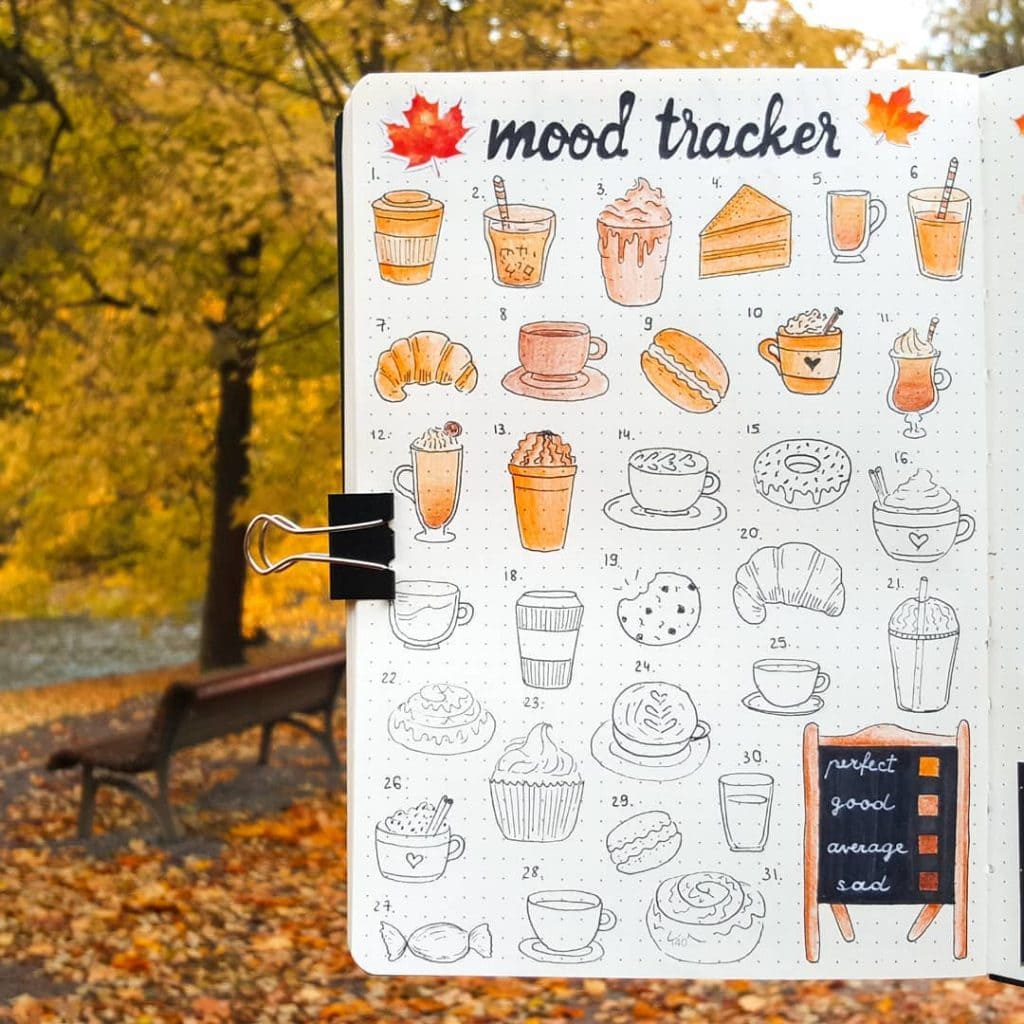 Source:  sunshine_journal_
This bullet journal idea by sunshine_journal_ is perfect for all the coffee and dessert lovers. It is a super creative and unique idea for a mood tracker. Draw thirty desserts and beverages across the sheet; it could include coffee, shakes, sodas, donuts, cookies, croissants, pastries, or treats. Assign your favorite colors for each mood, and your tracker is ready!  
Fall Theme Bullet Journal Meal Trackers
28. Fall Stickers Bullet Journal Meal Tracker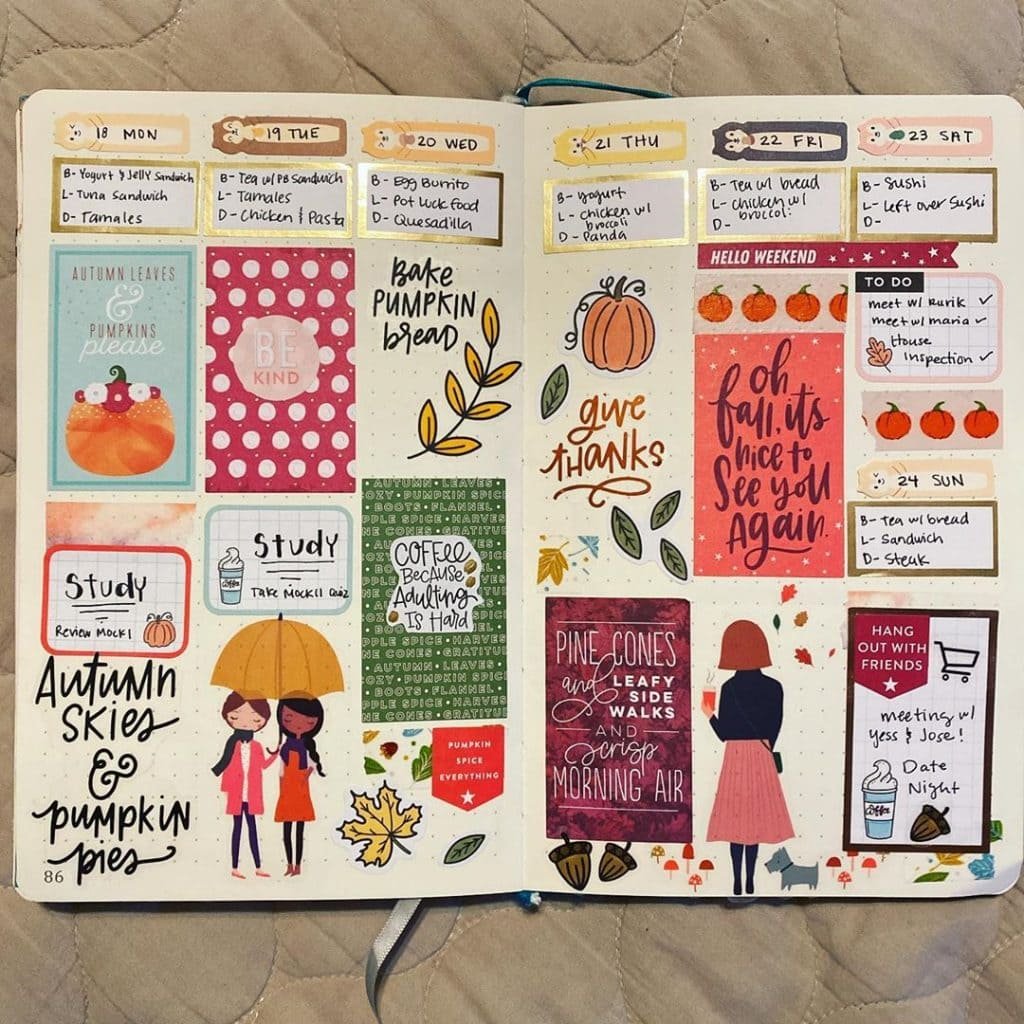 Source: quelacindy.bujo
Recreate this fun and straightforward meal tracker for your fall bullet journal. The above idea by quelacindy.bujo has text boxes with week dates written above them. The text boxes are used for listing your breakfast, lunch, dinner meals. The remaining portion of the tracker is filled with fall and Halloween stickers to suit your BuJo theme.  
Fall Favorites and Bucket List Spread
29. Tanned Fall Bullet Journal Favorites
Source: _bujo_lovers
List down your fall favorites using this lovely idea by _bujo_lovers. The entire sheet follows a tan theme with hints of dark brown. Additionally, the doodles of favorites are drawn along with the names. The remaining space is filled with tiny leaves and branches for a complete look. 
30. The Spooktacular Fall Bucket List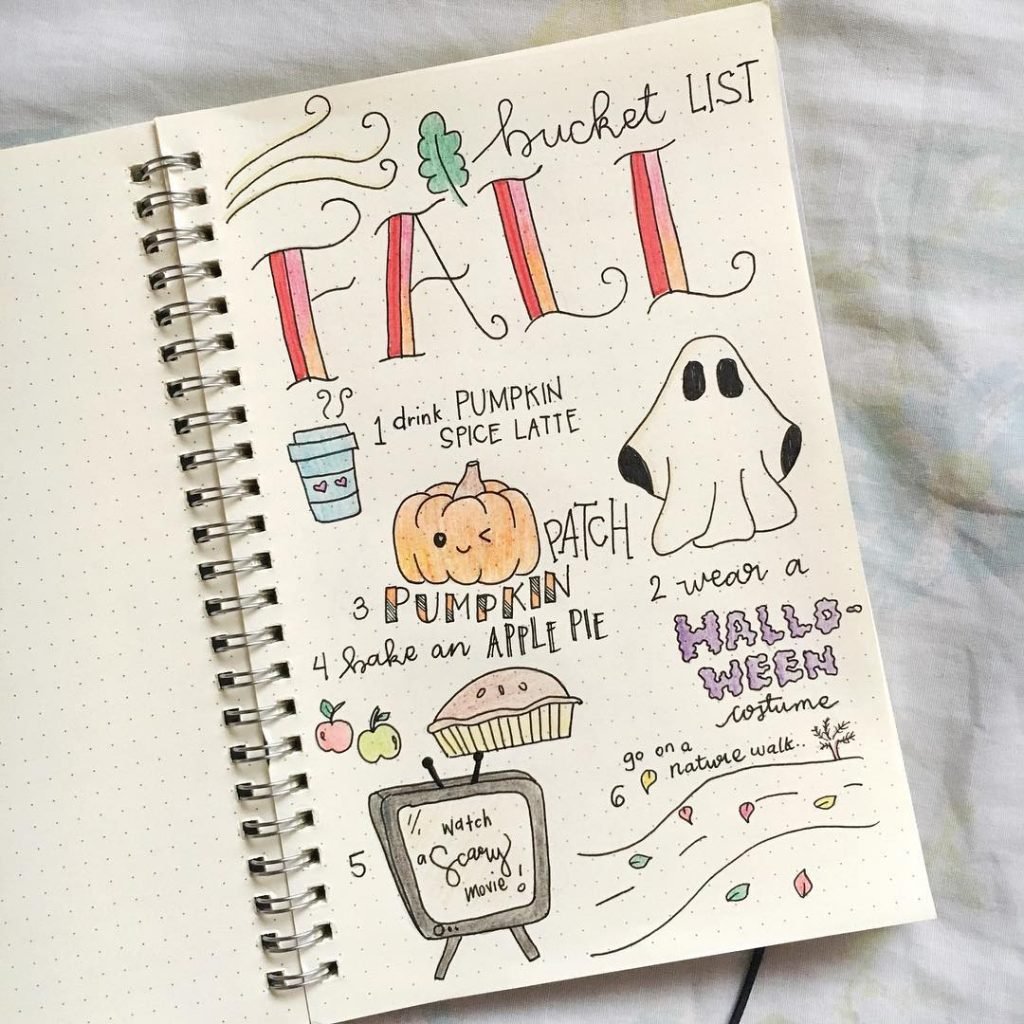 Source: mylife.inbujo
With your bucket list in your fall bullet journal, your spooky aims will be way clearer! Create this spooktacular bucket list by mylife.inbujo, which includes only Halloween goals. This is a fun idea for listing your plans during the Halloween celebration. You can refer to the list above and maybe add some of those to your to-do list! 
31. Creep It Real Fall Bucket List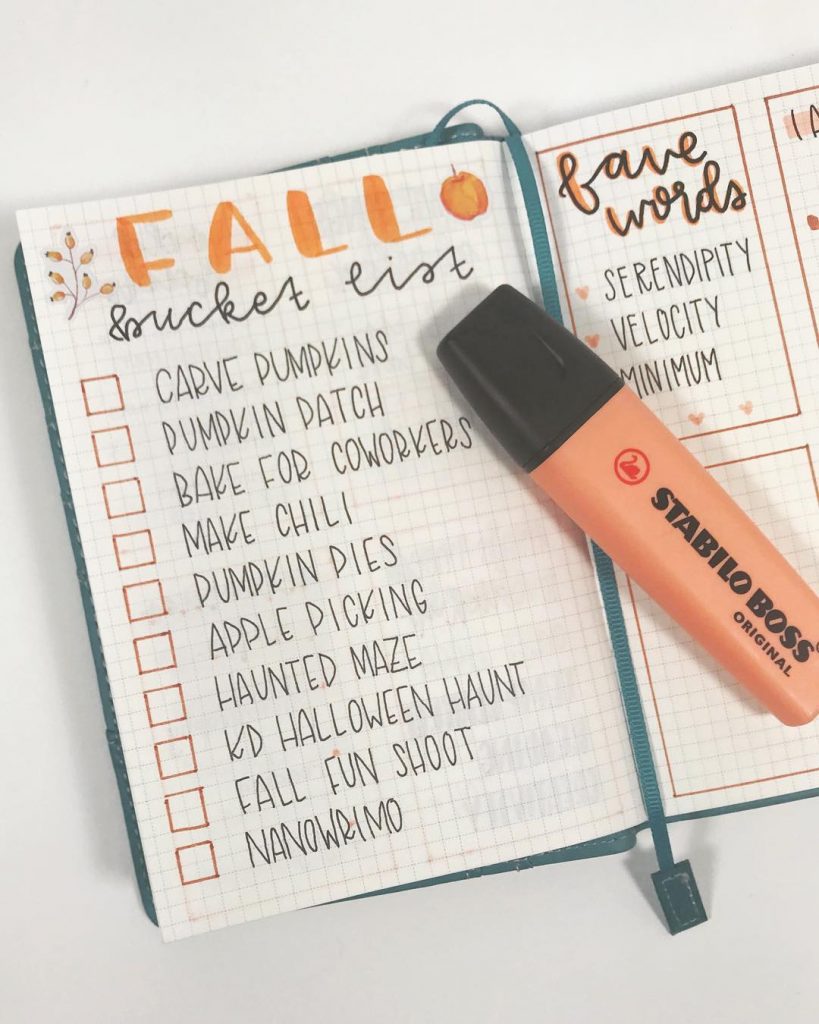 Source: kimmydipity
Here is another example of calligraphic fonts enhancing the beauty of your fall bullet journal. A combination of quirky fonts with a creepy Halloween bucket list is the easiest and most creative way of making your list. So, try this idea by kimmydipity, and don't forget to add carving pumpkins and pumpkin patch to your list! 
32. Pictorial Bucket List Journal Spread

Source: all.in.a.notebook
Draw tiny doodles for each item on your bucket list for a unique fall bullet journal. Planning on carving Pumpkins? Draw a mini jack-o-lantern above it. Plan on drinking hot chocolate? Add a steaming mug in front of it! Use other ideas from this design by all.in.a.notebook. The more you look at these images, the more you'll be inspired to check all the boxes.  
Fall Bullet Journal Quote Ideas
33. Summer to Fall BuJo Quote Idea
Source: shedoodles.a
Quotes help add a meaningful and inspiring touch to your fall bullet journal. So, try adding one or two quotes in the beginning, end, or middle of your BuJo. You can use the above idea by shedoodles.a for starters, which says, "And all at once summer collapsed into fall." It is a beautiful and magical quote written in an adorable font.  
34. Golden Hour Fall Bullet Journal Quote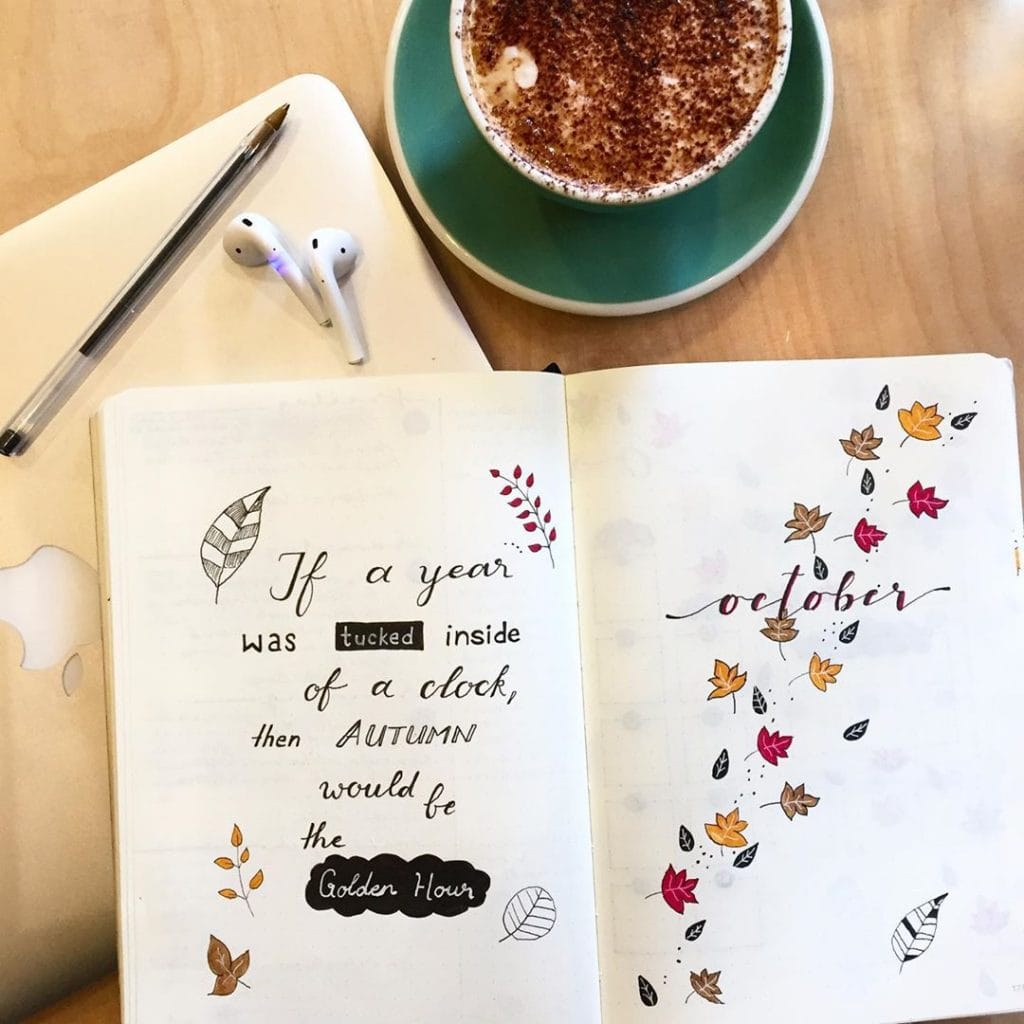 Source: lenas_bulletjournal
Another fall bullet journal quote idea is the above by lenas_bulletjournal, which says, "If a year was tucked inside of a clock, the Autumn would be the golden hour." I feel this quote perfectly suits the season's theme and vibe. It is a must-add if you are a fall lover! 
35. Blissful Autumn Bullet Journal Quote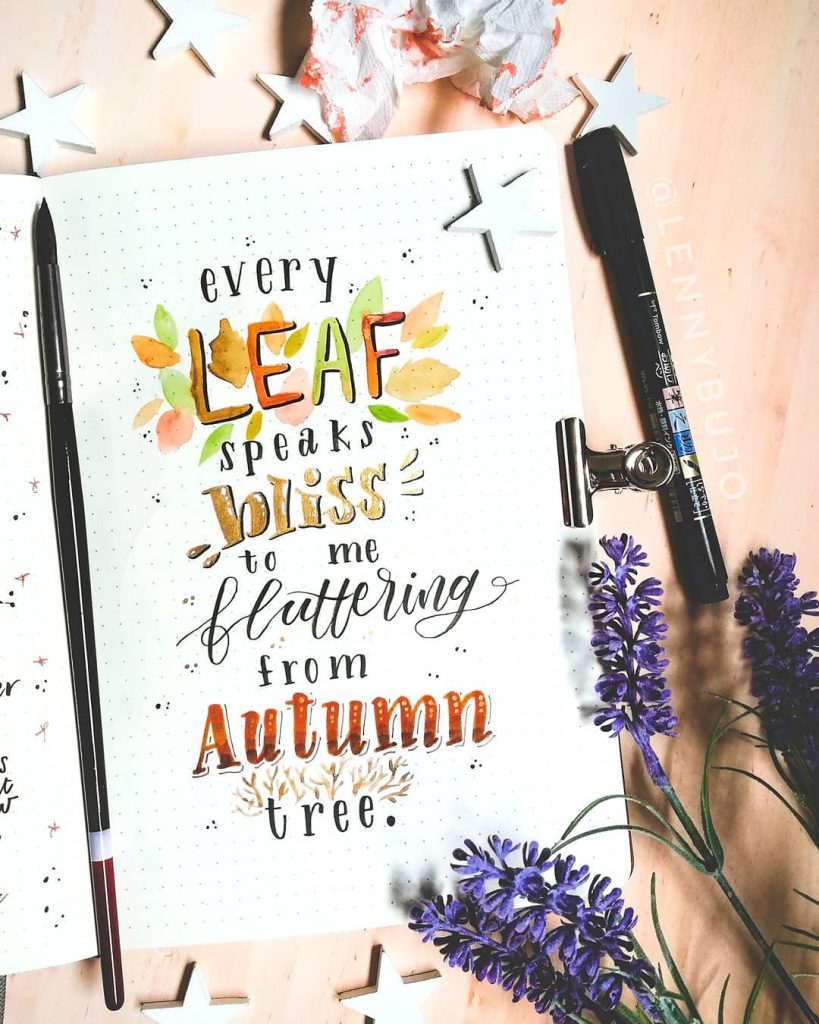 Source: lennydoesthings
Ending on a blissful note with another journal quote idea by lennydoesthings. It says, "Every leaf speaks bliss to me fluttering from the Autumn tree." This is a very motivational quote that is written creatively using a combination of several calligraphic fonts. It has color and life only through the style of writing. Customize it to your liking and start or end your bujo on an inspiring note!
We hope these ideas inspired your inner artist into creating some of your own. Fall is approaching soon, and a planned and thematic bullet journal is mandatory! You can create a leafy journal with hints of the Halloween spookiness to celebrate your favorite festival. 
If you loved these ideas, you can use the Pin image below and save this article on your 'Journal Ideas' Pinterest board.