Although the history and origin associated with October 31st might present a mystical or dreadful image to some, is celebrated with much vigour and enthusiasm across the world as Halloween. Just thinking about it, one would be immediately flooded with vibrant and creative outfits which people adorn and young children hopping from house to another asking for trick and treats. It is this festive spirit which not only brings cheer but is also the perfect time to spruce up some baking skills and stir some easy cookies to eat on the go, or serve to guests. Not only that, these could also be a surprise for the kids stopping by!
1. Pumpkin Faced – Eggless Halloween Cookies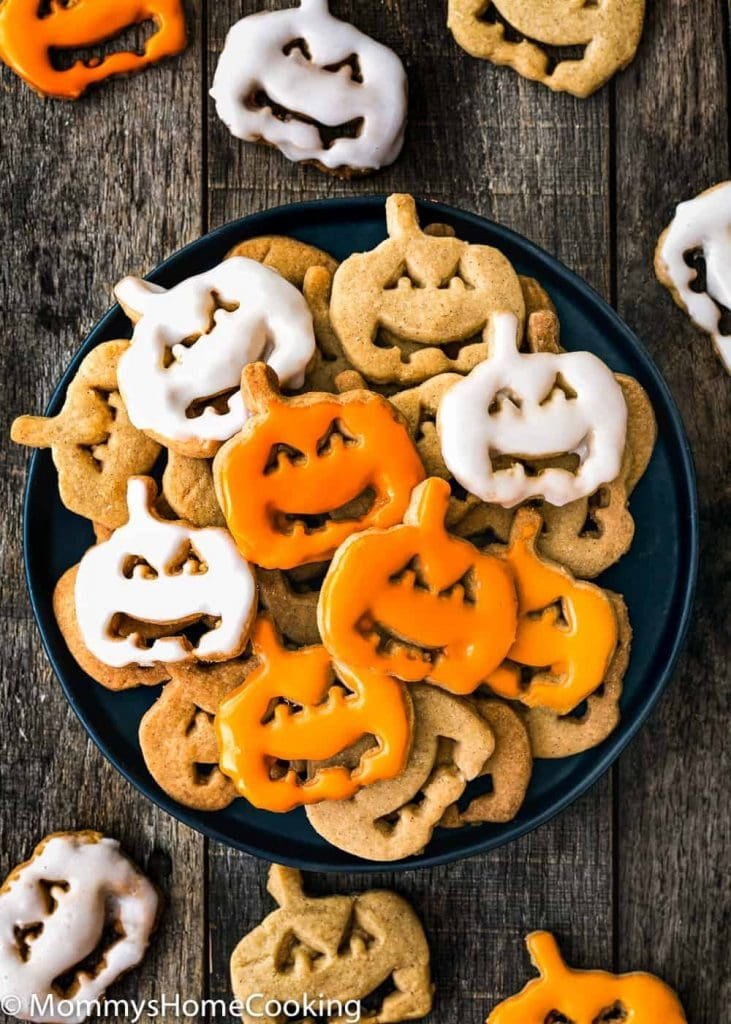 What if we told you that you would only need 4 ingredients, butter, brown sugar, flour, and vanilla, and some Halloween spirit to make these fine-looking cookies? That's right! A mother of three, Oriana  shows us how one could get baking and going in no time! What more is that they are eggless. So, without wasting any more time, get, set, baking!
2.Vegan Halloween Cookies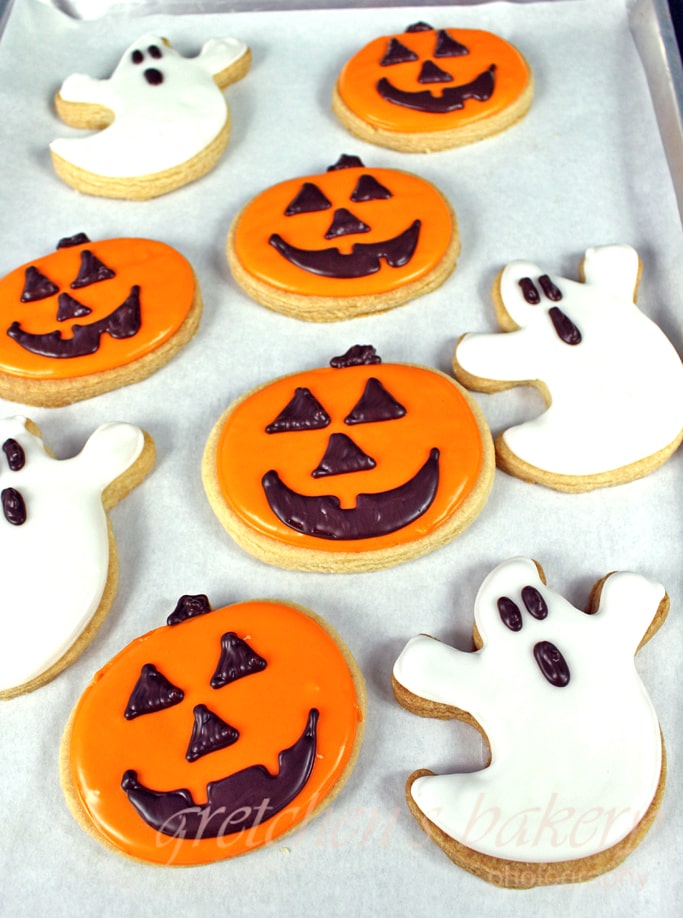 Are you someone who is conscious of everything they eat during festivities? Who says you can't have fun while you are at it? Gretchen's Vegan Bakery  is the perfect answer for those looking for alternatives. The cookies do not use any butter in their preparation and come guilt-free for kids and adult to munch on. And what more, one can always make them look like any other conventional ones! 
3. Spooky Mummy Presentation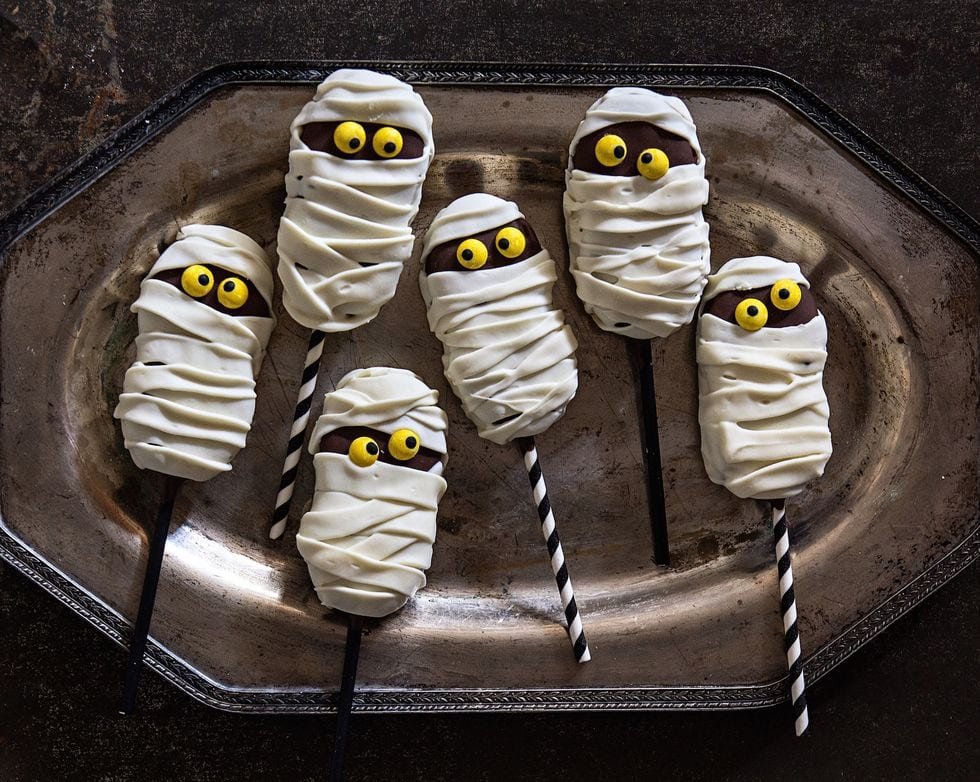 Are you looking for something which is easy to share and can be carried to-go? Then this recipe by Naomi  fits the requirement perfectly! With only five ingredients, most of which one could find in their abode, and only four simple steps, these would be loved by the kids. And by putting minimal time in presentation one can get something which will remembered till the next Halloween for sure.
4.Do-it With Kids Halloween Cookies
If Halloween is used as a perfect excuse by you to bond with your kids and bring the family to the table, this fun and fairly easy recipe is going to be loved with your little ones! And because it encourages kids to sit on the table with you, the steps have been kept very simple and child-friendly. Baking Mad  presenting to you one fun-filled afternoon with your family!
5. Presentation Perfect Pumpkin Cookies
Do festivities make you feel creative want to achieve something different with just a little more time to spare? Let Sweet Lambs  take over your kitchen and watch magic come to your house just a little bit early! The recipe not only provides you with a cookie instructions but the recipe gives you a step-by-step and meticulous breakdown on presentation designs! This recipe is sure to satisfy your inner baker and impress those around you.
6. Magical Filling Halloween Cookies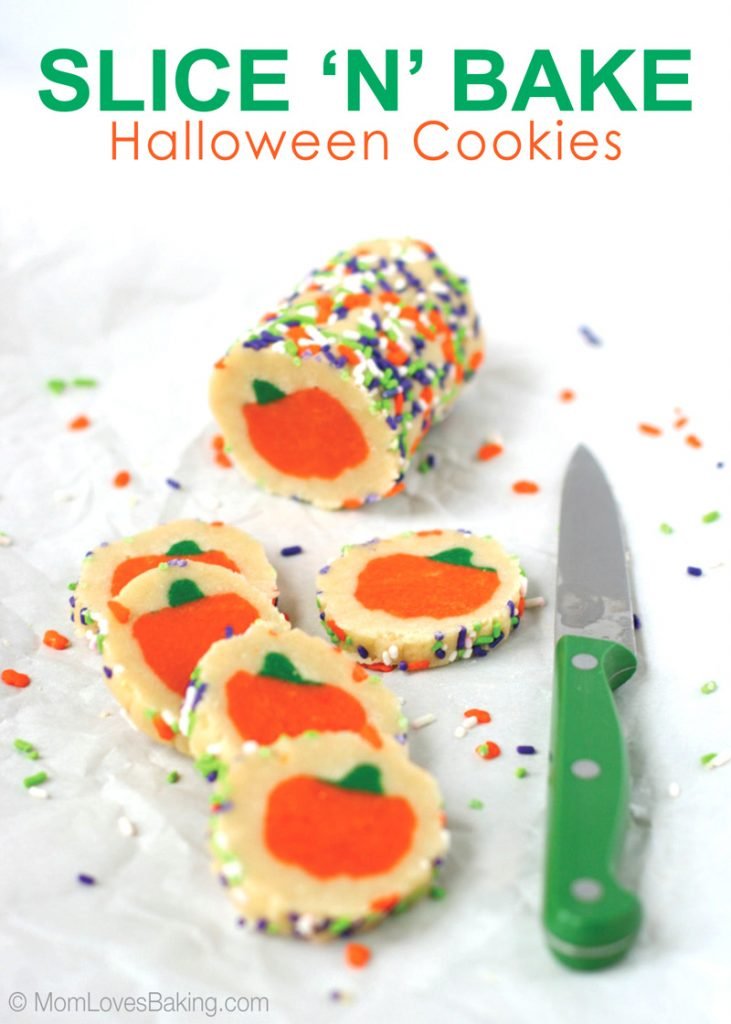 Halloween has magical roots and we all know that. What if you were to don the hat of a respectful baker for a day? This delightful recipe from Mom Loves Baking  is sure to keep your as well as the neighbourhood kids talking for a while! In the words of the mom-baker herself, "A delicate, butter cookie with a hint of almond and vanilla."
7. Healthy Eats Paleo Halloween Cookies
Does Halloween come in your list of "watch outs" to check what your kids eat and how much sugar they consume? Worry not! We have a recipe which would not only be loved by your kids, but you can be assured that 40 Aprons  takes care of your worries and lets you enjoy the festivities as much! The fact that one could create as they bake is pretty exciting too.
8.Crisp Bakes Halloween Cookies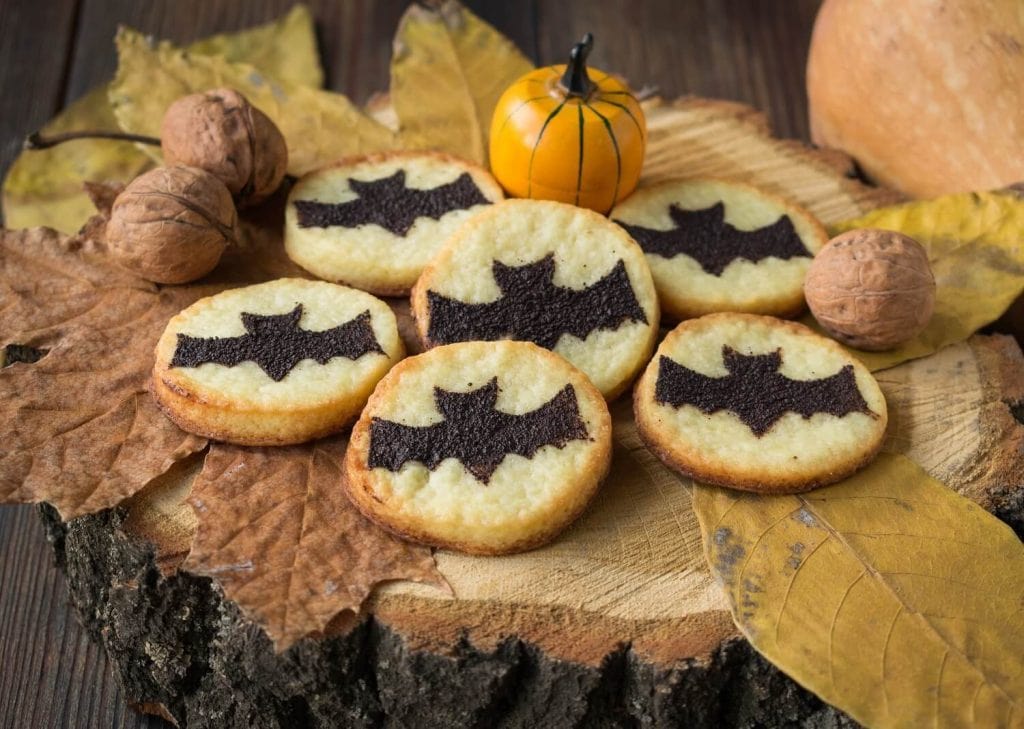 And now a recipe which refreshes the memory of a nearby French bakery, crispy and full of vanilla flavour. Super simple with its design and yet something which is Halloween appropriate. Nifty recipe  helps resolve creative dilemmas with a simple hack. You wouldn't want to skip this.
9.Cute Bakes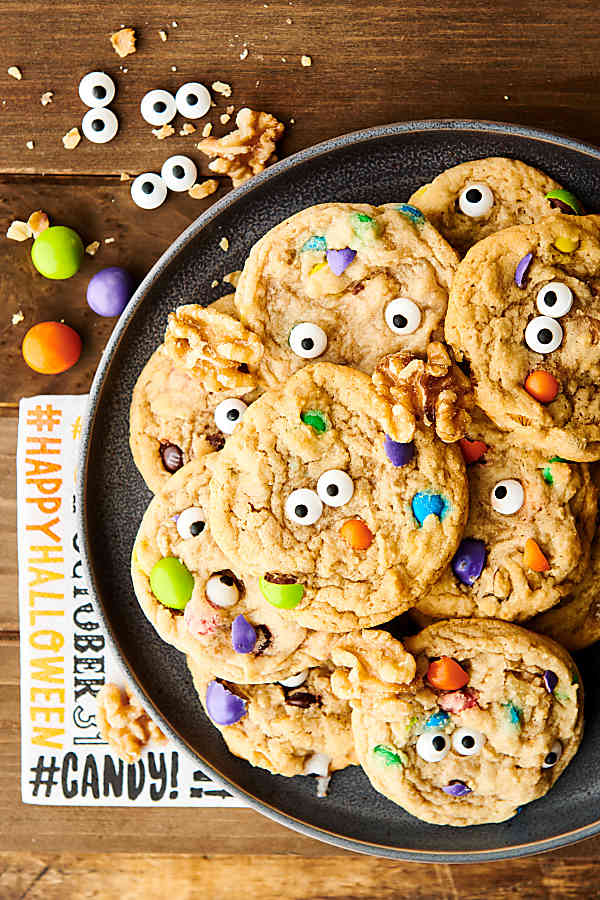 Let's admit this – as much as one might find kids loving this festivity, for some of them, it might be their worst nightmares coming to light. We found this simple yet cute recipe by bakers at Show me the Yummy to help those who are new to baking and are looking to create cute cookies and in easily using items one can find I their pantry. 
10. Halloween Whoopy Pies

Do you want something fuller to hand out as well to enjoy for yourself? Fuller cookies are sure to surprise those stopping by and are also a great way to hide any of that crumbling cookie dough. A lot of us might struggle to get that perfect evenness of the cookies, this recipe  let's you make something fuller and even bite size of these are sure to get the kids excited!
11. Meaty Mess No Bake Monster Cookies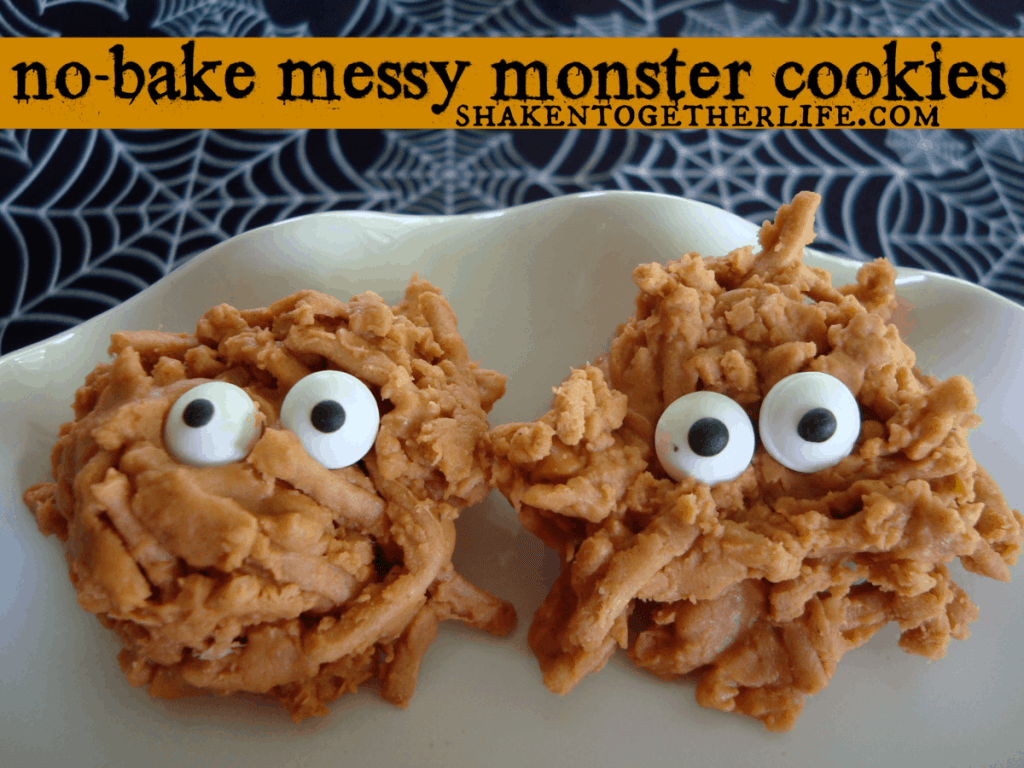 A gem, this recipe  we have for those who skipped indulging in extravagant prepping and for them Halloween came early this time. Cute on the presentation and taking less than 10 minutes of total prep time, these are sure to extend beyond Halloween celebrations!
12.Chewy Bites Halloween Finger Cookies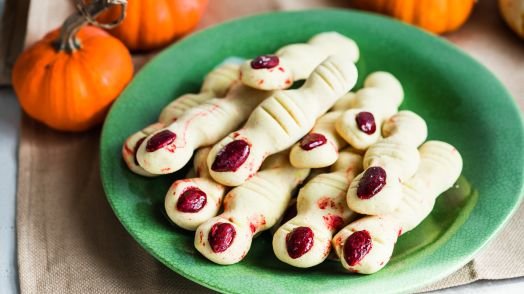 A classic Martha Stewart recipe  , these finger bites stand out from the conventional ones, to say the least. The best part though is how they are chewy and oozing with that filling (as per your liking) inside. With about 30 minutes of prep, they surely are great to spice up the spooky festive spirit!
13. Eyes On Prize Halloween Cookies
About 15 minutes of total prep time and only 5 steps to compile a feisty and creative platter of cookies for Halloween sound impossible to you? Not anymore. This recipe  is fun for the kids to enjoy and get the crowd talking.  
14.Sugar Rush Halloween Cookies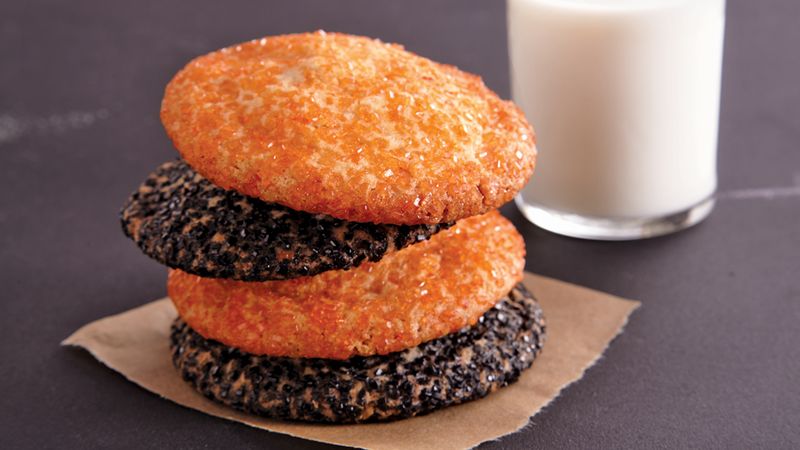 If you need extra sugar rush to accompany your celebrations, then we have found you the perfect recipe Best to accompany with milk or coffee, these add that subtle crunch and make the cookies oh-so scrumptious. The time to set is about 2 hours, but the steps to prep and bake are 15 minutes each, allowing with one to plan other things like outfit arrangement etc. 
15. Sprinkling Halloween Magic Cookies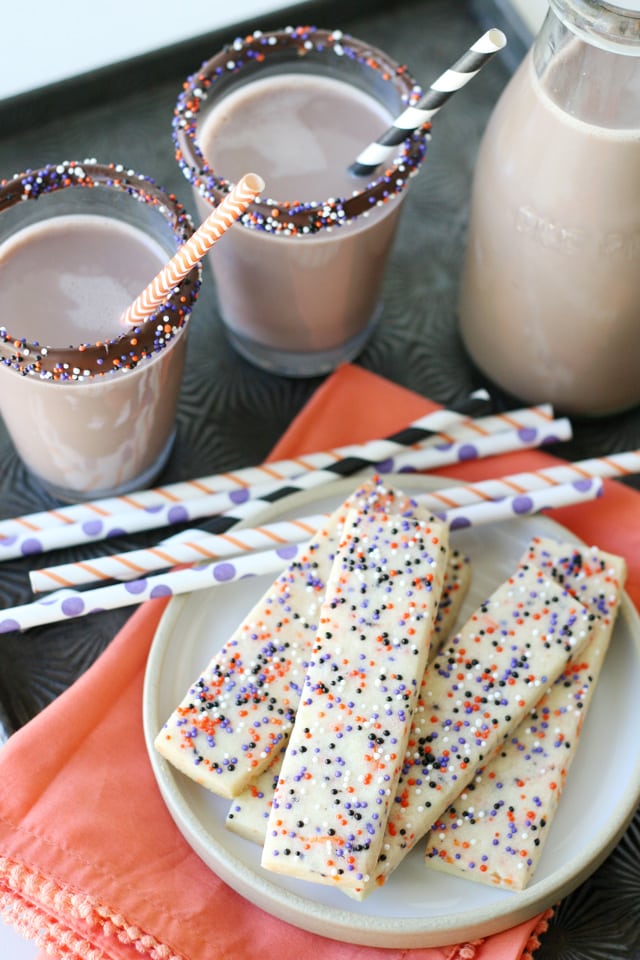 Wanting to follow the spirit but looking to stand out? Sprinkle some magic and shine on! This recipe  recreates that Halloween magic on one's palates and can be a mood changer for the kids. Taking less than an hour, they are sure to keep the festive spirits high for just a while longer.
16. Surprise Burst Halloween Caramel Cookies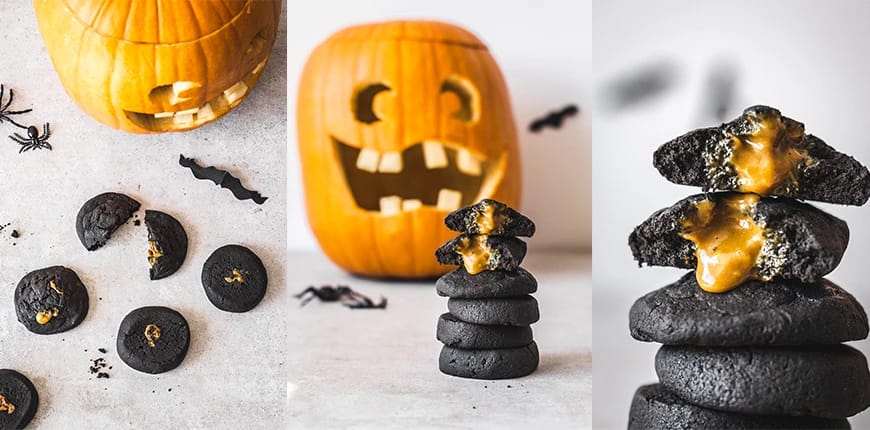 With 40 minutes to spare, one can create these caramel filled cookies with ease quickly. Messy only when one takes a bite, these can be the perfect surprise for the kids as they bite into gooey goodness.
17. Cookie Jam

A recipe that uses its simplicity to stand out – the jam filled cookies by Nicole bring together the crunch and surprise in one bite! These can also be made with your kids or in a group with the best part being the jam filling shape being customisable!
18. Grain-Free Halloween Cookies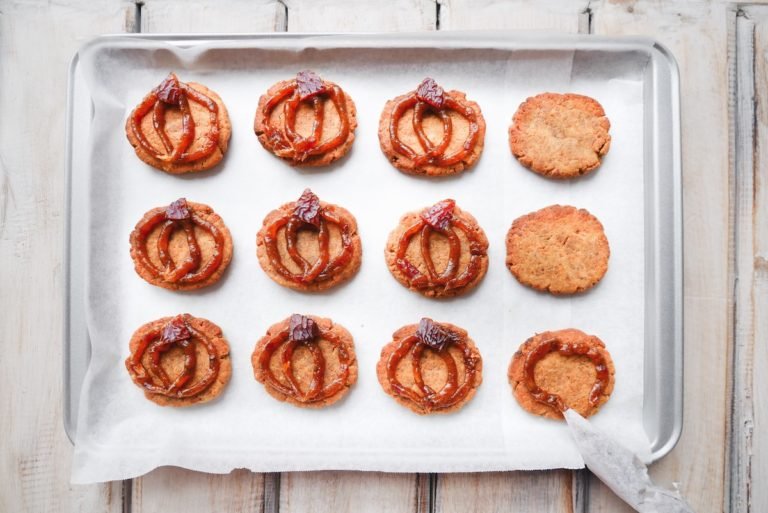 Now onto some ideas which can make Halloween guilt-free and more in spirit with the festivities happening around. Using only 5 basic ingredients, and les than 30 minutes for the entire presentation, the grain-free cookies are healthy yet enjoyed by the one and all.
19. No Bake Halloween Cookies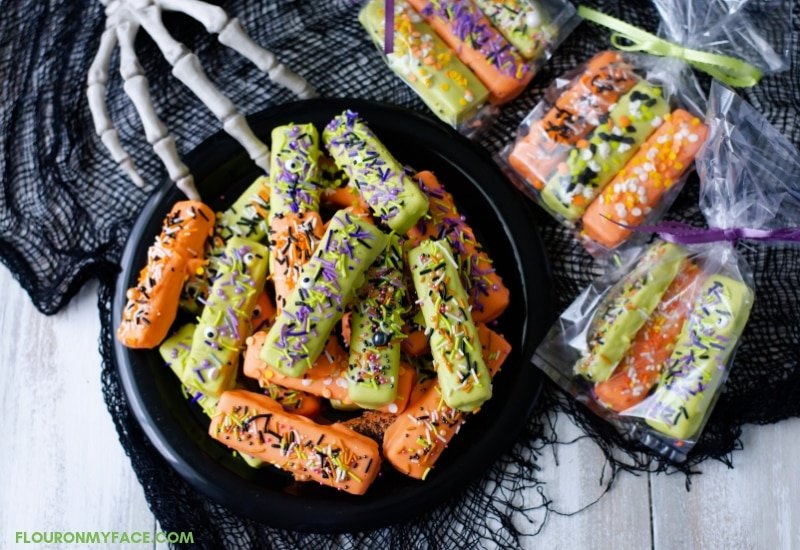 For once, one person can look forward to prepping easy candy treats, a little different from the usual cookies or pies. Arlene does exactly that and in 10 minutes! The sprinkles, colours are all as per one's liking making them fun for even the kids to choose and participate in making.
20. Pumpkin Tie Ups
If you are someone who thrives on Halloween prep, then this one is for you. With an elaborate process and about 4 hours in the making, Valentina helps to plant one's own pumpkin garden and win some wows in the neighborhood. 
21. Pumpkin Gardens
Our next share is a complete package and comes with an elaborate presentation on the outside and a gooey and surprise filled centre! What mor is that the entire time is less than half an hour for the entire preparation!
22. Bring Out The éclair Garden

Angie shows us how magic can be brought to the table with this one stop, pot éclair recipe. With chocolate skeletons and zombies coming out of their graves, homemade marshmallow pumpkins – this one can play the perfect setting to engage in a quick storytelling session with the kids!
23. Halloween Garden Cups

Use 15 minutes of your time and create magic with these little bundles of joy . These pudding cups are not only a little different from the conventional trick and treat but also a mini combination of the entire Halloween spirit in a cup.
24. Healthy Bites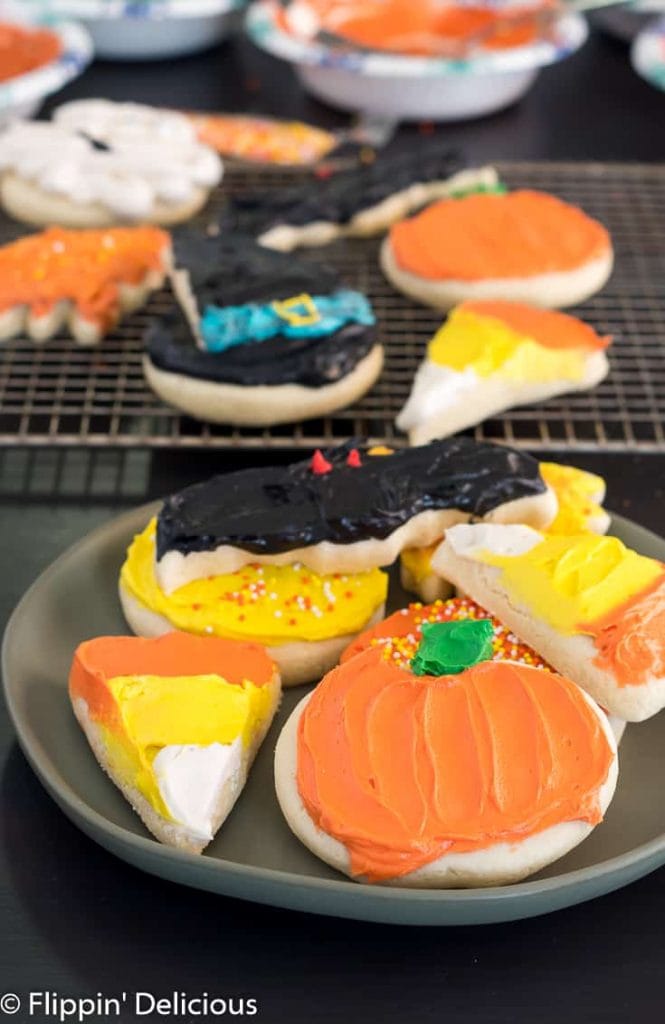 These colourful treats suggested on Gretchen's  blog suggest a gluten-free recipe without one feeling differently about the festive spirit. And like any other cookie prep, it will take about 40 minutes in total! 
25. Easy Peasy Mummy Cookies
Sometimes in the rush of costumes, lists and décor, one misses out on time to do an elaborate spread of treats. As busy as you are, we got it covered. This recipe is easy on the eyes and its sure to get the kids smiling while enjoying the festival.
26. Stacked Eyes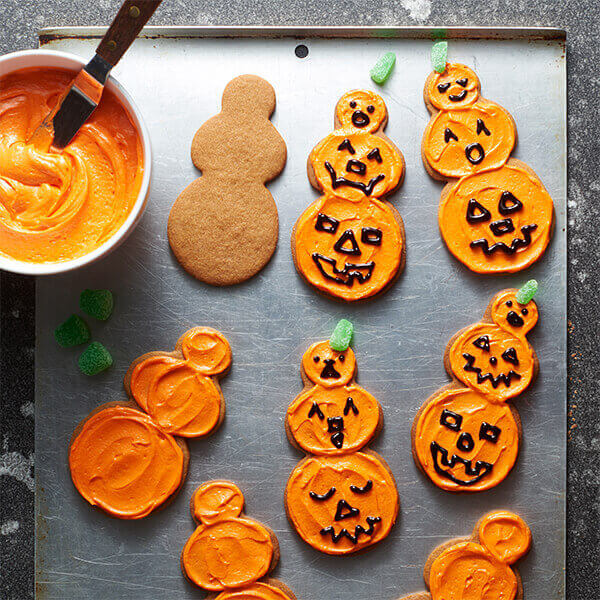 Okay, now we are talking about taking the entire game up a notch. Bring out the aprons, mittens and let's get going with this recipe . The best part is that not only can your kids assist you with making emojis and adding their personal touch and with each portion of cookie being generous.
27. Bitey Frosting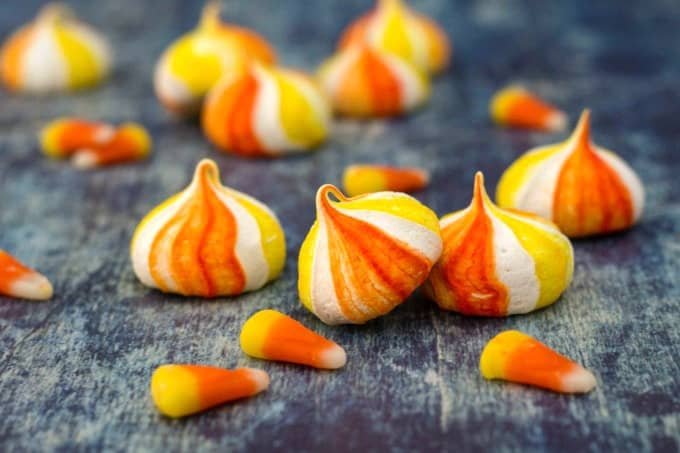 If you cannot get over the kisses but want your own personal Halloween touch on them, this recipe got you covered. Not only does the chef share her don't experiences but these can be customised and one could create surprise packs for kids to carry home! Get your creative hat on for this one.
28. Cookie Bars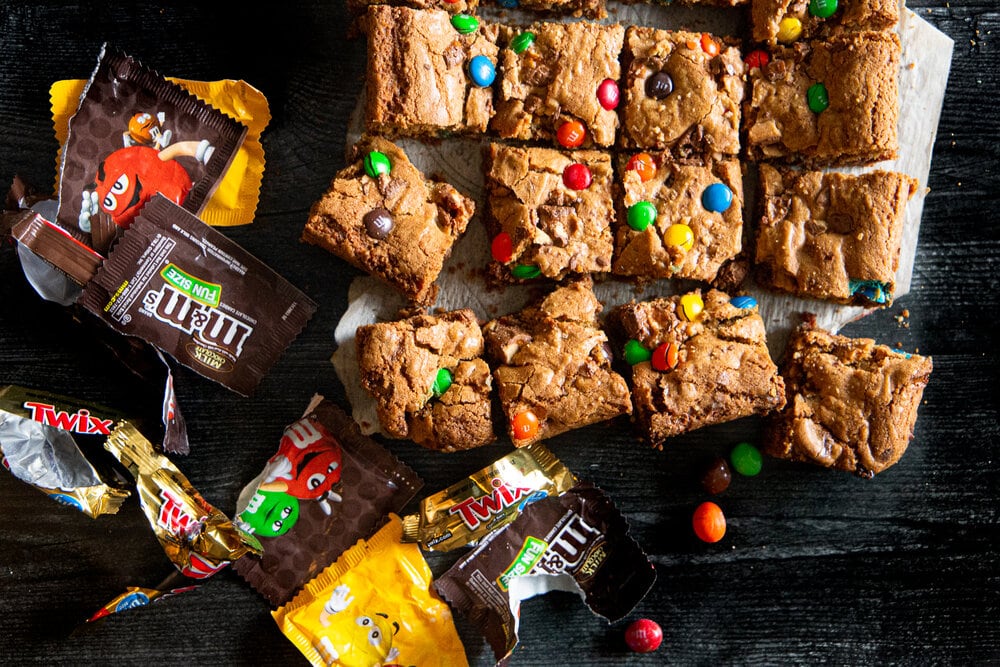 This next recipe is so creative and yet enjoyable by one and all. Impress your guests, age no bar, and in less than 30 minutes, prepare a handsome volume of these bars.
29.Wrap Me Around Mummy Cookies

If you are someone who loves the flavor more than sugar, then this one  is for you! Using pumpkin puree, cinnamon, ginger, nutmeg, and allspice – this one is sure to hit surprise for your guests and kids! 
30.Bringing Them Spooks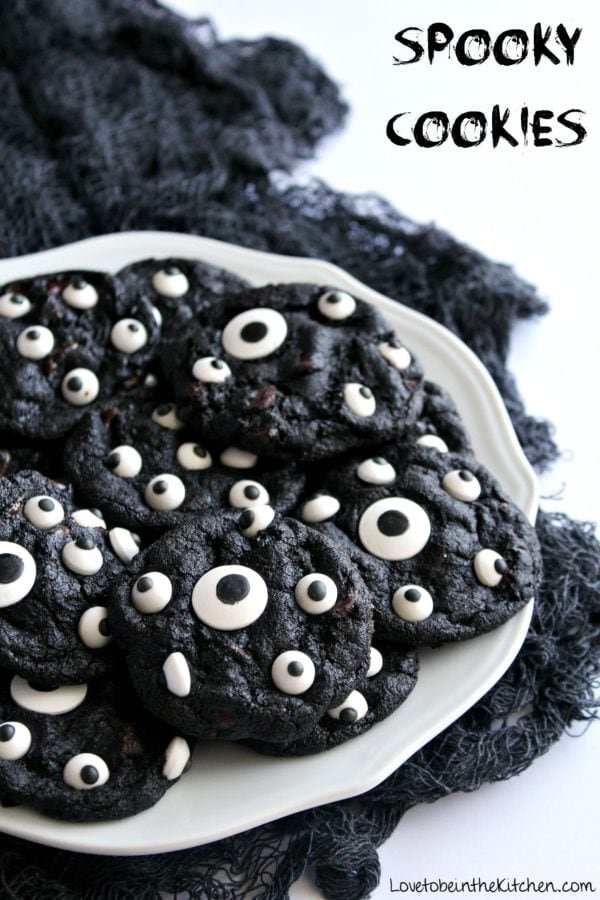 Take your magic for these spooky cookies  and get whipping up delight! The chef shares the perfect tip to make chocolate cookies turn into night monsters and be a sure shot hit amongst family and friends! Plus, you can always involve your kids to help you fix those eyes and get creative. 
31. Creative Mason Jar Cookies

Not the weak hearted and want to show off your baking skills? Get set with this recipe  where one gets an elaborate scope to learn, and also bring their creative chef hat to the table, quite literally! This step by step visual guide gives you details of each corner and curve of the cookie. Watch the kids light up with this colourful ensemble.
32. Bitey Shortbread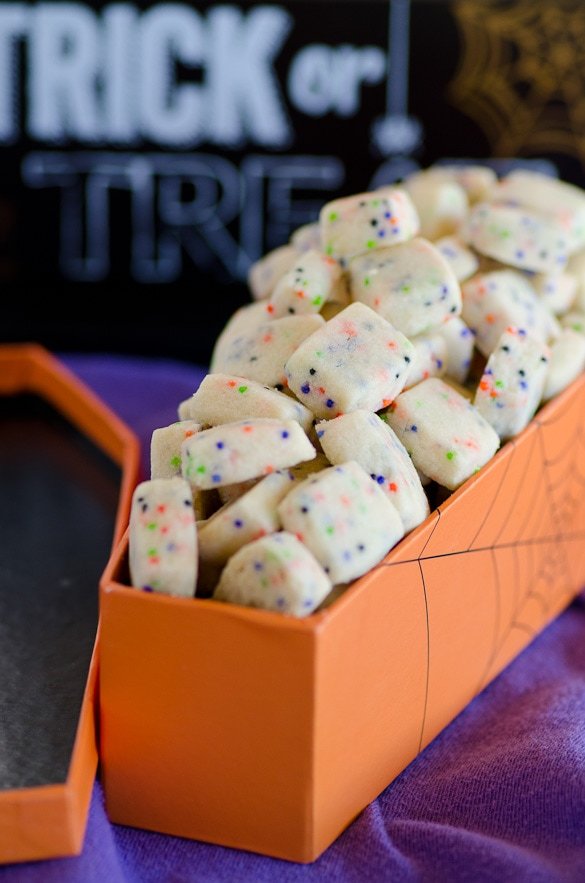 Want the festivities to linger for a bit longer? These shortbread cookies  are the answer! Sprinkle some magic and share a handful of these or send them out to your friends and neighbour. One of the best things about this is that it preps in about 30 minutes and leaves enough room for one to get creative. 
33. Surprise Me Cookies

We have a trick for you – would kids believe that when they bite into these cookies , one is transported to a wonderland sprinkled with surprises and a confetti show in their mouths? Well, you should tell them exactly that, as this recipe is well curated (prep time under 40 minutes!) to display your best culinary skills.
34. More and More
Wanting to have it all? Well, here we are, with this recipe  which gives that oozing gooey chocolate, flavours (cinnamon, nutmeg and ginger) and also a cute Halloween presentation. You could add your flavours and styles to it, but the Chef takes care of the rest if you seem to be running out of time.
35. Vapour Cookies
Fat free, gluten free yet topped with that festive colour and presentation – these tiny balls of clouds, in Chef's own words, are sure to wow your tinier audience as much as your peers for this professional concoction.
36. Sweet and Spice

Sweet, spice and everything nice. Recall anything? These cookies are enough to get your inner Powerpuff talking and taking your guests completely by surprise. 'Pumpkin spice candy corn'- the cookies are easy to make and light on the taste buds. We promise it would leave your kitchen smelling wondrous!
37. Frosty Buttery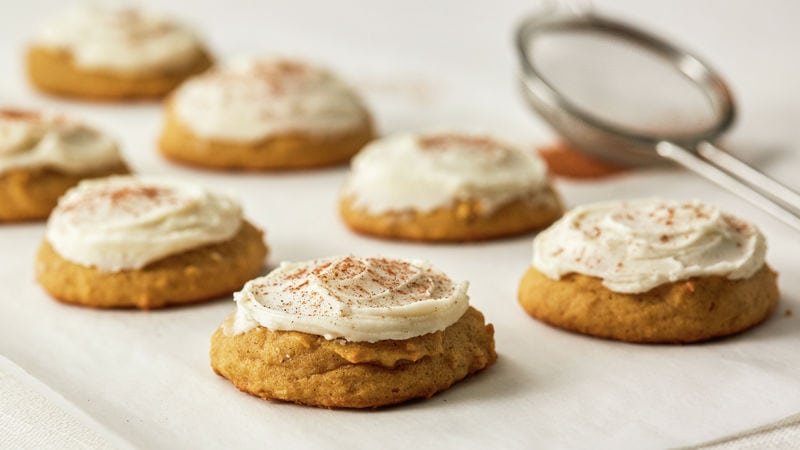 Feeling fancy and grand? 
Let these professionally curated cookies take over this festive season and watch the magic of Halloween happen in your kitchen! Topped with flavours of cinnamon, pumpkin, vanilla and lathered with smooth frost, this is sure shot winner at your celebrations!
38. Crunchy Cookies
This recipe is a no-worry-and-enjoy-the-festival kind of a recipe which is made for all those who love their cookies with a bit of a crunch and prefer their hand made shapes instead of a machine cutter. Customise each with your love and get creating some fun pumpkins inside your kitchen.
39. Guilt-free Tombstones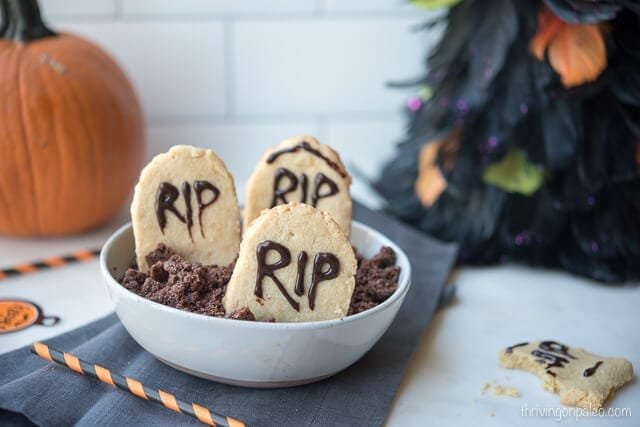 In the chef's words, – 'Paleo and gluten-free Halloween extravaganza'– guaranteed. Go all out with this recipe which prepares a good amount of serving and presents the spooky spirit rightly, all while keeping your diet on track. Made for one and for all, if you have some good time to spare (prep time about 3 hours), then this might really raise the bar for your guests.
40. Whipping Cuteness
Vegan and yet fun to bake and customise, this is a recommended recipe on our list for those cautious about not only their health but also of those surrounding them. Made using oatmeal, and 7 other ingredients, the Chef has kept it simple so the cookies can be enjoyed along with the festivities and reduce the stress of prep. 
We hope you whip some magic while enjoying the festival! Happy Halloween y'all.