Featured Image Source: whatluceeats
Halloween celebrations differ from house to house, but there is one thing that remains constant: tons of delicious and fabulous looking Halloween food recipes. You can make these Halloween food ideas for your party or any neighborhood party you'll attend. With these treats on display, you'll definitely be the most haunting chef in town. Whether you are looking for a creepy-crawly dessert or a spooky savory appetizer/snack, this post has all kinds of recipes that you can imagine. These Halloween food ideas are not only lip-smacking but also look boo-tiful to fit your Halloween decor.  
So start preparing your Halloween menu for this year's celebration ranging from scaredy simple to fang-tastically creative! If you need to decorate for a Halloween party, check out our post on Halloween Decor Ideas and Halloween Pumpkin Ideas. 
1. Chicken Pie Halloween Food Idea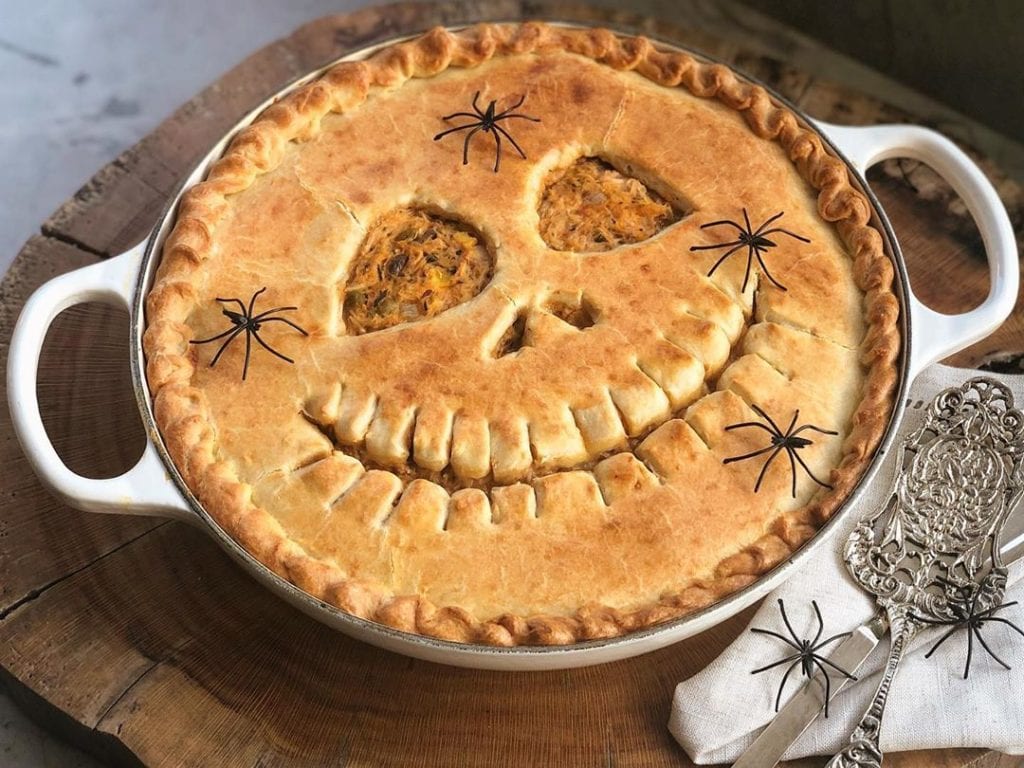 Source: piattidibaggio
Starting with a delicious Halloween chicken pie made using organic ingredients. This Halloween food idea by piattidibaggio is easy to make and follows a simple recipe. The spooky face on the pie adds to the Halloween theme perfectly. This savory appetizer would indeed receive multiple compliments from all your guests. For the detailed recipe, check out this link.  
2. Chocolate Zucchini Muffins

Source: biancazapatka
Add a load of sweetness to your Halloween celebration with this Halloween food idea by biancazapatka. These are 100% vegan chocolate muffins made using zucchini. They are topped off with vegan whipped pumpkin cream and a set of googly eyes to finish off the eerie yumminess. You could switch up the ingredients according to your liking, make it vanilla or red velvet, etc. Check out the detailed recipe of the zucchini bread here and turn it into muffins or cupcakes. 
2. Pumpkin Bread Halloween Food Idea
Source: whatluceeats
Here's a yummy Halloween baking project by whatluceeats. This Halloween food idea is perfect to suit your party theme and is way easier to make than it looks. It has a very creative look to it and pairs up perfectly dipped in soup or served hot with butter. You can switch up the ingredients and turn it into a dessert as well! Serve these little treats to your guests and add on to the spookiness of the celebration. Here's the link to the recipe. 
4. Spooky Halloween Low Carb Pizza

Source: ketodiet_app
This ghostly keto pizza is a super healthy and equally delicious snack for your Halloween party this year. It is made using keto tortilla dough, sugar-free blender marinara, and mozzarella ghosts made using cookie cutters and olive spiders. This Halloween food idea is perfect as a dinner recipe or even as an appetizer. Serve this spooky goodness on your dinner table this Halloween and get ready to welcome tons of compliments! Check out the full recipe here. 
5. Witches Curse Purple Sweet Potato Soup

Source: bucknakedkitchen
Each Halloween is incomplete without the mention of witches' stew! So why not have this magical concoction served this Halloween? This Halloween food idea by bucknakedkitchen is made using purple sweet potatoes, which have a floral aroma and the most delicious flavor. After making the soup, sprinkle some activated charcoal and a coconut milk swirl for extra witchiness. Check out the full recipe here. 
6. Punctured Cookies Halloween Food Idea

Source: bucknakedkitchen
Sweeten your mouth with these delicate thumbprint cookies. This Halloween food idea by bucknakedkitchen is a treat packed with deliciousness. These are coconut cookies topped with blueberry and raspberry jam. You can switch the flavors of the cookies or the jams according to your liking. Check out this detailed recipe and create these yummy treats that would be enjoyed by kids and adults alike! 
7. Spooky Cupcakes Halloween Food Idea
Source: ntontina
Are you and your party guests a fan of cupcakes? Then add them to your Halloween food list as well. This ghostly cupcake idea by ntontina is packed with the most comfortable flavors. So, it's a perfect recipe even if you are a beginner at baking. The cupcakes have a chocolate cake topped with classic whipped cream and decorated with sugar paste decorations. It is a super simple recipe and looks perfect amidst your Halloween decor. Check out the image source for the complete recipe. 
8. Peanut Butter Spider Cookies

Source: whatluceeats
These super adorable peanut butter spider cookies are a perfect Halloween food idea for your dessert menu. Bake some fresh cookies of any flavor or kind that you like. Place a peanut buttercup on the cookies and draw on the legs using melted chocolate. Finish it off by placing eyes on the cookie made using sugar paste or whipped cream. These yummy delights have a perfect cookie to chocolate ratio with a dash of peanut butter. Check out the recipe for these sweet treats here. 
9. Spiderweb Brownies Halloween Food Idea
Source: thefoodmedic
Brownies are a forever favorite indulgence and a perfect dessert option for any celebration. This Halloween food idea by thefoodmedic can be made using regular or vegan ingredients. You can also make them with sugar or sugar-free. Glaze them with melted dark/milk chocolate. Finish off by creating circles all over the brownie with white chocolate and creating a web design using a toothpick. Leave them to sit in the fridge for a few minutes and serve them post dinner! Find the detailed recipe at the source mentioned above. 
10. Peanut Butter Halloween Mummy Cookies

Source: picspeanutbutter
Here is another peanut butter cookie idea by picspeanutbutter. These Halloween mummy cookies are little treats filled with the deliciousness of peanut butter, chocolate and topped with royal icing. Use cookie cutters of your choice to create the desired shape. Layer it with royal icing to create the mummy drape. Finally, add two tiny dots to the face for making the eyes. They are delicious, and you can make them vegan too! Get ready to get some #instafood pictures clicked with this Halloween food idea.     
11. Jack-O-Lantern Stuffed Peppers

Source: champagneandcookies
Grab some bell peppers and recreate this delicious Halloween food idea by champagneandcookies. This is a savory delight and is a perfect option for an appetizer. You can stuff these up with absolutely any filling of your choice: meat, veggies, cheese, rice, potatoes, or almost anything you like. It is a very customizable recipe and takes very little time to make according to the filling you choose. Make this healthy and yummy recipe for your goblins and receive all their love through the compliments!  
12. Choco Dirt Cups Halloween Food Idea

Source: livwell_nutrition
Here is another dessert recipe that won't make you feel guilty about eating a lot of sugar! This healthy Halloween food recipe by livwell_nutrition is made using many protein-rich ingredients like avocados, bananas, cocoa plant protein, etc. The worms are made using dates, oat flour, and cocoa. To finish it off, sprinkle some dirt made using crushed Oreos or vegan cookies. Enjoy this pudding with your guests or indulge in it all alone while watching a Halloween movie! 
13. Monster Bites Halloween Food Idea

Source: patriciabannan
Add a fruity punch to your Halloween party with these monster bites that are healthy and too adorable. Use some sliced green apples to create the mouth, followed by sliced strawberries for the tongues. Add a spoon of peanut butter in the mouth and use the almond slivers for the teeth. Finally, use mini marshmallows and chocolate chips to create the monster's eyes. Voila! This Halloween food idea is an attractive delight for your trick-or-treaters. 
14. Witchy Root Beer Halloween Food Idea
Source: kelseynixon
Are you looking for a themed beverage to match your Halloween party? Here is a Halloween food recipe of homemade root beer, which is very easy to make. You need just four ingredients to make this beverage: carbonated water, sugar, root beer concentrate, and dry ice. You can customize this drink by switching up the root beer concentrate with a flavored concentrate of your choice, such as ginger, strawberry, or lemon-lime. Try this quick and delicious idea by kelseynixon and refer to this link for a detailed recipe. 
15. Dairy-Free Pumpkin Pudding

Source: thewoodenskillet
With the pumpkin season incoming, a pumpkin pudding is a must-have in your Halloween party menu. It is a dairy and gluten-free pudding made with coconut milk and pumpkin puree and topped with coconut whipped cream and ground cinnamon. Add a dash of chia seed for extra thickness. Your yummy dessert is ready, which tastes a lot like pumpkin pie! Serve this post-dinner or as an appetizer. The complete recipe for this Halloween food idea by thewoodenskillet is available here. 
16. Puking Pumpkin Guacamole

Source: shugarysweets
Add some fun to your Halloween celebrations with these puking pumpkins by shugarysweets! This Halloween food idea uses carved pumpkins and guacamole pouring out of the pumpkin's mouth. It is a quick way to create a themed appetizer for your Halloween party. Display two carved pumpkins and place scoops of guacamole near the mouth. Place some tortilla chips on the plate to compliment the dish and voila! Check out the detailed recipe of guacamole here. 
17. Eyeball Red Velvet Cake Balls

Source: shugarysweets
Here is a spooky dessert recipe that doubles as a Halloween gift for your loved ones as well. Start by baking a red velvet cake using a box of cake mix. Crumble the cake and form balls of the cake. Next, freeze them for a while and dip them in melted white chocolate. Now, drop red jelly on the balls and add eye candies on for the final touch. You can create a box of these cake balls with 2 to 9 balls for gifting or make as many as you like for the dessert menu. Here is the detailed recipe. 
18. Frankestine's Head bites

Source: sweetfreedomuk
These Frankenstein bites are weirdly delicious looking and very Halloween themed. Combine melted peanut butter with rice crispies, fruit syrup, and spirulina powder. Transfer this onto a dish lined with parchment paper and refrigerate for 2-3 hours. Cut this into the desired shape/size, use chocolate spread for the hair, and finish with edible candy eyes. This Halloween food idea by sweetfreedomuk is very quick and easy to recreate and tastes incredibly delicious. 
19. Pumpkin Smoothie Bowl

Source: bismoothie
Try this Halloween food idea by bismoothie, which uses the classic festive ingredient: pumpkins. It is a simple recipe and can be recreated even if you don't know the C of cooking. All you have to do is grab a bunch of ingredients and blend them until smooth. It is a five-ingredient smoothie and is very flavorful and delicious. You'll need pumpkin puree, coconut milk/any milk, cinnamon, dates/honey, and sliced bananas. Enjoy this healthy and yummy smoothie for this year's Halloween!
20. Ghost Smoothie Bowl

Source: bismoothie
Another smoothie idea for your Halloween party is this ghost smoothie bowl by bismoothie. This Halloween food idea is a perfect combination of healthy ingredients and spooky looks. It is a six-ingredient smoothie made using lemon, banana, mango, chia seeds, coconut water, and activated charcoal for color. Blend all the ingredients until smooth and refer to the above source for the exact measurements. 
21. Bat Cupcakes Halloween Food Idea

Source: alternative.outfits.ideas
Want to indulge in cupcakes dressed up in chocolate from top to bottom? Try this Halloween food idea by alternative.outfits.ideas for some batty edibles. Grab some triple chocolate fudge mix, fudge frosting, candy eyes, dark chocolate candy wafer, and some black food coloring. Bake some cupcakes and top it off with some whipped fudge frosting.  Pop some candy eyes on the cupcakes and create the wings out of candy wafer. Use the food coloring for a deep black color or skip it. Serve these yummy treats and enjoy the cocoa richness! (Refer to the image source for recipe details). 
22. Jack Skellington Cupcakes

Source: alternative.outfits.ideas
Here are some delicious jack skellington cheesecakes for the dessert at your Halloween party. Prepare a crust of graham crackers crumbs, melted butter, and brown sugar. Set the bases and top them off with a vanilla cheesecake filling. Finally, create a creepy face using a piping bag of chocolate ganache. Chill them in the refrigerator and serve after dinner for the perfect end to your Halloween celebration. Here are the details of this Halloween food idea by alternative.outfits.ideas. 
23. Spooky Skeletons Cupcakes

Source: annabelkarmel
Ending our list on a sweet note with these spooky skeleton cupcakes that take just 20 minutes to make. Check out this link to recreate this scary bake for your witches and wizards. Prepare some vanilla cupcakes and top them off with vanilla frosting. Put a cake pop stick over each cupcake and use marshmallows and pretzels for creating the skeletons. Enjoy these eerie delights for your after dinner to finish off the celebration on a sweet note! 
These Halloween food ideas are perfect to match your party theme and combine appetizers, dinner, and dessert options. We hope you are excited to prepare your Halloween menu for a frightening yet fulfilling celebration. Whether they are cupcakes, smoothies, puddings, or pizza, make sure it looks as spooky as delicious it tastes! 
If you loved these ideas, you can use the Pin image below and save this article on your 'Halloween Food Ideas' Pinterest board.