With the advanced design customization options and their distinctive functionality, Squarespace and Format are considered the two most renowned website builders.
A website builder is a creative platform where you can build a website without any manual coding. You don't need any technical knowledge or prior coding. With a host of website builders that promises to let you build a stunning website out in the market, you would fall into a dilemma as to which is best for you. Worry not! In this article, let us compare the two most popular website builders – Format and Squarespace. Both the builders can be used to start and manage portfolio websites that are meant for representatives of creative professions like models, photographers, artists, etc.
While Squarespace is an all-in-one website builder that serves a variety of goals, including portfolio website creation, Format is a specialised portfolio website builder that provides a full-featured platform to start and manage all kinds of portfolio websites. 
What is Format?
Format is a Canadian-launched website builder company that deals with building stunning portfolio websites. Format is for creative free agents and professional across various niches, it hosts numerous writers, photographers, models, filmmakers, singers, instrumentalists, etc.
The user gets access to all the tools at their disposal to create a website that represents them and what they do best. This website builder has an excellent outreach spreading to almost 200 countries globally, despite being launched in early 2010.
Lately, Format is hosting nearly half a million creative portfolio websites. This is because of their very user-friendly, highly integrative and very stunning dashboard features. Since Format doesn't require any technical knowledge, newbies find it very attractive and interesting. 
What Is Squarespace?
Squarespace, launched in 2003, is yet another powerful website builder with over two million websites. In the past few years, they have immensely improved and now recognised as one of the best website builders out in the market. Many business owners, blog writers, creatives, and virtual store owners suggest Squarespace for building websites of our dreams.
With the customizable, responsive, and very appealing designs and themes, Squarespace allows creatives to build the best site that is a replica of their personality. It enables photographers, singers, models, content writers, etc, (both pros and novices) to create awe-inspiring and impressive portfolio web pages.
Format Vs Squarespace
In this article, let us compare Format and Squarespace on seven key criterion 
In this article, let us compare Format and Squarespace on seven key criterion 
Ease of use
Design and templates
Tools and features
SEO
Prices 
Support 
Widgets and Add-Ons
Photography
Ease Of Use Format Vs Squarespace
Ease of Use is a very important aspect to consider when choosing a website builder for creating your website. Both Format and Squarespace are very simple to use as they both don't need any prior technical knowledge to create a website. Let us have a close look at each one to know which one is easier to use.
Format Ease Of Use
Format is an easy-to-use website builder. Yet, it might take some time to master it. Format comes with a host of options and high-end functionality which help you build a feature-laden project from the scratch. It offers a 6-step checklist to help you get started easily. You just have to follow this to create and publish a quality portfolio of your dreams.
All you have to do to start a website is – pick a template, fill it with content, upload images, integrate media files, and adjust the required settings. Easy, right? If you are still having doubts or any issues after following the checklist, you can contact their 24/7 customer support team of the service. If you wish to learn more about the builder, you can always browse the Help Center which contains multiple posts, guidelines, and tutorials.
Squarespace Ease Of Use
Squarespace is quite an easy to use website builder too. The sign-up process is very simple and can be understood by a newbie. The interface is intuitive and clean. Moreover, this platform offers a slight learning curve, making it mare easy to work in the WYSIWYG editor. The only drawback is that Squarespace doesn't provide a preview option, you need to publish the website to see it. This might slow down the process of building the website, especially when you need to make few edits.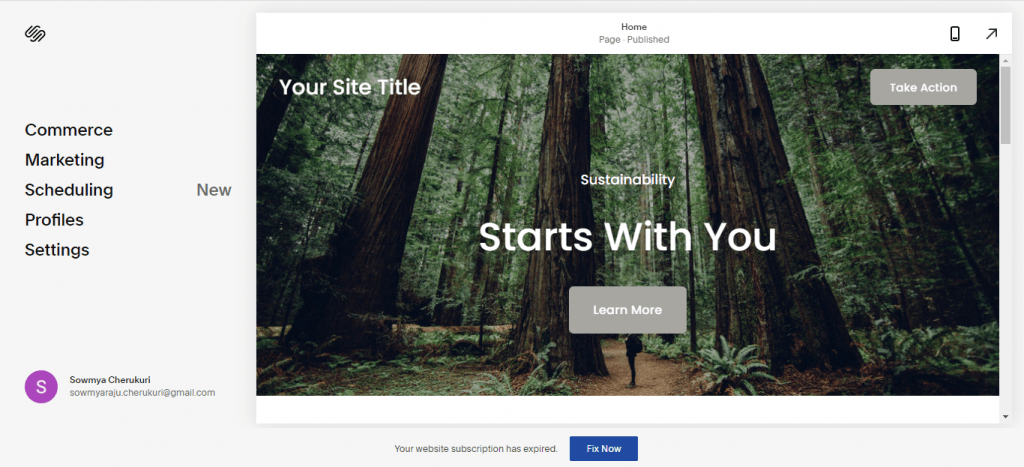 Squarespace comes with a drag-and-drop editor which let you drag the required element and drop it wherever you want on the website. You will also be provided with an integrated Style Editor that contains deeper design customization options. You can also change the backgrounds, fonts, colours, crop or resize the images with utmost ease. 
The availability of live chat, email support, and an extensive Help Center with informative blog posts, video tutorials, how-to guides, and other resources will make Squarespace a lot easier for beginners to build a website. 
Winner
Because of its portfolio-based focus and less extensive feature set, we can say Format is a bit simple website builder. Experienced web designers might find the system primitive, but it is very convenient and user-friendly. Though Squarespace has an easy dashboard, it is also more feature-lade, and thus it might take time to master it.
Design and Templates
A website becomes more appealing and attractive with the design and templates you choose for it. We all know a more visually appealing website attracts more customers. So, let us compare the designs and templates of Format and Squarespace to see which one is the better choice.
Format Design and Templates
There are seventy-three well-crafted portfolio templates for the creatives to design their sites in Format. All these templates are compatible with all devices (mobiles and computers) and are free options too. If you know to code, you are free to use it in creative procedures. 
The best thing is you can tweak all these 73 templates using different colour schemes. And under each design will have access to six separate styles (premium, horizontal, vertical, tiled, slideshow, and full screen) to explore.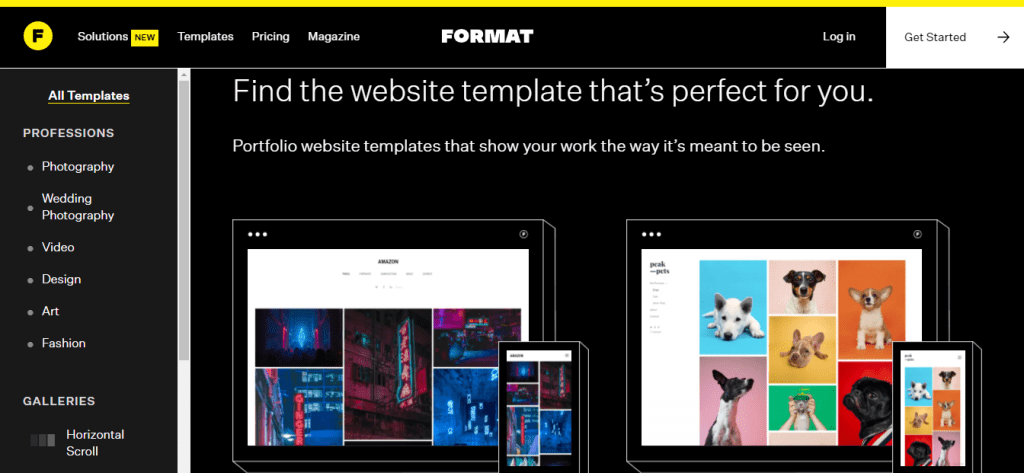 After creating the website, you have the luxury to preview the website before publishing it. This gives you a sneak peek of how it is going to look and many creators know how vital is this. Also, while working, you have complete access to your pages, their designs and the settings.
Squarespace Design and Templates
The number of templates Squarespace has surpasses the 23 that Format has, making the pool even more lucrative. There are 125 different templates to build the website you are dreaming of, and this number is not a fixed figure as Squarespace is known for adding new ones frequently. Each of these is editable and responsive to the creator's liking. You can work on more than one project at a time and you can also use your coding knowledge if you so wish.
The website builder also has 29 ready-made cover page templates which can be personalised to produce an appealing welcoming page. Its intuitive drag and drop feature makes Squarespace even more engaging and fun.
Winner
Though Format seems to be a bit limited when compared to Squarespace, it evens out the score with its six-style mobility of the templates. Both the website builders allow coding enhancements which emphasize the template collection and customization. Therefore, Format Vs Squarespace in regards to design and templates is a tie.
Tools and features Format Vs Squarespace
Tools and features are the fundamentals of any website builder. They allow you to do certain and will also restrict you from doing others. Let us now compare the specific tools and features of both Format and Squarespace to see which one is better.
Ecommerce Tools Format Vs Squarespace
Format Ecommerce Tools
Format has one of the undeniable highlights of the system, an integrated eCommerce engine. This website builder helps in creating and connecting a web store to sell certain products and services. Along with setting up stock items, SEO parameters, customer notifications, and special web store characteristics, Format has some versatile currency and shipping options too. 
Initially, you are allowed to upload three products/services only. For unlimited product uploads, you need to upgrade to one of the paid plans. Format also allows to create and manage customer orders, manage discounts and general web store settings in the relative website section.
Squarespace Ecommerce Tools
Squarespace is known for its eCommerce options. The platform offers integrated web stores for all professional portfolio websites, making it easy to sell your products or services. You can sell up to 100 products, manage orders, pricing, product lists, use several popular payment options, and other related parameters here.
Blogging Tools Format Vs Squarespace
Format Blogging Tools
Format has an integrated blogging platform. This will let you create and customize blogs that increase the performance of your portfolio website. You can publish niche articles to initiate user discussions and encourage them to have a look at your work.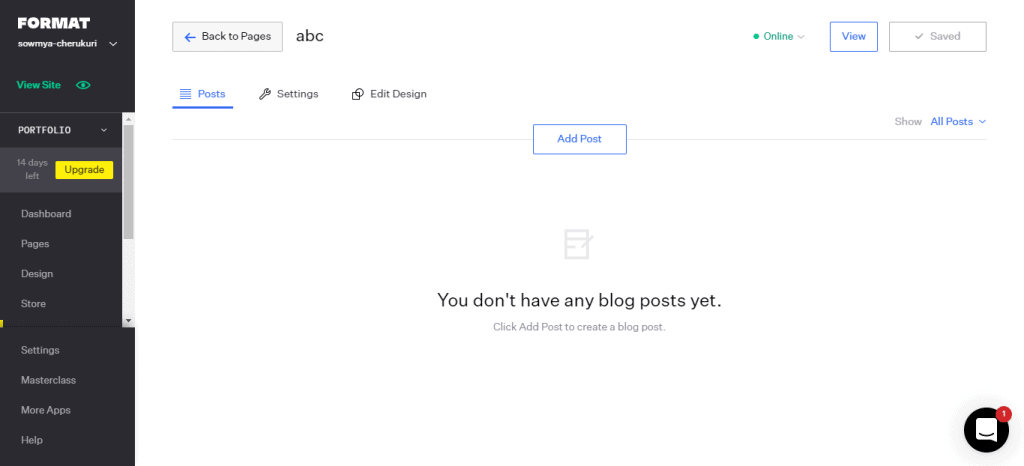 Format has a very simple blogging feature, you just have to connect the blog section, upload, and manage posts, images, videos, etc. You can also upload presentations, set up publication parameters that focus on the creation of multimedia stories.
Squarespace Blogging Tools
Squarespace blogging options are also at the top level. It sports post scheduling, URL customization, geo-tagging, and other blog-related solutions. Moreover, Squarespace also allows you to use Google Analytics, adjust post display parameters, show window options, multiple author support, and other required features.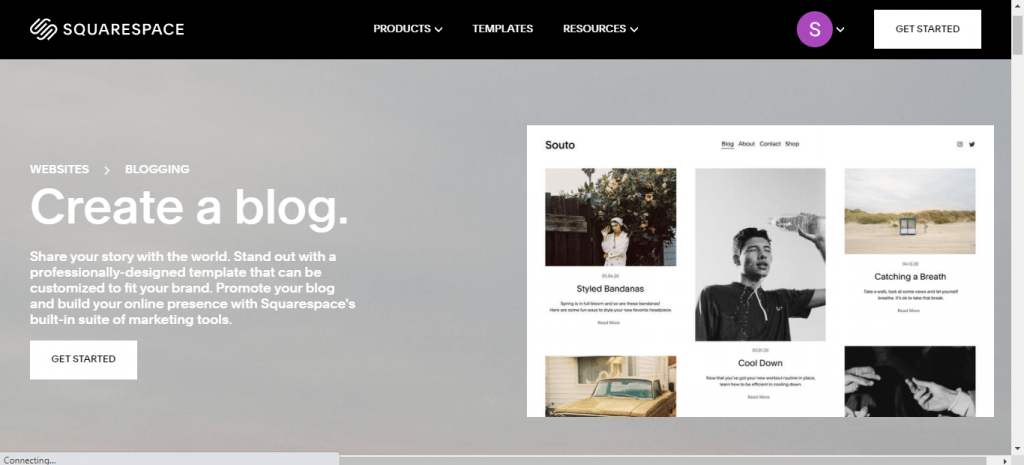 This website builder also lets you import blogs from other website builders like Tumblr, Blogger, WordPress, Shopify, Big Cartel, or Posterous. This helps you in cutting down the overall blog development time.
Winner
When it comes to the eCommerce aspect, Squarespace has more extensive options. You can start and manage even medium online stores to sell your services or products easily on the platform. Format, on the other hand, lacks eCommerce functionality, yet this won't stop you from getting the most out of your portfolio website performance.
Considering the blogging aspect too, Squarespace has a more extensive set of blog-related features and tools compared to Format. Though Format allows you to create a blog and connect it to your portfolio, we can't expect deep flexibility from it.
Therefore, Squarespace is a clear winner in regards to Tools and Features.
Seo Format Vs Squarespace
Let's say, you have created a stunning website, but, will there be a point in creating such a website when people don't even look at it? 91% of searchers don't even scroll to the second page on Google search engine. So, how to rank your website on page #1 on Google? Your answer is – SEO (Search Engine Optimization). Below is the comparison of the SEO features of Forrmat and Squarespace. Have a read and find which one offers the better deal.
Format SEO
Format has a separate SEO section in its dashboard to offer us a wide range of SEO settings. This SEO settings section is further divided into Global SEO and content settings which make it possible to set up the required parameters for better optimization. Among the must-have fields that we need to fill out, we have SEO website title, homepage title, web page descriptions, meta tags/keywords etc. The website builder will automatically generate the sitemap of your project and will provide you with the percentage scale. Percentage scale will let you see how well your site is optimized for the search engines.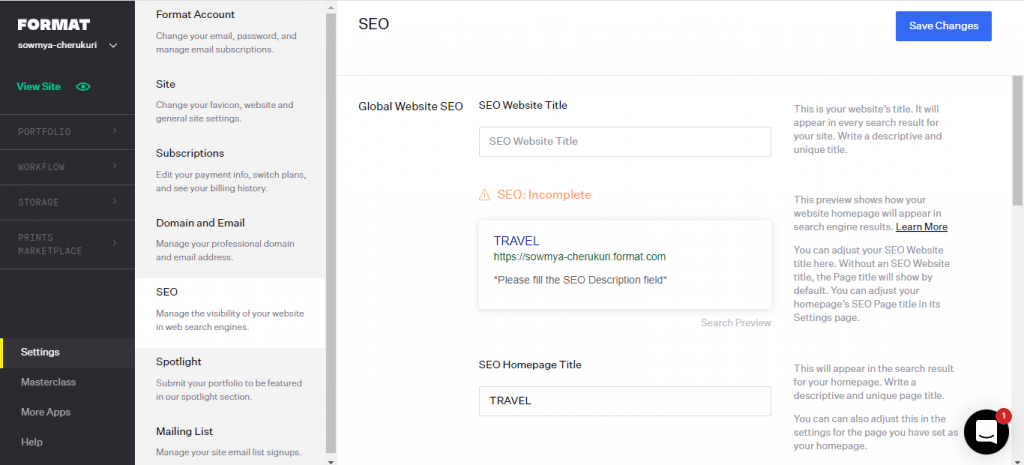 Squarespace SEO
Squarespace, on the other hand, also allows us to fill out SEO boxes with meta tags/ keywords, and web page/ website descriptions. The platform also contributes to the better promotion of websites in the search engines by ensuring simple and quick social media integration. The best part is, Squarespace generates headings for posts and products automatically to further use them as SEO titles for separate website pages. However, the system will not allow you to manually set up SEO settings and website titles.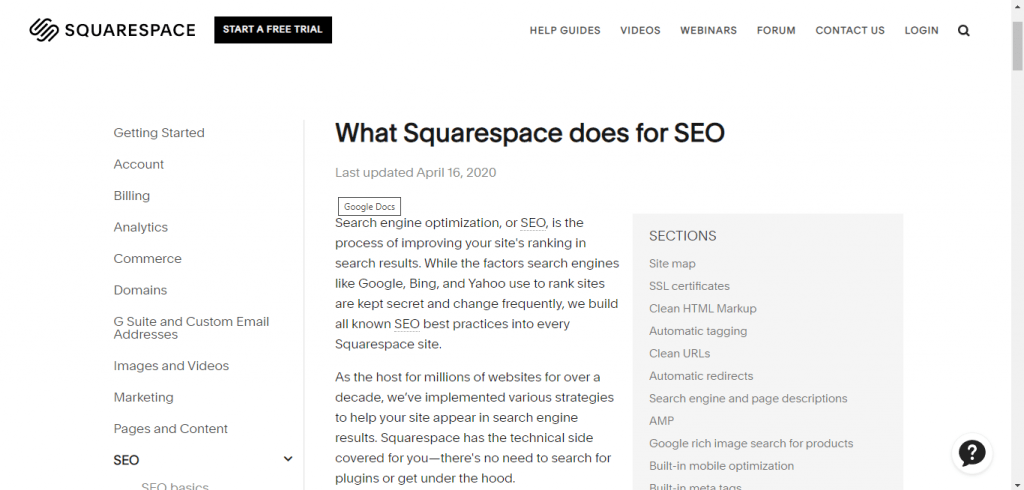 A notable advantage of Squarespace is it is possible to hide the required pages of your website from indexing by the search engines.
Winner
Format and Squarespace are both SEO-friendly platforms. They pay much attention to website promotion in the search engines. However, Squarespace allows access to more SEO settings than Format and this eventually results in better promotion of your website in the search engines. Therefore, Considering Search Engine Optimization, Squarespace is declared as the winner.
Pricing Format Vs Squarespace
Pricing is also another important aspects, you need to consider if you want to build a website on a budget. Decide your budget and choose a website builder accordingly. Below are the prices of both Format and Squarespace.
Format Pricing
Format offers a 14-day free trial, enough time to decide whether the platform is worth a shot or not. Upon the end of the trial period, you will be asked to upgrade to one of the paid subscriptions. These subscriptions grant access to many advanced features and tools. Form has 3 plans each in portfolio and workflow currently, namely –
Portfolio – 
Pro ($15 per month when billed annually) – 1500 images, 3 store products, 15 minutes hosted video, 100 GB photo storage.
Pro Plus ($25 per month when billed annually) – Unlimited images, 30 minutes hosted video, 1 TB photo storage, 60 store products.
Premium ($ 40 per month when billed annually) – Unlimited images, 1000 store products, free site build service, 2 TB photo storage, 120 minutes hosted video.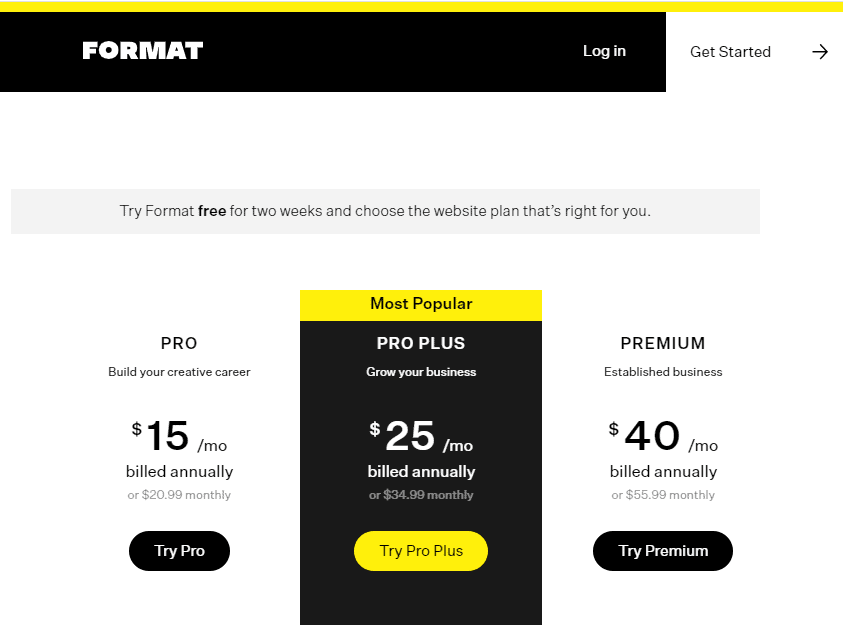 Workflow – 
Free – 10 client dairies, 2 file transfers.
Pro ($15 per month when billed annually) – 50 client dairies, 5 file transfers.
Pro Plus ($25 per month when billed annually) – 100 client dairies, 5 file transfers.
Premium ($40 per month when billed annually) – 250 client dairies, 5 file transfers.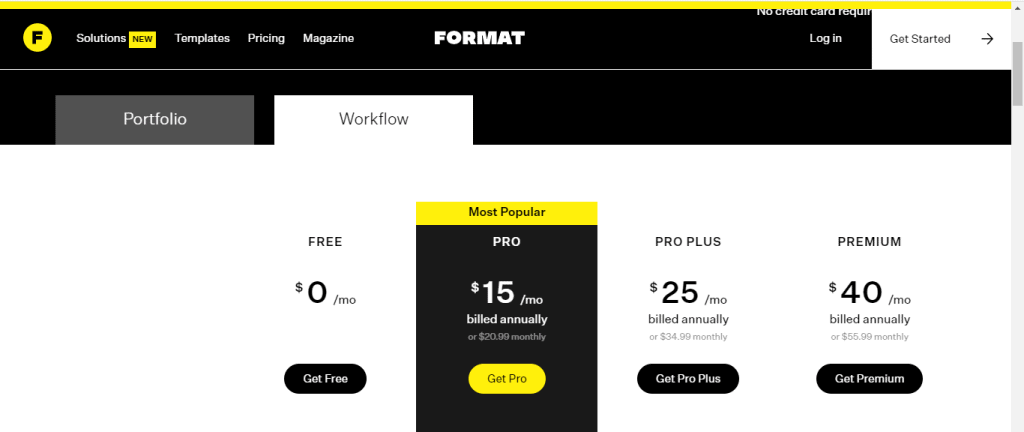 If you prefer to pay every month, you need to get ready to pay at least 30% more for each subscription. There is a 30-day money-back guarantee. For an extra $50, you will also get a 30-minute website set-up assistance from the system.
Squarespace Pricing
Squarespace too offers a free testing period. After that, you will be asked to upgrade to one of its subscriptions. Currently, there are four subscription plans.
Personal Plan ($12 per month when billed annually) – Free custom domain, SEO features, 2 contributors, 24/7 customer support, SSL Security, unlimited bandwidth and storage, website metrics.
Business plan ($18 per month when billed annually) – Professional email from Google, unlimited contributors, CSS/ javascript design customization, premium blocks and integrations, 3% transaction fees, fully integrated eCommerce, advanced website analytics, etc.
Basic Plan ($26 per month when billed annually) – domain checkout feature, customer accounts, powerful eCommerce analytics, Instagram synchronization etc.
Advanced Plan ($40 per month when billed annually) – Advanced shipping and discounts, APIs for order and inventory, abandoned cart recovery, limited availability labels etc.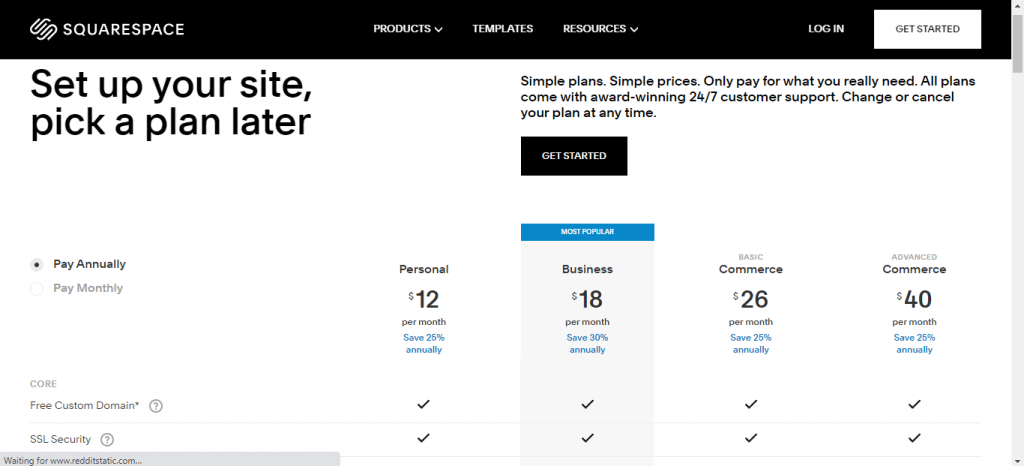 Winner
As to the pricing, Format has more diverse options than Squarespace. And square space is a bit cheaper as compare to Format. So, we declare Squarespace as the winner in regards to pricing policy.
Support Format Vs Squarespace
Help and Support are again an important factor to compare. Let us now compare the help and support features of both Format and Squarespace to see which one is the best.
Format Help and Support
You can reach Format's client support team via email, live chat, or the help centre. You get hold of them any time and on any day. The Help Center comprises numerous blog posts, video tutorials, and guidelines to guide you in creating the best portfolio website.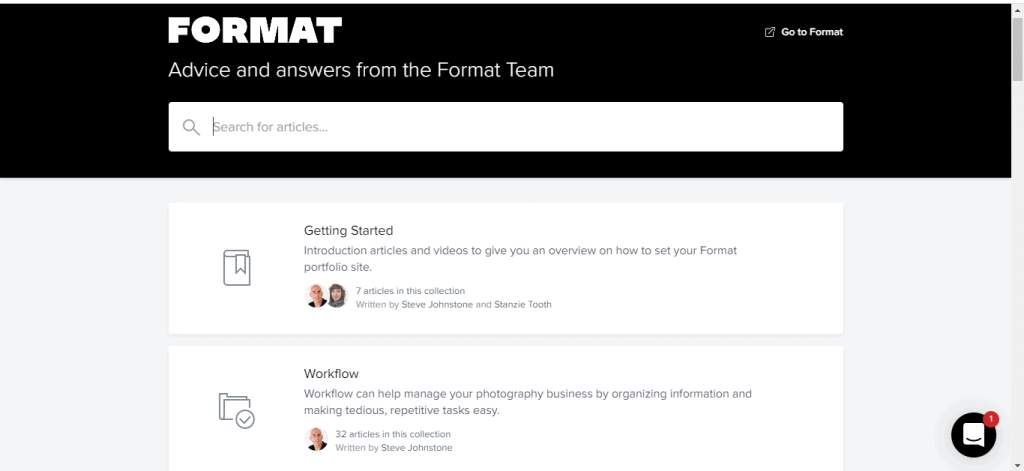 Squarespace Help and Support
Along with email, live chat and the help centre, Squarespace also uses a ticketing system, FAQ, and a community forum to connect with the users. Also, all these features are available to the users 24/7.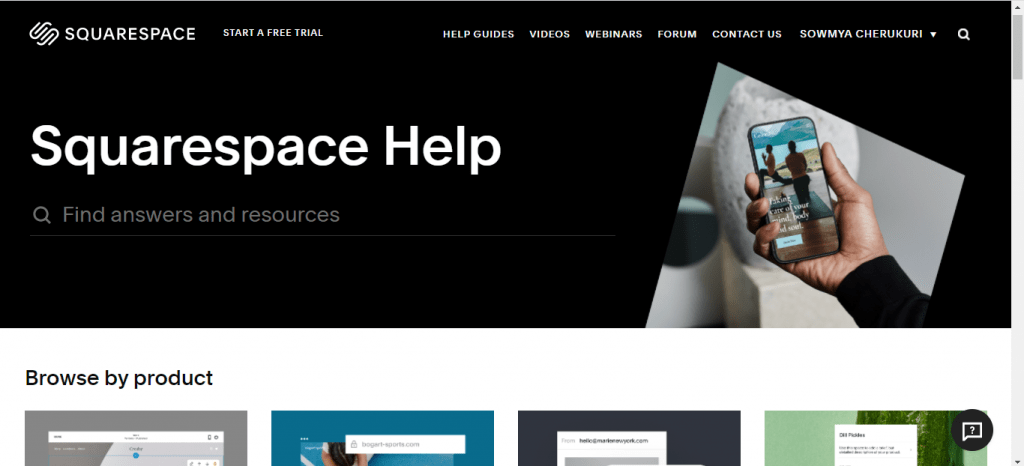 Winner
Squarespace has more avenues than Format. But, this does not deter the fact that the quality of service is great on both platforms. Both are available around the clock any day. So, it's a tie between Format and Squarespace in regards to support and help.
Widgets And Add-Ons Format Vs Squarespace
Widgets and Add-Ons help in enhancing your website with great features. Let us compare the widgets and add-ons available on both Format and Squarespace.
Format Widgets and Add-Ons
The format doesn't have integrable add-ons. But, you can add third-party widgets via code injection. For the developers who pay attention to content privacy, Format allows them to adjust client access rights, review individual customer feedbacks and waterproof the uploaded images in the corresponding Client Proofing Section that is located in the dashboard. You can also create and update client proofing galleries directly from the Adobe Lightroom here.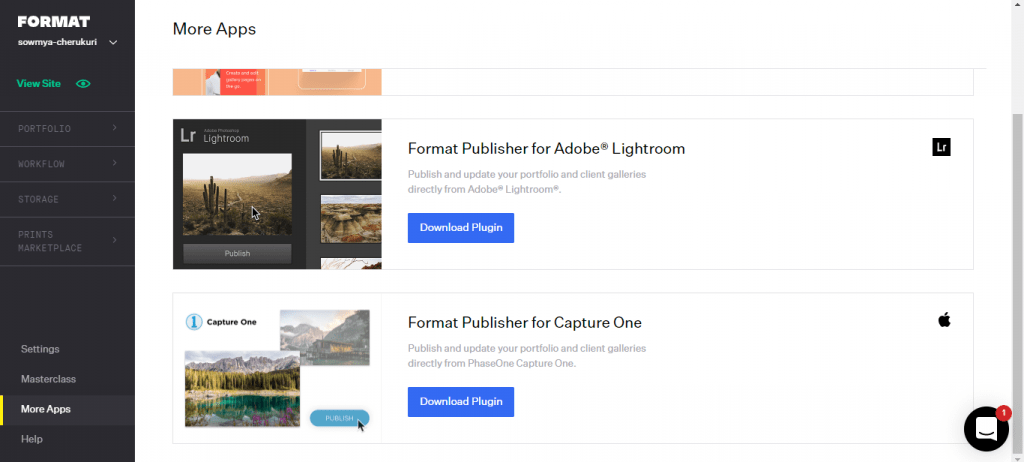 Squarespace Widgets And Add-Ons
When it comes to widget integration, Squarespace unveils more possibilities. It contains an extensive choice of add-ons from which the user can choose and integrate into their projects to improve its functionality. These include social sharing buttons, contact forms, google maps, analytic tools and metrics and much more.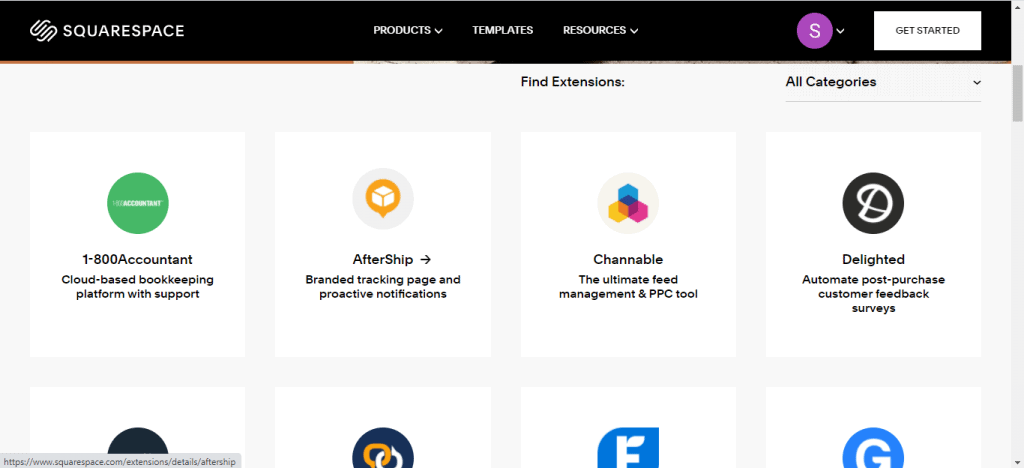 Winner
In terms of widget selection, Format lags behind Squarespace. Format doesn't have integrable add-ons, we have to integrate third-party extensions through code injection. On the other hand, Squarespace offers numerous widget integration options without any technical knowledge at all.
Photography Format Vs Squarespace
Format Photography
It is well known that Format is a portfolio-focused website builder and this fact already speaks for itself. The platform allows you to create photography websites from scratch. It grants access to an impressive variety of niche-specific tools along with a nice template collection and design customization tools. 
Squarespace Photography
Squarespace is also a good choice for photography website creation. It comes with a rich collection of templates and designs suitable for a photography portfolio website. You can showcase your art with a wide range of visually appealing galleries.
Winner
If you want to create a photography website from scratch, you can pick both Format and Squarespace. Each of them lets you run a project with great flexibility and creative freedom. So, in regards to building a photography website, it is a tie between Format and Squarespace. As both of them comes with more advanced and powerful integrated functionality that will help you in availing perfect results.
Final Verdict
Lets us have a look back at each feature and take a look at which platform won which category.
Ease Of Use – Format
Design and Templates – Tie
Tools and features – Squarespace
SEO features – Squarespace
Pricing – Squarespace
Support – Tie
Widgets and ADD-ONs – Squarespace
Photography – Tie
After having a clear comparison between Format and Squarespace, we can undoubtedly say that Squarespace is the clear winner.
However, before starting a website you should realize your requirements and objectives. This is the simplest way to choose the best website builder that will absolutely match the vision of your website.
Format is a website builder especially for creating a portfolio website. It works great for creatives, artists, photographers, designers and models. Its feature set is geared exclusively towards portfolio development and promotion.
Squarespace on the other side of the coin is an all-in-one website builder. It covers a wide spectrum of web design needs. This system is best for users who want to create business websites, small web stores, and portfolio projects. Squarespace is feature-laden and modern. 
Therefore, if you are intending to build a full-featured portfolio website, Format is the go-to platform. But, if you need a more advanced and complicated website with powerful integrations, go for Squarespace.