Irrespective of the theme that you have chosen for your bullet journal, a good header can spice things up a little more. I have created this list of June bullet journal headers for you where you will find all kinds of headers. 
These June bullet journal headers will certainly give you some inspiration to make your June bullet journal unique and fun. This list includes a wide spectrum of ideas that I am sure will spark new ideas in you for your Bujo pages. 
1. Peachy June Headers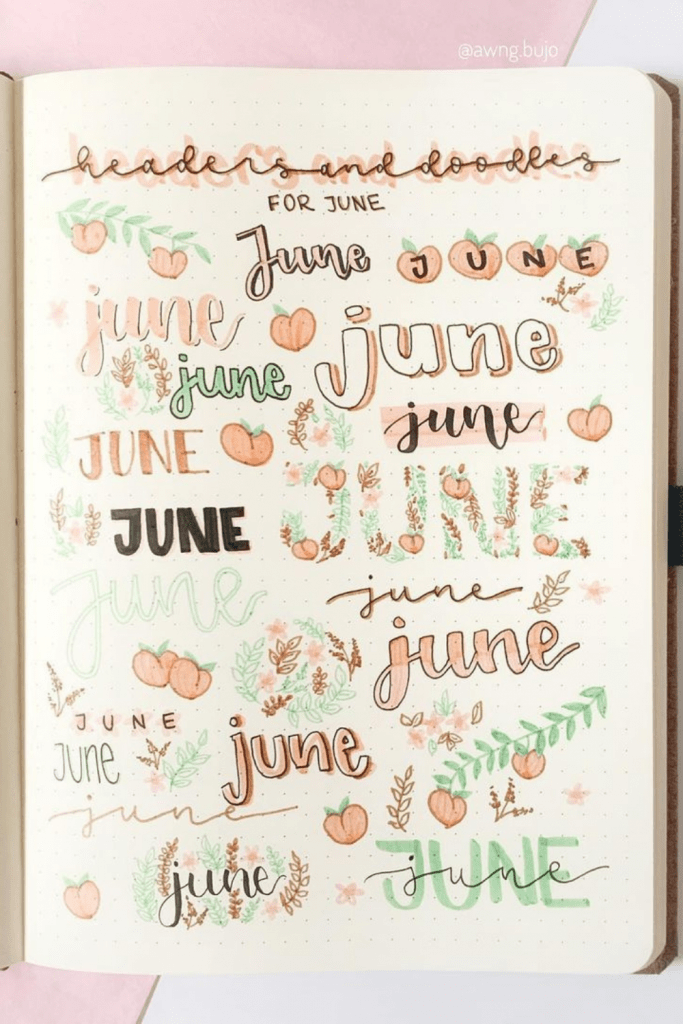 There is something about peaches and summers that I can't seem to get enough of. I am in love with these assorted June bullet journal headers by xprinaspages. She has included a plethora of header styles for your June bullet journal. Each is unique in its own way.
2. Blue June Journal Headers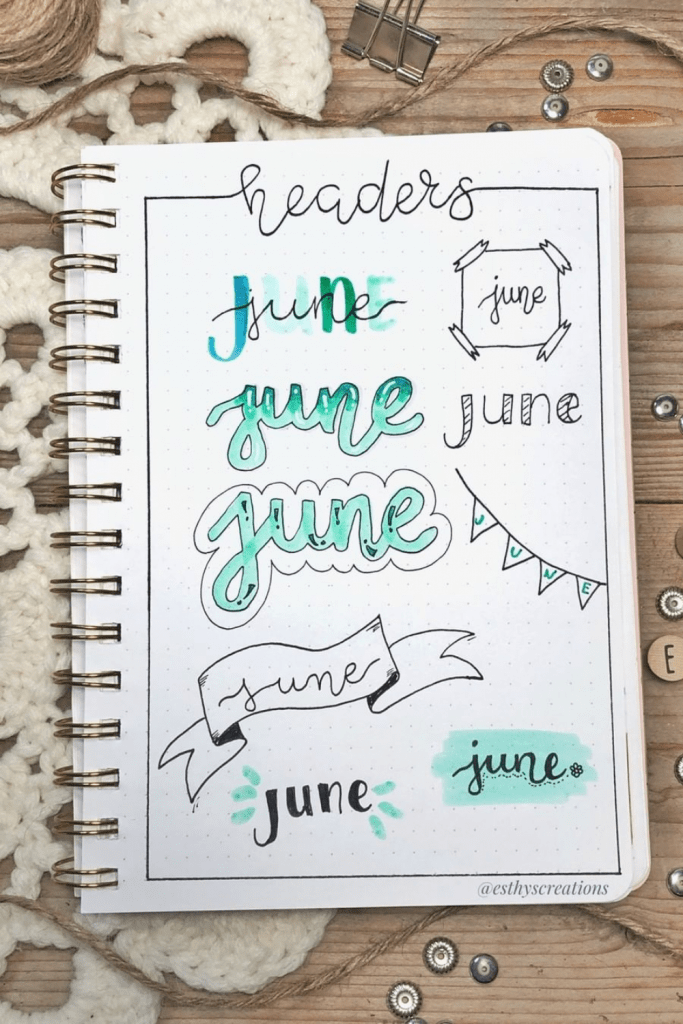 I love the use of color gradient in these bullet journal headers. Esthyscreation has used shades of blue and a little hint of green to create a beautiful color gradient. These June bullet journal headers are cute, simple, and clean! You certainly need to check these out!
3. Marine June Bullet Journal Headers
I love this whole combination of red, blue, and white. It reminds me of that famous song Party in the U.S.A by Miley Cyrus. Notikjournal has created this assortment of June bullet journal headers that are perfect for the summer theme. I am loving it!
4. Yellow Bullet Journal Headers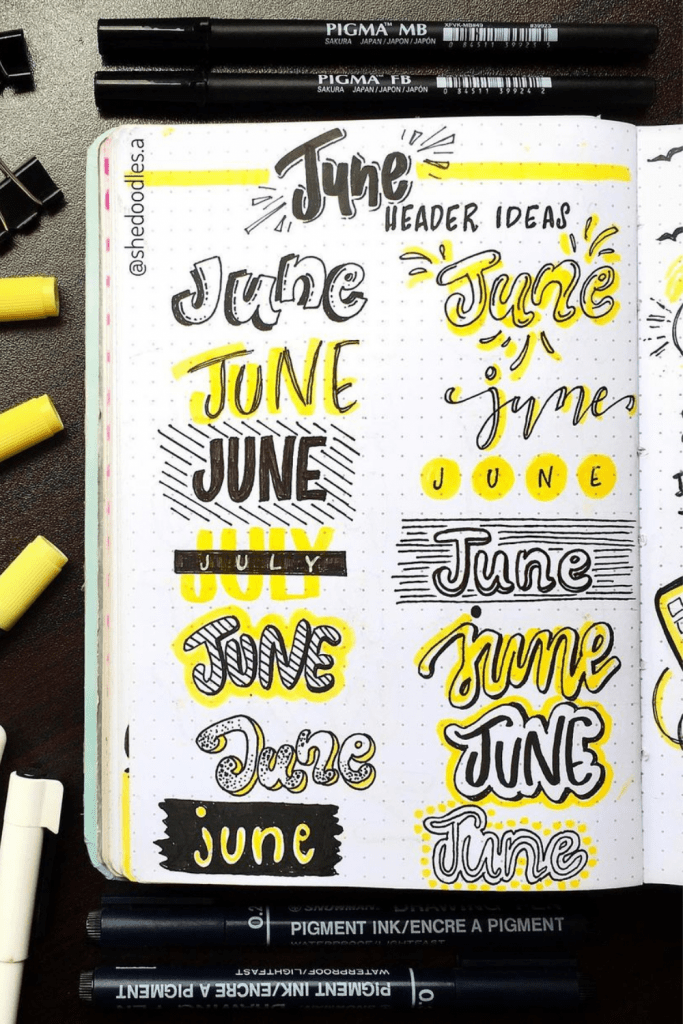 Can you even imagine a perfect summer spread without some bright yellows? Shedoodles.a has amazing ideas that will spark new inspirations for your Bujo pages. These bullet journal headers are too much fun to ignore! 
5. Grey Bullet Journal Headers
Grey is such a sophisticated and neutral color. It makes everything look majestic and classy. If you are looking for some minimal and not too extravagant June bullet journal headers then blikebujo has the perfect medley of ideas for you!
6. Some Shades of Yellow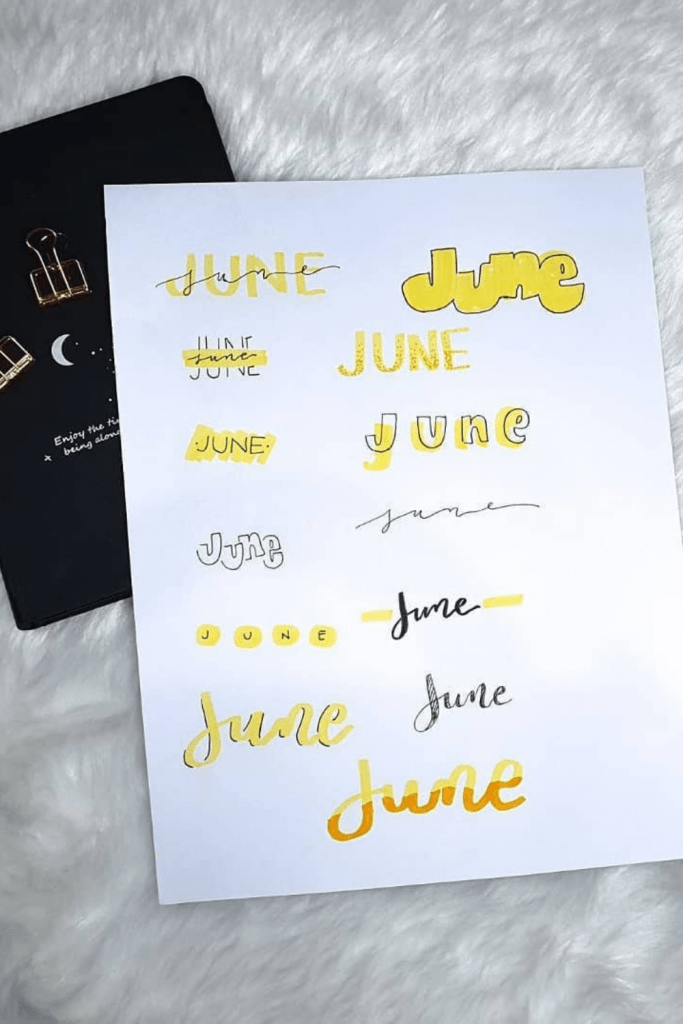 Yellow is a recurrent color theme for many of us when it comes to the summer bullet journals. And why not? It is bright, fun, and sunny just like the summer months! Sidneyenyen has used three shades of yellow to create these lovely bullet journal headers. She has also used color gradients and shadows to give the headers more definition.
7. June Headers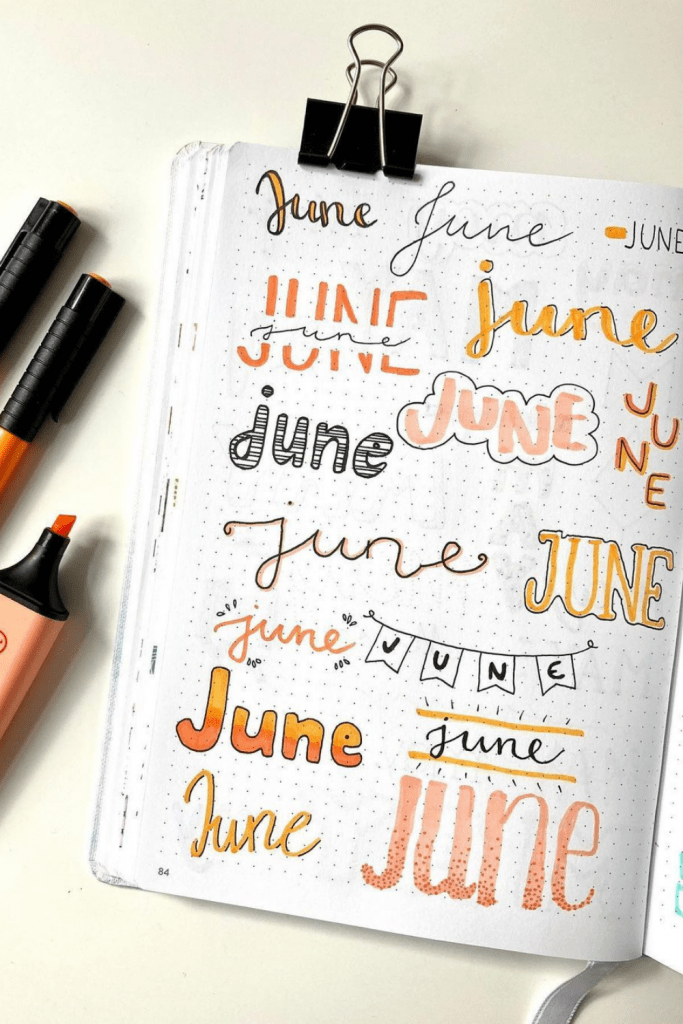 There is nothing that can ever replace my love for pastel colors! So it was love at first sight for me when I spotted these June bullet journal headers by one.more.journal. They are easy, fun, and unique. My favorite one in here is the color gradient June lettering- reminds me of the sunset! You should check them out!
8. June in Yellow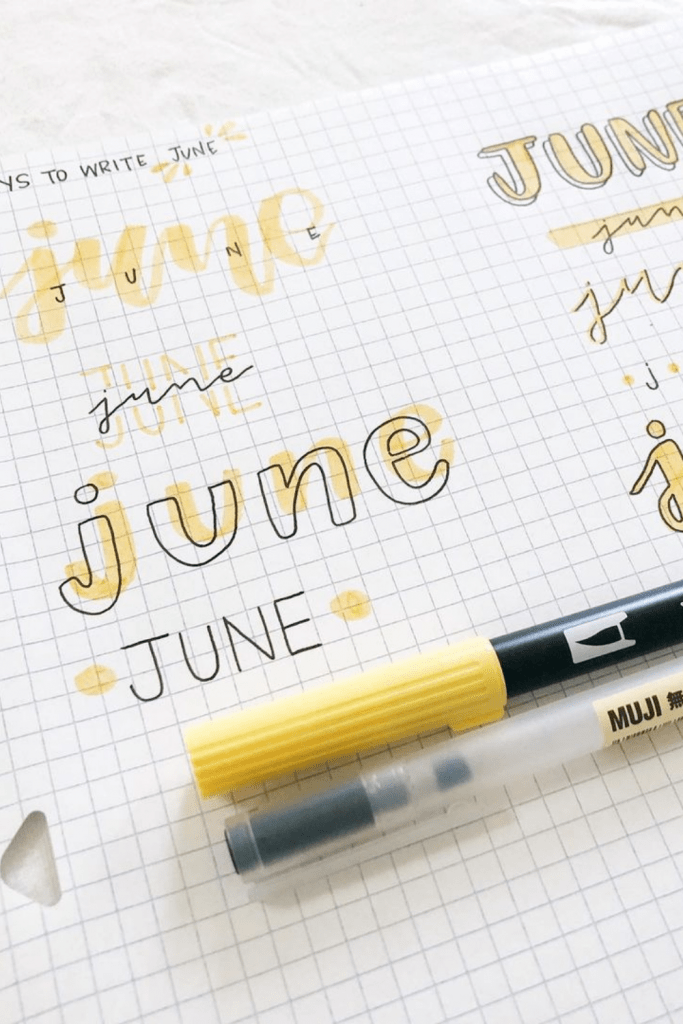 Some more yellow-themed bullet journal headers for you! Studybeanthings has come up with mind-blowing ideas for bullet journal headers in this spread! They are so simple and elegant. My favorite one is the one where she has created a shadow effect! What's yours?
9. Letter June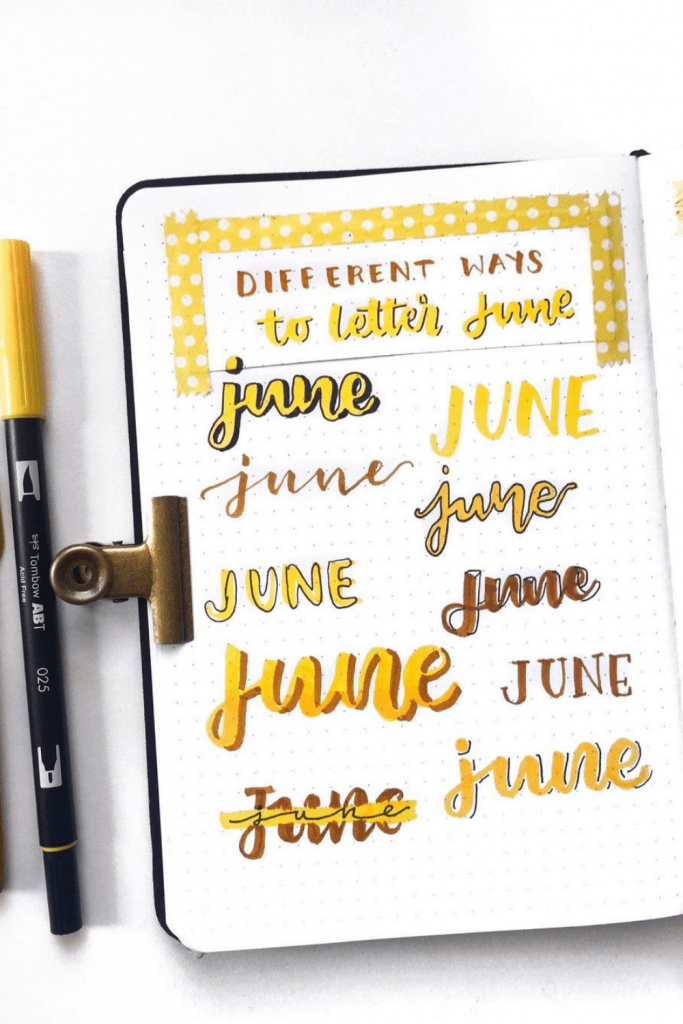 This yellow and brown combination reminds me of sunflowers! Cozydaydreams has kept the lettering simple and fun. The earthy brown along with the bright yellow has created some cute bullet journal headers.
10. Pastel Bullet Journal Headers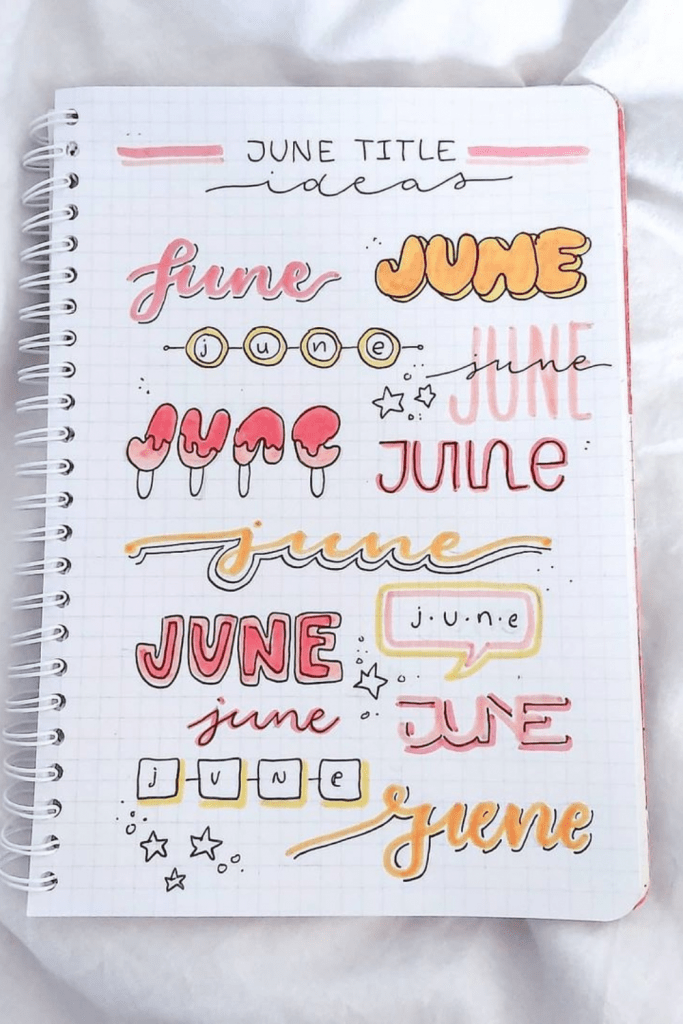 Summers and popsicles are like Romeo and Juliet! And if you think otherwise then look how skillfully handletteringspiration has included popsicles even in the June lettering! If you are looking for some June headers that are fun, creative, and animatic then this is your stop! Get super creative with these June header ideas this summer.
11. Cactus Theme Headers
I love how bulletwithe has used this earth and grassy green tone. Green and June are like best friends. When June comes grasses are greener, flowers bloom, and the sunshine! These headers are perfect for your June theme. Moreover, you can also use them for a cactus or succulent theme bullet journal. 
12. Cute June Bullet Journal Headers
Look how cute these pink-toned bullet journal headers are! Somekindwords_ has kept the look simple and monochromatic. The lettering styles are easy and yet unique.
13. Sunflower June Headers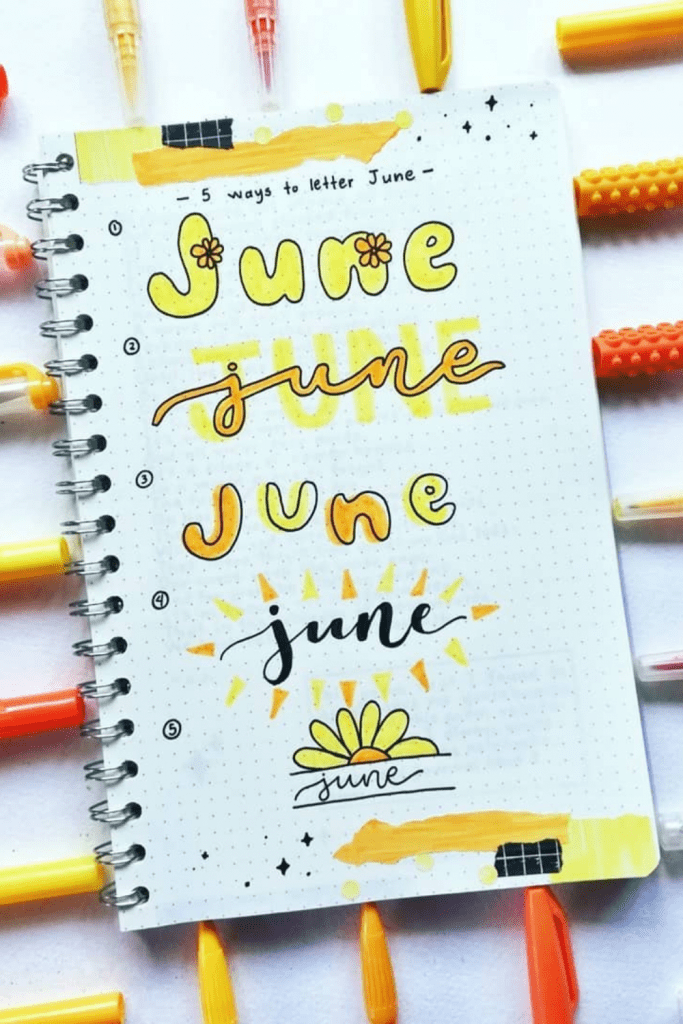 What is June without some sunflowers? So here are some bright yellow June journal headers for your sunflower-themed bullet journal. Kalliegraphieee_ has come up with these yellow letterings that even have some sunflower doodles for your Bujo pages. These headers are some serious inspirations! Here are some sunflower-themed bullet journal ideas for you- 28 Bright Sunflower Bullet Journal Ideas.
14. Aqua June Headers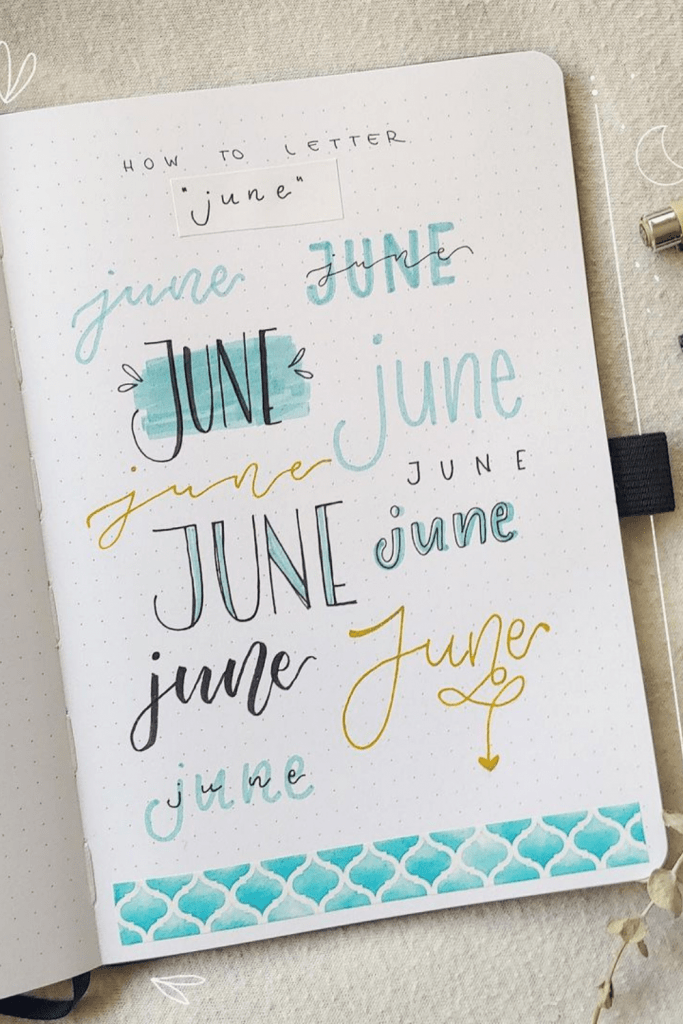 I am digging these aqua June bullet journal headers by miris.journal. She has used teal blue as the dominant color for these headers. The calming blue and the little hint of yellow are so refreshing! This one here is a perfect way to start the summer!
15. Avo-luscious Journal Headers
Brunches are so much more enjoyable during the summers. And this spread of headers reminds me of a summer brunch. Journalwithni has included cute and adorable June bullet journal headers in this spread. From avocados to egg yolks you will certainly find your favorite pick here!
16. Green June Titles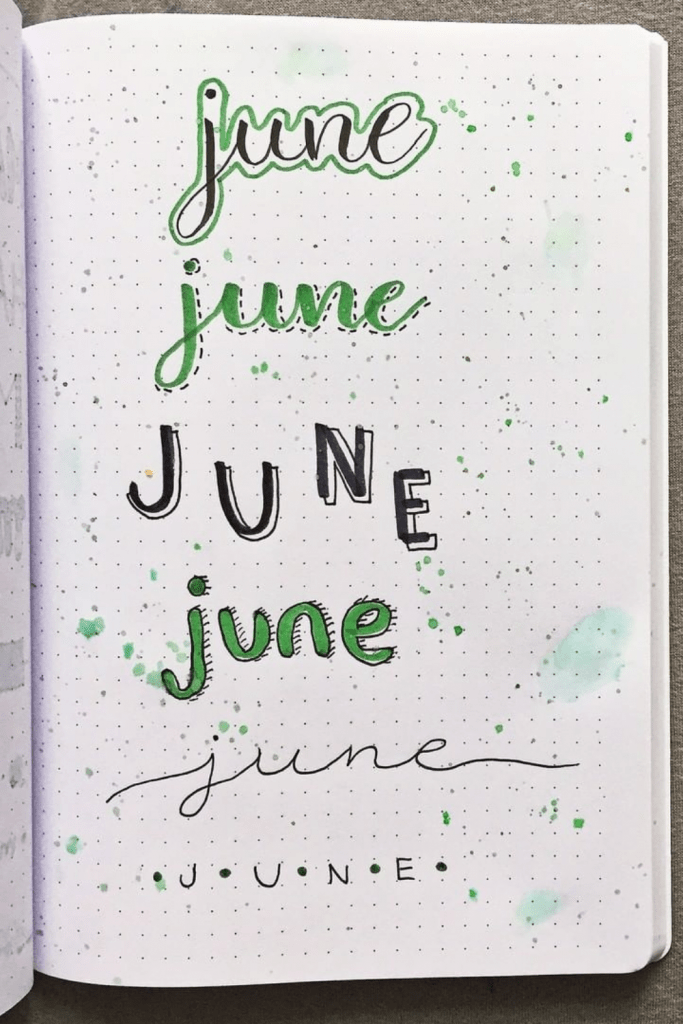 Green is a suitable color for the month of June, wouldn't you agree? Summers are all about bright blooming flowers and soft fresh green grasses. _bujo_lovers_ has perfect June bullet journal header ideas for your green-themed bullet journal pages. You can certainly use these even for your succulent-themed Bujo pages. 
And with that, we have exhausted this curated list of June bullet journal headers. These ideas are unique. You can certainly get experimental with these June bullet journal ideas. I am sure they will spark inspiration in your to create your own list of June bullet journal headers! Let us know your favorite one in the comment section below.
Also, if you like this article you can pin it to your Pinterest board by just clicking on the image below.