People, summer is here! And I cannot wait to share the new June monthly cover ideas with you. I know how hard it can get to find new and interesting inspirations for your new month or even season bullet journals. Even I find myself sometimes going through numerous Pinterest and Instagram ideas for my BuJo pages. But don't worry darlings! We have got you covered.
Here you will find new and unique ideas and inspirations for your June monthly cover page. These ideas are not only one of a kind but also a reflection of the summer month of June. I always like it when my bullet journal vibes with the month and if you feel relatable then you will certainly enjoy the ideas I am going to share.
So let's not wait and get right into our list of June monthly cover ideas. You can also check out some more cover page ideas here on- 20+ March Bullet Journal Ideas to Get Creative This Spring.
1. Let Your Light Shine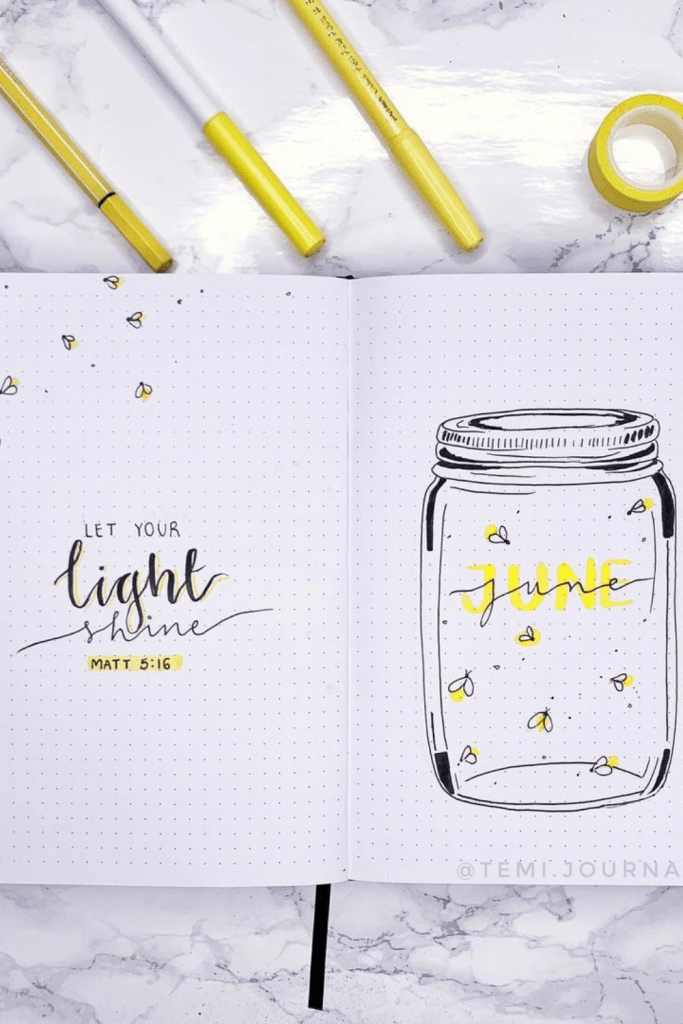 Have ever put others first and then yourself? Well, we all have at some point do that. So how about we change that? With this June monthly cover by temi.journals remind yourself every day of self-love. I have always had a soft corner for bullet journal quotes. They inspire me; they motivate me. And this one here is no different. This June monthly cover is simple and minimal. With just an adequate amount of color, she has created beauty!
2. Fruity June Monthly Cover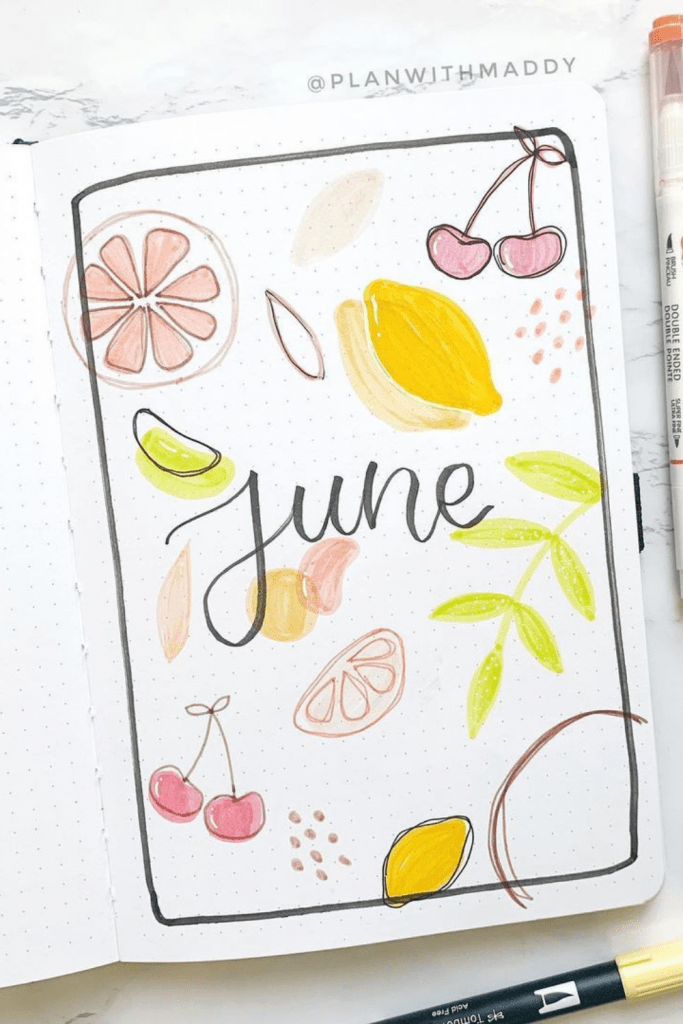 This is a new theme for your June monthly cover that I am sure you will love. Planwithmaddy has used one of the most summery elements of June- fruits. I think a list of June monthly cover ideas is absolutely incomplete with one of these. The layout is simple and elegant. She has used interesting colors that have given the cover a cheerful vibe.
3. Achieve and Thrive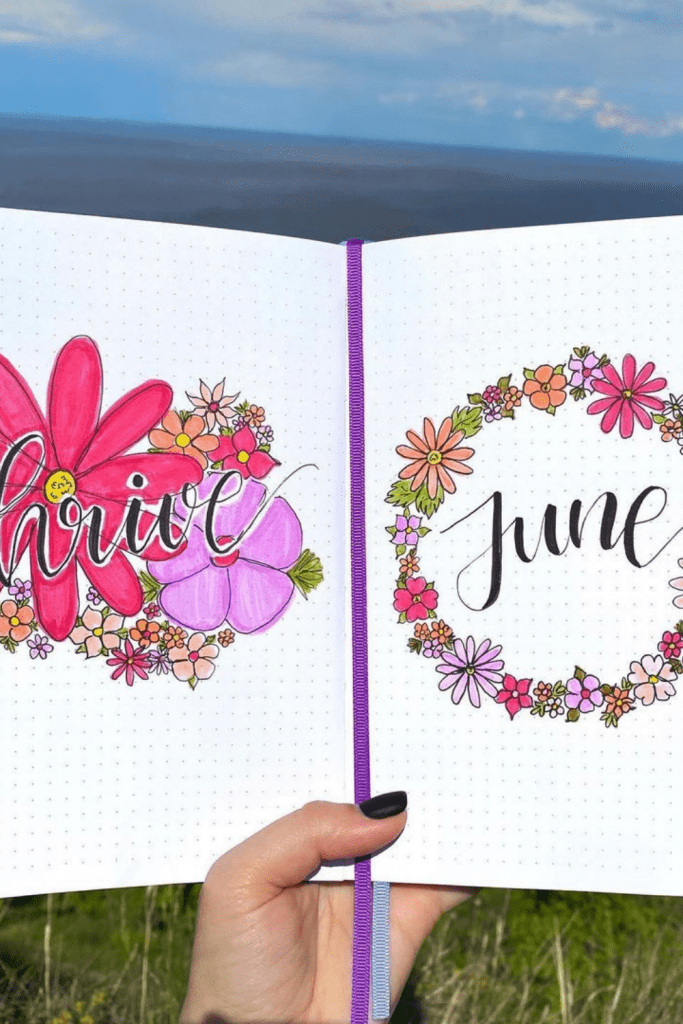 As a person who likes to work by the clock, staying productive is one of my biggest flexes. Of course, there are the low days and that is exactly when I need a little motivation. This June monthly cover will do the same for you. Anastasiiasdesign has created a colorful layout with the word 'thrive' at the center that will remind you to stay productive and also grow each day. The flower wreath is an exemplary symbol of summer.
4. Blue Whale June Monthly Cover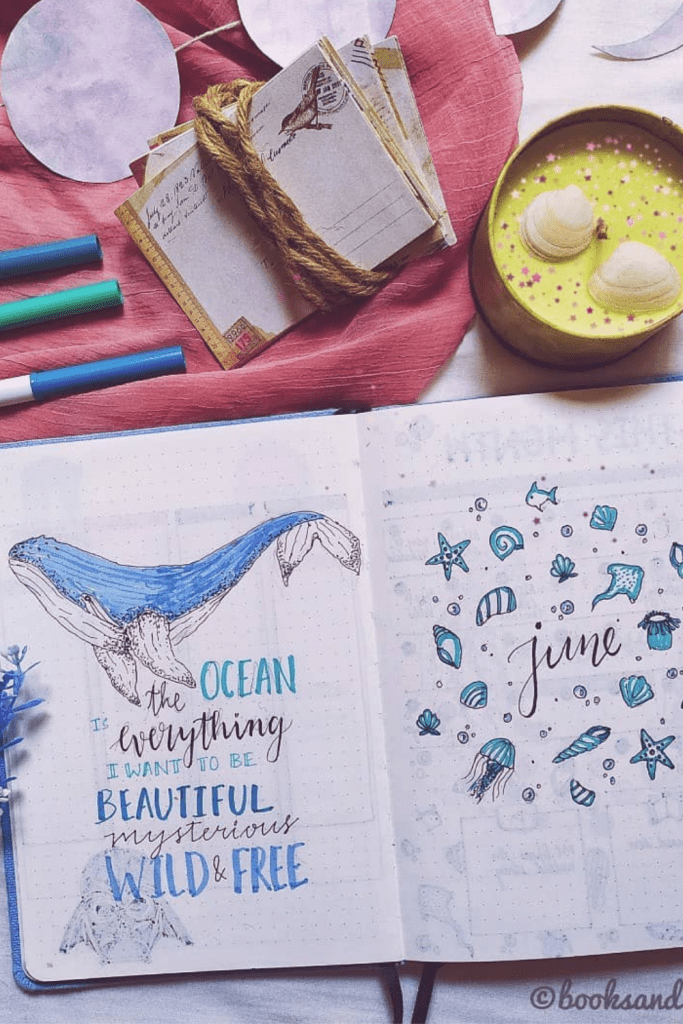 We all have one life so they often say to be wild and free. But I often find myself pondering over a simple question- "What about my goals?" So I had to include this one here by booksandstrokes in this list. I love how magnificent this blue whale looks. And how can one ignore the cluster of shell doodles on the right? But what caught my eyes was certainly the quote on the left. So go ahead and seize the day, people!
5. Blue Whale and Yellow Flowers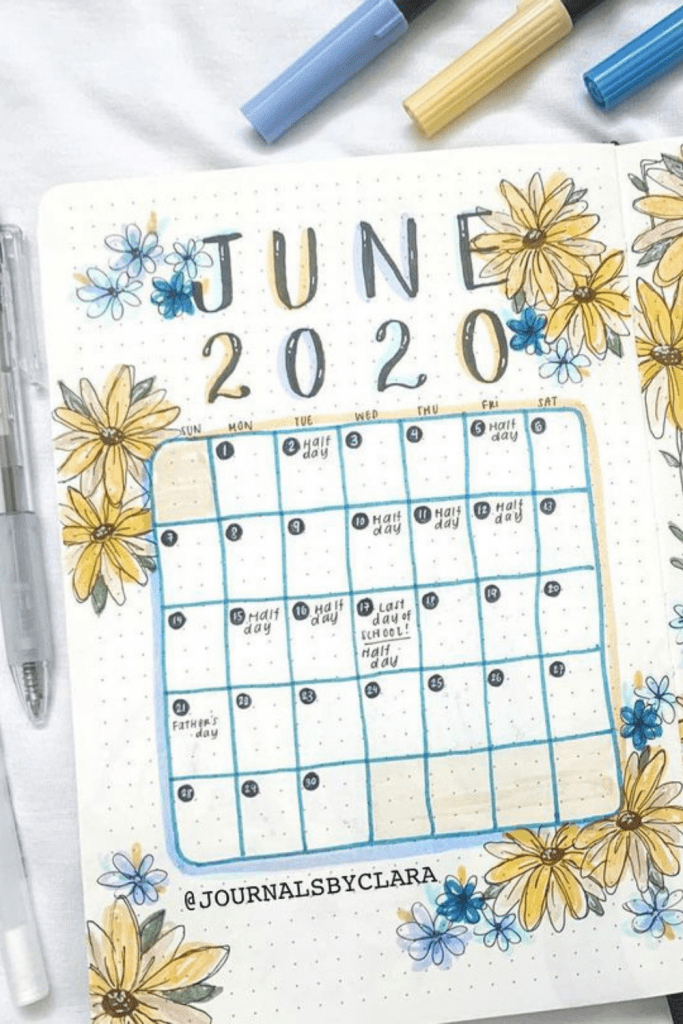 I love the juxtaposition of the majestic blue whale and the delicate yellow flowers on this June monthly cover page. Journalsbyclara has created a utopian atmosphere in this layout. This June monthly spread is beautiful and elegant. It is so extravagant yet well sorted. And I like how she has included the monthly calendar, this will allow you to have an overview of the month at a glance.
6. Strawberry-licious June Monthly Cover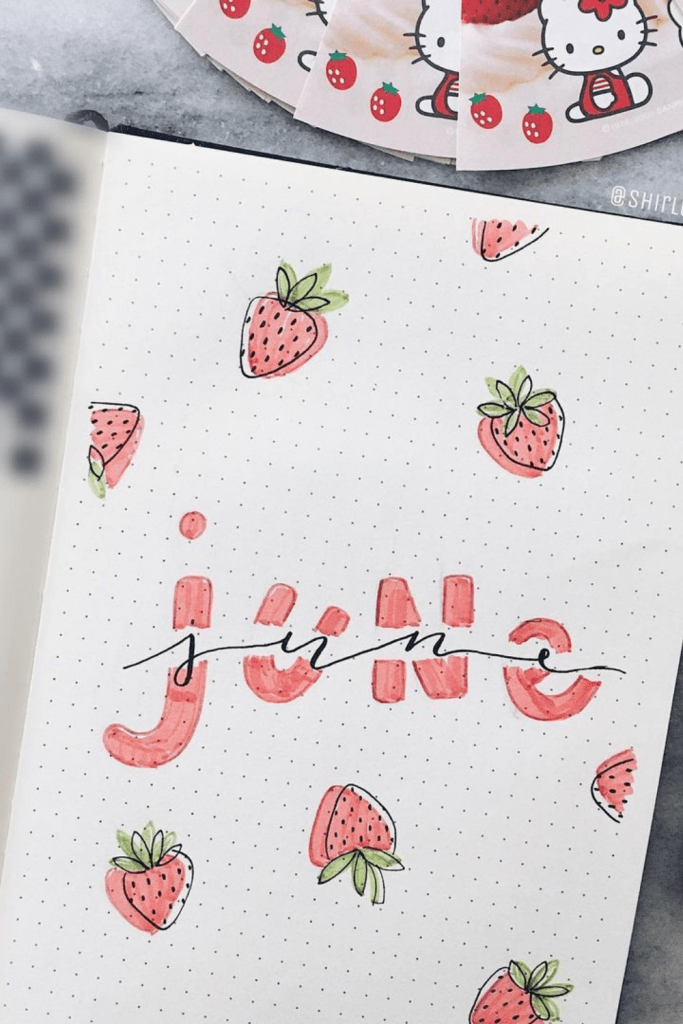 This June monthly cover by shirletters reminds me of Fruit Ninja. She has used the same technique for letting June. and look how lovely those strawberry doodles are! She has very smartly created the shadow effect with the soft red color that she has used to draw the strawberries.
7. Butterflies in June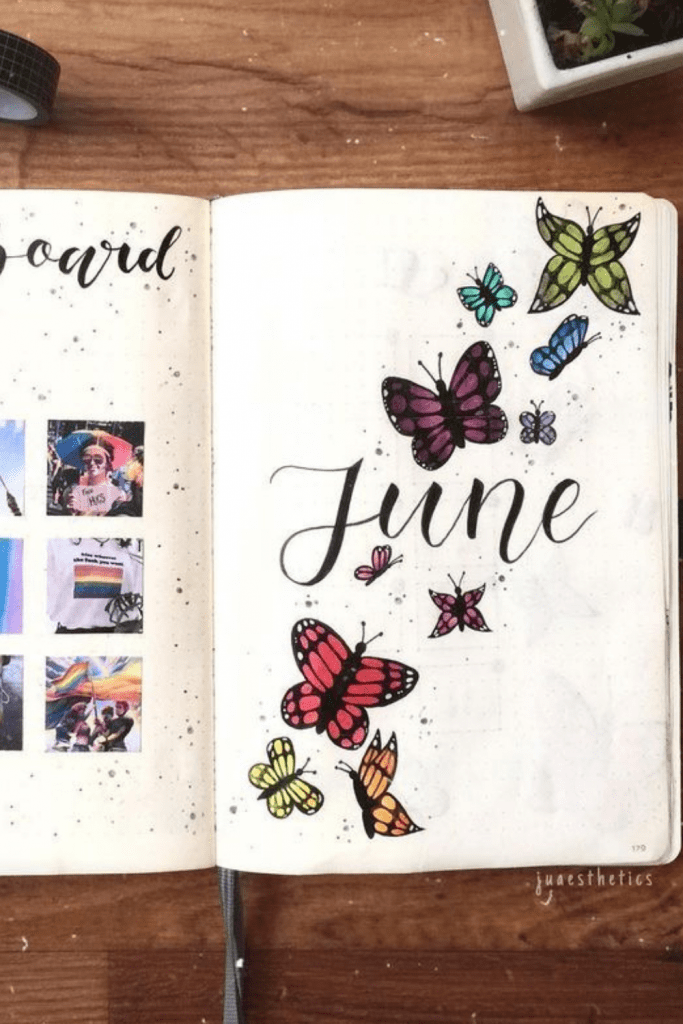 Juaesthetics has created a magical essence in this June monthly cover page. She has skillfully used stickers to create this beauty here. So if doodling is not really your thing, I am sure you will actually love this easy layout. The cover page is as colorful as it can get. 
8. June Atlas-t
I am loving the whole aestheticism in this June monthly cover by lazyeggdesk. She has used an old atlas page for the cover. What I love about this idea is that June is the summertime, and summers mean vacation! So when I see this map all I can think of is a road trip. And reading an old school map is much more adventurous than the Google maps and GPS. but the best part of this June monthly cover is certainly the monthly calendar. It gives you a glance at what your month is going to look like.
9. Washi Tapes for June
Blue is the theme for this June monthly cover by lalipop.lettering. She has used a cool blue tone for the cover page. It has an amazing soothing effect on the eyes; it is in perfect contrast to the bright sunny June day. What I like is she has used almost more than four washi tapes but the cover page still looks not overpowered by it. They all sit in perfect harmony to bring out the best on this June monthly cover.
10. Neutral Daisy June Monthly Cover
This June monthly cover here is the evidence that bullet journals can also be neutral and beautiful. These daisies that bujo.melanie has doodled on the cover of the June bullet journal are just perfect for the summer month. It reflects the essence of June. The cover is so simple yet so extravagant. And the subtle touch of yellow heightens the simplicity of the doodle.
11. Fruit-elicious June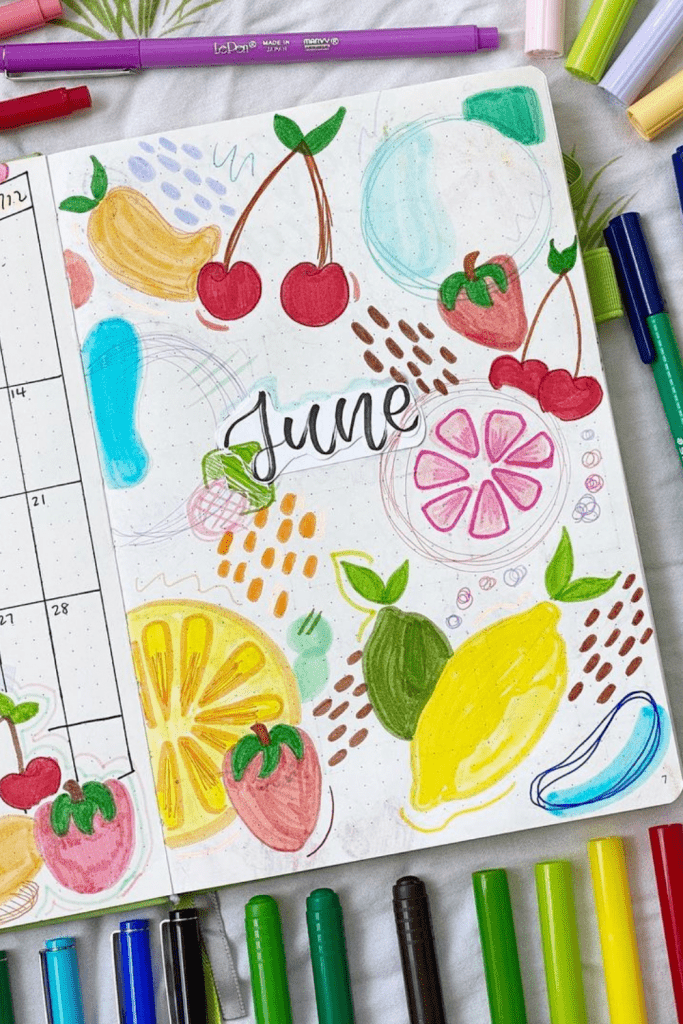 Yet another fruit-themed June monthly cover for you. Possumlettering has made the cover page lively with the colors. The color game in this June cover is on another level. She has made sure that the summer vibe in this one is not just strong but also effective. 
12. Fruits and Ice creams June Monthly Cover
Movedtostudydolce has come up with this June monthly cover that is beautiful and also a tad bit complex. There is no doubt that it is color, lively, and has a strong essence of summer days. She has also included the elements and colors that are associated with summers. But what magnifies the beauty of this cover page is the freehand drawn border. That alone brings out the whole vibe of the page.
13. Detox Drink
Do you like the blue lagoon? In June it is certainly enough to quench the never-dying thirst. Rikomama0805 has certainly drawn detailed inspiration from the same. She has drawn this perfectly detailed mason jar filled with detox water. What I appreciate and even admire about this one here is the intricate details of every little thing.
14. Pantone-themed June Monthly Cover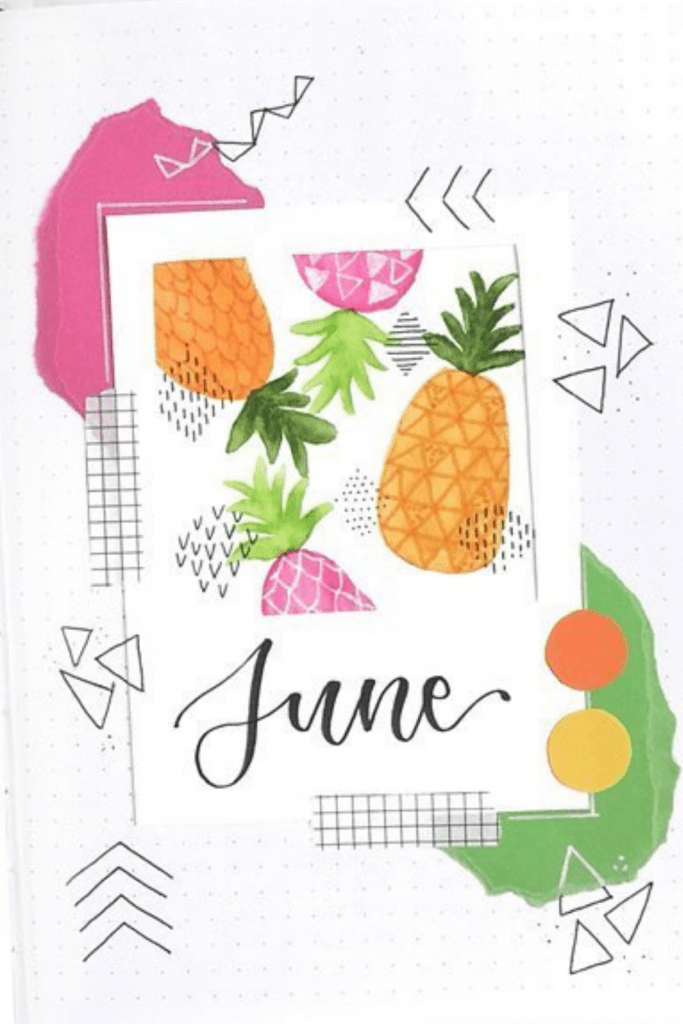 This June monthly cover by cynthiabujo is unique in its own way. She has used the Pantone chips to bring the whole look together. And she has not forgotten the summer vibe at all. For that, she has used the fruits. She has created a polaroid effect with the help of the cutouts. 
15. Cityspace June Cover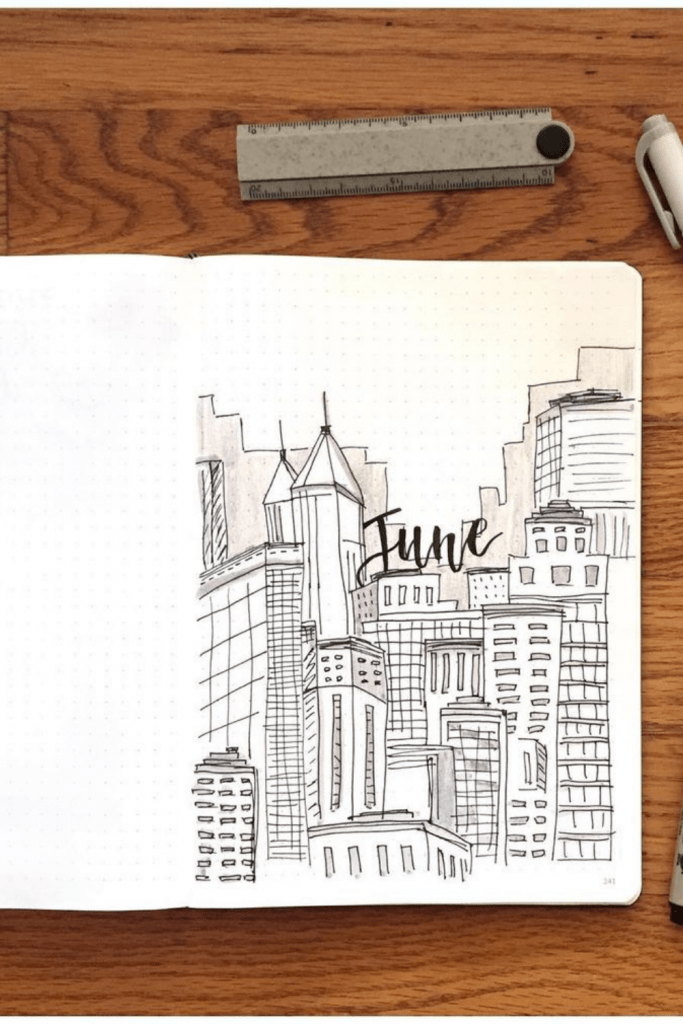 I think this one here is one of my favorites in this list of June monthly cover ideas. The doodle in this one by meow.meow.study may look complicated but once you start it is quite easy. And trust me, it is worth the effort. The end result honestly blows your mind.
16. Lemon Love June
What is more summery than a jar of lemonade and some lemons to refresh you? Probably this has been the inspiration for madeby.maris. This June monthly cover is so lively and bright. It perfectly captures the essence of a summer day. And this one here is perfect for your June cover page.
17. Cute Summer Doodles
Nomnombujo has included every little detail in this June cover page. She has found an adorable way to represent the summer days on her June cover page. I think she has not missed anything at all! The doodles here will tempt you to have a day at the beach. But with the given situation drawing beach-themed doodles on your June monthly cover is as close as you can get to the beach. So, why not? You can check out some more fun summer doodles here on- 22 Creative Summer Bullet Journal Doodles To Try.
18. Floral June
This monthly cover by emilybujos tells a story. It is like a scene. With all the flowers and the butterflies buzzing around, this one here is a story of a perfect summer noon. She has used warm-toned colors to complete the look. Here are some more flower doodle ideas for your Bujo pages- 25+ Amazing Flower Doodles For Your Bujo Pages.
19. Lemon-icous
Another citrusy theme here for your June cover by xpaperwingsx. This one is so perfect, it almost looks like a postcard. It is bright and beautiful. She has used colors to shade the leaves. But what I love is the monthly calendar in the midst of it all. Gives me a chance to look at my monthly schedule. Here are some ideas to create a lemon theme for your bullet journal- How to Create a Bullet Journal Lemon Theme?
20. Farmer's Market Layout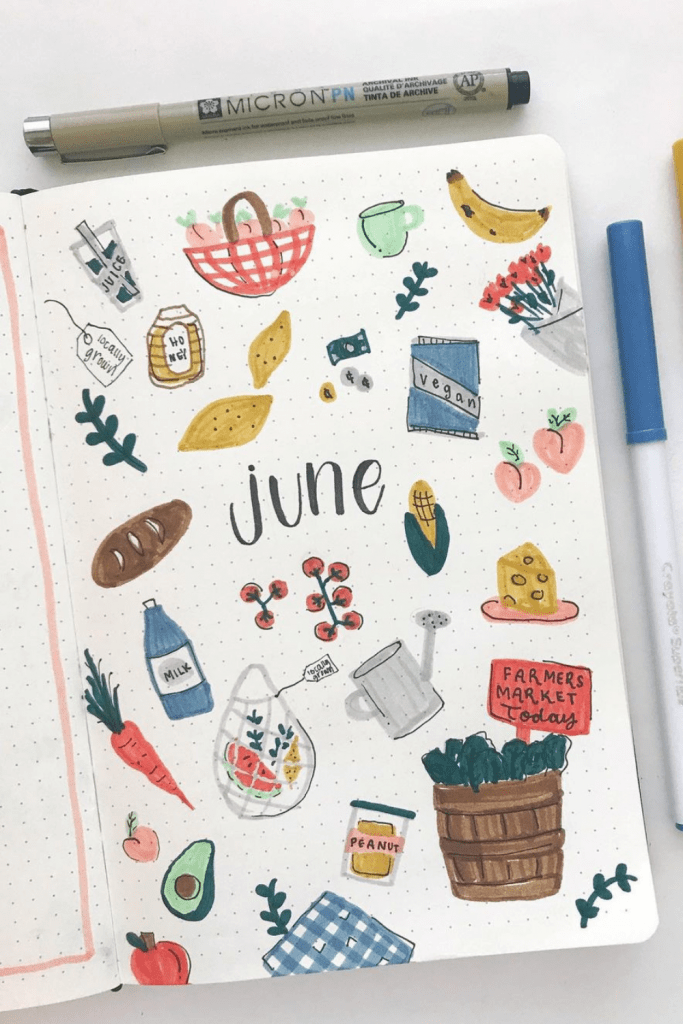 Monthly covers should have a proper and relatable theme. And byhaleyelizabeth has certainly not failed at that. She has chosen the farmer's market as her theme for the month. And has drawn the colorful doodles accordingly. This theme is unique and not that conventional. So why not try something new like this one here this June?
And with that, we have come to the end of the curated list of June monthly cover ideas. Here you have all the ideas from the easy-peasy ones to the absolute one-of-a-kind ones. All you gotta do now is choose your favorite one for your personal June monthly cover. Do let us know your favorite in the comment section below. Happy journaling people!
Also, if you like the ideas, you can save the article to your Pinterest board for future reference by clicking on the picture below.