Do you love flowers? Do you love doodling? Well, why not combine the two with these amazing flower doodles ideas! Whether you're looking to spruce up your bullet journal, add a touch of beauty to a gift card, or just want to relax with some art therapy, flower doodles are the perfect way to do it.

These easy and simple flower doodles are perfect for beginners, and the cute and aesthetic flower doodles will have you feeling like a true artist in no time. With step-by-step doodle flowers tutorials, you'll be able to create a whole garden of beautiful designs. So let your creativity bloom with flower doodles!

1. 130+ Step-by-Step Doodle Ideas for a Creative Touch
2. 20+ Succulent Drawings & Cactus Doodles For Your BuJo
3. 30 Splendid Cherry Blossom Drawings & Illustrations To Love
Get ready to unleash your inner artist by drawing flowers of every type.
1. Ink Flower Doodles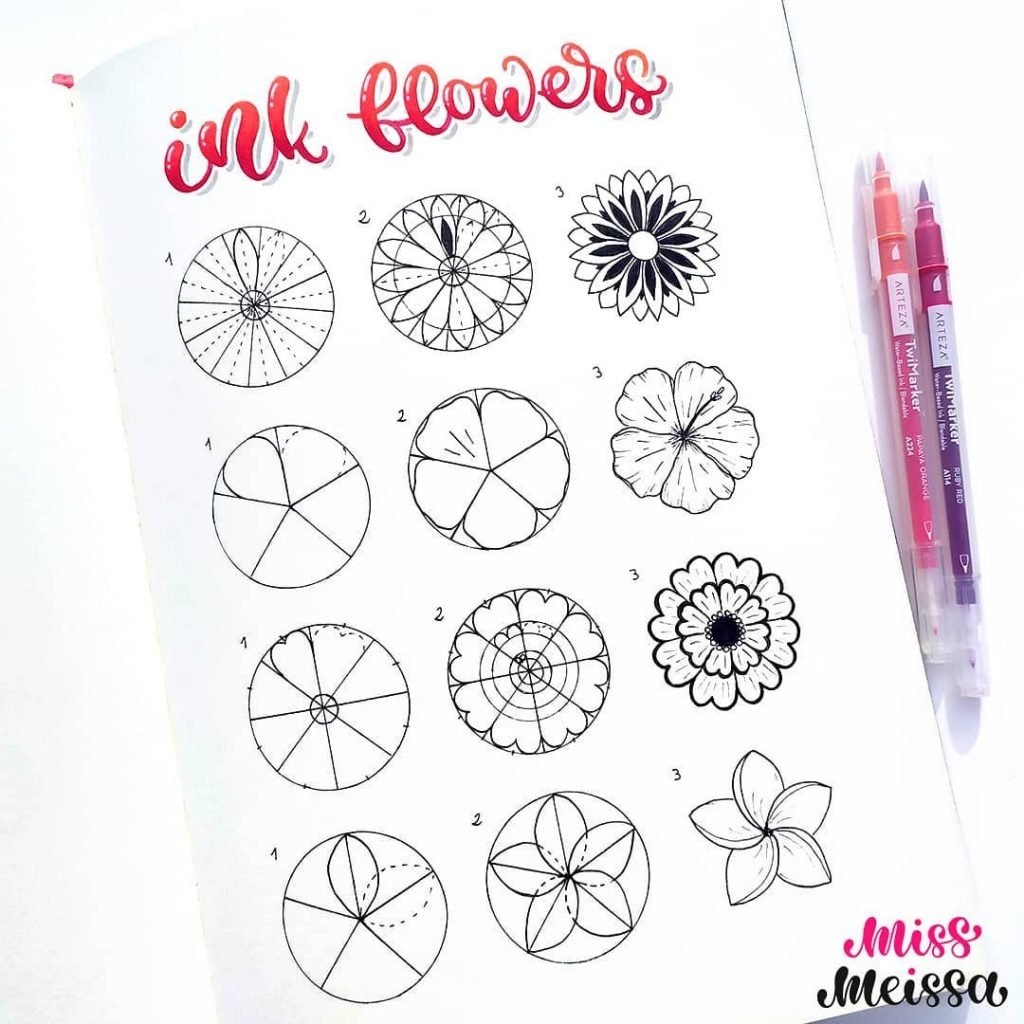 Flower doodles are not difficult to draw. Moreover, if you believe that it is hard to draw an eye-catching flower, then think again. Because this tutorial will teach you with her steps on how to draw one of these beautiful ink flowers. If you are feeling a little more experimental then you can even use some watercolor to finish these floral doodles. You can draw these beautiful flowers in ink in combination with the lettering in your bullet journal. These will act like the tiny yet crucial details that bujo pages require.
2. Anemone in Six Simple Steps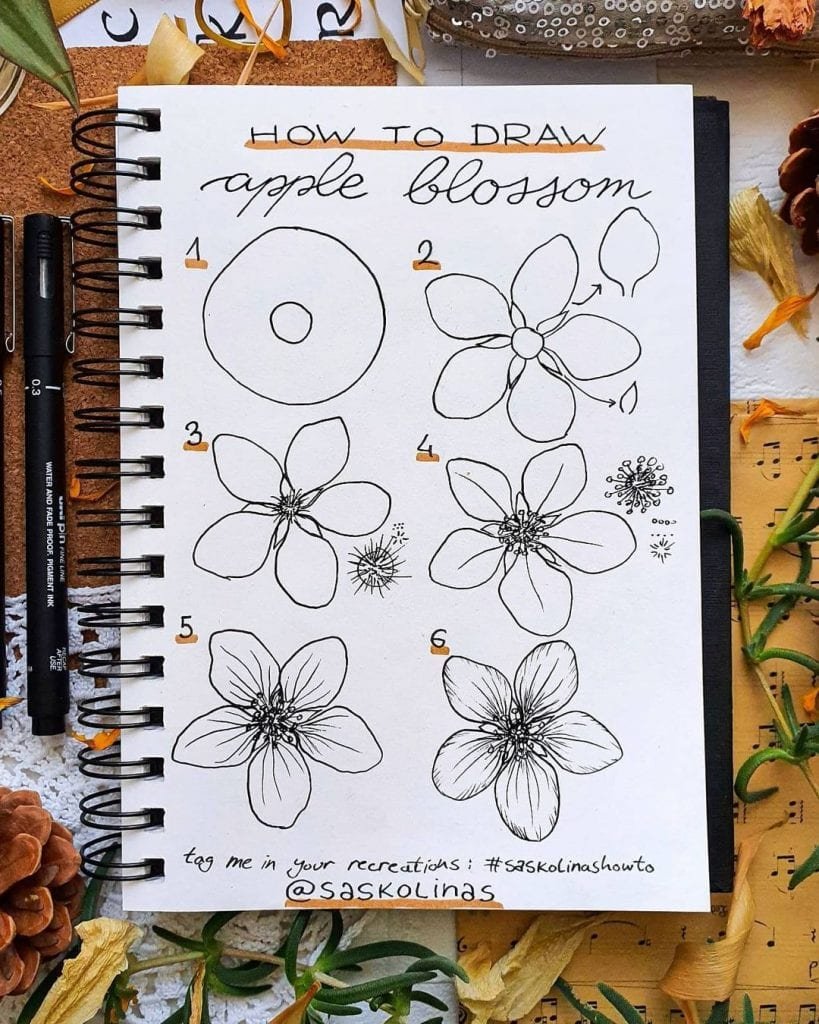 These anemone doodles are fun to draw. Especially the center of these flowers is something that you will love to draw. The petals are so delicate that your pen strokes will have to be finished with easy and soft strokes. Needless to say, these steps and the tutorial has indeed made it easy for anyone to draw some of these apple blossom anemones.
3. Floral Garland For Your Bullet Journal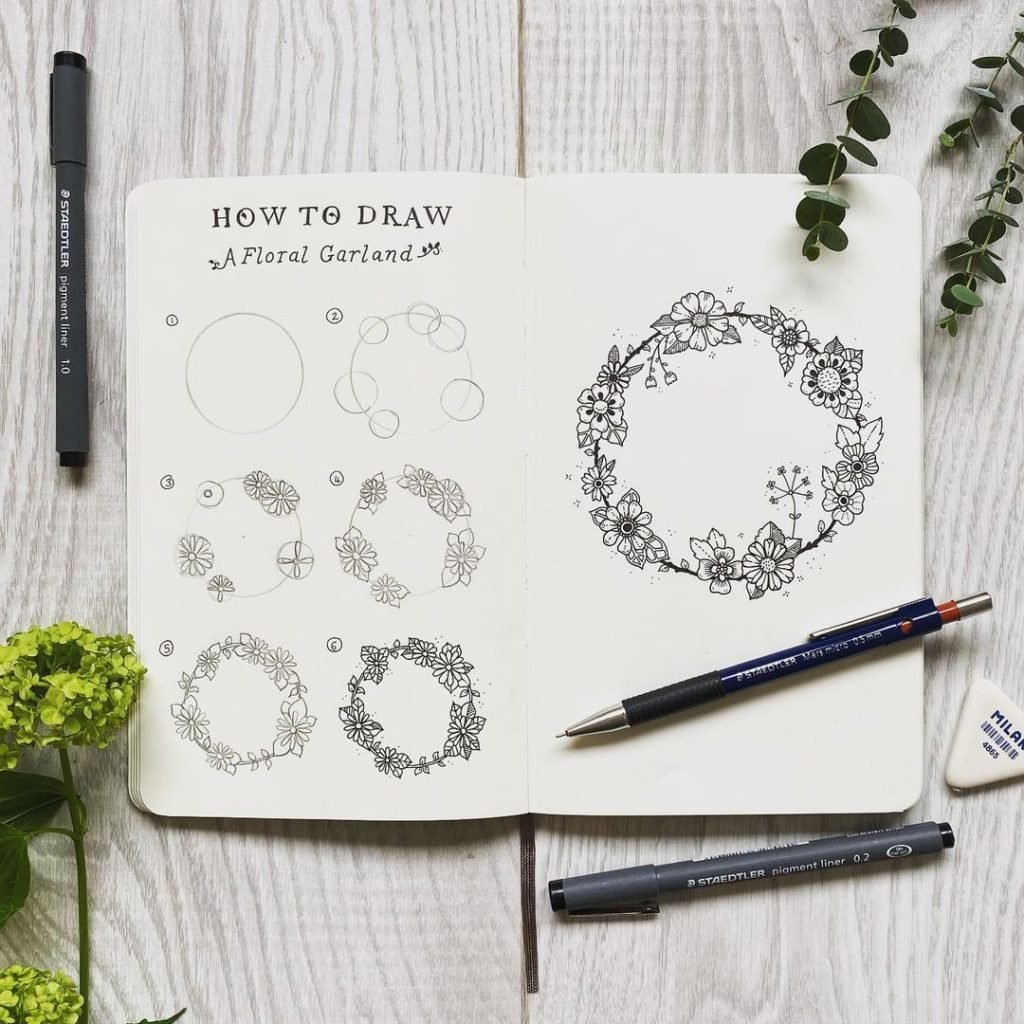 Floral garlands are an excellent choice for the cover page of your bujo journal. And you can make this magnificent floral garland doodle easily with these step by step tutorial. This one here is one of those flower doodles which can be played around with to achieve an overwhelming concept. You can add a butterfly and also write a quote in the middle to give this floral garland a little more personalized touch.
4. Draw an Easy Flower
This easy flower tutorial is something you can master. With just a pen liner 0.05 you can map this flower doodle here. It is a simple tutorial where in just a few steps you too can draw a mesmerizing flower. If you feel like having a little fun with these, then you can even color these with bright yellow color. Yellows and reds always add an extra kick to the bujo pages, and that alone is enough to make the bullet journal more vibrant.
5. Simple and Beautiful Flower Doodles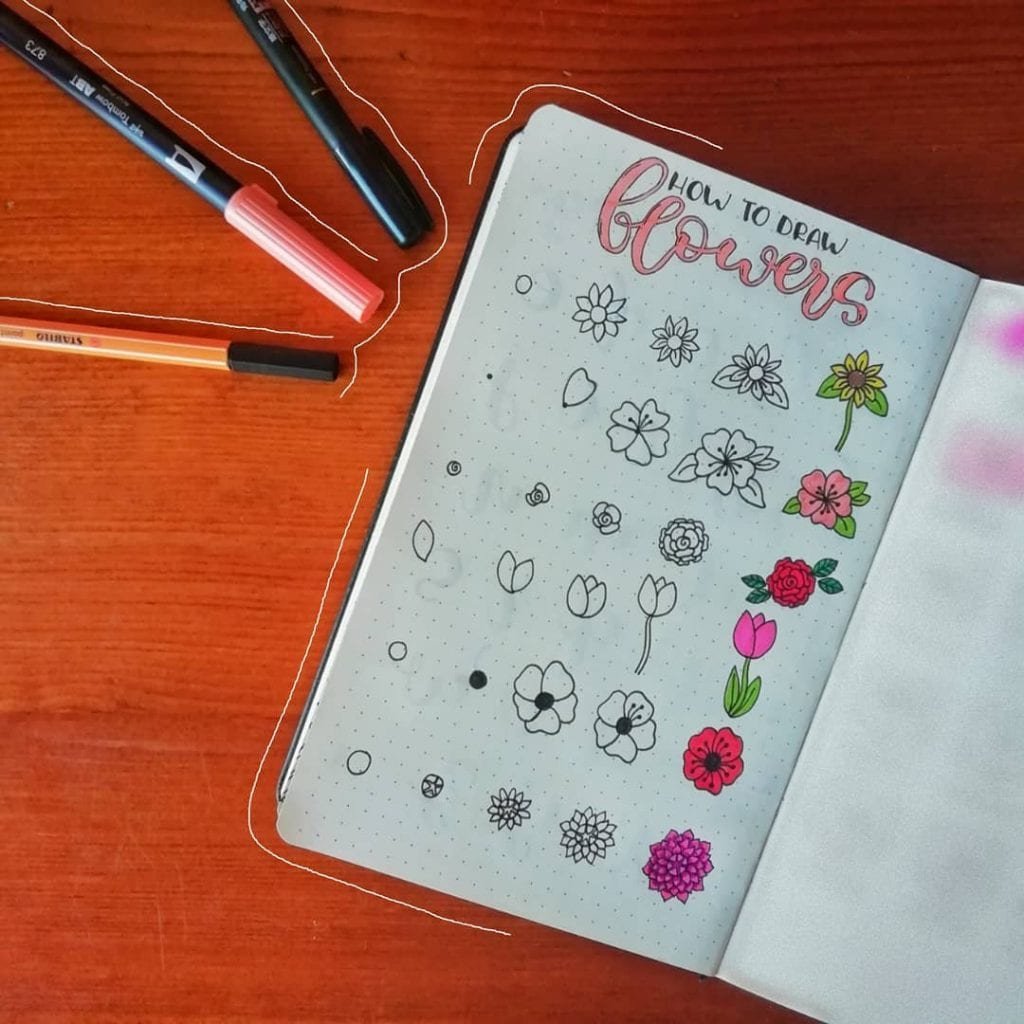 These flower doodles tutorials are perfect for adding to the corners of the bujo pages. You can spread some of these all over the page or maybe add to the corners, or even the sides of the page in the form of a borderline. Whether it is the yellow sunflower or the pink tulip, all six doodle tutorials are extremely vibrant and extravagant.
6. Plumeria Flower Doodles in a Few Steps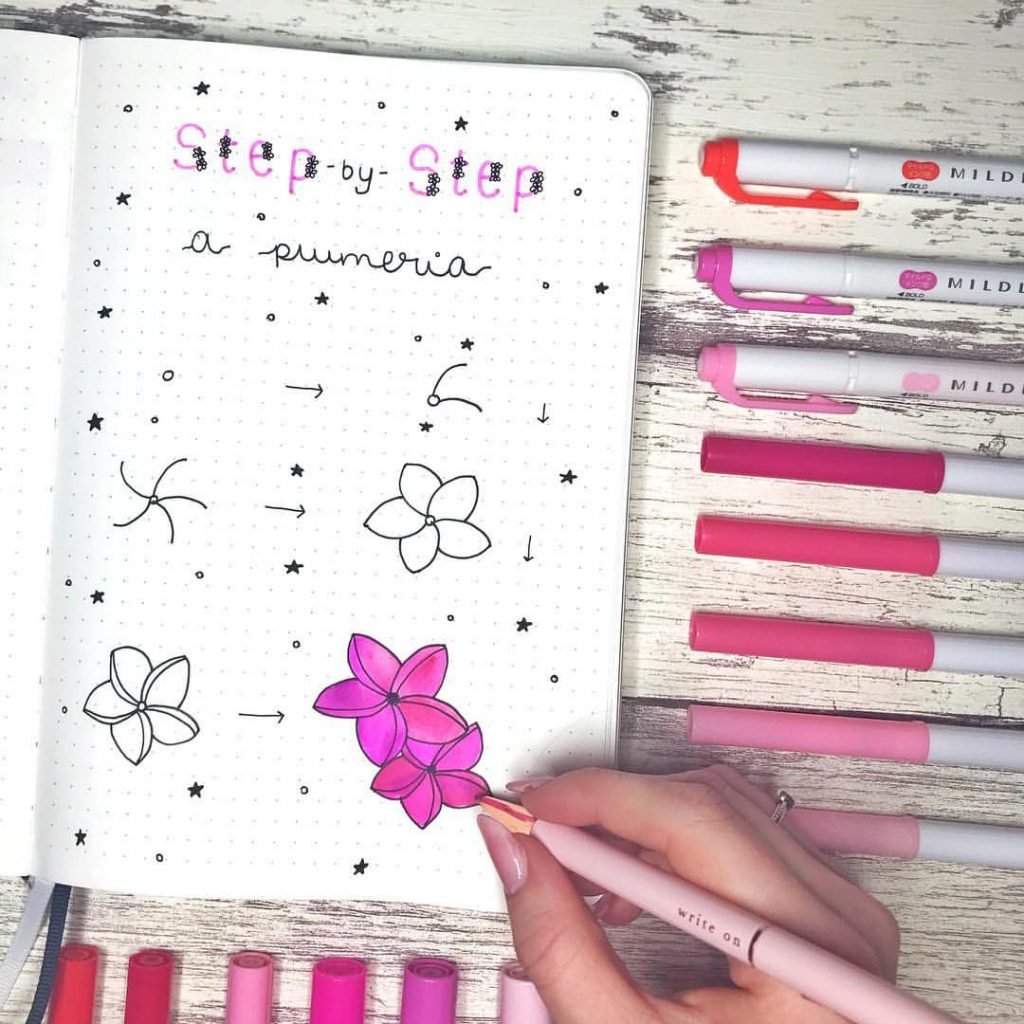 Plumerias are not that difficult to draw and are loved by all. These vibrant pink plumerias are so simple that I have almost gotten addicted to drawing these little beauties. You can draw them almost anywhere, from your bujo pages to your sticky notes or even your planner.  But of course, a little help has never harmed anyone. So why not follow this tutorial to draw some of these pink plumerias? With this easy tutorial here, you will be a champion in drawing these plumerias. The beautiful pinkish hue of colors have made such a stunning doodle.
7. Daisy Beautiful Daisy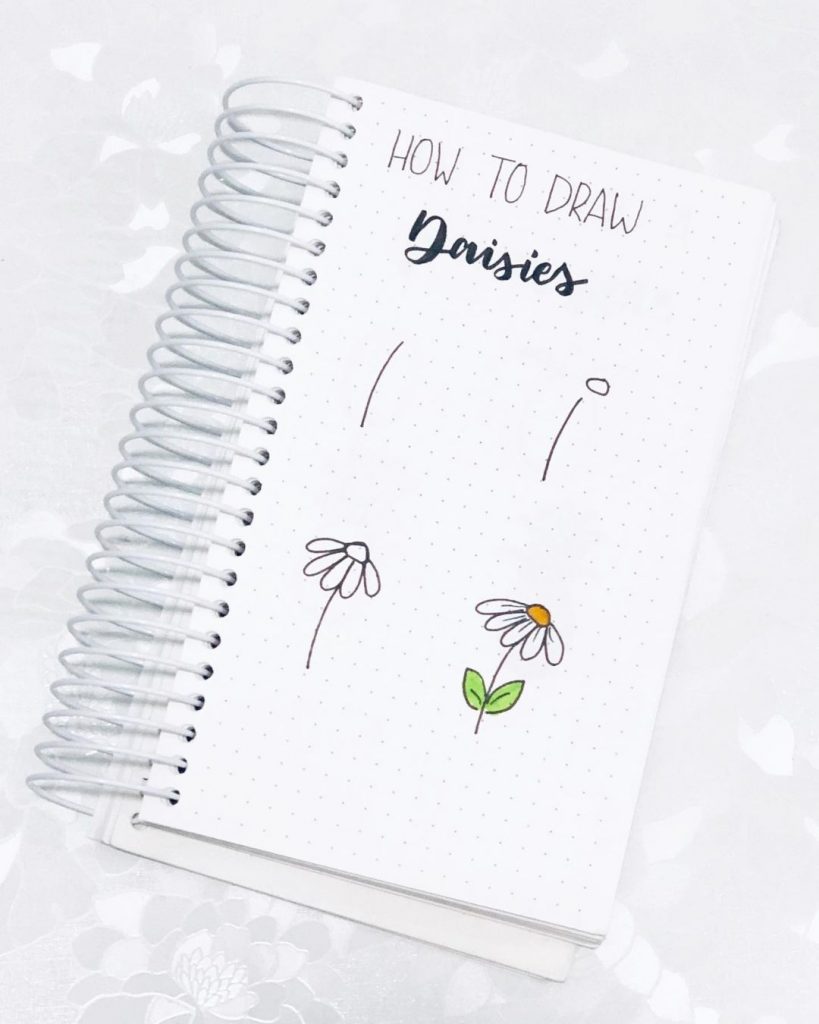 Daisies have forever been beautiful and delicate flowers that bring fun to wherever they go with their bright beautiful yellow color. With this easy peasy tutorial, you can bring the essence of the beautiful smell of daisies to your bujo pages. It will certainly cheer you up every time you open your bujo journal.
8. Shine Like a Sunflower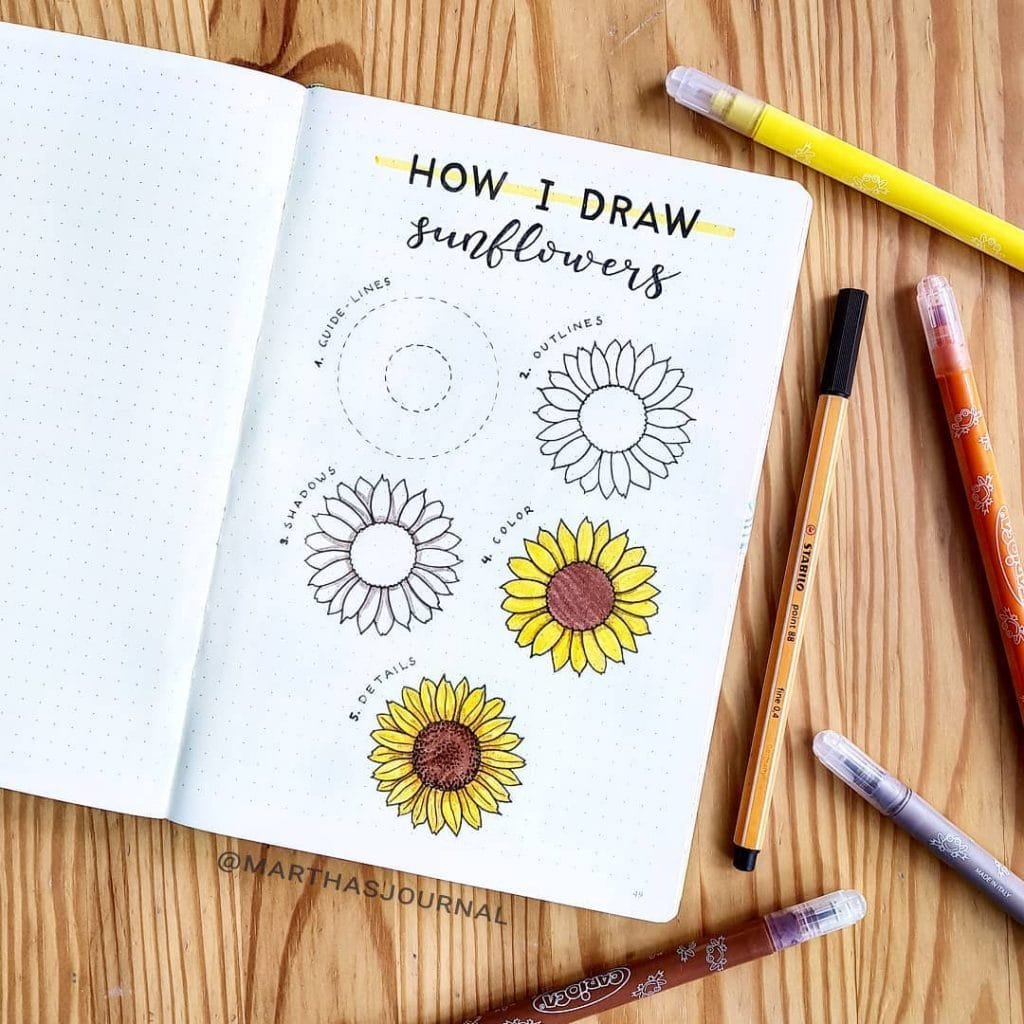 Sunflowers always give us a happy mood and remind me of a happy place. They look alluring and eye-pleasing even on bujo pages. You can easily draw these yellow beauties with these easy tutorial steps. You can now include some of these happening sunflowers on your bujo pages to make them look more vibrant and versatile. These big, bright, and yellow flowers have been giving me strong feelings of nostalgia.
9. Dandelion Flower Doodles in Some Simple Steps
Dandelions are probably the easiest flower doodles that you can draw to decorate your bujo journal pages. But with this tutorial here you can make these effortlessly. The basic structure of the dandelion is so simple, and to be fair, the presence of the dandelion itself fills me with a feeling of peace. In three simple steps, here we have a dandy dandelion, but the fourth step got me. With the wind blowing the dandy dandelion is also blowing. It is almost like a scene from a movie, that's how perfect this little, delicate dandelion looks.
10. Lovely Lavender Tutorial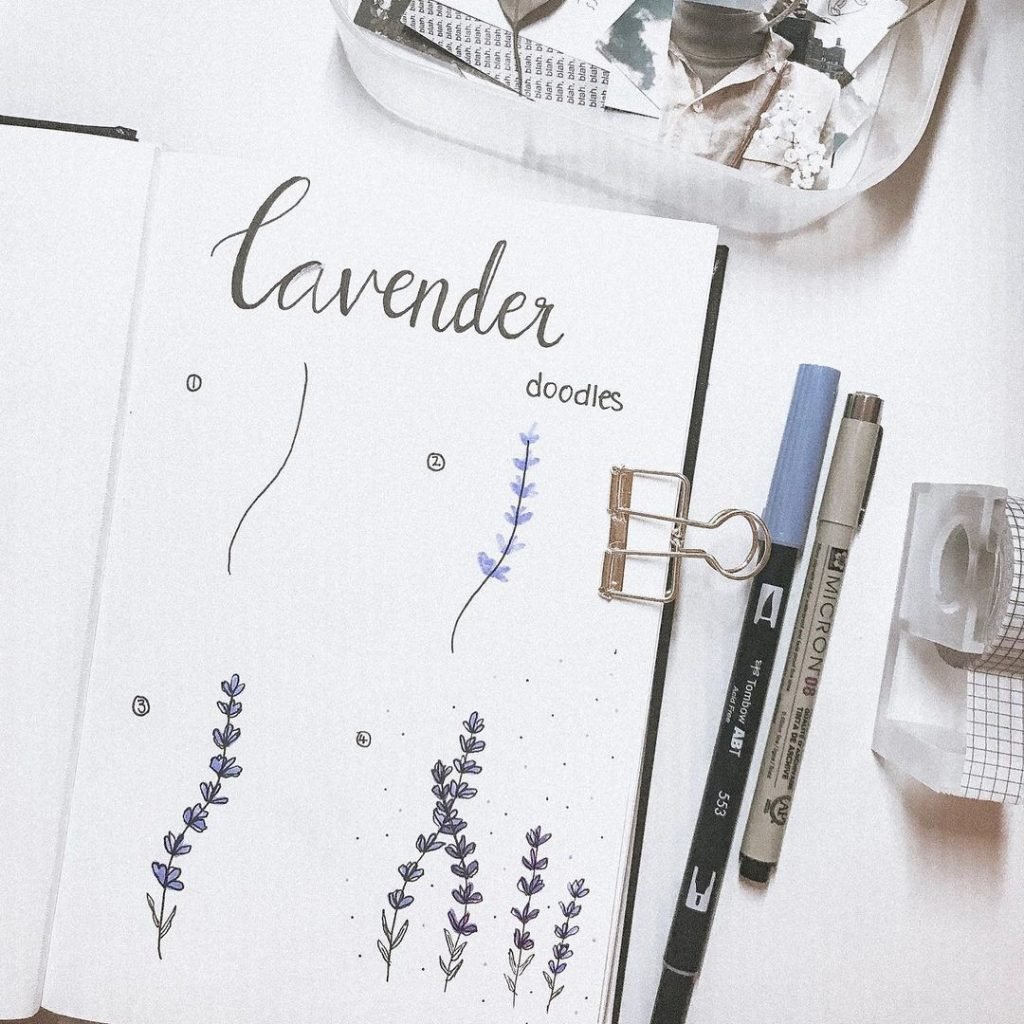 Lavender has a sweet smell and the essence of the same can be felt all over in your mind when you open a bujo journal and see lovely lavenders spread all over it. With this easy tutorial you can, with ease, draw lavenders in your bujo journal.
11. Red Red Roses For Bullet Journal Pages
A red rose is much more than just the beauty. It reminds me of the famous line by Shakespeare, "The rose looks fair, but fairer it we deem/ For the sweet odor which doth in live". Roses smell different, it feels different and this doodle here has made it possible to bring the same essence via this easy tutorial. With five options to choose from, drawing a rose has never been this easy before.
12. How To Draw a Violet Flower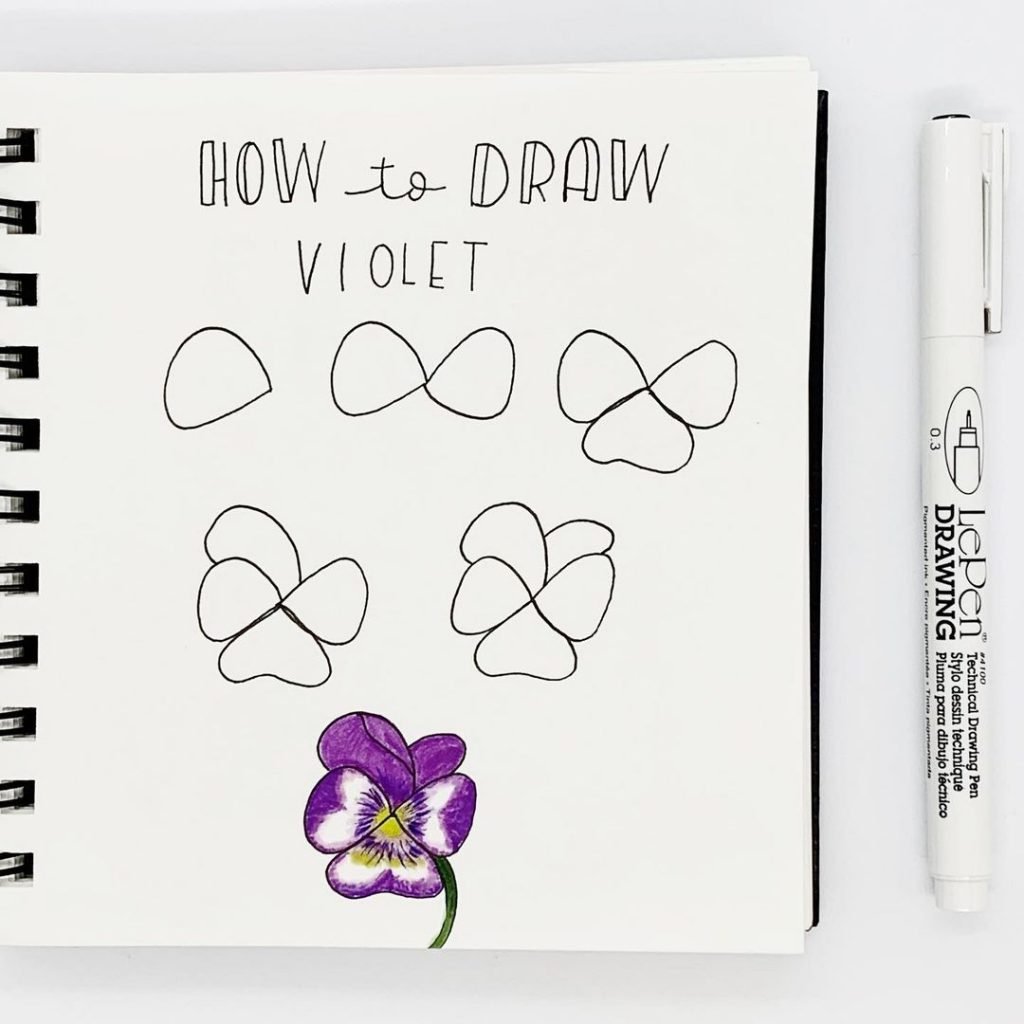 With this easy tutorial, drawing a violet a piece of cake. This is so easy especially if you are looking for something colorful, then this is one of the easiest and beautiful options for you. Such colorful flower doodles are something that will make your bujo page more coruscating. Eye-pleasing bujo pages are a great way to keep one motivated, and colorful flowers that speak of the soul and the memories are one of the best ways to keep us going.
13. Peony in a few Steps
In just five steps, you can drawn beautiful peony that will leave you mesmerized. Peonies are probably one of the hardest flowers to draw. They are so beautiful and tempting, but drawing them was always a task for me, until now. This easy tutorial and the elaborate simple steps has made drawing peonies smooth like a cheesecake. In just five steps here she has created a three-dimensional peony.
14. Draw a Daisy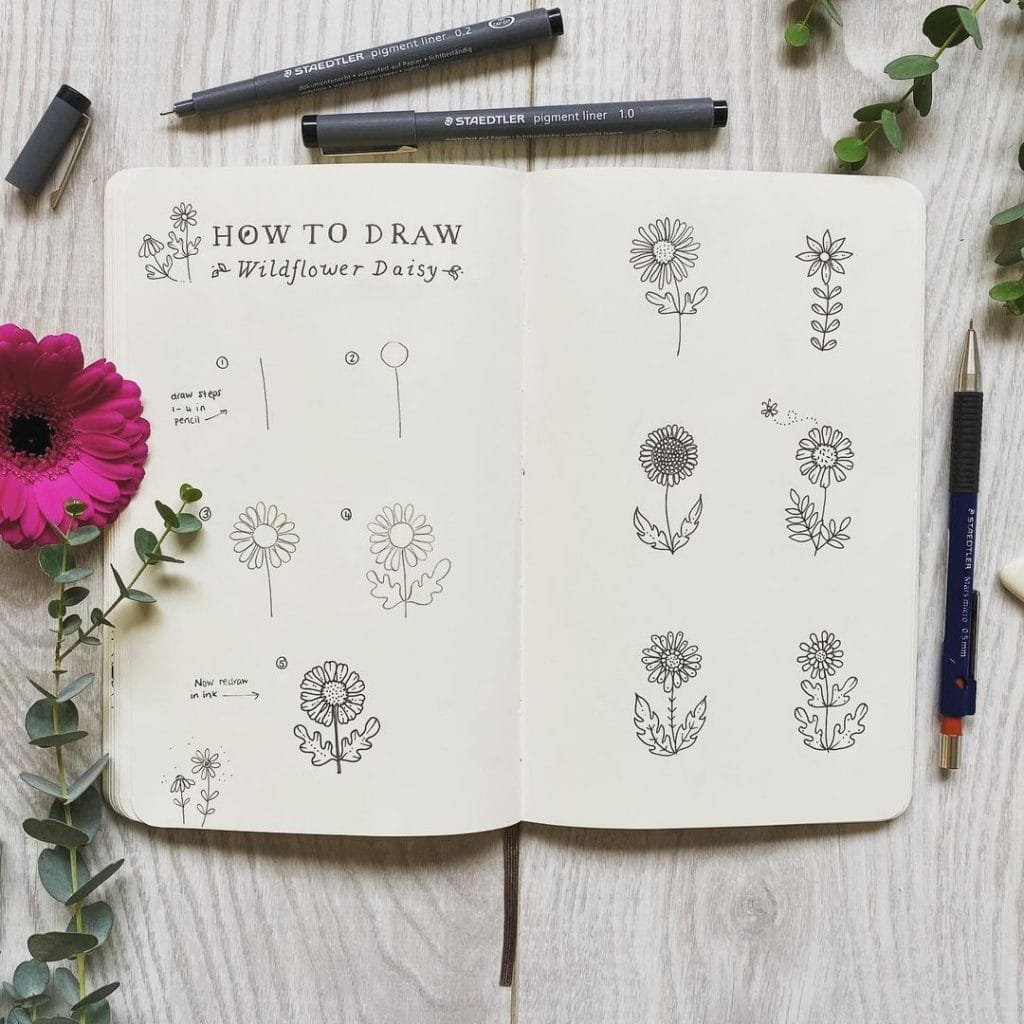 Here we have another delicate daisy doodle. And I love this one. Daisies have a strong essence of peace, purity, and innocence. And this essence itself calms down the soul. Everything looks happy and beautiful when daisies are around. The kind of peace we fail to find in a busy life, the sight of daisies will offer that. So how about we add a few to the bujo pages as well? Or even to the wallpapers and the planner? Wildflower daisies like this one here are something that you can easily master and also use to achieve nice floral patterns.
15. Single Peony Tutorial Alert
This one here is another single peony that is quite easy to draw. In just six simple steps she has created a peony with intricate details. The three-dimensional flower can be achieved if the steps are followed carefully. With a little hint of pink color, this little peony will get a little more character and grow more extravagant. These coral charm peonies belong to the pages of a bujo journal.
16. Cherry Blossoms Flower Doodles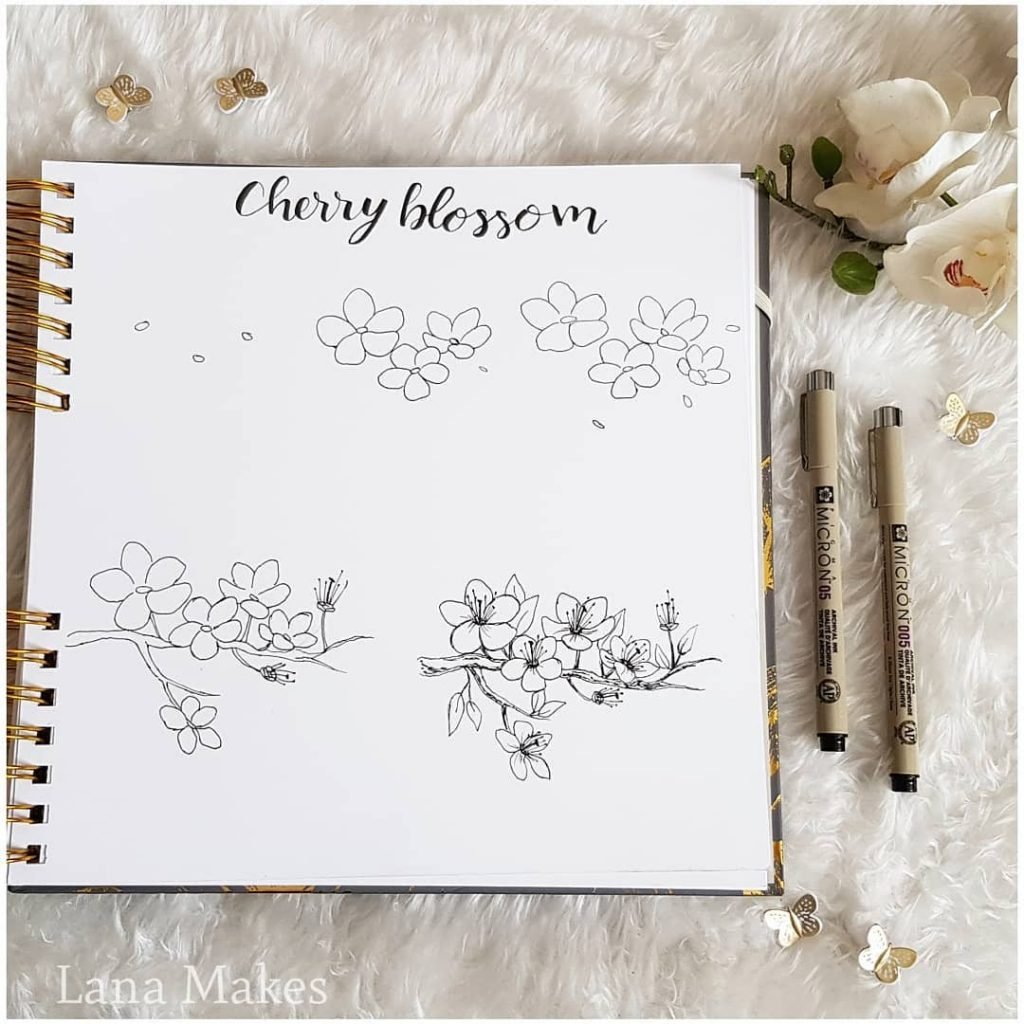 Oh the beauty of the Japanese cherry blossom is too surreal to be real! But they are very much real. They are vibrant with colors, and the essence of renewal of time. It is the call of Spring and perhaps one of the most beautiful sights of the season. But why leave them in Japan alone? Why not draw a few of these? Drawing cherry blossoms is indeed not that difficult, in just a few steps one can ace the art of drawing some cherry blossom flower doodles.
17. Fuschia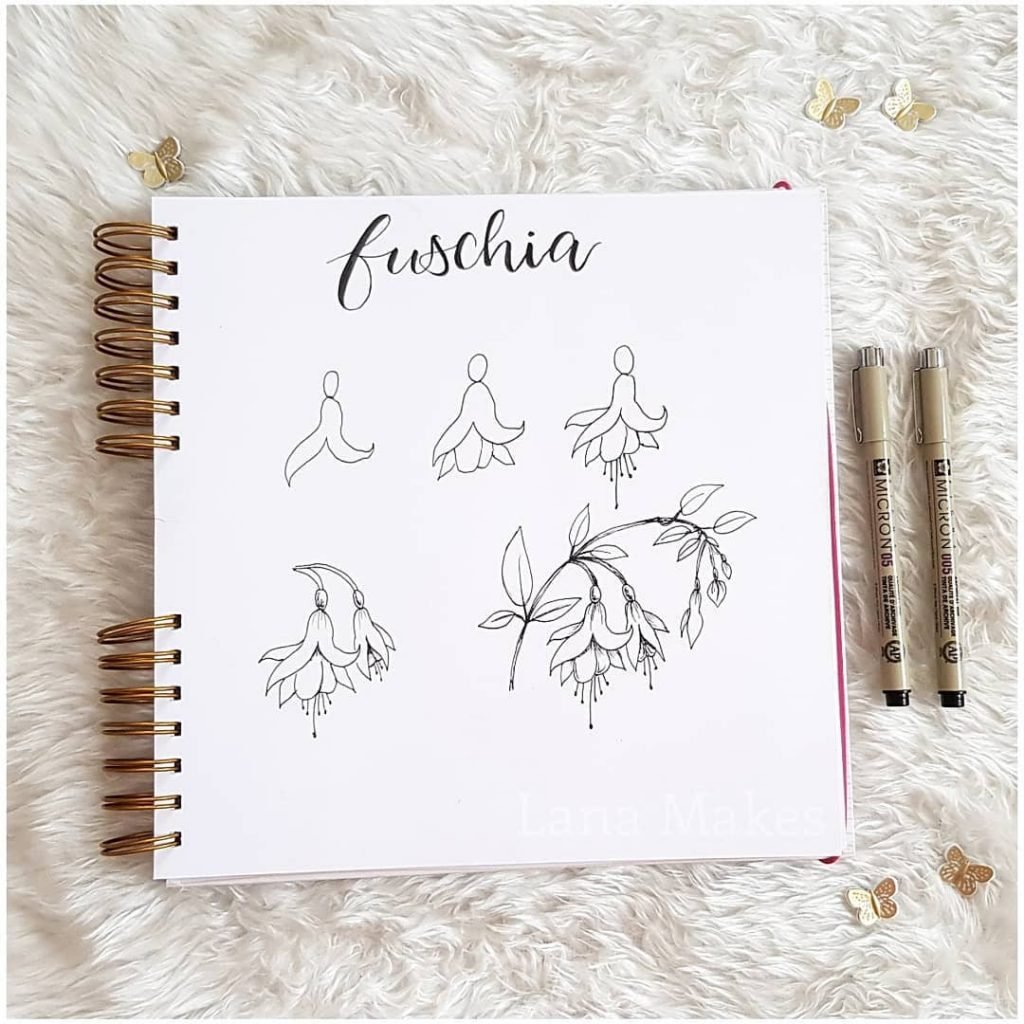 Fuschia flower doodles is a perfect doodle for bullet journals. Fuschia is a very delicate flower, too much light gives it sunburn and too much shady ceases its growth. They are as beautiful as it gets. And these delicate beauties only enhance the beauty of the bujo pages, or even the planner and the wallpaper. These beautiful Fuschia flowers are the perfect renditions that are too good to not draw.
18. Lily of the Nile- Agapanthus
Lovely lilies of Nile, Agapanthus, are a sight never to be forgotten. These bell shaped clustered flowers are vibrant and are the flowers of the summer season. Agapanthus might look delicate but they are tough plants and adaptive, of this one is a flower that you can resonate with. These botanical illustrations are too good to ignore. Especially the tutorials have been so beautifully displayed that it is very easy to replicate a few of these.
19. Simple Flower Leaves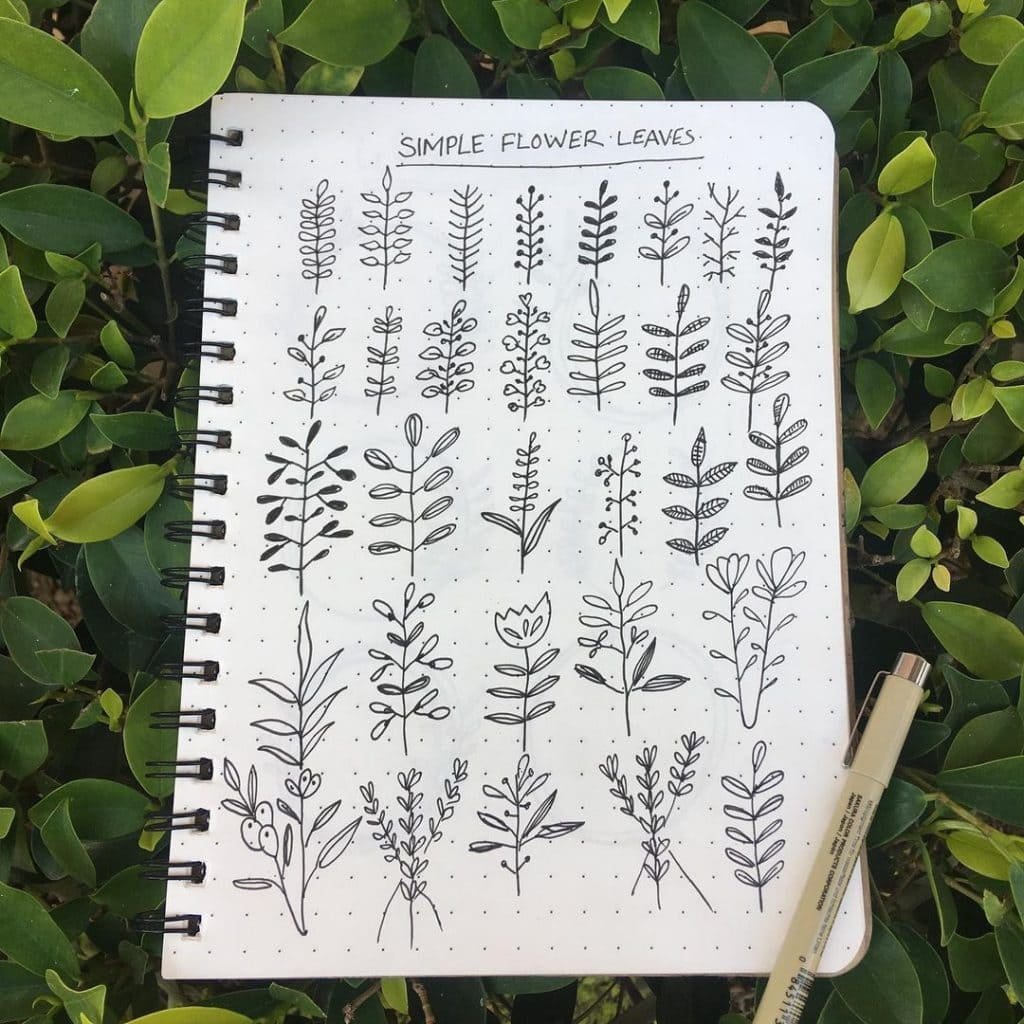 The simple flower leaves like this one here are as simple as they get. The stunning details of these delicate flower leaves are to die for. If minimalism is hard then this will convince you otherwise, minimalism too can be tempting and easy.
20. How to Draw Plants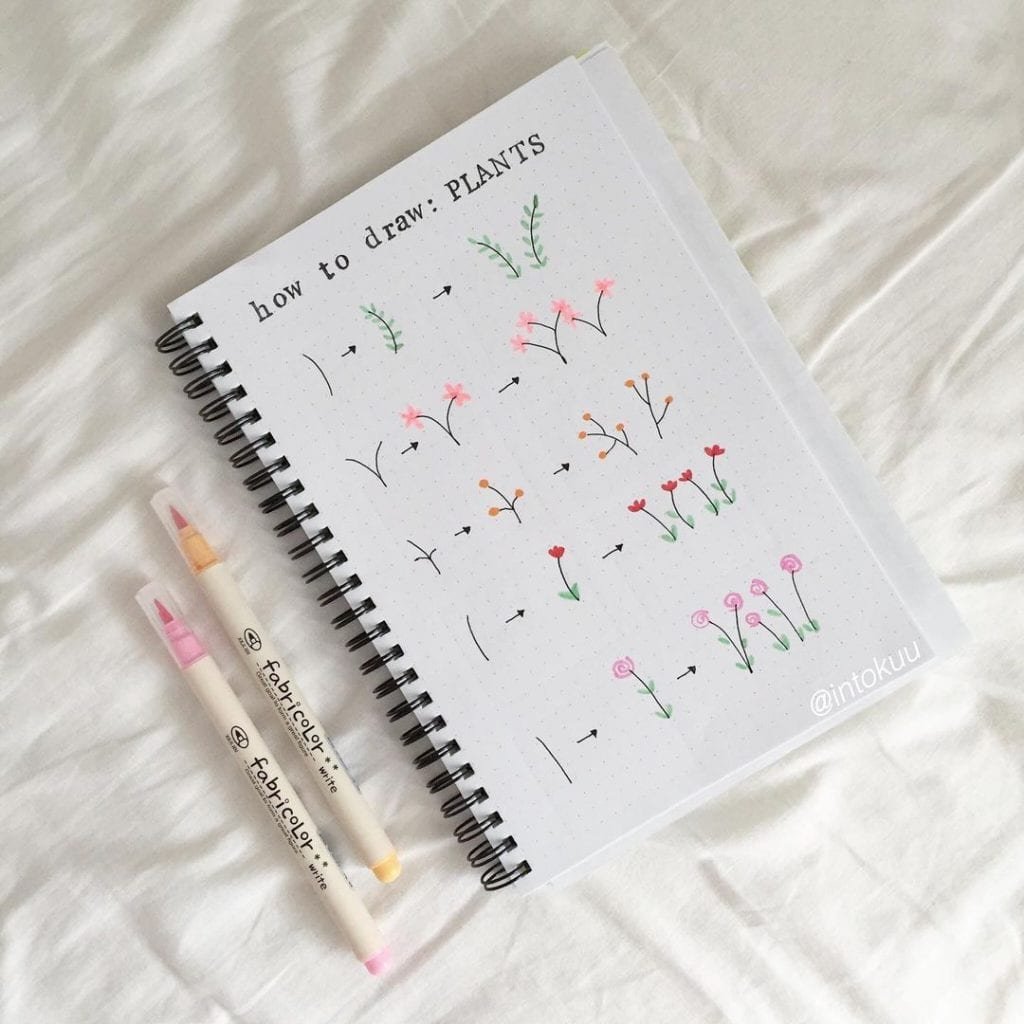 These tiny and soft plants are delicate. With just a few strokes and few soft colors you can achieve a plant that looks like this one. A plant-lover or not, these exquisite plants will appeal to you so hard that you will probably get addicted to drawing these. That's how I strongly feel about these alluring plants. They are not just simple and easy but also thorough. The tutorial has not missed even the small details, with the color patterns and the green leaves these are like the pleasant news of the Spring.
21. Spring Flowers Doodles
These spring flowers are an astounding choice if you are planning to make a personalized bujo journal with a floral or spring theme, then this is it. You can mix and match some of this variety of spring flowers to achieve a happy spring look. With yellow and orange and the contrasting green, theses floral doodles are adorable. Tulips, Daffodils, and Daisies are echoing the essence of a lively spirit in these doodle ideas.
22. Daisy Flower Doodles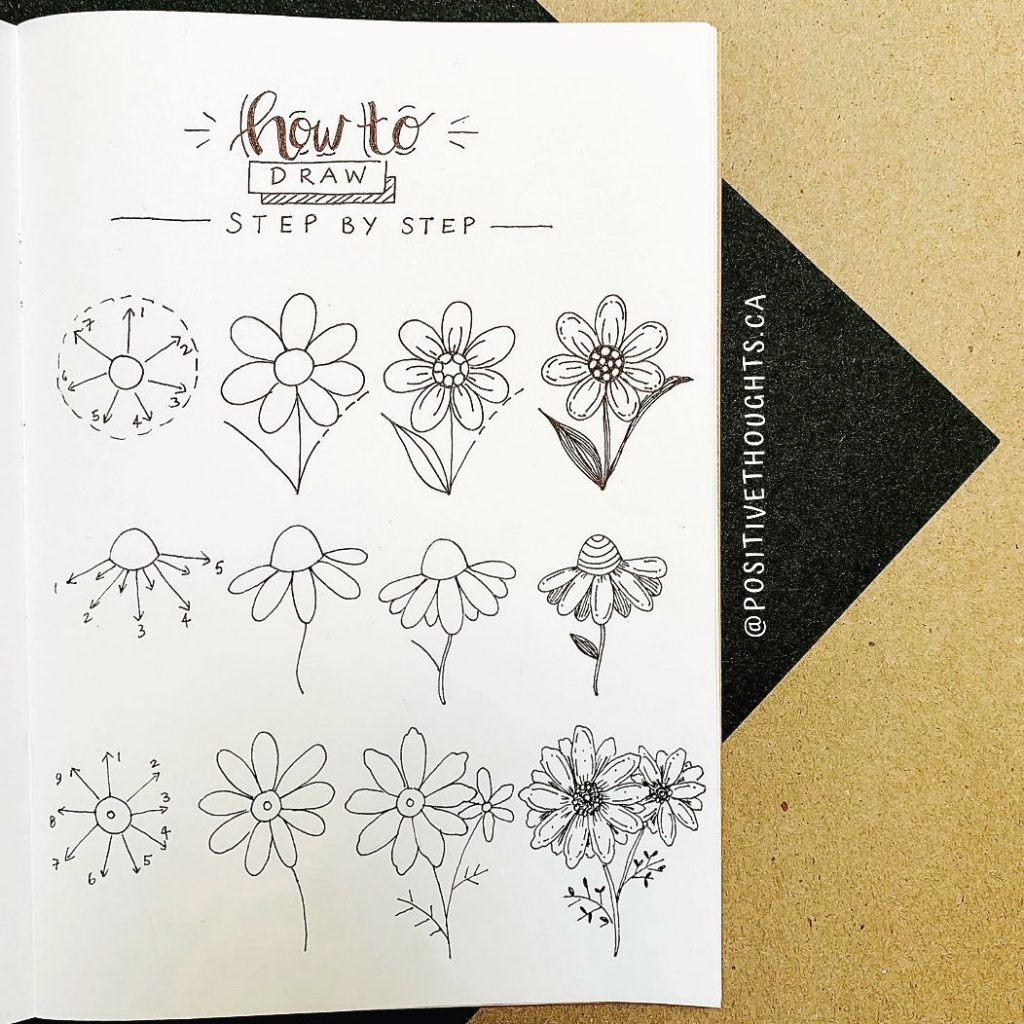 Another daisy to fall in love with on this list. This daisy doodle is worth a try, and why not, they are easy to draw and pleasing to the eyes. The varieties of daisies presented here, tempts me too hard to fill the bujo pages with a few of these. These lovely lilies are enough to add some extra character and a touch of delicacy to the bullet journal.
23. Step by Step Sunflower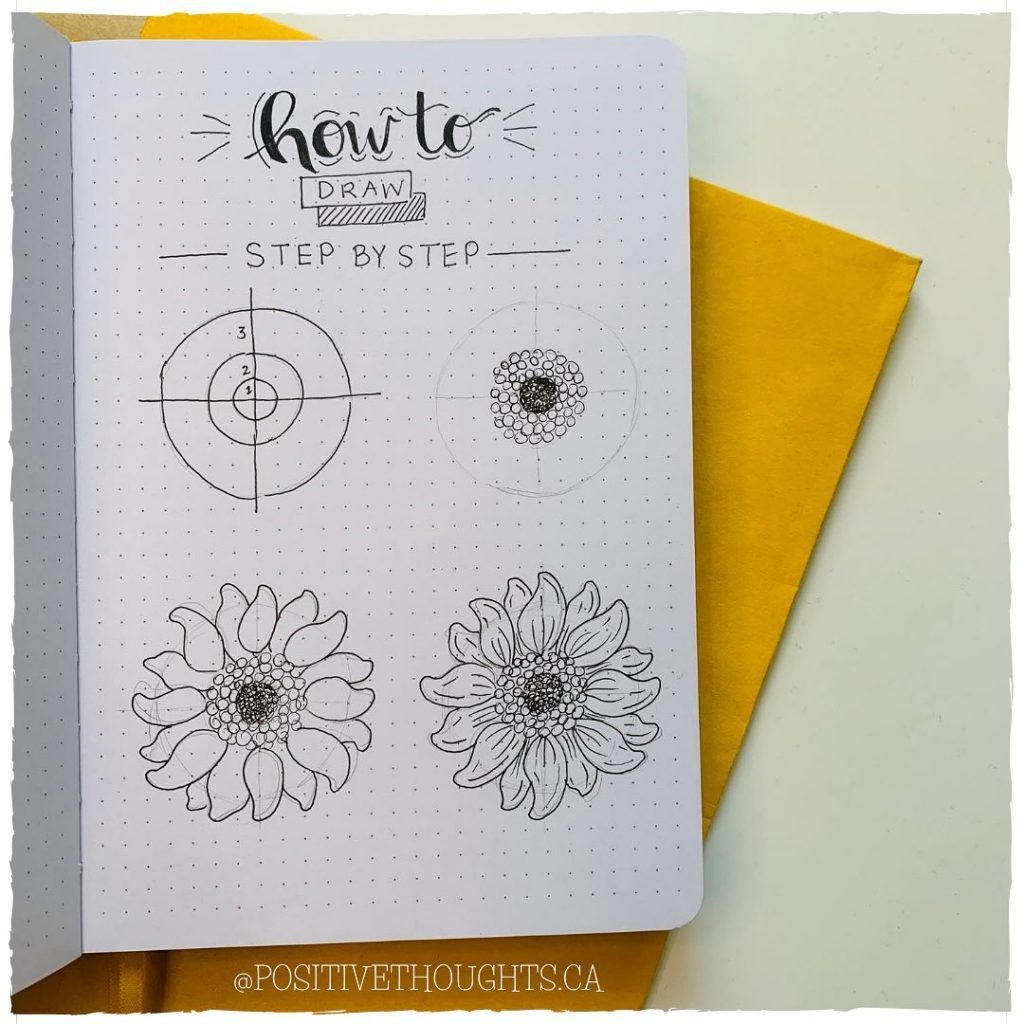 Who knew drawing a sunflower could be this easy. But ever since I have spotted this tutorial, I haven't stopped thinking about it. In fact, it is so easy and simple that anyone can draw a few of these. These bright sunny sunflowers belong to the blank pages of the bullet journal. Four steps are all it takes to draw a flawless sunflower.
24. Flower Doodles
I am loving the versatility of these doodle ideas. These doodles here are so minimalistic and that in turn makes it so much more precious. Honestly, I can't wait to draw a few of these and add them to my planner. Flower doodles like these are also great for embroidery. Bring out the artist in you with these doodle ideas!
25. Bunch of Colorful Doodles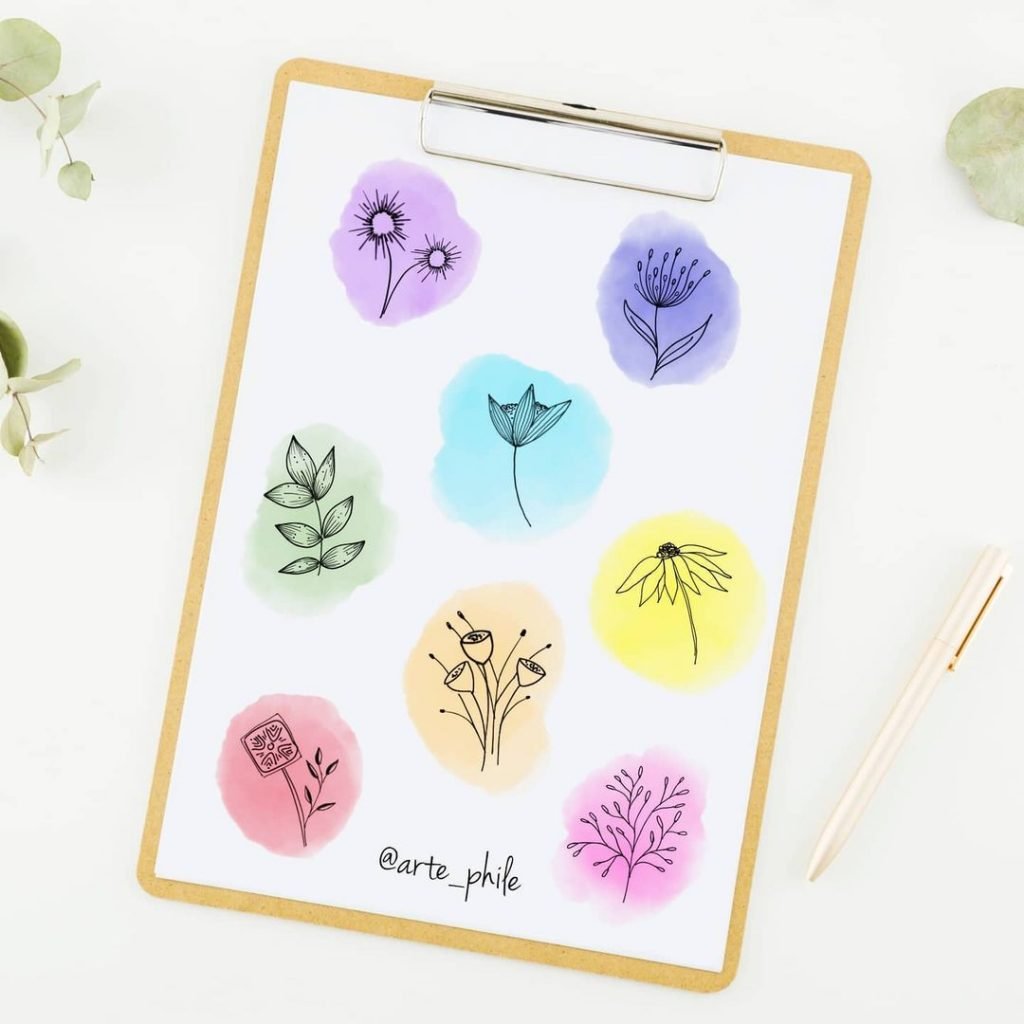 The uniqueness of these flower doodles is in the fact that it has used watercolor to paint them. For someone who loves painting and is simply looking for some flower doodle ideas then this is it. The soft colors and the simple flower makes an amazing combination here which is not just eye-pleasing but also vibrant.
26. Floral Jar in a Cup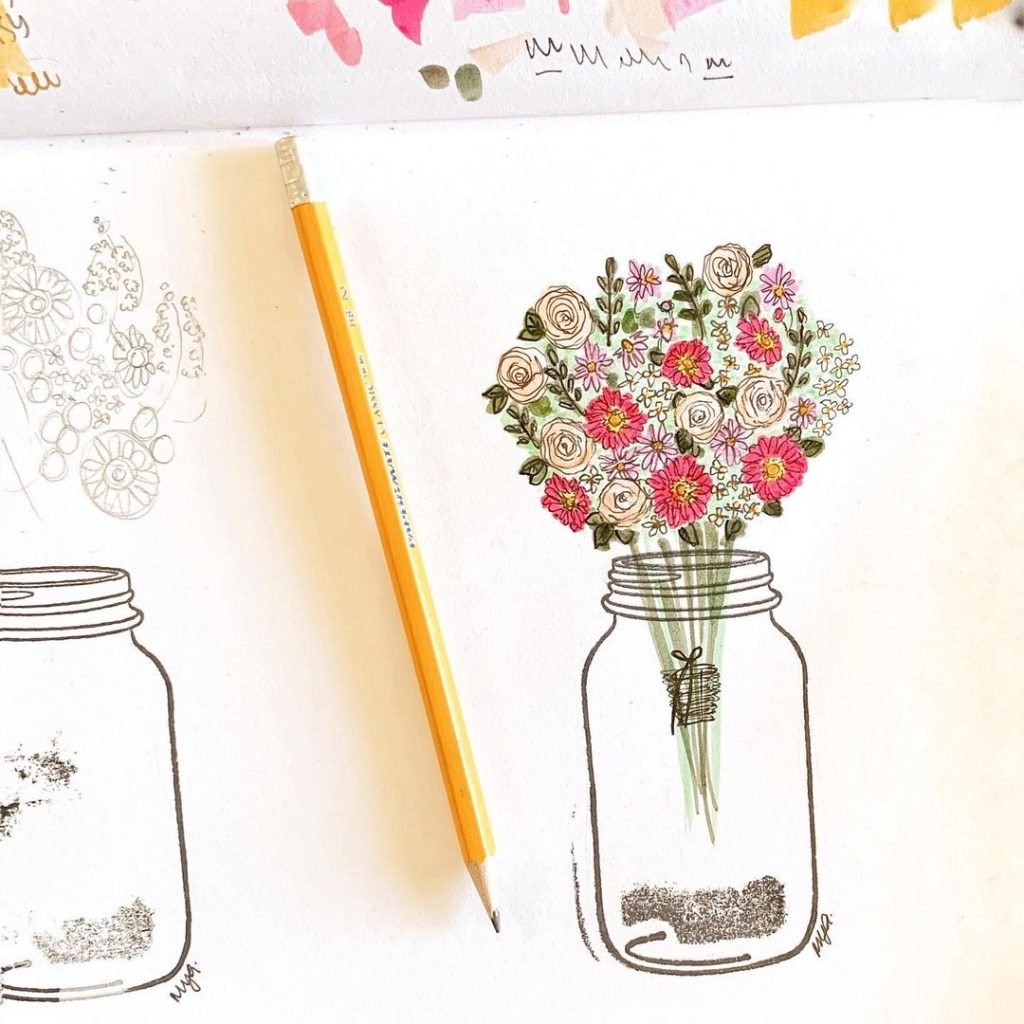 This floral jar is so beautiful and eye-pleasing that you won't be able to resist it. These flower doodles here are just picture-perfect for the cover page of your bujo journal. Add a quote or even the name of the month under the jar and personalize it a little more and give this floral jar a little more depth.
27. Flower Doodles in a Cup
The not-so-fine doodle has given the doodle a nice comic touch that makes the whole demeanor fun. This one is so easy that you can even encourage your kids to draw some of these for the wall painting.
28. Plant Doodle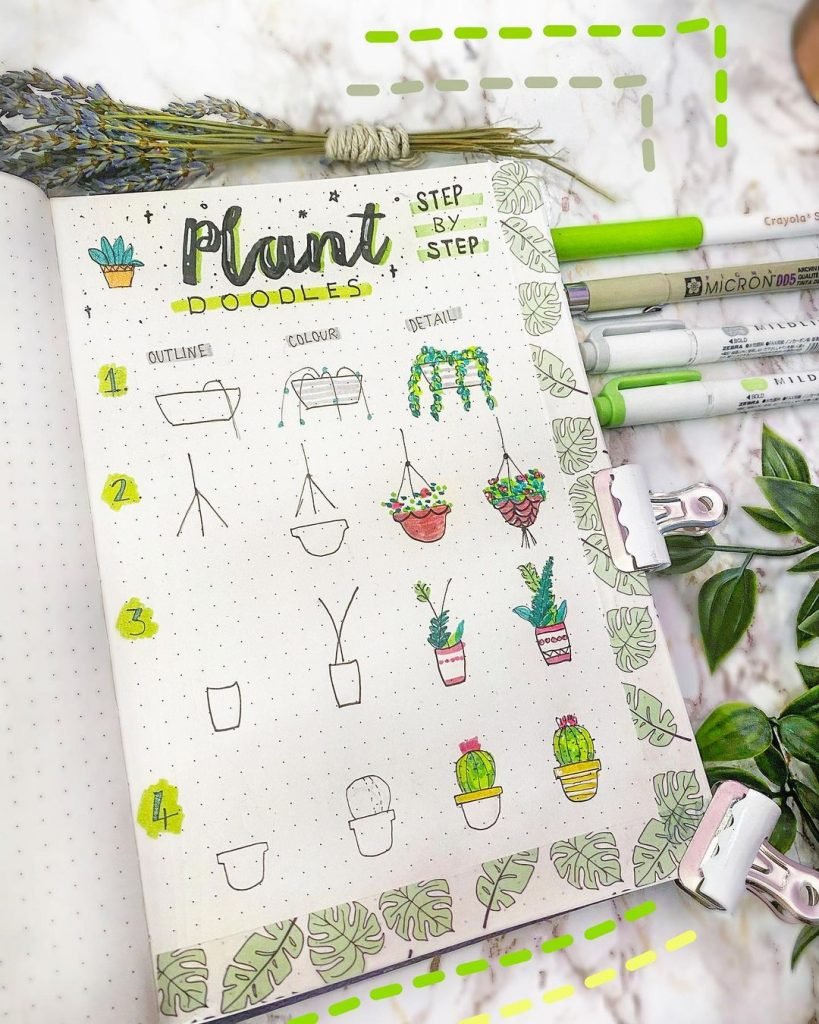 Flower doodles can get tricky, so why not try out some green plant doodles? These plant doodles here are so cute and precious and belong at the corners of your bujo pages. With a simple and minimum effort, the bujo pages will look amusing and fun.
29. Flower Doodles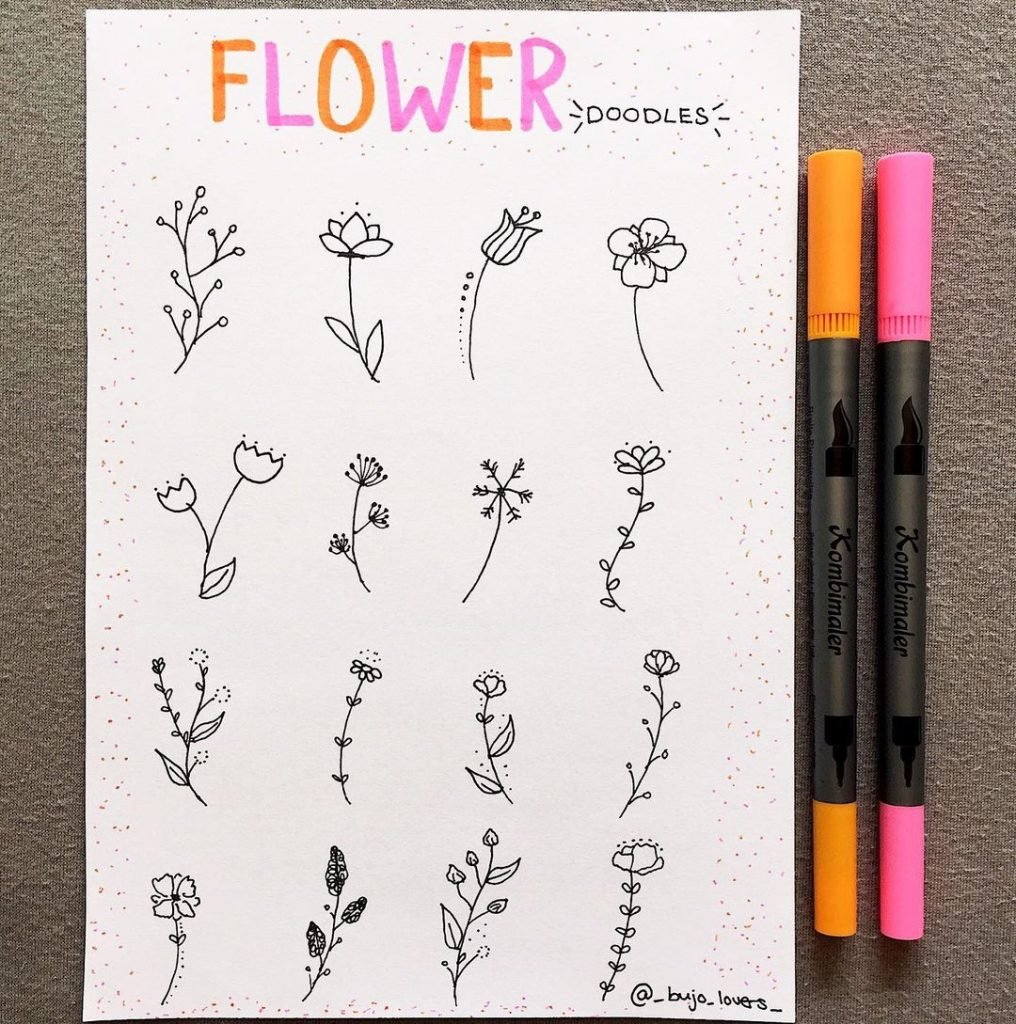 With just a few simple pen strokes you can achieve such beautiful flowers. These are easy to make and can be used in various ways.
30. Iris
Let your creativity bloom by making your own iris doodle and watch as your artistic skills come to life in a garden of stunning colors and shapes!
There you go! We have come to the end of the curated list of flower doodles for you. You will certainly find something you will like in this list. This list has the easy options, the creative options, the color options, and also the experimental options. You can pick the one you like and start your doodling journey. Happy doodling people!
If you loved these ideas, you can use the Pin image below and save this article on your 'Bullet Journal Doodles' Pinterest board.