One of the most beautiful trees with phenomenal flowers you can witness is the Cherry Blossom. It is so beautiful that it has the honour of being the national flower of Japan and is a symbol of hope and renewal.
The beauty of cherry blossoms is an artist's delight. In nature, where the cherry blossoms exist, they make the locations picturesque without any human effort. The cherry blossoms surrounding the lake at Mount Fuji make a splendid landscape for beautiful pictures, and many people use this picture even on postcards.

Also read –

25+ Amazing Flower Doodles For Your Bujo Pages
20+ Succulent Drawings & Cactus Doodles For Your BuJo
150+ Cherry Blossom Quotes For Spring 2022
30 Best Cherry Blossom Drawings To Inspire You

The expression of the beautiful tree and its flowers on paper is not something new, and many artists worldwide attempt it. If you want to try your hand in expressing this piece of art but do not know where to start, we have combined more than 30 ideas in this blog that will inspire you and help you.
1. Step-by-Step Tutorial
Image credits: @positivethoughts.ca on Instagram
The beautiful Cherry Blossom flowers are the most drawn expressions of the majestic tree.
This image is a step-by-step tutorial on drawing a beautiful flower from this heritage tree.
All the steps mentioned make it easy to understand what shapes play a significant part in drawing the flower outline.
Read – 20 Fall Doodles Ideas To Try In Your Bullet Journal
2. Cherry Blossom Pencil Sketch
Image Credits: poor_artist_ramrei_awungshi on Instagram
There is always something very majestic about a simple pencil sketch. The depth of the pencil strokes with different pressures creates a symphony of art that is hard to even achieve with color. You can take inspiration from this sketch to experience this magic.
3. Marker Sketch
Image credits:@ravenandmagnolia
Markers and their different thickness can create magic. You can make significant lines.
If, by any chance, you are not that big a fan of color, this is the perfect cherry blossom marker sketch for you.
4. Night-time Cherry Blossom Beauty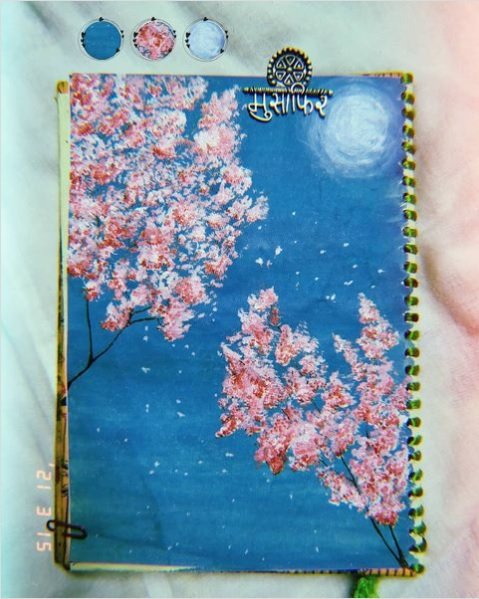 Image credits:@midnight_thoughts_1999
This painting takes inspiration from the night-life beauty of the Cherry Blossom tree.
Did you know there is a tradition of going for picnics under cherry blossom trees in Japan, and people who are lucky enough to experience it, say that the atmosphere becomes even better at night?
5. Watercolor Blossom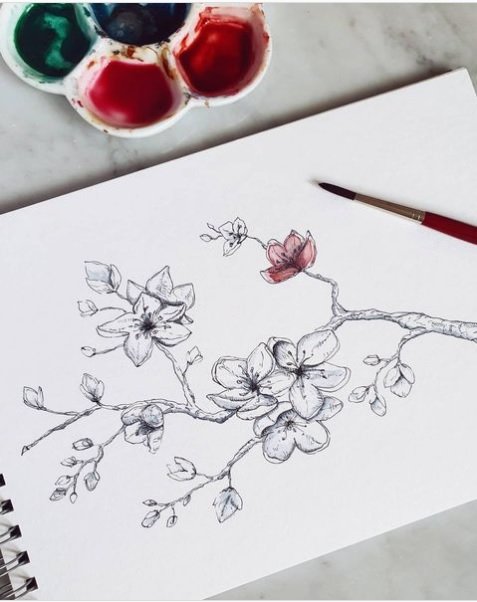 Watercolor drawing of a cherry blossom branch is a beautiful expression of this tree's sheer beauty. It is simple to outline the branch and the flowers and then fill it with watercolor. This process of drawing creates a magnificent piece of art.
6. Easy marker Shading for Cherry Blossom
This marker sketch has a lot more depth to it. The outline of beautiful flowers and branches is filled with marker strokes to create an illusion of depth. This art process is a more complex-looking concept but easy to draw.
7. Cherry Blossom Painting
A splash of color also helps express the art piece better and more realistic, as seen in nature.
Initially, the artist created this art piece as an ode to the Cherry Blossom tree in a watercolor art challenge. This painting can make a great addition to your journals or just for sticking up on a soft board.
8. Realistic Paint
Image credits:@jennifer.Davitt.art
Hats off to this artist for creating this masterpiece. Doesn't it look more like a photograph instead of a painting? You will need a little more expertise for this kind of painting, but the result will always be worth it.
9. Easy Cherry Blossom Drawing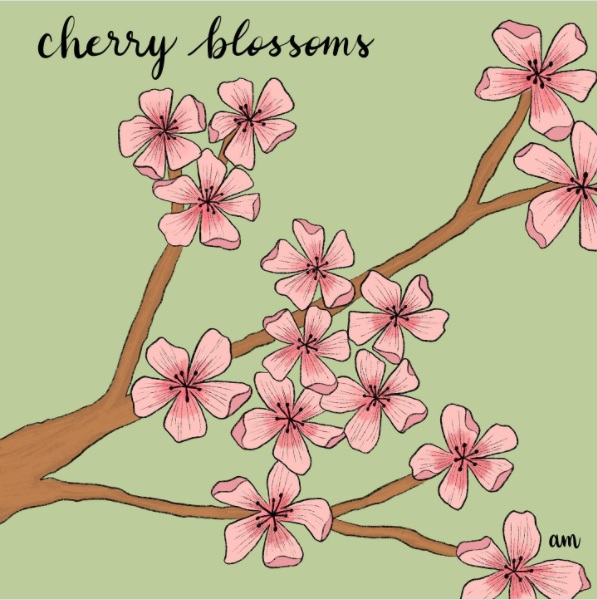 Image credits:@happy_abbey_art
If you are starting your journey into digital art, this simple cherry blossom drawing is the one for you. It is not very complicated to draw and a good starting art piece to foray into digital art.
10. Pen and Ink Drawing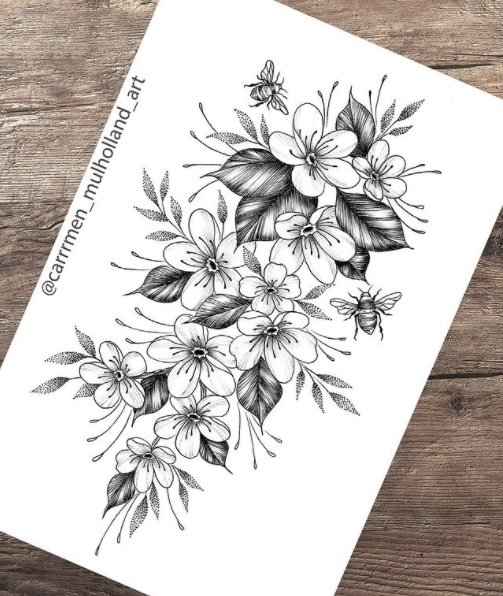 Image credits:@carrrmen_mulholland_art
The artist for this sketch initially created this as a tattoo inspiration. This sketch captures the essence of the beautiful flowers and leaves of cherry blossom and hence is drawn in pen ink to give an idea of how it will look like a tattoo.
11. Tattoo Inspiration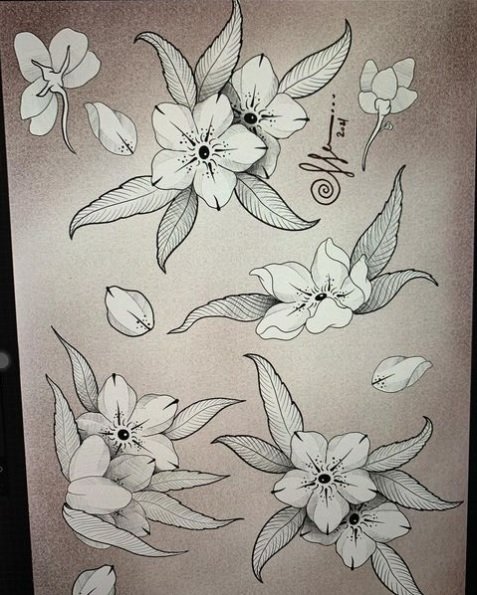 Image credits:@geraldreyes_tattoo
Beautiful designs find their incorporations in many people's lives as permanent inks on their bodies. Cherry blossoms are one such beautiful flower. This art is another tattoo design inspired by cherry blossoms, and if you are looking to get inked, this might be an attractive option for you.
12. Color Pencil Art
Suppose you think that the color pencils are best suited for children to take their first steps in drawing. You are highly mistaken because these highly versatile art objects that we know as pencil colors can be instrumental in creating beautiful art pieces.
13. Easy Sketch with pen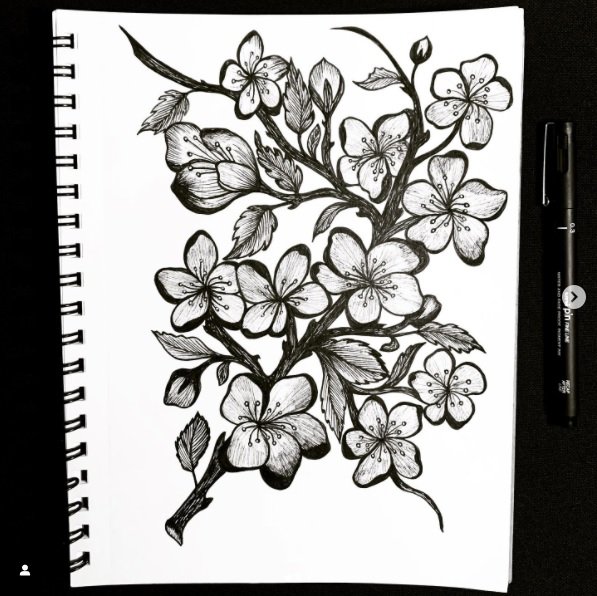 Image credits:@zentangleartstory
This sketch pen art is one of the easy and uncomplicated art pieces. Take inspiration from any real-life examples of a cherry blossom tree or maybe some other artist's drawing. You can choose to draw in pencil first if you are not confident enough to make it directly in marker.
14. Sketch pens and colored markers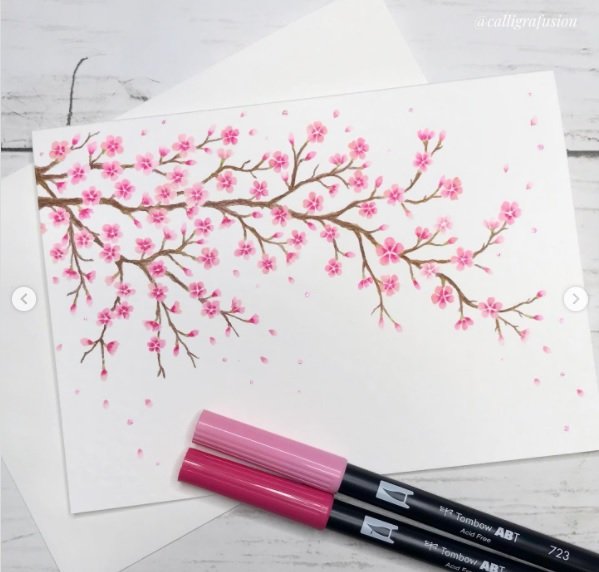 Image credits:@ calligrafusion
If you want the versatile drawing you get with markers and a dash of color, you can try your hand on colored markers. Try this beautiful branch of cherry blossoms from far and make small flowers, not the zoomed-in versions.
15. Cherry Blossoms and Dragonflies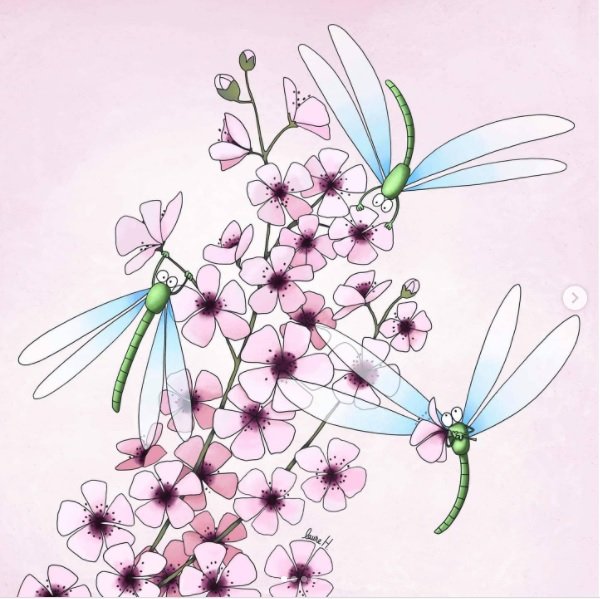 This painting is another art piece in the arena of digital art. This painting is an art piece that you can create and print out for your kids' rooms. It has elements like cherry blossoms and dragonflies. It might not be the most lovely art piece you have seen, but it is beautiful enough for kids' room decor.
16. Cherry Blossom in Watercolor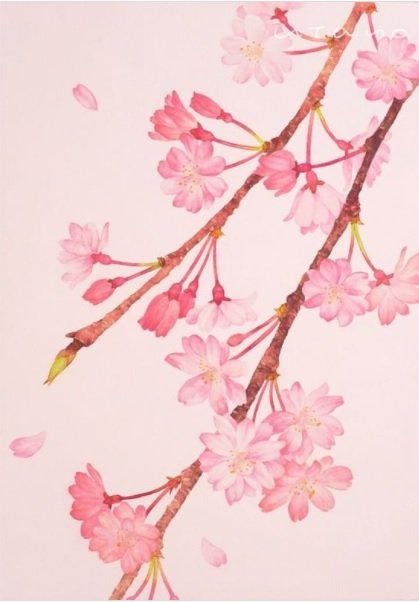 When the onset of spring is on the door, many people wait for the full bloom of the cherry blossom trees. It is a gorgeous visual treat that inspires people to make many art pieces on this magnificent tree. Each element is beautiful, and watercolor gave this painting its soul.
17. Cherry Blossom Marker Sketch
Image credits:@ katencecreates
The marker sketches are the most versatile art pieces you will come across. If you are interested in making beautiful art on cherry blossoms in a small amount of time, you can draw in pencil and go over it with the marker for highlights.
18. Real-life inspiration watercolor paint
Image credits:@flowermoon_illustrations
This sakura art has real-life inspiration from nature. This painting is the perfect piece to create for the people who are lucky enough to live in places where they can experience the beauty of these magnificent trees. Take a walk in the park with the beautiful trees around, sit for a while, and paint.
19. Gouache Watercolor Painting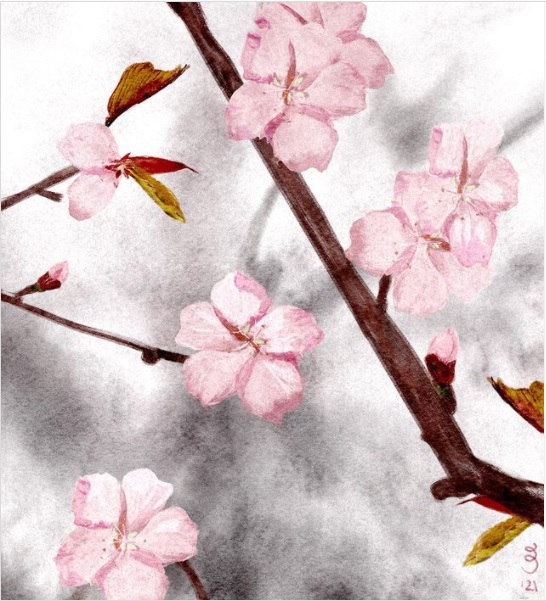 Image credits:@mariejosevincent
Gouache is a kind of opaque watercolor used to create beautiful art, mainly consisting of natural pigments. It provides the painting with a unique look and gives the image a denser appeal. Try this instead of regular watercolor when you want the painting to have a more dense and opaque look.
20. Step By Step Color Draw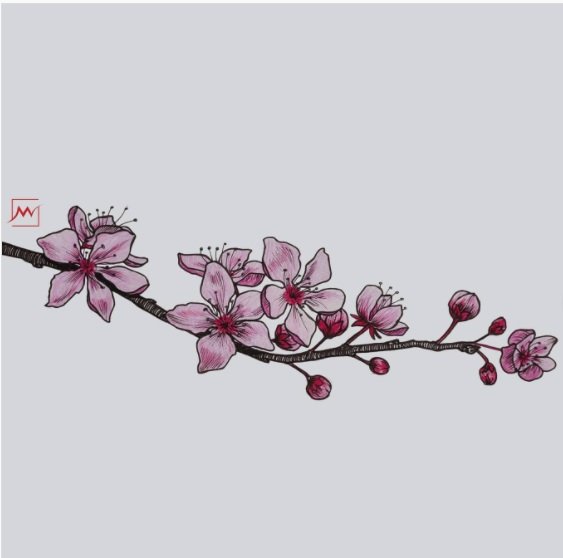 This post is a step-by-step tutorial by the artist on a colorful art rendition of a cherry blossom branch with blooming flowers. Steps on how to draw it, starting from pencil to marker, and finally the addition of color to give it life, are mentioned in this tutorial.
Image credits:@takayayurie_illust
You might not see the flowers clearly on these, but this painting is one of the most beautiful artworks you can make of a cherry blossom tree. The transparent sky background adds to the contrasting beauty of these white and light pink flowers.
22. Marker Draw
This one is one of the more advanced ones in the marker drawings of cherry blossoms. It beautifully represents a cluster of flowers in the black ink of marker. It might not be in color but still represents the beauty of the flower without fail.
23. Delicate Touch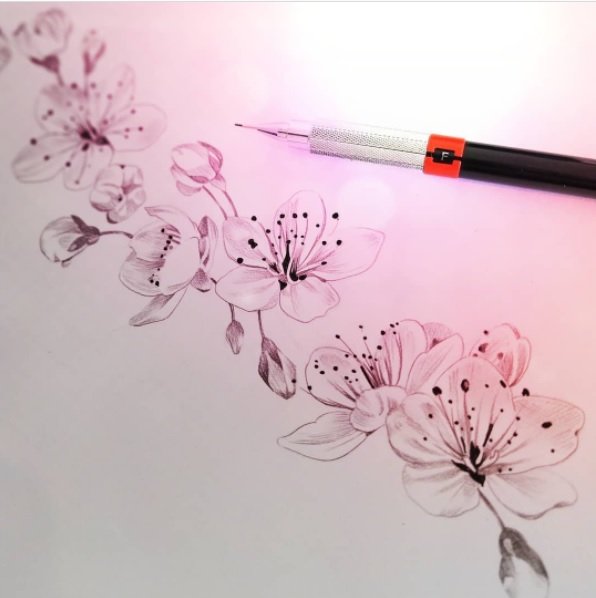 Image credits:@virginietatouage
This artwork is a very delicate drawing made in pencil. It is perfect to represent the delicate sakura flower in all its beauty and with all its charm. Sakura, isn't it a beautiful name for this flower?
24. Moon and Cherry blossom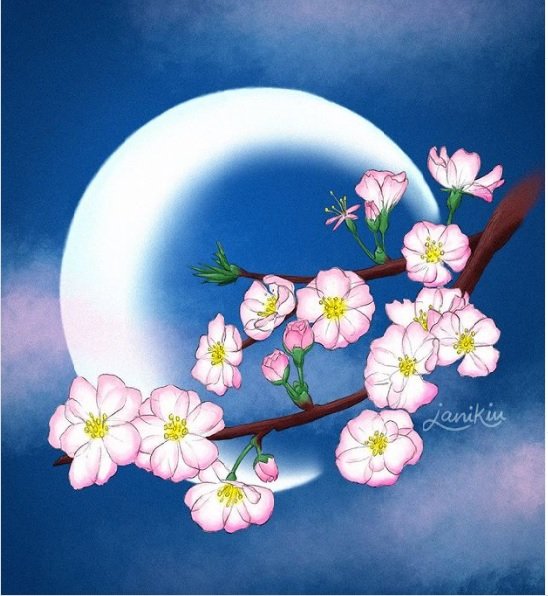 This painting is a digital art made in honor of the beautiful sight many lucky people witness when the moonlight illuminates the Sakura Flowers and creates a beautiful contrast with the night sky.
25. Watercolor and Marker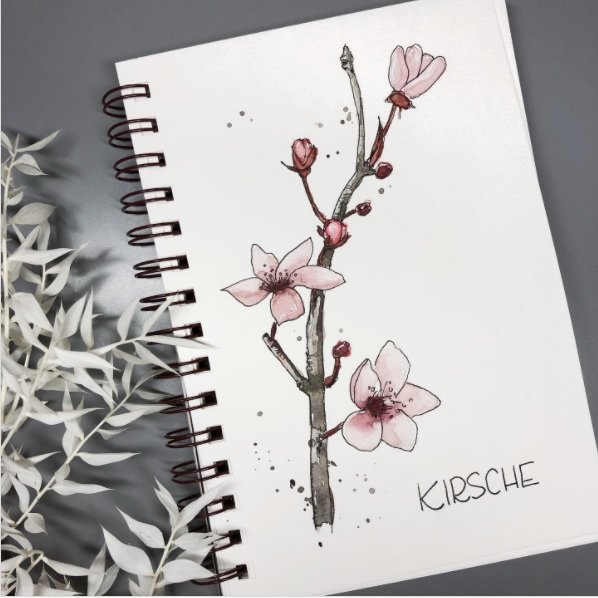 Image credits:@ maren.macht.was
This sketch is another painting in a series of marker and watercolor symphonies. The color provides life to the drawing, while the marker pen creates all the necessary highlights and outlines.
26. Marker Drawing on Cardboard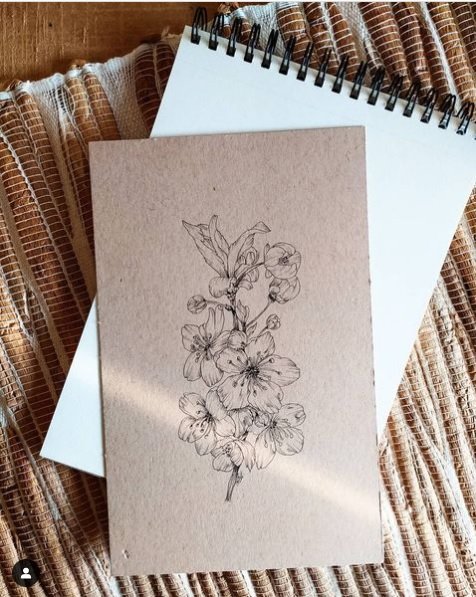 This drawing of cherry blossom on cardboard created a striking visual contrast that is beautiful. Does it not inspire you to paint little postcards or maybe make marker sketches like this one with cardboard as a base? It is a good idea to try.
27. Journal Sketch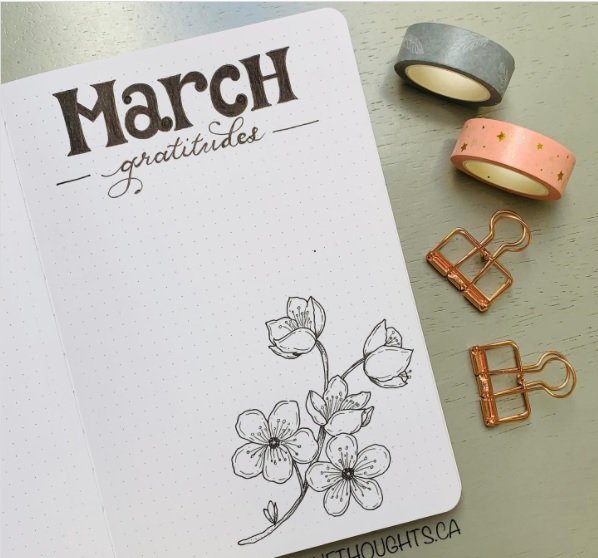 Image credits:@positivethoughts.ca
If you are one of those who have the great habit of writing a journal, you should try including some cherry blossom sketches in that. Specifically, in the months leading to spring, these flowers are supposed to be in full bloom.
28. Beautiful Acrylic Painting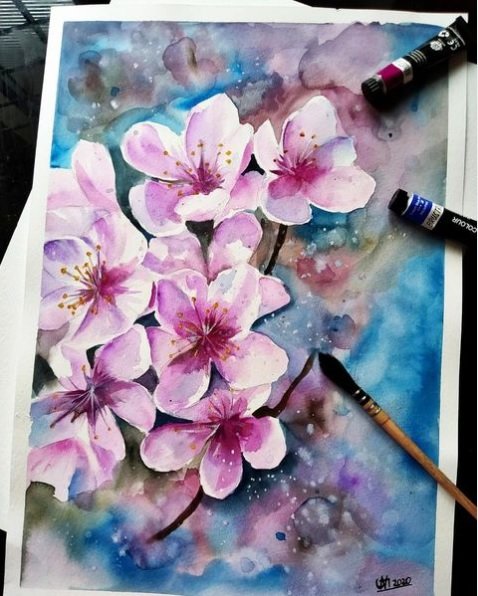 Acrylic paintings bring out the most beautiful colors in the art piece with a significant depth. You can create many vibrant brush strokes by color, and the painting comes to life.
Always worth a try if you want to try painting.
29. Birds on Cherry BLossom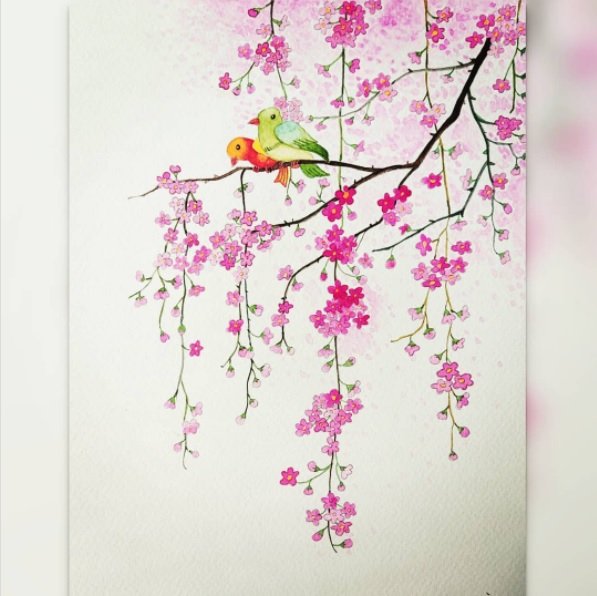 Not only humans but even the animal kingdom are mesmerized by the beauty of the cherry blossom. This painting is a testament to that. In nature, you will inevitably notice some beautiful birds perched upon this beautiful tree, and it makes for a perfect landscape for a painting.
30. Shading and Markers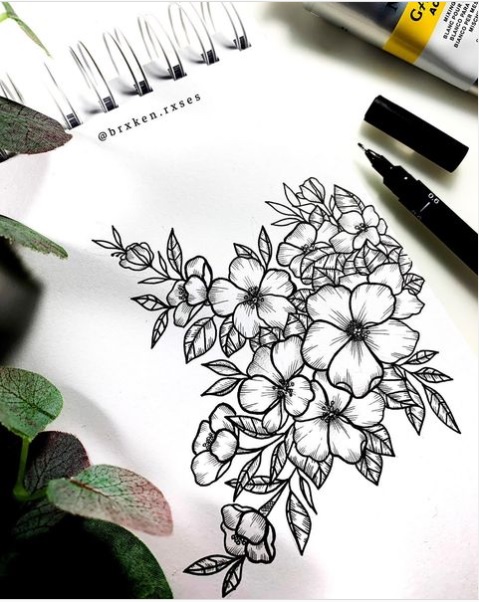 Image credits:@roseandhepatica
You do not need to rub the markers against the paper to get vibrant shading in your artwork instead of the shading you achieve with pencils. The small strokes created with the marker are well endowed to define shades in the drawing, as seen in the example above.
31. Sakura In Pencil Color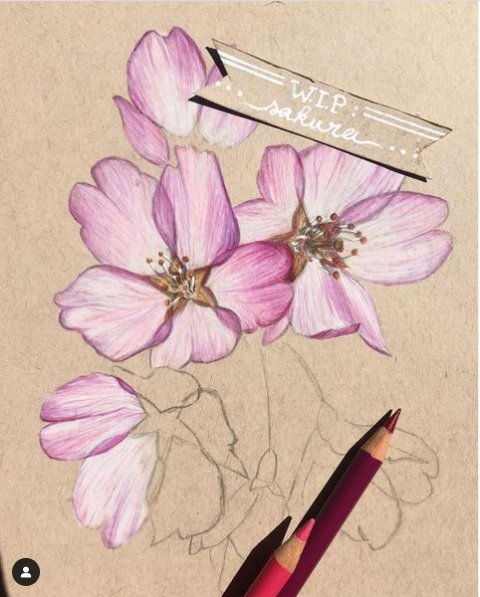 In yet another example for the pencil colors, this example is created on chart paper or you can even use cardboard. This will make a great addition to your decoration if you decide to make a postcard with the depiction of this sakura flower beauty. When you do not want to spend time blending with watercolors or lack expertise for it, pencil colors are truly a savior.
32. Cherry Blossom Bookmarks
Image Credits: @artsoul_tripti
There is always a great deal of interest shown by readers for beautiful bookmarks, and since we are talking about beauty, why not try a Cherry Blossom Bookmark? This is quite an artsy piece and this idea is easier to try with watercolors, and you can even try pencil colors to draw this.
33. Journal Cover
Image credits @nikitasfantasiesart
Ever thought of decorating your journal on your own to give it a more personal touch? If not, you should try it now. You can try it with the journal that you are going to use in the months of spring and this beautiful cherry blossom art on the cover will remind you of the spring whenever you decide to revisit your thoughts.
34. Brush Pen Cherry Blossom
If you do not have much experience with watercolors, you can try this delicate stroke drawing with brush pens. It gives you the watercolor experience without having to use brushes in different sizes if those are hard to control for you initially. It is an easy draw for the days that you just feel artsy.
35. Monochrome Cherry Blossom Landscape
This is a beautiful drawing originally drawn for the monochrome drawing challenge. There are only different shades of the color pink used to draw this masterpiece. It is amazing to see what changes come alive in the drawing just by changing color hues and tones and creating an amazing art piece without the use of any other color.
36. Painted Sakura Flowers
This can be a beautiful addition to put in your journal. Don't you think that whenever we see flowers anywhere they just make us happy? So, then why not make it an addition to the gratitude journals or for that matter any journal you may maintain as a positive affirmation?
We recommend you definitely add this painting to your journal or just place it where you can see it as a positive addition to your life.
Do you know that almost 200 varieties of Cherry Blossom exist in nature? And every form of its existence is purely mesmerizing.
When you see beauty in nature, it inspires you to put that art on paper. No matter if you are not a
professional, you can also create tangible and straightforward pieces.
Anything made from the heart always comes out beautiful, and the beauty of this flower already makes the heart happy.

We have combined the different artworks on this blog with various difficulty levels. So, whether you are a professional or an amateur, you can find something on this list to inspire you for sure.
Hopefully, we can help you capture the beauty of cherry blossoms through this post. Keep reading for more such exciting posts.