If you are someone like me, who struggles with doodling, then you are at the right place. These fall doodles are nothing less than saviors to help you with your bujo pages. With these fall doodles, you can create amazing themes for your fall bujo pages.
Here are some more doodle ideas for your fancy bujo pages
– 45+ Bullet Journal Doodles For Your Inspiration
– 20 Fall Doodles Ideas To Try In Your Bullet Journal
– 25 Easy Christmas Doodles You Can Draw
You can also Shop our E-Book – 150 Step-by-Step Doodles Of Everything You Can Imagine – For Just $10
1. Colorful Fall Doodles
Source : mylittlejournalblog
I love the whole watercolor effect in doodle art. But using watercolor can be difficult sometimes, so here we have an assortment of easy fall doodles. I love the soft colors used in these doodles; it reflects the color of the season.
Read – 130+ Step-by-Step Doodle Ideas for a Creative Touch
2. Fall Mails
Source : punkpostco
If postcards and greeting cards are your way to share love, then these ideas are for you. You can use these cute little doodles to decorate your postcards. They are simple, easy, and quick.
3. Boo-tiful Fall Doodles
Source : bealettering
Fall Doodles, just like summer doodles, are so versatile. This assortment of ideas has all the cute doodles that go well with the winter theme. I especially love the ghost doodle. Perfectly boo-tiful! Check out some interesting summer doodles here- 22 Creative Summer Bullet Journal Doodles To Try.
4. Orange Fall Doodles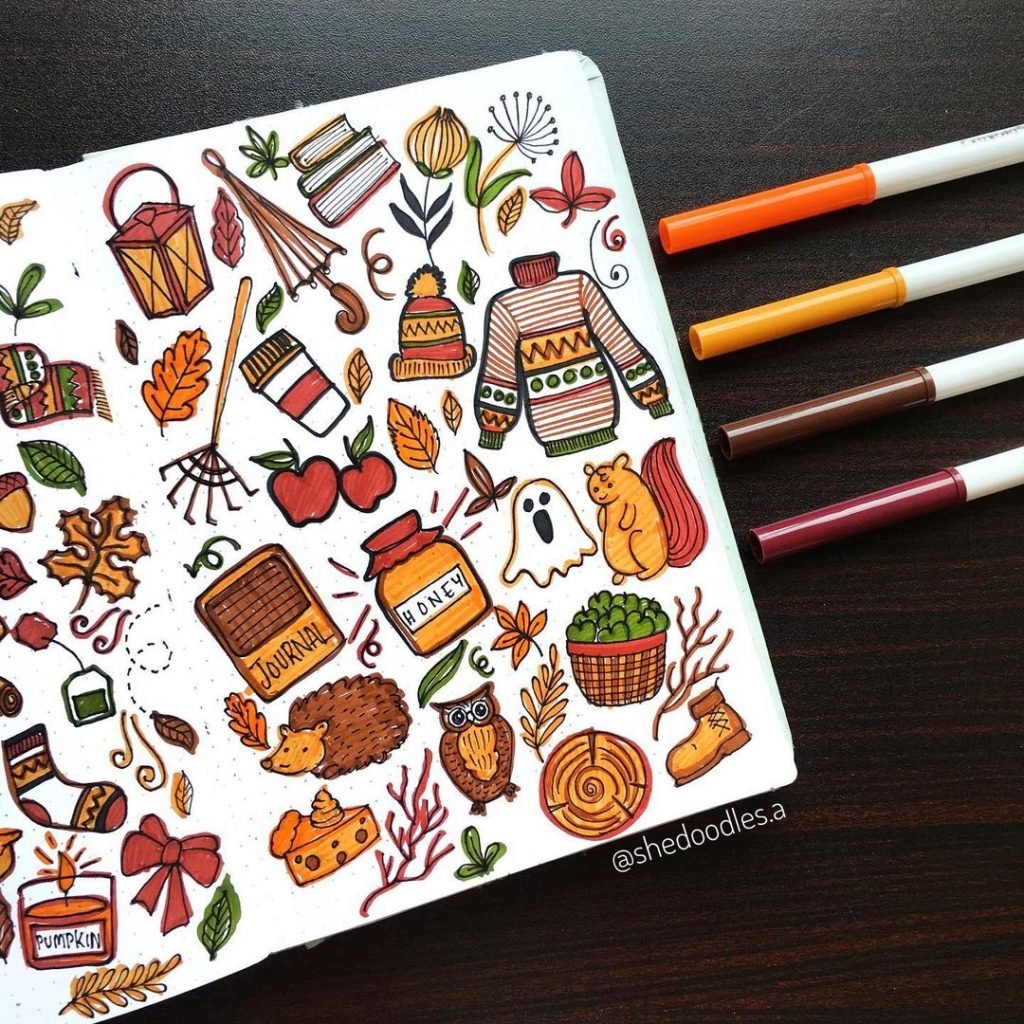 Source : shedoodles.a
If you have a Halloween theme for your fall bullet journal, then these fall doodles are just what you need. I love how she has used orange as the predominant color. The color gives the doodles a very Halloween-like vibe.
5. Step-by-step Fall Doodles
Source : planwithady
Fall doodles are not that hard to master. But if you struggle with doodling, like me, then you are at the right place. From nuts to umbrellas to scarves to hot cocoa, here you can learn all of it.
6. Autumn Doodles
Source : nicole.josephine
If you are looking for something non-tradition for your fall bujo pages, then look no further. These fall doodles are easy, unique, and colorful. You can easily draw a few of these to decorate your fall bujo pages.
7. Fall Dividers
Source : handletteringspiration
Okay! So doodles are not the only way to fill your bujo pages with fancy stuff. You can also add some fall dividers like these to create more decluttered and organized bujo pages. These are easy, and once you get a hang of it, they are quick too.
8. Halloween Pumpkins
Source : tombowusa
Who doesn't like a good Halloween theme? If you have plans of having a similar theme, then learn how to make a fancy Halloween pumpkin doodle. These bright orange pumpkins are super cool and fun. Give it a try!
9. Autumn Doodles
Source : lisanplan
If you are looking for some cute and tiny fall doodles, then these might be your thing. These doodles are perfect for filling the corners of your bujo pages. They will certainly add an eerie and wintery edge to your fall journal.
10. Simple Autumn Love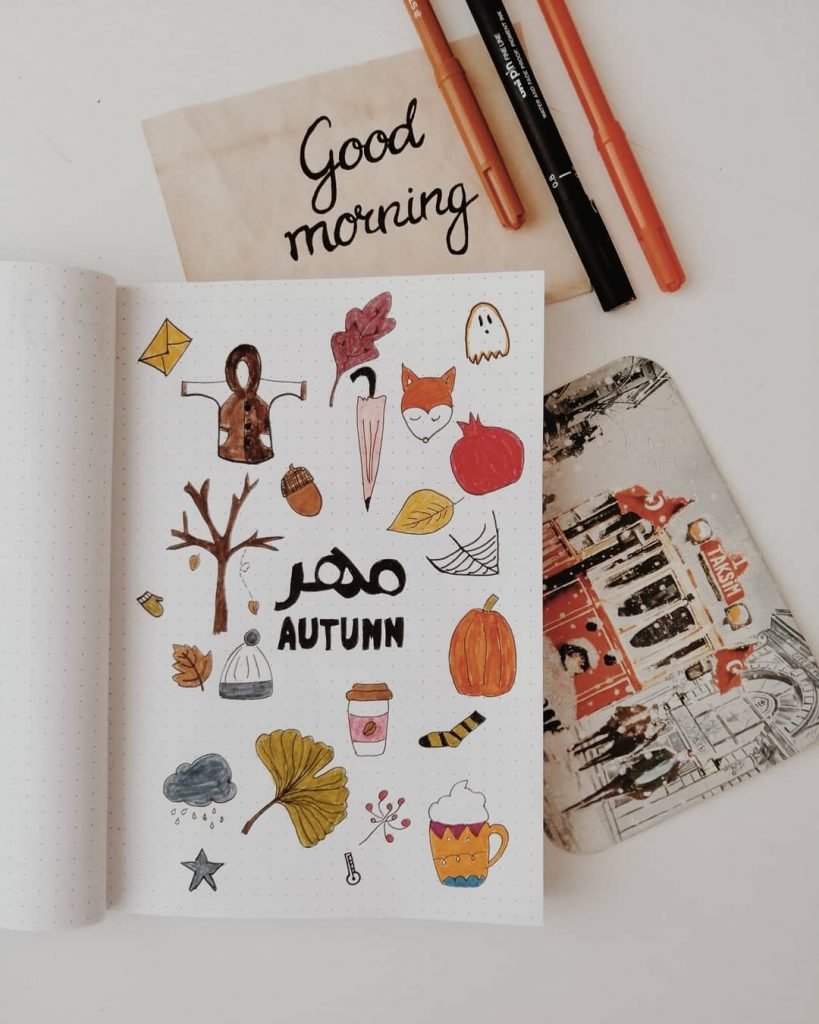 Source : persian_studygram
I find doodling quite fun and relaxing. But sometimes, I tend to run out of ideas. If you feel the same way, here are some easy and conventional fall doodles for you to try out. I particularly love the barren tree, a perfect representation of fall.
11. Colorful Fall Doodles
Source : carri_scribbles
If you are into colorful doodles, then these might be your thing. I love the color scheme in these fall doodles. Especially the highlighting part. This assortment has everything that makes the winter warm and cozy. From PJs to muffler, from ghost to cocoa, this assortment has it all.
12. Simple Fall Doodles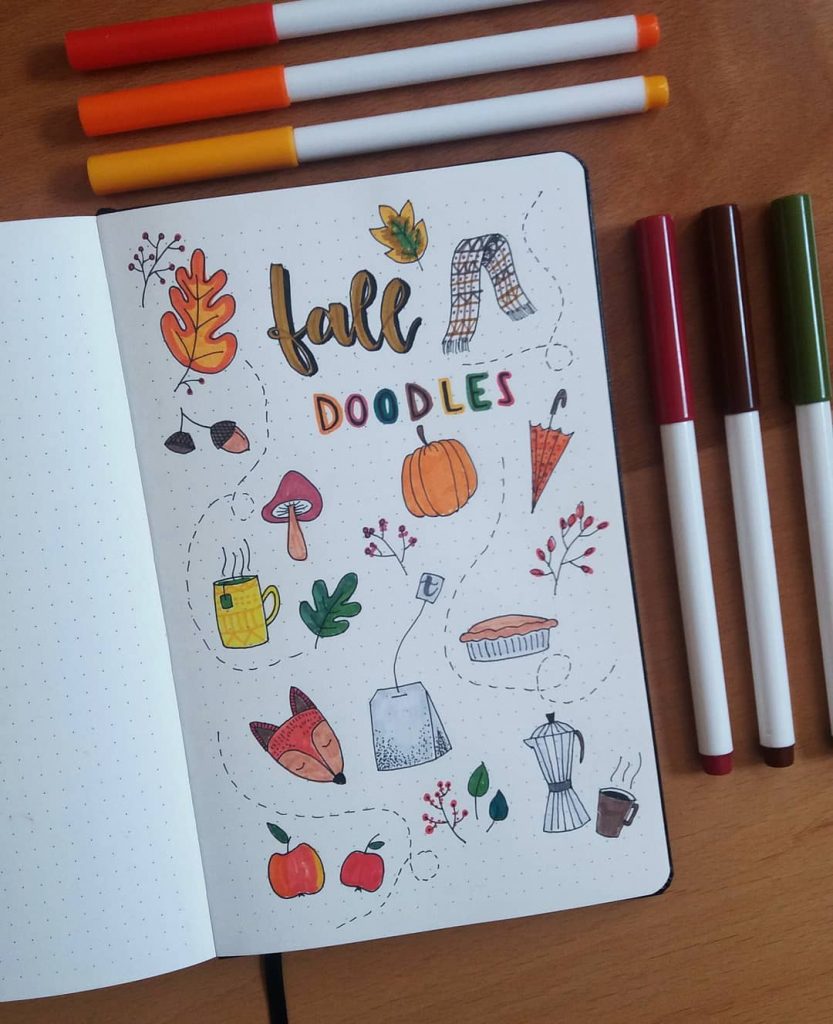 Source : bujobyrita
I love how warm and welcoming these fall doodles have turned out to be. The coloring is too good and flawless. I love how easy and fun it is to make a few of these for your winter bujo pages.
13.
Fall doodles
Source : kyesjournal
If you ask me, I would say this whole layout is perfect for a fall bullet journal cover page. I love all about it. Its simplicity, its color scheme, and its winter vibe. My favorite thing about this layout is that it has a very tropical vibe to it. This makes these fall doodles unique in itself.
14. How to Draw Fall Doodles?
Source : mashaplans
What is your idea of a perfect winter morning? For me, it is my journal and a hot cup of cocoa. Doesn't the image fill you with warmth? Here are some easy fall doodles tutorials for you to make your bujo pages interesting. I just love the coffee tumbler and the cute owl. Which one is your favorite?
15. Celebrate with Doodles
Source : positivelypresent
How about you celebrate this fall with some fancy doodles? From crunchy leaves to orange pumpkins, this assortment has everything that screams winter is here. Take your pick and embellish your winter bujo pages with these fall doodles.
16. Trick or Treat
Source : lepetitchat96
Honestly, I love this layout as a whole. I would any day use this as my October bullet journal! But you can certainly use these cute and easy fall doodles to embellish your bujo pages. So, are these ideas a trick or treat?
17. Oodles of Doodles
Source : mashaplans
I want to have the peace that the orange fox is living in! Look at that face, so adorable! How about these fall doodles? My favorite is, without a doubt, the sleeping fox. What's yours?
18. Fall Doodles Tutorials
Source : study.doodle.handletter
I love a good step-by-step fall doodles tutorial. These will help you to draw some interesting and colorful doodles. I like them all, but I think my favorite one is the coffee tumbler.
19. Comfy Fall Doodles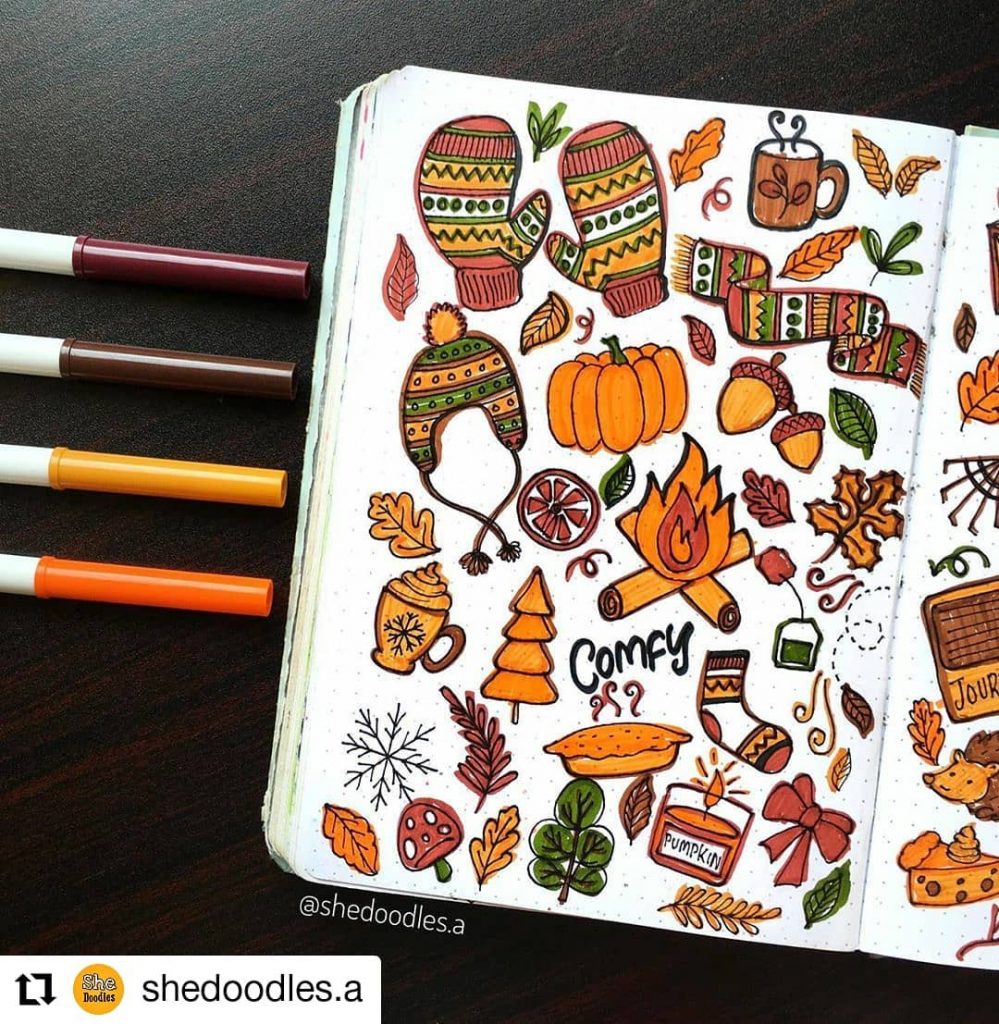 Source : bujobeauties
I love how cozy these fall doodles look. The orange and brown have such a nice warm tone to them. It is simple and easy to recreate these bunch of doodles. I love the campfire one; reminds me of the campfires with my friends.
20. Winter is Here
Source : mashaplans
The pumpkin and cocoa weather is here. It is my favorite part of the fall. I just love the pumpkin latte doodle. It is so creative and quirky. Choose your favorite one and keep doodling!
How to Use Fall Doodles In Bullet Journal?
It is not easy to make an interesting bullet journal. Using too many fall doodles can make your bujo pages a little overboard. So here are some ideas to help you create amazing bujo pages.
1. Decorate Weekly Layout Pages
Source : study.duoo
Weekly layouts are really fun to play with. You have ample space to fill and still keep things sorted. This weekly layout for October bujo pages is an interesting way to use fall doodles. I love how simple and sorted the layout looks.
2. Create Mood Tracker
Mood trackers are my favorites. You can be so innovative when it comes to mood trackers. Here are some ways to create your own mood trackers with some fall doodles.
1. Neutral Fall Doodles
Source : vivianjournals
Honestly, creating a good mood tracker itself sets me in the right mood. When I saw this fantastic mood tracker created with neutral fall doodles, I just couldn't ignore it. It will certainly be fun to color these according to your mood.
2. Cozy Fall Mood Tracker
Source : notespiration_
If you are a fan of cozy mufflers, then how about making one with your mood? So here we have an amazing mood tracker idea for your fall bullet journal. I love the whole layout; it is fun and super cool.
3. Add Decorative Borders
You can do so much more than just drawing random doodles. Instead, you can draw fall doodles to add creative borders to make the layouts more interesting. Check out some ways to add decorative borders to your bujo pages.
1. October Monthly Layout
Source : kawaiipenshop
Look at the cute fall doodles on the right edge of this monthly layout. It makes the whole layout much more fun and interesting.
2. Halloween Decorations
Source : emicupplans
I love how festive these decorative borders look. It has a spooky vibe making it perfect for the October bullet journal. I just love the blue bat; it is unconventional and fun.
4. Create Fall and Halloween Themed Bullet Journal
Source : mashaplans
I just love this layout. It is spooky and beautiful. I love the castle; it is a classic representation of a Halloween night. She has kept the whole layout black and white only with a little hint of orange here and there. It certainly feels like there is magic in the night. Here are some more ideas to create a fun Halloween-themed bullet journal- 25 Halloween Bullet Journal Ideas To Fuel Your Creativity.
5. Create Fall Bucket List
We can never have enough of a bucket list. That is one thing that keeps increasing. But we can always manage the list. So here are some fall bucket list ideas for you to try out.
1. Fall Doodles for Bucket List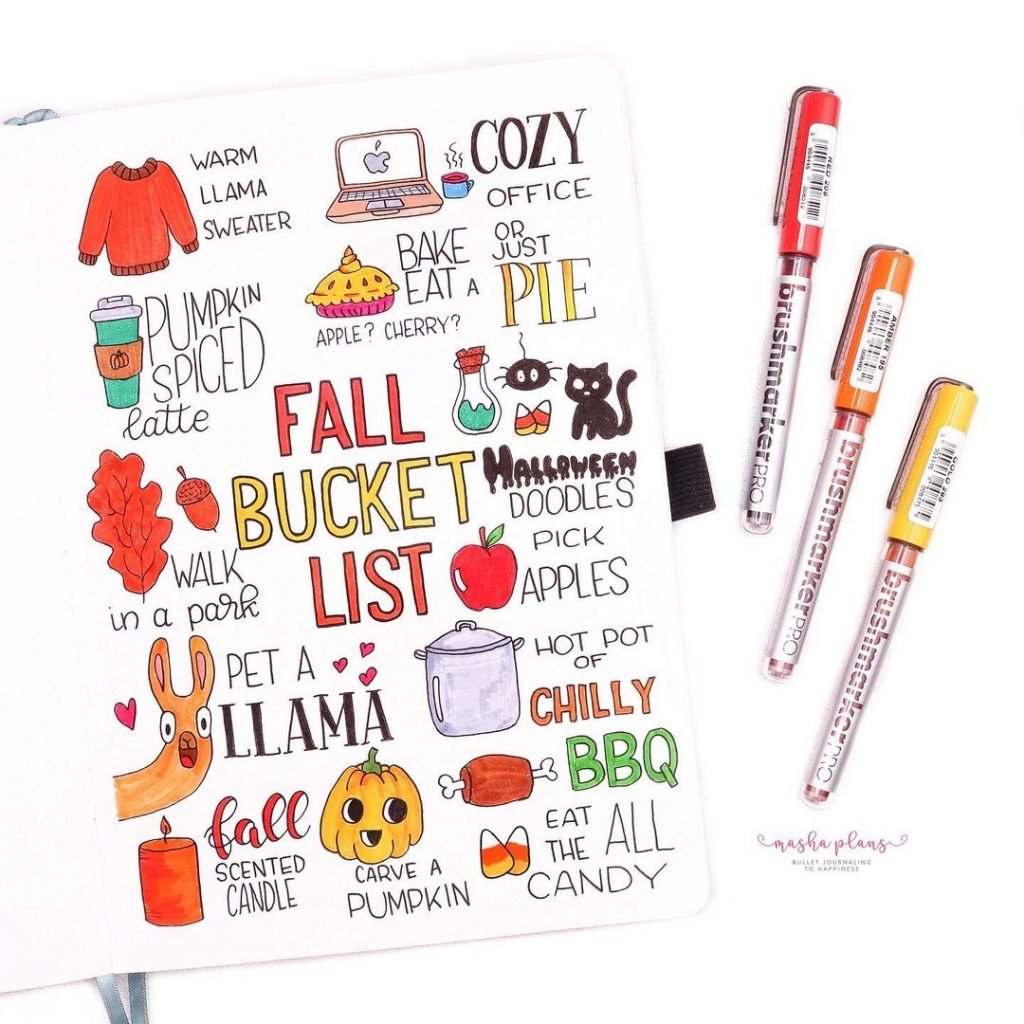 Source : mashaplans
I have never seen a more interesting and fun bucket list than this one. It is colorful, manageable, and sorted. She has created a proper center for this layout, making the overall look much organized.
2. All You Need for Fall Bucket List
Source : mashaplans
Whether it be a warm cup of cocoa or a cup of spiced latte, manage your bucket list with this amazing fall bucket list. I love how colorful this one has turned out. Bucket lists should always be a fun space; wouldn't you agree?
6. Create Fall Month Cover Pages
Source : kennsteschonlettering
This is a fun October cover page. I like that she has used so many fall doodles to make this cover page. It has everything, from a stag to maple leaves. I just love this one. Here are some more interesting ideas for your October bujo pages- 37 October Bullet Journal Ideas To Plan The New Month.
There you go, people. We have laid out a whole set of ideas for you to create perfect fall bujo pages. These fall doodles will certainly help you to explore your creative mind. Let us know your favorite one in the comment section below. Happy doodling, people.
If you loved these ideas, you can use the Pin image below and save this article on your 'Bullet Journal Doodle' Pinterest board.