After Christmas, Easter is one of the most important holidays in the Christian Calendar. Commemorating the resurrection of Jesus Christ from the dead, it is an occasion of great joy and festivity after a long period of fasting during Lent. Although customs may vary greatly according to region, there is no denying that most people spend the day with family and friends, eating good food and being thankful.
While there are a lot of activities to partake in, from Easter parades to communal dancing and even Easter Bunny and egg hunting, there's no denying that good food plays a huge part in every celebration.
So it only makes sense that we put together a little list of some of the most popular Easter recipes that you can try for the occasion. We have all the bells and whistles that come with a traditional Easter Sunday – from ham to bread and classic brunch and dinner recipes. If you are looking for inspiration for this year's feast, this list is sure to be a big help.
Easter Ham Recipes
1. Rosemary Citrus Glazed Ham
Image and recipe by lecremedelacrumb
This juicy oven roasted ham with a rosemary and citrus infused glaze would make anyone hungry. You cannot go wrong with this indulgent Easter ham glaze recipe for the best Easter dinner party. The glaze really has a bit of everything. Tangy, sweet, savory and all over delicious, you will not be able to get over this once you have it.
2. Honey and Rye Glazed Ham
Image and recipe by bonappetit
A glaze that has the perfect blend of chilis and molasses will give you this really sumptuous Easter ham glaze recipe. Also, it's indulgent and has a beautiful sweet yet subtle rye whisky flavor. If you want to have a star at your Easter celebrations, this recipe is certainly the right place to start.
3. Easy Sriracha Ham
Image and recipe by thefoodcharlatan
If you want something simple and easy for your ham recipes this Easter, go for this one. WIth just 3 ingredients, this Easter crockpot ham recipe is bound to be the easiest dish you make. The Sriracha really balances the sweetness and gives the ham a kick of flavor. And because you're using a crockpot, you can be sure that the meat is really going to soak in all the good juices and become so tender it falls apart in your hands.
4. Apricot Glazed Ham
Image and recipe by goodhousekeeping
Easy Easter ham recipes make cooking stress free and gives you time to concentrate on other things. This apricot Easter ham glaze recipe uses only 4 ingredients. It really is the perfect combination of sweet apricots and tangy mustard balanced with pepper. If the sound of that really excites you, this is the Easter recipe to try.
Easter Dessert Recipes
5. Tres Leches Cake
Image and recipe by halfbakedharvest
Yes this may be a very Mexican twist on a traditional Easter dessert, but you cannot deny the charm of the Tres Leches cake. The easy Easter dessert recipe starts with a lovely vanilla sponge cake infused with cream cheese and coconut swirl. If you want something that isn't overly sweet, this cake recipe is a perfect option to end Easter dinner.
6. Easter Bunny Milkshake
Image and recipe by saltycanary
Did someone say Chocolate Easter Bunny Milkshake? Isn't this really the cutest idea out there? If you want a cute Easter dessert recipe you don't need to look any further. Full of candies, cookie bits and assorted chocolates topping off the milkshake, this recipe is no less than an Easter basket inside a chocolate bunny. You really won't find a cuter dessert recipe than this.
7. Spring Confetti Bars
Image and recipe by chelseasmessyapron
A white chocolate cookie base and marshmallow filling start off this colorful spring dessert. This easy Easter dessert recipe is sure to be a crowd pleaser. And so simple to make as well. Funfetti bars are always delicious and a bit hit with children. If you've got plans for Easter involving kids, get them on board and make the delightful treats more fun. Now that's what makes the perfect Easter dessert.
8. Creme Egg Rocky Road
Anything that involves Cadbury creme eggs usually is a hit with everyone – especially the children. So it's no surprise that creme egg rocky road is a feature for Easter. This is a colorful, gooey, chocolate abundant easy Easter dessert recipe that will surely make everyone marvel. After all, who wouldn't want a slice of rocky road sprinkled with chocolate eggs on top.
Easter Bread Recipes
9. Romanian Chocolate and Nuts Easter Bread
Image and recipe by finecooking
This sweet Easter bread recipe will blow your mind with how good it tastes. It is made with chopped chocolate instead of the traditional cocoa powder which gives it a unique depth of flavor. Also, it has pockets of pecan added to it which give it a very different flavor from the usual European Easter bread. The bread also rises very beautiful and makes for a really nice addition to Easter brunch.
10. Paska Easter Bread
Image and recipe by tasteofhome
Isn't this just the most eloquent looking bread you've ever seen? The Ukranian Easter bread recipe is made using a lot more eggs than the normal Easter breads. This makes it a lot richer and fluffier than usual. If you decide to make this bread for your Easter celebrations this year, be prepared to hear many compliments about it.
12. Choreg Bread Recipe
Image and recipe by seriouseats
A beautiful Armenian Easter bread recipe, this is a great recipe for any time of the year. Infused with Nigella seeds and ground mahlab, this bread has a wonderful aroma and delicious flavor. The crumb is also a lot more tender and fluffier. Now if all of that hasn't sold you on trying this amazing sweet Easter bread recipe, perhaps seeing how it is actually done will. So do check out the recipe.
13. Italian Easter Bread
Image and recipe by theslowroasteditalian
A tender and delicious Italian Easter bread recipe, this sweet bread is a festive addition to your dinner table. Although this is a sweet bread, you could add different toppings and ingredients to make it savory according to yoru taste. It's also so cute to look at with the colored eggs in the center. This bread recipe will be right at home among the other dishes at Easter.
Easter Brunch Recipes
14. Spinach Artichoke Strata
Image and recipe by cookinglight
This hearty Easter brunch casserole recipe will be a crowd favorite. Made with lots of spinach and artichoke over whole grain bread, it has little pockets of cheese which taste divine. It can be made ahead so you need not rush to get things done on Easter morning. This is a dish that brings you both comfort and health while being all round tasty.
15. Eggs and Pesto Carrot Hash
Image and recipe by foodnetwork
Move over potato hash browns. It's time for the carrot to shine. This innovative and yummy vegetarian Easter brunch recipe is so good you won't even realize it's if you want to make this recipe vegan, you can leave off the egg on top. But either way, this is a really easy brunch recipe that will be loved by everyone at the table.
16. Caramel Pecan Sticky Buns
Image and recipe by sugargeekshow
These buns are soft and sticky and have the most luxurious pecan caramel glaze – which is made from scratch. Oh yes, this is a great Easter brunch recipe to make ahead and which will be the sweetest way to finish off brunch. The sweet sticky bun dough is very versatile and can also be used to make cinnamon rolls and fresh danishes. Now that's a good recipe for every occasion.
17. Pimiento, Cheese and Ham Scramble
Ham and cheese are such a classic combination for breakfast and lunch recipes it wouldn't be fair to leave them out. This healthy Easter brunch recipe includes pimiento cheese which gives the scrambled eggs a wonderful zing. To make it a wholesome meal, add some deli ham and see the dish elevate to a whole new level. A must try for Easter brunch this year, you will not be disappointed.
18. Ricotta Pancakes
Image and recipe countryliving
Any recipe can be made special with just a few tweaks to the ingredients you use. Rhubarb is a wonderful ingredient for most desserts. And maple is a staple on pancakes. So why not combine them two to make this vegetarian Easter brunch recipe. The ricotta makes the pancakes fluffy and so rich tasting. Also, the strawberry topping is great to give the pancakes that zingyness to cut the sweetness.
Easter Dinner Recipes
19. Pecan Crusted Honey Bourbon Salmon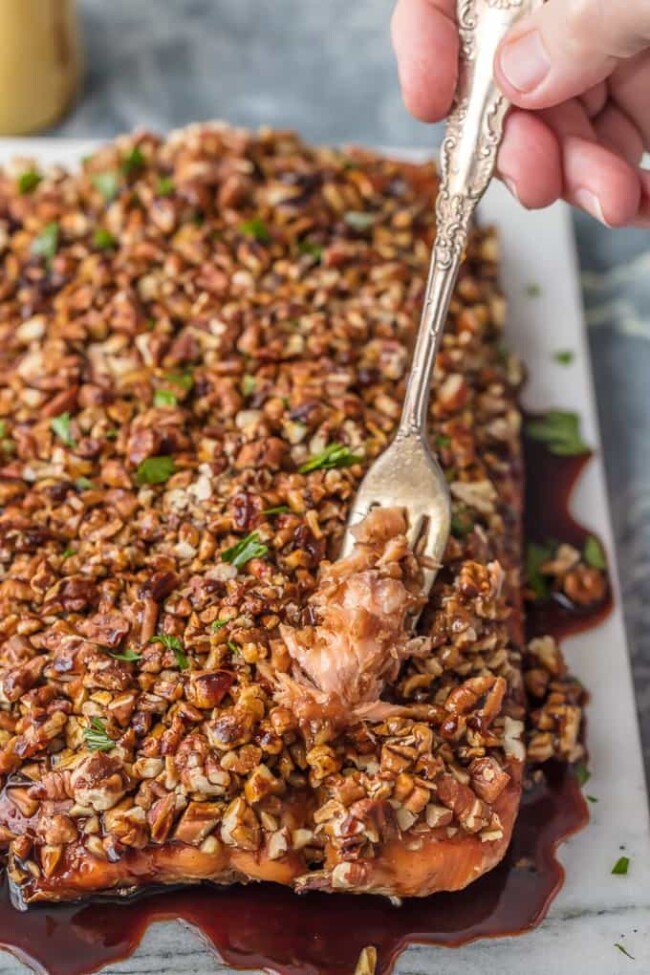 Image and recipe by thecookierookie
Don't worry, the name is the only thing that is long in this recipe. If you've never had bourbon salmon before let me tell you it is DELICIOUS. Adding the pecan crust is just giving this dish the crunch it deserves. This easy Easter dinner recipe is a must try and your family will love having it. Whether you decide to eat it with rice or on it's own, you'll relish every bite.
20. Shrimp Scampi Potatoes
Dairy free and delicious are words we love hearing for Easter dinner recipes. This modern twist on a classic potatoes and meat dish is going to leave you pleasantly surprised. The whole dish takes about 30 minutes to make so it's also really handy and easy to do. If you're having a lot of guests over, this might be the recipe to serve.
21. Oven Roasted Chicken
Image and recipe by chefdehome
A perfectly cooked whole roasted chicken is the kind of Easter dinner recipe that everyone dreams of. This one is made with a well marinated chicken. The flavors of thyme, lemon and other spices will surely be a treat for the palette. Served with roasted potatoes, it is a hearty meal and you'll be going back for seconds and thirds no doubt.
22. Beef Tenderloin with Roasted Cauliflower
Image and recipe by countryliving
A juicy beef tenderloin dinner is bound to brighten up anyone's mood. So it makes sense to make this amazing Easter dinner recipe. Made using one pot, this dinner recipe has amazing flavors of mustard, shallots and dry spices. The pomegranate seeds add a balance of tanginess and sweetness. If you want a one pot recipe for dinner, this is your go to.
23. Lamb Burger with Halloumi and Green Sauce
Image and recipe by berriesandspice
If you're looking for a more casual Easter dinner recipe but still want something really good, you might want to try these lamb burgers with halloumi. Flavored with oriental spices and dried barberries, this burger is balanced with rocket, hummus and a great green herb sauce. There is so much to love in this recipe I don't want to spoil more. So go ahead and check it out.
Easter Salads Recipes
24. Citrus Farmer's Market Salad
Image and recipe by whatsgabycooking
Tangy, fresh, delicious and well balanced are all adjectives you can use to describe this fresh spring salad. It has a simple shallot and lemon vinaigrette drizzle which really brings the citrus theme full circle. If you like the idea of a fresh spring Easter salad recipe, you're in for a treat. Also, did I mention it takes literally 5 minutes to make. You're definitely going to want this one on your dinner table so go check out the recipe.
25. Vegetarian Caesar Salad
Image and recipe by chefdehome
Mayo free and vegetarian are the two things you must keep in mind while making this salad. If you love Caesar salad but don't want the heavy dressing and meat that goes with it, try this super healthy version instead. Easy to make, with plenty of crispy croutons, this Easter salad recipe is sure to be a hit because of how delicious it tastes. Start your Easter dinner with this fresh salad, you won't regret it.
26. Strawberries with Goat's Cheese Croutons
Here is a fresh take on a summer salad with all the things you love. The sweetness from the strawberries really pairs well with the baby greens. And how can we forget the delicious goat's cheese croutons. This Easter salad recipe is fresh yet indulgent with the right balance of flavors. And that's probably the best way to start your Easter dinner party.
27. Summer Squash Salad
If you want a salad that is not just greens but also filling, you are in the right place. This easy Easter salad recipe uses quinoa to cut the freshness of the zucchini and creaminess of the feta cheese. The squash adds a whole new texture to really build this salad up. If you want to go light on your main course, this salad is really the thing to have.
Easter Lamb Recipes
28. Garlic Lamb Chops
Image and recipe by sweetandsavorymeals
We all know how stressful it can be to cook everything on Easter day. So we have this delicious stuffed Easter lamb recipe to make the task just a little easier. Stuffed with thyme and rosemary along with garlic and shallots, these lamb chops are just the main course your friends and family needs. Finishing this off in the over will ensure that you have the most tender yet flavorful lamb ready to serve. Try it yourself and see.
29. Port Braised Lamb Shanks
Image and recipe by recipetineats
All you need are a handful of ingredients to make this fancy lamb shank dinner. Since this is slow cooked in port wine, the Easter lamb recipe gives a rich and tender meat which falls apart in your hands. Also, this can be cooked ahead of time and will taste great even the day after. Now that's an easy Easter lamb recipe that we can get behind.
30. Italian Roasted Lamb
Image and recipe by flavoursholidays
A perfectly succulent roast lamb with potatoes is the perfect Easter recipe for this year. This traditional Italian recipe uses a lamb rack and is cooked in a pan to infuse it with all the flavors of rosemary and juniper essence. The recipe is so easy you can do it before time and have it rest before dinner time. Everyone at the party will love this recipe for sure.
31. Garlic Crusted Rack of Lamb
Image and recipe by foodandwine
If you're looking for the perfect centerpiece for your Easter dinner table, you should look at this recipe for a traditional rack of lamb. Made with just 5 ingredients and 10 minutes cooking time, you can make this Easter lamb recipe in less than 15 minutes. Served with salad or roast vegetables, this lamb rack has all the flavors of rosemary, garlic and pepper all perfectly balanced together.
32. Authentic Greek Lamb
Image and recipe by compassandfork
This is a really simple and easy Easter lamb recipe and is great for a party. Garlic, rosemary and lemon is just the addition of aroma you need for your dinner table. If you are patient enough, you can marinade this overnight and cook it in the morning. This is just the type of dish to be the star of the Easter dinner party.
Vegan Easter Recipes
33. Barbecue Carrot Dogs with Creamy Chickpea Salad
Image and recipe by vegansandra
Make Easter a little non traditional this year with these vegan barbecue carrot dogs. It is so fun to make these easy vegan Easter recipe appetizers. The creamy chickpea sauce is the perfect pairing for this wonderfully grilled dish too. A vegan Easter does not mean you must compromise on your taste. And this vegan recipe is proof of that.
34. Gluten Free Soft Pretzels
Image and recipe by forkandbeans
These bunny twist shaped soft pretzels are cute yet delicious. If you have a craving for some lovely pretzels this Easter, you're in for a treat. Gluten free and healthy, these vegan Easter recipe is a great snack, especially with a dab of whole grain mustard. Go ahead and give these a try, you will be glad you did.
35. Asparagus and Tomatoes Quiche
Image and recipe by veganheaven
This is such a versatile and tasty dish, you'll be surprised at how well it comes together. Perfect for a vegan Easter recipe, the quiche has a wonderful flavor of thyme, rosemary and oregano. Using silken tofu instead of eggs will give you the desired scrambled consistency. So if you want something easy yet yummy for the brunch this Easter, you must try this healthy springtime quiche.
36. Sweet and Smoky Glazed Tofu Ham
We all know that a traditional Easter is incomplete without a ham centerpiece. But when you want to go the vegan route, you can substitute that with this lovely tofu ham recipe. With notes of orange and maple, this sweet and sticky glaze is perfect for a well made tofu ham. Trust me, your dinner party will be the in the talks for days with this vegan Easter recipe
37. Tomatoes and Lentil over Pasta
Image and recipe by onegreenplanet
Perfect for your Easter sunday dinner, this easy tomato and lentil pasta is fresh and flavorful. Mustard and onions roasted with fresh cooked lentils and cherry tomatoes are the perfect base. Top this vegan Easter recipe with some almond parmesan and Italian herbs to finish. Trust me, it's a treat for your palette.
38. Vegan Cookie Dough Ice Cream
Image and recipe by theedgyveg
Homemade chocolate chip cookie dough. But let's make it vegan so everyone can have some. Sounds about right. This easy to do vegan ice cream recipe takes 7 ingredients to make a smooth and creamy dessert that is as good as store bought counterparts. Oh and did I mention it will take just 30 minutes? Make this vegan Easter recipe and you will be surprised at how popular it is.

Read – 100 Delicious Vegan Dinner Recipe Ideas (Super Easy)
Italian Easter Recipes
39. Torta Pasqualina
Chard, creamy ricotta and fluffy eggs are ingredients that make up such a big portion of Italian cooking. And this Italian Easter recipe is no different. The pie is made with the lightest, almost transparent layers of dough that encase this delicious filling. If you plan on being traditional with your Easter brunch this year, you cannot go wrong with this recipe.
40. Turkey Lasagna
Image and recipe by this italiankitchen
Ground turkey and mozzarella. I really needed just these two words in the same sentence to be hooked. And you will be too. This delicious Italian Easter recipe uses the best ingredients with no boiling noodles to make something amazing. It's great for almost any occasion and of course for entertaining at Easter dinner. Also, if you've been looking for healthier substitutes for beef and pork, this recipe will be perfect.
41. Tortano or Casatiello
Image and recipe by kitchennostalgia
A classic Napoletan Easter bread, the Tortano or Casatiello is stuffed with ham and salami along with cheese, crackling and eggs. It is the perfect accompaniment at your Easter dinner table. Cracking one open to see the different stuffing is a real treat. If you haven't tried this traditional bread before, you must this year. Your guests will love it to bits.
42. Roast Lamb with Potatoes
Italian cuisine has a lot of fan favorites for Easter. But the abbacchio al forna – oast lamb with potatoes – holds a special place in most hearts. It is a flavorful Italian Easter recipe that is made with rosemary and garlic infused into the succulent lamp chops. And although it is best roasted in a wood fired oven, you can do it in a regular oven as well and it will taste delicious. The potatoes are crisp and folden, perfect for soaking up the flavor of the lamb and marinate. Try this as your Easter table centerpiece and you will be sure to get many compliments.
43. Italian Knot Cookies
Image and recipe by cookingwithnonna
Adorable love knots that are iced with sugar and the aromatic taste of star anise, your kitchen will be a hot star while you make these. If you're looking for the perfect addition to your Easter dinner table you cannot miss this. The classic yet easy Italian easter recipe is bright and colorful while tasting divine. Serve them before or after dinner, both ways it's sure to be a hit.
Healthy Easter Recipes
44. Avocado Deviled Eggs
Image and recipe by downshiftology
Here is a tasty yet super healthy variation of a classic breakfast recipe. And what better way to start off celebrations than this healthy Easter recipe. This recipe is also a great appetizer or snack. We all know the deal with avocado and toast, so here's an upgraded version of it for your Easter party this year.
45. Gluten Free Carrot Cake
Image and recipe by ambitiouskitchen
We all love a good carrot cake. With an amazing and moist cake full of healthy ingredients, you'll be hard pressed to find a substitute. Using almond and oat flour, you can whip up this beautiful healthy Easter recipe in no time. To top it off it is covered in cinnamon cream cheese frosting together with pecan nuts and coconut shavings. Now that is what we call a healthy treat.
46. Green Shakshuka
Image and recipe by downshiftology
If you're looking for healthy spins on classic recipes, we can't leave this green shakshuka recipe behind. Brussel sprouts, zucchini and spinach replace the red tomatoes and the rest is history. If you're looking for a novel healthy Easter brunch recipe you have to try this one. It will not disappoint you.
47. Mini Chicken Pot Pies
Image and recipe by downshiftology
Chicken pot pie is a comfort food and you'll be hard pressed to not want this during Easter. But how about we modify this traditional recipe into a healthy Easter dinner recipe that is gluten free and paleo friendly. With a creamy filling made from coconut milk and chicken broth and loaded with chicken, carrots, broccoli and onions, it is exactly what your Easter table needs. Want to know how it's done? Check out the full recip efor details.
48. Peanut Butter Eggs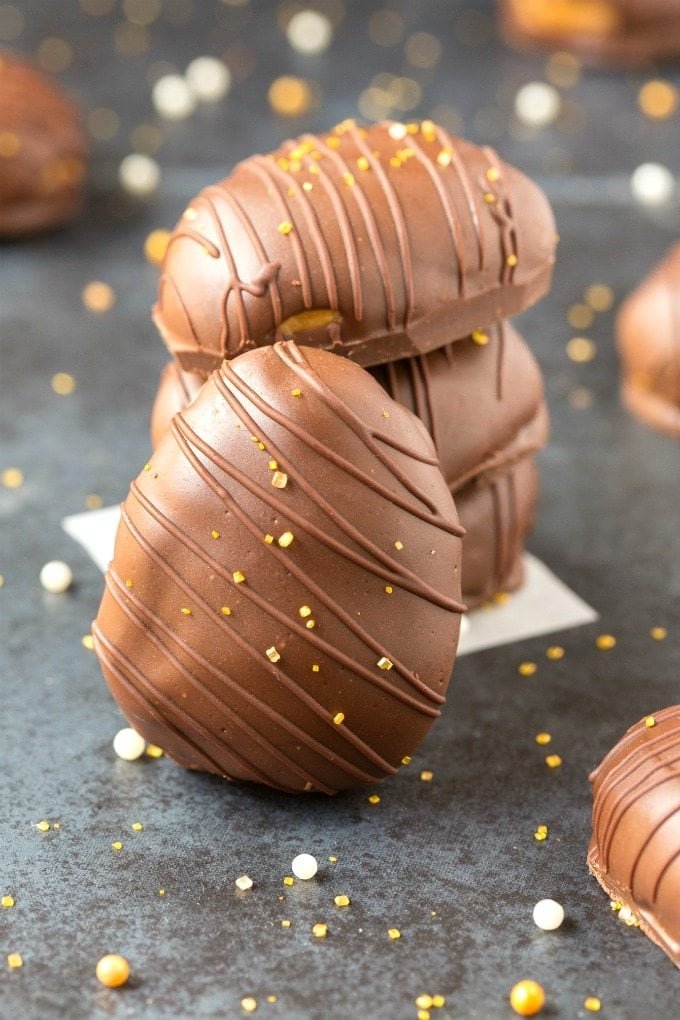 Image and recipe by thebigmansworld
Low carb, sugar free and completely yummy. These keto peanut butter eggs are just the kind of healthy snack you need for Easter. It honestly tastes just like a Reese's peanut butter cup. Make these in advance if you like and use them as party gifts. There's nothing better than a healthy version of a loved classic.
Read – 37 Easy Keto Instant Pot Recipes You Need to Try
Easter Cookies Recipes
49. Blossom Sugar Cookies
Image and recipe by mykitchencraze
Is someone craving a soft and chewy sugar cookie that comes in the colors of the rainbow? How about something with a candy kiss on top? These adorable Easter cookies recipes will show you how to make your own Blossom cookies which are perfect for any celebration party. They're cute and simple and they will be gone before you know it.
50. Vegan Easter Cookies
Image and recipe by veganfamilyrecipes
Make these healthy vegan Easter cookies recipes if you want something different this year. As much as we love the good old sugar cookies and chocolate chip cookies, this easy Easter cookies recipe uses whole wheat flour to make tasty healthy cookies. Also, if you've never tried natural food coloring, now is your chance. Go completely natural without compromising on the look and taste. Trust me, you'll be blown away by how good it is.
51. Easter Egg Nest Cookies
Image and recipe by aprettylifeinthesuburbs
Easter eggs really are a stable at the celebration decorations. So why not have a few eggs on your sugar cookies this year. This easy Easter cookies recipe makes really soft and pillowy cookies. They taste amazing especially when made fresh. So if you have plan on having a party this Easter, try this recipe. Plus, they're great for bake sales and exchaninging as well.
52. Easter Egg Sugar Cookies
Image and recipe by aheadofthyme
Sugar cookies are a great way to kick off any holiday celebration. Honestly, they're amazing for any time of the week. Now if we combine that with an Easter egg theme, you have a really pleasing looking dessert.
These Easter egg cookies recipes yield gorgeous pale toned cookies that are no less than art. Not to mention how good they taste. The best part is you don't need to do anything intricate, you just need this simple Easter cookies recipe to start with.
Easter Cupcakes Recipes
53. Carrot Cake Cupcakes
Image and recipe by halfbakedharvest
No matter what day it is, carrot cake is a classic. However, if you are looking for some really great Easter cupcake recipes, I don't think you could do much better than this. Florals, spring and cupcakes might just become the theme of this year's Easter celebration. So polish up your piping skills and serve up the prettiest and most delicious cupcakes you have come across.
54. White Chocolate Easter Egg Cupcakes
Image and recipe by garnishandglaze
Looking for a yummy yet cute dessert for your Easter dinner table? These cupcakes are the perfect choice for just that. The Easter egg cupcakes recipes are very popular lately but this easy one will blow your mind. The fluffy vanilla cake is moist and heavenly even on it's own. However, the frosting really elevates it combined with the mini cadbury eggs. Everyone is going to be a fan of these no doubt.
55. Funfetti Cupcakes with Strawberries
Image and recipe by sugarandsoul
Even if you use boxed mixes for cupcakes, you can make something truly delicious and festive. This easy Easter cupcake recipe is made with funfetti cake mix, which in itself is so yummy, but the sprinkles and fruit topping really make it a holiday treat. Light and fluffy, this cupcake recipe is as fun to make as it is to eat.
56. Lemon Cupcakes with Strawberry Frosting
Image and recipe by goodhousekeeping
Citrus is one of the most popular flavors during the time of early spring. This delicious Easter cupcake recipe is made with a real strawberry swirl and is so light and creamy. The secret ingredient is the fresh lemon zest that gives this cupcake recipe it's zing. If you like the taste of authentic fruit at the Easter table, you will want to try this recipe.