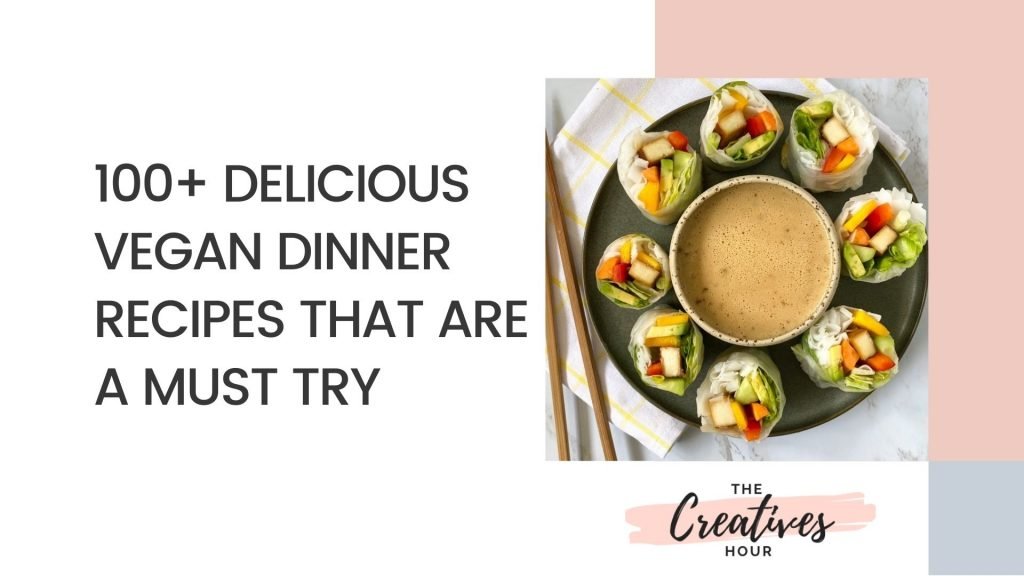 Feature Image Source: littlefoodvegan
Who says plant-based food is not flavorful? Well, these veggie-driven, vibrant recipes are full of finger-licking flavors and feature fresh seasonal produce that is super healthy and equally filling! These vegan dinner recipe ideas include a list of diverse meals from pizzas, pasta to salad bowls and burgers. This long list of recipes gives you one delicious option for every night! Who knows? You might even consider switching to veganism! If you are craving something sweet after your dinner, check out these yummy Apple Pie Recipes and our other fabulous recipes here. 
Table of Contents
Vegan Dinner Recipe Pasta Dishes
Pastas are a favorite dinner as they are super diverse and can be cooked in a few minutes using pantry-friendly ingredients. So, here are some amazing vegan pasta recipes that you can try out for your dinner meals! 
1. Vegan Mushroom Pasta
Source: catherine_jane_chandler
We know pasta isn't the most healthy meal option out there. But you can indulge in a bowl full of this delicious vegan dinner recipe once a while! Loaded with fresh mushrooms, spinach leaves, and flavors of garlic, chilly, and soy, this recipe by catherine_jane_chandler is a must-try on days you crave some wholesome pasta that is balanced with some healthy ingredients! 
2. Mushroom Broccoli Pasta Vegan Dinner Recipe
Source: veganmomshie
With a prep time of just 20 minutes, this creamy, aromatic, and mouthwatering vegan dinner recipe by veganmomshie is a combination of simple ingredients that are turned into a fantastic pasta dish. This vegan mushroom broccoli pasta coated in lemon garlic cream sauce makes for an easy and perfect dinner that is approved both by kids and grown-ups! Here is the full recipe
3. Basil Cashese Vegan Pasta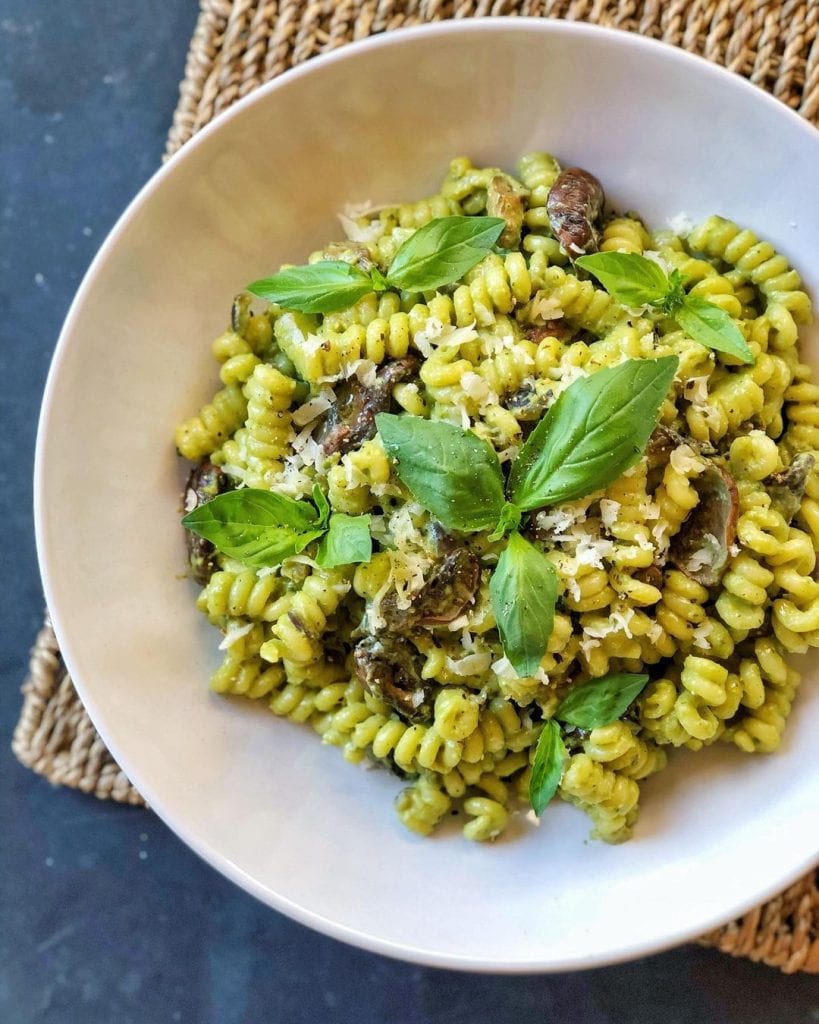 Source: happyplantplanet
For a yummy, fresh, and comfy dinner, try out this vegan pasta recipe by happyplantplanet that is super simple to make, and the flavors are just so indulgent. The 'fusilli corti busati' pasta wrapped in creamy green sauce with an added protein dose from tofu makes this dish an 11/10! 
4. Vegan Creamy Cajun Pasta
Source: sweetgreensvegan
Get ready to cook the most flavor-packed pasta you have ever tasted with this fantastic recipe by sweetgreensvegan. This vegan dinner recipe has a little kick of spice that makes you want to have it over and over again! It's a quick and simple recipe that will not only feed your stomach but also satisfy your soul. Here's a link to the recipe. 
5. Sweet n Sour Tofu Noodles
Source: mollys_plant_eats
If you are craving a delicious bowl of comfort noodles for dinner, try this recipe by mollys_plant_eats. These sweet and sour tofu noodles are packed with nutrients and protein. The noodles are tossed in a sweet and sour sauce topped with a generous amount of tofu and completed with peppers and pineapples. Sprinkle some sesame seeds, and voila! 
6. Lemon Pasta Vegan Dinner Recipe
Source: mariassearchforhappiness
Here is a fresh and tangy bowl of chickpea pasta by mariassearchforhappiness that is a delicious vegan dinner recipe. With a prep time of 30 minutes, this pasta recipe is simple, herby, and packed with nutrition. Well, you won't feel guilty indulging in this yumminess! Check out the recipe here.
7. Thai Yellow Curry Noodles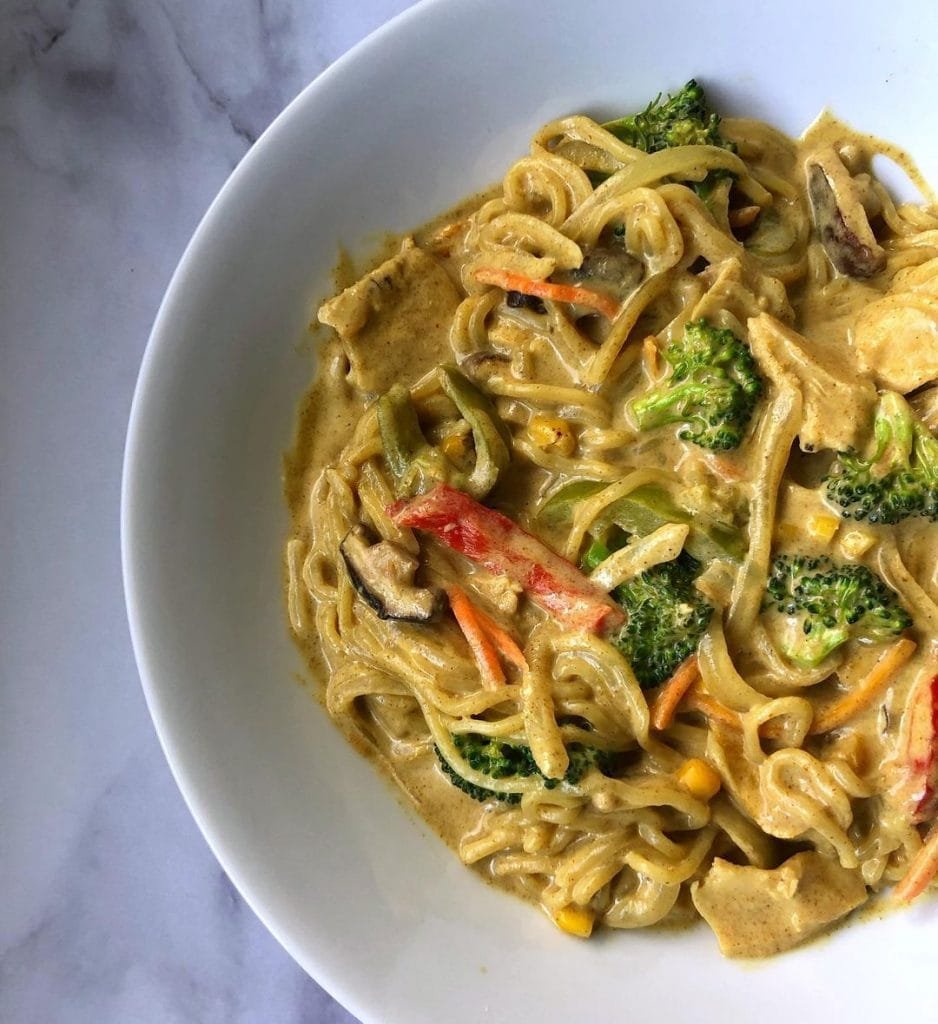 Source: thecommunalvegan
A dinner meal packed with aromatic curry and slurpy noodles, this vegan dinner recipe by thecommunalvegan has flavors straight from a restaurant. Ramen noodles soaked in yellow curry paste and coconut milk, topped with vegan chicken, onions, corn, carrots, and fresh broccoli, make this a truly wholesome meal! 
8. Vegan Dinner Recipe Alfredo Pasta
Source: stresslessbehealthy_eatvegan
This is an all-generation go-to vegan pasta recipe by stresslessbehealthy_eatvegan. It's a picky eater-approved dish that is loaded with healthy fats and is super easy to make. Fettuccine pasta soaked in a thick, creamy sauce and topped with broccoli gives you this healthy and light dinner recipe.
9. Creamy Cashew Mushroom Pasta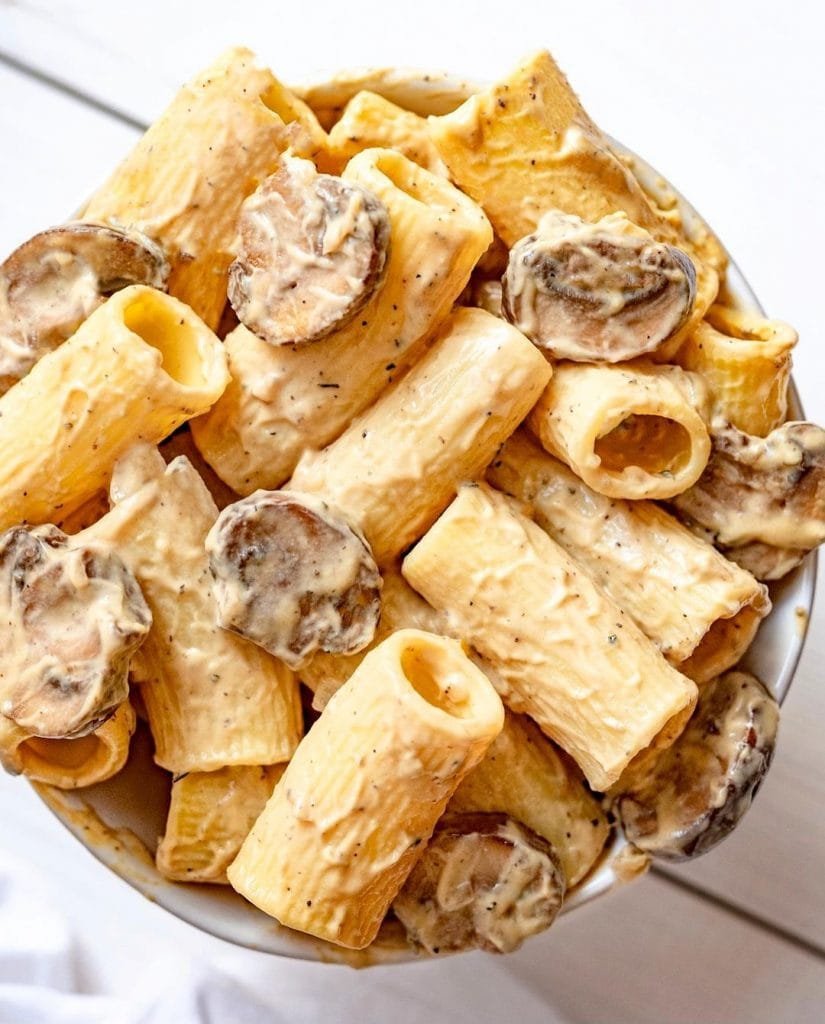 Source: cookingforpeanuts
Here is a super creamy and delightful vegan dinner recipe by cookingforpeanuts that just takes nine minutes to prepare. A divine miso mushroom sauce coats paccheri pasta, and the flavors are perfect for a comfortable dinner! The soaked cashews are blended and cooked to perfection for preparing a yummy sauce.
10. Cashew Ricotta filled Pesto shells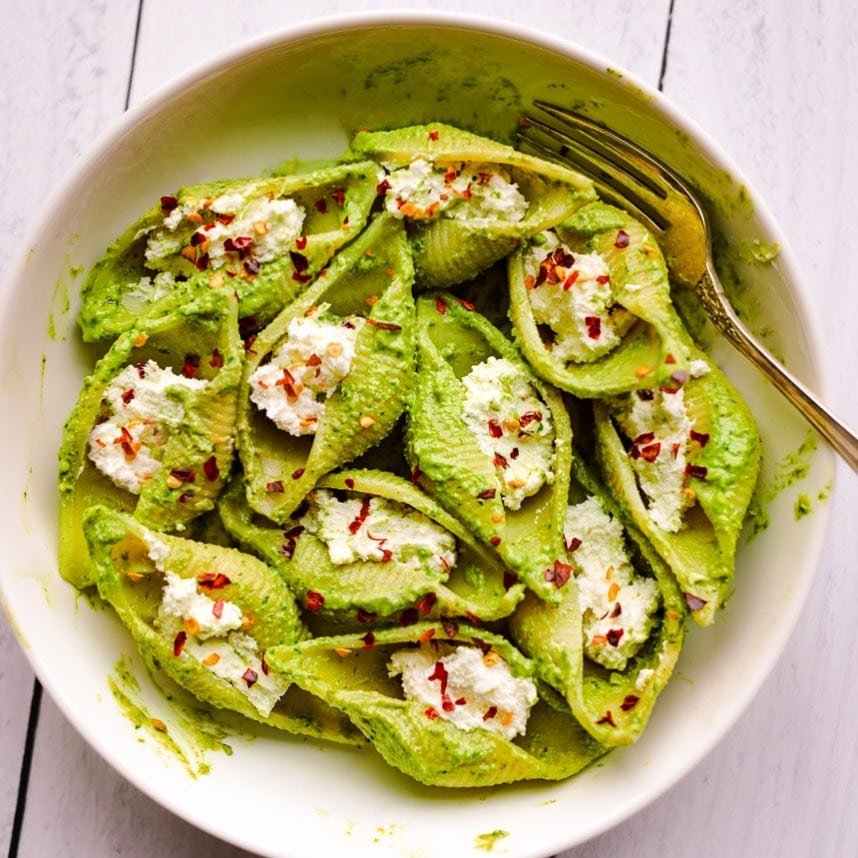 Source: cookingforpeanuts
As elite as this dish by cookingforpeanuts looks, it is equally easy to prepare and is even tastier. Garlic-flavored pesto shells are filled with creamy, tangy cashew ricotta to prepare this yummy dinner meal. It's the most beautiful looking vegan dinner meal you'll prepare that is exceptionally flavorful. 
11. Vegan Dinner Recipe Bolognese Pasta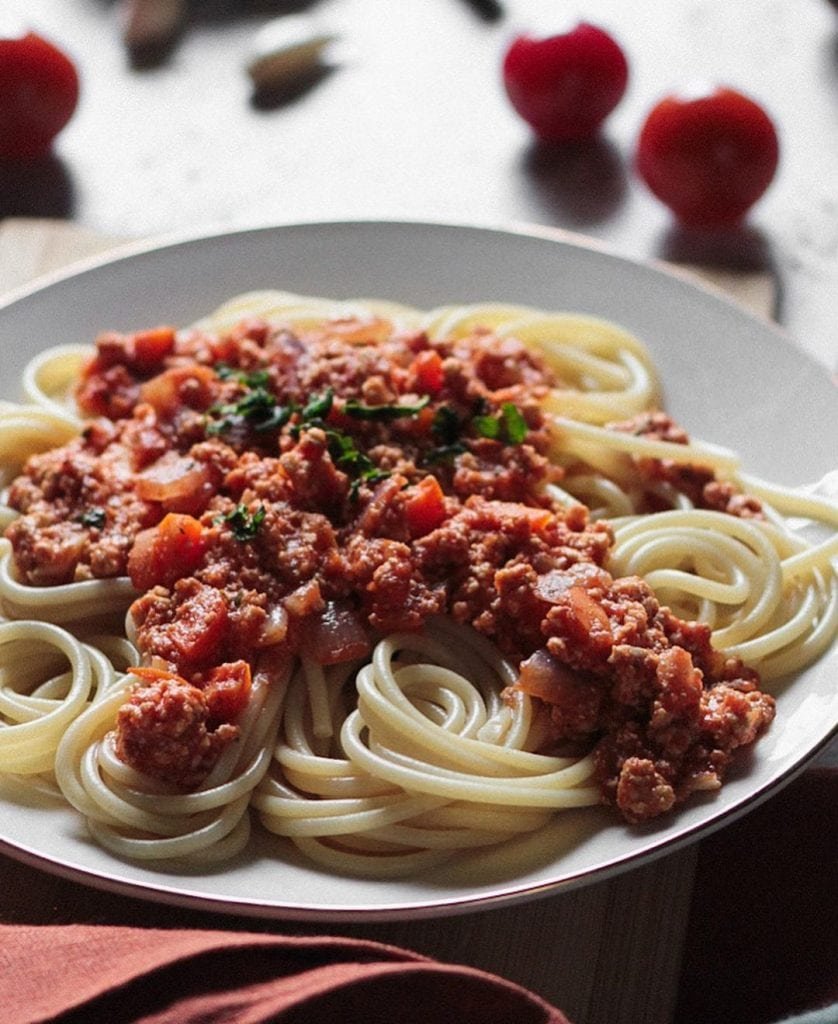 Source: thesimplesprinkle
Rich, bold, and savory, this Bolognese recipe by thesimplesprinkle with pasta is a classic dinner meal that everyone loves. The Bolognese recipe uses carrots and tofu as the vegan replacement for meat. It is a quick and easy recipe, and you can find the complete recipe here. 
12. Five-Ingredient Vegan Dinner Recipe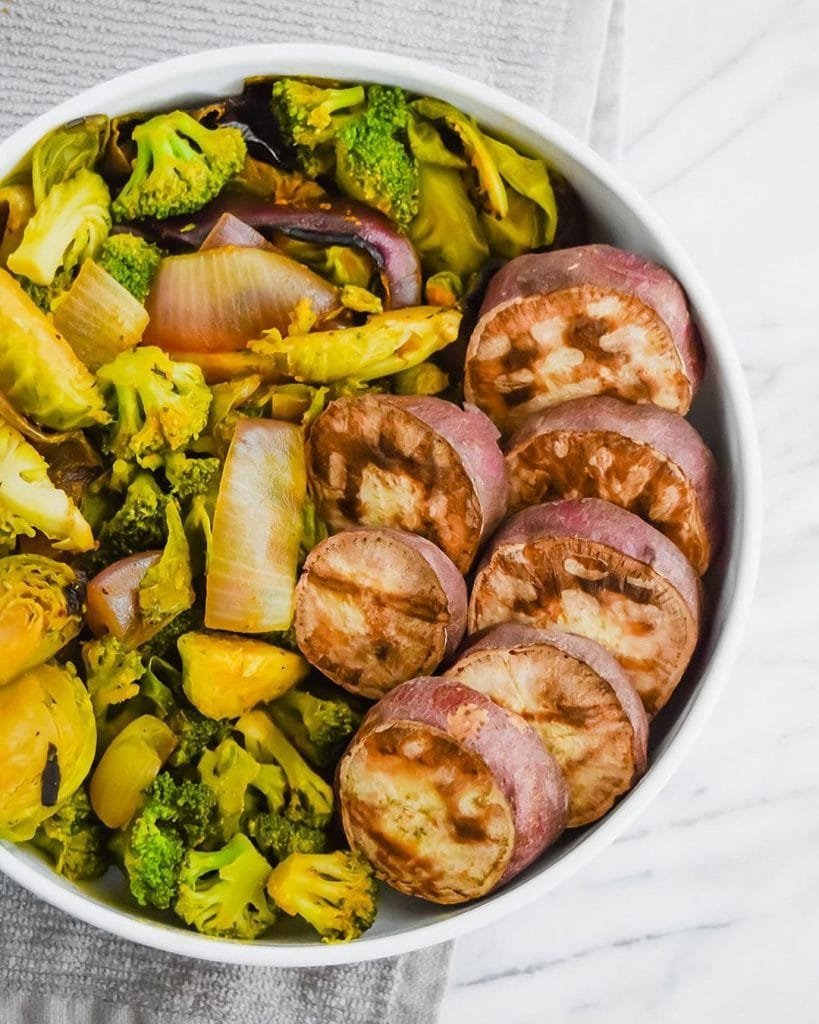 Source: girleatingveggies
Don't feel like shopping for groceries for dinner tonight? Well, we got you covered with this amazing five-ingredient vegan dinner recipe by girleatingveggies. Full of protein, extra creamy, and loaded with healthy spinach, this pasta is a must-try. It's the perfect balance of health and satisfaction. 
13. Vegan Ricotta Spinach Pasta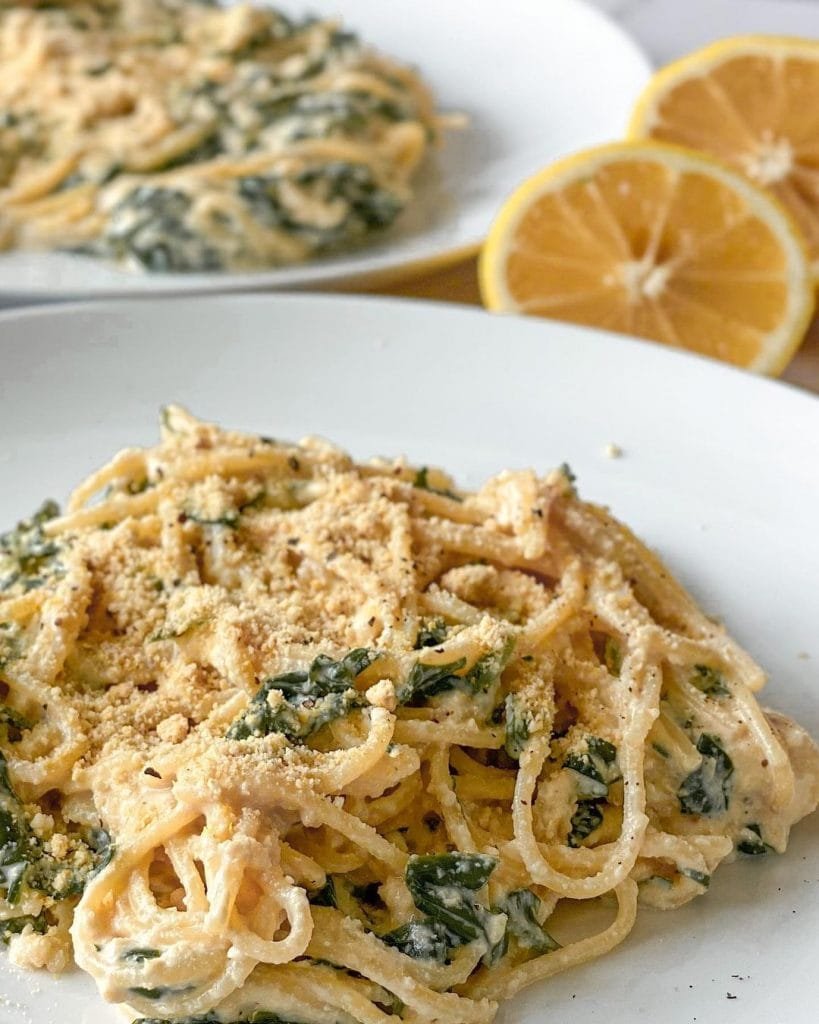 Source: simplegreensoul
This vegan dinner recipe by simplegreensoul is a beautiful combination of creamy, tangy, spicy, and garlicky. You serve yourself a meal full of protein and nutrition from tofu and spinach wrapped up in the cheesiness of vegan parmesan. I love this dish, and you should definitely try it out! 
14. Tuscan White Bean Pasta
Source: pinchofparsley_
This Tuscan white bean pasta by pinchofparsley_ is fresh and light yet packed with veggies and loads of protein. Throw in some cooked fettuccine pasta in a delicious, fresh, aromatic sauce to treat yourself with this deliciousness. The tangy tomato juices paired with beans and parmesan give a lovely flavor to this pasta! 
15. Vegan Dinner Recipe Pasta Primavera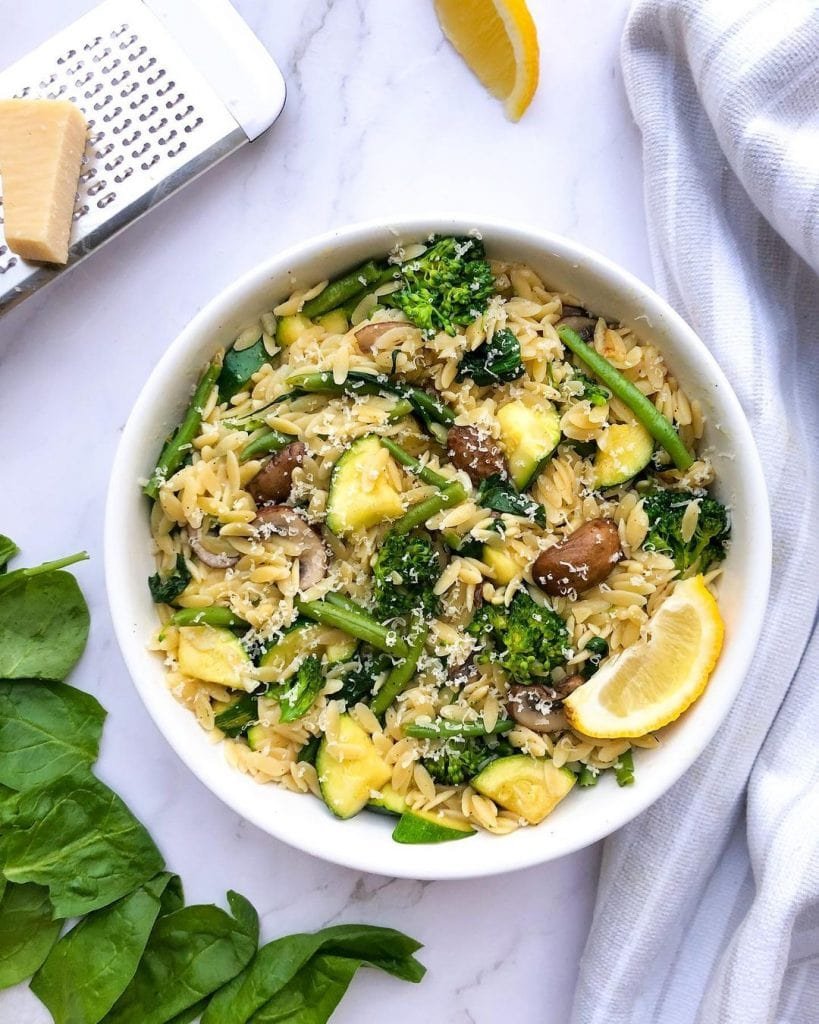 Source: pinchofparsley_
Pasta Primavera, a recipe by pinchofparsley_, is loaded with fresh veggies and is super easy to make with extremely satisfying flavors. It is a perfect representation of a wholesome meal where 50% of the plate is full of veggies. If you are a vegetable lover, do try this out. And even if you are not one, don't worry, the flavors of the pasta are so good that you must give it a try! 
16. Delicious Vegan Mac 'n' Cheese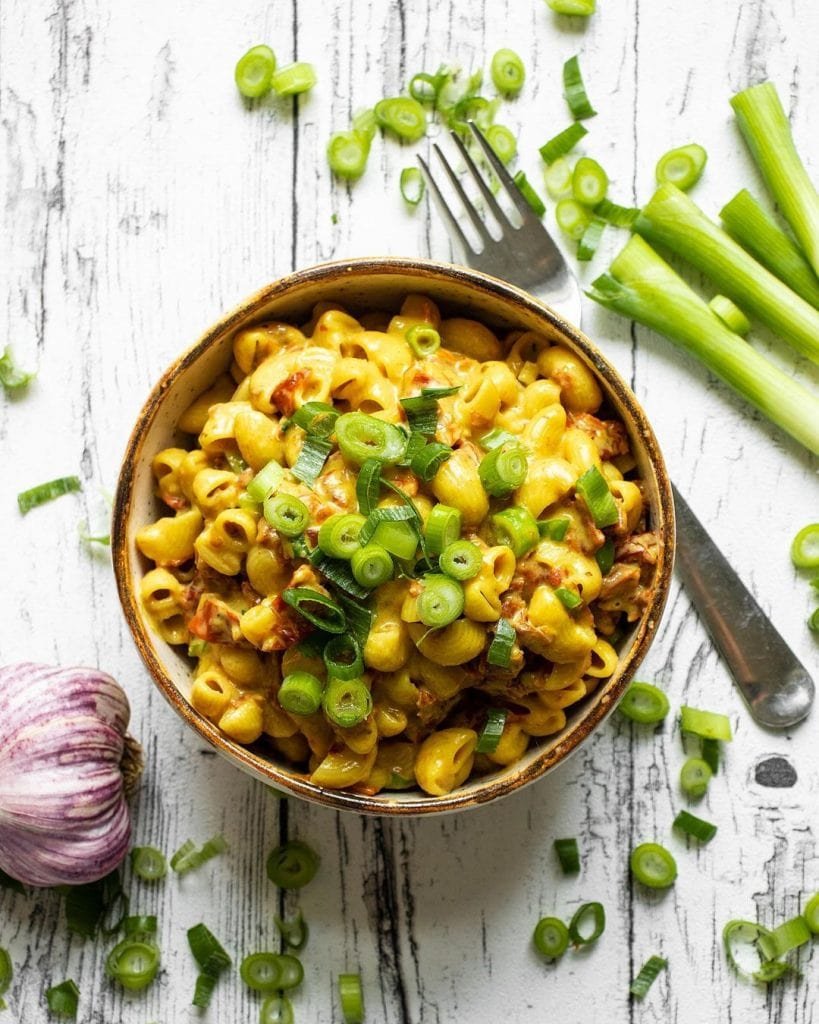 Source: reshape_official
How can we not include the all-time favorite dinner, mac, and cheese! This vegan dinner recipe by reshape_official is the perfect vegan mac and cheese that is the easiest to make and is nut-free. You can use an oat creamer base or even oat milk for the creamiest results. The recipe doesn't use any vegan alternatives like vegan cheese. So you can prepare this dish easily from scratch without any special ingredients! Here's the full recipe.
Vegan Dinner Recipe Bowls
A very quick, effortless, and handy way of preparing your meals is to try out these healthy and delicious vegan bowls. All you have to do is throw in your favorite veggies, some tofu for protein, and the dressing of your choice! 
17. High Protein Power Bowl
Source: anothergayvegann
When you are too lazy to prep for complete meals, dinner salad/meal bowls are the right way to go! Simply throw in some of your favorite veggies, add some tofu for protein, and a dressing of your choice. If you want to go the extra mile, follow this high-protein power bowl recipe by anothergayvegann for that satisfying meal! 
18. Vegan Dinner Recipe Coconut Curry Stew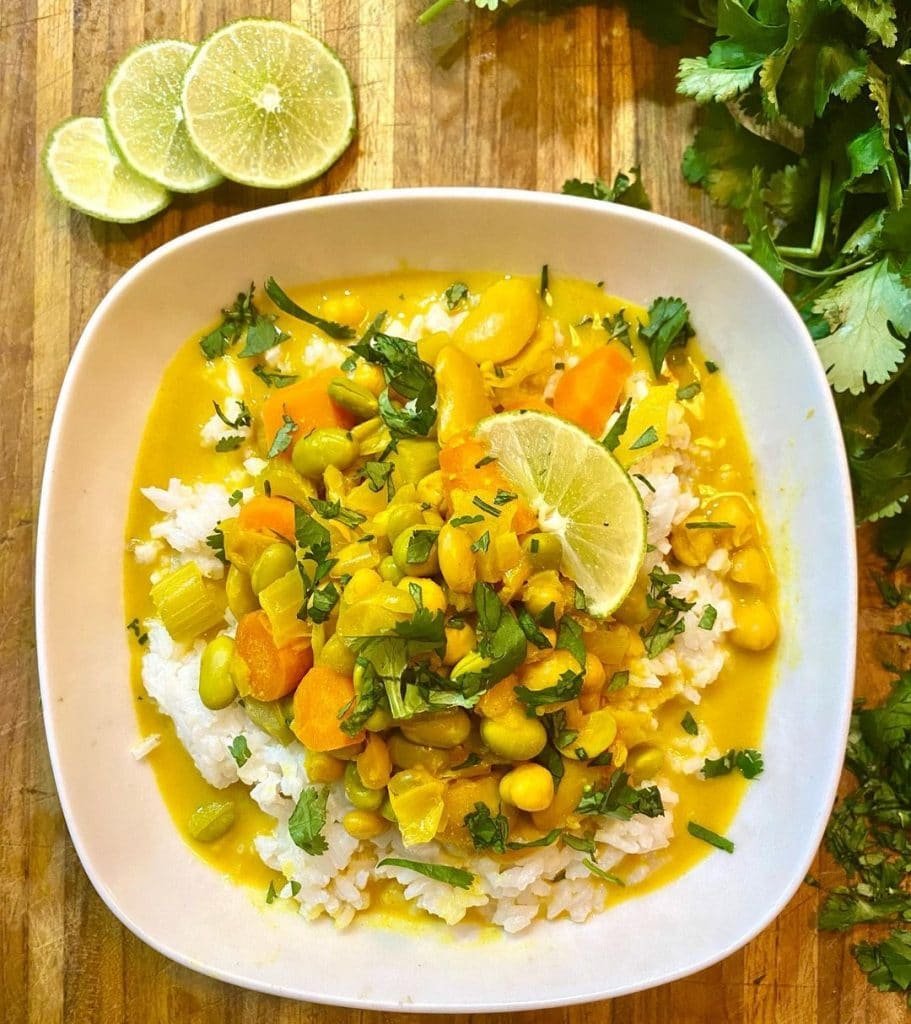 Source: vegan_simplified
This nutritious and delicious coconut curry collective is a fulfilling vegan dinner recipe by vegan_simplified. A variety of beans comprise the stew's foundation, including navy beans, garbanzo, butter beans, and edamame. Topped with several veggies and amazing flavors, this is a very wholesome recipe! 
19. Vegan Dinner Recipe Ratatouille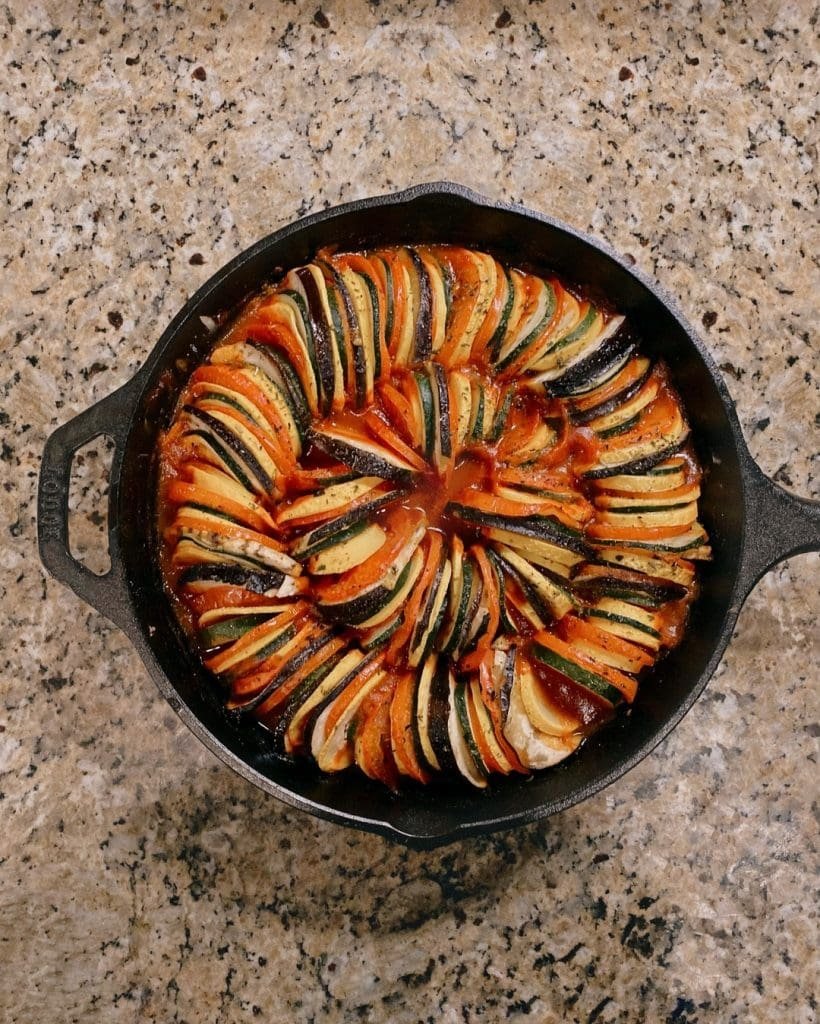 Source: thefirextinguisher
If you are a fan of Ratatouille, this popular dish is a must-try for your next dinner. Loaded with tons of fresh veggies and yummy, unique flavors, this vegan dinner recipe by thefirextinguisher is a perfect bowl of nutrition. The process can be tedious but also relaxing, and the reward is *chefs kiss*. 
20. Sweet and Sour Crispy Tofu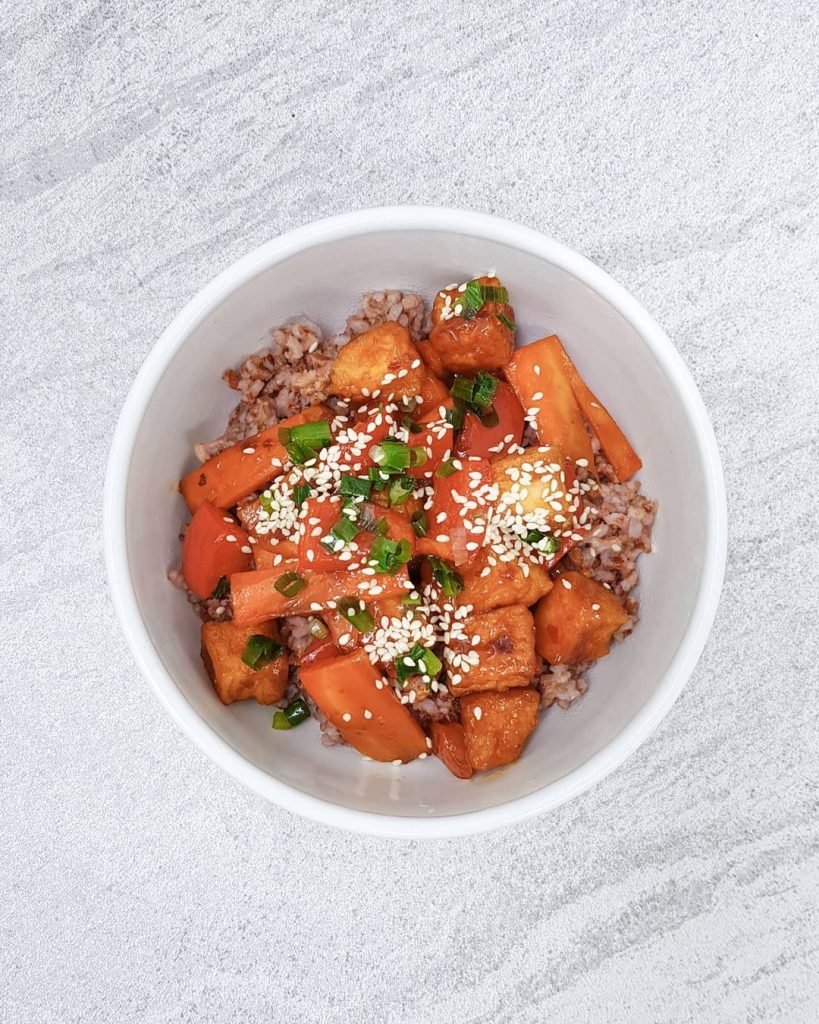 Source: plateofnourish
Sweet and sour is the safest, most comfortable flavor combination that can satisfy your taste buds each time. Also, when this sweet and sour is coated on top of crispy tofu, oh la la! Easy to make and incredibly delicious, this vegan dinner recipe by plateofnourish is a must-try! 
21. Green Goodness Salad Bowl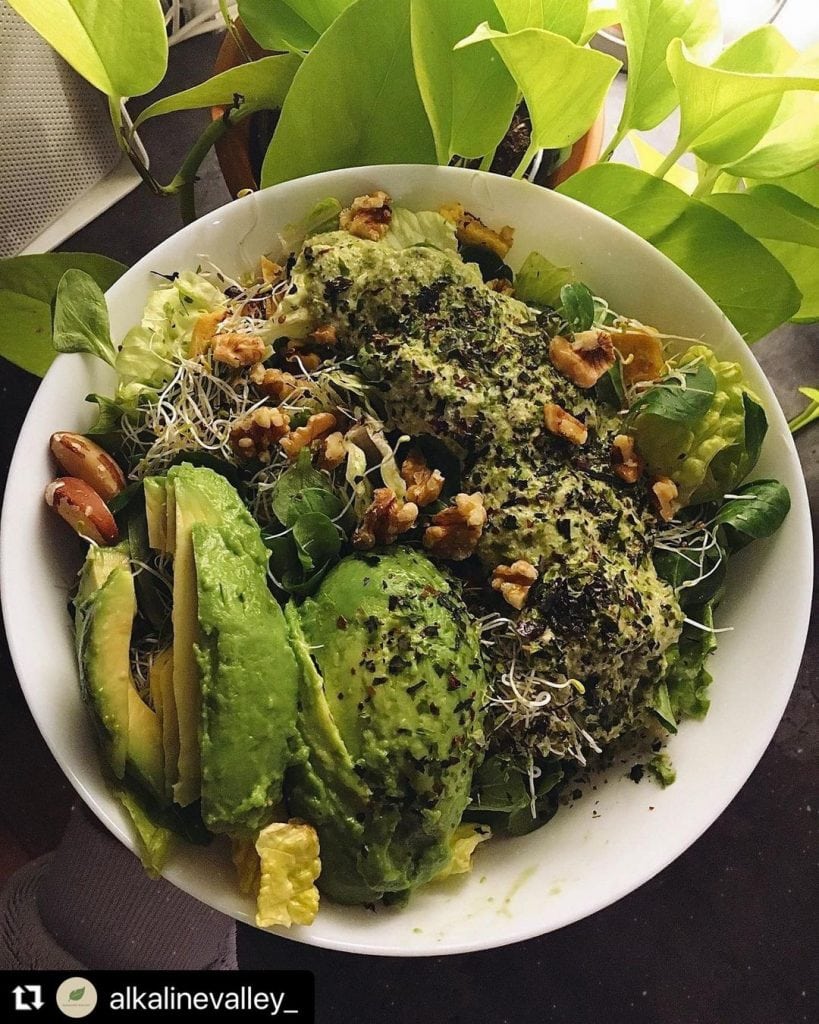 Source: vegansthatlooklikeme
Doesn't this green-looking goodness look just like a perfect bowl of health and flavors? With fresh lettuce, red onions, bell peppers, avocados, and many other veggies, this bowl by vegansthatlooklikeme is a blend of the healthiest ingredients. Just throw in these ingredients in a bowl, and voila! 
22. Mediterranean Potato Salad Recipe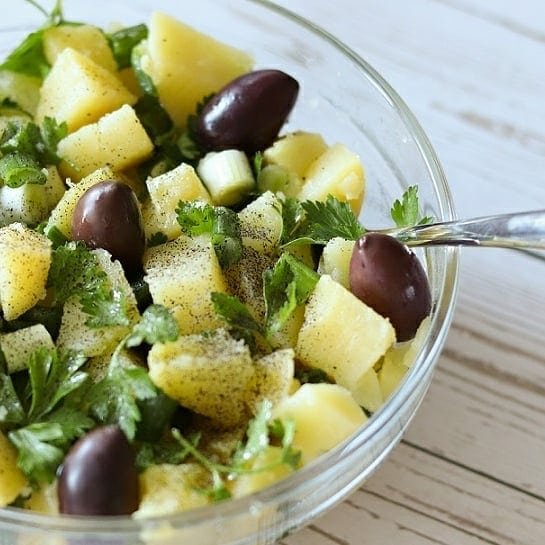 Source: go_eatgreen
This simple, quick, and super delicious Mediterranean potato salad recipe by go_eatgreen is a great dinner recipe and can also be used as a yummy side for your main course! It is full of green spring onions, yellow potatoes, olives, and fresh parsley. Here's the recipe for this all-season salad bowl.
23. Vegan Chili Recipe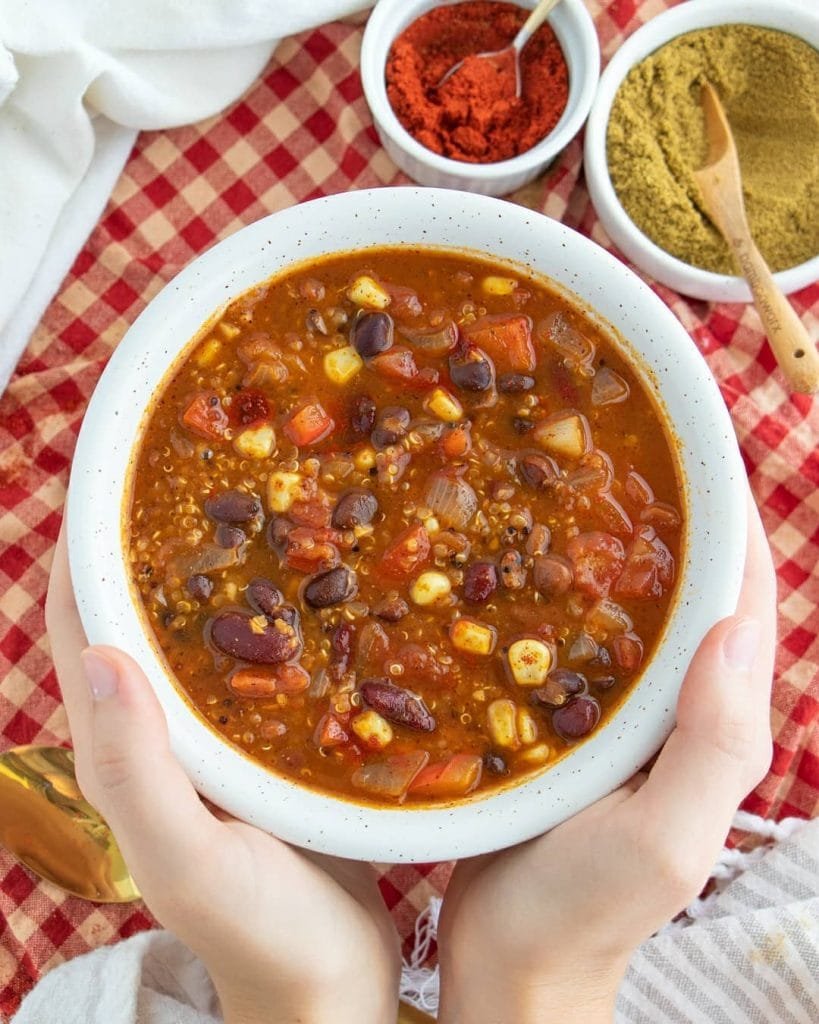 Source: plant.well
You'll fulfill your protein requirements with this delicious bowl of chili. It has three different types of beans, tomatoes, corn, onion, rainbow quinoa, garlic, peppers, all cooked in a veggie broth. This recipe by plant.well is super simple and will be ready in under 30 minutes! Check out the recipe here.
24. Broccoli Tofu Stir Fry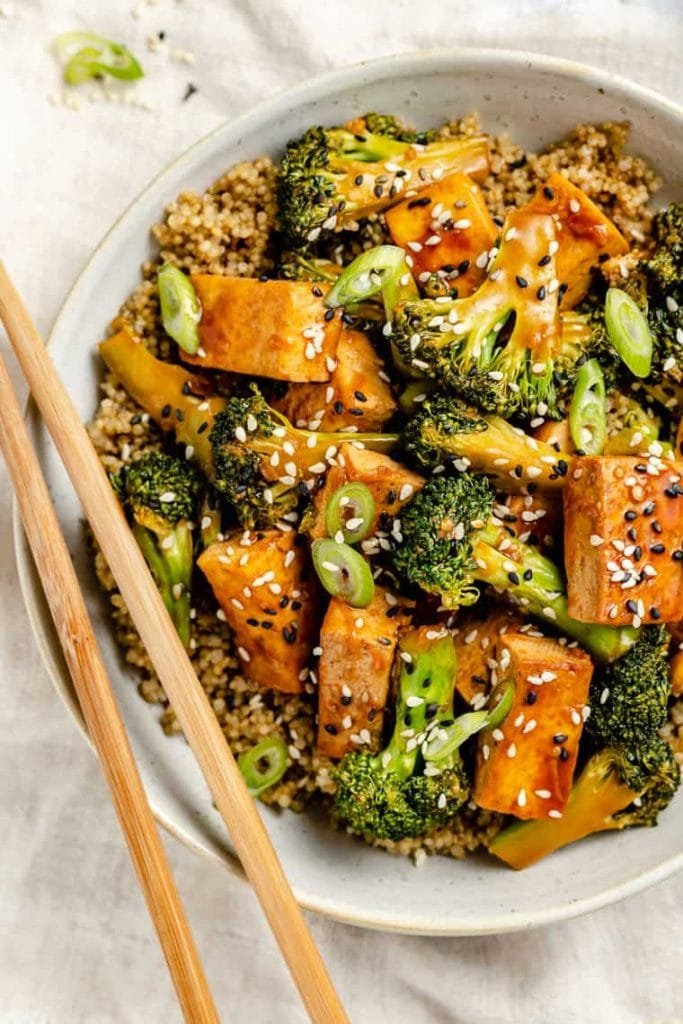 Source: simplyquinoa.com
Try out this healthy, quick vegan broccoli tofu stir fry recipe by simplyquinoa.com with a flavorful spicy soy sauce and quinoa for a naturally gluten-free dinner. These simple ingredients will give you a bowl full of lip-smacking flavors and will become your go-to dinner choice. Here is the detailed recipe.
25. Vegan Mapo Tofu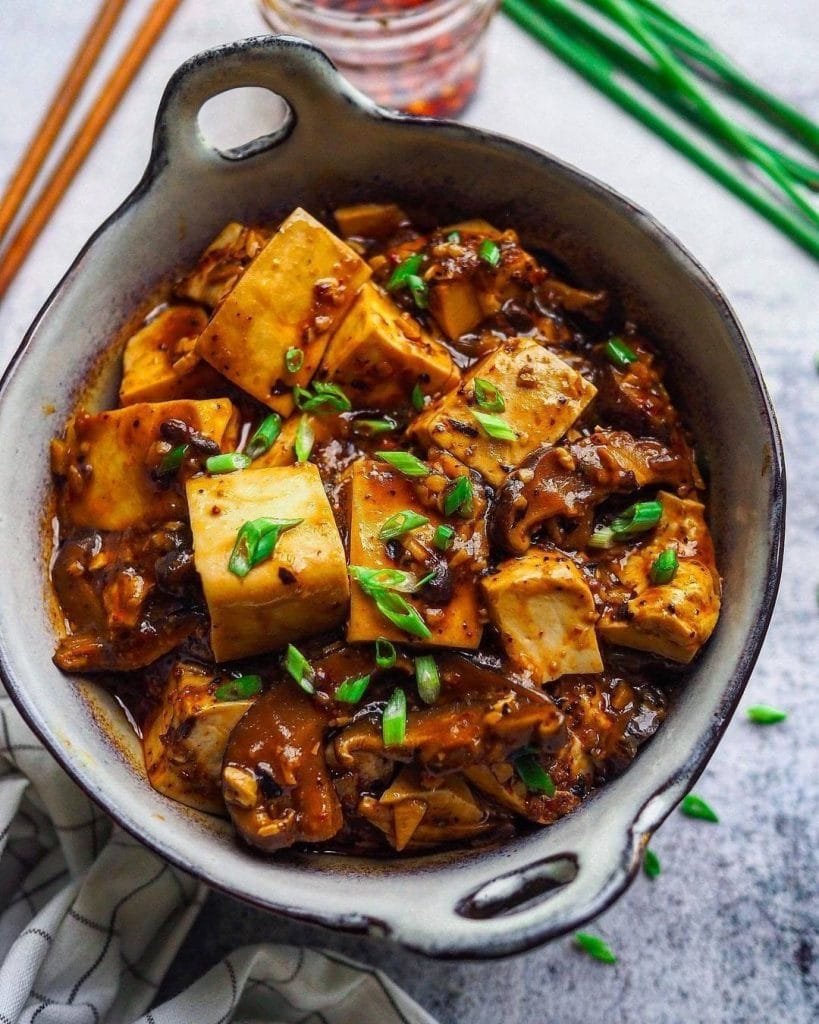 Source: thefeedfeed.vegan
Here is a vegan take on the classic Sichuan dish that combines tofu with shiitake mushrooms for a rich, spicy meal prepared in a few minutes! This vegan dinner recipe by thefeedfeed.vegan is super flavorful and protein-filled. Check out the recipe for step-by-step instructions. 
26. Mushroom Kale and Butterbean Pot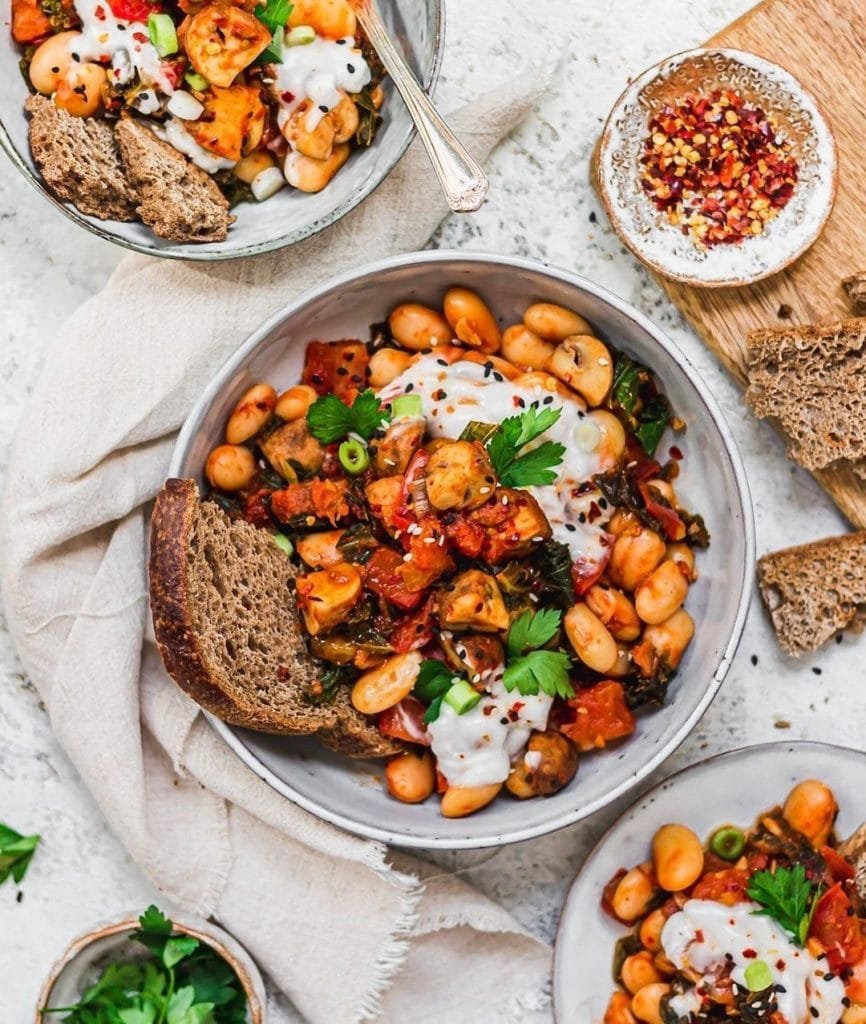 Source: jadeshealthyeats
This amazing mushroom kale and butterbean bowl is a blend of unique ingredients that is enjoyable in breakfast, lunch, and even dinner! You can prepare this dish by jadeshealthyeats in just a few simple steps. 
27. Kale Harvest Salad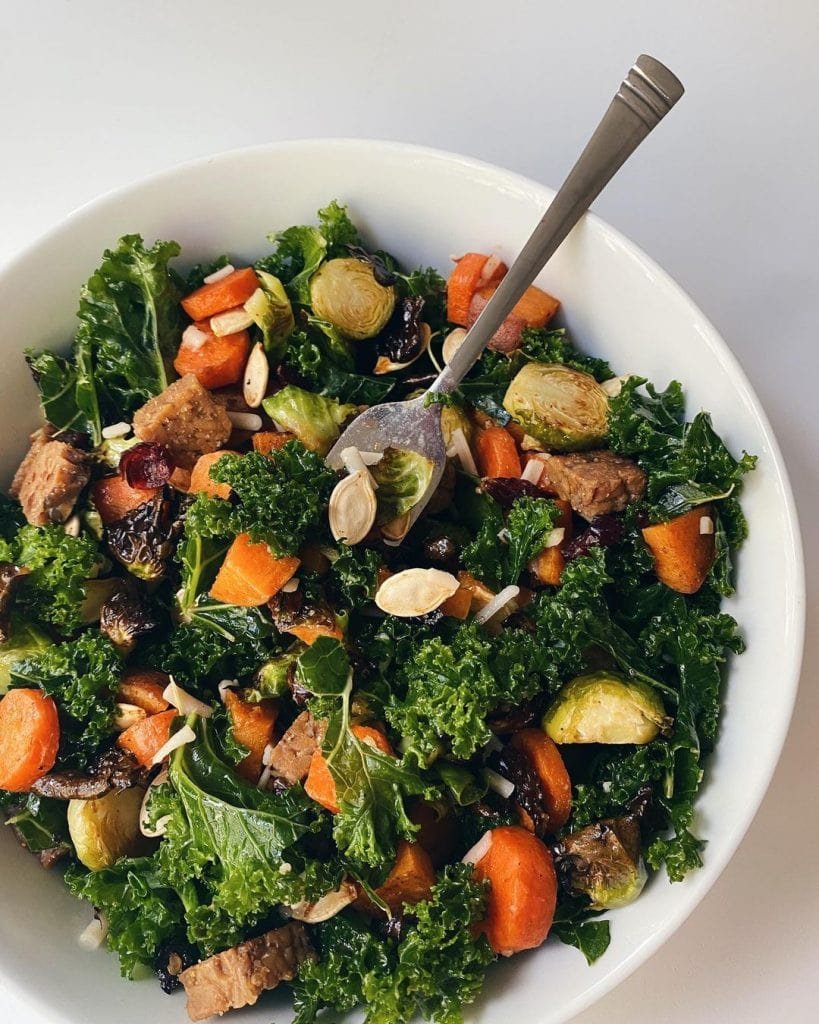 Source: yumyumsbygrace
Loaded with lots of veggies, this kale harvest salad bowl will become your favorite in no time! The sweetness of the cranberries mixed with the roasted veggies makes this recipe by yumyumsbygrace a must-try. 
28. Vegan Fajita Bowl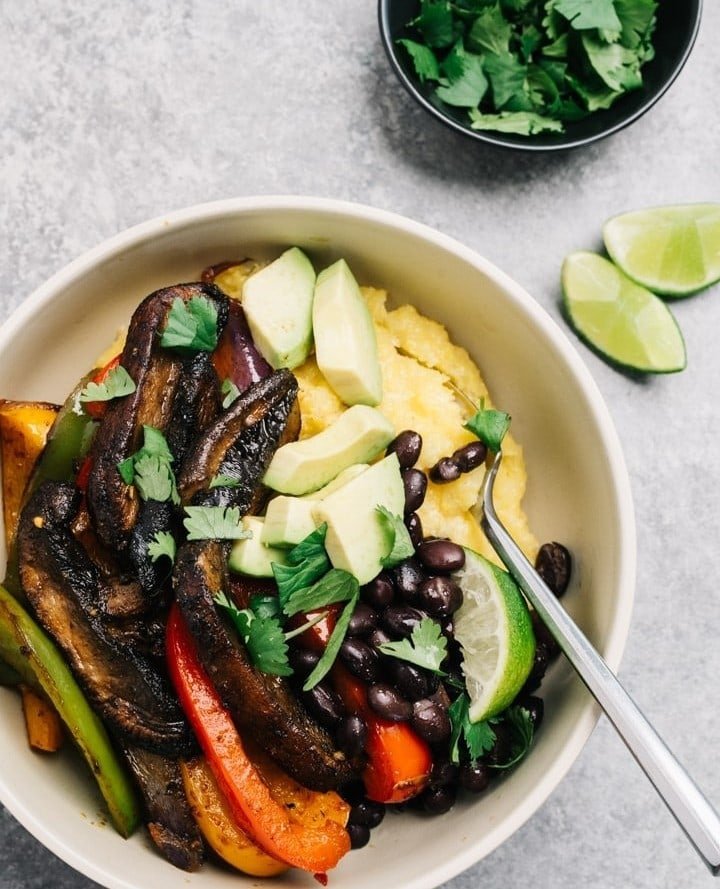 Source: oursaltykitchen
This perfectly balanced and one hundred percent vegan fajita bowl by oursaltykitchen is full of pan-fried fajita seasoned mushrooms, onions, and bell peppers. Avocado and black beans round out the nutrient profile, and a splash of lime and cilantro completes this divine deliciousness. Here is the complete recipe.
29. Rainbow Buddha Bowl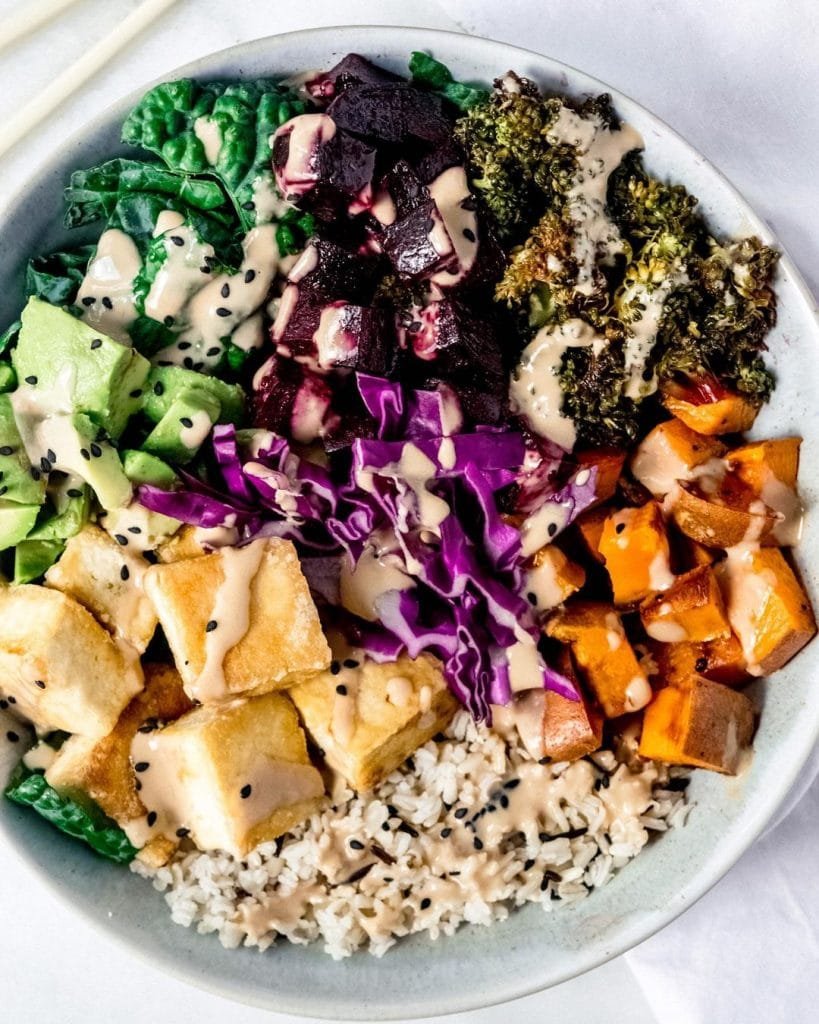 Source: ahealthyappetiteca
If you are new to meal preps or too lazy to cook dinner, this rainbow buddha bowl by ahealthyappetiteca is perfect for you. You can easily switch them up with different dressings and store them in the fridge as well. It's colorful, unique, diverse, and oh so tasty! Here's how you can recreate this recipe.
30. Vegan Pasta Salad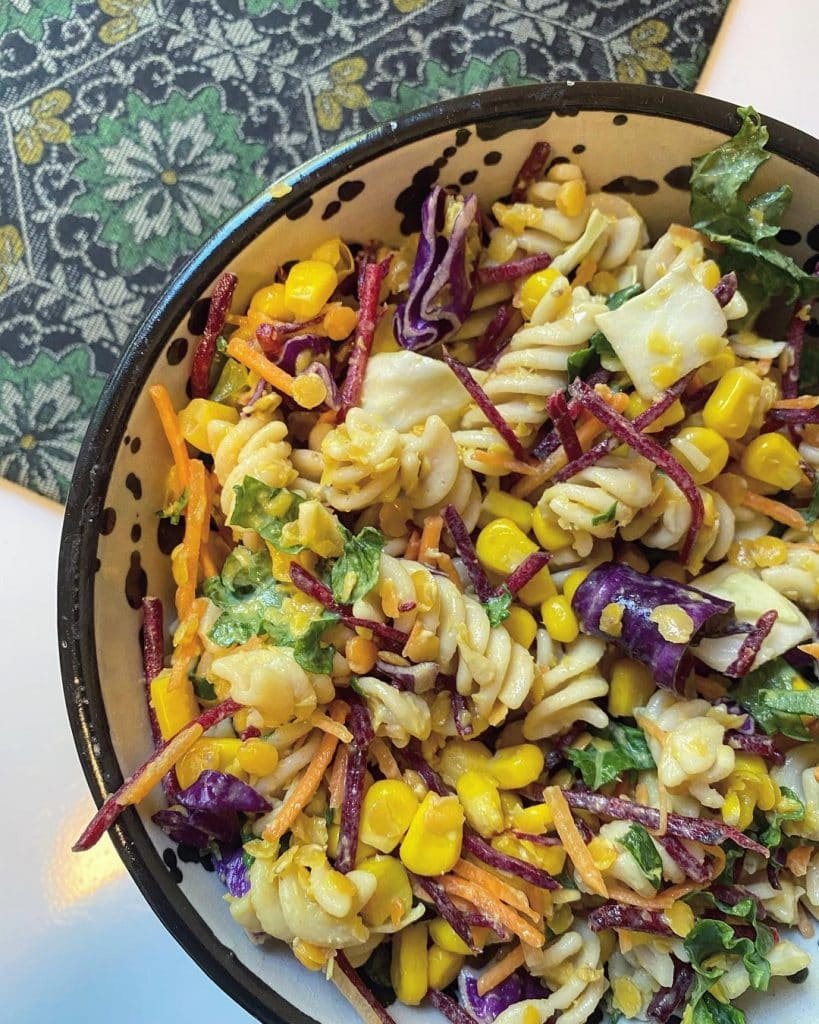 Source: vegan.studentfood
Grab some leftover pasta to treat yourself to a balanced bowl of vegan dinner. This amazing pasta salad recipe by vegan.studentfood is a combination of boiled red lentils, some salad mix, corn, and a base of almond milk and nooch. It is highly nutritious and flavorful at the same time. This is a quick and effortless way to have a light dinner that also satisfies your taste buds. 
31. Protein Rich Quinoa Bowl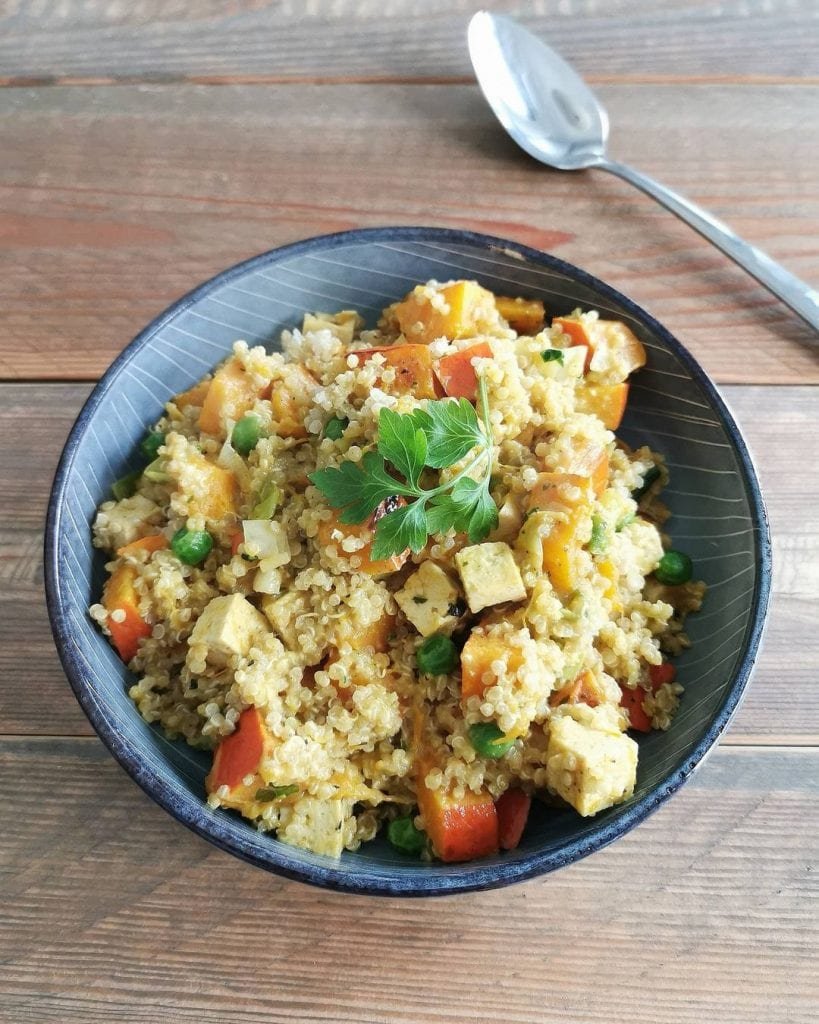 Source: _avocadoaddicted_
Who says you can only enjoy a quinoa bowl for breakfast? Well, you can relish this delicious recipe by _avocadoaddicted_ at any time of the day! The recipe is a mix of healthy and protein-rich ingredients, including white quinoa, green peas, pumpkin, tofu, and creamy coconut milk with herbs and soy sauce for a flavorful meal. It's a pantry-friendly recipe and is ready in no time! 
32. Satisfying Sushi Bowl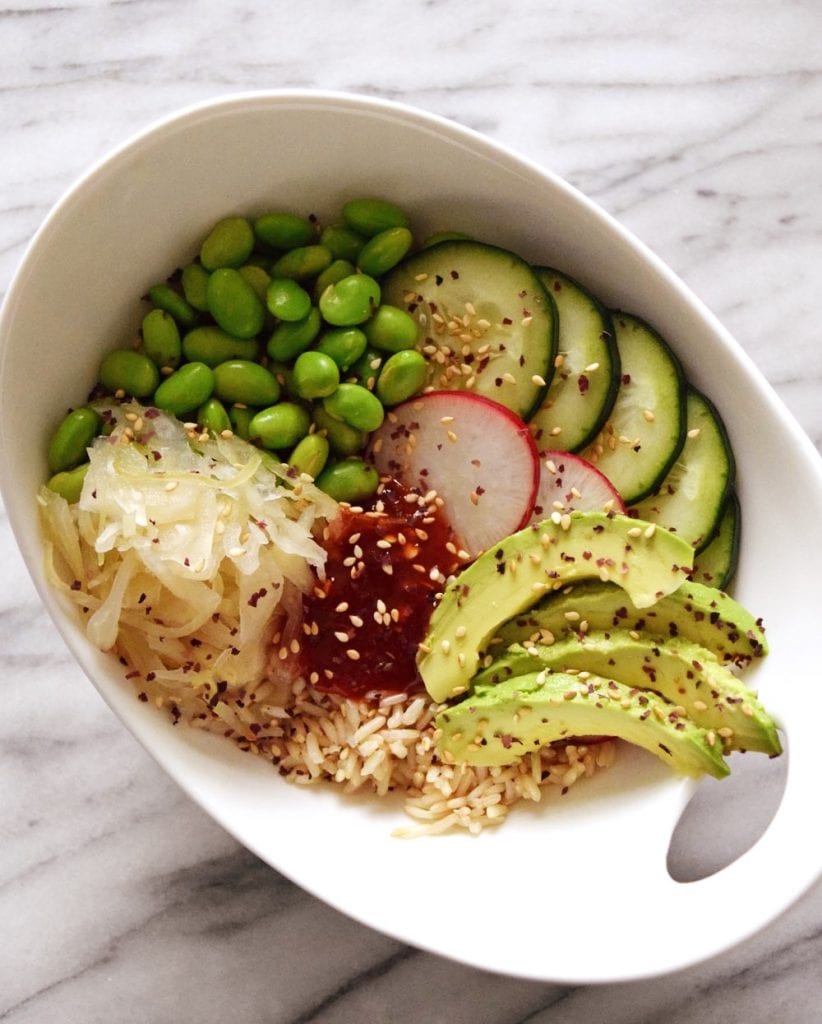 Source: sweetvegansara
Craving for some sushi for dinner? Try this delicious, simple, and satisfying sushi bowl by sweetvegansara. This vegan dinner recipe is very nourishing and can be prepped in just a few minutes, the perfect choice for your busiest night of the week. It is a great way to enjoy all those superb sushi textures and flavors without any hassle of rolling, chopping, or slicing. Check out the recipe here.
Curry Vegan Dinner Recipe Ideas
Curries are a delicious and flavorful source of protein. They can prepared using a diverse range of ingredients and the flavors can range from sweet n sour to tangy to spicy. The choice is yours!
33. Sweet Potato & Red Lentil Curry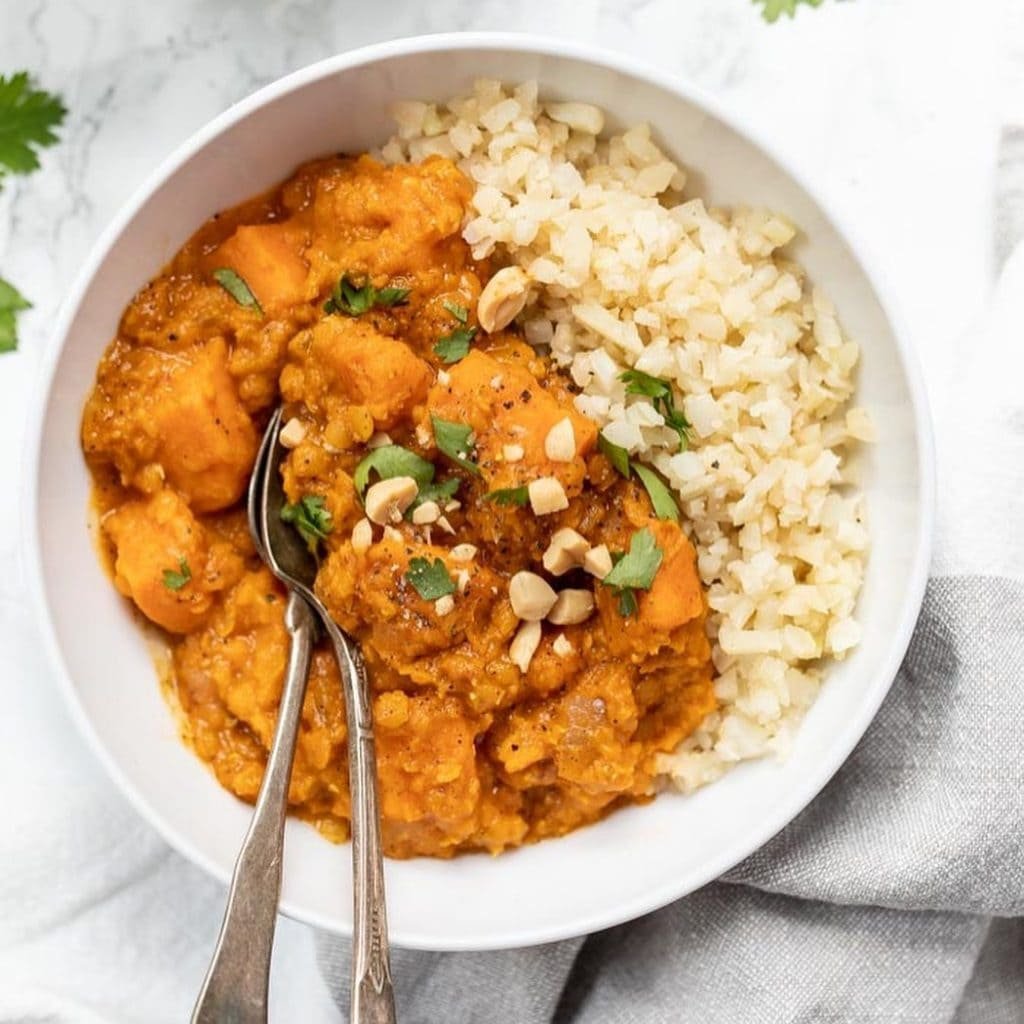 Source: simplyquinoa
Lentil curries are a much-needed protein boost in your daily meals. So, try out this sweet potato and red lentil curry dinner recipe by simplyquinoa. This recipe is loaded with veggies, including broccoli, peppers, carrots, and mushrooms, for added nutrients. Simple lentil curry with this added twist of veggies makes this a unique recipe open for experimentation. You can easily switch up the ingredients to add flavors of your liking!  Here is the recipe.
34. Spiced Chickpea Stew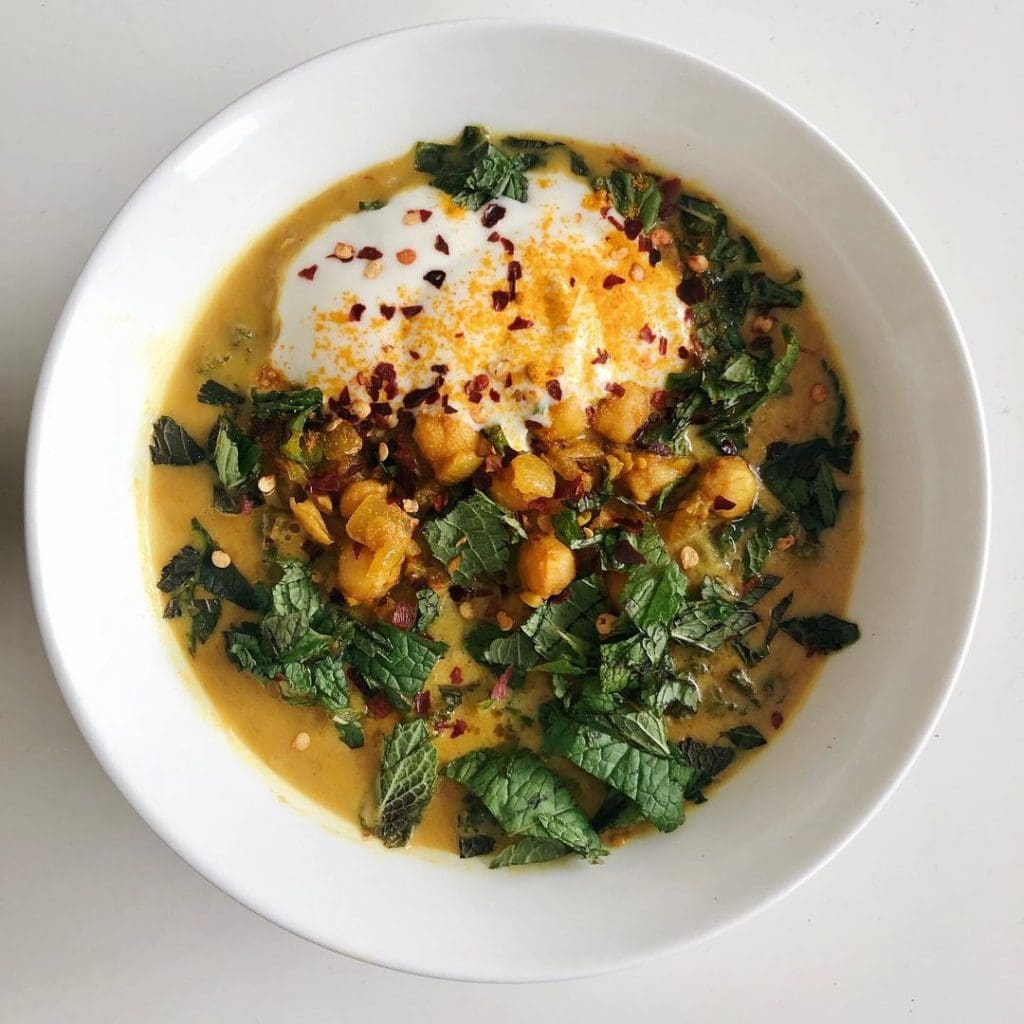 Source: slaintesaludfoods
This hearty, warming stew by slaintesaludfoods is a super delicious and satisfying vegan dinner recipe perfect for any time of the year. It's a basic recipe that is wrapped with flavors. The coconut milk base makes it extremely creamy while keeping it dairy-free. For an utterly plant-based version, you can use vegetable stock and garnish using vegan yogurt. Finally, serve this delight with some toasted pita and enjoy! Here are the steps to make this recipe. 
35. Jalfrezi-Vegan Indian Curry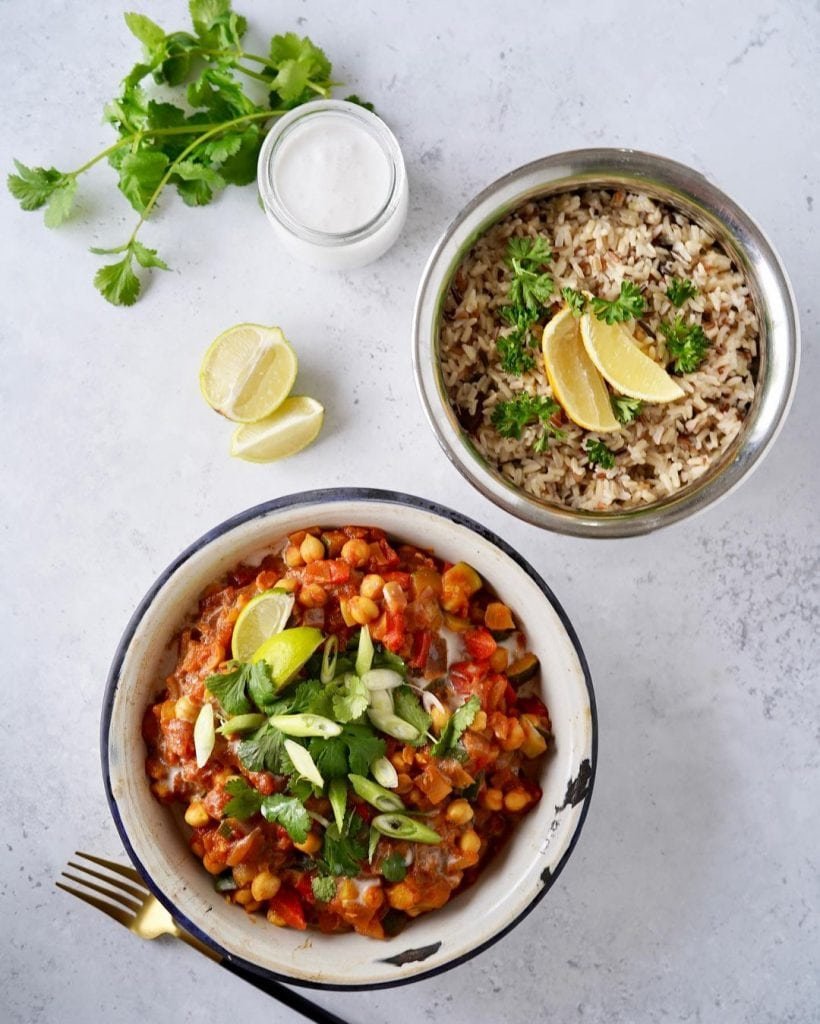 Source: bombveg 
Here is a Jalfrezi-inspired vegan dinner recipe by bombveg  that is an explosion of flavors like an Indian curry should be. It is also very quick to prepare and is loaded with protein. The curry has a vegetable base, a rich, spicy tomato sauce, and chickpeas bringing the protein. You can also add some coconut milk for a creamy texture! It is best enjoyed with rice, or you can even have it as is!  Here is the link to the recipe. 
36. Red Lentil Zucchini Dahl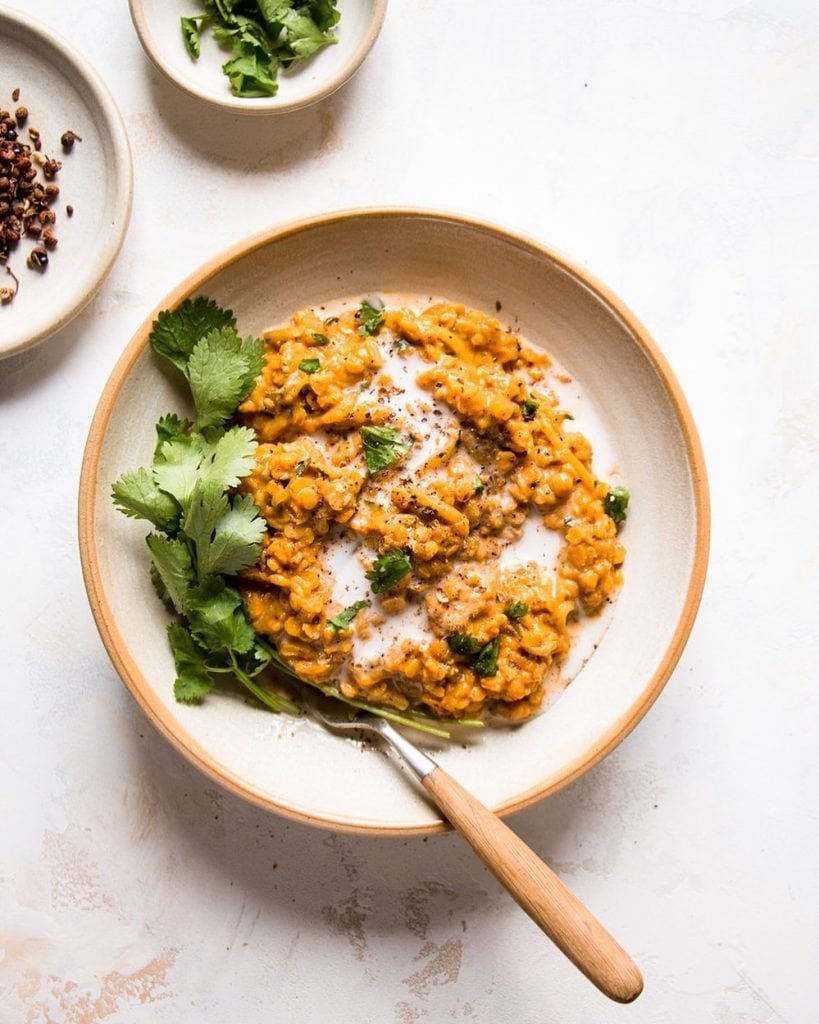 Source: cookingwithelo
Are you looking for a non-tedious recipe that is also pantry-friendly? Search no longer! Try this vegan dinner recipe by cookingwithelo that is prepared using red lentils. It has a prep time of just 30 minutes and will become your favorite weeknight meal on the first try! The recipe is simple, and here's how you can make it! 
37. Enlightened Curry Vegetables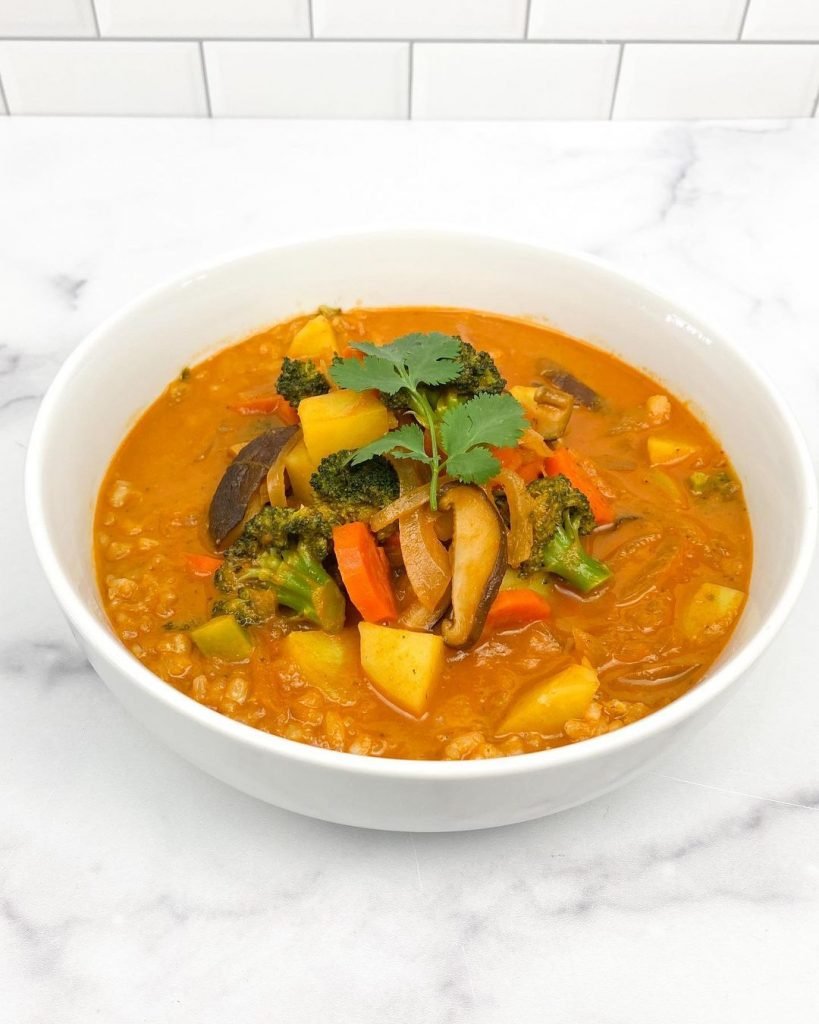 Source: mothersmarkets
This bright and enlightened curry tastes just as good as it looks! The recipe by mothersmarkets is a mix of curry and veggies, including mushrooms, carrots, potatoes, broccoli, and onion. This blend is flavored using lemongrass, ginger, and a base of red coconut curry sauce. You can enjoy it like a soup or enjoy it with organic short-grain brown rice! 
38. Easy Vegan Chickpea Curry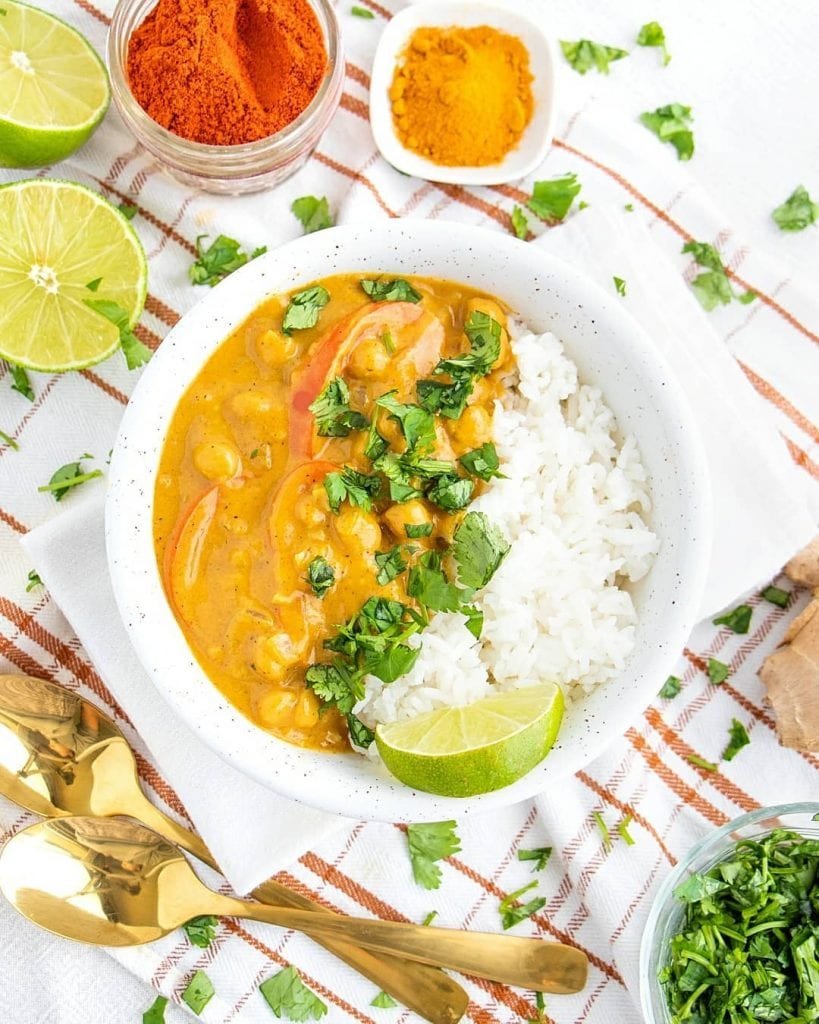 Source: plant.well
Are you craving some homemade, comfortable food? Try this flavorful, creamy, and super satisfying recipe by plant.well. It is full of  tomatoes, onions, garlic, ginger, a lovely curry paste, and coconut milk. The recipe is topped off with some lime juice and fresh cilantro. You can also add some sliced peppers and enjoy this with rice. It is a perfect vegan dinner meal that can be customized using the veggies of your choice. Here is the recipe.
39. Cauliflower n' Coconut Curry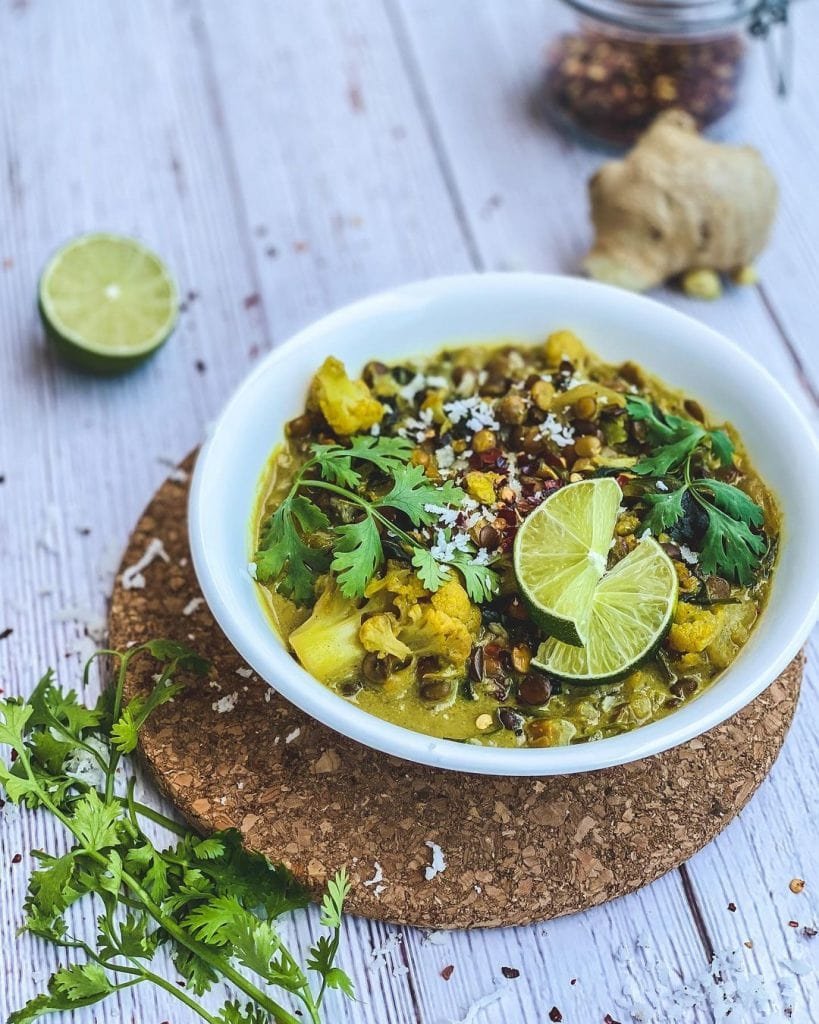 Source: butdoesithavedairy
This coconut and cauliflower curry by butdoesithavedairy is the perfect dinner idea as it is super light yet packed with flavor. The lentils are cooked with flavors of onions, spices, ginger, garlic, and cauliflower. Finally, the recipe is topped with coconut milk, watercress, cilantro, coconut flakes, and a dash of lime. It is a beautiful blend of fresh flavors that will surely satisfy your soul! Check out the recipe now! 
40. Rich and Creamy Falafel Curry
Source: vegan_punks
You would want to have curry every night once you try this amazing recipe by vegan_punks. This Falafel curry cooked in dense, creamy korma sauce is a delight for indulgence. It is served with naan, some spicy chutney, and some quick pulao rice. The recipe is sure to surprise your taste buds in a lovely way! Here is how you can make it. 
Soupy Vegan Dinner Recipe Ideas
Soups are a light yet rich way of ending your day. They will keep you warm inside and out. Here are some effortless and delightful soup recipes that you can make within minutes and you will surely crave for more! 
41. Vegan Butternut Squash Soup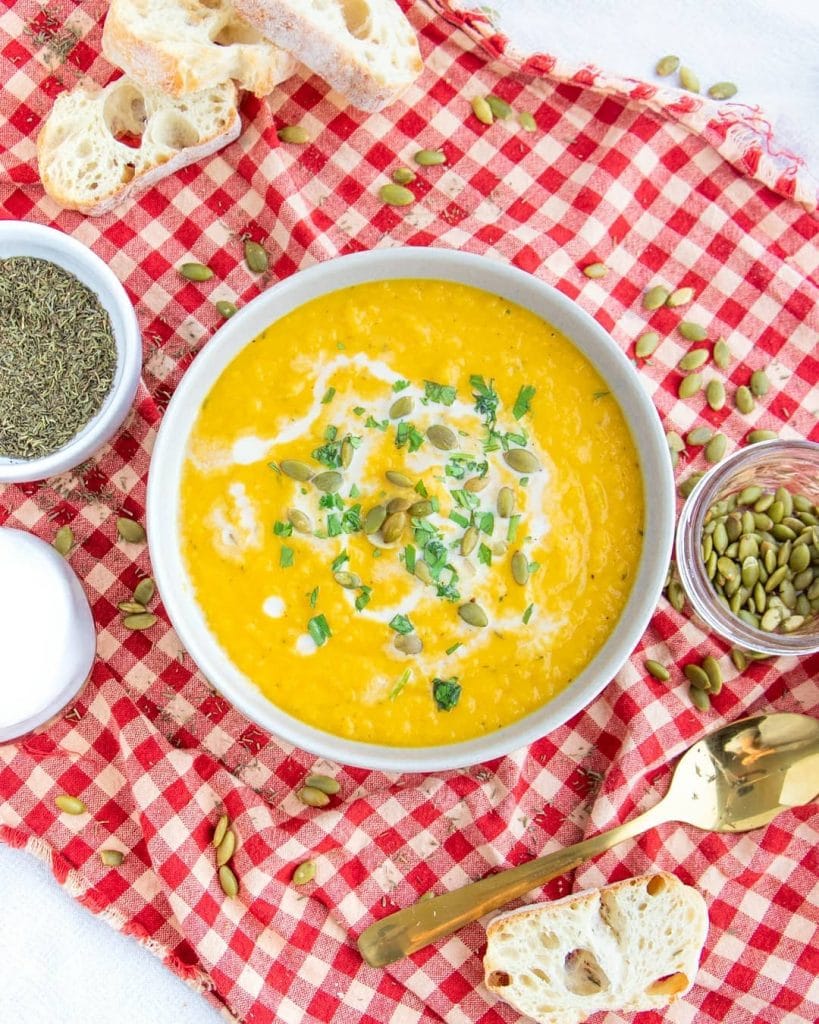 Source: plant.well
Soups are a light yet a yummy way for an end-of-the-day meal. This delicious vegan butternut squash soup by plant.well can be easily made at home and has restaurant-quality flavors. The soup is very creamy and has a blend of savory and sweet flavors. It is prepared using roasted squash, onions, garlic, ginger, apple, vegetable broth, and herbs combined using coconut milk. Add some crispy bread on the side with cilantro and pumpkin seeds as a garnish to thoroughly relish the flavors.  Here is the detailed recipe.
42. Tomato Lentil Soup Vegan Dinner Recipe
Source: bitesbyash
The two most popular ingredients in a vegan pantry are lentils and tomatoes. So why not combine those two to create this delicious tomato lentil soup by bitesbyash for your dinner? While cooking the lentil in veggie broth, throw in some carrots, onions, minced garlic, basil, and oregano. Cook this soupy curry for around 20 minutes for a thick and creamy soup.  
43. Vegan Mushroom Soup
Source: bananasattitude
Warm-up your heart and stomach with this amazing mushroom soup recipe by bananasattitude. It is perfect throughout the year, especially during winters. Yet again, it is a blend of some nutritious ingredients that compliment your taste buds exceptionally well. Prepare the soup using these simple steps, and your veggielicious vegan dinner recipe would be ready in no time! 
44. Latin Style Lentil Soup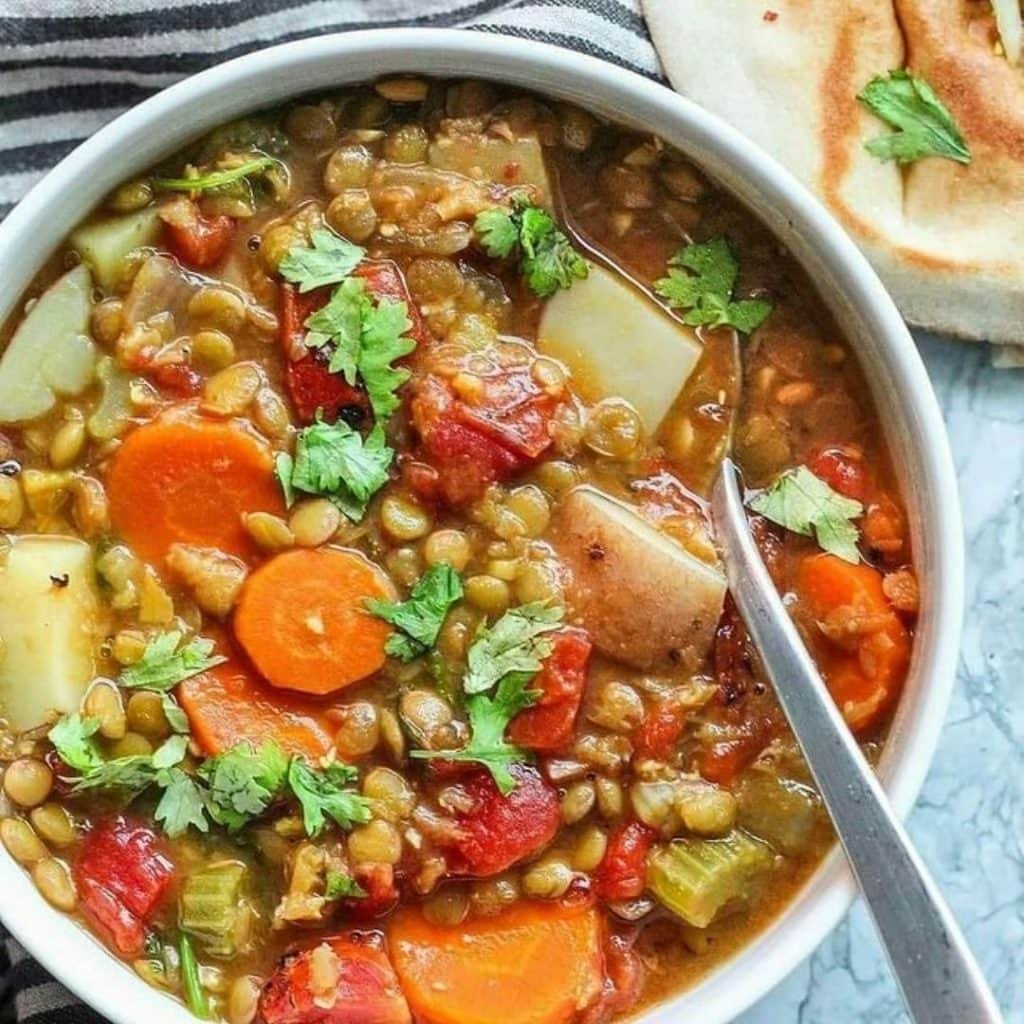 Source: weightlosstips.002
As appetizing as this rich Latin style lentil soup looks, it is far more delicious! This recipe by weightlosstips.002 is a heart bowl packed with flavors and veggies, so much so, even a veggie-hater would love it! It is a pantry-friendly recipe, using onions, carrots, celery, potatoes, garlic and ginger, tomatoes, etc. The base uses a vegetable broth combined with green and red lentils that are perfect for your protein-hungry cells! 
45. Pumpkin, Orange and Ginger Soup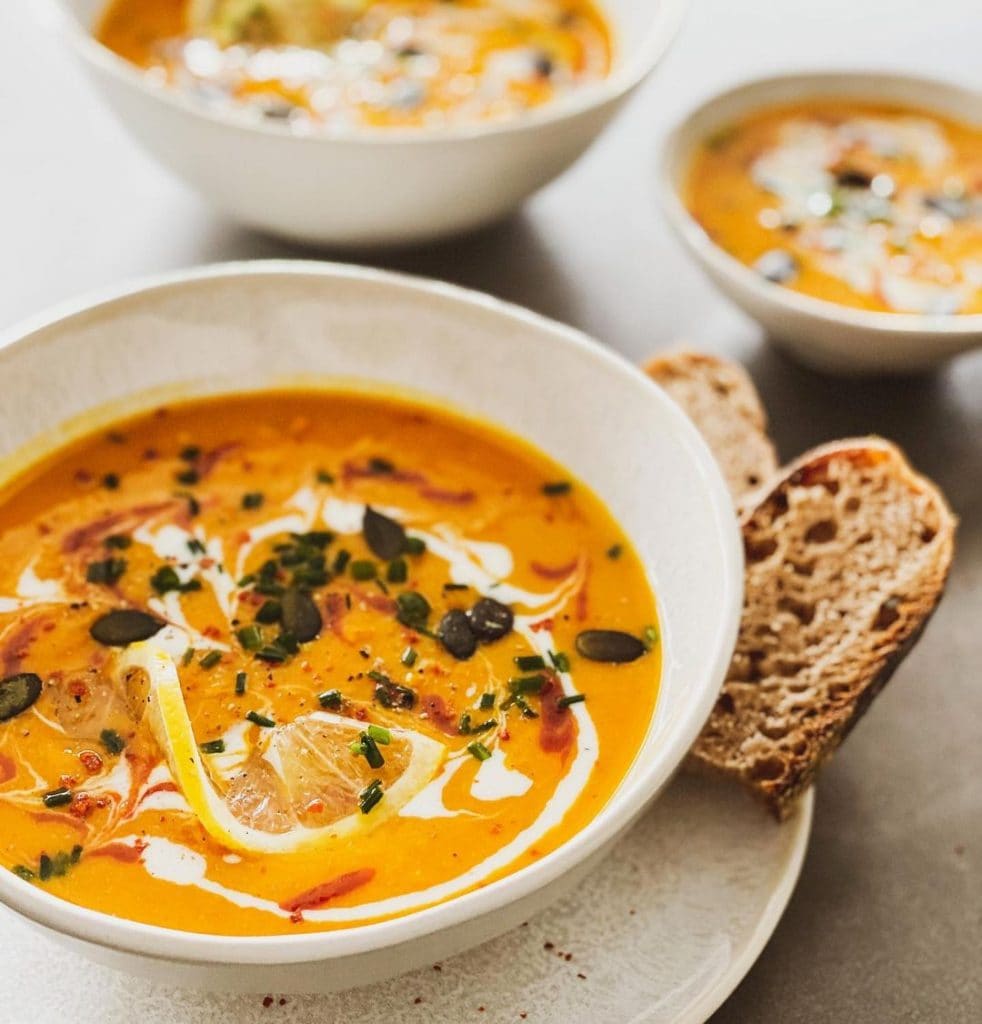 Source: joyfulbaker
Isn't this the most vibrant and appealing soup bowl you have ever come across? Me too! This pumpkin, orange, and ginger soup by joyfulbaker, is full of exceptionally nourishing ingredients packed with proteins from the white beans. It is packed with flavor, is very creamy but light, and perfect for your dinner. To enjoy this soup, even more, add some creamy coconut yogurt and a fresh slice of bread on the side! Here is the full recipe.
46. Tortilla Vegan Soup
Source: champagne.tastes
Are you looking for a meal that would warm you up from the inside out? Well, here it is! This Vegan Tortilla Soup by champagne.tastes is a perfectly balanced recipe with a kick of spice. It has peppers, spices, tomatoes, and a beer broth for a hint of richness and a teeny bit of bitterness. You can prepare this meal in an instant pot or the stovetop. Here is the complete recipe.
47. Creamy Potato and Leek Soup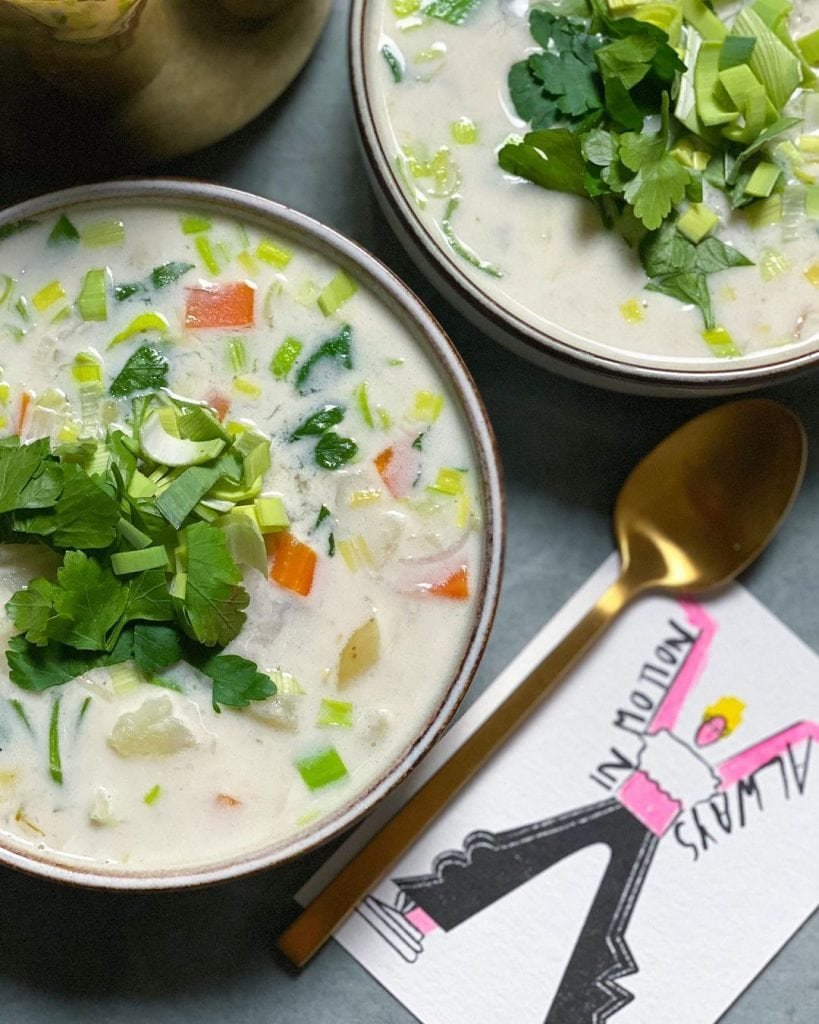 Source: enjoyveggieswithsary
This soup is sure to make you feel as fresh and delightful as it looks! It is a potato and leek soup by enjoyveggieswithsary that is super light and creamy at the same time. It is ready to relish in just 20 minutes and has a protein base of white beans (or chickpeas). With the tanginess of lemons and the freshness of parsley, this recipe is a must-try vegan dinner recipe. 
48. Vegan French Onion Soup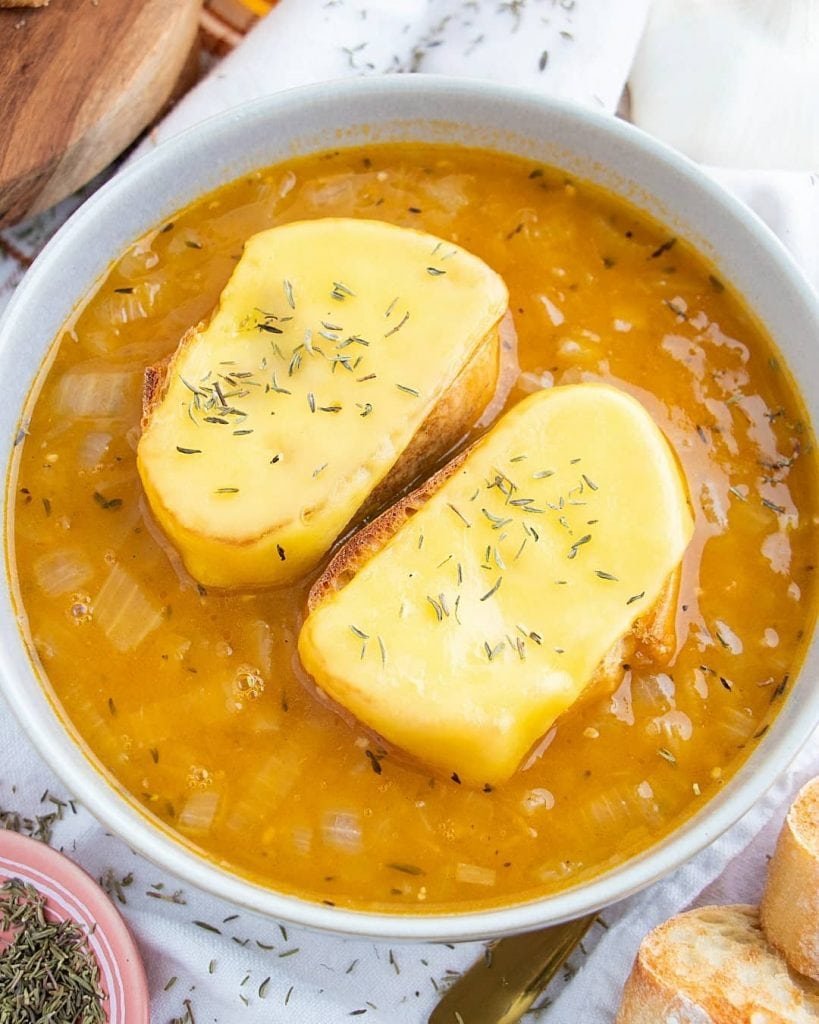 Source: plant.well
This vegan French onion soup by plant.well will give you a luxurious and rich French dinner satisfaction, that too at home! It is made with sweet caramelized onions, thyme, garlic, veggie broth, vegan butter, and dry white wine (optional, but do try!) Even though it takes some time to prep, the effortless, divine flavors are worth the wait. So, what are you waiting for? Try it tonight and Bon Appetit! Check out the recipe here.
49. Vegan Sweet Potato Corn Soup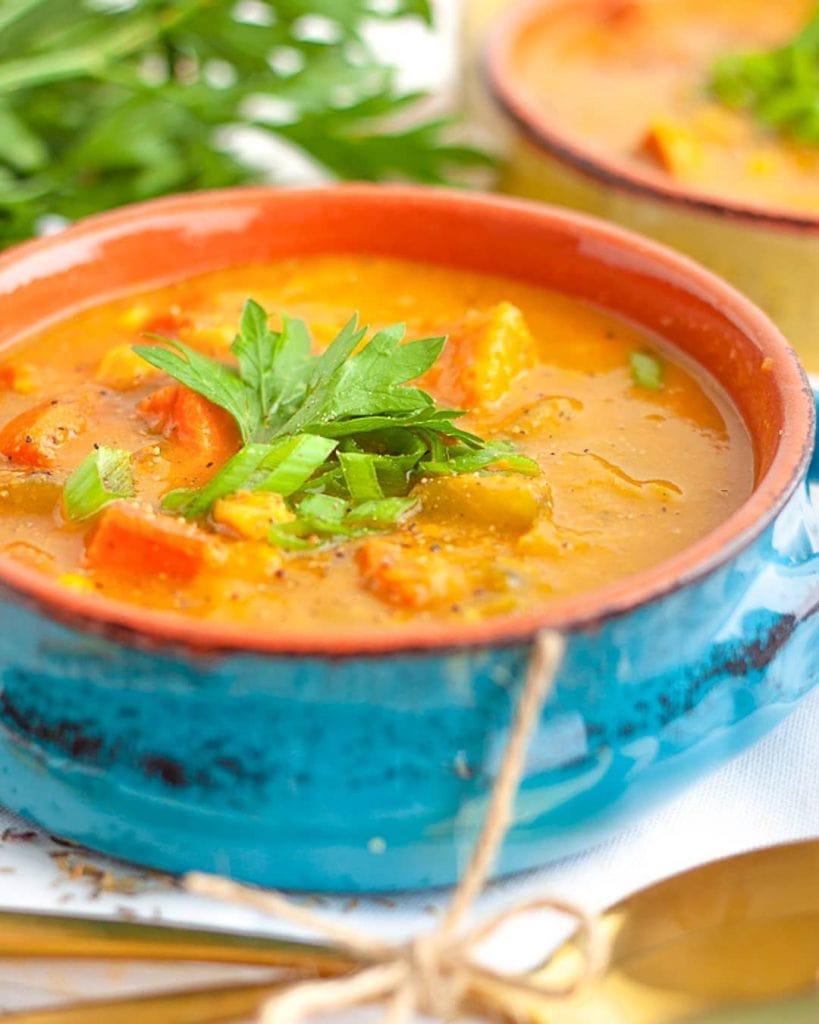 Source: plant.well
Super easy and delicious, this vegan sweet potato corn chowder by plant.well is creamy, thick, and loaded with veggies. This soup has a slight sweetness from the potatoes and rich flavors from spices and herbs. It is the perfect vegan dinner recipe that is healthy and satisfying. Also, since it is a one-pot meal, it is way effortless for those tired dinner nights. Here is how you make it.
50. Turkish Red Lentil Soup
Source: plantbased.traveler
Here is a unique and well-tested recipe by plantbased.traveler that will become your all-time favorite too. This amazing Turkish-inspired red lentil soup is filling, healthy, and full of plant-based protein and requires minimal effort for preparation. The soup is best served with fresh pita bread or a veganized version of Gozleme. You can make this meal in just 20 minutes and enjoy your flavorful vegan dinner! 
51. Veggie Soup with Baked Tofu
Source: squirrelofnom
This vegan dinner recipe by squirrelofnom is a lovely option because it allows you to switch up the ingredients to your liking. The recipe includes a vegan noodle soup with baked soy tofu that is a very healthy and protein-rich combination. You can add any vegetables of your liking to the soup and season it using the flavors of your choice. You can make it sweet n sour, or spicy n tangy, whatever suits your taste buds. Here is a detailed recipe. 
Vegan Fajitas and Tacos Recipes
Fajitas and tacos are a fully-loaded meal option. They are loaded with health benefits and tons of flavor. You can customize the filling according to your taste and enjoy these stuffed tortillas for dinner! 
52. Vegan Sheet Pan "Chicken" Fajitas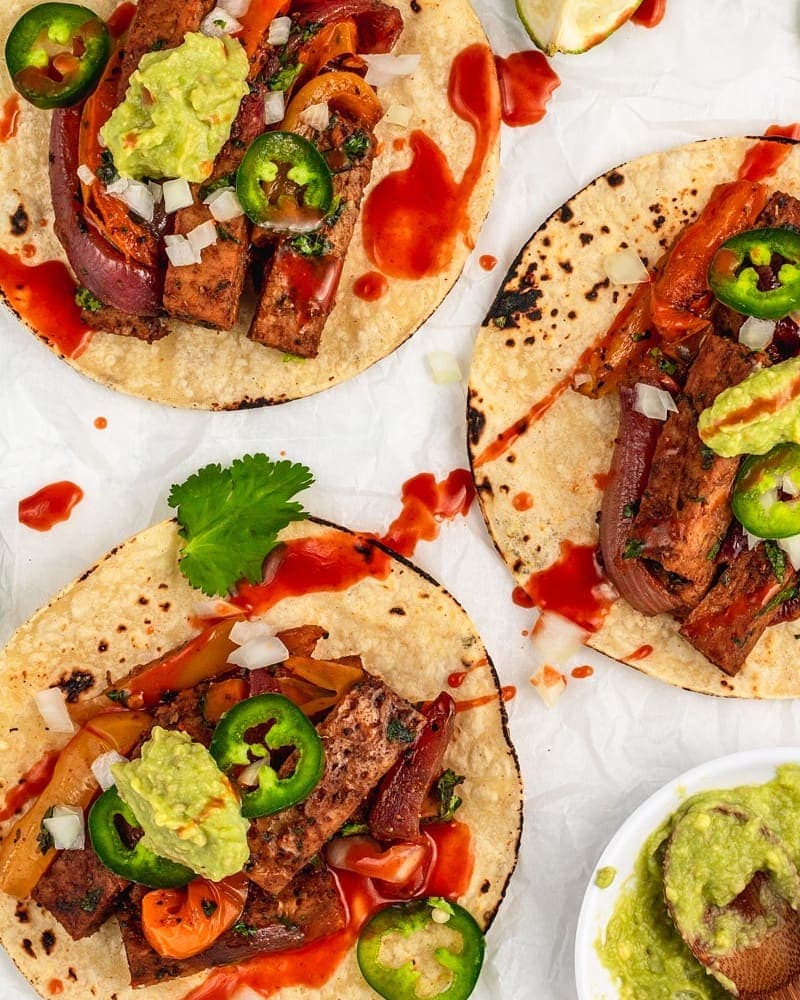 Source: mariassearchforhappiness
Here is a quick vegan sheet pan "chicken" fajitas recipe by mariassearchforhappiness using just four ingredients. All you have to do is cook the vegan "chicken" with some oil, veggies, and spices for around 25 minutes. Next, enjoy this filling with some tortillas and any other toppings of your choice, and voila! Here is the complete recipe.
53. Spicy Avocado Tofu Fajitas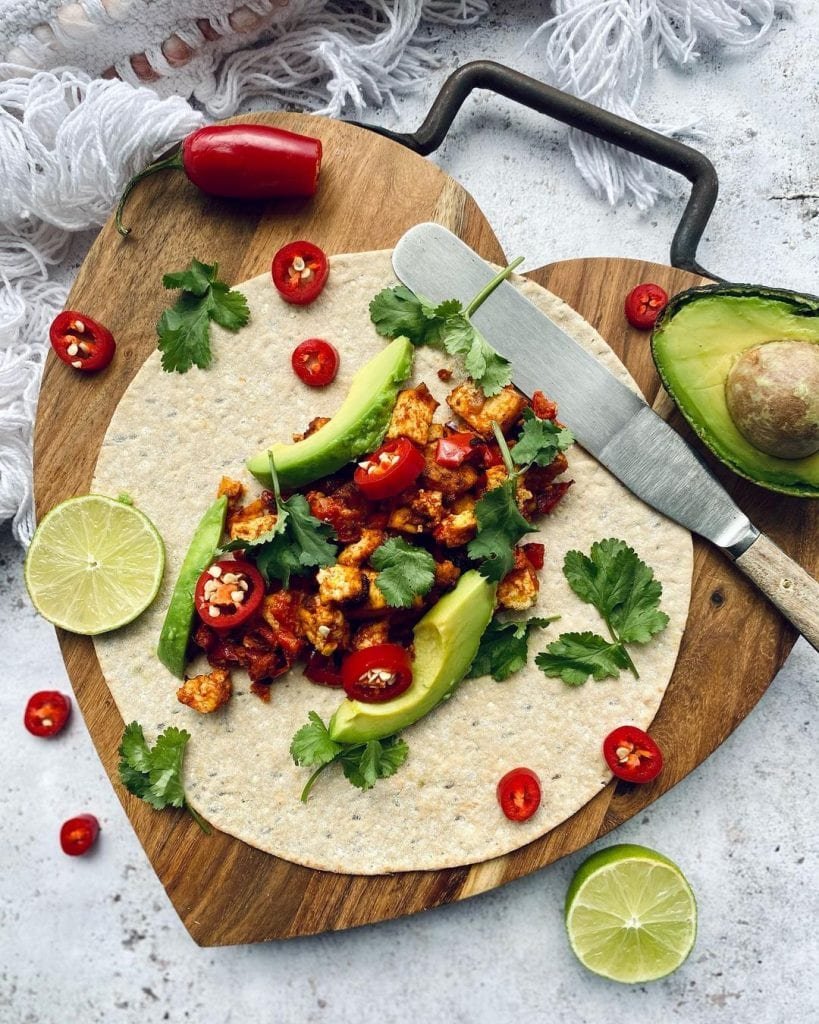 Source: zarasveganfood
These tofu fajitas by zarasveganfood are a beautiful combination of many veggies and a kick of spicy flavors. It has some of the most pantry-friendly ingredients, including peppers, onions, garlic, tomatoes, and tofu for that added dose of protein. This delicious fajita mix is enjoyed with a tortilla with guacamole on top and coriander.   
54. Tangy Vegan Chicken Tacos
Source: plant_based_pleasures
Tacos are a constant favorite meal that can be enjoyed any day of the week! So, try out this amazing taco recipe by plant_based_pleasures that pairs some vegan chicken with avocados, tomatoes, red onion, sweetcorn, topped with sriracha chili sauce, and vegan mayonnaise. Altogether, these little tacos are packed with satisfying flavors. 
55. Barbeque Jackfruit Tacos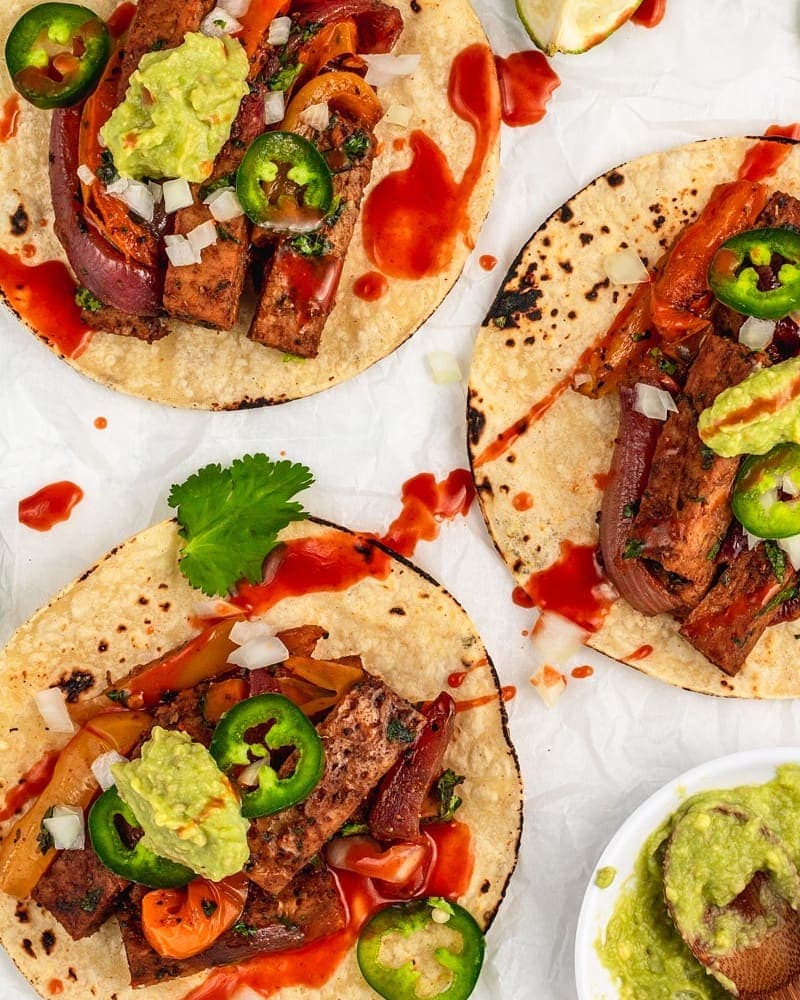 Source: jacswellness
If you enjoy Mexican food, this simple plant-based taco recipe by jacswellness will be your new favorite dinner meal. It is nutritious, easy to prepare, and yummy! The filling is a combination of jackfruit, bbq sauce, salt, pepper, onions, garlic, cumin, and smoked paprika. Fill this crispy jackfruit filling in some mini corn tortillas, and top it off with some fresh veggies, lime juice, and vegan sour cream. 
56. Squash Blossom Vegan Quesadillas
Source: deliciousvegetarianvideos
These vegan squash blossom quesadillas by deliciousvegetarianvideos taste incredible and are protein-rich! You can recreate this dish for your dinner using just a few ingredients. The tortillas are full of tofu cheese, and squash blossom filling and are served hot with sliced avocados on top and salsa on the side! 
57. Crispy Cauliflower Tacos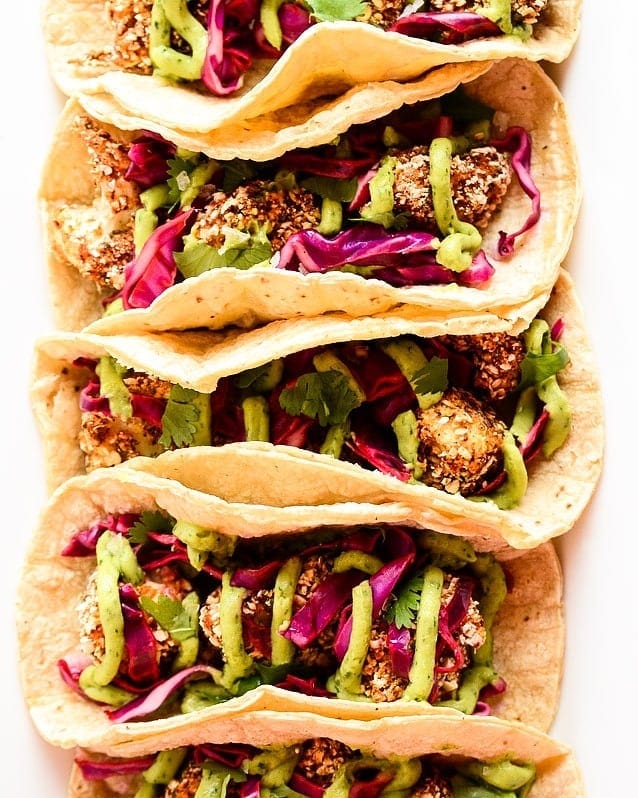 Source: vegan_thrive
This gluten-free, vibrant, and delightful crispy taco recipe by vegan_thrive is full of crispy cauliflower, some cabbage slaw, and avocado cream. With a bake time of 25-30 minutes, these cauliflower corn tacos are a fulfilling meal on a hungry weeknight! 
58. Stuffed Softcorn Tortillas
Source: florasplantkitchen
Another variation to the jackfruit tacos is this amazing recipe by florasplantkitchen. Some soft corn tortillas is full of smokey pulled jackfruit, grilled corn, and sliced avocados and topped with pink pickled onions, fresh coriander, and vegan sour cream. This vegan dinner recipe is a balanced, healthy, and delectable choice for your dinner tonight! 
Vegan Dinner Rolls & Wraps
Be it carrots, mushrooms, cabbage, lettuce, bell peppers, tofu, or even vegan chicken, you can wrap these all up in rice paper or tortillas to enjoy some yummy vegan rolls or wraps for dinner tonight! 
59. Rainbow Spring Rolls
Source: mariassearchforhappiness
Vegetable rolls are my favorite vegan dinner meals as they are so easy to prepare and can be customized in a hundred different ways. These easy rainbow spring rolls by mariassearchforhappiness with ginger peanut sauce are a lovely veggie-filled recipe. Chop up some available veggies, cook some marinated tofu, and put it together in a wet rice paper. Top it up with some peanut sauce, and voila! Check out the recipe here. 
60. Vegan Sausage Rolls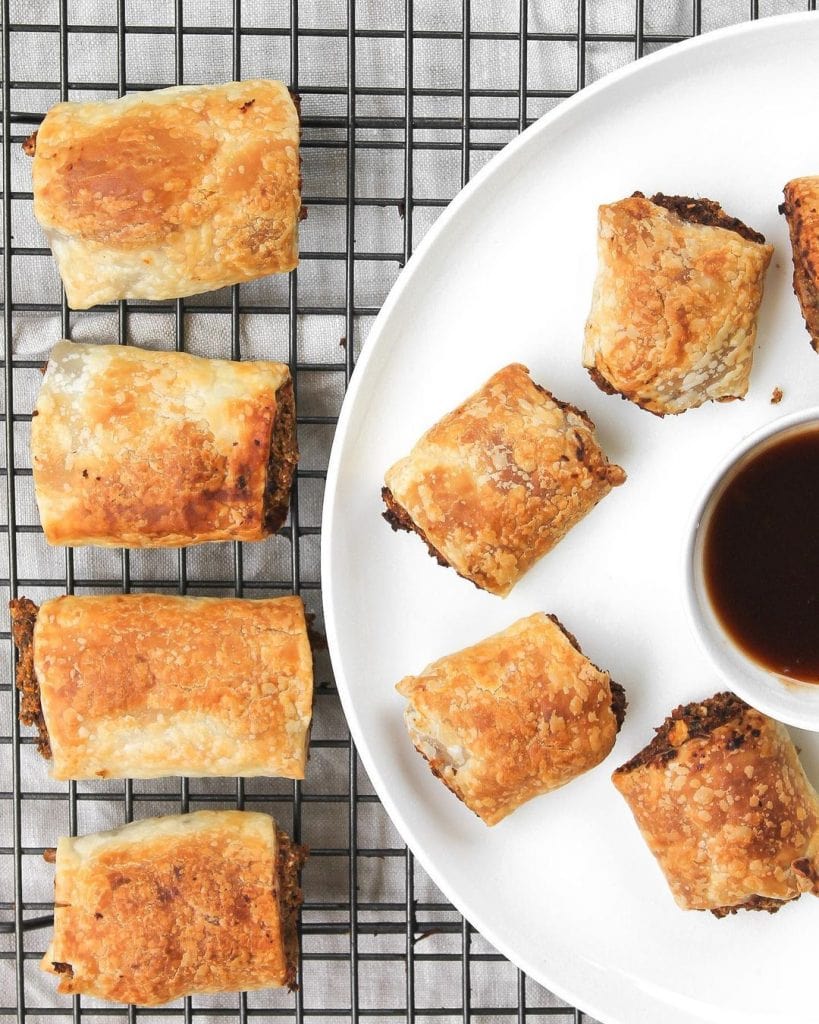 Source: lilyturtonfit
These delicious vegan sausage rolls by lilyturtonfit are a say yes meal for your dinner! The recipe includes a filling of black beans, onion, carrot, zucchini, tomatoes, oats, garlic, cumin, cinnamon, and herbs rolled up in some puff pastry sheets to create these tiny sausage rolls.  Serve these freshly baked rolls with a dip/sauce of your choice! 
61. Fresh Summer Rolls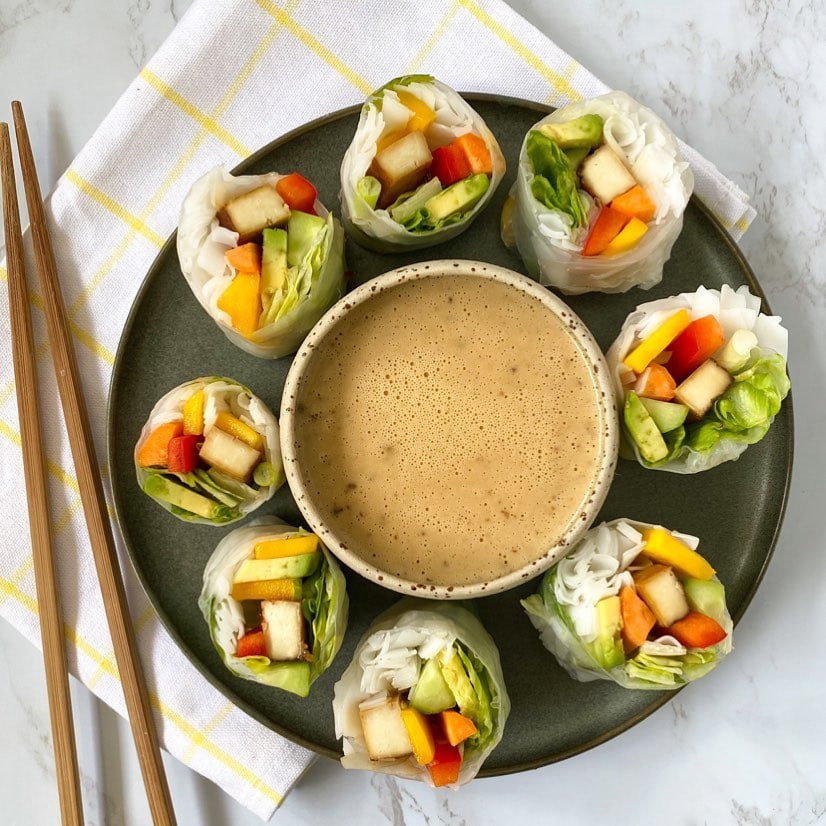 Source: littlefoodvegan
As colorful and vibrant as these mini summer rolls look, they are equally fresh and light! This vegan dinner recipe by littlefoodvegan consists of a bright, healthy veggie filling and is accompanied by a creamy peanut sauce. It is very easy to assemble and also has tofu that boosts the protein contents of this already nutritious recipe! 
62. Vegan Edamame Hummus Wraps
Source: shortgirltallorder
End your day on a fulfilling note with these Vegan Edamame Hummus Wraps by shortgirltallorder. They are full of healthy, fresh veggies and very easy to make. The recipe is so simple that it would be ready in just two simple steps. First, prepare a creamy and delicious edamame hummus, followed by adding in the veggies and rolling it in rice paper! Here is how you can make this recipe. 
63. Vegan Crunch Wrap
Source: what_aj_makes
Want to recreate the TacoBell crunch wrap at home? Try out this vegan dinner recipe by what_aj_makes that is made using a black bean, onion, peppers, salsa, and corn filling. Place this filling in a tortilla, add some vegan cheese, followed by a hard tostada topped with salsa, guac, cheese, cilantro, etc. Finally, top this up with a soft tortilla and wrap all the corners to seal the wrap. Cook for two minutes on a hot skillet, and you'll be addicted! 
64. Sweet Potato Wraps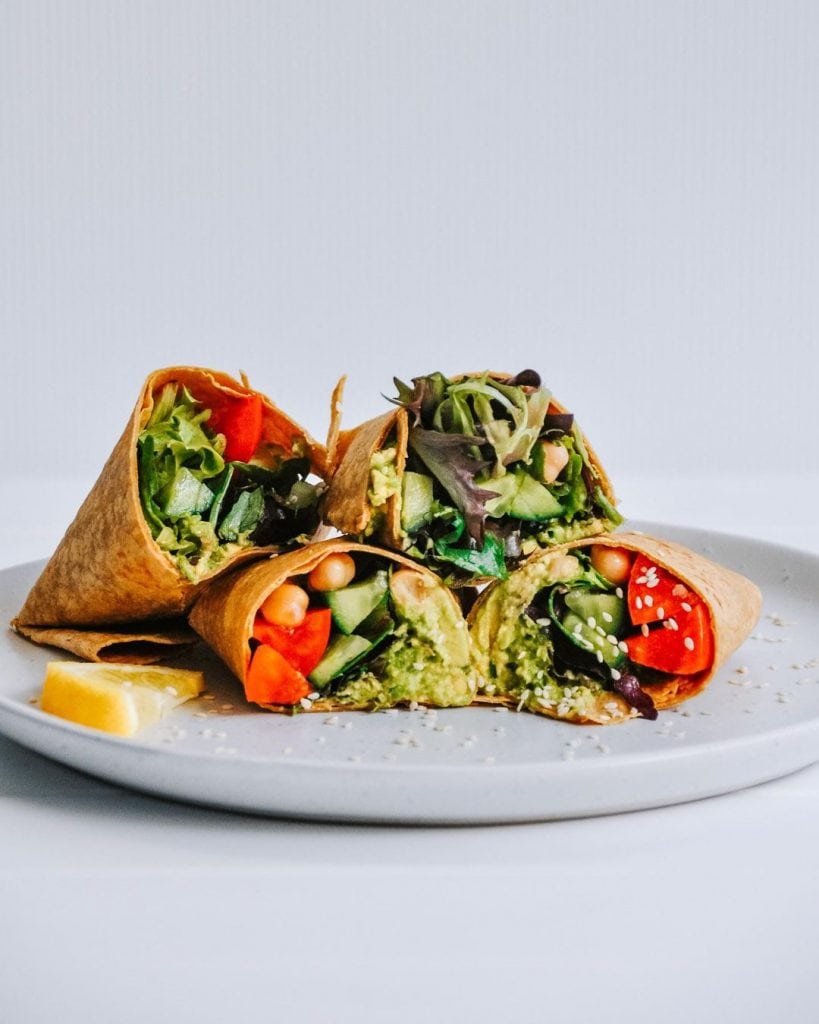 Source: powerthroughplants
Here is a wrap recipe by powerthroughplants that is Instagram-worthy along with being incredibly soul-satisfying. These are sweet potato wraps filled with curried chickpeas, avocado, mixed lettuce, tomatoes, and cucumber. Finally, season with tahini sauce and enjoy! You can also switch up the filling according to the available ingredients or your preferences. 
65. Vegan Mushroom Chicken Wrap
Source: vegan.make.it
Well, it's time for some 'chicken wrap'! Yes, it is still 100% vegan. Grab a protein wrap and fill it up with some seasoned vegan chicken chunks, some veggies (mushrooms, avocados, cucumber, tomatoes, pickled gherkins, etc.). Add some salad, top with some Toscana spread, and vegan mayo to finish off this delightful recipe by vegan.make.it!  
66. Cauliflower and Tofu Lettuce Wraps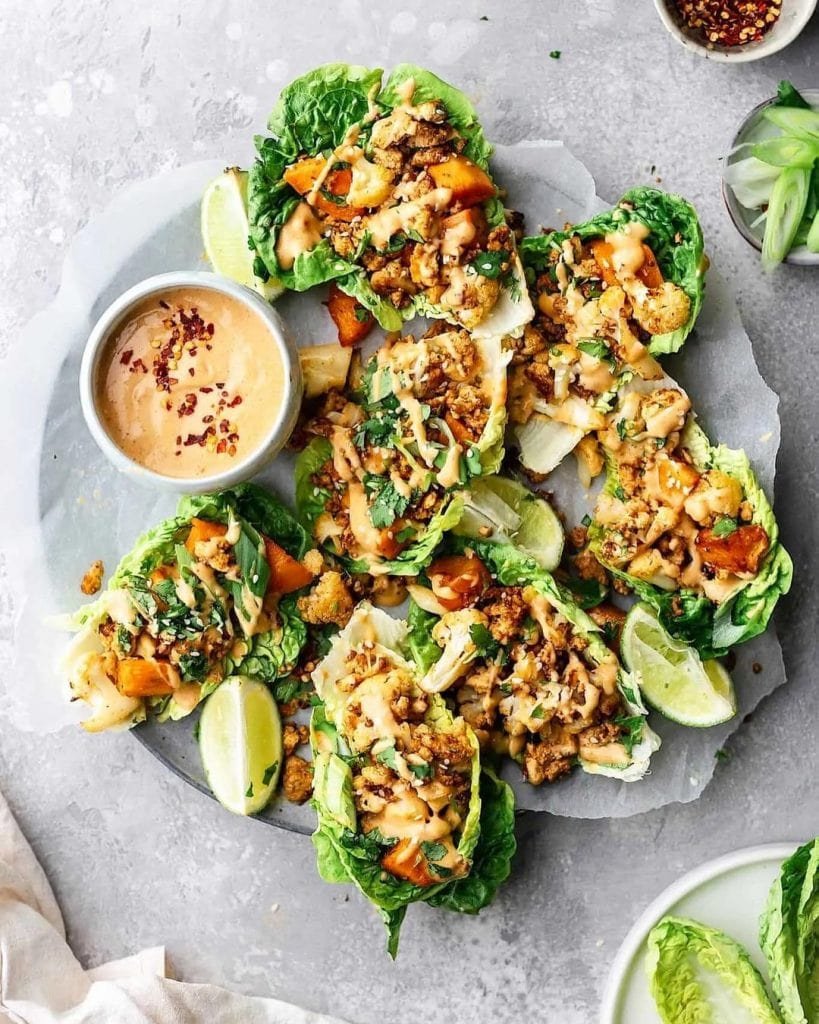 Source: cupfulofkale
Next, we present to you these Thai-inspired cauliflowers, sweet potato, and tofu lettuce wraps by cupfulofkale. This is a unique, flavorful, quick, and healthy dinner recipe served with the perfect peanut sauce. Crumbled tofu and roasted veggies make up the filling and are complemented by a red curry paste, peanut butter sauce, and maple syrup. It's a mix of sweet, creamy, and tangy flavors, so don't forget to try it out! Here is the full recipe. 
67. Veggie Wrap with Tzatziki Sauce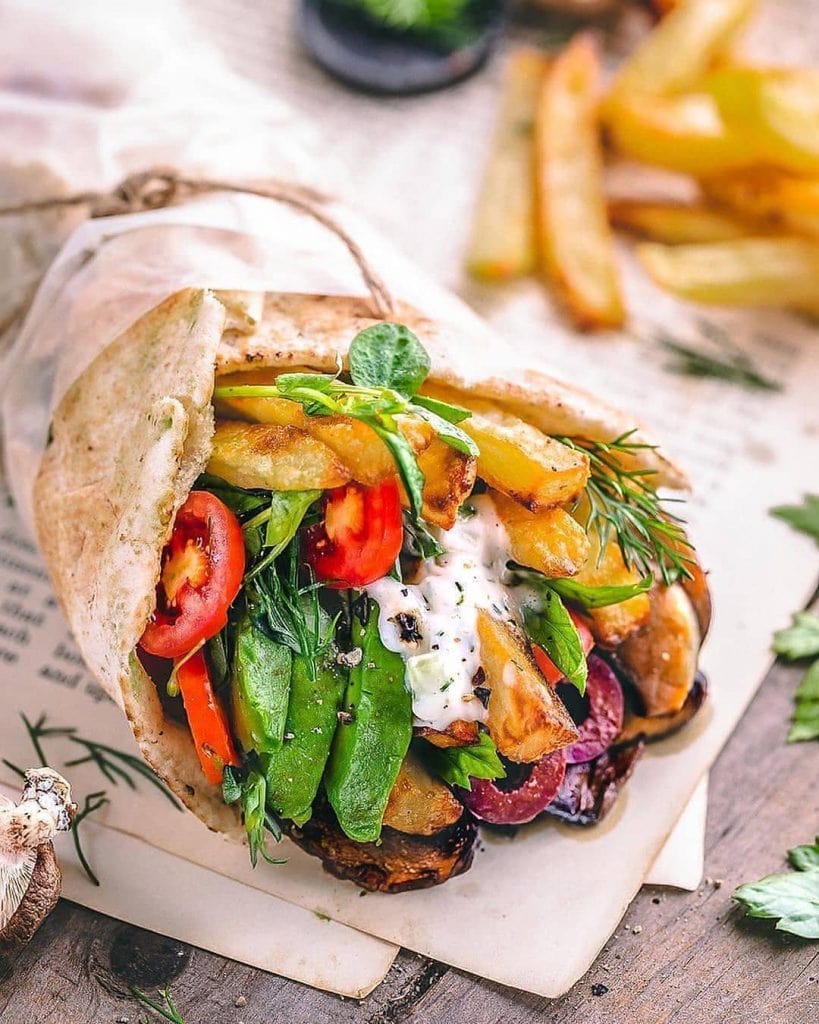 Source: sculptedkitchen
What perfect way to enjoy some fresh veggies than to wrap it up? This amazing veggie wrap by sculptedkitchen with a tzatziki sauce is just the right choice for dinner tonight! Tomatoes, cucumbers, zucchini, olives, avocado, mushrooms, fries, and parsley, are wrapped up with the sauce. Also, the tzatziki sauce is so flavorful that you might end up eating it up before the wrap is ready! 
Vegan Platters & Small Plates
Feel like having a balanced plate of food for dinner? Try out these unique vegan platters & plates recipes that are all-inclusive. Choose the one that best suits your cravings and get cooking! 
68. Fried Veggie Rice with Peanut-Orange Sauce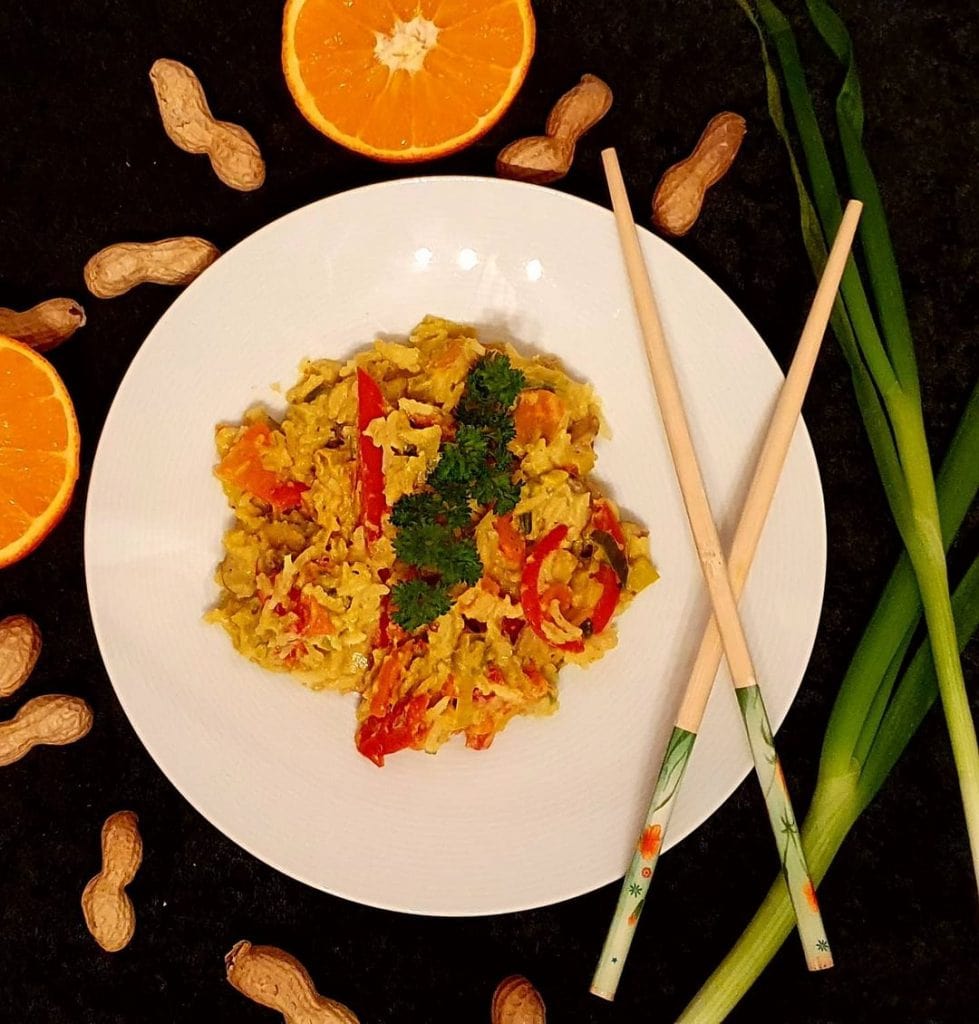 Source: vegan.make.it
Here is a complete balanced plate by vegan.make.it for your weeknight dinner. Fried veggie rice with a peanut-orange sauce tastes as exquisite as it sounds. If you have some leftover rice and veggies, then this easy dish is the perfect option. Don't forget to mix the rice with some orange peanut sauce for a tangy, fruity, and nutty flavor.
69. 4-Ingredient Vegan "Chicken" recipe
Source: mariassearchforhappiness
The easiest, most delicious, pantry-friendly vegan chicken recipe by mariassearchforhappiness is a must add to your dinner list! Guess what? You can recreate this recipe using just four simple ingredients: enoki mushrooms, vital wheat gluten, tofu, and salt. Each of these ingredients adds some texture to the chicken that results in a mouthwatering, flavorful dish! Here is the complete recipe. 
70. Blackened Roasted Cauliflower Steaks
Source: shaneandsimplecooking
For your next vegan dinner, enjoy these amazing roasted cauliflower steaks. This is a light, flavorful, and plant-based recipe that you can enjoy as the main course or a side dish. Requiring just three ingredients and a prep time of 30 minutes, these steaks are crisp-tender and extremely satisfying. Here is the detailed recipe.
71. Creamy Almond Butter Black Bean Chili & Plantain Fritters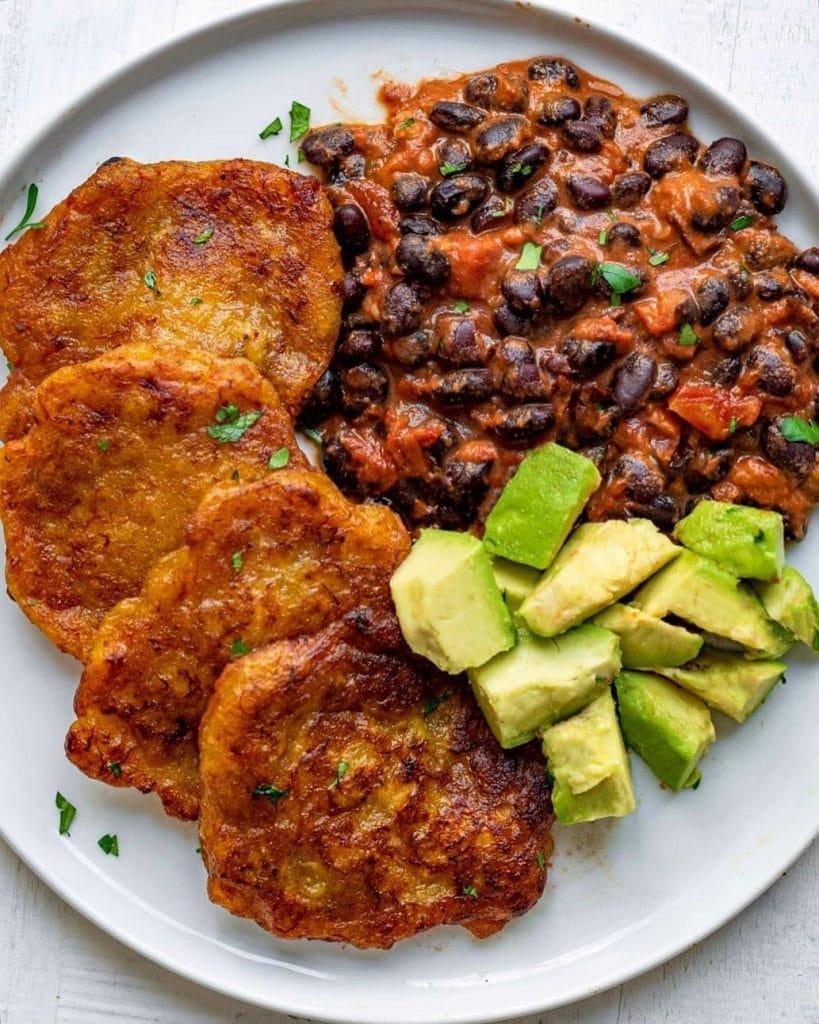 Source: veganrecipesideas
This diverse recipe by veganrecipesideas can be enjoyed as breakfast, lunch, dinner, snack, or even as a side! These creamy almond butter black bean chili and plantain fritters are worth a try! It has spicy, tangy, yet fresh flavors, and the chili is the perfect pair for the fritters. The recipe as a whole is very balanced in terms of flavor and nutrients. 
72. Thai Lettuce Cups Vegan Dinner Recipe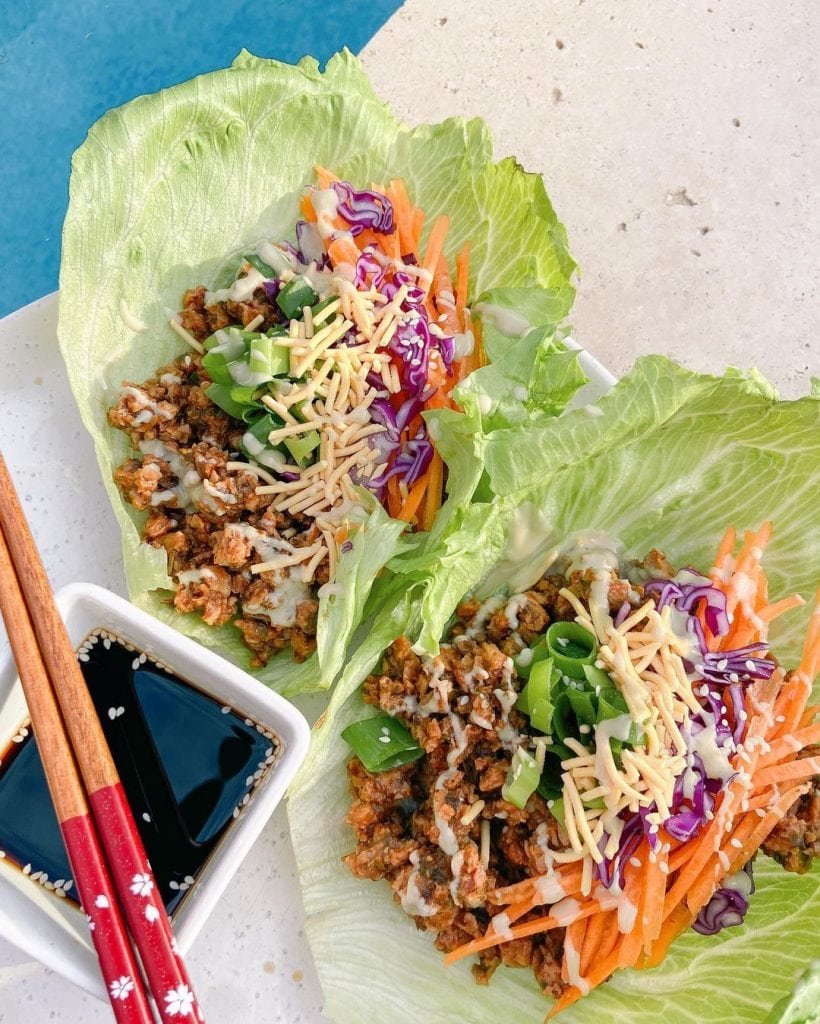 Source: __cookingwithkate__
I love this unique and beautiful vegan dinner recipe by __cookingwithkate__. These Thai lettuce cups are a great dinner idea for days when you need something quick, light, and delicious. The recipe uses a plant-based mince that gives a boost of iron and protein to the dish. With the kick of soy sauce and the crunch of crunchy noodles on top, the texture of these lettuce cups is perfectly balanced! 
73. Sweet Potato Nachos
Source: bites_of_wellness
What's better than a bag of Lays? These crunchy, homemade, loaded, sweet potato nachos. This recipe by bites_of_wellness uses black beans, and the slightly sweet flavor added by the sweet potatoes adds uniqueness to the recipe. These are combined with some salsa and avocado crema/chunks for a kick of creamy and tangy flavors. The nachos are quite light but the toppings aren't too overpowering, making this the perfect choice for dinner! 
74. Homemade Baked Falafels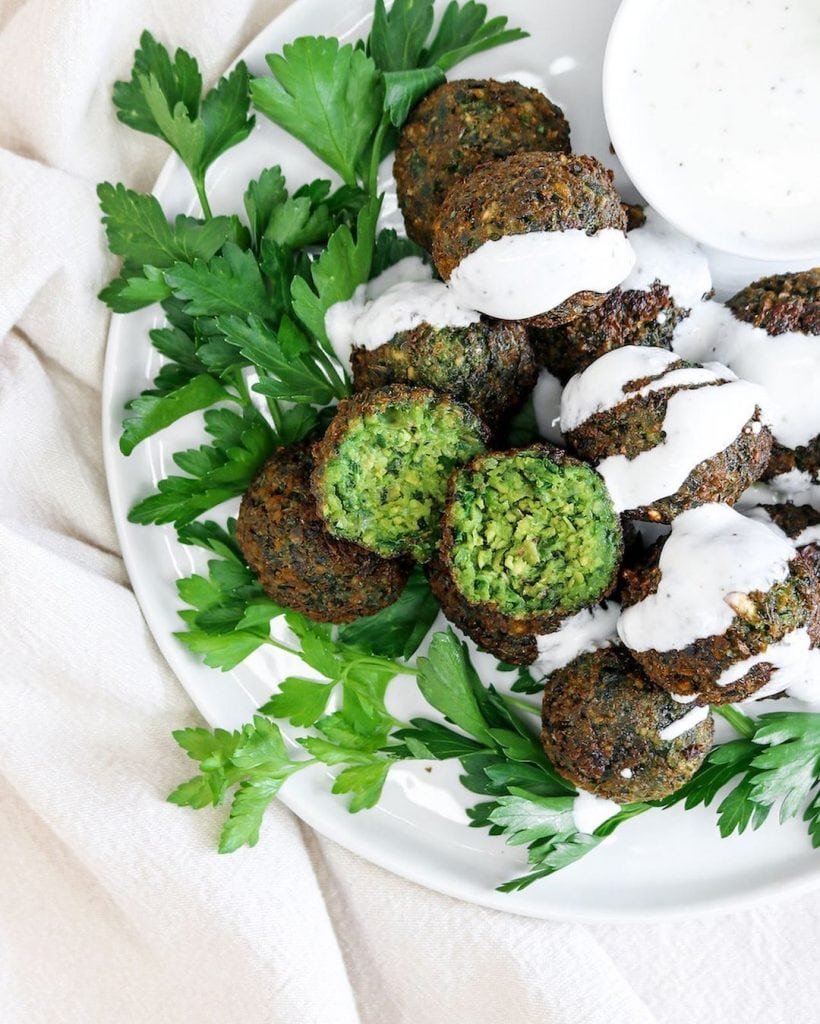 Source: brightmomentco
Here is the perfect baked falafel recipe that will surely replace your previous recipe! This recipe by brightmomentco will make your kitchen smell like you are walking down the streets of Greece. Pair the falafel with some pita, hummus, and a creamy yogurt-lime sauce to relish the ultimate flavors of this handmade dinner. Follow these steps to recreate the recipe. 
75. Curry Spiced Sweet Potatoes & Cabbage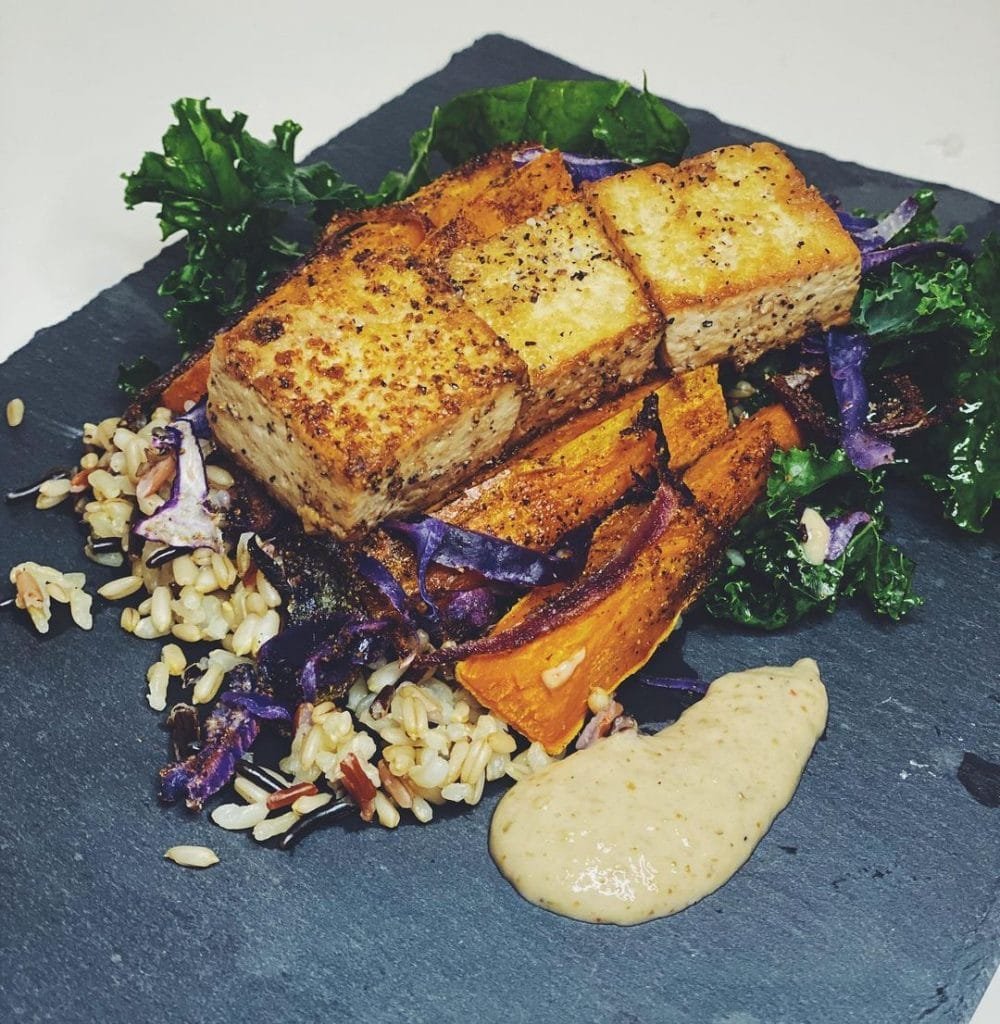 Source: anothergayvegann
Another lovely recipe that is perfectly balanced for enjoying as a weeknight dinner is this small plate by anothergayvegann. It has some curry-spiced sweet potatoes that are served with cabbage. The curry spice comes with the use of warm Indian spices and some green curry paste. Furthermore, the addition of tahini gives the recipe a subtle sweetness. 
76. Vegan Dinner Recipe Dumplings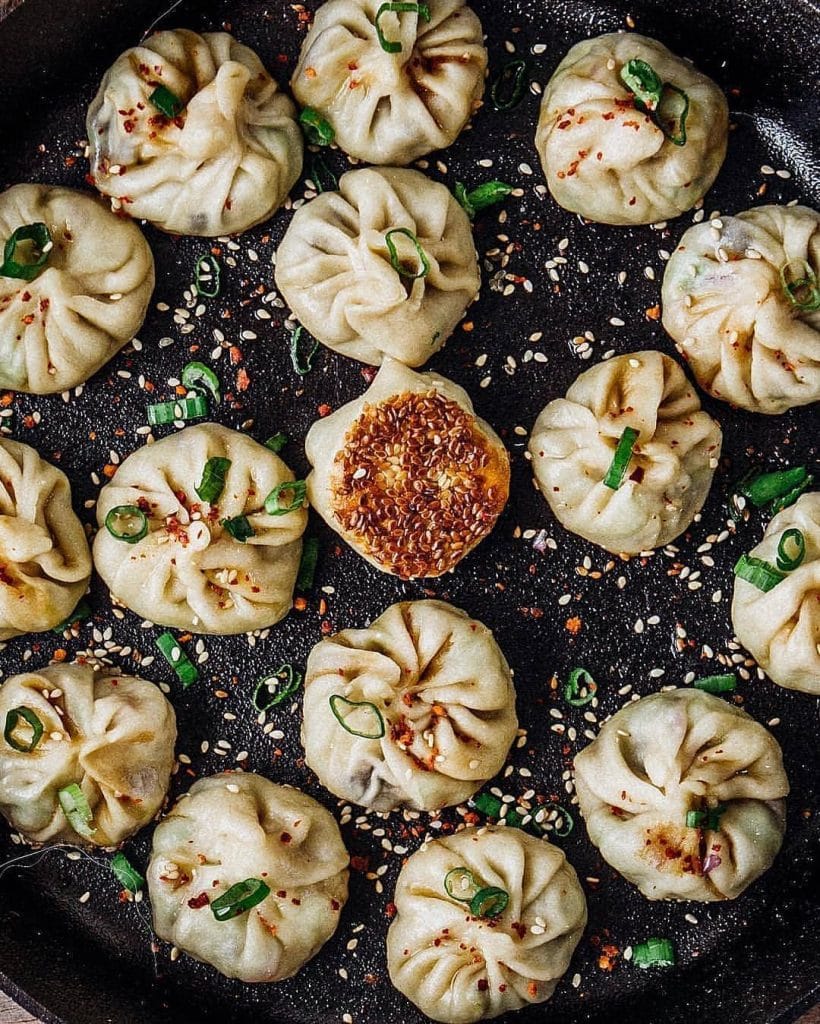 Source: veganrecipesideas
These tiny dumplings by veganrecipesideas packed with veggies and flavors of garlic and ginger are a light and healthy choice for dinner. The filling includes cabbage, mushrooms, garlic, ginger, onions, sesame oil, and seasoning; additionally, use sesame seeds and spring onions for garnish along with soy sauce and chili garlic sauce as dipping. 
Vegan Dinner Recipes: Pizzas
How can we skip the universal comfort food: pizza! These unique vegan pizzas will surely give you a new option for every night. So, the next time you crave some cheesy pizza, pick up one these recipes! 
77. Homemade Vegan Pizza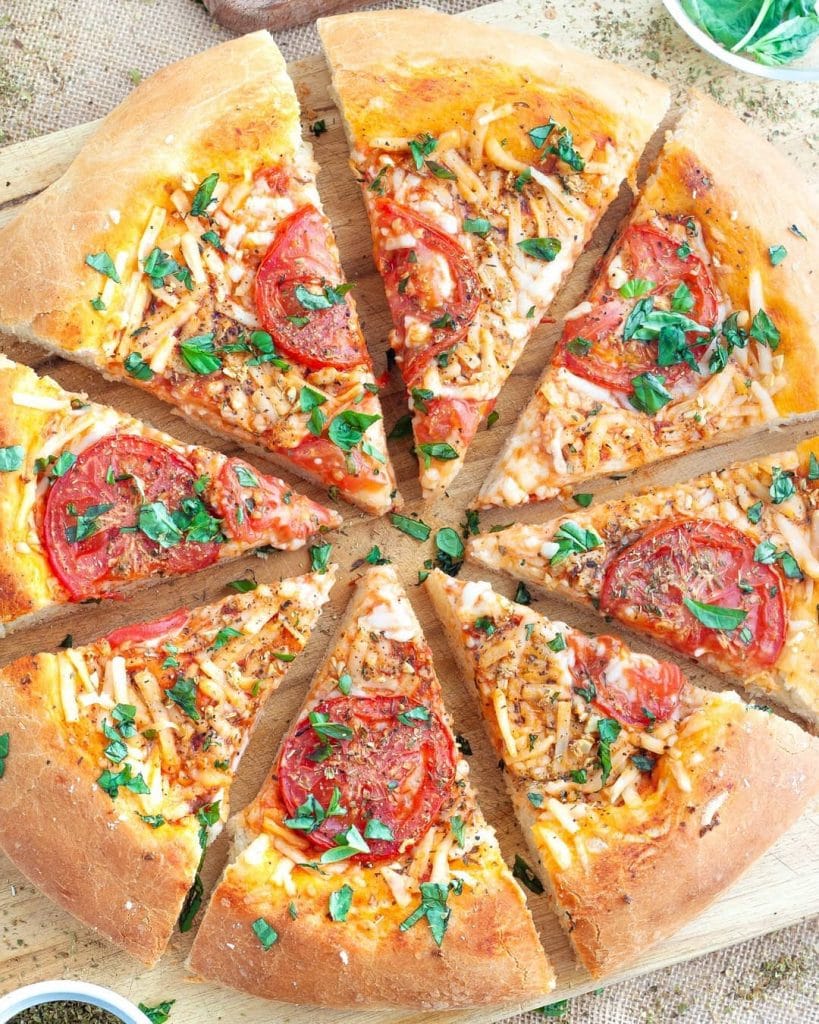 Source: plant.well
This Margherita pizza by plant.well is loaded with dairy-free mozzarella cheese, sliced tomatoes, tomato sauce, fresh garlic, basil, and oregano. The base is a homemade yeast pizza crust making this dish budget-friendly and very customizable. You can add the toppings of your choice and change the crust as well! Here is the recipe. 
78. Caramelized Mushroom Pizza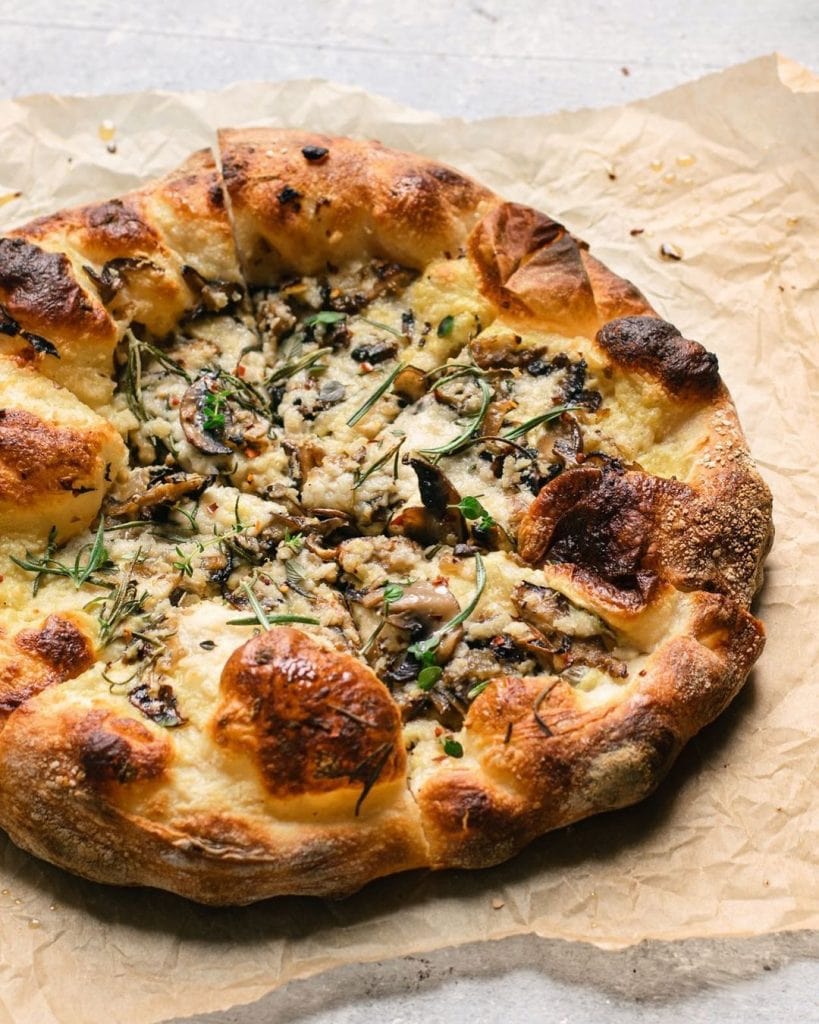 Source: thecuriouschickpea
Pizza is a popular dinner craving. So, the next time you crave a pizza dinner, try out this caramelized mushroom pizza recipe by thecuriouschickpea. It is loaded with white sauce, fresh rosemary, garlic-sautéed cremini, and shiitake mushrooms. The crust is crunchy and fluffy at the same time and is the perfect base for the chosen toppings. Check out the recipe here. 
79. Loaded Veggie Garlic Herb Pizza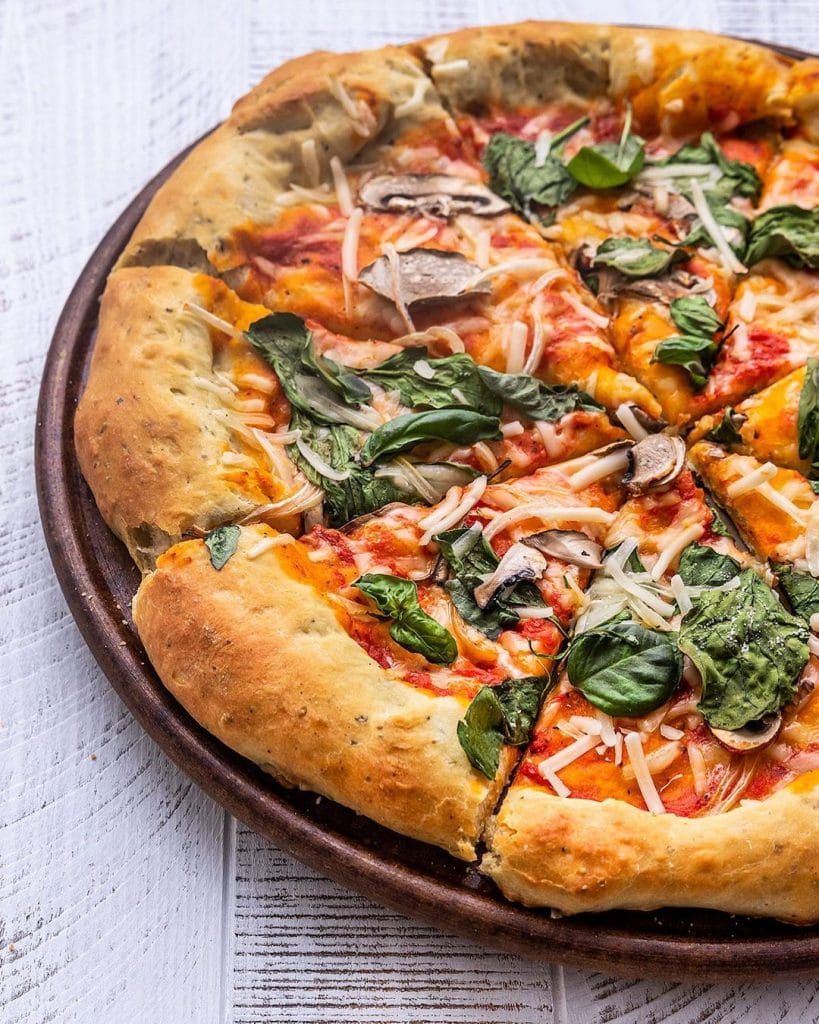 Source: shortgirltallorder
Homemade pizzas are a great way of using up any leftover veggies and turning them into a whole new recipe. This vegan garlic herb pizza dough by shortgirltallorder will give you the perfect base for literally any combination of toppings. You can choose your favorite sauce and veggies to build your pizza! Here is how you can recreate this recipe.
80. Vegan Supreme Pizza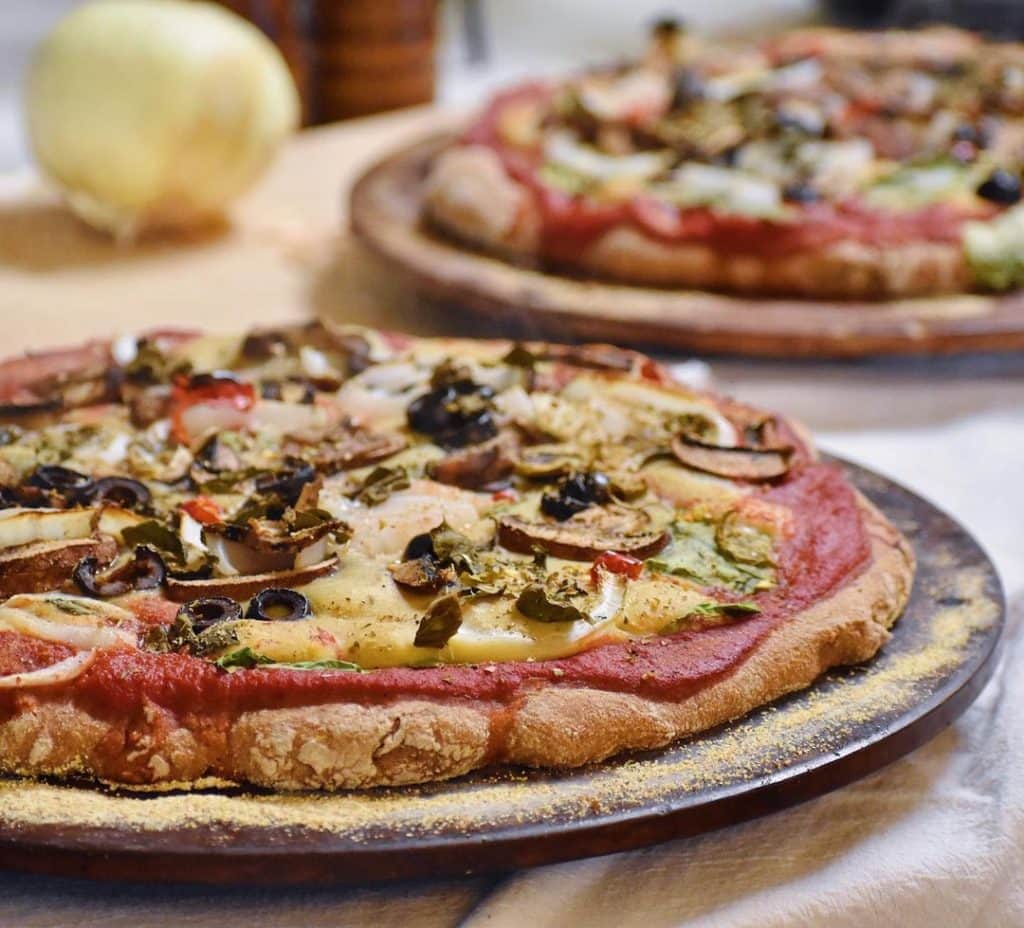 Source: theallnaturalvegan
Here is another tried and true pizza recipe by theallnaturalvegan that is simplified step-by-step for you to recreate. Step one is the dough, followed by a customizable and flavorful pizza sauce, and finally, the cheese made using cauliflower. You can replace the sauce and toppings according to your liking and enjoy this homemade delight for dinner!
81. Vegan Naan Pizza with Pesto and Sweet Potato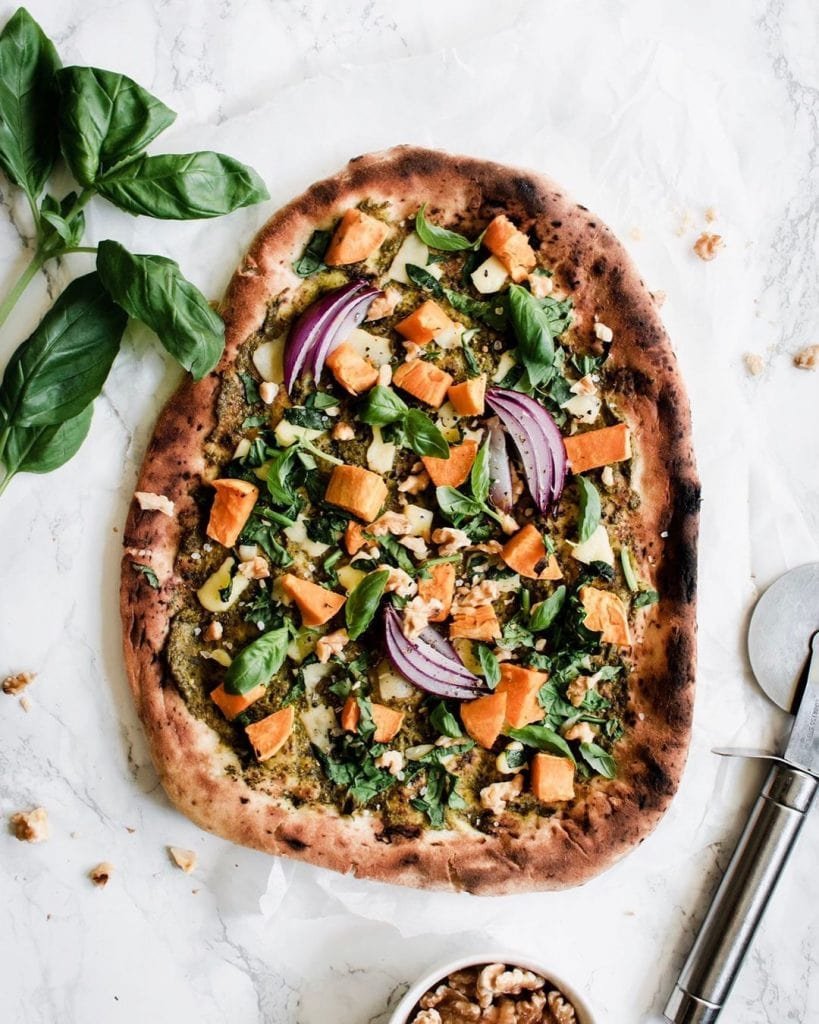 Source: shivanilf
This easy naan pizza recipe by shivanilf is the most extra vegan pizza you will ever have. It is topped with vegan pesto, dairy-free cheese, sweet potato, red onion, walnuts, and spinach. Yes! The pizza is topped with sweet potatoes for a load of some carbs. With a total prep and cook time of just 20 minutes, this pizza is the go-to choice for lazy, tired weeknights. Here is the quick recipe. 
82. Thin Crust Pizza with Butternut Squash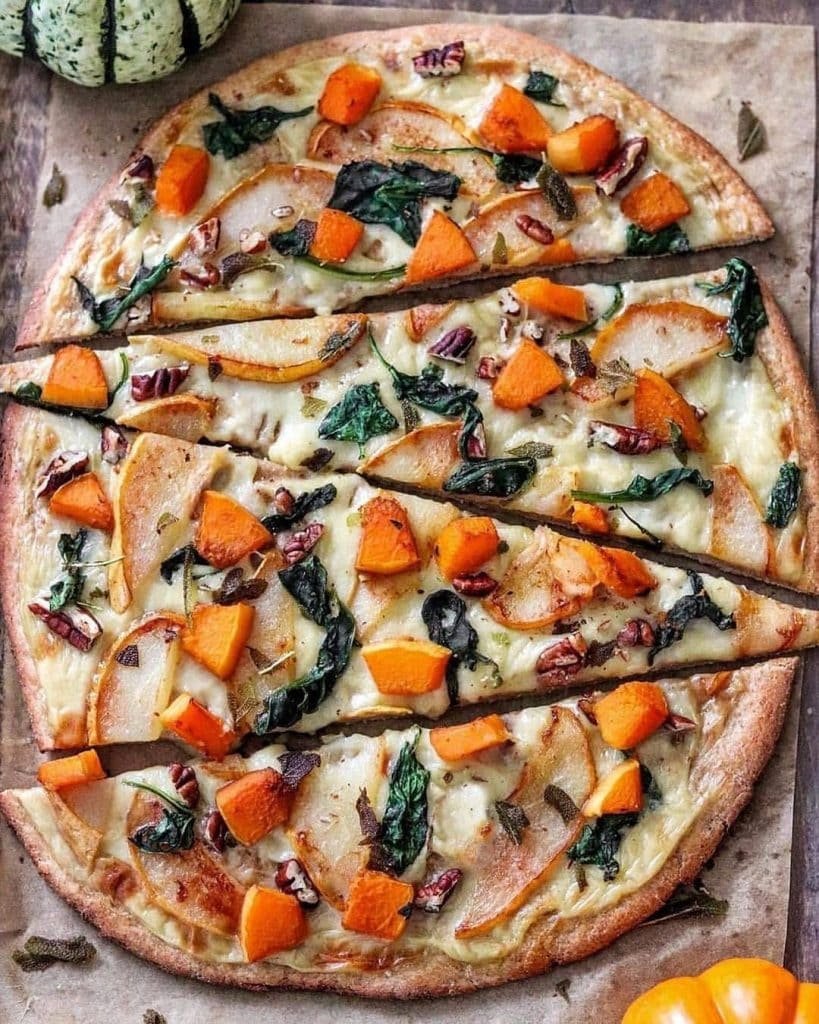 Source: vegansfoodrecipes
Here is a unique and exquisite combination of flavors by vegansfoodrecipes in this thin crust pizza. The pizza has butternut squash, caramelized pear, and spinach topping. The creamiest cheese sauce combined with the luxurious and rich flavors of squash and caramelized pear will definitely make you crave for more! It has a bake time of just ten minutes, so get baking! 
83. Sweet Potato Pizza Vegan Dinner Recipe
Source: naturalveganguy
This sweet potato pizza by naturalveganguy is the most comforting blend of flavors for any night of the week. It is topped with thin sweet potatoes, two handfuls of vegan cheese, fresh spinach, and some green pesto. Bake it for 10-12 minutes until the cheese is bubbly and perfectly melted and the sweet potatoes have become crisp. Enjoy! 
84. Roasted Beet Pizza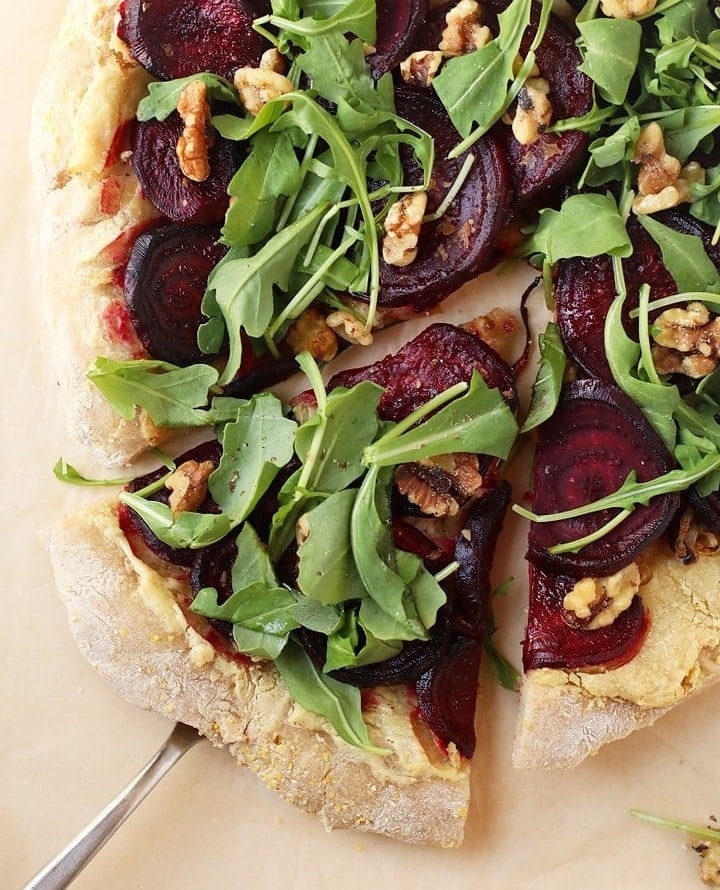 Source: mydarlingvegan
Here is a super fresh, healthy, and unique roasted beet pizza by mydarlingvegan that has a cheesy cashew cream, some roasted beets, and sweet caramelized onions. Walnuts and fresh arugula go on top. Overall, the pizza is a balanced blend of sweet, savory, and super satisfying flavors. Here is the full recipe. 
Vegan Dinner Burgers
Yes, you can enjoy a vegan burger for dinner as well! A bean patty topped with some veggies and sauces, all squeezed between the softest buns is what you need to satisfy your taste buds! 
85. Vegan Nashville Hot Chicken Burger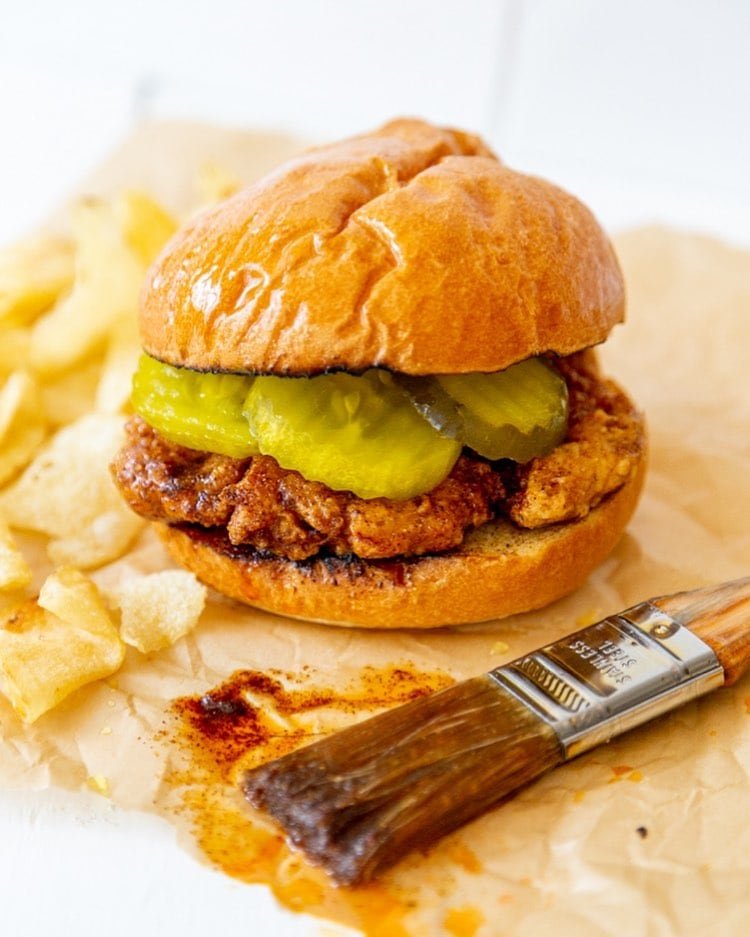 Source: veganosity
Here is the famous Nashville hot chicken turned vegan by veganosity for you to enjoy! It is sweet at first, and the spice builds with each crunchy bite. The burger is very filling, and you can add toppings of your choice, preferably pickles. The soft bun compliments the crunchy chicken very well, and the flavors are to die for! Here are the instructions of the recipe. 
86. Vegan Black Bean Burger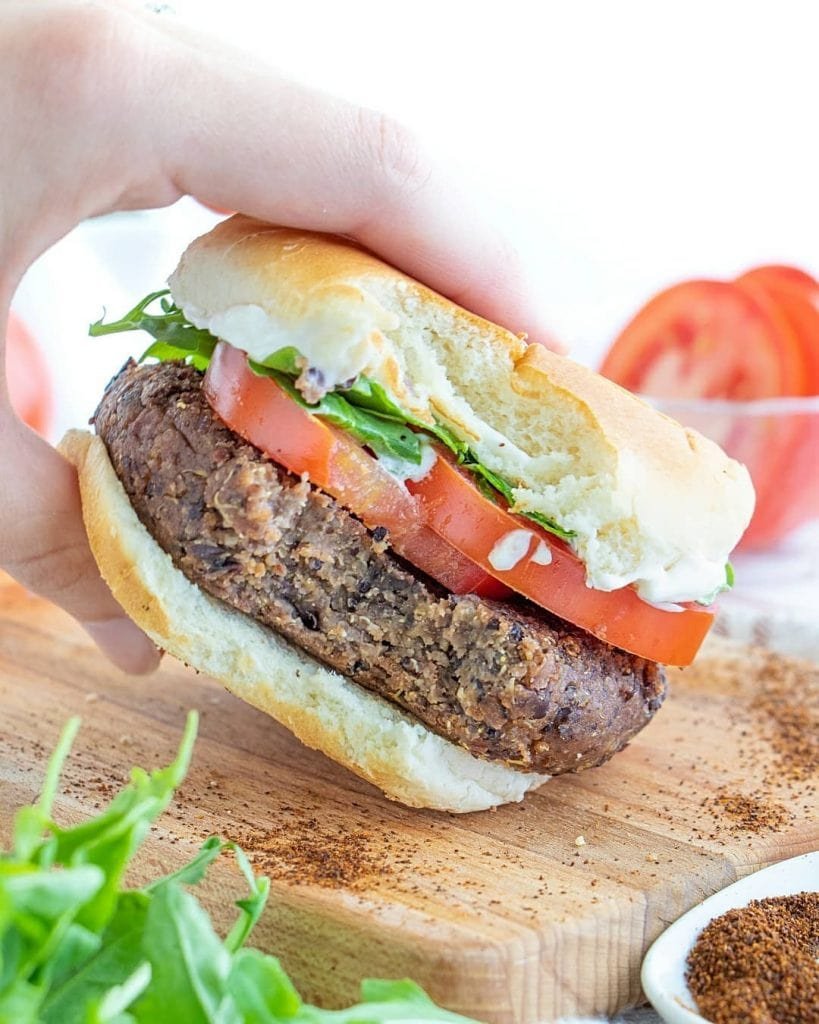 Source: plant.well
Black bean burgers are very popular for their rich flavors and high protein content. This simple and quick recipe by plant.well uses just a few ingredients for the most delicious results. They are spiced with smoked paprika, onion, quinoa, cumin, garlic, chili, and olive oil. Bind this together using bread crumbs and some ground flax, and voila! Check out the recipe here.
87. Quinoa Bean Burger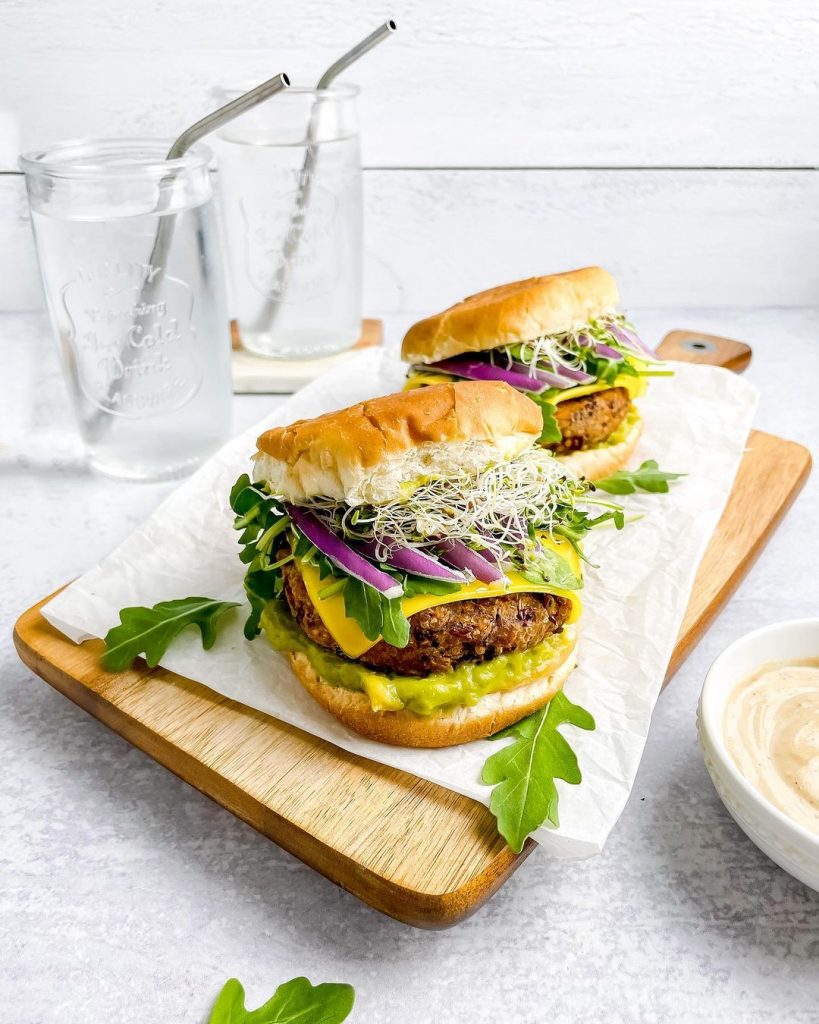 Source: pinchofparsley_
Here is yet another bean burger recipe by pinchofparsley_ that has a quinoa bean patty. It is gluten-free, effortless, and oh so delicious! Top your patty with some vegan cheddar, guacamole, red onions, arugula, sprouts, and some tahini mayo. Your dinner burger is ready and is quite healthy!
88. Avocado Topped Bean Burger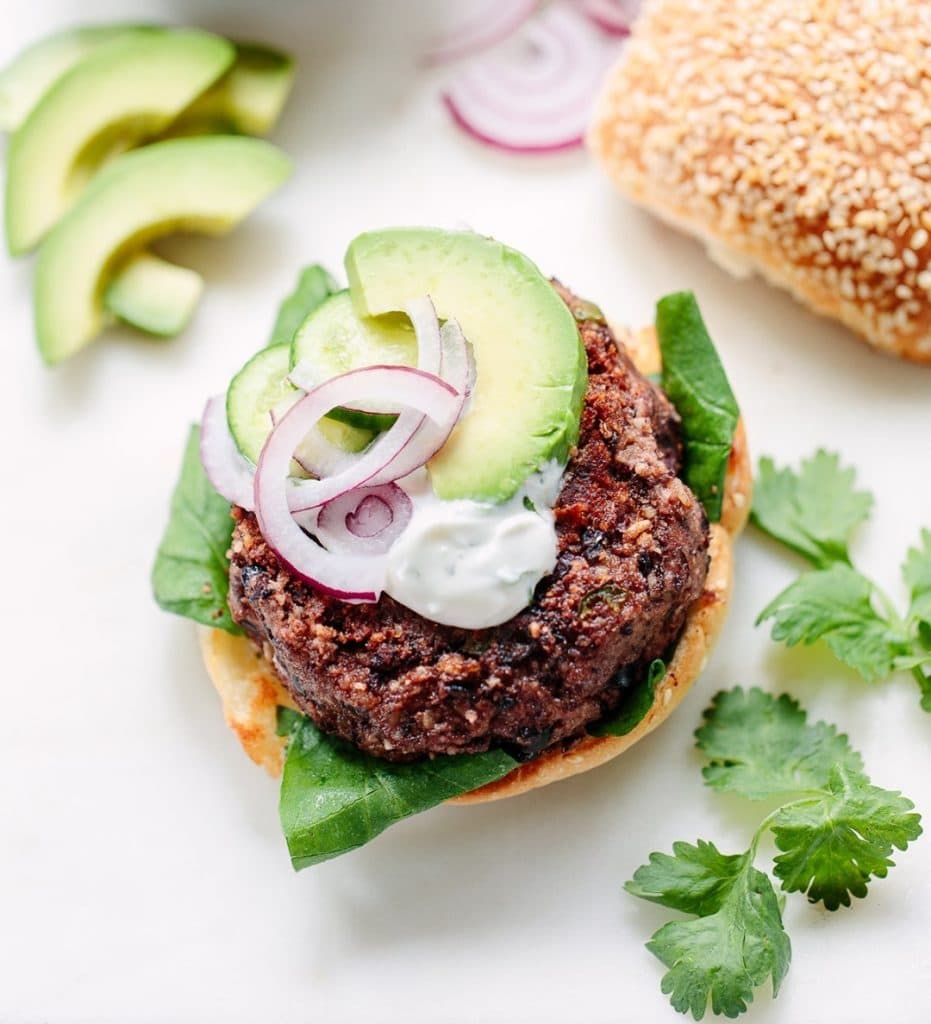 Source: familystylefood
If you are looking for a unique variation to a black bean burger, try out this recipe by familystylefood. These burgers have a satisfying meaty texture and are packed with mouthwatering flavors. Also, you do not have to chill these before cooking as they do not fall apart. It is a quick way to prepare some dinner on a tired weeknight. Slather the patties with some lime mayo and toppings of your choice, and voila!  
Other Vegan Dinner Recipes
If you did not find the perfect recipe in the above lists, don't worry. These miscellaneous vegan recipes are a combination of some of the most popular and some new dishes for you to try! 
89. Loaded Vegan Lasagna
Source: plant.well
This easy vegan lasagna recipe by plant.well is a yummy way to end your day! It has homemade tofu ricotta, dairy-free mozzarella cheese, a tempeh "meat" sauce, fresh basil, and spinach. It is easy to prepare and uses simple ingredients, including garlic, olive oil, oregano, and basil, making this dish so delectable without much effort! Check out the recipe here. 
90. Black Bean Meatballs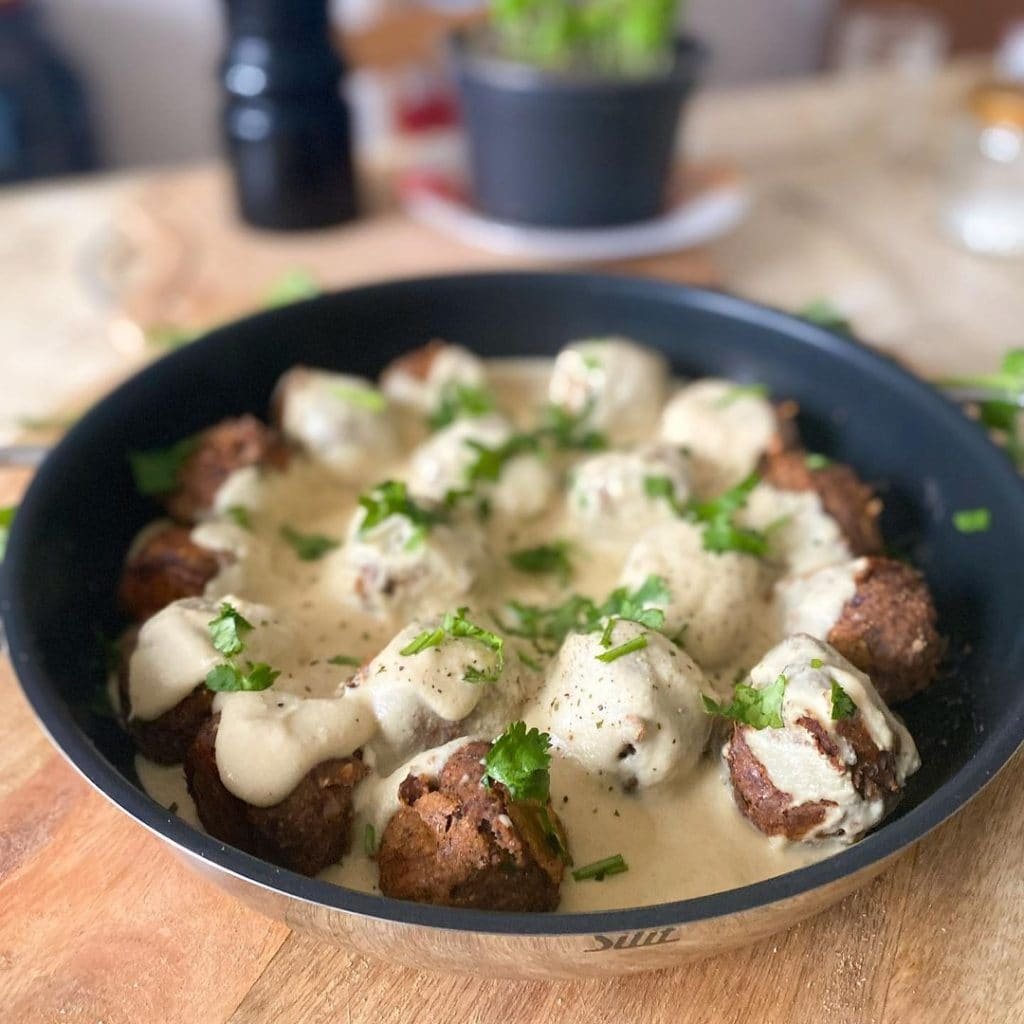 Source: yummyvegan.ro
Here is the vegan take on the classic meatballs that make it the perfect dinner idea for you. These black bean meatballs by yummyvegan.ro are prepared using oats, black beans, onion, garlic, tomato paste, and cumin. The meatballs are topped with a cashew mustard sauce that enhances the flavors of this dish beautifully!
91. Sweet and Sour Chickpeas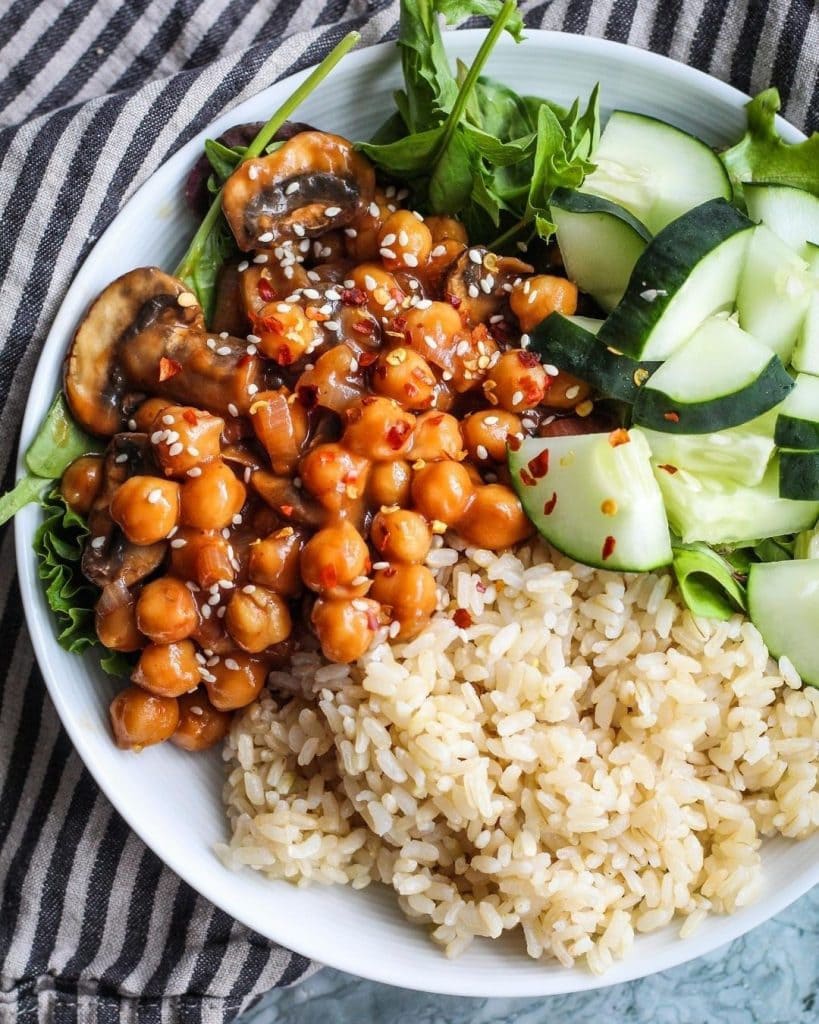 Source: jadeshealthyeats
A plate full of rice, sweet and sour chickpeas and some salad on the side is what you call the balanced dinner meal. This vegan dinner recipe by jadeshealthyeats is a lovely blend of flavors created using onions, garlic, ginger, mushrooms, and broccoli. Top this off with various sauces like ketchup, mustard, soy sauce, maple syrup, garlic chili sauce, and vinegar. Serve the chickpeas hot with rice and some salad side. 
92. Vegan Mushroom Wellington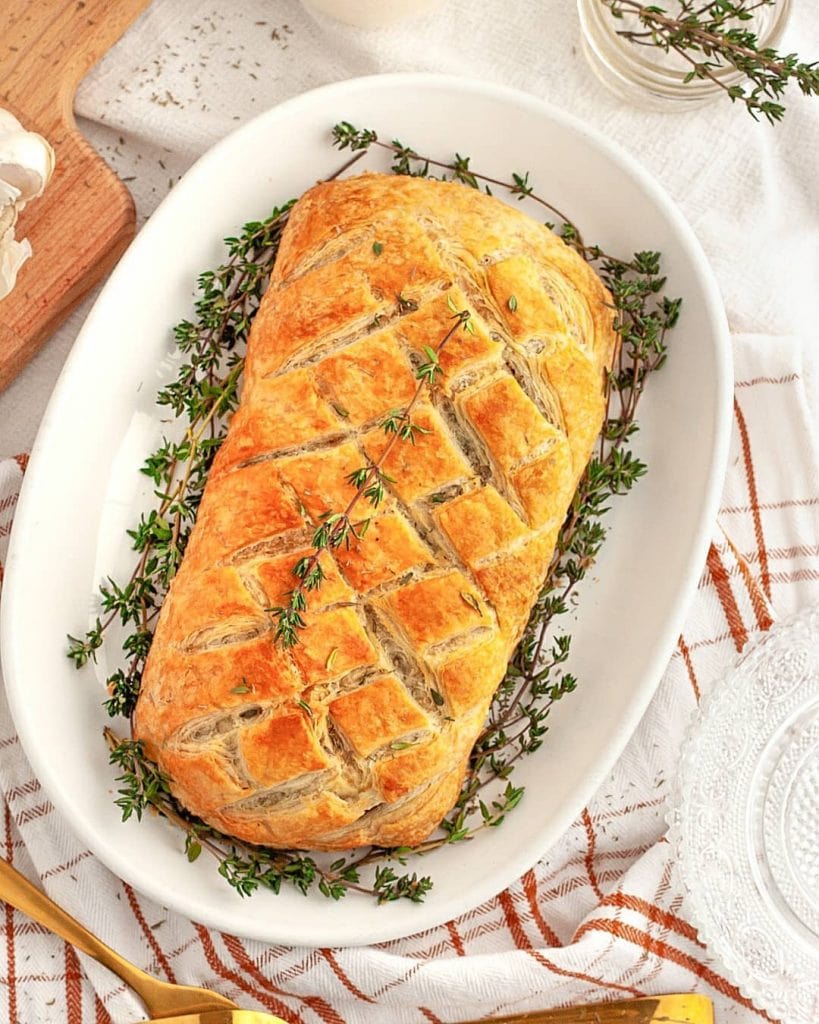 Source: plant.well
These vegan mushroom wellingtons by plant.well are a quick and effortless dinner recipe. It has a buttery puff pastry crust filled with a combination of onion, Portobello mushrooms, spinach, garlic, rice, vegan cheese, thyme, and a dash of mustard sauce. The wellingtons are crispy, loaded with veggies, creamy, and crunchy; what more can one want? Here is how you can make this recipe. 
93. Quinoa Stuffed Squash
Source: plant.well
Here is a colorful and fully-loaded quinoa stuffed squash recipe by plant.well. This effortless recipe has loads of celery, pomegranate, walnuts, mushrooms, parsley, onion, and spices. Thyme, rosemary, sage, and lemon add amazing herby and fresh flavors to the dish. It looks so rich and luxurious and is a must-try savory dinner. Check out the full recipe here.
94. Vegan Tofu Marsala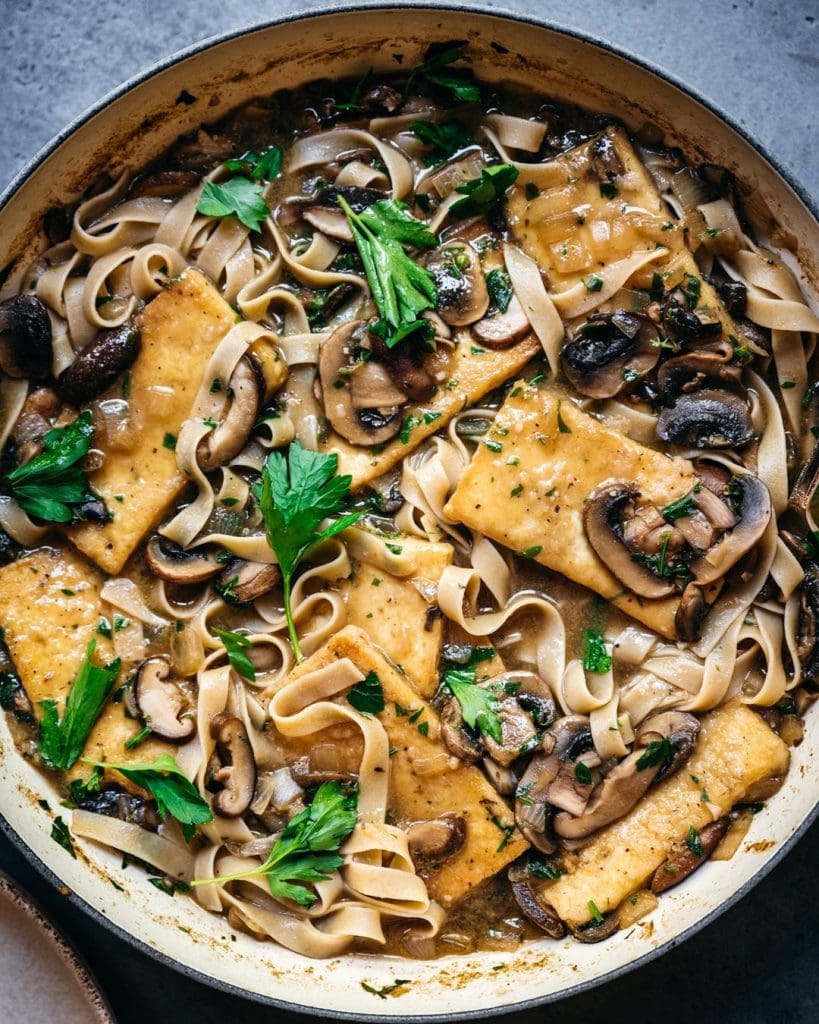 Source: crowded_kitchen
Have you recently given up meat and are craving some of the classic meat recipes? This vegan tofu masala by crowded_kitchen is a must-try recipe for you. With golden-brown, crispy tofu cutlets topped with a rich, creamy mushroom masala sauce, this recipe won't let you miss chicken at all! You can serve it over mashed potatoes or pasta, so do try it out! Here is the full recipe.
95. Vegan Dinner Recipe Teriyaki Tofu
Source: plant.well
I love this minimal effort and maximal flavor, vegan teriyaki tofu recipe. This vegan dinner recipe by plant.well is a delicious and budget-friendly alternative to takeout. It is packed with ginger, garlic, sesame, along with sweet and savory soy sauce, a hint of brown sugar, and rice vinegar. You can also add some veggies of your choice and serve the dish with white rice. Check out the detailed recipe here.
96. Stuffed Sweet Potatoes with Mediterranean Quinoa
Source: shivamelyoga_food
This stuffed sweet potatoes with Mediterranean quinoa recipe by shivamelyoga_food uses a unique combination of ingredients to give a fantastic vegan meal. Some of the ingredients used include chickpeas, garlic, spinach, tomatoes, potatoes, dried condiments, olives, quinoa, etc. It is savory, spicy, and rich in nutrients. 
97. Sweet Potato Black Bean Quesadillas
Source: purelykaylie
These sweet potato black bean quesadillas by purelykaylie are a lovely way to end the day. The crispy tortillas filled with creamy, cheesy sweet potato spread, spicy black beans, onion, and corn give a great flavor. They are served with guacamole, pico de gallo, salsa, and sour cashew cream for a fulfilling experience. Here is the complete recipe. 
98. Lemon Pepper Cauliflower Wings

Source: plant_basedrecipe
Who doesn't enjoy some classic, crispy, and rich cauliflower wings? These salt and pepper garlicky cauli wings by plant_basedrecipe can be fried or baked. They are super crisp and crunchy on the outside and tender on the inside. The wings also have a kick of garlic and onions for a distinguished, yummy flavor! 
99. Hosin and Sriracha Cauliflower Wings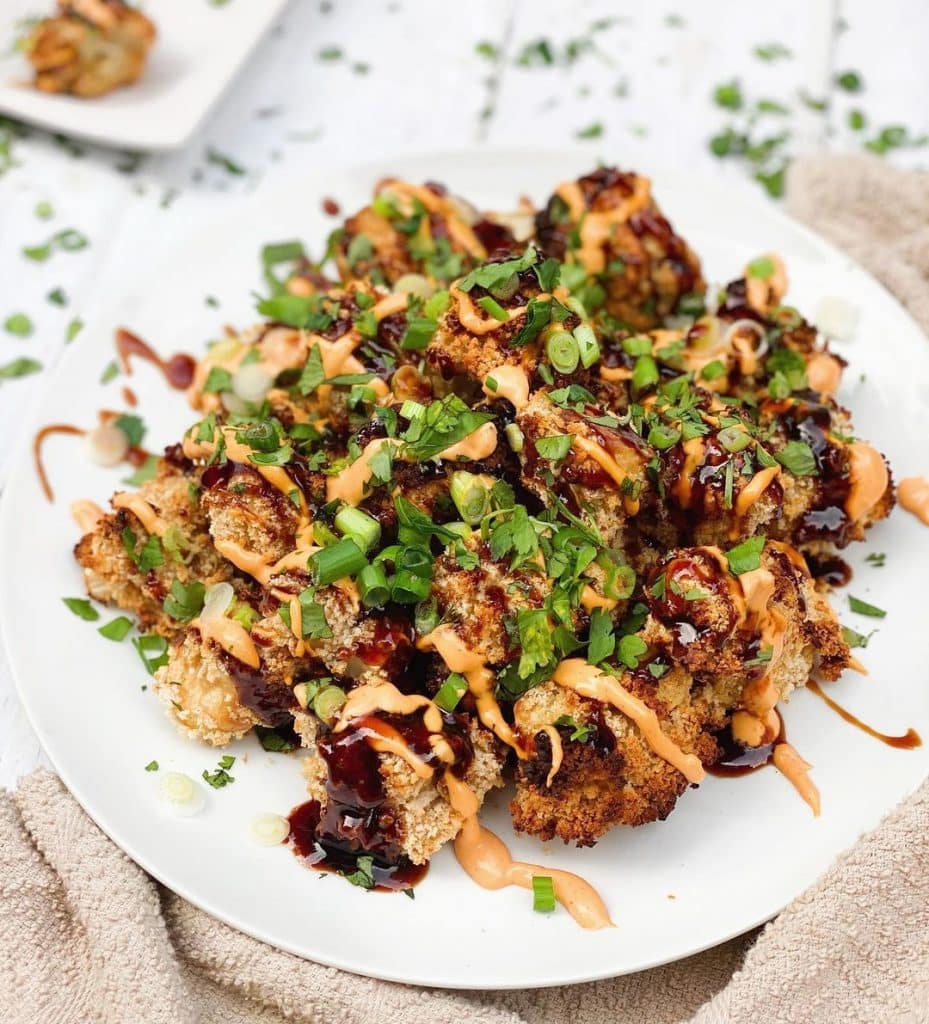 Source: thequirkyveggie
Cauliflower is a popular favorite veggie for vegan-lovers. So, these hoisin and sriracha cauliflower wings by thequirkyveggie are a must-try. This saucy recipe is a perfect side or even the main course for a light dinner night. It is pretty healthy and a very heavenly way of enjoying veggies. 
100. Vegan Spinach Ricotta Cannelloni
Source: vegandemocracy
We are finishing off this list with this delightful vegan dinner recipe by vegandemocracy. This vegan spinach ricotta cannelloni is full of the freshness of spinach and creaminess of cashews. It also has a kick of tanginess from the tomato sauce and overall is a balanced blend of flavors. Your taste buds will experience multiple sensations right from the first bite, and you will surely crave more! 
We hope these ideas will persuade you to cook something new each night of the week, and you will treat yourself to some delicious meals after a hard-working day. We have listed a diverse range of customizable recipes that are effortless, quick, and pantry-friendly. So pick your favorite category and try out a new recipe today!
If you loved these ideas, you can use the Pin image below and save this article on your 'Bullet Journal Themes' Pinterest board.