Do you want to get started with bullet journaling and looking for a perfect bullet journal pen that won't disappoint you? Or, you've been bullet journaling for a while now and want to crank it up a notch by experimenting with some new pens?
Either ways, you've come to the right place. Here's a complete guide to bullet journal pens in which we have covered all the different types of pens that can be a part of your toolkit as you head on your creative journey with your bujo.
Table of Contents
Best Fine Line Bullet Journal Pens

Fine Line Pens, also known as 'fineliners' are one of the best pens to invest in for your bullet journal. Why? Because they can be used to do a variety of things from writing to creating bullet journal doodles.
But, what exactly are fine line pens? They are pens with plastic or fine fibre needle-point tips that generally use water-based ink. What sets them apart from regular gel pens and ball pens is that their tips are very fine. They do come in varying thicknesses, sometimes in a pack of 5 pens with varying tips. However, it's the finer tip pen that is the characteristic of these pens. 
1. Microns

If you've been following doodling artists, you must have seen them using fine tip pens of varying thickness. These are Micron pens and are definitely one of the best pens to try your hands on. Microns by Sakura were originally used for drawing fine lines in technical drawings. 
They are brilliant for fine detailing in art. But you don't need to be an artist to use them. They are fairly simple for you to try your hands on, even if you're just getting started. Invest in a pack of 5 microns and you'll open an entirely new dimension of creativity with the fineliners of varying thickness. 
Best features – 
Filled with archival ink pigment that is waterproof.
Don't bleed through the paper or smear with highlighter markers.
Smooth, skip-free writing and crisp ink colors.
Consistent lettering and lines every time.
Chemically stable, waterproof, and fade resistant
2. iBayam 18-Color Fineliner Pens

If you're someone who loves to add colours to your bullet journal, then these pens are perfect for you. Even if you like to keep your journal minimal, there's a lot of character that you can add with these bold and colourful fineliner pens.
Another great thing about this set of pens is that they have a super fine point tip at 0.38mm. This makes them super suitable for writing notes, hand lettering, and detailed doodles.
Best features – 
Water based ink to reduce smearing and minimize bleeding.
Acid-free and non-toxic ink. Doesn't fade over time.
Strong and durable metal clad ink.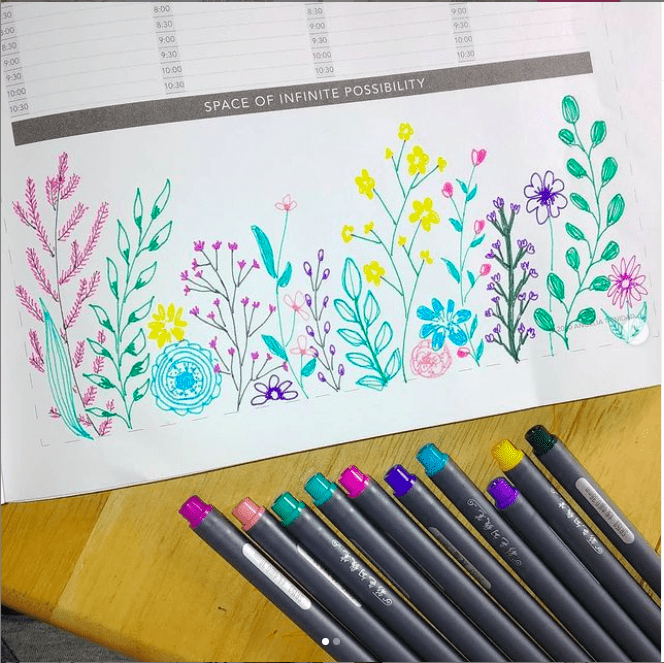 The above image shows the amazing iBayam fineliner pens in action. Do you see how beautiful the colours are? And there are 36 of them! If colourful pen illustrations interest you, you can't go wrong with these pens. 
3. Tanmit 36-Color Fine Point Pens

Talking about adding colours to your bullet journal, isn't it great to have even more options? While some of us might find too many colour options overwhelming, this set is perfect for a little advanced bullet journaling artists as it allows so much more room for creativity.
If you're big on creating your own colour palette, this set has a wide range of shades and hues to experiment with. Just remember that the tips can be quite hard and rigid when they're new, so it'll take some time to get comfortable with it.
Best features –
Premium water-based ink that gives an exquisite colour.
Dries quickly and has little to no bleeding.
36 vibrant, unique colors for building color palettes.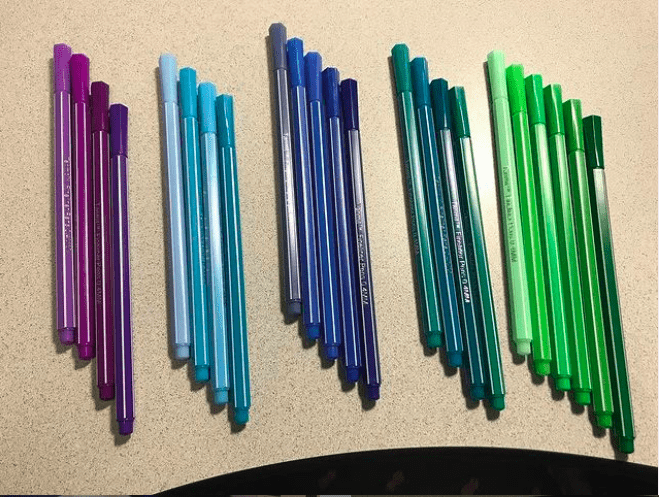 The above picture shows the various hues of the same colour that you get with a single set of Tanmit Fine Point Pens. If you always struggle with finding just the right shade of pen for your bullet journal, you won't be disappointed with these pens. They have all the colours you need to create some amazing palettes.
4. Marvy Le Pen

Looking for a pen that lets you draw some ultra-thin bright vivid lines, this is a perfect choice for it. A pack of 10 punchy and bold colours, it lets you draw as well as write beautifully. It also has an excellent quality ink which doesn't cause any smudging, blemishes or bleeding. They are also extremely durable and will survive extreme cold or extreme summer. However, do note that these are not waterproof.
Best features –
Bright colours that bring life into any page.
Smudge, blemish and bleeding resistant.
Non-toxic, chemically safe and non-odorous.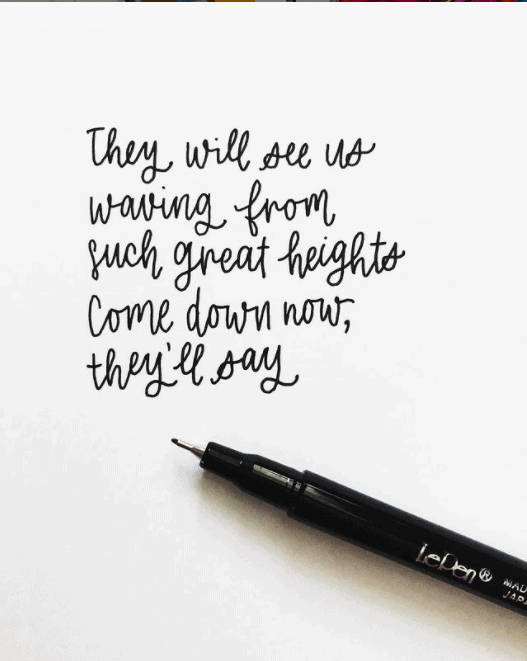 By elm_creative
The above picture shows a quote hand lettered with Marvy Le Fine Tip pen. There's something about fine line pens that makes all writing look beautiful. Not only can you use them to write quotes and make notes, you can also create some amazing hand lettering artworks for your bullet journal cover pages. See an example of hand lettered quote created by using colourful Mary Le Pens. As you can see, the colours are brilliant and bright.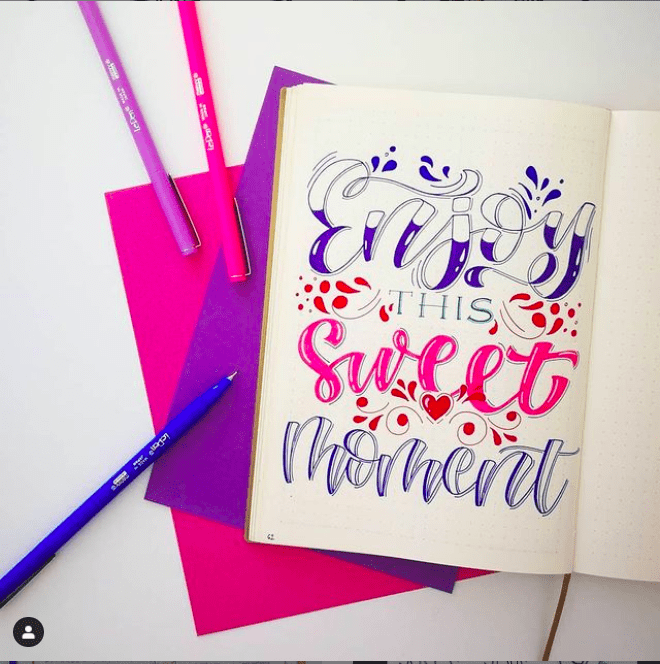 5. Staedtler Triplus Fineliners

Are you someone who prefers triangular grip to write/draw for longer hours? I remember really liking triangle grip pencils as a kid. I've not used the grip for a long time but I do not that it can feel very comfortable. Staedtler Triplus Fineliners are one of the few fine tip pens in the market with this grip.
 These pens come in sets of 10, 20, 30, 36, 42 and even 60 pens. We recommend that you give their coloured version a try. All the sets come with an ultra fine 0.3mm tip that allows superb detailing. However, do note that the fine tip is prone to breakage and should be handled with care.
Best features – 
A wonderful triangular shape grip.
The ink dries fast and lasts long.
Top choice for ultra fine detailing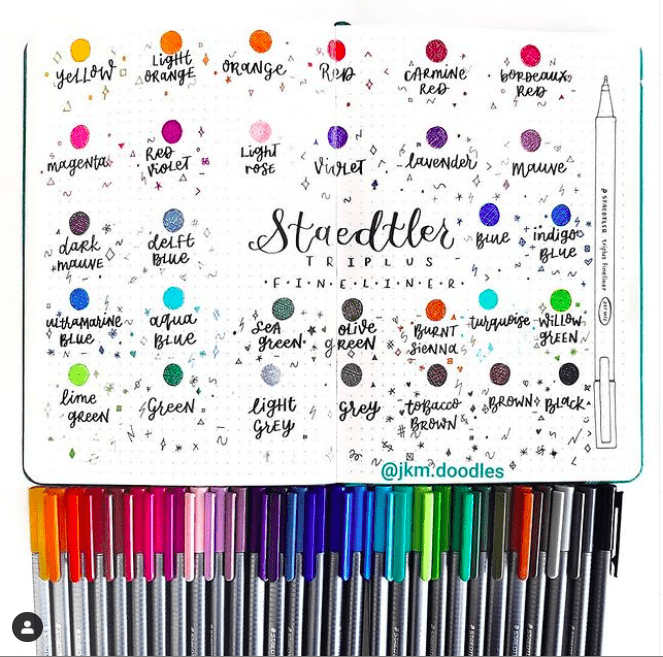 By jkm.doodles
The above picture shows swatches of all the colours that you get if you buy Staedtlr's pack of 30 pens. All the colour shades are very artistic and you can use them to create anything from Mandalas to illustrations.
Best Brush Pens For Bullet Journal

Brush lettering is definitely one of my favourite types of hand lettering styles ever. For a long time, I used to see those beautifully lettered quotes on Pinterest but I had no idea that they were created using these special magical tools called brush pens.
So, what exactly are brush pens and what makes them so exciting? Well, brush pens are special types of pens that have tips that are similar to a brush. They don't have bristles. But the entire tip is able to bend like a brush, allowing you to make strokes of varying thickness with a single pen. Brush pens are popularly used for brush lettering. In this type of hand lettering, the down strokes are thick while the up strokes are thin, creating beautiful typography.
Of course, the pens can also be used for illustration and colouring. But if you get yourself brush pens, definitely try your hands at learning brush lettering. 
If you love brush lettering, you will become a fan of these pens as soon as you try them out. When I started brush lettering, I didn't invest in Tombow brush pens as they are relatively expensive. But when I learnt the basics, I felt ready to try them out. And I was super delighted by the results. 
In retrospect, I believe that these pens are perfect for beginners. Even if you're just getting started with brush lettering, they will help you get a better grip at your skills (literally). I am also a big fan of their colour palettes. The only drawback is that it doesn't last very long.
Best features – 
High quality inks that don't bleed, even under spillage.
Strong, durable brush tips.
Comes in creative, artistic colour palettes.
6. Tombow Dual Brush Pen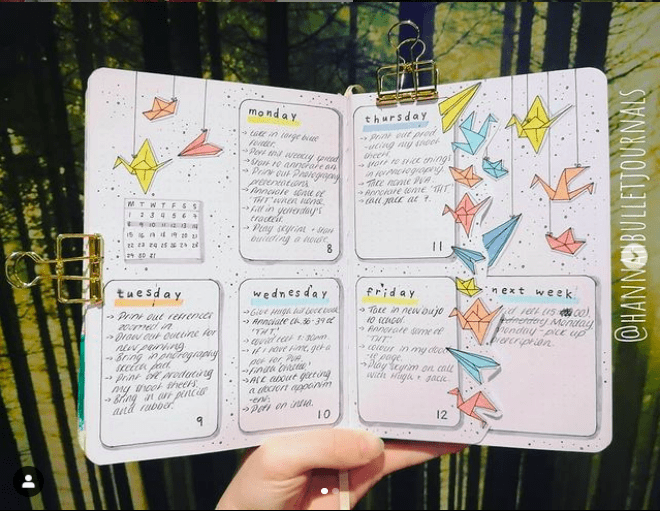 The above bullet journal theme is created with the amazing Tombow Dual Brush Pen Pastel palette. Apart from brush lettering, they can also be used to fill in colours in the doodles and highlight headings.
7. Tombow Fudenosuke

Tombow brush pens have a good reputation among bullet journaling artists and Fude pens are a league of their own. This pen set comes with a hard tip or the soft tip. Moreover, the softer pen among the two can be used to create lines of varying thickness by increasing the pressure. This means a single pen can give you fine, extra-fine and medium levels – doing a job of three different pens.
Has a hard tip pen that is useful for consistent and prominent lines.
Has a soft tip that can be adjusted much more by applying pressure.
Black pigment ink is archival and wonderful in color.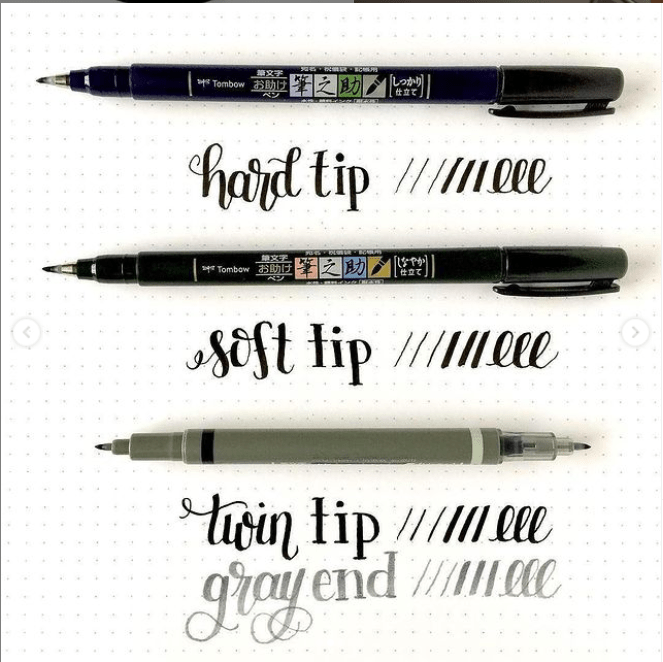 If I had to recommend you only a single pen to get started with brush lettering, I would tell you to invest in Tombow Fudenosuke. They are perfect for anyone, be it a beginner or a professional artist. There's also a variant with twin tips that you can try. But for most things, a hard tip and a soft tip pen will suffice. 
8. Faber-Castell Brush Pens

There's a mixed opinion about these pens from the artists on the internet. While some find these pens dry and brittle, others love it for its colours and find it suitable for illustrations. It has a medium, consistent brush tip that can be used for lettering as well as to add detailing to your artworks. Most artists use these pens to add details to their watercolor illustrations as these pens are waterproof. So feel free to use them to add more character to your bullet journal but remember that they might bleed. Only use them with high quality bullet journal pages.
Waterproof ink that lets you add detailing to your existing artworks.
Has very different and rare colours that are perfect for illustrations.
Has a consistent and strong brush pen.
By pywrites
The above picture shows Faber-Castell Brush Pens in action. As you can see, they are perfect for blending. The colours are also very unique and different. There are many colour palettes to try out from basic black and greys to bright pop colours.
9. Caliart 34 Dual Brush Pen Art Markers

Looking for a kid-friendly collection of colored markers that can do everything from colouring to writing? Then, these Caliart brush pens are perfect for you. The set of these brush markers comes in 34 assorted colors which give you an amazing range of hues and shades to play with. Use these colours to create interesting bullet journal keys to mark your to-do lists. 
Just like Tombow brush pens, even these markers are dual ended – you get one fine point felt-tip, while the other is a brush pen. If you are an organisation freak, you will be happy to know that these pens are color-coded and numbered. You will find it a lot easier to rearrange them in their case after use. 
Best features –
34-piece set with an amazingly wide range of hues.
Dual-ended – you get a fine point felt-tip pen and a brush pen in a single pen.
Water-based, non-toxic and odorless ink. Perfect for kids.
The pens are quick drying and don't smudge or smear on the page. 
Easy to blend which makes them perfect for making gradients.
10. Pentel Arts Pocket Brush Pen

Want a simple brush pen that you can use to draw bold dark lines? Pentel Arts Pocket Brush Pen to the rescue. The versatile pen comes with permanent ink that is both water and fade resistant. And guess what! It comes with two refills which means that your single purchase will last you a long time. (Please note that the pen comes empty, which means that there's only one additional cartridge).
You can use it for your bullet journal if you like to add an artistic touch to it. These pens are known to be perfect for cartooning and fine detailing.
Pigmented, permanent ink that flows smoothly and consistently.
Nylon brush tip creates free flowing lines and strokes.
Additional cartridge to ensure that the pen lasts for a long time.
Best Gel Pens For Your Bujo

Gel pens remind me of my school days. I remember how we were only allowed to use pens in our notebooks after we had entered the fourth grade. And even after that, we were supposed to use gel pens and not ball pens. I used to love writing with gel pens as I always felt like they made my handwriting look more beautiful. 
But of course, gel pens can be used to do more than just writing. If you want to keep your bullet journaling practice super simple, then gel pens are a great option. 
11. Sakura Gelly Roll Moonlight Pen Set

These gel pens have been around for a long time. In fact, they are a 90s class. The only drawback is that they take some time to dry but the lines are consistent, smooth and long lasting. I first came across Sakura Gelly Roll pens when I was looking for a good quality white pen to work with. Their white pens are excellent for adding shades to your lettering and artworks. They are a great option if you work on bullet journals with black pages.
The moonlight pen set on the other hand is packed with some dreamy colours. These pens can create magic on dark backgrounds as well as white papers.
Top features – 
Set of 12 assorted colours with 10 moonlight shades and 2 white shades.
Pens contain luminous gel ink that glows under black light.
Brilliantly opaque on black or white paper.
0.5 mm tip gives a creamy, smooth, consistent bold line.
Dense ink that doesn't bleed through most papers.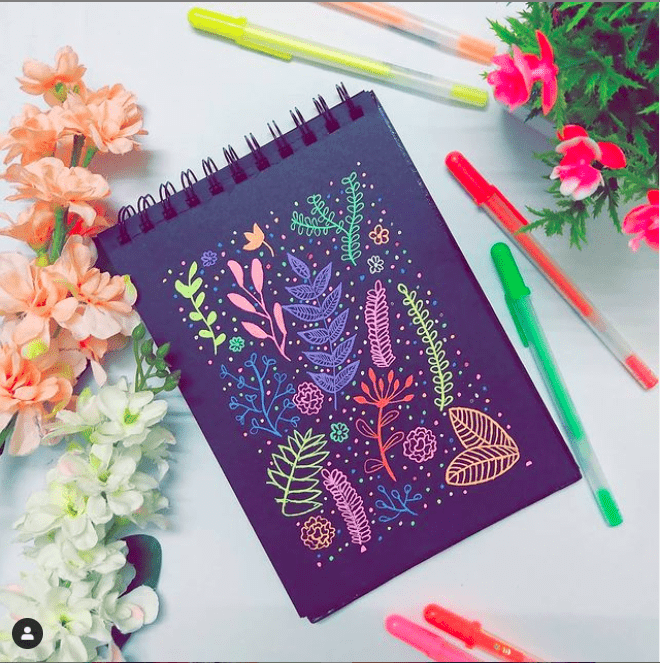 The above picture shows the pen in action on dark paper and the next picture shows how it looks on white paper.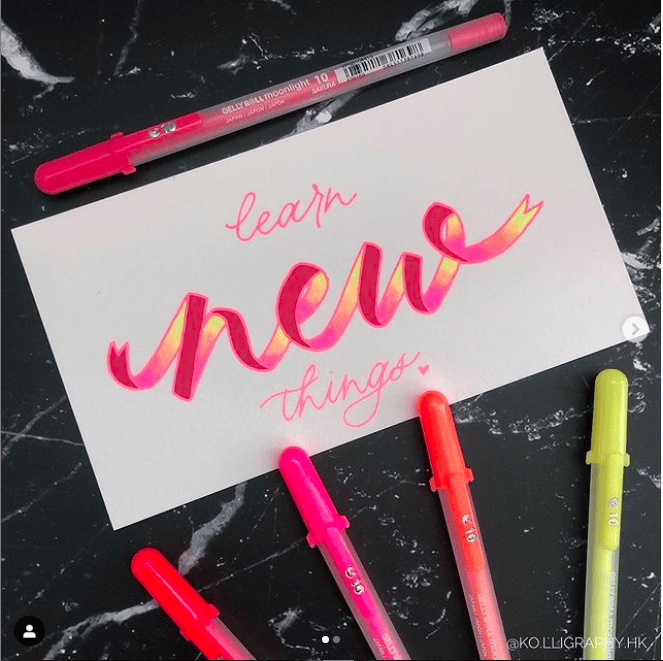 I truly believe that these colours are worth the investment just because of their unique hues and colours. 
13. Uni-Ball Signo 207 Retractable Gel Pen

As much fun as fine point pens can be, they are definitely not for everyone. If you are someone who likes to go bold and big with your writing, then you will love using a Uni-ball Gel Pen.
These pens are exquisite as they come with a richly pigmented ink and the thickness of the tip is a bold 1mm. Writing with this pen is super comfortable as it has an excellent grip.
Archival, acid-free ink that is resistant to water and fading.
Designed to be anti-fraud. Sinks into paper quickly.
Stylish design that gives a good grip and modern look.
Retractable nip that appears with one click.
13. PILOT G2 Premium Rolling Ball Gel Pen

Pilot pens have the reputation of being of the most classic writing pens in the market. They can come in black as well as coloured ink options. To write with these pens is truly an experience and they last a very long time if you take proper care of them. 
The thickness of the pin is 0.7 mm, which is neither too thick nor too thin. If you want to primarily use your bullet journal for note-taking, then these pens are the best fit for you. The pen also has a rubber comfort grip which gives you more control while writing. They are retractable pens so you won't have to worry about losing the pen cap. And the best part is that you can further extend the pen's life as they are refillable. 
Best features – 
Pen ink flows smoothly on paper and doesn't dry out or swear.
Proven to be the longest writing gel pens.
Pens are retractable and refillable.
Has a 0.7mm tip which is perfect for writing.
14. Pilot Frixion ColorSticks Erasable Gel Ink Pens
Do you have perfectionist tendencies? Do you often worry about messing up your bullet journal? If yes, then these pens are a blessing for you because they are erasable! Yes, you read it right. You won't have to worry about making a mistake ever again. 
Best Fountain Pens For Bullet Journal

For most of us, fountain pens trigger an instant feeling of nostalgia. If you love all things old school, then you can consider using fountain pens for your bullet journal. Not only are they amazing to write with, they result in the most glorious strokes. 
Fountain pens glide effortlessly over the page as they have liquid ink. If you want to experiment with different types of handwriting, you can try varying the nib, hold, and angle of the pen. 
A single fountain pen can last you a lifetime, so they are definitely worth the investment. Most branded fountain pens are carefully designed and are an artistic masterpiece in themselves. 
15. PILOT Varsity Disposable Fountain Pens

If you want to experience the delightful feeling of writing with a fountain without spending a fortune, then these pens are perfect for you. Unlike traditional fountain pens, they are pre-filled, convenient & easy to use. They come in a set of 7 – black, blue, red, green, pink, purple, & turquoise ink. They are one-time use fountain pens. Even though they come with liquid ink that you can see emptying as you use the pen, you can't refill it. One thing is for sure though, you can enjoy an old school writing style with this fashionable disposable fountain pen.
Best features –
Comes in a set of seven beautiful assorted colours.
Pre-filled disposable fountain pen is ready to use and requires no maintenance.
Visible ink supply mark on the pen lets you see how much ink is left.
16. Lamy Safari

Lamy Safari fountain pens are a brand of their own as they are a timelessly modern pen. You will get the feeling of possessing the best quality fountain pen without having to go deep in your pocket. Of course, they are more expensive than other pens but that's only because of the build of the pen. They have a larger nib that is more comfortable to write with, but is also expensive. The overall matte finish of the pen is also super classy. 
Includes A Z24 INK CONVERTER
Fine point, black coated steel nib.
Includes one Lamy T10 blue cartridge.
17. Pilot Metropolitan

Another inexpensive pen for your bullet journal, this one has such a smooth writing texture, you would want to use it every day. If you are someone who likes to journal first thing in the morning, this pen will get your thoughts flowing and make your journaling session feel like a treat. These pens are also one of the most good looking fountain pens among the ones mentioned in this list. If you want a typical old school vibe, go for these pens. 
Best features –
Brass barrels, stainless steel accents and sophisticated styling.
Comes with 1 Pilot Black Ink Cartridge And 1 Pilot Press Plate Converter.
Comes in two options – Medium point and Fine point. Note that Japanese Medium is Western Fine. So, choose accordingly.
18. Pilot MR Retro

The best thing about this fountain pen is that it will feel weightless even after hours and hours of use. Think of this inexpensive pen as a great way to maximise your bullet journaling efficiency. The pen is a great choice for you even if you're just getting started with fountain pens as they come with a small guide on how to refill the pen. 
Best features –
High quality stainless steel nip that comes with the accent ring that adds the 'retro' feel. 
Can be used with ink of any colour.
Comes in many colours of outer case.
 
Best Sketch Pens For Bullet Journal

Well, we have all used sketch pens as kids. And most of us loved them! They are colourful, easy to use and can be used for almost everything. Your world of sketch pens may have just included simple sketch pens designed for kids. But there's a lot more to sketch pens. Let's look at some of the best picks.
19. Paper Mate Flair Felt Tip Pens

Paper Mate has been a trustable brand for a long time now and their series of felt tips pens are one of the best in the market. Why? Simply because they have the best quick-drying, water-based ink in 12, 24 or 32 colours. They are specially known for their 5 signature Candy Pop colours. The 0.7mm thickness of the pens is perfect for drawing a perfect medium line.
Best features – 
Perfect to draw, doodle, design, and color.
Point guard ensures you won't have any fraying on tips.
Has a huge variety of vivid colours.
20. Staedtler Pigment Liner Sketch Pens

Owning anything Staedtler definitely feels amazing! Afterall, they are one of the most reputed stationary brands out there. Did you know that just like fineliners, even sketch pens can have varying thickness? Well, I didn't know that either till I came across these amazing sketch pens by Staedtler. These pens go from a width of 0.1mm to 0.7mm, all having black ink. 
They are recommended for bullet journaling because their ink quality is excellent and they give the most crisp lines that appear super neat. You can even use them with stencils. 
Best Feature – 
Fine liner for writing, sketching and drawing.
Long metal tip, ideal for use with rulers and templates.
Can be left uncapped for at least 12 hours without drying up.
Erasable when used on the drafting table.
21. Sharpie Pen, Medium Point

These pens have been around for a long time so they are well-tested to give a good performance. They are known to be bold so they are perfect for drawing gorgeous thick lines. Another great thing is that they come in such a wide variety of colours!
The ink doesn't smudge or leave any random stray marks. You can comfortably use it for your bullet journal entries, layouts and boundaries. The pens are bold and let you form a strong grip so that you can write for long hours.
Best features –
Versatile tip that can be used to create lines of varying thickness. 
Bleed-free and quick drying ink won't bleed through paper.
Fine point creates precise, nuanced lines for dazzling drawings and coloring pages.
Bright quick-drying, acid-free ink.
Brilliantly pigmented and exceptionally bold.
22. Crayola Broad Line Markers

For many beginners to brush lettering, Sharpie pens work like a cheat sheet. This is because, even though they are sketch pens, they can give felt-tip like lines. You can of course use them as simple sketch pens as well. 
Did you know you can use these for brush lettering? Exciting, right?  I love them because they are inexpensive, flexible, and work great on most paper. Plus, there's a wide range of colors in the big pack. What's not to love?
Bullet Journal Pens Combos

23. Dainayw Hand Lettering Pens

After looking at all the amazing types of pens mentioned above, do you feel like you want a little bit of everything? Well, your prayers are answered. The hand lettering pens by Dainayw have the best of everything!
A single set of pen comes with eight pens of varying tips and point sizes. This includes fine line pens of thickness from 1 mm and 3mm. It also has an extra-fine point, fine point, medium point, brush tip, and soft brush tip pens. Imagine how amazing it will be to explore the different dimensions of lettering, journaling and doodling with these pens! 
Best features –
Highly pigmented, non-toxic and odorless black ink.
Pens are labeled to avoid any confusion. 
Well-suited for beginners who want to try different styles of pen for the first time.
Flows smoothly and doesn't bleed.
 
Artistic Watercolour Pens For Bujo

24. Pentel Arts Aquash Water Brush Assorted Tips

This one is a bit of an outlier, it is technically a pen, but it is much different than your standard bullet journal pen. How? Because these pens are just used to fill in water. And then they are dipped in watercolor or gouache to paint or write. You can also add ink to the barrel instead of water.
Best features – 
Fill the barrel with water and blend watercolors.
Durable nylon tip will give a sensitive response.
Allows both delicate lines and pools of colors.
25. Kelly Creates Pens

Kelly Creates Multicolor Small Brush Pens 10 Pcs Express your creativity in a colorful style with this brush marker set from Kelly Creates. These small brush markers are perfect to create fine lines or dense strokes with utmost precision. 
Best Highlighters For Bullet Journal

Highlighters are another class of must-have pens for your bullet journal. They are great for adding colour accents to hand lettering or bullet journals. You can use them to decorate your bujos and highlight important parts of your to-dos and notes.
26. Stabilo BOSS Highlighters

Stabilo BOSS Highlighters have a reputation of lasting for a long time. In fact, you can leave them without cap on for about four hours and the ink won't dry out. For this reason, they are an excellent choice for long term use. 
Another great thing about these highlighters is the colour range in which they come – their pastel colour palette is pretty cool. They also have an amazing Neon colour palette.
Best features –
Wedged tip draws broad lines, highlights and underlines.
Lets you draw lines with widths of 2mm and 5mm.
Adding colour accents to hand lettering or bullet journals.
Only highlighter available in 9 attractive colours.
Refillable water based ink.
27. Zebra Midline Double-Sided Highlighter

The best thing about these highlighters is that they feature a double-sided design that offers both a chisel tip and bullet tip in one marker. Its mild, water-resistant color shows up softly on paper to create a unique effect. They also come in pretty unusual colours that are perfect for taking notes and for decorating the bullet journal. Just note that the chisel tip of these pens is rough when compared to stabilo boss and staedtler highlighters. You might find the colours a bit too dark and they might bleed on thin papers.
Best features –
The colours are really pretty and unique as compared to regular neon highlighters.
Minimalistic and sleek. They can be carried easily inside a pouch.
Comes in a total range of 25 colours but you can pick smaller sets of 5 colours also.