The dreamy month of April is almost here. When I think about April, it feels like an amazing time of growth and moving forward in new ways. Perhaps, it's the spring energy. In this compilation of April bullet journal quotes, I've tried to pick ideas that perfectly capture the feeling of April.
We also have another article on April Bullet Journal where you can get ideas for everything from themes, monthly cover pages, weekly layouts and trackers. Wish you a joyful spring. 
Now, let's walk you through some quotes that will be perfect for your April month BuJo.
1. Don't Worry Bee Happy quote
When you think of spring time and blooming flowers, don't they automatically remind you of the buzzing bees. This April cover page idea by bullet_journal_blog_offical captures the essence of spring and represents the joy of honey bees in this month. There's a whole lot of yellow screaming – Don't worry, be happy! 
2. Adjust Your Focus quote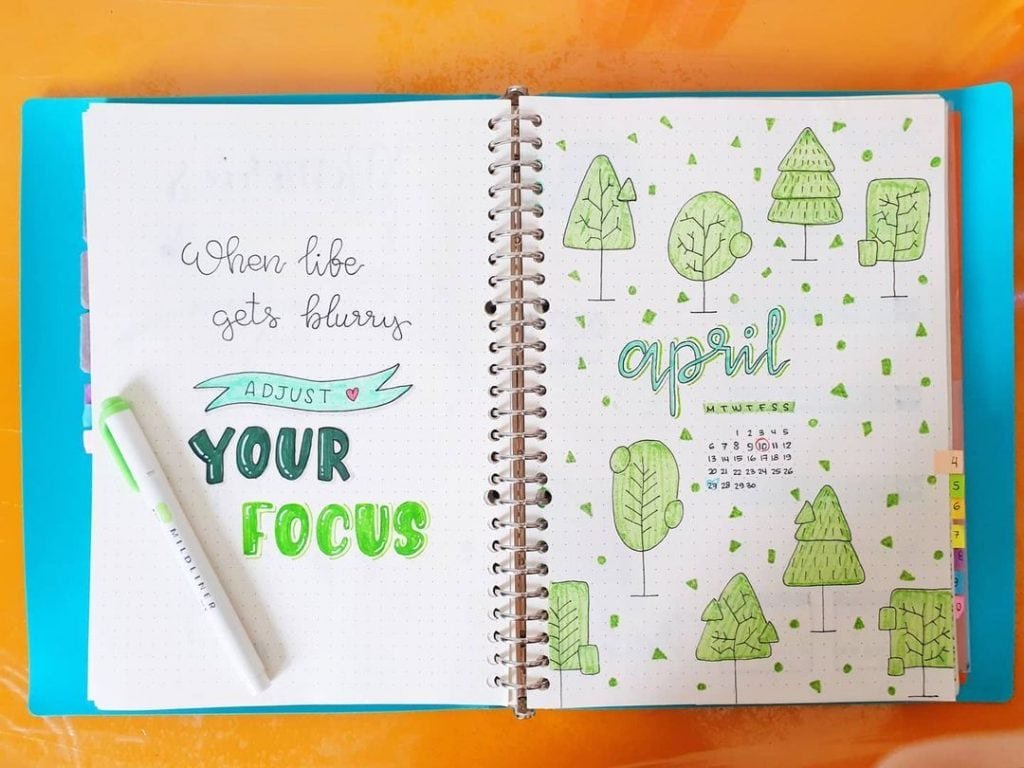 The start of a new month is a great time to re-adjust your perspective about things and this bujo cover by sweetcloverjournal reminds you of just that. Have you ever taken a walk in the forest and felt like the nature rejuvenated you? That's the feeling behind this quote – When life gets blurry, adjust your focus. Take a walk or two if you need to. 
3. God qualifies the called quote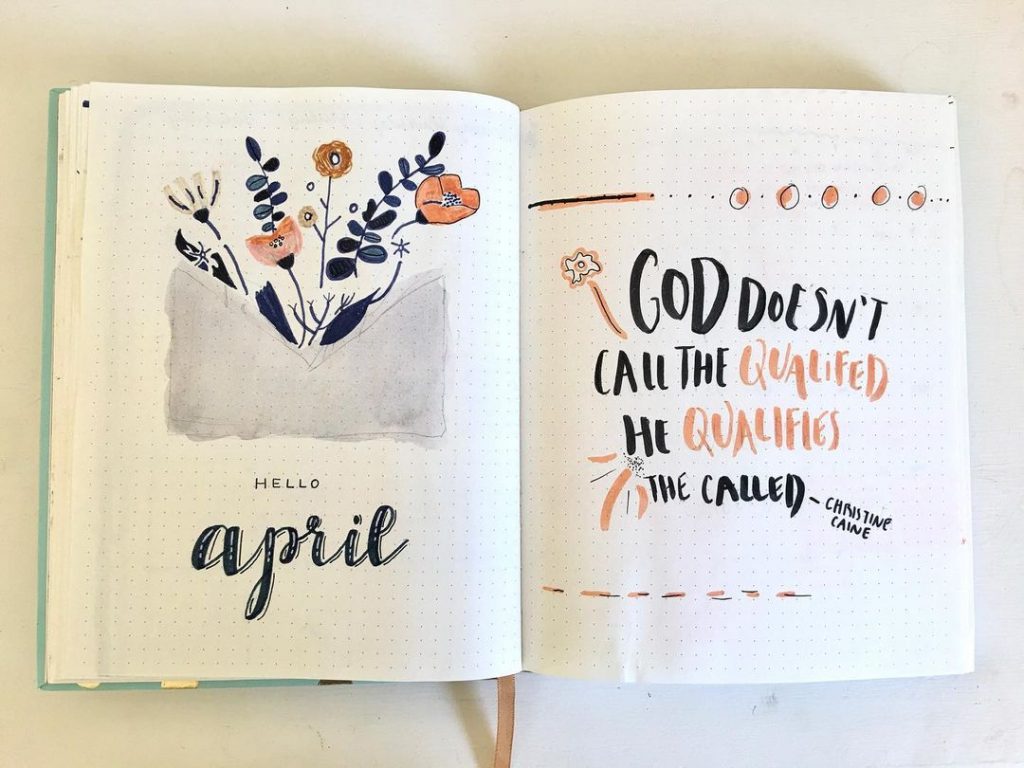 Sometimes even when we are presented by an amazing opportunity, we hold ourselves back because we don't think we are capable enough. This cover page by _annas.artworkz has one of the deepest and amazing quotes captures the spirit of spring. When the god calls on us for an opportunity, don't waste your time thinking if you're good enough. You are! And everything that you need to learn, you can do that if you believe in yourself and keep an open mind.
4. So Many Reasons To Be Happy quote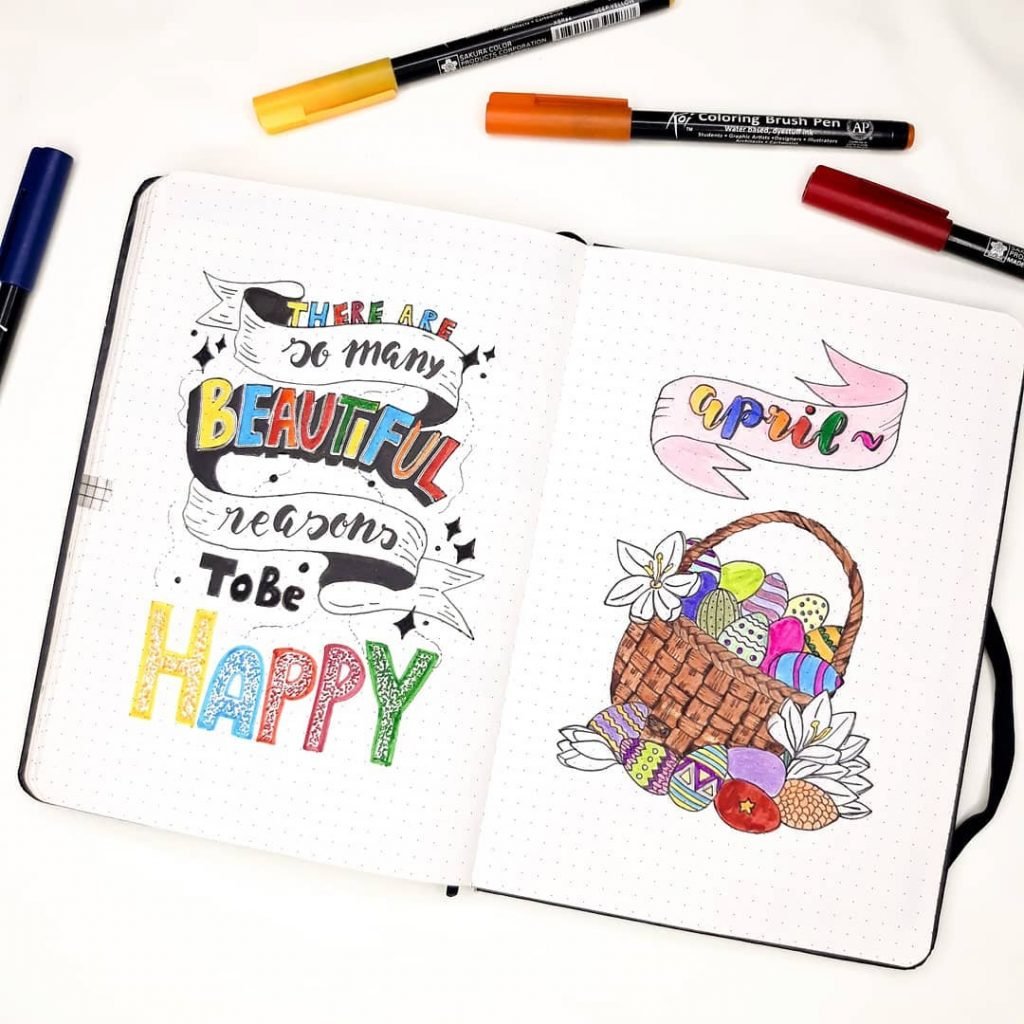 We are the creators of our own happiness. A part of us knows that. But the moment we are faced with new troubles, we tend to forget all about it. This beautiful quotes page with April Month Cover by yita.journal is a wonderful reminder that even if some things are not how they might seem, there are always many, many reasons to be happy!
5. Remove Toxic Energy quote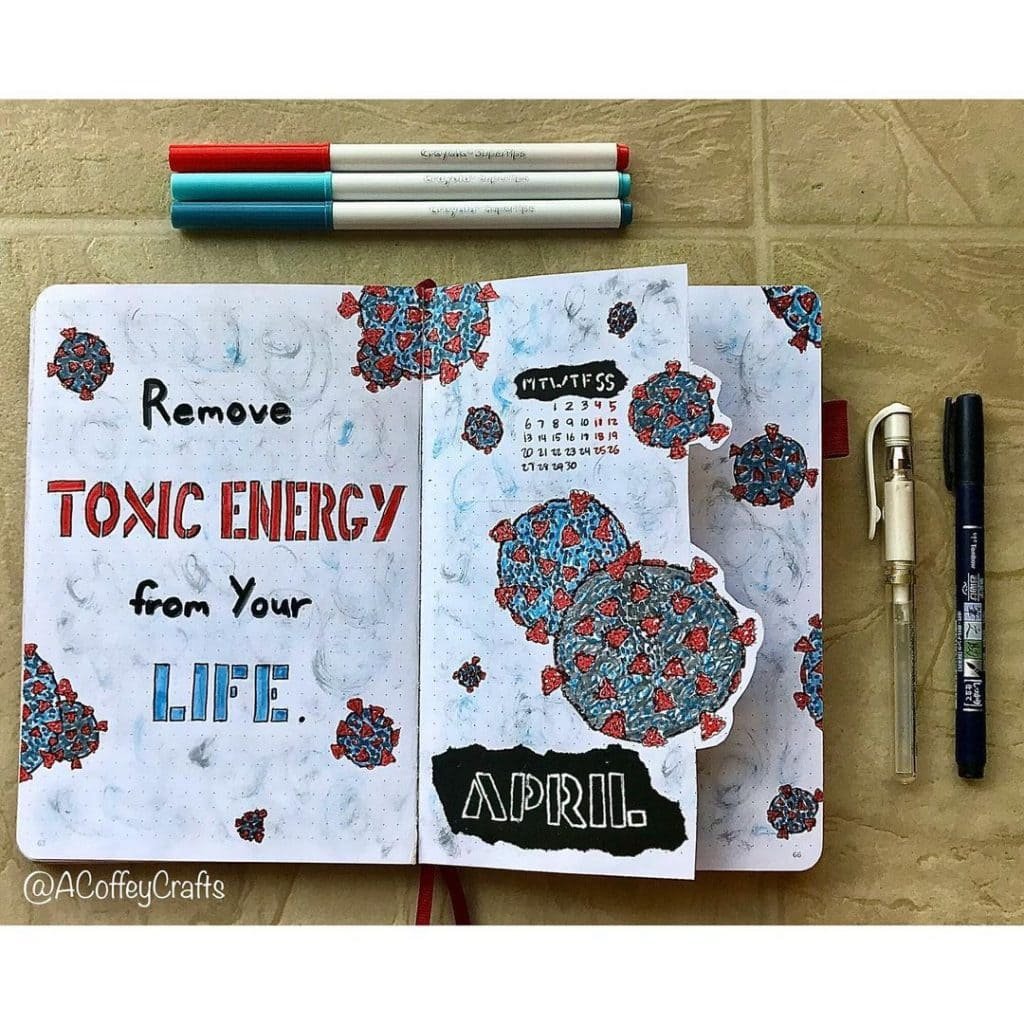 Last year in April, most of the countries went into complete lockdown. Even though it was a challenging time, it was also a time when most of us spent a lot of time with ourselves. The more you reflect, the more you understand about the toxic energies that hold you back in life. This interesting cover page by acoffeycrafts is created on the theme of Covid virus and it has the interesting quote as the reminder – Remove toxic energy from your life. 
6. Let the rain kiss you quote
Did you know that sometimes the early onset of monsoon in some country brings rain showers in April? These April showers, also known as Mango showers are beautifully represented by rosieonpaper in this bullet journal cover quote page. These pre-monsoon rains are also supposed to help flowers bloom. In fact, there's a saying "April showers bring May flowers".
7. Always Hope Quote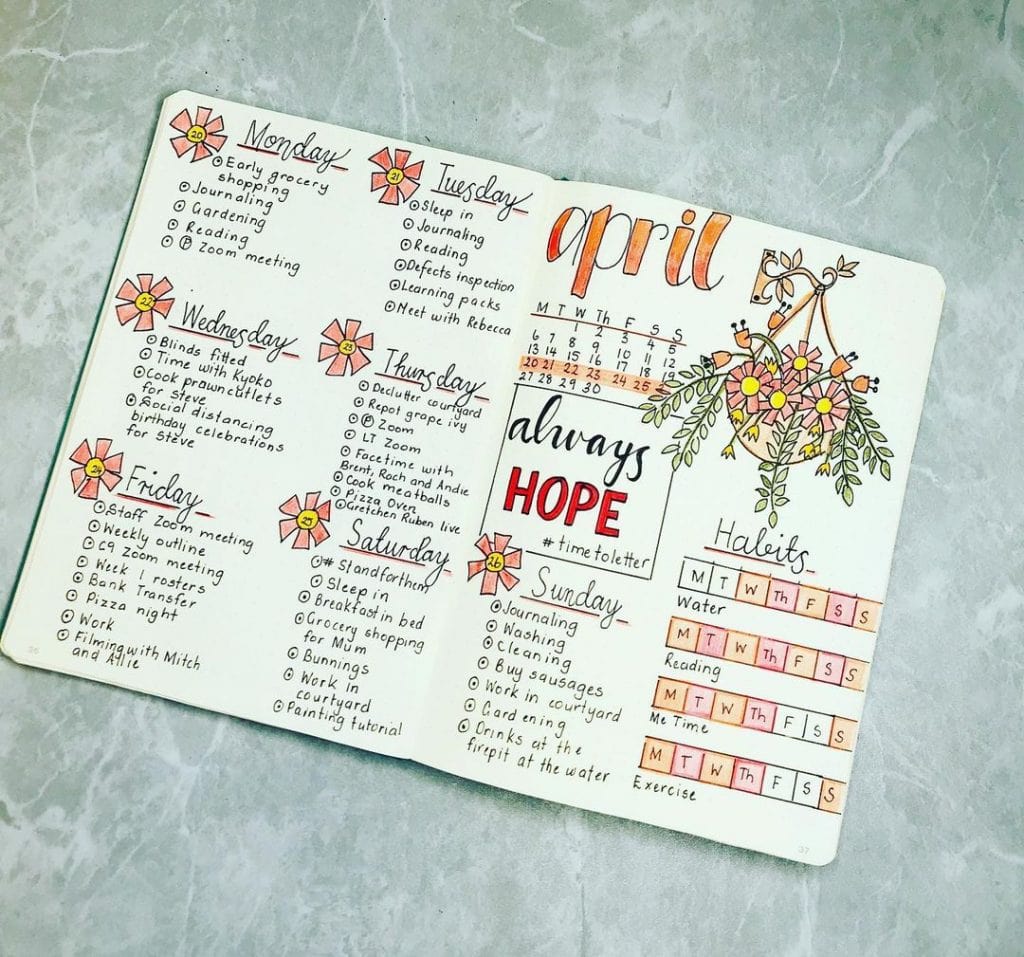 Two word quotes are my favourite. You don't always need a lot of words to convey wisdom, right? This bullet journal page by jodie_journals is a perfect example of that. The weekly bujo page has a positive reminder – 'Always Hope' for the times you don't feel like things are going your way. 
8. Little things are more than enough quote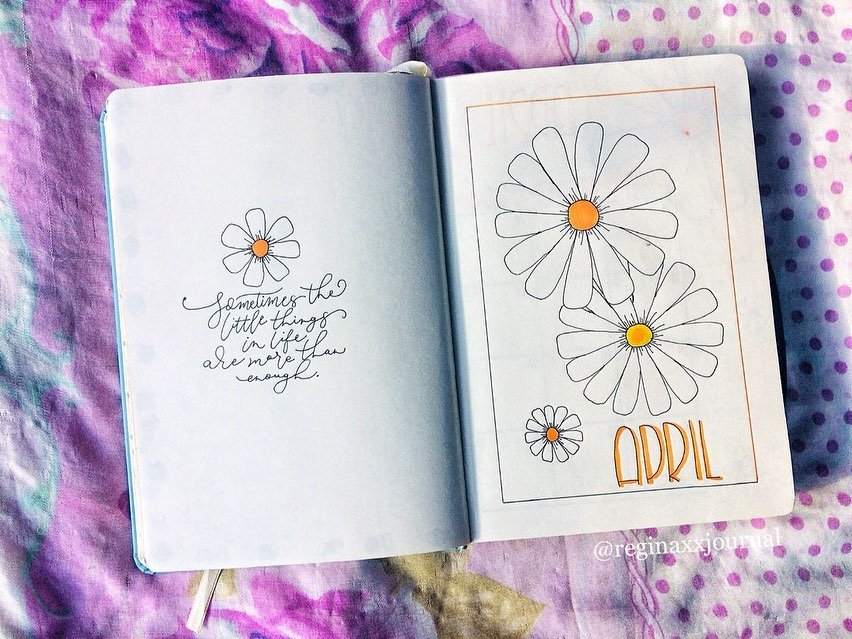 Do you believe that the smallest of things can be bring us immense joy? Then you will love the quotes page by reginaxxjournal. She has perfectly captured the spirit of spring with these beautiful daisies? Well, she's definitely done her research. After all, Daisies are the birth flowers for the month of April!
9. Rise After Falling Quote
Us human beings are super resilient. It always fascinates me that we are capable of SO MUCH! This beautiful bujo page by sarahandcalligraphy reminds us that – What defines us is how well we rise after falling. The sight of hot air balloons rising up in the sky is captured on the page and goes perfectly with the quote.
10. When Things Change Inside You Quote
This quote page by journalbytee_ is a beautiful reminder to look within. So many times, we find ourselves blaming the externalities when things don't go the way we want them to. But if you truly look within, you'll see that your entire universe is a reflection of our inner reality.
11. Live Simply Quote
This quotes page by soozied beautifully capture the spirit of spring. The message is so profound – 'Live simply, bloom wildly'. Sometimes we complicate things unnecessarily. And that prevents us from growing. Think about it – What is the one thing about your life that you want to simplify? And how can you do that? 
12. If you do what you always do quote
Do you feel like you are stuck in a rut? Do you seem to repeating the same days on a loop? Then this quote page by bujobysas will be a good reminder for you. It says – If you do what you've always done, you will get what you've always got. Think about it – What can you shake up in your life to move towards the life that you really want?
13. When it rains quote
Here's another quotes page inspired by April showers. I love the starry poodle created by kayleerose.art. The message reminds us that there's something positive in every situation – When it rains, look for rainbows. When it is dark, look for the stars.
14. Play in the puddles quote
If you are loving the April showers theme quote so far, then here's another one by rach_bujo. What do you do on a rainy day? Sulk because your plans got cancelled? No, you go play in the puddles!
15. Growth takes time quote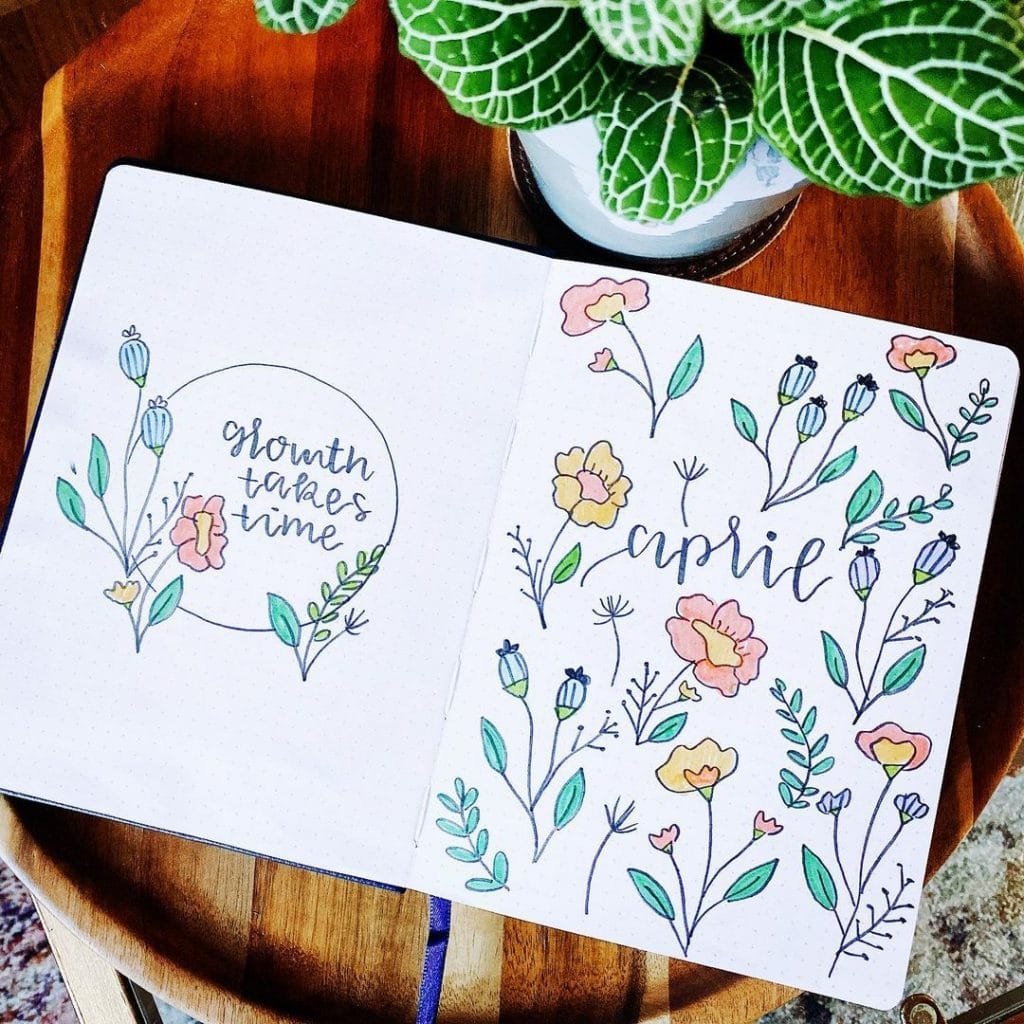 When you plant a seed, you don't the flowers the next day. Do you? This quotes cover page by the_planning_rn reminds us that growth takes time. In fact, all good things in life take time and effort. 
16. Still I Rise Quote
Fall seven times, get up eight! Isn't that what life is all about. This April bujo quote 'Still I rise' by jen_journals celebrates the fighter in you.
17. The longer you wait for inspiration quote
I have always been pro action. I truly believe that if you just take the first step, rest of the path appears. I love this April month cover page by seis.arts as I feel like it completely captures the spirit of spring. Looks at those Dasies! It also has an amazing quote – The longer you wait for inspiration, the longer you wait for success.
18. Bee Positive Quote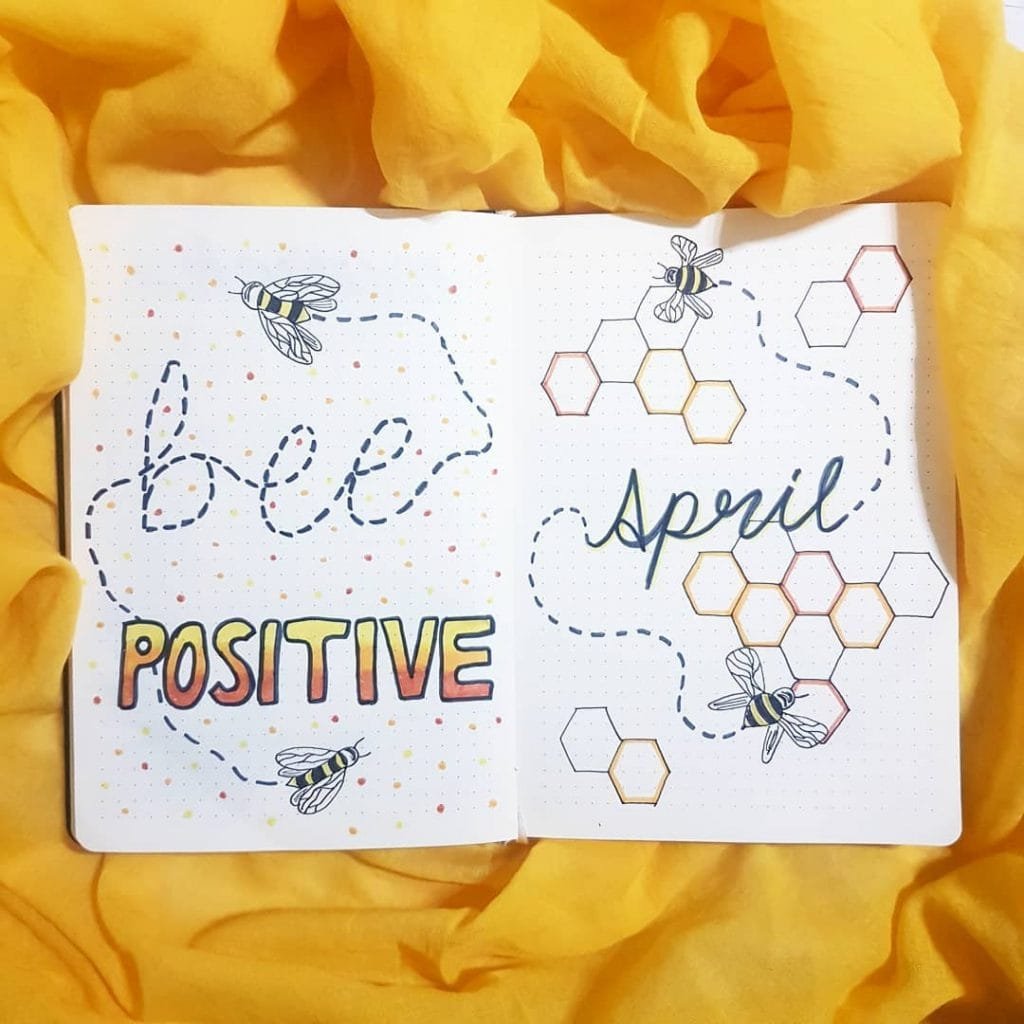 Here's another bee inspired April cover bujo page by nemesisnotebook that I really love. All you need to do to create this learn how to doodle a bee. And of course, add that 2-word quote that's a reminder to stay positive.
19. We got no troubles quote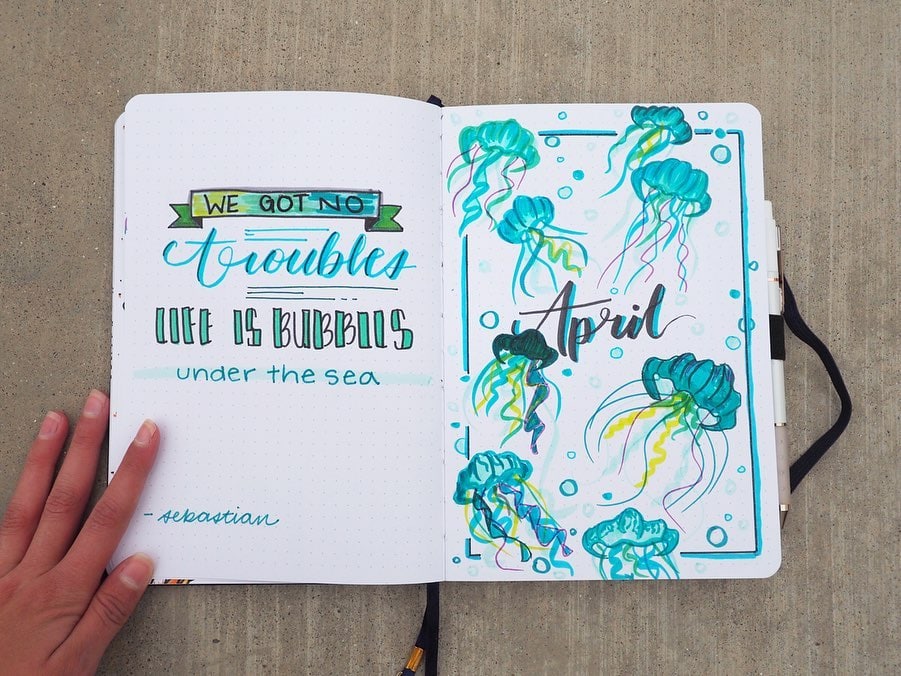 What do you think life under the sea feels like? This page by r9aesthetics will make you think it's all chill with no worries of the world. If you want to be teleported to a different world altogether, here's a quote – We got no troubles, life is bubbles under the sea.
20. Grow through what you go through
What doesn't kill us, makes us stronger right? Here's a reminder by fionacatecreates to grow through what you go through. 
21. Don't waste your time quote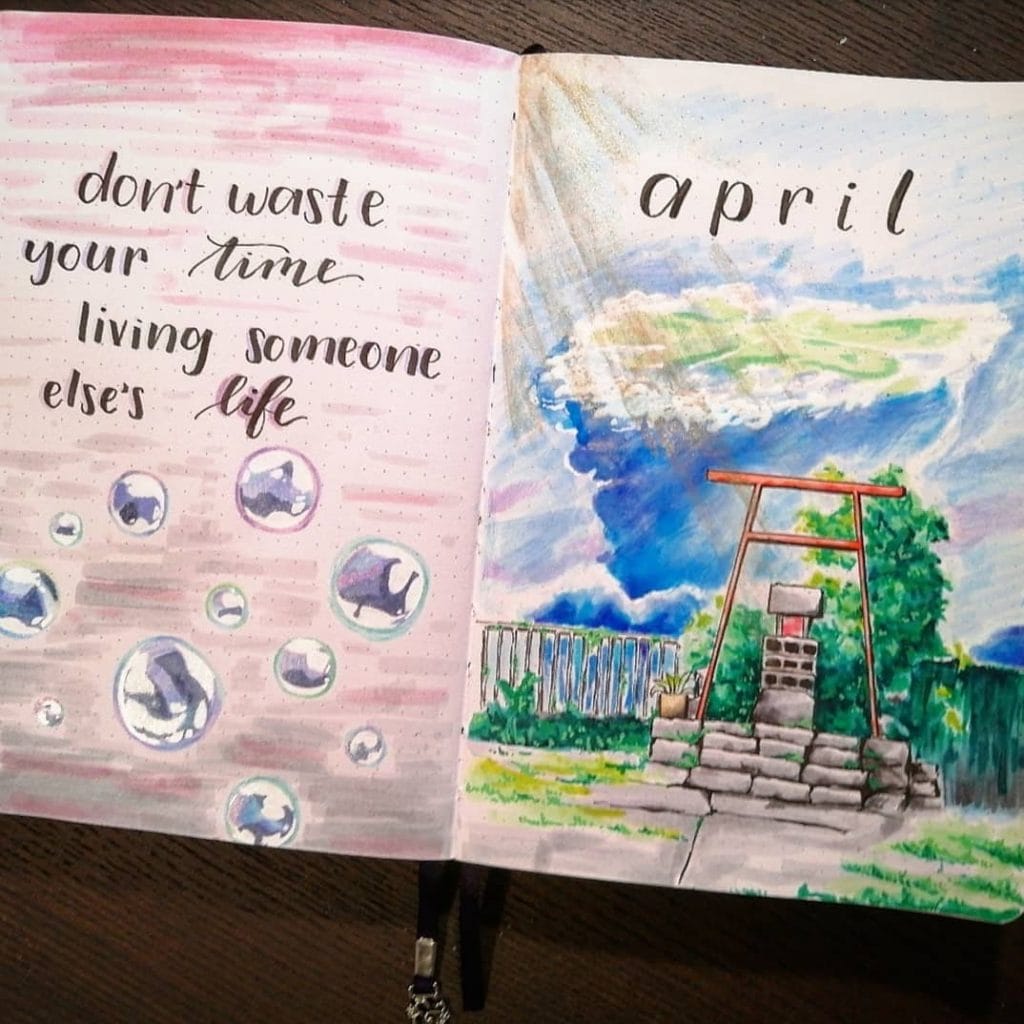 Do you have an idea of what your dream life should look like? I think we all do. This bujo page by sop_hia.h reminds us to not our waste time, living someone else's life.
22. But darling, what if you fly quote
The quote mentioned by bujomumuk in her bujo is my all time favourite. I have always and always loved it. It reminds me that life is truly worth all the chances you want to take. 
23. When life throws you a rainy day quote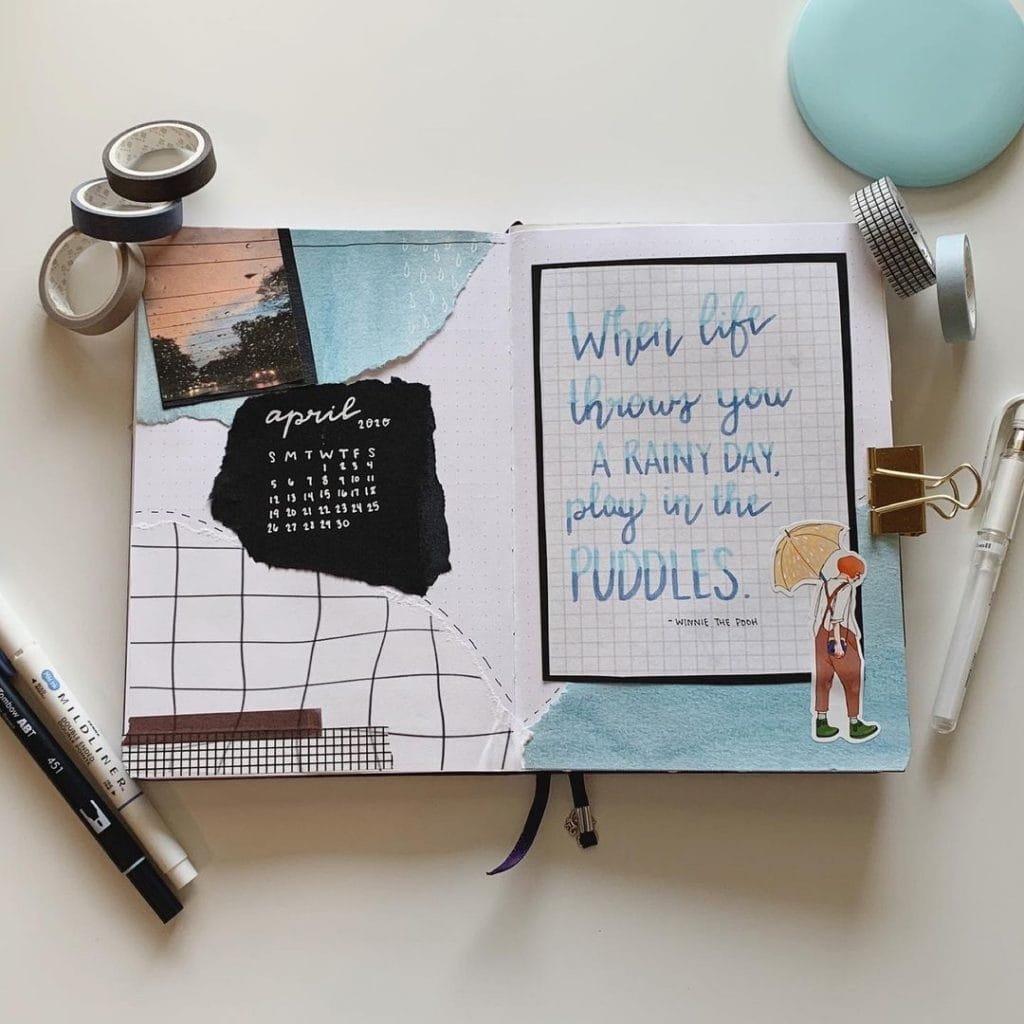 Not all of us love rains. It can be hard to welcome rain when it appears untimely in April. But here's a cute quote reminder by sincerely.ziah to ditch our woes and go play in the puddle.
24. What good are wings quote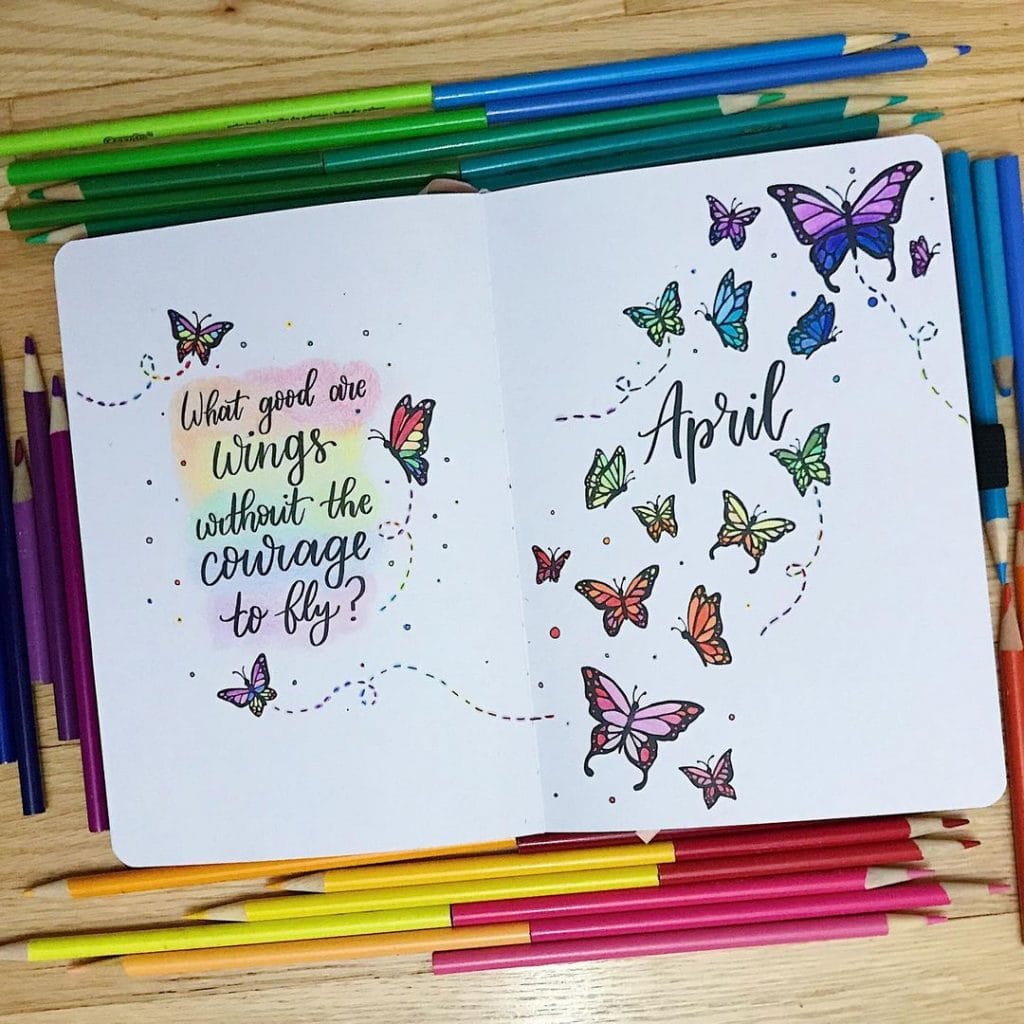 Spring time reminds me of blooming flowers and fluttering butterflies. And that's exactly what this page by petitewithlove looks like. It has a lovely quote – What good are wings without the courage to fly?
25. Happiness Comes In Waves quote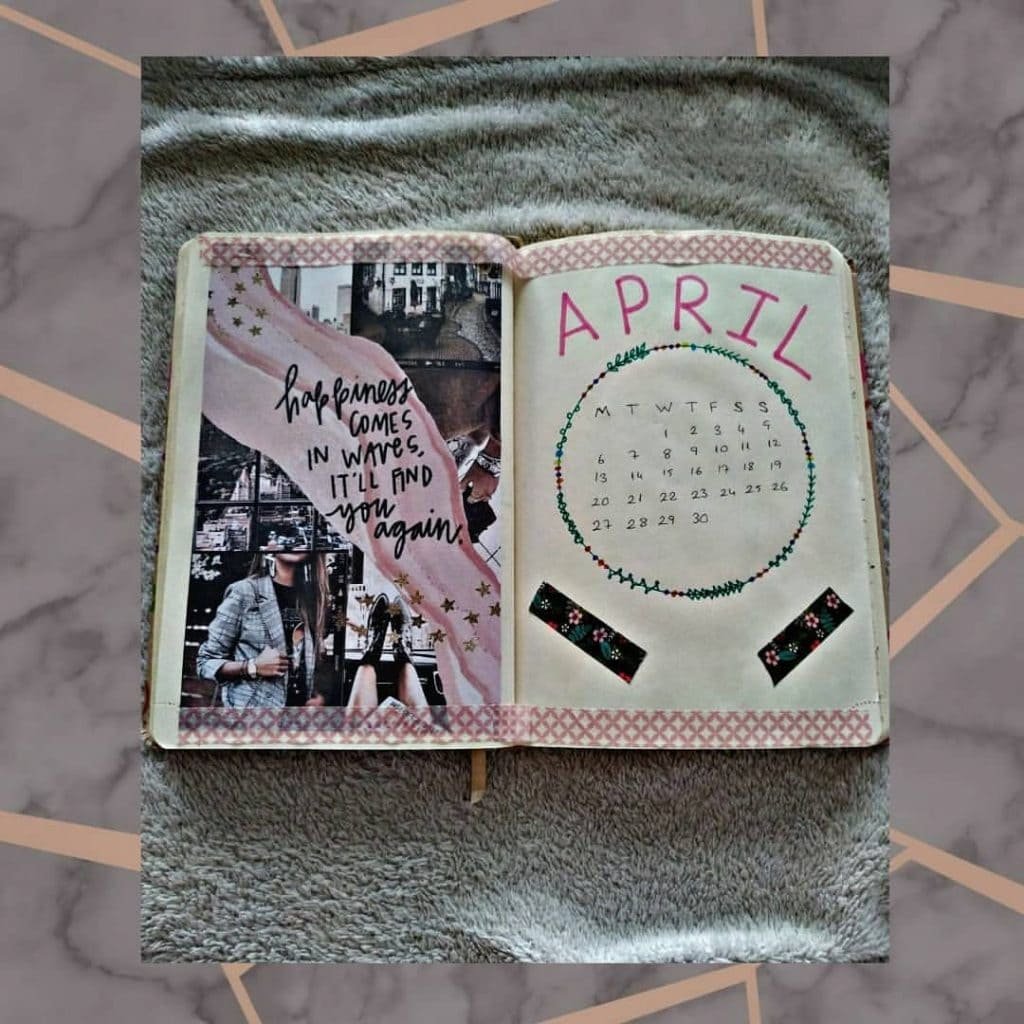 As much as we would like to feel happy all the time, that's not how it works. You'll have good days and bad days. That's exactly what this April quotes page by miss.bookstagramm reminds us of. Happiness comes in waves and it will find you again.
26. All we have to do quote
Sometimes we forget that one of the biggest blessings in life is all the time that we have on our hands. This quotes page by meekymoojournals has a famous quote that summarise the entire essence of life – All we have to do is decide what to do with the time that is given to us. 
27. Just happy accidents quote
It's funny how apprehensive we are of making mistakes, when it's truly the only way to learn. This page by paigejacquelinejournaling tells us a whole another way to look at mistakes. It says -'We don't make mistakes, just happy little accidents.'
28. Look for rainbows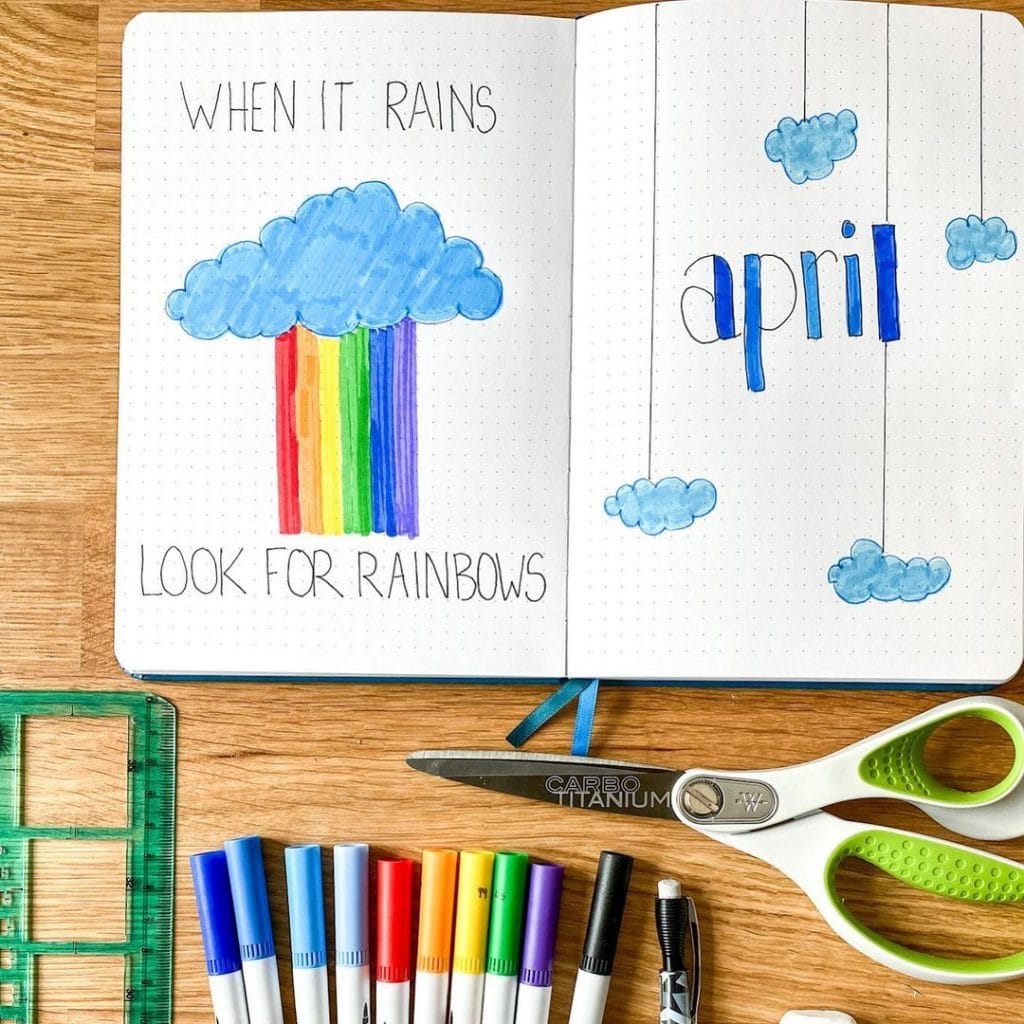 Rainbows are one of the happiest sights to witness and drawing them in your bujo will definitely bring you joy. This quotes by thesimpleparent reminds us to look for rainbows, every time it rains.
29. Spring will come quote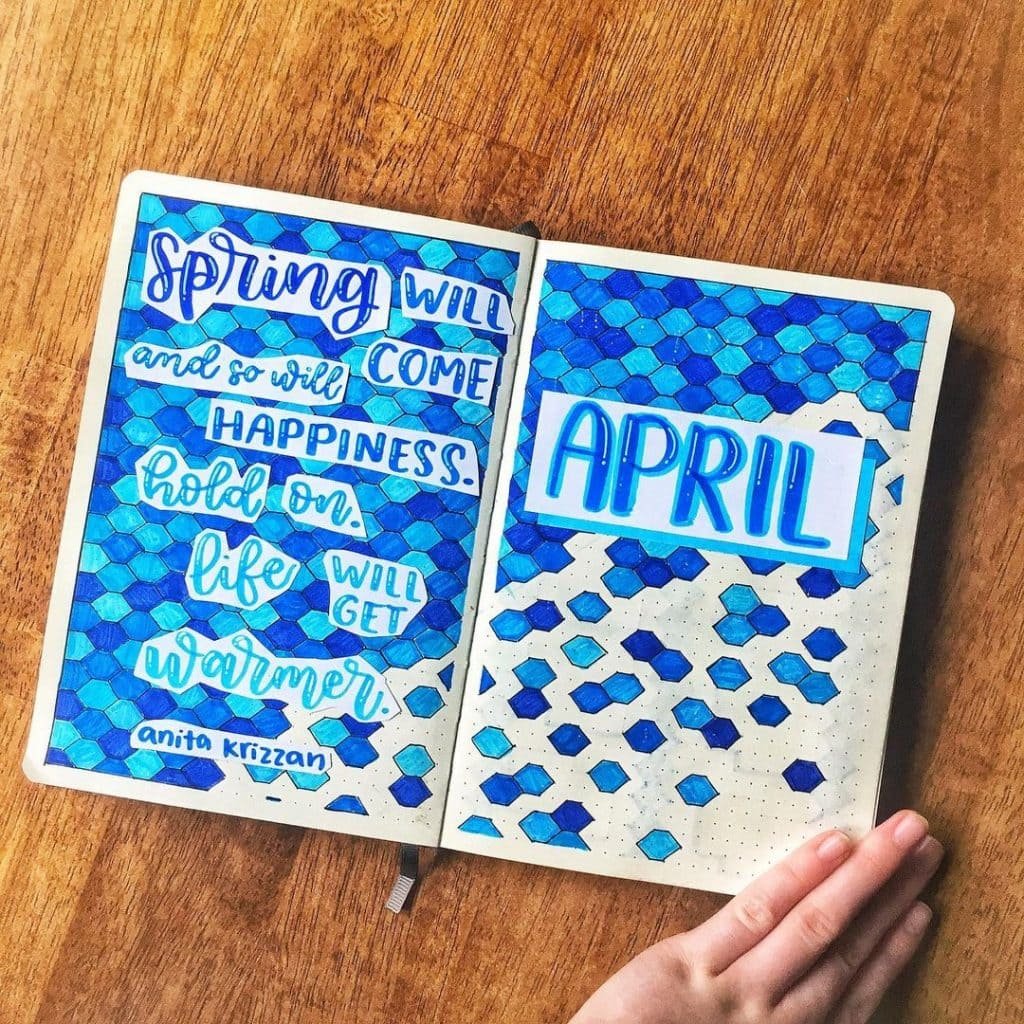 April bullet journal quotes should be about spring, right? This quotes page by brookes.lettering is perfectly in line with that feeling. It says – 'Spring will come and so will happiness'. Hold on, life will get warmer. It's just so beautiful, it makes me safe and happy.
30. The Earth is what we have quote
Spring time brings our attention to the Earth more than any other season. There's just so much to admire and this page by becomingmissart captures that feeling. Afterall, the Earth is what we all have in common. We must be grateful for it everyday.
31. Everyday may not be good quote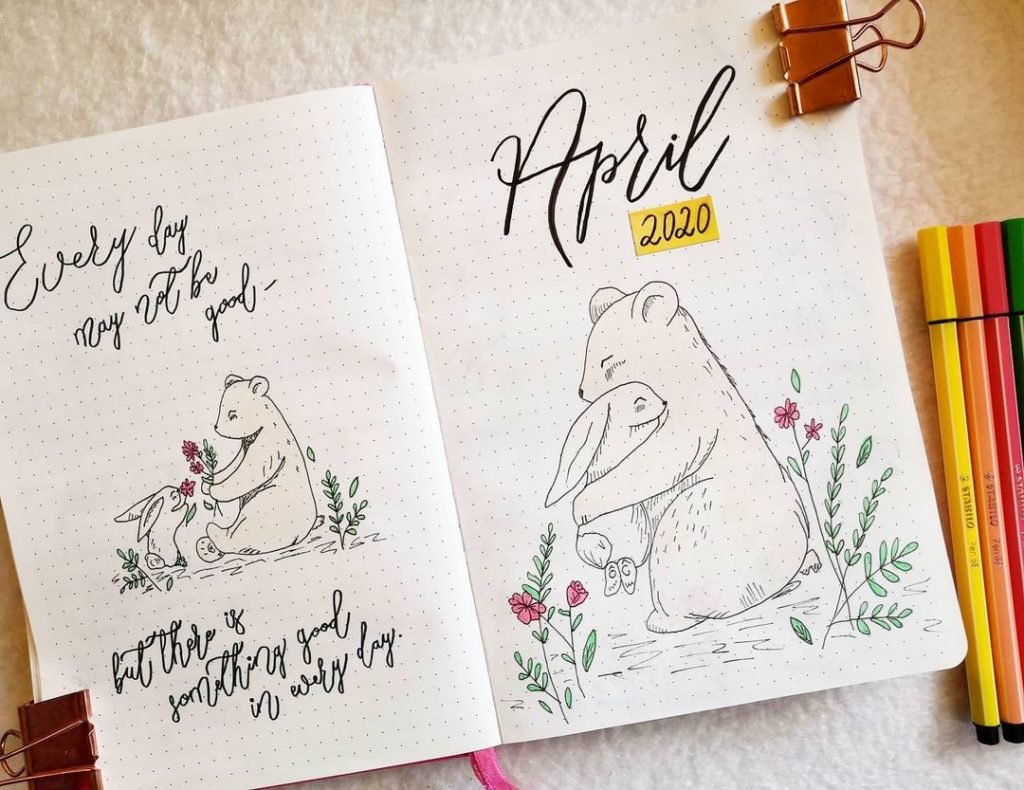 have you had one of those days where nothing seems to go right? Well, the truth of the matter is you can never ever in life avoid bad days altogether. However, you can shift your perspective to look for something good in every day. And this bujo page by martina.vicanova assures you that you will.
32. Life is like a balloon quote
Have you ever realised that you journey in life can be as crazy as that of a helium balloon? Once you let yourself go, you will never know how far you can rise. This lovely April quote page by bujo_withemma reminds us about our limitless potential. 
33. Fly through the air quote
If you are someone who takes life too seriously, you need to write down these words from quotes page by jolue.designs. I love how it says – Fly through the air, live in the sunlight and enjoy life as much as you can. Isn't that what life is all about, really?