Looking to add some desert vibes to your sketchbook? You've come to the right place! This is your one-stop-shop for easy succulent drawings, simple succulent drawing tutorials, cactus doodles, and everything in between. Whether you're an experienced artist or just starting out, we've got plenty of tips and tricks to help you learn how to draw succulents like a pro. So grab your pencils, dust off that eraser, and let's get doodling!
In this succulent drawing tutorial series, we'll show you step-by-step how to draw these trendy plants using easy-to-follow techniques. Get ready to unleash your inner artist and dive into the world of succulent drawings.
Also read –
80+ Easy Step-By-Step Doodle Ideas For a Creative Touch
22 Creative Summer Bullet Journal Doodles To Try
25+ Amazing Flower Doodles For Your Bujo Pages.
1. Shelves and Succulent Doodles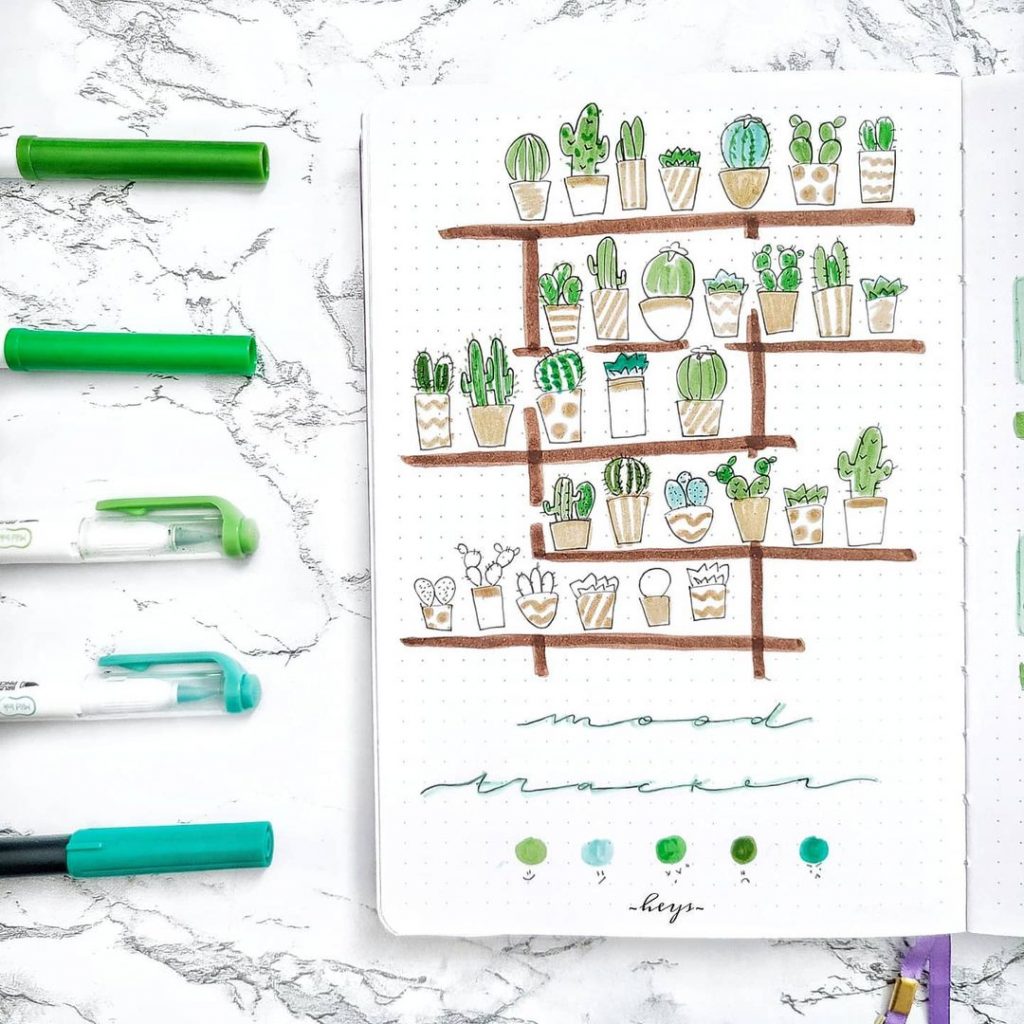 Source : lovelyheys
I love this aesthetic theme. It is so simple and serene. This mood tracker is a perfect way to track your mental health. I love how she has paid attention to the details. From the brown shelves to the green and teal blue succulent doodles, this one truly touches my soul.
2. Cacti and Succulent Doodles
Source : raelynns.bujo
This assortment of succulent doodles is something to try your hands at! I love the colors used; bright green, sunny yellow, and earth brown tones that are perfect for the summer bujo pages. These doodle ideas are apt for a cacti-themed bullet journal.
3. Cute Succulent Drawing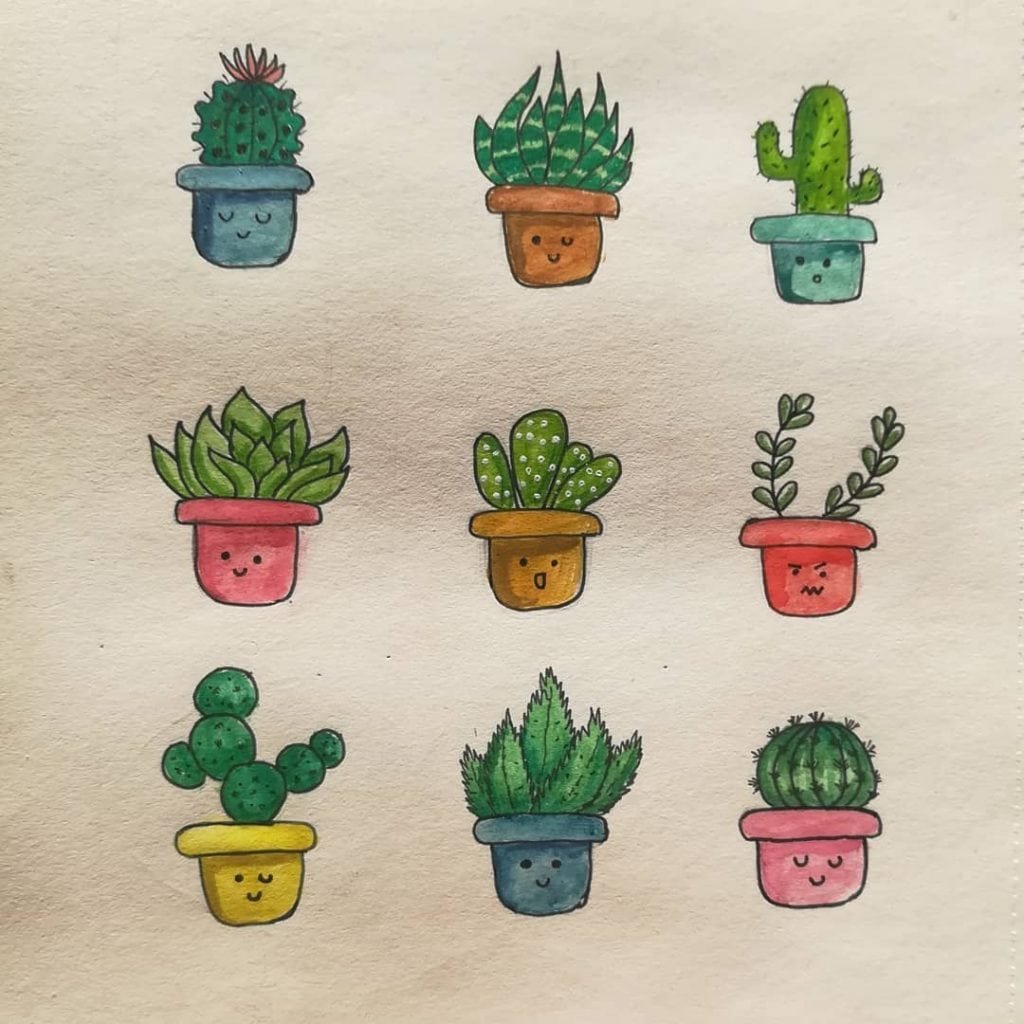 Source : subtlecolorss
How cute are these succulent plant doodles! Especially the pots with smiley faces painted on them. The pastel colors like pink, brown, blue, and yellow aptly reflect the essence of the summer season.
4. How to Draw a Cactus Doodle?
Source : dotted.pages
If you are struggling to figure out how to draw some cute succulent doodles, then look no further. This step-by-step tutorial is perfect to learn all about the art of succulent doodling. They are simple and easy!
5. Easy Succulent Drawing
Source : gracebulletjournals
I love succulent plant doodles, they are adorable and perfect for decorating bujo pages. These doodles are so simple and yet so detailed. They will certainly brighten up your bujo pages with these green succulents.
6. Succulents in a Frame
Source : lous_artstuff
If you thought that succulent doodles are only for the bujo pages, then think again. I love this idea of framing the doodle work. The white frame is in perfect contrast with the colorful and bright succulent plant doodles.
7. Succulents in a Pot
Source : art_by_sabrina.i
This one is more of my kind of doodling. They are easy, fun, and simple! The bright green and colorful pots are perfect for decorating any bujo spreads.
8. Succulent Art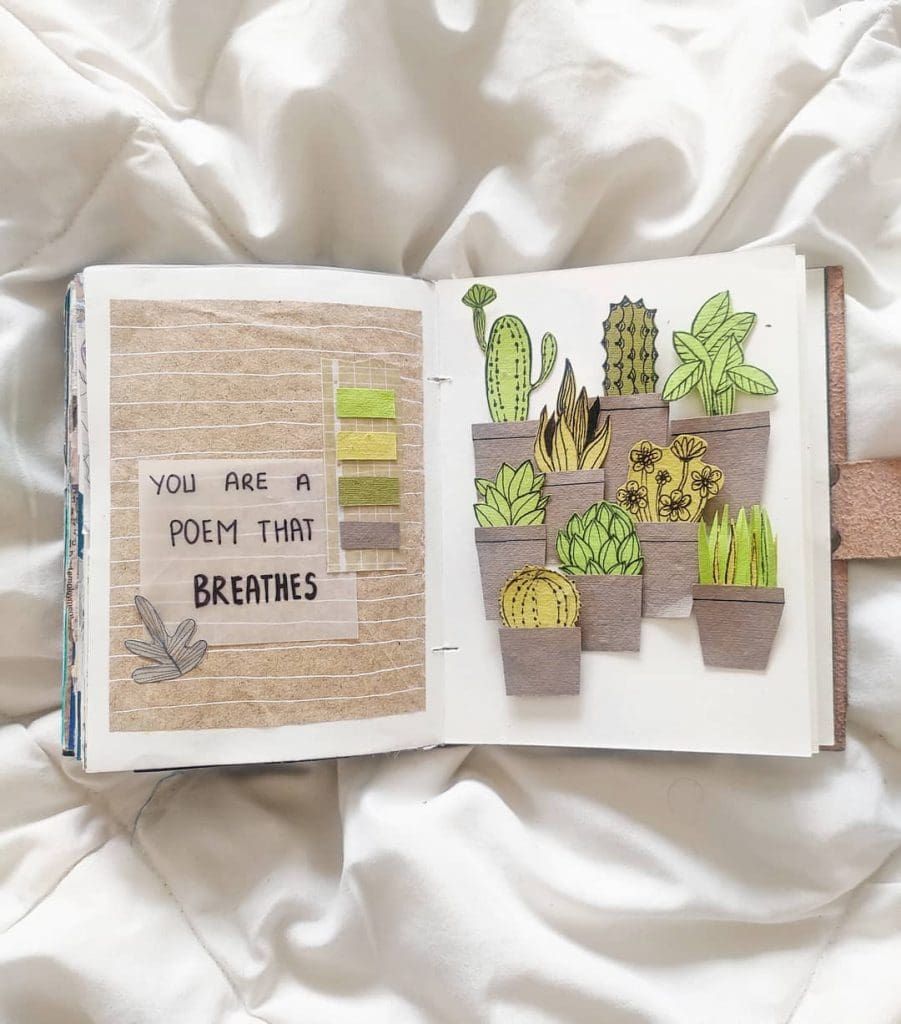 Source : journal.junks
The aesthetic pleasure in this one is mind-blowing. But what caught my eyes was the little quote on the left. You can use the quote and of course the succulent doodles to embellish your journals.
9. Draw Some Cacti
Source : thnxmorepls
Succulent doodles are versatile. You can make them neutral or colorful because both look as artistic as they can get! Here you have an assortment of all kinds of cacti and succulent plant doodles that you can use to fill up your pages.
10. Teeny Tiny Plants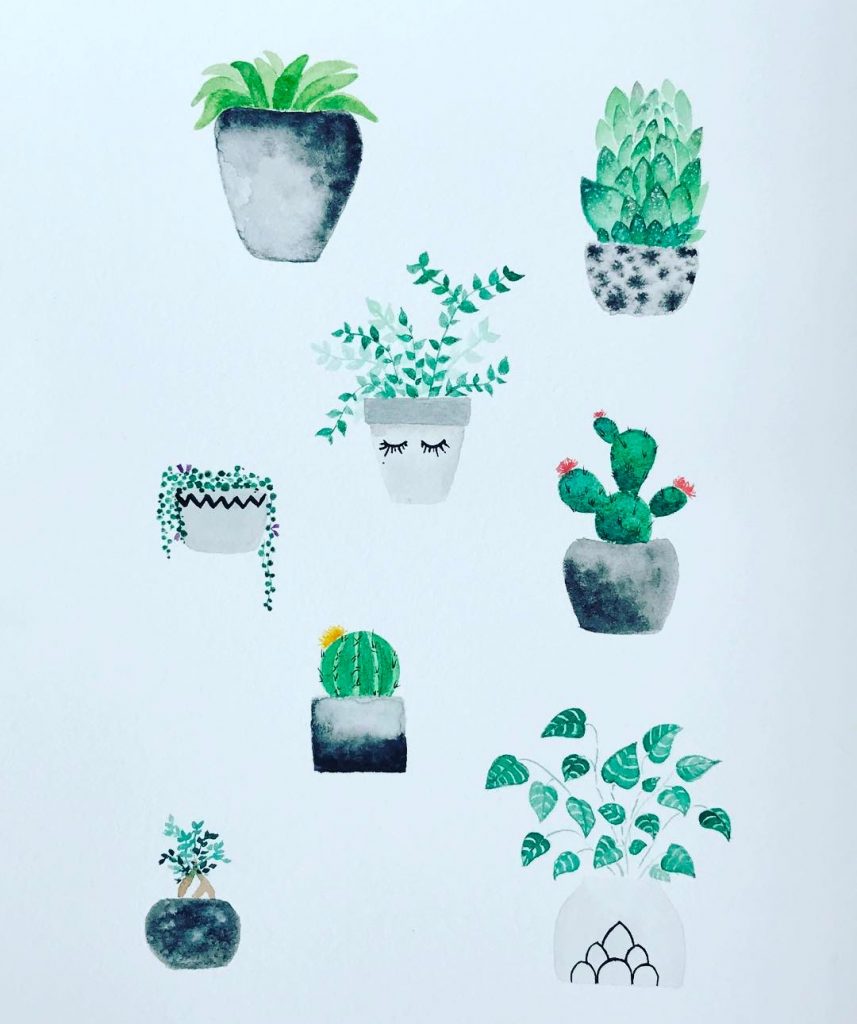 Source : rubytuesday_studio
Watercolors have done wonders for these impressive succulent doodles. I love the shades of grey, it enhance the greenery of these succulents. But what caught my eyes is the little yellow flower. This one is a marvelous piece of art!
11. Purpose v/s Perfection
Source : fromhannahshand
This is perhaps the most perfect choice for a Spring floral bujo page. Succulent plant doodles in this one are so colorful that I am left in awe! The yellow pots are certainly eye-catchy and perfect for the summers.
12. Hello Succulents
Source : bujo.becca
I am a sucker for some good succulent doodles. And why not? I mean they are easy to draw, colorful, and adorable. They are perfect for any season and any monthly journal.
13. Colorful Cacti
Source : latanasimo
I think succulent plant doodles can't get any more colorful than these! They are lovely and so artistic. I especially love the yellow one with a bright pink flower.
14. Emotions on the Pots
Source : kittgallagherart
More than the cactus, what has got my attention are the expressive pots! They are so much fun! I love what she has achieved with watercolors and microns on the paper. Here are some options for you to choose your kind of bullet journal pens- 27 Best Bullet Journal Pens-How To Find The Best Fit For You?
15. Love for Succulents
Source : nala.bulletjournal
I am absolutely fascinated by the succulent doodles! These neutral doodles are perfect caricatures of cacti doodles. Let us know your favorite one I the comment section below!
16. How To Draw A Succulent Easy Way
Source : expressionofcolour
I love these succulent doodles. They are simple and clean. It is easy to follow and recreate these for your own bujo pages. Here you have 12 brilliant neutral succulents for you to try out this year's bujo pages.
17. Succulents in Shades
Source : threekidsandcrafts
These succulent doodles are so bright and colorful that they will certainly flatter your eyes. She has used shades of blue, pink, magenta, green, and some yellows. The best part about these doodles is that they are easy enough for your kids' bujo pages as well.
18. Circular Succulent Doodles
Source : bujowithbaxter
This doodle work is perfect for the cover page for any bullet journal. You can also fill it with colors if you feel like it. Colors would certainly make this piece more fun!
19. Little Succulent Babies
Source : katherineq_art
If you are looking for a variety, then this is it. Make your choice and fill your bujo pages with it! From potted succulents to the creepers, from cacti to leaves in a test tube, there is everything in this assortment.
20. Neutral Cacti
Source : cactus_lover.mx
This assortment has 12 different kinds of cacti! Each beautiful in its own way. I love them all, especially the one with the magnificent flower. I can only imagine how amazing they would look once they find their place in bujo pages.
21. Colorful Succulents
Source : allisonstevick
Here are some options for your bujo pages. These are amazing and unlike the usual doodles, don't have heavy outlines. I love the shading game in this one.
22. Simple Succulent Drawing
Source : andy_crescentstudio
If you are seeking some simple plant doodle ideas then here are some viable options for you! Each of them has a different color scheme and that is super cool! You can certainly take the liberty to experiment with the colors and find out what all you can do.
And with that, we have come to an end of this long list of succulent plant doodles. This list has an abundance of choices for you to choose from. These doodles with decorate your bujo pages and that will be a delight to the eyes. Let us know your favorite one in the comment section below. Here are some more doodling ideas for you to try- 45+ Bullet Journal Doodles For Your Inspiration.
Also, if you like this article, you can pin it to your Pinterest board by clicking on the image below.