Don't we all love to shop online? But the only drawback of online shopping is probably the pilling cardboard boxes. If you are tired of those pilling cardboard boxes, these cardboard crafts are going to be your ultimate savior. Cardboard crafts are not just something creative and useful but it is a substantial way of teaching the kids the importance of reusing the waste to make something new.
Crafting is like my therapy. And it also an outstanding way of keeping the kids engrossed in a single task. And the fact that cardboard box crafts at times may require parental supervision, allows the kids to have some quality time with the family members.
If you are looking for an alternative for those piling boxes then try out these cardboard box crafts. They will not only help you make something new but also let you explore your artistic side.
You can also check out other crafting ideas here on
25 Wine Cork Crafts For Your Next House Party
30+ Innovative Toilet Paper Roll Crafts For You
How To Make A Paper Crown – 20 Easy DIYs
1. Card Creatures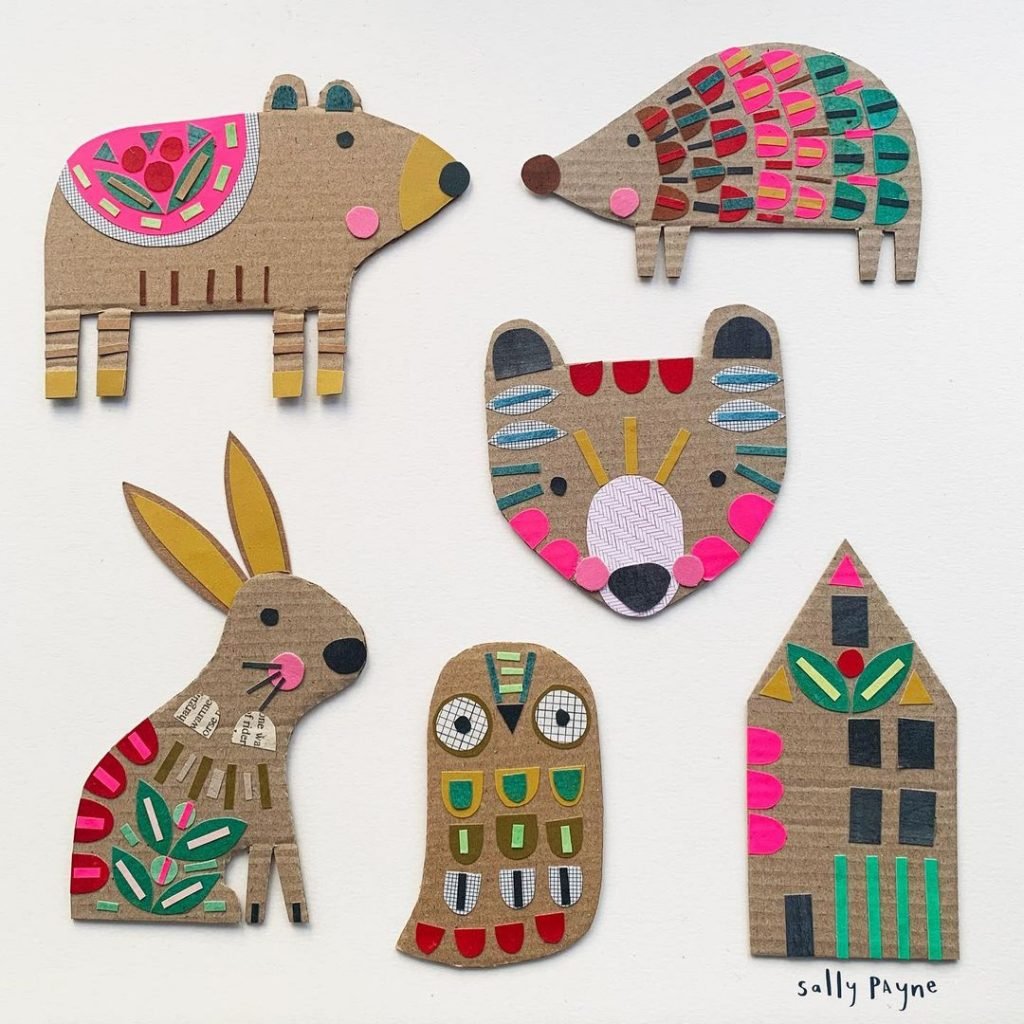 Look at these beautiful card creatures, so adorable. I love this kind of DIY cardboard crafts, they are easy and fun for kids. All you have to do is cut out the animal shapes and then cut some pieces of cloth or some nice colored papers and stick them up to give it a nice pattern. The rabbit has such a tribal pattern that I can't wait to make a few of these. Let us know your favorite card creature.
2. Wrap Fir Trees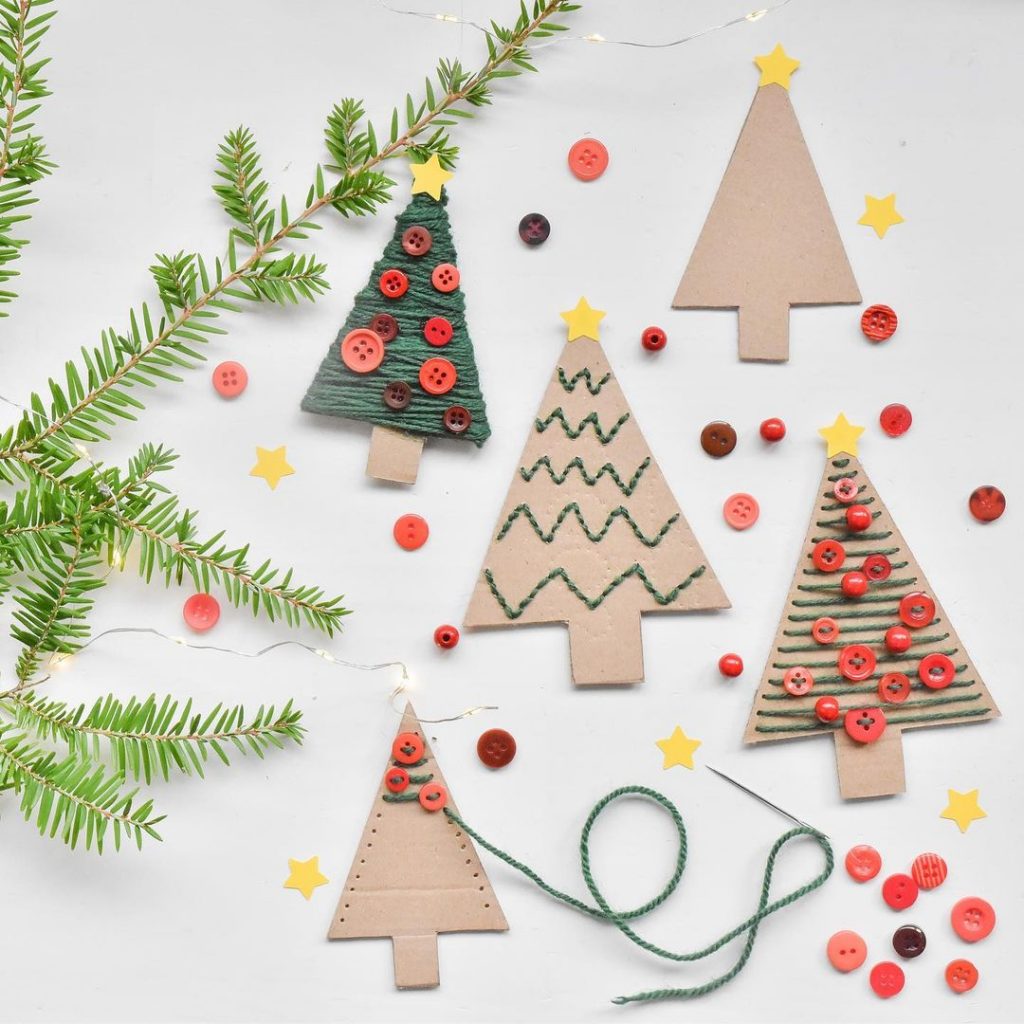 DIY cardboard crafts are quite a therapeutic hobby. And it doesn't take one to be a Piccaso to actually craft something beautiful. For example, look at these beautifully wrapped fir trees. For this one here, all you need is some colorful and fun buttons and green threads. It is easy and it is fun. She has provided quite a few options here. You can also string along some nice pearls and beads to give it a more artistic touch. Cardboard box crafts are excellent for polishing motor skills.
3. Cardboard Christmas Tree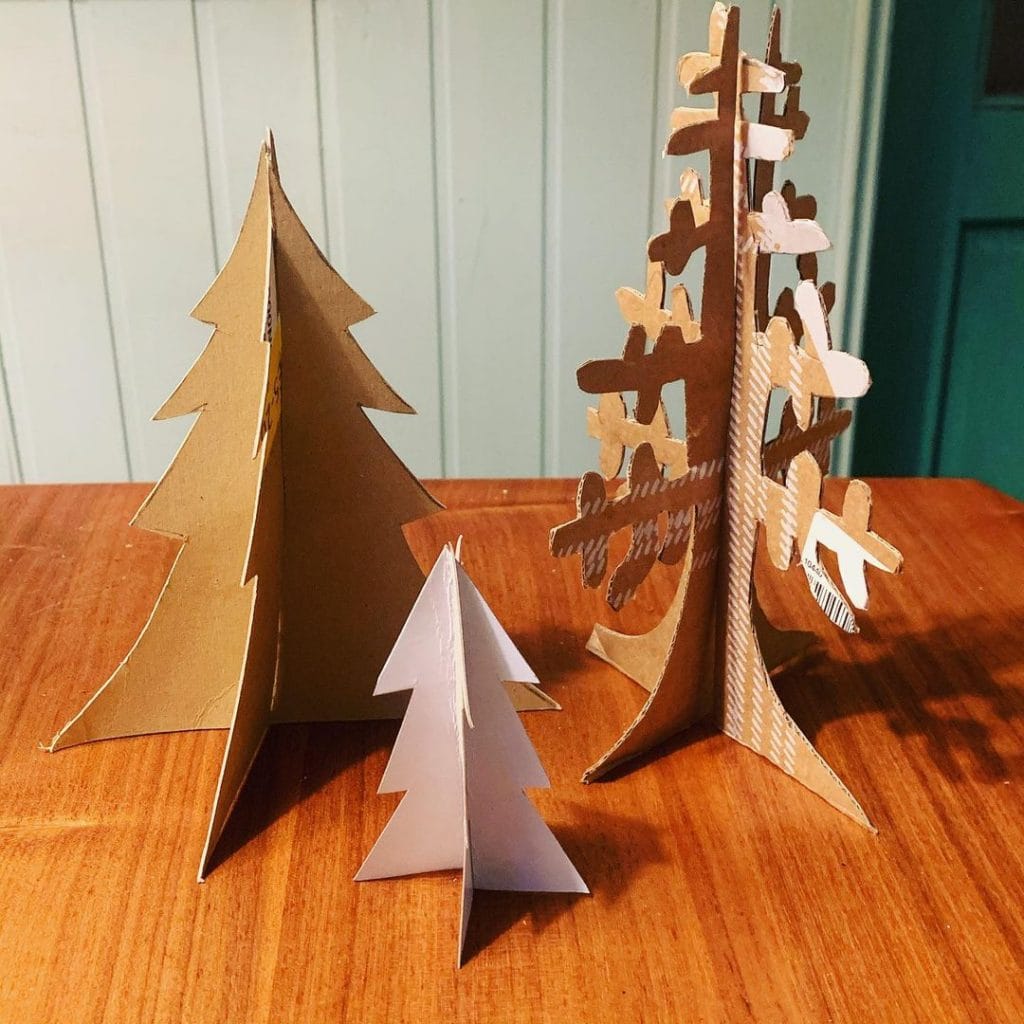 Christmas is that time of the year when we all are in celebratory mode. There is so much to do, so much to bake, so much to cook, and certainly, so much to decorate. So why not try something new this year? Get your kids excited about the holidays with group activities. And introduce them to cardboard crafts. This effortless cardboard cut out Christmas tree will amaze your kids. And once done, you can even include these in the Christmas decor and let the little ones feel a little proud of their crafting skills.
4. Paint Your Own Christmas Tree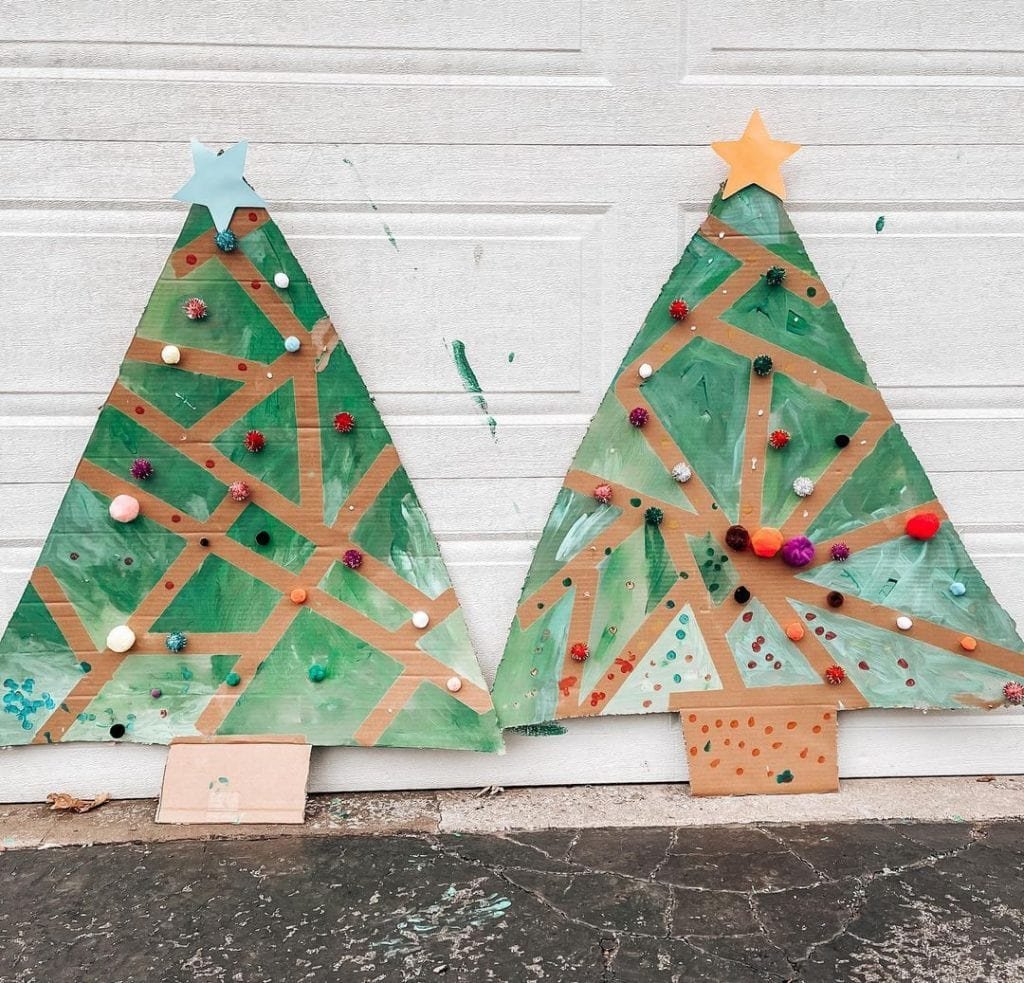 Christmas is such an auspicious time of the year. With the year coming to an end and with the new year right around the corner, there is a strong feeling of hope and nostalgia that engulf us. But what makes it more special are who we spend it with; how we spend it. I feel that group activities are great for families to spend quality time together. And especially the kids, they love it. This handcrafted Christmas tree has more happiness and love than any other tree that you will ever buy. I love that little bright star at the top and the nicely detailed pot at the bottom too. Nice touch!
5. Mini Christmas Trees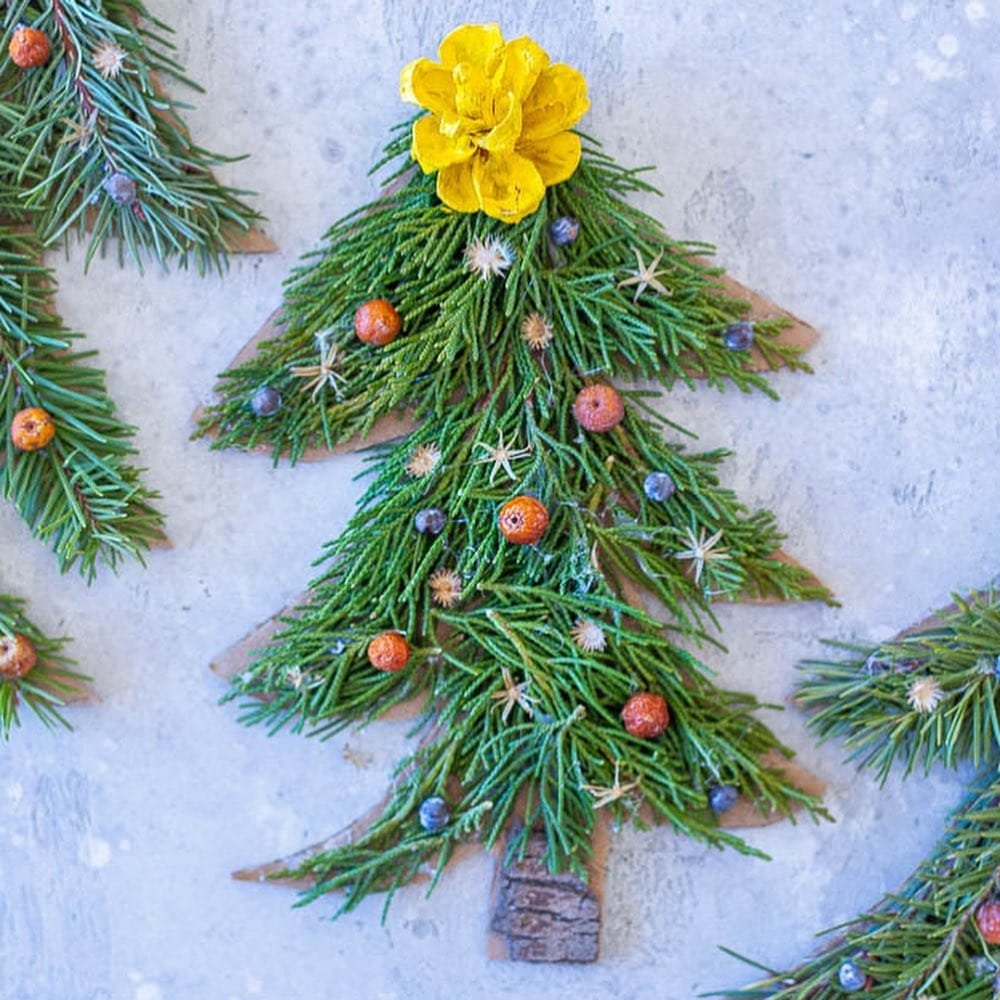 These mini Christmas cardboard crafts are as amazing as it gets. This DIY Christmas tree is one that your kids will love to the core. I love the extra accessories added to it, especially the yellow vibrant flower at the top. The addition of beads and the stars are perfect for the dreamy Christmas night.
6. Green Little Christmas Tree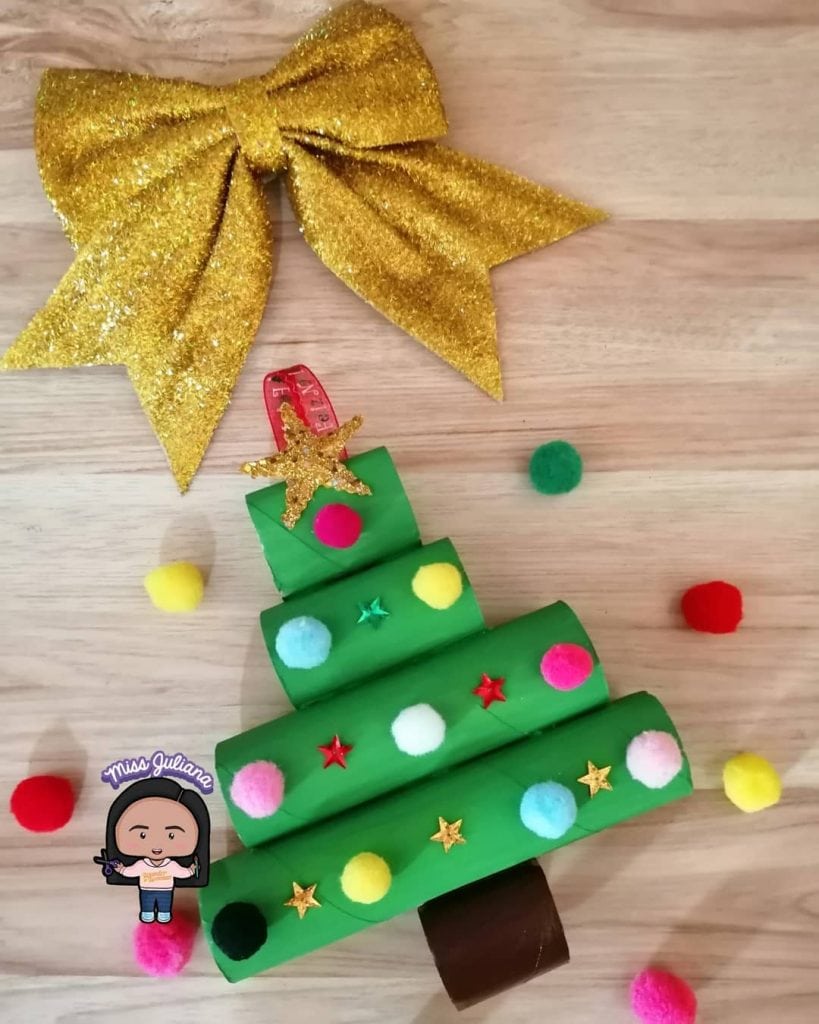 This little Christmas tree here is an easier option for you to try out. I love how the cut out is shaped. It gives the craft a pixelated feeling. And look how stunning is that bright little star at the top! And those colorful balls are like bombs!
7. Cardboard Gingerbread House with Lights
How gorgeous are these cardboard box crafts! I love how simple and easy these are. This is certainly one of the easiest ones on the list. You can cut out any shape of a house, let the imagination of your kids' run wild. And then the kids can paint the windows and also some people to give the house a homely touch.
8. Gingerbread House 2.0
Well, here is a great Christmas activity for the kids. These kinds of DIY cardboard crafts are not just easy but also decorative. Look at this beautifully little cardboard house. It is perfect for a Diwali night decoration, with only a few changes. And let's not forget that this kind of activity has added benefits of enhancing cognitive skills, sharpening focus and creativity, and so on. This Christmas let the kids venture into a newfound hobby with this little house.
9. Cardboard Crafts For Adults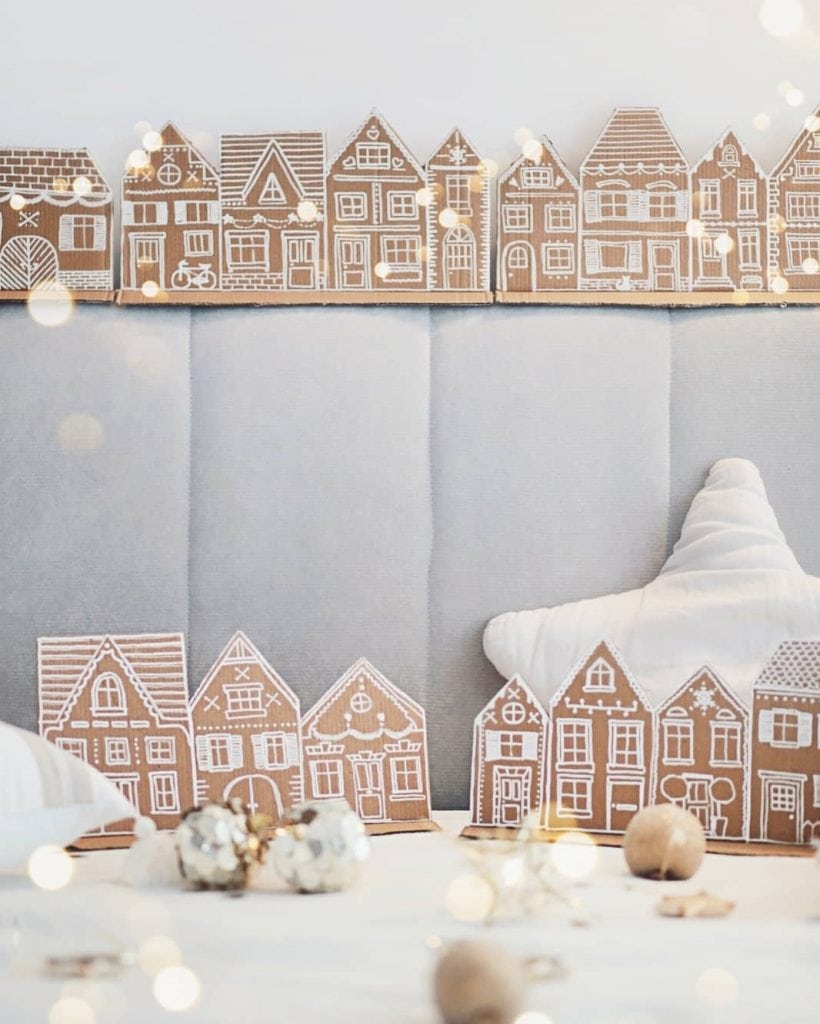 Here's a brilliant piece of cardboard craft. This is probably my favorite one on the list. And why not? Look how classy it looks like wall decor! This is an excellent choice for the kid's room. You can actually create a few of these cardboard box crafts and line them up to make it look like a beautiful city line. I love the detailing of the houses, in fact, that is the most beautiful part of this craft.
10. Christmas Village
Cardboard box crafts like this one here always appeal to me. It is like a Hallmark Christmas movie. So animated and so romantic. The nicely lit houses, the cute snowman, and the baby snowman, and the detailed villager. And how can a Christmas scene be complete without some Christmas tree and a red truck? This one here tells a beautiful Christmas story.
11. Handprint Santa Easy Cardboard Crafts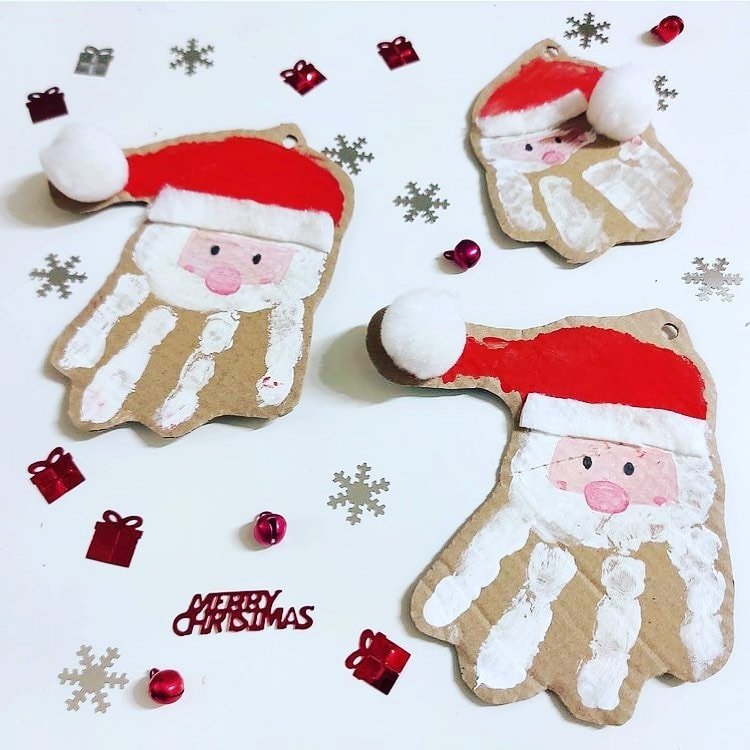 If creativity could be materialized, this would be it. These cardboard box crafts are so simple yet so creative. All you have to do is cut out a handprint, and then just add the details like the red Santa cap and color the face. And voila you have your own handprint Santa!
12. Christmas Wreath Craft
This kind of DIY cardboard crafts is so simple and easy that you can wrap it up in three to four steps. For instance, this craft uses a donut cardboard cutout, and some green tissue to glue on the coconut cut out, and a ribbon to tie it all together. That's all it takes to make this DIY wreath for your door this Christmas. Sprinkle a little glitter to make it look a bit more festive.
13. Mini Wreath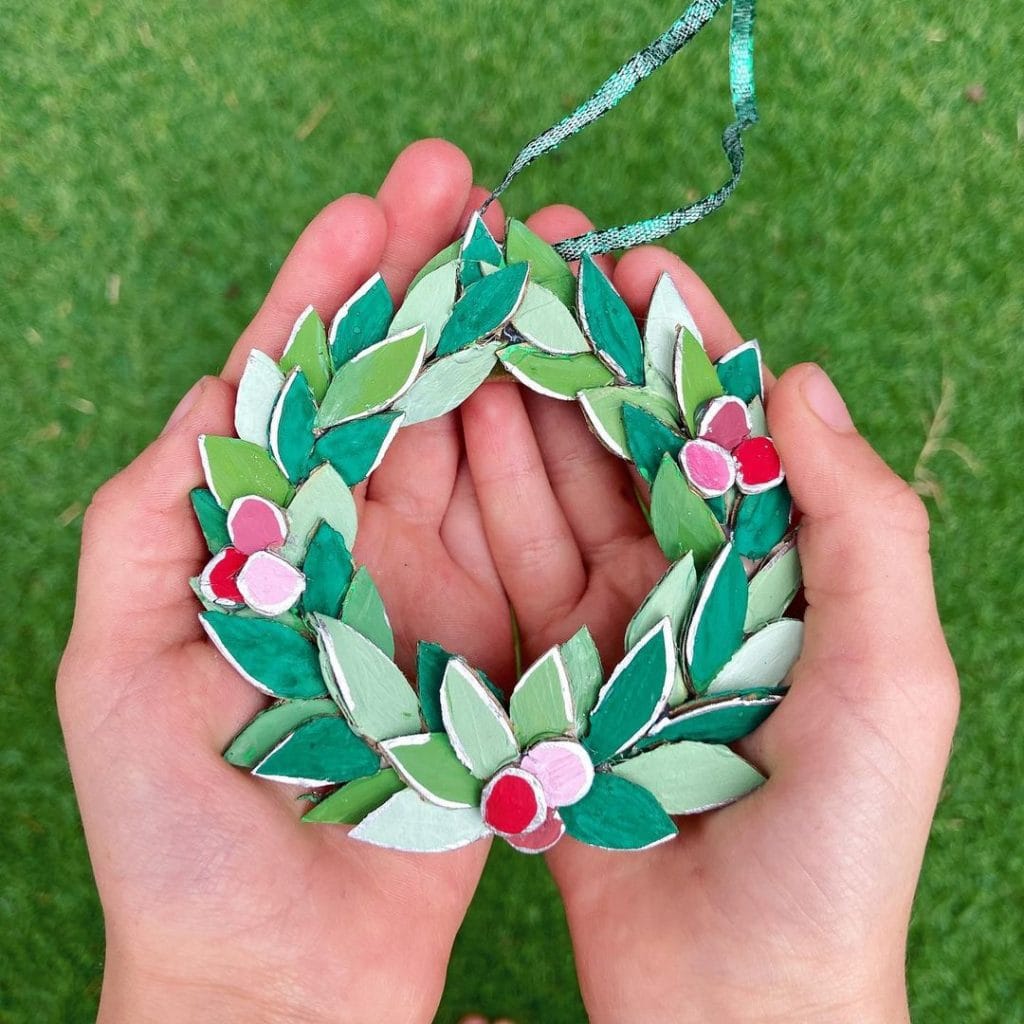 Have you ever wondered why everything looks much cuter when found in mini size? Here's an astounding piece of cardboard craft. Cardboard box crafts are easy to experiment with, adding some details and some colors take the game to another level. Here this craft has used a curtain ring and cardboard cut out to make this beautiful mini wreath. The addition of the pink and red berries has certainly added the extra character that this one here needs.
14. DIY Cardboard Wreaths
Another cardboard wreath is so aesthetically pleasing. You have to draw two wreaths and cut them out. And place fake greenery and wrap it with yarn to hold them in place. This is an excellent kids activity where you can just be the helping guides of your kids. You can even use some fake stems and ass some tiny fake flowers to give it a more earthy touch. And that's all it takes to make these beautiful DIY cardboard crafts.
15. Three Kings Cardboard Crowns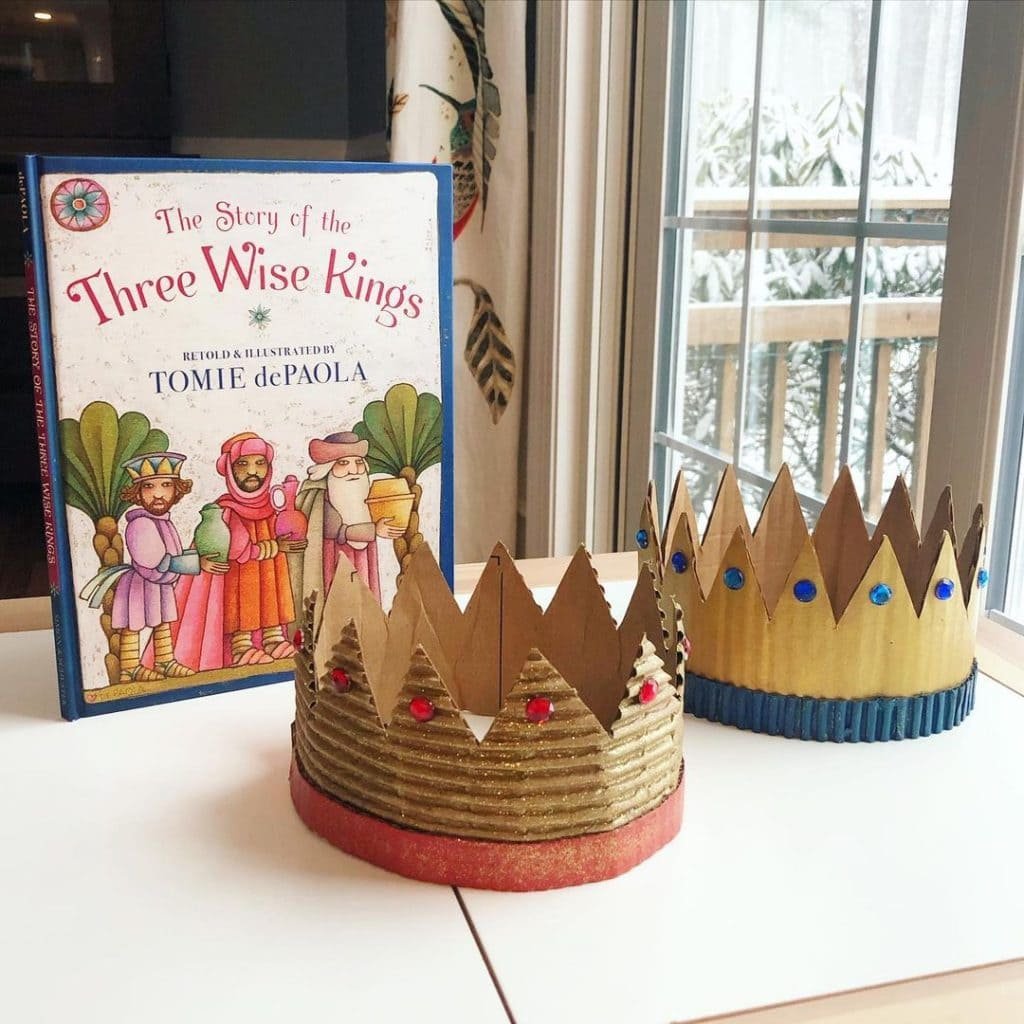 How spectacular are these DIY crowns? These cardboard crafts are so simple yet so creative. The crown is simple cardboard cut out and then paste some colored cut out to give it a more defined look. You can also paste some stones to give it a jewel-like look. Some extra jewels have never hurt anyone!
16. Cardboard Crafts and Decoration
These beautiful cardboard box crafts are alluring. These cardboard cutouts are easy and manageable crafts for kids. You can assist your kids a little here and there. I especially like the white liner details, it gives the little crafts an extra dimension. Wondering how to make cardboard cutout in different shapes? This guide will help you. creative cardboard
17. Spread Some Christmas Love
These simple DIY cardboard crafts are perfect for decorating the Christmas tree. This is an excellent craft for the kids. This Christmas even I indulged in crafting time with my niece and we had fun painting these trees and sticking the colorful buttons. My favorite one is certainly the red cane and my niece loved making the star. Let us know which was loved by your kid!
18. Mandala Art Cardboard Crafts
This one here is a little tricky. But if you are an artist then this craft idea will certainly not disappoint you. Make some round cut-outs and then all you need is a black pen to do the art. I like this one because I feel anyone can explore the artist in them.
19. Pom-Pom Rainbow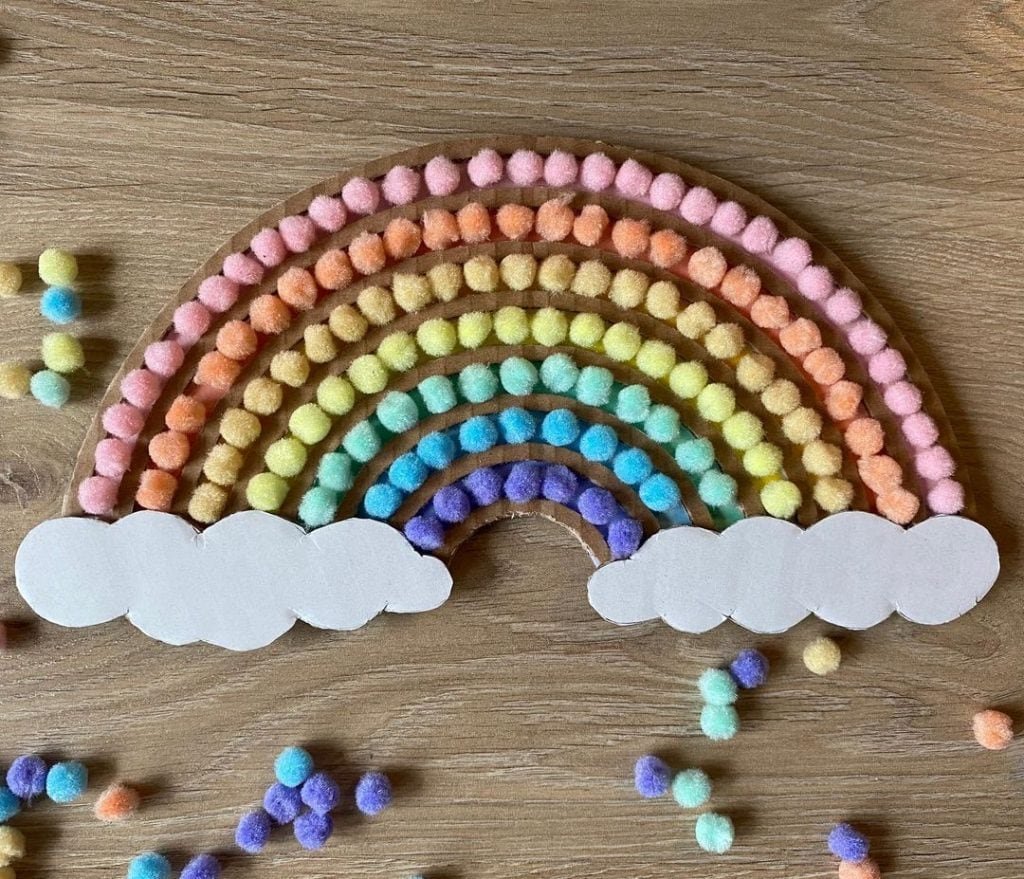 How pleasing is this colorful rainbow? This one here is one such cardboard craft that has left me mesmerized. Allow this rainbow to brighten up your rainy days and let it comfort your soul.
20. Clip Holder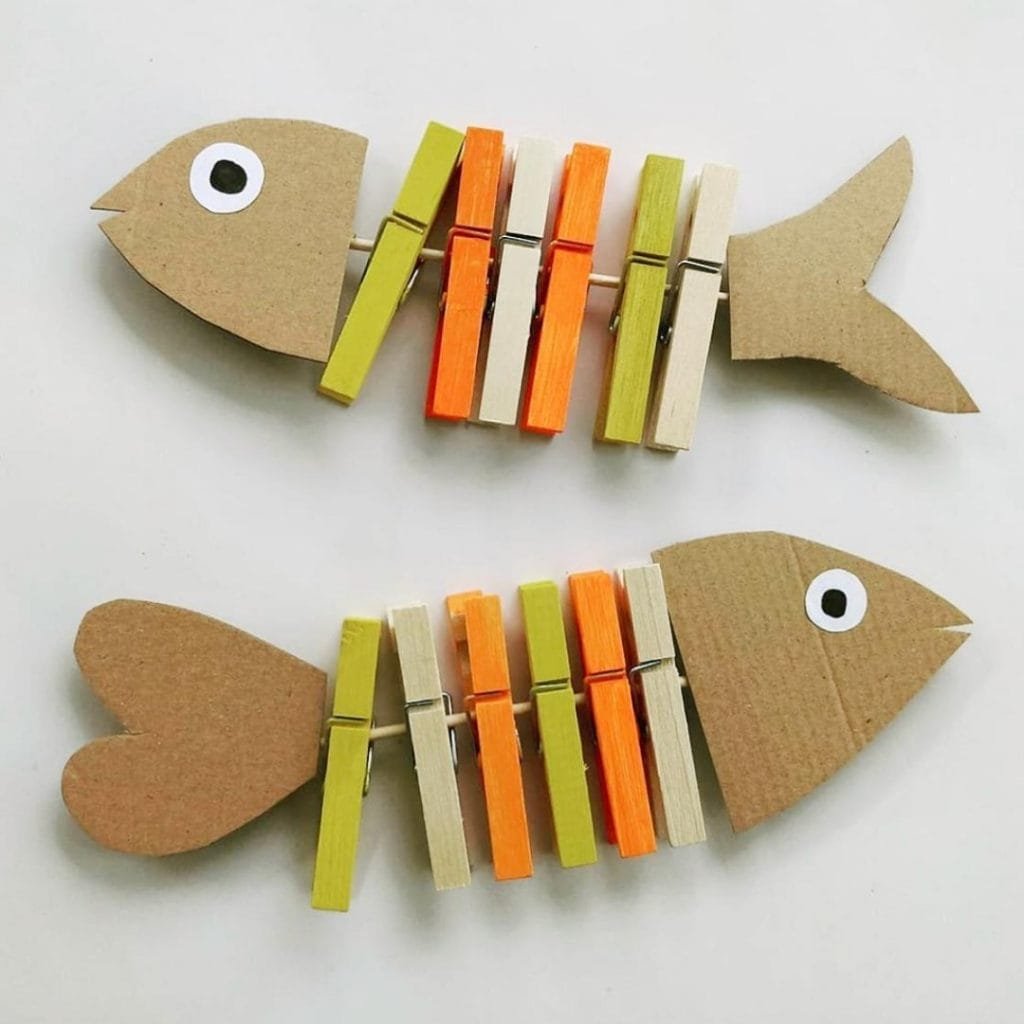 This is probably one of the most clever and creative ways to make a DIY fish. This craft uses only three basic raw materials- cardboard, clips, and toothpicks. But what makes this cardboard craft more fun is the use of the fun and quirky colored clips. This is a smart way of organizing the clips.
21. Cardboard Doll Bassinet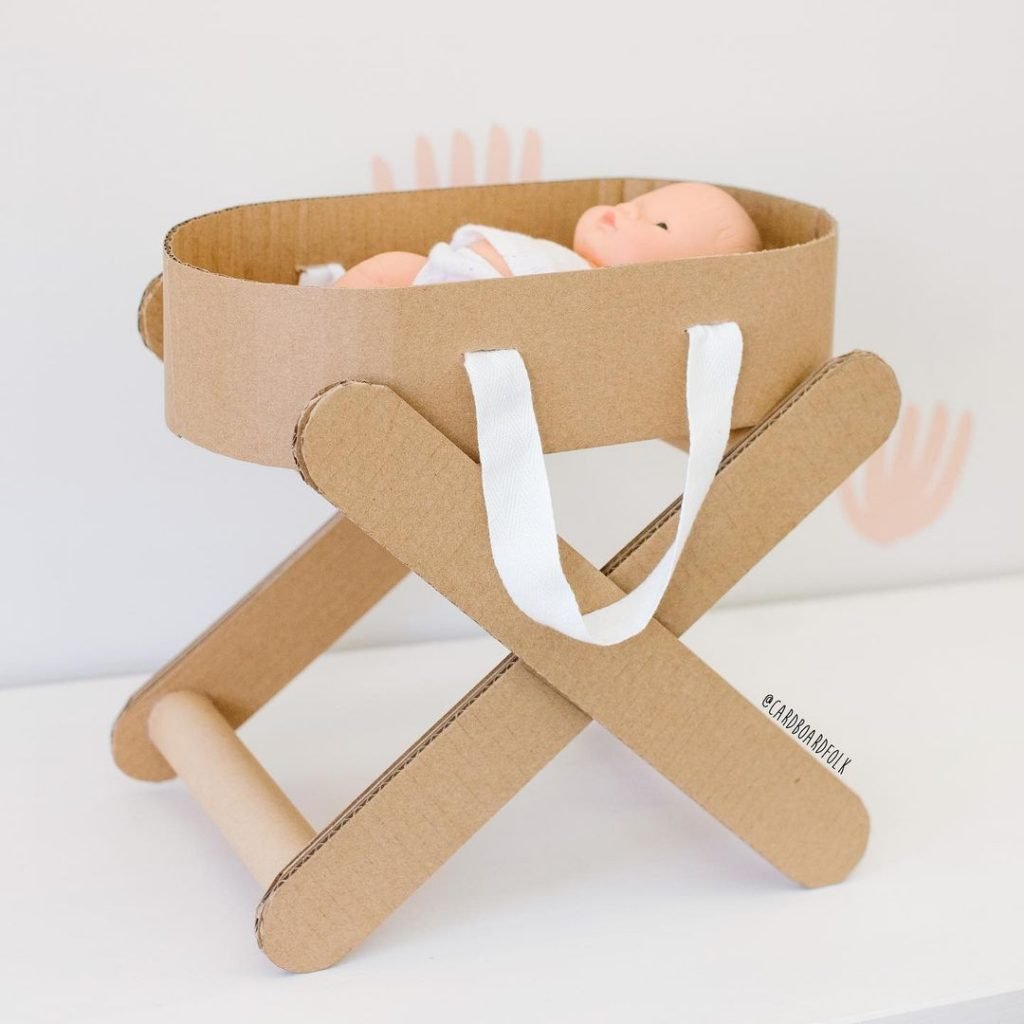 Little girls often tend to have a soft corner for dolls. Your little girl will be over the moon at the sight of this cute little bassinet. Cardboard box crafts like this one are something that kids love; your little girl will be too excited to put the mini-doll to bed every night.
22. Cardboard Parking Garage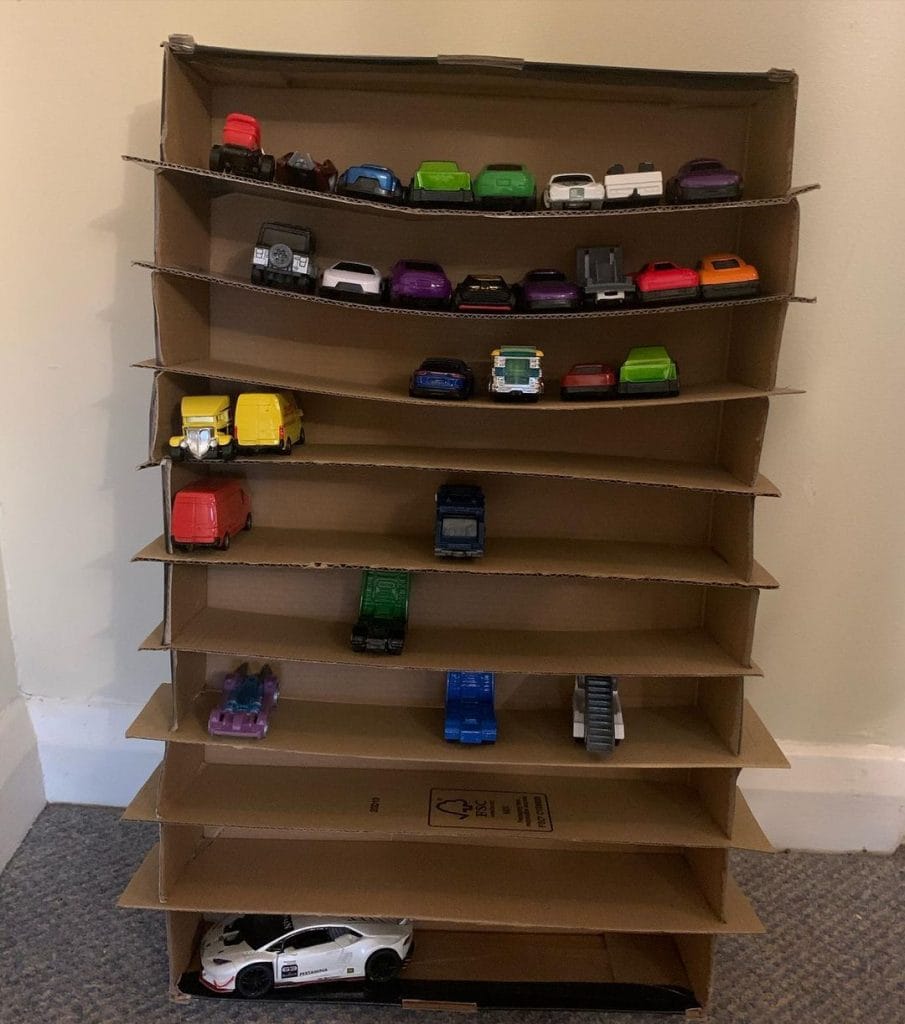 If you are dealing with too many cars 'unparked' here and there, all thanks to the little monkey boy in the house, then hold on let this craft solve that for you. This parking garage is so simple yet so useful. Your little one will not only be excited but will also love parking his cars.
23. Parking Lot Cardboard Crafts
How about you let your kid display his car collection? But of course in an organized way. This cardboard parking lot is something your kids will simply love. And why not? In here the kids can actually flaunt their car collection without sabotaging the floor space. And it is so effortless to make that even the little one can make one for himself.
24. Blue Magician Hat
This one reminds me of a fancy dress show or even Halloween night. That's how magical it looks! This suggestion here will cheer up the kids. This is an excellent option when it comes to cardboard box crafts, as it is easy and simple and also won't fail to bring a smile to their face. I especially love the stunning blue and of course the stars, that's what creates the magical aura.
25. Morning Board Cardboard Crafts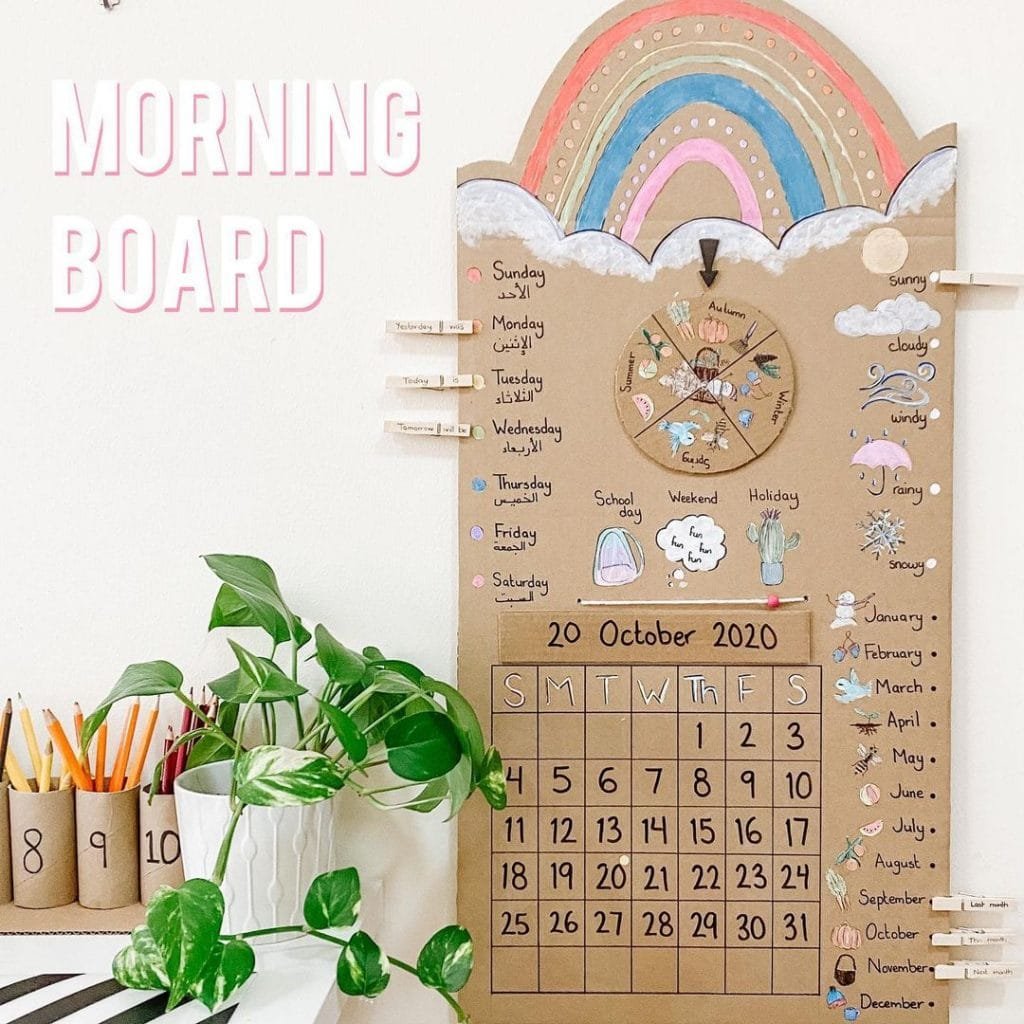 We all need a routine, in fact, I love maintaining a bullet journal or a planner. It keeps me grounded and my days sorted. I like it when at a glance I know what my month or week is going to look like. So why not make something equivalent for the kids? Which is not only easy to read but also fun to make? I am in love with this one here. This planner is so cool that I might just make one for myself. It has it all, seasons, months, weeks, and days. Your young one will simply love it!
26. Solar System DIY Cardboard Crafts
If you thought that crafting is all about games and decor, then let me change that for you. This space puzzle is not just for the space lover kids but also an excellent school craft or rather an educational craft. The kids will not just have fun making a replica of this but will also be learning while playing.
Read – 40 Amazing Earth Day Craft Ideas For Kids & Adults
27. Color Puzzle Cardboard Crafts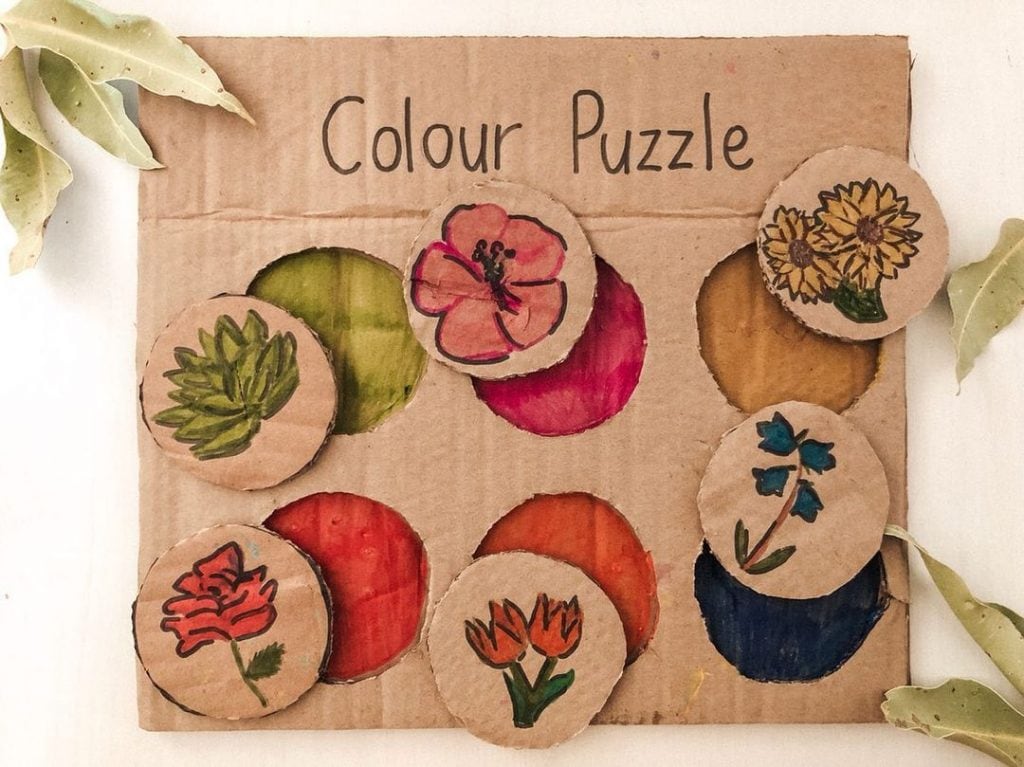 How beautiful is this one? I love the colors and of course, how can one deny the benefits of this one here? This craft is a creative way of teaching the little kids the colors and the flowers. Like they say, "Every flower blooms in its own time", let your kids bloom while at play.
28. Caterpillar Number Puzzle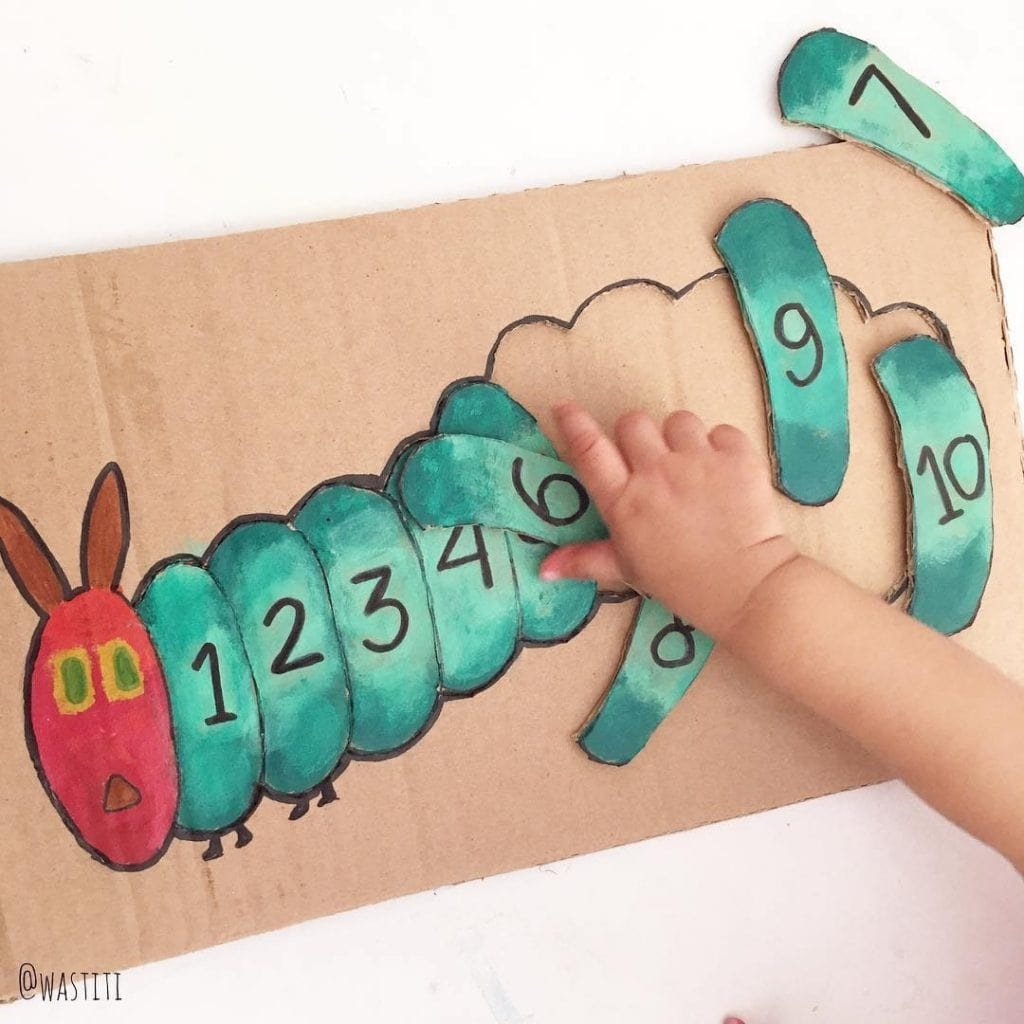 Last week I made one such caterpillar puzzle for my niece. She is just starting to learn the numbers and was too excited when she saw this little colorful caterpillar. Teaching kids is certainly a task, they always need something new, something fun even when it comes to learning. And I love how this green caterpillar has come to the rescue.
29. Puzzle Me
Yet another lovely puzzle on the list! This puzzle is a little different than the rest. Unlike the others, this one here will test the focus of the kids. It is more like a 'get the match' game. But I love how innovative this puzzle is. Little kids will have a gala time making the boat sail, completing the snake, buzzing the bee, and finishing the pattern.
30. Pizza Mania
The other day I saw something similar on the internet, but of course, I felt it was too overpriced. And then I came across this DIY version of the same. It is so much fun. Kids love this kind of puzzle, and as an adult, I always support such games that add value to them. It helps them to learn in a fun way. This pizza puzzle will teach your kids numbers within just a few days.
31. Rainbow All Over
There is something about rainbows, it instantly brightens up the mood just how it brightens the sky after a rainy day. This one here will always remind you and even your kids of all the happy days. Motivating kids is very important but it can also be very challenging. So why not add a little piece of rainbow, sun, stars, and cloud to remind them that 'It takes sunshine and rain to make a rainbow'?
32. DIY Shoebox Shelf
Who will even believe that this one is a craft made out of a mere shoebox? This craft has made it possible with some easy steps. All it took her was some color (like the soft blue), a rubber band, some interesting stickers, and a nice vintage button. That's all it takes to make this DIY book organizer.
33. Cardboard Gingerbread Train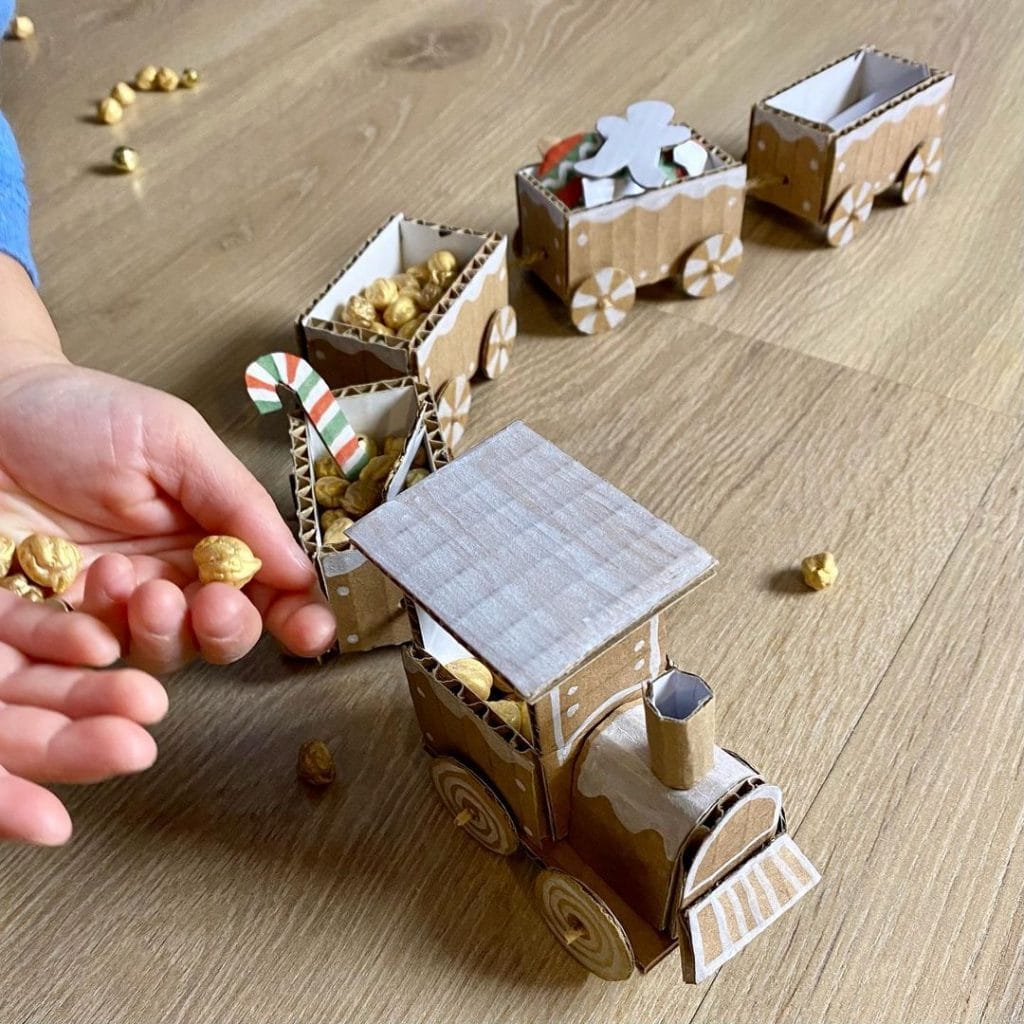 As a kid, I used to love these toy trains. They have always been my favorite. So much so that I had to try my hands at this one here. And I believe every kid loves a train, and a Christmas-themed train is simply a bonus. This train requires basic raw materials like cardboard, glue, twine, a white pen, and toothpicks. For the added drama you can certainly fill the wagons with some good Christmas goods Like cardboard cutouts, some bells, and even some toffees.
34. Cardboard Birds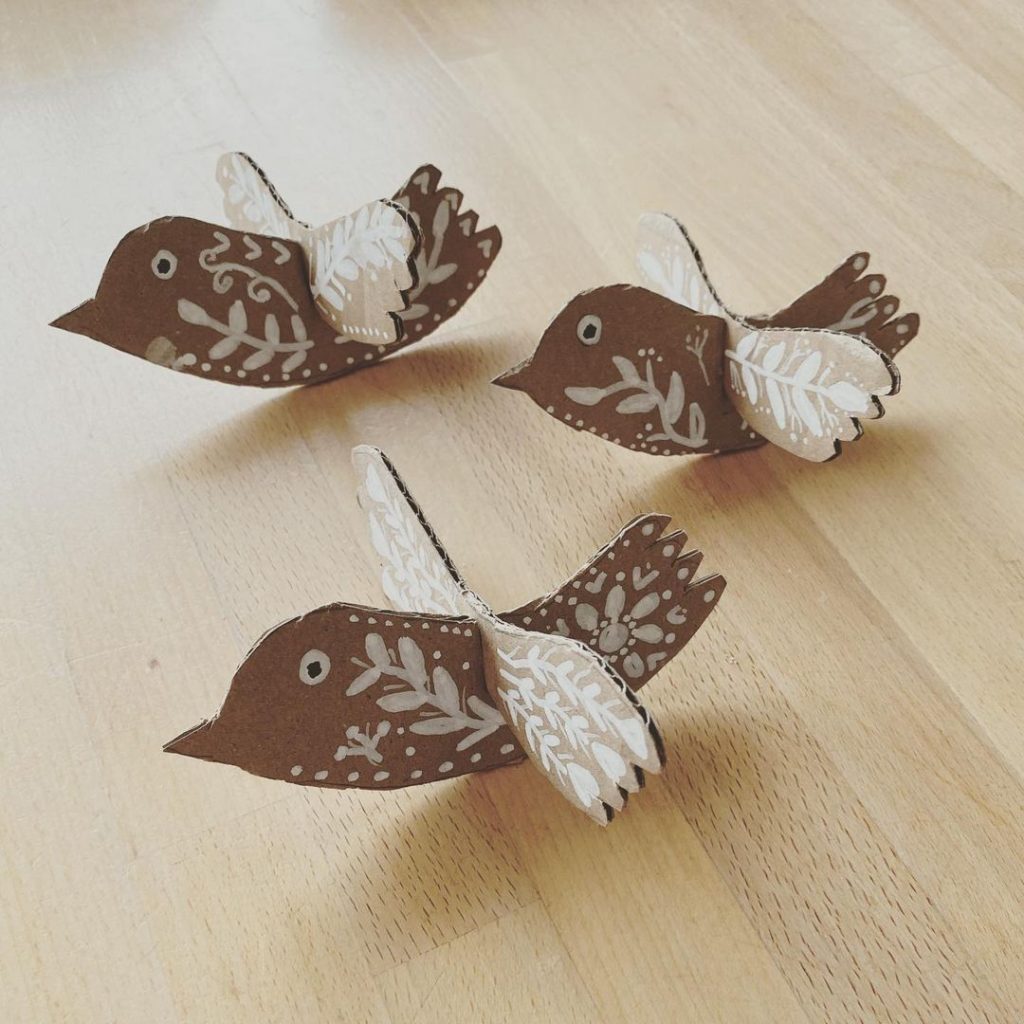 Look at these cute little birdies! How adorable! These birds are simple cardboard cutouts. But what adds to the character is the white pen painting on them.
35. Chirp! Chirp!
This without a doubt will remind you of Disney movies. That's how expressive the eyes are of these birdies. has absolutely nailed it! With the colorful patterns drawn on it, the drama is intense. The raw materials are simple. All you will need are cardboard, colored markers, sticks, scissors, feathers, and glue. My favorite thing here is certainly the colorful feathers on the head.
36. B for Bookends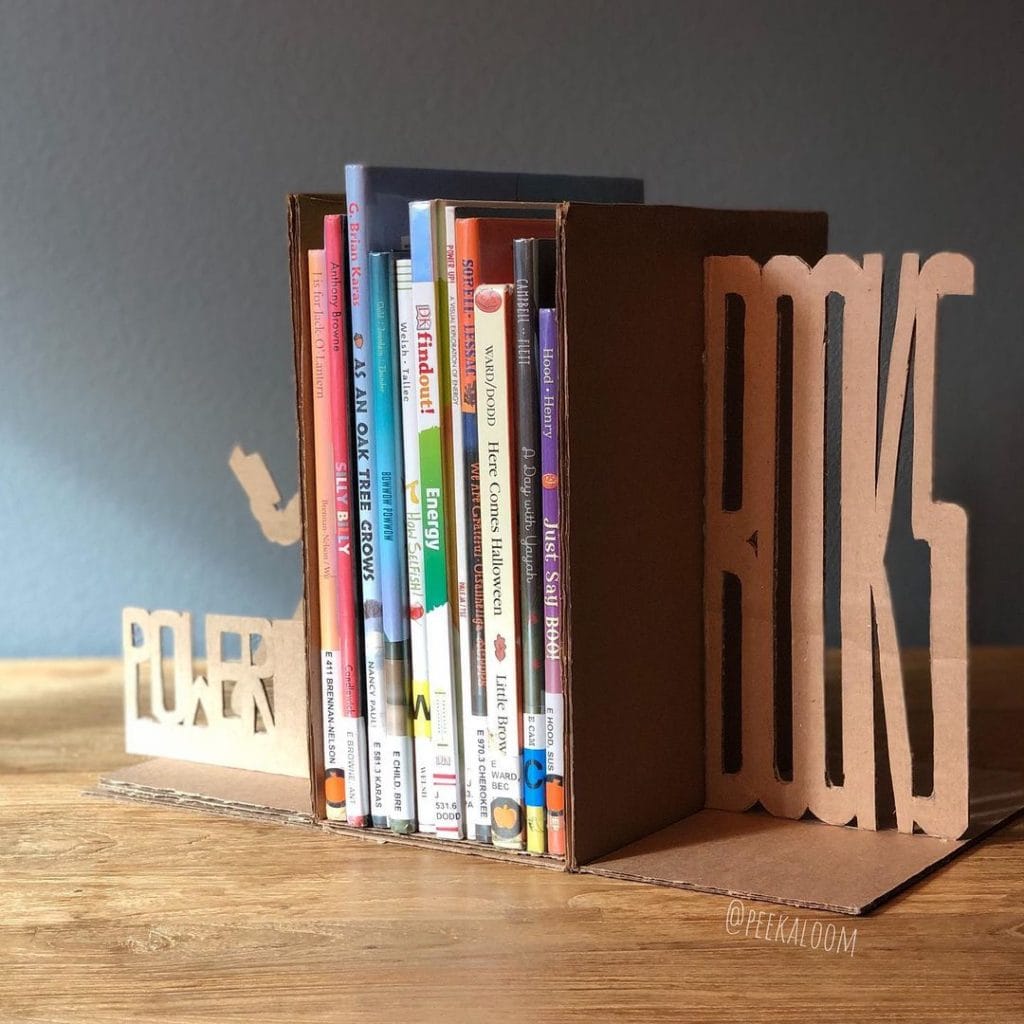 How many times have you struggled with those piles of books that are too often used to be kept in the study and too many to be kept on the study desk? I struggle with this every day. This is a brilliant and smart solution for it. I love this bookstand. It is not just economical but also small and useful. This is perfect for the study table. And the cutouts saying 'POWER' and 'BOOKS' have won me over.
37. Room Decor
Don't we all feel a little lost because of our hectic life? That's when we need a little pat on the back and a little hope in the heart. This cardboard DIY wall hanging does exactly that. I love this one, everything about it- from what it says to the color pattern.
38. Cardboard Box Elevator
Get ready to elevate your kids playtime to a whole new level with the cardbox box elevator toy craft! This exciting crafting project lets you unleash your imagination and creativity to build your very own toy elevator that's sure to delight kids.
39. Cardboard Box Car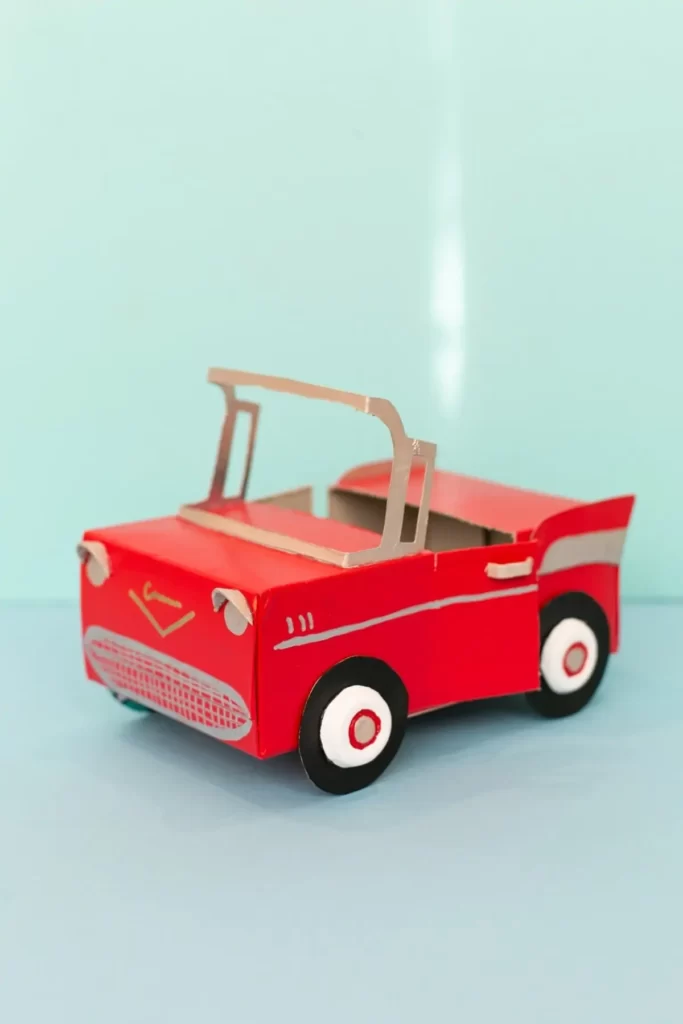 Get ready to rev up your crafting skills and hit the cardboard road with this fun and easy tutorial on how to make your very own cardboard toy car.
And with that, we have reached the end of this long list of cardboard box crafts. The list has it all, options not only for the kids but also for adults. It also has some decorative pieces while some are educational. Don't forget to let us know your favorite one in the comment section below. Happy cardboard crafting people!
If you loved these ideas, you can use the Pin image below and save this article on your 'DIY Cardboard Crafts' Pinterest board.