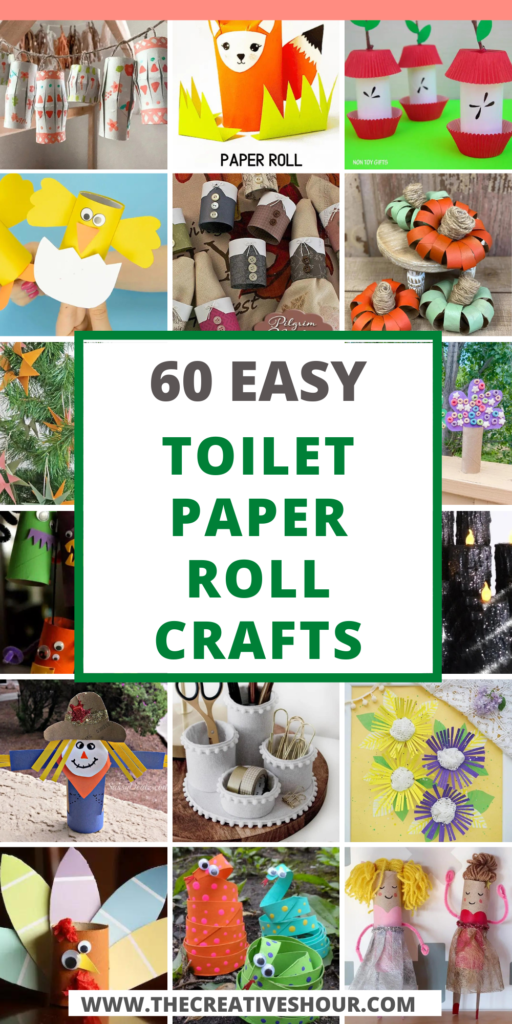 If you're looking for an easy and inexpensive way to unleash your creativity, look no further than toilet paper roll crafts! These DIY projects are not only fun and eco-friendly, but they're also a great way to repurpose something that would otherwise be thrown away.
From cute and quirky animal figurines to practical storage solutions, the possibilities are endless. Whether you're a crafting pro or just starting out, toilet paper tube crafts are a great way to keep yourself and your family entertained while also reducing waste. 
Whether it is some school project or party decoration, crafts using empty toilet paper rolls are an absolute go-to idea. One may think that toilet paper crafts are quite a weird choice for decorating the house for a party or to make crafts from. Well, wait until you see our curated list of DIY cardboard tube crafts for you. These ideas are innovative, creative, and unique. You will enjoy making these.
Also read –
Cute Toilet Paper Roll Crafts For Kids
These crafts are a fun and easy way to keep your kid entertained. They will not only expose them to their innate creative side but also teach them about the importance of recycling the usual everyday waste materials. Here is a list of toilet paper tubes crafts for you and your kids to enjoy making together.
1. Star Wars Toy
Image and tutorial by woodenthatbesomethin
Don't the kids always love rocket crafts? This toilet paper tube craft idea is not exactly a Star Wars replica, but it certainly is one of a kind rocket. The pink color and the beautiful pattern at the head gives the whole toy an added beauty. If your kid is a fan of space and spacecraft, then this will certainly cheer them up.
2. Roll Doll Craft
Image and tutorial by ladylemonadenl
This beautiful doll craft is proof that rockets are not the only thing that can be achieved with empty toilet rolls. 
3. Toilet Paper Roll Racing Cars
Image and tutorial by Repeat Crafter Me
Most kids can't resist playing with cars. They will love painting these cardboard tubes in their favourite colours to make this fun craft. Next, you can assist them with the cut-outs and adding of the bottle caps to make wheels. And just like that, your kids will have a newly crafted racing car to play with, make completely from recycled materials.
4. Toilet Roll Coiled Snakes
Image and tutorial by Crafts by Amanda
Looking for an interesting camp craft to do with your kids using toilet rolls? Then, this craft idea is just perfect for you. Kids will enjoy painting both the sides of the tubes and then adding patterns on top of it. You will have to assist them in cutting the tube into a coiling shape though. Don't forget to add those googly eyes and the red paper tongue.
5. Paper Roll Shape Stamps
Image and tutorial by mamapapabubba.com
Want to do a fun paper roll craft with your toddlers? This one is a super easy craft that they will enjoy. Shape stamps are perfect to make your kids learn about different shapes and colours. Simply mould the rolls into different shapes and then squeeze out your kids favourite colours on a tray. And let the playtime begin!
6. Paper Tube Ball and Cup Game For Kids

Image and tutorial by hellowonderful
Do you and your kids enjoy the game of ball and the cup? This paper roll craft lets you play the game. All you need to do is craft it with a toilet paper tube, big wooden beads and yarn. Your kids can draw patterns and shapes on the roll to make the craft even more fun and appealing.
7. Toy Car Garage
Tutorial by mamacheaps
If simplicity and fancy were to be found together, this would be it. This simple yet so cool toy car garage is a winner. It is easy to make, your kids too can make it effortlessly. This organizer idea will be your car-obsessed kid's favourite. But even adults can use such an organizer, for instance, to organize towels or even socks.
8. Spring Cereal Trees
​
This one is a perfect recycled toilet paper roll craft for preschoolers. The paper roll works perfectly as a stem to hold your tree made from construction paper. The kids have a wonderful time decorating the tree with their favourite cereals.
Toilet Paper Roll Crafts For Adults
The best thing about toilet cardboard tubes is that they are so strong and sturdy. Their shape also makes them useful for a wide range of crafts, even for adults. Some of the most common uses of cardboard tube crafts for adults is to create some good organisers, wall decors and seed pots.
9. Up-cycled Organizers
Image and tutorial by _ashlee_white
These recycled organizers are a perfect choice to declutter your study table. Make a few of these to store your stationery items. They not only keep your study or workspace clean but also look beautiful. You can choose the color according to your choice to level things up by a notch.
Read – 24 DIY Pencil Holder and Stands For An Organised Desk
10. Toilet Paper Roll Confetti Poppers
Image and tutorial by Smashed peas and carrots
Who doesn't love confetti poppers in a celebration? However, did you know that you could easily create your own? You need to make a smart use of balloons and toilet paper rolls to craft this but once you learn how to do it well, you would be making this popper for every party!
11. Flower Wall Art
Image and tutorial by Creativity hero
The best part about this craft is that it is perfectly symmetrical. All you need to do is create cut-outs of the same width and then organise them properly to create an aesthetic pattern for your wall.
12. Toilet Paper Roll Gift Wrap
Image and tutorial by heiterkram
If you thought that toilet rolls belong to the dustbin, then think again. Because here is an excellent way to make use of those empty rolls this festive season. Yes! You can actually make small, cute, and eco-friendly gift packs with the help of some paper rolls. 
13. Flowers On The Wall
Image and tutorial by pracowniapastelka
Flower cuttings made from toilet paper rolls are make for an DIY wall art. You can easily recreate this wall art to give some character to that empty wall in your house.
14. Seedling Pots
Do you love gardening? We have got some good news for you. Cardboard tubes can also act as seed starters. It is perfect for growing baby saplings. They are eco friendly and stylish.
Toilet Paper Roll Christmas Crafts
Get ready to add a festive touch to your home with these creative and fun toilet paper roll Christmas crafts! From cute ornaments and gift boxes to decorative wreaths and advent calendars, there are endless possibilities. Let's get crafting and make this holiday season even more special!
15. Snowman Crafts
Image and tutorial by honigkukuk
These snowman themed paper roll crafts are perfect DIY dolls for Christmas decoration. Your kids will love the idea and will enjoy contributing to the party preparation. You can also add some white cotton balls in the background to add some extra character to the white Christmas theme.
16. Paper Roll Christmas Elf
Image and tutorial from Simple Everyday Mom
Looking for a fun Christmas craft to do with your kids? Try making an elf with the little ones in the house. The tutorial provides a printable template to create the elf's cap, eyes and outfit. So, it's an easy paper craft that you can have lots of fun with.
17. Gingerbread Man Craft
Image and tutorial by The meaningful mama
Isn't Christmas incomplete without a gingerbread man craft? They make for great decorative pieces and can even be used as Christmas tree ornaments. You and your kids are going to have a wonderful time making this one! But let me caution you, this craft might leave everyone wanting some gingerbread cookies.
18. Toilet Paper Roll Christmas Ornaments
Image and tutorial by OhhoDeco
It's fun to buy those beautiful Christmas ornaments every year! But if you're looking for a sustainable way to make tree ornaments, then you will love this craft using toilet paper rolls. Isn't it great to create something out of waste? You're going to feel proud of yourself for making them.
19. Paper Roll Reindeer
Image and tutorial by simpleeverydaymom
Rudolph is a favourite at Christmas time and so will be this adorable toilet paper roll craft. Crafts like these are sustainable and reusable. Plus imagine the fun you will have with your children while making this. The tutorial is really simple so if you're looking to have some crafting fun, check this one out.
Toilet Paper Roll Crafts For Halloween
Get into the spooky spirit with these DIY toilet paper roll crafts for Halloween! From adorable bats and spooky ghosts to creepy candle holders and candy containers, there are plenty of fun and easy projects to choose from. So, save those empty rolls and let's get crafting for a Halloween to remember!
20. Paper Roll Mummy Craft
Image and tutorial by gluesticksgumdrops
Halloween is that fun time of year where all things make belief come true for one night. So why not echo some legends of mummies with this toilet paper roll craft. Easy to do and lots of fun to have as decorations, this one will make trick or treaters giggle as they gather candy.
21. Toilet Paper Tube Bat
Image and tutorial by craftymorning
Teeny toddlers really love cute Halloween crafts more than scary ones. And this is one of the sweetest ones on this list. Bats are almost a staple of Halloween. Doing this is also really fun with kids so do give this a try for some toddler fun.
22. Scarecrow Craft
Image and tutorial by craftymorning
Although scarecrows aren't that scary to be honest, we still think they're a great Halloween prop. You can easily do this easy paper roll craft with your children. Plus you can customize it with bits and bobs you have available. Go crazy with this one.
23. Halloween Candle Holder
Image and tutorial by houseofdrewberry
Want some spook and mystery around the house this Halloween? Then you need to try this black halloween candle holder craft using toilet paper rolls. Seriously, no one looking at this would ever imagine it was made from cardboard rolls. Amp up your decorations this year and leave everyone stunned with this one.
24. Monster Mobile Craft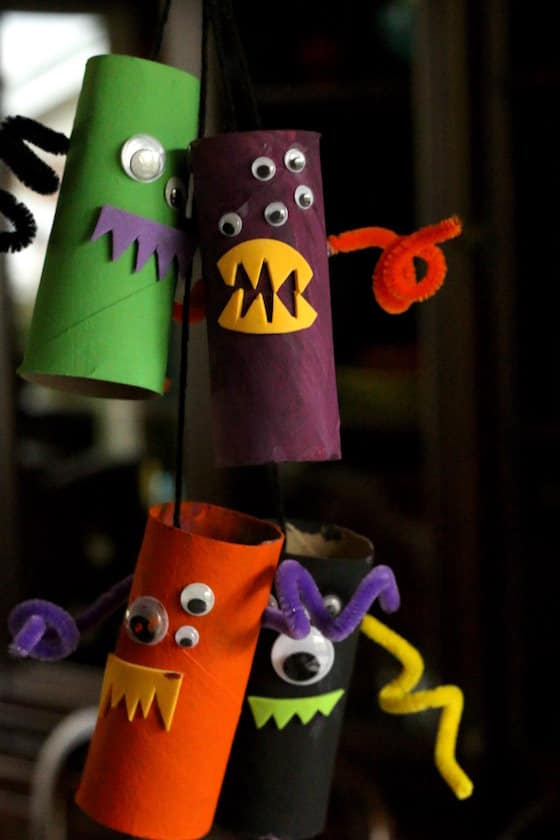 Image and tutorial by happyhooligans
Monsters are almost a given for Halloween right? Hiding under beds and hanging from ceilings? These hanging monsters are really friendly though. And you will have a lot of fun making them with your children. Give each one a different personality and make up your own stories for later!
25. Paper Roll Haunted House
Image and tutorial by thepinterestedparent
Monster houses and castles are a hit at almost any time of the year. Give it a twist this Halloween by recycling old toilet paper rolls to make your spooky castle. The more haunted, the better to entice your children to think up different stories. Furthermore, this will cost you almost nothing to make. So why not give it a try.
26. Cute Vampire Craft
Image and tutorial by theinspirationedit
Count Vlad has to make an appearance at Halloween right? Yes of course. And this time he comes dressed being adorable and cute instead of scary. This toilet paper roll vampire is a super easy halloween craft. All you need is some paint and coloured paper to get started. So go ahead, try it out now.
27. Ghost Windsock Craft
Image and tutorial by easypeasyandfun
Raise your hand if you have dressed as a ghost for Halloween. They're easy to make and fun to execute. All you need is 'Boo'. Well now you can make these silly Ghost Windsocks easily with this tutorial and hang them in different parts of your house. Talk about a well planned Halloween.
Toilet Paper Roll Crafts Flowers
Bring a touch of nature into your home with these charming and easy-to-make toilet paper roll crafts flowers. These DIY projects are a great way to add some whimsy and beauty to any room. So, grab your scissors and let's get started on creating your very own garden of paper roll flowers!
28. Abstract Flower Craft
Image and tutorial by pinkstripeysocks
So many of us love having plants in the house. And yet so few of us are able to do a good job at keeping them alive all the time. With this easy to make abstract flower craft, you can at least mimic that for a bit. It's fun to do and best of all, you're using old toilet paper rolls. So now everyone wins.
29. Paper Craft Daisies
Image and tutorial by craftideas
You don't need a lot of creativity to be doing something like this. But when others see it, they will praise your mind for it. Toilet paper rolls make great flower petals and leaves. And this craft is nothing short of beautiful when done right. Make yourself a recycled craft today. Displaying this will be a pleasure for everyone who sees it.
30. DIY Paper Tube Flowers
Image and tutorial by easypapercrafts
Don't be fooled into thinking this is a complicated toilet paper roll craft. It truly is deceptively easy to make. If you're one of those people who really like making recycled decorations for your home, you will really have a lot of fun making these flowers. It's also really fast to make so you won't need much time to do it.
31. Toilet Paper Roll Flowers
Image and tutorial by thebestideasforkids
Have you been looking for flower crafts to do with your kids but are stumped for ideas? Well, not anymore. This toilet paper roll craft for kids can be done right in time for spring. Make tulips and daisies. Add glitter to them. Make them tall and strong or short and dainty. What you do doesn't matter as long as you have fun with this one.
32. Paper Roll Flowers
Don't you love flowers? And imaginative paper roll crafts like this are like an icing on the cake. These flowers are so simple to make, but they are just as pretty to look at. You can easily paint them different colours and make great decor items. Do these with your kids. Although to be honest it's really fun even for adults to do.
33. Toilet Paper Roll Flower Wreath
Image and tutorial by jilliandesigns
A nice wreath pattern can really make you happy. And this one is as colourful as it is unique. Use different colours to tell your story and create your own flower craft. The best part of this is you can customize the wreath according to your occasion. That's so cool right?
Toilet Paper Roll Crafts Animals
By using empty toilet paper rolls and a few other materials, you can create cute and imaginative animal crafts that will delight both kids and adults. Get ready to unleash your creativity and have some fun!
34. Pretty Butterfly Craft
Image and tutorial by jumbletree
We all love butterflies, whether in our garden or on the walls. This beautiful idea will really bring out the child in you. And bonus points if you get your kids to make these pretty things for the bedroom or play area. We all need a heaping of joy in our lives; and this toilet paper roll craft is meant to do just that.
35. Paper Roll Polar Bear
Image and tutorial by craftsbyamanda
Although real life polar bears are dangerous – we still think they're cute though – this toilet paper roll craft is nothing but adorable. Easy to make, fun to create and a joy to look at, this little polar bear can do it all.
36. Paper Roll Toucan
Image and tutorial by sofiaysuscuentos
Bring in a slice of the Amazon to your creativity with this handsome bird toilet paper roll craft. This exotic bird craft is a great way to teach your kids about the different animals around the world. It might even get me excited to go to the zoo soon!
37. Lady Bird Craft
Image and tutorial by barely_crafty_mom
Ladybirds are one of the only insects that everyone adores. They're so cute you can't help but smile when you see one. And I'm sure you won't be able to help smiling as you make this lovely toilet paper roll craft either. And it's so easy and fun to make. Toddlers will love playing with these after as well.
38. Feathery Owl Paper Roll Craft
Image and tutorial by artycraftykids
Baby owl crafts like these are way too cute to not be on this list. This toilet paper roll craft is really easy and fun to make. It is even a great prop to go with storytelling. After all, we know how wise owls are. So gather your supplies and tell your children it's crafting time.
39. Toilet Paper Roll Hedgehog
Image ad tutorial by simpleeverdaymom
Most woodland creatures crafts are a great hit with children and grownups alike. There's just something about these cute little crafts that make us go 'Yaaay'. This one is a fun way to recycle your old toilet paper rolls. And to be honest it really is loads of fun when you're done making it.
40. Ice Age Squirrel Craft
Image and tutorial by oceanchildcrafts
We were all a little aggravated with the squirrel in the Ice Age movies. But we have nothing but adoration for these whimsical paper roll squirrels. Also, use some bits and bobs from the outside to get it to really resemble those cute woodland creatures. The pine cones really add a nice touch don't they?
Easy Toilet Paper Roll Crafts
Easy Toilet Paper Roll Crafts are a great way to turn a simple household item into something fun and creative. With just a few simple materials and some imagination, you can transform an empty toilet paper roll into a variety of fun and functional items, from party favors to home decor.
41. Bird Feeder
Image and tutorial by firefliesandmudpies
If you or your kids like birds and want to have them visit you often, then you should definitely try this one. The toilet paper roll bird feeder is really easy to make. You can be sure that little birdies are going to be very thankful for you being so thoughtful.
42. Paper Roll Pillow Boxes
Image and tutorial by thecentsiblelife
Are you bored of using the same old gift boxes to package your small gifts? Well these pillow boxes are a great way to freshen up your style and add a personal touch to your packaging. They can be customized for each occasion differently. And you will have fun each time you make it. Also, you can be sure that the other person will really appreciate the effort.
43. DIY Toilet Paper Roll Kaleidoscope
Image and tutorial by darcyandbrian
We all loved kaleidoscopes as children, right? The different patterns that boggled our minds and fascinated us? This little crafting project sure comes close to replicating that. If you want to introduce your kids to the magic of a kaleidoscope, you really need to try this one.
44. Paper Roll Cactus Craft
Image and tutorial by bestideasforkids
Recycled crafts are a hit with kids, especially when they're making something this cute and innovative. These cacti seem to have a character of their own. And you will be surprised at how easy it is to make them with your children. Just follow along with this simple tutorial and have a cacti collection ready in no time.
45. Toilet Paper Roll Ninjas
Image and tutorial by kidsactivitiesblog
These ninjas can try to look as menacing as they want, they are still nothing short of adorable. It is the perfect after school project to help your children unwind and have loads of fun. The best part, these can be done within half an hour. And then it's play time!
46. Toilet Paper Roll Bracelets
Image and tutorial by muminthemadhouse
Who would have thought that you can do so much with your recycled toilet paper rolls. And yet here we are. These innovative bracelets can be made in no time. And they really are as cute and fancy as they look in the picture.
47. Unicorn Toilet Paper Craft
Image and tutorial by funmoneymom
Mystic magic is what I call a unicorn. These fantasy creatures really make the imagination run wild. Well now you can let your imagination soar with this lovely paper roll craft. Use some glitter and some gold so that your unicorn sparkles just like your dreams.
Toilet Paper Roll Crafts For Easter
With a few cardboard tubes and some crafting supplies, you can make adorable Easter decorations and gifts that are both fun and eco-friendly. Get inspired by these easy and budget-friendly empty toilet paper roll crafts for Easter!
48. Easter Egg Holder Craft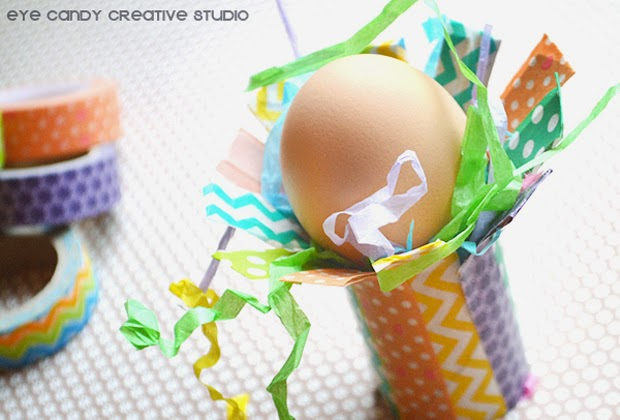 Image and tutorial by eyecandycreativestudio
This little project sure is crafty. And it's not just for children either. Bring these egg holders to the forefront of your dining table. Use them as place holders, as center pieces or even just to have a little bit of fun. The washi tape adds a nice sober touch to this easy to make craft as well.
49. Cute Bunny Paper Roll Craft
Image and tutorial by miraclebag
Easter and Bunny sure go hand in hand. And this paper roll craft is no different. All you need is some toilet paper rolls to get started. You can decide on the colour and design of your easter rabbits. And be sure to tell your children all sorts of stories as you make these together.
50. Toilet Roll Peeps
Image and tutorial by happyhooligans
As colourful and as adorable as marshmallow peeps, but completely sugar free – these little toilet paper roll crafts are the perfect project for Easter. GO crazy with the pastel colours and you'll have a bunch of these ready in no time.
51. Pink Easter Bunny
Image and tutorial by blueeyedbombshell01
There's something about a pink rabbit that just makes Easter right. This little project is perfect for your little ones to make. They can give it names and have a nice time playing with it later as well. After all, Easter bunnies on Easter Island are just a hop away.
52. Easter Chick Craft
Image and tutorial by easypeasyandfun
Did someone say yellow baby Easter chick? Well sign us up already. This whimsical and cute toilet paper roll craft has just the right amount of cuteness and sass. If you end up making a dozen or so of these, we really will not blame you. They really are that fun and easy to do.
53. Easter Egg Stand
Image and tutorial by handicraftuniverse
Make some egg stand crafts with your kids that you will really cherish this holiday. They're really simple and easy to make. They're also cute to look at. And most of all, they can be great gifts. You really can go all out with this craft. Decorate it as you wish. Everyone enjoys a pretty egg holder.
54. Easter Basket Craft
Image and tutorial by thecrafttrain
Easter is not complete without a hunt for the prized eggs right? And we need something to collect all those eggs in. So here we have an easy to make basket tutorial. Do you believe that it's made of toilet paper rolls? These easy to make crafts can be whipped up in no time. So have your children sit down and get ready for the Easter hunt by making a handful of these.
Fall Toilet Paper Roll Crafts
Fall is a season full of warm colors, cozy vibes, and festive decorations. With just a few toilet paper rolls and some basic crafting supplies, you can create charming fall-themed decorations and gifts that will add a touch of rustic charm to any space. 
55. Napkin Ring Craft
Image and tutorial by craftsbyamanda
If one of your guilty pleasures as an adult is crafting and making cool decor items, then this fall themed toilet paper craft will be right up your alley. It's a really nice addition to a fancy Thanksgiving dinner place setting. Either way, this chic craft is fun to do in your spare time, so pick it up now.
56. Toilet Paper Roll Pumpkins
Image and tutorial by theshabbytree
This is bliss for an avid crafter. All things fall and pumpkin is a really nice way to usher in the last few months of the year. And what better way to do it than with a pumpkin craft. As you know, anything that has to do with recycling old supplies is fun. This pumpkin decoration goes great for all things fall; and certainly with all things fun.
57. Fall Themed Toilet Paper Roll Lanterns
Image and tutorial by jaimedcannon
Take your lovely evening on the patio a step further with these super sweet toilet paper roll lanterns. It's a wonderful feeling when you can use stuff around the house to use as decorations isn't it? It's even better because you can customize this toilet paper roll craft to suit your aesthetic.
58. Autumn Leaves Paper Craft
Image and tutorial by wolicreations
There's few things that say autumn and fall quite as loudly as red, orange and green leaves. Maybe that's why this toilet paper roll craft is such a hit with everyone. If you're trying to bring in the feel of fall to your home, these pretty autumn shamrocks are a great way to do it.
59. Toilet Paper Roll Fox Craft
Image and tutorial by artycraftykids
All you need to make this cute orange fox is your craft bin and a cardboard tube. Isn't it the cutest? It's just as easy to make too. And you can even make the grass with leftover rolls. In fact, make a whole jungle of woodland creatures for a fall themed skit. Your kids will love it.
60. Thanksgiving Turkey Craft
Image and tutorial by happyhooligans
Teach your toddlers about turkey gobble with this super easy and extremely fun turkey craft. And to think it's made with a toilet paper roll. Isn't that crafty now. Nothing is more fun than getting toddlers excited with crafting around the holidays. It's probably the nicest way to keep them occupied. On top of that, they get a new plaything to enjoy as well.
61. Paper Roll Apple Core Craft
Image and tutorial by nontoygifts
Autumn and apples go hand in hand. The smell of the apple orchard is almost nostalgic and most of us can't wait to go apple picking right? This little craft project will help you tide over some of those feelings for a bit. Also, look at how cute this decoration will be for your room. Not to mention all the fun you'll have making it.
Did you ever think that saving a toilet paper tube or one from a roll of paper towel could open up so many crafty possibilities? If you loved these craft ideas, you can use the Pin image below and save this article on your 'Tissue Paper Roll Crafts' Pinterest board.