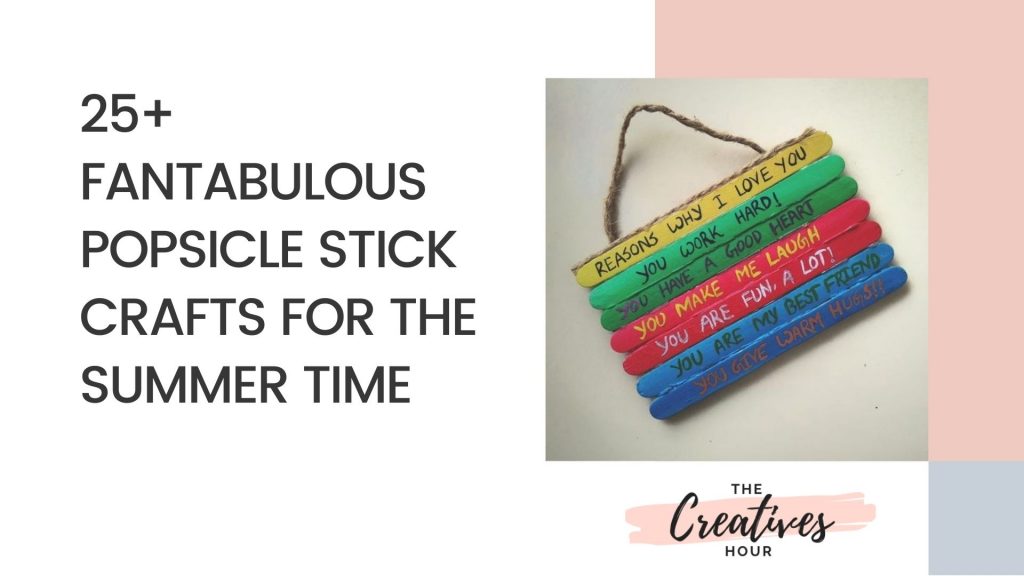 Summer is right around the corner and we can't wait to have those amazing popsicles to quench the thirst. After all, we all could use a little relief from the heat. But what about the popsicle sticks? If they are crowding your dustbin then how about this summer indulge in some trendy popsicle stick crafts?
It is no bummer that kids love popsicles, to be fair, being an adult I too can't get enough of them! So if your house is facing a popsicle stick apocalypse then stay tuned and read on. Because here we are with 29 brilliant popsicle stick crafts to rescue you this summer.
These popsicle stick crafts are not just fun and easy to accomplish but also therapeutic in nature. And of course, a great way to keep those little ones occupied during their summer vacation. What I personally love about these crafts is how versatile they are. From simple crafts to using them as bookmarks, you can explore a lot with popsicle stick crafts. So let's begin with our little popsicle stick crafts project!
You can also check out some other interesting craft ideas here on- 15+ Amazing Tissue Paper Crafts For Your Fun Time.
1.Summer Vibes Strong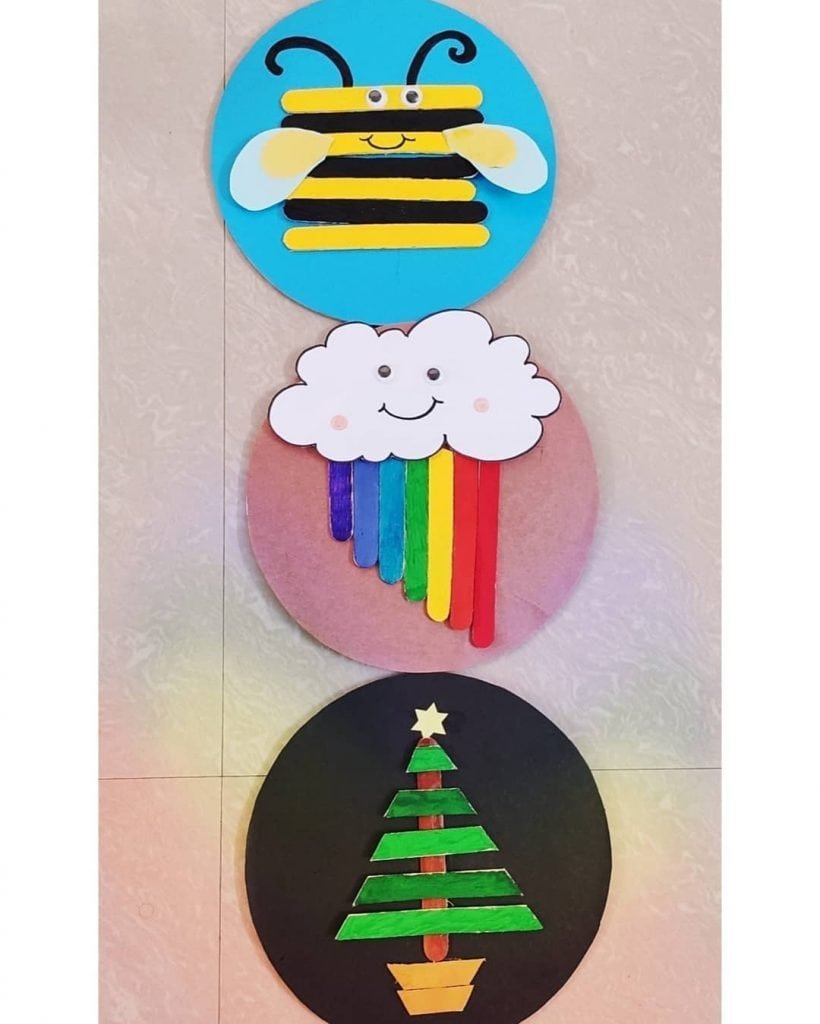 How lovely are these popsicle stick crafts by u.a.68? The bright yellow bee, the vibrant rainbow, and even the green Christmas tree everything about these crafts will simply replenish your mind with the positive vibes that come with summer. She has used such vibrant colors to achieve these craft ideas that your kids will certainly enjoy making a few of these. And with a little detailing like the cloud smiling, the bee with paper wings, and the Christmas tree topped with the bright star, these craft ideas are marvelous.
2. Home Sweet Home
How often have you heard your kids beg for a dollhouse? Much often, right? Well, loliyya_craft  has the perfect solution for that. How beautifully she has come up with this popsicle stick craft to make a cute little house for the tiny dolls! I love such aesthetically pleasing popsicle stick crafts, which are not just easy but also a perfect addition to the home decor. This one belongs to the wall of your kid's room.
3. Patterned Wall Hangings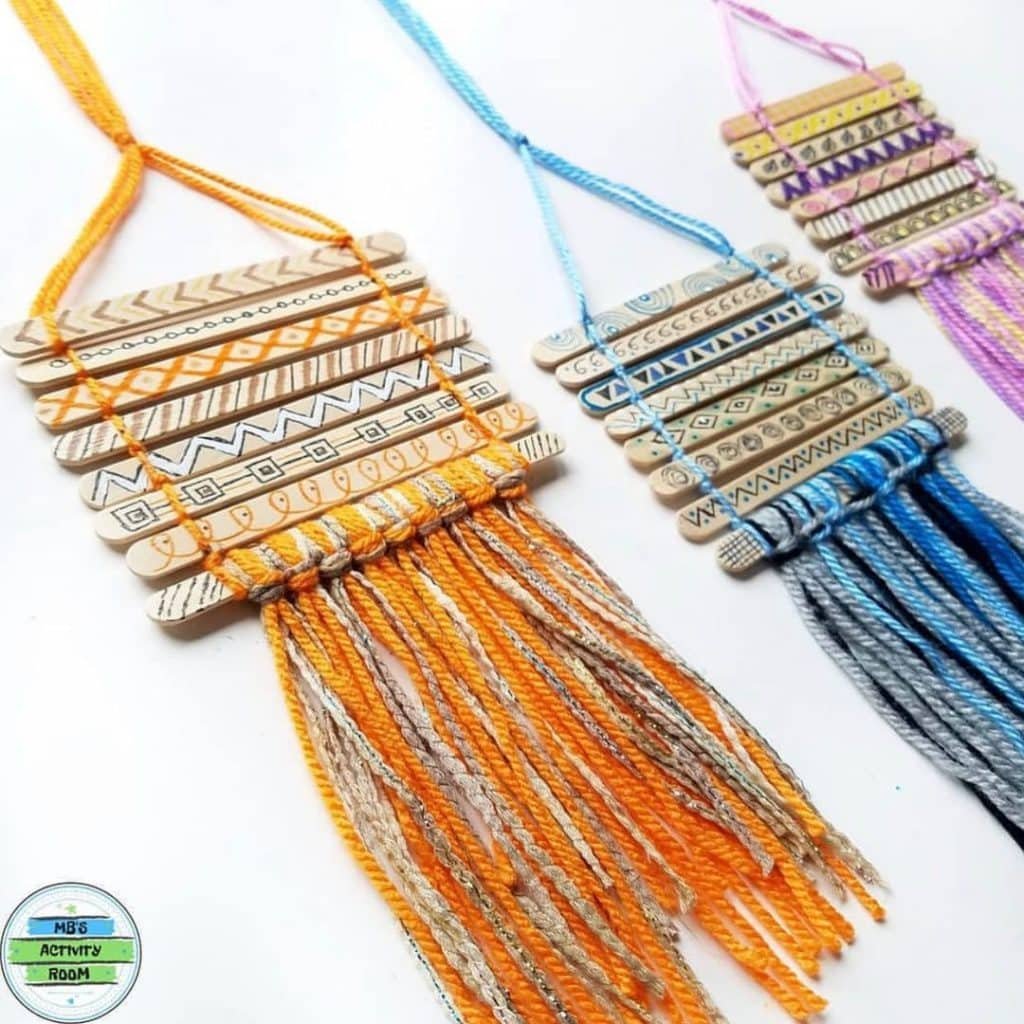 Wall hangings are so in! They are trendy, they add the perfect character to those empty walls, and they can be played around with. Paper__pincone has such amazing popsicle stick crafts that will light up that empty wall in your house. I love the patterns, they are simple yet they add so much more to the otherwise blank popsicle sticks. The vibrant colored threads used to tie them together adds the right amount of fun to these wall hangings. The knots are simple and can be easily mastered.
4. Take the Airplane to the Clouds
Makinglifeblissful has come up with an amazing airplane craft idea. Such popsicle stick crafts are phenomenal. I have often seen such tiny artifacts crowd the internet. But they can be a little heavy on the pockets, so here is an easy and certainly a much more cost-effective option for you. The bright red and the classy blue have created a perfect drama that will make you nostalgic and will not fail to remind you of your childhood days.
5. Ballerinas in Action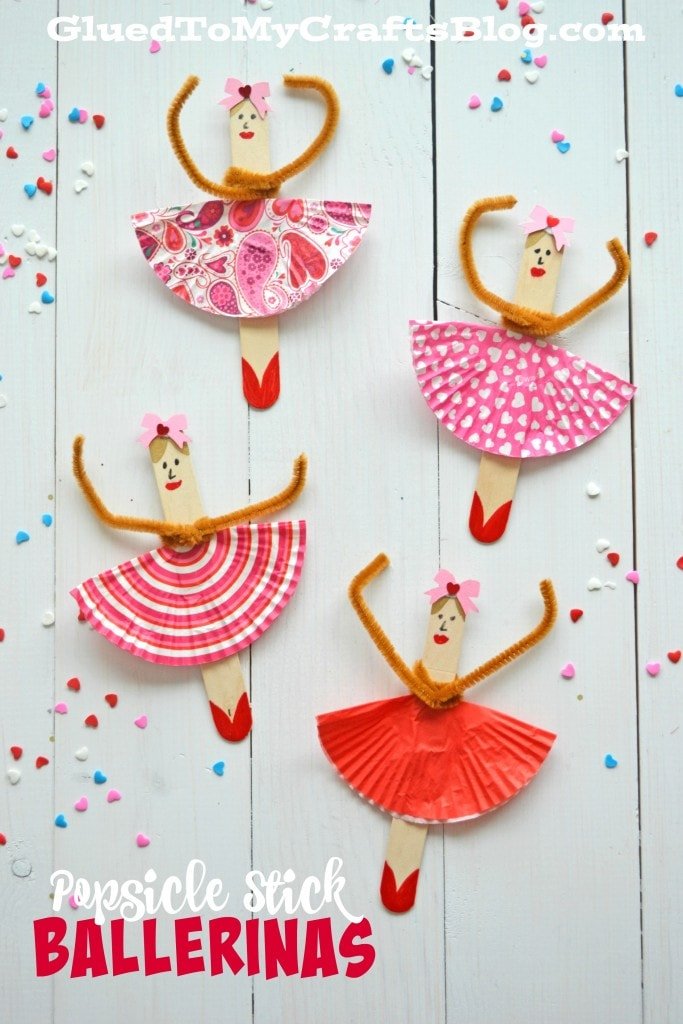 With some jumbo popsicle sticks, pipe cleaners, cupcake liners, paint pens, and various sheets of colored cardstock gluedtomycraftsblog has created these beautiful popsicle stick crafts. These ballerinas are easy to make. This is a perfect craft idea for the kids over the summers. I love how detailed these popsicle stick crafts are, especially the red color used to paint the shoes and the tiny bows on the head.
6. Rainbow popsicle stick crafts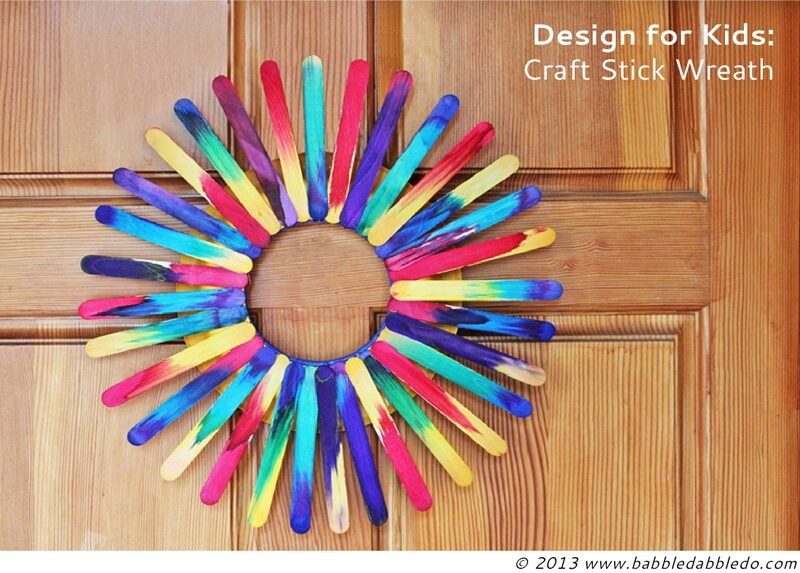 This rainbow popsicle stick wreath by babbledabbledo is as vibrant as it can get. Popsicle stick crafts like this one are fun to make. And imagine how lovely your door would look with this rainbow wreath!
7. Miniature Art Board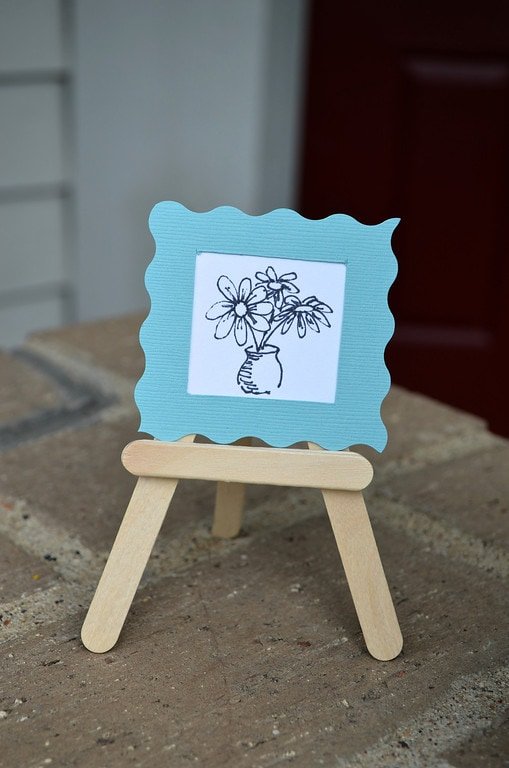 With just some popsicle sticks you can achieve this beautiful miniature artboard by teigland.smugmug. I am loving this one here. The blue is so peaceful and eye-pleasing. And how can we leave out that how cute this one looks!
8. Christmas Tree Popsicle Stick Crafts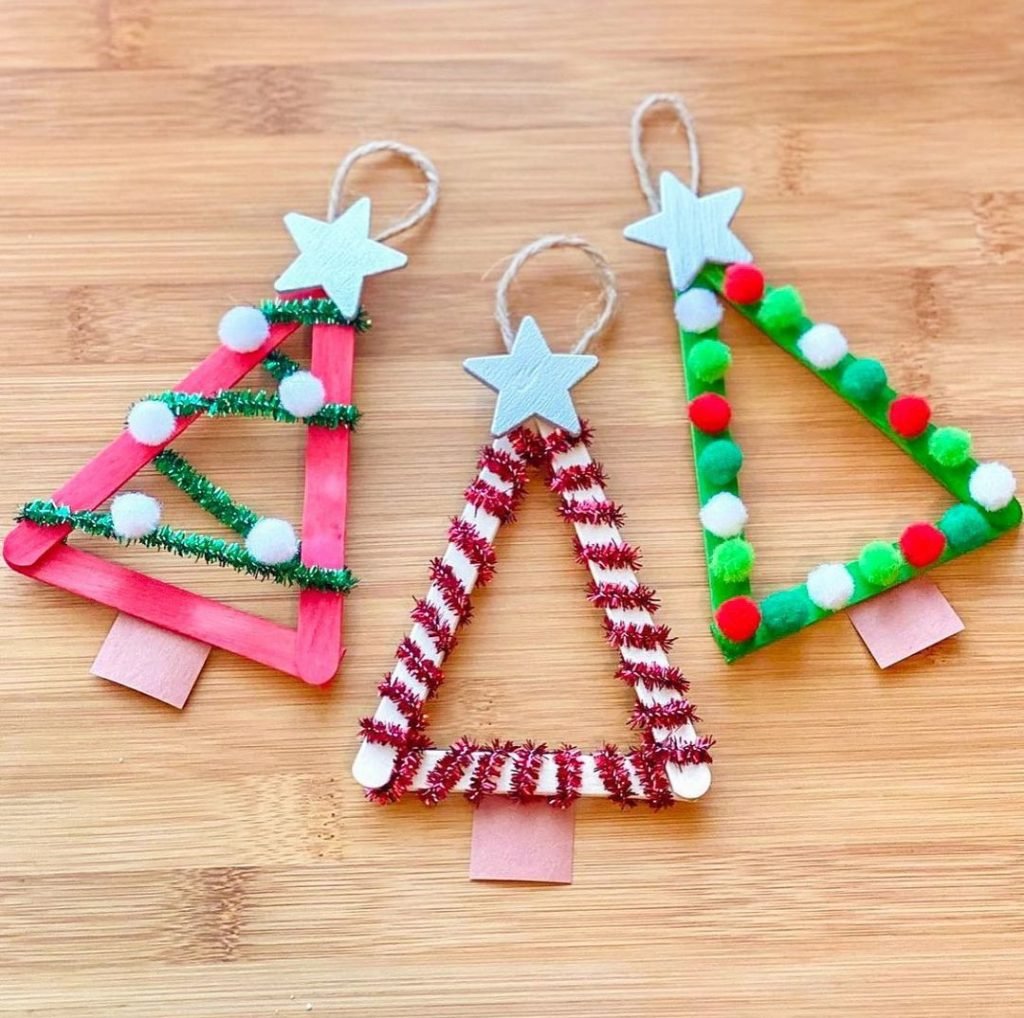 These popsicle stick crafts by bubblesandbellylaughs are innovative. Christmas is all about amazing home decors and the celebration of love and family. So how about trying out these popsicle stick crafts? These crafty Christmas trees are quite interesting, these miniature Christmas trees can be a unique addition to your Christmas decor.
9. Christmas Popsicle Stick Crafts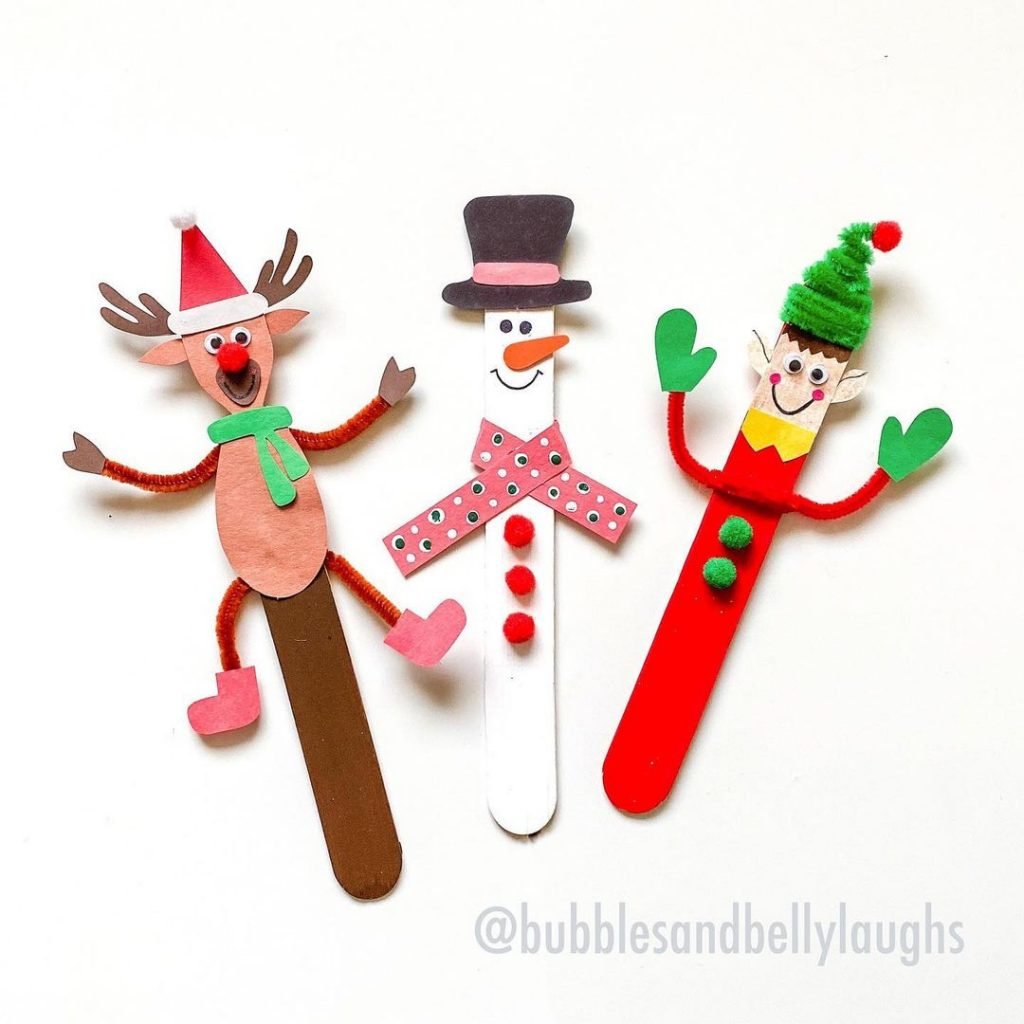 These little popsicle stick crafts are such cute pals. Your kids will enjoy making these popsicle stick crafts by bubblesandbellylaugh. With some jumbo popsicle sticks, pipe cleaners, construction papers, paint pen, and mini pom-pom your kids will be easily able to recreate these crafty pals.
10. Snowflake Popsicle Stick Crafts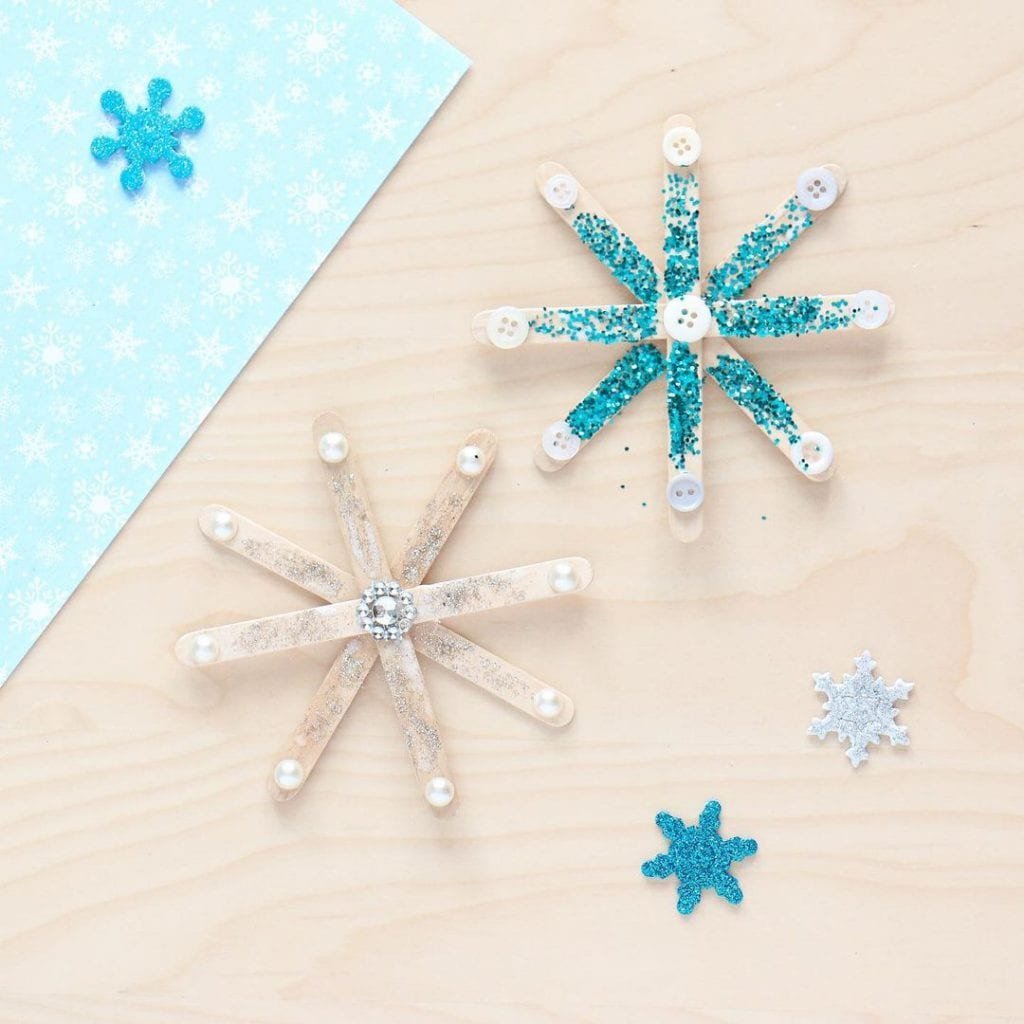 I am in love with these snowflake popsicle stick crafts ideas by toddleratplay. They are so versatile that they can easily be personalized. All you require to get your own personalized snowflakes are jumbo popsicle sticks, jitters, buttons, and some glue. I love how the glitter is making the craft so festive and magical, perfect for the Christmas vibe.
11. Popsicle Stick Christmas Tree Ornament
This Christmas tree ornament by mommoneykids is adorable. It is so innovative, almost like a breath of fresh air. All you need is some popsicle sticks, your favorite color, glue, and some interesting buttons, and voila! You have your own personalized Christmas tree ornament.
12. Happy Girl bookmarks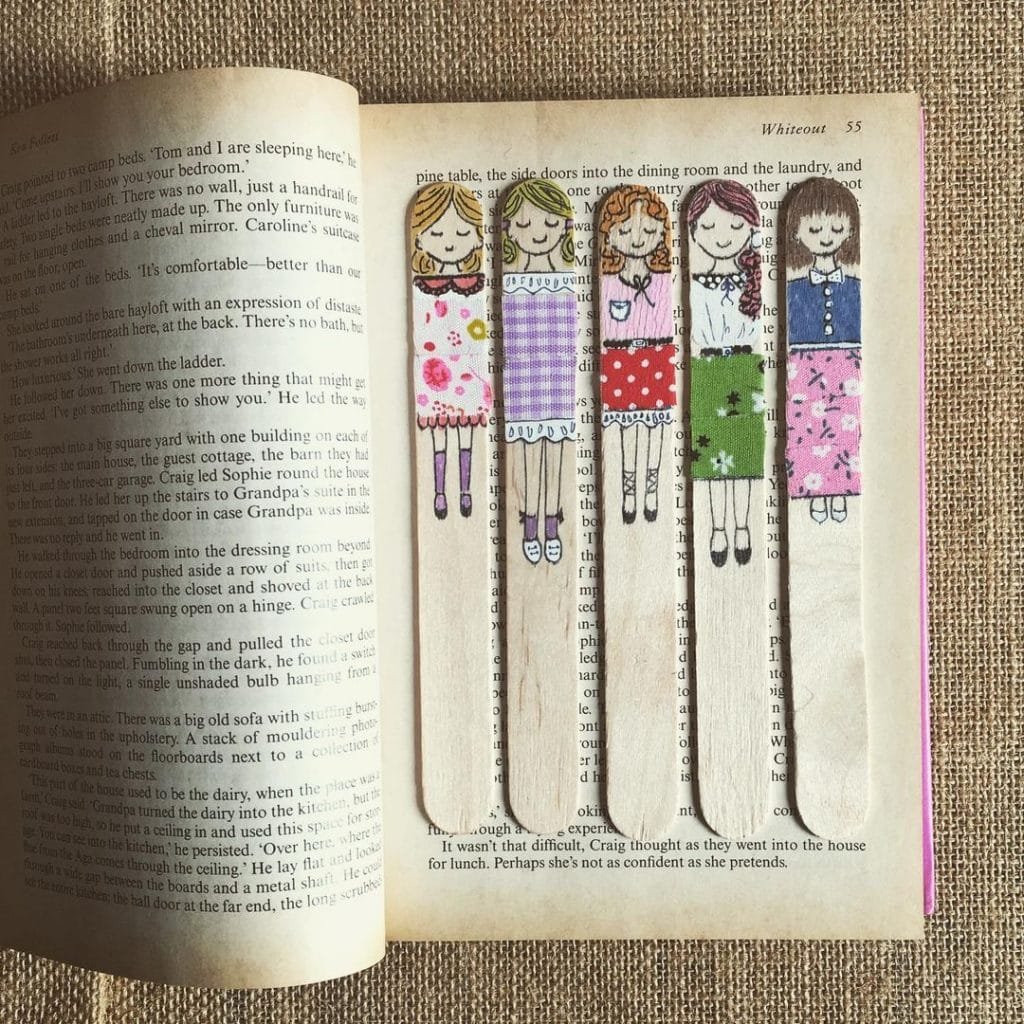 I love bookmarks! So when I saw these popsicle stick crafts by khaddarkikameez I knew I had to make a few of them. They are not just fun to make, but interesting too. The drawings make the simple popsicle sticks much more interesting. And who doesn't need some extra bookmarks? So why not try your hands on these easy bookmarks?
13. Colorful Popsicle Stick Crafts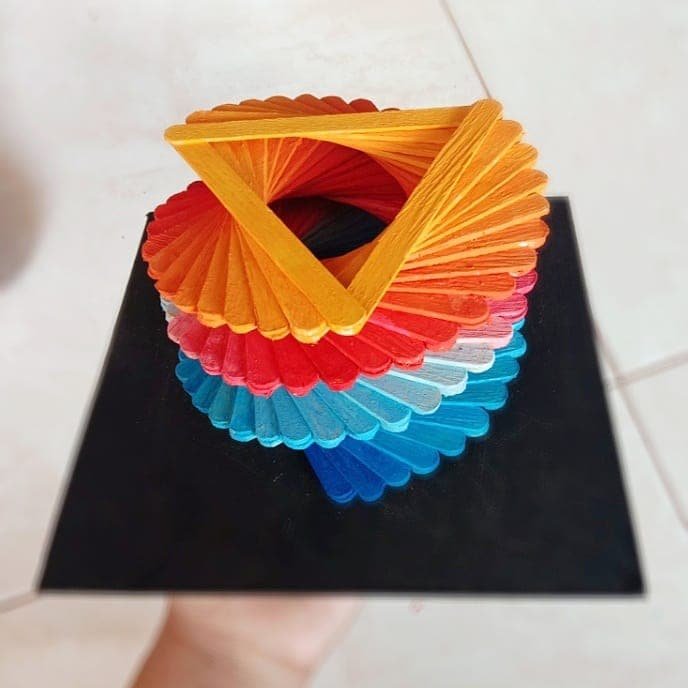 This one here by ersadana.w is so vibrant that I had to make one for my little niece. And of course, she loved it. This craft here can be used as a pen stand or a paperweight, or simply to add some color to your study table.
14. Boho Popsicle Stick Wall Hanging
The bohemian theme is something I have always loved. All because of how aesthetically pleasing they are all the time. They can just simply lift up your spirit. Seniormanor has made the perfect use of colors and leftover popsicle sticks to make this aesthetically pleasing wall hanging.
15. Festive Popsicle Stick Craft
If you thought that popsicle stick art is all about miniature projects and wall hangings then let munchkinandbudda change that for you with this popsicle stick craft. This colorful popsicle stick craft is perfect for a lantern festival. It is not only unique but also the dangling and colorful tissue strips make it much more fun.
16. A Token of Love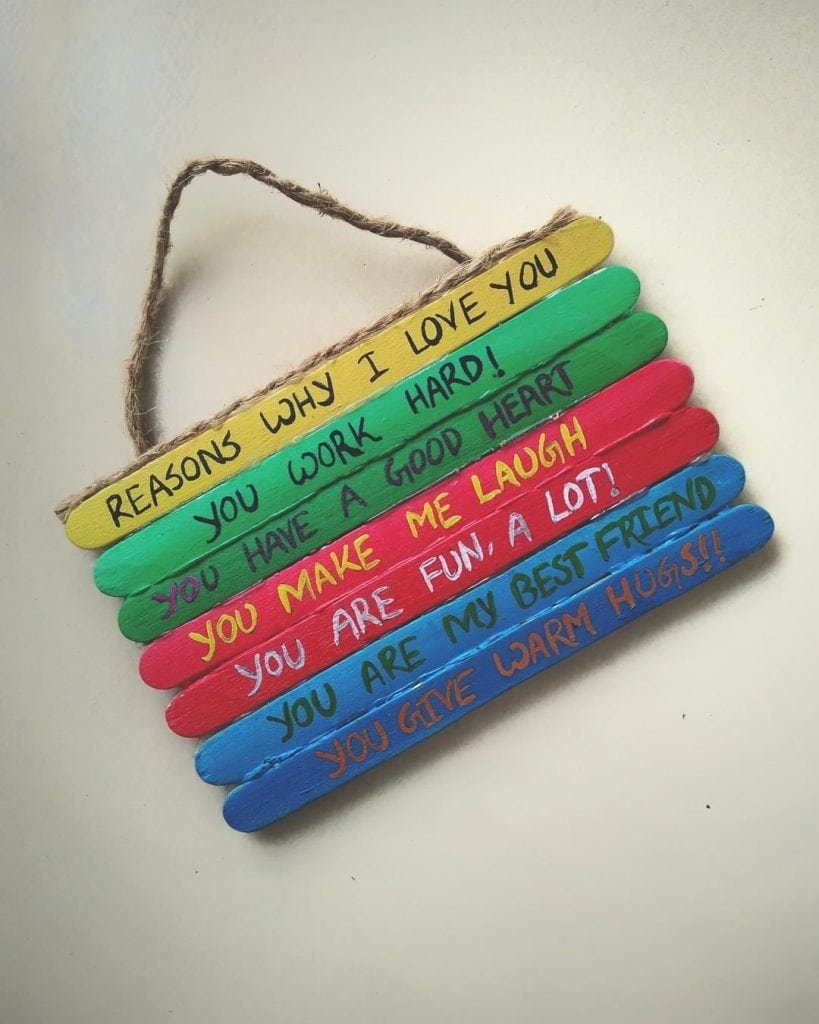 Who knew that popsicle stick craft can even be a way to remind someone of love? Well, this one by angshikrongin has made that possible. This colorful token of love is a unique way to express your love for your loved ones. This Valentine's day makes it a little more special for your beloved with this handcrafted token of love.
17. Wall Decor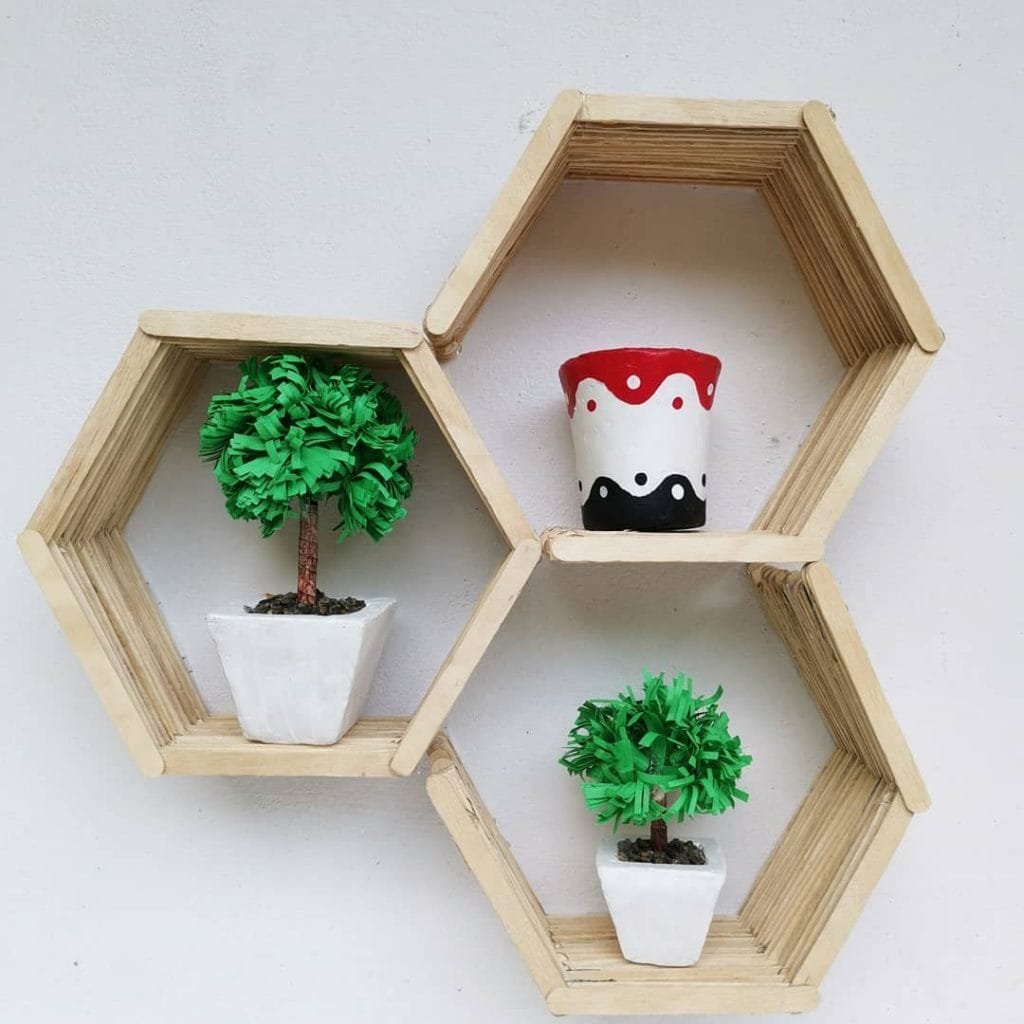 Floating shelves are an interesting wall decor. And to be honest they are very trendy and versatile. And don't we all have that one empty wall in the house that can use a little character? So let me show you this amazing cost-effective wall decor idea by art_of_craft_work. For this one here all you will need are some jumbo popsicle sticks and glue and that's all.
18. Bird Feeder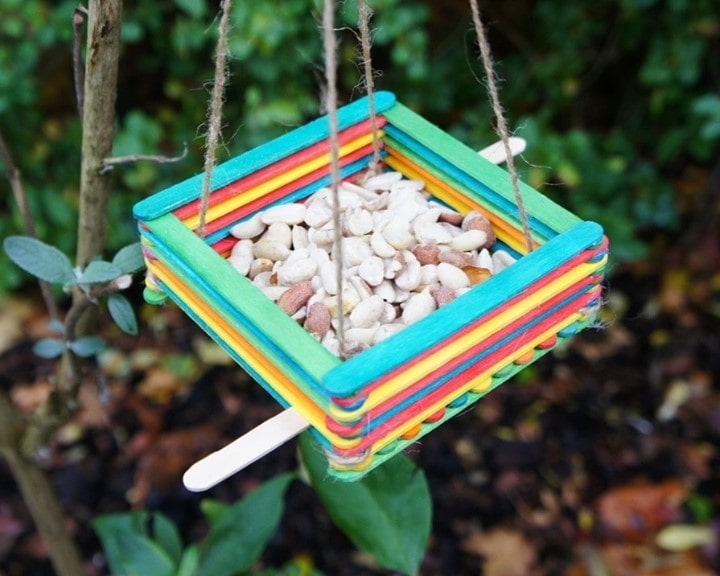 Christinescraftsuk has made this mind-blowing bird feeder only with some popsicle sticks. This one here is so artistically eye-pleasing. You will find so many like this one here crowding the internet but they cost a fortune, so why not build one on your own?
19. Popsicle Stick Lamp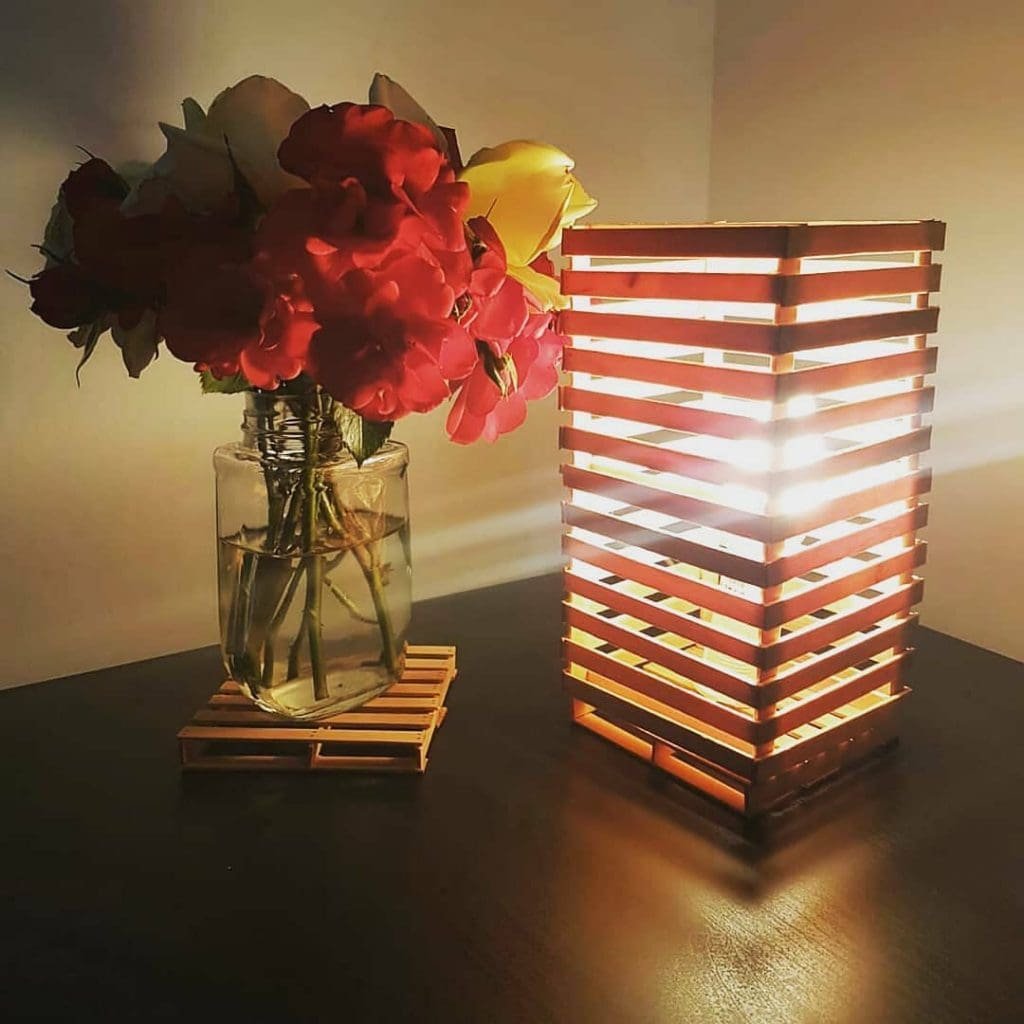 How beautiful does this DIY lamp look! It is perfect for your bedside table and needless to say it is cost-effective too. Dido.artz has made it look so impeccable that it doesn't even look like a DIY project. It looks like something that you would have bought from the artifact shop.
20. Lamp Holder
This one here by scandify_your_life is indeed a soul-pleasing DIY project. And to be fair, it is my favorite on the list. Popsicle stick crafts like this one are always so sophisticated that it adds to your home decor.
21. Popsicle Stick Cactus Plant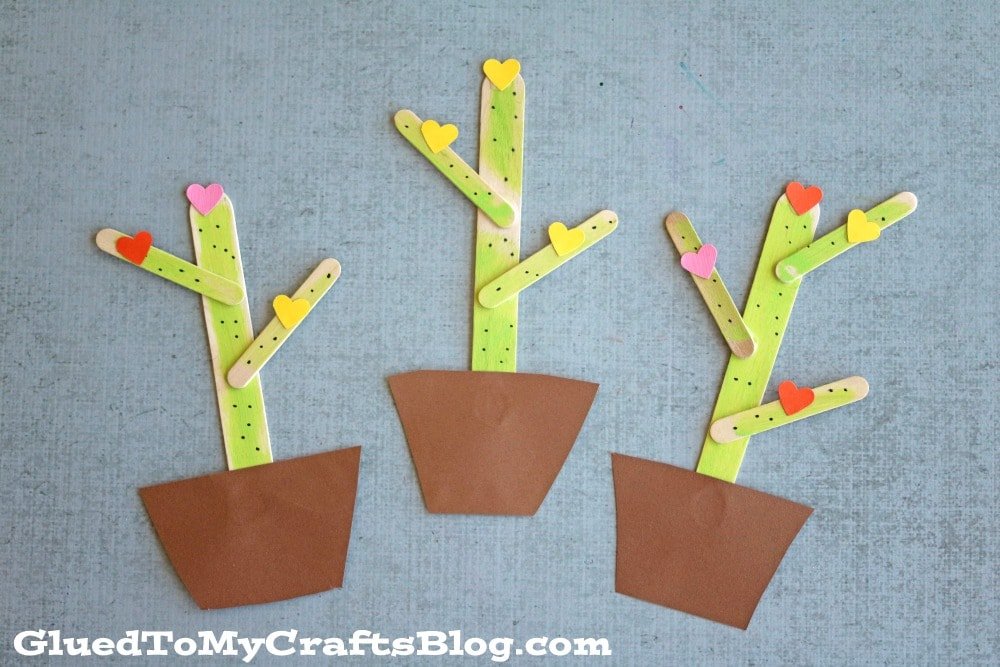 Yet another craft idea for your kids. This one here by gluedtomycraftsblog is perfect for the vacation. This summer your kids can easily indulge in some DIY projects with this craft idea here. Popsicle stick crafts are easy and are fun, just like this one here. So go on get the kids to work!
22. Popsicle Stick Superheroes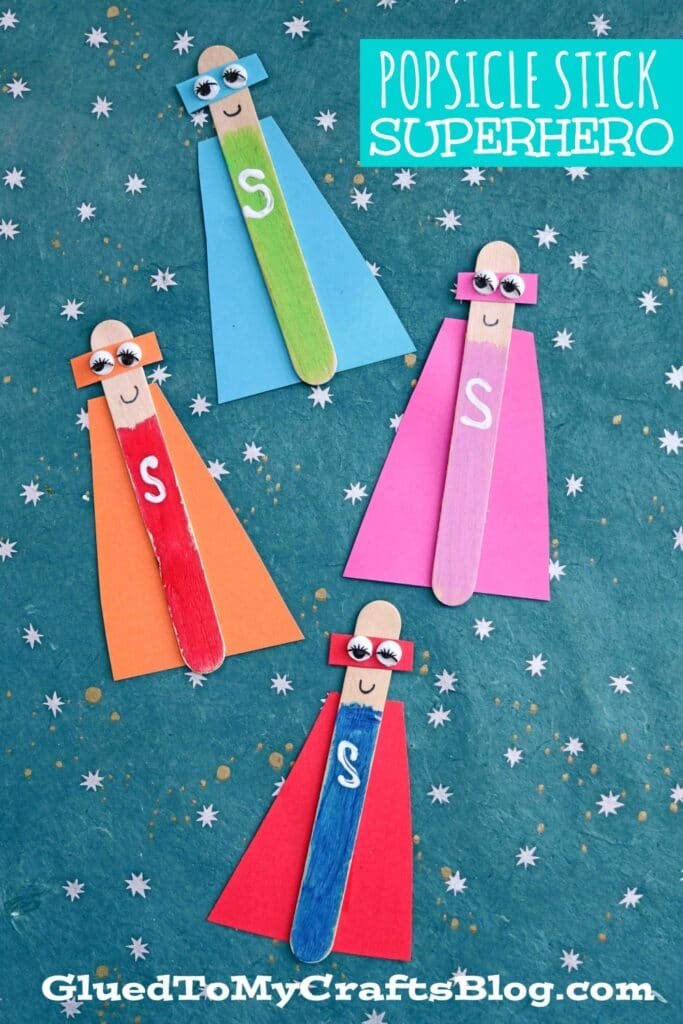 With some jumbo popsicle sticks, craft paint, a small paper plate, sharpie markers, glue, and googly eyes, your kids can easily recreate a few of these popsicle stick crafts. Gluedtomycraftsblog has come up with this interesting idea of making superheroes out of almost nothing! How amazing is that! I personally love the cape added, after all, what is a superhero without a cape!
23. Dreamcatcher for Kids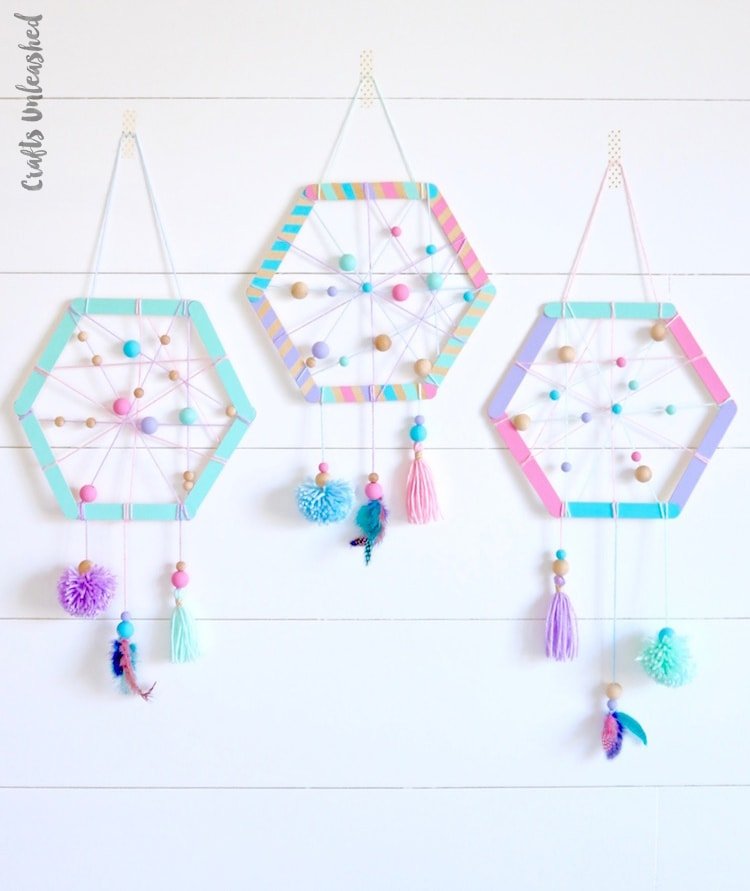 These popsicle stick crafts for kids by consumercrafts are unique. Dreamcatchers have always had a special place in my heart. So when I saw these dreamcatchers I knew I had to make one for my niece. With some popsicle sticks, glue, paintbrush, acrylic paints, and some feathers you can usually recreate these DIY dreamcatchers.
24. Popsicle Stick Olaf
Olaf is simply cuteness overloaded. Craftionary has made this simple popsicle stick craft with some basic raw materials like popsicle sticks, glue gun, pipe cleaners, googly eyes, pom pom, and paint. This summer sit down with your kids and help them make this fun craft product.
25. Rainbow Art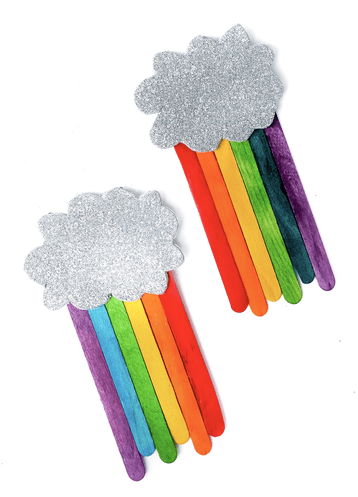 Crafting can't get any easier than this one right here. With some sparkle paper, glue, popsicle stick, and paint you can make this happening rainbow craft by thetrophywifestyle. I love glitter it makes everything so much better, just like the cloud here.
26. Spider Web Craft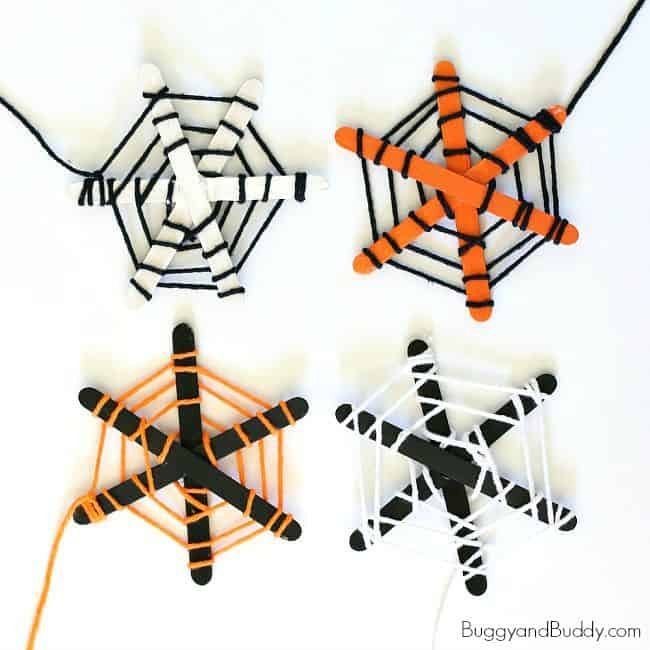 I love how thoughtfully these popsicle stick crafts were made. Buggyandbuddy with the use of minimal supplies like popsicle sticks, yarn, glue, and scissors has made these. The contrasting color is vital as that makes the whole appearance much more dramatic.
27. Hallo-ween Art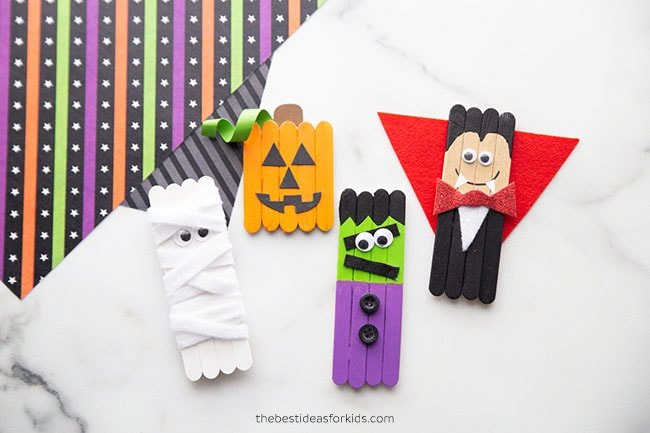 Halloween is all about going out with all the decors. So this Halloween, get a little crafty with your little ones to make a few of these interesting Halloween art by bestideasforkids. My favorite one is certainly the vampire. Let us know your favorite one!
28. Halloween Puppet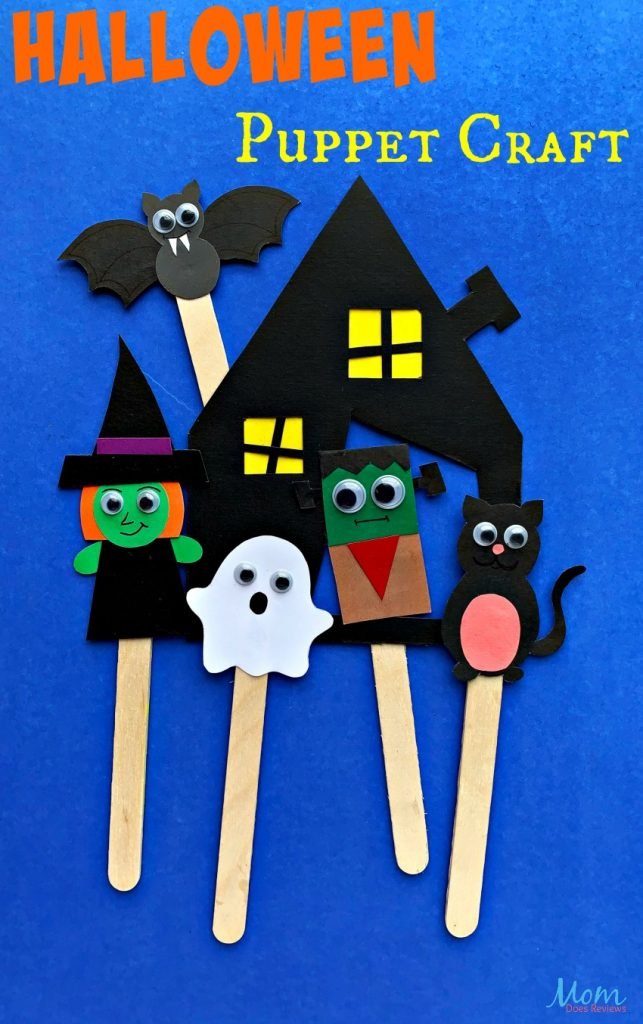 How often have you seen puppets that are made of simple popsicle sticks? Well, momdoesreviews has done it. And she has certainly impressed me with the crafting. The color patterns, the googly eyes, and certainly the dark eerie house, everything sets the horror effect of Halloween right on point.
29. Popsicle Stick Monster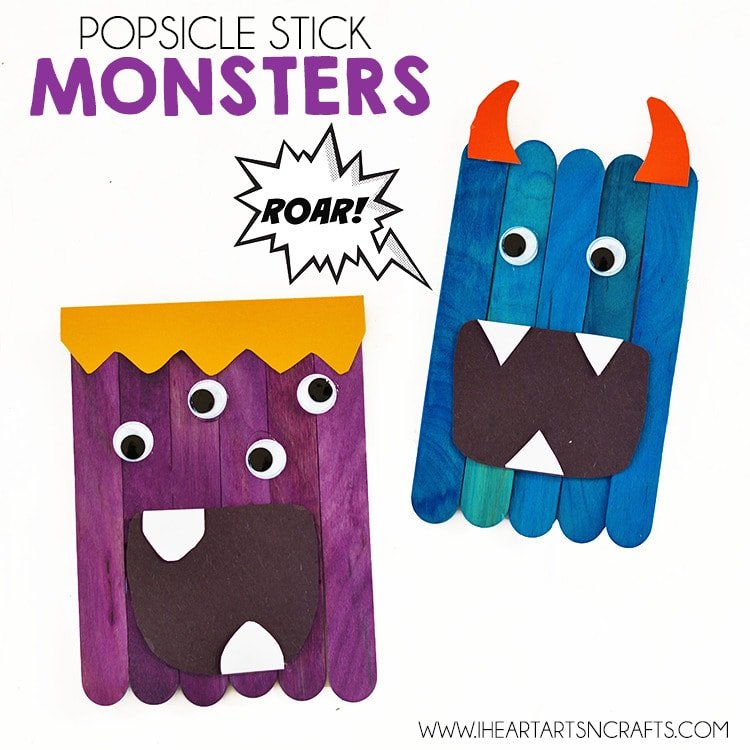 Certainly, this one is the funniest one on the list. Your little one will have a gala time while making a few of these. This craft by iheartsncrafts may look a little intimidating, but it is all in the googly eyes. And of course, the use of the monochromatic color pattern certainly adds to the richness of the craft.
So there you go! We have come to the end of this long list of interesting popsicle stick crafts. This summer indulge in some effortless and pocket-friendly crafting. These popsicle stick crafts teach your kids the importance of eco-friendly ways of life. They will also learn how not all recycled goods have to be boring. Happy crafting!
If you loved these ideas, you can use the Pin image below and save this article on your 'Popsicle Stick Crafts' Pinterest board.