Welcome to the whimsical world of tissue paper crafts! Prepare to embark on a colorful adventure that will leave you positively "tissue-d" with joy. In this article, we've gathered over 55 jaw-dropping tissue paper craft ideas that will tickle your creative bone and keep you happily occupied for hours.
We've got everything from delicate tissue paper flowers that could fool Mother Nature herself to funky pom-pom creatures that will make you giggle. So grab your glue, unleash your inner Picasso, and prepare for a fantastic extravaganza that will leave you saying, "Who needs fancy art supplies when you've got tissue paper? Let's get crafty!"
Related Articles
1. 35+ Stunning and Creative Cardboard Crafts For Fun Activity
2. 40+ Spectacular Rock Painting Ideas For You To Experiment With
3. 25+ Cute Paper Crafts For Kids For A Fun Time​
1. Wreath Tissue Paper Crafts
Source: little button diaries
Get ready to spruce up your door with the DIY Wreath Tissue Paper Craft! These beautiful easy crafts will have you rolling in laughter (and tissue paper). Armed with scissors and a glue gun, you'll become a crafting ninja, turning mundane tissue paper into a masterpiece.
2. Cherry Blossom Tissue Paper Crafts
Source: toddler at play
Get ready to unlock your inner ninja with the Cherry Blossom Tissue Paper Craft! This hilarious DIY project will have you mastering the ancient art of paper folding faster than you can say "origami."
3. Sun Catcher Tissue Paper Crafts
Source: Three Little Farms
Summers are warm and wonderful; only the sun can get a little too hot sometimes. But what if I tell you there are easy tissue paper craftsfor adults that will manage this problem beautifully? See how beautiful this tissue paper Suncatcher looks! I love the color game. The yellow, blue, and green has come together to sit in harmony. It is so decorative and so much better than the usual boring blin
Also, read – 35 Best DIY Suncatchers For Kids Of All Ages
4. Yellow Sunflower Tisuse Paper Ideas
Source : Source: Artykraftykids
Looking to brighten up your space and channel your inner floral Picasso? Try this gorgeous yellow sunflower craft using tissue paper!
5. Flowers in the Vase

Source: diyncrafts
Looking to add a touch of floral elegance to your space without breaking the bank? Look no further than DIY tissue paper flowers in a vase! These budget-friendly beauties will have your guests saying, "Are those real?" while you secretly revel in your crafty triumph.
6. Christmas Tree Suncatcher
Source : tightshipwreckcreates
Are you tired of the same old, boring Christmas decorations? Well, get ready to unleash your inner DIY guru with the magnificent tissue paper Christmas crafts! This wacky Christmas Tree suncatcher combines the beauty of stained glass with the elegance of tissue paper.
Expert tip by TCH – Choose quality tissue paper. Opt for high-quality tissue paper that is vibrant, durable, and doesn't tear easily. This will ensure your crafts look visually appealing and last longer.
7. Christmas Ornaments, Tissue Paper Crafts
Source: thecraftathomefamily
Get ready to deck the halls with tissue paper magic! Introducing the hilarious world of "Christmas Ornaments Tissue Paper Crafts," where your creativity can reach new levels of awesomeness (or questionable taste).
8. Paper Lollies Tissue Paper Crafts How To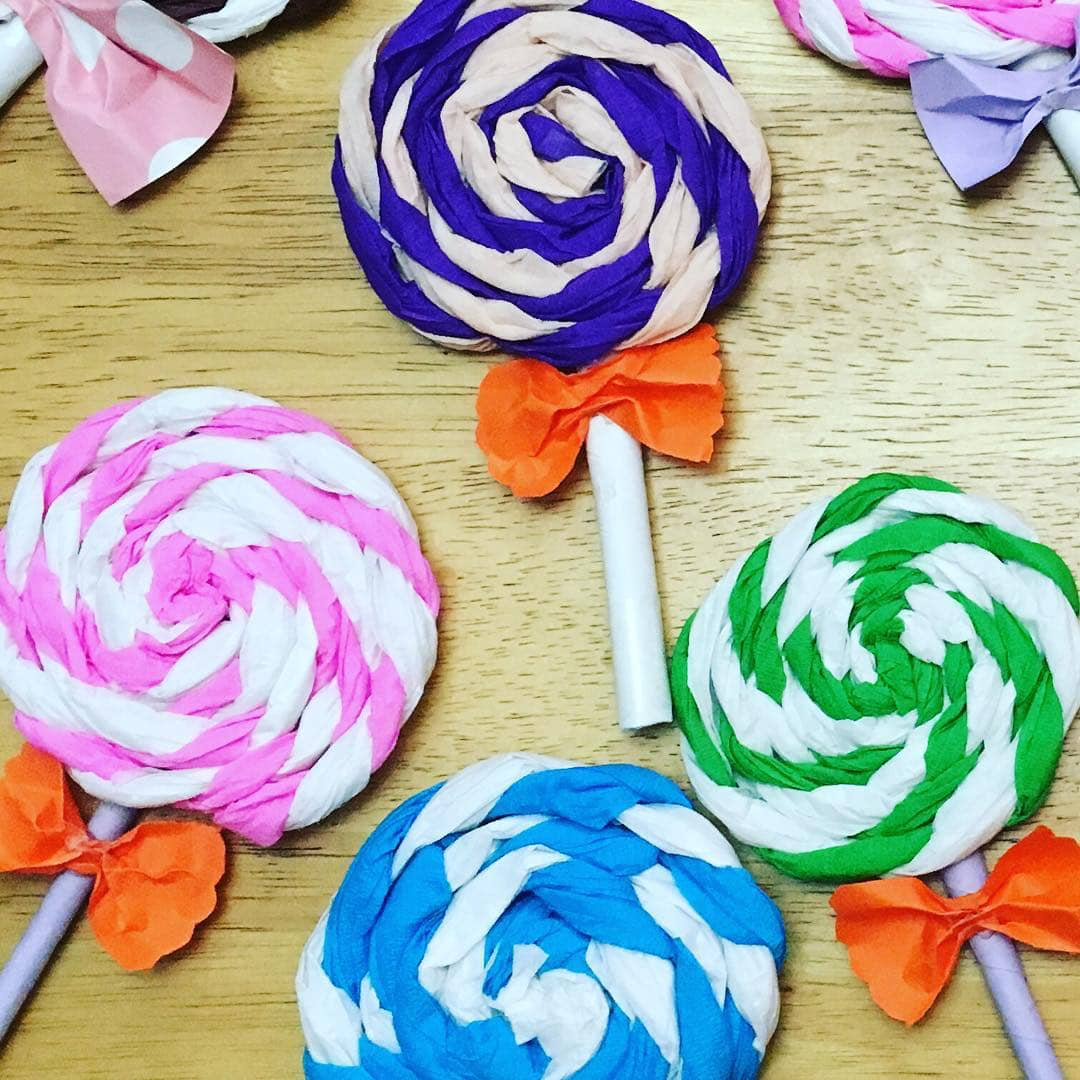 Source: Thetinkeringgal
Introducing "Paper Lollies Tissue Paper Crafts"! Have a blast with these delightful fun tissue paper crafts that will simultaneously tickle your crafty bone and sweet tooth. Prepare to fold, twist, and twirl into a sugar-induced crafting frenzy. It's a confectionery wonderland where glue sticks become magic wands, and scissors wield their paper-cutting superpowers.
9. Tissue Paper Heart Wreath
Source: crafts by courtney
The best part about crafting is that it is an excellent holiday activity. The more people you involve, the more fun it is. This heart wreath with leftover colored tissue paper is a straight-forward craft anyone can do. You need a simple heart-shaped cutout, a pretty ribbon to make an excellent hanging sling, two tones of the same colored tissue paper, and some glue.
10. DIY Tissue Paper Flowers
Source: mommalew
Ready to unleash your inner flower artist? Get your scissors and colorful tissue paper circles ready because it's time to conquer the world of DIY tissue paper flowers! In this whimsical adventure, you'll snip, fold, and twirl your way to a garden of paper petals that will make Mother Nature herself green with envy.
11. Tissue Paper Flower Bracelet Craft
Source: buggyandbuddy
Get ready to blossom with the DIY Tissue Paper Flower Bracelet Craft! It's like wearing a secret garden on your wrist, minus the dirt under your nails. These kids' tissue paper crafts transform ordinary tissue paper into vibrant, petal-perfect blooms.
12. Jellyfish Tissue Paper Crafts
Source: the craft train
Dive into the wacky world of DIY Jellyfish Tissue Paper Crafts, where your creativity takes the plunge and your home becomes an underwater wonderland. With just some tissue paper, googly eyes, and a dash of imagination, you can whip up these squishy cephalopods in no time.
Expert tip by TCH – Experiment with different techniques. Don't be afraid to explore various techniques like crumpling, twisting, folding, or layering tissue paper. Each technique creates unique textures
13. Tissue Paper Christmas Tree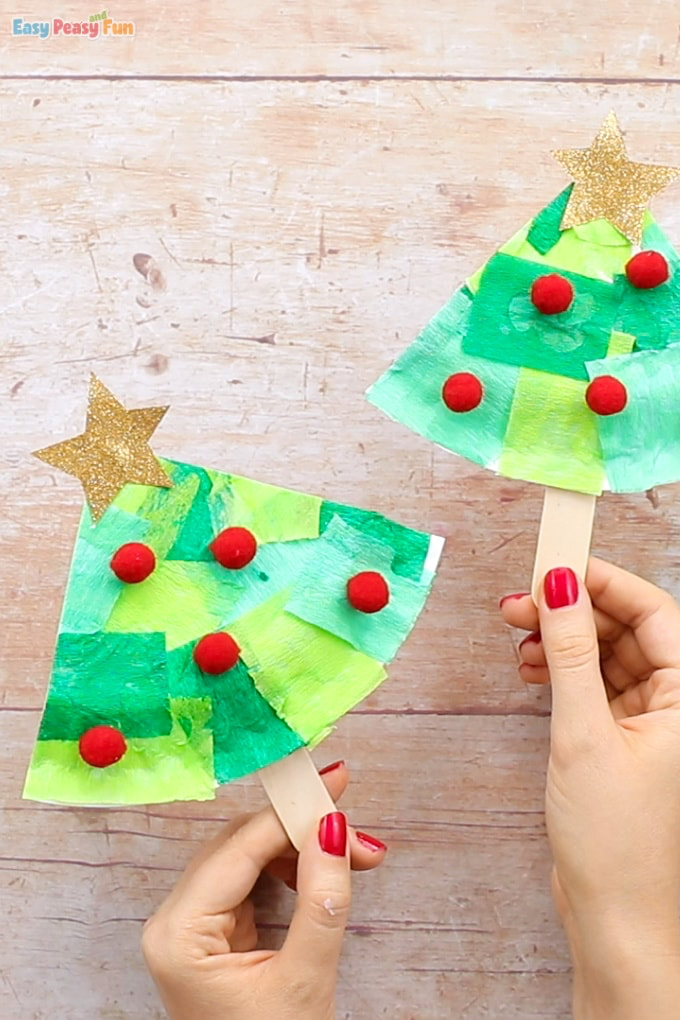 Source : easypeasyandfun
Tissue paper crafts are fun. They are primarily effortless, but some can be a little hard to make. But this one here is as easy as it can get. This DIY Christmas tree used a paper plates, tissue paper squares, construction paper, and an ice cream stick. Glue it all methodically, and you will have a DIY Christmas tree. And remember to add a lovely glowing bright star at the top!
14. Tissue Paper Flower Wreath
Source: The inspiration board
Unleash your inner crafting guru and dive headfirst into a world easy tissue paper crafts. This wreath transforms your living room into a dazzling meadow of colorful tissue paper blooms.
15. DIY Tissue Paper Coaster
Source: artsy fartsy mama
Are you tired of those boring, run-of-the-mill coasters? Well, fear not because this fun tissue paper craft is here to save the day! Crafted with meticulous love and a dash of chaos, this coaster is the epitome of handmade brilliance.
16. Paper Posie Pencil Poppers Fun Craft
Source: alpha mom
These favourite tissue paper crafts are so beautiful. You will need some colored tissues, floral tape, floral wire, and wire cutters, and you are all set to make a few of these tissue paper crafts. We love the soft colors, too; they are vibrant and give a friendly summer vibe.
17. Rainbow Tissue Paper Craft
Source : One Crazy Mom
This project is perfect for bath the kids and adults alike, as it encourages imagination and fine motor skills. Whether for festive decoration, a school project, or simply a fun pastime, the Rainbow Tissue Paper Craft is a delightful way to add a touch of whimsy and beauty to your surroundings.
18. DIY Tissue Paper Hyacinth
Source: S&S Blog
This is a fun and easy-to-make craft project that brings the beauty of nature indoors. Using just a few simple materials, including colorful tissue paper, and scissors, you can create your own vibrant hyacinth flowers.
19. Puffy Tissue Paper Butterfly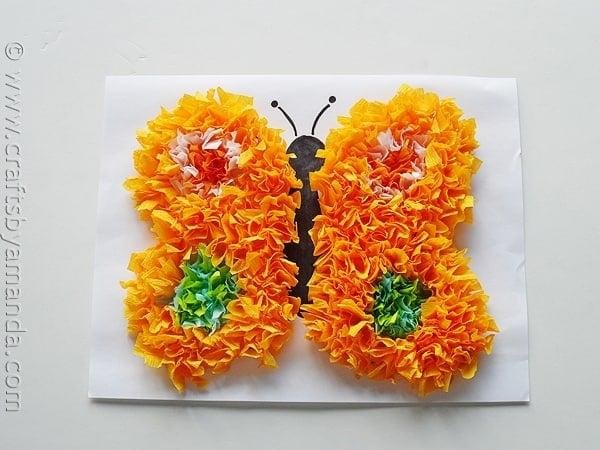 Source: Crafts By Amanda
This craft is a whimsical creation that adds elegance and playfulness to any setting. Handcrafted with care, this delicate butterfly features vibrant colors intricately layered with puffy tissue paper.
Expert tip by TCH – Mix and match colors. Play with color combinations to make your crafts pop. Try contrasting or complementary colors to create eye-catching designs. Additionally, consider incorporating metallic or glitter tissue paper for a touch of sparkle and glamour.
20. DIY Giant Tissue Paper Flowers Tutorial
Source: Country Hill Cottage
Unleash your creativity with these gorgeous DIY giant tissue paper flowers. Transform any space into a whimsical garden oasis with these stunning handmade blooms.
21. Fiesta Tissue Paper Flower Tutorial
Source: Sunshine Parties
Looking to add some pizzazz to your party décor without breaking the bank? Behold the DIY Fiesta Tissue Paper Flower! This ingenious creation combines the elegance of a delicate blossom with the practicality of recycled materials.
22. Pumpkin Goody Bags
Source: Instrupix
Get ready to unleash your inner Halloween genius with these amazing DIY Pumpkin Goody Bags! These gourd-geous goody bags will have your friends howling with laughter and craving a sweet treat.
23. Tissue Paper Butterfly Mobile Craft
Source: Make And Takes
Prepare to embark on a journey where tissue paper transforms into majestic airborne creatures. Armed with scissors and glue, channel your inner butterfly whisperer and create a mobile craft that will make the heavens jealous.
24. Earth Day Tissue Paper Suncatcher Craft For Pre-Schoolers
Source: 123 Homeshool For Me
Get ready for a riot of giggles and sticky fingers with our Earth Day Tissue Paper Suncatcher Craft for those adorable pre-schoolers! Your little ones gleefully create magnificent suncatchers that capture the essence of our beloved planet and maybe a bit of their lunch too!
25. Tissue Paper Painting-Bleeding Color Art Activity
Source: s&s Blog
Get ready to witness a colorful masterpiece unfold before your eyes in the most unexpected way! Presenting the revolutionary "Painting-Bleeding Color Art Activity"! This quirky art adventure involves blending the finesse of watercolor with the chaos of tissue paper.
26. DIY Tissue Paper Flowers
Source: Project Nursery
Want to impress your friends with your incredible craft skills? Look no further than these DIY Flowers! These magical wonders will transform any dull room into a botanical paradise.
27. Tissue Paper Pom Poms
Source: Crafty Hacks
Are you looking to jazz up your space with some pizzazz? Say hello to the DIY Tissue Paper Pom Poms, the great fluffy balls of joy that'll make your inner party animal dance!
28. DIY Framed Butterfly
Source: It's Always Autumn
Introducing the "Wing-derful Wonder," the DIY Tissue Paper Butterfly in a Wooden Frame! This fantastic project combines the elegance of fluttering butterflies with the rustic charm of wooden frames.
Expert tip by TCH- Use Modge Podge for a polished finish. When working with tissue paper, applying a layer of Modge Podge on top can help seal and protect the paper, giving your crafts a professional and glossy finish. It also helps enhance the colors and prevents them from fading over time.
29. Birds On Canvas Craft
Source: Crafts By Amanda
Get ready to flock your walls with feathered fun! Our DIY Birds On Canvas Craft using tissue paper will have you chirping with delight. Gather your colorful tissue paper and let your imagination take flight.
30. Creative Dress Design With Tissue Paper
Source: tas_arts23
Behold, the marvel of creative dress design with… wait for it… tissue paper! Who needs fancy fabrics when you can strut your stuff in delicate, disposable luxury?
31. Old Jam Jars Into Colorful Lanterns
Source: mudnbloom
Ready to light up your life? Transform those dusty old jam jars into the most vibrant and whimsical lanterns ever! These jars will go from preserves to party animals in no time!
32. Tissue Paper Backdrop For Photo Shoot
Source: wine_and_sprinkles
Are you looking to elevate your photo shoots to the next level? Introducing the revolutionary Tissue Paper Backdrop! It's like having a fluffy cloud embrace your subjects, except it's made of super-thin, delicate tissue paper.
33. Number Pinata Craft
Source: decorativellie
Get ready to unleash your inner mathlete with our Number Pinata Craft using tissue paper! This hilarious activity combines the thrill of smashing things with the excitement of numbers. Take a simple cardboard cutout of your favorite number and cover it in colorful tissue paper to create a piñata that screams "math party!"
34. Valentine's Day Tea Light Holder – Tissue Paper Project
Source: stephanie_and_little_helpers
This Valentine's Day set the mood with our ridiculously adorable Tea Light Holder, crafted with tissue paper wizardry. Inspired by the mating dance of fireflies, these LoveBug Luminaries will make your heart flutter faster than a caffeine-fueled hummingbird.
Expert tip by TCH – Recycle tissue paper scraps. Don't throw away those tiny tissue paper remnants! Keep a collection of scraps for future tissue paper projects like collage art, confetti, or even paper mache. Recycling and repurposing tissue paper can unleash your creativity while reducing waste.
35. Tissue Paper Dyed Tote Bag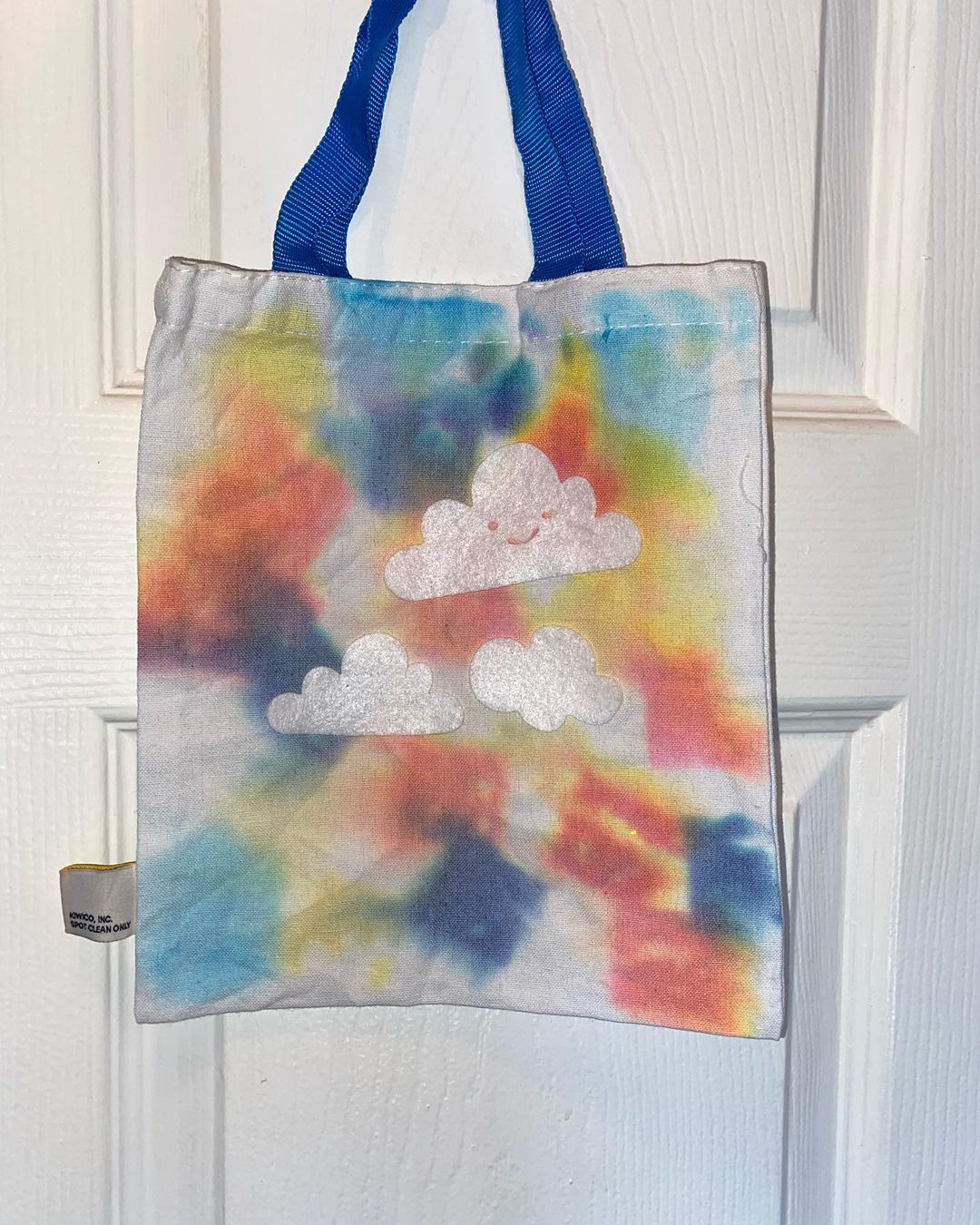 Source: the__parenting_game
This masterpiece is lovingly created using the ancient technique of tissue paper staining. Witness the bag's delicate, watercolor-like patterns, as if a rainbow sneezed on it with a flourish!
36. DIY Ombre Wisteria
Source: One lovely Life
Forget expensive flower arrangements! With this fantastic project, you'll transform your space into a riot of colors. Simply grab tissue paper in all the shades of the rainbow, summon your inner Picasso, and twist, fold, and crinkle until your creation resembles a great wisteria vine.
37. Tissue Paper Decorated Vase
Source: Gluesticks Blog
This vase is like a striking tuxedo for your bouquets, making them feel like VIPs at a garden party. It will have your blooms feeling fabulous, turning heads, and demanding paparazzi attention. Who says vases can't have a sense of style?
38. Simple Tissue Paper Art Project For Kids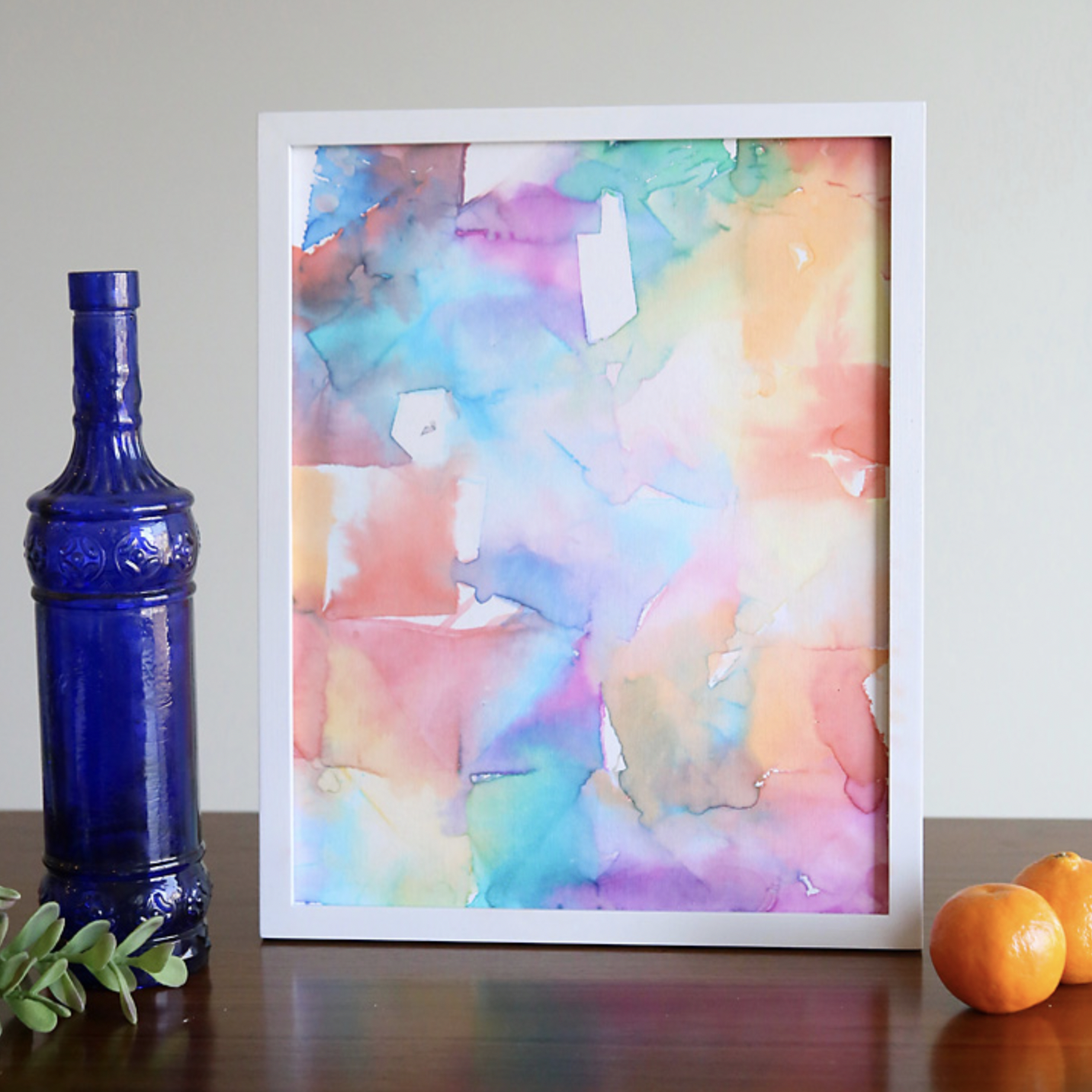 Source: Its Always Autumn
Looking for a way to keep your little ones entertained while embracing their artistic side? Enter the world of "Simple Tissue Paper Art Projects for Kids" – a riotous adventure in sticky fingers and colorful chaos!
39. Saint Patrick's Day Craft
Source: Eat Move Make
Get ready to unleash your inner leprechaun with this ridiculously fun Saint Patrick's Day craft using tissue paper! Channel your artistic talents (or lack thereof) and transform ordinary tissue paper into magical shamrocks that even Saint Patrick would envy.
40. Rainbow Fish Craft For Kids
Source: Arty Crafty Kids
Dive into a vibrant aquatic adventure with our ming-blowing Rainbow Fish Craft for Kids! Grab your giggly gang and make some splashy tissue paper magic.
41. Pumpkin Decor With Tissue Paper
Source: Twitchetts
Get ready to take your pumpkin decor game to the next level with the magical powers of tissue paper! Transform your plain pumpkins into flamboyant divas of the fall season. Wrap those round beauties in layers of tissue paper, giving them a glamorous makeover that even the Kardashians would envy.
42. Wall Letters – Easy Crafts With Tissue Paper
Source: Make It Laura
Get ready to transform your bland walls into a whimsical wonderland with "Easy Tissue Paper Wall Letters"! These elementary crafts will have your guests scratching their heads in disbelief.
43. DIY Love Critter Puppets Crafts With Tissue Paper
Source: The Craft Train
Want to spread some love while unleashing your creativity? Grab tissue paper and get cracking! These lovable critters are the perfect way to express affection while unleashing your inner artist.
44. Stained Glass Bookmark Crafts With Crepe Paper
Source: First Palette
Get ready to jazz up your reading routine with these wacky Stained Glass Bookmarks using nothing but tissue paper! Transforming your average bookmark into a vibrant spectacle, these crafty creations will make your books look like they're on a psychedelic adventure.
45. Easy Flamingo Paper Crafts Idea
Source: Make And Takes
Looking to add magic with some crafty fun? Say hello to our Easy Flamingo Craft using tissue paper! This feather-brained project will have you giggling in no time.
46. Easter Egg Tissue Paper Crafts For Kids
Source: Capturing Parenthood
Are you looking to spice up your Easter celebrations? Look no further than these eggcellent Easter Egg Crafts using tissue paper! With the power of colorful tissue paper and a dash of creativity, you'll be cracking up your friends and family in no time.
47. Craft Tissue Paper Christmas Trees
Source: Design Improvised
"Tissue Paper Christmas Trees" epitomizes festive flair and DIY disasters. These tissue wonders will add a touch of whimsy to your holiday decor, not to mention endless entertainment as they sway precariously at the slightest breeze.
48. Tissue Paper Candle Decor
Source: Pretty Handy Girl
Say goodbye to wax and hello to the whimsy! Our innovative invention combines the elegance of candlelight with the charm of tissue paper art. Watch in awe as your guests marvel at the stunning, yet slightly questionable, sight of tissue paper delicately draped over a flickering flame.
49. Miniature Pinata Toys
Source: A Blackbird's Epiphany
Introducing the ridiculously adorable, pint-sized powerhouse of party fun: Miniature Pinata Toys using tissue paper! These little bundles of joy are the pocket-sized champions of fiesta festivities.
50. Baby Shower Booties Tissue Paper DIY Decorations
Source: eHow
Say goodbye to traditional, clunky footwear for your little ones, and hello to ultimate convenience! These hilarious booties are made from premium, feather-light tissue paper for your super fun baby shower party.
51. Fruit Tissue Balls DIY With Tissue Paper
Source: The House That Lars Built
Need to spice up your party decor? Look no further than these zany creations. Grab some tissue paper in vibrant fruity colors and fold like a pro.
52. Tissue Paper Gift Wrapping Ideas
Source: Tell, Love and Party
Are you looking to add some pizzazz to your gift? Look no further than DIY Tissue Paper Gift Wrapping! It's the perfect way to say, "I care enough to spend a few minutes on this but not enough to buy fancy wrapping paper."
53. Accordion Tissue Bursts
Source: A Subtle Rivalry
Need a quick way to spruce up your living space while confusing your house guests? Look no further! With these accordion-style tissue bursts, you can transform dull corners into a whimsical explosion of confetti-like joy.
54. DIY Geometric Lanterns – Arts And Crafts Tissue Paper
Source: Oh Happy Day
Are you looking to illuminate your space with a touch of geometric fabulousness? Say hello to DIY tissue paper art and craft Geometric Lanterns! This project is as easy as pie (well, easier, actually) and will have your friends ooh-ing and aah-ing in no time.
55. Simple And Easy Tissue Paper Flowers For Kids
Source: Hands On As Your Grow
This fun project is a floral frenzy of fun and frugality. With just a few supplies and a pinch of imagination, your little ones can transform colorful tissue paper into magnificent, never-wilting wonders.
56. Fall Theme Crafts – DIY Tissue Paper Decorations
Source: salvagesista
Looking to spruce up your space with some DIY fall vibes? Look no further than this tissue paper extravaganza! Grab a stack of tissue paper, preferably in autumn shades like burnt orange and cozy brown.
FAQS
Q. What crafts can I do with tissue paper?
You can create delicate tissue paper flowers that will never wilt, make vibrant stained glass window art, or even fashion a fabulous tissue paper piñata for your next party. Get crafty and try your hand at tissue paper collage, decorative gift wrapping, or designing whimsical pom-poms. With tissue paper, you're armed with a colorful arsenal to tackle any crafty endeavor!
Q. How do you decorate with tissue paper?
Decorating with tissue paper is like having a magic wand of color. Start by making tissue paper garlands to drape across your walls or hang from the ceiling. For a quick centerpiece, crinkle tissue paper into faux flowers and arrange them in a vase. Jazz up your gifts by adding fluffy tissue paper bows or make vibrant window curtains by layering different colored tissue paper squares.
Q. How do you use Modge Podge with tissue paper?
First, cut or tear your tissue paper into desired shapes or strips. Apply a thin layer of Modge Podge onto your surface, whether it's a canvas, a wooden frame, or even a plain jar. Carefully place your tissue paper pieces onto the Modge Podge, smoothing them out gently with a brush or your fingers. Once you're satisfied with the arrangement, apply another layer of Modge Podge on top, sealing the tissue paper in place. Let it dry, and voila! You've created a masterpiece with the power of glue and tissue paper sorcery.
Q. How to do bleeding tissue paper art?
Start by selecting a thick, sturdy paper or canvas as your base. Wet the surface lightly with water using a spray bottle or damp sponge. Now, grab your bleeding tissue paper (it's specially designed to bleed its vibrant colors!) and place it onto the damp surface. Watch as the colors magically spread and blend together. Experiment with layering different colors and crumpling the tissue paper for unique effects. Allow it to dry completely before gently peeling off the tissue paper, revealing your mesmerizing, vibrant creation. Prepare to be amazed by the art of bleeding tissue paper!
If you love these things to make with tissue paper, you can use the Pin image below and save this article on your 'Paper Crafts For Kids Pinterest board.