Tissue paper is a versatile and inexpensive material for crafting. And the texture of the paper allows one to experiment with it. Tissue paper crafts are today in trend. And why not? It is eco-friendly, it is easily available and it is an economical choice.
You will come across a gazillion types of tissue paper crafts on the internet. And they all certainly look very enticing. Some might even love it a little intimidating. But no worries as we have curated a list of tissue paper crafts where you will find all sorts of options and tutorials.
I love tissue paper crafts because of the variety of things that it enables you to try. From home decor to party decorations, artworks, and even accessories. Tissue paper crafts are simple, easy, and multifaceted. So you can certainly try out some of these craft ideas from the list over the weekend.
Here are some other craft ideas that you can try out for fun
1. 35+ Stunning and Creative Cardboard Crafts For Fun Activity
2. 40+ Spectacular Rock Painting Ideas For You To Experiment With
3. 25+ Cute Paper Crafts For Kids For A Fun Time​
1. Wreath Tissue Paper Crafts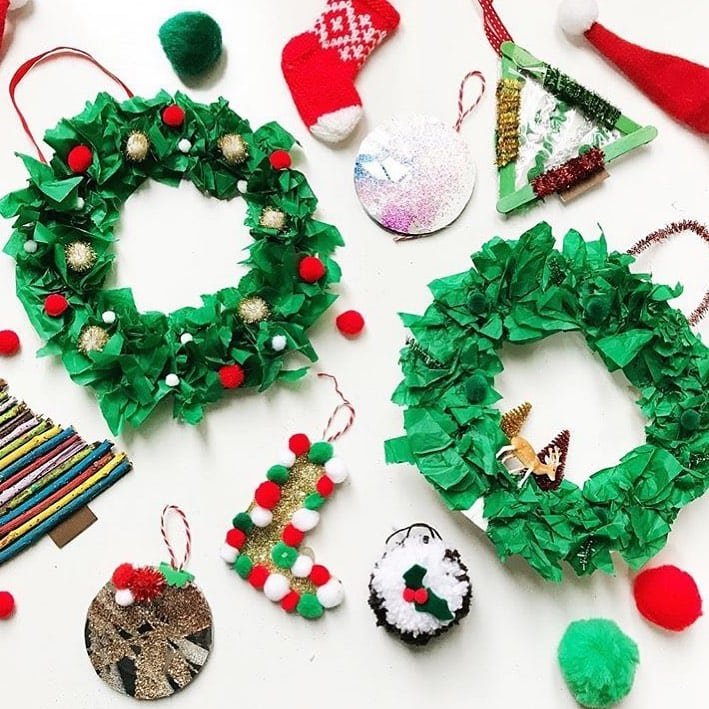 Look at this green tissue paper wreath! How real do they look! And they are even simple and quite easy to make. Littlebuttondiaries has used a paper plate cut out to make the base ring. Next, she has simply glued some crunched green tissue paper balls to these rings to make these beautiful Christmas tissue paper crafts. For a little extra detail and a natural look, you can make some cherries.
2. Cherry Blossom Tissue Paper Crafts
This beautiful Spring blossom has been made with some good old tissue paper. Here toddleratplay has two different tones of pink to make the cherry blossom. This little touch actually gives the cherry blossom a much more natural presentation. You can get the kids involved in this, they will enjoy scrunching the tissue paper into mini balls. Tissue paper crafts like this one here is an absolute delight.
3. Sun Catcher Tissue Paper Crafts
Summers are warm and wonderful, only the sun can get a little too much at times. But what if I tell you there are easy tissue paper crafts which will manage this problem beautifully? Threelittleferns has done exactly that. See how beautiful this tissue paper Suncatcher looks! I love the color game. The yellow, blue, and green has come together to sit in harmony. It is so decorative and so much better than the usual boring blinds.
4. Yellow Sunflower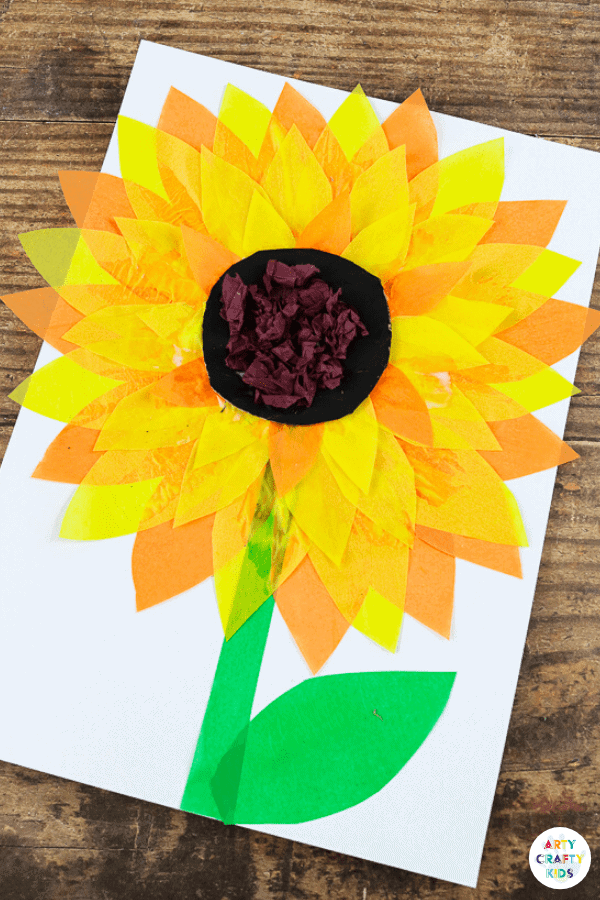 I love the detailing of this sunflower. Artykraftykids has not missed even the smallest of the details. She has used scrunched tissue paper to do the center. But I love the two tones of yellow that she has used. Give this little sunflower a more earthy touch. I love such tissue paper crafts where the details are paid more attention to, it is the small details that add to the bigger picture.
5. Flowers in the Vase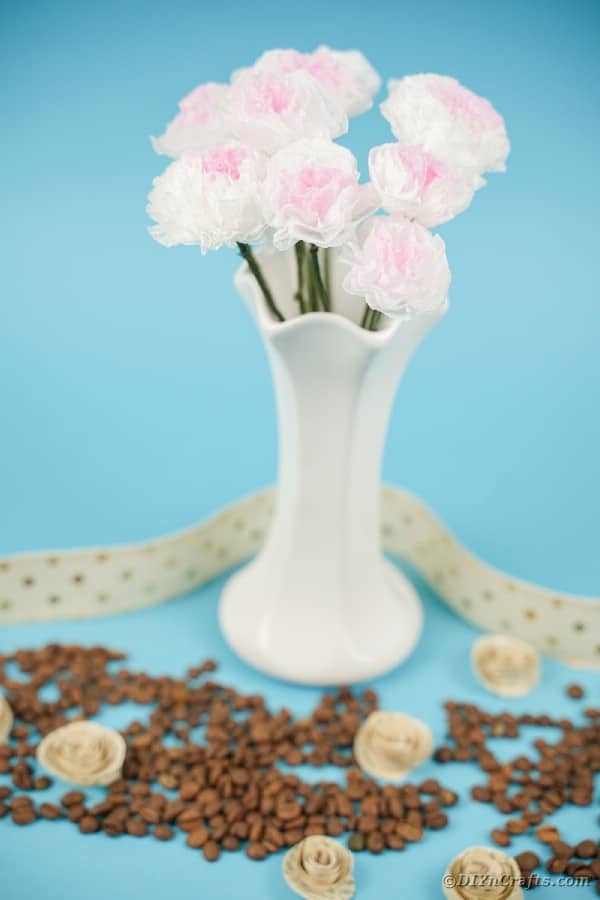 In this pandemic, I think we all got a little more experimental. But personally, crafting is such an amazing to keep yourself occupied. This tissue paper craft by diyncrafts is an excellent way to keep the kids occupied and off the devices. The beautiful soft pink tissue color and the detailed stem and leaves of the contrasting color has given the flowers in the vase a much more natural look.
6. Christmas Tree Suncatcher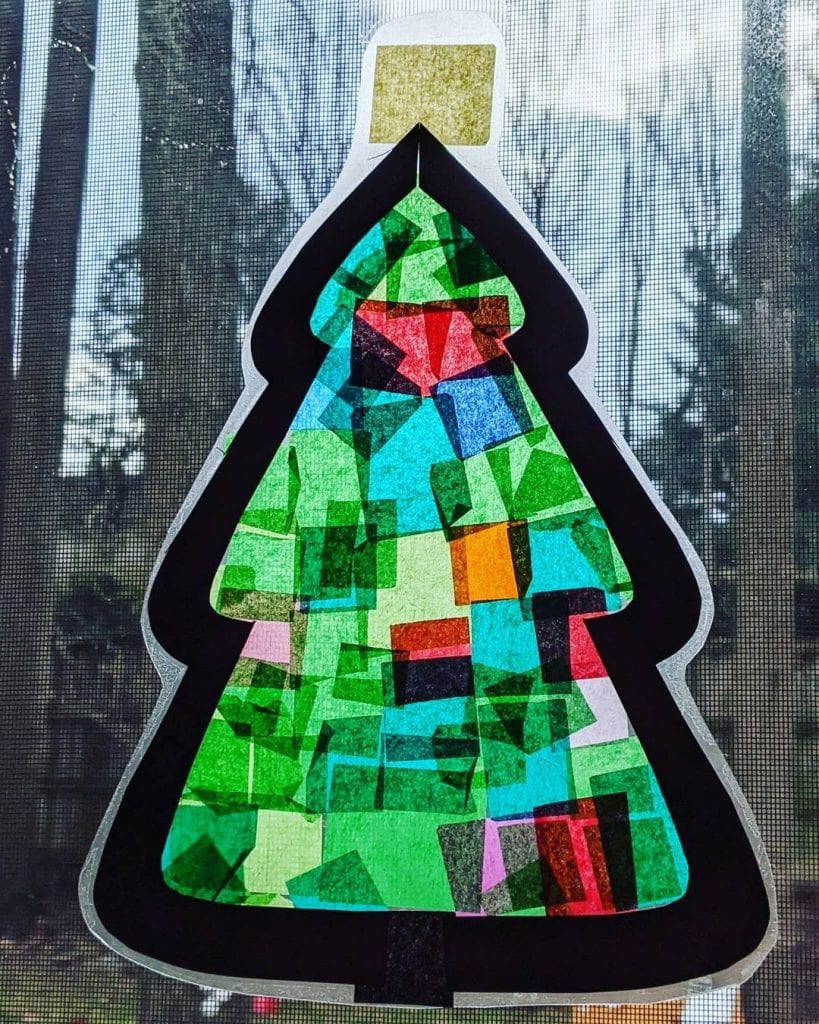 Tightshipwreckcreates has left me amazed with these suncatchers. The color scheme is marvelous. Blue, green, red, and pink have created a very romantic aura. The thin and flimsy texture of the tissue paper will stick easily to the glass to give a colored prism-like effect. This isn't just going to glam up that window but will also tone down the sunlight a little bit.
7. Christmas Ornaments Tissue Paper Crafts
If you are looking for something fun and engaging activity for the kids this holiday season then this is it. Allow thecraftathomefamily to mesmerize you with these amazing Christmas tissue paper crafts. These are colorful kid-friendly crafts that will blow their minds. And I love unique Christmas ornaments, they are so much better than the conventional ones. I am totally digging the color combinations. Especially that pink and violet has got my attention. All you need is a circular cut out and some quirky colored tissues and some glue to stick the crumbled tissue. And voila! You have your own Christmas ornament.
8. Paper Lollies Tissue Paper Crafts
How lovely are these paper lollies? Are you one such soul who has a quaint taste when it comes to the kids' room decor? Then let thetinkeringgal impress you with these dual-colored tissue paper crafts. I was a little skeptical about these, but when my little niece saw these and suggested we should try, there was no going back. The tutorial is extremely easy and fun. Get those little ones to some fun craft and display their work to give them a sense of achievement!
9. Tissue Paper Heart Wreath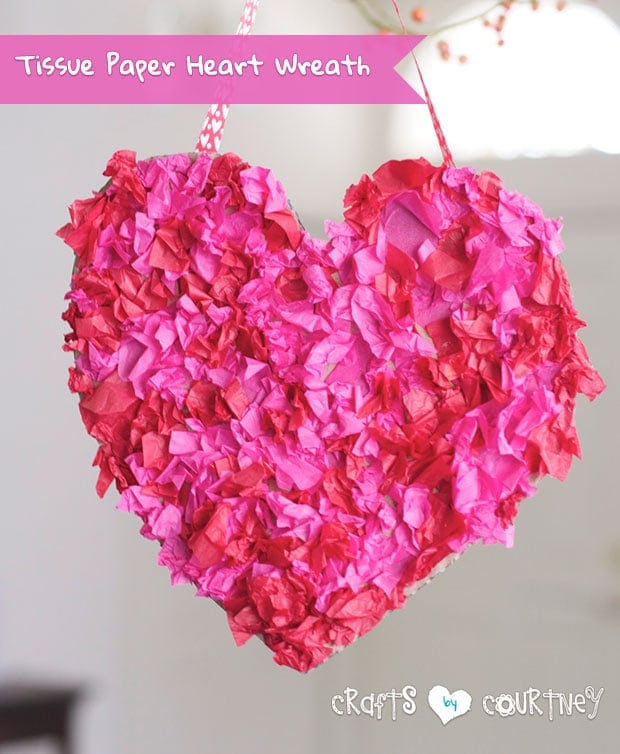 I think the best part about crafting is that it is a nice holiday activity. The more people you involve the more fun it is. And there is always something new and exciting about crafting. For instance, craftsbycourtney has made this heart wreath with leftover colored tissue paper. The craft is a simple one. A simple heart-shaped cutout, a pretty ribbon to make a nice hanging sling, two tones of the same colored tissue paper, and some glue. And you are good to go and craft away!
10. DIY Tissue Paper Flowers
To be honest, creativity these days blows my mind. People are so creative and talented, you will see such artwork and craft all over the internet, enough to leave you mesmerized. For instance, I am spellbound by these tissue paper crafts by mommalew. Who thought that pipe cleaners can be a part of craftwork? This craft is kind of tricky but the tutorial is so easy and elaborate that you will have all the help you need. And let's get real here, how lovely are these soft colored flowers!
11. Tissue Paper Flower Bracelet Craft
Remember how at the beginning I had mentioned the versatility of tissue paper and tissue paper crafts? This is what I meant. Who would have thought of making bracelets with tissue papers? But buggyandbuddy has done it. This easy craft is amazing as a gift too. And as it has a simple tutorial kids can certainly make a few of these with a little guidance. What I like the most about these bracelets are the beads. I love beads, it gives anything a nice bohemian chic look.
12. Jellyfish Tissue Paper Crafts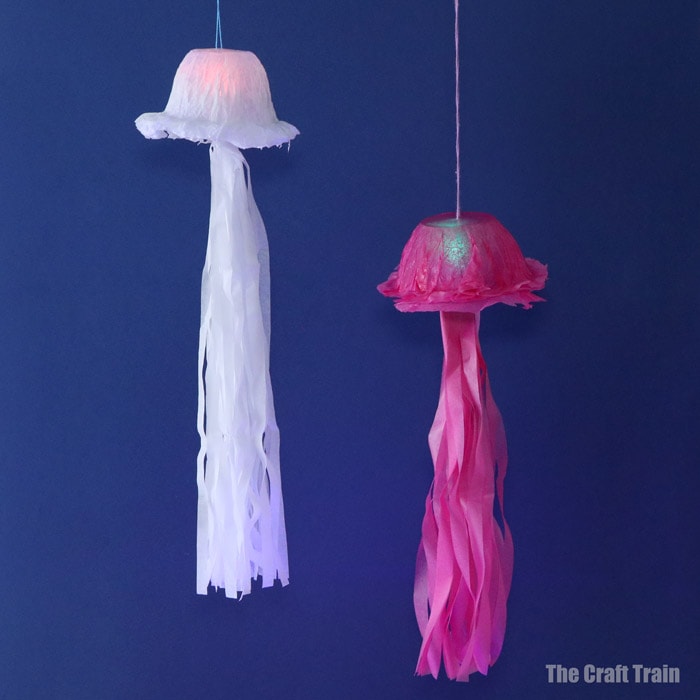 Jellyfishes have always fascinated me because of how amazing are they! With no brains, eyes, bones, and heart some of them can make their own light. So how about try making some of these bio luminous jellyfishes by thecrafttrainy? Making these can be a little tricky because of fixing the fairy lights and your kids will require some parental guidance. But these jellyfishes are certainly something I loved and can absolutely imagine as a part of the home decor.
13. Tissue Paper Christmas Tree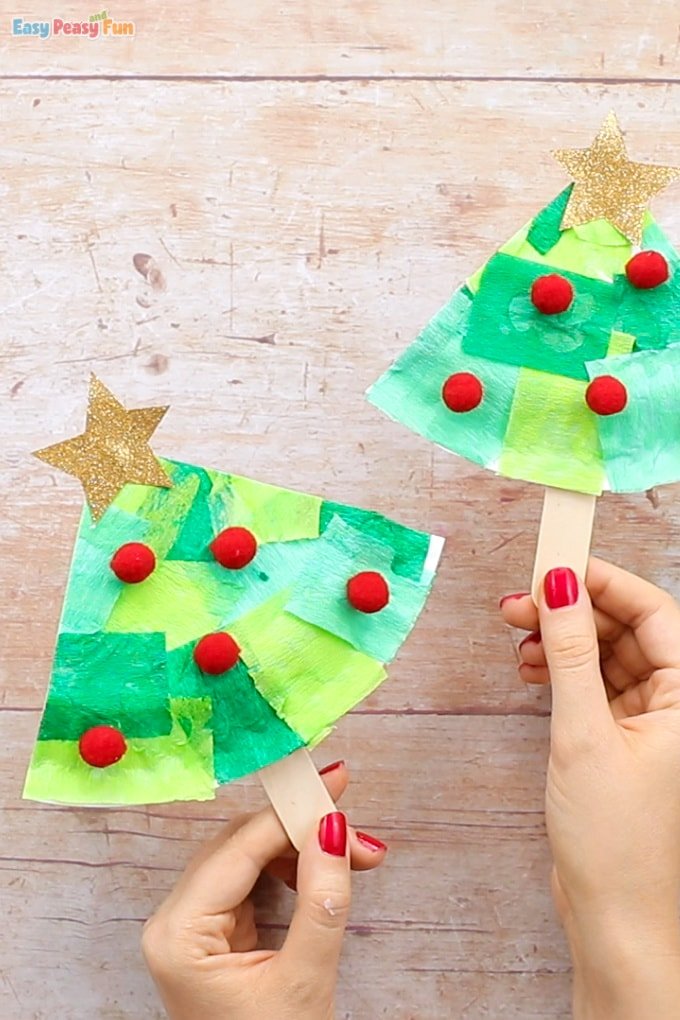 Tissue paper crafts are fun. They are mostly effortless, but of course, some can be a little hard to make. But this one here by easypeasyandfun is as easy as it can get. This DIY Christmas tree has used a paper plate and some colorful tissues, and an ice cream stick. Glue it all methodically and you will have your own DIY Christmas tree. And don't forget to add a nice glowing bright star at the top!
14. Tissue Paper Flower Wreath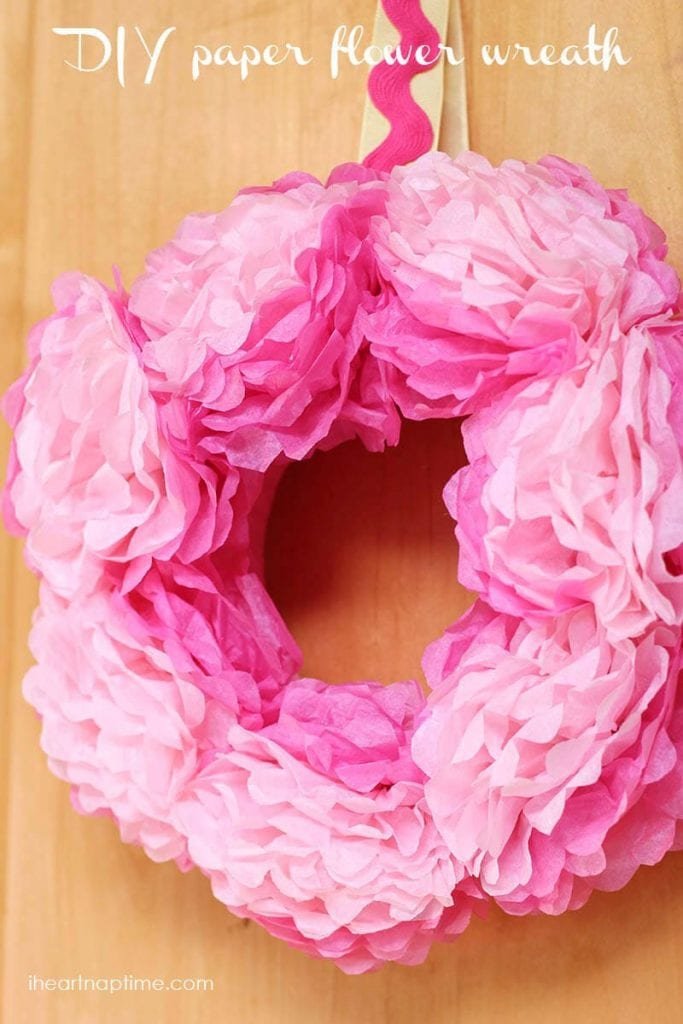 Tissue paper flowers are easy to make, they are inexpensive, and fun group activity. Theinspirationboard has made excellent use of these soft pink tissue papers to make this beautiful wreath. Making these pom flowers is an interesting craft. It is easy and fun. The tutorial is quite easy and elaborate, so making some tissue paper crafts like these flowers won't be a problem. You can make a few of these and glue them to a circular cutout to make your own tissue paper flower wreath.
15. DIY Tissue Paper Coaster
I was never a fan of coasters. Nothing personal, but I always found them boring. Until now. Now that I have seen these fantastic DIY tissue paper crafts for the boring wooden coasters by artsyfartsymama, there is no going back. I am loving these colors, all the blues and some hint of yellow and pink has made this otherwise boring wooden coaster dramatic. All you need for this crafty coaster is some colorful tissue paper cut into small squares, mod podge, a wide brush, and some clear sealer. And of course some coasters!
16. Paper Posie Pencil Poppers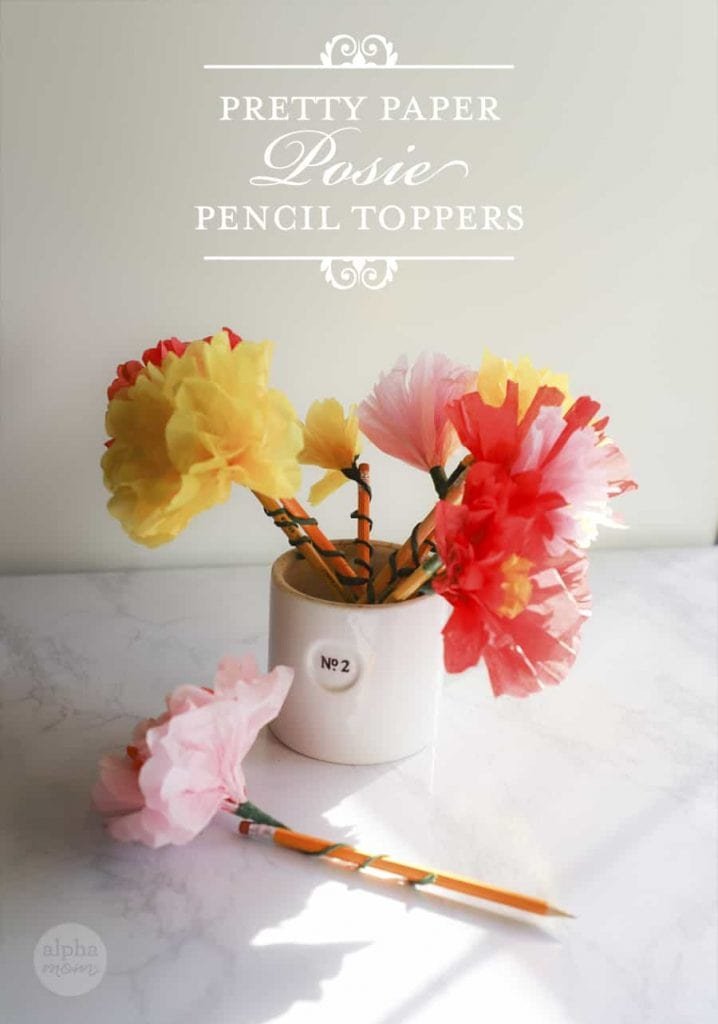 If you have a pretty vase in your room, how about fil those with some beautiful tissue paper crafts? If you think tissue crafting is all just for kids then let alphamom give you a reality check. These tissue paper crafts are so beautiful. You will need some colored tissues, floral tape, floral wire, and wire cutters, and you are all set to make a few of these tissue paper crafts. I am loving the soft colors too, they are vibrant and gives a nice summer vibe. This is an amazing craft gift for kids, which kid won't love some extra flower pencil?
Tissue paper crafts are adaptable. As you can see in the above list that you can make different kinds of things from some tissue papers and some basic raw materials. Tissue paper crafts are fun to play around with and have a lot of scopes to be explored. From ruffled tissue paper garland to fancy craft DIY coasters, tissue paper crafts are versatile and if crafted well, can be used in home decor too.
You can try any of the above tissue paper crafts as they all have easy tutorials and can one can master the art of crafting with these. Also do let us know your favorite from this curated list of tissue paper crafts in the comment section below. Happy Crafting!
If you loved these ideas, you can use the Pin image below and save this article on your 'Paper Crafts For Kids' Pinterest board.