Looking for a new and creative way to express yourself? How about painting on rocks? Rock painting has become a popular activity that's both fun and relaxing. Whether you're an experienced artist or just looking for a new hobby, there are endless possibilities when it comes to beautiful rock painting ideas.
From simple and easy rock painting ideas to more intricate rock art ideas, the options are as limitless as your imagination. So grab some rocks, some paint, and let's get creative!
Also read – 

20 Halloween Rock Painting Ideas To Create Spooky Vibes
35+ Aesthetic & Cute Hand Painted Flower Pots For 2023
19 Christmas Handpainted Baubles for your Christmas Tree
This gorgeous rock painting idea is so very tempting that you will be compelled to paint this beauty right away. Use beautiful hues of blue to paint the rock. You'll love painting flowers and the contrast that they bring to the rock.
2. Your Hope is My Hope

Source : imagine.it.art

Hope and expectations go hand in hand and we all can use a little hope in life. Hope is certainly a fuel that brings joy to life and keeps us motivated every day. With this rock painting, feel that hope, that expectation that things will be in your favor.
3. Love in the Air


Source – goodvibesmillbrook
What is more beautiful than love? Probably nothing. The simple lettering of the word 'love' in the color red on a contrasting white background has given a very positive and delightful vibe to this rock art.
4. He Has Our Back

Source : tuluas.rocks
God is everywhere, and He always has our back. With these Christian rock painting have beautiful pearls of wisdom will actually bring a lot of positivity and hope to your life. Each day you will be reminded of all the things that matter.
5. You Rock

Source : oahukindnessrocks
How about a little reminder that you matter? So why not paint this on a beautiful piece of rock? This rock painting idea that will remind you of your worth and will boost your confidence.
6. Color of Life
Color of life is all about hope and love. So this Sunday tries and paints some of that hope and love like this rock painting idea. This idea is very simple and also relaxing, I especially like the rainbow-themed color that goes well with the theme of "All love matters".
7. Self-Note Rock Painting Ideas
In our busy lives, we hardly get any time to focus on ourselves let alone to remind ourselves. So with this rock painting idea make some self-note to stay calm and thrive in whatever you are doing in life.
8. Sparkle like a Star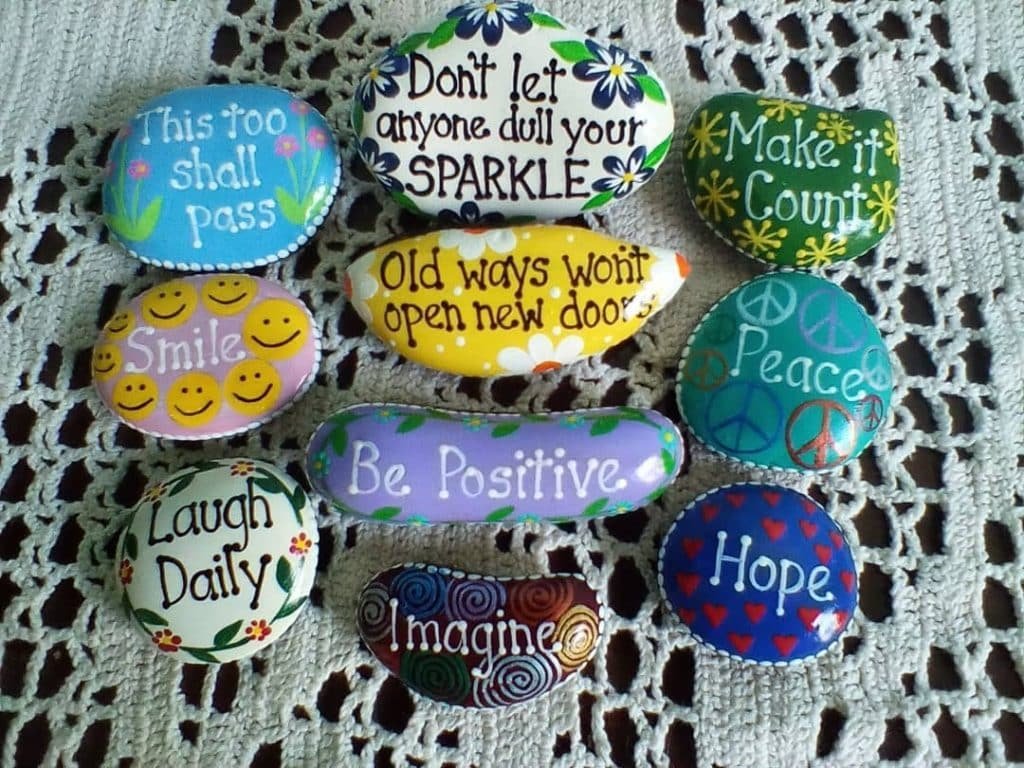 These beautiful rock painting ideas are so motivating that you will not think twice before getting your paint and brush to make a few of these. All the positive messages will help you through your hard times.
9. It Takes Courage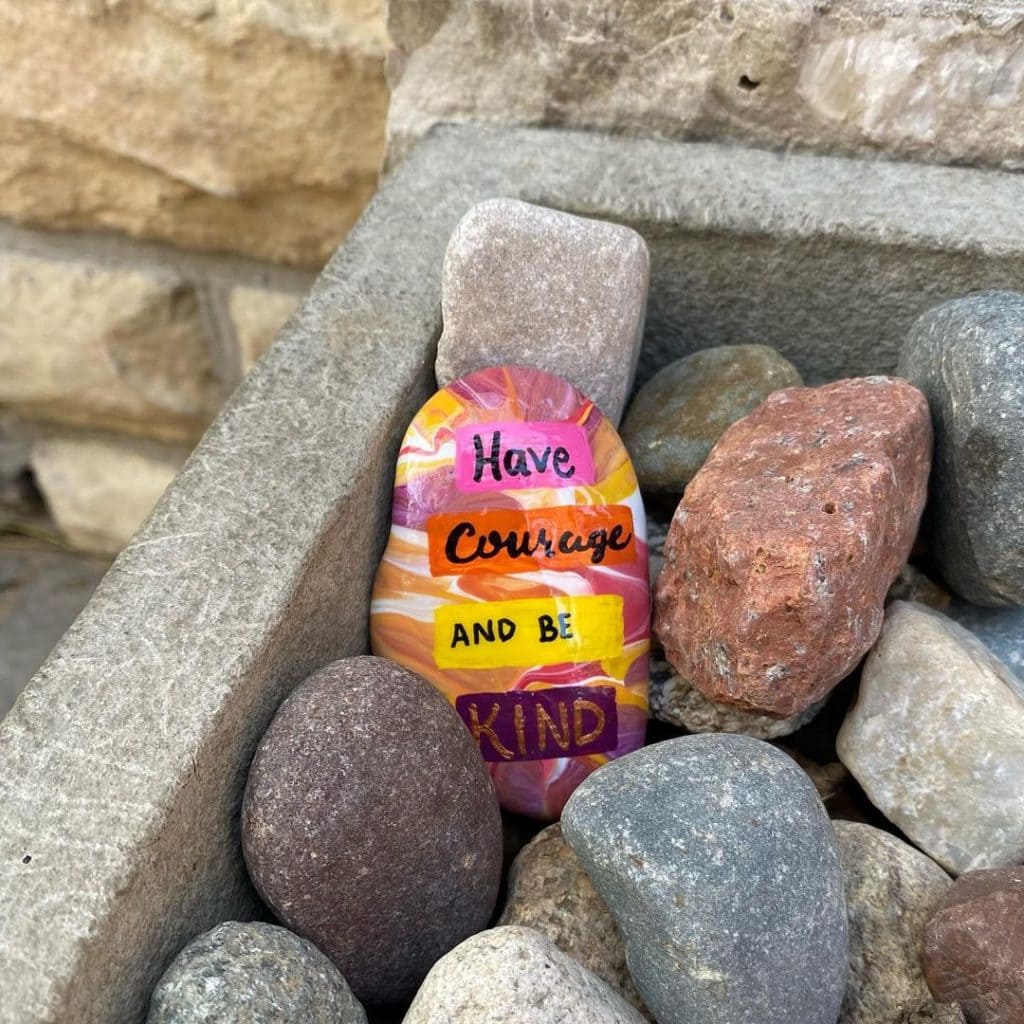 It takes courage to be kind to others. It takes courage to be selfless enough to be a considerate person. And with this beautiful rock painting idea you can remind yourself or even share this message with your loved ones. Life is all about staying positive and spreading a little more love and hope every day. The bright colors used in this rock art are so warm toned that you will be filled with hope.
10. Kindness and All Her Friends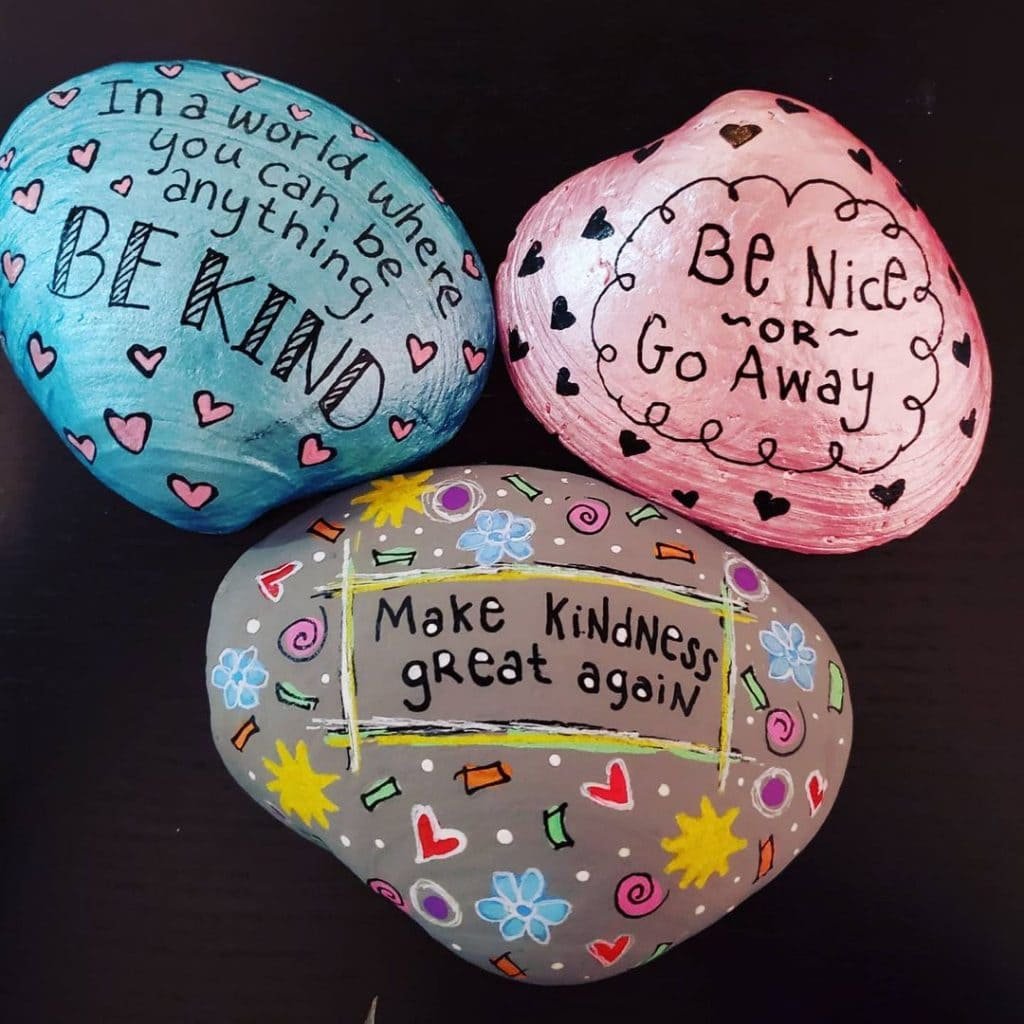 Kindness is something we all need in this sad world. A little kindness can mean a lot to someone and what another great way to spread this message than through these amazing rock painting ideas? Get inspired and make some of these beautiful rock arts.
11. Someone Special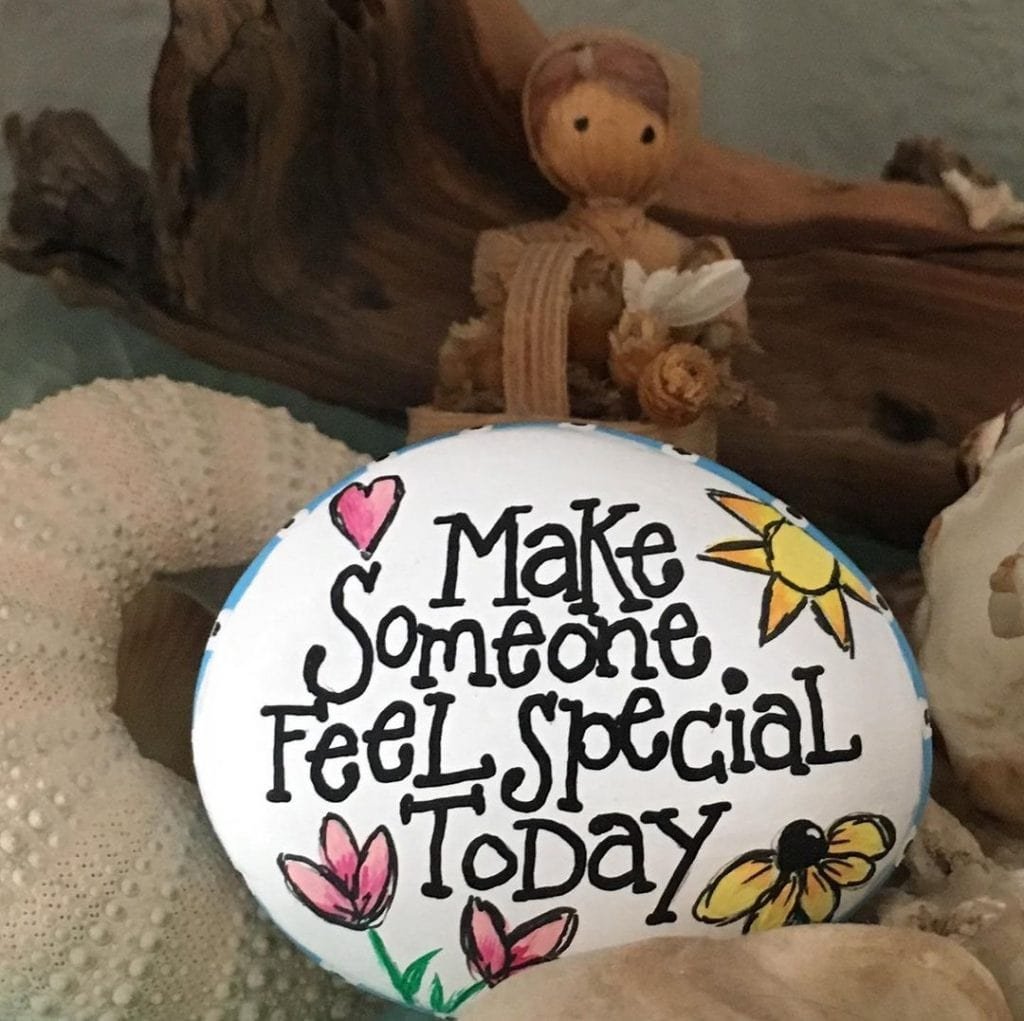 We all know someone who needs to feel special today. And why not? Once in a while, we all would love a little reminder that we all are special in our own way and we all matter. So be inspired by this rock painting idea and make someone feel special today.
12. Achieve and Thrive
Achievements in life are often taken into consideration to weigh our worth. But these rock painting idea will remind you that you are always worth it. And it will remind you every day to be yourself; to love yourself.
Christmas Rock Painting Ideas
With Christmas right around the corner indulge in some Christmas-inspired rock painting ideas. Rock art is not always just paintings they often come in the form of motivational words and inspiring lines. And we all know Christmas is a season of hope, joy, and happiness. Christmas and winter bring in a lot more than just the cool weather. It brings a sense of a new beginning, a new hope, and a new chance.

And this festive season you can make it special for your loved ones with some of these rock painting ideas. They are fun to make and also a unique gift and needless to say the personal touch is always welcome when it comes to gifts.
13. Mr. Penguin
This cute anime penguin is all you need to bring a smile to your kid's face this Christmas season. With this painted rock, make sure to stay true to the spirit of Christmas and winter.
14. Snowman and His Family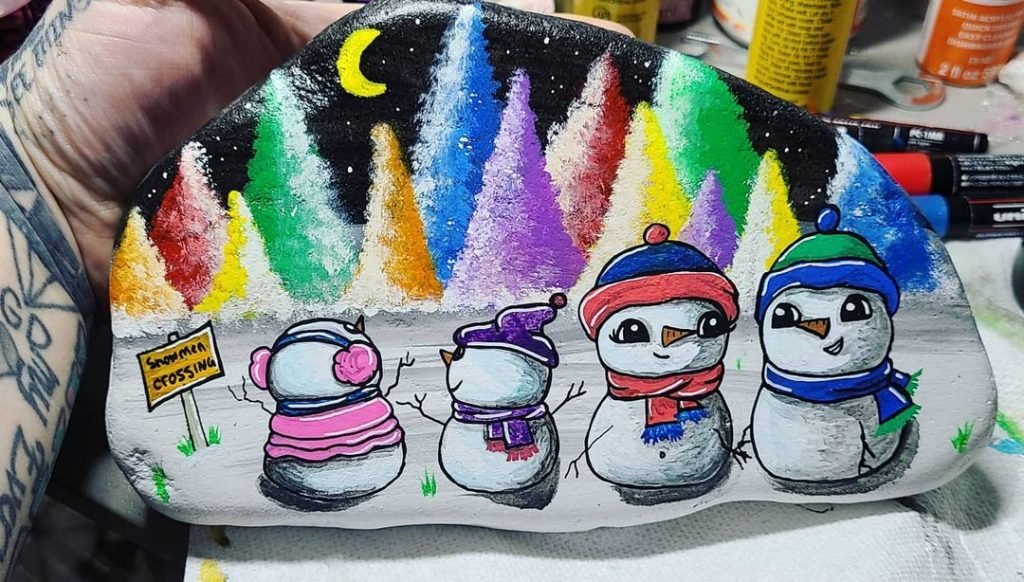 This is one of those painted rocks that will get you all excited for the winters. The rock art is different from the other snowman painting. Because here the snowman has a family that gives this rock art life. The use of bright colors like blue and green has brightened up the whole picture.
15. Christmas Rock Painting Ideas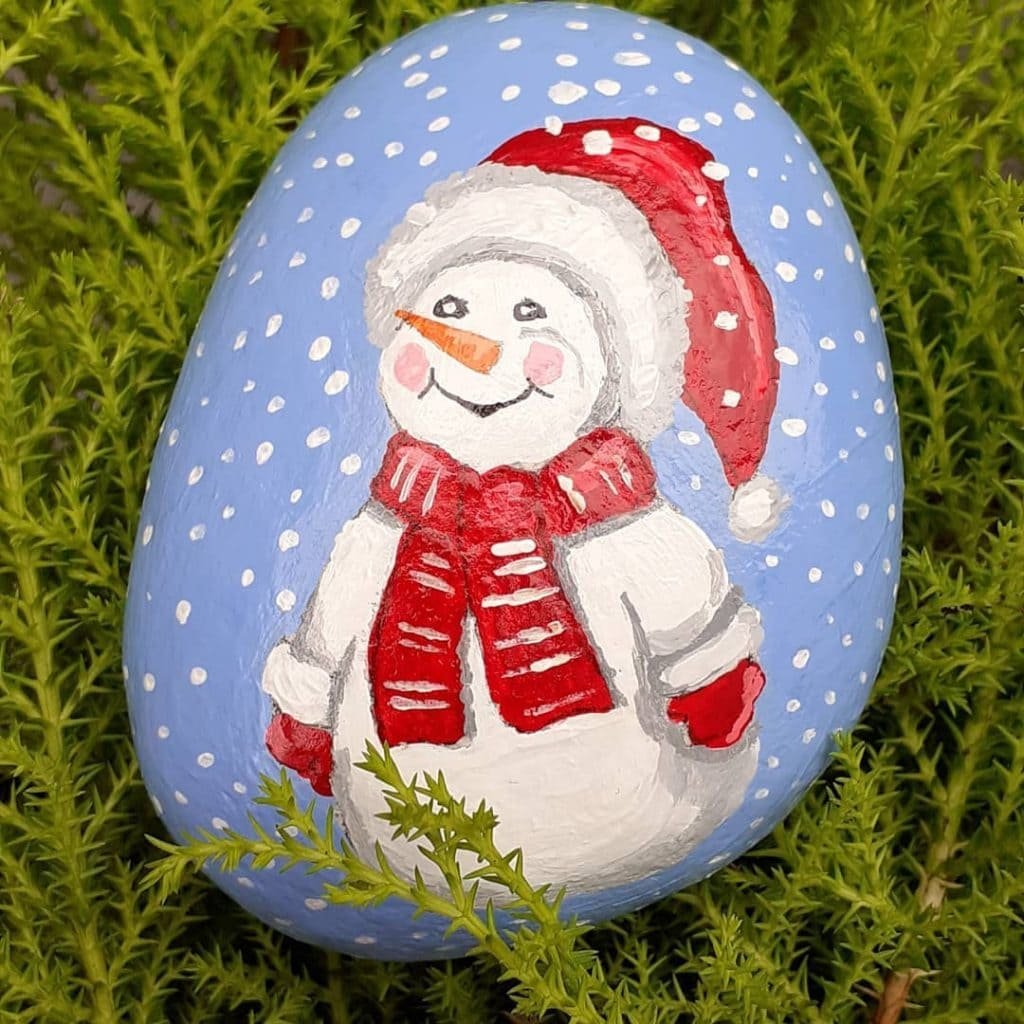 Here is an excellent option for beginners. This Christmas stone will make you smile bright. The classic red hat and the red scarf is a true reminder of the Christmas evening.
16. Jingle All The Way
This snowscape painting on the rock is a great reminder of Christmas. It has the spirit of white Christmas. The baubles used on these trees have beautiful bright colors which is a great touch of joy and hope.
17. Is That Santa?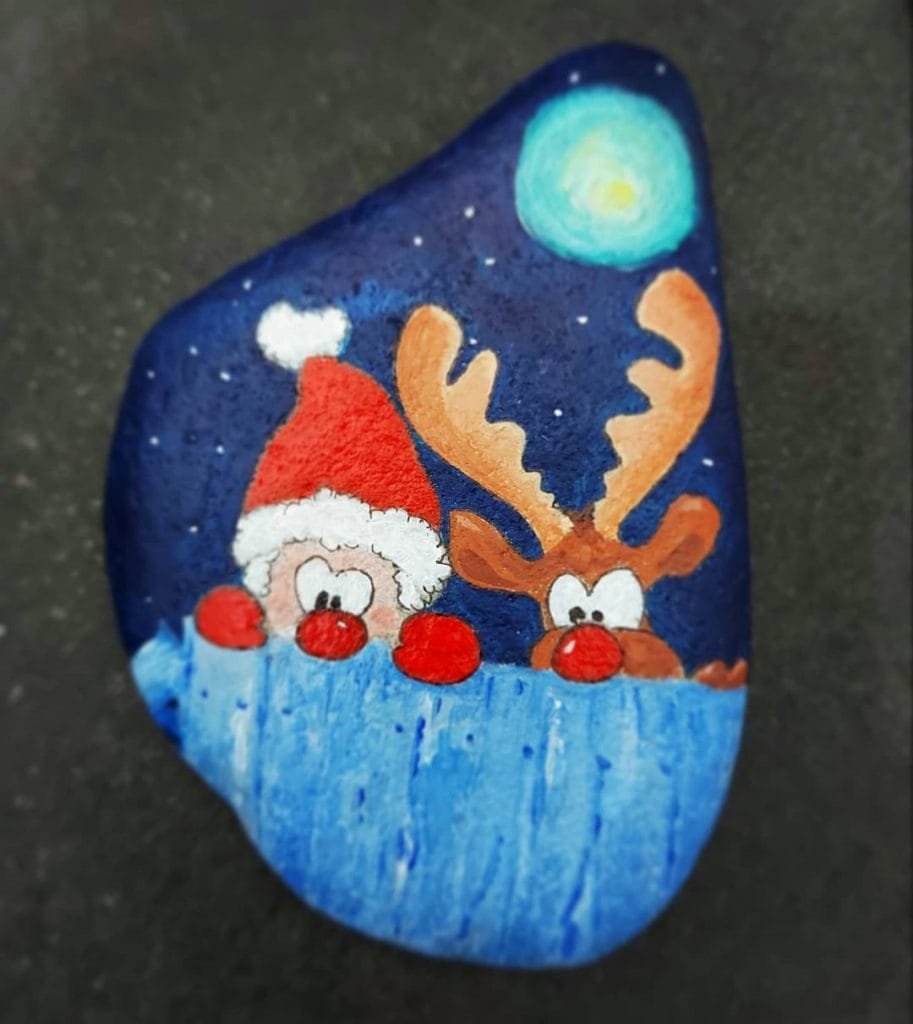 What are Christmas without Santa and his reindeer? So this year paint these beautiful rock painting ideas to light up your kid's mood. This rock art can also be a part of your Christmas decorations, and why not it is cute and fun.
18. Winter Is Here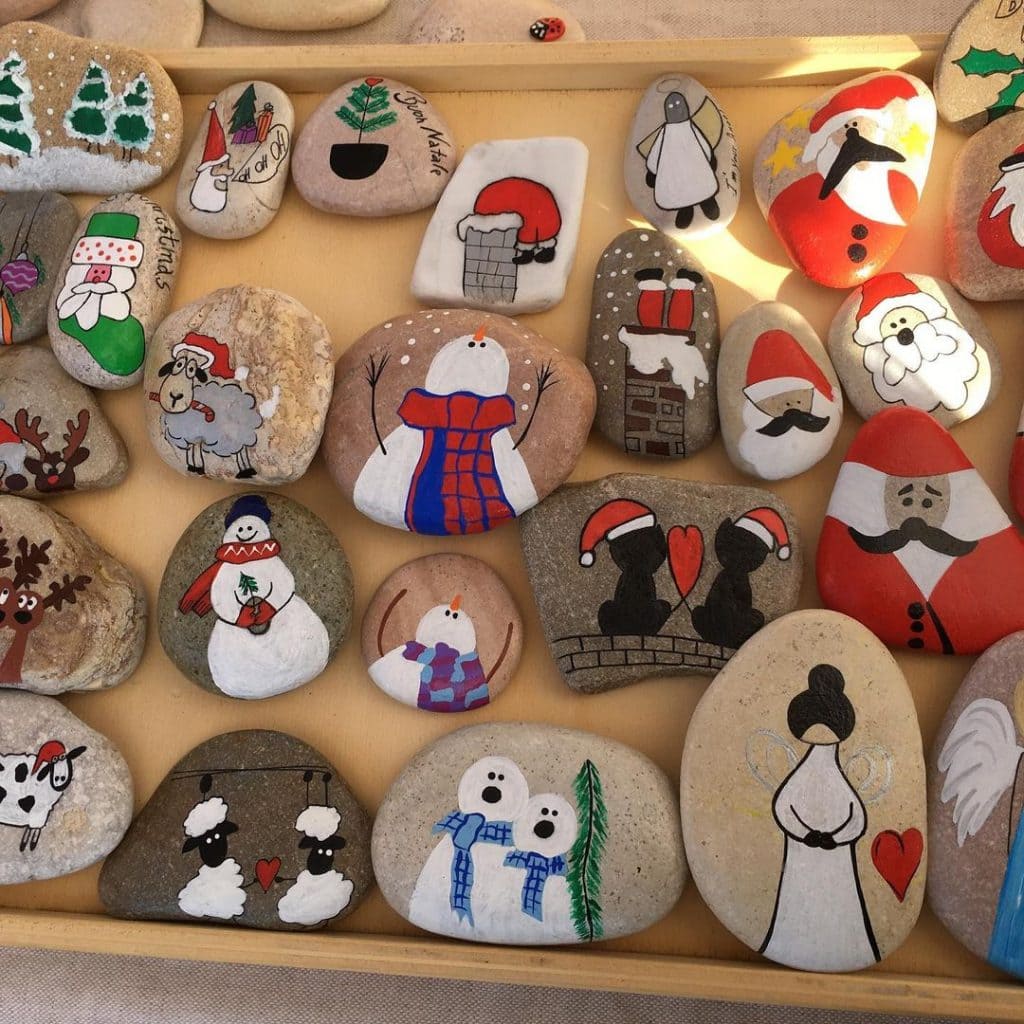 These painted rocks are simple to recreate. If you are looking for some easy yet beautiful Christmas-themed rock painting ideas then you have quite a few options here.
19. Christmas is Here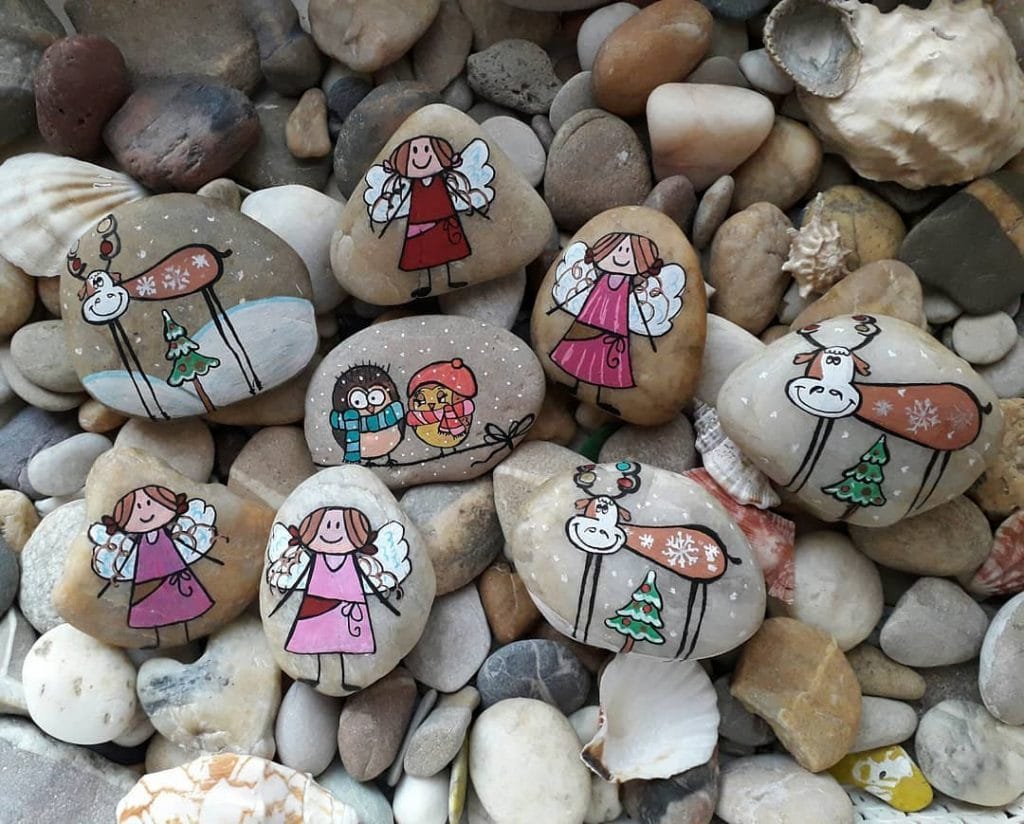 Christmas is all about joy and hope. But it is also about a lot more like the Santa, the elves, the Christmas fairy, and also the reindeers. And this one has has a number of options for you to make the Christmas memories stronger and fun.
20. The Christ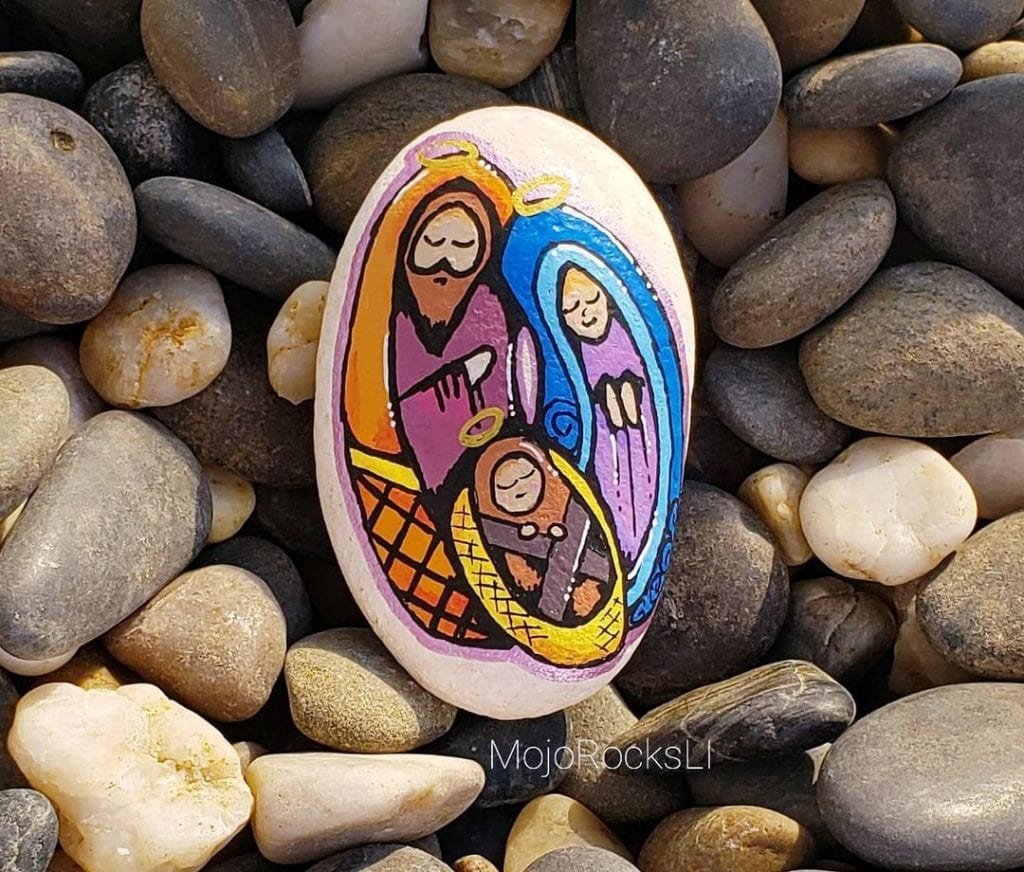 This is one of those rock painting ideas that will remind you of those stories about the birth of Christ that you have heard as a kid. So this year take a hint and paint beautiful rock art for your kids. And it will cheer them up to see the replica of the story they have been hearing.
21. Snowman Rock Painting Ideas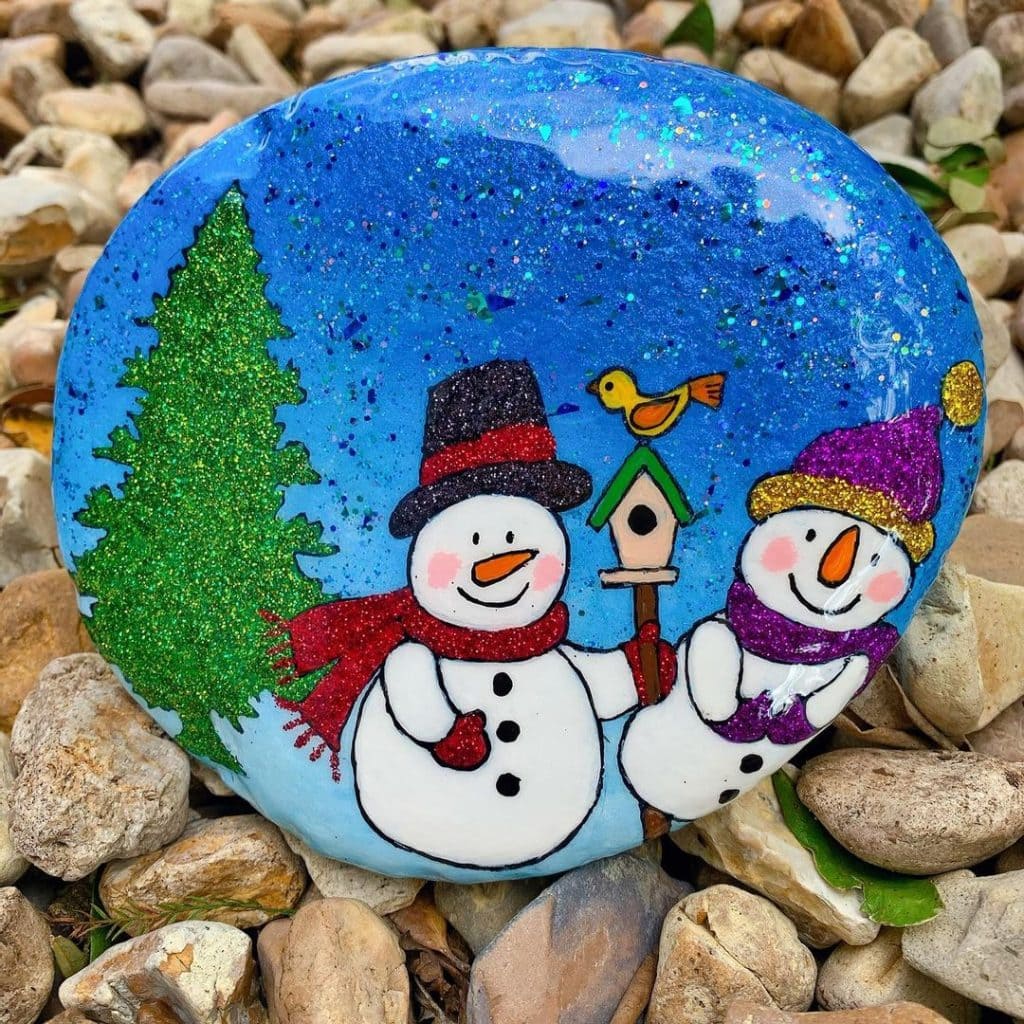 This rock art is going to make your day. The two snowmen looking happy and that little bright yellow birdie will bring all the positivity to your Christmas decor. It can also be something you can prepare as a Christmas present.
22. Joy To The World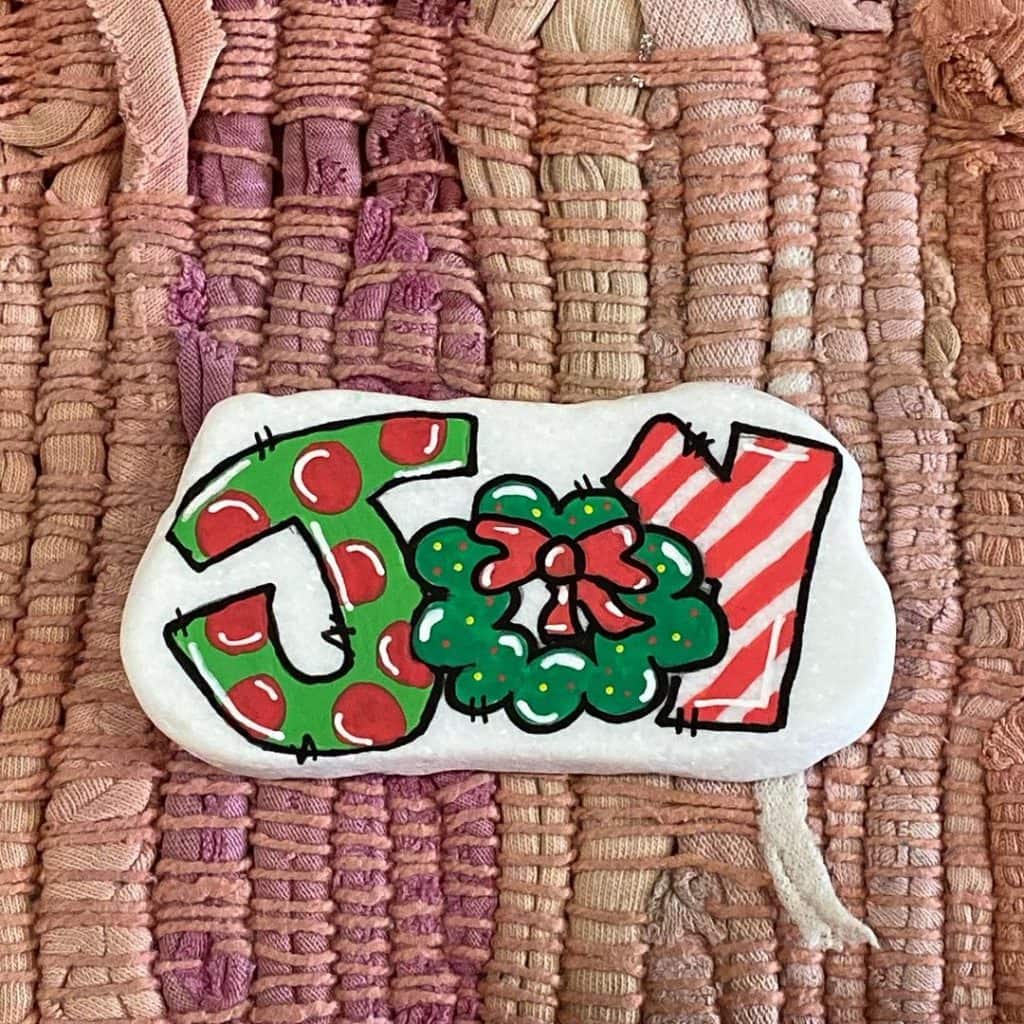 This rock painting idea is sophisticated. If you like to keep things simple but elaborate then this is your best option. The painting is dominated by the presence of the red color and that is the best thing about this rock art.
23. Little Girl With Hope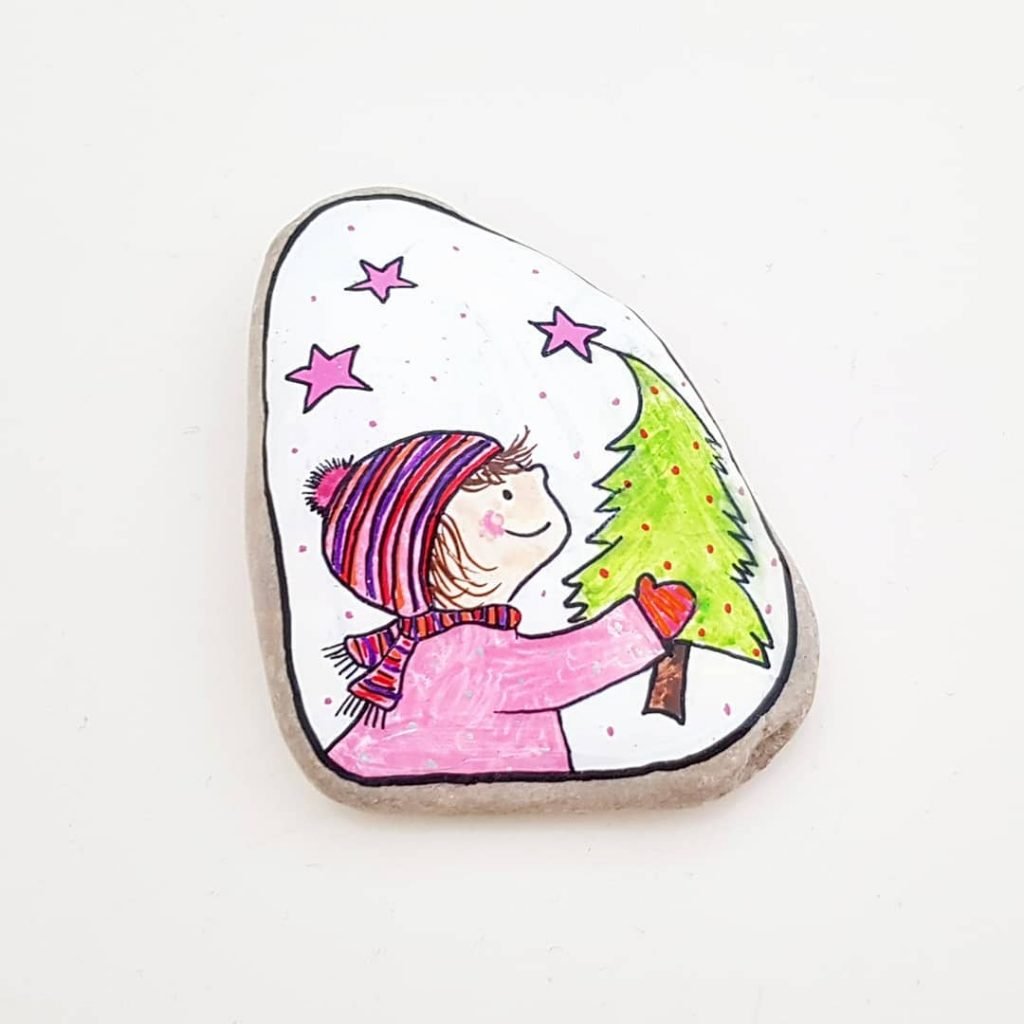 This rock art has captured the spirit of hope that Christmas brings with itself every year. The colors used in this one only creates a beautiful contrast that gives it an overall positive vibe.
24. Crazy Santa
This crazy Santa is one such painted rock that you won't be able to ignore. The red dress and the white beard is so convincing that you will be waiting for Christmas.
25. Snowman Love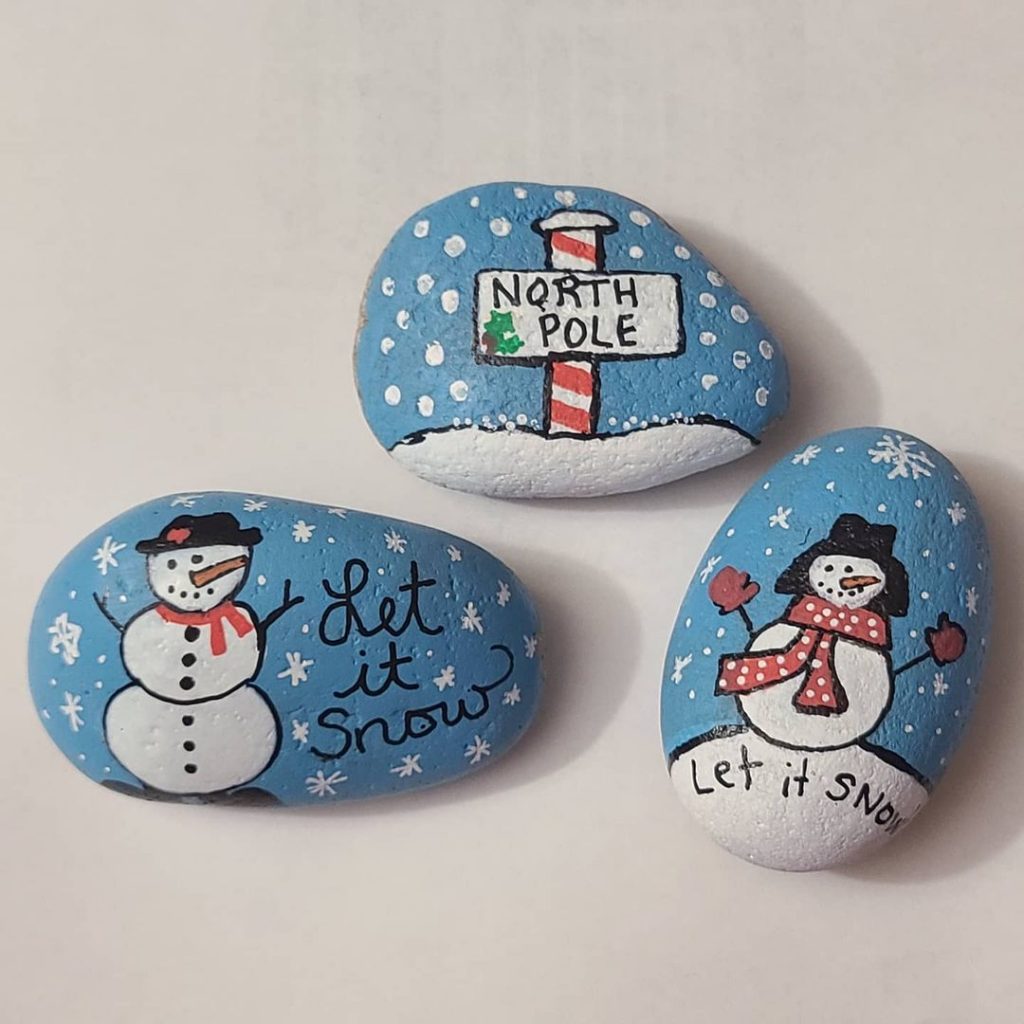 Who doesn't like to build a snowman? We all love the white Christmas, but why wait for it? These rock painting ideas heighten the joys of Christmas for your loved ones.
Fun Characters And Cartoons As Rock Art
These characters and cartoons will make an excellent option for the rock painting ideas as a part of craft for your kids. These are easy options that are also fun to play around with. You kids will find these engaging and it is certainly a productive way to explore the artist in them.
26. Mermaid Love
This Ariel, the mermaid is one of those painted rocks that your little one will be left in awe with. The bright red hair with the classic contrast of blue has worked its magic on this rock. Stick to the original colors and make sure that the rock gets a character.
27. Snoopy and the Woodstock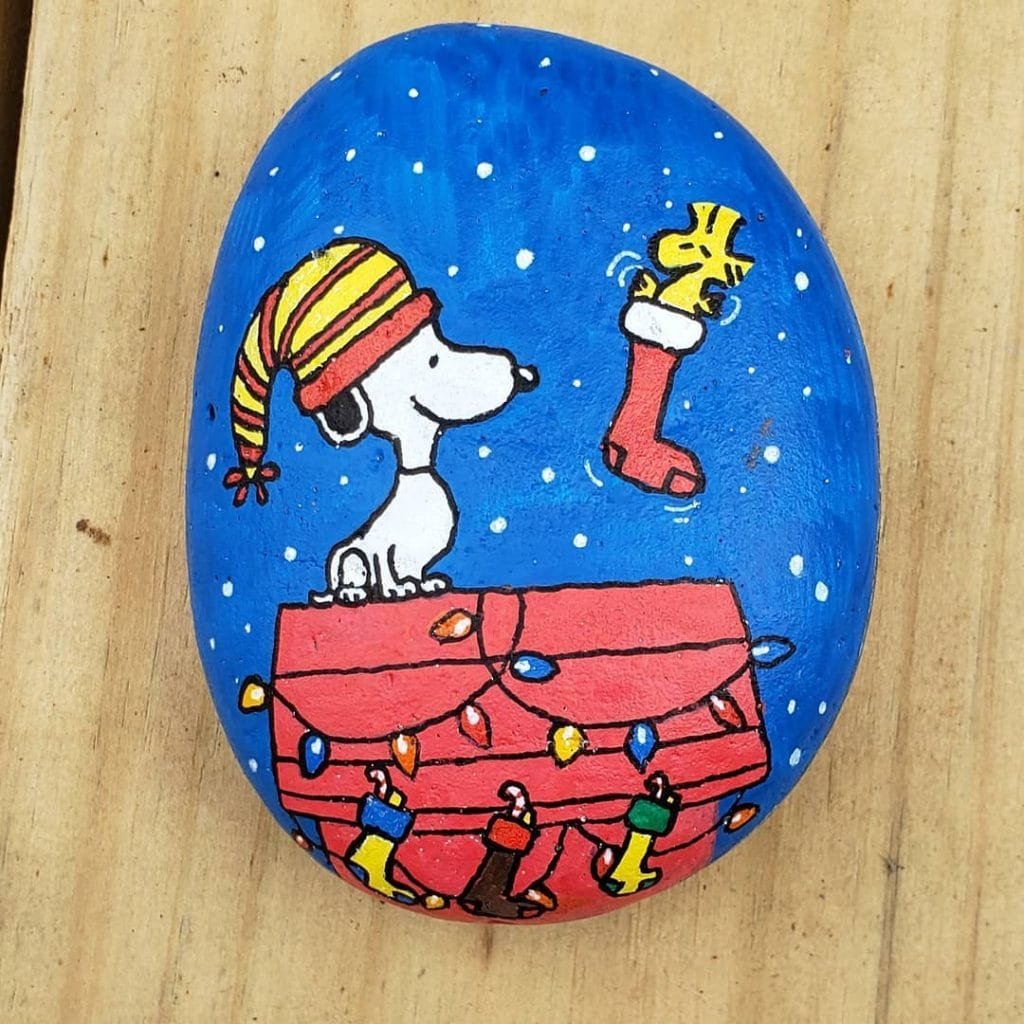 This white little Snoopy has given this rock art the touch of fun that you would want in rock painting ideas. Created an excellent piece of rock art with the brightest colours. The beautiful blue background, the red cart, and the white Snoopy have come together to create perfect harmony.
28. Rainbow hat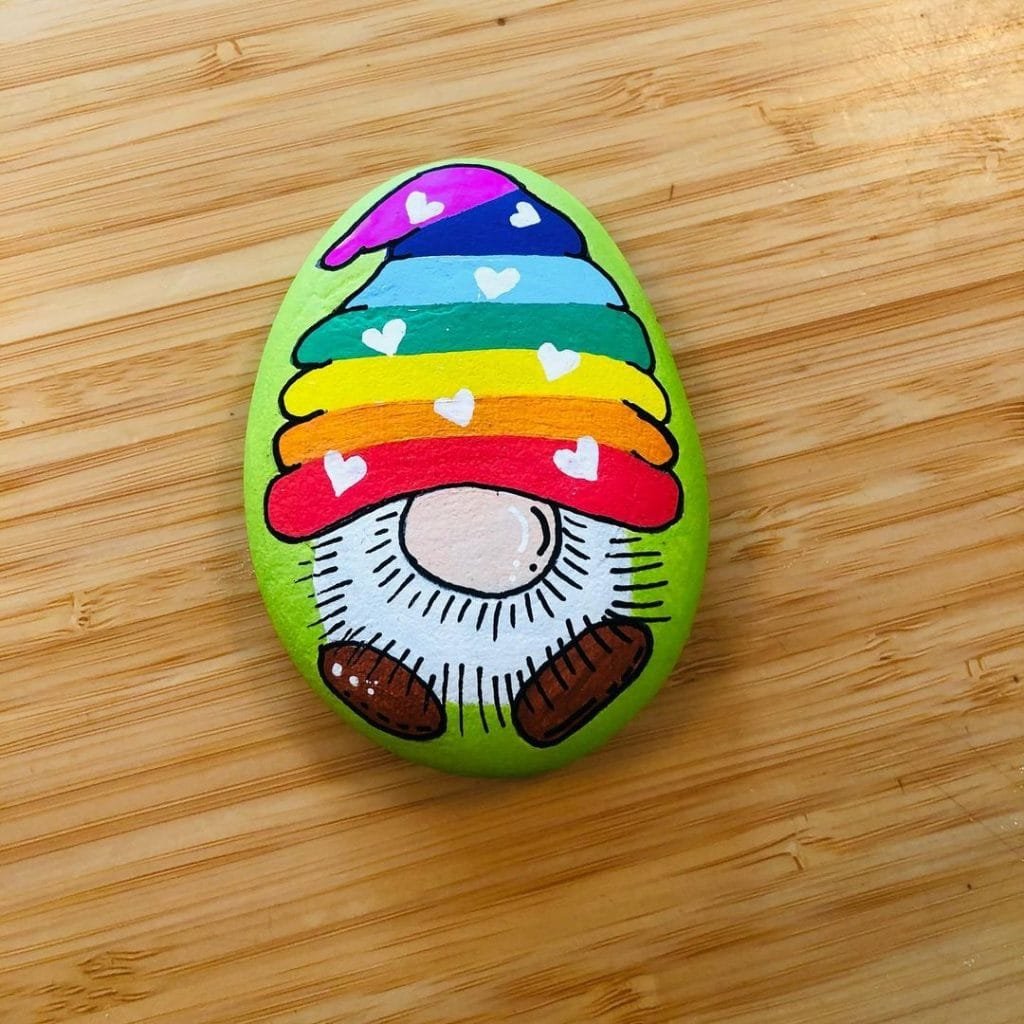 Rainbow is a symbol of love and hope. The hat on the little rodent has given made this rock art one of those cute painted rocks that you would like to have in your house.
29. Sponge Bob
This yellow sponge bob rock art is an example of what fun rock painting ideas should look like. The bright yellow has added a nice pop of color and needless to say Sponge bob is a fun character who is loved by kids.
Mandala Art Rock Painting Ideas
Mandala art is not just simply art. It has a cultural significance that requires appreciation. These circular patterns that you see are an excellent option to try out when it comes to painted rocks. So let's explain what are the options to try out some of these boho-themed rock painting ideas.
30. Mandala Art
There is something very unique about mandala art especially when they are on rocks and pebbles. These rock painting ideas are exquisite. What makes this rock art so unique is the color pattern that compliments the all-black base.
31. Floral Mandala Art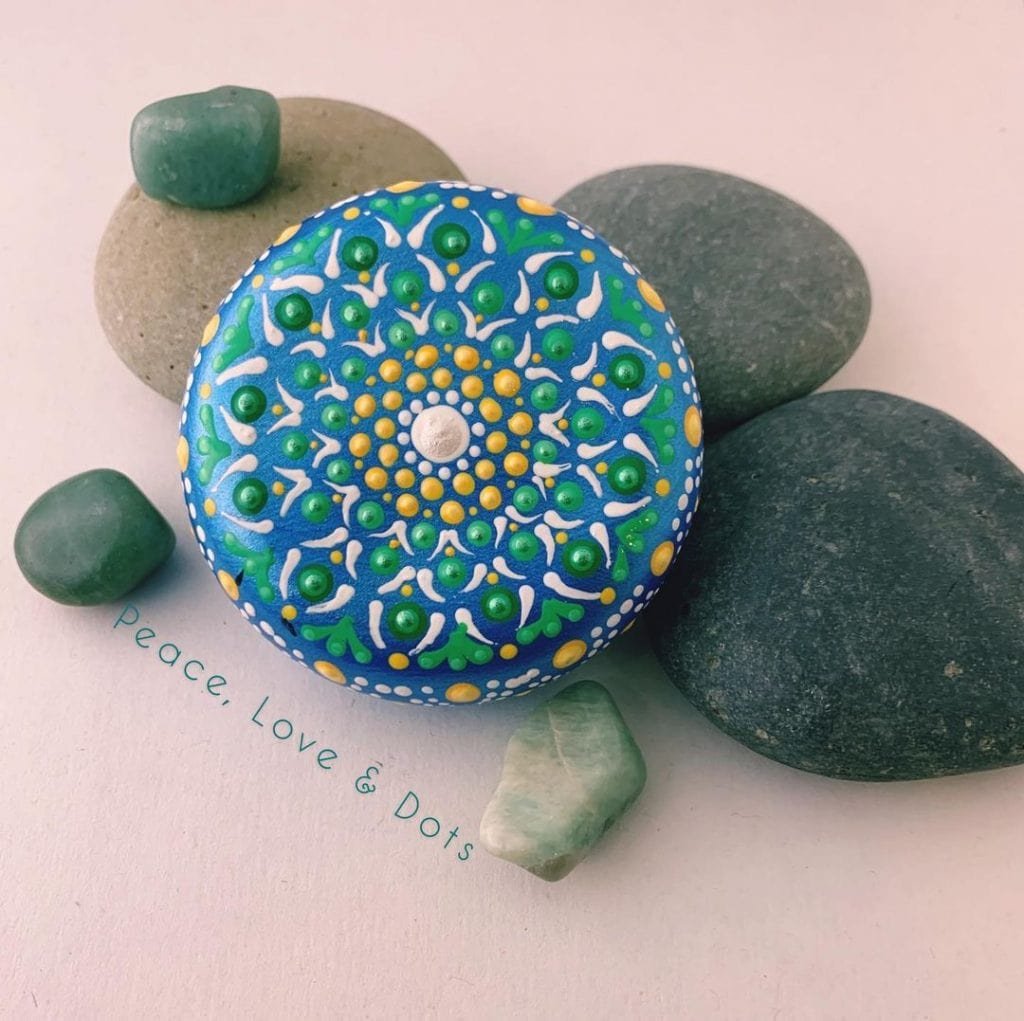 This blue-based floral Mandala art is beautiful and beyond. The combination of white, yellow, and green on blue is vibrant. Painted rocks like this one here is something you can try out if you are not into the conventional Mandala art.
Animals For Your Rock Art
If you thought animals are just cute to look at then why not try these rock painting ideas? These ideas here will steal your heart for sure.
32. We Have Everything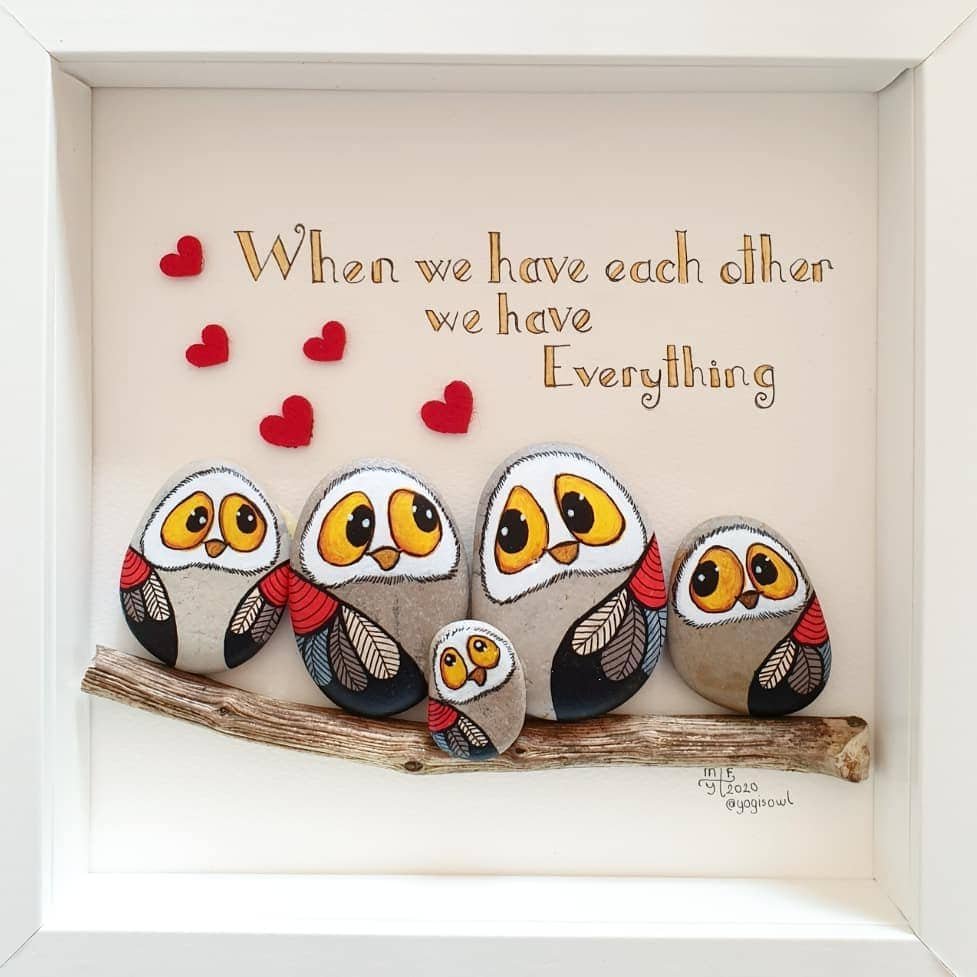 These little birdies are here to remind you that when you have love and others in life you basically have everything in life. This rock painting idea that will certainly remind you of the warmth of your family.
33. The Pink Cat
This cute smiling cat is so pink and pretty. Irene.koester has used a beautiful shade of green that has made this little pink cat much more stand out.
34. The Tale Of Nightingale
This rock art is a story in itself. You can see the little nightingale singing a song and tinas_stones not forgotten to give this little bird audience. The contrast of blue and yellow is to die for in this rock art.
35. The Black Mystic
The black cat in this rock art is so mystic. Irene.koester has added this beautiful red bow to the cat that has created a fantastic contrast.
36. Colorful Owl
Capcouriers have presented with this amazing idea of rock art that is going to blow your mind. The magnificent colors used in this rock art are vibrant and the eyes of this painted owl are what makes this rock art unique.
37. Pink Llama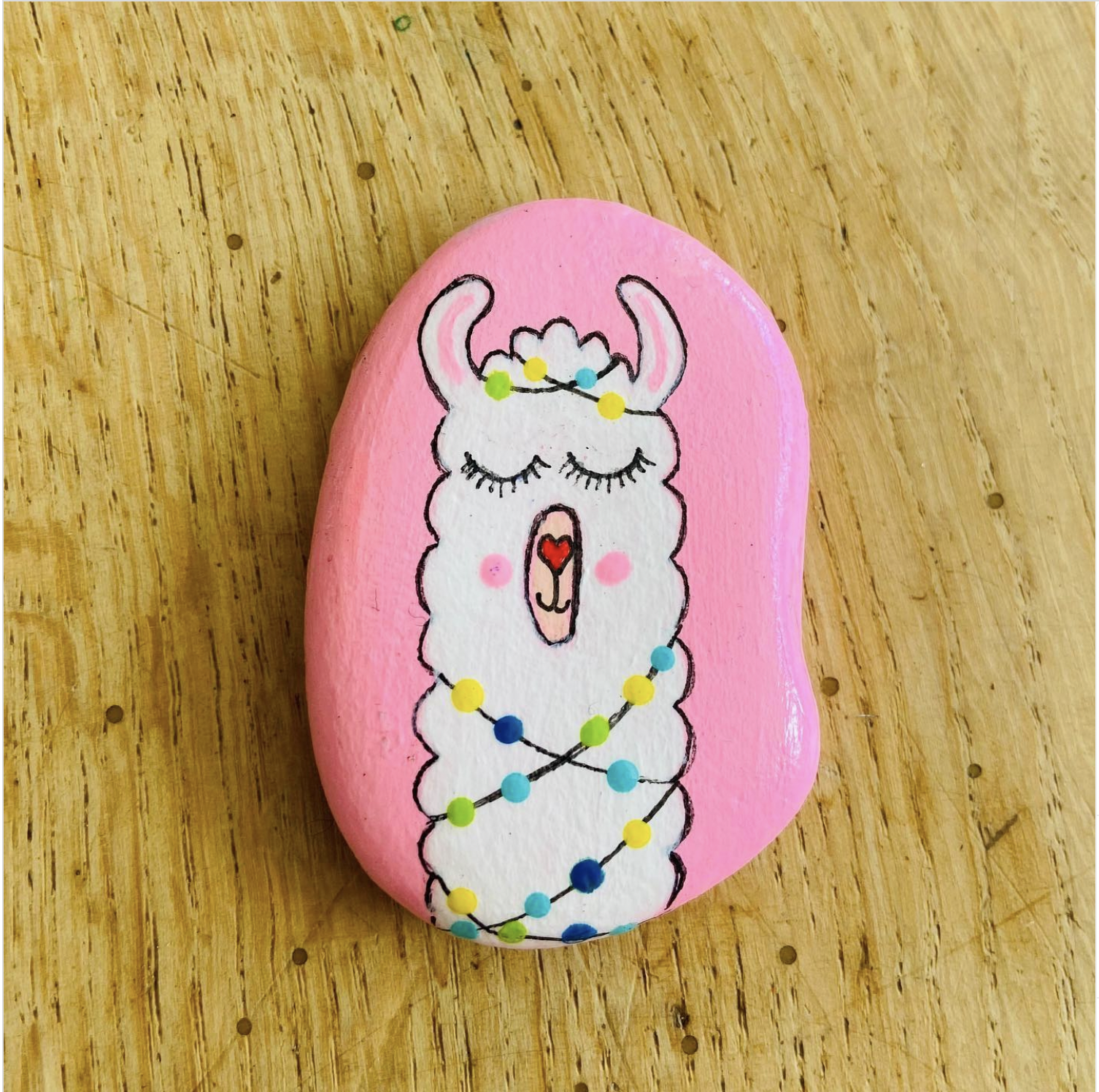 Debblespebbles2020 has painted this beautiful llama that has eyes closed in peace. The touch of colors around the llama is what gives this otherwise simple rock art.
38. Unicorn Bliss
Source : jamie.art.86
Rock painting ideas like this are super fun to paint. This fun unicorn has all the colors of happiness and peace. Especially the touch of the yellow stars around the unicorn is what brings the whole picture together.
39. Thanksgiving Inspired Rock Art – The Old Elf
Thanksgiving is a good time for you to paint some good old pebbles to cheer up your loved ones. This Thanksgiving why not gift your loved ones something unique and handmade? This Thanksgiving painted rock is all that you need to cheer up your loved ones.
40. Sunday Funday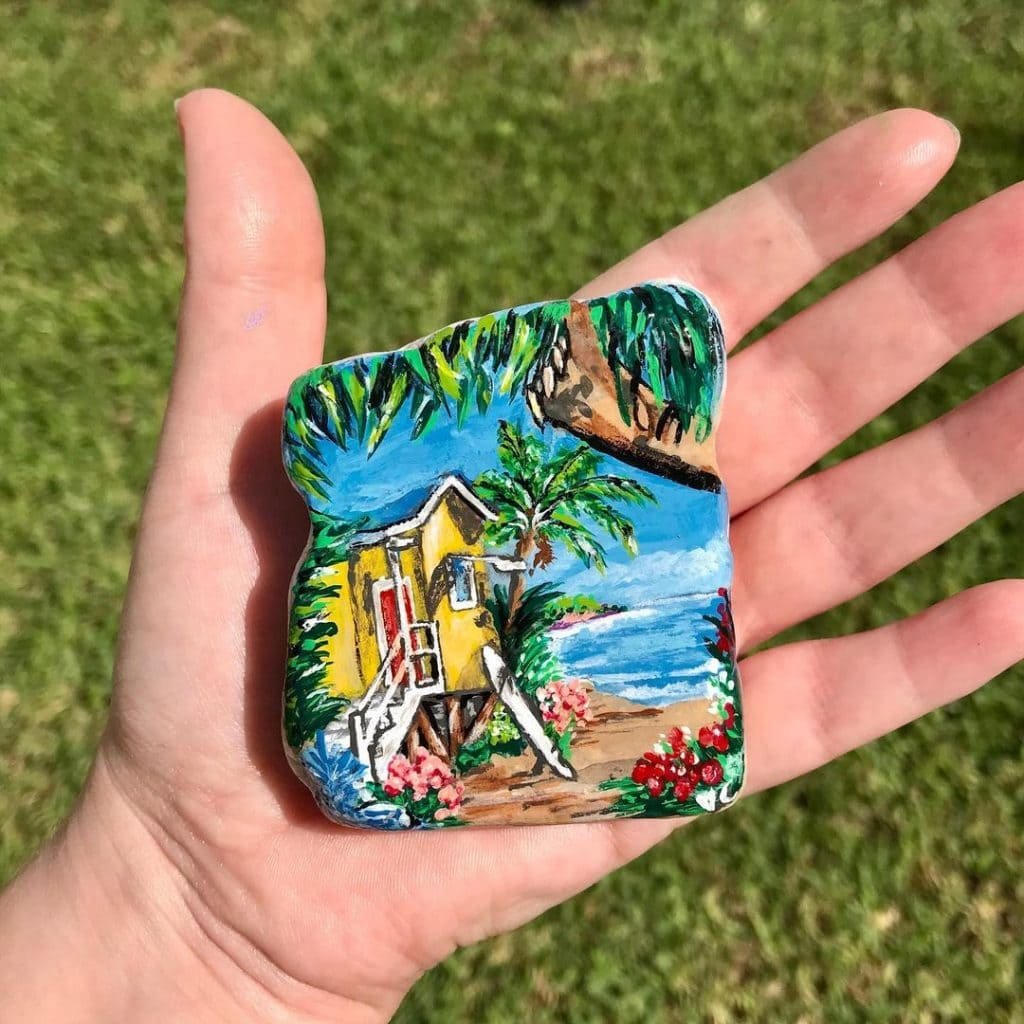 This rock art by meridarocks has the summer vibe going strong. This small yellow house on the beach will give you serious nostalgia and good memories.
41. Patterns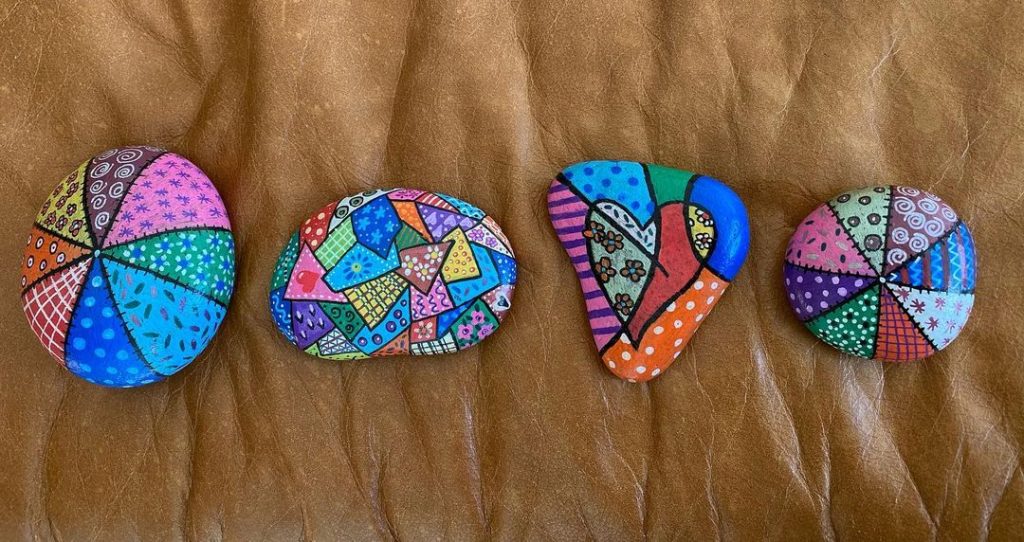 Asoulfulpurpose has got things a little complicated here. With all the blast of colors and the clean patterns, these painted rocks are worth the effort and patience.
42. Love Wins
Happinessrocksaz has made love beautiful again with this rainbow-themed whale. With this rock art, you can spread the message that every love matters.
43. Happy Faces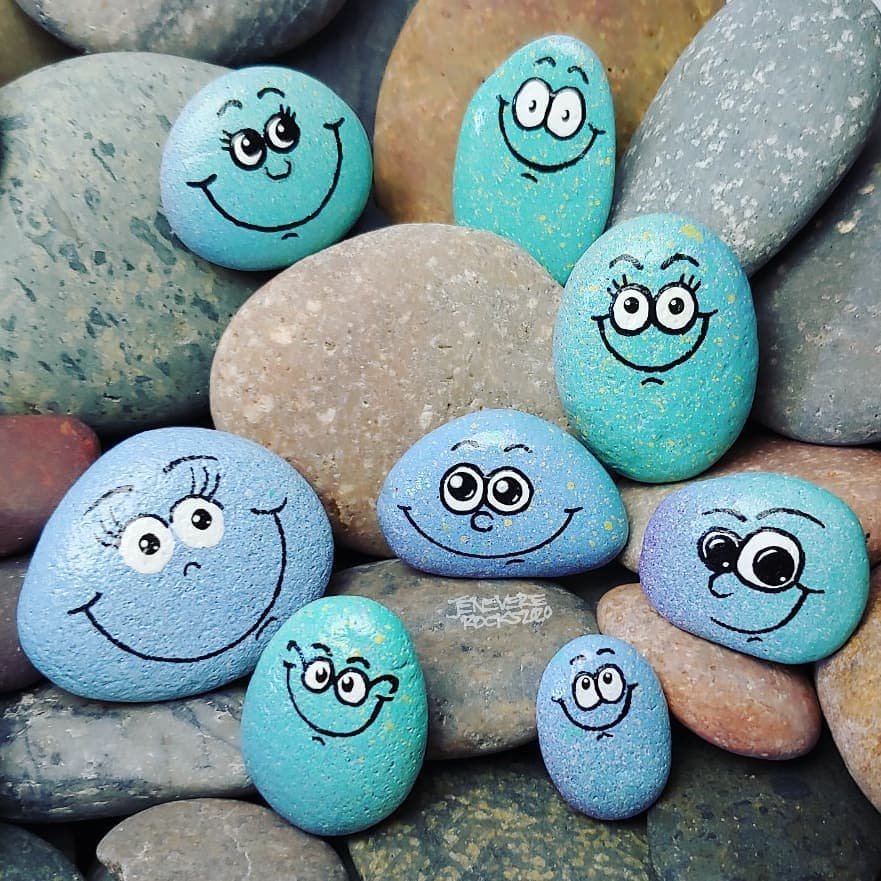 Happy faces by jenevererocks are unique because of the way it was painted. The blue you see is spray and the smiles were painted with nail polish. Fun, isn't it?
44. Anime Rock Painting Ideas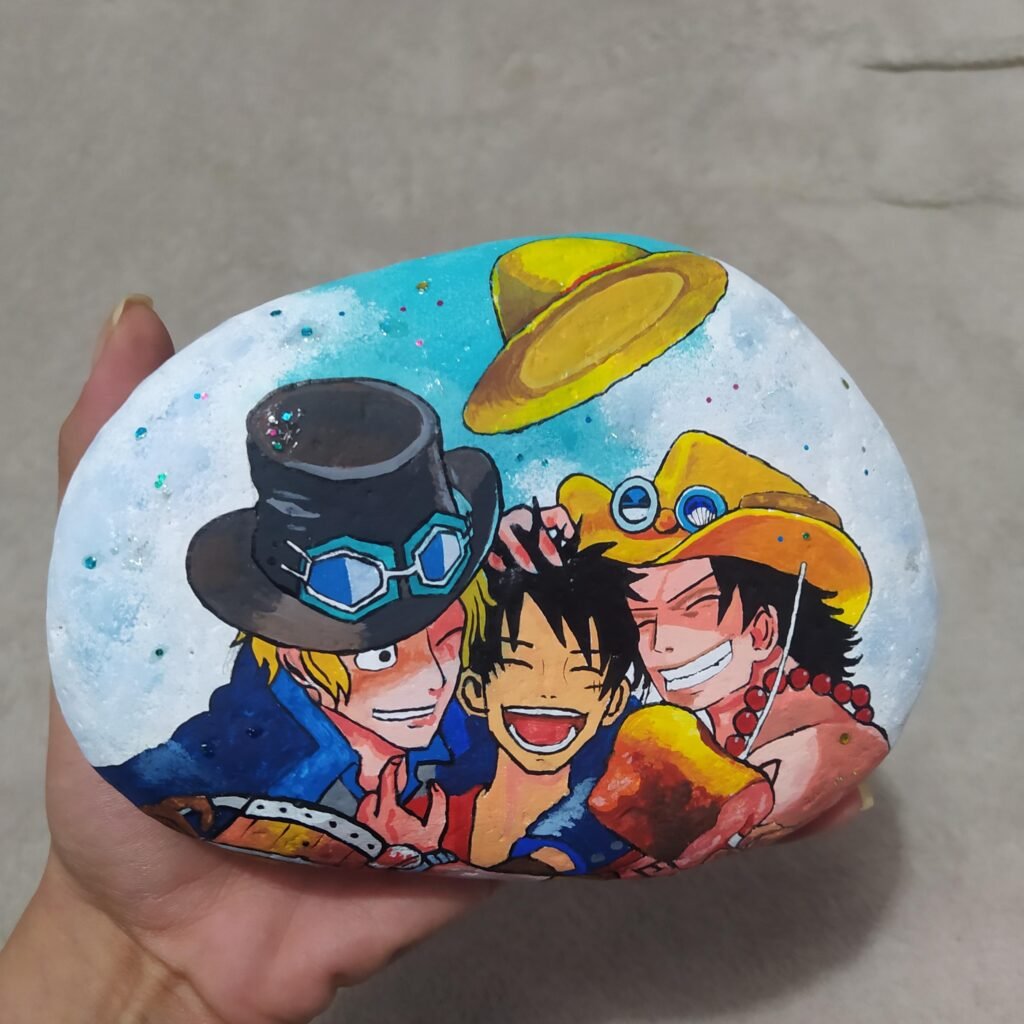 Get ready to rock your artistic skills with some colorful anime-inspired creations that will have you feeling like a manga master in no time!
45. Small Rock Painting Ideas
Source – pocketpebbledesigns
If you're looking for a fun and easy way to add some personality to your garden or home décor, then these tiny bug hugs just might become your favourite!
How To Paint On Rocks?
Painting on rocks is a fun and easy way to unleash your creativity. Here are some simple steps to get started:
Choose the right rocks: Look for smooth, flat rocks that are free of cracks and bumps. You can find them in your backyard, at the beach, or buy them at a craft store.
Clean the rocks: Before painting, wash the rocks with soap and water to remove any dirt or debris. Let them dry completely.
Prime the rocks: If you want the paint to stick better, you can prime the rocks with a base coat of white paint. Let the primer dry before moving on to the next step.
Choose your paint: Use acrylic paints, which are available in a wide variety of colors and dry quickly.
Paint your design: You can use brushes or even Q-tips to paint your design on the rock. Allow each layer of paint to dry before adding more details.
Add a protective coat: Once you're finished painting, add a layer of sealant or varnish to protect the paint from the elements.
With that, we have come to the end of this exhaustingly long list of rock painting ideas. Here you will find a variety of ideas to suit your taste. If you are new to this, don't be intimidated to start with something easy. Go for it!
Let us know your favorite one in the list in the comment section below.
If you loved these ideas, you can use the Pin image below and save this article on your 'Rock Painting Ideas' Pinterest board.