Feature Image Source: amberstextiles
Your Christmas tree is incomplete without some beautiful, and picture-worthy ornaments. One of the most common and very versatile ornaments are baubles. These Christmas handpainted baubles are not only super quick to make but also save you a lot of money that you would rather spend on some sweet Christmas presents.
These baubles are customizable in whichever way you like. They can be sparkly, block painted, brush-stroked, polka-dotted, or can have text printed on them. The beauty of a Christmas tree can be maximized with these unique bauble ideas and make your celebrations extra colorful.
So replace those overpriced, store-bought baubles with your very own handpainted colorful and elegant baubles.
After saving some money for those Christmas presents, why not try these DIY gift wrapping ideas and Handmade Christmas card ideas.
1. The Leafy Christmas Handpainted Baubles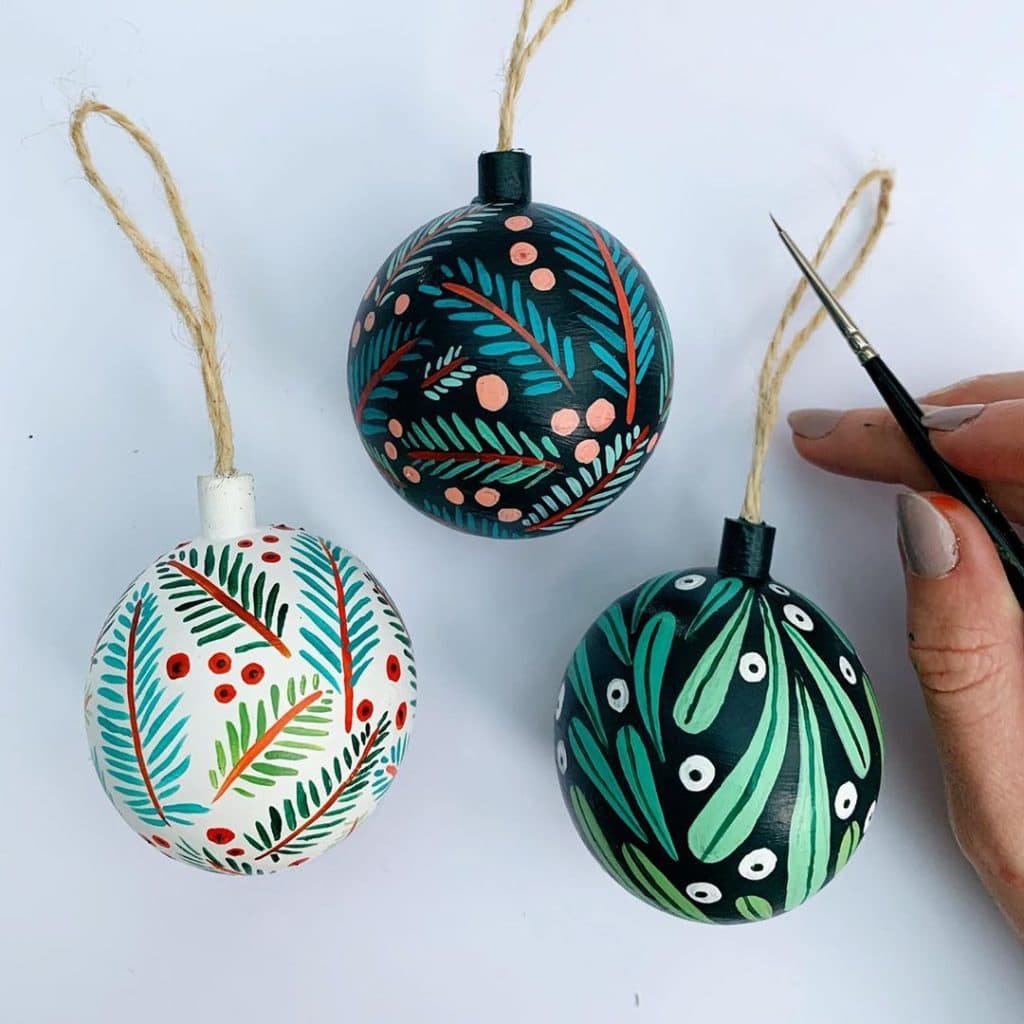 To complete your Christmas decorations this year, try out this Christmas handpainted baubles idea by amberstextiles. Take some black and white baubles, and using colorful paint, brush on some leafy designs. You can use inspiration from Christmas greeneries, or mistletoe, or any easy leaf design. Add a pop of color by drawing some red dots, to symbolize cranberries/flowers. You can also switch the colors of the baubles and match them to your Christmas theme. That is it. In a few minutes, your beautiful Christmas baubles are ready!
2. The Merry Christmas Baubles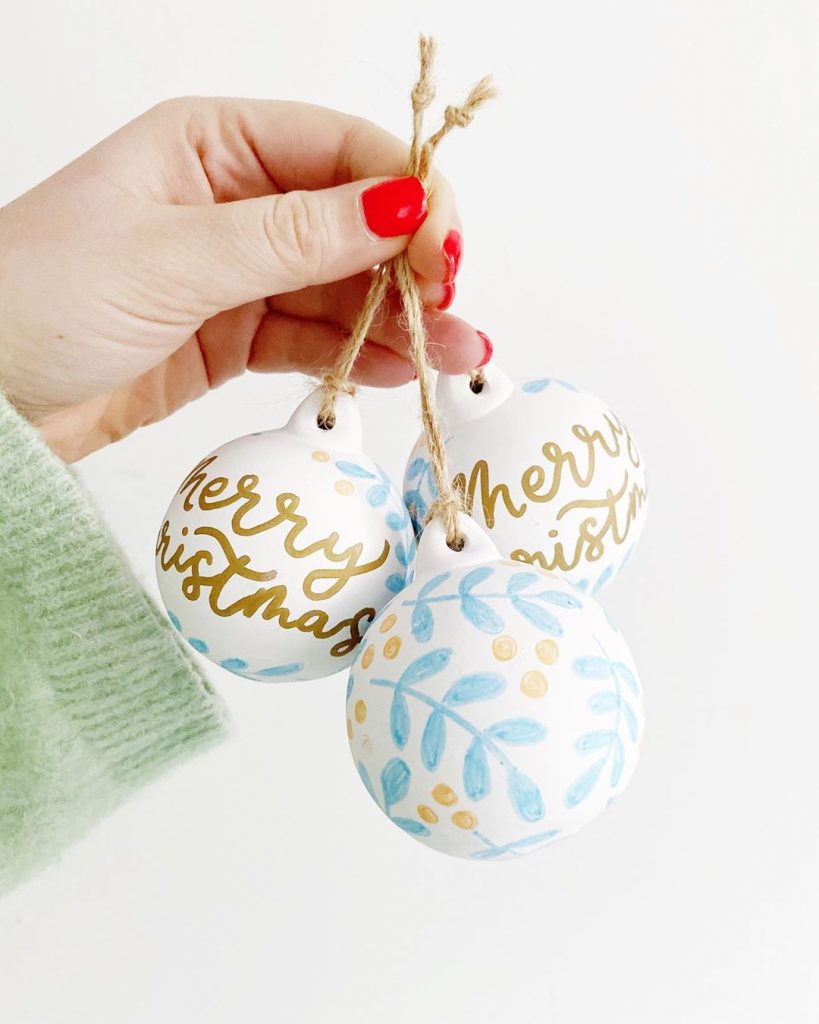 This minimal yet elegant Christmas handpainted baubles idea by becki_clark_ is another excellent option to add to your Christmas tree. It decorates your tree and wishes everyone a Merry Christmas as well. You need some paint and white baubles. Using white baubles is a better option as the color instantly adds a brightening effect. Using gold paint or a golden marker, scribble Merry Christmas on the bauble. Decorate the remaining bauble with leaves of any contrasting color of your choice and voila!
3. The Black and Poppy Christmas Baubles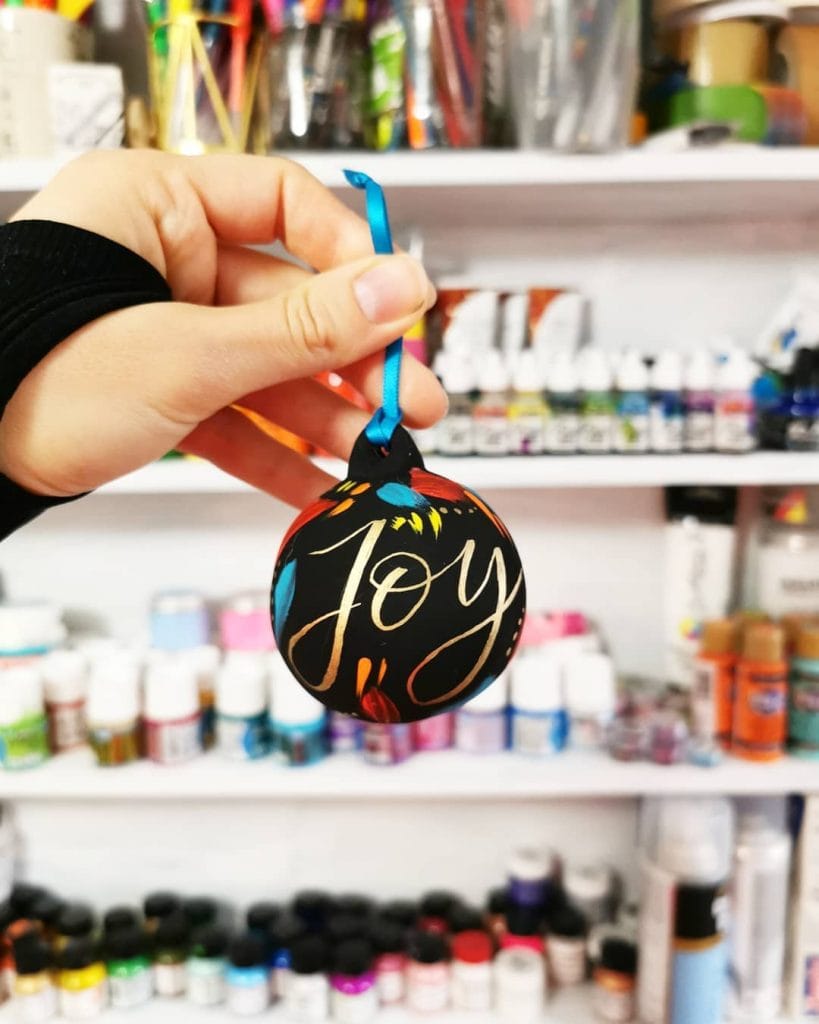 This quirky Christmas handpainted baubles idea by anyasstudio is a unique twist to the traditional Christmas themed baubles. Grab a bunch of black baubles and some colorful paints. Write the word "Joy" or "Hope" over the bauble using gold paint/marker. Stroke the remaining area with popping colors like red, bright yellow, blue, etc. Tie a contrasting ribbon to hang the bauble, and it is a beautiful Christmas tree.
4. Snowy Floral Christmas Bauble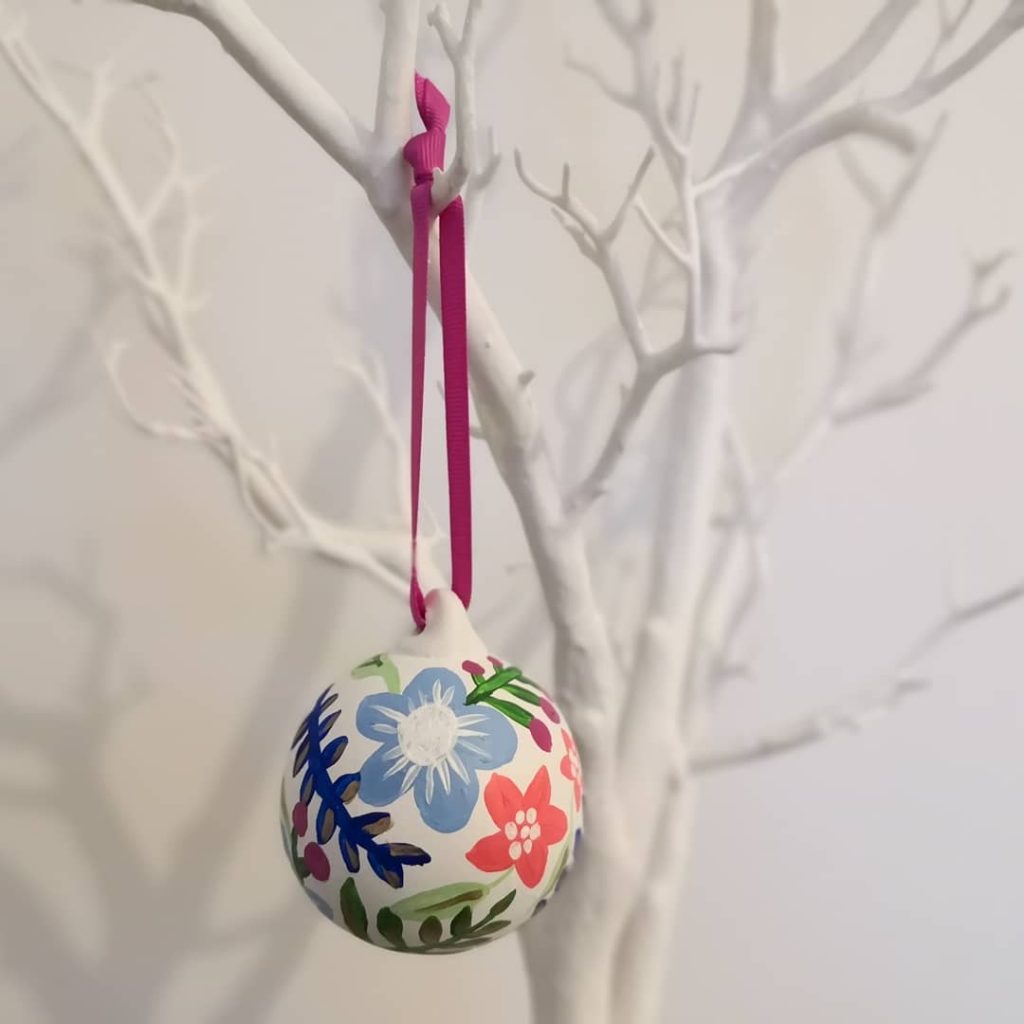 These ceramic floral baubles by catrinsaywell.landscape.artist are a simple but colorful touch to your Christmas tree decor. These Christmas handpainted baubles have a white base along with a colorful ribbon to hang them. Use a combination of bright paints to create floral patterns on the bauble. The white base allows the colors to pop a lot and instantly brightens up the decor.
5. The Mix n Match Christmas Bauble
Yet another colorful Christmas handpainted baubles idea by danielle.monique.art is an excellent way to decorate your Christmas tree this holiday season. Mix and match using different paints that compliment each other. You can also add some shimmer/glitter paint to the baubles. All you have to do is stroke random patterns using these paints on the baubles. You can draw squares, circles, or rough strokes using the brushes and voila, your masterpiece is ready!
6. Multicolored Christmas Handpainted Baubles
Feel like putting on some multicolored ornaments on your plain green Christmas tree? Try this Christmas handpainted baubles idea by danielle.monique.art. Pick out some of the most popping paints from your collection and grab any paintbrush. Here, the fun part begins. Use your creativity and randomly stroke colors on the baubles. You can add polka dots or any other pattern for some neatness. Paint abstract designs that suit your liking, and that's it!
7. Stroked Handpainted Bauble
Have some dull-looking baubles and some paint bottles lying around? Try this stroked Christmas handpainted baubles idea by danielle.monique.art. It is effortless and quick to create. Take any baubles that are available and use brush strokes to create a similar design as above. Splashes of color on the baubles would brighten up your Christmas tree and would stand out amongst the traditional red and green theme.
8. The Dainty Handpainted Baubles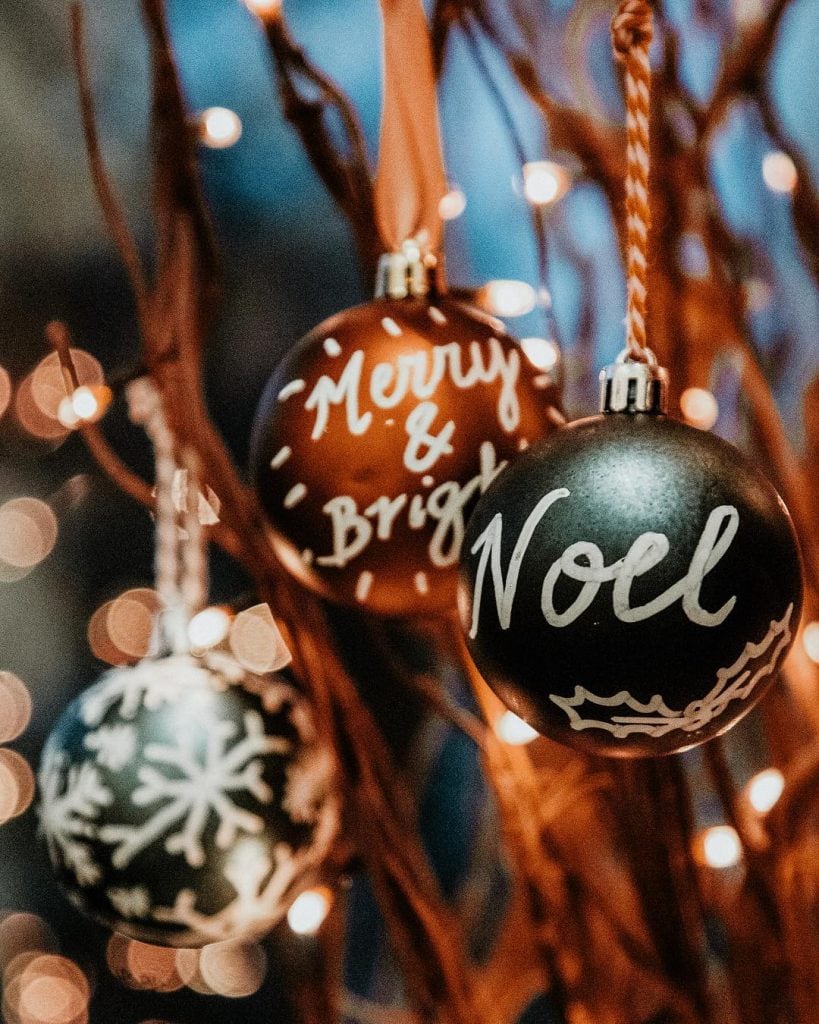 What is better than an aesthetically pleasing Christmas tree! Yes, you can create your own with this budget-friendly Christmas handpainted baubles idea by jennykateco. It's dainty and adds elegance to the entire decor. Buy some metallic colored baubles or metallic spray paint a plain bauble. Use white paint or marker to scribble some Christmas messages or designs on the baubles. You can write "Noel" "Merry" "Joy" or draw snowflakes, mistletoes, etc.
9. Shades of Pink Christmas Baubles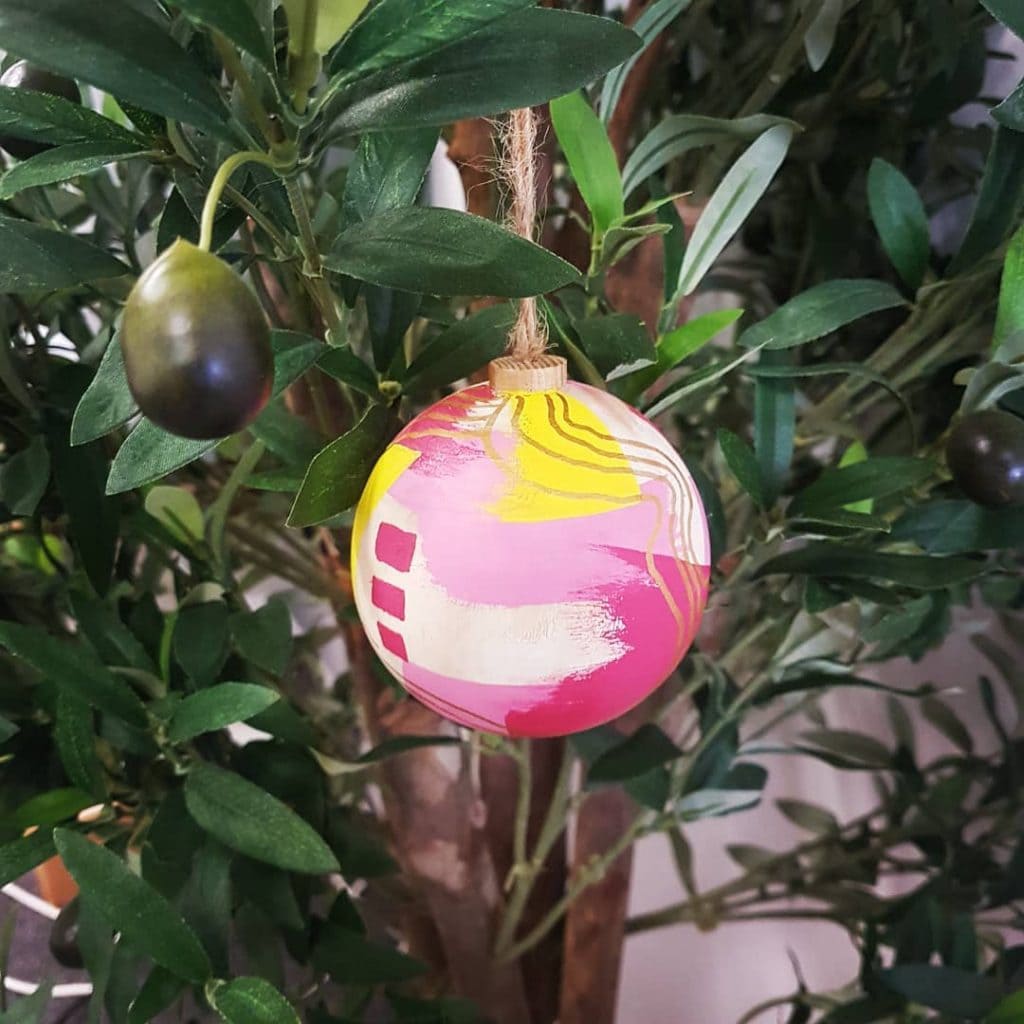 This shades of pink Christmas handpainted baubles idea by canvas_and_twine, is not only easy to make but is also very soothing to the eye. Choose any color and create multiple shade tones of the same. For instance, the above idea is made using different hues of the color pink. In addition, you can stroke a complimentary and bright color to break the monotony and voila! Your creative and colorful baubles are ready!
10. Oh So Blue Christmas Bauble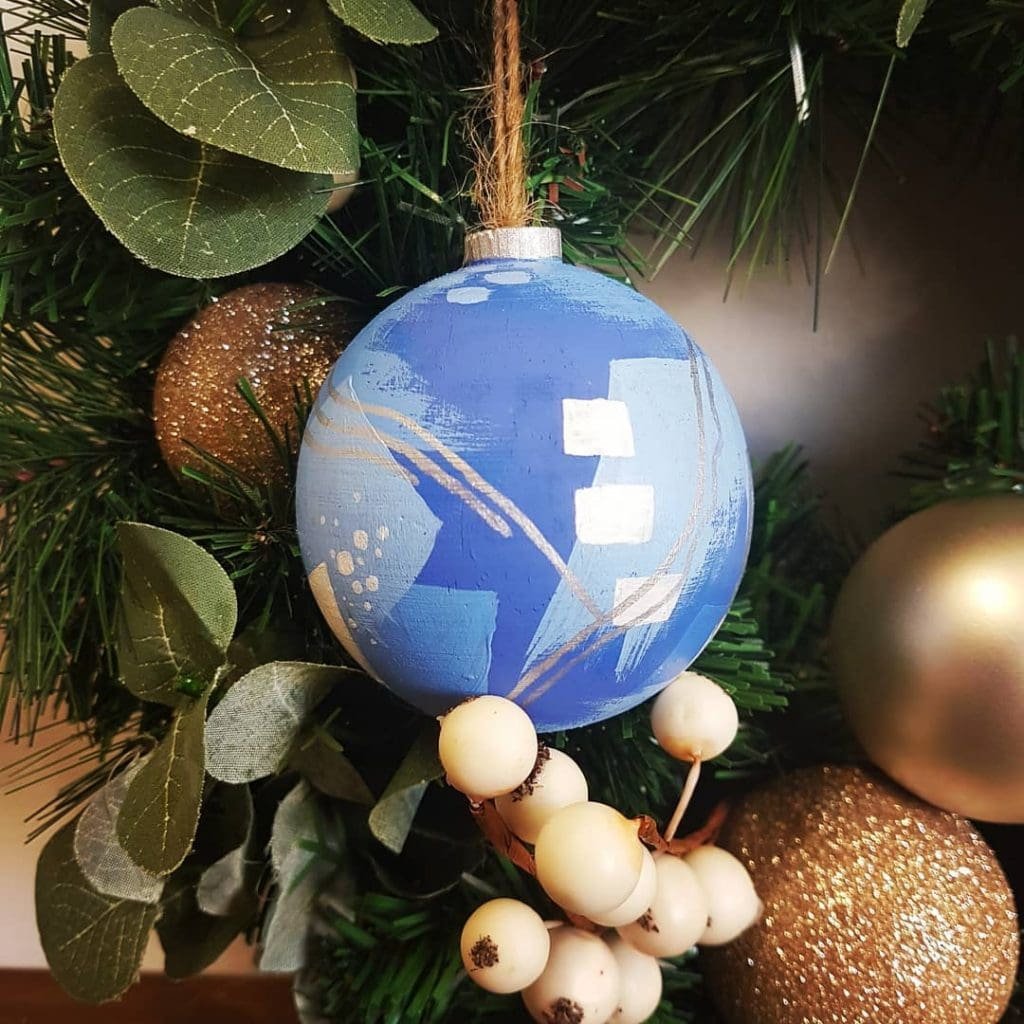 This idea of Christmas handpainted baubles by canvas_and_twine is an improvised version of the previous design. Using the same background of multiple shades of a chosen color, start drawing tiny patterns on the baubles. To break the tone of the background, choose another color that pops against it. You can use silver, for instance, and draw small squares, slant lines, different size dots, or snowflakes. The baubles are ready to decorate your Christmas tree.
11. Personalized Handpainted Bauble
This Christmas handpainted baubles idea by life_with_elizah_and_bea_x_ is adorable and adds a personalized touch to each. These designs require minimal effort and make your family members feel very special. All you have to do is take a colored bauble and write the name of your loved one. In addition, draw miniature art of the person whose name you wrote. This idea is a great decoration idea and is also an excellent gifting option.
12. Leaf Print Christmas Handpainted Baubles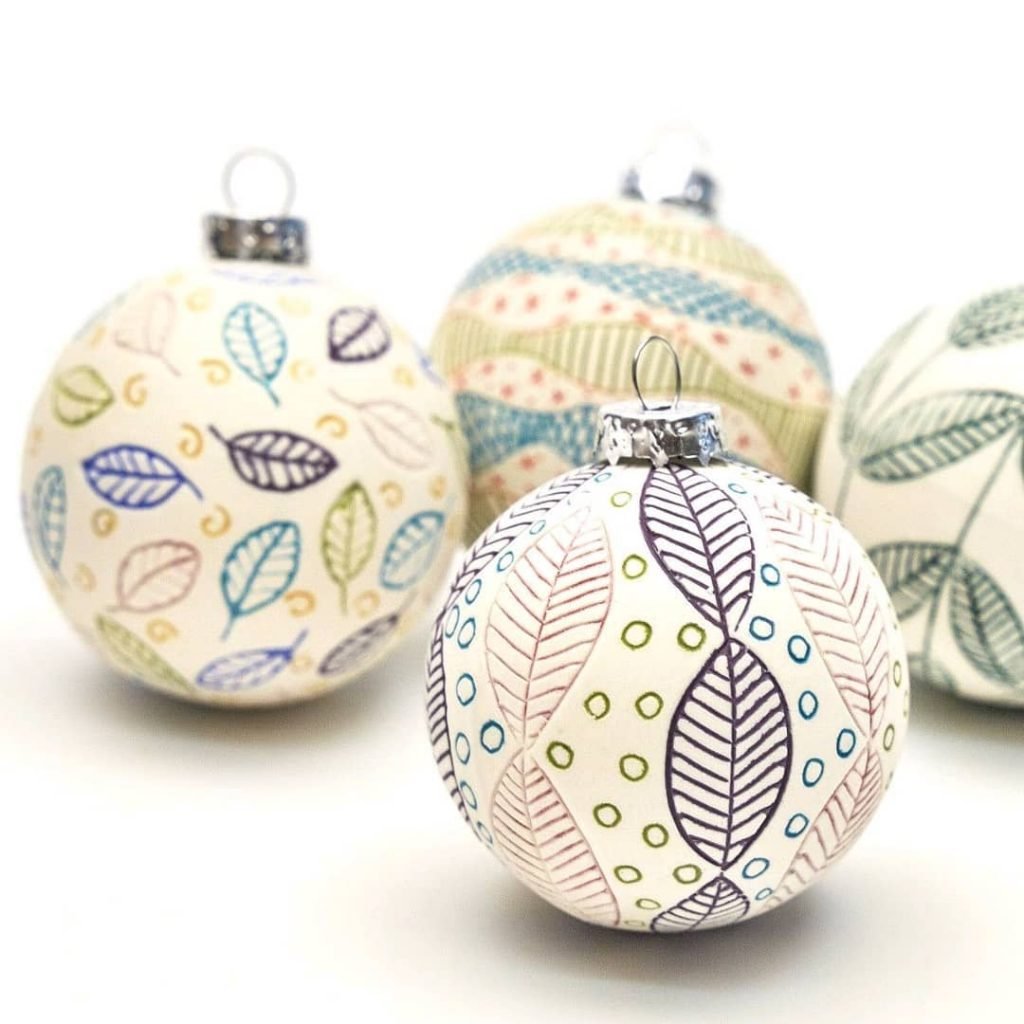 This simple, natural, and leaf printed Christmas handpainted baubles idea by claycrafting is a lovely way to decorate this year's Christmas tree. Take some white baubles and use color pens/paint of complimenting colors to draw on some leafy designs. You can draw stripes of leaves or randomly spread them around the baubles. It is very quick, looks very neat, and is pleasant to the eye.
13. Tricolor Christmas Handpainted Bauble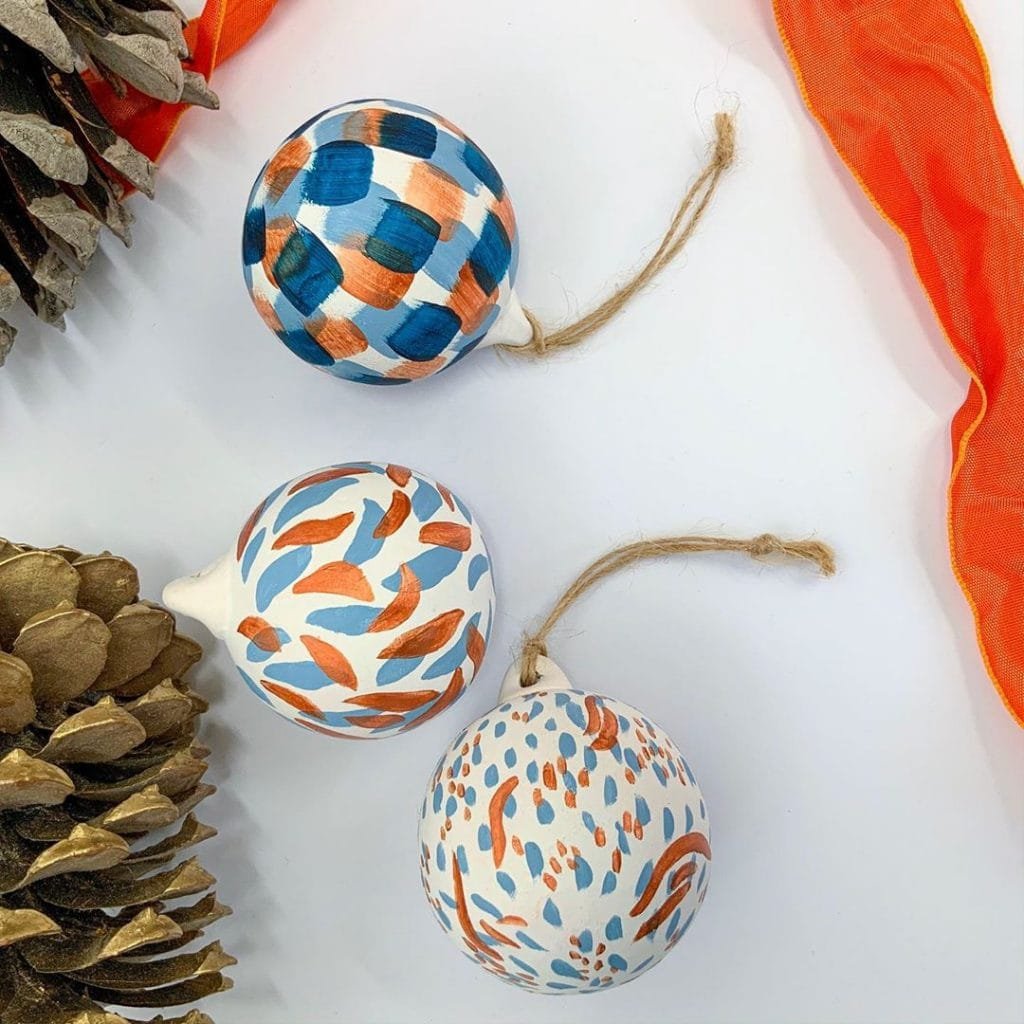 It is fascinating how a tricolor combination and using different sized brushes can help in creating some lovely Christmas handpainted baubles. Take some white baubles and choose three different colors that go together. Pick up different sized brushes and use one on each bauble. Make small strokes of each color on each bauble, and voila, you have created this beautiful idea by wemadethisstudio.
14. Starry Night Baubles
These starry nights Christmas handpainted baubles by asters_pretties are fantastic to make your Christmas tree decorations very dreamy. Buy or paint your baubles deep blue. Add a moon and tiny stars on the baubles using yellow paint/marker. That's it, these decorations will brighten up your Christmas decor.
15. Mistletoe Christmas Handpainted Baubles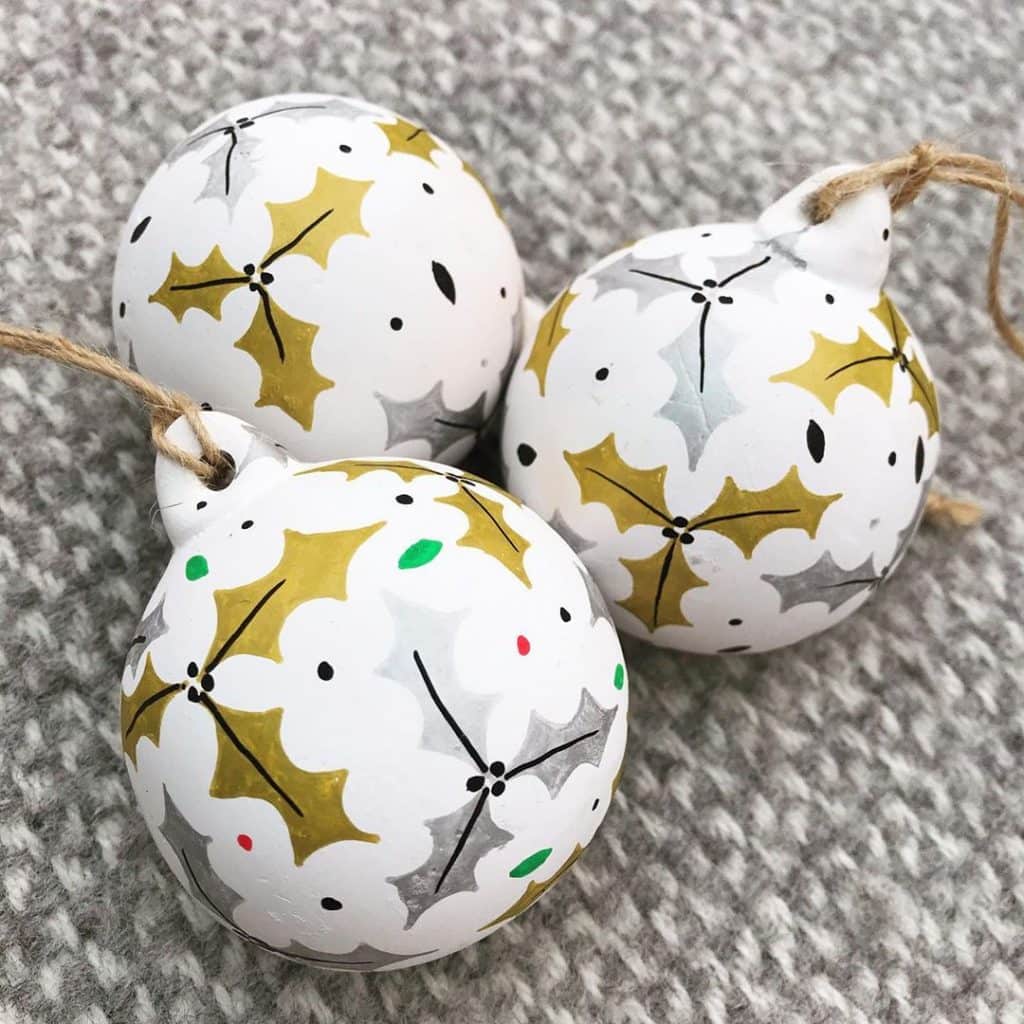 Christmas is completely incomplete without mistletoes. So, why not add them to your Christmas handpainted baubles as well? Use this idea by artbyhollyd to create a similar Christmas decoration piece. Take white baubles and use gold and silver paint to draw some mistletoes on them. Add hints of color using tiny dots of green, red, black, or yellow. Hang these up on your Christmas tree, and it is ready!
16. Transparent Text Baubles
This text, see-through Christmas handpainted baubles idea by nvcalligraphy, is a very creative way to decorate your Christmas tree. Buy some transparent baubles and fill them in with a few greeneries, fake snow, or cranberries. Paint some text on the baubles using white paint. For instance, can write "all is bright" "Merry Christmas," etc., and your adorable Christmas baubles are ready!
17. Christmas Cheer Handpainted Baubles
These gold and silver themed Christmas handpainted baubles by overteaandbiscuits are a lovely metallic touch to your Christmas decorations. Buy some white baubles and paint them with gold and silver paint. You can paint the entire bauble, or half of it, or even just add small dots of gold and silver. Next, scribble some Christmasy words on the baubles like "Let It, Snow" or "Noel" or write the names of your family/friends. Send the named baubles as cute Christmas presents or hang them on your Christmas tree.
18. The Winter Landscape Bauble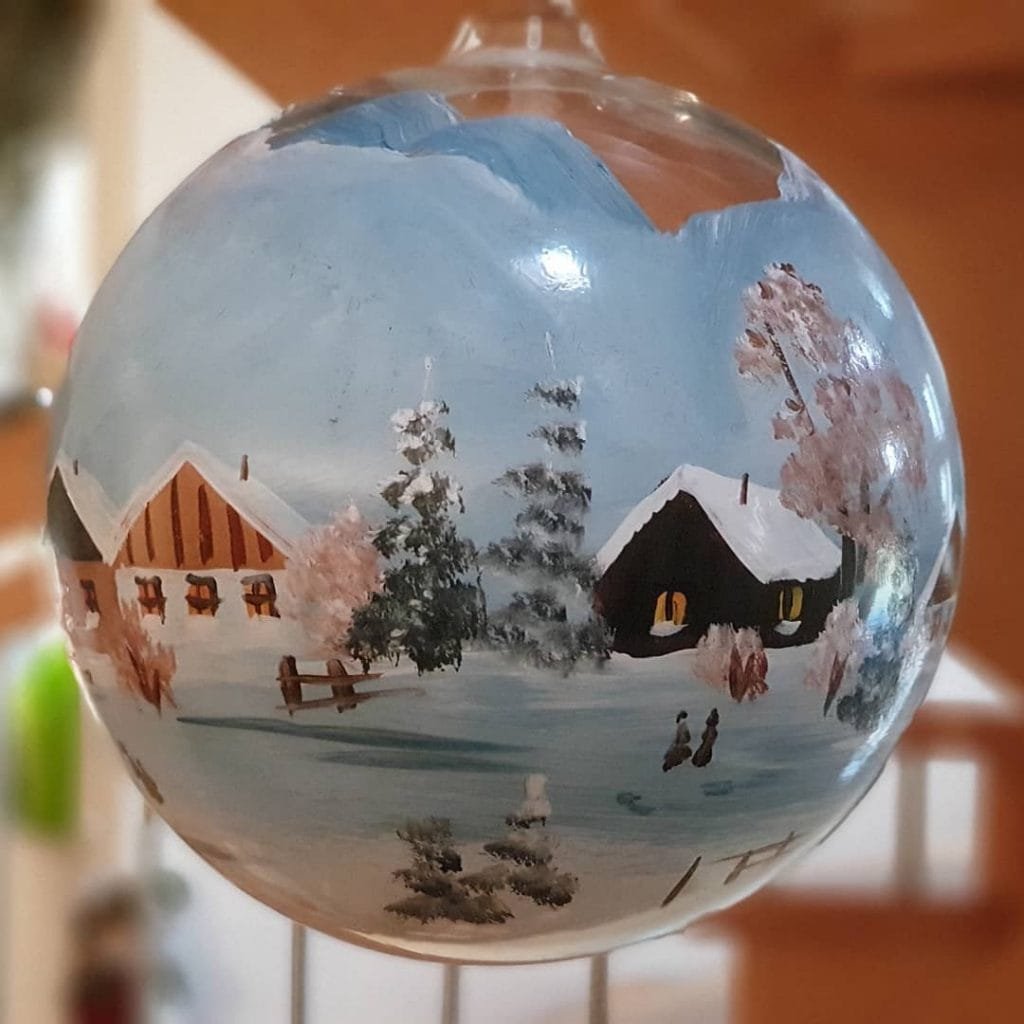 Feeling a little extra artistic this Christmas? Try out this magical winter wonderland Christmas handpainted baubles idea by milli_upfront. Paint on a beautiful winter landscape of your choice on the bauble, and it is ready. You can also use markers or pens to recreate this idea as they are more comfortable to work with. For instance, snow-covered huts, large fir/pine trees, a cute snowman, and some hills in the background would be a perfect landscape.
19. The Polka Dot Handpainted Baubles
This Christmas themes ceramic baubles are a unique twist to the traditional Christmas handpainted baubles. Take some white baubles and using red paint, draw some polka dots or any design of your choice. For instance, the above baubles by creative.ceramics have red and grey spider web design, linear floral design, or different sized polka dots all over the ornaments. Hang these on your Christmas tree or send across a set as a present to your loved ones.
We hope these Christmas handpainted baubles ideas inspired you to create bright, colorful, and personalized ones this holiday season. Decorate your Christmas tree using these baubles and add an elegant touch to it while saving tons of money. Get crafting now, and have a Merry Christmas!
If you loved these ideas, you can use the Pin image below and save this article on your 'Christmas Decor Ideas' Pinterest board.