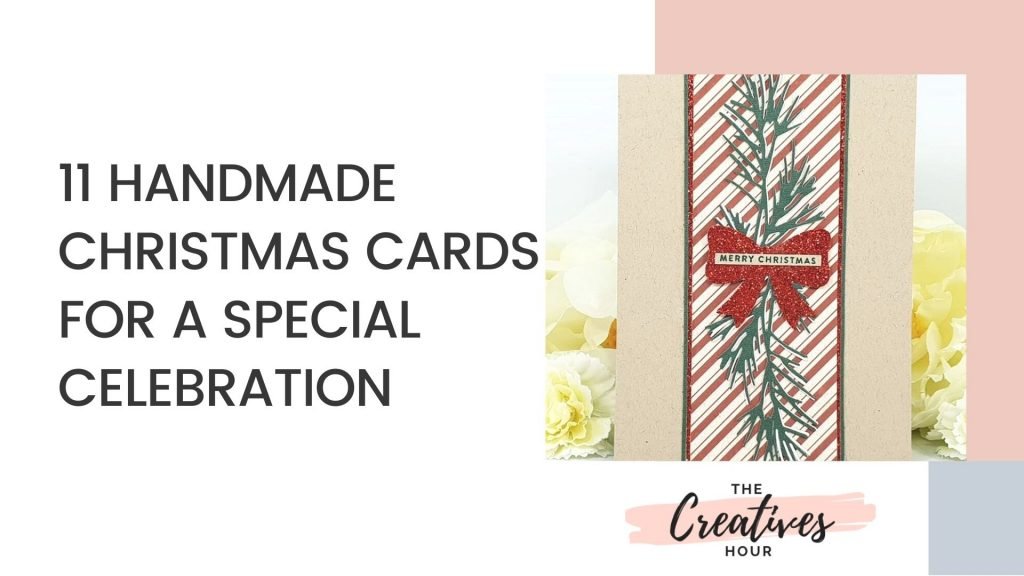 Feature Image Source: ms_sarah_gb
Everyone loves receiving greeting cards, whether children or adults. They are a personalized way of showing that you care for your loved ones. They are super easy to make but look like a lot of effort has been put into making them. These handmade Christmas cards are festive, cute, and do not require a lot of time or expensive supplies to make. Chances are, you have most of these supplies lying around in your house. These ideas are easy to replicate, and you appear as a crafting genius in front of the recipients.   Make this Christmas even more special by sending handmade Christmas cards to your loved ones and receiving tons of blessings in return! 
When done making these cards, you might be in the mood for DIYing some Christmas decorations. So, check out our post on DIY Christmas Candles and Tealight Ideas.
We have come up with a diverse list of handmade Christmas cards that can inspire you to create your own today! 
1. The Stamped Handmade Christmas Card
This quick and colorful Handmade Christmas Card by kanddmurnain is an excellent option if you have to create a last-minute Christmas card. All you need are some colored paper, Christmas stamps, scissors, and glue. Start by  cutting out a green piece of paper, a centimeter smaller than the size of the card base. Stick this sheet on the folded card base. Repeat the same step with a red paper and layer this on the green paper. Next, cut out a rectangular piece of color paper that is slightly larger than your stamp's size. Stick the stamp on the rectangular paper and paste this on the card. Add a label below it wishing Merry Christmas and your beautiful card is ready to be sent out!
2. The Pattern Paper Christmas Card
This layered handmade Christmas card is another unique idea for you to recreate. All you need are some craft skills to make this card by karendecknick. Start by sticking a piece of pattern paper on a card base, leaving a thin border. For the design in the center, you can use stamps or cut out a similar design from colored/patterned paper. Stick it on the card and add a Christmas greeting note, and it is ready!
3. The Unicorn Handmade Christmas Card
This handmade Christmas card by kolourmekooky is different from the mainstream Christmas cards and is a sweet surprise for your loved ones.  Cut out a ring of flowers and leaves, preferably from green and red paper. Stick it on a white card base. Fill in the center of the ring with a little unicorn sticker or hand drawn doodle, and add small stars, gifts, or other tiny icons related to the theme. Add a sweet message on the left out white space and wish your loved ones a sparkly Christmas!
4. The Sparkly Handmade Christmas Card
This minimal handmade Christmas card with a touch of glitter is a cute way of sprinkling some sparkle in your loved ones' Christmas celebrations. This idea by ms_sarah_gb is straightforward and quick to recreate and looks like you invested a lot of time and thought to it. Start by sticking a rectangular piece of patterned paper vertically on a card base. Roughly cut out some greeneries from a green color paper and stick it over the patterned paper. For the star of the show, add a glitter bow with a merry Christmas label in the center of the card base. You could buy a glitter bow stamp/sticker or coat a bow cut out with glitter powder/paint. After some cutting and pasting, your fancy Christmas card is all ready! 
5. The Christmas Ornament Card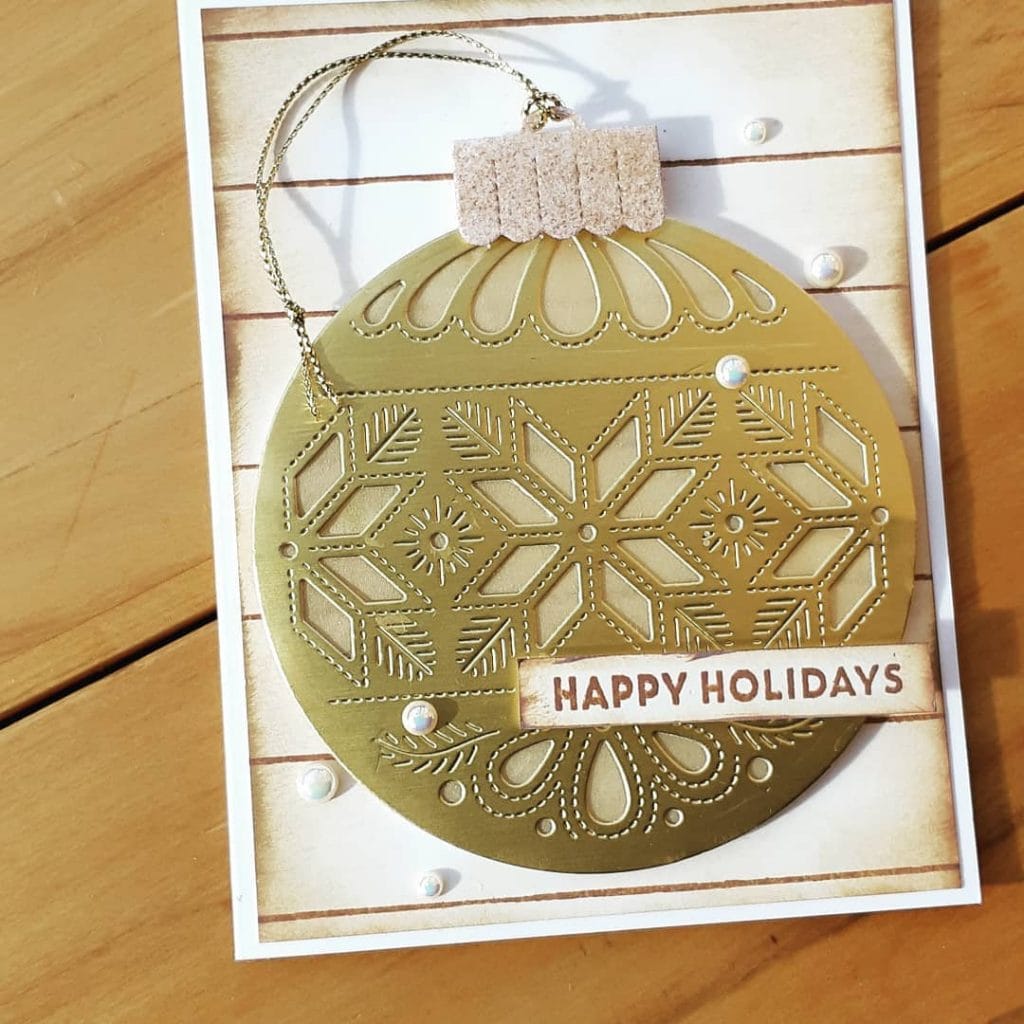 This golden themed handmade Christmas card by oobuj73_julie_from_nz is a unique idea of combining Christmas ornaments with your greeting card. What is a better way of adding an essence of Christmas on the card than using ornaments? All you need is a two-dimensional ornament stencil in any color and some patterned/colored paper. Create the base of your card using the paper and stick the stencil on top. Add minimal embellishments over the stencil, like pearls, sequence, or anything available. You could make it in one theme like gold (as above) or multicolored. Add a sweet message on top, and your handmade Christmas card is ready and looks store-bought!
6. The Colorful Merry Christmas Card
Here is another stamp Christmas card that is easy to make and looks extremely cute. This idea by carrielogic is also a great option if you don't have a lot of time at hand. All you need are some colored papers, color pens, and Christmas stamps. Start by  sticking a slightly smaller white rectangular paper on the red cover of the card. Now comes the exciting and creative part. Using stamps make a holly in the middle of the card. Stick a reindeer stamp in the center of the holly. Color these stamps using crayons/color pens. If you don't have stamps, you can also draw these stamps using any image for reference. Add a message label under the holly, and your card is ready!
7. The Reindeer Holidays Card
Feel like sending out a card that is not only about Christmas? Why not send this Happy Holidays stamp card instead? This idea by craftyfeatures is a perfect twist to the ordinary handmade Christmas card. To make this card, layer a white rectangular paper with a zig-zag border over a red card base. Add another layer of rectangular patterned paper over it. Cut out a leafy ring using green paper. Add a reindeer stamp in the middle or draw one. Color the stamp or drawing and add a Happy Holidays tag to finish off this quick and cute card.
8. The Snowy Heart Handmade Christmas Card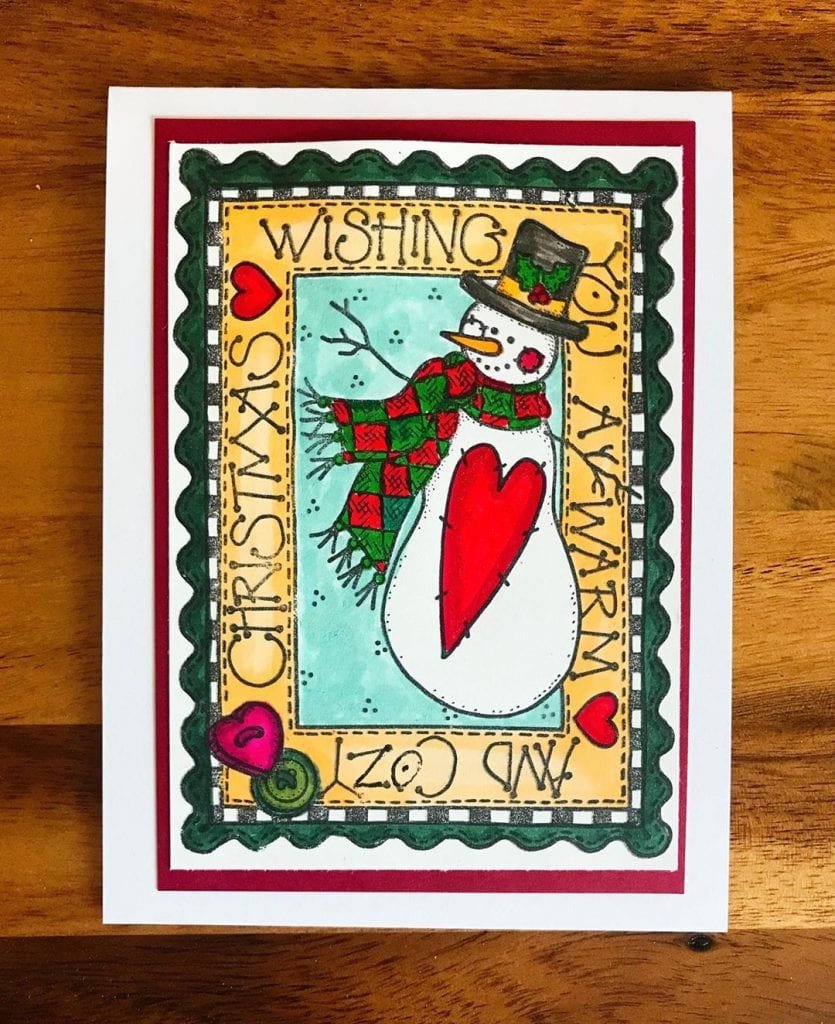 This handmade Christmas card by mainimagecards is a super colorful and festive idea if you send out cards this year. The use of bright colors and stylish borders with quirky fonts can make your handmade Christmas card a delightful surprise. Make a card base using white paper. Add a smaller red paper layer on the card, followed by an even smaller white sheet, and finished with a final smaller layer of yellow paper. Start drawing designer borders around the yellow paper using color markers. Add a blue rectangle to the center of the card. Write your wish on the remaining yellow edge. Add a snowman on the blue rectangle using a rubber stamp and color it using bright shades. That's it! Your warm and cozy Christmas wish card is ready!
9. The Santa Penguins Christmas Card
Stride away from the traditional Santa Christmas cards and use these adorable penguin miniatures dressed as Santa for this year's greetings. This minimal white card with a pop of color using Christmas accessories is a lovely idea by e_emilsson. All you need are one white sheet, some penguin Christmas stamps, and color pens. Stamp some penguins on the cover page of a white card base. Fill up these stamps with colors of your choice (preferably green/red). If you don't have stamps you can hand draw these penguins Add a label of you a cute Christmas wish and send it over to melt the recipients' hearts.
10. The Magical Handmade Christmas Card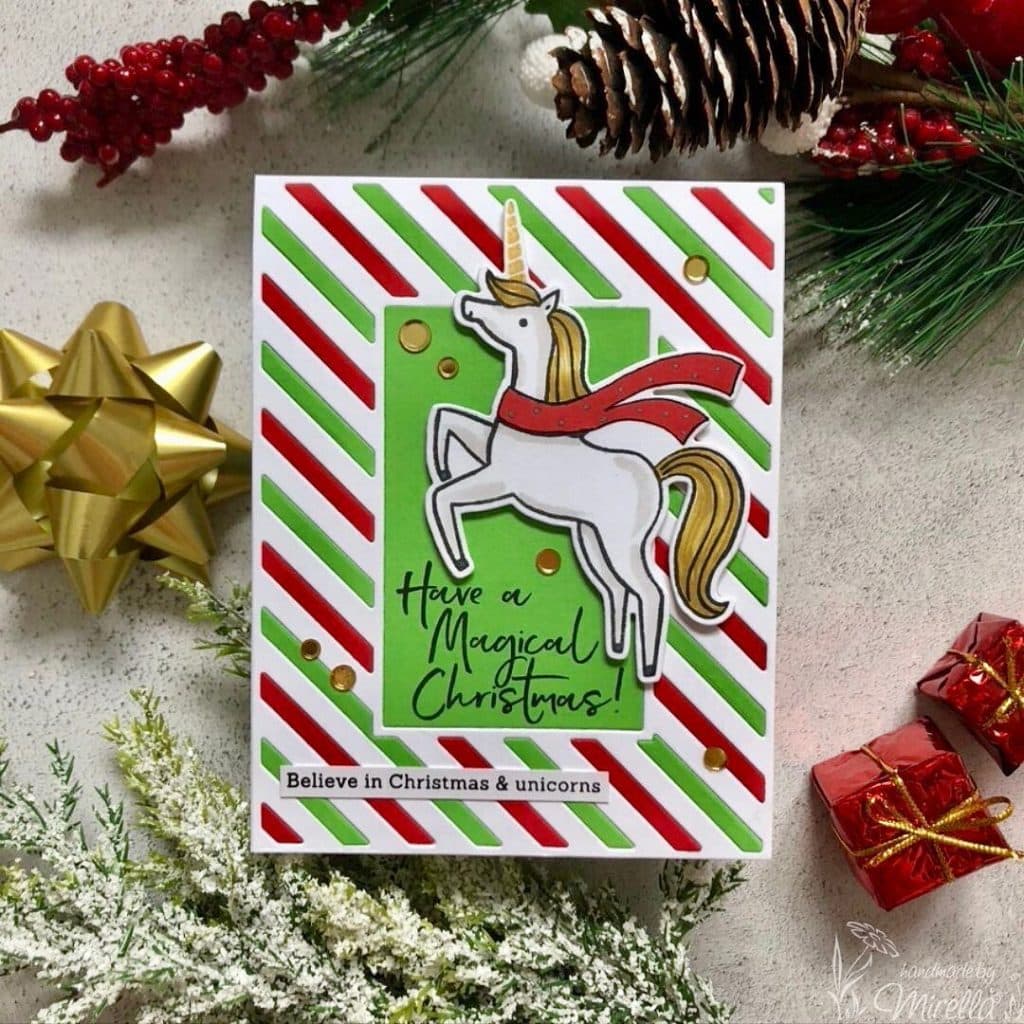 This green-red themed unicorn Christmas card by handmadebymirella is a perfect choice for any recipient, be it kids or adults. You can create this striped background in various ways. Either buy a patterned paper with these stripes, or use colored tape, or paint these slanted lines over the base of the card. Next, to have a clear base for your unicorn, stick a rectangular piece of plain colored paper that matches the theme. Add an image of a unicorn printed from a computer or draw and color one. Add some embellishments for a luxurious touch and add a label with a sweet message. Your handmade Christmas card is ready for a magical celebration.
11. The Cupid Christmas Card
Fill your holidays with a whiff of love in the air with this cupid Christmas card by nineteendesigns. This handmade Christmas card is a sweet way to express your love for your partner. It truly makes your special one feel cherished. Try keeping the theme of the card red and white. Start by taking a card base, preferably of patterned paper. Stick a white rectangular paper over the base. Using different font styles, write a romantic yet Christmasy message. Add cute stamps of Mr. and Mrs. Claus and color them. Add some embellishments and leafy designs for some finishing touches. Use this card as a special surprise this Christmas! 
We hope these ideas inspired you to handmaking your Christmas Cards this year instead of buying them. These handmade Christmas cards are super cute, quick, and easy to make and add a personalized and warm feeling to your greetings. Send these out, and your loved ones would use every chance to appreciate your efforts. So save some bucks and bring out your inner crafter for a lovely Christmas celebration. 
If you have already created these cards and feel like creating more, check out our posts on Friendship Day Cards and Fathers Day Cards to make each celebration special!
Also, if you loved these ideas, then you can use the Pin image below to save this article to your Pinterest board.