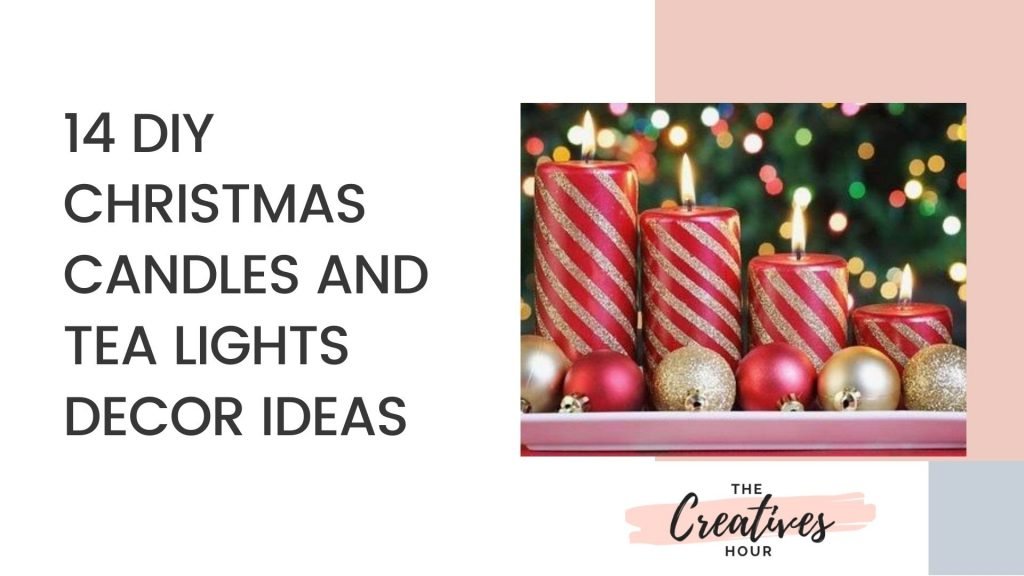 Feature Image Source: christmassfeeling
It is never too early to start creating Christmas DIY crafts, especially when it comes to DIYing with tea lights and candles! Whether you are creating your own DIY Christmas Candles or creating a candle stand, candles are among the best Christmas decorations. Tealights are particularly fun to craft for or with due to their low height and uniform round shape, making them a versatile piece to add in your Christmas decorations. They not only brighten up your place but also add a personalized touch to your Christmas celebrations. DIYing is a fun and affordable way of upcycling plain and boring candles and tealights in a budget. 
Before you begin any DIY Christmas Candles or tealight decorations, start-off by buying a bunch of candles and tealights to recreate any of the following DIYs, these can either be the main focus of your DIY craft or just an added highlight.
If you are in the mood for some more DIYing check out our article on DIY Wall Hanging From Recycled Paper Bags
Here are 14 creative, easy, and beautiful DIY Christmas crafts using tealights and candles to help glow up your place this Christmas (or well, anytime you feel like!)  
1. Quick yet Fancy Tealight Craft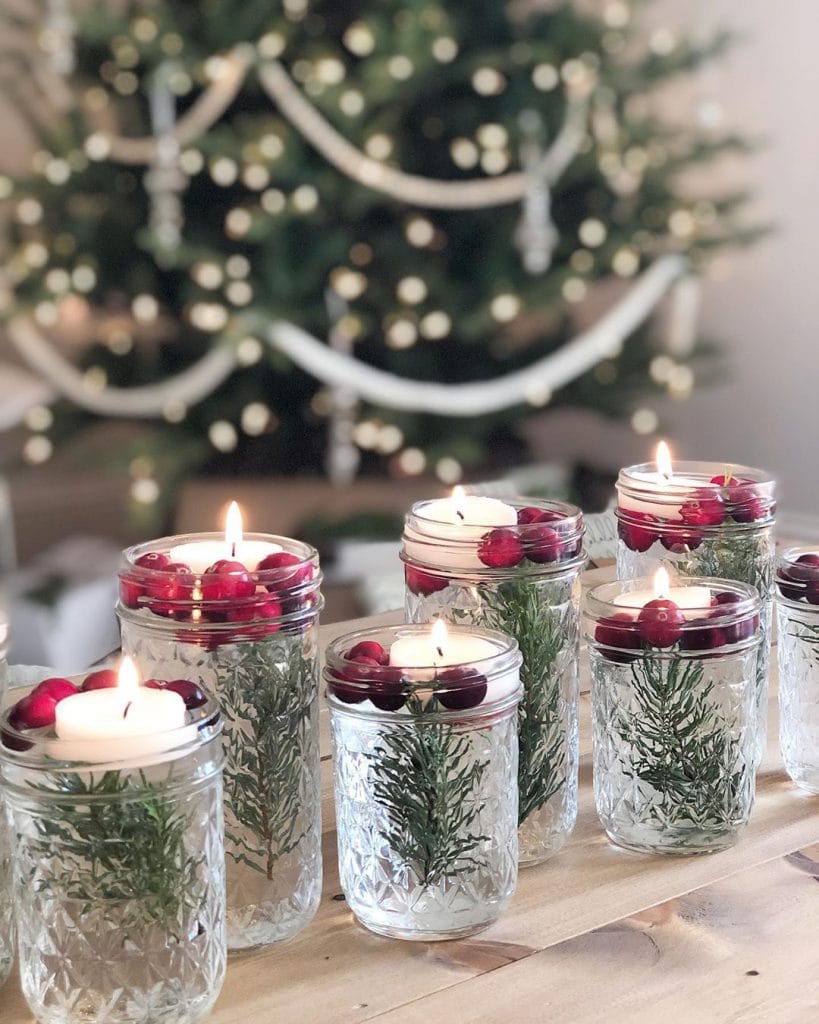 This fancy-looking DIY tealight decoration by almondtree.lane just takes two minutes to make. That's right! Start by taking some empty jars lying around the house (glass or plastic, pizza, or jam jars). Add some cranberries to the jar, followed by some snipped greenery. Finally, add some water and fill it till the brim and drop in your tealight. That's it! You have got your own cute and fancy Christmas decoration, which lights up any space and adds a light scent to the room. For a detailed video tutorial on how to create this DIY, click here.
2. The Christmas Candle Centerpiece DIY
Christmas meals are a grand affair, so why not light up the focus of the night: the dining area. This DIY Christmas Candle by almondtree.lane as the centerpiece of the dining table (or any other table) is a minimal yet rich way of accessorizing your dining area. Place some candles on a piece of wooden log (cut according to the desired length). Lay some cranberries and greenery around the wood for styling the centerpiece. Light up the candles for the melted effect and enjoy receiving compliments for this amazing DIY! Check out this link for the complete tutorial.
3. Wrap-It-Up DIY Christmas Candle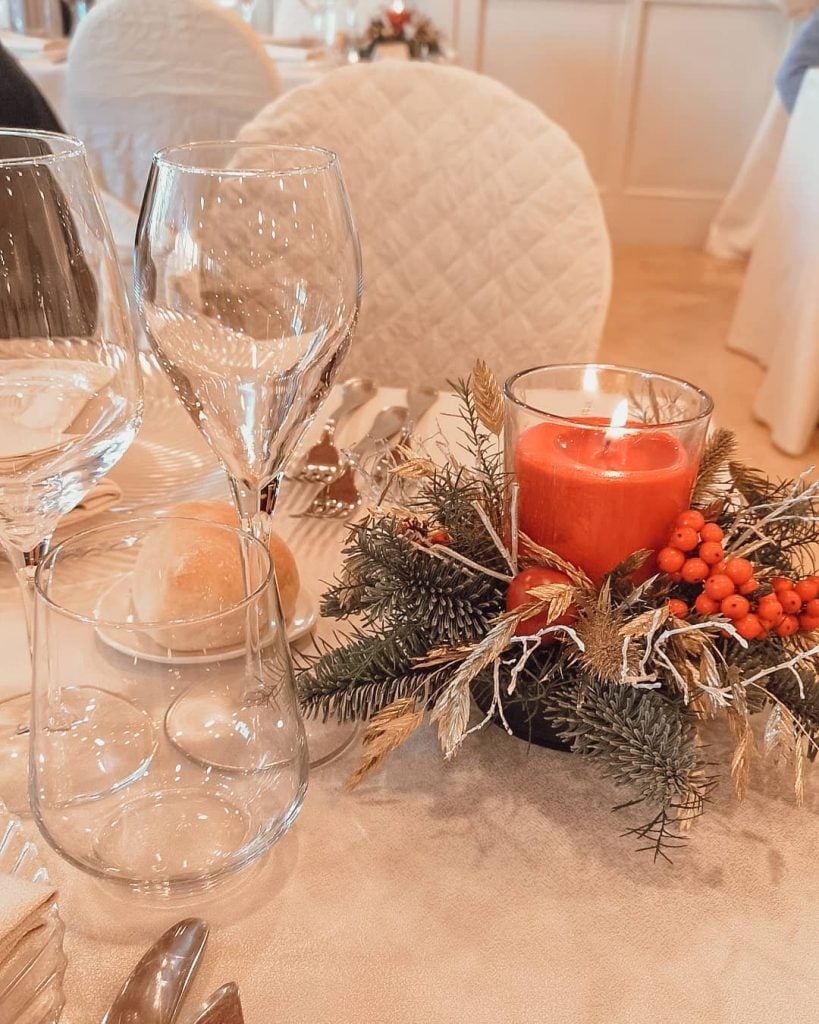 This DIY Christmas Candle idea by piccirillialessandra is another quick and simple way of a glam addition to your Christmas decorations. All you have to do is wrap around some faux cranberries and greeneries around any candle (preferably a pillar candle), and that is it. You can choose from hundreds of different candle options: scented, white, colorful, container candles, etc.
4. The Magnificent Candle Holder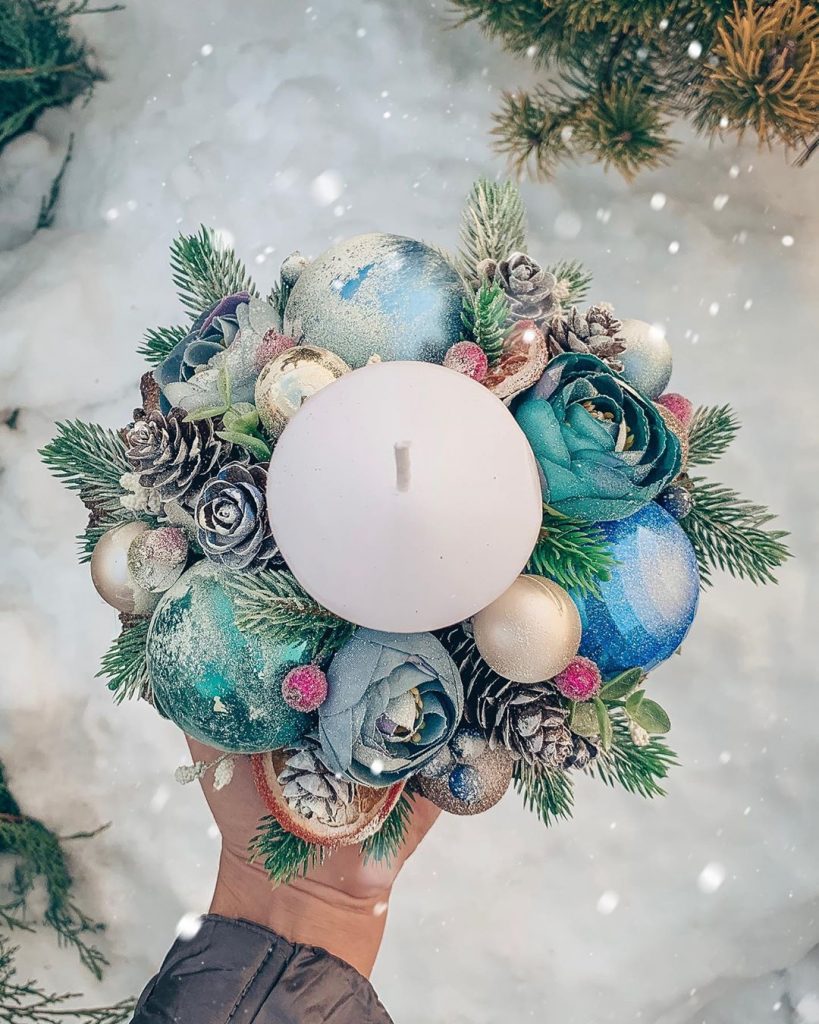 A great way of lighting your place during Christmas and decorating it at the same time is by DIYing a creative candle holder. This magnificent piece by bogdanchikgirl has uplifted the look of a plain white candle. You can make it as grand or as minimal. Recreate the above using faux roses, greeneries, and some Christmas ornaments stuck on a base (cardboard/wooden/rocks). You can make it multicolored or use thematic colors as above and complete your personalized DIY Christmas Candle. 
5. The Merry DIY Christmas Candle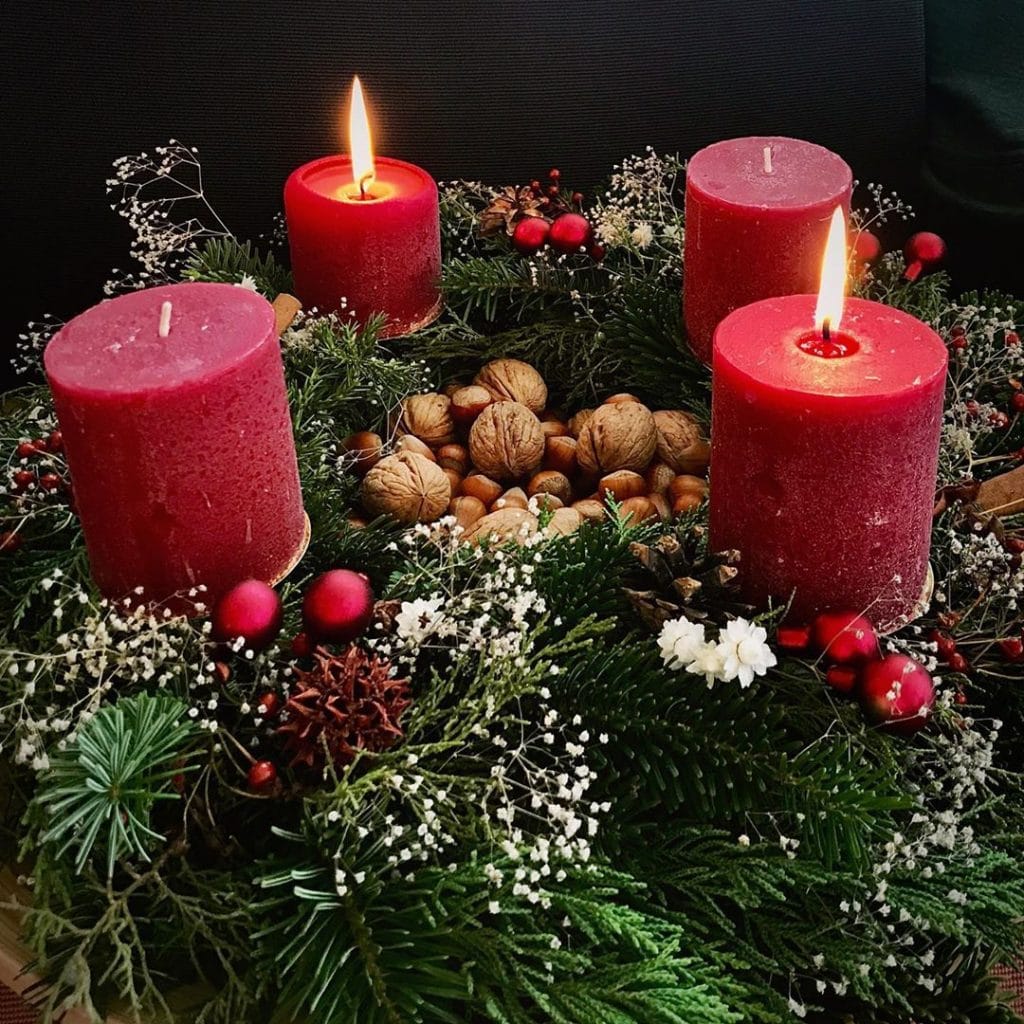 This DIY Christmas Candle idea by sylkescholz not only requires a lot of effort but also takes very little time to make. Start by creating a round base for the candles using faux cranberries and greeneries. Leave some space in the center of the circle. Place four to six candles (preferably red pillar candles) above the round base. Drop some walnuts and hazelnuts in the empty center space. Light up the candles and voila!
6. The Versatile Christmas Table Decor
Dress up your white candles for this minimalist yet versatile Christmas table decor by karengilbert. You can switch up this DIY Christmas Candle according to your liking. Instead of apples, you can use cranberries. All you need are some candles, apples/cranberries, a wooden tray/board, twine, and rosemary. Wrap the rosemary around the candles using a piece of string. Place these candles on a wooden board. Throw around some apples or cranberries around the board, and your DIY Christmas Candle is ready!
7. The Hanging Lights DIY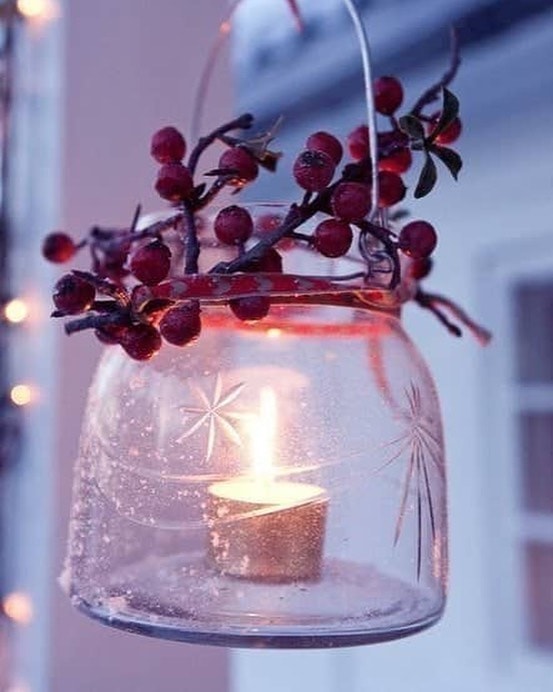 If you are decorating the tables below, why not decorate the ceiling above? This DIY using tealight candles by christmassfeeling adds a stunning, romantic glow to your Christmas decorations. All you need is a glass pot or any transparent pot with a handle, cranberries, and tealight candles. Place a tealight candle in the glass pot and decorate it with cranberries. Hang it on the ceiling or any pillar, and it is ready!
8. The DIY Christmas Candle in a Cup
Yet another table decoration DIY Christmas Candle by christmassfeeling is a creative and straightforward way of adding a unique appeal to your tabletop. Start by stuffing in faux greeneries with flowers into regular tea/coffee mugs to make a stand for the candles. Place one candle in each mug and place the mugs on a wooden tray. Drop some pine cones or any available Christmas ornaments in the tray. Light up the candles, and you have created a beautiful and Christmasy decoration. 
9. The Cardboard Tealight Christmas DIY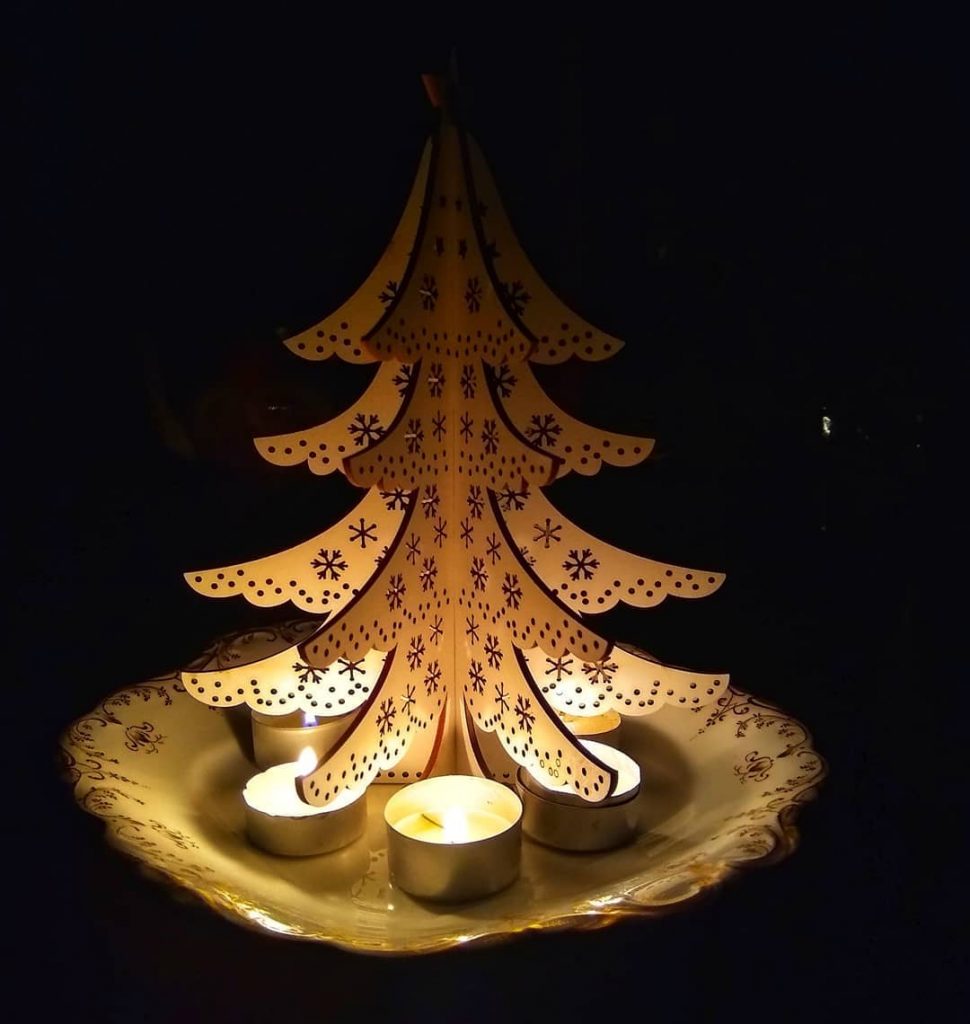 A craftsy way of adding tealight candles as a highlight to a Christmas decoration is this idea by johartas. To enhance the light of tealight candles create this cardboard Christmas tree on your own. Start by carving out six identical pieces of cardboard in a triangular shape to act as the six flaps of the tree. Carve each piece into the desired shape/style of the tree. Next, using craft punchers, punch designs (circles, snowflakes) on each flap, and decorate accordingly. Finally, stick these six pieces together with the carved side facing outwards. Place a tealight candle between two flaps, and your DIY is ready. 
10. The Dress-Me-Up DIY Christmas Candle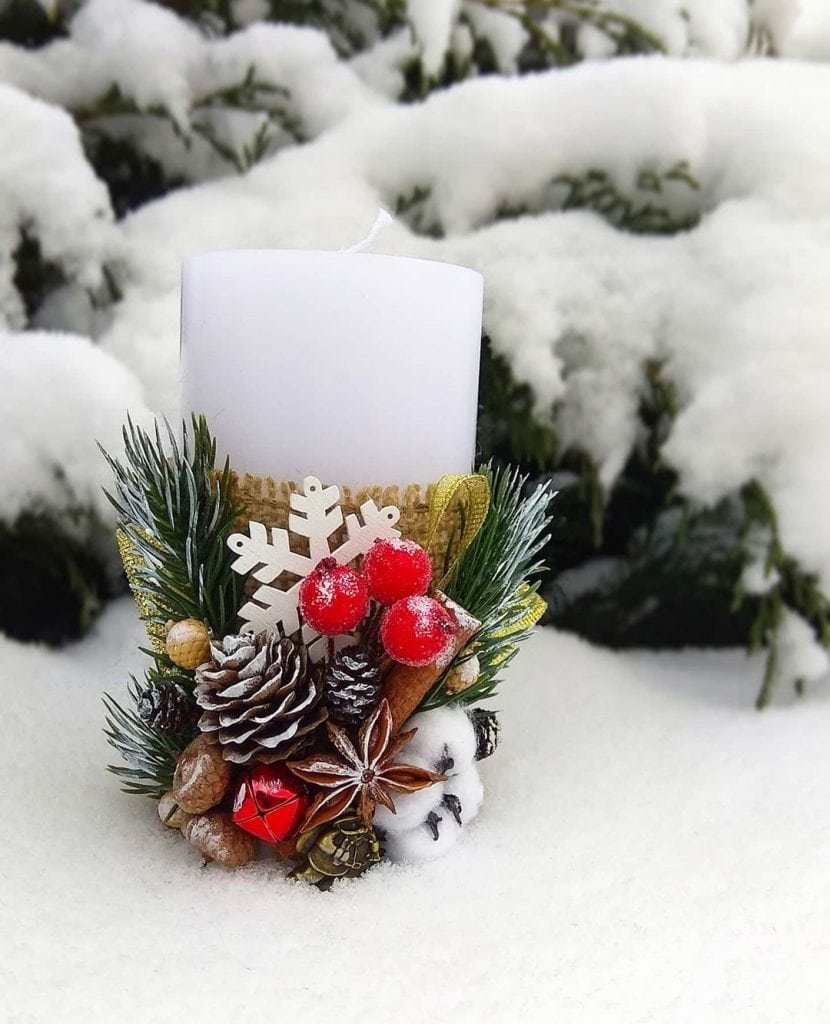 This DIY Christmas Candle by m.j.v.creations is an affordable and quick way of decorating any space. This last-minute DIY requires you to wrap around some greenery around any candle of your choice. Add some decorations, one top like snowflakes, pine cones, or cranberries, and your masterpiece is ready. Get creative and dress up your candles for a Christmas fashion statement! 
11. The Old Gold DIY Christmas Candle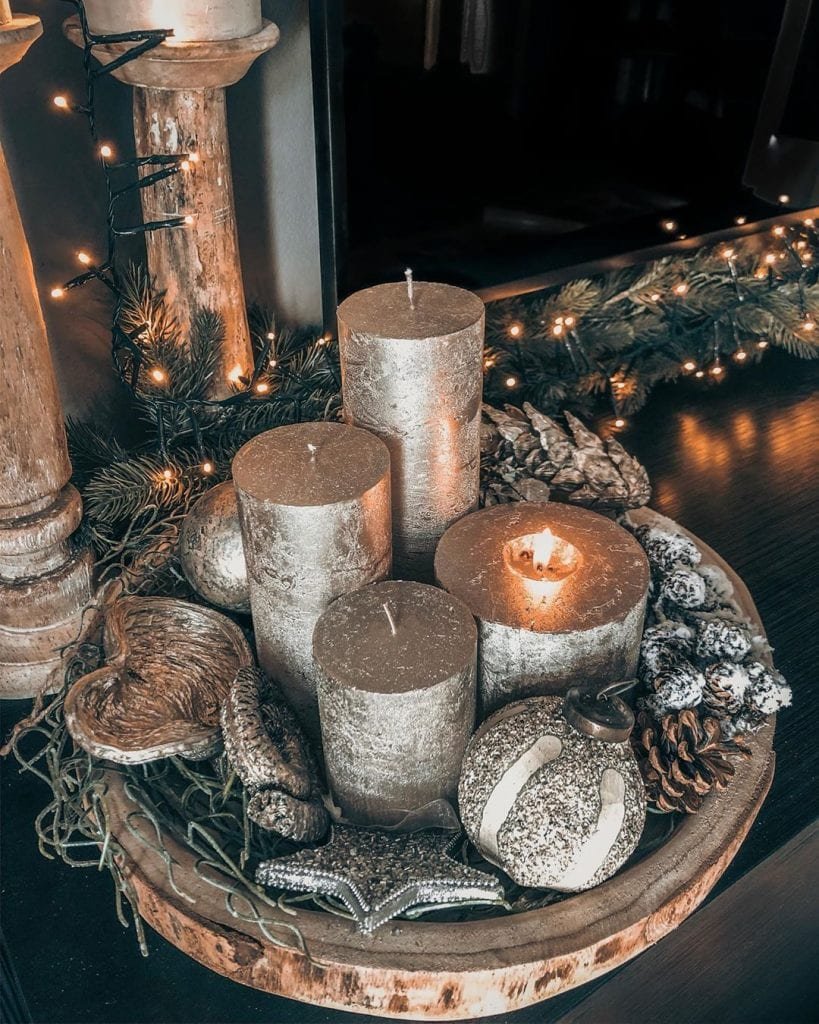 This Old Gold DIY Christmas Candle by nelasoldmann is a unique way of adding an antique touch to your Christmas decorations. Since these are not in the typical green and red theme, these candles can be a great decoration piece throughout the year. To create a similar piece, grab some candles of different sizes and some natural Christmas decorations like pine cones, ornaments, greeneries. Lay each of these items on an old newspaper and use metallic spray paint to coat everything with the same or different colors. You can also cover each piece with a thin layer of glue and coat it in sparkle for a similar look. 
12. The Classic DIY Christmas Candle
Why waste money on the overpriced decorated candles when you can easily make your own? Start by taking some candles (preferably red) of different sizes. Using a masking tape create a swirl over each candle while leaving gaps between each slanting swirl. Coat the empty spaces with glue/mod podge and sprinkle some glitter over it or paint using glitter paints. Remove the masking tape before the glue/paint dries. Place this DIY Christmas Candle on a tray and add some matching Christmas ornaments to the tray. Light up the candles, and you have this Christmas candle DIY by christmassfeeling ready in a budget!
13. The Christmas Wreath-Candle DIY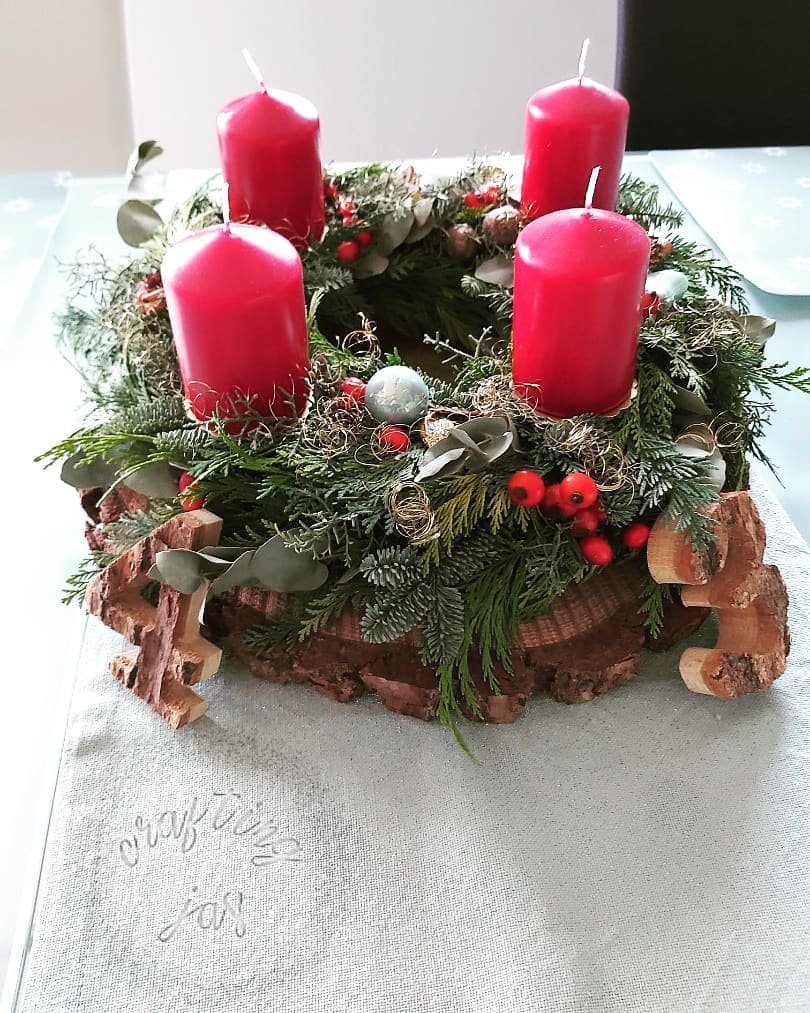 Already making a Christmas wreath? Why not make one for your candles as well? This  DIY Christmas Candle idea by craftingjas is a very traditional way of brightening your Christmas decorations. Begin by making a wreath in any style, using anything you like. You can recreate the above idea using eucalyptus, dog-rose, cranberries, and some silver ornaments. Add wooden numbers to the sides of the wreath. Place four candles on top of the wreath, and it is ready. You can customize it according to your convenience.
14. Lit Christmas-in-a-box DIY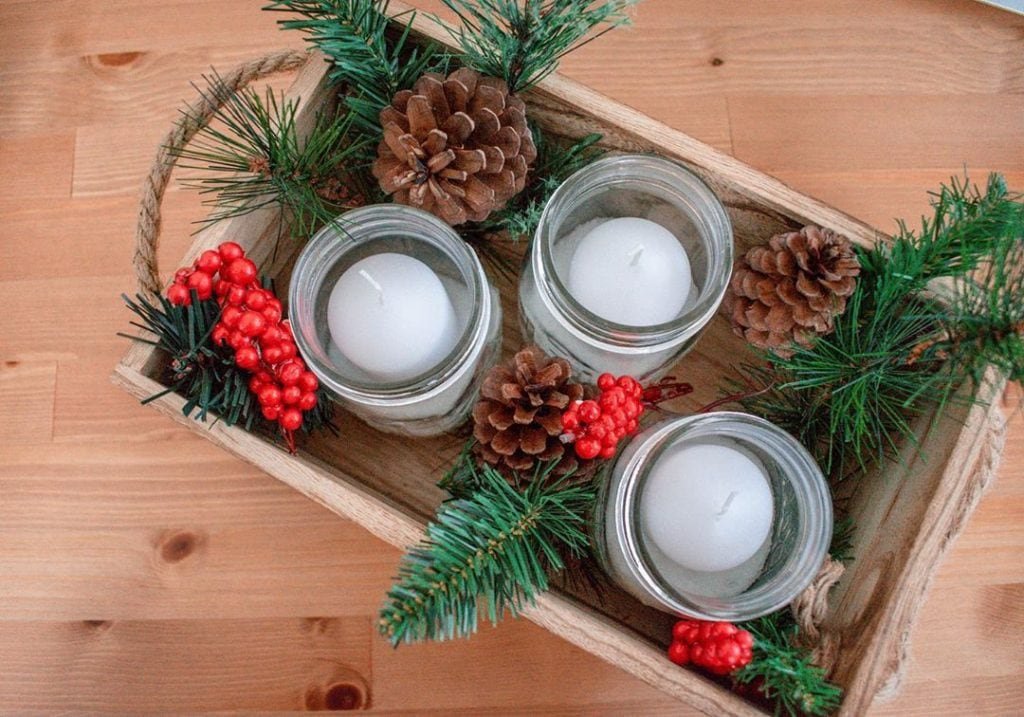 For our final DIY Christmas candle, here is the beautiful yet subtle, Christmas in a box Candle DIY. This idea by lemonadepressblog is a classic Christmas themed box that can work as a centerpiece. You can use this DIY as a gift to be exchanged for Christmas. To create one, you'll need a big box, mason jars, candles, Epsom salt, greeneries, and pine cones (or any other decorative item). Start by filling one-third of each mason jar with Epsom salt. Place one candle in each jar. Now place these jars in the box and decorate it with greeneries and pine cones. Light up the candles, and your lovely Christmas decoration is all ready for the compliments. For a detailed tutorial on this DIY Christmas Candle, click here. 
We hope these DIY Christmas candle and tealight decorations inspired you to start creating your versions. Feel free to switch up the styles, colors, designs, type of candles used, ornaments, or materials used. Doing this not only adds convenience but also adds a personal touch to the DIY you are creating. These ideas are a great way to add warmth to your home this Christmas. You can also use these DIY Christmas Candle and tea light crafts as a gifting option for your loved ones!
If you loved these ideas, you can use the Pin image below and save this article on your 'Christmas Decor Ideas' Pinterest board.