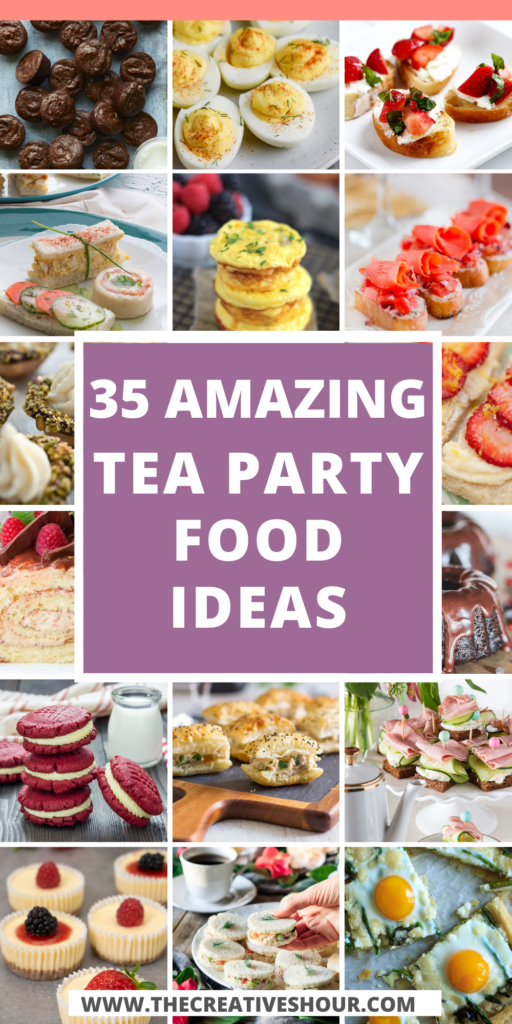 If you want to feel truly fancy and have a different party than the regular brunch and dinner, you've most likely thought of having a tea party. Introduced in Britain in the early 1840s, it is referred to as the mid afternoon meal where tea and sandwiches are served. 
Of course the term has since evolved and can be organized for a host of different occasions – birthdays and Mother's Day are popular in this regard. Although tea is served at a tea party, the most important aspect is the food. Small delicate sandwiches and other bite sized delicacies take precedence while setting the elegant tone of a tea party. 
Tea parties usually have three courses: 
Tea Sandwiches and Savory Bites 
Scones with Jam and Cream 
Sweet Treats 
If you have been thinking of organizing your own tea party but aren't quite sure of where to start with the menu, we're here to help. This list comprises dishes from all three courses that are not just easy to make but also taste amazing. For bite sized treats and finger sandwiches you must try, peruse the high tea treats list and find the perfect one to suit the theme of your tea party. 
Read –
20 Fresh and Healthy Vegetable Spring Roll Recipes
30+ Lip Smacking Pinwheel Recipes To Roll Up For The Party
24 Tea Sandwiches Recipes For Afternoon Tea & High Tea
Sandwiches and Savory Bites 
This is the first course of a typical afternoon tea and is served immediately at the start of a tea service. Made up of sandwiches with small bites – typically 2 or 3. They are always eaten with the hand and don't require any cutlery. 
The first course of the tea party will include sandwiches and other savory items like canapes and crostinis. Proper tea etiquette dictates that you decide what you want to eat and serve it on your plate from the serving tray before you begin. Also, it is customary to finish all the items on your plate before you move onto the next course. 
1. Chicken Mushroom Alfredo Canapes 
Image and recipe by valentinascorner
Chicken and bacon on toast is already a tea party winner. But when it's covered in a creamy alfredo sauce and toasted bread, you can be sure it will be talked about for days. As they are so easy to make and can be assembled quickly, you really can't go wrong with a delicious dish like this.
2. Strawberry Goat Cheese Bruschetta 
Image and recipe by gatherforbread
Warm sunshine outside deserves something sweet, fresh and very refreshing indoors. And this elegant tea party food idea does just that. The sweet strawberry flavor matches the creamy goat cheese to make a really well balanced dish for tea time. Made in under 20 minutes, it is the perfect start to your fancy afternoon tea party, don't you think? 
3. Mango Chicken Puffs 
Image and recipe by happyfoodstube
An easy puff pastry recipe that will be ready in under 30 minutes. Sounds like the perfect savory tea party food idea to me. Creamy mango chicken sandwiched between the flaky pastry makes this dish the must have. If you're planning some great princess tea party food for a special occasion, you know that all the guests will love it.
4. Asparagus Tart with Egg and Goat Cheese 
Image and tutorial by trialandeater
Looking for a good vegetarian option for your savory tea party food menu? Try this easy tart recipe with asparagus. The crunchy asparagus on flaky pastry goes amazing with the creamy goat cheese. The runny egg is just the thing you need to bring the whole dish together. It might not be finger food, but this is the kind of dish that you ought to try out anyway. 
5. Philadelphia Cream Cheese Tea Sandwiches 
Image and recipe by bakelovegive
Want to have an elegant tea party with the best high tea menu ideas? Then choose these finger sandwiches ready that are ready in no time with just a few ingredients, but still look very fancy. There's cream cheese, cucumber and ham – the perfect sandwich, isn't it?
6. Deviled Egg Finger Sandwiches 
Image and recipe by pinchemeimeating
This is the ultimate comfort food mixed with a fine dining experience. A dainty sandwich with deviled egg salad is probably the most popular English tea party food you could ask for. Tie the whole thing together with chive threads for a very polished look at tea time. The occasion doesn't matter. With the flavors of herbs, eggs and creamy sauce, this might just be the best egg sandwich you've had. 
7. Cucumber Mousse and Dill Shrimp Bites 
Image and recipe by sprinklesandsprouts 
One word to describe this elegant tea party food is sublime. Simple and easy to make, yet so delicious, these shrimp bites will be the star of any party. The cucumber mousse provides a very refreshing taste to the whole dish in contrast with the toasted bread and soft shrimp.
8. Smoked Salmon Crostini 
Image and recipe by deliciousmeetshealthy
Crostinis are such simple yet delicious appetizers, no matter what topping you might choose. Smoked salmon definitely is a wonderful and delicious choice. You can prepare all the ingredients beforehand for this dish and put them together before your tea party starts.
With a smooth goat cheese sauce and tomatoes, this crostini is just what you need to make your tea party the elegant masterpiece it is meant to be. 
9. Cucumber Goat Cheese Sandwich Bites 
Image and recipe by gatherforbread
We all know that a good cucumber sandwich is among the most loved english tea foods. But what if we elevated them just a little bit to make these sumptuous cucumber sandwich bites? Made like an open sandwich crostini, these tea party sandwiches have a layer of herbed goat cheese which is creamy and delicious. The bite of cucumber adds freshness to the lovely french baguette and cheese, making it ones of the best Alice In Wonderland food ideas.
10. Downton Abbey Egg Salad Tea Sandwiches 
Image and recipe by reluctantentertainer 
For a truly British afternoon tea experience, you cannot go wrong with this English tea party food idea. There's just something about a simple egg salad finger sandwich that oozes poise and elegance. When done correctly, these sandwiches will taste divine during a warm spring afternoon. Easy to make and absolutely lovely to eat with your guests, you'll surely make a dent in your party experience with this recipe. 
11. Ham Rolls and Toadstools 
What would be better than toadstools for your Mad Hatter tea party food idea? These ham rolls are really easy to make and are so delicious. You'll definitely feel like Alice after she fell down the rabbit hole while you're eating these.
12. Cucumber Sandwiches 
Image and recipe by spendwithpennies
Nothing beats this classic easy tea party food when it comes to popularity and taste. When done right, cucumber sandwiches are the best tea party food you will have. With cream cheese and fresh herb filling, this is among best princess tea party food ideas.
13. Crustless Quiche Cups 
Image and recipe by twohealthykitchens
Gluten free and absolutely delicious, these little quiche bites are the epitome of English tea party food ideas. They take literal minutes to prepare and bake in no time. Since they have no crust, they are light and airy, perfect for making ahead of time too. If you want something different from sandwiches and scones at your tea party, mini crustless quiches are surely the way to go. 
14. Crab Salad Sandwiches 
Image and recipe by savortheflavor
Have you ever wondered how tea sandwiches always look so immaculate and neat and like they were made seconds ago? Well, this elegant tea party food idea will show you exactly what to do to make your sandwiches stand out. With a hearty and delicious crab salad filling, these sandwiches are bound to be gone in no time once you serve them. If you've never tried a crab filling for your tea sandwiches, you will not be disappointed at all. 
15. Classic Deviled Eggs 
Image and recipe by spendwithpennies
You can serve deviled eggs for any occasion and they will be a well loved hit. But these appetizers are the perfect finger food tea party idea for your next get together. Easy to make ahead of time and tasty as always, you won't be able to get enough of this one. This food is great with some herbs and crackers.
16. Roast Beef Pickle Bites 
Image and recipe by gatherforbread
While most people opt for sandwiches, these roast beef pickles are a great change of pace. This finger food tea party food is sure to pique everyone's interest and once they taste it they'll see how good it is. Served with a creamy mayo dill sauce, this is the perfect menu for an easy and simple tea party food.
17. Salmon Croquette Canapes 
Image and recipe by victoriamag
Soft and lightly spiced salmon is encased in flaky bread crumbs to make the best croquettes you've ever had. If you're looking for that perfect savory tea party food. Sitting atop French bread crostini these salmon croquettes will taste amazing with some dill and lemon. For an all encompassing experience of elegance, this is the perfect afternoon tea party recipe to try. 
Scones and Drinks 
Scones typically make up the second course of a tea party. Served with jam and clotted or whipped cream, this is also eaten with your fingers. Scoop the jam or cream onto your scone with a spoon and put them on your plate. 
Of course it goes without saying that you shouldn't cross contaminate any of the condiments. Use a butter knife to slather the cream or jam onto your scone. Like the first course, finish all the items on your plate before you move to the final course. 
If you decide to have a drink other than tea with your scone that is also fine. Although traditionally, only tea is served there are many exceptions nowadays 
18. Almond Flour Blueberry Scones 
Image and recipe by wholesomeyum
Scones are a must have at your tea party. Thick buttery and flaky biscuit pastries with the best fillings – everyone will want a slice. And when the scones have the flavor of almonds and are stuffed with blueberries, you can be sure that it will be heavenly. This British tea party food idea is too good to pass up. And the best part is it is so low carb you won't mind filling up on them.
19. Roasted Strawberry Greek Yogurt Scones 
Image and recipe by nutmegnanny
Packed with berries and lots of vanilla greek yogurt, these scones are fresh and perfect for a bite at a tea party. These scones are sweet and tart with just the right amount of flakiness and softness to them. Sounds like the perfect English tea party food doesn't it? The secret to this recipe is the pop of black pepper which really brings out the sweetness of the strawberries.
20. Cranberry Orange Scone 
Image and recipe by bakedbyanintrovert
Tender yet flaky and filled with a delicious taste in every bite this scone is the perfect traditional tea party food. You will love them with a cup of warm tea after you've dug into your tea sandwiches. The scone has plenty of orange flavor and is sprinkled with just the right amount of cranberries. Like the cool weather outside, these fall scones are a must at your afternoon tea party. 
21. Berry Mimosas 
Image and recipe by certifiedpastryaficionado
Refreshing and cool, these mimosas are a memorable fancy tea party food idea. If you want to serve something besides tea, you can't go wrong with this concoction. With the garnished berries on tip, it makes the perfect spring and summer drink. Sweet yet slightly tangy with plenty of bubbles, you're bound to have a wonderful afternoon tea with a glass of this at the table. 
22. Raspberry Mint Lemonade 
Image and recipe by tasteoflizzyt
Raspberry and lemonade are just the kind of flavors you'll want for your British tea party food ideas. Just a sip of this lovely lemonade will help you enjoy a fun and fresh spring evening. It's made with fresh lemons and simple raspberry syrup. You know this one is going to be an absolute hit.
Sweet Treats 
Most tea party desserts are small portioned or cut to be eaten within 2 to 3 bites. It is common to see cookies and truffles adorning the dessert tray at an afternoon tea party. As the whole occasion is formal, it is better to eat your dessert off your plate rather than directly from the tray.

However, as much as a tea party is formal it is also elegant and filled with plenty of really amazing desserts. After two courses with sandwiches and scones, small desserts will feel less daunting. 
23. Soft and Chewy Lemon Cookies 
Image and recipe by marshasbakingaddiction
Delicious, soft and with a wonderfully chewy center, these cookies are made for the best afternoon tea. With an extra scoop of cream cheese and loads of infused lemon flavor, this English tea party food is bound to be loved by all. If you love a lemon themed dessert to finish off high tea with, this is the perfect little treat. 
24. Coconut Truffles with Almond Butter
Image and recipe by pinchmeimeating
Chocolate covered truffles are already a highlight of your princess tea party food menu. But when they're full of coconut flavor and drizzled with almond butter, they're even better than before. Rich, decadent and yet playful and easy to eat, these can easily be made in advance.

One bite of these and all the little princesses might go wild. But in a good way, don't you worry about that. Make some extras just in case though. 
25. Festive Vegan Meringue Kisses 
Image and recipe by laurencariscooks
Looking for the perfect finger food tea party food ideas? Try these meringue kisses. They're vegan! And not just that, they're pink and festive. That might just make this the perfect princess tea party food too. You cannot go wrong with a dessert this easy to make and eat. Seriously, they'll be gone before you know it. 
26. Cake Roulade with Raspberries
Image and recipe by valentinascorner
Who doesn't like a good cake roulade? They're like the most innovative of simple cakes you can make for any party. And this recipe is definitely right at home for a princess tea party food menu. With a rich dulce de leche cream and fresh pureed raspberries throughout the cake, no one will be able to stop eating this dessert food. Topping the cake with a chocolate ganache and chocolate shards is just the icing that you need to make this dessert perfect. 
27. Lemon Blueberry Pancake Bites 
Image and recipe by gatherforbread
Making little pancakes from scratch is rewarding in itself. But serving these delicious poppers at your princess party; now that's a recipe for success. You might think that pancake bites at a tea party is a little odd, but that's only until you have a bite of these.

With the fresh taste of lemon and blueberries and glazed with a rich cream cheese icing, this is among best mad hatters tea party food ideas you need to make it an instant hit. 
28. Easy Mini Cheesecakes 
Image and recipe by elmundoeats
Everybody loves a good cheesecake. When done right, it can be the absolute perfect end to a meal. And what's better than individual mini cheesecakes at your afternoon tea?

Seriously, these bite cheesecakes are the perfect princess tea party food. The sweet filling and crunchy crust with berries as topping are a great way to end a merry get together. Plus, cheesecakes in muffin molds will just never go out of style. 
29. Brownie Bites 
Image and recipe by whatsgabycooking
Crinkle top brownies with a super moist center are a dream come true in itself. But how about we make these brownies bite sized and forgo the mess of cutting squares. This fancy tea party food idea does just that in the easiest way. They'll be gone in just a bite and are so easy to make, you'll definitely be reaching for seconds and thirds. And they get done in less than 20 minutes. Didn't that just make the whole deal even sweeter? 
30. Lemon Shortbread Bars with Mascarpone 
Image and recipe by theorganickitchen
With the coming of summer, there is an abundance of citrus and citrus themes recipes everywhere you look. And of course we can't have the perfect traditional tea party food menu without including a lemon dessert can we?

Shortbread is the easiest finger food dessert you can serve at a tea party. And what better way to top it than with a lemon curd and mascarpone? Delicate and crispy, these biscuits will melt in your mouth and have you reaching for seconds and thirds.
31. Petit Fours 
Image and recipe by preppykitchen
Perfect for a bite sized dessert at tea time, you can't have a tea party without petit fours. The name literally means tea party food! With a lightly sweet jam between layers of soft cake and topped with a white chocolate glaze, petit fours are the ultimate food idea. You will see it become an instant hit with everyone.
And the best part is that they're actually super easy to make with the correct instructions. So what are you waiting for? Whip up a batch for your next party right now. 
32. Cannoli Bites 
Image and recipe by cookingclassy
Who doesn't love a good cannoli? Crispy pastry rolls with a sweet and rich ricotta filling, they make the perfect tea party food idea. But how about we change them up and bake them as mini tarts instead?

With chocolate chips and nuts, these cannoli bites will be an irresistible addition to your elegant tea party food ideas. If you are having a themed party, you can be sure these will be the start of the gathering. 
33. Chocolate Ganache Bundt Cakes 
Image and recipe by thebakingchocolates
Never would I have thought the perfect afternoon cake recipe could be so decadent. Individual mini bundt cakes with a thick chocolate ganache glaze is the type of English tea party food you didn't know you needed. And you can be sure that every person – adult and child – is going to be a fan of these bundt cakes. It is the best end to a glamorous party.  
34. White Chocolate Chip Brownies 
Image and recipe by goodtoknow
If you've always loved brownies but want to switch it up a bit you might want to try this easy easy tea party food recipe. Made with white chocolate chips, dark chocolate chips and dried cranberries with walnuts on top, this is the best of both worlds.

Crunchy yet soft, sweet yet just slightly tangy, this is the kind of tea party recipe everyone of all ages will enjoy. If you want a fun and easy food recipe, you have to try this one. 
35. Red Velvet Whoopie Pies 
Image and recipe by goodtoknow
Want to have the sweetest end to your tea party? These whoopie pies are just the thing you need for dessert. They're a great alternative if you don't want to bake and frost a dozen cupcakes but taste just as delicious.

Chewy and just the right amount of soft, these whoopie pies are great for an elegant party food idea. Just be sure to bake a lot of them because they'll disappear very quickly.