If you are worried and confused about the dish you would like to carry to the next backyard party, then we have a solution for you. How about some lip-smacking pinwheel recipes for your guests? These pinwheel recipes are an excellent choice as appetizers. The prime thing about these is that they are versatile when it comes to taste. They can be sweet, creamy, and they can also be spicy you can roll them with flavors of your choice. Of course, you will find more easy appetizers, but pinwheels are an absolute delight and nothing less than heaven in your mouth. It is an outstanding way to impress your guests and flatter their taste buds. 
Here we have gathered various options for you to try out. This curated list has easy as well as some fancy and incredibly tasty pinwheel recipes that will not disappoint your taste buds.
You can also check out some other fancy recipes here on 16 Delicious & Creative Thanksgiving Leftover Recipe Ideas.
1. Rainbow Pinwheel Recipe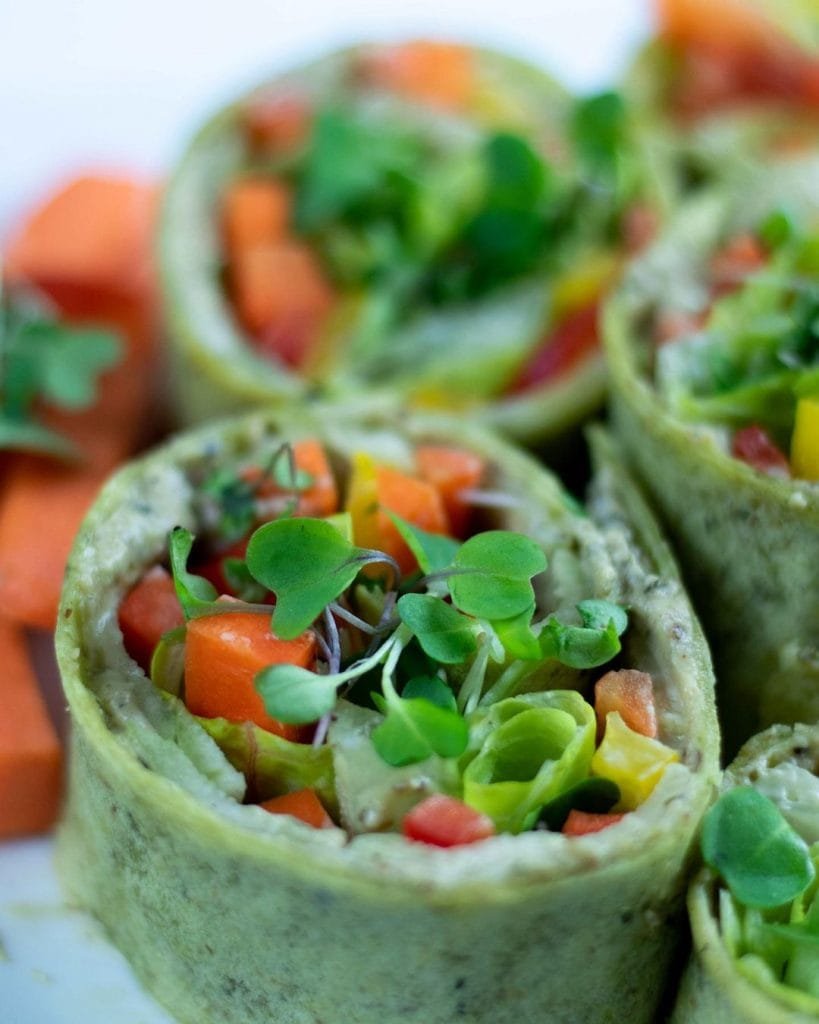 Pinwheel recipes usually can be played around with to suit your taste buds. This one here by theheartfeltway is so much fun. The colored veggies in the pinwheel are giving it a fun vibe. And this one here is a great choice for your Sunday brunch appetizer or even an on-the-go lunch.
2. Taco Inspired Pinwheel Recipes
If you are a taco lover how about getting a little innovative with the classic tacos? This time use this pinwheel recipe by theplantymel is a taco with a twist, or rather a roll. This one has been rolled up with love and some sun-dried tomatoes, refried beans, plant-based grounded beef, and some taco seasoning and some sour cream. You can check out the easy tutorial of the above pinwheels here.
3. Roll With Some Good Pinwheel Recipes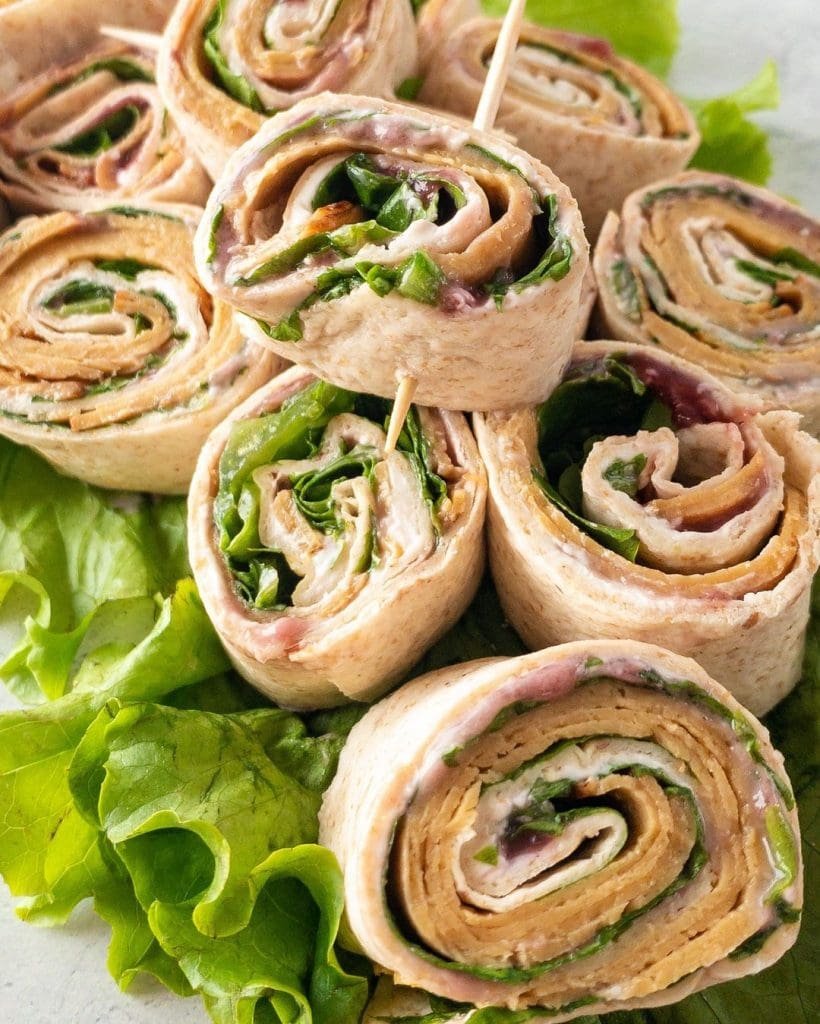 You will be left drooling over this mountain of plant-based turkey, cream cheese, and jam pinwheel by theplantymel. This one here is one of those pinwheel recipes that you will leave a burst of flavors in your mouth in every bite. In this pinwheel recipe, there is a perfect balance of jam and cheesy that you will relish and will be hard for you to forget. You can check out the easy tutorial and feel a little more inspired to make a few of these pinwheels. 
4. Tortilla Pinwheels
These tortilla pinwheel recipes by zaleha.olpin makes excellent after school snacks or even packed lunch for your kids. It is not just healthy but also satisfying. And as they are easy to make you won't be hassled to roll a few of these with the filling of your choice. All you need to do is roll, slice, and enjoy the taste.
5. Cheesy Pinwheels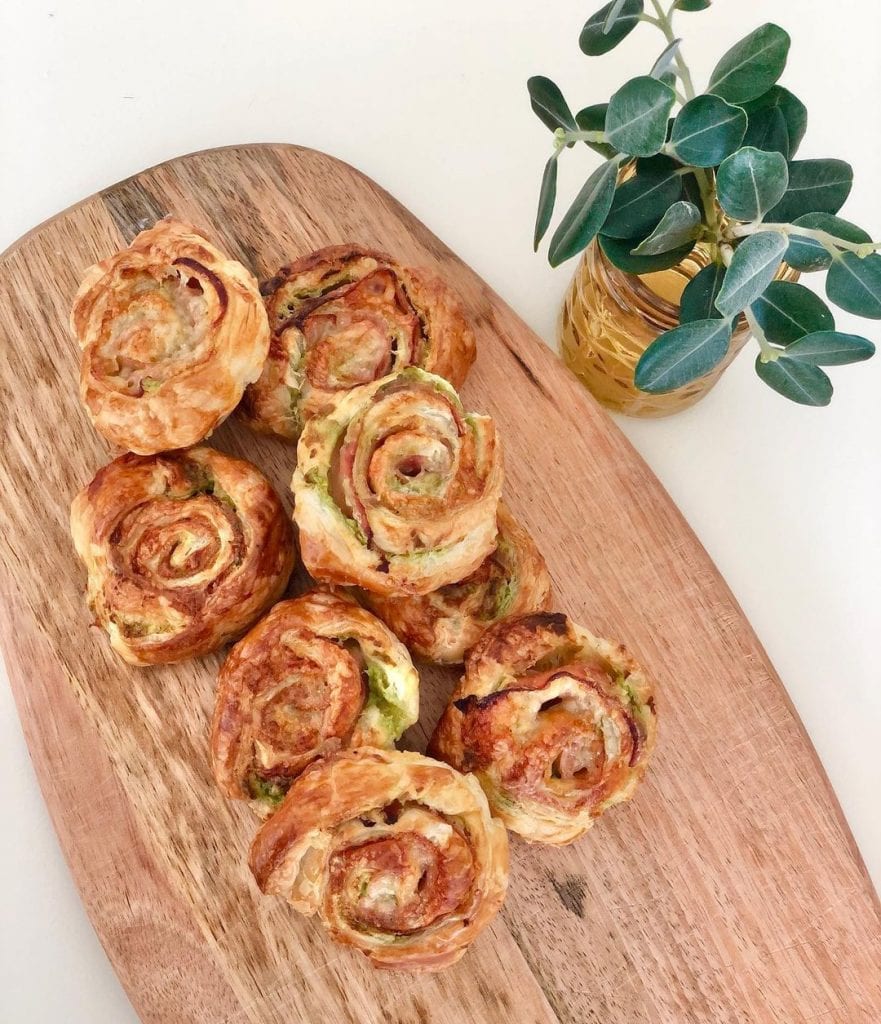 These cheesy and creamy pinwheel recipes by mumwifeandtwinlife is healthy. Well yes, cheesy pinwheels are also healthy, all thanks to the goodness of avocado and the filling addition of ham. The tutorial for this one is so easy that you will need at the max an hour to make these. All you have to do is roll out your puff pastry, spread the avocado evenly, and top it with the ham.
6. Keto Spinach Pinwheels
With the winters fast approaching you can try some of these spinach pinwheel recipes by noshinsandnumnums. These keto pinwheels are gluten-free and grain-free. Your diet regime will love this one and so will your taste buds. These low carb easy appetizers are a blast of the mixed flavors of red bell pepper pesto and spinach and so easy to roll. check out the effortless recipe directions here.
7. Elegant Egg Pinwheel Recipes
Eggs are very versatile and can be experimented with when it comes to cooking. So why not on this Sunday brunch make a few of these egg pinwheels by burnbraefarmsfoodservice. These are quite basic, and you can make these with just the basic ingredients like peas, cream, and goat cheese. This recipe will be an excellent egg appetizer even for your dinner menu. 
8. Savory Pinwheel Recipes
These savory pinwheels by silviamouse7 as lip-smacking as they look. With these pinwheels, your party will be taken up by a notch as they will please your guests and will be the star of the party. Needless to say that they are extremely easy to make and less time-consuming.
9. Pinwheel Sandwiches
How about some green leafy pinwheel sandwiches for your morning breakfast? Well, if you want something more than just the regular sandwich you can try this pinwheel recipe by chef_nandu16. Instead of cheese, this one here has gone for a healthier option, cottage cheese for the filing.
10. Tuna Melt Pinwheel
Pinwheel recipes are full of flavors. Whether it is a savory or a sweet flavored, pinwheels will never cease to surprise you. Just like this one here by bigspoon_babyspoon you can make your own tuna pinwheel. These Omega-3 rich pinwheels will melt in your mouth and will overpower you with the incredible taste.
11. Pinwheels With Cheddar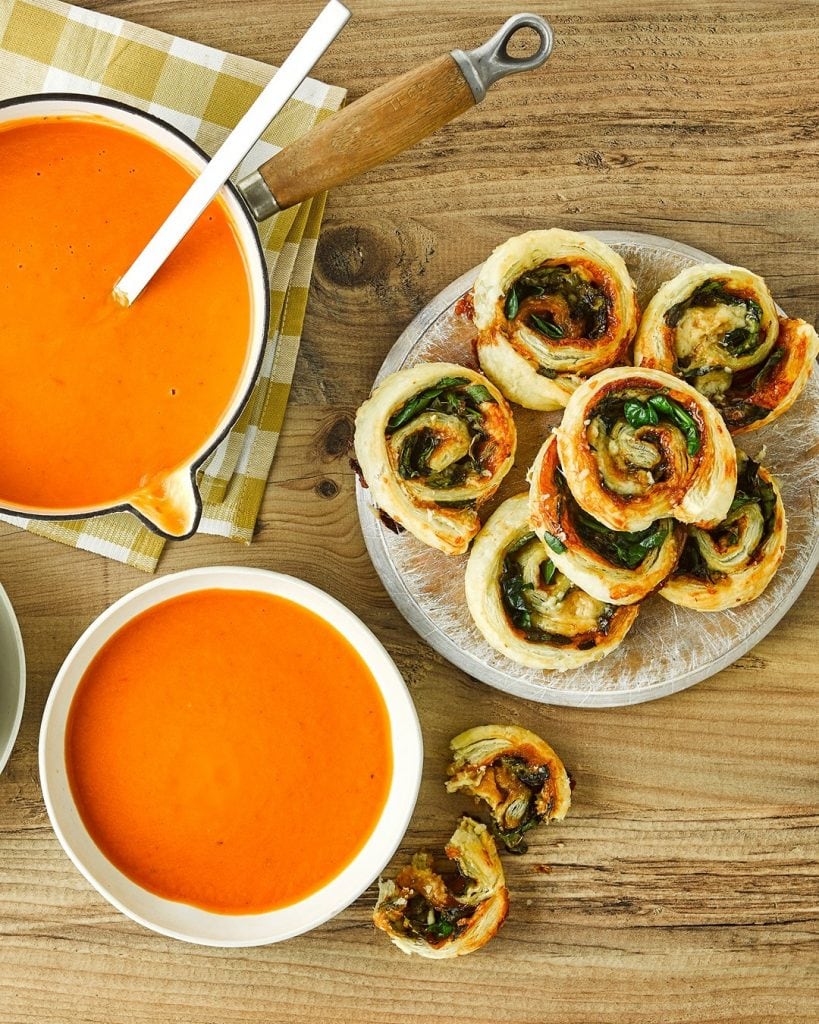 Pinwheel recipes and cheese are like a match made in heaven. They both compliment each other and gives you a burst of flavors. This pinwheel recipe by bbcgoodfoodme will give you the perfect balance of marmite and spinach flavor that you can pair with some soup. This one here is a perfect item on a family picnic menu.
12. Pinwheel Recipe for Lunch
Pinwheels are a great option for lunch. They are flavorful, delicious, and filling. And of course, like this pinwheel recipe here by feedingharriet, they are easy to roll. With some basic ingredients, you can make your own flavorful pinwheels.
13. Patuli Pinwheels
How about some offbeat pinwheel recipes? These pinwheels here by thecousinstales are an Indian take on the quintessential pinwheels. These Gujarati pinwheels are full of flavors made with the love of every Gujarati house, Khandvi. These pinwheels are made with chickpea flours and some chili tadka on top. Giving it the perfect hint of spice.
14. Bread Pinwheels

Bored of those regular sandwiches? Here is an alternative for you by a_pinchofyum_bysamta. These pinwheels here are another desi take on the conventional pinwheels. With the potato filling and the spices that go in it, these pinwheels are full of surprise. And the green chatni on the side is simply a blissful add on.
15. Crack Chicken Pinwheels
How about something that tastes like a sandwich but is not that? Well, if you are feeling experimental you can certainly try these pinwheel recipes by plainchicken. It is quite simple recipe, take a tortilla and throw in some cream cheese, cheddar cheese, bacon, ranch, and chicken and roll it up to freeze it until ready to be eaten.
16. Some Taco Pinwheels
Taco is a charmer when it comes to taste. But this pinwheel recipe by ohsweetbasil will satisfy your taco cravings majorly. The tutorial for these pinwheel recipes is so easy that you will not even think about too much time once you start making these. The actual magic of these taco pinwheels are hidden in the homemade taco seasoning. With some extra tomatoes, cheese, corns, and beans and of course some ground beef, these pinwheels are an absolute delight.
17. Tangy Pinwheels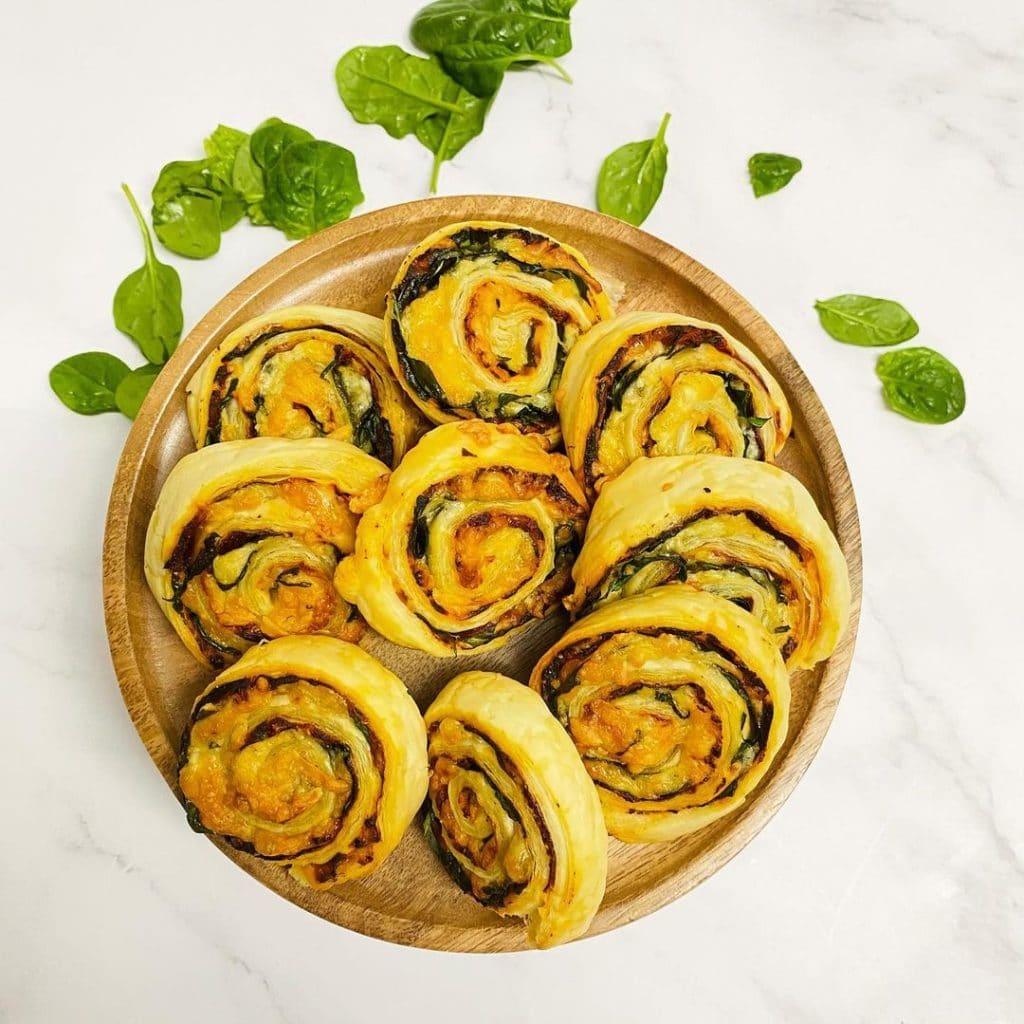 These tomato and spinach pinwheel recipes by little_belly_bites will leave you mesmerized with all the burst of flavors in your mouth. This one here is super easy to make and is an absolute winner amongst the kids and adults too.
18. Pizza Pinwheels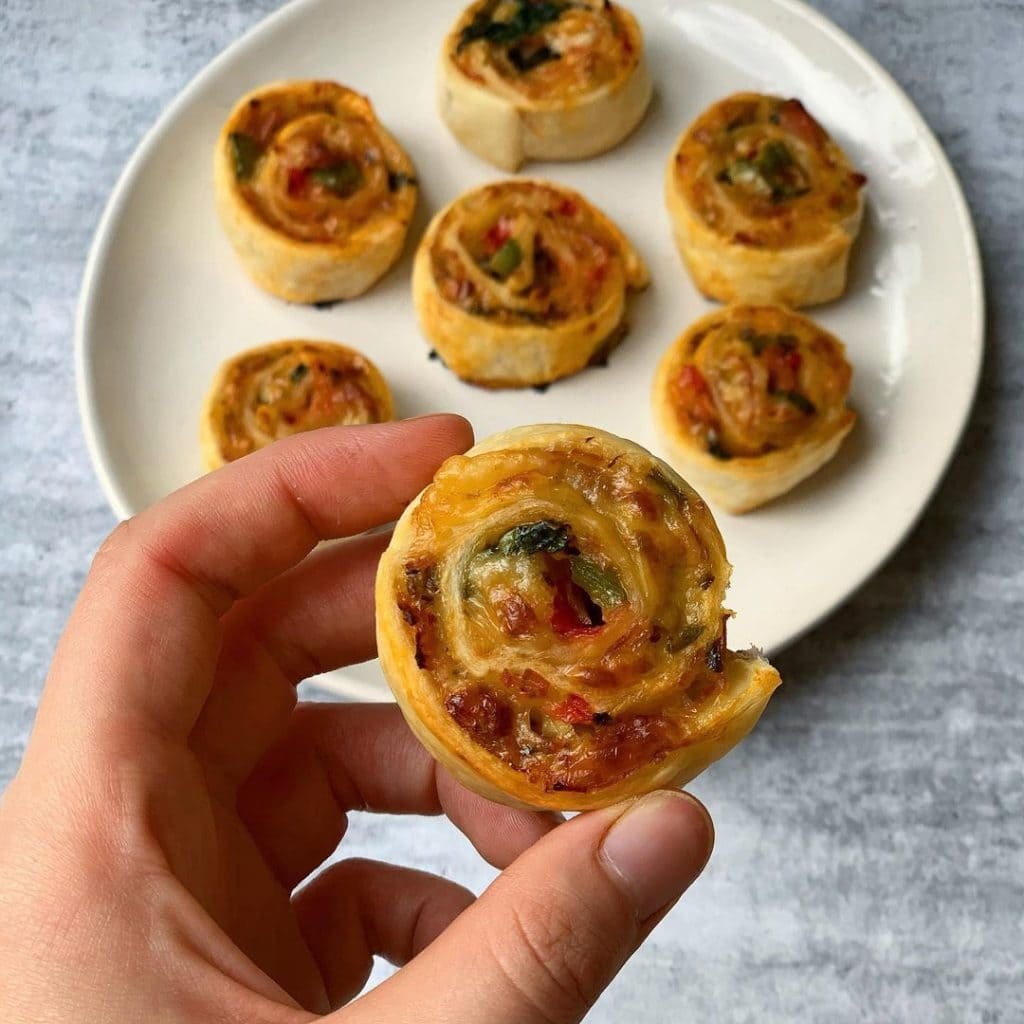 We all love pizzas, it is certainly love. But how about we give the regular pizza a massive twist just like _thrive_nutrition here. These pinwheels are a great way to impress your kids and pack some of these easily made pinwheels for their lunch. With cheesy and the sauce spread, these pinwheels will bring a smile of yumminess to your kid's face.
19. Cranberry Feta Pinwheels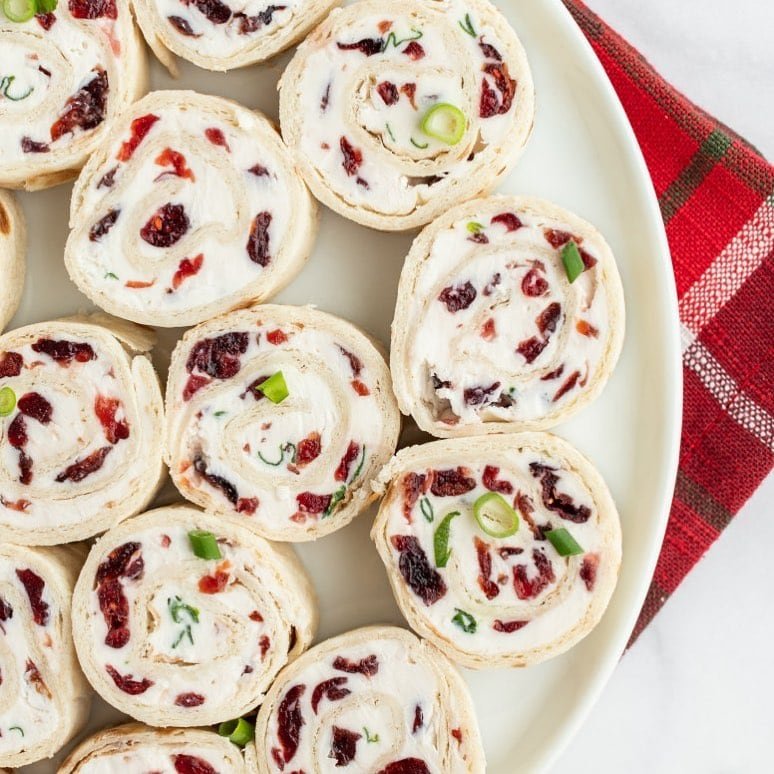 Pinwheel recipes can be often experimented with. How about these colorful cranberry feta pinwheels by recipegirl for your festive nights? This will of course add its own charm to your brunch or dinner table. The real deliciousness of these pinwheels lies in the dried-cranberry filings, feta cheese, and chopped green onion which makes this one a must-try pinwheel recipe.
20. Jalapeno Popper Pinwheels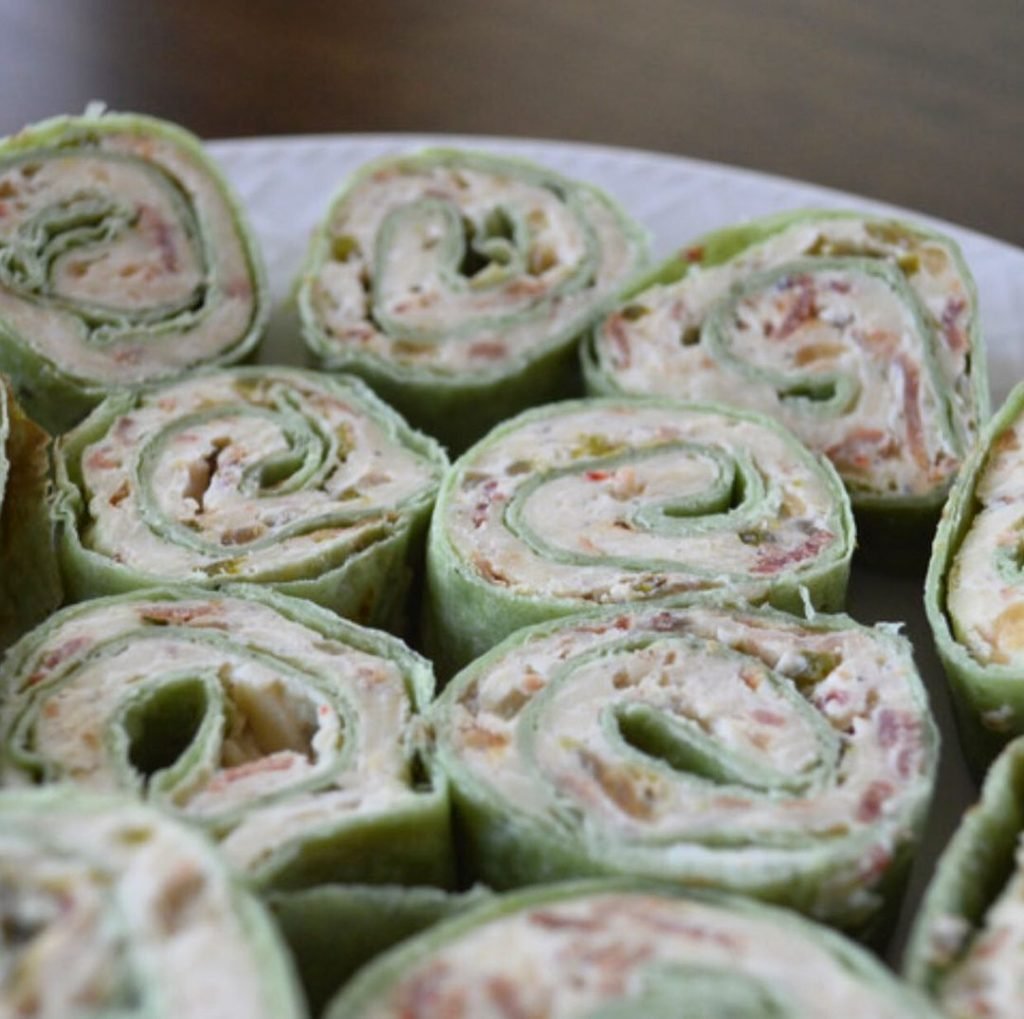 If you are a Jalapeno lover then you would like to have some pinwheel recipes that have a lot of jalapenos. This one here by cozyfarmhouseblog is one such recipe. This is an amazing option to explore your holiday parties to serve your guests. You can also pre-cook these the night before just you make your party night hassle-free.
21. The More The Better Pinwheels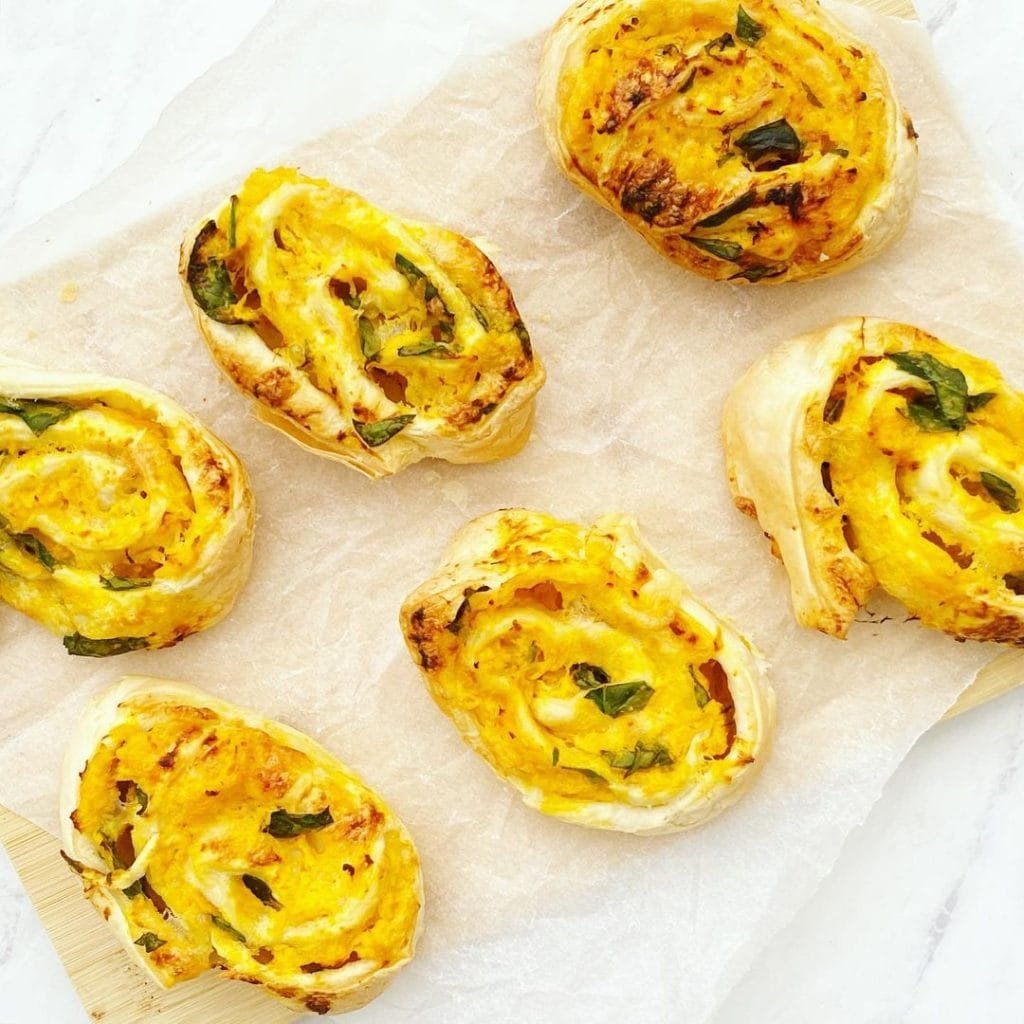 There is nothing called too much when it comes to delectable pinwheel recipes. So don't even think twice before you set yourself to make some of these butternut squash pinwheels by minimonkeymeals. These pinwheels also have the touch of sage and the goodness of spinach. The best thing about these is that you can store them in the fridge and savor them for up to 1 month!
22. Herbed Cream Cheese and Salmon Pinwheel Recipes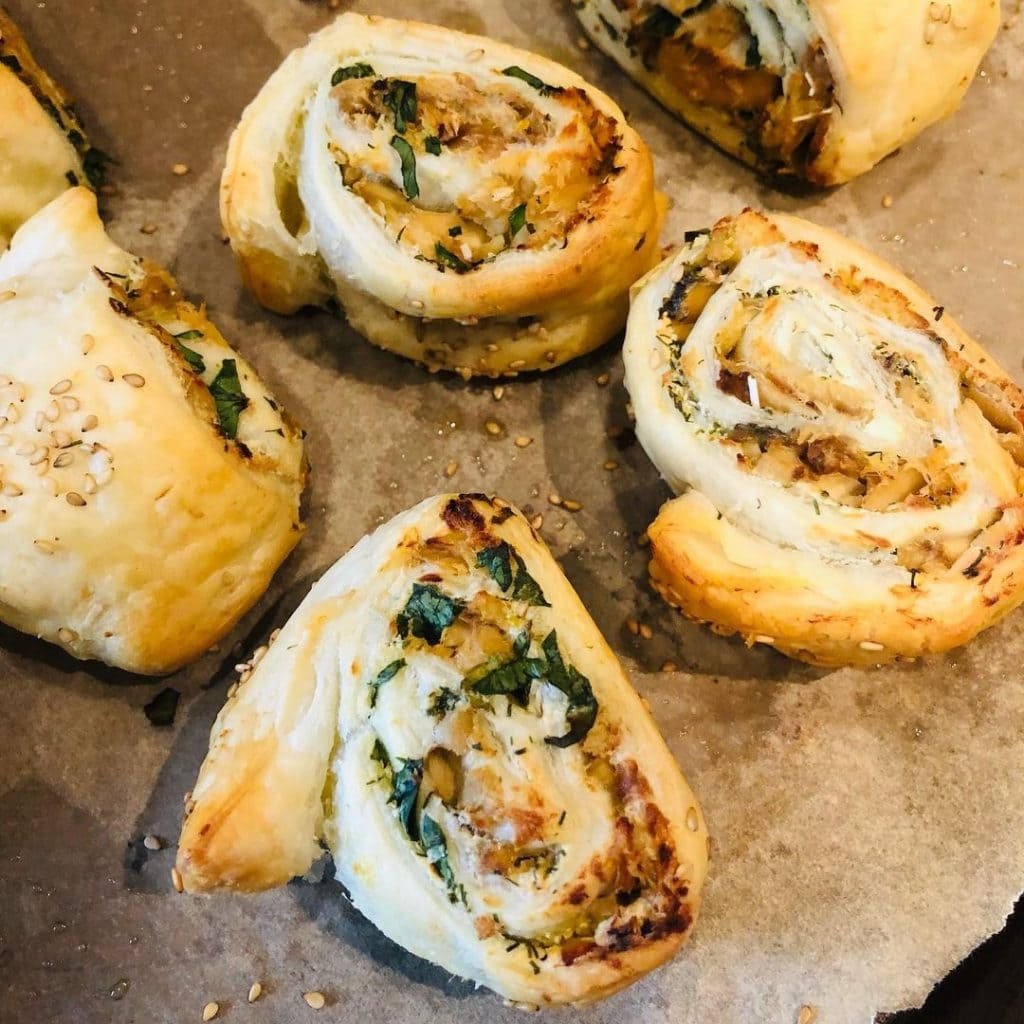 How about a pinwheel recipe that is simple and yet nutritious? If you are looking for an option like that then try out this one by zaaralina13. This recipe has simple ingredients. Spread some cream cheese on a rolled out puff pastry, season it with chili flakes, salt and pepper, garlic powder, dried dill, and chopped parsley, and don't forget to add a salmon fillet of course. For a slight tangy kick of taste, add a little lemon zest on top, and wait for it to get ready in the freezer.
23. Easy Taco Pinwheel Recipes

These taco pinwheels are consummate party food. Melissassk has made it so easy in this pinwheel recipe to lighten up a load of party preparation. These are an excellent game starter, serve these while playing your favorite game, or make these for your dinner party starter.  These pinwheels here have an easy tutorial and will mesmerize you with the rotisserie chicken filling, you can also poached or baked chicken as per your taste.
24. Cheesy Pepperoni Pinwheels
These pinwheel recipes have an excellent combination of cheese and pepperoni. With slight flavors like that of your favorite pepperoni pizza homemade.by.emily has made a yummy version of rolled pizzas for you. 
25. Mexican Pinwheels
Mexican pinwheel recipes are full of flavors. Just like this one here by alyssa_therecipecritic. This pinwheel is everything you need to make your Sunday brunch menu a little more interesting. These slightly spiced and cheesy chicken pinwheel rolls are full of exciting flavors making them palatable. 
26. Butterbean Pinwheels
Butterbean pinwheels by babyledkitchen are made with really simple ingredients. You need some butterbean pate and some feta to make these delicious pinwheels that will touch your soul.
27. Turkey and Spinach Pinwheels
If you thought that pinwheel recipes are all about yummy and delicious ingredients and not good for health, then tdaniellethefitbelle will certainly change that for you. You will be beyond amazed by these spinach turkey pinwheels, they are simple and tasty and green.
28. Avocado on the Side

By eat_with_arthur
These simple and basic pinwheels are everything you need for your morning fix. With the goodness of the buttery avocado on the side, this pinwheel recipe is a must have on your list.
29. Rainbow Pinwheel Recipes

These rainbow pinwheels filled with the goodness of green and bright veggies by imjiloo have Kimbap inspired pinwheels. These are Korean by the spirit and healthy by choice, but don't let that fool you because these are tasty and delectable.
30. Vegan Chickpea Salad Pinwheels
This pinwheel here by oodlesofbliss is an excellent option for all the vegan souls out there. This is healthy and delicious. And it can be prepared ahead of dinner time for your family.  This chickpea salad has such an easy tutorial that you can even get your kids to roll some of these for fun. With avocado, chickpeas, mayonnaise, and some seasonings this one here is a stealer of the dinner table.
31. Samosa Pinwheels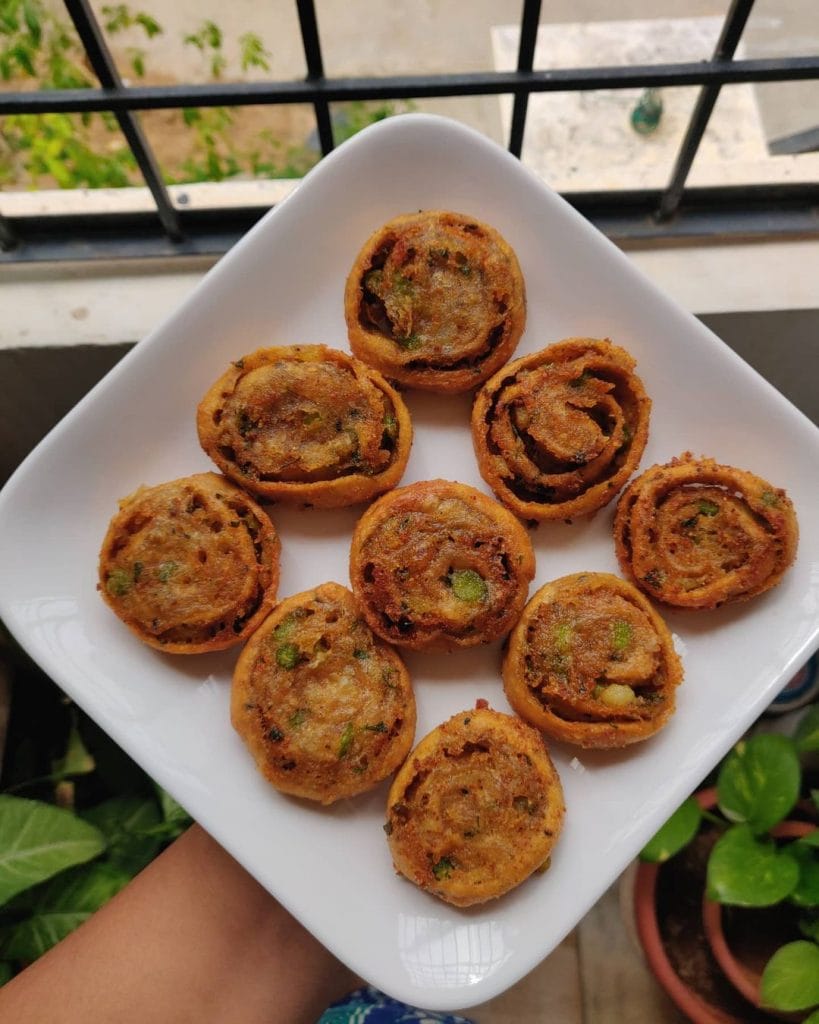 Yet another Indian twist to the conventional pinwheels. These samosa pinwheels here by cookingdiary_ayesha is for all the samosa lovers out there. This whole wheat aalo (potato) samosa pinwheels are as healthy as a samosa can get. Your guests or even your family will be left amazed by the deliciousness of these.
There you go! Too many options to choose from, too many possibilities to explore, and too many tastes to experience. With these pinwheel recipes, you will certainly not miss a chance to impress your guests. These pinwheel recipes are all easy and tasty, some are a bit too experimental but by taste, none of them will fail you. Go ahead and roll with some of these pinwheel recipes!
If you loved these ideas, you can use the Pin image below and save this article on your 'Pinwheel Recipes' Pinterest board.