A DIY bench is the perfect formula for adding beauty and comfort to any space outdoors or indoors. This simple addition makes your home way more welcoming. You can add a bench out on the porch or in your kitchen, bedroom, living room, or entryway.
Apart from giving you a cozy, relaxing spot, these benches also provide a lot of storage space. This roundup has 30 plus DIY bench ideas with tutorials for your inspiration. You can customize their sizing and stain according to your liking. They are pocket-friendly and very simple to make with basic carpentry tools. With all these options, we are sure you'll find the one that is perfect for your home! 
Check out our posts on DIY Planter Box ideas , Hanging Shelves Ideas and Outdoor Kitchen Ideas for some other home projects.
1. DIY Upholstered Bench for Indoors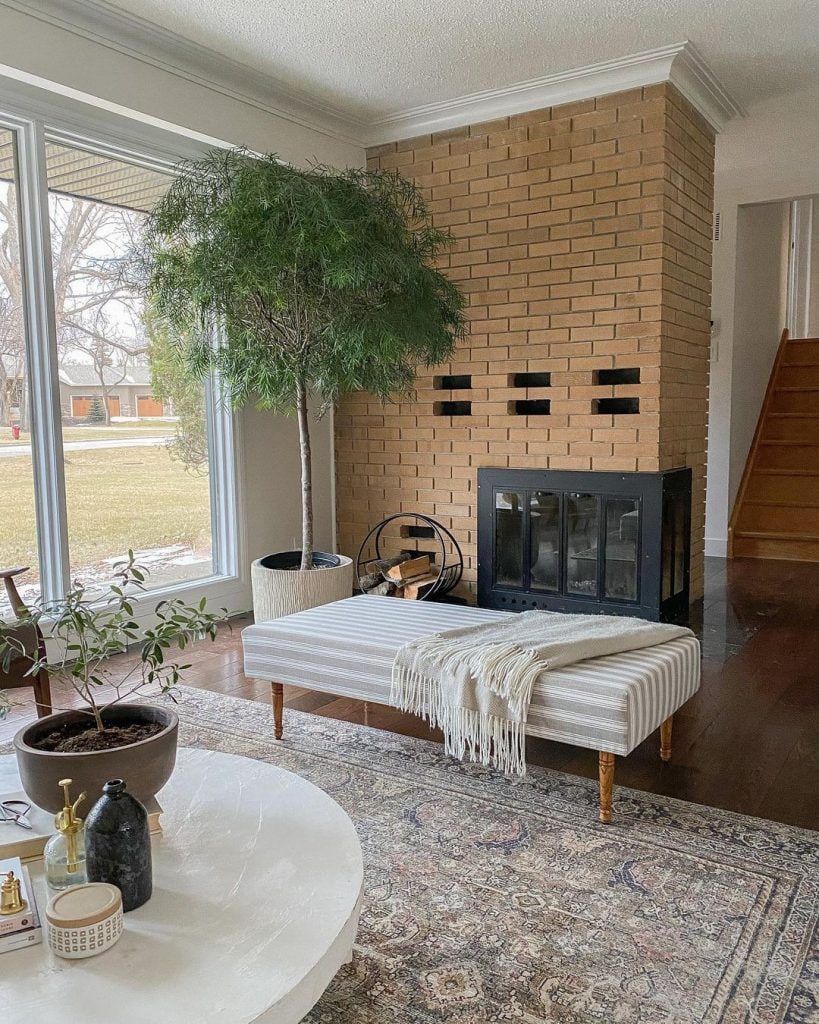 Source: ourhideawayhome
This modern yet classy DIY bench is perfect for adding a relaxing spot and a fashionable piece of furniture to your home. The basic design of a rectangular wooden bench with four slender legs is lifted by upholstering a classy patterned fabric around the thickly cushioned top. Throw a rug on top of the bench and add this aesthetic piece to your living room or bedroom. Here is the link to the instructions.
2. Colored-Legs Modern DIY Bench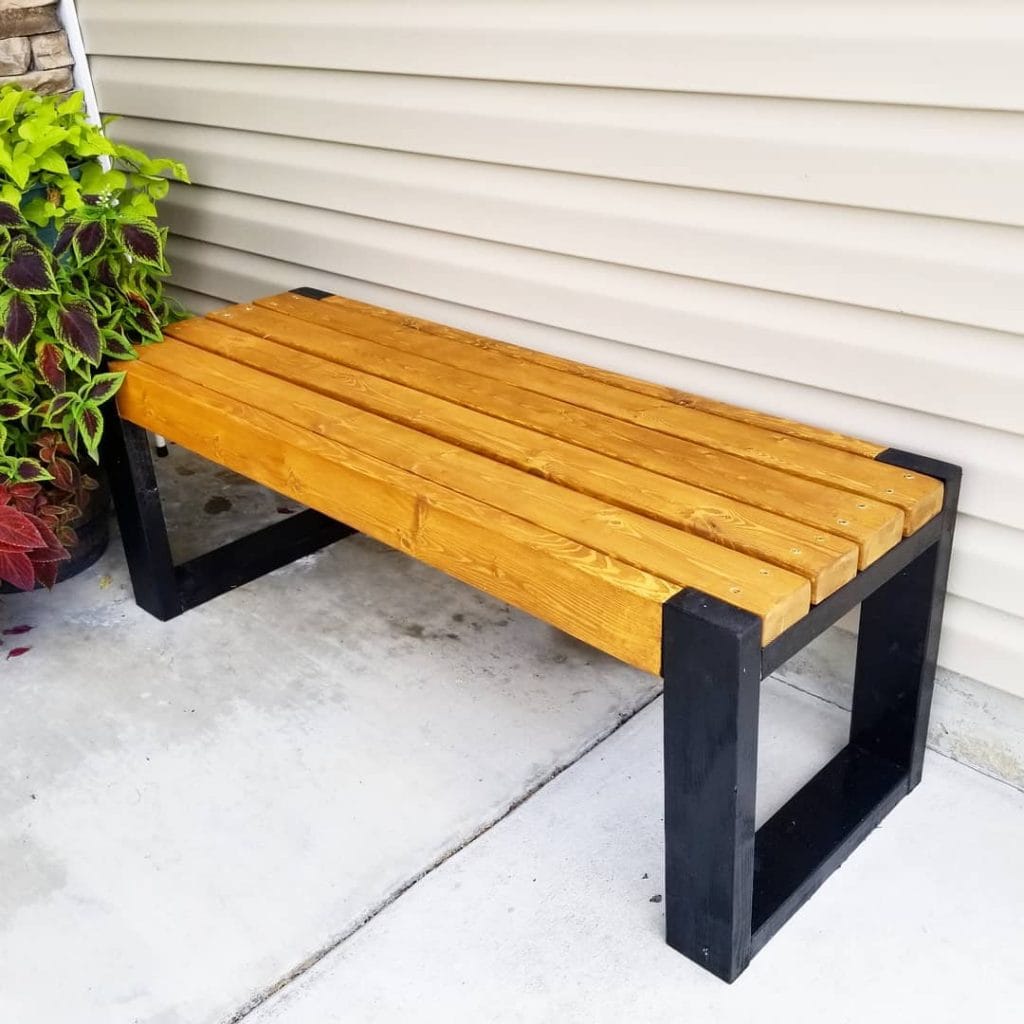 Source: mamaneedsaproject  
This wooden planked DIY bench can be placed both outdoors and indoors. The planks are set on U-Shaped bases on each side painted in black. This unique combination of dark and light makes this a very statement piece that adds a hint of brightness to any space. Here is how you can make one. 
3. Easy Timber Outdoor Bench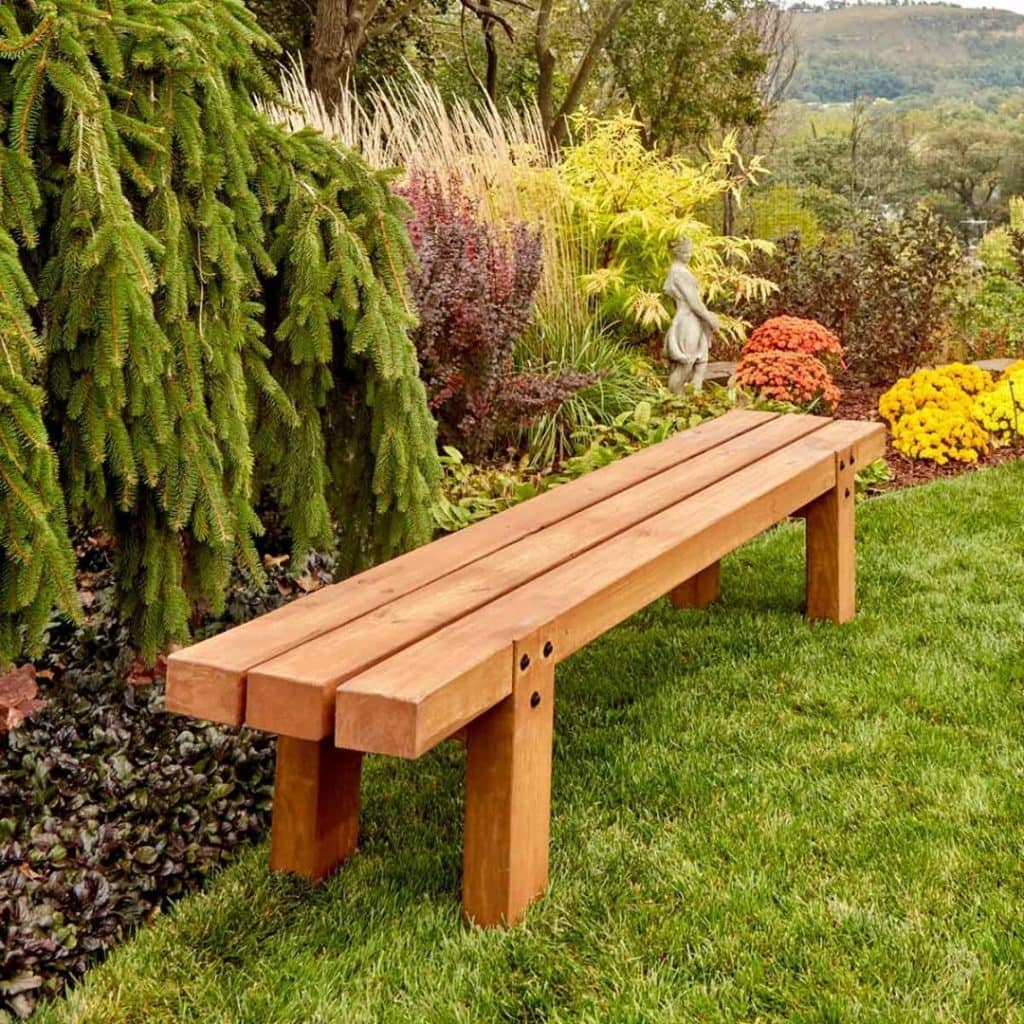 Source: familyhandyman
Here is a sturdy and straightforward way to design a DIY bench for your garden. It uses thick timber planks in a textured light cherry stain. Three thick planks are set on four legs uses screws. It is a very durable and comfortable piece that suits the natural background perfectly! Find the instructions here. 
4. Rustic Aged Wooden Bench
Source:  hillhousediaries 
I love the vintage and rustic look of this DIY wooden bench. The base has A-shaped stands on each end and a rectangular top. The entire piece has an old chocolate brown stain and has a rough unpolished finish. It looks great indoors or outdoors and can really amp up your entryway. Follow these steps to make one. 
Read – 30 Beautiful Shower with Bench Ideas to Transform Your Bathroom Oasis
5. Color-Blocked Elegant Bench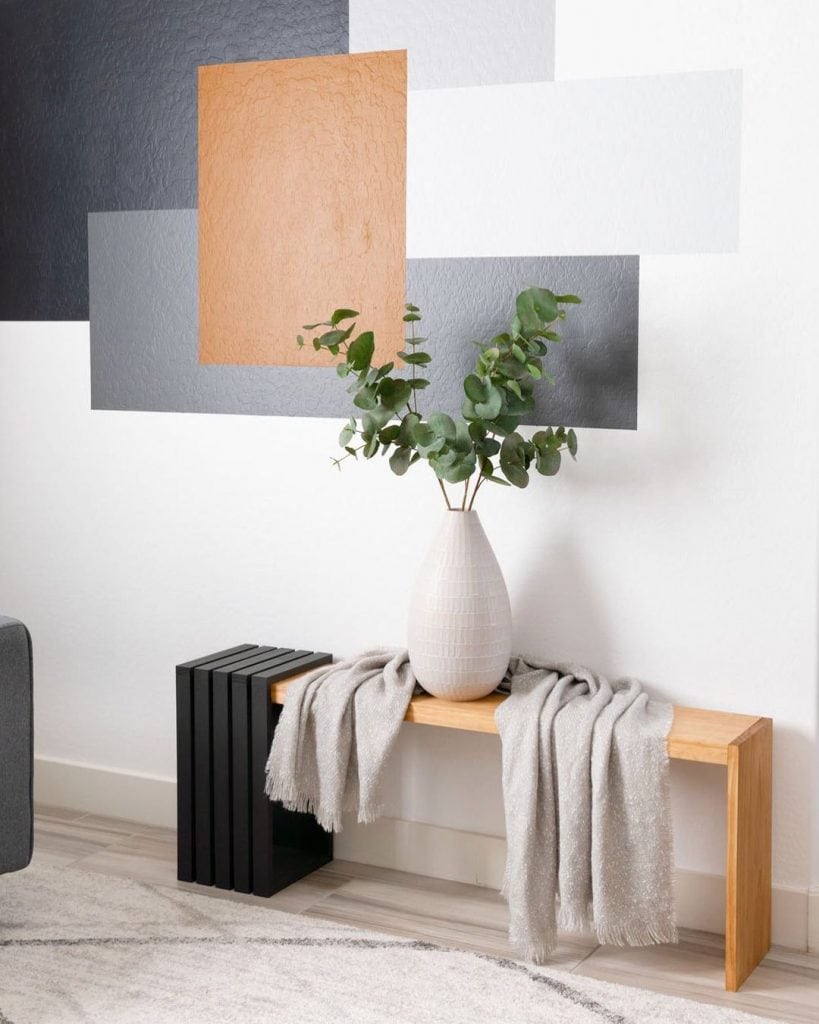 Source: neatly.living
Add a super modern and unique touch to your living room/bedroom with this fantastic DIY bench. It has a color-blocked design with one edge painted black and the remaining polished in a light stain. The bench uses a black crate as the leg on one side. This breaks the monotony of the piece. Check out the full instructions here. 
6. Dark Textured Wooden Bench with A-Stand
Source: madebycarli
This dainty DIY bench has an aged finish but looks very elegant. You can use it as a dining bench, a porch bench, or even a bedroom bench. The wooden planks are set on an A-shaped base and polished in a deep brown stain. This is a simple and straightforward DIY that looks very stunning!  Click here for the complete tutorial. 
7. Light-Polished Wooden Bench for Dining
Source: terraandtint
Replace the two seats at your dining table with this long wooden DIY bench. It proved extra space and looks very classy and chic. The stain on the wood is textured light beige that looks very luxurious. Throw two tiny colorful rugs on the bench for added comfort, and voila! 
8. DIY End of the Bed Woven Bench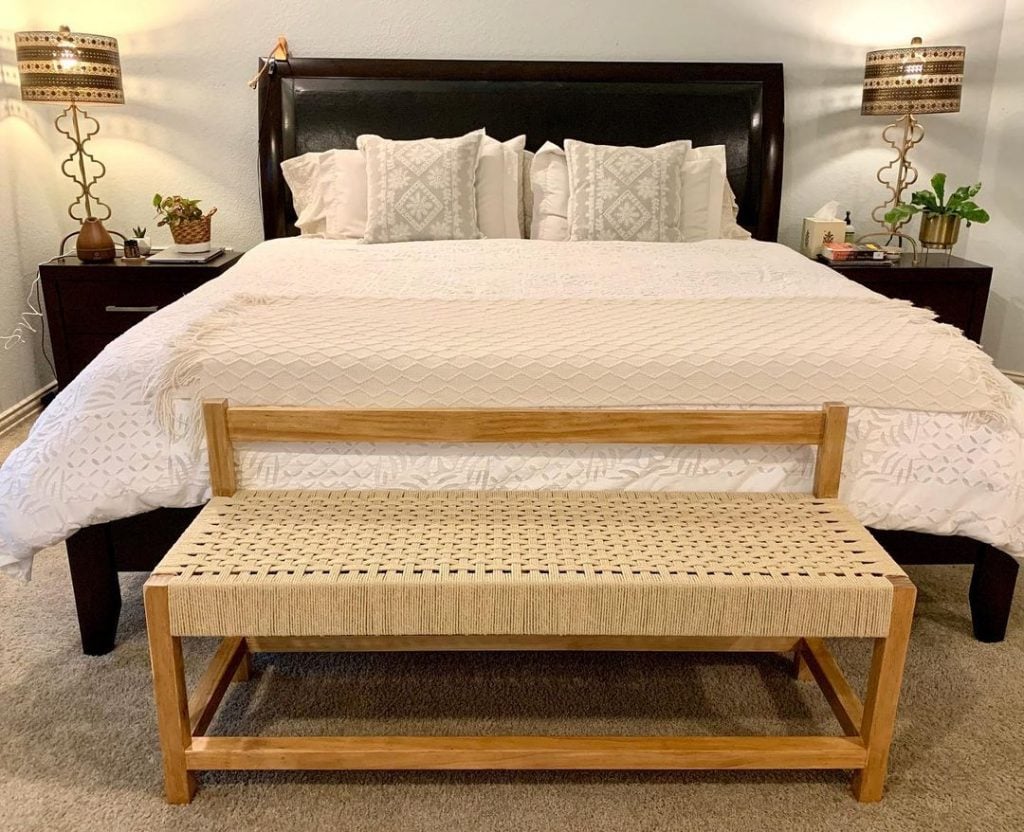 Source: my.curated.home
I love the bohemian look of this end of the bed DIY bench. The design has a basic wooden beige frame, and a roll of thick jute string is used for weaving. It looks very crafty and unique. The jute seating makes it super comfortable and stylish at the same time. It is an easy to build project that is just perfect for your boho bedroom! Here are the instructions.
9. DIY Outdoor Planter Box cum Bench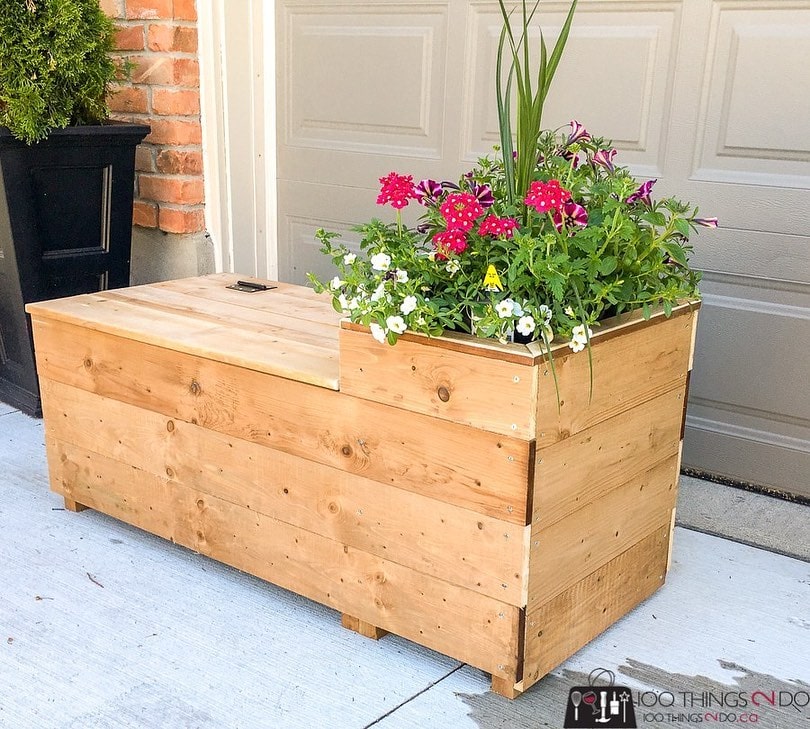 Source: 100things2do.ca
If you have a small front porch or a tiny empty corner, this DIY bench is perfect for you! It is a three-in-one project, including a bench, a planter box, and camouflaged storage space. Place this beauty outside your home and use it as a dropbox for your deliveries. The floral plants add a colorful aesthetic to this DIY. Find the tutorial here.  
10. Sleek Entryway DIY Bench with Carved Legs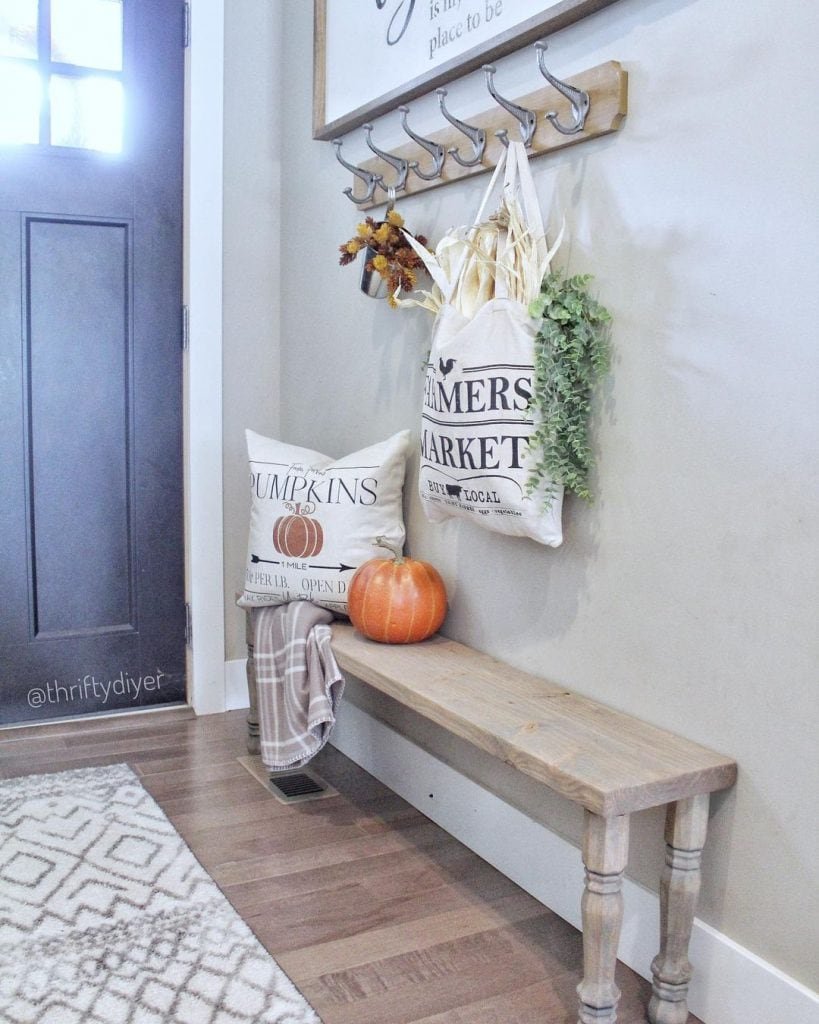 Source: thriftydiyer
Give your entryway wall a warm and inviting vibe with this DIY bench. It has a sleek rectangular top with four carved legs, all polished in a cool beige tone. The finish of this bench is rough and has a subtle and minimalist appeal. Place some cushions and a rug to finish off your entryway decor! Here are the instructions. 
11. Comfy Cushioned Kitchen DIY Bench
Source: alinaseem_woodworks
It's time to give your kitchen a bright and colorful DIY bench using this idea. The structure is a rectangular box with a cushioned top. The top is upholstered using a bright blue fabric. This DIY offers a lot of storage to save up on some space in the kitchen. Throw on some cute cushions to finish off this comfortable piece. Check out the sneak peak into process. 
12. Camel Stained Wooden Bench cum Shoe Rack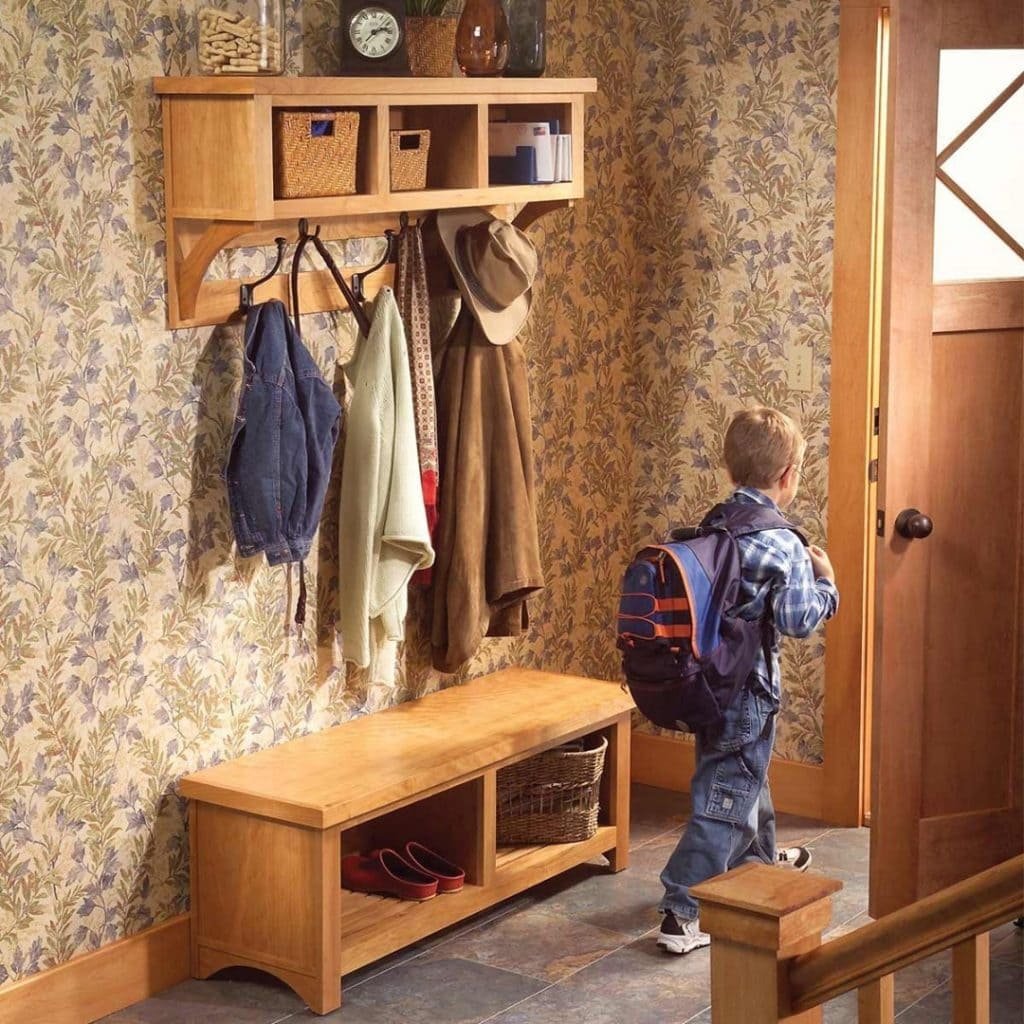 Source: familyhandyman
This compact yet sturdy DIY bench is all you need to keep your entryway mess-free. It is a wooden bench cum shoe rack with a hanging shelf on top to store your shoes, coats, hats, etc. It's a petite and versatile design. You can also place this in your bedroom or kitchen. Check out the complete tutorial here. 
Read – 35 Tool Storage Ideas For Easy Organization
13. Pocket-Friendly Beige Wooden Bench
Source: 19grandavenue
Here is another small entryway DIY bench that is perfect for giving a cozy welcome as soon as you enter. It has a beige wooden plank customized according to the size of the space. This plank is laid on two triangular bases on each end, polished in black. The dark and light combination looks very classy and modern. This is a quick way of getting yourself an entryway decor piece. 
14. Classy White Upholstered Bench with Storage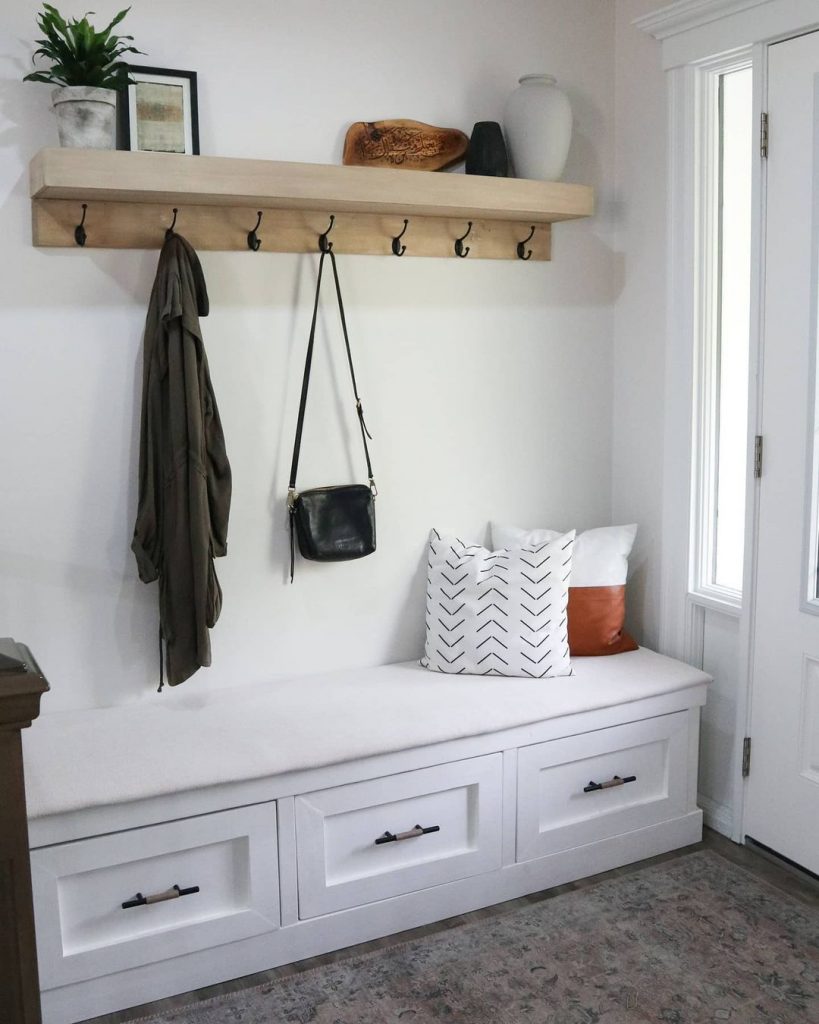 Source: onefortyfour_
I love how gorgeous this DIY bench looks against the all-white background. It is a spacious bench with comfortable upholstered seating and some cushions for back support. It also has three huge built-in drawers for a lot of storage space. You can place it in the entryway or use it as a space saver for your kitchen or bedroom. 
15. Distressed Outdoor DIY Bench with Triangle Legs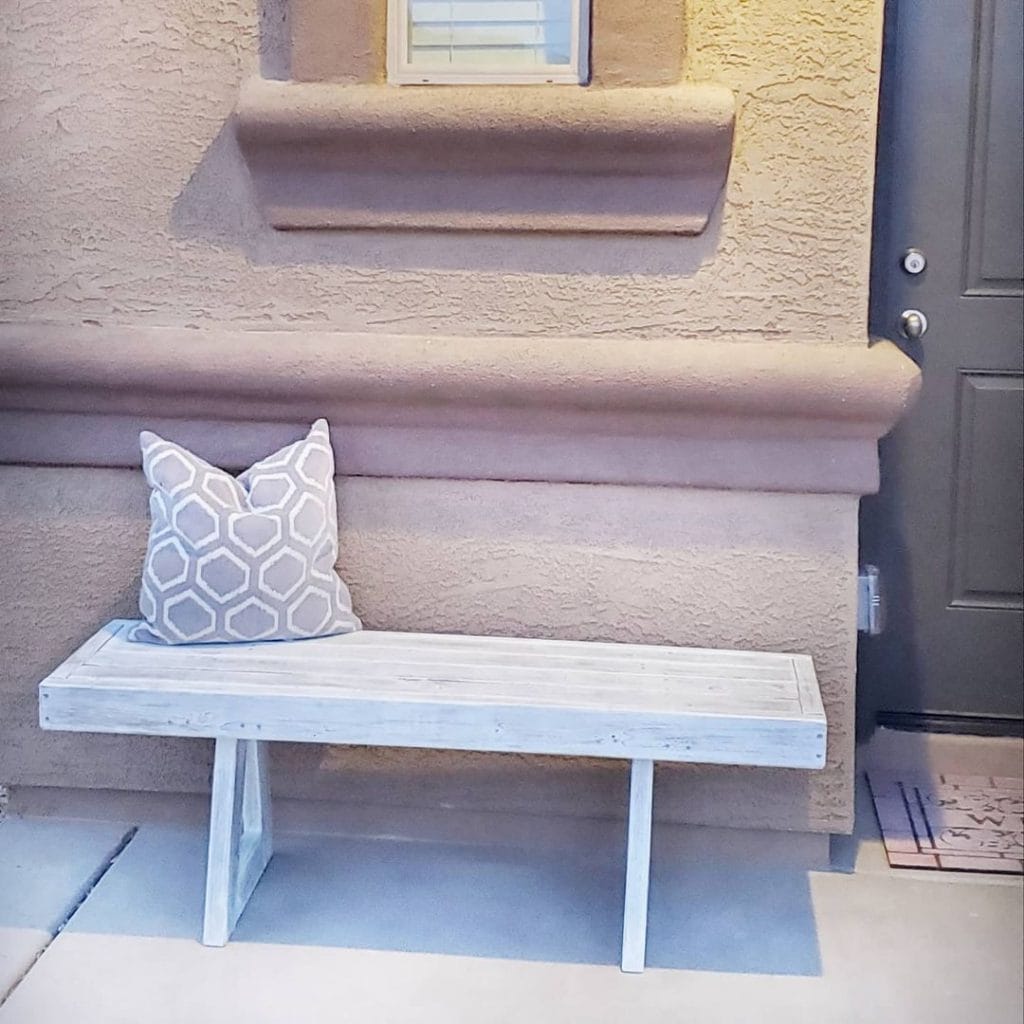 Source:  rabideauwoodworking
This adorable DIY bench is perfect for indoors or outdoors. It is a low-height bench with a distressed white finish to it. The triangular base adds a dainty and chic feel. Place a cushion or two on the bench for added comfort. This is a rustic yet beautiful piece that is easy to build and saves tons of space. Find the complete process here. 
16. Unique & Spacious DIY Bench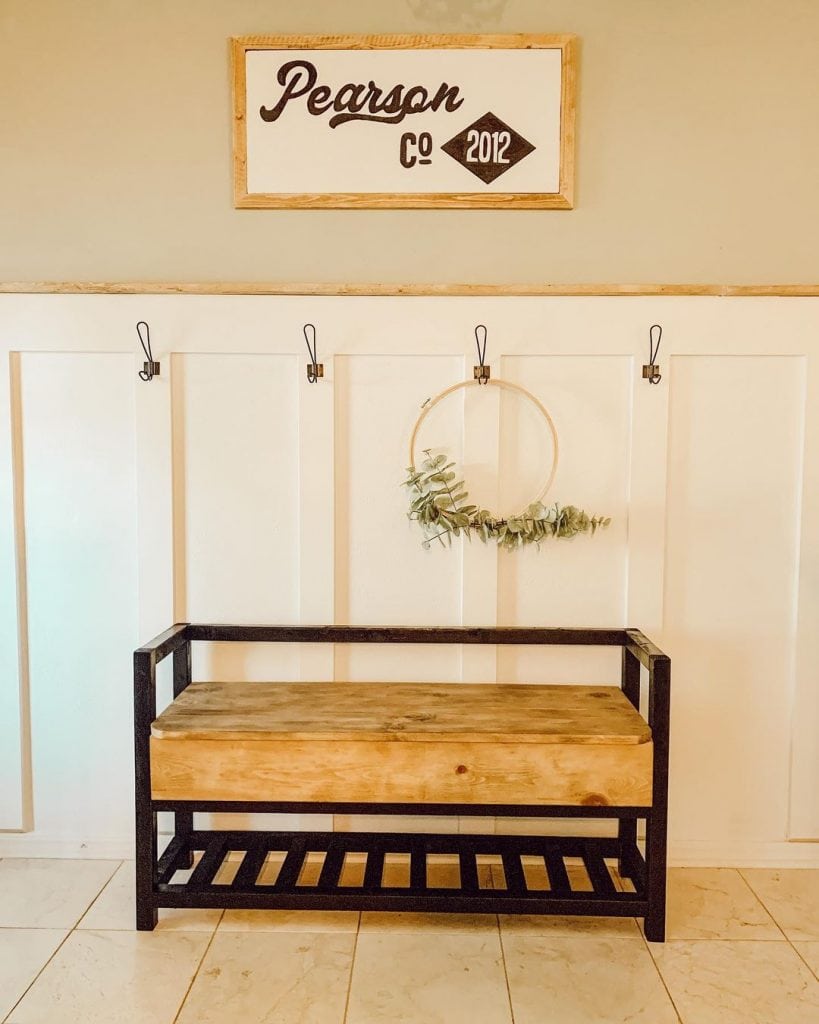 Source:  paytononpurpose
I really like the unique frame of this DIY bench. The bench is made for multipurpose use and has a trunk for storage and a shelf for shoes, etc., built-in. The rack forms the base, and the trunk creates the seating. This DIY also uses the dark and light combo, which adds to the luxuriousness of the piece. It is a compact design best suited for the entryway or the living room. Here's how you can make one. 
17. Beautiful Farmhouse Style Bench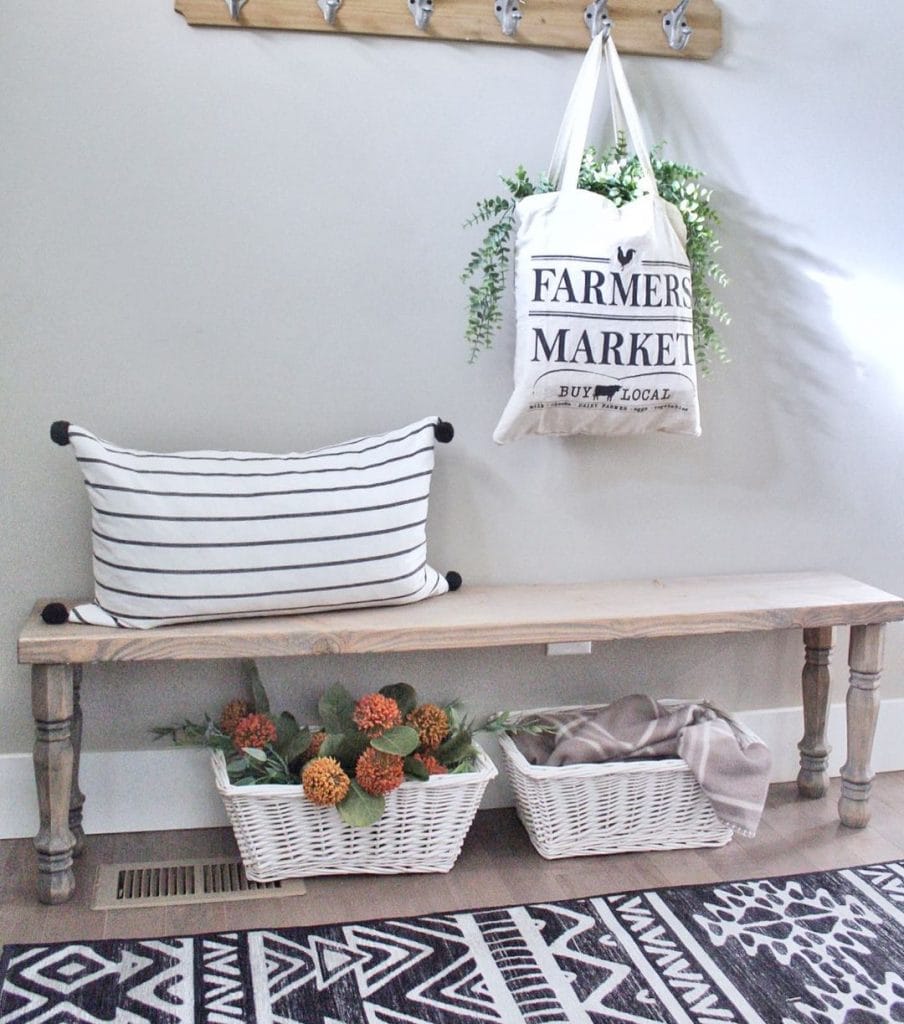 Source: thriftydiyer
This farmhouse style DIY bench is sleek and stunning. It has a long rectangular top with four carved legs and stained in an ashy beige tone. The bench has a textured finish that gives it an aged and rustic look. It's perfect for an entryway and is a straightforward design replicable by anyone. Follow these steps to recreate this DIY. 
18. Simple n Sturdy Entryway DIY Bench
Source: thesloppyjos
Here is a basic but stylish way to decorate your entryway and give yourself a comfortable bench. This DIY bench has an olive-brown textured finish. The design is straightforward; a long rectangular top supported by two rectangular planks. You can customize this DIY by changing the size and stains. Add some cushions on top, and voila! 
Click here for standing desk plans and here for L-shaped desk plans.
19. Light & Bright Tiny Wooden Bench
Source: thehomestyleteacher
This small wooden bench doubles as a display table and a vent hider. It is sized according to the space and can be used to bench up any corners of the home. The design is basic and is easily buildable. Two cute cushions and matching decor items are placed on the bench to finish the corner. Here is the complete process. 
20. Wooden Slab Bench with Hairpin Legs
Source:  eversondesignco
Add a very classy and chic touch to any space using this DIY bench. It has a wooden tabletop stained in light and dark brown, and the use of hairpin legs makes it very dainty and sleek. The legs painted in black add a lovely contrast. Place two bright colored cushions on top for added comfort and elegance!
21. Cute Cushioned Window Seat with Storage
Source:  angelarosehome
Want to sit back and enjoy the view outside? Try this amazing DIY bench idea. It is primarily a window seat with a beautiful cushioned top. Additionally, it has a cupboard design for storage. This bench is perfect for any window with a great view and can be customized accordingly. Follow this process to make one. 
22. Vintage Distressed Multipurpose Bench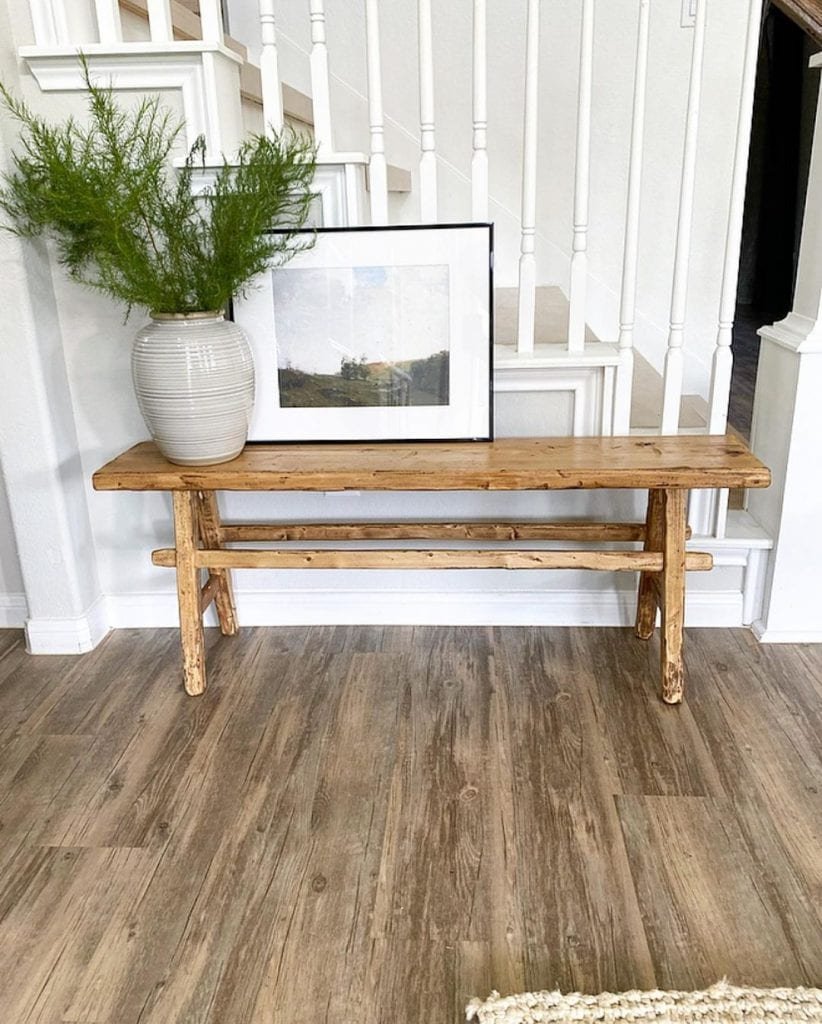 Source: juniperandbrosfurniture
This DIY bench is a versatile piece perfect for outdoors, or as a sofa table, entryway bench, or even an end of the table bench. The design is basic and has a light coffee polish with a textured finish. It has a long rectangular tabletop that looks very sleek. Overall, it is pocket-friendly and looks very vintage. Check out the process here. 
23. DIY Mosaic L-Shaped Bench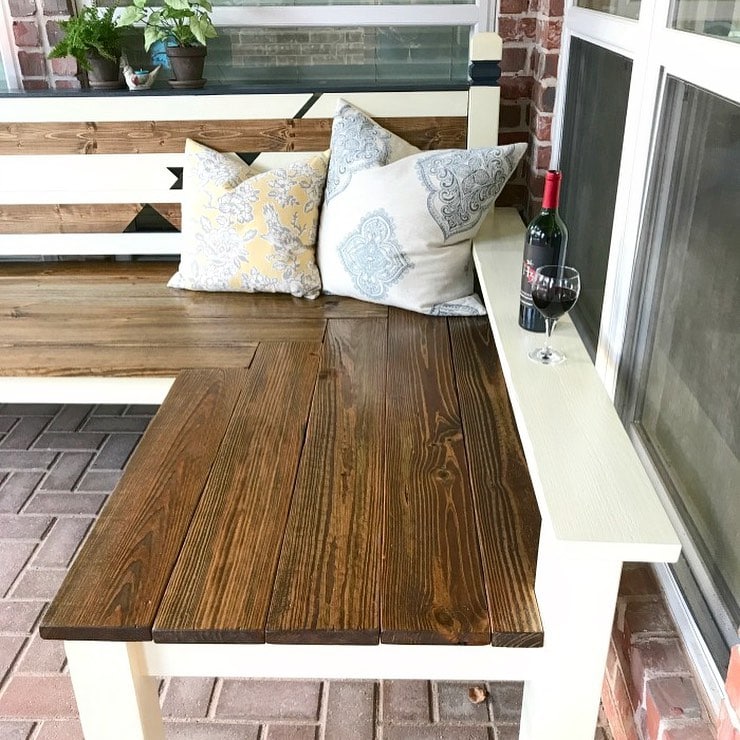 Source: abbottsathome
Here is an outdoor DIY bench idea with back support and comfortable seating. The combination of textured chocolate brown pallet wood with bright white is used for making this masterpiece. It has a mosaic back support, which looks very stunning. Also, the design is L-shaped and perfect for accommodating six to eight people at a time! Here is the detailed process. 
24. Boho DIY Skinny Elm Bench
Source: hunnydohq
This DIY bench has an aesthetically pleasing design. The bench is small in size and has a straightforward design made using elmwood. The polish is rough, light beige, and the bench is slender. Place cushions, a rug, and any other item to suit the decor. You can set this bench outside or in the entryway/kitchen. 
25. Black Textured Foyer Wooden Bench
Source: tenderlovinggoods 
 This chunky black DIY bench is a quick and easy project that looks very stylish. The distressed finish of this bench adds a rustic charm to it. It uses thick wooden planks, which makes the bench comfortable and sturdy. Finally, the classic black finish looks very modern and suits any space. Here is the simple process for you to follow. 
26. Dainty & Chic Hairpin Legged Bench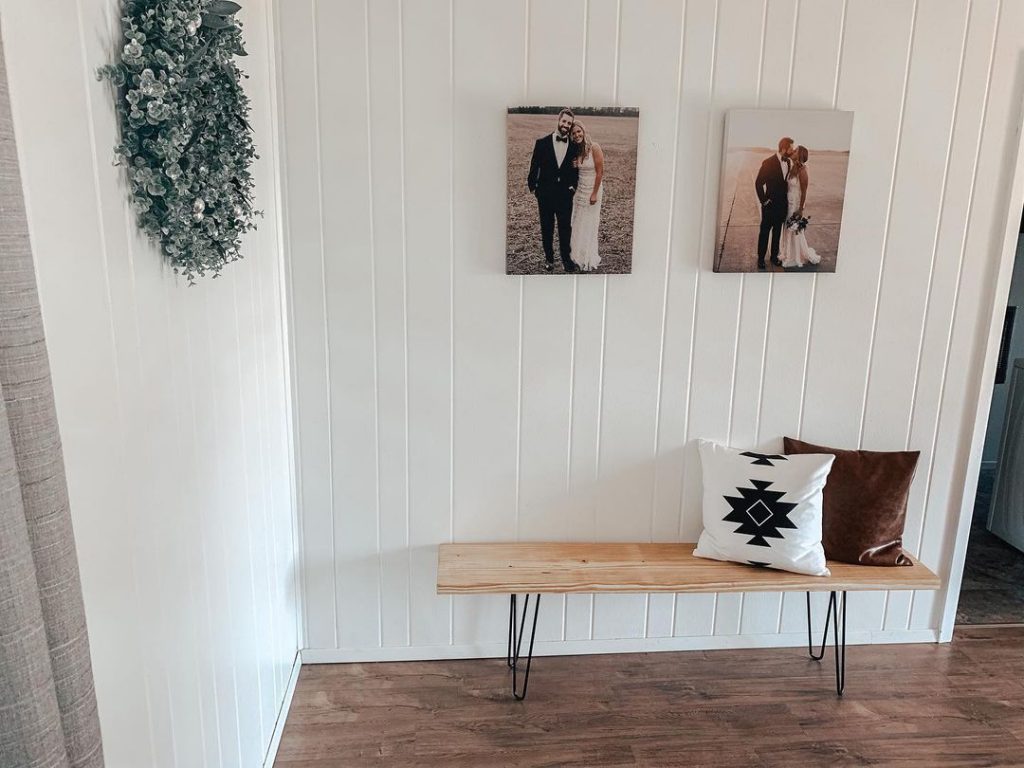 Source:  homewithmommay
Here is a minimal, sleek DIY bench for designing a cozy corner. It has a beige, rectangular, textured plank with black hairpin legs that give an exquisite appeal. This statement piece would look amazing in your living room, entryway, or even your bedroom! Follow to this process to recreate one. 
27. Luxurious Patterned Bench with Fancy Legs
Source: homewithstefani
If you are looking for a cozy lounging space, this bench is just the one! The upholstered cushioned top placed on a sleek beige stand with designer legs looks very modern. The patterned upholstery adds a beautiful pop of color to the entire piece. And, this is a sew-free project, and you only need a few power tools! Check out the complete process here.
28. Stunning Outdoor Planked DIY Bench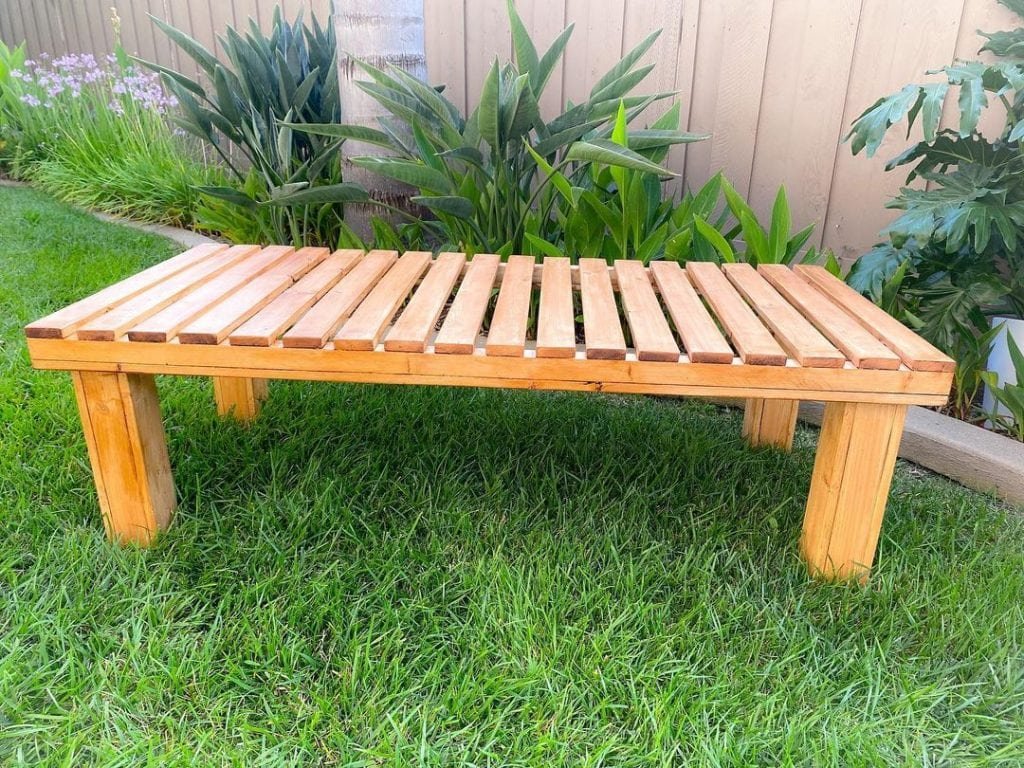 Source: julian_builds
This planked beauty is a budget-friendly project that will give you a sturdy DIY bench for under $25. The design has a rectangular frame with four thick legs. For the top, thin wooden planks are placed over the stand. It has a honey wood finish, and you can customize it according to the size and stain you like! Here is the video tutorial. 
29. Antique Pallet Wood Porch Bench
Source: cindyandfamilyyoutube
If you cannot find some furniture that matches your porch, recreate your own using this DIY bench idea. The sizing of the wooden bench is made according to the porch. It has a  dusty chocolate brown stain. The design is majorly planked and comes with an armrest and a back support. It's going to be a very comfortable and inviting piece in your porch area. Here is the process to this DIY.
30. DIY Mudroom Mantel with Crate Storage
Source: hometown.homes
Give your mudroom an organized feel with this DIY bench. It has a compartment style base with a beige rectangular top. The compartments have one crate, each placed in them for storage. This DIY uses the wall as back support. Place some cushions and other cute pieces for a homely feel. Check out the process here.
Also, read – 32 Cool Mudroom Bench Ideas To Help You Stay Organized
31. Stylish White Petite Textured Bench
Source: decor_and_adore
This petite textured bench is perfect for creating a welcoming and cozy corner in your home. The white paint with hints of exposed wood looks very vintage and aesthetic. It's small, neutral, and can be placed in any space against any backdrop. Finally, placing some chunky cushions on top adds to the coziness. 
32. Colorful Planked Patio Sofa
Source: myoutdoorplans
This low-height colorful, planked DIY bench looks very cute and stylish. The broad seating gives it a comfortable sofa look. The frame has spaced planks laid all over, which will have a cushioned seating. This bench is painted blue that makes it stand out and suitable for the kids' bedroom. You can experiment with the colors and size to create your masterpiece! Check out the design plan here.
33. DIY Modern & Gorgeous Bench cum Shoe Rack
Source: isdabesss
I can't believe this stunning design is a DIY made under $20. It's a beautiful bench cum shoe rack made using pine wood. The design has an irregular S-shape, which makes it such a unique and statement piece. It has a bright wood finish and two tiers to store your footwear! Place this in the entryway for a comfortable and organized welcome! Here is the design plan.
We hope these ideas inspired you to add this tiny piece of furniture to your home as well! It can be colorful or basic, textured or polished, long or wide, small or large, and almost any design you like. These ideas are very diverse and can be placed in any part of your home. So do give them a try and create your own 'comfort zone'! 
If you loved these ideas, you can use the Pin image below and save this article on your 'DIY Bench Ideas' Pinterest board.