Did you know those pallet scraps lying in your store could be your next gardening option? You might not see it the first time you look at them, but trust me, you can really create stunning DIY pallet planters.
Also, pallet gardens are very appealing, making them perfect for adding a natural and fresh touch to your home garden. Here are some unique and beautiful pallet planter ideas for herbs, flowers, or vegetables that will inspire you to upcycle a pallet into a charming garden! So get ready to learn all you need to know about – how to make a plant stand out of pallets.
You may also check our other related posts –
28 Beautiful & Unique DIY Planter Box Ideas
30+ DIY Plant Stand Ideas for Indoors & Outdoors
35+ Aesthetic & Cute Hand Painted Flower Pots For 2023 ​
1. Vertical Shelved Pallet Garden
Source: pallets.movies.lindos
It's time to organize those tiny pots on your balcony and save some space on the floor for you to relax. Try this beautiful vertical pallet garden that can be hung on your balcony wall. It comes with tiny matching shelves for displaying adorable, small plant pots. The stain is textured beige that looks very modern in any setting!
Read – 41 Unique Indoor Plant Wall Ideas For Big And Small Spaces
2. Connected Crates Plant Display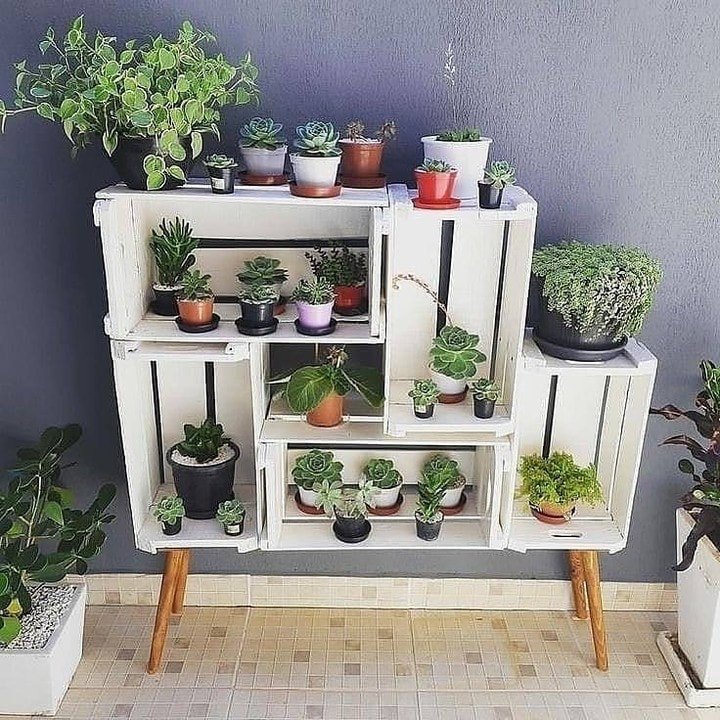 Source: pallets.movies.lindos
Have some wooden crates lying around the house? Well, grab them to create this super creative DIY pallet plant stand. The rectangular crates are attached horizontally and vertically to create an abstract structure. Four wooden legs are connected to this pallet structure, and tiny potted plants are displayed inside the crates. It's a straightforward DIY that looks unique.
3. Three Tiers of Nature Pallet Planter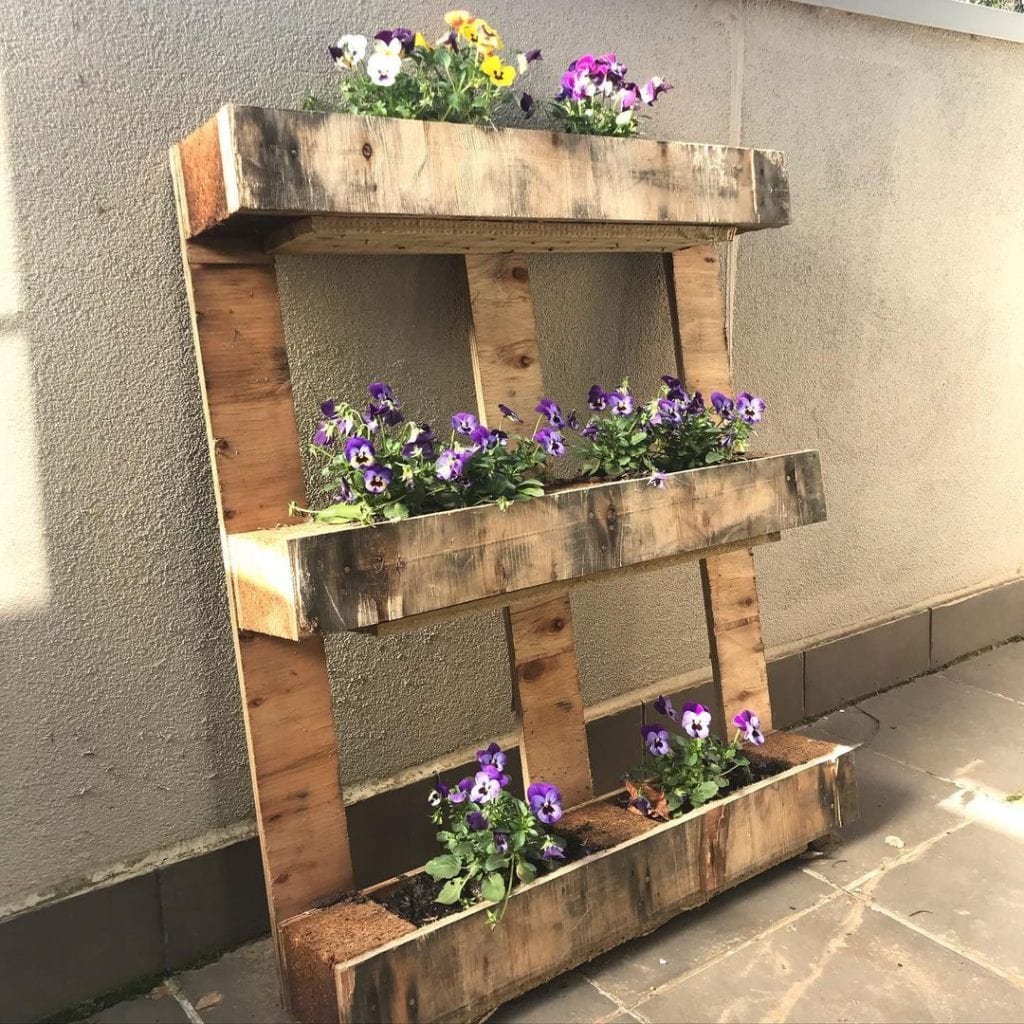 Source: ali44444
I love the weathered effect of these pallets, along with the bright colors of the flowers. This pallet planter has three tiers made using rustic wooden pallets. Each tier acts as a planter box for growing flowers, herbs, etc. The dark burnt texture gives the piece a very antique look.
4. Hanging Farmhouse Pallet Garden
Source:  nicamstergram
Here is a pallet planter that would help you save tons of space and money while fulfilling your gardening hobby! This idea has three long pallet boxes with circular cutouts. These hollow spaces are used for placing potted plants. And the planter is hung on the wall using a thick jute rope. It has a very farmhouse style appeal.
5. Elegant & Classy Planter Boxes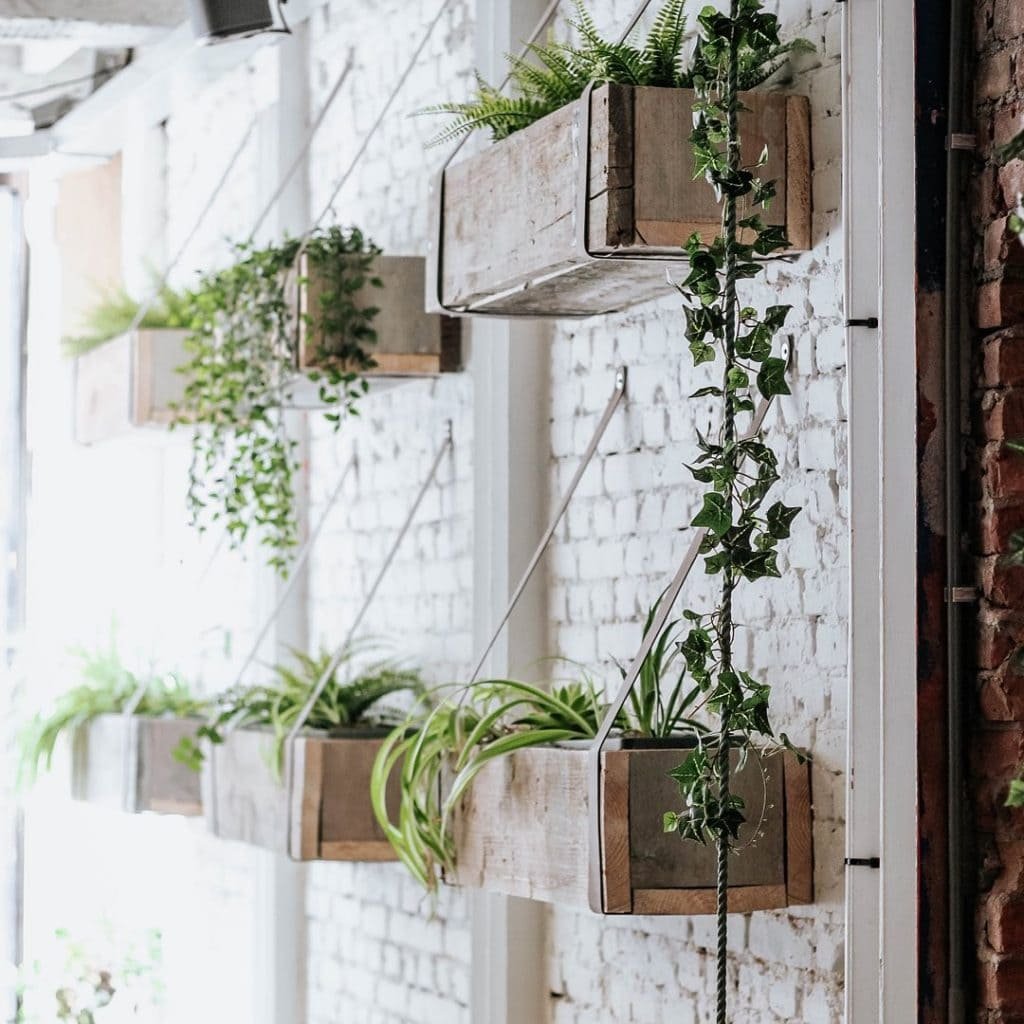 Source:  palletman.co.za
I love how stunning these tiny pallet garden is. It is a display of six individual planter boxes attached to the wall using jute strings. The uniform look of this design makes it very modern and classy. Also, it gives each plant equal attention while enhancing the look of your outdoor walls.
6. Gorgeous Grey Pallet Plant Stand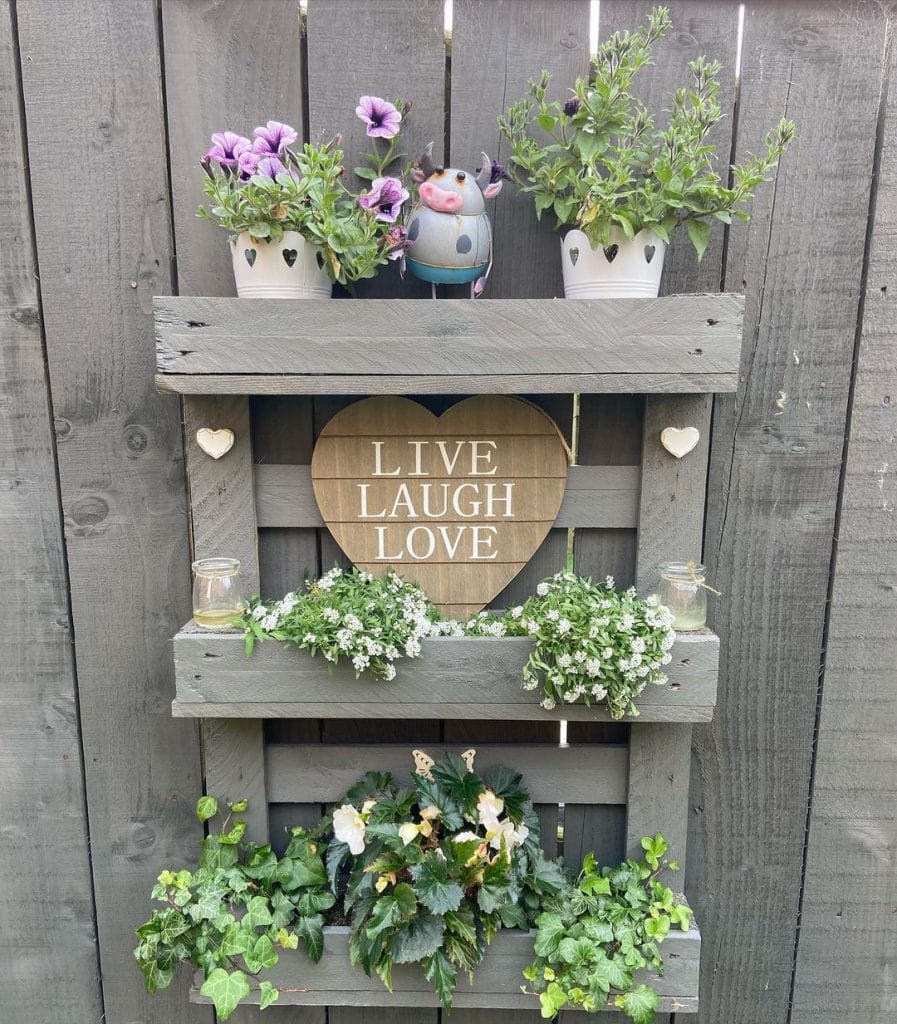 Source: cassidy_house22
This pallet garden is a simple yet appealing DIY that you can recreate in a few simple steps. Recycle some scrap pallets and create a similar frame, as shown above. You can add or subtract the number of shelves you want in your planter. Paint it roughly in grey and hang it up on the fence/garden wall.
Also, read – 20+ Pallet Fence Ideas That Anyone Can Build
7. Bright and Beautiful Pallet Planter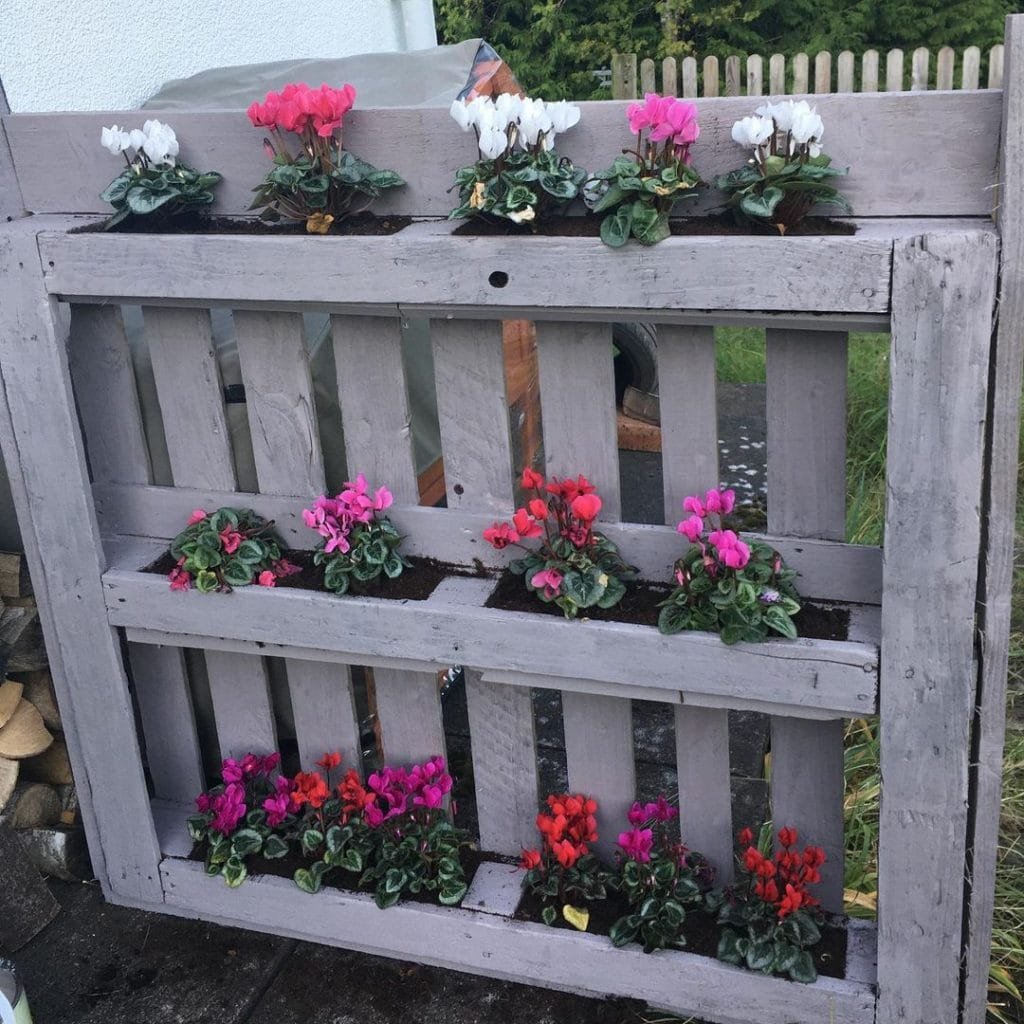 Source: beccascotland
Use an old pallet frame to recreate this gorgeous DIY pallet garden. All you have to do is attach three deep shelves to the structure and paint it all in a bright grey color. Fill the boxes with soil and tiny floral plants, and voila!
8. Tall & Colorful Planter Rack
Source: secret_garden_web
Enjoy having tons of plants in your garden without covering much space, using this idea. This pallet planter idea has a tall, five-shelves structure and is painted in bright blue. Each shelf can store around three small plant pots while giving them sufficient space to bloom beautifully!
9. Reclaimed Wood Pallet Pot Plant Stand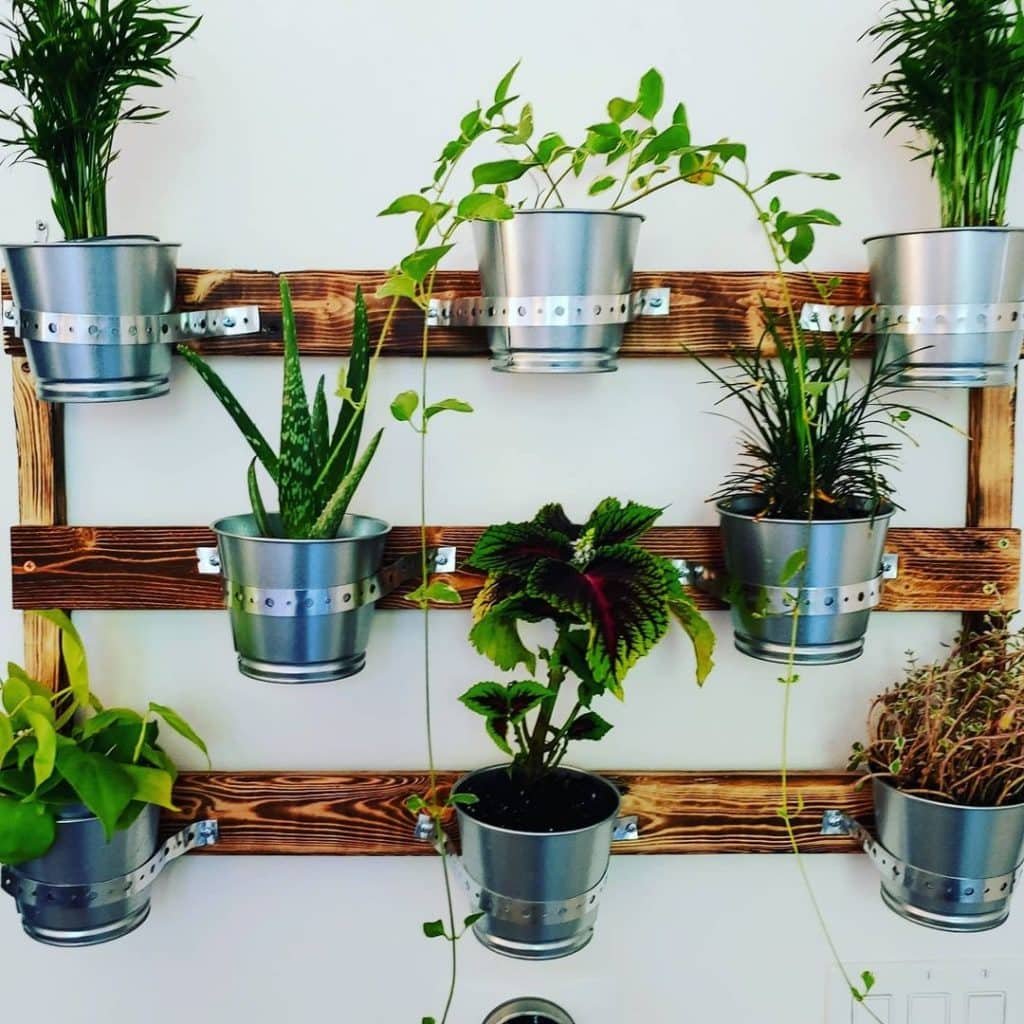 Source: madera.and.macrame
This textured wood plank frame is an attractive way to display your potted plants up on the wall. This DIY pallet plant stand is perfect for indoors due to its elegant look. The layout has three thick planks with steel pots screwed on them. This lovely combination of wood and steel gives it a rustic and modern look.
10. Stunningly Stepped Pallet Garden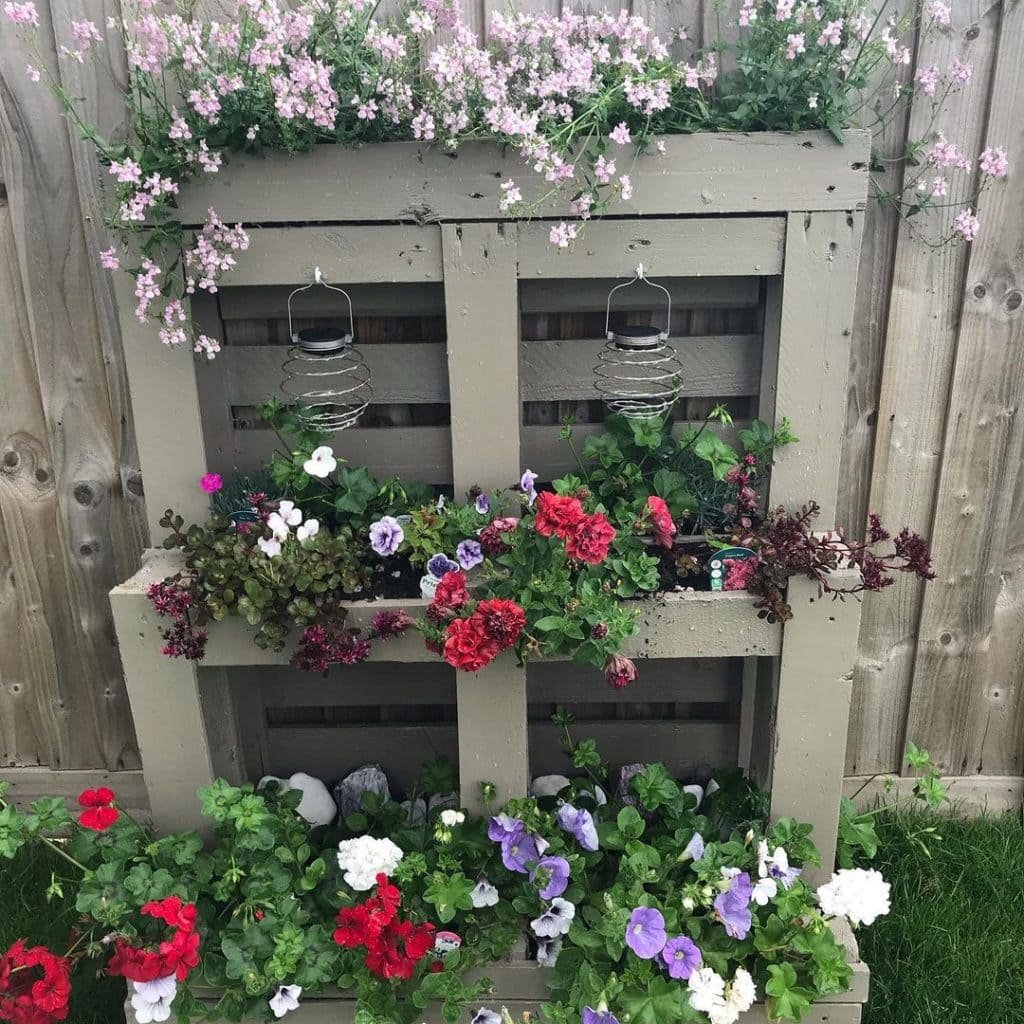 Source: hortihenley
Here is another pallet frame DIY planter, but with larger shelves at each tier. The topmost is narrowest and goes to the bottom broadest one. This plant stand made from pallets is perfect if you want to display different sizes of plants or different varieties from florals to herbs, etc.
11. Dark Wood Hanging Planter Box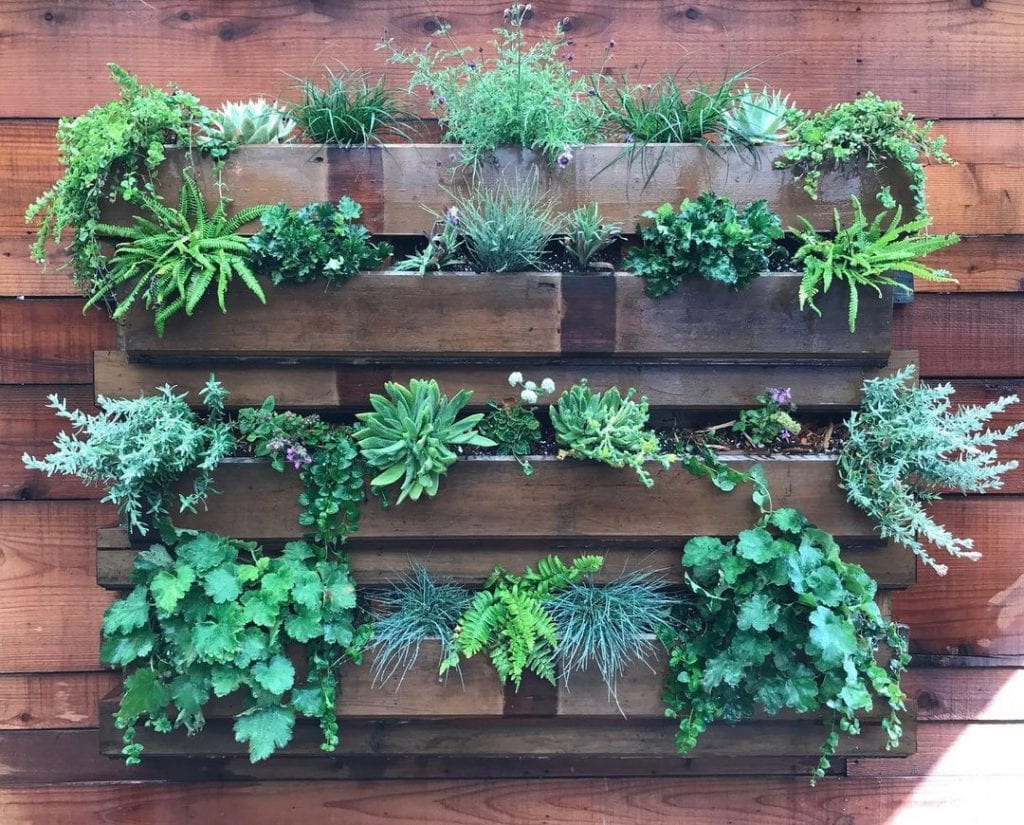 Source: cnl_native_nursery
I love the chunky and dark look of this pallet planter box. It has a creative and distinctive style with four levels built together without much space in between. The dark stain gives it a very modern, classy appeal and draws attention to the fresh, green plants inside.
12. Creative Pallet Herb Garden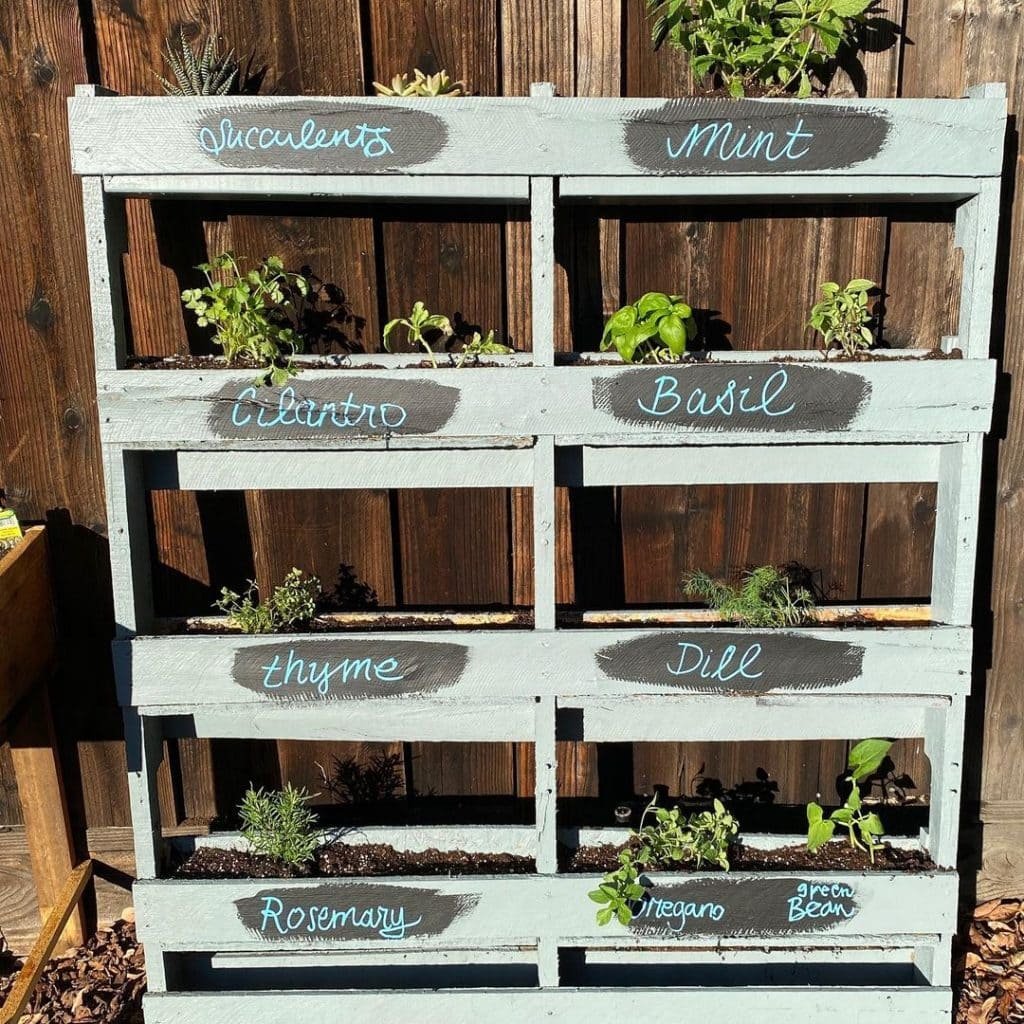 Source: mleatz
It's time to start a small farming project with this pallet planter garden. You can use this adorable idea for growing multiple herbs together. The frame has four levels, each divided into two halves, giving you a space for growing eight types of plants. I like that it's vertical and saves a lot of space.
Read – How To Create A DIY Herb Garden at Home – 3 Easy Steps
13. Modern White Garden Wall Planter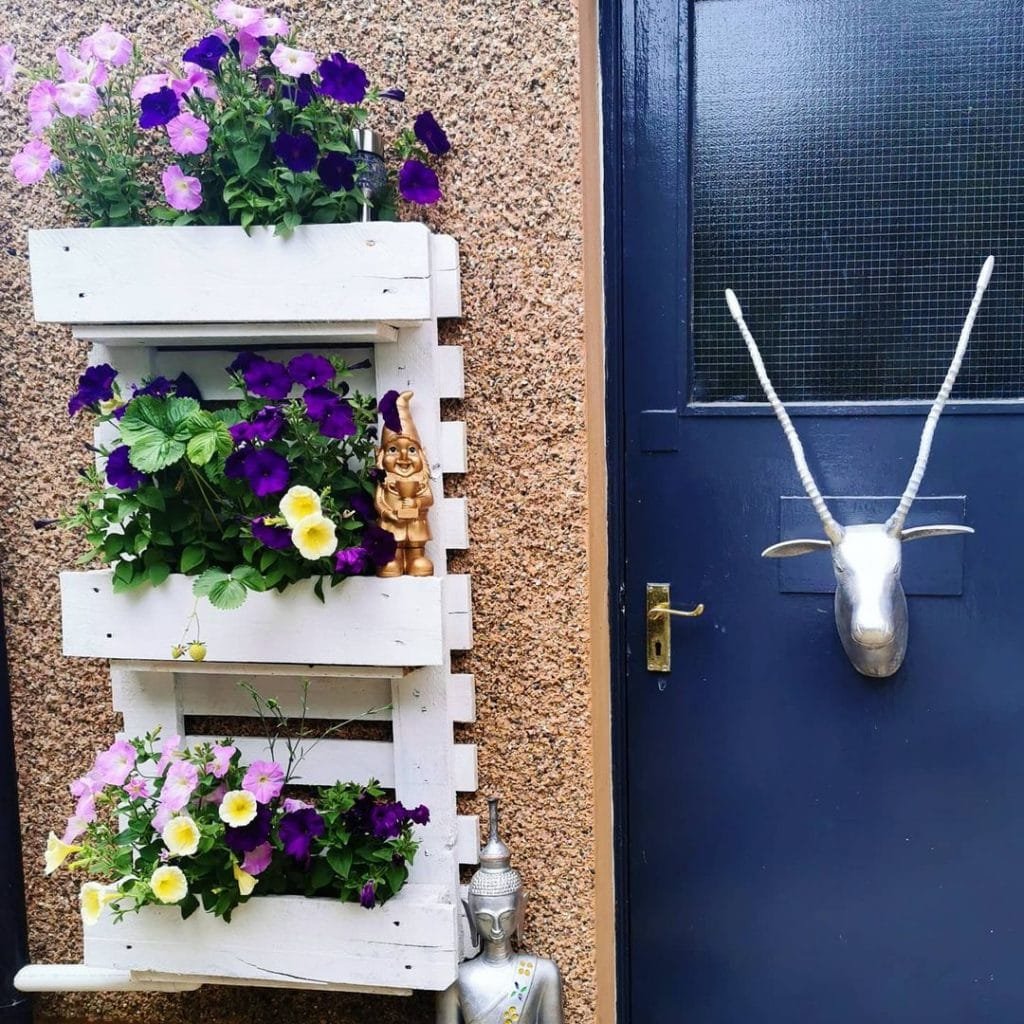 Source: shes.electric
Give your backdoor or entrance door a fresh and welcoming look by adding this tiny, adorable pallet plant stand. It's small and vertical and complements your entrance perfectly due to its white color. Fill this with tons of colorful flowers, and voila!
14. Home Grown Pallet Herb Garden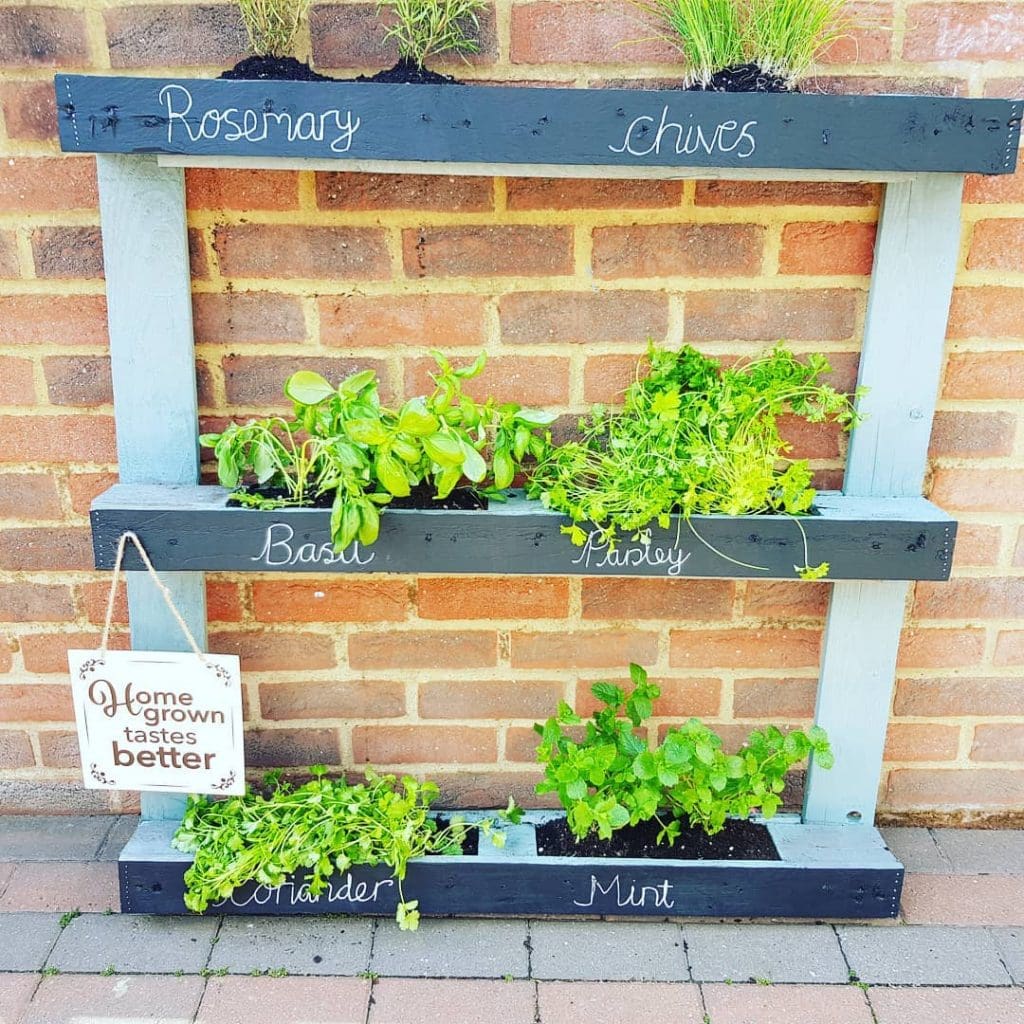 Source:  prestedge2013
Here is a sleek and minimal pallet planter design, perfect for some homegrown fresh herbs. The use of light and dark blue tones beautifully compliments the green leaves. This herb garden has three tiers, each with two sections for producing anything from rosemary and basil to coriander and mint.
15. Rustic Black Pallet Planter Shelves
Source: jo_fielding61
Add a charcoal black touch to your garden wall using this pallet planter. It is a classy and chic home for your bright floral plants. It has narrow and deep shelves for tucking the plants in perfectly. You can randomly fill it in or use different sections for different flowers.
16. Colorful Hanging Pots Pallet Ladder
Source:  novamirrorimage
This pallet planter design uses neutral tones and combines them with colorful plant pots for a spectacular result. It is a tall, vertical planter with six levels. Each potted plant is attached to the planks using a steel ring. The rack has a rustic, textured finish and a rough cherry stain.
17. Stacked Chalky White Pallet Planter
Source: emmawakefield107
Give your succulents or other tiny plants a neat and organized spot using by using pallet planters. This style uses a three-tiered wooden rack painted in bright white. It has a textured finish that is perfect for outdoor spaces. You can use the shelves for displaying potted plants or for growing plants in them.
18. Pastel Blue Aesthetic Wooden Pallet Plant Stand
Source:  ami_elizabeth_holland
This horizontal pallet planter is a modern and aesthetic wall garden for your garden. It is a three-level piece painted in pastel blue, which looks appealing. This is a bright and adorable idea to have a wall display for your gorgeous floral plants.
19. Tiny Pallet Flower Garden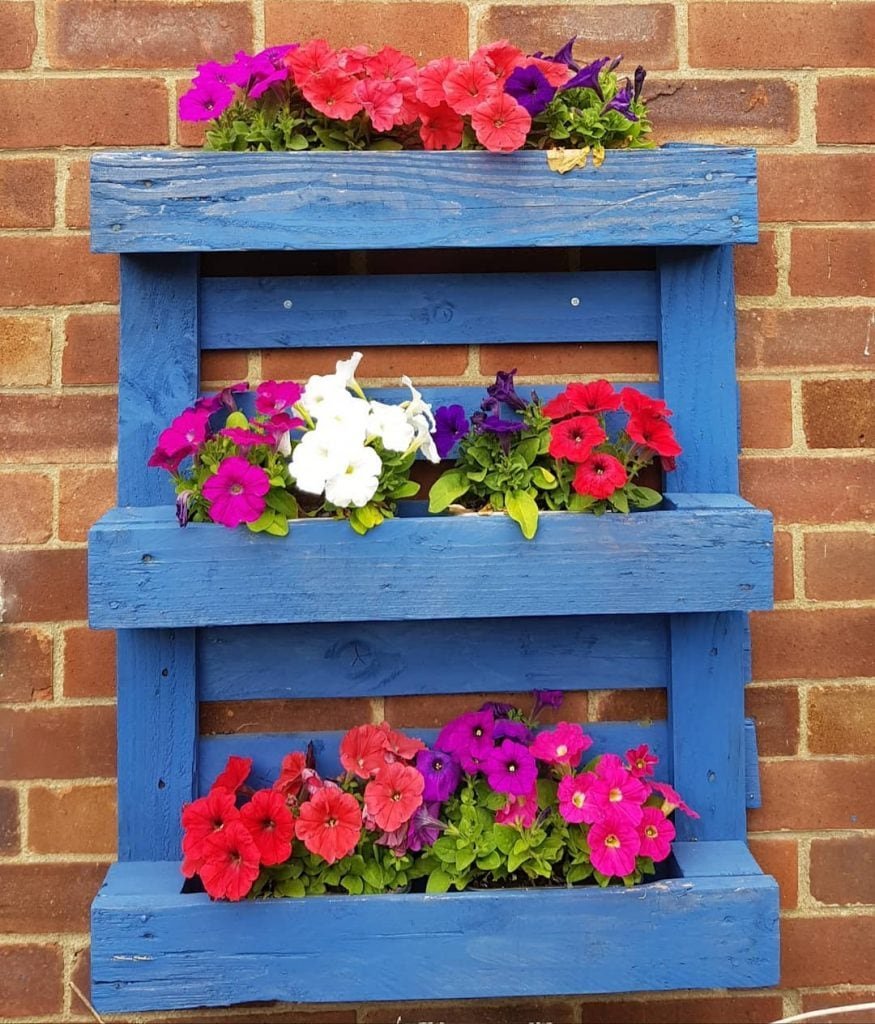 Source: watsonlisaj
Here is a tiny, space-saving option for smaller outdoor spaces. It is a compact yet gorgeous addition to your garden wall. The bright blue pallet planter is a stunning frame to display your floral plants. This is an easy and quick project for you to recreate!
20. Vintage Vibe Pallet Plant Hanger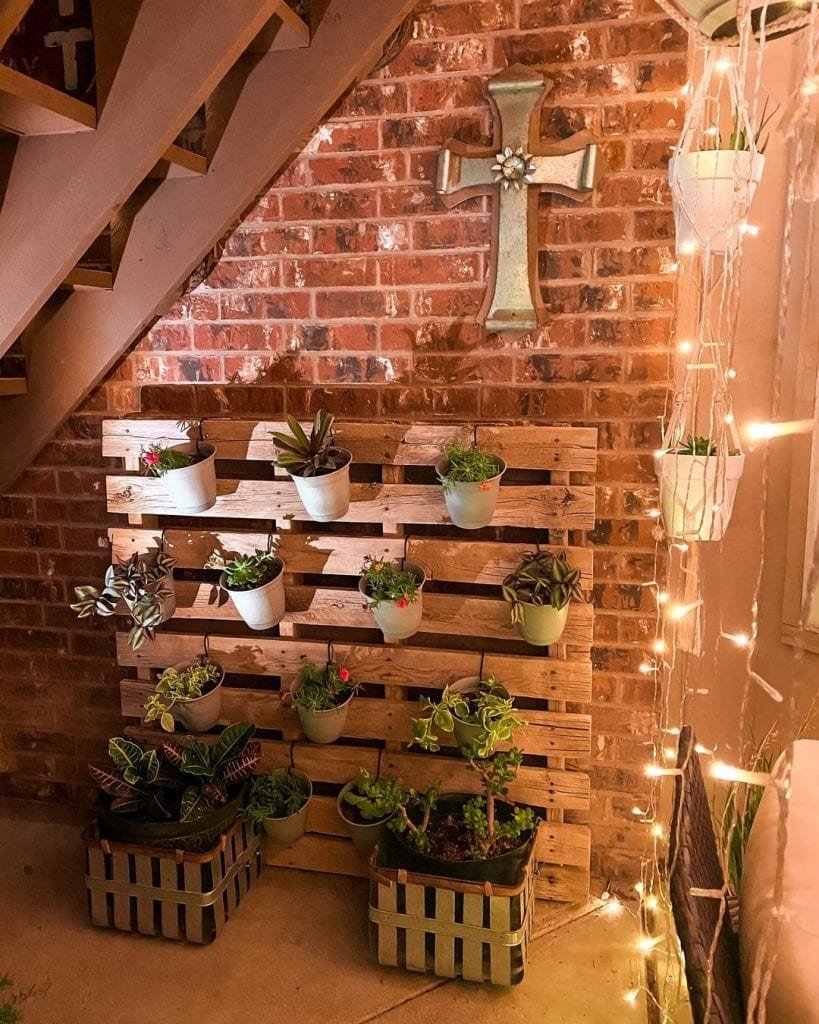 Source: milesformommy
I love the cozy, elegant vibe of this pallet planter. The design has a square frame with several horizontal planks nailed onto it. These planks are used for hanging tiny plant pots. It is a lovely and stunning design that is perfect for any space. You can also hang it up on any wall: from plain white to a red-bricked one.
21. Chunky Broad Herb Shelves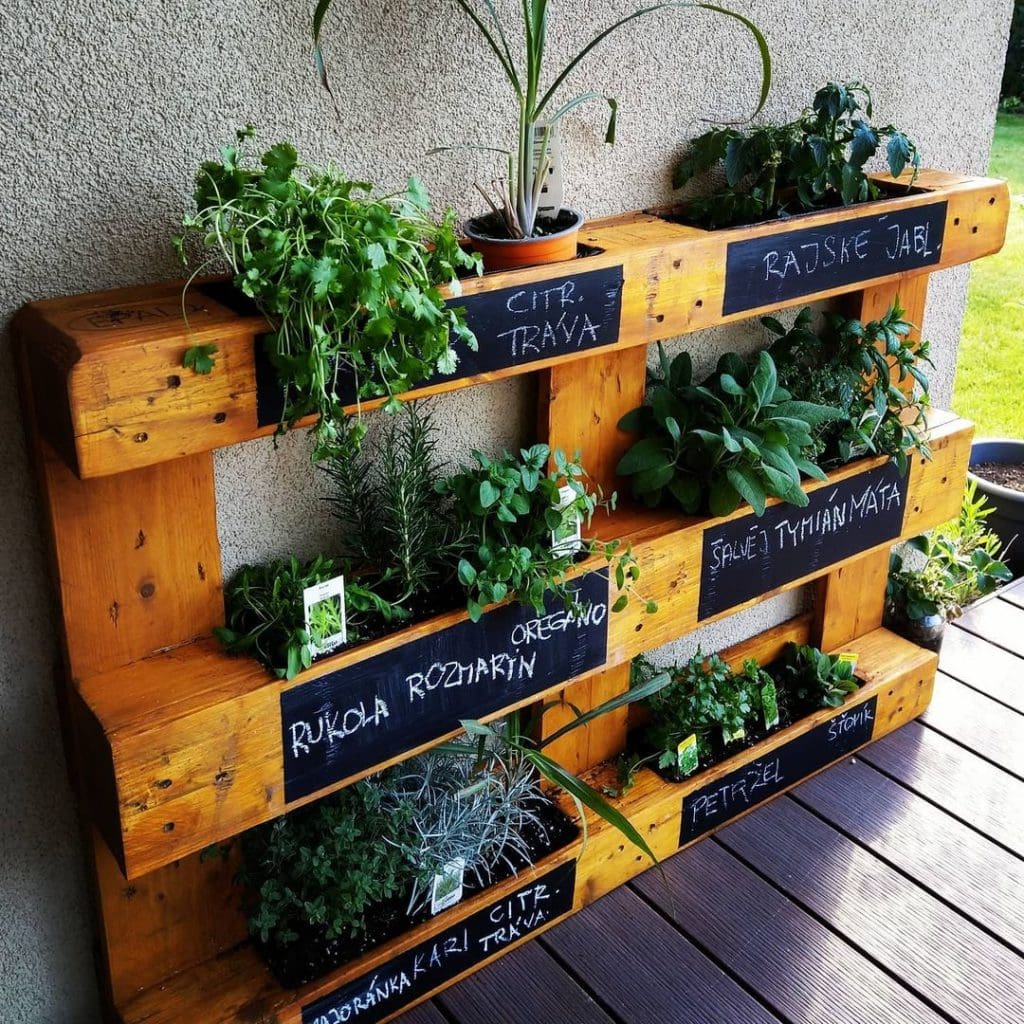 Source:  kacii30
Try out this honey-stained, chunky pallet planter. It has three wide shelves with two sections each. You can customize the height and sections depending on the number of plants you want to display. You can use this design to grow plants directly and display potted plants as well.
22. Camouflaged White Pallet Shelves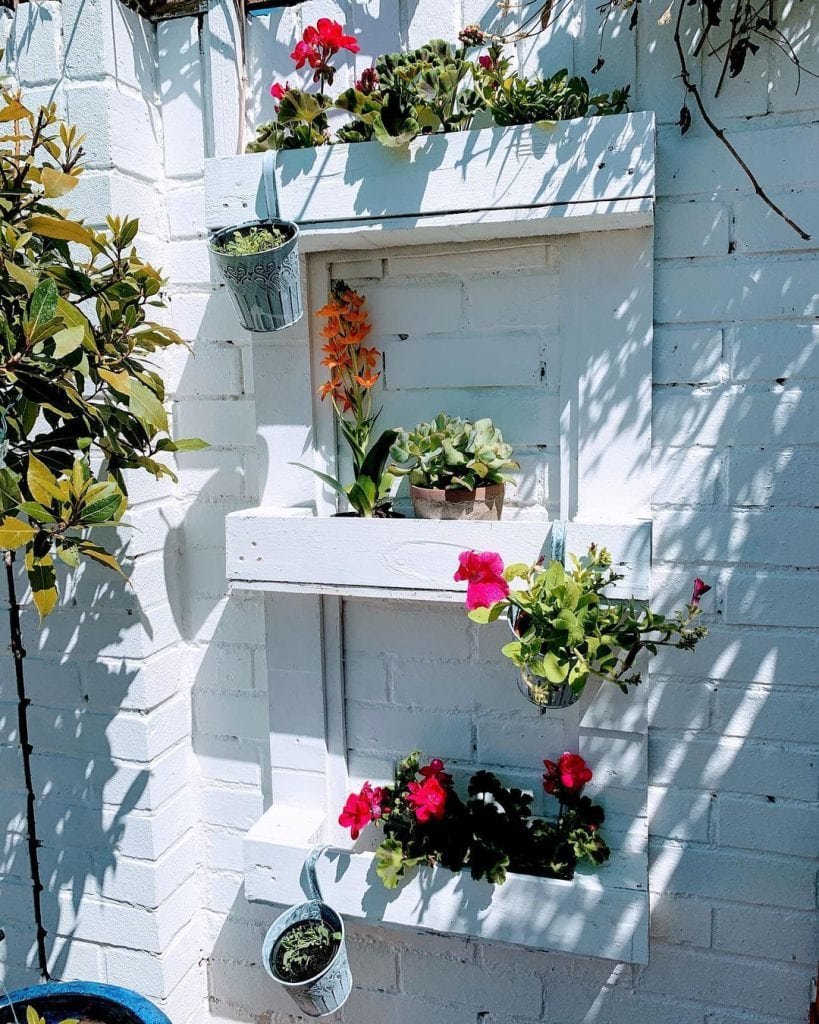 Source: bungalowsandhighs
I like the sleek look of this bright white pallet planter. It has a long vertical structure with four narrow shelves. The shelves are spaced well, allowing you to grow tall plants as well! And the beautiful white is perfect for highlighting your green or floral plants elegantly.
23. Floral Vertical Pallet Planter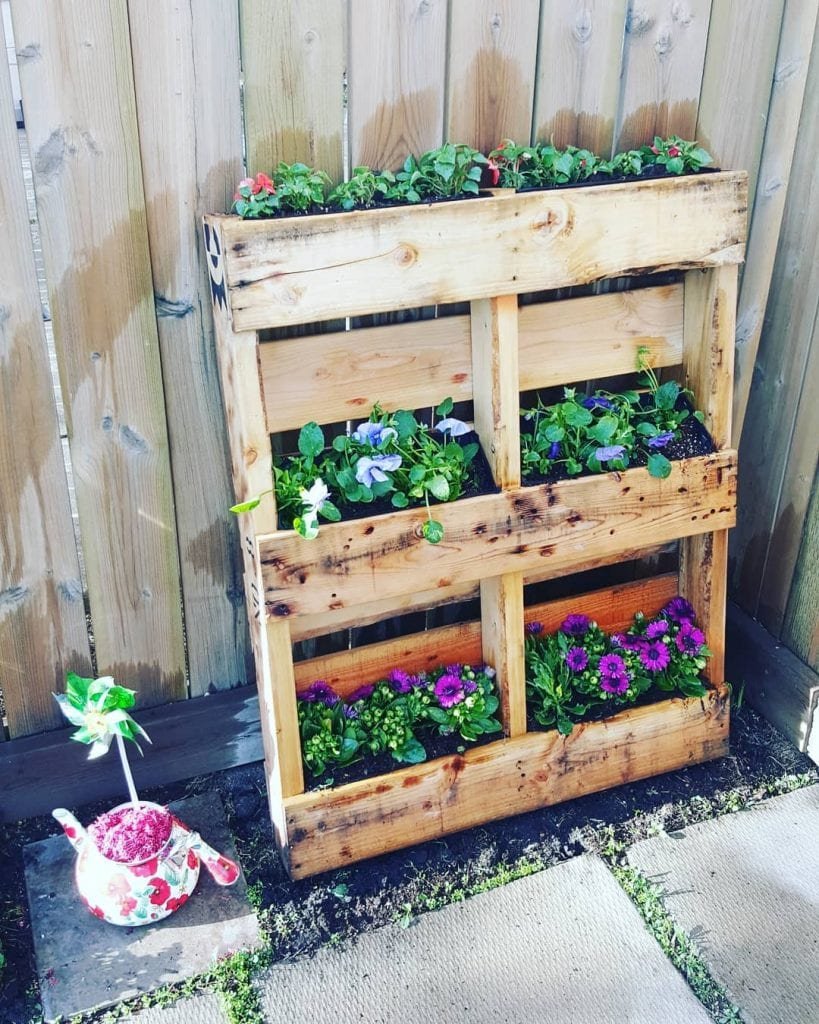 Source: albertanfox
Here is a rustic, weathered pallet garden area with a lot of space and multiple levels to grow your favorite plants. It is excellent for displaying floral plants as well as growing some herbs. You can lean it against the fence or hang it up as the textured finish looks aesthetic anywhere.
24. Fresh Green Pallet Pot Holder
Source: tinadp67
Why leave your wooden pallet planters dull and boring when you can experiment with any bright color of your choice? Try this idea for some inspiration. It uses bright green paint over the pallet frame that beautifully complements all the nature stored in it!
25. Muddy Brown Pallet Planter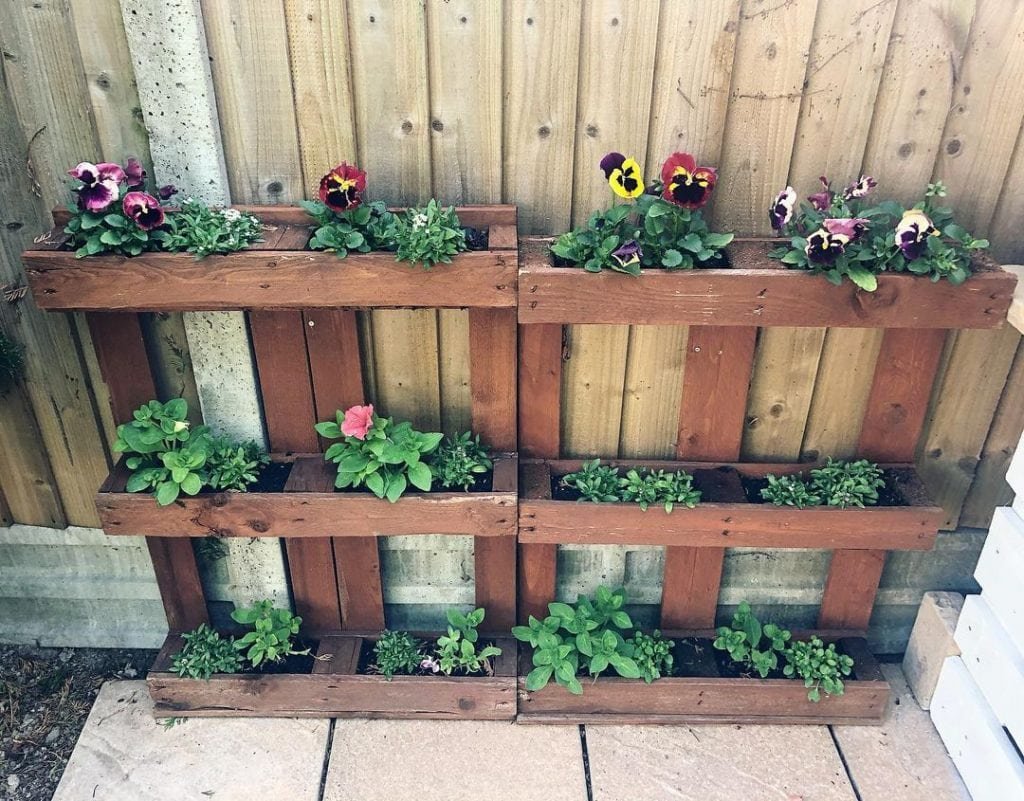 Source: gemmakneale
Wood stains have their own vibe and elegance, as in this idea. It uses a pair of pallet frames with three levels each. The design is compact yet spacious and has a choco-cherry stain. You can use one level for floral plants and the rest for herbs or customize it any way you like!
26. Textured White Pallet Frame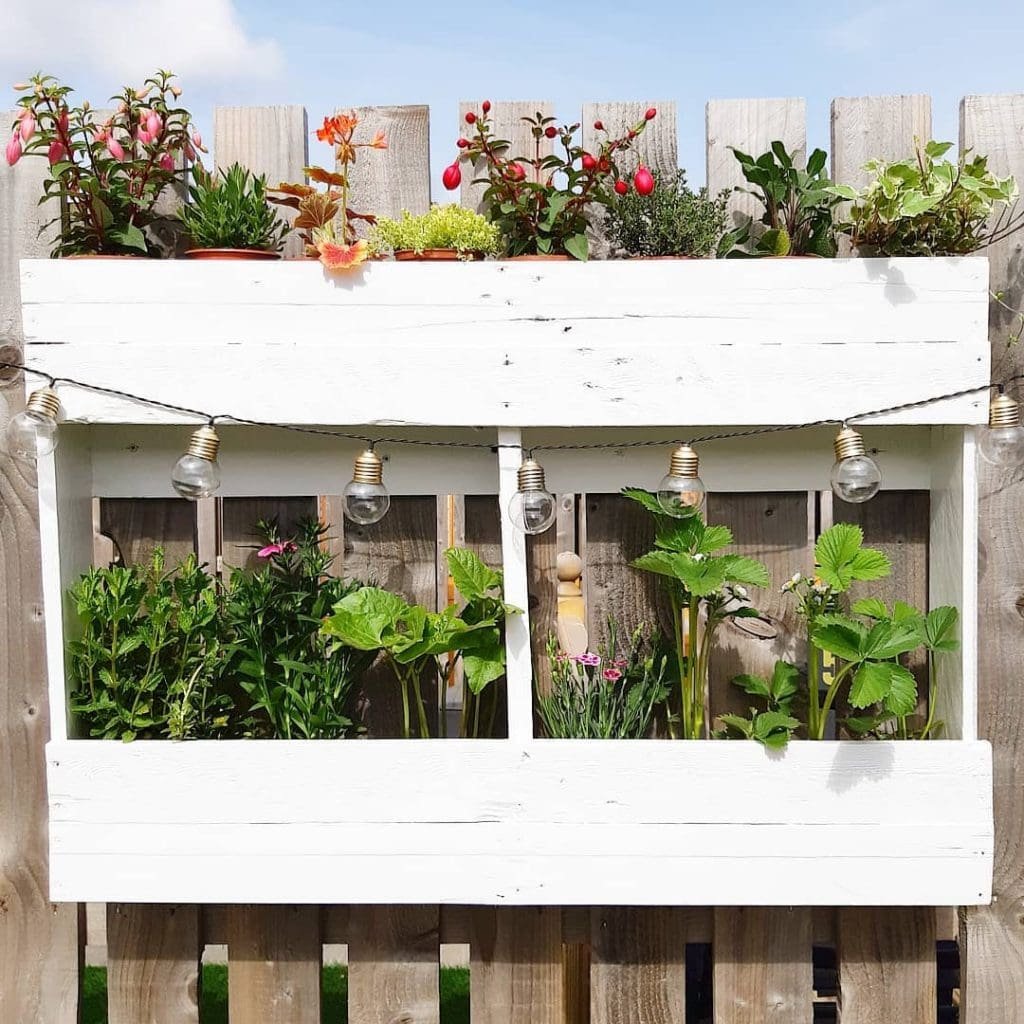 Source: oxsteohgxo
I love the aesthetics of this wooden pallet planter. It looks modern and adorable against any background, from fenced or bricked walls to even a plain white one.  It has tall sections that allow you to grow a wide variety of plants, and the white makes them pop out beautifully!
27. Patterned Yellow Pallet Planter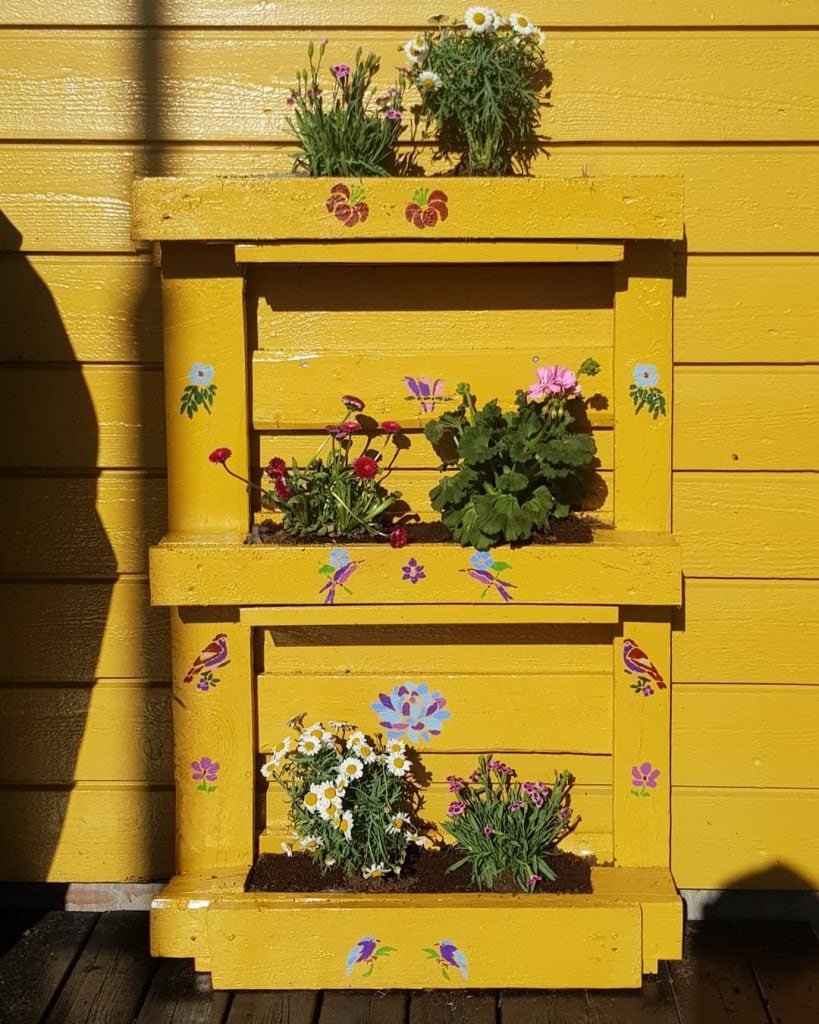 Source: drmarije
This pallet planter idea is perfect for adding a bright and sunny touch to your garden with its stunning yellow color. The pallet has tiny floral prints on it that look very adorable. You can grow floral plants or herbs in it and customize the size accordingly.
28. All Black Wooden Planter Frame
Source:  succulents.and.sunflowers
I love the dark and rustic look of this pallet garden. It has a textured finish and rough edges that give it an antique character. It is a perfect space saver due to its vertical structure. This design is easily buildable and looks very quirky.
29. Beige Pallet Lush Plant Wall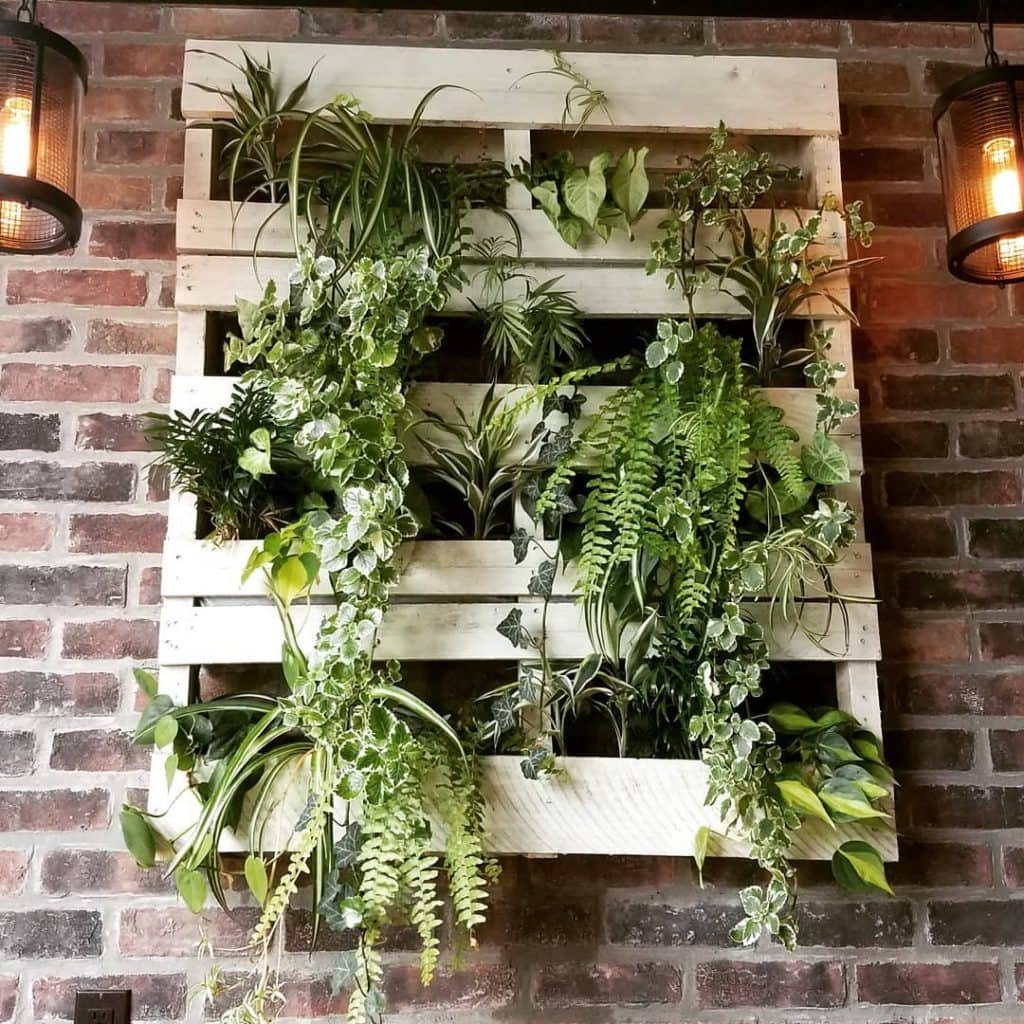 Source: daisies.and.dahlias
This pallet planter has a classy bohemian look to it, along with tons of space to store your plants. There are four shelves in the structure with a light beige stain. It looks very appealing and classy hung on any indoor or outdoor wall. It's a straightforward and easy DIY project that you can recreate quickly.
30. Recycled DIY Pallet Planter Frame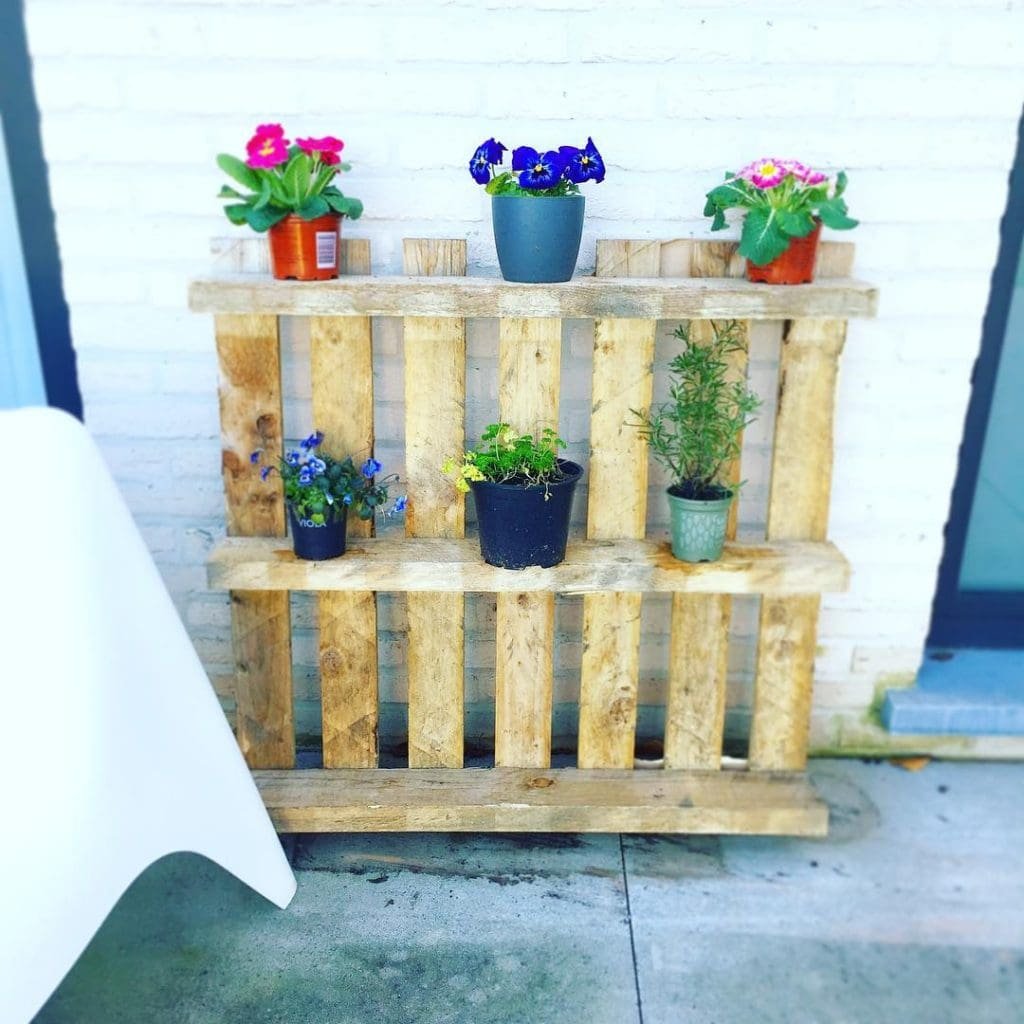 Source:  proverbialdaisy
Recycle any waste pallet frame to recreate this adorable planter. The weathered look of the wooden planks looks very rustic. It has three levels that allow you to display a lot of tiny plant pots. The placement of planks horizontally and vertically looks very modern, and adding some lovely floral plants makes this a statement piece.
31. Matte Red Pallet Planter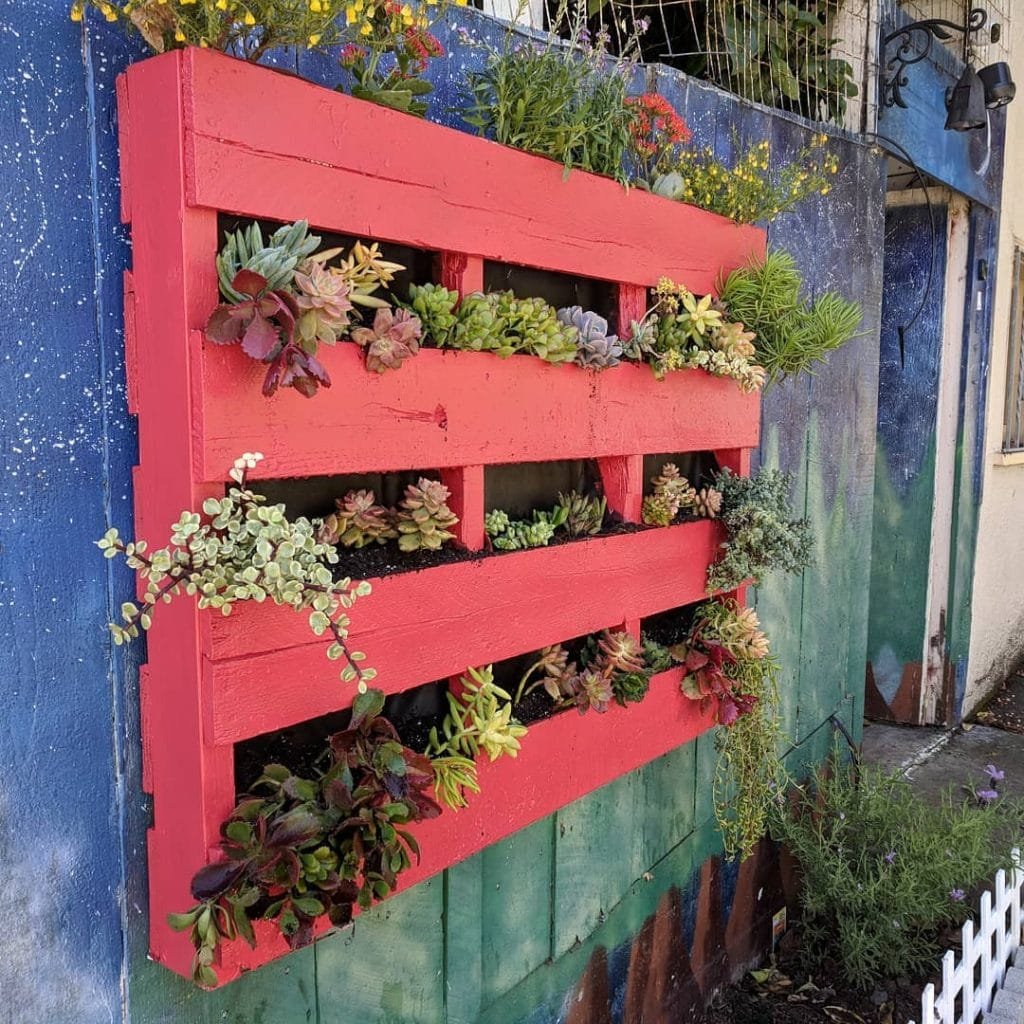 Source: kita_crafts_n_things
Dip your pallet frame in some bright red paint to reveal such unique and quirky pallet planters. The wood has a textured finish and rough edges that complement the natural environment beautifully. And the placement of floral plants on the top shelf followed by succulents and other tiny plants makes this an appealing piece for your home's outdoors.
We hope you try some of these ideas and make some classy additions to your garden space by reusing pallets. Pallets are a versatile material for creating such DIY projects that transform your garden walls/spaces completely. Pallet plant stands are the perfect way to give your tiny plants, especially the floral ones, an equally lovely home!
If you loved these ideas, you can use the Pin image below and save this article on your 'DIY Pallet Planter Ideas' or 'Pallet Plant Stand Ideas' Pinterest board.