Looking for a way to organize all your potted plants or looking for a home for your new plants? Here are some fantastic and unique DIY planter box ideas that are a collection of short to tall, hanging to tiered, bench planter box to address planter box, and many more.
By the end of this roundup, you will indeed have inspiration to make your planter boxes. There are some exceptional ideas as well, like the wooden boxes placed over the fence and DIY wall succulent holders. Keep reading for some exciting ideas along with the tutorials for recreating them.
Here are some other DIY projects you should definitely check out while designing your home:
22 DIY Hanging Shelves and Decoration Ideas
17+ Macrame Wall Hangings and Patterns
35+ Aesthetic & Cute Hand Painted Flower Pots For 2023
1. Basic DIY Planter Box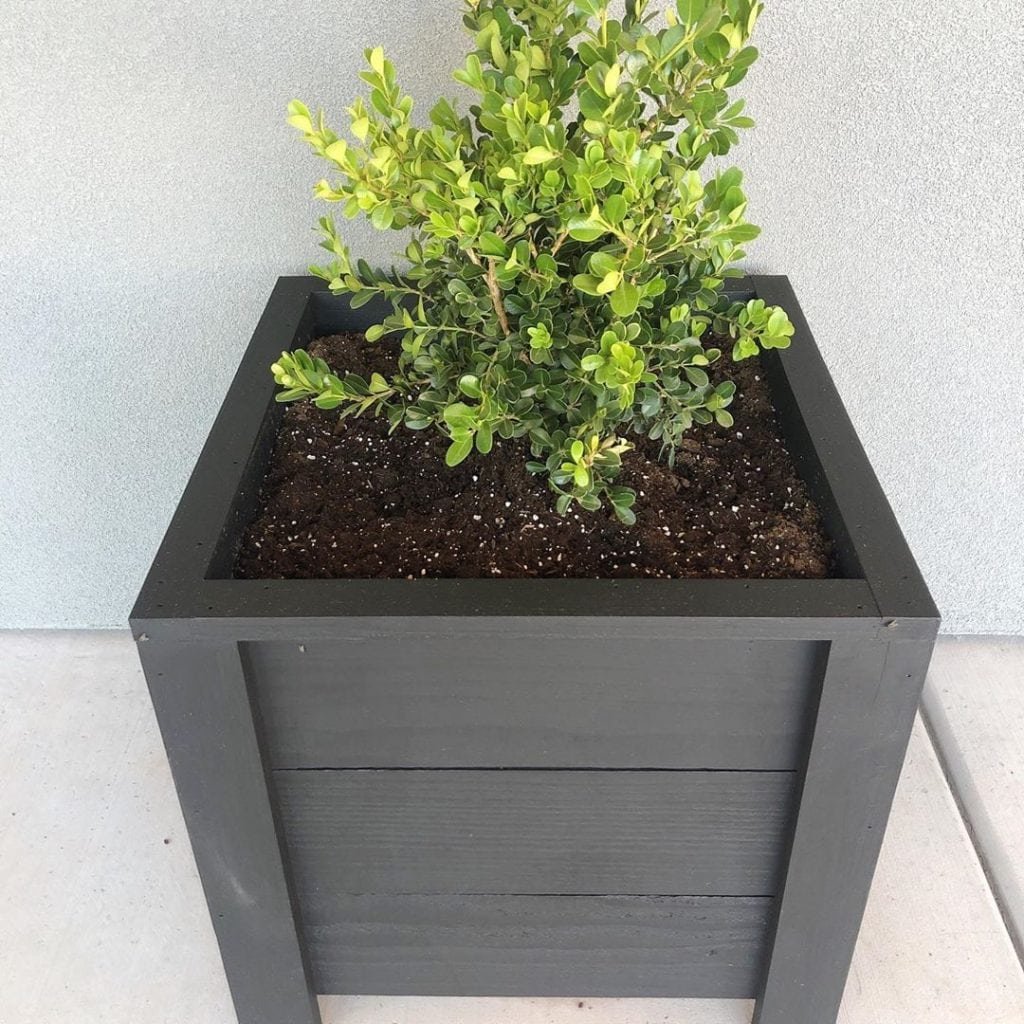 Source: thegraymodernfarmhouse
We are starting our list with this basic DIY planter box that has a simple modern design. It is perfect for front porches, decks, indoors, or adding a structure to your outdoor space. They are customizable by using any paint/stain of your choice. This design does not require any fancy tools and is built with cedar fence pickets, which are rot-resistant and pocket friendly! Here is the tutorial on how you can make one.
Read – 30 Stunning Porch Roof Ideas to Transform Your Outdoor Space
2. DIY Pine Raised Planter Box
Source: timberandtea_
I love how modern and chic this raised planter box looks. It is easy to make and is broken down into a two-phase process. First, building the wooden planter box and second, making a stand for a raised look. This DIY planter box is a unique statement piece that will surely be an eye-catcher in your garden decor or home entryway. Here is the complete tutorial for your reference.
3. Cedar Window Box Planter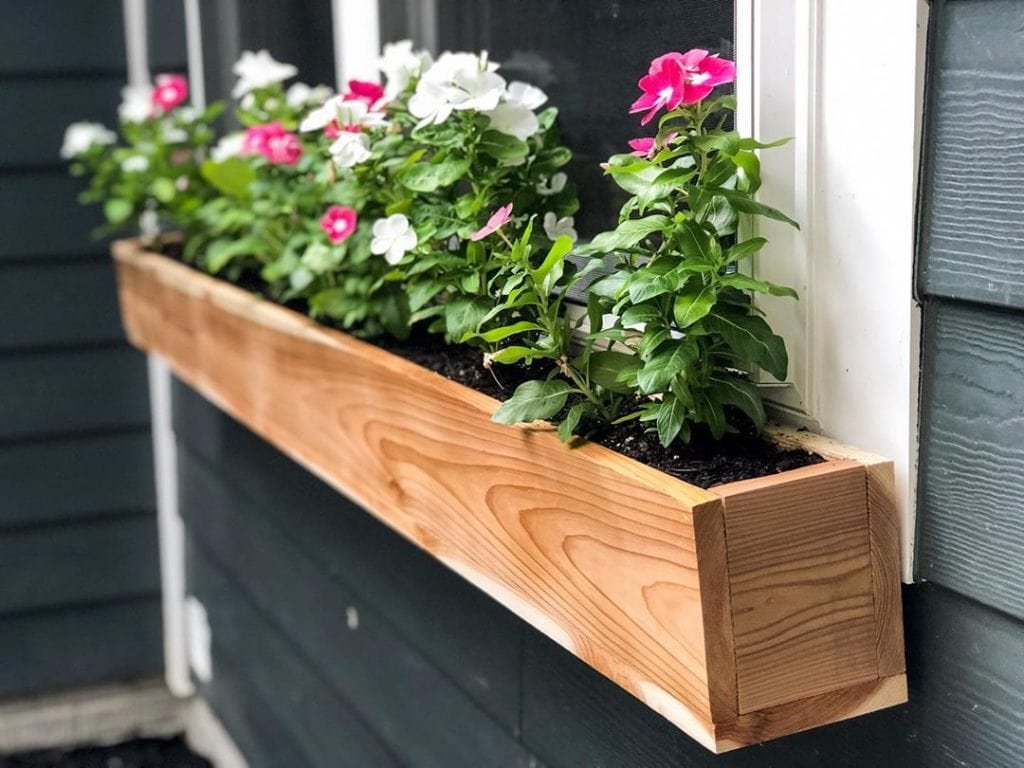 Source: loweryhousetohome
Here is a quick way to decorate your windows using a planter box. The idea is to attach a long,  rectangular wooden box along the base of your window and fill it up with plants/flowers. This adds a beautiful touch to the front of your house. The box is made using cedarwood, which is rot-resistant and will last a long time. This idea looks very adorable and is customizable in any way you like. Here is the link to the tutorial.
4. Sleek & Straightforward Window Planter
Source: castillotampahomes
Here is another sleek window planter box that is made using either cedar or cypress. The design is compact, stylish, and looks very modern. It is a quick and inexpensive way to decorate the exterior of your home. Once your planter box is up, it is your decision what you want to display. Flowers, succulents, seasonal plants, or any of your favorite plants would look lovely on this DIY planter box.
5. Modern Square DIY Planter Box
Source: kleinworthco
This modern square-shaped planter box is suitable for a variety of settings. This is a simple yet elegant design. It uses pallet wood, which gives the whole piece a beautiful texture. All you need to do is place a potted plant in the box, and voila! It is an easy DIY project that you can use to decorate indoors and outdoors.
Read – 30+ Stylish Pallet Planter Ideas for Outdoors & Indoors
6. Elegant Wooden Flower Box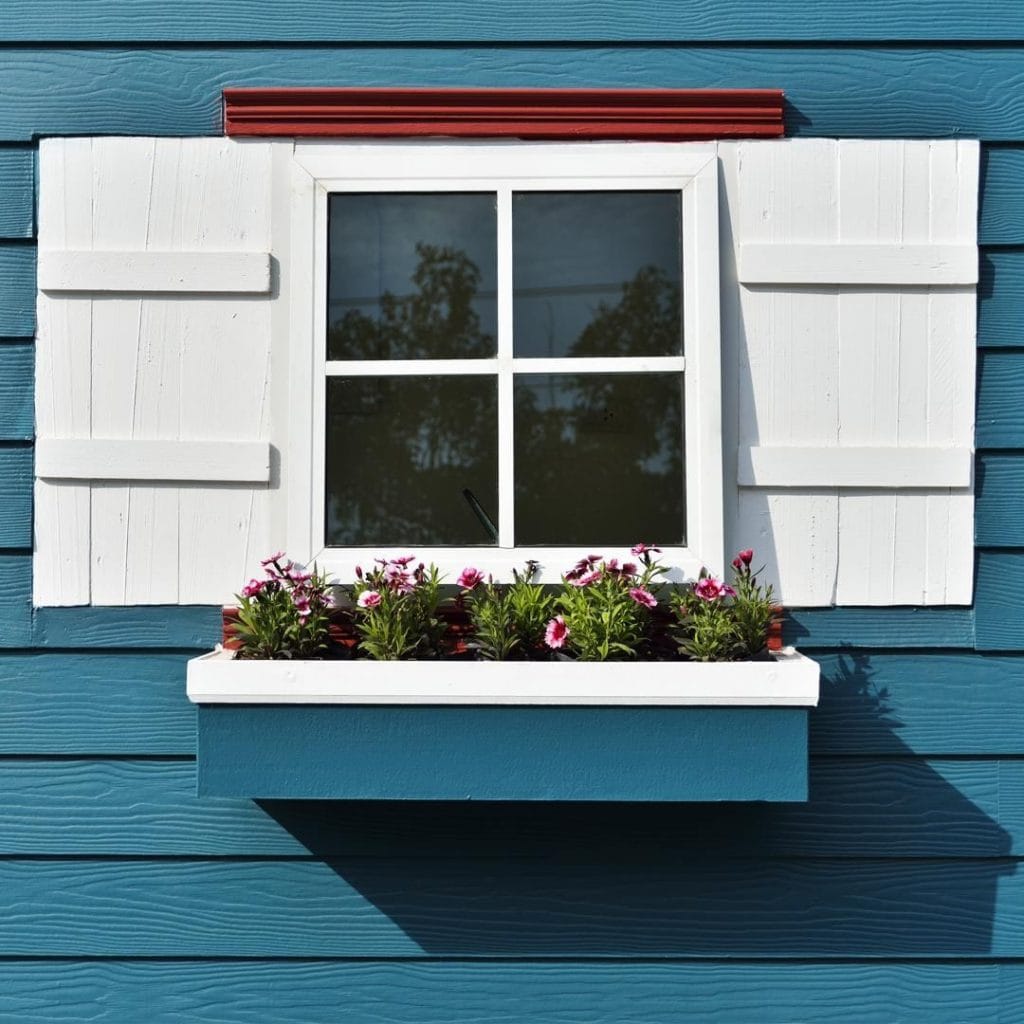 Source: nationalhrdware
Flower boxes are an effortless and beautiful addition to a home's curb appeal. They add a pop of color and a lovely fragrance. These wooden flower boxes are a cost-effective way of dressing up your windows, front porch, or even a walkway. This decor piece is evergreen; all you have to do is change the flowers according to the seasons. Here is a link to the instructions and tips.
7. Quirky Tiered Planter Box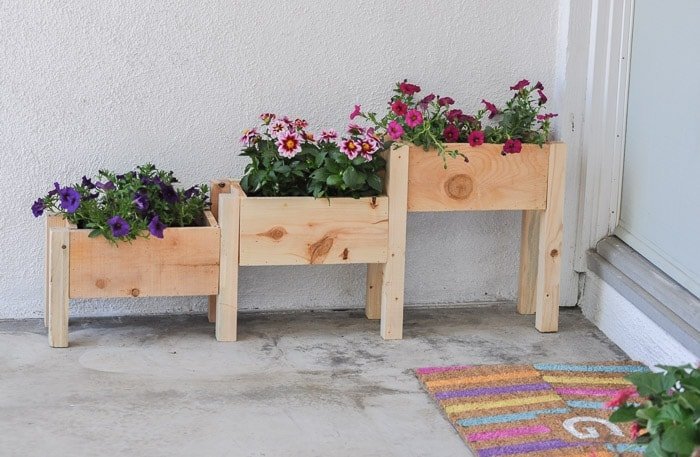 Source: Anika's DIY Life
I love the "standing" look of this DIY planter box, and guess what? You can recreate this idea in around two hours. This DIY is simple and inexpensive. It is a unique piece that will amp up your apartment or townhome front porch or decks and gardens. The light sand color is also a bright touch to the design. When filled with vibrant flowers, this planter is going to be a star decor piece. Follow this tutorial to make your own.
8. DIY Vertical Garden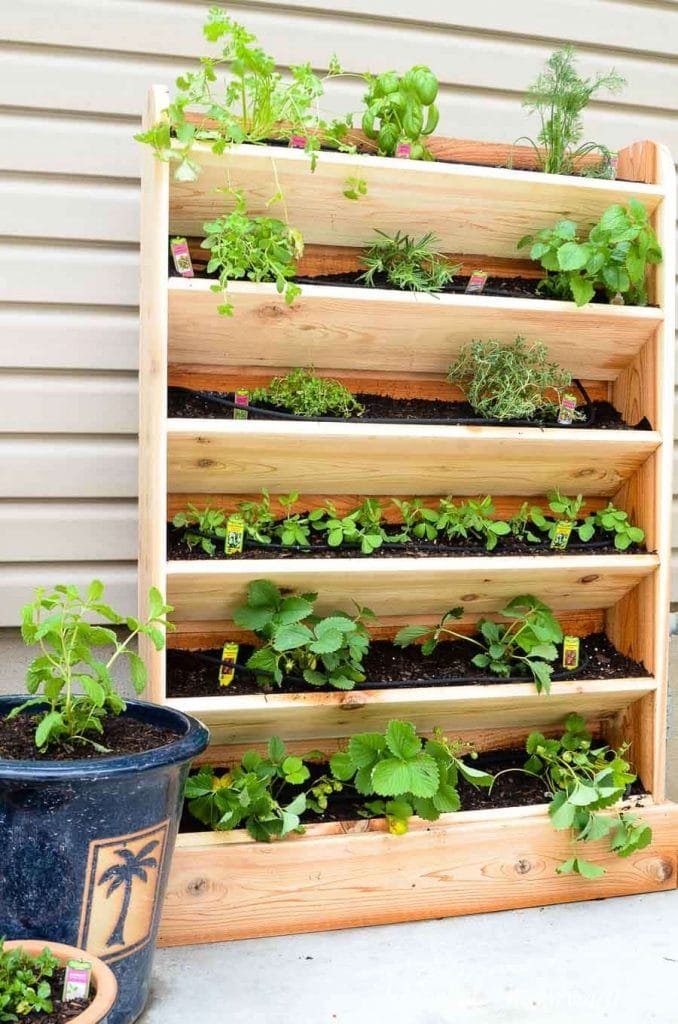 Source: Houseful Of Handmade
Here is a perfect small space solution if you want to make your garden. This DIY vertical garden is made with cedar and has a lot of space to grow your favorite plants and herbs. It has a built-in drip watering system, which makes maintenance way easier. It is a beautiful decoration piece that will fulfill your gardening hobby perfectly. Here's how you can create one.
Read – 41 Unique Indoor Plant Wall Ideas For Big And Small Spaces
9. DIY Modern Cedar Planter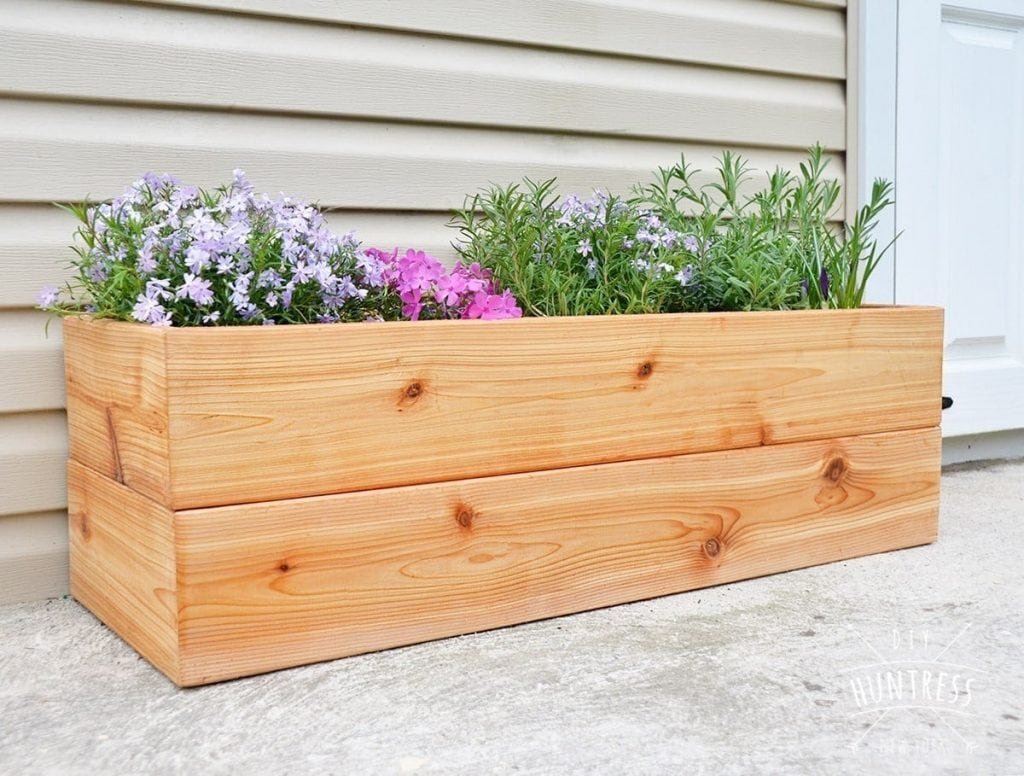 Source: DIY Huntress
Made using cedar boards, this DIY planter box really elevates the simple design. It is a classic design that won't go out of style and looks great no matter what you plant in. This is a straightforward and quick way to give your plants a beautiful home. It looks sleek and elegant next to your front door, in your house, or even in your garden. Try this design out now!
10. DIY Address Plaque Planter Box
Source: Be My Guest With Denise Cooper
This wooden planter box doubles as an address plaque for the entrance of your home. It is a tiny detail that instantly beautifies your house and gives it an extra elegant appearance. You can recreate this design using scrap pieces of wood from previous projects as the size is customizable. Once your structure is ready, stick the house numbers on the plank and fill the box with plants of your choice. Find the complete tutorial here.
11. Rectangular Address Cedar Planter Box
Source: Rain on a Tin Roof
Here is a super simple DIY planter box that can is easily doable by someone new to DIYing. This design doubles as an address marker and looks very stylish. You can make this planter using PVC frames, cedar planks, and cement boards. You can customize the PVC frames using different wood or any other design of your choice. Attach the house numbers or skip if you want a plain planter box. Here are the instructions to make this adorable planter.
12. Tall Outdoor Wooden Planter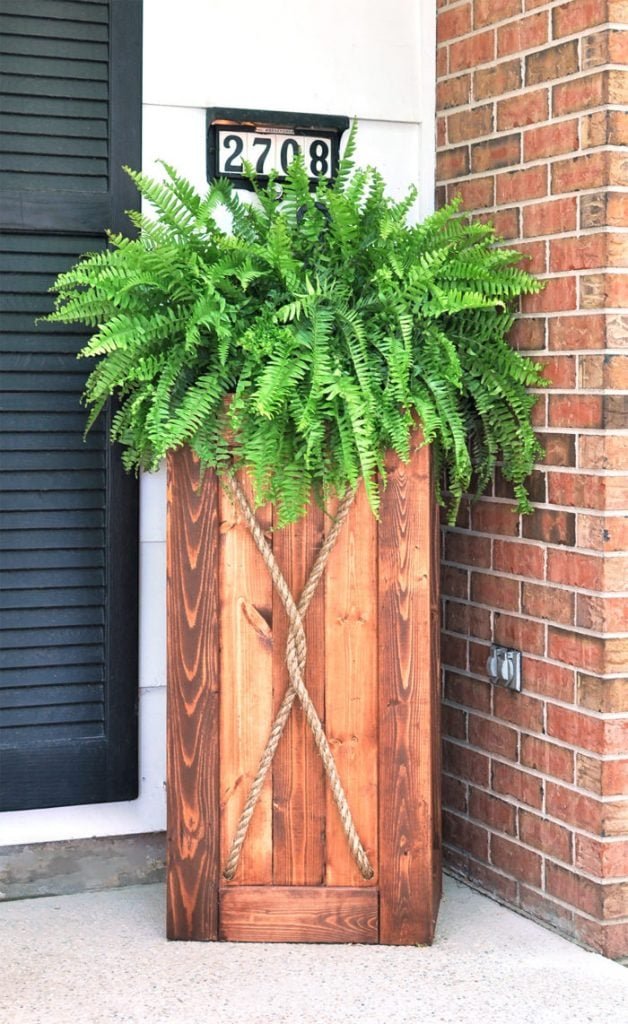 Source: Cherished Bliss
This wooden planter project builds a 36-inch tall planter that can be used to display a large plant or even a small tree. The X-shaped rope added as a detail to the box gives it a rustic and coastal feel. The textured red finish of the planter complements the planted tree perfectly. It is a super adorable piece to place in your living room, near your front door, or any other corner of your home. Here is the tutorial.
13. DIY Window Box and Shutters
Source: Catz in the Kitchen
Take your wooden planter to the next level with this DIY window box and shutters project by Catz in the Kitchen. You can build this project out of trim boards and cedar. This planter box matches the size of the window. The wood has a rustic and earthy finish, which looks great with bright and colorful planters. This is an excellent way to decorate your windows' exterior. The shutters are an easy complement to make while you are building the planter.  
14. DIY Trellis Planter Box
Source: Deuce Cities Henhouse
This trellis DIY planter box is not only great for supporting your elegant and fancy plants but also has gorgeous plants and flowers in the bottom planter box. It is a beautiful and eye-catching showpiece in itself! The wood is stained in dark chocolate brown, which gives a rustic and expensive look. This masterpiece would look lovely on the back deck or even as a centerpiece indoors.  Here's how to make one.
15. Multicolored Wooden Flower Box
Source: The Navage Patch
The unique color scheme of this DIY planter box makes it instantly appealing and gorgeous. The planter is spray painted with both a weathered blue and a briarsmoke. I love how beautifully these grey and blue tones complement each other. This is a tall planter with the two colors painted around abstractly. It is a great planter to add some colorful character to your pool area, garden, or entryway. Find the instructions to recreate this modern piece here.  
16. White n Chic Outdoor Planter Box
Source: The Accent Piece
Grab some scrap wood and white paint to recreate this simple yet chic masterpiece. It is a quick and straightforward design, and the splain white looks great with any plants/flowers placed inside. Make a pair of these and put them on your front porch. They have tiny legs that add elevation and keep the style easy and light. You can find the complete instructions here.
17. Set Over Stone Modern DIY Planter Box
Source: The Garden Glove
This DIY planter box project has a long and rectangular shape, making it perfect for sitting on your stone/wooden fence. They add a beautiful and natural aesthetic to your home's exterior.  You can cover your entire fence or leave some parts empty. You can recreate this idea using scrap wood stained according to the fence's color. These photos and instructions will help you build your planter boxes.
18. Stepped DIY Planter Box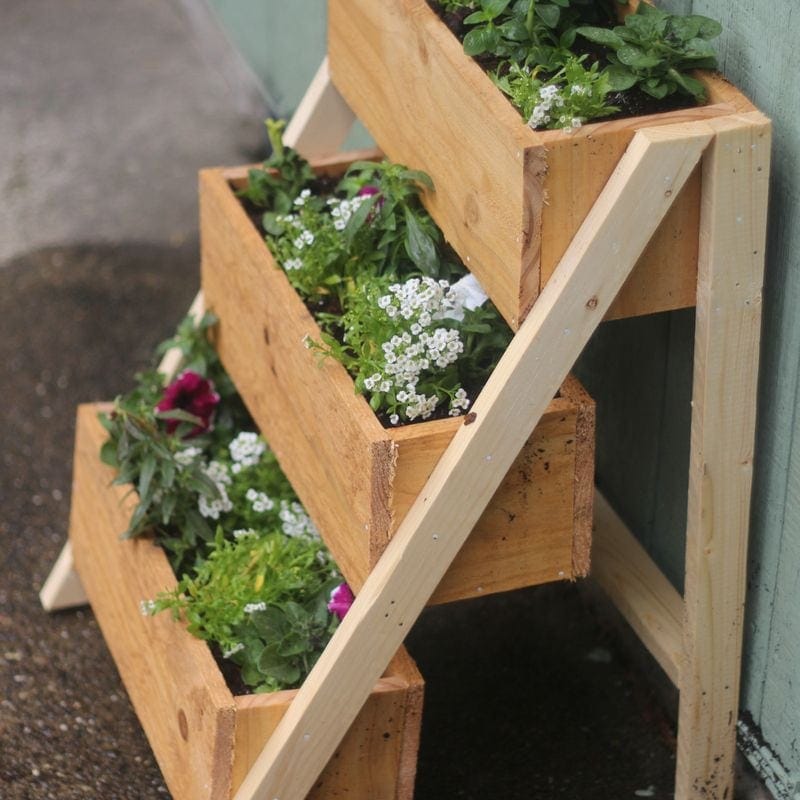 Source: Home by Jenn
This tiered cedar planter box is the best choice if you have little space and loads of flowers. It is a great way to add bright colors to the outside of your home. The stepped design adds character to the piece and makes it look unique and elevated. Since it is a smaller project, you can recreate this using wood scraps as well. Try out this adorable piece now.
19. Tiny & Adorable Wooden Planter
Source: Sustain My Craft Habit
You can make one of the most elegantly modern and beautiful wooden planters I have ever seen using cedar fence boards and a few other household materials. These are not too wide or too tall and are perfect to place any plant. The wood has a brown textured finish, which looks very expensive and would suit any porch area. Here's how you can do this project.
20. Beautifully Textured DIY Planter Box
Source: Little Yellow Wheelbarrow
This DIY planter box is made using wood shims to create this beautifully textured design. The stain is dark brown, which makes the flowers stand out bright. It is a quick project made using scraps and would look great anywhere around the home, inside or out. It is customizable to the desired size and placed on window sills, front or back porch, garden tables, etc. Here are steps to recreate the same.
21. DIY Porch Planter Bench
Source: 100 Things 2 Do
Here is a super adorable DIY planter box that doubles as a tiny bench with storage inside. It is a three-in-one project, which is just what you need when having a space crunch. You can store porch cushions or any other items in the box and have a beautiful planter box display when no one's sitting on the bench! I love how creative and unique this idea is.
22. Black & White Planter Box with Holders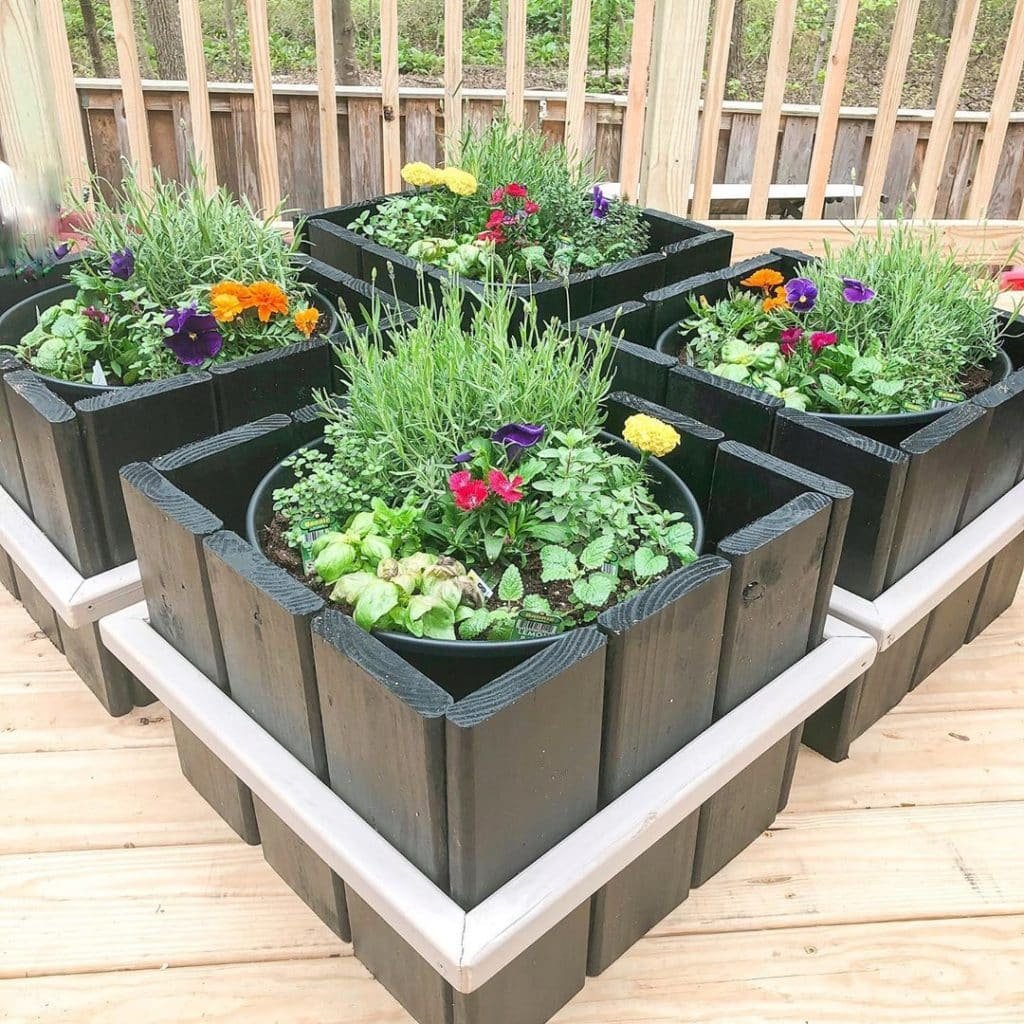 Source: thriftshoppingandhomeschooling
This is another effortless and beautiful way of designing your DIY planter box that is made using just scraps. The planter box uses black stained wooden planks, which are held together with a white wooden holder. This planter box is cubical and is suitable to plant any size or type of tree/plant. It is a great way to decorate your deck area, porch, or any other area of your home exteriors.
23. Wide Garden DIY Planter Box
Source: duncanshirah
Are you a fan of gardening? This DIY planter box is just the perfect way to go. It is tall and can hold several plants for either display or personal use. The wood used is sturdy and has a light stained finish on it. The planter is placed next to the outdoor fence and is a beautiful welcome to all your visitors.
24. DIY Wall Succulent Holder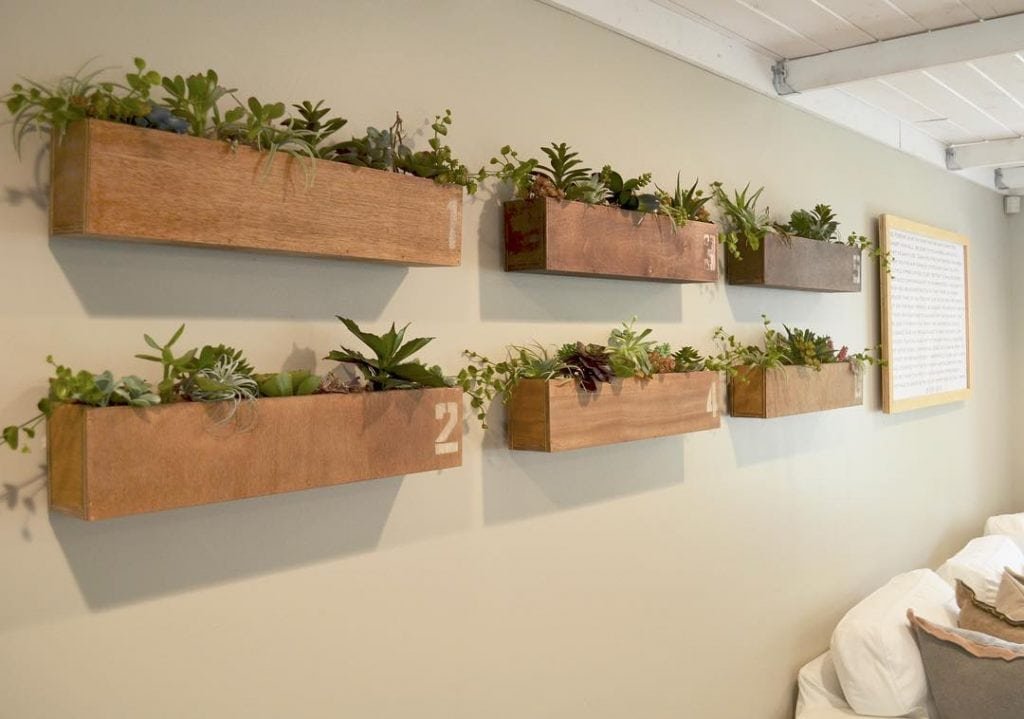 Source: reclaimedkarma
I love this wall planter box idea, which is perfect for indoor wall decor. It adds an elegant, natural, and earthy touch to the interiors of your home. You can customize the number and size of these planter boxes. They are perfect for holding succulent plants as they are low maintenance and look equally beautiful.
Click here for cement planter ideas.
25. Simple DIY Vegetable Planter Box
Source: artbyhershey
This is a sleek and straightforward DIY vegetable planter box with a short height and wide rectangular length. It is excellent for growing any vegetables or herbs of your choice like tomatoes, pepper, eggplants, garlic, etc. The design is a simple rectangular box painted in blue. You can customize the size according to the space you want to keep the planter in.
26. Hanging DIY Wooden Planter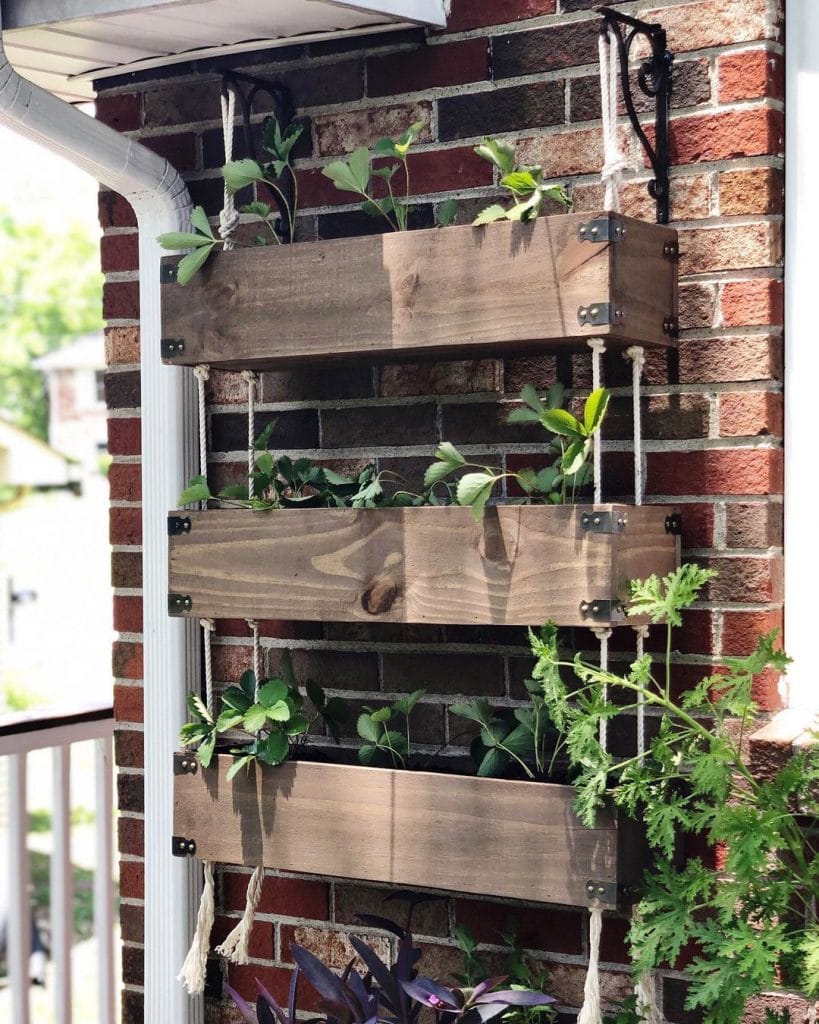 Source: dani.diy_
Here is a hanging DIY planter box idea that is perfect for planting strawberries or any other plants of your choice. This planter idea also doubles as a wall decor piece for the walls of your front porch. The idea uses several wooden boxes, stained in dark brown and attached using a rope. It has a super adorable and rustic feel to it and looks excellent against walls of any color.   
27. Light Polished Pallet Wooden Planter
Source: dad_crafted
This DIY pallet wood planter looks very expensive but is actually very affordable to create on your own. It is basic yet elegant. The lightly stained wood looks stunning and makes the plants inside stand out beautifully. It is a perfectly sized planter that would suit any space inside or outside your home. You can make it as tall as you like and preferably fill it up with a bushy plant for a fuller look.
28. DIY Petunia Black Planter Box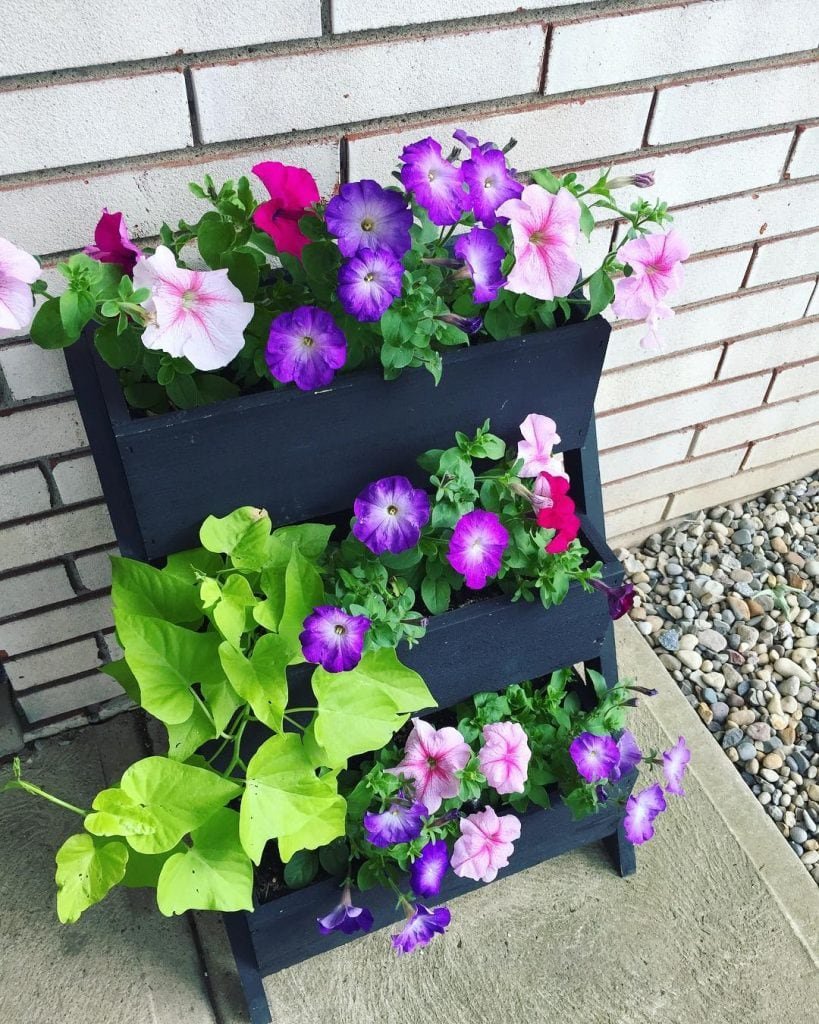 Source: featherbrewer
Tiered planters are an excellent option if you want to add depth to your garden space or want to grow/display different types of plants in a compact area. This idea has three separate tiers and is painted black. It's easy to make, customize, requires very little maintenance, and would last you a long time. You can place this showpiece at your front or back porch, garden, or even inside your home with fake flowers or succulents.
We hope you will be motivated to add some or at least one of these beautiful wooden DIY planter box designs to your home interiors or exteriors. There are multiple options for you to choose from, and a little bit of carpentering would result in some fantastic and elegant planters.
If you loved these ideas, you can use the Pin image below to save this article on your Pinterest board. Also, follow us on Instagram to stay updated!