Don't we all like some good colorful space in the house? These painted flower pots will do exactly that, it will add a vibrant and radiant angle to your garden or your indoors. With these simple DIY painted flower pots, you will successfully unleash your creative side. Keeping in mind how abstract art and digital prints are undying trends of the season, painting some good pots won't be that challenging. So here we have a curated list for you. The list has a variety of styles to suit your taste and your house ambiance. This curated list has it all, from the good boho vibe to the sophisticated paintings to the simple ones that require a minimum amount of effort. Your succulents will thank you for these makeovers. So go on and enjoy making some of these beautifully painted flower pots.
You can also check out some other creative ideas to make your house a little more fancy and welcoming. Check out some more planter ideas here on 28 Beautiful And Unique DIY Planter Box Ideas.
So let's begin with the list that has been curated just for you.
Mandala Painted Flower Pots For Your Succulents
If you are into Asian culture and art then you must have most certainly come across something called Mandala art. It is not just simply a type of painting. This art form has a much deeper symbolic meaning. It is a fairly common form of painting often find on wall arts, painted flower pots. Mandala is a Sanskrit word that basically means a 'circle' or a 'discoid object'. You must have seen those patterns on pots which has a circle inside a square, or a circular arrangement with a center. Those are called Mandala art.
Here are some good Asian paint form for your flower pots.
1. Mandala Art
This Mandala painted flower pot and the plate is so ethically pleasing. Mile.high.gypsy has chosen such earthen colors for this art that the beauty will not simply please you but also touch your soul. This flower pot painting is a little intimidating, and the pattern can get a little tricky to recreate, but if you are looking for something to stay occupied with, then why not!
2. The True Mandala Art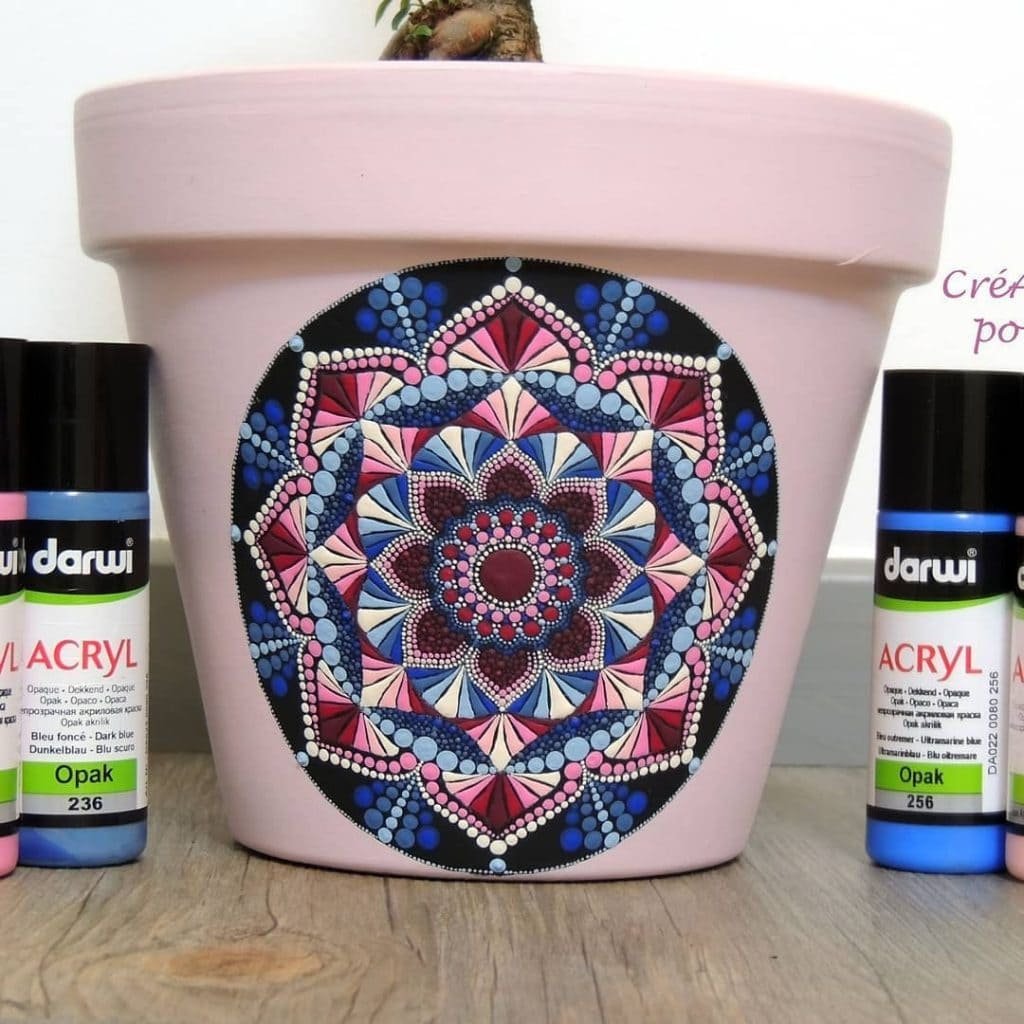 This painted flower pot is an example of conventional Mandala art. It is a circle in a square in a circle. That is exactly how a typical Mandala painting is supposed to look like. Creaniapoint has chosen a hypnotic Mandala pattern and the fusion of the color is absolutely mesmerizing. Your favorite plant is going to love this one!
Floral Paintings On Flower Pots
Floral prints on t-shirts or floral paintings on flower pots, there is something about floral prints that makes them lively and lifts up the spirits by a notch. With the new year coming soon, you can make your garden area or your indoor flowers a little more colorful with these painted flower pots. These floral painting ideas for your flower pots will bring a positive vibe to your indoors and backyards.
1. Colorful Hue In Winters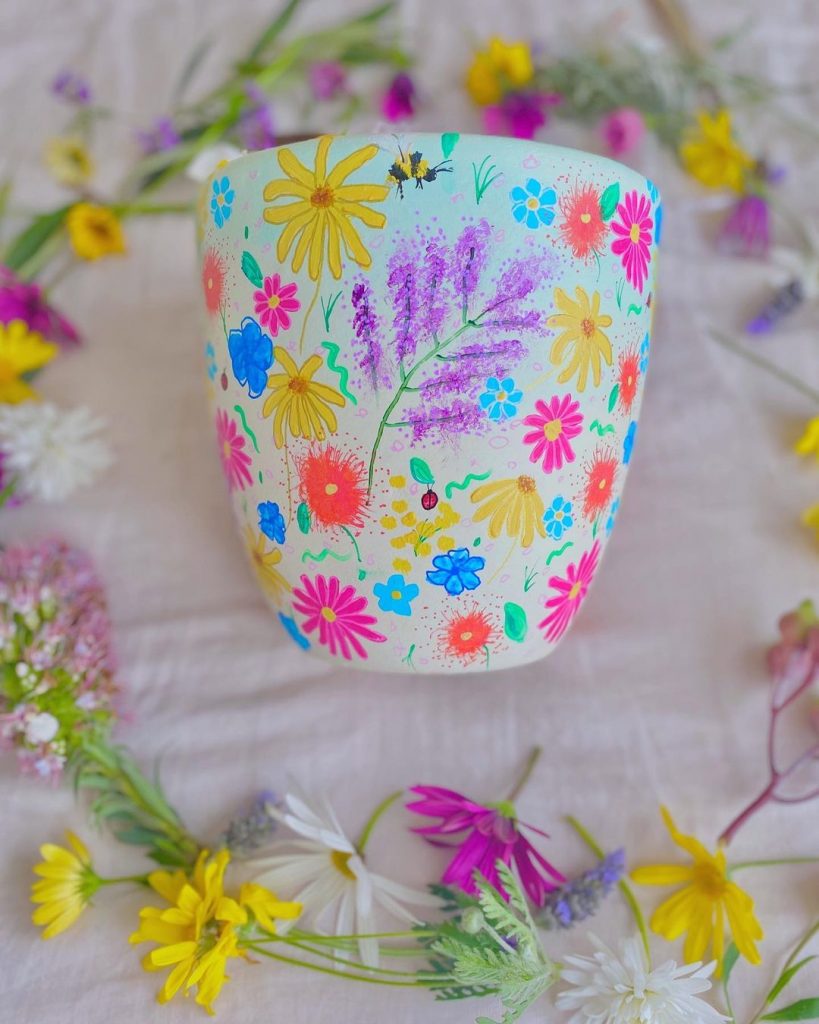 This colorfully painted flower pot reminds me of the bright sunny summer days. In this winter if you are feeling too gloomy and want something bright and sunny for your garden area then this floral painting idea by sharlie.designs will be just perfect for you.
2. Wildflower Pot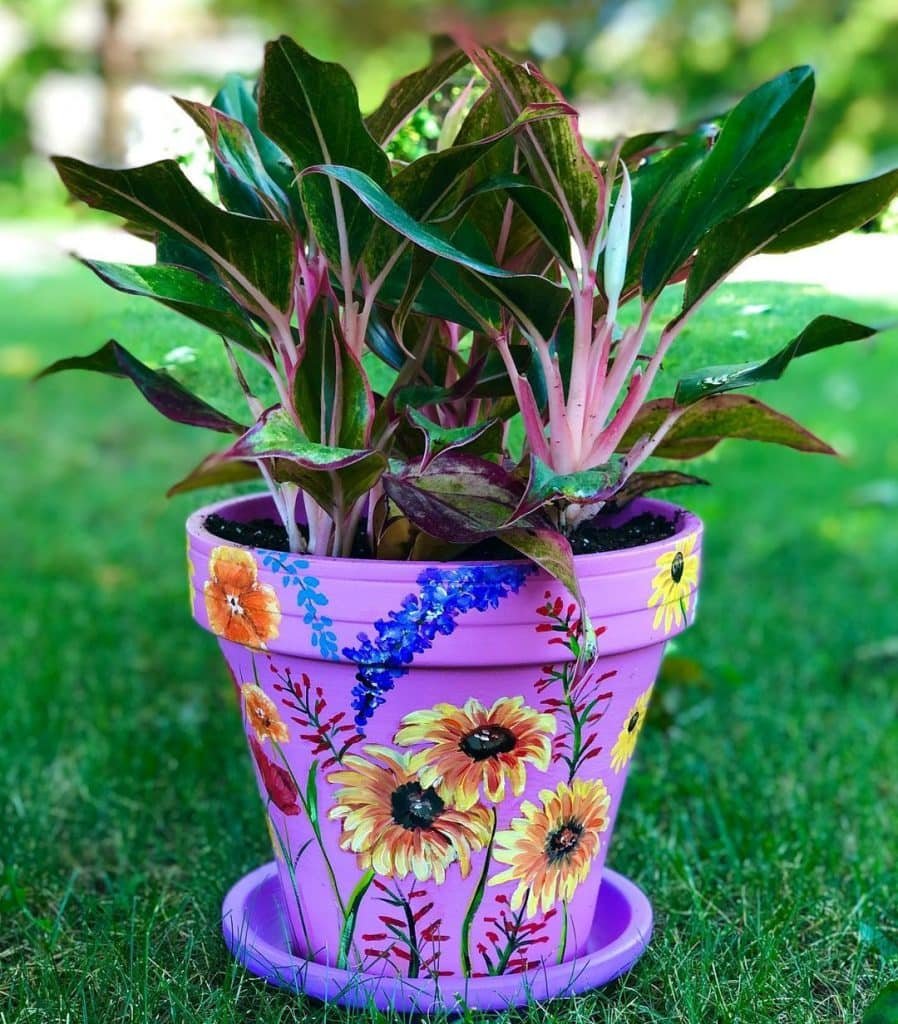 With the mauve base and yellow daisies this floral painted flower pot is the epitome of harmony. Stefanieclaire_art has left no stone unturned for this flower pot to reflect the flavor of the season. The colors used are so versatile that you don't have to ponder whether it will look your indoors or your backyard.
3. Acrylic Floral Painted Flower Pot
This white ceramic pot and the painting on it is the perfect amalgamation of color and peace. Art.spills._ has made sure to keep the simplicity of the white ceramic intact while painting the floral pattern on it. This one has a touch of sophistication and would look good if your indoors have a theme of minimalism going strong.
4. Keep It Simple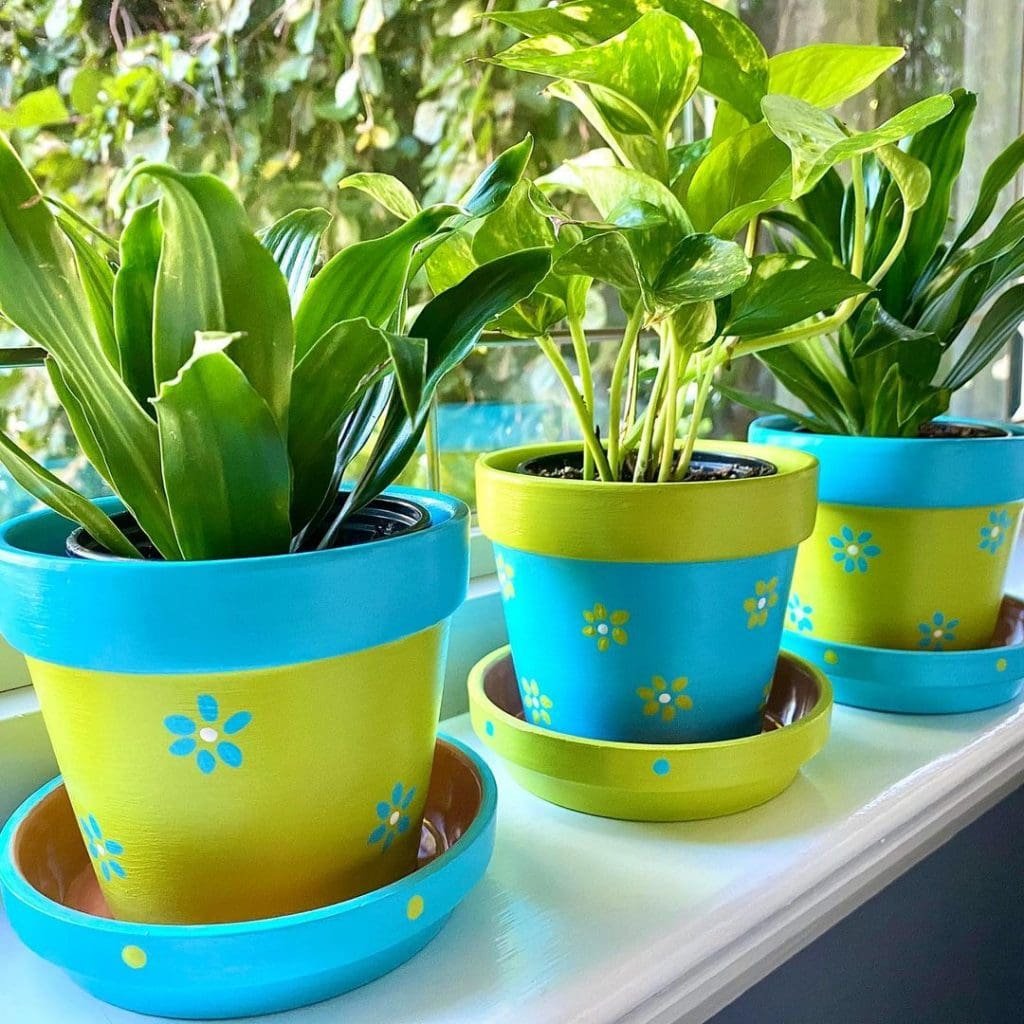 Blue and green have always been a combination to crave every day. But petunia.lee has indeed proved that they probably look best on painted flower pots. The sunny and bright combination of the two shades will certainly liven up your mood and certainly your pots.
5. Luscious Berry Background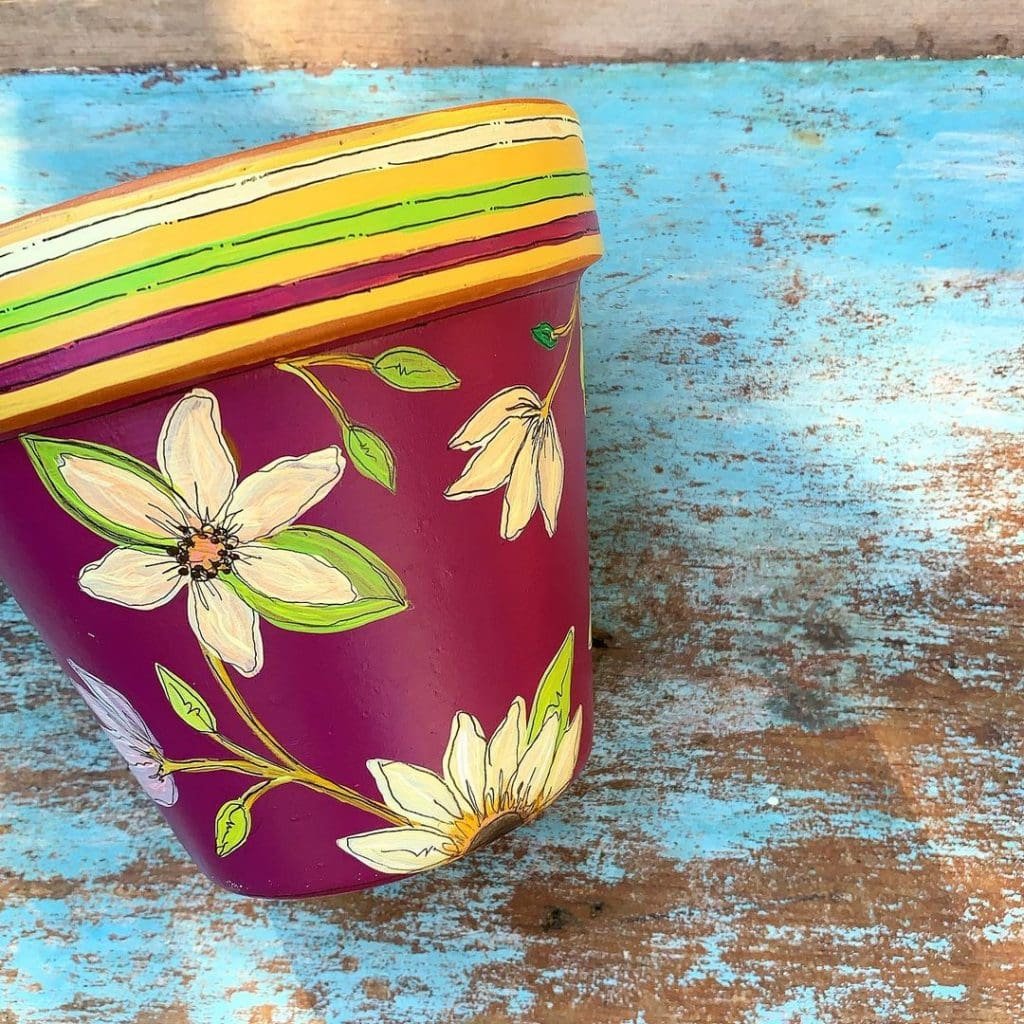 What I like the most about this creation by thepaintedpine1 is the berryliscuious color of the pot. Of course, the confident stroke of the brush is impeccable. And certainly, that is the reason why this painted flower pot looks perfect for your backyard area.
6. The Charmer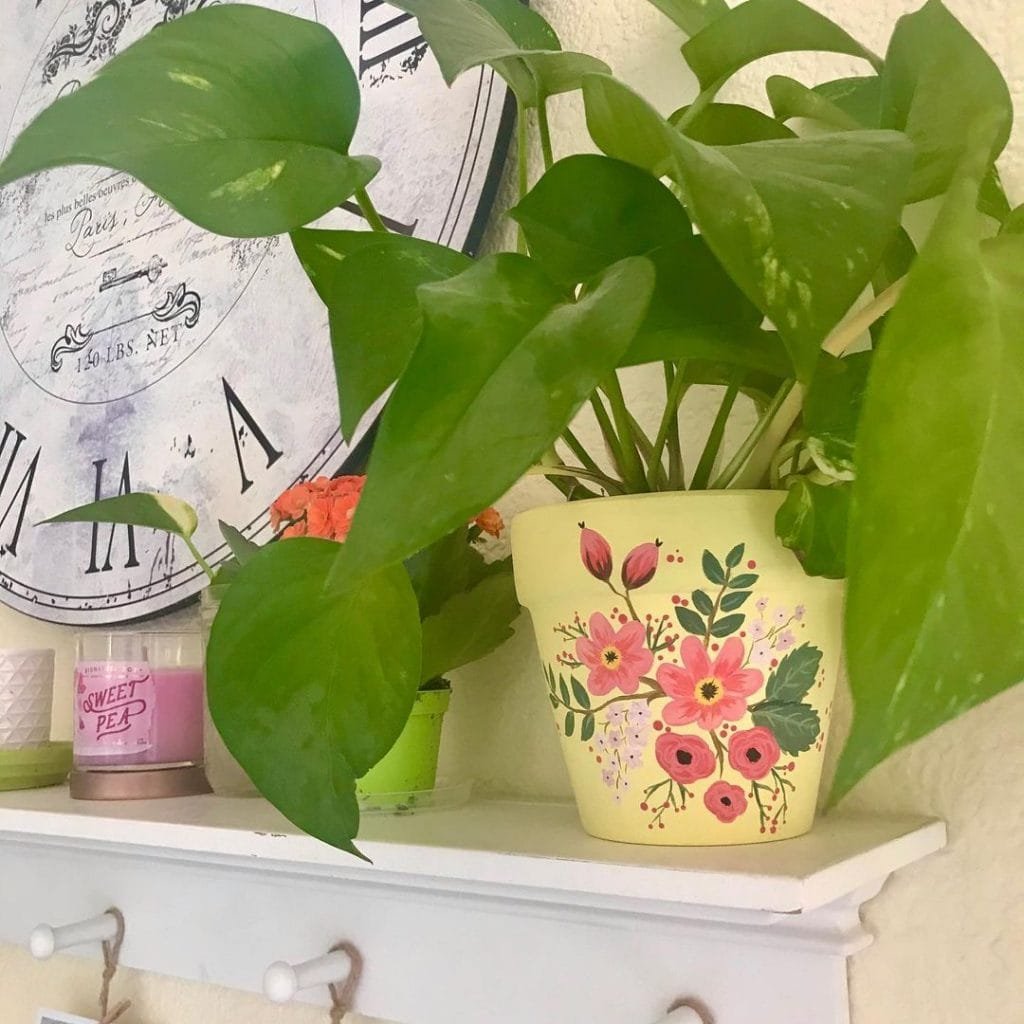 There is something undeniably charming about painted flower pots. One would think why paint the flower pots? But why not? They are pretty and especially the floral painted flower pots bring extra life to your plants. Similarly, this floral pattern by paperstxrdesigns is so simple and elegant that it only adds to the beauty of your plant.
Sugar Skull Painting For Your Flower Pots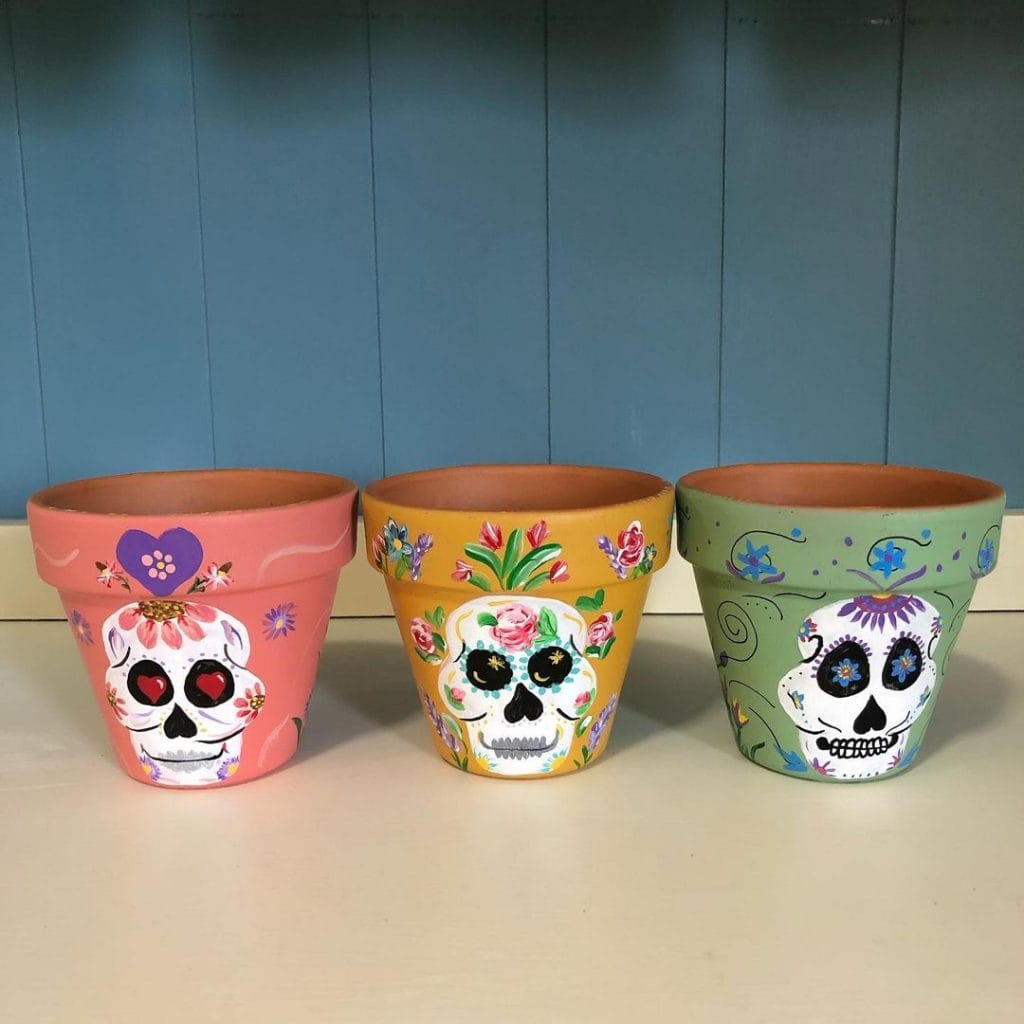 If you think that painted flower pots are mundane and not your style then keep reading. These skull painted flower pots might be just the one for you. These trendy and funky skull paintings on flower pots are fun and classy. This gothic feature on your flower pots is painted with a combination of some flowers which gives it an extra edge. The base colors as chosen by artsofmyheart are basic shades that only enhances the skull pattern painted on these pots.
Animal Patterns For Your Painted Flower Pots
Even though it is hard to believe but not everyone is a fan of floral patterns and skull art and not all of us are skilled enough to draw mesmerizing Mandala art. If you are one such soul then why not this time opt for simple and quirky animal patterns for your painted flower pots? They are trendy and cool. They are also not so difficult to create. Even with average painting skills and few confident brush strokes, you can easily make an animal pattern for your flower pots. These especially look good indoors. So if you have house plants then here are few options for you to choose from for your succulents.
1. Calico Cats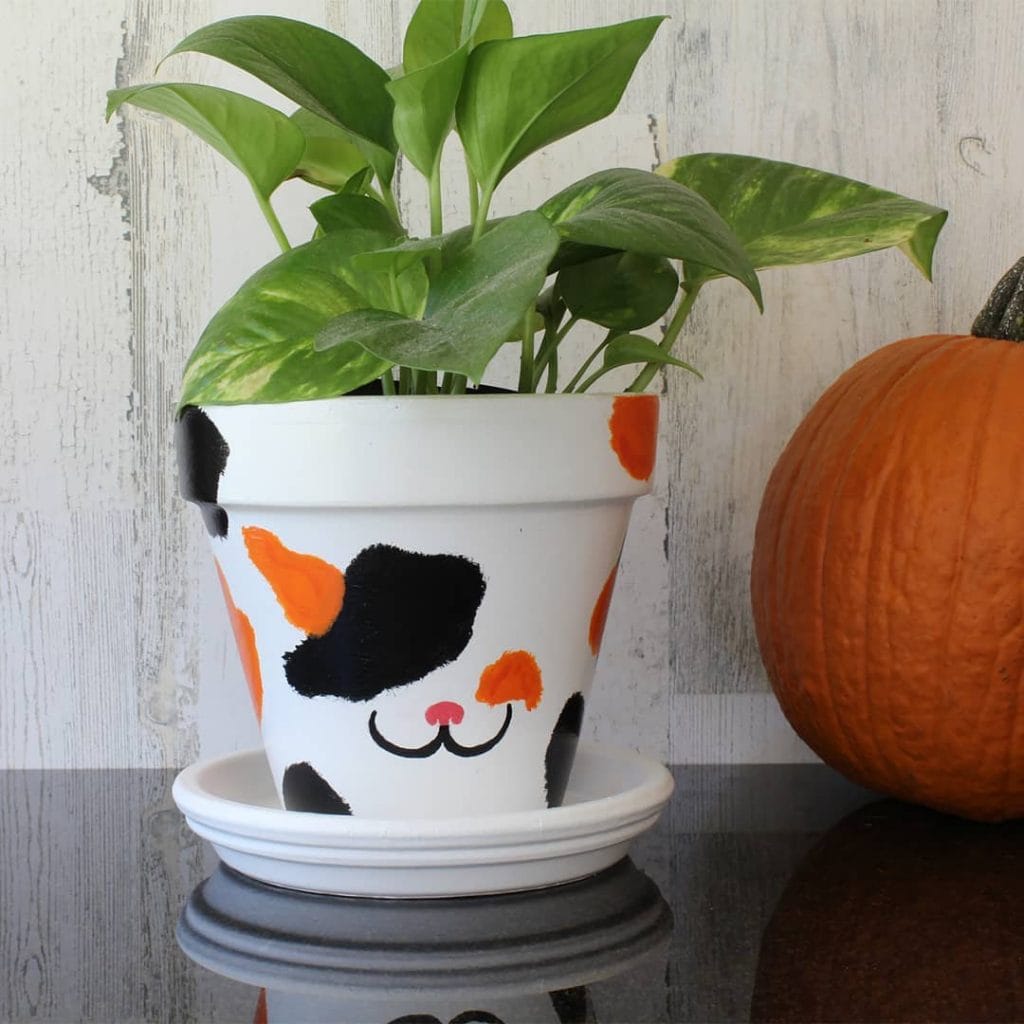 This white-based animal pattern painted flower pot by potsetc is a juxtaposition of simplicity and quirkiness. And if you are a cat lover or a cat owner then this calico cat flower pot will undoubtedly tempt you.
2. Black And Blue Beautiful Hue
How majestic are these mighty birds and the green background? El_jardin_estelar has kept it very artistic and yet simple. The beauty of this painted flower pot lies in its color palate. The blue, green, and bright yellow has made this painted flower pot wholesome.
3. The Moo Point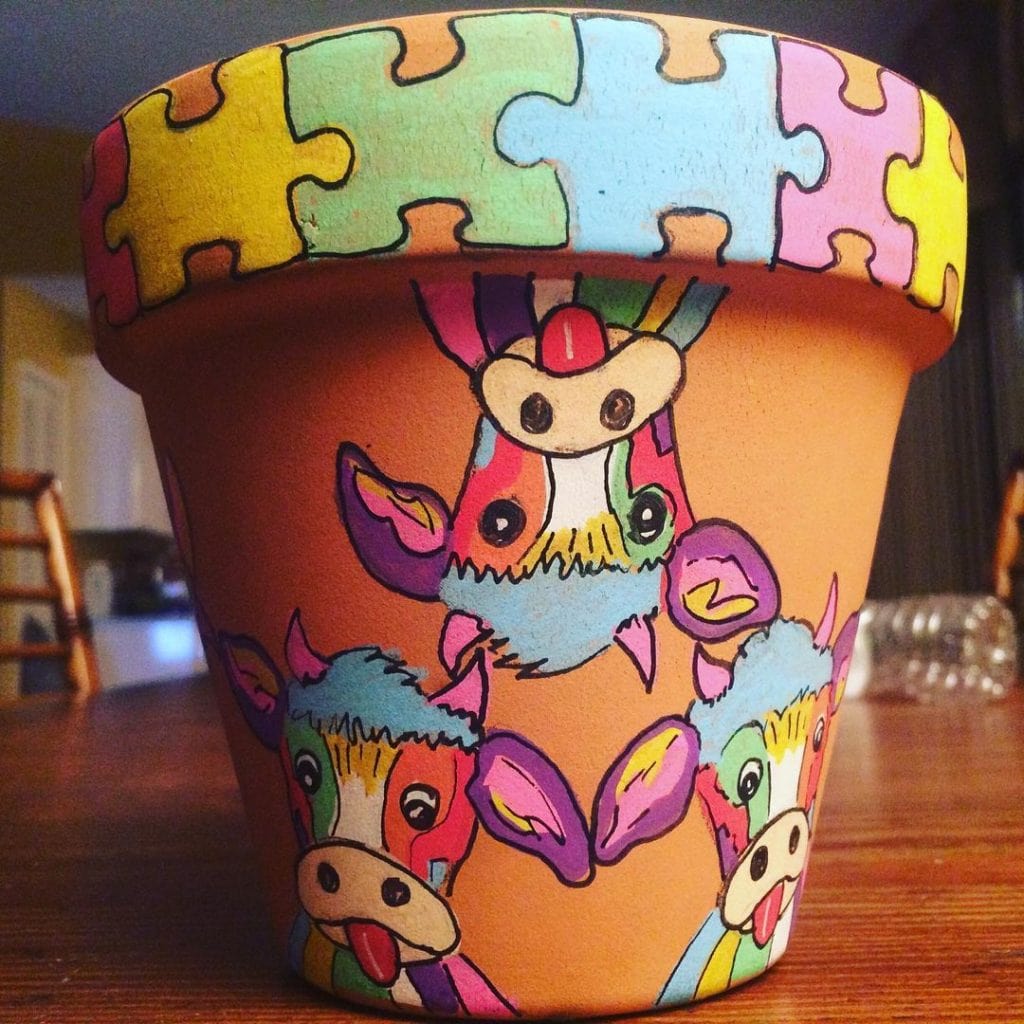 Who isn't a fan of the 'Moo Point' by Joey (from Friends)? This painted flower pot by hideaway7714 is so fun and colorful that you will instantly fall in love with this beauty.
Abstract Art For Your Precious Pots
If one has to choose a form of art that has been praised time and again and has enjoyed global popularity then it would be abstract art. Abstract art and painting sit well with today's aesthetically pleasing house plans and indoors. These painted flower pots are abstract and will jell well with your minimalist indoors and fancy gardens. If you are a fan and a preacher of minimalism then these pots are just for you.
1. Creative Terracotta Pots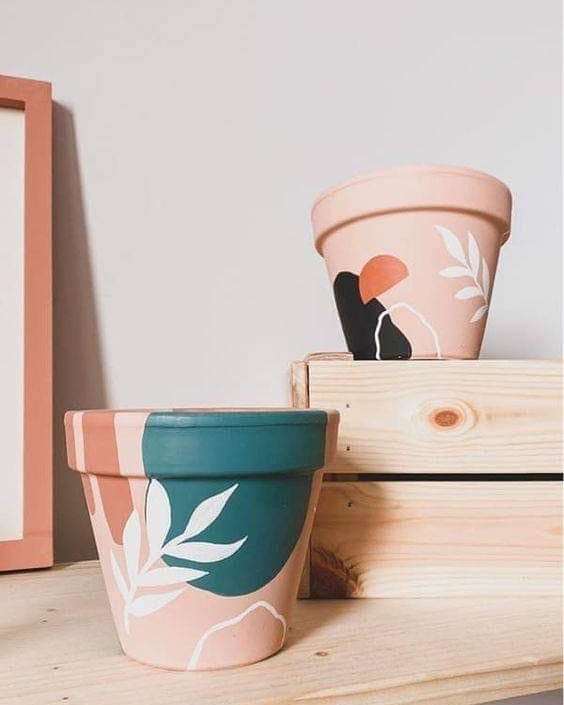 These terracotta painted flower pots by fanciabledecor are so creative and simple to recreate. All you have to do is choose a pastel color for the base and some contrasting colors for the abstract pattern and you are good to go.
2. The Green Glow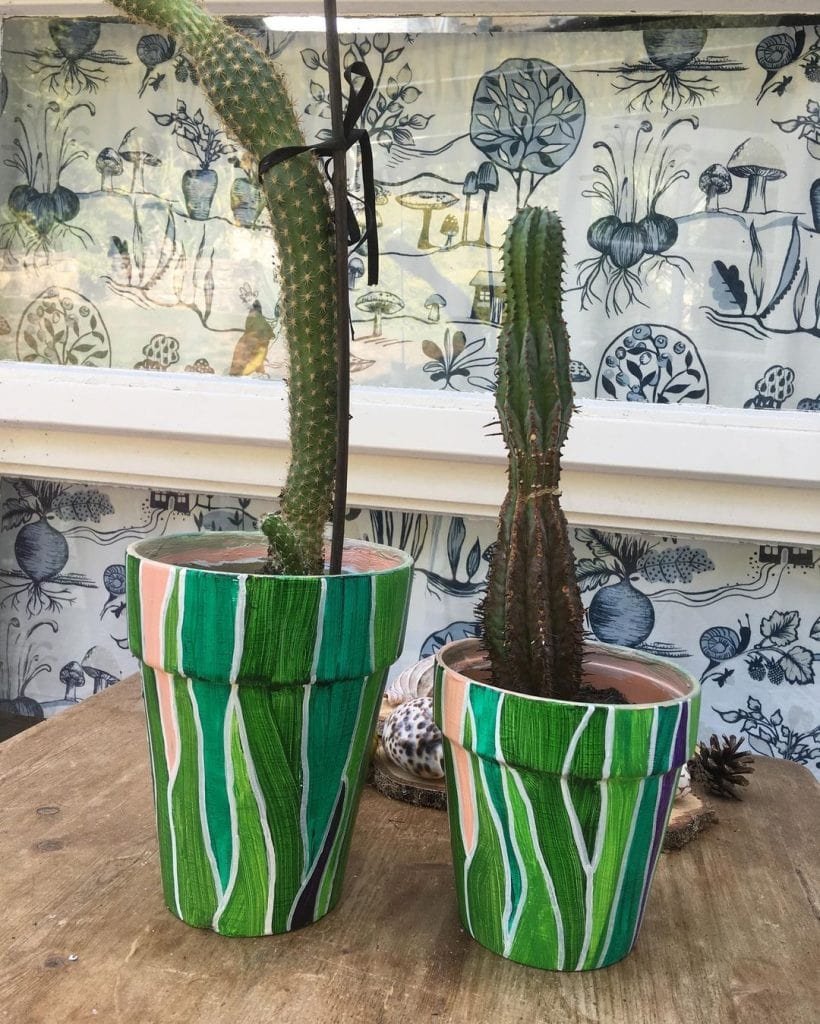 Lifeofmrsblunt has given an excellent makeover to these cactus plants. These painted flower pots are fun and easy to make. It has a very simple pattern and all the magic is created by the different shades of green.
3. Simple And Sleek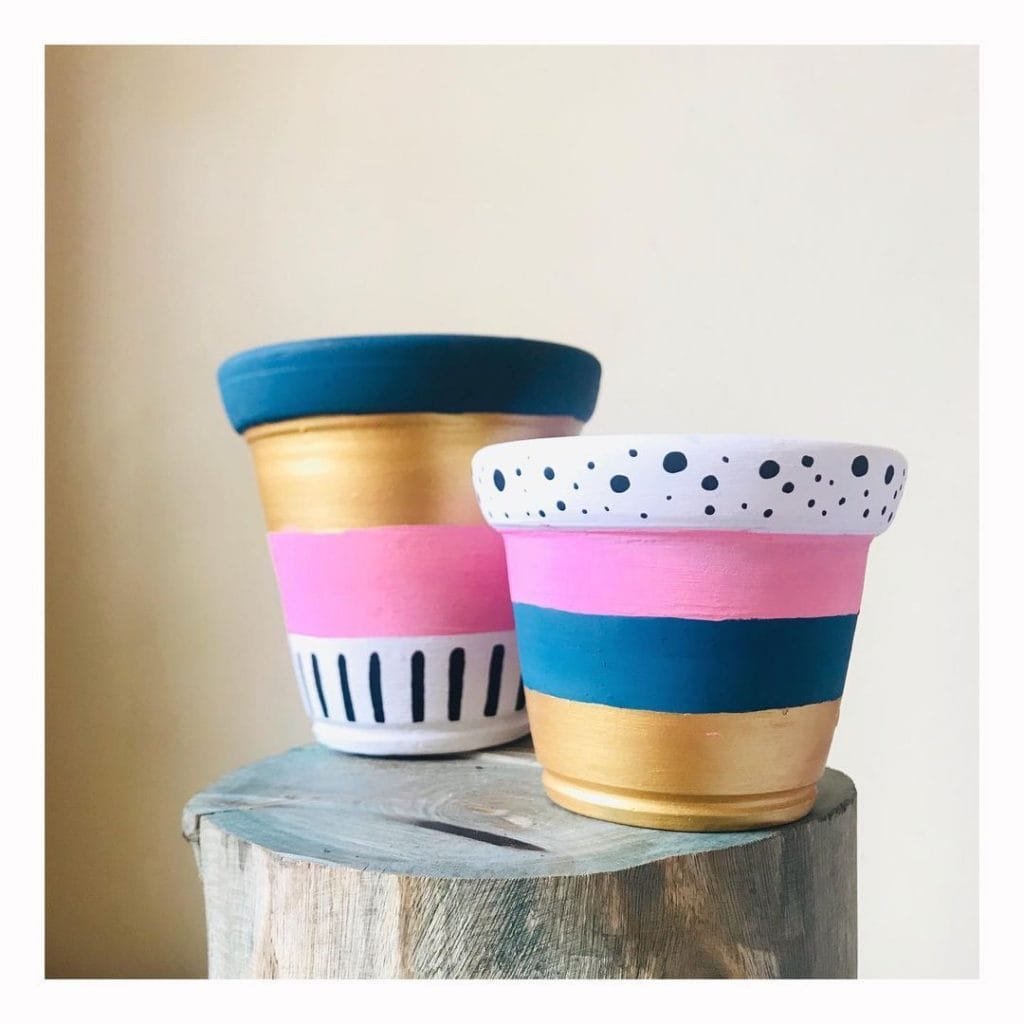 If simplicity could be painted, this is how it would look. The color combination of these flower pots by axolotl.cactus is so charismatic. It will take minimum time to recreate one of these beauties and yet their charm will bless your indoors forever.
4. Stories Of Summer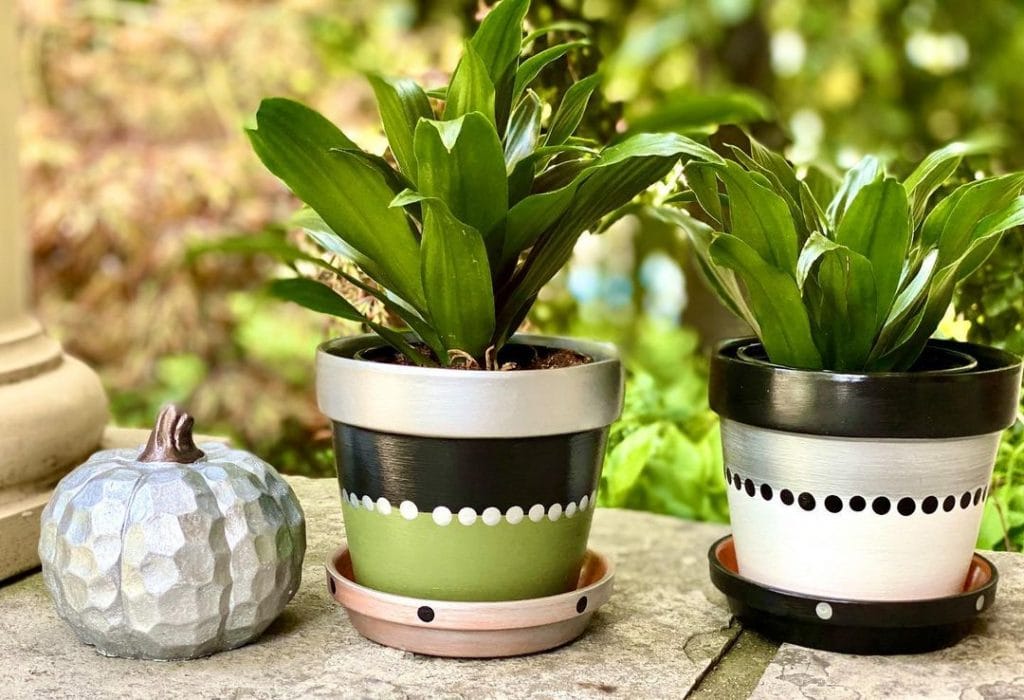 Petunia.lee has created these painted flower pots while keeping its simplicity and charm intact. It will remind you of the greenery and the summer days every day.
5. Add Some Colors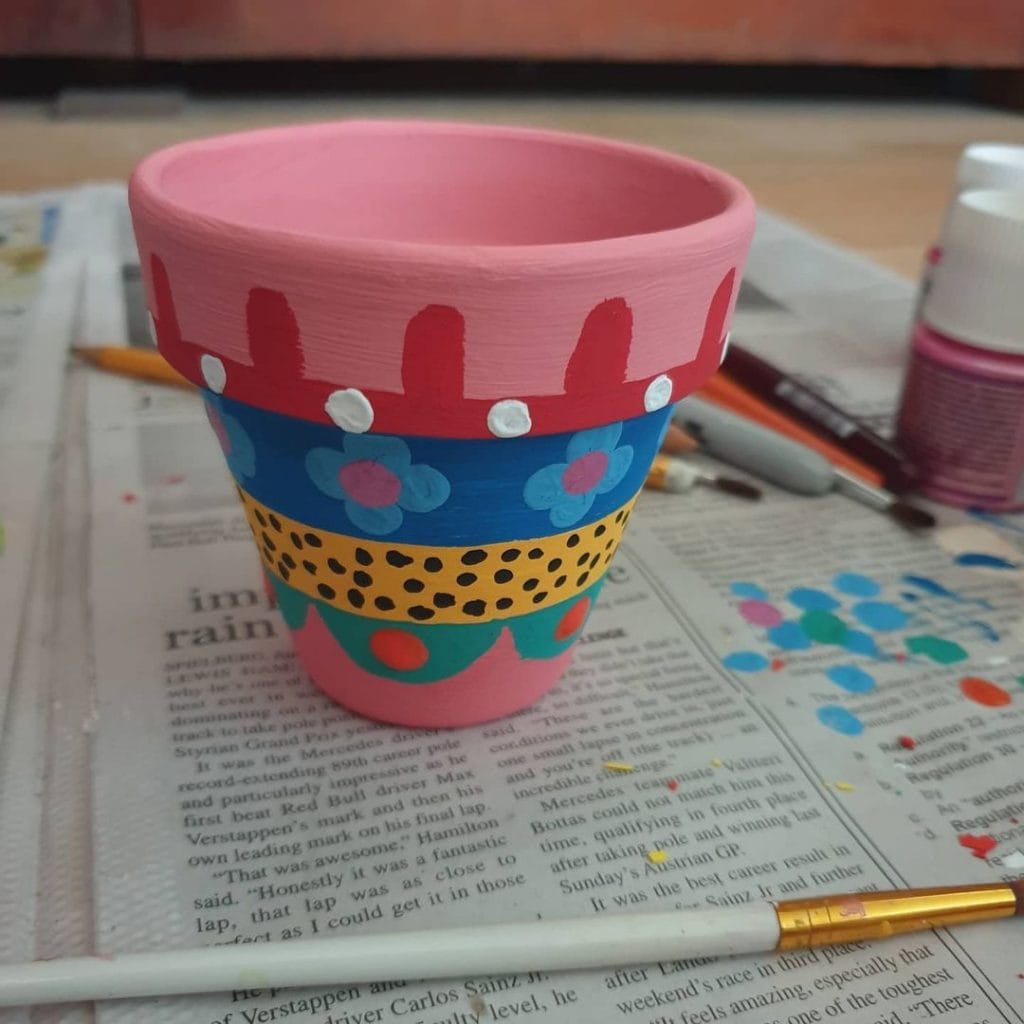 Painted flower pots are beautiful when they are colorful and vibrant. And florpots will certainly not disappoint you in this regard.
6. White And Gold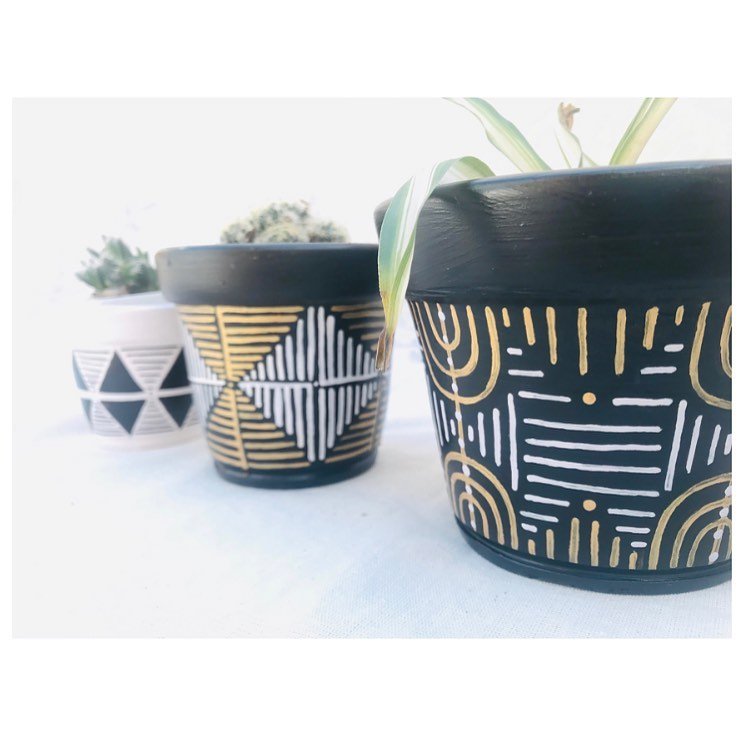 These black beauties by axolotl.cactus are appealing to the eyes. The combination of white and gold with the mighty black background has only enhanced the beauty of these flower pots.
7. The Shades Of Rainbow
This painted pot has a unique color combination that will look good no matter where you place it. Imjustmaybe has bold colors but the final result is as such that the colors sync in perfect harmony.
8. Grow Beautiful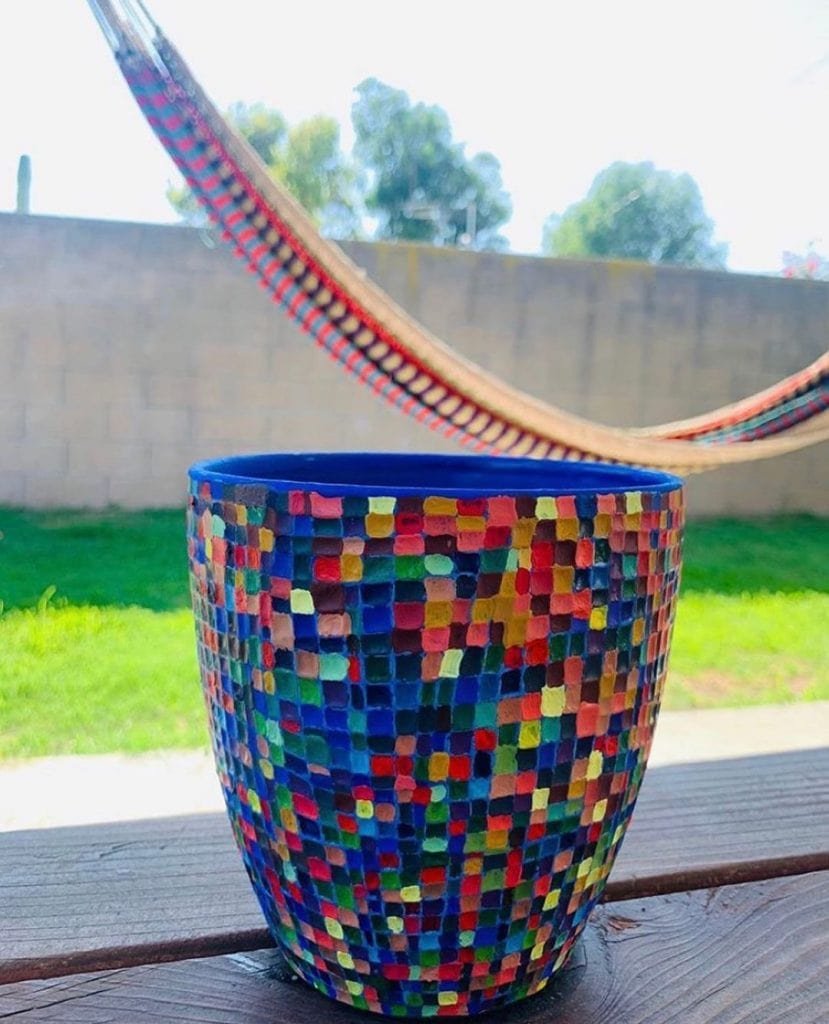 This pot painting by grow.beautiful.margaret.zych is so surreal that you can actually paint a pot like this just for the decor. You don't really need to be a plant lover to have a pot like this in one corner of your house. The beauty of this pot will definitely impress you to the core.
9. Abstract patterns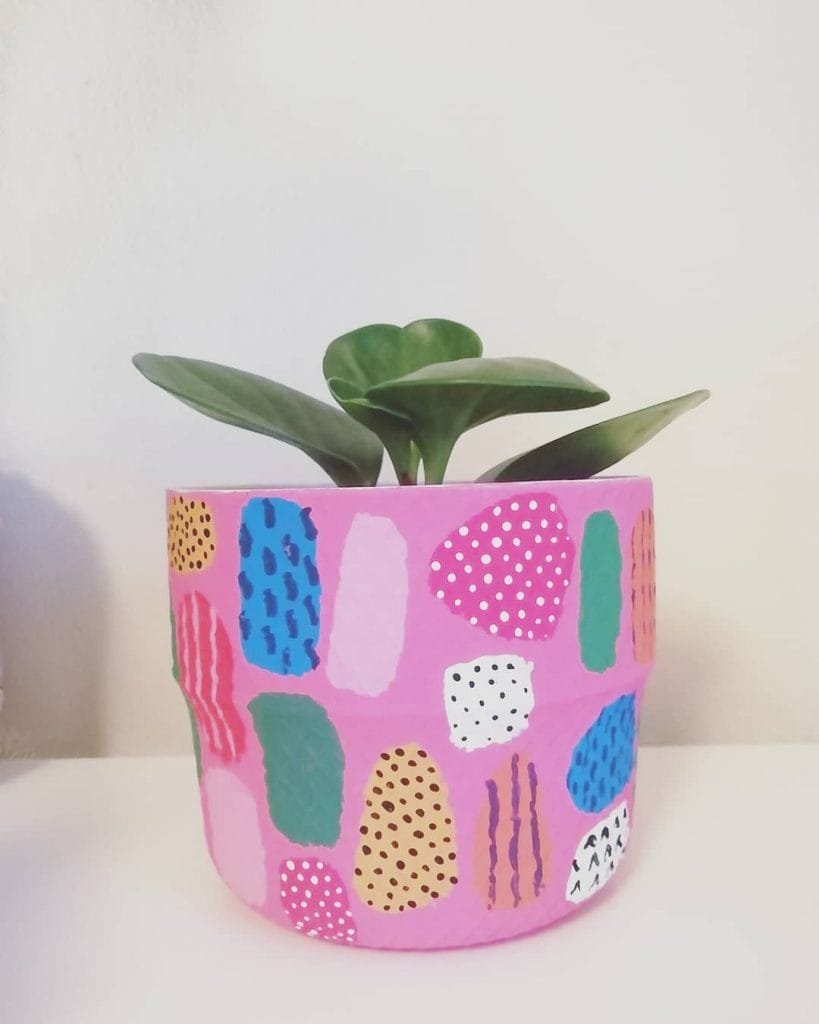 This cute pink painted flower pot by eveliinatuulia is unusual. The abstract pattern on the pot only enhances the cuteness of this pink beauty.
10. Get Creative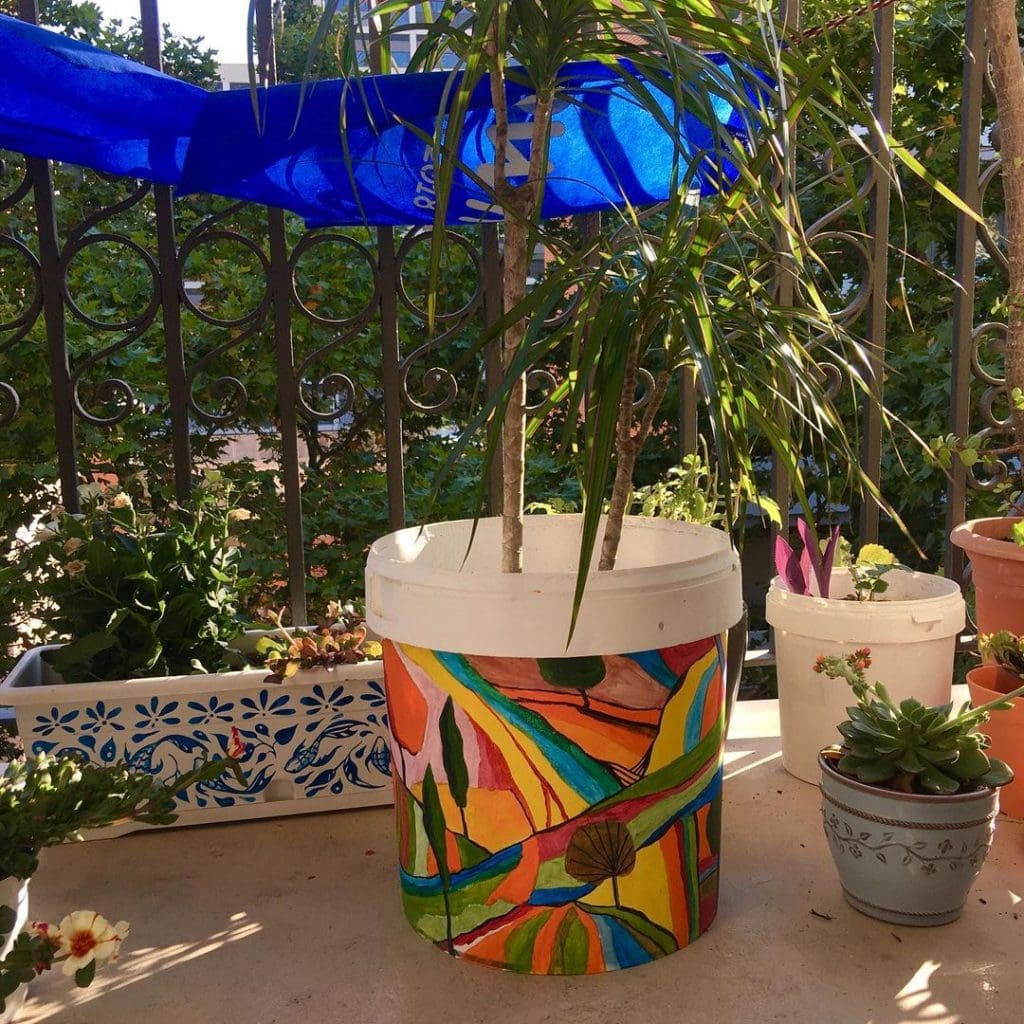 Flower pots can always use a little more color. And this painted flower pot by aliceschulenburg is a perfect amalgamation of all colors that your flower pot can use. This one will own your balcony area.
11. Paint The Pots In Style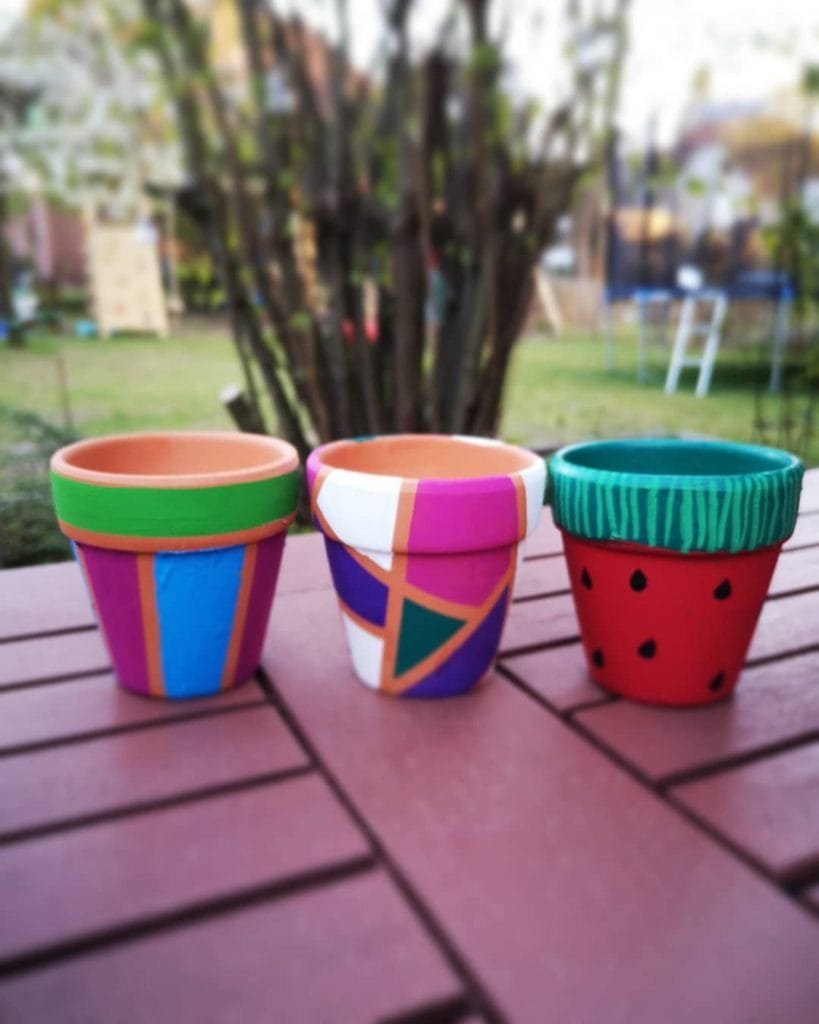 These three painted pots by eulemitstein11 are so quirky. All the pots are simple to recreate and will require minimum effort. And the quirkiness will certainly lighten up your indoor space.
12. All Colors Bright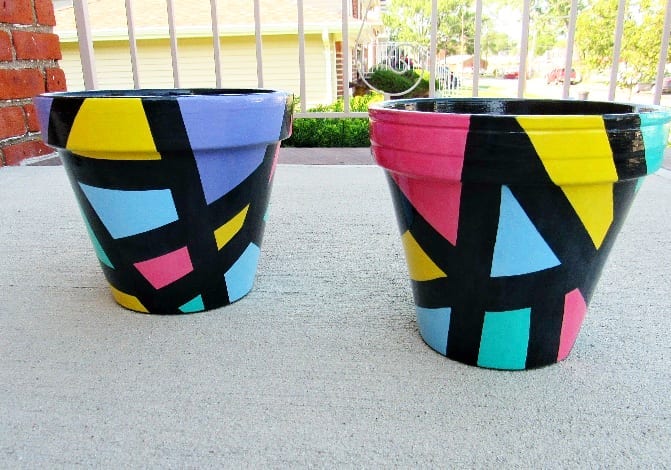 These painted flower pots are exquisite for your indoors and the garden areas. The_little_artist_jy has included all the colors that resemble positivity and has added black to just enhance the overall beauty.
13. Doodle On The Pot
These little doodle patterns on your flower pot are so much fun to play around with to create something exemplary. Radionicadivan has chosen very simple yet iconic doodle characters for the pots. And that is exactly what you will love about these painted flower pots.
Hand-painted Flower Pots
If you still haven't found your style then how about some free-handed patterns to color those bare terracotta flower pots? These will give you immense space to improvise according to your own taste and choice.
1. Sunny Sky And Kites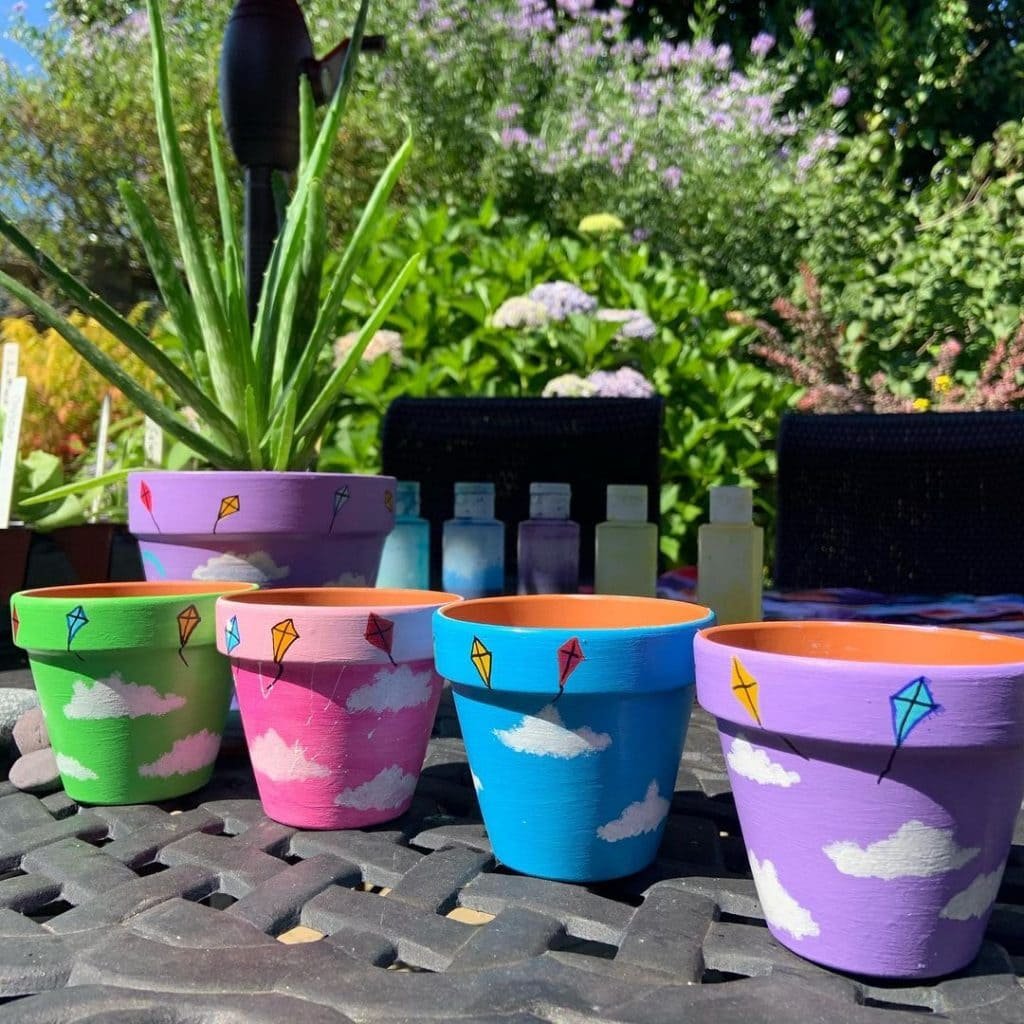 If you want some touch of the bright sunny pleasant day then this one by ugh_sageart will not fail you. From the colors to the clouds and kite patterns, everything about these painted flower pots screams a perfect summer day.
2. Simple Simley
These simple smiling emoticons on the flower pots are adorable. They will not fail to bring a smile to your face. And easypzcreations_ has kept it so simple that you can make a number of these within a couple of hours.
3. Mitzy and Morris
These two painted flower pots are a set. Splatalie31 has made sure to add a bit of quirk to these two otherwise simple flower pots.
4. We All Scream For Ice Cream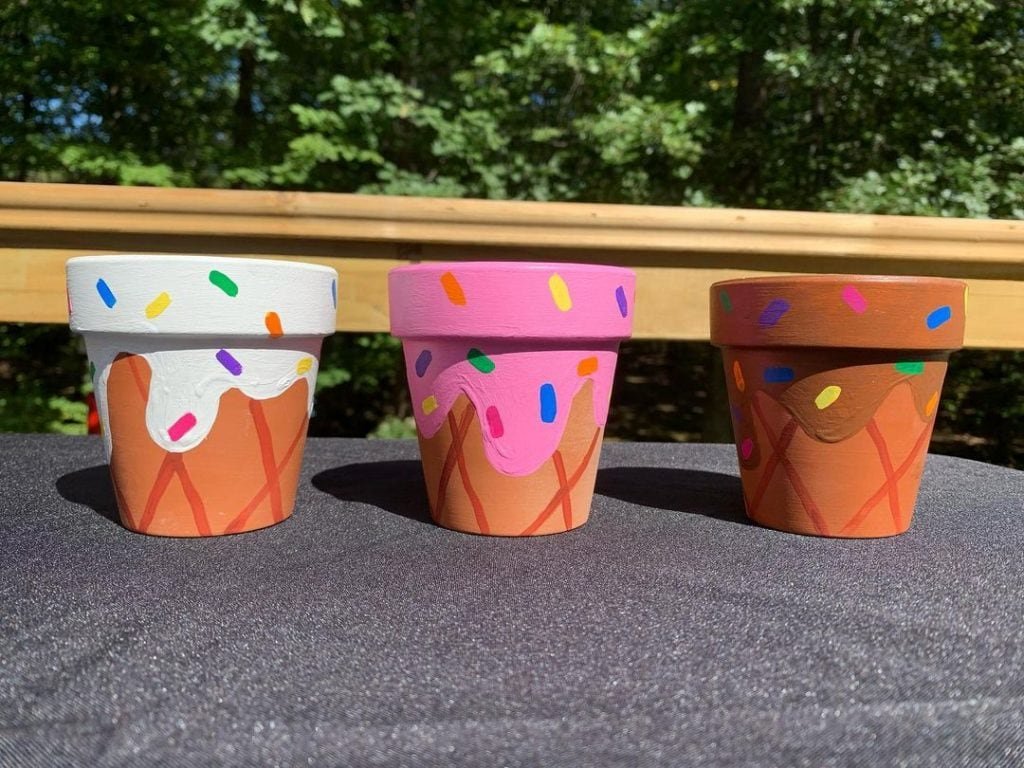 Ice cream lover or not, the simple brilliance of these painted flower pots by lil_artistry will certainly impress you. With the very basic ice cream patterns, these flower pots have kept the overall vibe simple yet elegant.
5. Smile Like A Bunny
How cute are these little smileys? These painted flower pots by genericmillennialangst are perfect for your indoor plants/ If you have table plants then, this is how you should paint them.
There you go. We have come to the end of the curated list for you. This list has ideas of all sorts for your painted flower pots. If you are new to this you can choose the easy ones if you are looking for something elaborate then you have options for that too. Go ahead and make those bare flower pots more vibrant. Add some interesting characters to it. Happy painting.
If you loved these ideas, you can use the Pin image below and save this article on your 'Garden Ideas and Projects' Pinterest board.