If you're looking to add a touch of nature to your home or garden, there's nothing quite like a beautifully hand-painted flower pot. These unique and eye-catching pots are the perfect way to showcase your favorite plants and add a pop of color to any space.
Whether you're looking for a mandala, bohemian style or something more abstract and simple, there's a hand-painted pot out there that's perfect for your taste.
You can also check out other creative ideas to make your house a little more fancy and welcoming.
28 Beautiful And Unique DIY Planter Box Ideas
30+ DIY Plant Stand Ideas for Indoors & Outdoors
30+ Beautiful & Stylish Pallet Planter Ideas for Outdoors
Ready? Pick an idea and get on with it –
1. Hand Painted Flower Pots
In modern times, the mandala has become a popular design motif in various cultures and art forms, particularly in the form of intricate circular patterns. This mandala painted pot features intricate geometric shapes and symbols, with repeated patterns and layers that create a sense of symmetry and balance.
2. Mandala Art On Pots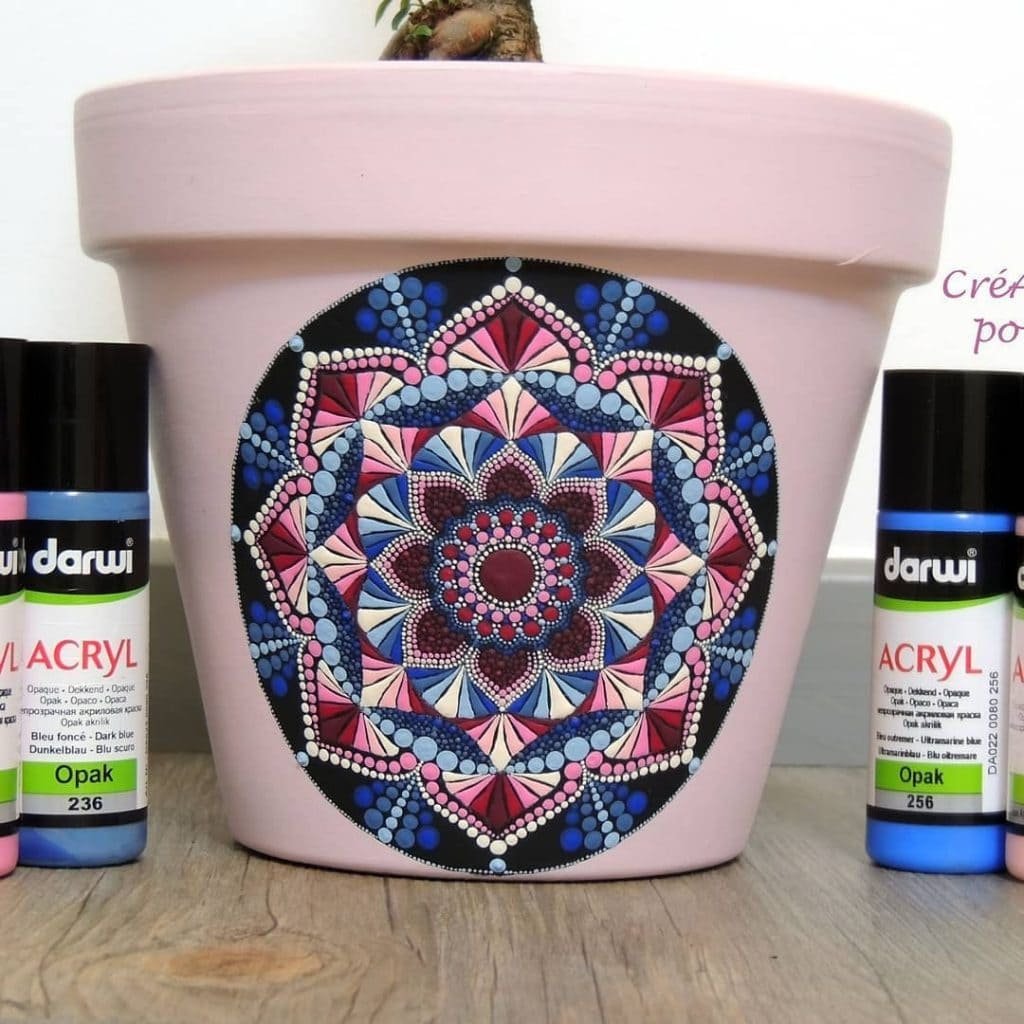 Mandala painted pots are perfect for adding a bohemian or spiritual touch to your home or garden.  This painted flower pot is an example of conventional Mandala art. The hypnotic Mandala pattern and the fusion of the color is absolutely mesmerizing. You can use mandala pot painting for meditation or therapy, as the process of creating and coloring mandalas is truly calming and centering.
3. Colorful Hue In Winters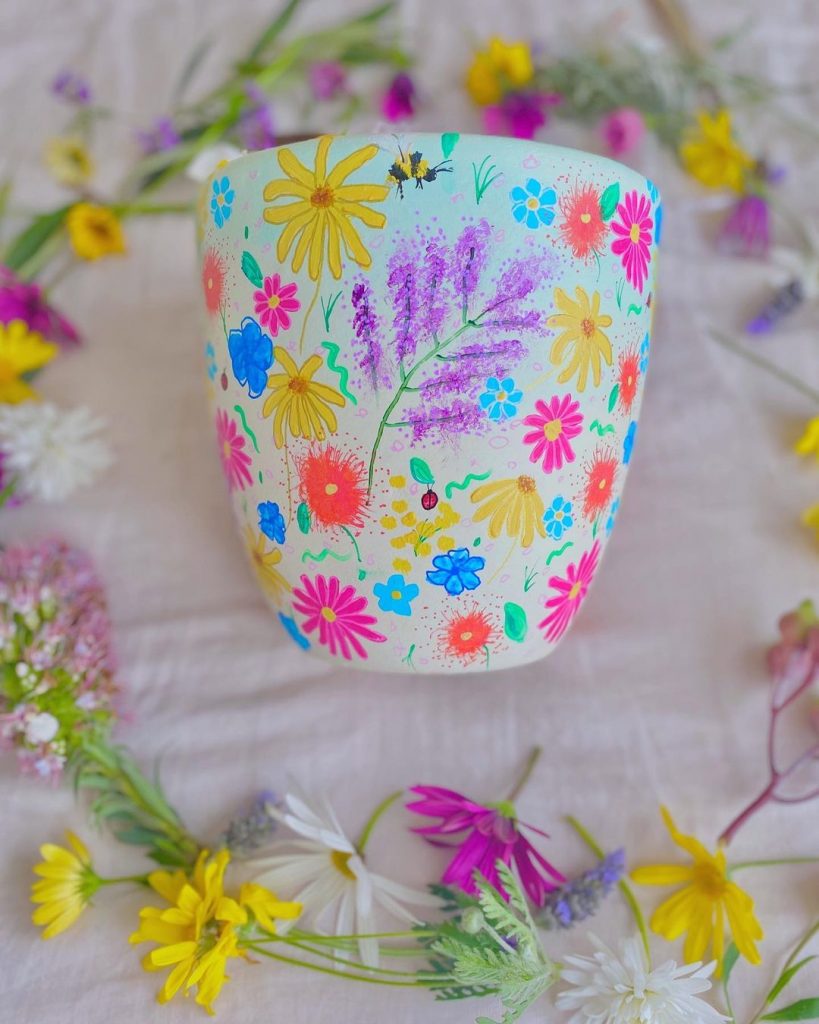 This colourfully painted pot reminds me of the bright sunny summer days. In this winter if you are feeling too gloomy and want something bright and sunny for your garden area then this floral clay pot will be just perfect for you.
Read – 30 Amazing Flower Doodles For Your Bujo Pages
4. Wildflower Pot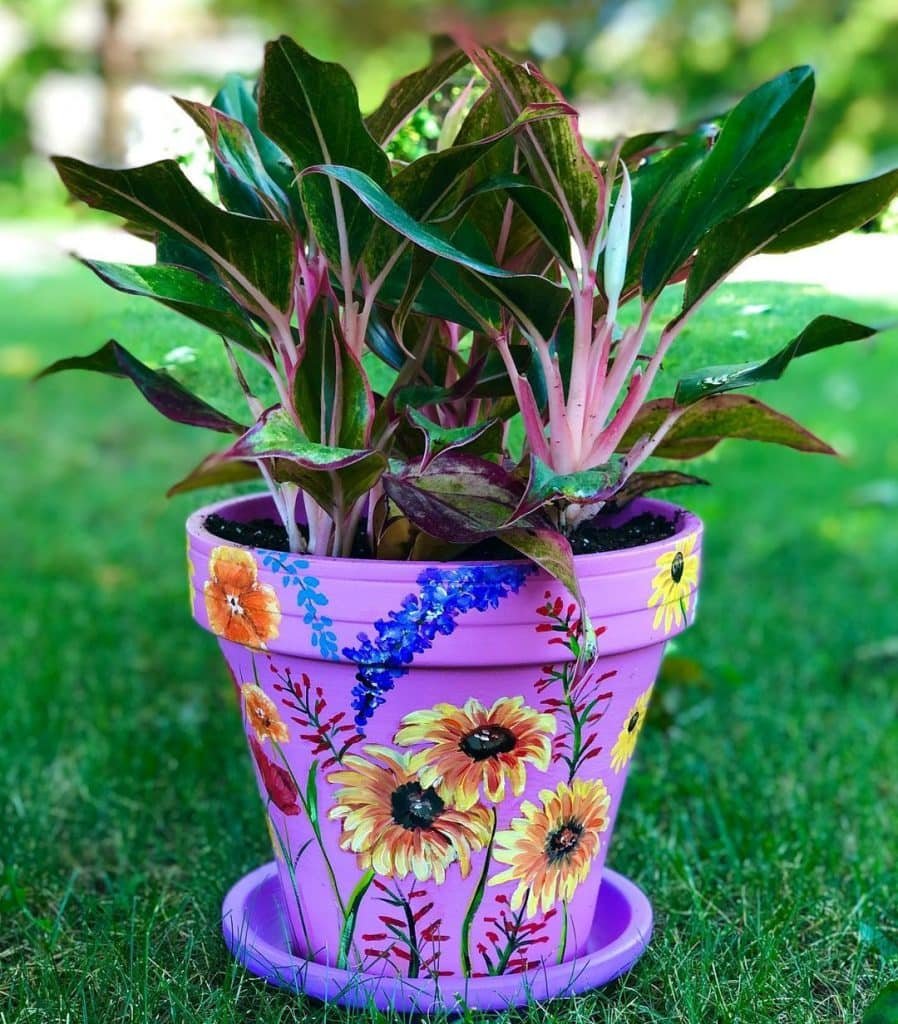 With the mauve base and yellow daisies this floral painted flower pot is the epitome of harmony. This flower pot leaves no stone unturned to reflect the spirit of the spring season. The vibrant colors used make it perfect for home decor – be it indoors or your backyard garden.
5. Acrylic Floral Painted Pot
This white ceramic pot and the painting on it is the perfect amalgamation of color and peace. Make sure to keep the simplicity of the white ceramic intact while painting the floral pattern on it. This one has a touch of sophistication and would look good if your indoors have a theme of minimalism going strong.
6. Two Toned Clay Pots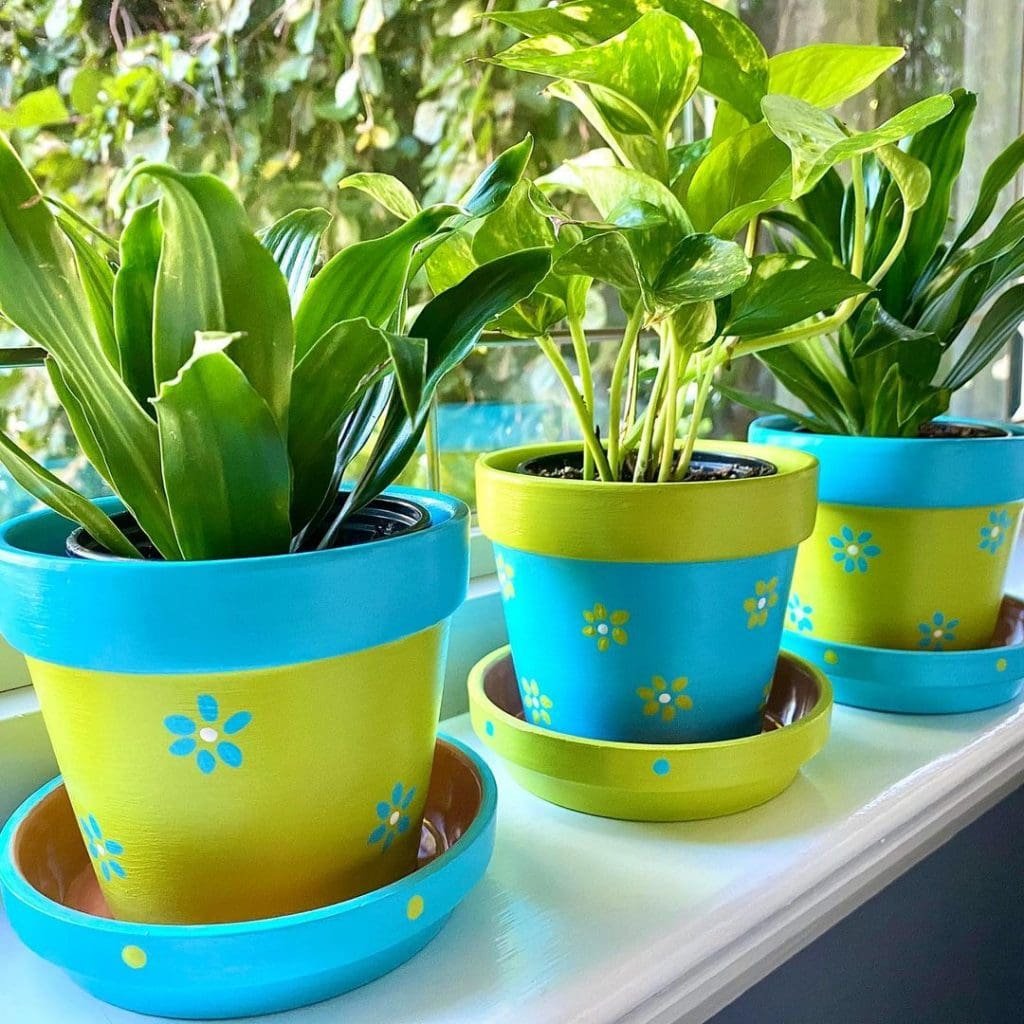 The sunny and bright combination of the two shades – blue and green – will certainly liven up any corner of your house. But feel free to choose any two shades of acrylic paint to create these pretty pots. All you need to do is alternate between the base coat colours for each pot.
7. Super Cute Terracotta Pot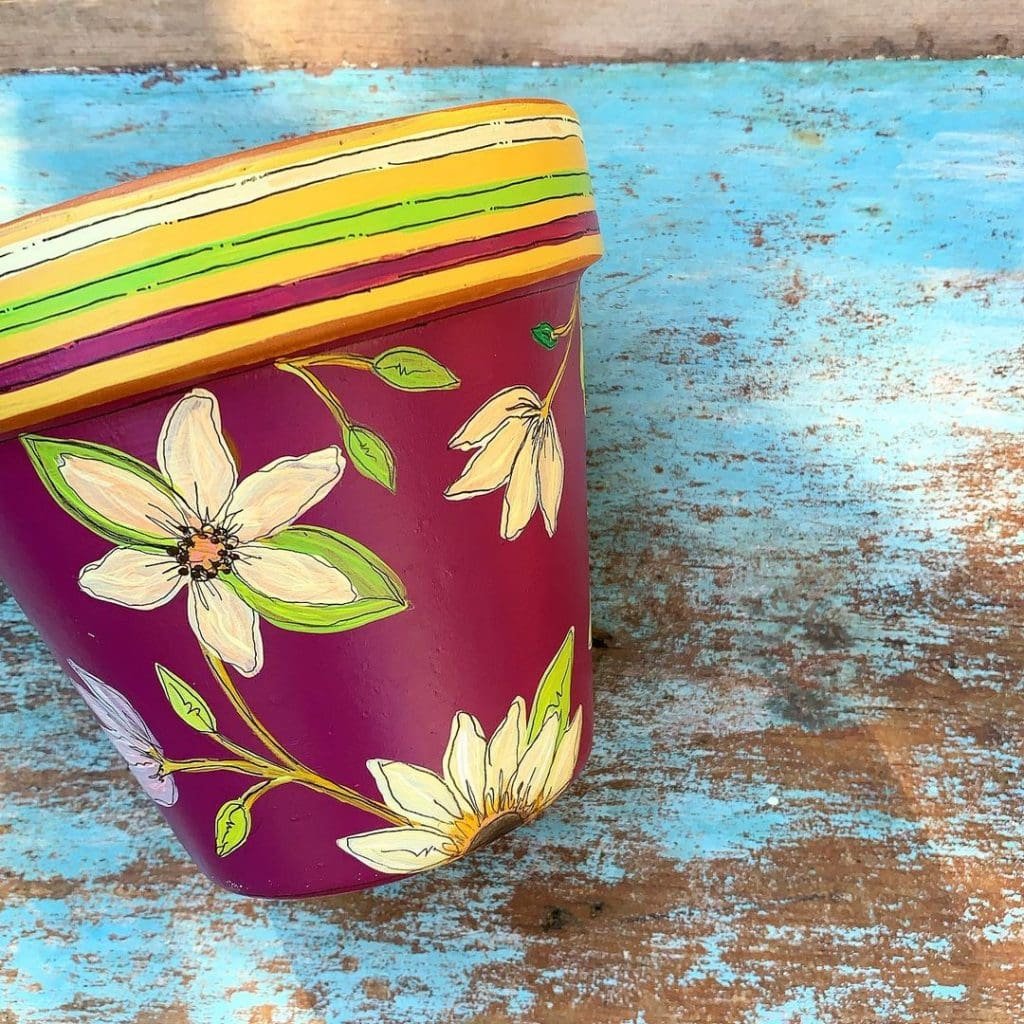 What I like the most about this flower pot painting is the berry base color. Of course, the confident stroke of the brush to create flowers is impeccable. And certainly, that is the reason why this terracotta flower pot looks perfect for your backyard area.
8. The Charmer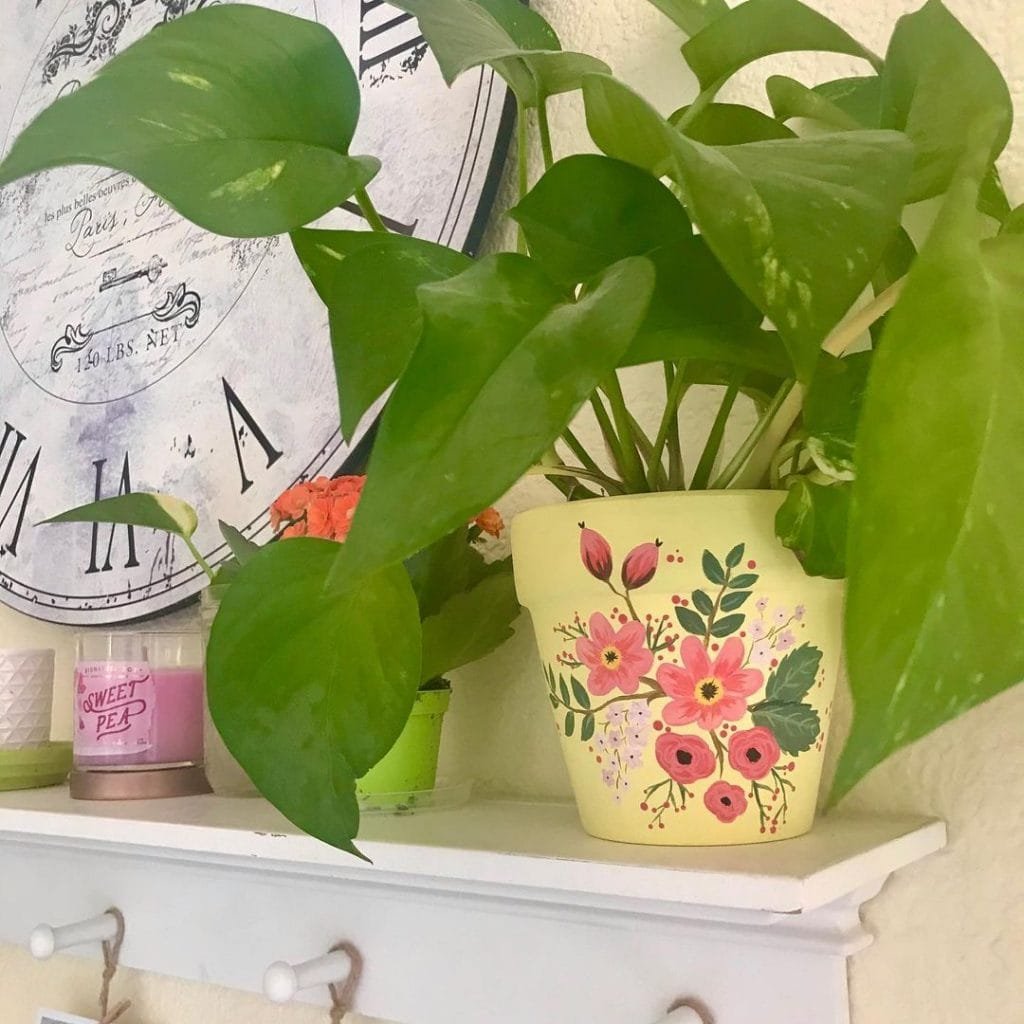 Do you love painting flower pots and want to make the effort to create intricate florals? Then, you will love this painted pot which is truly a work of art. This planter is so gorgeous that it will bring extra life to your plants.
9. Sugar Skull Painting For Your Flower Pots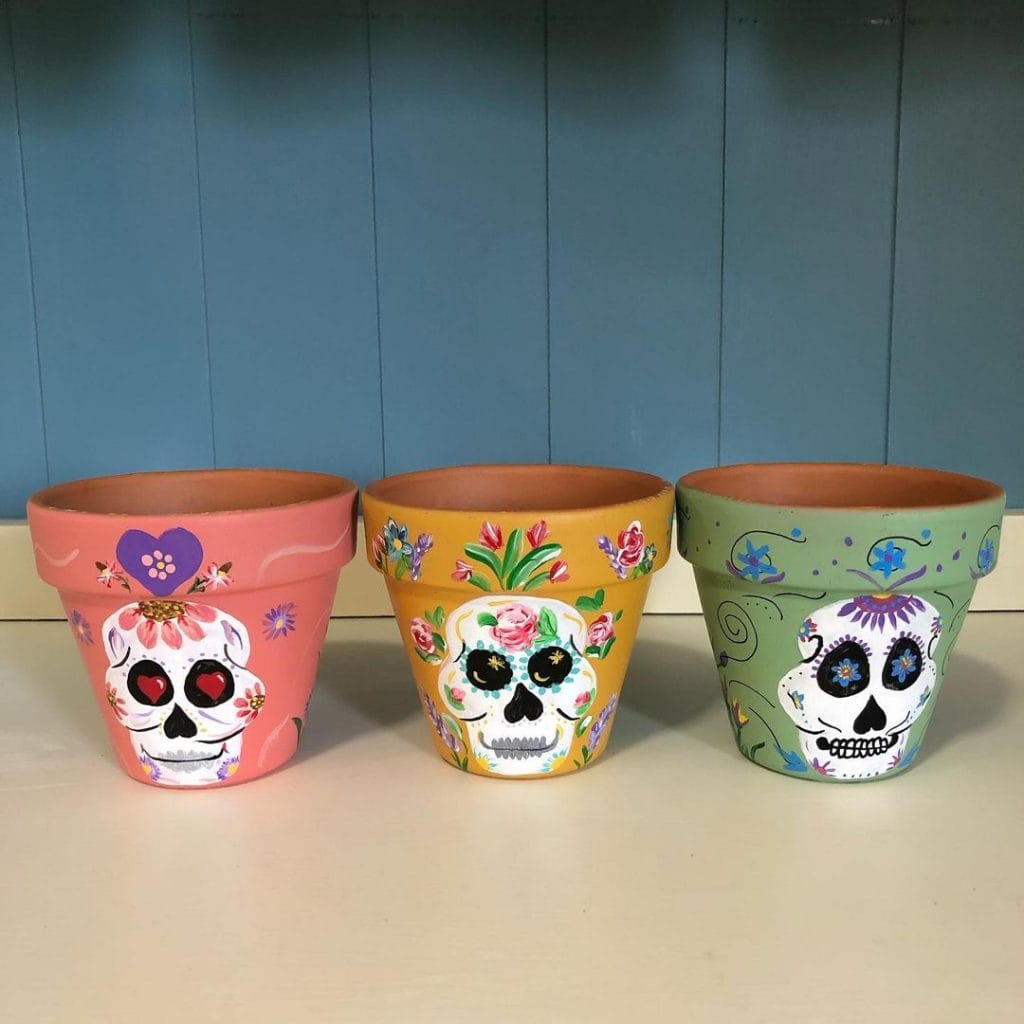 If you think that painted flower pots are mundane and not your style then, these skull painted pots might be just the one for you. These trendy and funky skull paintings on flower pots are fun and classy. The gothic feature is painted with a combination of some flowers which gives it an extra edge. The base colors are basic shades that only enhance the skull pattern painted on these pots. You can use paint markers or paint pens for the finer detailing.
10. Calico Cats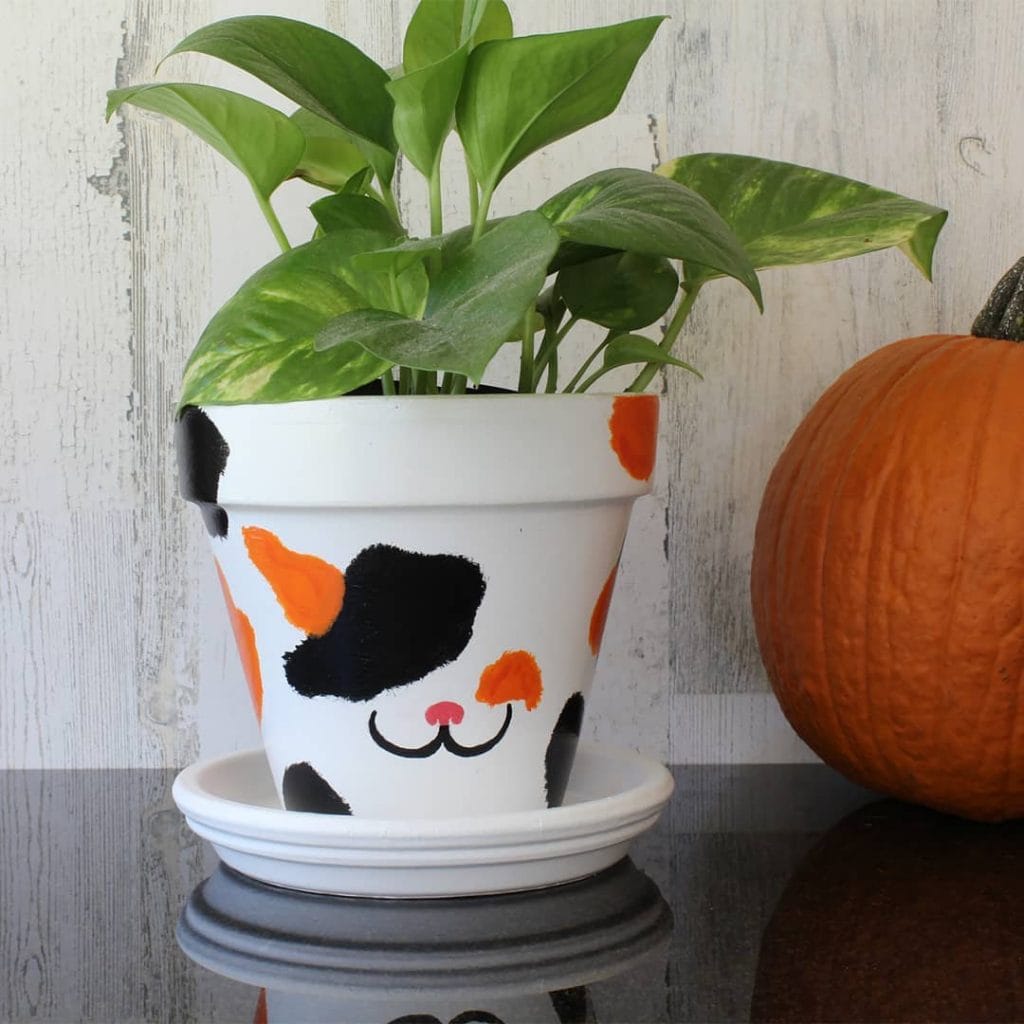 This white-based animal pattern painted flower pot is a juxtaposition of simplicity and quirkiness. And if you are a cat lover or a cat owner then this calico cat flower pot will undoubtedly appeal you. To create the white base, you can use spray paint, acrylic paint or chalk paint.
11. Bring In The Nature
Painting pots is an amazing way to bring nature even closer to you. Whatever it's that you like the most about natural beauty, you can paint it on your plain terracotta pots to bring them to life.
For instance, this entire pot is painted with a might bird and extensive green foliage that makes you feel like you're in a forest. The beauty of this painted pot also lies in its color palette. The blue, green, and bright yellow has made this painted flower pot wholesome.
12. The Moo Point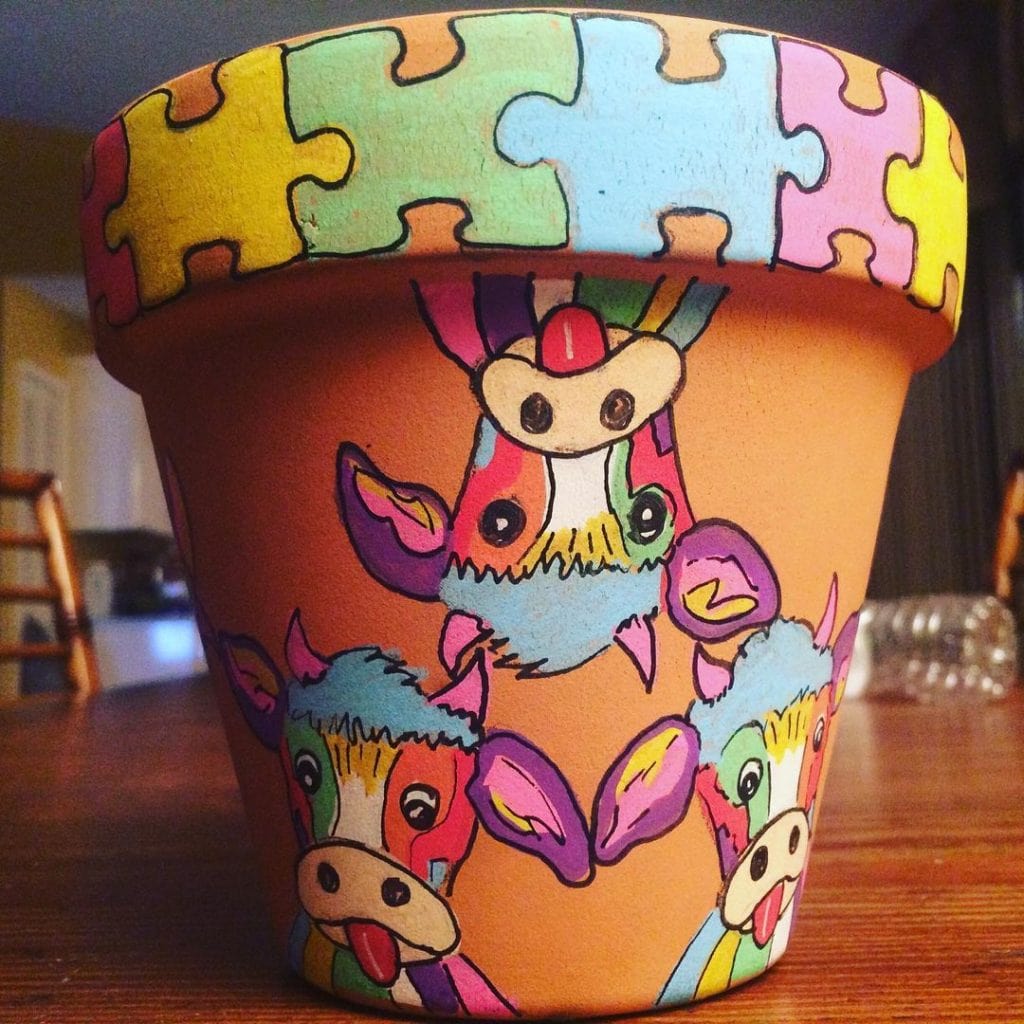 If you're looking for something different, this innovative design with colourful cows will be perfect for you. It's also a good design idea for painting the terra cotta pots in the kids room. For this design, you can paint flower pots with a base coat or even use them as it is.
Click here to know how to make your own DIY pot.
13. Creative Terracotta Pots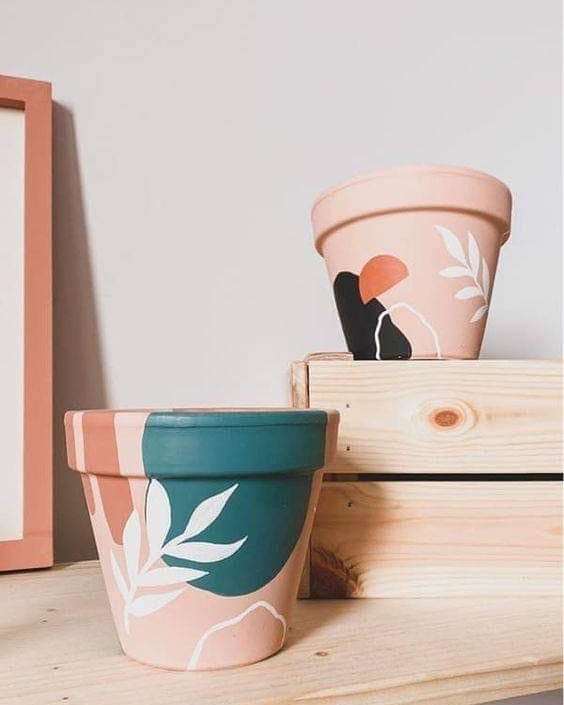 These terracotta painted pots are so creative and simple to recreate. All you have to do is choose a pastel color for the base and some contrasting colors for the abstract pattern and you are good to go. You can also use gold paint instead of white paint to create the leaves.
14. The Green Glow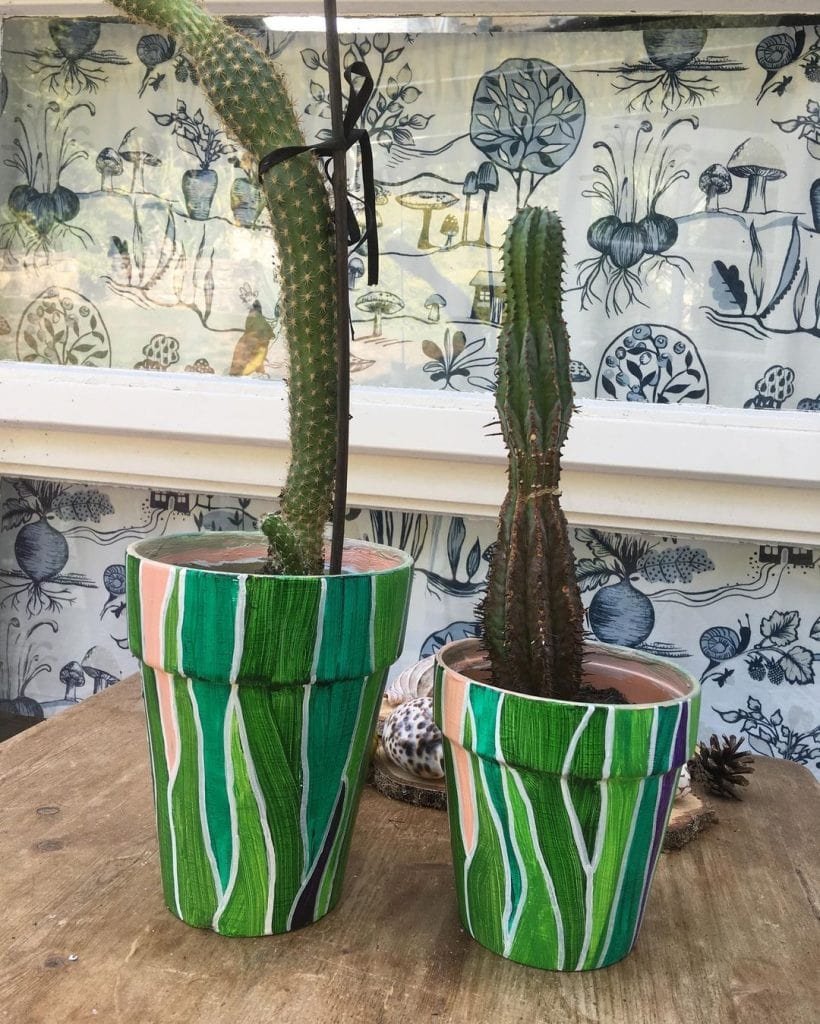 Want to give an excellent makeover to these cactus plants? Use this simple design to paint terracotta pots. All your need to is draw a similar pattern by hand and then fill in different shades of green. To finish, use white paint to create thick borders. You can also do a top coat of varnish for shiny finish.
15. Simple And Sleek Painted Pots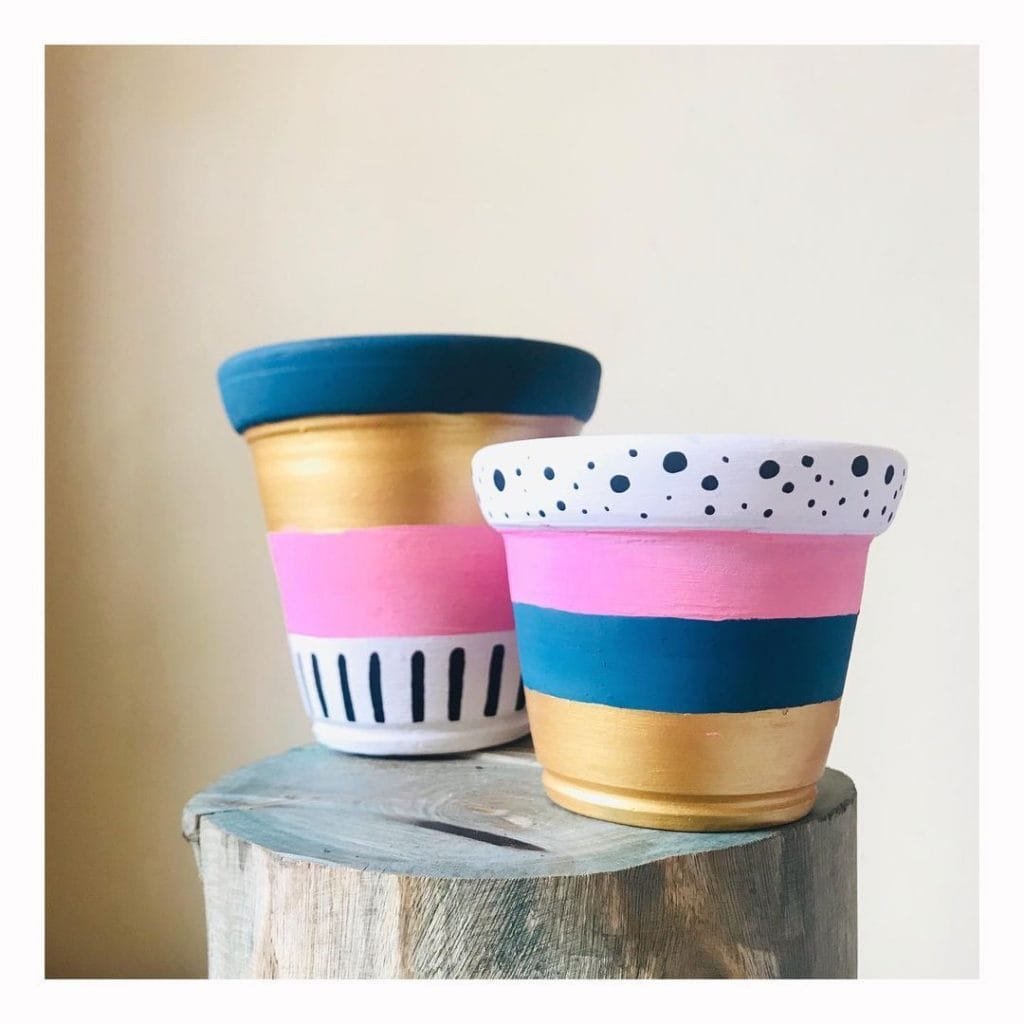 If simplicity could be painted, this is how it would look. The color combination of these flower pots is so charismatic. You can use painter's tape to paint It will take minimum time to recreate these beauties and yet their charm will bless your indoors forever.
16. Stories Of Summer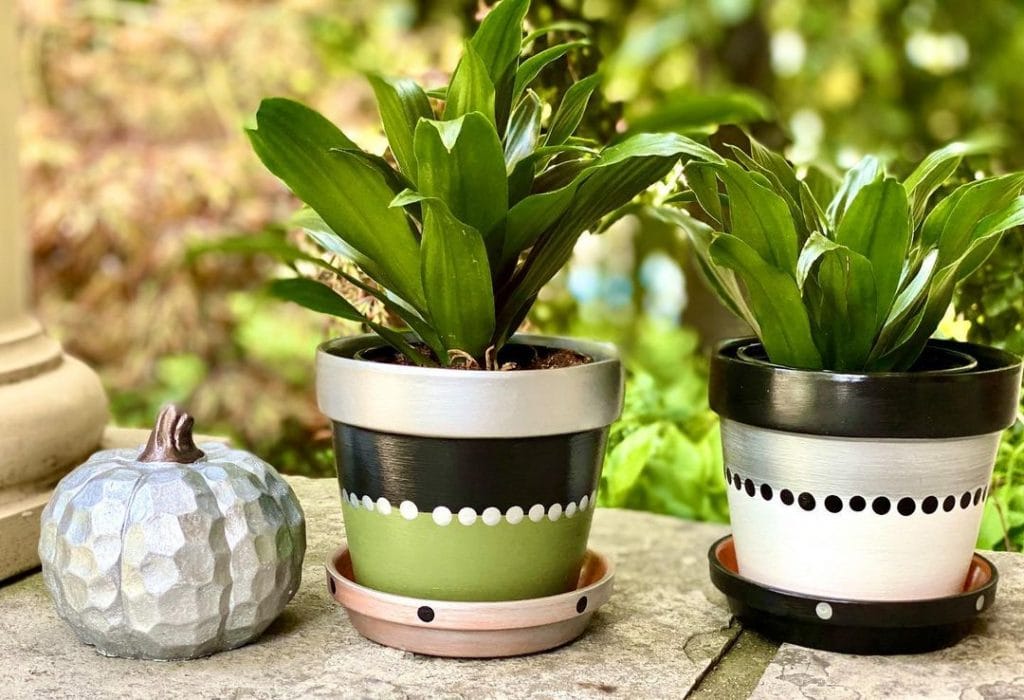 One popular technique for painted flower pots is to use acrylic paints and a variety of brushes to create a unique design. You can choose to paint the entire pot, or just certain sections or accents, depending on the look you're going for. You can also use stencils or tape to create clean, sharp lines and shapes like in this one. And then fill in using your favourite colours. These pots are perfect for succulents.
17. Play With Abstract Patterns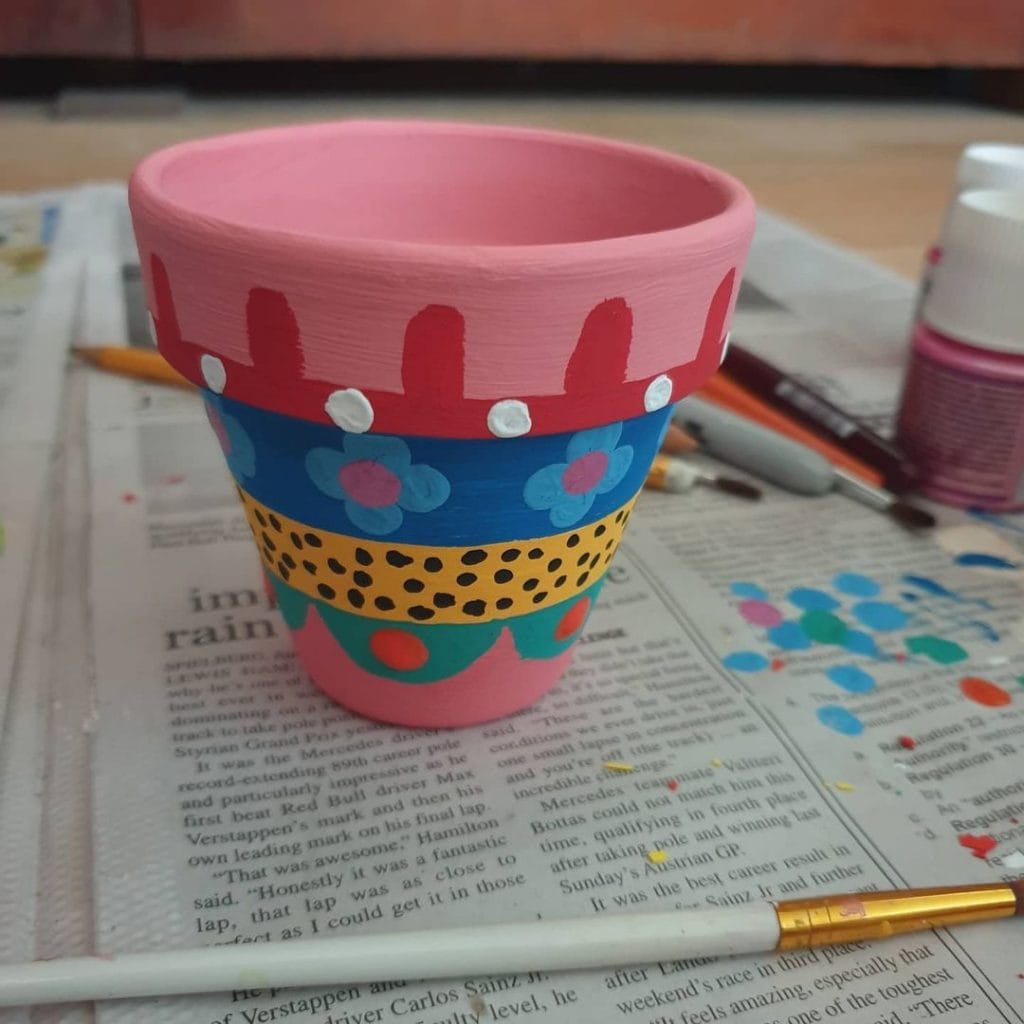 If one has to choose a form of art that has been praised time and again and has enjoyed global popularity then it would be abstract art. Abstract art and painting sit well with today's aesthetically pleasing house plans and indoors. This pot with abstract painting will add beauty to your minimalist indoors and fancy gardens.
18. White And Gold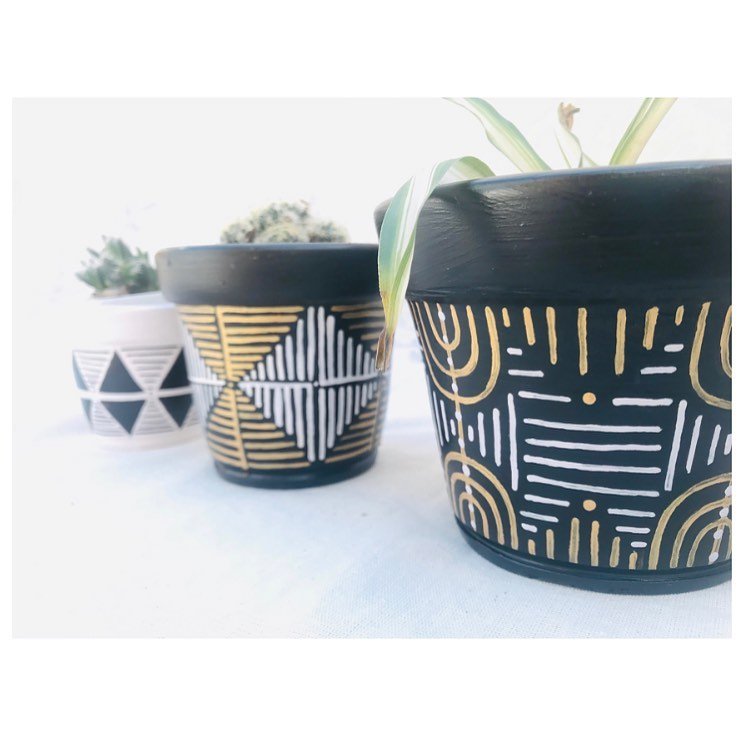 These black, white and gold patterned pots are minimalist and beautiful. If you like creating patterns by hand, you can use this idea for painting your succulent pots.
19. The Shades Of Rainbow
This painted pot has a unique color combination that will look good no matter where you place it. It has bold colors that sync in perfect harmony to create the brightest corner of your house.
20. Grow Beautiful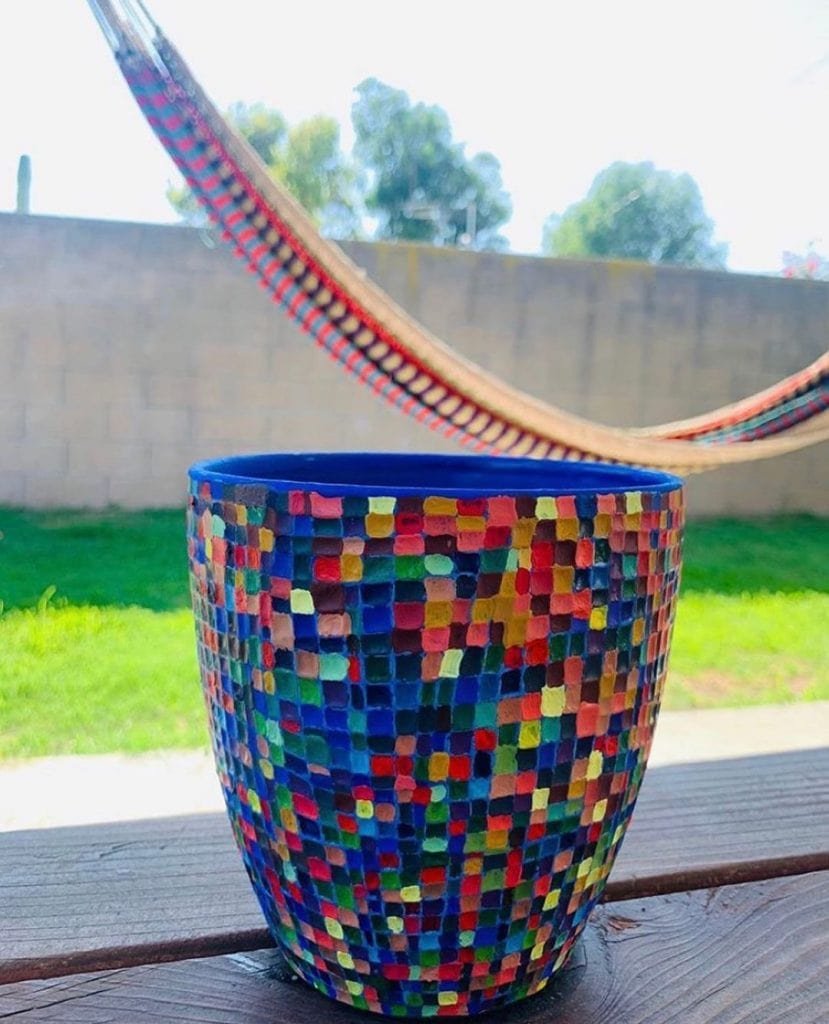 If you're feeling particularly creative, you can use materials and techniques to texture to your painted flower pots. For example, you could use decoupage to add images or patterns to the pot, or use stencils and texture paste to create a raised, 3D effect.
21. Abstract patterns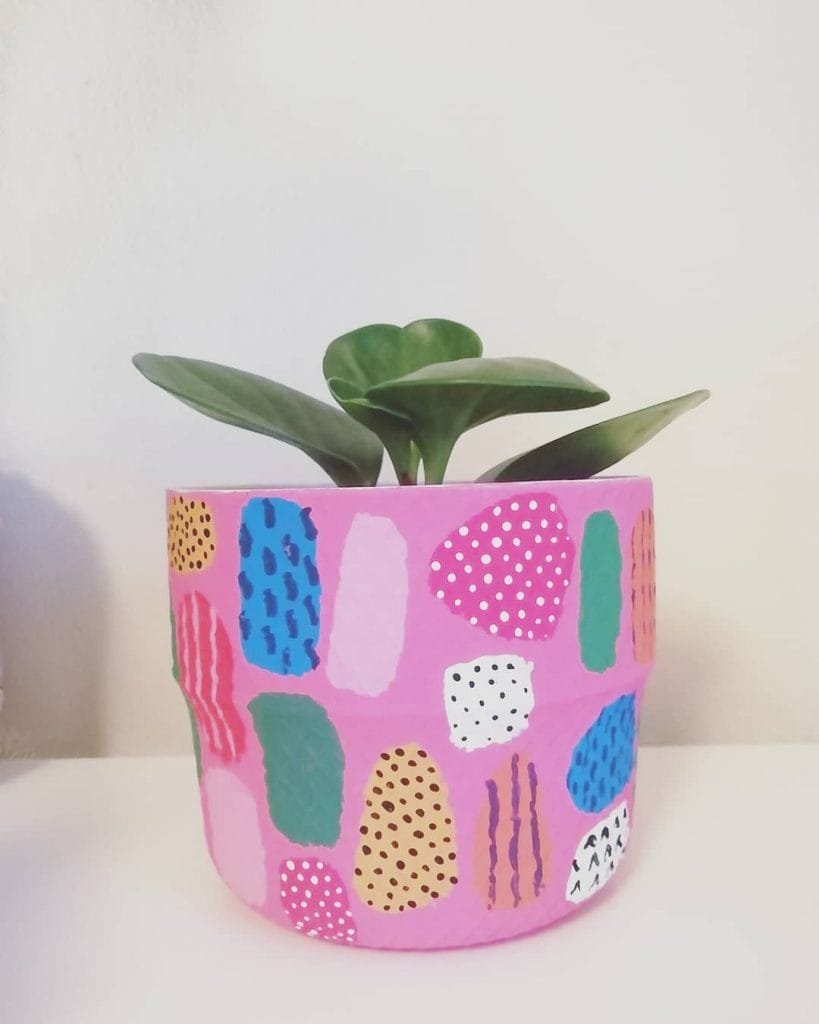 Abstract patterns are typically characterized by bold, geometric shapes, and colors that are often bright and contrasting. Some popular patterns include stripes, circles, triangles, and squares. Unlike traditional flower pots that may be plain or have a simple design, abstract pattern flower pots are visually interesting and can be a real conversation starter.
22. Get Creative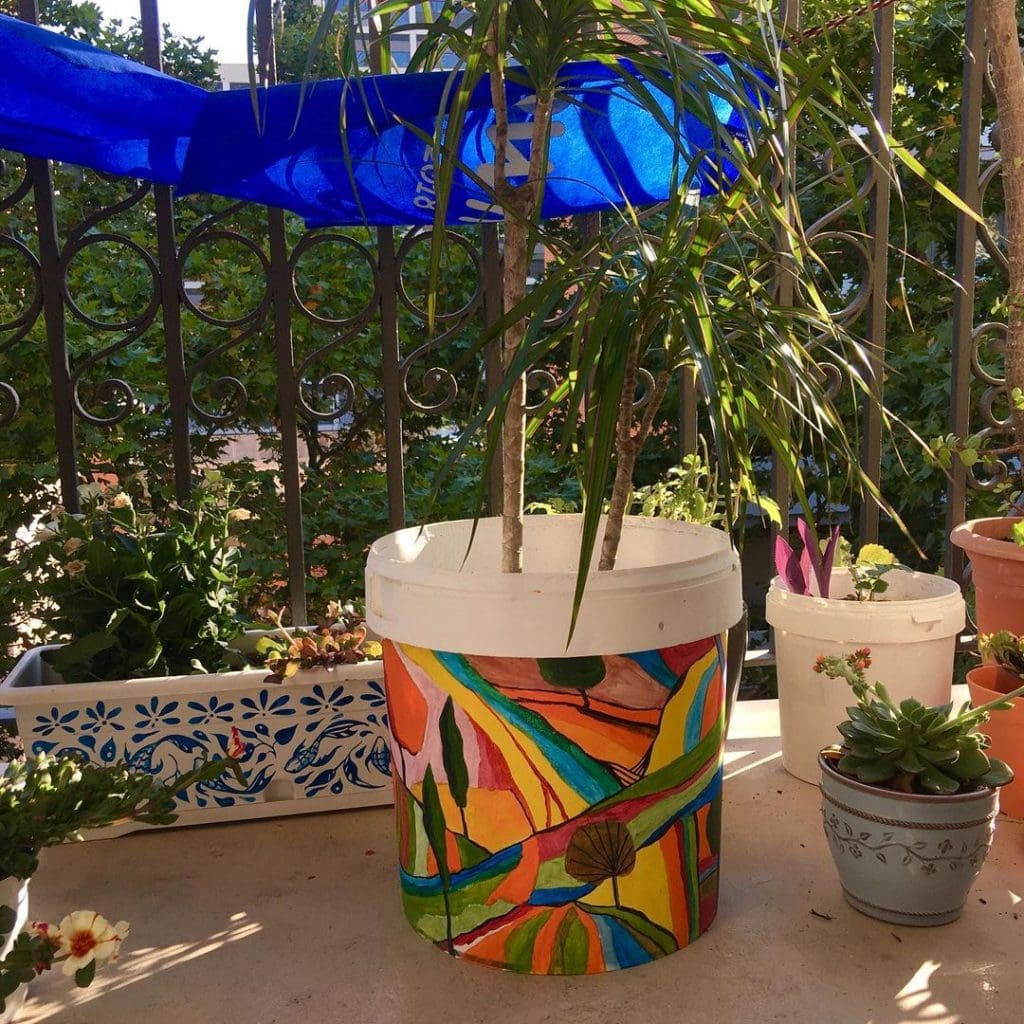 Looking for an idea to paint a large pot? Here's one that combines all the good things – vibrant colours and a beautiful depiction of nature. Feel free to create your own version of this design.
23. Paint The Pots In Style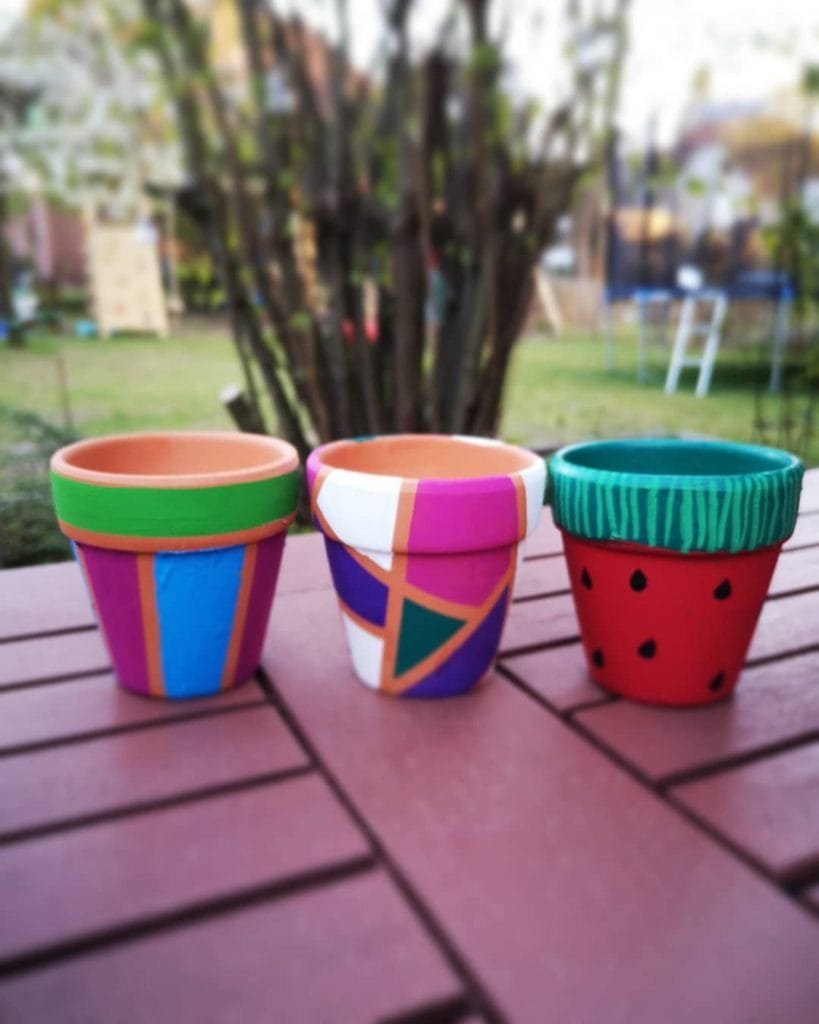 These three painted pots are simple to recreate and will require minimum effort. And they will certainly lighten up your indoor space. For a perfect finish, you can use mod podge on the finished pot.
24. All Colors Bright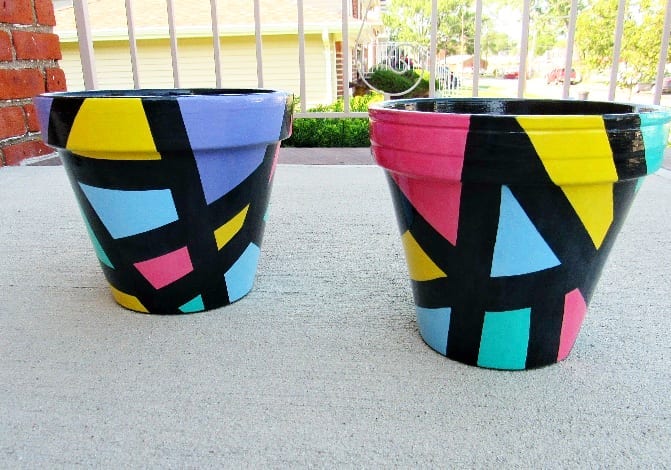 These painted flower pots are exquisite for your indoors and the garden areas. It has all the colors that give positive energy and black borders to just enhance the overall beauty.
25. Doodle On The Pot
These little doodle patterns on your flower pot are so much fun to play around with to create something exemplary. Remember to choose very simple yet iconic doodle characters for the pots.
26. Sunny Sky And Kites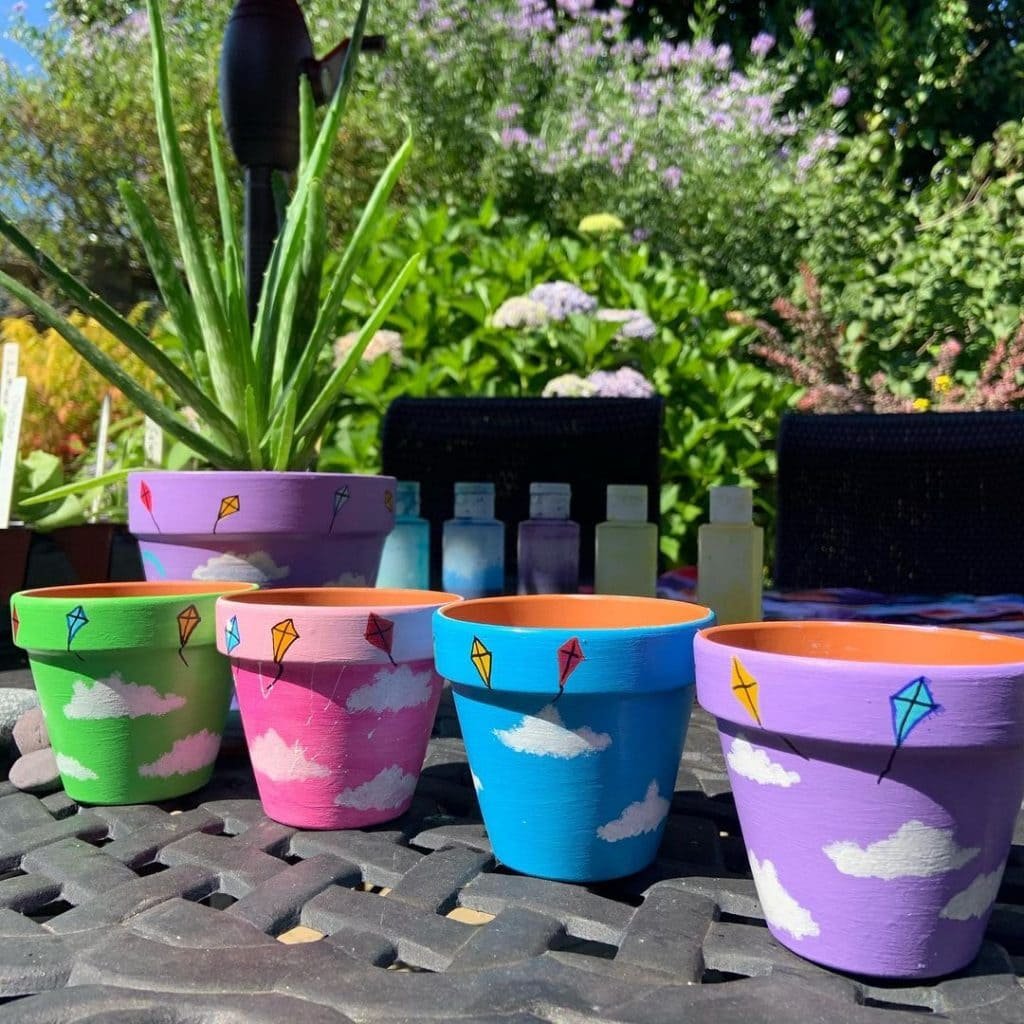 If you want some touch of the bright sunny pleasant day then this one will not fail you. From the colors to the clouds and kite patterns, everything about these painted terracotta pots screams a perfect summer day.
27. Simple Simley
These simple smiling emoticons on the flower pots are adorable. They will not fail to bring a smile to your face. And keep it so simple that you can make a number of these within a couple of hours.
28. We All Scream For Ice Cream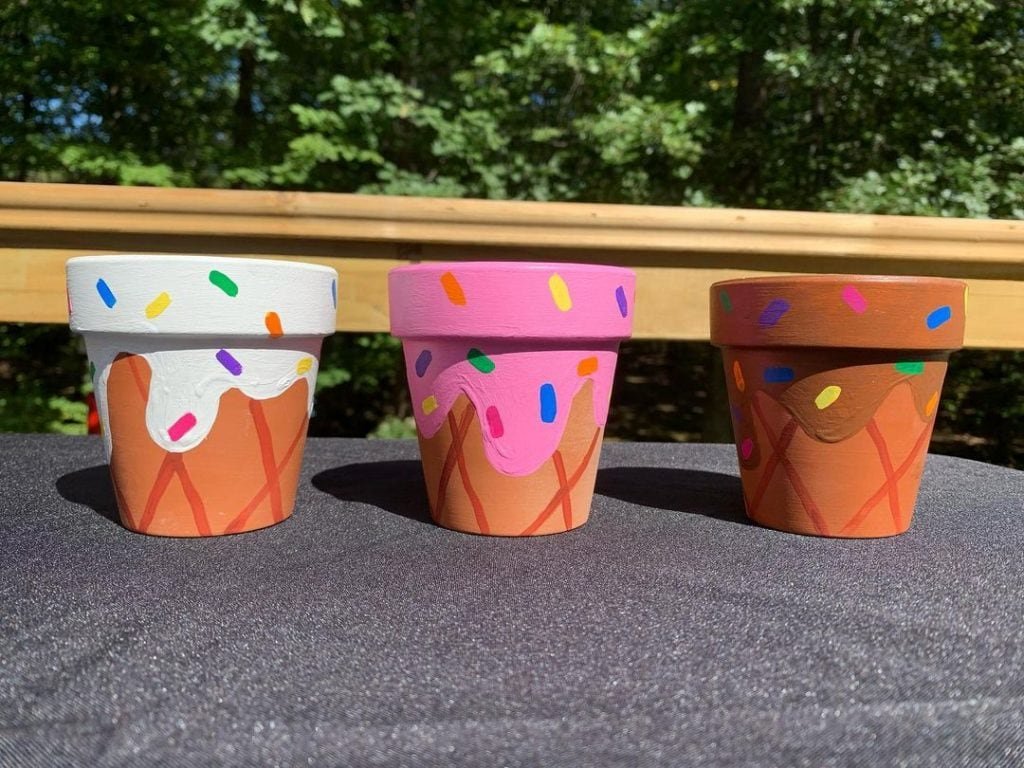 Ice cream lover or not, the simple brilliance of these painted flower pots will certainly impress you. These very basic ice cream patterns are perfect for kids room as well as outdoor space.
29. Smile Like A Bunny
How cute are these little smileys? Smiling is a universal language that can communicate joy, happiness, and positivity without the need for words. One creative way to spread smiles and cheer is by painting them onto flower pots.
30. Bright Gold Pots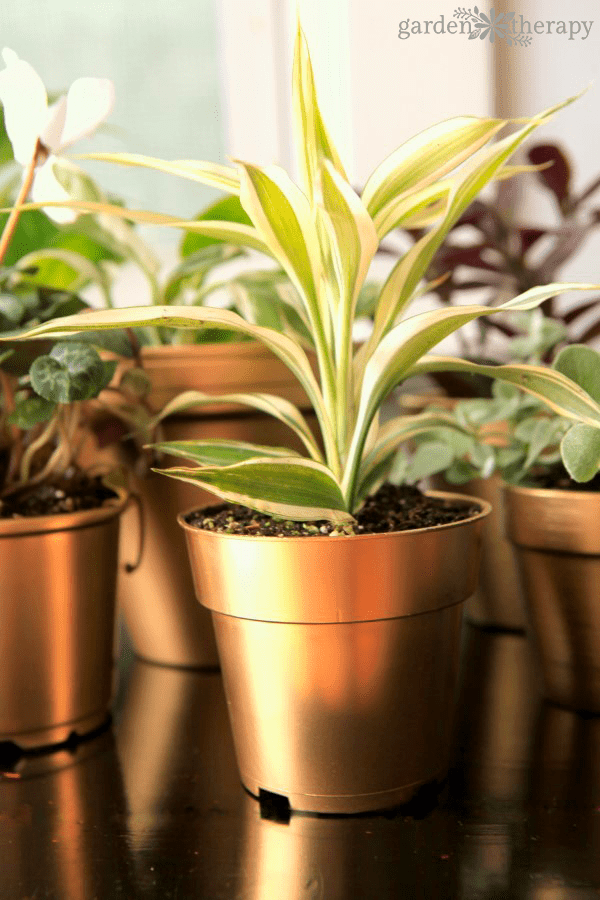 Adding a touch of gold to flower pots can create a luxurious and elegant look. Gold paint adds a metallic sheen to the pot, making it stand out and draw attention.
31. Rubberband Pattern Pots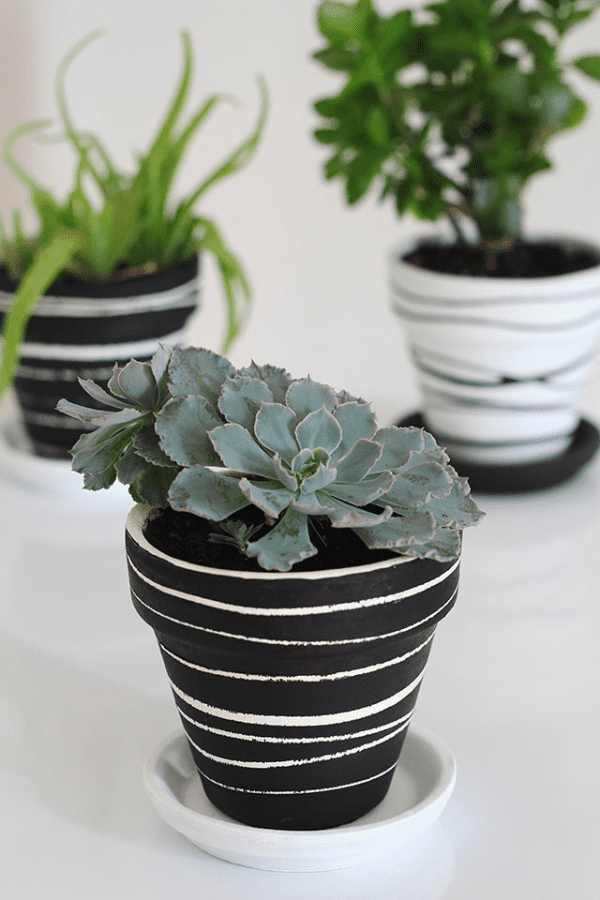 Using rubber bands to paint flower pots is a fun and creative way to add unique designs and patterns to your plain pots. This technique is easy to do and requires only a few materials such as rubber bands, paint, and a brush.
To start, you will need a clean flower pot and some rubber bands. Wrap the rubber bands around the pot in different patterns, spacing them out evenly. You can choose to create a simple striped pattern by wrapping the bands around the pot horizontally or vertically, or you can create a more intricate design by wrapping the bands in criss-cross patterns or spirals.
Next, apply paint to the pot using a brush. You can use any type of paint, including acrylic, enamel, or spray paint. Be sure to apply the paint evenly and let it dry completely before removing the rubber bands. Once the paint has dried, carefully remove the rubber bands to reveal the unique pattern underneath.
You can use this technique to create a variety of designs and color combinations.
32. Shaded Succulent Pots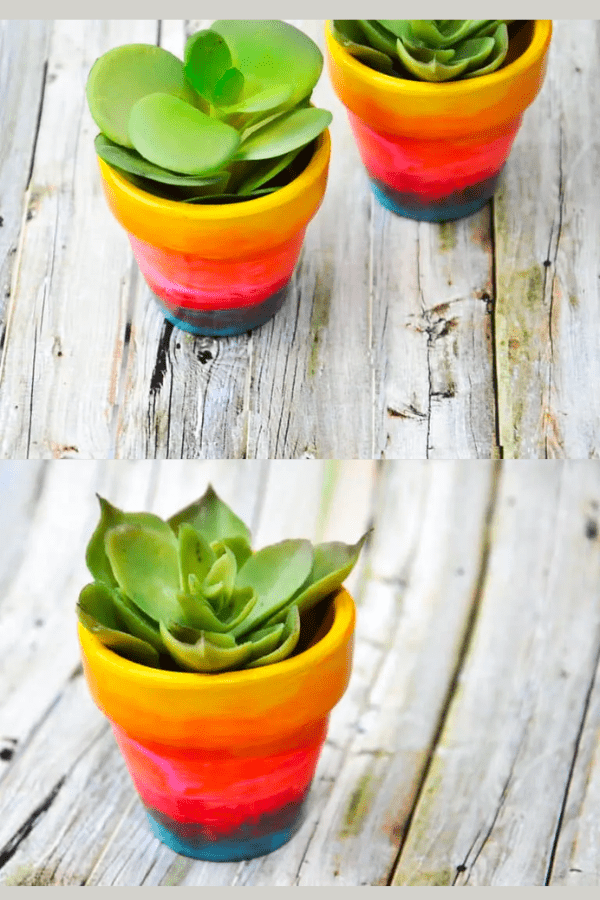 Painting succulent pots with multiple colors can be a fun and creative way to showcase your personal style and add a pop of color to your home decor. With a little bit of planning and creativity, you can transform a plain pot into a unique and beautiful work of art like this one to enhance the beauty of your succulent plants.
33. Illustrated Pot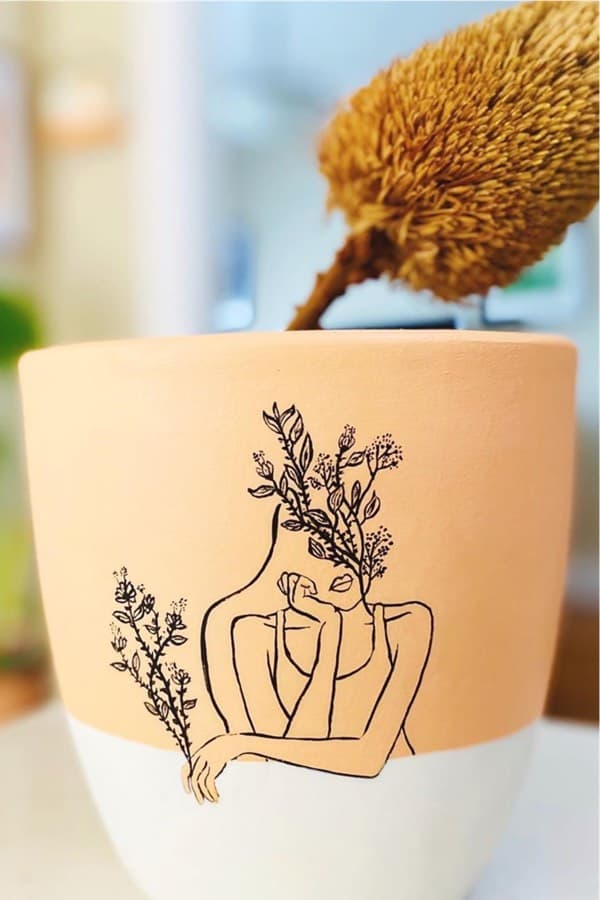 Whether you're an experienced artist or just starting out, you can create beautiful and eye-catching illustrations that will make your flower pot stand out. Here's a creative illustration of woman that you can take inspiration from.
34. Rainbow Colours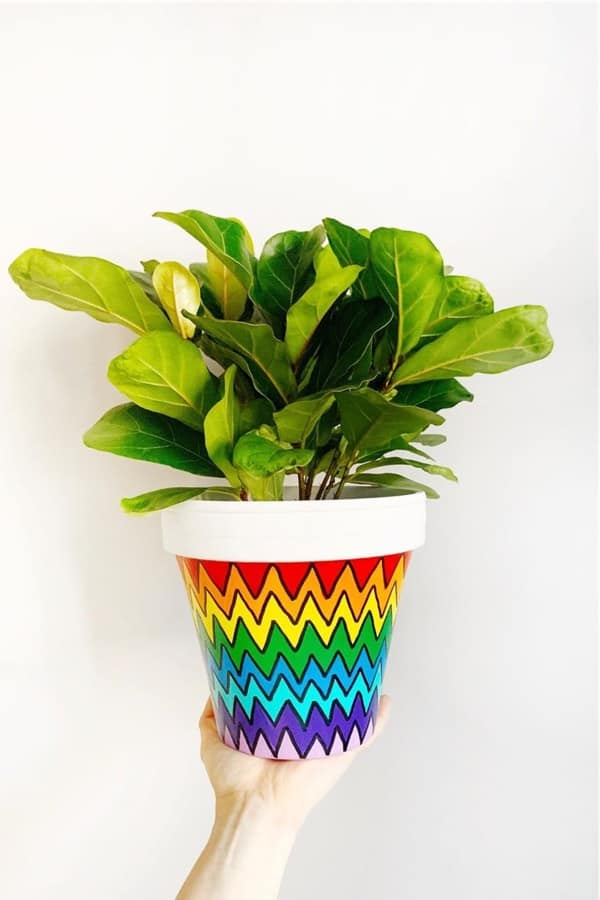 The rainbow is a beautiful and awe-inspiring natural phenomenon that is often associated with feelings of happiness, joy, and wonder. The vibrant colors of the rainbow can evoke a range of emotions. Using the same colours on your pot to fill in the zig-zag lines will create this pot that will brighten any corner of the house.
35. Painting Pot For Gifting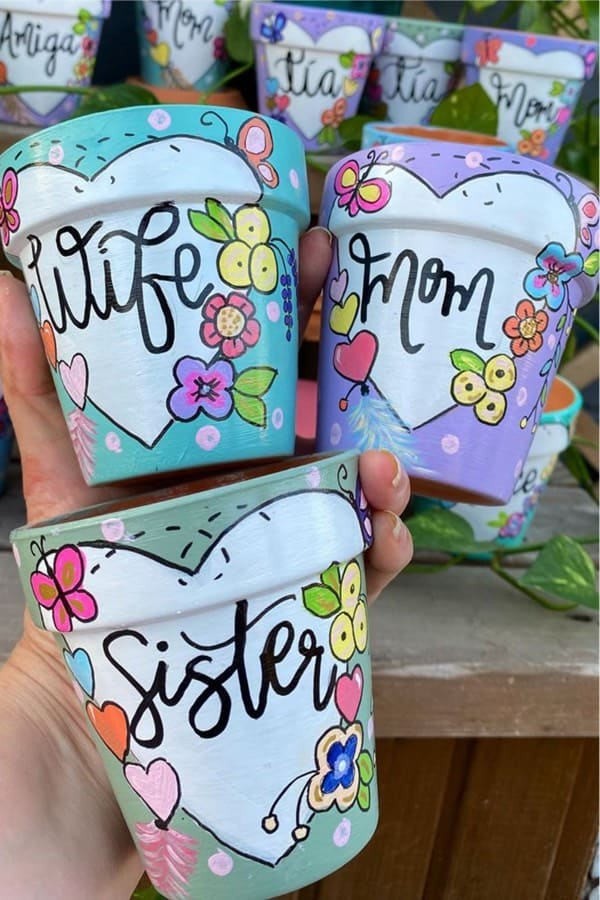 A painted pot with a name on it is a thoughtful and personalized gift idea that is perfect for any occasion. Whether you're gifting it to a friend, family member, or loved one, a painted pot with a name on it can be a meaningful and memorable present.
36. Painting Pot With Paint Tapes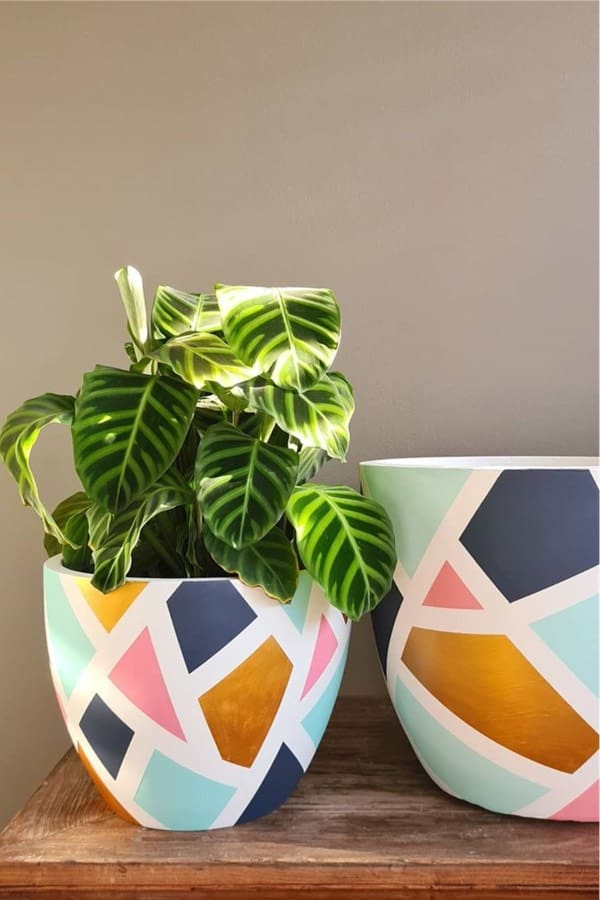 Painting a pot with paint tapes is a fun and creative way to add geometric designs and patterns to your pots. This technique involves using masking or painter's tape to create clean lines and shapes on the pot, which can then be painted in various colors to create an aesthetic and neat design.
37. Shades Of Red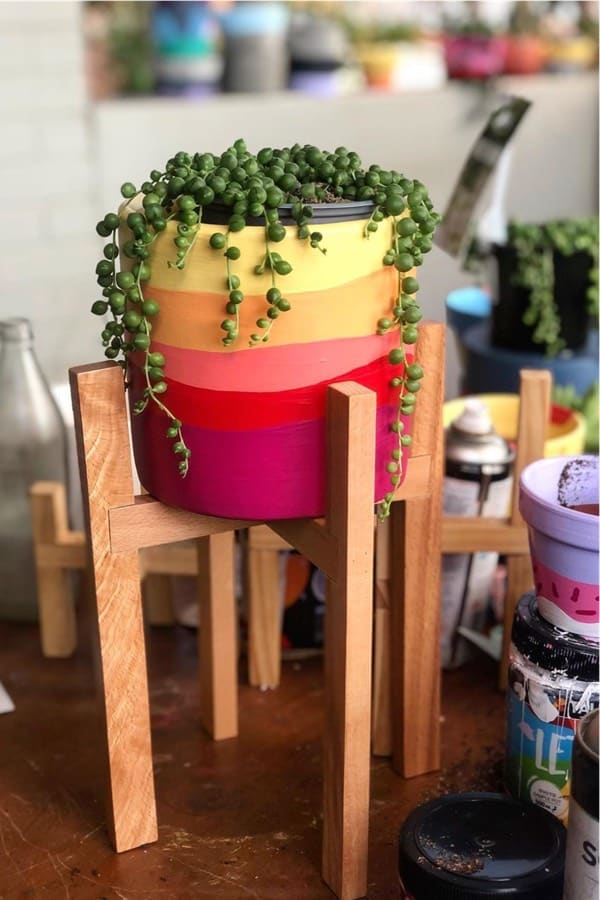 Painting a pot with shades of red is a great way to create a bold and eye-catching design. Red is a powerful and passionate color that can add warmth and energy to any space. Whether you're painting a small clay pot or a large ceramic planter, using shades of red can create a stunning and dramatic effect.
38. Smile Like A Bunny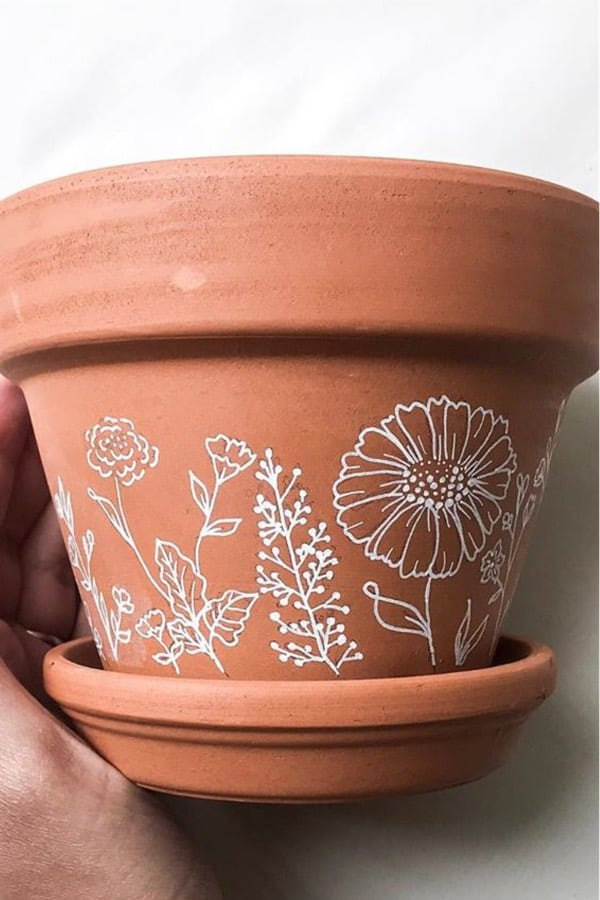 The contrast of white on the natural color of clay creates a striking effect that is both simple and sophisticated. This technique is ideal for those who prefer a minimalist style, and it's perfect for adding a personal touch to a plain pot.
39. Leaf Stencil Painting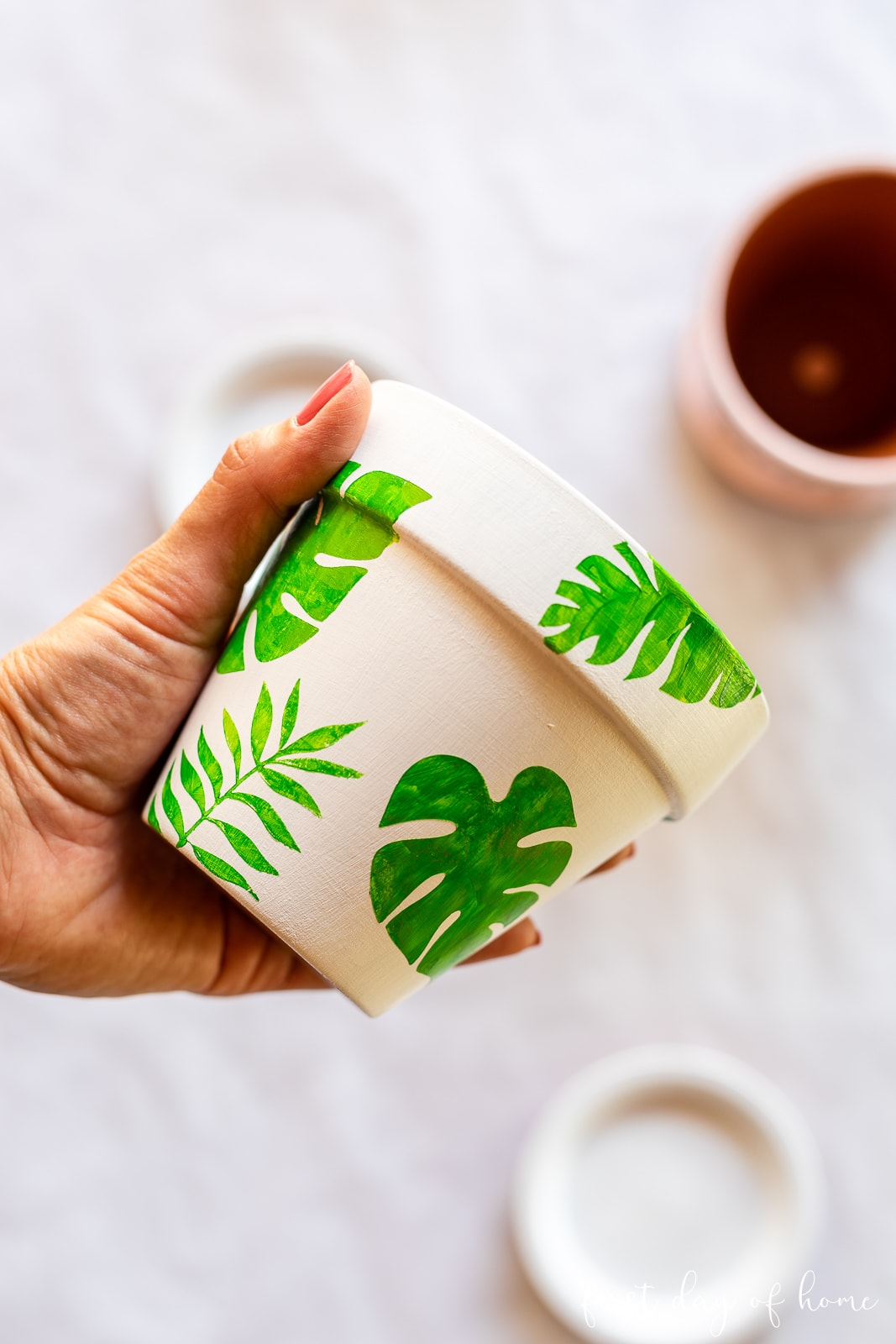 Painting a pot with a leaf stencil is a fun and creative way to add a natural touch to your indoor or outdoor decor. This technique involves using a stencil to create a repeating pattern of leaves on the pot.
Note – Before you start painting your flower pots, remember to apply at least two coats of clay pot sealer all over it. This will make your pot waterproof. Then, use a primer to prep the base for painting. Primer will help you get the smooth finish. But if you're going to use chalk paint, you can skip applying the primer.
There you go. We have come to the end of the curated list for you. This list has ideas of all sorts for your painted flower pots. If you are new to this you can choose the easy ones if you are looking for something elaborate then you have options for that too. Go ahead and make those bare flower pots more vibrant. Add some interesting characters to it. Happy painting.
If you loved these ideas, you can use the Pin image below and save this article on your 'Garden Ideas and Projects' Pinterest board.