There is nothing like the sensation and taste of feasting outdoors, and it's true! Food prepared outside is twice as mouthwatering. If you are looking for something more than a grill or a cooking fire, these outdoor kitchen ideas are the perfect culinary companion. These ideas are designed with all the comforts of an interior kitchen along with added roof options to protect against inclement weather.
Combined with a dining arrangement, an outdoor kitchen will be the favorite spot for you and your guests. Refined or rustic; the open kitchens are a lovely extension to your home. Trust me, building one would take your cooking interests up a notch! 
While designing your outdoor kitchen, use these ideas to decorate the surrounding spaces:
DIY Plant Stand Ideas
DIY Planter Box Ideas
Small Backyard Ideas
1. Rustic Brown-Bricked Outdoor Kitchen
Source: home_inthevalley
This brown, bricked outdoor kitchen idea is perfect for adding a rustic feel to your backyard. The countertop comes with a stainless steel grill, an induction, and a sink. It is an all-inclusive kitchen station which won't let you miss indoor cooking. With enough storage space, this kitchen space is perfect for cooking some delicious brunch/dinner on a beautiful day. The shed lets you enjoy this kitchen in all weather conditions. 
2. Stonework Outdoor Kitchen with Contrast Seating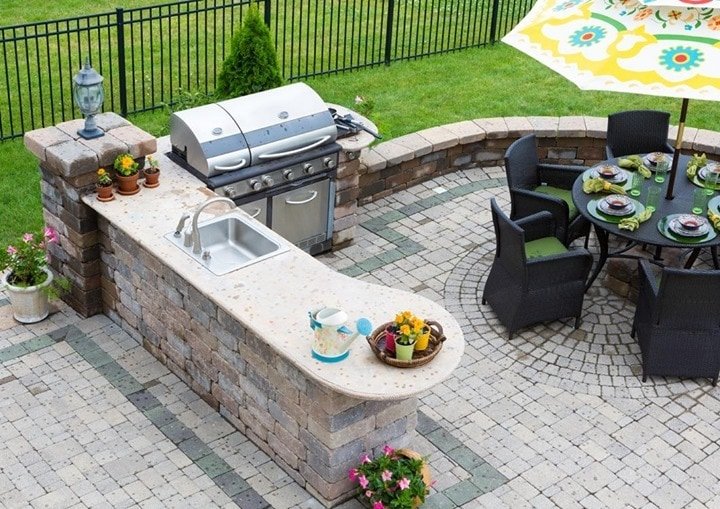 Source: theoutdoorkitchenfactory
This farm style open kitchen is ready to be set in your garden. The layout has stone flooring with a stone kitchen station. The countertop is made of white textured marble with a sink and barbeque grill. The space also has contrasting outdoor seating in black with a beautiful bright patio umbrella for shade.  
3. Stainless Steel Backyard Kitchen
Source: danveroutdoorkitchens
I love this modern and classy stainless steel backyard kitchen with a lot of drawers and cabinets. This outdoor kitchen idea provides a lot of storage and seating space. The tone of the space is black and grey. Above the seating is a beautiful black pergola, which adds an elegant and modern touch to it. This idea is perfect for enjoying a chill summer day or a cozy winter evening. 
Read – 30 Stunning Porch Roof Ideas to Transform Your Outdoor Space
4. Barbeque Grill & Prep Station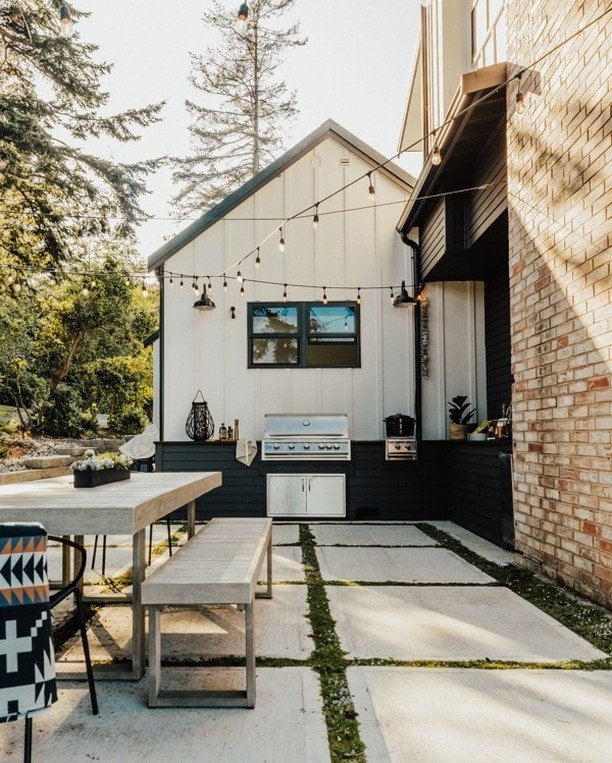 Source: 5girlsoneboy
This bright and boho prep station has a very romantic feel to it. The kitchen counter is made of black wood and comes with a barbeque grill. A wheatish brown table with benches is placed to enjoy the yummy meals. Finally, fairy lights with tiny bulbs hang above, making this space very cozy and perfect for your back/front yard. 
5. Modern Steel Outdoor Kitchen
Source: designer00girl
This lovely outdoor kitchen idea looks just like an adorable, tiny restaurant. The counter is made in white with a steel grill, oven, sink, and cabinets. It is a well-equipped kitchen space. The flooring has a beautiful pattern, which adds character to the station. For some elegant touches, place a flower vase and some white lanterns on the counter as showpieces.  
Read – 35 Amazing Kitchen Floor Ideas That You Will Love
6. Elegant Marble Backyard Kitchen
Source: trinitybuildersswfl
This backyard outdoor kitchen idea is a bright and lovely setup for your home. The flooring and counter are made of white textured marble with a steel grill, chimney, sink, and cabinets. It is a compact yet accommodating design and also has seating for eight to ten people. Place tiny plants on the dining table and counter as decor. 
7. Outdoor Food Prep Station with Roof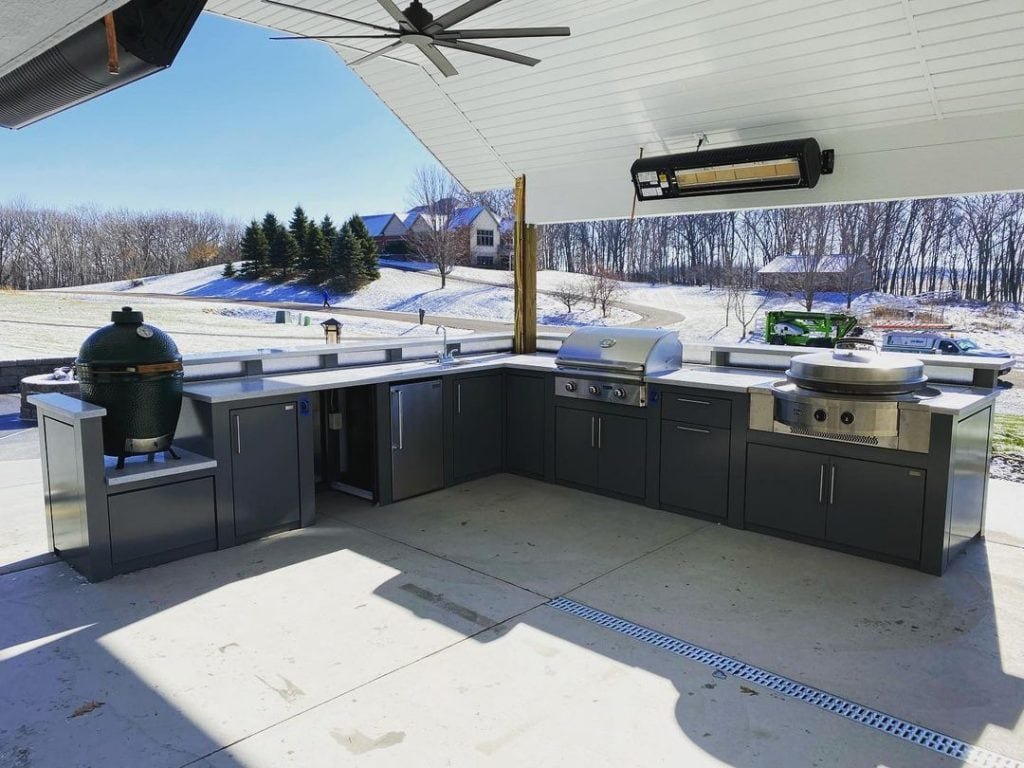 Source: sunsetbayoutdoor
This standalone outdoor kitchen is perfect for hosting events, garden soirees, or family get-togethers. It is a fully equipped kitchen with an L-shaped kitchen counter. The well-lit roof on top makes it perfect for any weather. You can also add a seating area in this layout to enjoy the hot, delicious meals. 
8. Wooden Patio Outdoor Kitchen with Couches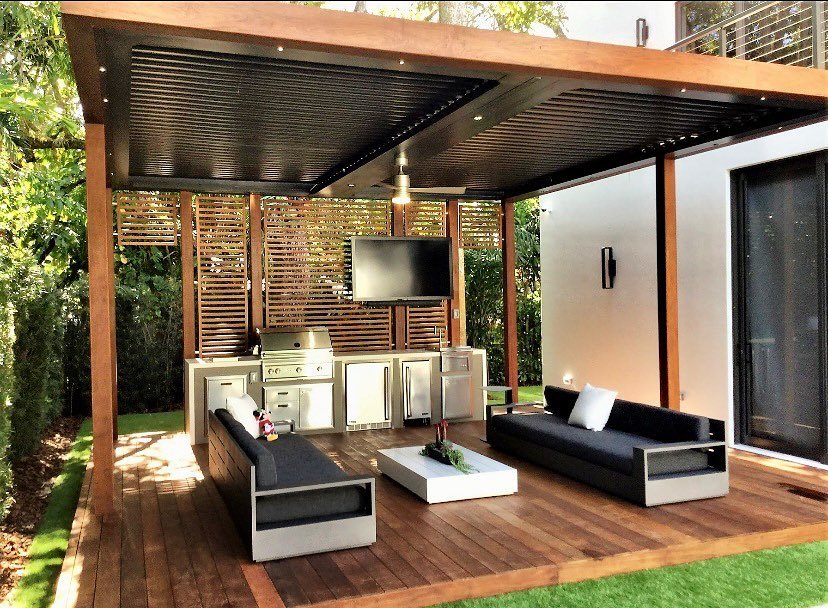 Source: struxure_midatlantic
This outdoor kitchen idea is beautiful, luxurious, and classy. Wood plank flooring with a metal grill, sink, and cabinets compliments the wooden patio beautifully. The wooden roof has tiny bulbs for light. A television is hung above the kitchen counter to keep you entertained while cooking and eating. For seating, this kitchen has two sleek grey couches with a center table.    
9. Small Outdoor Kitchen Ideas with Pizza Oven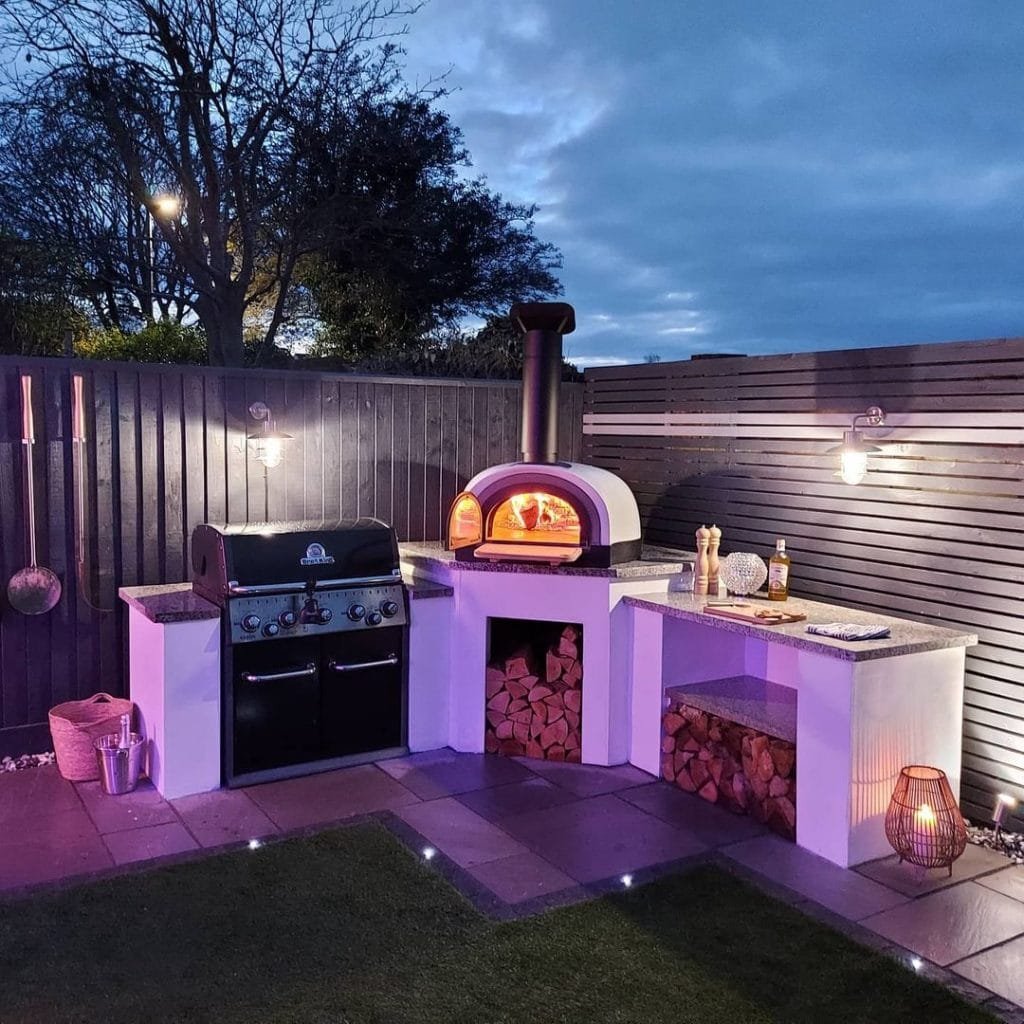 Source:  greengenielandscapes
This tiny L-shaped open kitchen has a white wooden counter with a marble top. The center of the station has a pizza oven along with a barbeque grill on the side. The counter also has shelves for storage. It is a perfect idea for a small outdoor space and is excellent for enjoying freshly baked pizzas out in the open.    
10. Basic and Beautiful Backyard Kitchen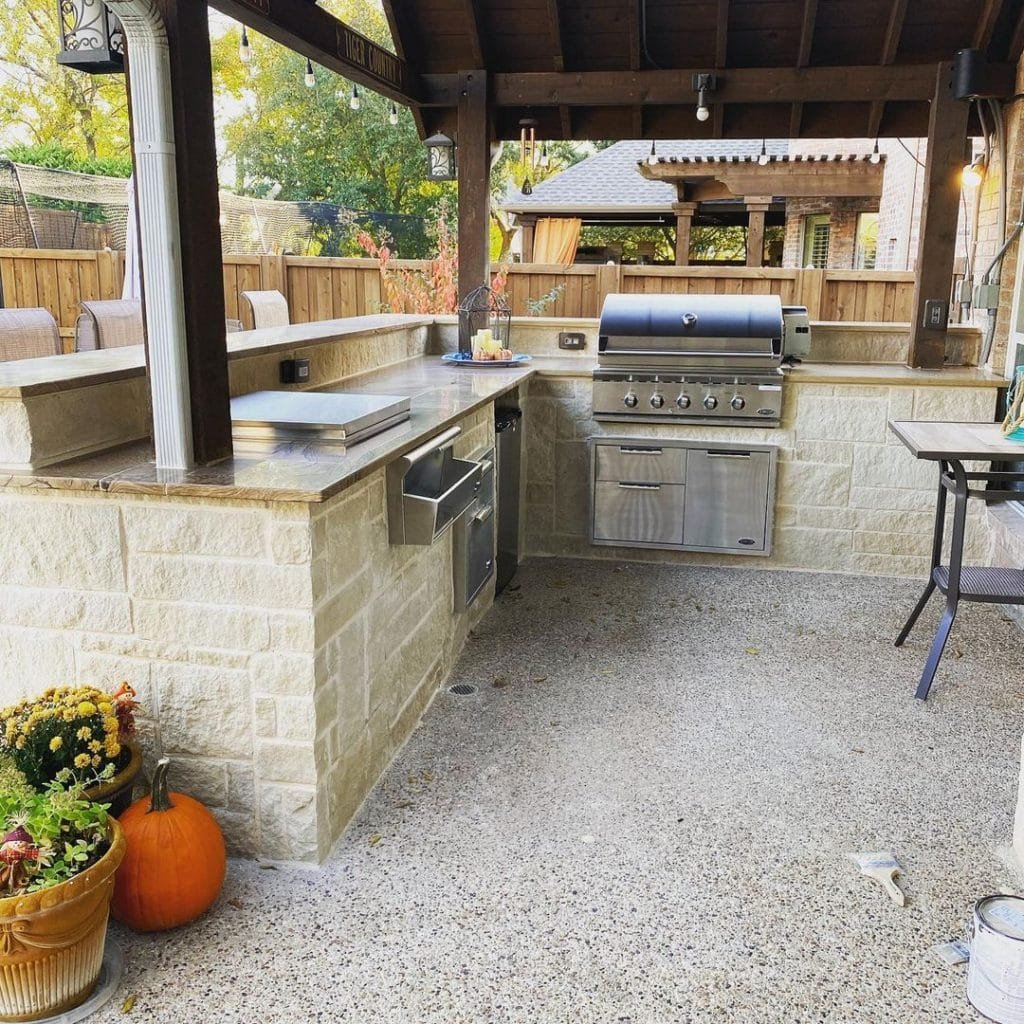 Source: scott_design_build
This charming outdoor kitchen is perfect for your front or back yard. The light stoned bricks with a marble countertop and quality metal grill and induction are great to prepare some fantastic meals. It is a fully functional kitchen space with a roof that makes it suitable from summers to winters. 
11. Built-In Concrete Countertop with Storage Shelves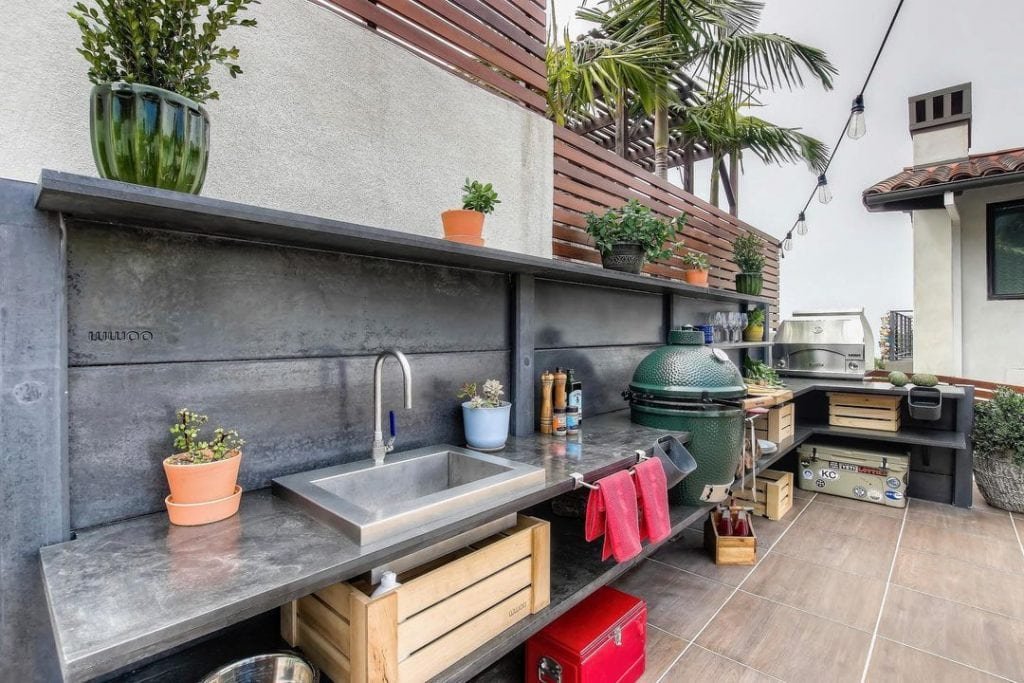 Source: wwoocalifornia
I love the sleek design of this concrete outdoor kitchen shelves with tons of storage space. The shelves are stuck against the backyard wall. A big green egg, barbeque, and a sink make this an all equipped station. It is a long-shelved layout that is simply concrete but looks very chic. The grey tones look lovely in the outdoor space with tiny plants placed on the top shelf. 
12. Wood and Steel Open Kitchen with Cabinets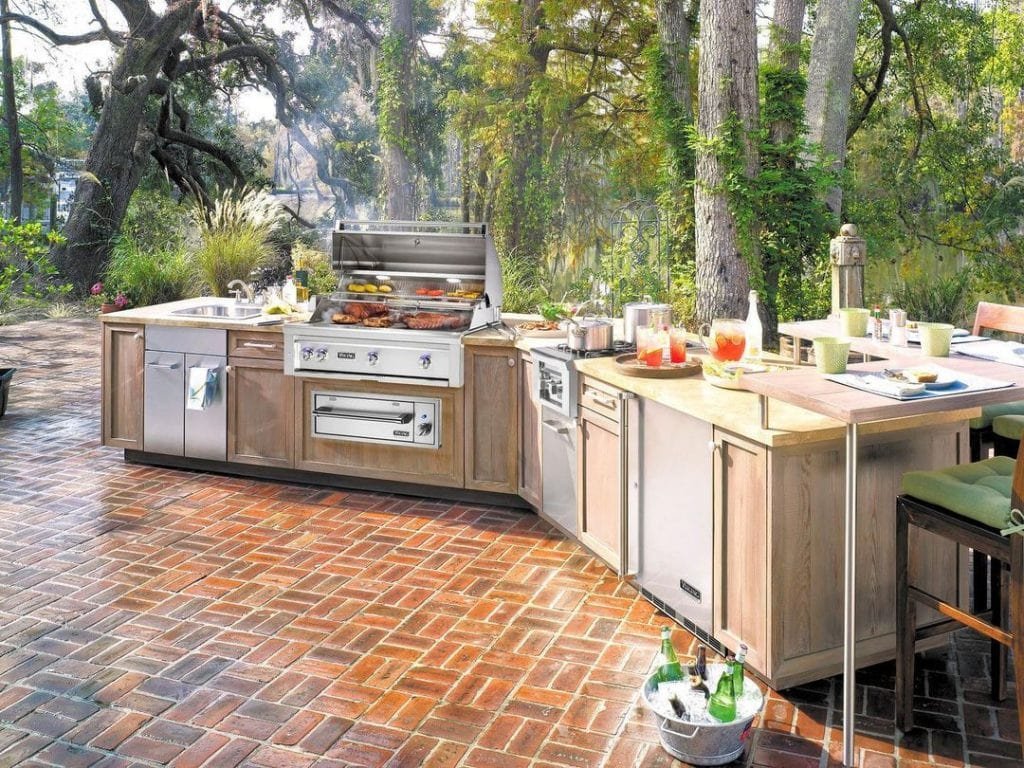 Source: european_sb
This kitchen station is what happens when you bring your indoor kitchen outdoors, literally picking it up and placing it outside your home. It has everything that a home kitchen has, from a grill to a sink to a fridge to a cooktop, and way more cabinet space than many apartments. The attached L-shaped seating area with bar stools makes it a perfect spot to chill with your family/friends while cooking.  
13. Black & White Outdoor Kitchen with Pergola
Source: beckyheldreth
This black and white combination is perfect for your outdoor kitchen. The bricked patio with a brownish-black pergola gives the space an exquisite appeal. The kitchen counter has a black top with white cabinets. The u-shaped counter uses one side as a table with matching chairs. Additionally, there is a cozy seating area in the same space. I love this layout as it can accommodate many people for a lovely Sunday brunch or a festive dinner! 
14. Simple Grill Station with Wooden Shed
Source: taylor5tfarm
This outdoor kitchen idea is a display of modern simplicity. It is a perfect fit for a small outdoor space, and you can recreate it in your front yard or backyard. The station has a white structure with light wooden detailing. The countertop is black with a grill, fridge, and storage built-in. This kitchen has a shed with bulbs and tiny stools placed next to the U-shaped counter.  
15. Burntwood Finish Elaborate Kitchen & Dining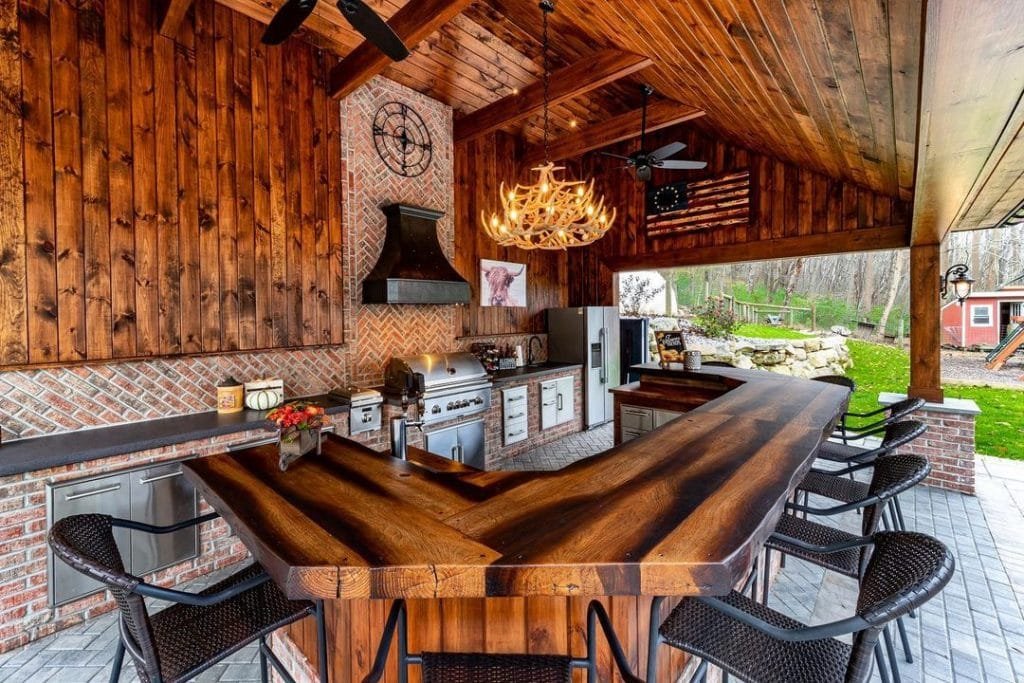 Source: jmlifestyles
This bricked patio with a detailed wooden design is a very rustic way to make your outdoor kitchen. This design has a working station and a dining area. The kitchen station has a black marble top over a bricked base and a built-in grill, fridge, sink, and cooking top. The burntwood finish on the dining area and the roof look very classy. This timeless design features a c-shaped table with a red brick base. A chandelier is installed in the middle over the dining counter. Black wicker chairs provide elegance and charm.  
16. Luxurious Covered Backyard Kitchen Space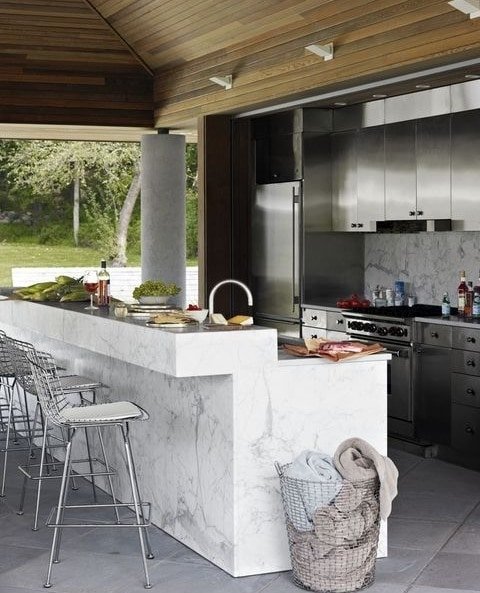 Source: torinakano
A stained oak ceiling looks perfect with these stainless-steel cabinets in this outdoor kitchen. The best part is it has a drop-down metal gate which protects the appliances from rain. The space has a fridge, sink, cooktop, and oven. The counter has a marble island and backsplash, which adds a sophisticated aesthetic. One side of the kitchen table has tall chairs for relaxed seating space.  
17. Versatile Cooktop Trolley with Storage
Source: dregoworkbench
I love this compact and adorable way of carrying your kitchen wherever you want! This trolley style outdoor kitchen can be used as a poolside food station, a patio cooking area, a party bar, or a romantic outdoor cook and eat date setup. The wooden trolley has a large cooking top with a cabinet and multiple drawers for storage.   
18. White Brushed Wooden Grill & Kitchen Top
Source:  hamptonsfabulous
This basic yet classy outdoor kitchen has a white brushed wooden counter with tons of drawers and cabinets. A grill and a cooktop are built-in in the design, with ample space around to work. It is an open kitchen, but you can add a canopy on top to make it suitable for all-weather; you can create a seating area near the station for enjoying the meal outside. 
19. Lovely Kitchen Space with the Green Big Egg
Source: bbqgaloreusa
This all-packed outdoor kitchen is perfect for cooking anything and everything you want, from a cheesy pizza in the pizza oven to a smoked meal in the big green egg. A sink and some storage space are also a part of this design. The shelves are in black and have tiny plants placed to add a refreshing touch to your cooking counter.  
20. Marble Kitchen Tabletop with White Cabinets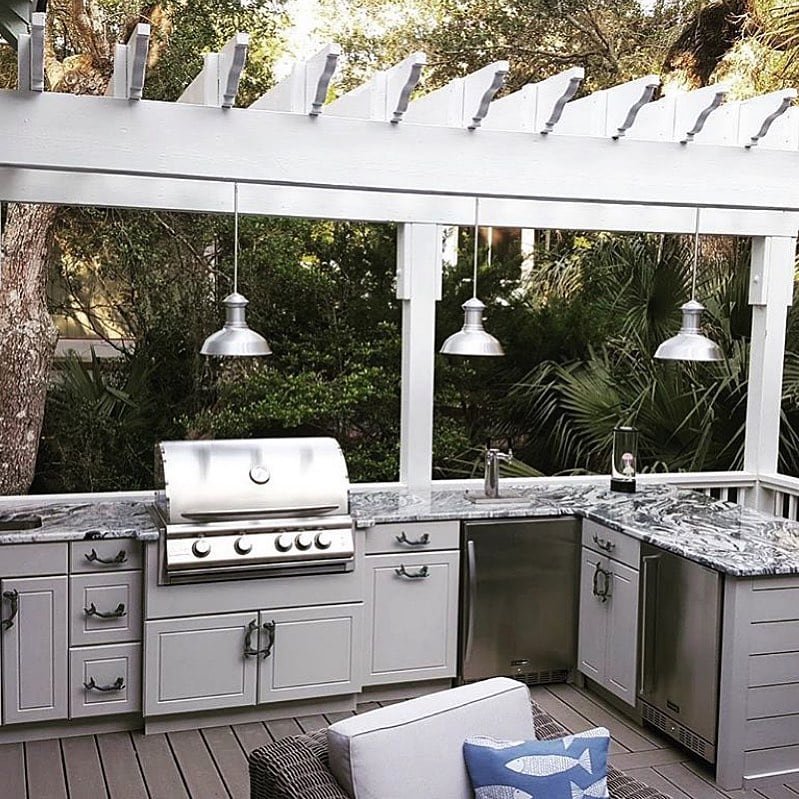 Source: blazeoutdoorproducts
This outdoor kitchen idea uses white and grey tones, which gives a charming vibe. The counter has a sink and a barbeque grill built in it. The patio has a grey wooden plank flooring with a white open pergola. Steel lamps are hung from the roof, and the counter has a marble top with white cabinets. The remaining space in the patio has a comfortable seating area.    
21. Closed Outdoor Kitchen Design with Grilled Dining
Source: hbchomes
This closed outdoor kitchen is well lit and very modern. It uses a combination of grey and white interiors with a large wooden dining table to break the monotony. The dining chairs are black, and the kitchen counter has grey cabinets with a barbeque grill, chimney, and sink. It is accessible from the inside of the home as well as the outside. You can enjoy this kitchen space in all seasons.   
22. Bricked Outdoor Kitchen Design with Grill & Sink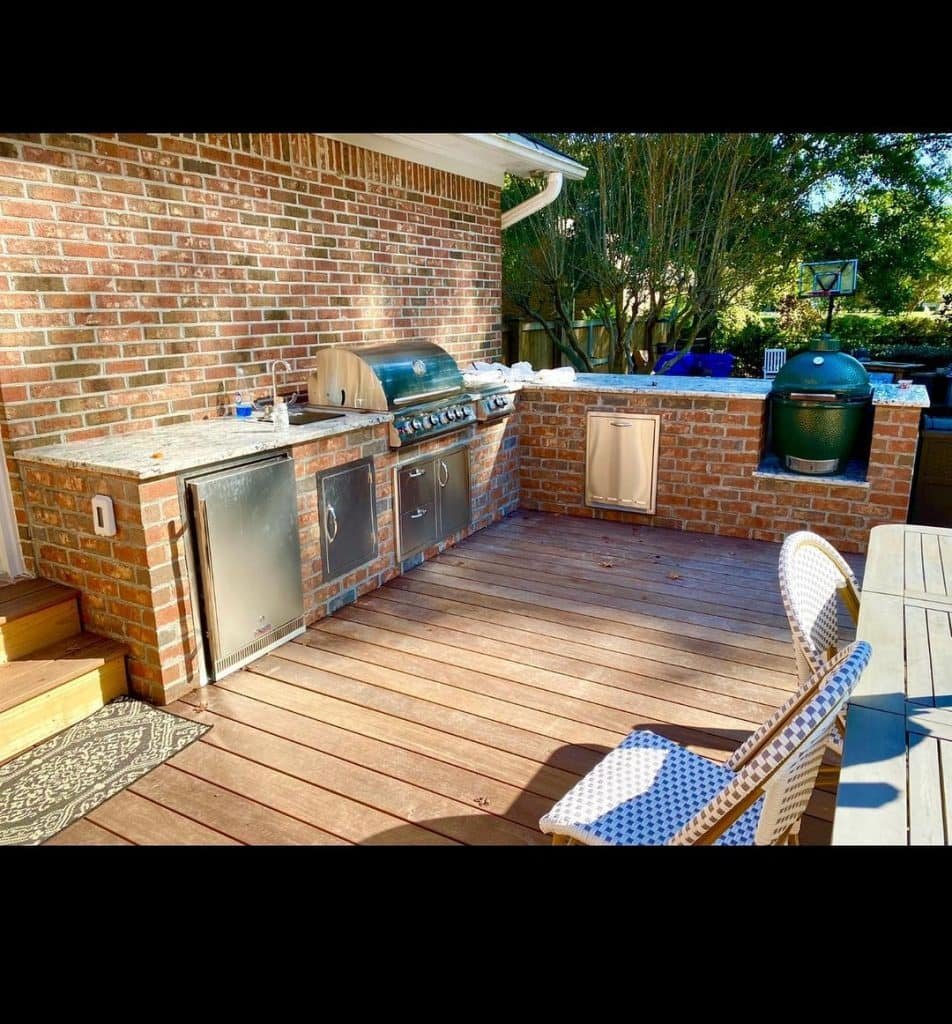 Source: kirklanddesigns
Redbrick kitchens give a very old-world image of sumptuous, well-prepared, and smokey meals, with a neat red-brick base. The steel cabinets, along with a barbeque grill and the big green egg, give the kitchen a striking and strong rustic feel—the wooden flooring compliments this outdoor kitchen beautifully. There is also a tiny seating area in the remaining space of the patio.  
23. Slate & Stone Kitchen Station with Marble Top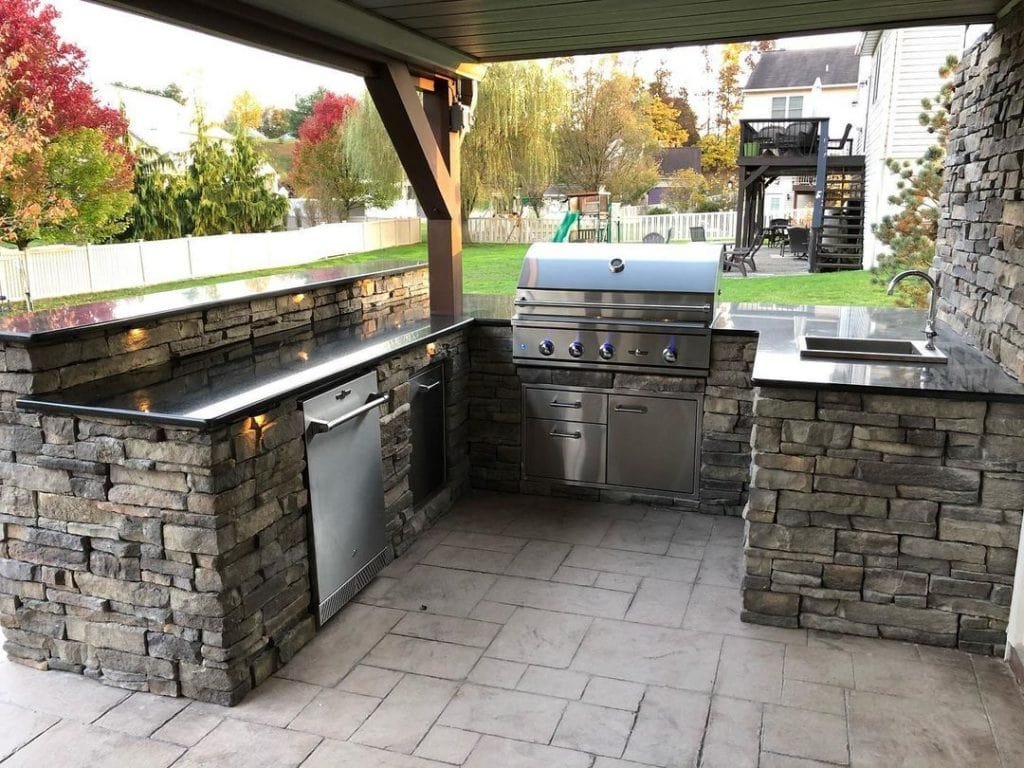 Source: green_gaint_landscape_in
Wow! The foundation of this grilling station/outdoor kitchen looks stunning! The subtle flooring highlights the slate and stone counter base. It is a perfect homely set up for family gatherings, parties, etc. This is a modernly rustic design with a lovely grill to cook while enjoying the weather outside. There is a roof on top to protect the appliances from rain. 
24. Backyard Party Pavilion with Bar
Source: greendesignhomes
This spectacular party pavilion is a lovely outdoor kitchen idea. It has a huge fridge to act as a bar and a U-shaped countertop to prep the snacks and drinks. This is a perfect setup with lots of storage space and a built-in sink. You can set it up next to the pool for your next pool party! The wooden base with a marble countertop gives it a lovely, rustic yet fancy feel. 
We hope you are inspired to design your outdoor kitchen with these fantastic ideas. They are suitable for large or small spaces and can go from basic to super luxurious. You can customize the designs according to your liking and enjoy cooking and eating your meals in the open. 
If you loved these ideas, you can use the Pin image below and save this article on your 'Home Decor DIY Projects and Crafts' Pinterest board.