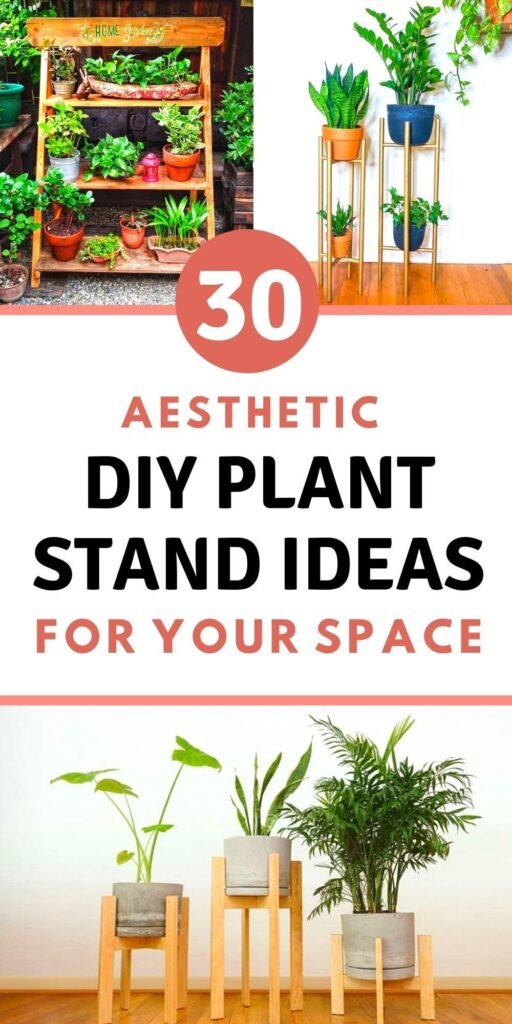 Plants have and will surely be in trend always, whether as indoor decor or an outdoor garden. A touch of freshness is a must-have in your home decor and instead of having all the plants cramped in a corner, try these beautiful DIY plant stand ideas to give your plants the attention they deserve.
These DIYs can be made by anyone and for any space in or outside your home. It is a unique and creative way to give your plants a pretty house!
Also check –
DIY Planter Box Ideas
Hand Painted Flower Pots
Stylish Pallet Planter Ideas
1. DIY Rolling Crate Plant Stand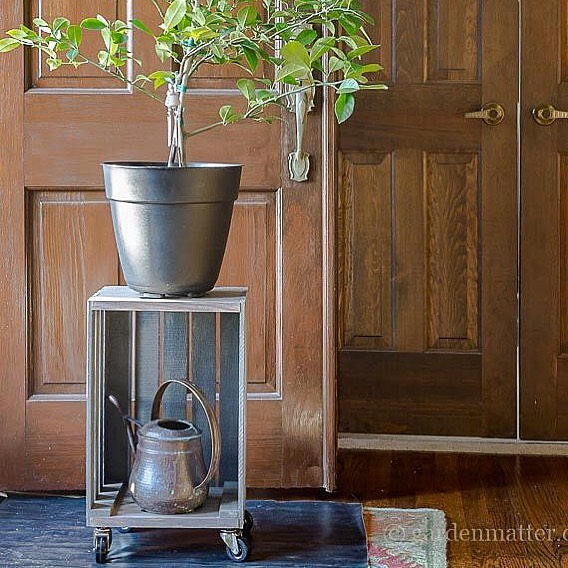 Source: hearthvine
This rolling crate planter stand is perfect for displaying large potted plants. It helps you move the plants from one room to another, take them outside for some sun, or even take them to the sink. The storage in the crate allows you to keep the gardening supplies right where you need them. It is a best out of waste plant stand and a quick way of DIYing a cute spot for your foliage.
2. Designer Wooden DIY Plant Stand
Source: laurenajamison
I love how dainty and chic this wooden plant stand looks with its rectangular tabletop. The sphered legs of this wooden table are a modern and elegant detail. It is a customizable design that can be made larger or smaller, according to the number of plants. The wood has a greyish dark brown stain with a textured finish. This idea is perfect if you're looking for unique indoor plant stand ideas.
3. Musical Bongos DIY Plant Holder
Source:  babybeegarden
Turn your old pair of bongos into tiny plant holders with this idea. The wooden texture of bongos makes the plant stands look very vintage and unique. Place the plants in a plastic container/bottle and put it in the bongos. It looks adorable in your living room, bedroom, or kitchen area. This pair of pots are perfect for decorating a side table, window sill, or as a centerpiece.
4. Golden Wooden Plant Stand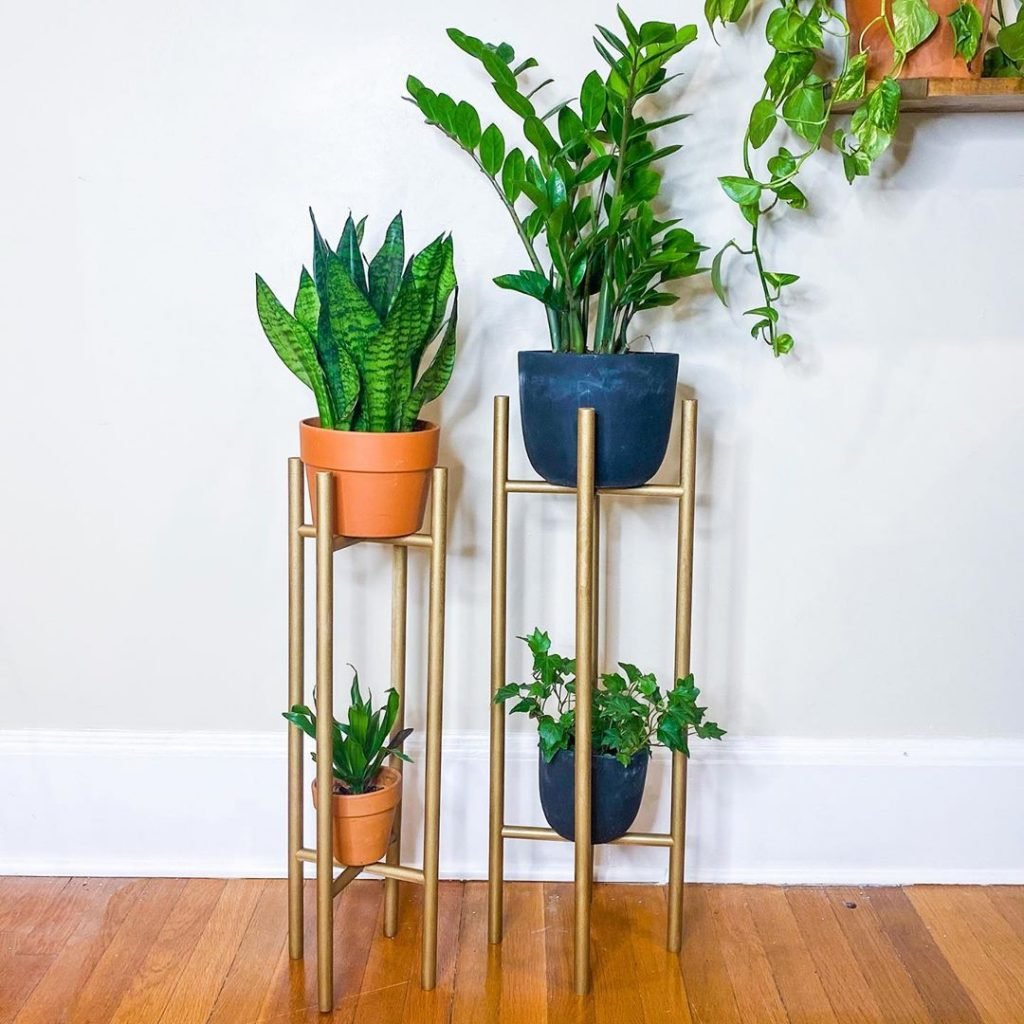 Source:  pieceofmeesh
This gold planter stand looks so chic and elegant that it can make any space luxurious. I love the narrow and tall structure of this DIY corner plant stand. You can create a pair of these stands or use one to stack two plants. This is going to be a lovely addition of freshness to your indoor space.
Read – 41 Unique Indoor Plant Wall Ideas For Big And Small Spaces
5. Easy Outdoor Plant Stand
Source: Bitter Root DIY
Looking for a simple yet elegant outdoor plant stand ideas to showcase your favourite greenery? Then, you can build this sturdy crate-shaped modern plant stand. Making this from scratch would definitely require some basic knowledge of woodworking but if you're used to building your own furniture and tables, this will be a two hour job!
6. Aesthetic Indoor Plant Stand
Tutorial and Image by akailochiclife
As you can see from the image itself, this small plant stand is definitely a unique one! What I love about it is that it can easily be created by recycling those old hardcover books that are not of any use. All you need is a set of colourful acrylic colours and a set of brushes. Go all creative with this and you will be pleased to have a bright joyful corner for yourself.
7. Upcycled Modern Plant Stand
Tutorial and Image by happytogetherbyjess
Talking about upcycling, here's another DIY corner plant stand idea that deserves a mention. Did you ever imagine your spare desk drawer as a place for all your foliage? If not, then this idea will blow your mind. If you're on a budget and looking for a cheap plant stand without compromising on the aesthetics, this is the one for you!
8. Detachable Wooden Plant Stand
Source: mosermakes
If you have a space crunch, this detachable wood stand is perfect for you. These minimal pieces are great for holding small as well as large plants. The stands are durable to termite and humidity. They look very adorable in your kitchen, bedroom, dining, or living rooms. You can easily detach this DIY plant stand (as the two halves of the stand two halves simply fit together with that lap joint) and place it anywhere in your home.
Wood Plant Stand Tutorial Link
9. Natural Indoor DIY Plant Holder
Source: inspi_retocreate
Add a dose of beauty to your indoor wall decor using this DIY plant hanger idea by. Grab a thick wooden branch and add hooks to it. Hang glass jars using jute strings to the hooks and place indoor plants in the jars. Hang the jars at different heights to create an abstract and beautiful wall hanging. These jars will work as elegant plant holders.
10. Wooden Desk Calendar DIY Planter Stand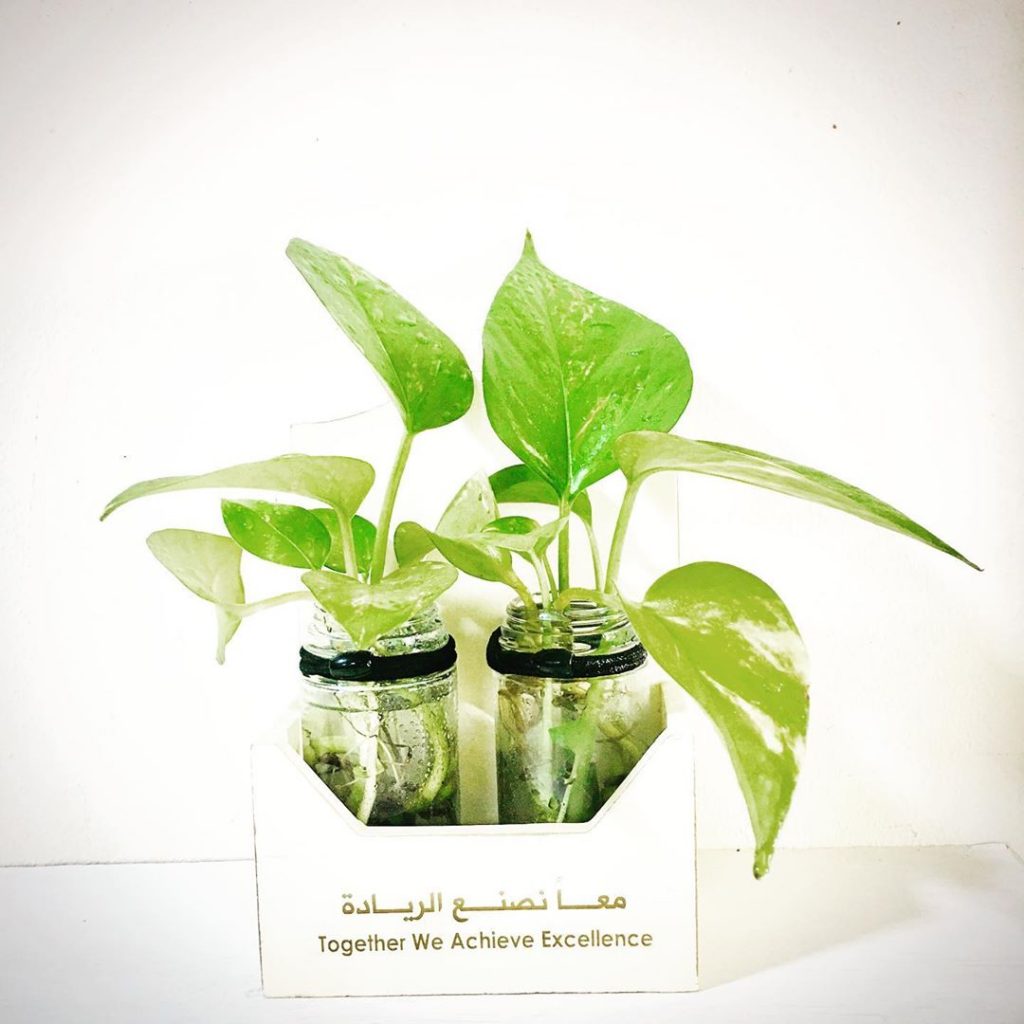 Source:  as_your_own
Reuse your desk calendars to add a natural touch to your study/work area. Grab some glass bottles/containers and place your plants in them. Next, place these jars in the desk calendar, and your DIY plant stand is ready. I love how simple and straightforward it is to recreate this idea. It ends up looking very adorable and will make your work desk an inviting space.
11. DIY Wooden Ladder Plant Hanger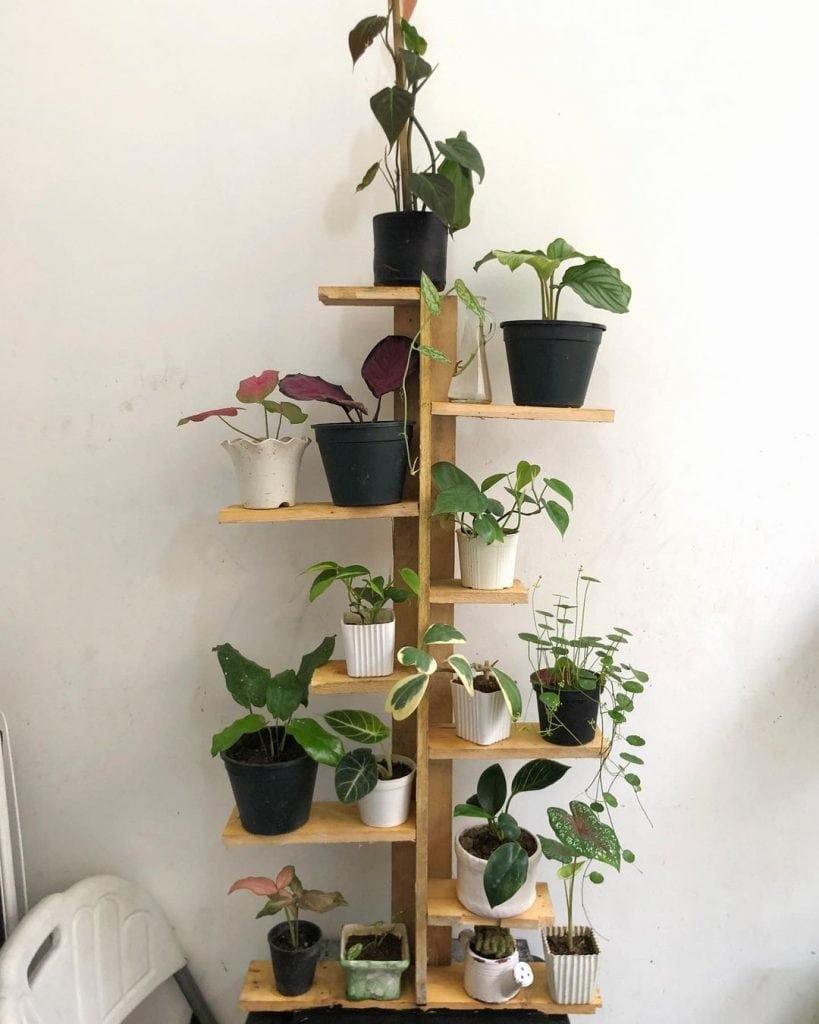 Source: joieble
Here is a way of stacking your tiny potted plants that looks very neat and beautiful. Create this wooden ladder frame with several tiers. It can be placed in any corner of your home or even as a showpiece in your living room/dining room. This wooden plant stand has an ample amount of space to display several pots.
12. Cement Tabletop DIY Plant Stand
Source: katasstrophy
One of the cheapest and most versatile DIY supplies in the store is cement! So grab some cement and three wooden rods to recreate this DIY planter stand. Pour a wet cement mixture into a circular vessel and stick the wooden rods as the table's legs. Let the mixture harden and demold to reveal this elegant and dainty piece of decor. You can customize the size and shape of the tabletop according to your convenience.
13. DIY Rustic Plant Stand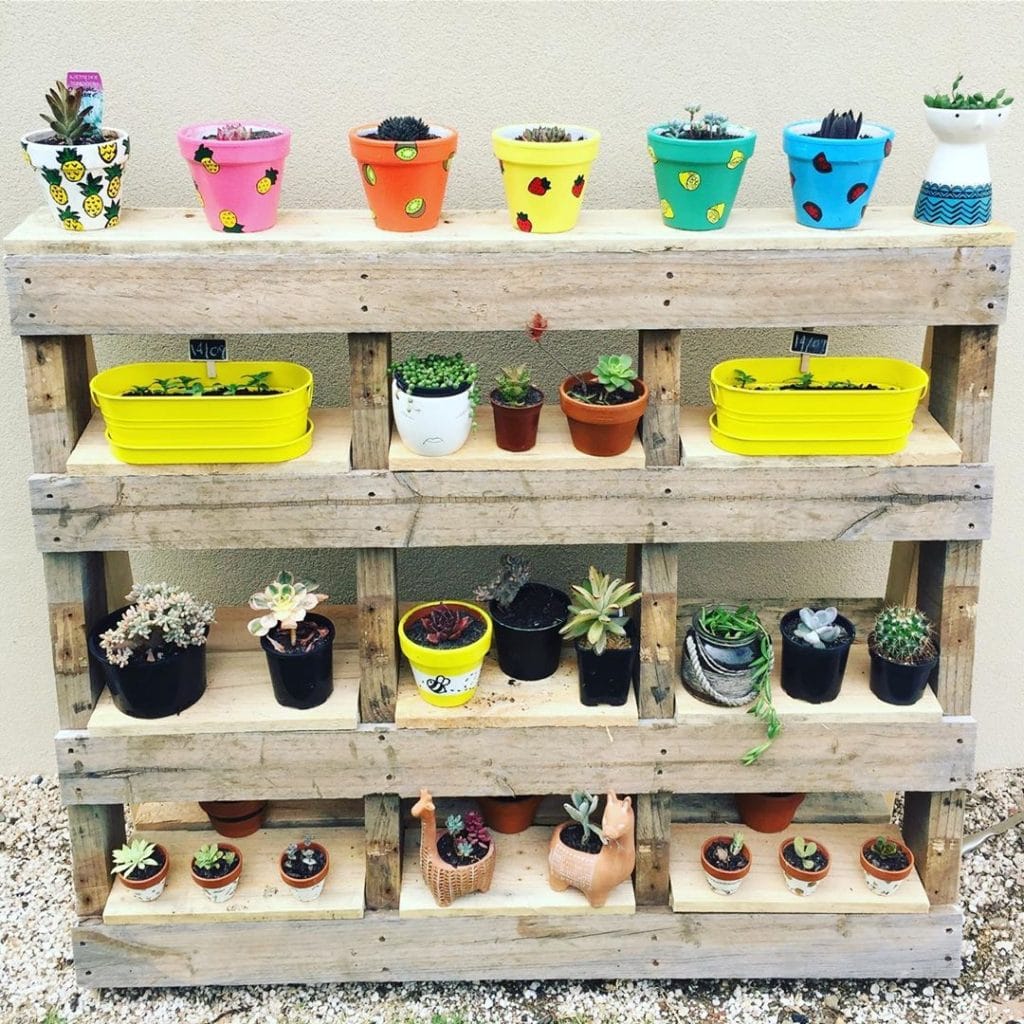 Source: crazy_calathea_cat_lady
Use an old shoe rack or any rack you own to recreate this DIY plant stand. You can also build this rack using old wooden planks. The design is straightforward, with tiny compartments for each potted plant. Try using colorful pots for an even brighter look and highlight your collection of succulents.
14. Outdoor DIY Hanging Plant Shelves
Source:  gentle_plantman
Decorate your front door wall with this lovely idea, which uses two hanging shelves. These DIY hanging plant stand can be used to display one to four potted plants depending on the size. The dark stain of the wood beautifully complements the white wall. It is a very fresh and adorable welcome to all your visitors. You can recreate the same idea inside your home as well.
15. DIY Garden Framed Stand
Source: rainbowhands18
This DIY plant stand is perfect to create a mini garden outside your home. It is a three-tiered wooden frame with tiny planters displayed across each level. You can place this frame stand inside or outside your home as a natural decor piece. I love the rustic and tree-like polish on the wood, which looks very elegant.
16. Plant Ladder Ceiling Hanger
Source:  startwithroots
Grab a wooden ladder and hang it from the ceiling using a jute rope. Use the ladder steps to hang plants from the ceiling. This DIY plant hanger is unique, creative, and looks very modern. Make sure that the plant pots are not very heavy and attached firmly. You can use different colored pots or go for the classic white for a luxurious look.
17. Wired Shoe Rack Outdoor Plant Stand
Source:  plants_flowersandnectar
Use a spare wired rack as an outdoor plant stand. You can spray-paint the rack according to the colors of your choice. This wire stand in black and white looks sleek and classy. You can display your favorite pots on the stand in different colors. Also, the wire spaces allow the water to drip through when you water the plants. It requires comparatively less maintenance and lasts very long.
18. Sleek White Dowel-Legged Plant Stand
Source: blackshinythings
This white DIY plant stand is an elegant and modern way to decorate the interiors of your home. The dowel legged planter with an X-shaped tabletop looks very luxurious and is sturdy enough to hold large plants. It has a narrow design, and the height can be customized according to the space you are designing.
19. Tiered Pyramid Pots Display Stand
I like this tiered DIY plant stand, which can be used indoors and outdoors. The tiers filled with tiny plants make this stand an elegant showpiece. The use of a white frame with dark brown planks makes this piece very modern and stylish. Each tier can hold two to five plants, depending on the size of the pots. You can also place this beautiful piece outdoors using weather-resistant wood.
20. Air Plants Vintage Bottles Display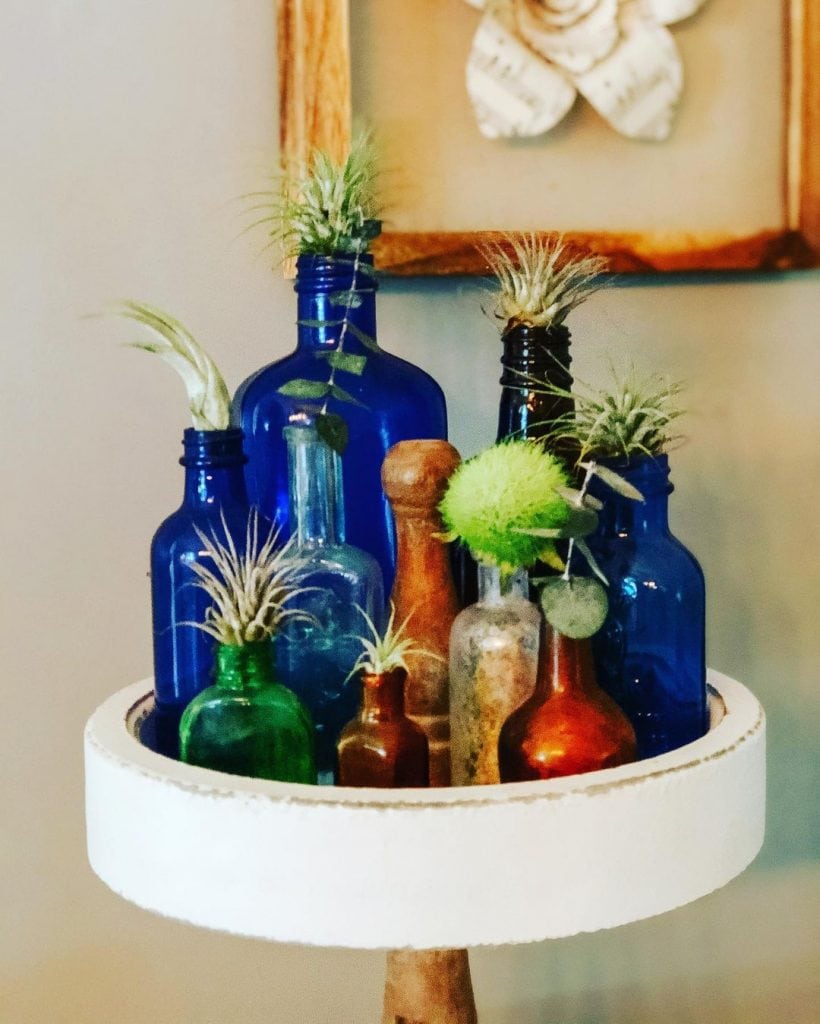 Source: thecozyhomegays
Build this DIY plant stand uses a circular wooden tray and wooden rods. Arange the tray as the tabletop and attach the rods as legs to it. Now for a colorful touch, place some glass bottles with air plants in them. The clustered look of the bottles makes the DIY plant stand even more unique and stylish.   
21. DIY Hanging Plant Stand
Our DIY Hanging Shelves post and Macrame Wall Hangings post would help you recreate this fantastic DIY plant stand. Use an old metal frame with a wooden base and hooks to hang shelves at multiple heights across the frame. This idea looks very creative and unique, and the use of white rope to hang the plants makes it even more classy!
22. Beautiful DIY Herb Garden Wall
Source: elevatedbyallie
This DIY plant stand idea is painted in all white and has a wooden wall with tiny pots attached. The all-white look makes the stand very elegant and classy. This idea has planted different herbs in the pots, which makes it a tiny garden. You can hang or place this wall frame inside or outside your home for a lovely plant decor.
23. Modern Indoor & Outdoor Plant Stand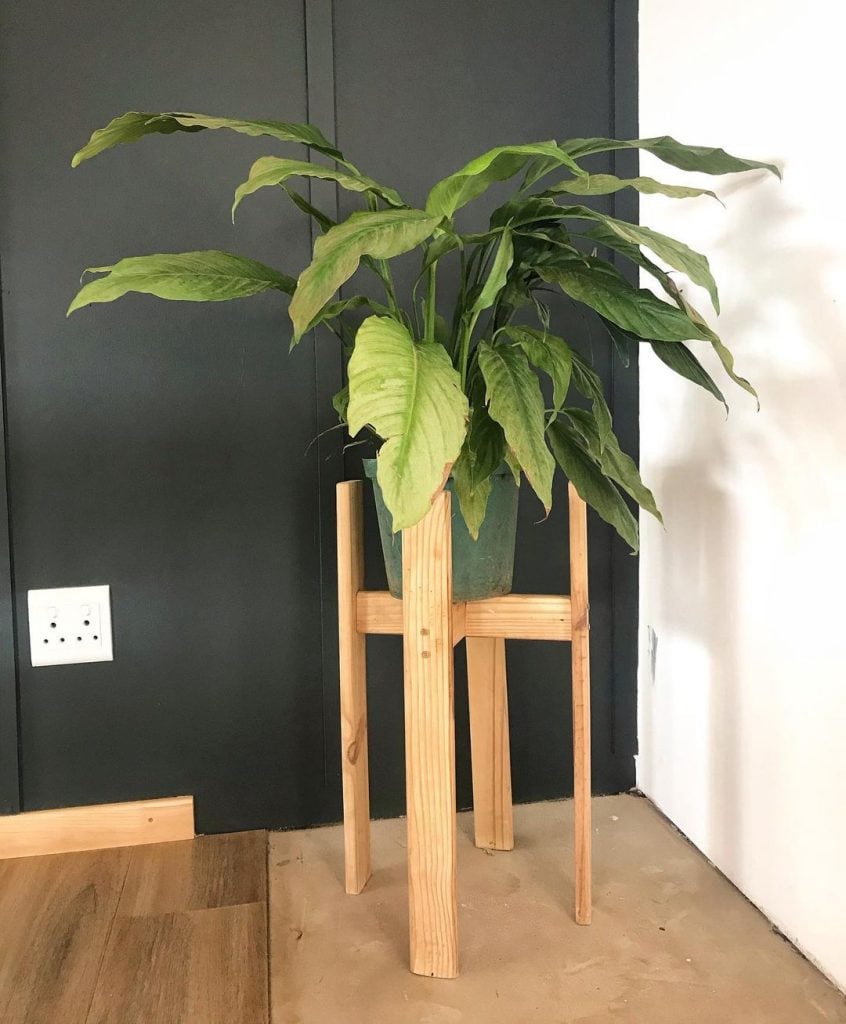 Source:  farm_adventures_
This tall and sleek DIY plant stand looks great in any corner of your home or any space you want to make fresh. Use thin wooden planks in a light brown finish to make the legs as well as the X-shaped tabletop. You can customize it to place large or small pots and polish it to match the interiors of your home.
24. Stringed Planks Wall Arrangement
Source: thatprettyhome
Here is a creative and unique indoor planter stand that doubles as a beautiful wall decor piece. Use dark stained wooden planks and hang them randomly using different lengths of strings. The high low placement of the shelves gives individual attention to each potted plant. You can add as many shelves depending on the space you want to cover. Display some fancy potted plants that look very modern and decorative.
25. Trellis With Small Plant Stands
Source: plantsisland
This DIY plant stand is a lovely option for displaying climbers like the money plant. Use a black string and create a random pattern using nails/hooks on a metal frame. Attach tiny plant pots at the base of the frame and use the string design to support the climber leaves. This idea looks unique, bright, and is a masterpiece in itself. Place it against a plain background to highlight the greens.
Related Post – DIY Trellis Ideas
26. Adorable Bunk Bed Stairs Plant Stand
Source: planting_peaceofmind
Got some old bunk bed chairs? Reuse them to recreate this fantastic DIY plant stand ideas. Use the steps to display the potted plants and cover the visible side of the steps using wallpaper/scrap paper. Place this stand in any empty corner of your home and hang a shelf on the wall for more display space. You can also recreate this idea on the steps of your home.   
27. Rustic Textured Wooden Plant Stand
Source: fraenzi_phorenzi
Here is a rustic wooden DIY plant shelf that looks very vintage and can hold several plants. The stand is hung on the wall and can be a great way to decorate any space inside or outside your home. You can connect two wooden crates to create the structure or simply grab scraps of wood to recreate this idea. This wood plant stand can hold different shapes and sizes of plants, so you can easily customize it to your preference.
28. DIY Circular Stepped Plant Stand
Source: keirasunpark
A couple of circular panels, dowels, nails, and a drill are enough to recreate this modern and elegant DIY plant stand. Connect three panels in a tiered fashion using dowels. Add legs to two of the circles, and your plant stand is ready. Paint it in white or any other color and place your favorite pots on the table. You can place this wood plant stand outdoors as well.
29. Handmade DIY Plant Stand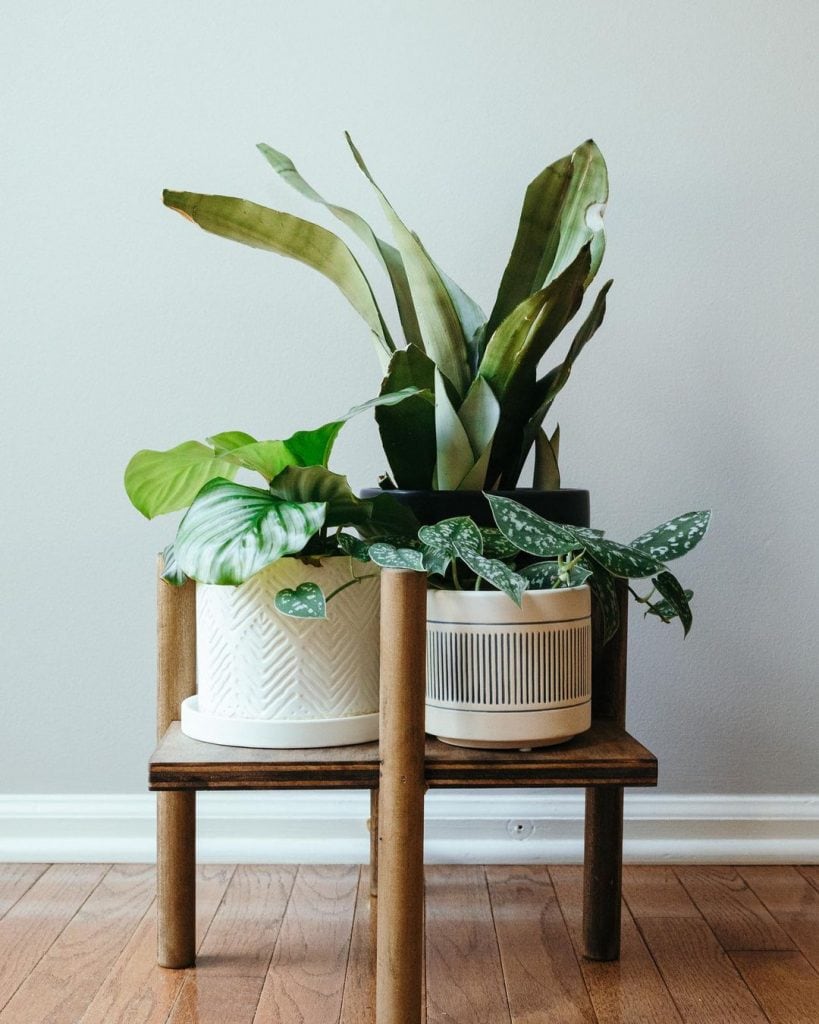 Source: diyplantboy
I love the asymmetric and modern look of this planter stand. It looks very luxurious and is equally easy to make. Grab a square wooden plank and four thick rods. Instead of attaching the four legs in the corners of the plank, the twist is to attach them in the middle of each side. This simple placement makes the piece very unique. Finally, polish it in the color of your choice, and voila!
30. Corner Plant Stand With Build Plan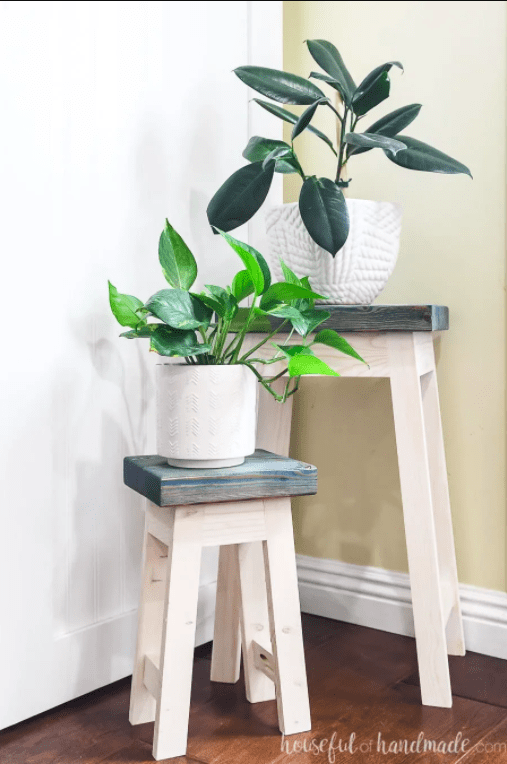 Build plan and Image by housefulofhandmade.
If you've got the woodworking skills to flaunt, then you might love this set of practical and useful plant stands for your indoor space. The best thing about these plant stands is that they can be stacked one on top of the other when not in use.
We hope these beautiful DIY plant stand ideas inspire you as they are perfect for adding an elegant and fresh touch to any space inside and outside your home. So do try them out!
If you loved these ideas, you can use THIS PIN to save this article on your Garden and Home Decor Ideas Pinterest board